Made-in-China Olympic Design: The Helmets of China's Cycling Track Team
China's Olympic track design helmets attracted the attention of sports lovers today.
China's Olympic track cyclists did not just make headlines today for their sporting performances, but also for rocking some very original and eye-catching helmets. The helmets fulfilled multiple functions – serving as safety gear, lucky charms, and as a promotion of China's design and cultural heritage.
During the women's team sprint at the Rio Olympics on August 12, Chinese female cyclists Gong Jinjie (宫金杰) and Zhong Tianshi (钟天使) of China' track cycling team did not just display their sporting talent by winning gold, they also showed off some original style by wearing the sprint's most eye-catching helmets, which portrayed Chinese female masks. Male colleague Xu Chao (徐超) rocked a similar helmet depicting a male mask. The helmets soon became a much talked about topic on Chinese social media.
Besides serving as safety gear, the helmets promoted China by portraying typically Chinese Peking Opera masks that, according to state media, conveyed China's "national essence" and, in this way, could "show the world" this image of China – as China Daily wrote.
The female cycling helmets portrayed the Peking Opera facial masks of Hua Mulan (花木兰) and Mu Guiying (穆桂英), two legendary Chinese war heroines. Male cyclist Xu Chao wore a helmet depicting the comic Peking Opera mask of Zhang Fei (张飞). All masks were as bright as the flag of China. Red is also considered the most prosperous color in China.
Peking Opera is ingrained in Chinese culture, its stories draw from Chinese history and legends. China has a long tradition of woman warrior literature, of which the saga of Hua Mulan and Mu Guiying are amongst the most famous. Hua Mulan is a legendary woman warrior that has become famous in the West through Disney's 'Mulan' animation, that tells the story of a courageous girl who takes her aged father's place in the army. Mu Guiying is perhaps less well-known outside of China, but she is an equally famous woman general of the Song dynasty.
Zhang Fei is a famous Peking Opera character, a warrior general who lived during the late second and early third century whose legend is described in the Romance of the Three Kingdoms, one of the Four Great Classical Novels of Chinese literature.
Besides promoting China's "national essence", the masks also show the creative side of 'made-in-China' design. The helmets were created by a Guangzhou-based studio named 'Incolor'. Designers and studio founder Zhang Dongliang (张栋良) reportedly is a cycling lover who studied industrial design, and who has been painting and rebuilding bicycles for a long time. The helmet design was supposed to "fully embody Chinese elements", as it was meant for the Chinese team, created by a Chinese studio.
Design studio Incolor also features their three Olympic masks on their Weibo account.
Weibo netizens applauded the design, saying it "shows off the distinctive character of China's heroes" and praising its originality.
There were also netizens who pointed out that the helmets were already being imitated and sold online (also on Taobao), showing screenshots of someone selling a copy for 288 RMB (±43 US$). "They have no respect for original design," one angry netizen says.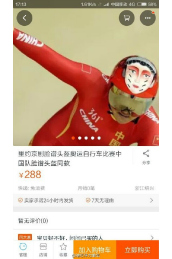 The female warrior helmets seem to have worked as a lucky charm the female team, as they won China's first ever Olympic track cycling gold. Xu Chao's helmet brought him less luck – he ranked 13th for the qualifications of the men's sprint.
-By Manya Koetse
Follow @WhatsOnWeibo
©2016 Whatsonweibo. All rights reserved. Do not reproduce our content without permission – you can contact us at info@whatsonweibo.com.
The Mulan Makeup Challenge: Traditional Chinese Makeup Goes Trending
Recreating the Mulan make-up look was the biggest beauty challenge on Chinese social media this July.
Will traditional Chinese make-up make a comeback because of Disney's Mulan?
Since Disney released the official trailer for its live-action Mulan movie earlier this month, Mulan is recurringly appearing in the top trending lists on Chinese social media.
Among all the different topics relating to the upcoming Mulan movie, the Mulan make-up challenge is one that jumps out this month.
The Disney live-action trailer showed a scene in which Mulan, played by Chinese American actress Crystal Liu Fei (刘亦菲), has a full face of betrothal makeup. The original animated Disney movie also features a full makeup Mulan.
Although there was also online criticism of the 'exaggerated' makeup, there are many people who appreciate Mulan's colorful makeup look.
On Weibo, many showed off their skills in copying Mulan's makeup look this month.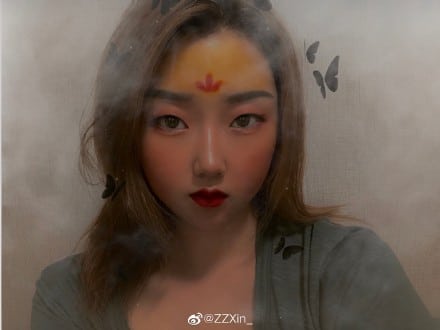 By now, the hashtags "Mulan Makeup Imitation" (#花木兰仿妆#) and "Mulan Makeup Imitation Contest" (#花木兰仿妆大赛#) have attracted over 300 million views.
Makeup such as lipstick has been used in China as far back as two or three thousand years ago.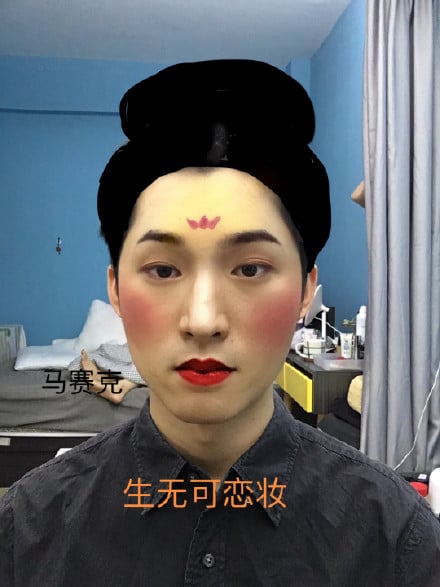 Makeup vlogger Emma Zhou explains more about Tang Dynasty (618-907) makeup customs here; the skin would be whitened with rice flower, followed by the application of 'blush' (pigment of strong-colored flowers) to the cheeks and eyes in a round shape, to emphasize the roundness of the face.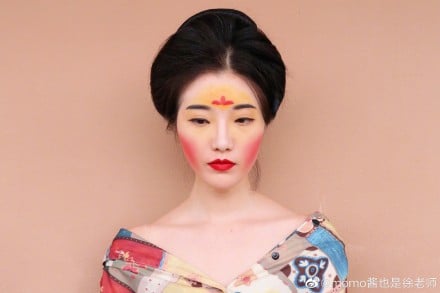 A floral-like decoration would be placed in between the eyebrows.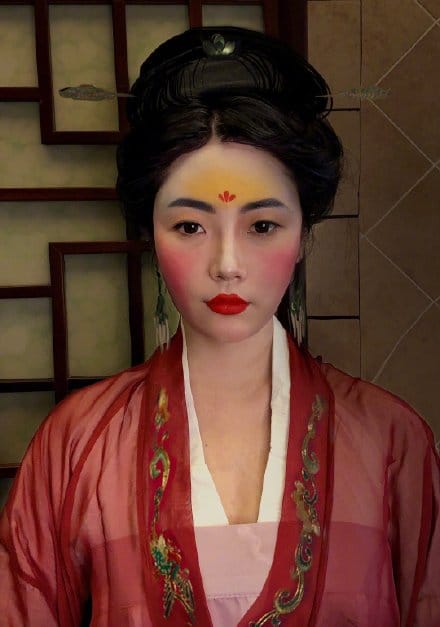 The yellow forehead, as can be seen in the live-action Mulan, is also known as "Buddha's makeup," and was especially popular among ladies during the Tang Dynasty. A yellow aura on the forehead was believed to be auspicious (Schafer 1956, 419).
Although contemporary Chinese makeup trends are much different than those depicted in Mulan, traditional makeup seems to make somewhat of a come-back because of the Disney movie, with hundreds of Chinese netizens imitating the look.
Beauty bloggers such as Nico (@黎千千Nico, image below) receive much praise from Weibo users for their makeup look. Nico wrote: "I even opened the door for the delivery guy this way!"
It is not just girls imitating the look; there are also some boys showing off their Mulan makeup.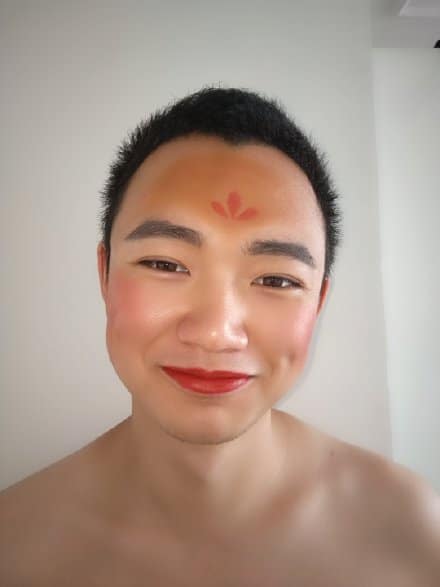 Although many still find the Mulan makeup look exaggerated and even "laughable," there are also those who think it looks really "cool" – of course, depending on whether or not the application is successful.
Want to try it out for yourself? There are various amateur tutorials available on Youtube (in Chinese), such as here, here, or here.
The Mulan make-up hype will probably continue in 2020; the Mulan movie will come out in late March.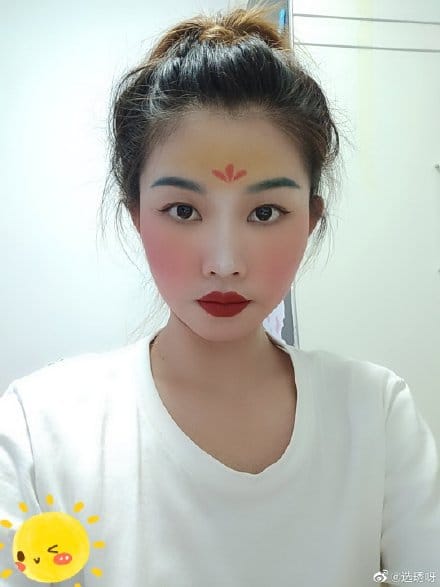 To read more about Mulan, please see our latest feature article on Mulan here.
By Manya Koetse
Follow @whatsonweibo
References
Schafer, Edward H. 1956. "The Early History of Lead Pigments and Cosmetics in China." T'oung Pao, Second Series, 44, no. 4/5: 413-38. http://www.jstor.org/stable/4527434.
Spotted a mistake or want to add something? Please let us know in comments below or email us. Please note that your comment below will need to be manually approved if you're a first-time poster here.
©2019 Whatsonweibo. All rights reserved. Do not reproduce our content without permission – you can contact us at info@whatsonweibo.com
Iconic Shanghai Singer Yao Lee Passes Away at the Age of 96
Yao Li, one of the seven great singing stars of Shanghai in the 1940s, has passed away.
Chinese singer Yao Lee (姚莉), the 'Queen of Mandarin pop,' passed away on July 19 at the age of 96.
The singer, with her 'Silvery Voice,' was known as one of the seven great singing stars ("七大歌星") of Shanghai of the 1940s.
For those who may not know her name, you might know her music – one of her iconic songs was used in the hit movie Crazy Rich Asians.
Yao's most famous songs include "Rose, Rose, I Love You" (玫瑰玫瑰我爱你), "Meet Again" (重逢), and "Love That I Can't Have" (得不到的爱情).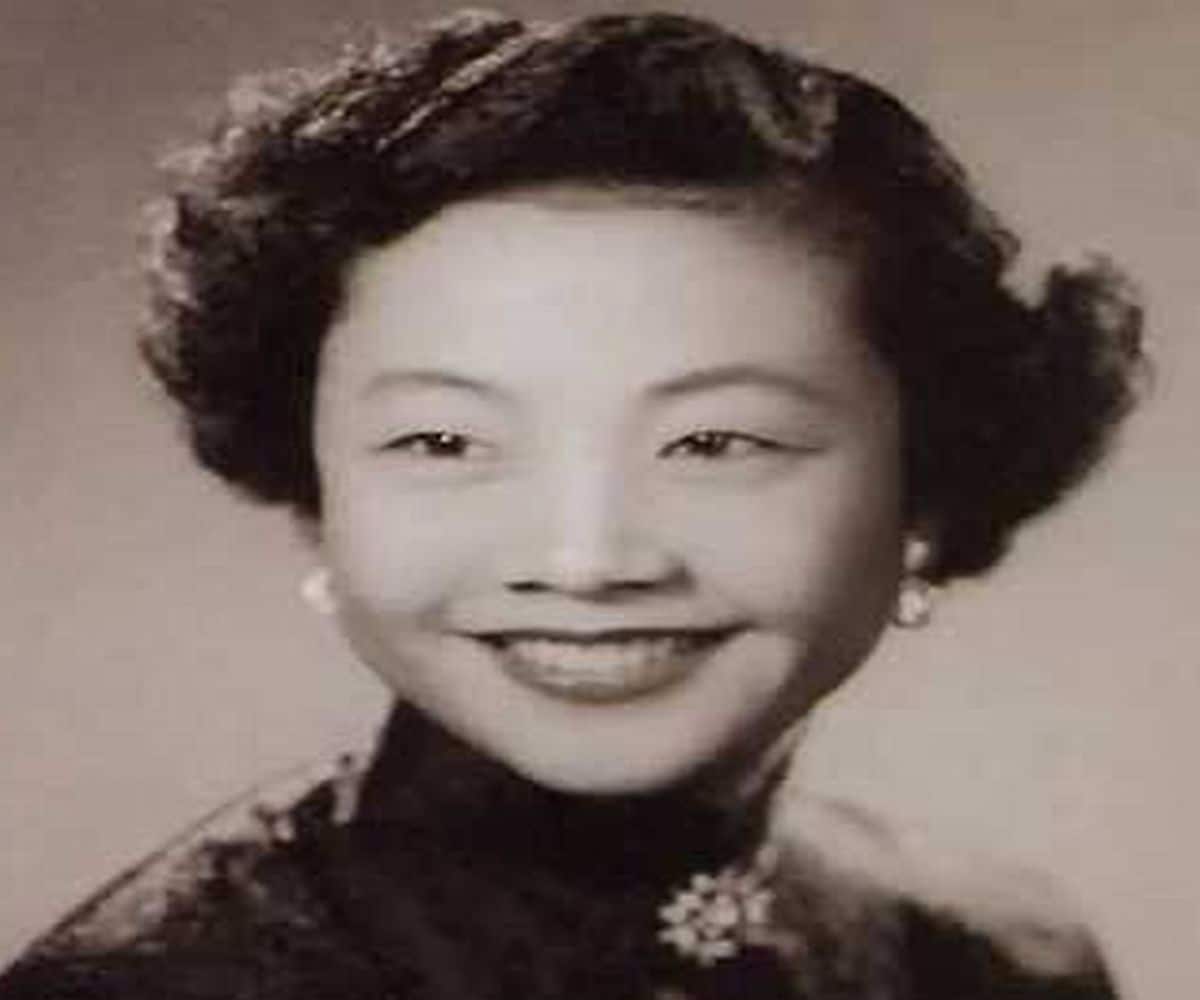 Yao, born in Shanghai in 1922, started singing at the age of 13. Her brother Yao Min was a popular music songwriter.
When popular music was banned under Mao in the 1950s, Hong Kong became a new center of the Mandarin music industry, and Yao continued her career there.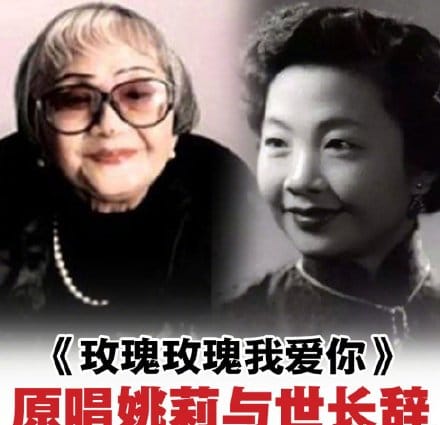 On Weibo, the hashtag Yao Lee Passes Away (#姚莉去世#) already received more than 200 million views at time of writing.
Many Chinese netizens post candles to mourn the death of the popular singer, some call her passing "the end of an era."
"Shanghai of those years is really where it all started," others say.
Listen to one of Yao's songs below:
By Manya Koetse
Follow @whatsonweibo
Spotted a mistake or want to add something? Please let us know in comments below or email us. Please note that your comment below will need to be manually approved if you're a first-time poster here.
©2019 Whatsonweibo. All rights reserved. Do not reproduce our content without permission – you can contact us at info@whatsonweibo.com