Three Years After Wuhan, China Pays Tribute to Frontline Medical Workers Once Again
Chinese media praise the sacrifice, selflessness, and dedication of doctors and nurses working on the frontline during the Covid-19 outbreak.
With the end of China's 'zero Covid' policy, the war against Covid is no longer mainly fought in Chinese communities: hospitals have now become the main Covid-19 battleground. Similar to the 2020 Wuhan outbreak, Chinese media are again saluting frontline healthcare workers, with news narratives focusing on their sacrifice and selflessness.
In January 2020, paying respects to the frontline medical workers, the "heroes of the city," was an important recurring theme in Chinese media reports and in social media posts about China's Covid outbreak and the ensuing lockdown in Wuhan.
The CGTN annual Spring Festival Gala of 2020, a 4-hour long show with a viewership of one billion, included a segment on the Wuhan coronavirus outbreak and showed scenes from inside a Wuhan hospital as a tribute to all the medical workers working day and night.
State media outlet CCTV also issued propaganda posters featuring medical workers, saying "1.4 billion people salute you."
Other visual propaganda in times of the 2020 Covid crisis, by People's Daily for example, also saw a strong focus on Wuhan medical workers, often highlighting their selflessness and the sacrifices they made for the greater good.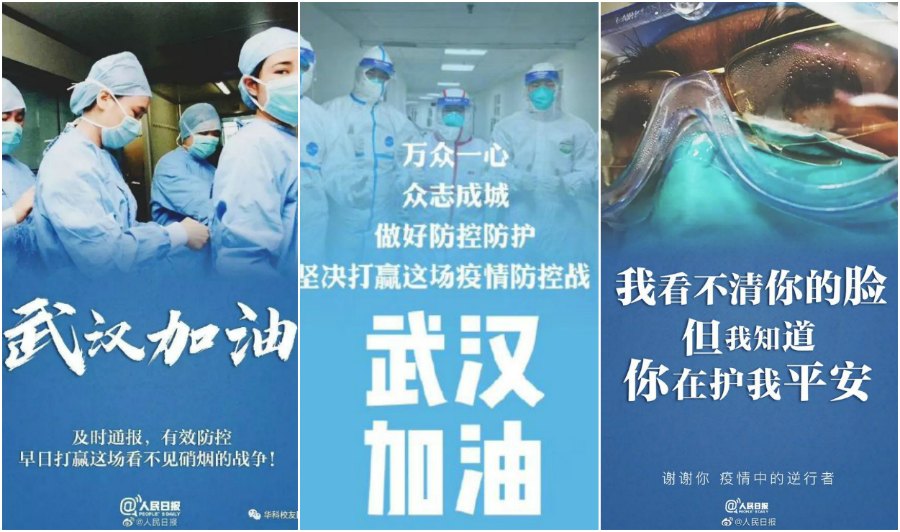 Later on, the movie Chinese Doctors (中国医生) would come out, a medical drama that featured the story of a group of doctors at a Wuhan hospital, being the first in the world to deal with the novel coronavirus. The movie showed the struggles of medical front-line workers facing a virus that would change the world as we know it.
The word nìxíngzhě (逆行者) also became a buzzword in 2020, meaning those going against the tide. It was often used by state media to describe and praise frontline workers as the 'people going backward' being the brave ones who are willing to face the challenges when everyone else is turning away.
STORIES OF SELF-SACRIFICE
"They were not born as heroes, but chose to be fearless"
Since the easing of China's 'zero Covid' regulations and the start of the major Covid-19 outbreak across China, frontline medical workers are again prominently featured in Chinese media.
Although appreciation for the so-called 'dabai' (大白, 'big whites') – a nickname for volunteers, community workers and other anti-epidemic workers in hazmat suits, – was often propagated by Chinese media during the 2022 lockdowns of Xi'an and other cities, the focus was not on the hospitals as those were not the main places where the battle against Covid was taking place. The war against Covid was mainly fought inside the neighborhoods, communities, and city districts.
This has now changed. As Covid-positive patients are flocking to medical centers – sometimes even lining up in front of fever clinics and emergency rooms, – Chinese hospitals have become a new battleground of Covid-19.
The Covid-19 human interest stories by Chinese media outlets now often focus on the perspective of the medical workers, the challenges they face, and the hard work they deliver.
Chinese state media outlet Xinhua launched the hashtag "Pay Tribute to Every Warrior Dressed in White" (#致敬每一位白衣卫士#) on 16 December 2022, with other news outlets publishing similar hashtags, such as "Salute to the Healthcare Workers on the Frontline" (#向坚守在一线的医护人员致敬#).
One Weibo account under the People's Liberation Army also posted a collection of videos showing doctors and nurses struggling at the job due to exhaustion, praising their persistence and reminding people that they are also just regular people who were "not born as heroes, but chose to be fearless" (#医护人员也是一个个普通人#).
One video showed a nurse administering IV fluids to patients while walking and working with her own IV pole.
One other hashtag that recently went viral on Chinese social media is "Medical Staff's 'Moments' [WeChat Timeline] Will Make You Tear Up" (#上海医护朋友圈让人泪目#), a Weibo topic initiated by Eastday News (东方网) that spiked on 28 December and received a over 190 million views within a few days.
The related video report by Eastday News is about the Wechat posts of Shanghai medical workers in the midst of the peak of Covid-19 infections in the city. It featured Wechat posts by doctors and nurses working at the Huashan Hospital, Hongqiao Hospital, and at the fever clinics or emergency department of other hospitals. One healthcare worker shared how he had barely recovered from Covid himself while already working a 24-hour shift.
Another video from a hospital in Suichang County, Zhejiang, showed a doctor at the emergency department who had just tested positive for Covid one day earlier and was continuing his work despite being feverish and suffering from body aches and a bad cough. While talking to a patient, the young doctor breaks down in tears when the patient tells him to take leave and rest, saying all of his colleagues have tested positive and that there is nobody to replace him.
This video, published on Douyin by local media, is from Suichang County in Zhejiang, where a young doctor breaks down in tears due to the pressure; feeling unwell due to Covid but can't leave his post because colleagues are also positive and there's nobody to take his shift. pic.twitter.com/ucGGPLnOKm

— Manya Koetse (@manyapan) January 5, 2023
Some media also publish stories about everyday work at the IC units, such as explaining the way in which medical staff members turn (overweight) patients from back to stomach or vice versa through the "candy-style flip" (#医院自创糖果翻身法为230斤患者翻身#).
At the intensive care unit at Nanjing's First Hospital, this method of turning around overweight/obese patients is referred to as the "candy-style flip" (糖果式翻身). It takes 7 people to turn this patient, who is wrapped like a candy, from stomach position to lying on his back. pic.twitter.com/IdJmH0YDSH

— Manya Koetse (@manyapan) January 5, 2023
Many news videos published on Chinese social media show medical workers fainting during work shifts, or struggling to continue work as they are also sick themselves. These videos all show the sacrifice and selflessness of these hard-working medical workers.
Many people show their appreciation for those frontline medical workers (向一线医护人员致敬!) who stay at the job despite running a fever themselves – if they go home, there's often nobody to replace them so their work is essential. pic.twitter.com/UborY8lGaG

— Manya Koetse (@manyapan) January 4, 2023
One Chinese news outlet reported about a 87-year-old retired doctor returning to work at a hospital in Lishui, Zhejiang. Because he was not used to the new computer systems, he was a bit slower than the younger doctors, but his dedication was appreciated by the patients.
The 87-year-old was not the only doctor returning to the frontline; multiple places across China allegedly saw retired healthcare workers returning to work to help out during this Covid outbreak (#多地退休医护人员重回一线战斗#)
To further show appreciation for the efforts of China's doctors and nurses, some regions are now giving out special benefits or bonuses for local medical workers. In Zhejiang, for example, some frontline medical workers reportedly received a bonus for their contributions to the fight against the epidemic (抗疫补助). The Jinhua First Hospital gave a 10,000 yuan ($1450) bonus to each employee (#浙江多地一线医护收到抗疫补助#).
In Hangzhou, several schools and kindergartens launched an initiative to welcome children of medical workers at school during the winter holidays, at no extra costs for the parents (#杭州多所学校给医护子女免费托管#). Shanghai local health authorities also announced a 6000 yuan ($870) bonus for frontline medical staff (#上海一线医护收到6000元补贴#).
"I salute the medical workers who stay on the job!", one Weibo user wrote ("致敬坚守岗位的医护人员!"): "You work so hard."
Despite all the praise for the medical workers in the hospitals, some staff members reminded people that there is still a long way to go when it comes to medical staff actually getting the respect they deserve.
Throughout the years, the social problem of patient-doctor violence has often become the topic of online discussions (read more), and one doctor from Hubei recently wrote that doctors are still being scolded and face harassment from patients, especially in stressful times.
"It's been three years," he writes: "and soon we'll enter the fourth year [since the start of the epidemic]. If you are an ordinary person and you're truly grateful to the doctors and nurses, then also show them your respect in ordinary times. If you are an employer and you really feel your medical staff works hard, then also give them more time off or more bonuses. Actual actions are always more real."
Read more about Zero Covid ending here.
By Manya Koetse 
Get the story behind the hashtag. Subscribe to What's on Weibo here to receive our newsletter and get access to our latest articles:
Spotted a mistake or want to add something? Please let us know in comments below or email us. First-time commenters, please be patient – we will have to manually approve your comment before it appears.
©2023 Whatsonweibo. All rights reserved. Do not reproduce our content without permission – you can contact us at info@whatsonweibo.com.
The "Final Round Players" of China's Covid Outbreak
Those who still haven't had Covid have made it to the "finals," but it's not always easy to stay positive about still testing negative.
This Chinese Lunar New Year period, as millions of people are traveling across the country, Hangzhou Daily (杭州日报) posted a video on Weibo of a 13-year-old boy dressed in full protective clothing at the Hangzhou train station.
The young man told the reporter that he was on his way to visit his grandparents for the Chinese New Year. When asked why he was dressed in protective clothing from head to toe, he answered: "Because I haven't had Covid yet."
According to the video posted by Hangzhou Daily, the boy has made it to the "Final Rounds" (决赛圈) as he has managed to stay Covid-negative at a time when so many people have already been infected with Covid-19 (#挺进决赛圈的男孩穿防护服坐火车#).
Since China 'optimized' the last stringent measures of its 'Zero Covid' policy back in early December – including an end to mandatory mass testing, – a wave of Covid infections spread across the country. The number of infections and emergency department visits reportedly reached its peak in late December of 2022 and in early January of 2023.
According to Wu Zunyou (@吴尊友ChinaCDC), chief epidemiologist of the Chinese Center of Disease Control and Prevention, 80 percent of China's population has now been infected with Covid ("这一波疫情已经使得全国约80%的人感染过").
As it is getting rarer to come across someone who has not had Covid yet, travelers dressed in full hazmat suits and protective gear are bound to stand out. "So many people on the train, and there are still two people in the crowd wearing protective clothing," one Weibo user from Guangdong wrote. Others also post photos on social media of some of the few travelers still fully dressed in protective gear.
One blogger photographed a child wearing protective clothing at Chongqing West Station on Jan. 24, calling the protective attire "exaggerated," and wondering how the child was supposed to go to the toilet.
Hangzhou Daily is not the only media outlet dubbing those who managed to stay negative "final round players" (决赛圈选手). In early January, Beijing Daily (北京日报​​​​) and People's Daily (人民日报) also published a short article using the same phrase. In the article, the Beijing expert physician Dr. Li Dong (李侗) answered some questions about the so-called 'finalists.'
According to Dr. Li Dong, some of the people who claim to have managed to stay 'Covid free' were never infected due to protective measures. But there are also those who may have actually had Covid-19 without realizing it, as they barely had any symptoms or were completely asymptomatic.
"Final round players, protect yourself!" one Weibo commenter writes: "Who else has managed to reach these finals?"
"As a 'final player,' I finally went out to eat and visit the shopping mall today. I'll have to wait and see if I reach the championship level. If I haven't caught [Covid], I can go on and lead a normal life; if I did catch it, I'll need to wait a while, and will also be able to lead a normal life."
Other persons who did not have Covid yet also share on social media that they went out for the first time during this Spring Festival period: "I cautiously went out and saw my first movie in 2023, Wandering Earth II, I picked a morning screening so that the cinema is not so crowded yet."
Now that the Covid infections in China have peaked and the number of infected critically ill patients is quickly dropping, the fears over catching Covid are also seemingly fading among those who were not yet infected.
But some people who have not had Covid yet are still being careful, especially if it concerns elderly family members. It's not always easy to stay positive about still testing negative – also for loved ones who did previously have Covid and want to protect their family.
One Fujian-based social media user writes: "I recovered from Covid and I'm spending the Spring Festival with three 'final round players.' We've been stuck inside the house for days. I've been looking at the lanterns and the lights in the neighborhood, watching them from the balcony, and I really wanted to go down and see."
"Looking at WeChat Moments, all my friends are out traveling, but my family still hasn't had Covid and we're afraid to go out," another netizen writes: "It's sad to celebrate the New Year without going out. Guess we're final-round players now, let's hope it brings good things."
Meanwhile, the group of 'finalists' is still shrinking. One Weibo user from Guangxi wrote: "I've left the finalist circle. It's only been two days since I returned to my hometown and I'm already infected."
By Manya Koetse 
Get the story behind the hashtag. Subscribe to What's on Weibo here to receive our newsletter and get access to our latest articles:
Spotted a mistake or want to add something? Please let us know in comments below or email us. First-time commenters, please be patient – we will have to manually approve your comment before it appears.
©2023 Whatsonweibo. All rights reserved. Do not reproduce our content without permission – you can contact us at info@whatsonweibo.com.
Video Shows Real-Time "Departure" Information Board at Chinese Crematorium
From "cremation in process" to "cooling down," the digital display shows the progress of the cremation to provide information to those waiting in the lobby. The crematorium 'departure' board strikes a chord with many.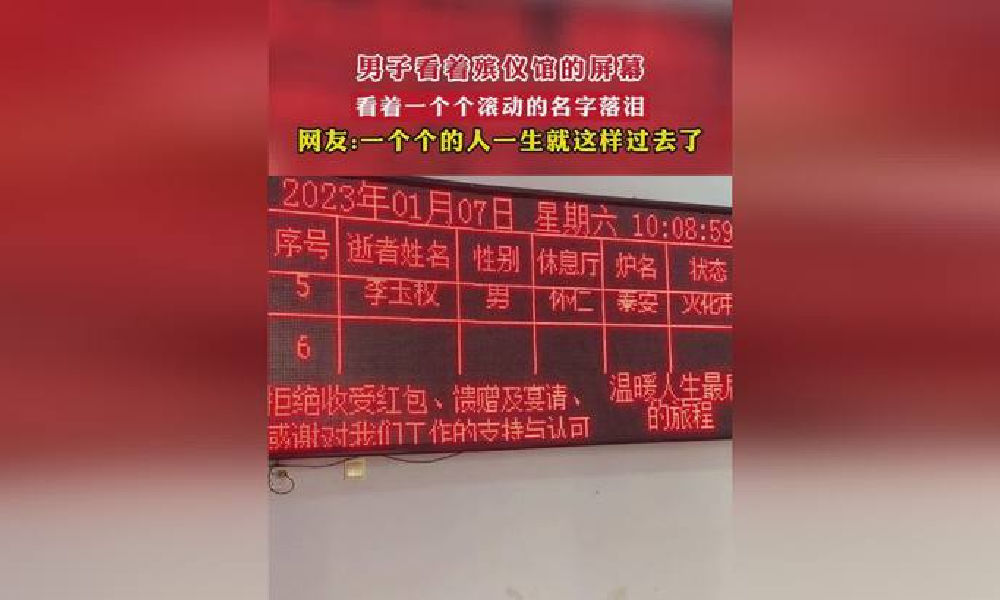 A video showing a live display screen announcing the names and status of the deceased at a Yunnan crematorium has been making its rounds on Chinese social media, from WeChat to Weibo, where one version of the video received over 1,7 million views.
Somewhat similar to a real-time platform departure display on train stations, the screen shows the waiting number of the deceased person, their name, gender, the name of the lounge/room (if any) for families, the name of the crematorium chamber, and the status of the cremation process. Below in the screen, it says "the final journey of a warm life" (温暖人生的最后旅程).
For example, the screen displays the names of a Mr. Chen and a Mr. Li; their bodies were in the process of being cremated (火化中), while other cremations were marked as "completed" (完成) or "cooling down" (降温中).
This video of a real-time "departure" information board in the lobby of a Chinese crematorium is making its rounds on Weibo/Wechat these days. The display shows the name and gender of deceased, which cremation chamber, and the cremation status to inform families of the progress. pic.twitter.com/EA94OWGwdk

— Manya Koetse (@manyapan) January 16, 2023
Through such a screen, located in the crematorium lobby, family members and loved ones can learn about the progress of the cremation of the deceased.
The video, recorded by a local on Jan. 7, received many comments. Among them, some people commented on the information board itself, while others simply expressed grief over those who died and the fragility of life. Many felt the display was confronting and it made them emotional.
"It makes me really sad that this how people's lives end," one commenter said, with another person replying that the display also shows you still need to wait in line even when you're dead.
"I didn't expect the screens [in the crematorium] to be like those in hospitals, where patients are waiting for their turn," another Weibo user wrote. "It would be better if the names were hidden, like in the hospitals, to protect the privacy of the deceased," another person replied.
Others shared their own experiences at funeral parlors also using such information screens.
"My grandfather passed away last September, and when we were at the undertaker's, the display was also jumping from one name to the other and we could only comfort ourselves knowing that he was among those who lived a relatively long life."
"Such a screen, it really makes me sad," another commenter from Guangxi wrote, with others writing: "It's distressing technology."
Although the information screen at the crematorium is a novelty for many commenters, the phenomenon itself is not necessarily related to the Covid outbreak and the number of Covid-related deaths; some people share how they have seen them in crematoriums before, and funeral parlor businesses have used them to provide information to families since at least 2018.
According to an article published by Sohu News, more people – especially younger ones – have visited a funeral home for the first time in their lives recently due to the current Covid wave, also making it the first time for them to come across such a digital display.
The online video of such an information board has made an impact at a time when crematoriums are crowded and families report waiting for days to bury or cremate their loved ones, with especially a large number of elderly people dying due to Covid.
On Jan. 4, one social media user from Liaoning wrote:
"I really suggest that the experts go to the crematoriums to take a look. There is no place to put the deceased, they're parked outside in temporary containers, there's no time left to hold a farewell ceremony and you can only directly cremate, and for those who were able to have a ceremony, they need to finish within ten minutes (..) At the funeral parlor's big screen, there were eight names on every page, and there were ten pages for all the people in line that day, I stood there for half an hour and didn't see the name of the person I was waiting for pop up anymore."
As the video of the display in the crematorium travels around the internet, many commenters suggest that it is not necessarily the real-time 'departure' board itself that bothers them, but how it shows the harsh reality of death by listing the names of the deceased and their cremation status behind it. Perhaps it is the contrast between the technology of the digital display boards and the reality of the human vulnerability that it represents that strikes a chord with people.
One blogger who reposted the video on Jan. 13 wrote: "Life is short, cherish the present, let's cherish what we have and love yourself, love your family, and love this world." Among dozens of replies, some indicate that the video makes them feel uncomfortable.
Another commenter also wrote:
"I just saw a video that showed an electronic display at a crematorium, rolling out the names of the deceased and the stage of the cremation. One name represents the ending of a life. And it just hit me, and my tears started flowing. I'm afraid of parting, I'm afraid of loss, I just want the people I love and who love me to stay by my side forever. I don't want to leave. I'm afraid I'll be alone one day, and that nobody will ever make me feel warm again."
One person captured why the information board perhaps causes such unease: "The final moments that people still spent on this earth take place on the electronic screen in the memorial hall of the funeral home. Then, they are gone without a sound."
Get the story behind the hashtag. Subscribe to What's on Weibo here to receive our newsletter and get unlimited access to all of our articles:
By Manya Koetse 
with contributions by Zilan Qian
Spotted a mistake or want to add something? Please let us know in comments below or email us. First-time commenters, please be patient – we will have to manually approve your comment before it appears.
©2023 Whatsonweibo. All rights reserved. Do not reproduce our content without permission – you can contact us at info@whatsonweibo.com.