Chinese Communist Youth League Joins Bilibili – Where Official Discourse Meets Online Subculture
The Central Communist Youth League of China (共青团中央) recently announced its official presence on Chinese video-sharing site Bilibili.
The Central Communist Youth League of China (共青团中央) recently announced its official presence on Chinese video-sharing site Bilibili – a digital platform focused on anime, comics, games, and subcultures popular among Chinese youth. What's on Weibo's Diandian Guo takes a look at what happens when China's official discourse mixes with online pop culture.
"Did you think the Youth League did not use 'B-station'? 2017, here we are!" On January 1st 2017, the Central Chinese Communist Youth League (CCYL or CYL) published this headline.
It announced the opening of the Party's youth movement's official account on Bilibili (哔哩哔哩) or B-Station (B站), a video sharing website for Chinese fans of anime, comics, games and other popular youth subcultures.
"Bilibili has become the headquarters for online alternative youth subcultures of China."
This is not the first time the Chinese Communist Youth League enters popular channels of communication. As early as 2009, a central secretary meeting highlighted the important role popular culture could play in propagating its ideology. In 2013, the CCYL opened a Sina Weibo account (@共青团中央), followed by an official WeChat account.
But within the realm of online platforms, Bilibili is a whole new ballgame. Starting as a fandom community in 2009, bilibili.com has become the new headquarters for online alternative youth subcultures of China.
Its ACG focus (anime, comics, and games) is often referred to as the "second-dimensional space" (二次元), marking its distinction from the real world or the "three-dimensional space."
Although its initial users were mostly fans of Japanese manga and anime, Bilibili has now grown into a colorful and culturally diverse space, with the gradual emergence of more cultural products from China, America, or Thailand, among others.
"Wherever the good youth of China are, the League will go there to meet you."
Despite the diversity, however, Bilibili forms a tight-knit and vibrant cultural community. All users can submit, view and add commentary on videos called "screen bullets" (弹幕), which appear on the video screen for everyone to see.
By sending these 'screen bullets', all users are participating in watching and "making" cultural products together. Through time, Bilibili users have developed their own language and social norms.
With its unique online environment, Bilibili is a platform where neither reality nor politics are likely to appeal to its young audience – it seems to be worlds apart from an organization like the Communist Youth League, that always conveys the "main melody" of official policies and guidelines.
Yet despite their alternative pop cultural interests, the Central Communist Youth League still identifies this online subculture as the "good youth of China," and states that "however high the mountains and however deep the waters, wherever the good youth of China are, the League will go there to meet you."
"How to Resist Western Colonization of the Mind, and Why China Wins."
So what exactly is the type of content that the CCYL publishes on Bilibili? Here is an overview:
◙ Online Open Course for Youth (青年网络公开课): this series of open courses have been published in 2016 by the CCYL on another video platform (Youku.com), and has now been listed under CCYL's new Bilibili account.
The goal of this series of courses is to "invite great minds to teach, inspire and answer questions for young people, so that they can choose the right path in life." The themes mainly concern China in world politics, including titles such as "How to Resist the Western Colonisation of the Mind" (如何抵御西方精神殖民), "Why China Wins" (中国为什么能赢) and "Challenges and Visions of the Sino-American game" (中美博弈的挑战与前景).
◙ Representing and Redefining China's 'Youth': CCYL targets post-90s, who are entering society today, and who constitute the majority of Bilibili users. While the younger generations on Bilibili may define and represent themselves as geeky and individualistic as possible, CCYL endeavors to also bring them a more political and national perspective.
In "Redefining the post-90s" (重新定义90后), young athletes, technical workers, and volunteers are portrayed as perfect representatives of their generation; conveying the message that young people should have the dream to contribute to the world. Two other short documentaries of a railway worker and a welder convey the idea of the ideal national "model worker."
◙ Historical Themes: although the previous themes dominate CCYL's new Bilibili account at the time of writing, more historical themes undoubtedly will pop up later. Among the three newly published videos this year, two are about history.
A video titled "The Japanese Invasion of China: Not Just About Killing" (日本侵华,不只是杀戮), convinces viewers that the main goal of Japanese militarism was never about "abolishing the body," but about "abolishing the soul." Another video refers to a historical cartoon Year Hare Affair (那年那兔那些事), a patriotic and sentimental narrative of contemporary history, which is also broadcasted on Bilibili.
"So could we say that China's official discourse perfectly mixes with online pop culture? Perhaps not entirely."
For now, it looks like Bilibili users have whole-heartedly welcomed the Chinese Communist Youth League to their digital platform. One of the most recurring comments is: "Good job, my League!" (厉害了,我的团). Many users state that they have immediately become a fan of the CCYL, and will follow all of its future updates.
Overall, CCYL's reasoning also seems to have the wide public support of Bilibili users. Under the Japanese invasion video – despite the fact that Bilibili users generally are great fans of Japanese manga – one user wrote: "Japanese manga are not brainwashing in essence, but there are people in those circles who will lead you the wrong way. When you are young and your values are not yet formed, you can be easily misled and it would be difficult to fix that."
So could we say that China's official discourse perfectly mixes with online pop culture? Perhaps not entirely. The overwhelming support for CCYL on Bilibili is not completely indisputable. Some users point out that commenters "cannot just write any reaction," and that "it happens so often that what you wrote appears as ***."
There are more negative voices. One user wrote that the CCYL "should first deal with corruption, instead of being occupied with 'image projects.'"
Another user spoke against the blunt promotion of the so-called "Chinese dream" (中国梦), and said that "promoting the Chinese dream to the world without actually solving social problems will end up with people living in a hollow national dream, incapable to fulfill their own personal dreams."
-By Diandian Guo
Follow on Twitter or Like on Facebook
Featured image: screenshot of one of the CCYL's videos on Bilibili.
Editing by Manya Koetse.
©2016 Whatsonweibo. All rights reserved. Do not reproduce our content without permission – you can contact us at info@whatsonweibo.com.
From Tea Farmer to Online Influencer: Uncle Huang and China's Rural Live Streamers
'Cunbo' aka 'rural livestreaming' is all the rage. A win-win situation for farmers, viewers, and Alibaba.
This is the "WE…WEI…WHAT?" column by Manya Koetse, originally published in German by Goethe Institut China on Goethe.de: "VOM TEEBAUERN ZUM INFLUENCER: ONKEL HUANG UND CHINAS LÄNDLICHE LIVESTREAMER." 
The past year has been super tumultuous when it comes to the topics that have been dominating Chinese social media. The Coronavirus crisis was preceded by other big issues that were all the talk online, from the US-China trade war to the protests in Hong-Kong, the swine flu, and heightened censorship and surveillance.
Despite the darker side to China's online environment, however, there were also positive developments. One of the online trends that became popular this year comes with a term of its own, namely cūnbō (村播): rural livestreaming.  Chinese farmers using livestreaming as a way to sell their products and promote their business have become a more common occurrence on China's e-commerce and social media platforms. 

The social media + e-commerce mix, also called 'social shopping,' is booming in the PRC. Online platforms where the lines between social media and e-commerce have disappeared are now more popular than ever. There's the thriving Xiaohongshu (小红书Little Red Book) platform, for example, but apps such as TikTok (known as Douyin in China) also integrate shopping in the social media experience.
Over recent years, China's e-commerce giant Alibaba has contributed to the rising popularity of 'social shopping.' Its Taobao Live unit (also a separate app), which falls under the umbrella of China's biggest online marketplace Taobao, is solely dedicated to shopping + social media, mainly mobile-centered. It's a recipe for success: Chinese mobile users spend over six hours online per day, approximately 72% of them shop online, and nearly 65% of mobile internet users watch livestreaming.
Every minute of every day, thousands of online shoppers tune in to dozens of different channels where sellers promote anything from food products to makeup or pet accessories. The sellers, also called 'hosts' or 'presenters,' make their channels attractive by incorporating makeup tutorials, cooking classes, giving tips and tricks, chatting away and joking, and promising their buyers the best deal or extra presents when purchasing their products.                
Sometimes thousands of viewers tune in to one channel at the same. They can 'follow' their favorite hosts and can interact with them directly by leaving comments on the livestreams. They can compliment the hosts ("You're so funny!"), ask questions about products ("Does this also come in red?"), or leave practical advice ("You should zoom in when demonstrating this product!"). The product promoted in the livestreams can be directly purchased through the Taobao system.
Over the past year, Alibaba has increased its focus on rural sellers within the livestreaming e-commerce business. Countryside sellers even have their own category highlighted on the Taobao Live app. Chinese tech giant Alibaba launched its 'cūnbō project' in the spring of 2019 to promote the use of its Taobao Live app amongst farmers. The most influential livestreaming farmers get signed by Alibaba to elevate Taobao Live's rural business to a higher level.
One of these influential Chinese farmers who has made a name for himself through livestreaming is Huang Wensheng, a tea farmer from the mountainous Lichuan area in Hunan Province.
Huang, who is nicknamed 'Uncle Farmer,' sells tea through his channel, where he shows viewers his work and shares stories and songs from his village. He is also known to talk about what he learned throughout his life and will say things such as: "It is important to work hard; not necessarily so much to change the world , but to make sure the world does not change you."
With just three to five livestreaming sessions per week, 'Uncle' Huang reaches up to twenty million viewers per month, and, according to Chinese media reports, has seen a significant increase in his income, earning some 10,000 yuan (€1300) per week.
Huang is not the only farmer from his hometown using Taobao Live to increase their income; there are some hundred rural livestreamers in Lichuan doing the same.
The rural livestreaming category is significantly different from the urban fashionistas selling brand makeup and the latest must-haves: these hosts do not have the polished look, glamorous clothes, or stylish backgrounds. They usually film outside while doing their work or offer a glimpse into their often humble rooms or kitchens.
Viewers get to see the source of the products sold by these rural sellers; they often literally go to the fields to show where their agricultural products grow, or film themselves getting the eggs from their chickens or the oranges from the trees. From fruits to potatoes and flowers, and from fresh tea to home-made chili sauce – a wide range of products is promoted and sold through Taobao Live these days.
Some rural livestreamers are trying to stay ahead of their competition by coming up with novel concepts. A young farmer from Sichuan, for example, recently offered viewers the opportunity to "adopt" a rooster from his farm, allowing them to interact with 'their' rooster through social media and even throwing the occasional birthday party for some lucky roosters.
Examples such as these show that although the countryside livestreamers usually lack glitter and glam, they can be just as entertaining – or perhaps even more so – than their urban counterparts.
Who benefits from the recent 'cūnbō' boom? One could argue that the rising popularity of livestreaming farmers is a win-win situation from which all participants can profit in some way. The commercial interests are big for Alibaba. The company has been targeting China's countryside for years, as it's where China's biggest consumption growth will happen while mobile internet penetration is still on the rise. Alibaba earns profits from an increasing number of rural e-commerce buyers, as well as e-commerce sellers.
Alibaba's early focus on the countryside as a new home for e-commerce has previously also led to the phenomenon of so-called 'Taobao Villages,' where a certain percentage of rural residents are selling local specialties, farm products or other things via the Taobao platform with relatively little transaction costs.
Many Chinese villages and farmers are profiting from the further spread of Taobao in the countryside. Not only does Alibaba invest in logistics and e-commerce trainings in rural areas, these e-commerce channels are also a way to directly boost sales and income for struggling farmers.
Chinese media predict that the rural livestreaming trend will only become more popular in the years to come, bringing forth many more influential farmers like Huang.
But besides the commercial and financial gains that come from the rising popularity of rural livestreamers, there is also a significant and noteworthy social impact.  At  a time in which China's rapidly changing society sees a widening gap between urban and rural areas, these rural channels serve as a digital bridge between countryside sellers and urban consumers, offering netizens a real and unpolished look into the lives of farmers in others parts of the country, and gives online buyers more insight and understanding of where their online products came from.
Taobao Live is actually like a traditional "farmers' market," but now it is digital, open 24/7, and accessible to anyone with a mobile phone. It's the Chinese farmers' market of the 21st century.
By Manya Koetse
Follow @whatsonweibo
Spotted a mistake or want to add something? Please let us know in comments below or email us. First-time commenters, please be patient – we will have to manually approve your comment before it appears.
This text was first published by Goethe-Institut China under a CC-BY-NC-ND-4.0-DE license (Creative Commons) as part of a monthly column in collaboration with What's On Weibo.
WeChat's New Emoji Are Here (Including a Watermelon-Eating and Doge One)
WeChat's new emoji are based on popular memes.
On January 14, Tencent's Wechat introduced new emoji to its existing emoji set. The new emoji include, among others, a watermelon-eating emoji and a smiling Shiba Inu.
On Weibo, the new emoji have become a topic of discussion under the hashtags "WeChat's New Emoji" (#微信上线新表情#), "WeChat's Watermelon Eating Emoji" (#微信上线吃瓜表情#), and "WeChat's Dog Emoji" (#微信上线狗头表情#).
Different from the Unicode emoji (see Emojipedia), WeChat and Weibo have their own sets of emoji, although there is overlap.
The reason why especially the watermelon-eating and dog emoji are being discussed on social media, is because these emoji are based on popular internet memes.
"Eating watermelon" (吃瓜 chī guā) is an online expression that comes from "watermelon-eating masses" (吃瓜群众 chī guā qúnzhòng), which describes a common mentality of Internet users who have no idea what is actually going on but are still commenting or following online stories for their enjoyment – perhaps comparable to the "popcorn memes" that are ubiquitous on Western social media platforms.
The smiling dog has been around since 2013 and is known as the doge meme, based on a photo of a Shiba inu. The meme was originally spread on social media platforms such as Reddit, but then also became hugely popular in China, where it became a symbol of sarcasm (also read this Abacus article on this topic).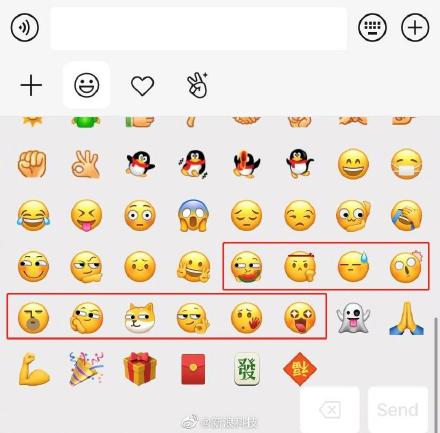 Other new emoji are the "wow" emoji, and others to express "ok," "add oil," "emm," "oh!"
There's also a "shehui shehui" (社会社会, lit. "society society") emoji, which also comes from online culture and is a way among friends to (self-mockingly) talk about being 'gangsters,' 'brothers.' or 'scoundrels.'
As the new emoji are still in their testing phase, not all WeChat users can use the new emoji yet, so you might have to wait a bit before being able to try them out.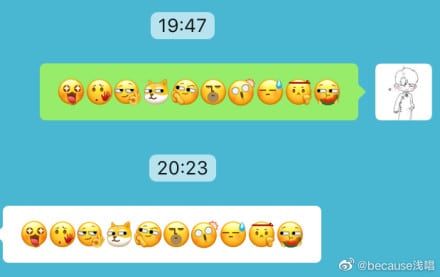 By Manya Koetse, with thanks to @caaatchina
Follow @whatsonweibo
Spotted a mistake or want to add something? Please let us know in comments below or email us. First-time commenters, please be patient – we will have to manually approve your comment before it appears.
©2020 Whatsonweibo. All rights reserved. Do not reproduce our content without permission – you can contact us at info@whatsonweibo.com.