Chinese E-Readers: The Best E-book Devices in China
Overview of the top 10 e-readers in China in 2021.
From Onyx to Xiaomi, these are the top selling e-readers in China right now.
Ereaders have become booming business over recent years. Some people prefer an e-reader because it is easier on their eyes than reading from phone screens, others want a distraction-free digital reading style, and some just like the idea of carrying their own mini-library with them with a battery that lasts much longer than those of tablets or smartphones.
While Amazon's Kindle is the biggest brand name in the American and European e-book reader market, the Chinese e-reader market also has several domestic brands topping the popularity lists.
Here is an overview of the top 10 brands currently dominating the lists in China. This list is based on the rankings of Zol.com, one of China's leading IT information and business portals.
The devices mentioned in this list are all devices with E Ink ("electronic ink") display technology, which gives them that low-power paper-like display. Devices using E Ink technology are usually in grayscale, but color e-paper technologies are now also available.
1. ONYX BOOX (CHINESE BRAND)
BOOX, also known as Onyx Boox (文石BOOX), currently is China's top e-book reader brand, produced by Onyx International Inc., which mostly produces E Ink (ePaper) devices. Onyx Boox was founded in 2008 by a team from IBM, Google, and Microsoft. It is headquartered in Guangzhou.
What sets Onyx apart from many other e-book reader brands is that they offer devices from 7.8 to 13.3 inches that can also function as digital note-taking tablets, equipped with a pen that allows users to pen down their notes as they would in any paper notebook.
The latest Onyx devices such as the Max Lumi (13.3 inch), Onyx Boox Note Air (10.3 inch), the Note 3 (10.3 inch), and the Nova 3 and Nova 3 Color (7.8 inch) all have a wide variety of functions. Besides the common e-reading functions and digital note-taking possibilities, these devices run Android, handle many different file formats, and allow an install of Google Play, Kindle, OneDrive, and more, which really make them "like a tablet unlike any tablet" (which just happens to be their slogan).
Currently, the Boox Nova 3 is the brand's most popular model in China. Priced at ¥2480 ($377), it is also among the pricier models in the markets due to its multifunctionality. It has 32GB of storage, E Ink Carta Plus (the latest generation of screens made by "electronic paper" technology) and also has a screen front light system, allowing users to keep on reading in the dark.
At ¥2780 ($423), the Onyx Boox Note S, which features a 9.7-inch screen, is also rising in popularity. Then there is also the Nova 3 Color 7.8-inch color E Ink tablet with a new Kaleido (Kaleido Plus) screen.
The Onyx is also sold outside of China, check it out here on Amazon.
2. AMAZON
The American Amazon brand is also popular in China when it comes to its e-reader devices. While compiling this list, the Onyx and Amazon brands actually competed over the number one spot, so there is not much difference there in terms of ranking.
Along with the entry-level Kindle Migu X, the 4th generation (2018) Kindle Paperwhite (6 inches, 1448x1072px) is among the most popular e-reader models in China, priced at ¥998 ($152). Like the Onyx Nova 3, it is also available with 32GB storage, but keep in mind that the screen is smaller.
The Kindle e-book devices are much more affordable than the Onyx ones, and their functionality is more straightforward as an e-book reader. They are known for their great battery life, and since the first Kindle was introduced in 2007 it has become the world's most famous dedicated e-reader. Kindles are designed to interface seamlessly with Amazon's online store, which makes them perfect for Amazon fans and less appealing for those who have no desire to use the Amazon ecosystem.
The Paperwhite model has an extra advantage to it, as it allows to keep on reading while taking a bath or sitting by the pool since it is water-resistant. The Paperwhite is currently the no.2 best-sold e-book reader on Chinese major shopping platform JD. It is sold through Amazon here.
3. iFLYTEK (科大讯飞) (CHINESE BRAND)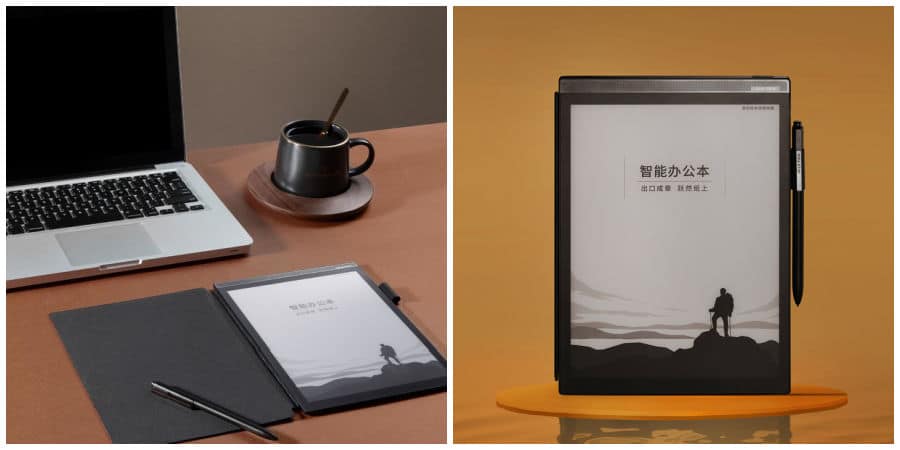 iFlytek is a partially state-owned Chinese AI firm established in 1999 that also produces e-book readers. The company made headlines in 2019-2020 when it was blacklisted in the US for allegedly using its technology for surveillance and human rights abuses in Xinjiang.
Its iFlytek Smart Office X2 (科大讯飞智能办公本X2) is the e-book reader that is currently in the top 5 list of most popular ink screen devices in China (it even scores no 1 on e-commerce platform JD.com at the time of writing), and it is also among the most expensive (¥4999/$762). The X2 is a 10.3-inch E Ink device.
Similar to the Onyx Boox devices, it is much more than an e-reader alone; it is also a note-taking device (comes with the Wacom stylus) and incorporates fingerprint authentication, Wifi/4G, (offline) voice recognition, and transcription functions; it probably is the smartest e-reader around.
The iFlytek also has a whopping 64GB storage, which can be expanded to 128GB. GizTechReview did a review of the Smart Office X2 here.
4. IREADER / ZHANGYUE (掌阅) (CHINESE BRAND)
Ebook reader Zhangyue (掌阅) made headlines in late 2020 when it was announced that Tiktok owner Bytedance would invest $170 million in the company.
Zhangyue, founded in 2008 in Beijing, is not just a producer of e-readers, it is also the online literature publisher behind the iReader platform (掌阅书城). Its most popular ebook reader in China at this time is the 6-inch Zhangyue iReader Light (掌阅iReader Light青春版), which is priced at ¥638 ($97) and comes with 8GB storage.
A much pricier model is the Smart X (¥3499/$539), which has 32GB storage and a 10.3 inch 1872×1404 resolution screen, making it just as big as the Onyx Boox Note Air and the iFlytek Smart Office X2. The iReader Smart X also comes with a Wacom pen for note-taking. There's a review of this device on Gearbest.
The iReader Smart 2 is popular on shopping site JD.com, priced at ¥2299 ($353). It came out in 2020, and also is a note-taking device with 32GB storage and a 10.3 inch screen. The difference with the Smart X device mainly lies in its screen quality.
5. XIAOMI (CHINESE BRAND)
Beijing-brand Xiaomi is mostly known for being one of the world's largest smartphone makers, but the tech company does so much more, from watches to earphones, TVs, scooters, and e-readers.
Priced at ¥599 ($92), the Xiaomi MiReader (小米多看电纸书), released in November 2019, is among the more popular e-reader devices in China at the moment. Mainly marketed for the Chinese market, it is Xiaomi's first ebook reader which comes with a 6-inch e-Ink screen and 16GB storage. With its 1024×768 pixels at 212 PPI screen, it might not be as crisp and fast as other devices in this list, but its price is also much lower. This review at Goodereader was not positive at all, calling it "super slow and plodding."
The MiReader also has a Pro device (小米多看电纸书Pro) available in China, which is ¥1299 ($200) and comes with a 7.8-inch 300 PPI screen and 32GB storage. The Xiaomi e-readers allow access to the WeChat Library, which is a great advantage for Chinese consumers (Kindle doesn't allow access to the WeChat Library).
6. HANVON (汉王) (CHINESE BRAND)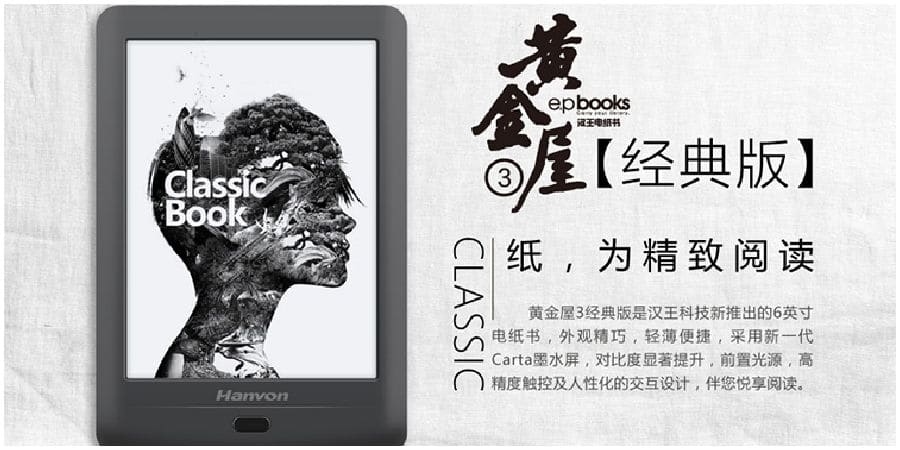 Established in 1998, Hanwang is a pioneering company in character recognition technology and intelligent interactive products.
Although Hanvon is in the top 10 of China's hottest e-book device brands, its Hanvon Gold House 3 model (汉王黄金屋3), priced at ¥799 ($123), is not nearly as popular as other devices in this list. The Hanvon Gold House comes with a 6-inch 1024×758 resolution screen and 4GB in storage. The device is marketed as being simple, stylish, and ergonomic.
7. TENCENT (CHINESE BRAND)
Chinese tech giant Tencent is mostly known for its social media and gaming products, but it also produces e-book devices.
The Tencent Pocket Reader (腾讯口袋阅) is small and lightweight with its 5.2 inches 1280×720 eInk screen, it comes with 8GB storage and is priced at ¥889 ($136). The device is centered around the Tencent ecosystem and provides access to the Tencent Library and bookstore.
Its small size makes this device different from other e-readers. It is the size of a smartphone, which is great if you really want an e-reader in your pocket, but less ideal if you are looking for a more comfortable reading experience. The Pocket Reader supports a 4G mobile card and can also make calls and do text messaging.
8. BOYUE (博阅) (CHINESE BRAND)
Boyue is a digital reading technology company founded in 2009. Throughout the years the company has released different e-book devices as well as digital note-taking devices.
The Boyue T80 model and its Likebook Mars are its best-sold devices in China. The Boyue T80 is priced at ¥1199 ($184) and has 8GB of storage, features an 8-inches 1024×768 screen, and supports SD.
The Likebook Mars is ¥1380 ($212) and comes with 16GB of storage, a 7.8 inch 1872×1404 screen, and it also has SD card support, which allows you to extend the storage capacity to 128GB.
9. OBOOK (国文) (CHINESE BRAND)
Guowen or OBOOK is an e-reader company established in 2010 as what was meant to be the Chinese answer to Kindle.
Its Dangdang E-reader 8 (当当阅读器8) is currently rising in popularity. It features a 6-inch 300 PPI resolution screen and 16GB of storage and is priced at ¥918 ($141).
10. SONY
Sony is perhaps not a name you'd expect in this list, since Sony seems to have exited the e-reader business some time ago.
There are only a few e-book devices by Sony that are still popular in China right now, and one of them is the 10.3-inch 1404×1872 screen Sony DPT-CP1 model that is priced at ¥4888 ($750). For this price, you get a lightweight, thin device that also serves as a digital note-taking tablet that syncs with PC or Mac.
The DPT-RP1/WC model is even pricier at ¥5299 ($815), for which you get a 13.3 inch 1650×2200 screen, which is comparable to the Onyx Boox Max Lumi.
By Manya Koetse
This is not a sponsored post. This article could contain links to online shops, which might allow us to earn a very small affiliate commission at zero extra cost to you – it helps us in maintaining this site. Spotted a mistake or want to add something? Please let us know in comments below or email us. First-time commenters, please be patient – we will have to manually approve your comment before it appears.
©2021 Whatsonweibo. All rights reserved. Do not reproduce our content without permission – you can contact us at info@whatsonweibo.com.
Uh Oh, IP: Chinese Social Media Platforms Now Display Users' Geolocation
From Weibo to Zhihu, Chinese social media platforms now display netizens' geolocation to ensure a 'healthy online environment.'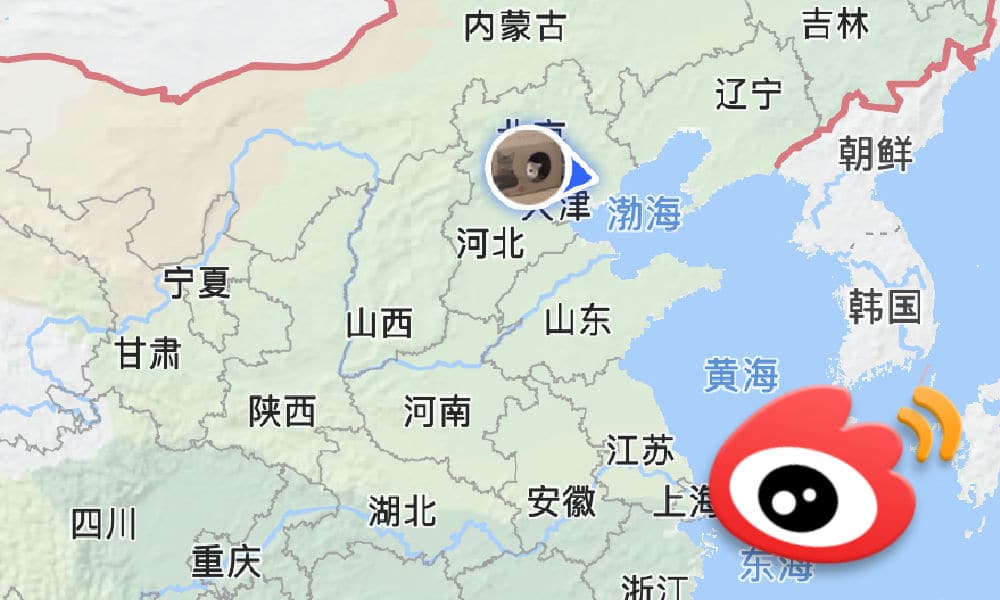 Over the past few days, Chinese social media platforms have started to introduce a new function that displays the IP location of online commenters.
Weibo was the first platform to introduce the function on Thursday – the topic also became top trending on April 28 – and social media platforms Douyin, Toutiao, Xiaohongshu and others followed later. Zhihu announced the measure on April 30 (#知乎宣布全面上线显示用户IP属地#).
Weibo has experimented with the function since March 22 of this year before completely rolling it out on April 28. Whenever users post a reply or comment to a thread, their Internet Protocol (IP) address location will be displayed underneath their comment, right next to the post date and time information. The location will also be displayed on the personal account page of Weibo users.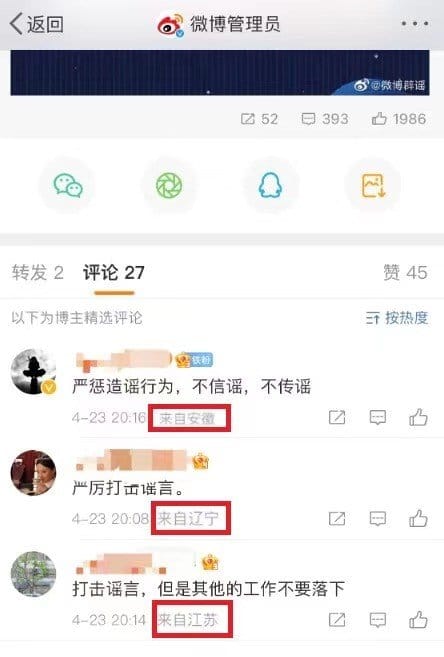 According to Sina Weibo, the function was introduced to ensure a "healthy and orderly discussion atmosphere" on the platform and to reduce the spread of fake news and invidious rumors by people pretending to be part of an issue or city that they are actually not part of. To keep online discussions "authentic and transparent," social media users' specific region, city, province, or country will show up below their names. The function can not be turned off by users.
'Refuting rumors' is a priority for Weibo management and has only become more relevant during the Covid-19 pandemic outbreak in China and the recent Shanghai outbreak.
On Saturday, the hashtag "What Does It Mean That Platforms Are Unrolling the IP Function?" (#平台开放IP属地功能意味着什么#) was trending on Weibo, attracting over 170 million views.
The new measure has attracted mixed reactions on Chinese social media, where some users think it is useful that you can now discern users located abroad from those who are based in China, making it easier to draw conclusions on what is really going on in society (you can now spot trends that are particularly taking place within one region) and what is merely taking place in cyberspace.

But there are many users who think the new function is just another layer of control and does not really help to combat fake news or malicious rumors, since the IP location could actually still be changed.
Although the entire idea of displaying the IP location is to minimize the gap between cyberspace and reality based on one's location, the location is merely the geographic location of the internet from the connected device and does not always correspond with the actual location of the social media user.
Once a person is connected to a Virtual Private Network (VPN), for example, internet traffic is sent through a server in another location, and the IP address will be replaced by the IP address of the VPN server in a different location from people's actual address.
Some Weibo account are also not run by the persons themselves but by a social media or marketing company.
In this way, Bill Gates unexpectedly turned out to be located in Henan province, and Lionel Messi's location showed up as Shanghai.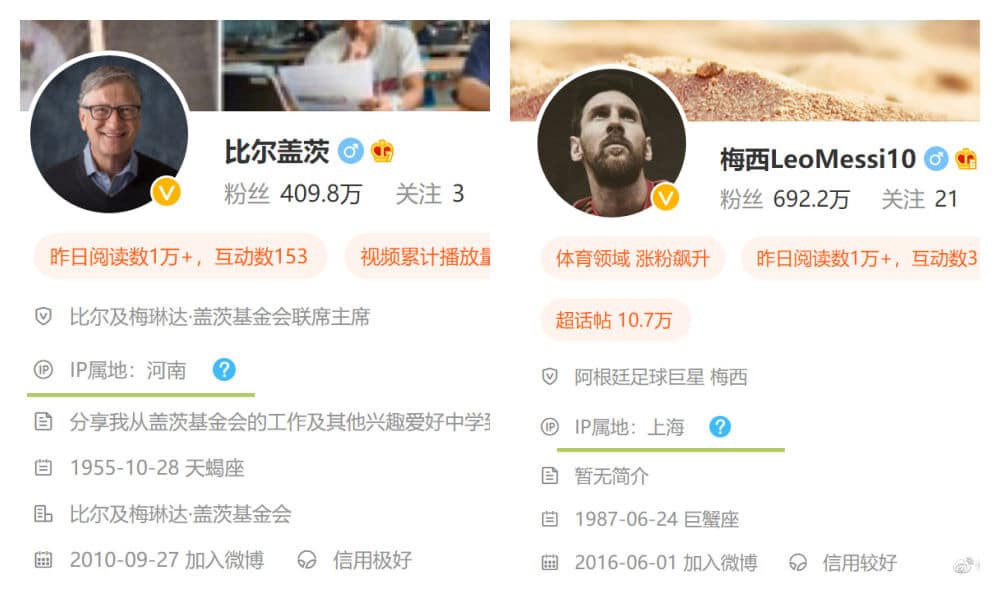 Others think that the new rule will only lead to more online polarization and self-censorship: "Who made this unsettling decision?! From now on, Chinese nationals who are studying or living abroad will be extra extra careful in what they write, otherwise, they'll be labeled as 'foreign forces.'"
Some people joked about the new function revealing their location, writing: "It made me so embarrassed. I'm pretending to be studying in the UK, while I'm actually in the mountains feeding the pigs." Others were also surprised that their IP location was completely different from the place where they are actually living: "Weibo, what are you doing? I've never even been to Jilin," one commenter wrote.
According to an online poll held by Fengmian News, 56% of the participants (nearly 300,000 at time of writing) said they supported the new function. 21% did not like the function, 17% said they did not care, and 6% were just curious to see their own IP location and if it matches their actual location.
"I'm gonna go and delete my more extreme comments," one person wrote: "I don't wanna give my hometown a bad reputation."
Global Times commentator Hu Xijin (胡锡进) also gave his views on the new measure, saying that people's viewpoints and values will always be more important than where they come from, and that all friends of China matter, no matter where they are based. However, he argued, it is also good to know where those who openly express anti-Chinese sentiments come from, exposing those 'evil foreign force' who are trying to disrupt social cohesion within the country.
Noteworthy enough, Hu Xijin's own IP location was not displayed on his Weibo account, as some celebrities seem to have been excluded from this measure or can decide themselves whether or not they would like to display their IP location or not.
One Weibo user wrote: "Twitter can follow its own regulations in banning Trump, while Weibo can transcend its own regulations and not show Hu Xijin's IP location."
For recent articles Covid-19 topics on Chinese social media, check here.
By Manya Koetse
Get the story behind the hashtag. Subscribe to What's on Weibo here to receive our weekly newsletter and get access to our latest articles:
Spotted a mistake or want to add something? Please let us know in comments below or email us. First-time commenters, please be patient – we will have to manually approve your comment before it appears.
©2022 Whatsonweibo. All rights reserved. Do not reproduce our content without permission – you can contact us at info@whatsonweibo.com.
'Voices of April': The Day After
"The best way to make videos go viral is by censoring them."
On April 23, a day after the video 'Voices of April' briefly took over social media before it was censored, the trending topic of the day is a hashtag related to new Covid cases reported in Shanghai.
Shanghai reported higher Covid-19 cases and deaths on Friday than the five days prior, which showed a daily decline in new cases. Shanghai reported a total of 23,370 new cases (including 20,634 asymptomatic ones), the municipal health commission said Saturday. A related hashtag by Xinhua News received over 910 million views on Weibo on Saturday (#上海新增本土确诊2736例无症状20634例#).
Although the hashtag was initiated by state media to inform about the Shanghai Covid situation, netizens started using it to criticize Shanghai's handling of the crisis, with more commenters questioning China's zero-Covid strategy. Similarly, other state media-initiated hashtag places also became online spaces where Weibo users vented their frustrations earlier this month.
Besides the ongoing online criticism and vocal disagreement with China's Covid handling and policies, there are also many who express shock at the recent crackdown of any form of protest or criticism regarding the situation in Shanghai.
"'Voices of April' has been shutdown all over the internet, I'm simply dumbfounded," one person said about the popular video that contained real recordings of events that happened during the city's lockdown.
"If you still can find the video anywhere, forward it," another person writes.
Besides Voices of April (四月之声), there have also been other videos over the past week that are meant to expose the mishandling of the Covid situation in Shanghai.
One of them is titled Farewell, Language (再见语言), another one is Shanghai Late Spring (上海晚春).
Farewell, Language (再见语言) is a 42-second sound art video by artist Yang Xiao (杨潇), who used over 600 commonly used propaganda phrases from Chinese official channels and randomly broadcasted the audio in the community where he lives.
The anti-epidemic workers just continue their work and do not seem to notice anything out of the ordinary at all. The video shows how this kind of language has been so normalized that for most, it has just become background noise in their everyday life – without even noticing nor critically assessing its meaning or logic anymore.
The Shanghai Late Spring (上海晚春) video is a compilation of video footage from the Shanghai lockdown, showing people struggling to get food, violent altercations between anti-epidemic workers and residents, people living in deplorable conditions in quarantine centers, and more (link to video).
The video uses the song Cheer Up London by Slaves, its chorus being:
"You're dead, already, dead, dead, already-ready
Dead, already, dead, dead, already-ready
Dead, already, dead, dead, already-ready
Dead, already, dead."
One Weibo commenter responded to the video in English, using a text from Les Misérables: "Do you hear the people sing / Singing the song of angry men / It is the music of a people / Who will not be slaves again!" The phrase "do you hear the people sing" was also used by other social media users to address the situation in Shanghai and the censorship of related topics.
"The best way to make videos go viral is by censoring them," one commenter replied.
Read our previous article about 'Voices of April' here.
For more articles on the Covid-19 topics on Chinese social media, check here.
By Manya Koetse, with contributions by Miranda Barnes
Get the story behind the hashtag. Subscribe to What's on Weibo here to receive our weekly newsletter and get access to our latest articles:
Spotted a mistake or want to add something? Please let us know in comments below or email us. First-time commenters, please be patient – we will have to manually approve your comment before it appears.
©2022 Whatsonweibo. All rights reserved. Do not reproduce our content without permission – you can contact us at info@whatsonweibo.com.