Controversy over Scene in Anti-Japanese War Drama Featuring Black U.S. Soldier and Chinese Nurse
Some scenes from this anti-Japanese war drama have angered Chinese netizens over 'historical nihilism.'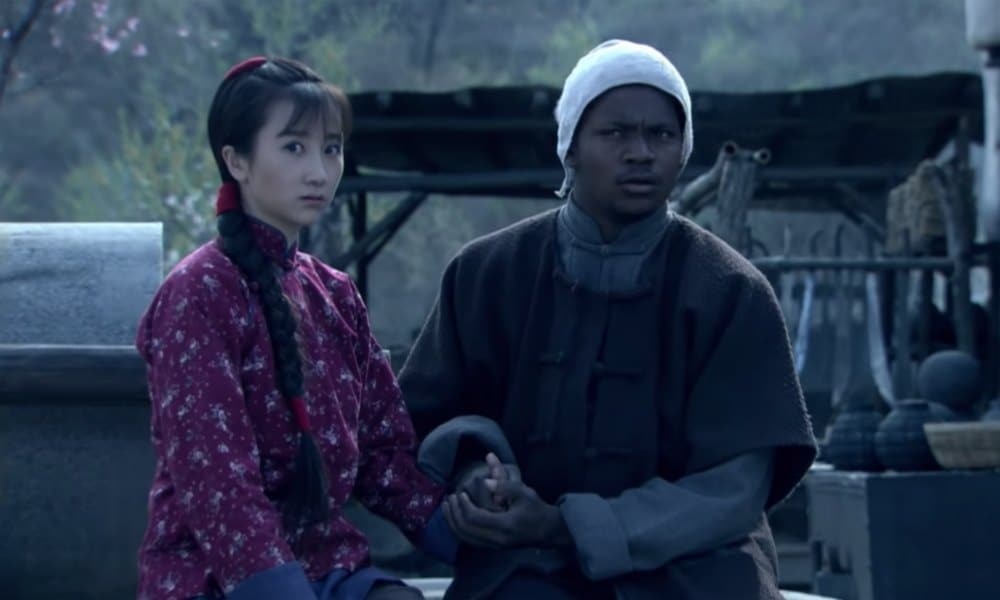 A black soldier comes to China from afar during WWII and falls in love with a Chinese villager who sacrifices her life for him. This war drama is sensationalizing the Sino-Japanese War in the wrong way, many netizens say.
"I love you, I love China," a black man tells a Chinese woman in a clip of an anti-Japanese war drama that has gone viral on Chinese social media over the past few days (watch clip in embedded tweet below).
This scene from a Chinese Anti-Japanese war drama is stirring controversy on Chinese social media this week. "I love you, I love China," the foreigner says. "Love me, love China," the Chinese woman says, before sacrificing her life for him and getting killed by Japanese shooters.

— Manya Koetse (@manyapan) September 5, 2019
The scene is set on a mountain, where the man and woman hold hands when she tells him to flee from the "Japanese devils." She repeats: "Remember: love me, love China."
The love scene takes a dramatic turn when the two get ambushed by the Japanese army. The Chinese woman immediately pushes the man off the mountain to bring him to safety. While she cries out "love me, love China" she is attacked by Japanese soldiers and dies.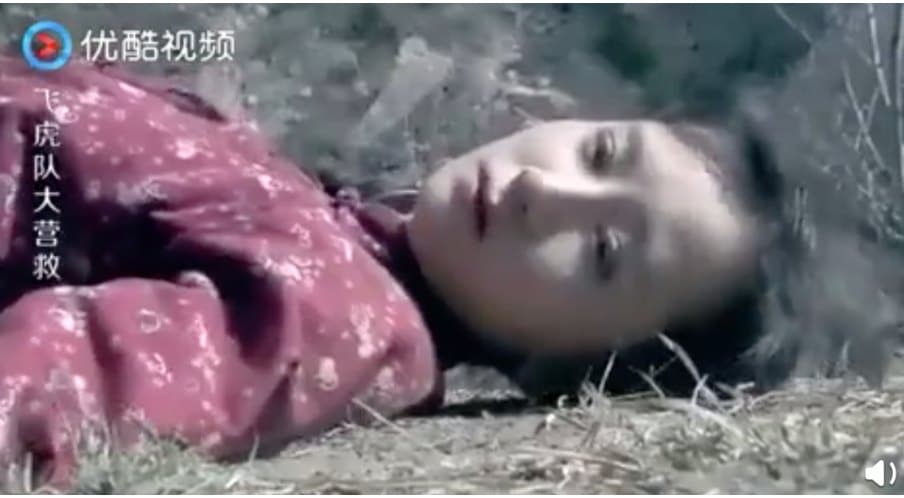 The scene comes from a 2016 TV drama titled The Great Rescue of The Flying Tigers (飞虎队大营救). The drama tells the story of Japanese soldiers chasing surviving members of a Flying Tigers aircraft after they shot it down. Various soldiers and army staff on the Chinese side try to rescue the fighters from the hands of the Japanese.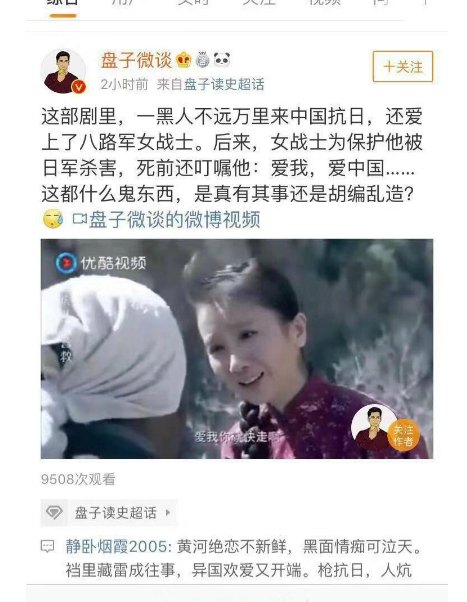 The drama's portrayal of a romance between the foreign soldier and a Chinese woman, on the side of the Communist Eighth Route Army, has stirred controversy on Weibo this week.
"The director is retarded, this is historical nihilism," one Weibo blogger writes.
Hundreds of netizens also criticize the drama's director and screenwriters: "This is not even funny, what kind of scriptwriter comes up with this trash? This should be thoroughly investigated."
The Flying Tigers (飞虎队) were a group of US fighter pilots who went to China during the final three years of the Second Sino-Japanese War to fight the Japanese invaders and defend China.
The people behind the Flying Tigers belonged to the organization of the American Volunteer Group (AVG), who came together in 1941 to strengthen the Chinese Air Force.
In the now controversial TV drama The Great Rescue of The Flying Tigers, the black soldier is 'Carl' (Cedric Beugre), a surviving member of the Flying Tigers aircraft shut down by Japanese forces. The Chinese woman is 'Xinghua,' a female nurse who sacrifices her own life to save Carl.
The dialogues between Carl and Xinghua are pretty simple and at times almost ridiculous. While Xinghua does not speak a word of English and appears clueless, Carl is depicted as a stubborn, crude and somewhat silly character, who also seems to understand very little of what is happening around him and does all he can to be with his Xinghua after a brief meeting in the Chinese base camp (also see this scene or here).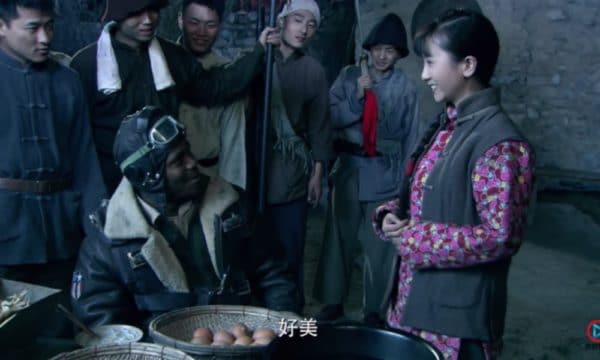 On Chinese social media, the drama is critiqued for being a so-called 'divine Anti-Japanese drama' (抗日神剧): Chinese war dramas that sensationalize the history of the war by making up unrealistic and overly dramatic or funny scenes and storylines.
In 2015, China's State Administration of Press, Publication, Radio, Film, and Television (SAPPRFT) announced a limit on these kinds of TV dramas that sensationalize the history of war, and in doing so 'misrepresent history' and 'disrespect' the Chinese soldiers who fought to defend the nation (read more).
TV series focusing on war are part of China's every day (prime time) TV schedules. These Chinese war dramas are called "Anti-Japanese War Dramas" (抗日电视剧), literally referring to the period of 'resisting Japan' during WWII (in China, the 1937-1945 war is called The War of Resistance against Japanese Aggression 中国抗日战争).
The 40-episode series The Great Rescue of the Flying Tigers was aired by Yunnan City Channel but is also available online. Since there are countless reruns of Anti-Japanese war dramas on Chinese tv, it is possible that some viewers only now viewed the 2016 drama for the first time.
Some netizens call this a "new kind of fantasy war drama", summarizing: "A black man comes from far away to China to fight Japan, falls in love with a Chinese nurse who sacrifices her own life for him and yells 'Love me love China' before she dies."
Many on social media call the script "idiotic," others question if black soldiers ever joined the Flying Tigers in the first place.
There seems to be more to the controversy than sensationalizing history alone though – relationships between foreign men and Chinese women, especially black men and Chinese women, are often met with prejudice and racism on Chinese social media. Mixing such a narrative in a drama about the Second Sino-Japanese war makes it all the more controversial.
Some see the narrative of the love between a foreign soldier and a Chinese woman as a way of 'beautifying' the war and 'adoring everything that's foreign.'
"This is not respecting history at all!", one among hundreds of commenters says.
In the TV drama, the sentence "Love me, Love China" does have some extra meaning in the end. Although Xinghua sacrifices her life for Carl in episode 19, he eventually chooses to fight side by side against the Japanese 'devils' with the Chinese army, keeping his promise to "love China" like he loved Xinghua.
By Manya Koetse , with contributions from Miranda Barnes
Follow @whatsonweibo
Spotted a mistake or want to add something? Please let us know in comments below or email us. Please note that your comment below will need to be manually approved if you're a first-time poster here.
©2019 Whatsonweibo. All rights reserved. Do not reproduce our content without permission – you can contact us at info@whatsonweibo.com
Watch: Top 5 Popular Chinese TV Dramas (Spring/Summer 2020)
Some of the most popular Chinese tv dramas of the moment.
These are some of the most popular TV dramas in China of the past weeks worth catching up on. An overview by What's on Weibo.
It has been some time since we have made an overview of popular Chinese TV dramas to watch this season. It is high time to do an update, especially because – in the wake of China's emerging COVID19 crisis in early February – there has been a peak in the already overwhelming popularity of TV dramas in China. Live streams and online shows have become people's virtual stay-at-home "resort" to pass time and cope with anxiety and stress in times of corona.
While the stay-at-home orders have now been lifted and life is slowly returning back to normal, the popularity of some TV dramas has continued and even continues to grow.
We compiled a shortlist of China's top TV dramas based on recent top search results on leading online video hosting platforms, including iQiyi, Sougou, 360Kan, and Baidu's top charts for entertainment.
You can find most of the dramas with English subtitles available on YouTube. These are five of the shows that have been recently trending and are worth to catch up on!
1. Autumn Cicada (秋蝉 Qiū chán)
2. Hunting 猎狐 Liè hú
3. Legend of Awakening 天醒之路 Tiānxǐng zhī lù
4. Serenade of Peaceful Joy / Held in the Lonely Castle 清平乐 Qīngpíng yuè
5. Intense Love 韫色过浓 Yùn sèguò nóng
Wanna read more on Chinese tv dramas? Check our other articles here.
By Jialing Xie
Follow @whatsonweibo
Spotted a mistake or want to add something? Please let us know in comments below or email us. First-time commenters, please be patient – we will have to manually approve your comment before it appears.
©2020 Whatsonweibo. All rights reserved. Do not reproduce our content without permission – you can contact us at info@whatsonweibo.com.
Canceled Chinese TV Drama Gets Second Chance: Novoland Is Here!
Novoland, China's "Game of Thrones" was canceled just before its premiere six weeks ago.
First published
The Chinese fantasy drama Novoland: Eagle Flag is one of the most-anticipated series of the year. After the show was suddenly canceled twenty minutes ahead of its premiere in early June, it was announced on July 16 that it will broadcast anyway.
With 1,8 billion views, the hashtag Novoland: Eagle Flag (九州缥缈录, Jiǔzhōu piāomiǎo lù) is top trending on Chinese social media site Weibo today after the show suddenly announced it would broadcast its first series on July 16.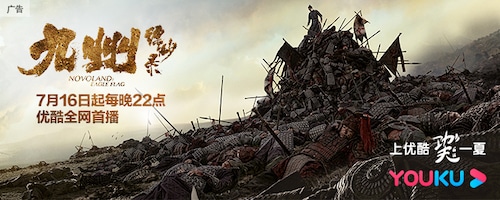 Over six weeks ago, on June 3rd at 21:40 CST, the show was suddenly canceled just twenty minutes before its much-awaited premiere on Tencent, Youku, and Zhejiang TV.
Novoland: Eagle Flag has been called China's answer to Game of Thrones. It is a 56-episode costume drama that tells a story of war, conspiracy, love, and corruption in a fantasy universe called 'Novoland.'
It is based on a popular web fantasy novel series by Jiang Nan (江南) and produced by Linmon Pictures. Production costs reportedly were as high as RMB 500 million ($72 million).
The drama features Chinese celebrities such as Liu Haoran, Lareina Song, and Chen Ruoxuan.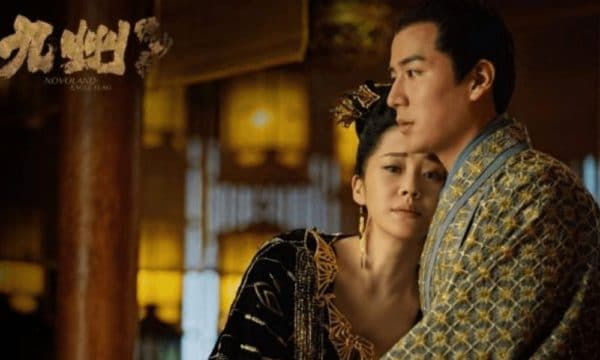 Why was the show's premiere suddenly canceled? The only reason given for it on June 3rd was that there was a 'medium problem' ("介质原因").
China's English-language state tabloid Global Times reported on June 4th that their official sources also did not know the reason for the withdrawal, although they did admit to having received an order from "higher level," which would come from China's National Radio and Television Administration (NRTA,国家广播电视总局).
China's regulatory body started to severely crack down on the rising popularity of Chinese costume dramas (古装剧) in March of this year.
Regulatory rules were supposedly issued for costume dramas with 'themes' (题材) such as martial arts, fantasy, history, mythology, or palace, stating that they should not air or were to be taken down from online video homepages. The strictest crackdown would allegedly last until July.
From early on in 2019, it was already rumored that Chinese costume dramas would face a tough year, after Chinese state media outlet Beijing Daily published a critical post listing negative influences of court-themed TV dramas (宫廷剧).
The critique included arguments such as that the imperial lifestyle was being hyped in these dramas, that the social situation of the dynastic era was being negatively dramatized, and that these productions are just aimed at commercial interests while weakening China's "positive spiritual guidance."
After the show's premiere was officially "postponed," fans are now overjoyed to hear that it will air anyway.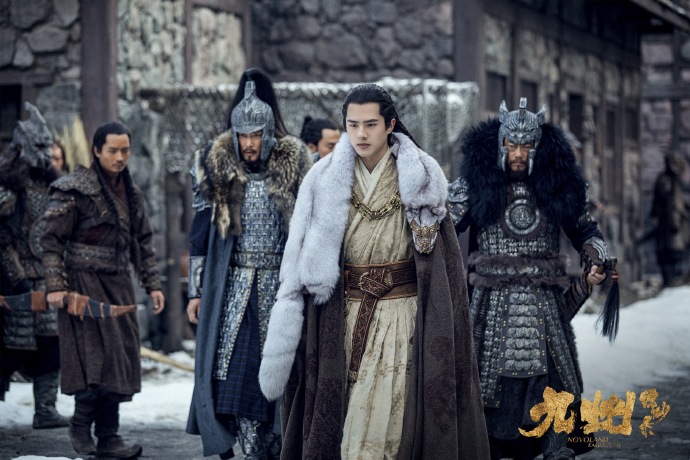 The first eight episodes are available for binge-watching now via Youku (Chinese only).
It is unclear if (ordered) changes were made to the show over the past six weeks.
By Manya Koetse
Follow @whatsonweibo
Spotted a mistake or want to add something? Please let us know in comments below or email us. Please note that your comment below will need to be manually approved if you're a first-time poster here.
©2019 Whatsonweibo. All rights reserved. Do not reproduce our content without permission – you can contact us at info@whatsonweibo.com