Controversy over Scene in Anti-Japanese War Drama Featuring Black U.S. Soldier and Chinese Nurse
Some scenes from this anti-Japanese war drama have angered Chinese netizens over 'historical nihilism.'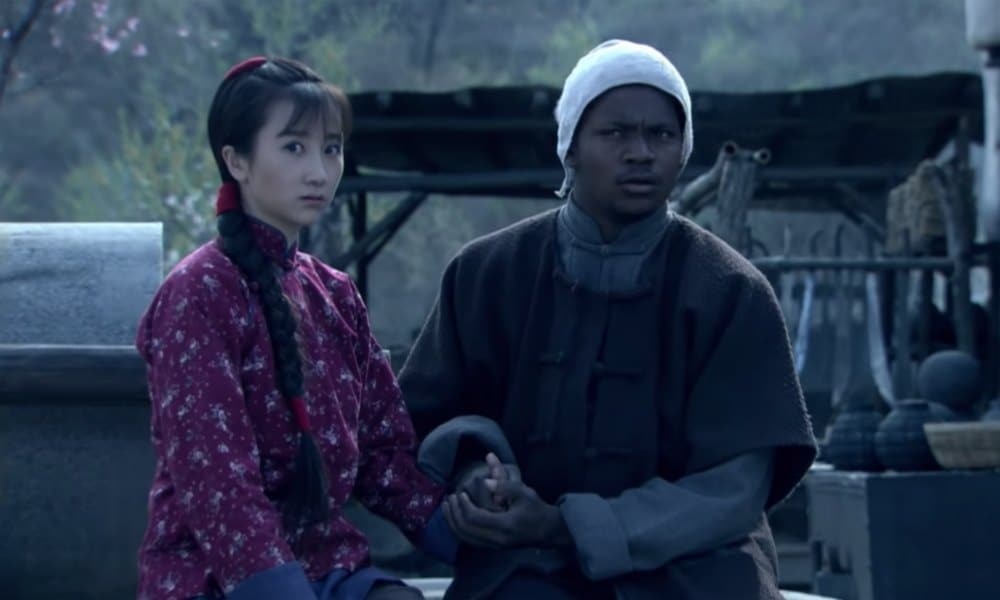 A black soldier comes to China from afar during WWII and falls in love with a Chinese villager who sacrifices her life for him. This war drama is sensationalizing the Sino-Japanese War in the wrong way, many netizens say.
"I love you, I love China," a black man tells a Chinese woman in a clip of an anti-Japanese war drama that has gone viral on Chinese social media over the past few days (watch clip in embedded tweet below).
This scene from a Chinese Anti-Japanese war drama is stirring controversy on Chinese social media this week. "I love you, I love China," the foreigner says. "Love me, love China," the Chinese woman says, before sacrificing her life for him and getting killed by Japanese shooters.

— Manya Koetse (@manyapan) September 5, 2019
The scene is set on a mountain, where the man and woman hold hands when she tells him to flee from the "Japanese devils." She repeats: "Remember: love me, love China."
The love scene takes a dramatic turn when the two get ambushed by the Japanese army. The Chinese woman immediately pushes the man off the mountain to bring him to safety. While she cries out "love me, love China" she is attacked by Japanese soldiers and dies.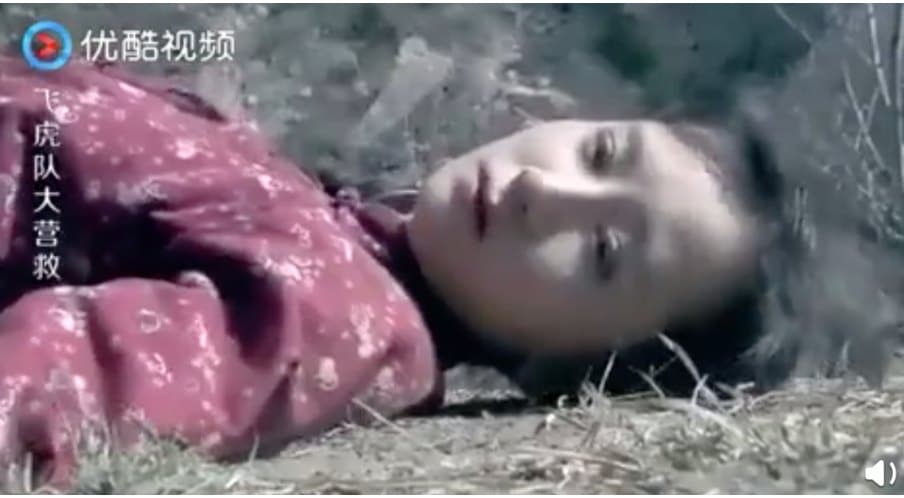 The scene comes from a 2016 TV drama titled The Great Rescue of The Flying Tigers (飞虎队大营救). The drama tells the story of Japanese soldiers chasing surviving members of a Flying Tigers aircraft after they shot it down. Various soldiers and army staff on the Chinese side try to rescue the fighters from the hands of the Japanese.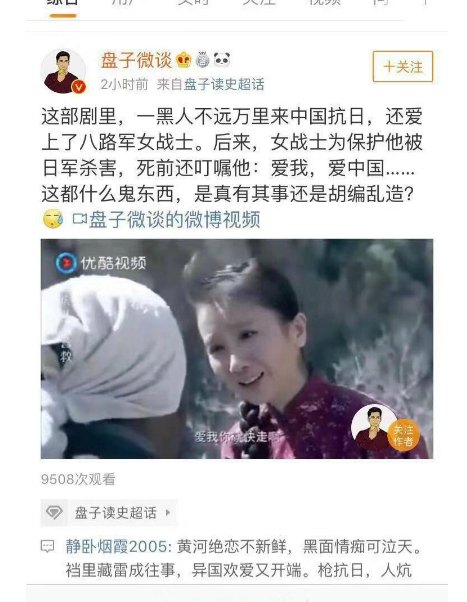 The drama's portrayal of a romance between the foreign soldier and a Chinese woman, on the side of the Communist Eighth Route Army, has stirred controversy on Weibo this week.
"The director is retarded, this is historical nihilism," one Weibo blogger writes.
Hundreds of netizens also criticize the drama's director and screenwriters: "This is not even funny, what kind of scriptwriter comes up with this trash? This should be thoroughly investigated."
The Flying Tigers (飞虎队) were a group of US fighter pilots who went to China during the final three years of the Second Sino-Japanese War to fight the Japanese invaders and defend China.
The people behind the Flying Tigers belonged to the organization of the American Volunteer Group (AVG), who came together in 1941 to strengthen the Chinese Air Force.
In the now controversial TV drama The Great Rescue of The Flying Tigers, the black soldier is 'Carl' (Cedric Beugre), a surviving member of the Flying Tigers aircraft shut down by Japanese forces. The Chinese woman is 'Xinghua,' a female nurse who sacrifices her own life to save Carl.
The dialogues between Carl and Xinghua are pretty simple and at times almost ridiculous. While Xinghua does not speak a word of English and appears clueless, Carl is depicted as a stubborn, crude and somewhat silly character, who also seems to understand very little of what is happening around him and does all he can to be with his Xinghua after a brief meeting in the Chinese base camp (also see this scene or here).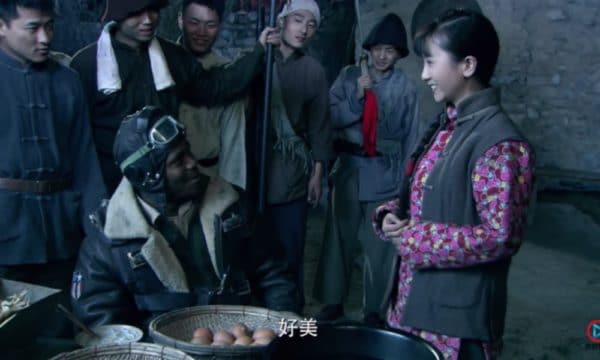 On Chinese social media, the drama is critiqued for being a so-called 'divine Anti-Japanese drama' (抗日神剧): Chinese war dramas that sensationalize the history of the war by making up unrealistic and overly dramatic or funny scenes and storylines.
In 2015, China's State Administration of Press, Publication, Radio, Film, and Television (SAPPRFT) announced a limit on these kinds of TV dramas that sensationalize the history of war, and in doing so 'misrepresent history' and 'disrespect' the Chinese soldiers who fought to defend the nation (read more).
TV series focusing on war are part of China's every day (prime time) TV schedules. These Chinese war dramas are called "Anti-Japanese War Dramas" (抗日电视剧), literally referring to the period of 'resisting Japan' during WWII (in China, the 1937-1945 war is called The War of Resistance against Japanese Aggression 中国抗日战争).
The 40-episode series The Great Rescue of the Flying Tigers was aired by Yunnan City Channel but is also available online. Since there are countless reruns of Anti-Japanese war dramas on Chinese tv, it is possible that some viewers only now viewed the 2016 drama for the first time.
Some netizens call this a "new kind of fantasy war drama", summarizing: "A black man comes from far away to China to fight Japan, falls in love with a Chinese nurse who sacrifices her own life for him and yells 'Love me love China' before she dies."
Many on social media call the script "idiotic," others question if black soldiers ever joined the Flying Tigers in the first place.
There seems to be more to the controversy than sensationalizing history alone though – relationships between foreign men and Chinese women, especially black men and Chinese women, are often met with prejudice and racism on Chinese social media. Mixing such a narrative in a drama about the Second Sino-Japanese war makes it all the more controversial.
Some see the narrative of the love between a foreign soldier and a Chinese woman as a way of 'beautifying' the war and 'adoring everything that's foreign.'
"This is not respecting history at all!", one among hundreds of commenters says.
In the TV drama, the sentence "Love me, Love China" does have some extra meaning in the end. Although Xinghua sacrifices her life for Carl in episode 19, he eventually chooses to fight side by side against the Japanese 'devils' with the Chinese army, keeping his promise to "love China" like he loved Xinghua.
By Manya Koetse , with contributions from Miranda Barnes
Follow @whatsonweibo
Spotted a mistake or want to add something? Please let us know in comments below or email us. Please note that your comment below will need to be manually approved if you're a first-time poster here.
©2019 Whatsonweibo. All rights reserved. Do not reproduce our content without permission – you can contact us at info@whatsonweibo.com
The Concept of 'Involution' (Nèijuǎn) on Chinese Social Media
Nèijuǎn (involution) has become a commonly used term on Chinese social media, but what is it?
Chinese TV drama A Love for Dilemma ("小舍得") has reignited an ongoing debate about the problem of 'involution' in Chinese society today.
A scene from the Chinese TV drama A Love for Dilemma ("小舍得") has reignited online discussions on the concept of nèijuǎn 内卷, "involution," which was also a top buzzword in China in 2020.
A Love for Dilemma is a 2021 TV drama directed by Zhang Xiaobo (张晓波), who also worked on other hit series including Nothing But Thirty. This season's popular TV drama A Love for Dilemma is themed around family, parenting, and China's competitive education system.
In the series, two stepsisters compete against each other over the school results of their children. The family's 'grandpa', played by famous actor Zhang Guoli (张国立), tries to create harmony around the dinner table between his daughter and stepdaughter, but the rivalry between the two and how they raise their children intensifies nevertheless.
While stepsister Tian Yulan urges her little son to work hard in school and focus on his grades so that he can go to the best high school and university, sister Nan Li places more emphasis on the general development of her children and wants them to enjoy their childhood. Both mothers, however, question their own choices when facing challenges with how their children perform at school.
The specific scene that has ignited current discussions is a dialogue between the husbands of the sisters, who sit outside to talk about the education system and how it sometimes feels like everyone is in a theatre watching a show together until one person stands up from their seat. This makes it necessary for other members of the audience to also stand up, until everybody is standing.
The dialogue continues, with the two talking about how it does not stop at the people standing up. Because then there are those who will take it a step further and will stand on their seats to rise above the others. And then there are even those who will grab a ladder to stand higher than the rest. But they are still watching the same show and their situation has actually not changed at all – except for the fact that everybody is now more uncomfortable than they were before.

Many netizens found it striking how this dialogue explains how the term 'involution' is used in China nowadays. After the show aired, the hashtag "How to commonly explain involution" (#如何通俗解释内卷#) became a trending topic in the week of April 19, receiving 260 million views in a few days.

What Is 'Involution'?

As explained by Jialing Xie in this top buzzword article on What's on Weibo, involution describes the economic situation in which as the population grows, per capita wealth decreases. Since recently, this word has come to be used to represent the competitive circumstances in academic or professional settings in China where individuals are compelled to overwork because of the standard raised by their peers who appear to be even more hardworking.
The term 'involution' and how it is used today comes from a work by American anthropologist Clifford Geertz titled Agricultural Involution – The Processes of Ecological Change in Indonesia (1963). In this work, Geertz explores the agricultural dynamics in Indonesia during the colonial period's Cultivation System, where a radical economic dualism existed within the country: a foreign, Dutch economy and a native, Indonesian economy (p. 61-62).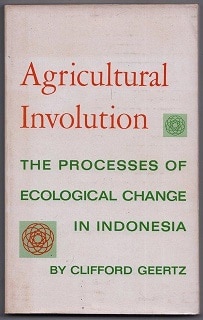 Geertz describes how the Javanese faced a deepening demographic dilemma as they saw a rapidly growing population but a static economy, while the Dutch, who organized Javanese land and labor, were only growing in wealth (69-70). Agricultural involution is the "ultimately self-defeating process" that emerged in Indonesia when the ever-growing population was absorbed in high labor-intensive wet-rice cultivation without any changing patterns and without any progress (80-81).
When Geertz used the term 'involution' to describe the dynamics in Indonesia, he built on the work of another American anthropologist, namely Alexander Goldenweiser, who also used the term to describe "those culture patterns which, after having reached what would seem to be a definitive form, nonetheless fail either to stabilize or transform themselves into a new pattern but rather continue to develop by becoming internally more complicated" (Geertz 1963, 81).

The Involution Concept in the Chinese Context

The popular use of the Chinese translation of 'involution', nèijuǎn 内卷, started to receive attention in Chinese media in 2020. It is deviating from the original use of the term and is meant to explain the social dynamics of China's growing middle class.
As suggested in the article "'Involution': The Anxieties of Our Time Summed Up in One Word" by Zhou Minxi (CGTN), the popularity of the term comes from "a prevalent sense of being stuck in an ever so draining rat race where everyone loses."
China's ever-growing middle class is now facing the question of how they and their children can remain in the middle class in a situation where everyone is continuously working harder and doing all they can to rise above the rest. Xiang Biao, a professor of social anthropology at Oxford University, is quoted by Zhou:
"The lower class still hopes to change their fate, but the middle and upper classes aren't so much looking upward, and they are marked by a deep fear of falling downward. Their greater fear is perhaps losing what they already have."
The term 'involution' often comes up together with criticism on China's '996' work system (working from 9am-9pm, 6 days a week). Although Alibaba founder Jack Ma once called the 12-hour working day a "blessing," the system is a controversial topic, with many condemning how Chinese (tech) companies are exploiting their employees, who are caught in a conundrum; they might lose their sanity working such long hours, and might lose their job and future career prospects if they refuse to do so.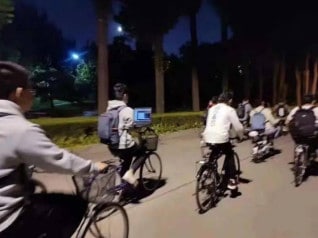 But the term also comes up when discussing China's education system, where competition starts as early as kindergarten and the pressure on children to succeed in the 'gaokao' college entrance exam starts many years before it takes place.
This discussion also came up with a now-famous image of a student riding his bike while also working on his laptop, using every moment to study. This was then also called "Tsinghua Inversion" (清华内卷), referring to one of China's top universities, where competition is so vicious that students must double their efforts to catch up with others.

'Involution' Discussions on Chinese Social Media

By mid-2020, 'involution' attracted the attention on Weibo when popular academic accounts started discussing the term. Recently, 'involution' is used so often on Chinese social media that it has already gone beyond its original context, leading to many people discussing its meaning.
"We are forced to work overtime and are unable to resist, and yet it seems that everyone is doing it out of free will," one Weibo user says, with another person adding: "The abnormal state of inversion has already become our normal state."
A popular legal blogger (@皇城根下刀笔吏) on Weibo writes:
"It is an internal bottomless vicious cycle of competition. For example, everyone used to work eight hours per day, five days per week. Then one company comes up where people work twelve hours per day, six days per week. Then this company will have major competitive strength in the market economy. But the outcome is that other companies are also compelled to do the same in order to compete. As time goes by, all companies will shift to a twelve-hour workday, six days a week, and job applicants entering the market can't find any eight-hour workday positions for five days a week anymore. So, if another company wants to beat its competitors, it will have to introduce a seven-day workweek. And then other companies will need to follow in order to make a living. That is involution."
By now, there are various images and memes that have come to represent the meaning of 'involution' in present-day China, such as one cram school sign saying: "If you come we will train your kids, if you don't come, we will train the competitors of your kids."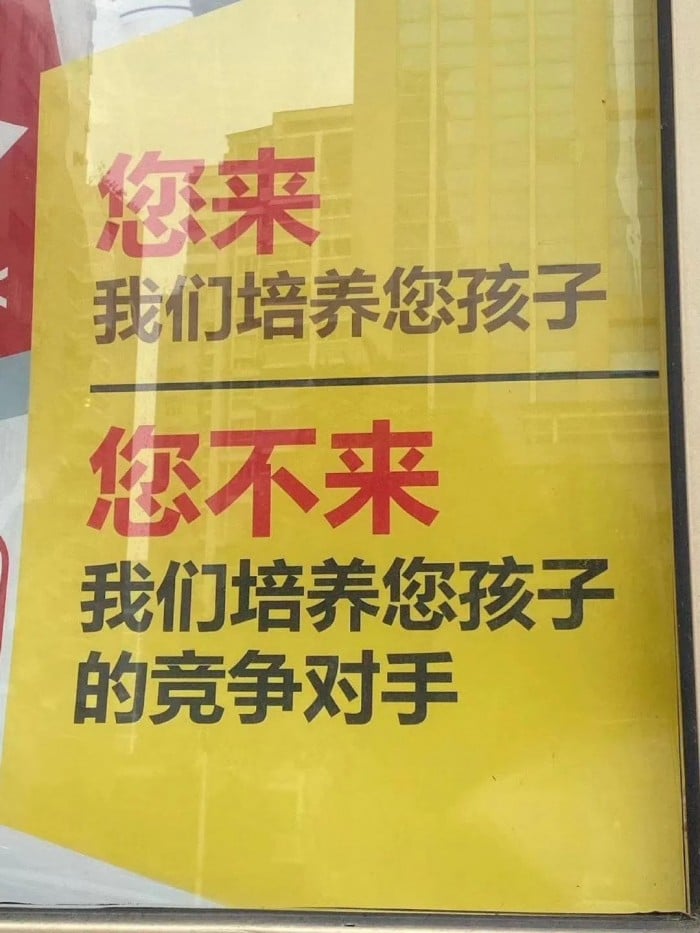 "The society's resources are in short supply and to obtain the limited supplies, people are all madly practicing their skills to obtain them – regardless if they need them or not," another Weibo user says.
Most comments relating to the discussion of 'involution' on Chinese social media express a sense of fatigue with an ongoing rat-race in the education and employment market.
On the interest-based social networking platform Douban, there are even some support groups for people who feel stuck in 'involution' and are looking for a way out. The "Center for Victims of Involution" (内卷受害者收容中心) group has over 3000 members, with smaller groups such as "Let's Escape Involution Together" (我们一起逃离内卷) having a few dozen participants.
The generation that is mostly affected by this sense of socioeconomic stagnation is the post-90 generation. In 2020, a record high of 8.74 million university graduates entered the job market, but their chances of finding a job that suits their education and personal expectations are slim; many industries are recruiting fewer people than before in an employment market that was already competitive before the COVID19 pandemic. It leaves them facing a troubling Catch 22 situation: they will be stressed and pressured if they do not find that top job, but when they do, they are often also stressed and pressured.
It is a recurring topic on social media. Five years ago, a song by the Rainbow Chamber Singers (彩虹室内合唱团) titled "The Sofa Is So Far" immediately became a hit in China. Many young Chinese recognized themselves in the hardworking and tired people described in the lyrics, which started with: "My body feels empty / I am dog-tired / I don't want work overtime."
How to get away from the involution rat race is also a much-discussed topic on Weibo, where the hashtag page "How can young people resist involution" (#年轻人如何反内卷#) has received over 280 million views.
Some suggest the answer to ending the vicious cycle is to find a way to get rich fast, others suggest that not getting married and staying child-free is also a way to alleviate the pressure to participate in this zero-sum game.
Tech blogger Sensai (@森赛), who has over 2 million followers on Weibo, advises young people to find their true interest and to invest in it before the age of 30. Doing something that sparks joy, such as learning a new language or working on art, might start as a hobby but could turn into a valuable side business later, Sensai says.
For some, however, that goal seems unattainable. "I am already working 15 hours a day, how could I ever do that?!"
"This is just bringing us into a whole other level of involution," others write.
In order to watch A Love for Dilemma (小舍得), the show that started so many of these discussions this month, you can go over to iQiyi or YouTube.
By Manya Koetse
References
Geertz, Clifford. 1963. Agricultural Involution: The Processes of Ecological Change in Indonesia. Berkeley & Los Angeles: University of California Press.
Zhou Minxi. 2020. "'Involution': The anxieties of our time summed up in one word." CGTN, Dec 4 https://news.cgtn.com/news/2020-12-04/-Involution-The-anxieties-of-our-time-summed-up-in-one-word-VWNlDOVdjW/index.html [20.4.2021].
Spotted a mistake or want to add something? Please let us know in comments below or email us. First-time commenters, please be patient – we will have to manually approve your comment before it appears.
©2021 Whatsonweibo. All rights reserved. Do not reproduce our content without permission – you can contact us at info@whatsonweibo.com.
China's New Hit Drama 'Nothing But Thirty' Thrives in the "She Era"
Chinese latest hit drama 'Nothing but Thirty' has 20 billion views on its Weibo hashtag page.
China's latest TV drama hit Nothing But Thirty is flooding Weibo discussions. With over 20 billion views on its hashtag page, the show is one of the most popular shows of the season and demonstrates that China's 'she era' (ta shidai 她时代) dramas are all the rage. What's on Weibo's Yin Lin Tan explains.
"Have you heard of 'independent at the age of thirty' (sān shí ér lì 三十而立)?" Wang Manni asks, her hair pulled back neatly and white shirt cleanly pressed. "I hope that, before I'm thirty, I'll be promoted to supervisor."
Riding on the wave of female protagonist ('heroine' 大女主) shows that have been taking over China's entertainment scene, Nothing But Thirty (三十而已) is a 43-episode drama by Dragon Television that follows the challenges of three different women who have reached the ever-important age of thirty.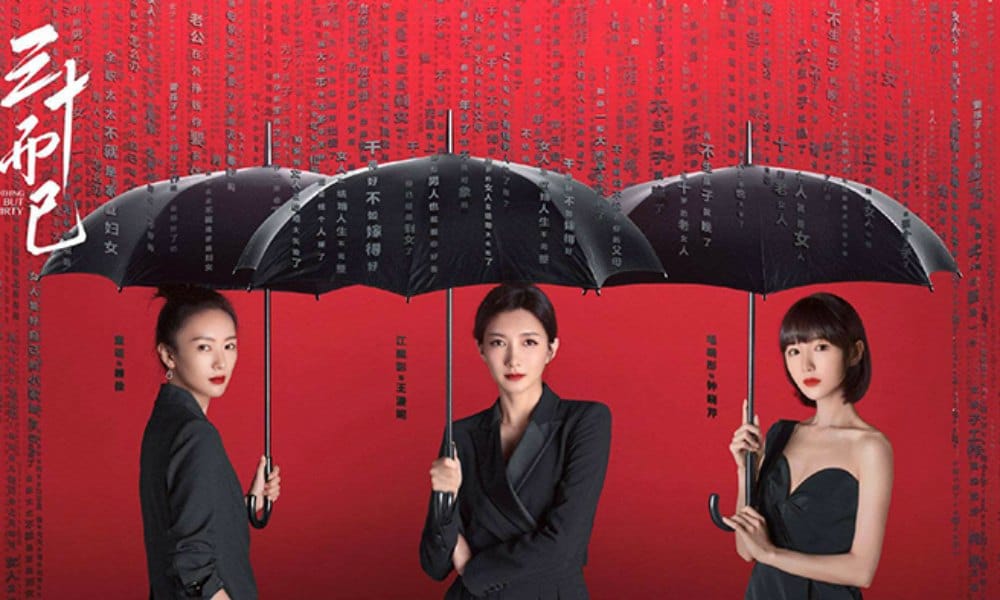 In a society where women are often expected to be married by their late twenties, a show like this, which tackles women's present-day struggles, both in their personal and professional lives, has resonated with many.
In fact, the show is so popular that at the time of writing, the show's hashtag ("Nothing But Thirty", #三十而已#) has over 20 billion (!) views on Weibo.
Depicting the struggles of China's thirty-something women
Nothing But Thirty revolves around the lives of three female leads from different walks of life. Gu Jia (Tong Yao) is a capable businesswoman turned full-time housewife; Wang Manni (Jiang Shuying) is an independent, career-oriented sales assistant; and Zhong Xiaoqin (Mao Xiaotong) is your run-of-the-mill office lady.
For Gu Jia, the birth of her son was what truly transformed her into a full-fledged housewife. In many ways, she seems like a perfect wife and mother: well-educated, capable, and thoughtful. But, eventually, she too has to face life's challenges.
Driven and hardworking, Wang Manni is confident in both her looks and abilities. Her immediate goal, at least at the start of the show, is to achieve professional success. Throughout the show, her resilience is put to the test, personally and professionally.
Zhong Xiaoqin is described by many netizens as the most "average" or "normal" character. She is kind-hearted -sometimes to the point of being a pushover -, and has spent years at the same company without rising the ranks. Though her story might seem mundane at first, this peace is disrupted when her marriage takes a turn for the worse.
A story that resonates with the masses
"The show attracted wide attention, and it strongly resonated with female audiences. Many thirty-something working women saw their own lives reflected in the show," Xinhua recently wrote about the show.
Nothing but Thirty currently carries a 7.6 out of 10 rating on Douban, an online reviewing platform.
Though some reviewers criticized how the later episodes of the show were unnecessarily draggy, most praised it for its portrayal of strong female characters, good acting, and largely realistic depiction of women above the age of thirty.
"I saw myself, and also saw the friends beside me," a reviewer notes.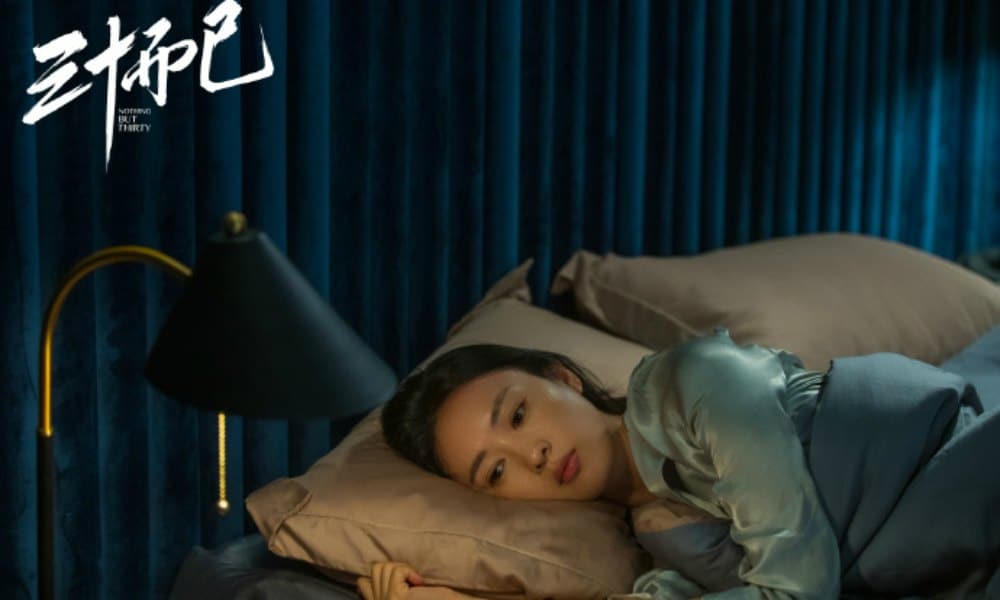 In China, women are, more often than not, burdened with expectations of getting married and settling down by the time they are in their late twenties. If you're single and thirty, that's made even worse.
Those who fall into this category carry the derogatory label of "leftover women" (剩女), a term that reflects how single women above the age of thirty are seen as consolation prizes or even unwanted goods.
Thirty is thus an incredibly important number, especially for women — something that's clearly reflected in the show's concept trailer.
Aside from societal expectations of starting a family, some women now also take it upon themselves to build their careers. In fact, you can chase after professional success without burdening yourself with the idea that you must be married – a notion exemplified by the character of Wang Manni.
Nothing But Thirty also showcases the sheer diversity of experiences for women above thirty: you don't have to be married, you don't have to be super capable, and you don't have to be thinking about having children. Each woman goes through her own unique struggles and isn't necessarily endowed with the so-called "protagonist's halo."
Ultimately, the popularity of the show is driven by the three female leads and the actresses who bring these strong characters to life.
By telling a story that is relatable and touches on relevant social issues, namely on expectations of women in society, Nothing But Thirty was able to achieve widespread popularity and is adding another notch on the trend of China's ta shidai (她时代) dramas. 
The rise of ta shidai shows
Ta shidai literally translates to "her era" or "the 'she' era."
Ta shidai shows explore what it's like to be a woman in China today. The female characters are diverse when it comes to both their backgrounds and character arcs; they might have different jobs, different levels of education, or different personalities. These shows mostly center around a strong female lead and/or a main cast that is primarily female.
More importantly, they often feature capable women and how these women overcame the odds to achieve success.
Recent shows like The Romance of Tiger and Rose (传闻中的陈芊芊) and Sisters Who Make Waves (乘风破浪的姐姐) also fall under this category, as do somewhat older hit shows such as Ode to Joy (欢乐颂) and Women in Beijing (北京女子图鉴).
The Romance of Tiger and Rose is set in a society in which women are in charge and men are subordinate, in a daring reversal of gender roles. Though the show has been criticized for using social issues to attract attention, it gained a decent following for tackling topics like gender inequality and women's rights.
A reality TV competition that swept the Chinese entertainment scene, Sisters Who Make Waves attempted to rebuke stereotypes of women over 30 as "leftover women."
The show brought together female celebrities above the age of 30 (the oldest competitor was 52), and had them go through a series of challenges, culminating in a girl group formed by the final competitors.
Nothing But Thirty is just another example of a show that's attempted to depict the realistic struggles of women in modern-day China.
More Chinese dramas that feature women — specifically, their struggles and the expectations that society places on them — are slated to be released in 2020.
Over the past few years, more attention has been focused on women's rights in China. As feminism becomes an increasingly important topic of discussion in China, strongly facilitated by social media and not without controversy, companies are likely to hop on the bandwagon and continue producing shows that fall squarely in the ta shidai category, given the genre's rising popularity.
Though we can't expect every single show to perfectly, accurately, and realistically portray women's struggles, the fact that more stories like these are being produced already helps bring such conversations into the mainstream. 
Hopefully, the trend of ta shidai shows is a sign that these issues won't just be tackled on camera, but in real life as well. 

Read more about Chinese TV dramas here.

By Yin Lin Tan
Follow @WhatsOnWeibo
 Spotted a mistake or want to add something? Please let us know in comments below or email us. First-time commenters, please be patient – we will have to manually approve your comment before it appears.
©2020 Whatsonweibo. All rights reserved. Do not reproduce our content without permission – you can contact us at info@whatsonweibo.com.