From Hong Kong Protests to 'Bright Future' – The Top 3 Most Popular Posts on Weibo This Week
These are the most-read posts on Weibo this week.
The three most-read posts on Weibo over the past week – an overview by What's on Weibo.
The protests in Hong Kong have been dominating Chinese social media throughout August, and the past week has been no different. Two out of three most-read posts on Weibo, one of China's most popular social media platforms, were about Hong Kong this week.
A wrap-up:
#1 Hundreds of Hong Kong Taxi's Flying Chinese National Flag
While Hong Kong is gearing up for the 13th consecutive weekend of mass anti-government demonstrations, there are no signs of the protests fizzling out any time soon.
The Hong Kong protests started in March and April of this year against an extradition bill that would allow local authorities to detain and extradite people wanted in mainland China, and have intensified over the past weeks.
Although authorities in mainland China initially remained quiet on the topic, the Hong Kong demonstrations have been dominating the trending streams on China's popular social media platforms for all of August.
Through videos, online posters, and slogans, Chinese state media have propagated a clear narrative on the situation in Hong Kong; namely that a group of "separatists" or "bandits" are to blame for the riots that aim to "damage public security" in Hong Kong and are "dividing the nation."
News outlets such as People's Daily and CCTV are sharing many stories that emphasize the One China principle and praise the Hong Kong police force. Those voices in Hong Kong speaking up for the police force and condemning protesters using violence have been amplified in Chinese media.
One story that became the number one trending post on Weibo this week is that of dozens of Hong Kong taxi drivers hanging the Chinese national flag from their cars (video).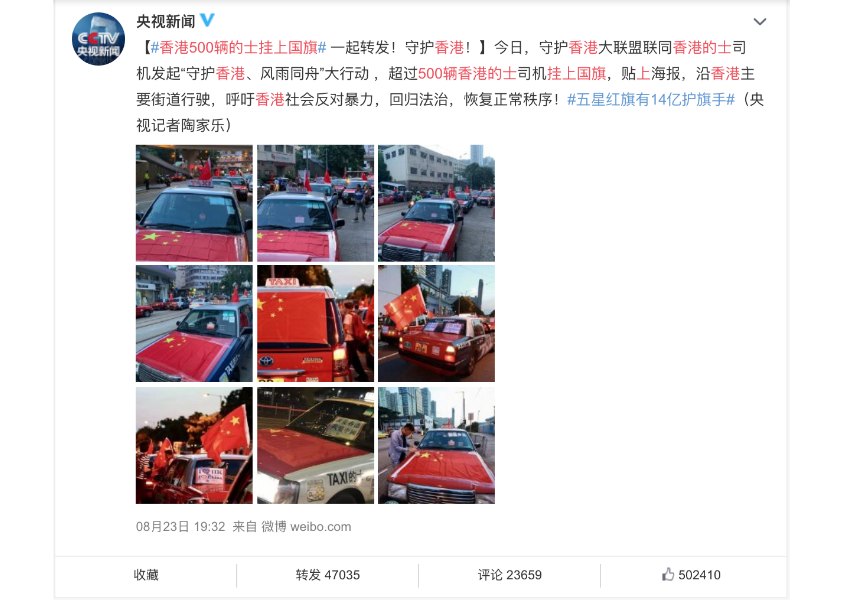 On August 23, the taxi drivers reportedly formed a rally against violence at Tsim Sha Tsui, waving the flags and putting up signs saying "I love HK, I love China."
The hashtag "500 Hong Kong Taxi's Hanging up Chinese National Flags" (#香港500辆的士挂上国旗#), hosted by CCTV, attracted over 700 million views on Weibo. The CCTV post reporting on the event received over half a million likes and 47000 shares.
The commenters mostly praise the Hong Kong taxi drivers for "standing up for Hong Kong" and flying the Chinese flag.
In English-language media, it has mostly been Chinese state media reporting on the rally. Xinhua, Women of China, ECNS, and Global Times all reported on the August 23 peace rally.
CNN only shortly reported how "a number of taxis have been spotted driving around the city displaying Chinese flags — something that has not happened on this scale during previous protests" (link).
#2 'Bright Future' Title Song for Upcoming Movie 'The Moon Remembers All'
Over 266.000 Weibo users have been sharing a post by Chinese actor Li Xian (李现) on the title track for the new Chinese movie The Moon Remembers All or River on a Spring Night (Chinese title: 春江花月夜).
The upcoming movie itself is a very popular topic on Weibo recently, attracting 430 million views on its hashtag page alone. The movie just finished shooting and will be released in 2020.
The song titled "Bright Future" (前程似锦) is sung by Taiwanese singer Chen Linong (陈立农) and Li Xian, who are both the leading actors in the fantasy movie. The song was released on August 29.
The Moon Remembers All is produced by Edko Films and directed by Song Haolin (宋灏霖), also known for Mr. Zhu's Summer (2017) and Fatal Love (2016).
#3 Interview with Hong Kong Pro-Beijing LegCo Member Junius Ho
The third most popular Weibo post of this week comes from Xia Kedao (侠客岛), a popular commentator account for the People's Daily Overseas Edition, and concerns a live broadcasted interview with Hong Kong lawmaker and Legislative Council (LegCo) member Junius Kwan-yiu Ho.
Junius Ho (何君尧) is known as being 'pro-Beijing' and stirred controversy earlier this summer when a viral video showed him shaking hands with men wearing white T-shirts who allegedly were linked to the mob attacking people at the Yuen Long MTR station on July 21.
Xia Kedao describes Junius Ho as a "straightforward" politician who "speaks out for justice" and denounces "reactionaries."
In the August 28 interview, that was live-streamed on Sina Weibo and later also written up, the Hong Kong legislator discussed the background of the protests.
Ho argues that the people with "ulterior motives" used the extradition bill for their own power struggle, distorting and exaggerating the facts behind the regulation.
The politician also partly links the protests to a "weak national consciousness" in Hong Kong due to its education curriculum and says that there have not been enough legal consequences for those participating in illegal activities and riots.
Thousands of commenters on Weibo write that they appreciate Ho for speaking out against the "pro-independence riot youth" and praise him for his "deep understanding" of mainland China.
By now, Junius Ho, who is also active on Weibo with his own account, has gathered more than half a million fans on his page.
By Manya Koetse
Follow @whatsonweibo
Spotted a mistake or want to add something? Please let us know in comments below or email us. Please note that your comment below will need to be manually approved if you're a first-time poster here.
©2019 Whatsonweibo. All rights reserved. Do not reproduce our content without permission – you can contact us at info@whatsonweibo.com
Fangcang Forever: China's Temporary Covid19 Makeshift Hospitals To Become Permanent
China's temporary 'Fangcang' shelter hospitals are here to stay.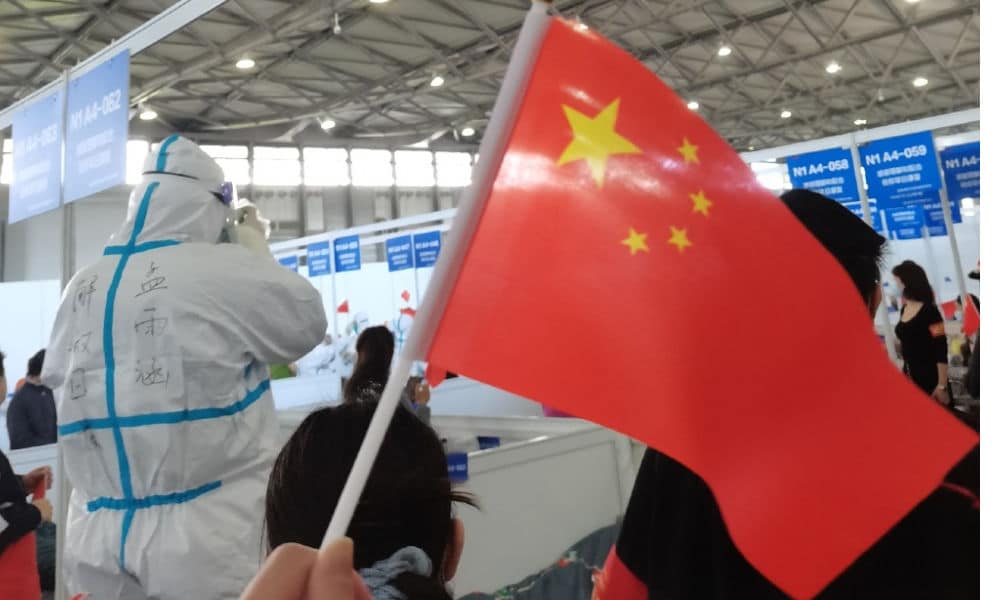 A new term has been added to China's pandemic lexicon today: Permanent Fangcang Hospital. Although China's 'Fangcang' shelter hospitals are, by definition, temporary, these healthcare facilities to isolate and treat Covid patients are now becoming a permanent feature of China's Zero-Covid approach.
Over the past few days, Chinese authorities have emphasized the need for China's bigger cities to build or renovate existing makeshift Covid hospitals, and turn them into permanent sites.
So-called 'Fangcang hospitals' (方舱医院, square cabin hospitals) are large, temporary makeshift shelter hospitals to isolate and treat Covid-19 patients. Fangcang shelter hospitals were first established in China during the Wuhan outbreak as a countermeasure to stop the spread of the virus.
They have since become an important part of China's management of the pandemic and the country's Zero-Covid policy as a place to isolate and treat people who have tested positive for Covid-19, both asymptomatic and mild-to-moderate symptomatic cases. In this way, the Fangcang hospitals alleviate the pressure on (designated) hospitals, so that they have more beds for patients with serious or severe symptoms.
On May 5th, Chinese state media reported about an important top leadership meeting regarding China's Covid-19 situation. In this meeting, the Politburo Standing Committee stressed that China would "unswervingly adhere to the general Zero-Covid policy" and that victory over the virus would come with persistence. At the meeting, chaired by Xi Jinping, the seven-member Politburo Standing Committee also declared that China would fight against any words or acts that "distort, doubt, or deny" the country's dynamic Zero-Covid policy.
Following the meeting, there have been multiple official reports and statements that provide a peek into China's 'zero Covid' future.
On May 13, China's National Health Commission called on all provinces to build or renovate city-level Fangcang hospitals, and to make sure they are equipped with electricity, ventilation systems, medical appliances, toilets, and washing facilities (Weibo hashtag ##以地级市为单位建设或者改造方舱医院#).
On May 16, the term 'Permanent Fangcang Hospital' (Weibo hashtag #永久性方舱医院) became a trending topic on Weibo after Ma Xiaowei (马晓伟), Minister of China's National Health Commission, introduced the term in Qiushi (求是), the leading official theoretical journal of the Chinese Communist Party.
The term is new and is somewhat contradictory as a concept, since 'Fangcang hospitals' are actually defined by their temporary nature.
Ma Xiaowei stressed the need for Chinese bigger cities to be ready for the next stage of China's Covid control. This also includes the need for some central 'Fangcang' makeshift hospitals to become permanent ones.
In order to 'normalize' the control and monitoring that comes with living in Zero-Covid society, Chinese provincial capitals and bigger cities (more than ten million inhabitants) should do more to improve Covid testing capacities and procedures. Ma proposes that there should be nucleic acid sample collection points across the city within a 15-minute walking distance radius, and testing frequency should be increased to maximize efficient control and prevention.
Cities should be prepared to take in patients for isolation and/or treatment at designated hospitals, centralized isolation sites, and the permanent Fangcang hospitals. The recent Covid outbreak in Shanghai showed that local authorities were unprepared to deal with the outbreak, and sites that were used as Fangcang hospitals often lacked proper facilities, leading to chaotic scenes.
The hashtag "Permanent Fangcang Hospitals" received over 140 million views on Weibo on Monday.
One of the Weibo threads by state media reporting on the Permanent Fangcang hospitals and the publication by Ma Xiaowei received nearly 2000 comments, yet the comment section only displayed three comments praising the newly announced measures, leaving out the other 1987 comments.
Elsewhere on Weibo, people shared their views on the Permanent Fangcang Hospitals, and most were not very positive – most commenters shared their worries about China's Covid situation about the stringent measures being a never-ending story.
"We're normalizing nucleic acid test, we're introducing permanent fangcang hospitals, [but] why isn't the third Covid vaccination coming through?" one person wondered.
"If there was still a little bit of passion inside me, it was just killed by reading these words 'Permanent Fangcang Hospital,'" another commenter writes, with one Weibo user adding: "I feel desperate hearing the words 'Permanent Fangcang Hospital.'"
"Building permanent Fangcang? Why? Why don't you use the resources you're now spending on normalizing testing to create more hospital beds, more medical staff and more medications?"
Another commenter wrote: "China itself is one giant permanent Fangcang hospital."
"The forever Fangcang are being built," one Weibo user from Guangdong writes: "This will never end. We'll be locked up like birds in a cage for our entire life."
For more articles on the Covid-19 topics on Chinese social media, check here.
By Manya Koetse, with contributions by Miranda Barnes
Get the story behind the hashtag. Subscribe to What's on Weibo here to receive our weekly newsletter and get access to our latest articles:
Featured image via user tongtong [nickname] Weibo.com.
Spotted a mistake or want to add something? Please let us know in comments below or email us. First-time commenters, please be patient – we will have to manually approve your comment before it appears.
©2022 Whatsonweibo. All rights reserved. Do not reproduce our content without permission – you can contact us at info@whatsonweibo.com.
'Hard Isolation' is Shanghai's New Word of the Day
In line with a new 'hard isolation' measure, the entrances of some Shanghai residential buildings were fenced up.
While some Shanghai households have already endured weeks of isolation, a new word was added to their epidemic vocabulary today: 'hard isolation' or 'strong quarantine' (yìng gélí 硬隔离)
The word popped up on Chinese social media on April 23rd after some Shanghai netizens posted photos of fences being set up around their community building to keep residents from walking out.
"New word: hard isolation. Shanghai is rotten to the core," one commenter wrote.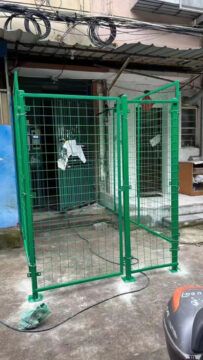 The word soon turned into a hashtag page where people started commenting on the issue of fences being placed around residential buildings, voicing concerns on what a fence around buildings would mean for fire safety, especially after online rumors suggested that there had been a fire at one community in Pudong on Saturday night.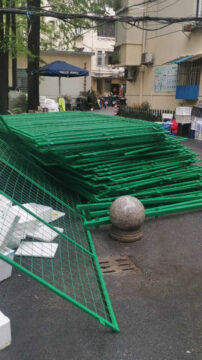 An official document regarding the 'hard isolation' measure was also shared online on Saturday. It is dated April 23, 2022, and its source is the Pudong New Area Office for Epidemic Control.
The document states that in line with the guidelines for the city's epidemic prevention and control, the division between areas or zones that are in certain risk categories should be 'optimized,' with those in the high-risk category requiring a 'hard isolation.' Security guards should also be on duty 24 hours a day at the entrance of the buildings.
Earlier this month, Shanghai adopted "3-level control measures" after its initial phased lockdown. It means that local areas will be classified as "locked-down," "controlled" or "precautionary," based on their Covid19 risk.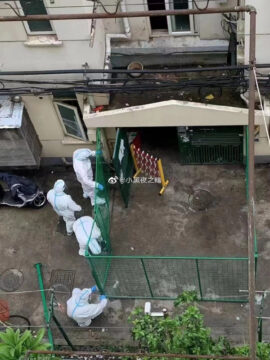 "Could we also put fences around the homes of Shanghai leaders?", one person suggested, while others posted images from the Walking Dead to mock the situation.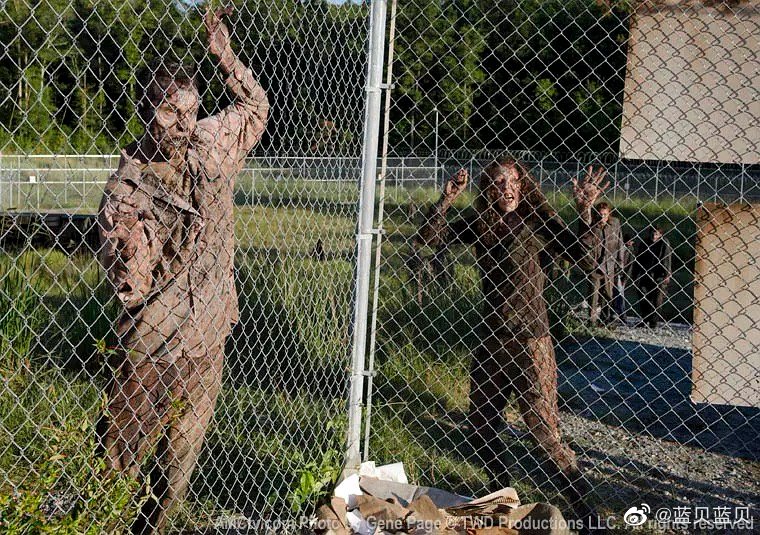 In the hope of Shanghai soon tackling the Covid situation, not everybody disagreed with the decision to fence some buildings or communities in the Pudong area: "I don't disagree with it, as long as there is always someone there to open the fence in case of fire," one person stated.
Although having a fence around their building is currently not a reality for most in Shanghai, the online photos of some communities seeing their buildings being fenced up is a reason to worry for some: "It's been 40 days, and now they start hard isolation? This actually scares me. Before we know it, it's June."
One Weibo user asked: "Why is it possible to implement this hard isolation now? Was this created by the same persons who also implemented the rule to separate children from parents at isolation sites?"
"I truly can't imagine why some people thought this is a good idea," others wrote.
For more articles on the Covid-19 topics on Chinese social media, check here.
By Manya Koetse
Get the story behind the hashtag. Subscribe to What's on Weibo here to receive our weekly newsletter and get access to our latest articles:
Spotted a mistake or want to add something? Please let us know in comments below or email us. First-time commenters, please be patient – we will have to manually approve your comment before it appears.
©2022 Whatsonweibo. All rights reserved. Do not reproduce our content without permission – you can contact us at info@whatsonweibo.com.