Death During Arrest at The Hague Festival (2015)
This is an extra background blog to the article: "We Could Be the Next Lei Yang" – Chinese Netizens on the Lei Yang Case.
Although further investigation will shine more light on what happened in the Lei Yang incident, the case shows some similarity with the case of the 42-year-old Arubian Mitch Henriquez, who died during his arrest at a 2015 festival in The Hague, the Netherlands.
According to media reports, the man allegedly (link in Dutch) said he was carrying a weapon, after which local police arrested him. Because the man resisted, they used force to constrain him.
Different bystanders caught the scene on camera. Footage shows how several police officers hold Henriquez to the ground. When a police van arrives at the scene, he is already unconscious. Henriquez was pronounced dead the following day.
Although police initially stated Henriquez lost consciousness in the police van, video footage revealed that he was already unconscious before being transported, which led to police changing their statement (link in Dutch).
The video's showing Henriquez's arrest (first video) and later the arrival of the police van where he is already unconscious. Warning: graphic content that may be disturbing to some viewers, viewer discretion is advised.
The Henriquez case caused a storm of reactions on Dutch social media and led to protests, with many blaming the police for murdering Henriquez by using excessive force.
It was later found proven that Henriquez died as a consequence to the neck hold applied by the police. Although controversial, the neck hold is still allowed to be used by Dutch policemen during arrests.
CCTV's "Beyond the Edge"(挑战不可能)
"Impossible Challenge," also known as "Beyond the Edge"(挑战不可能), is a large-scale Sunday evening challenge TV show by CCTV.
The show's main host is the well-known CCTV anchor Sa Beining (撒贝宁). The main guests are Dong Qing (董卿), Li Changyu (李昌钰), and Zhou Huajian (周华健).
In the show, contestants test their own limits and challenge themselves in various special skills.
The show was first aired in August 2015.
Chinese Variety Show "Heroes of Remix" Brings Electronic Dance Music to the Masses
China's new music reality show Heroes of Remix has become a hot topic on Chinese social media since its first airing on Jiangsu TV. The show gives electronic dance music a Chinese flavor and has heightened the popularity of the music genre in China.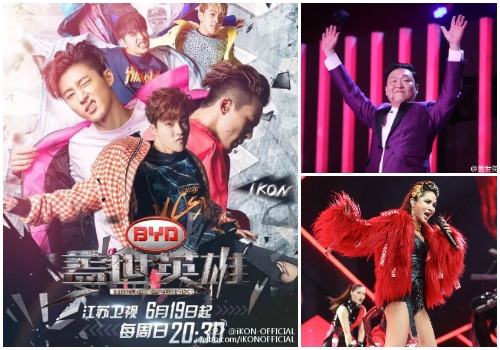 China's new music reality show Heroes of Remix has become a hot topic on Chinese social media since its first airing on Jiangsu TV. The show gives electronic dance music a Chinese flavor and has heightened the popularity of the music genre in China.
China's much-anticipated music reality show "Heroes of Remix" (盖世英雄), that has premiered June 19 on Jiangsu TV, is getting rave reviews on Sina Weibo.
Different from previously aired music competition shows, including "The Voice of China" (中国好声音), "I Am a Singer" (我是歌手) and "King of Mask Singer" (蒙面歌王), "Heroes of Remix" (盖世英雄) brings an entertaining arrangement of remix music and dance, marking China's first-ever variety show that features electronic dance music (EDM).
Following its previous popularity and success in Vietnam, The Remix highlights a dance music talent format in which singers, DJs and vocalists pair up and compete to make internationally-recognized Chinese EDM music. In each show, eight rookie singers or music bands, under the guidance of their mentors, showcase live music performances of Chinese songs. The songs that receive most votes from the audience at the end of each show will be incorporated in albums to make them hit the top music charts.
China's Heroes of Remix's participating mentors are diverse, including four big names in the industry; Chinese American singer Wang Leehom (王力宏), Park 'Gangnam Style' Jae-sang (PSY) from South Korea, Taiwan-based singer Harlem Yu (庾澄庆) and Chinese popular music duo Phoenix Legend (凤凰传奇). The show's main sponsor is Chinese automobile manufacturer BYD Auto.
While EDM music has been quite popular and influential in the western world, China is not yet considered as a major production hub for electronic music. In an interview with People's Daily, music producer Liu Zhou (刘洲) addressed China's lack of prominent EDM culture:
"In China, the development of EDM somewhat lags behind, and we are not able to keep up with industry trends. If everyone else is making electronic music but we are not, we will stay behind."
The significance of Heroes of Remix is that it not only adds new flavor to existing Chinese songs, but also redefines what EDM means in a Chinese context. One netizen wrote on Sina Weibo that Heroes of Remix challenges public misunderstanding about EDM just being "fast-tempo nightclub tunes", and introduces "the true essence of electronic music".

Various Chinese singers, including Zhang Yuge (张语格) and Lu Ting (陆婷), with their remix version of Chinese classic "The Moon Represents My Heart".
Forbes Magazine recently reported that EDM still has much room for growth in the world today, one of the reasons being that out of all music genres, "electronic dance music is one of the most transportable". One the reasons is that there is no language barrier to the music between different countries, as the instrumental music is often more important than the lyrics (if there are any). There are still many possibilities in the world of EDM even when it has topped out in the major developed countries, Forbes writes, "sort of like what happened with American jazz music of the 1950s and 60s."
As international as the genre may be, the Chinese version of Heroes of Remix is unmistakenly Chinese, as it brings elements of Chinese traditional culture into remixes of Chinese songs. The performance by the hip-hop duo DanyLee and Ai Fei (李斯丹妮/艾菲), for instance, was incorporated with sounds of the pipa and singing parts of Beijing Opera.
But besides showing that electronic dance music can have a Chinese identity, Heroes of Remix also conveys the message that music has no borders –  popular Korean idol groups performing on the show added new K-Pop components to it,  receiving much praise from Chinese viewers on Weibo. On the first episode, the song "Beijing Beijing" by the Korean hit boy band iKon was voted as the most popular record of the eight.
In many aspects, Heroes of Remix is taking the music reality show genre in a new direction and is opening up numerous possibilities for electronic music-making in China. The popularity of the show on Chinese social media shows that China is ready for more EDM. Now let's see if the world is ready for Chinese EDM – we'll have to wait and see.
Heroes of Remix will be come out on JiangSu TV every Sunday.
– By Yanling Xu
Follow @WhatsOnWeibo
©2016 Whatsonweibo. All rights reserved. Do not reproduce our content without permission – you can contact us at info@whatsonweibo.com.
Subscribe to our newsletter
Stay updated on what's trending in China & get the story behind the hashtag
Sign up here to become a premium member of What's on Weibo today and gain access to all of our latest and premium content, as well as receive our exclusive Weibo Watch newsletter. If you prefer to only receive our free newsletter with an overview of the latest articles, you can subscribe for free here.
Would you like to become a contributor, or do you have any tips or suggestions for us? Get in touch with us here.