Faking Social Media 2.0: The Business of Buying "High-End Moments" for WeChat
Some are so eager to look picture perfect on their social media feed, that they go to extremes to create a fake online life.
Your fake social life, delivered to your WeChat at 5 pm every day? Sounds very Nosedive, yet there are many who buy their social media contents in an attempt to appear cool, rich, and handsome.
This week, the story of a Wechat group for 'fake rich' women in Shanghai who pool together money to rent designer bags or share a two-person high tea at the Ritz with six people went super trending on Chinese social media.
While the 'group buying-style' WeChat lady socialite group is still trending on Weibo, more related stories are surfacing, with one story taking the idea of 'faking it' on social media to the next level. It even makes the Shanghai 'fake rich' girls seem authentic – at least these women actually went to the Ritz or Bylgari Hotel (although sharing the cost of one hotel room with 40 people).
On Tuesday, WeChat blog author Jiajiada (加加大) published a now-popular article about the phenomenon of "Buying WeChat Moments," which finds its origins in the circles of young men taking PUA training (PUA stands for Pickup Artists, teaching men how to seduce women).
WeChat Moments (朋友圈) is a social feature for WeChat that allows users to share updates, photos, articles, and videos with their contacts, comparable to the Facebook timeline or Instagram feed.
In their mission to turn themselves into Mr. Perfect (高富帅), there is an online trend where male WeChat users purchase premade 'high-end Moments' photos to post on their timeline.
Via services offered through Taobao, people can become a paying member of a WeChat group where they get daily new photos to show off their (fake) fun, fancy, and interesting lives on social media. New photos are delivered to them every day at 5 pm.
In one of these WeChat groups joined by the author, there were a total of 138 members, mostly men. Although some people joined the group to use the daily photos for marketing purposes, the majority were members using the photos in their feed to appear more glamorous on social media, Jiajiada writes.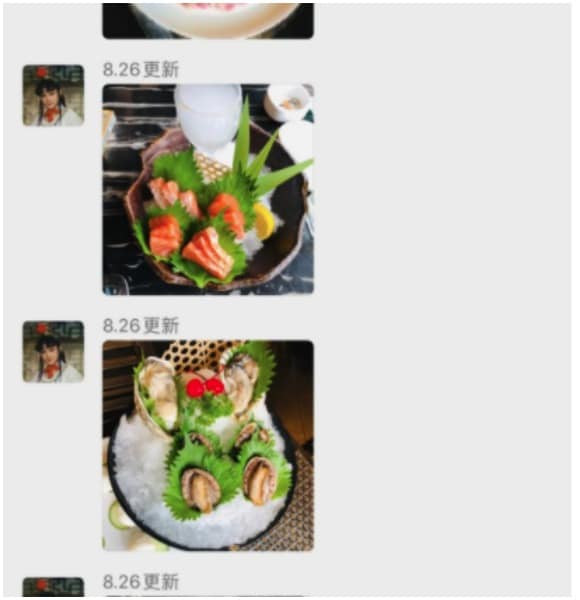 The daily photos provided to the members show the kind of life that would make anyone envious. Photos show a life that's all about expensive wines, watches, and food, having Chanel shopping sprees (including photos of receipt for extra authenticity), going out to fancy KTV bars, having weekend trips out in the beautiful nature, and then some cuddle sessions with a pretty cat.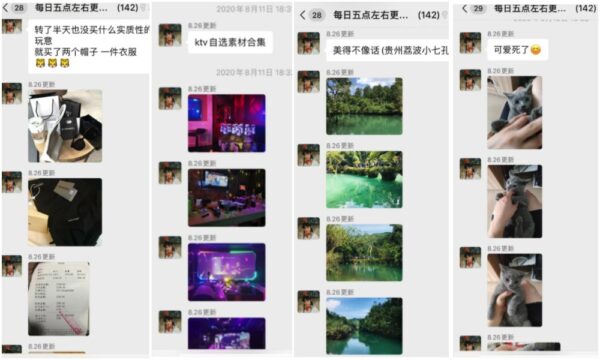 For example, one of the photos provided to members in the group joined by Jiajiada shows a setting where someone is having a cup of Phoenix Single Bush – one of the most complex and high-quality oolong teas. As verified by Jiajiada, that very same photo then indeed showed up in the several social media feeds of the group members, including the text.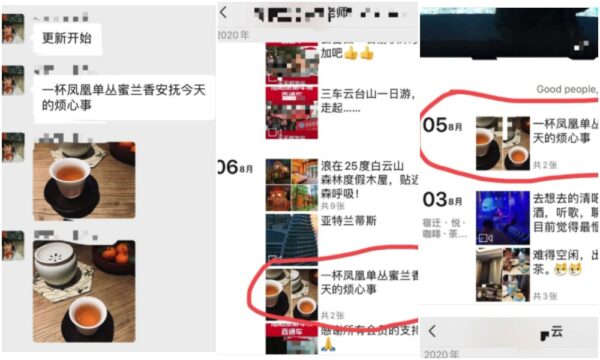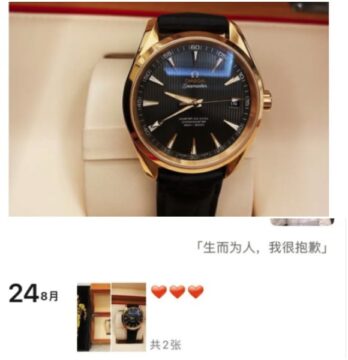 Of course, the photos that are carefully selected by the WeChat group owner never show a face. They might show the legs of someone lying by the pool, or the hands of someone sipping on a glass of wine, but the photos are general enough to be used by anyone – making their friends believe these are their own authentic experiences.
"Does your male friend use this gay app? He's not necessarily gay."
But where does the WeChat group owner actually get all their photos of these expensive shopping sprees and exclusive wine tastings? Researching its source, author Jiajiada found out that many of the pictures are actually taken from the app Blued.
Blued is China's most popular gay dating and lifestyle app. Since it was launched by Geng Le (see our article from 2015 about him here), it has grown into the biggest social platform for gays in China.
The app allows users to search for keywords, such as "luxury hotels" or "wine bar." There are super topics on the app, such as "The hotels most loved by gays," that show hundreds of photos posted by Blued users of fancy places and dinners.
Because the images posted on Blued do not have any watermarks, they are easy to steal and use for other purposes, including for people on WeChat to make money off.
"If your male friend has this guy app, he's not necessarily gay," Jiajiada writes, explaining that many straight men just steal content from gay guys to look better online.
Although the phenomenon of buying "high-end Moments" photos and copy-pasting them into your feed is one of the easiest and cheapest ways to appear richer and more interesting online, there are also other ways of buying "high-end Moments" on Chinese e-commerce site Taobao that require more effort.
There are agencies, for example, that offer set packages including photography, settings, and all props to make the 'Mr. Perfect' photos to fill up social media feeds – from posing in a race car, to pretending to lead a meeting, or reading the newspaper over breakfast in an expensive hotel room.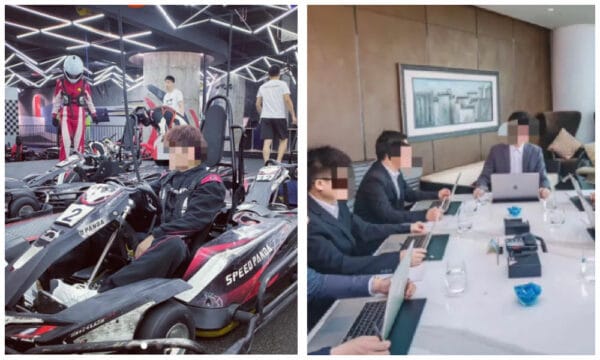 .
On Weibo, there are not many people who sympathize with the men buying their WeChat social media content online, nor with the women who might actually fall for them. Some call the men "boring," and the women who believe them "materialistic." Others just laugh at how fake they all are.
"I hope these [fake] girls and boys can all find each other, so they don't make other people unhappy," one person writes.
But there are also those who seem inspired, writing: "Oh man, I might need to start using this gay app from now on!"
By Manya Koetse
Follow @WhatsOnWeibo
Spotted a mistake or want to add something? Please let us know in comments below or email us. First-time commenters, please be patient – we will have to manually approve your comment before it appears.
©2020 Whatsonweibo. All rights reserved. Do not reproduce our content without permission – you can contact us at info@whatsonweibo.com.
Zheng Shuang, Zhang Heng, and 'Surrogacy Gate': A Timeline
One celebrity couple breakup, two children born through surrogacy: this sad and messy topic has exploded on Chinese social media.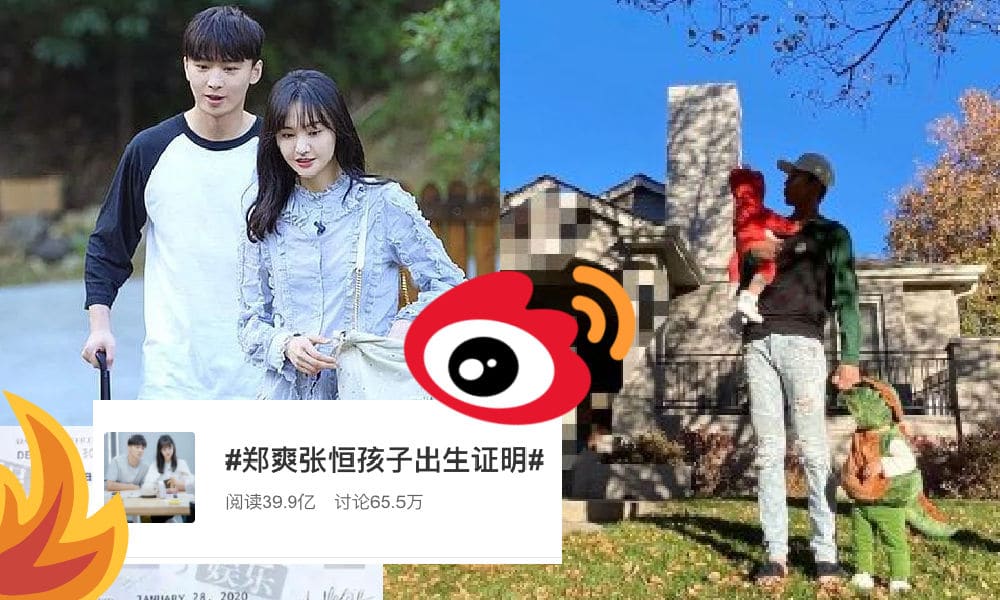 A celebrity surrogacy scandal is dominating discussions on Chinese social media, with one hashtag on the case attracting over 3 4 billion views. The scandal is triggering discussions on the topic of surrogacy in China.
Her name is Zheng Shuang (郑爽, 29), his name is Zhang Heng (张恒, 30). They're both celebrities in China; she is a super famous actress, he is a well-known producer.
This week, it is not their work that made them go viral on Chinese social media, but a surrogacy scandal taking place in the United States that is dominating all trending lists on Weibo.
The social media storm started on Monday, January 18, when rumors surfaced on Weibo and Wechat that the celebrity couple had separated. Some netizens had located a 'dissolution' case concerning the couple through the public access of the US federal court system.
Subsequently, news and rumors began circulating that the couple had two children in the US through a surrogacy arrangement, but that actress Zheng Shuang refused to have them because she and Zhang had broken up – even though her name was on their birth certificate.
The topic soon became known as the Zheng Shuang 'Surrogacy Gate' (郑爽"代孕门").
Chinese media outlet Netease Entertainment published images of the children's birth certificates and confirmed through sources close to producer Zhang Heng that he was stranded in the United States with the two babies, unable to bring them back to China with him since Ms Zheng allegedly did not cooperate with the necessary legal procedures.
It was Zhang Heng himself who spoke out about the situation on his Weibo account (@张恒KN) on January 18. He wrote the following post:
"Hi everyone, I'm Zhang Heng. Long time no see. As everyone has seen, I again hit the hot search lists recently. Since the past year or so, there has been baseless slander, disrespect, and endless online violence against me on the internet. My family is also frustrated, helpless, and mentally exhausted because of my problems. There's no way to lead a normal life or to socialize normally. We're unable to reunite because of this. I really feel so, so bad.   
I realize I can't bury my head in the sand any longer. Because it's not just me facing everything; it's also my cherished family members. I've decided to speak up, for my family and for myself, and to set the record straight. 
The online rumors about me committing fraud, borrowing from loan sharks, evading debts, taking funds and slinking off to America, etc –  they're all rumors and I swear I've never done these things, nor would I ever do them. It is true that I am in America, but my family and I have been in the United States for over a year because we had to take care of and protect our two young and innocent children. We had no choice but to remain here.
I have hired a lawyer to handle related matters, and I believe the actual facts will be restored by the American and Chinese courts. Finally, I hope the media and righteous people can recognize the truth in this matter, and will not be blinded by internet rumors." 
The children caught up in this scandal are one girl, born on January 4 2020, registered in the state of Nevada; and a boy, born on December 19 2019, registered in the state of Colorado. The birth certificates that were leaked to Chinese media show both Ms. Zheng and Mr. Zhang as the legal parents of the two babies.
Also leaked to Chinese media is an older audio recording in which Zheng, Zhang, and both of their parents allegedly discuss what to do with their unborn babies. In the voice recording, Zheng's side argues that the children should be given up for adoption, with Zheng herself even complaining that the babies could not be aborted because the surrogate mothers were already seven months pregnant.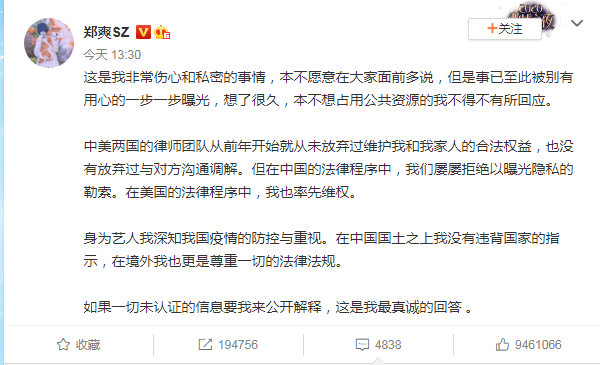 On January 19, Zheng Shuang herself also responded to the matter on Weibo (@郑爽SZ), where she did not address the matter directly but said that this is "a very sad and private matter that I did not want to discuss in front of everybody." She further wrote that legal teams in China and the US "never gave up defending the legal rights of me and my family since last year."
Of the two former partners, Zheng is the most famous celebrity. Born in Shenyang in 1991, she rose to fame when she starred in a popular TV series in 2009 (Meteor Shower 一起来看流星雨). She became an award-winning actress and was chosen as one of the most bankable young actresses of the post-90s generation. On her Weibo account, she has over 12.4 million followers.
'Surrogacy Gate': The Timeline
While this case is unfolding in front of netizens' eyes and through their own research, more and more details are coming up.
Money plays a major role in the falling-out between Zheng and Zhang, and a private lending dispute – involving no less than 20 million yuan (around 3 million dollars) – seems to be one of the reasons for their break-up.
Since the story is somewhat messy and complicated, we will attempt to reconstruct a timeline of events here.

TIMELINE:
2018, May
• Zheng and Zhang meet on the set of the variety show This Is Fighting Robots (这就是铁甲), where Zhang does the show's production. Weeks later, intimate photos of the two surface online.
2018, August
• The couple officially announces their relationship status and start a company together.
2018, November
• Ms Zheng allegedly loans Mr Zhang 20 million yuan ($3 million).
2019, January 19
• Zheng and Zhang 'secretly' get married in the United States on January 19 of 2019. Zheng's dog, "Wolfberry Kris" (@枸杞kris), has its own Weibo account where some 'wedding photos' of the joyous occasion are shared on this day.
2019, Fall/Winter
• Zhang and Zheng both appear on the TV show Meeting Mr. Right (女儿们的恋爱).
• An annual report of Zhang and Zheng's entertainment-meets-tech company, a joint business venture named Shanghai Whale Valley AI Tech (上海鲸谷座人工智能科技有限公司), shows that Zheng Shuang invested over 10 million yuan ($1.5 million) while Zhang – the company's legal representative – only contributed 200,000 yuan ($30,800).
2019, September
• In a Weibo post of January 2021, Zheng Shuang claims that Zhang cheated on her in September of 2019, which is why she left the US and went back to China.
2019, October 31
• Zhang Heng and Zheng Shuang go viral on Chinese social media when Zhang writes a love song for Zheng, and publicly announces his love for her (#张恒给郑爽写歌#).
2019, December 18
• Zhang Heng and Zheng Shuang announce their breakup, and rumors suggest that the two are caught up in a dispute over money.
2019, December 19
• The son of Zhang Heng and Zheng Shuang is born through surrogacy in Colorado.
2020, January
• The daughter of Zhang Heng and Zheng Shuang is born through surrogacy in Nevada on January 4.
• Zheng Shuang files a lawsuit in Shanghai, suing Zhang Heng for borrowing 20 million yuan from high-interest loaners under her name to invest in personal business ventures.
2020, November
• Shanghai Jing'an Court rules that Mr. Zhang needs to pay back 20 million yuan ($3 million) plus overdue interest to Ms. Zheng. Zhang Heng appeals the case, arguing the money involved was never a loan but a financial compensation and advance payment for invested labor, since Zhang also acted as Zheng's manager while they were together.
2020, December
• Zheng Shuang quits as a mentor on the Shine! Super Brothers (追光吧!哥哥) variety TV show after a clip exposing her gossiping about the past relationship of two co-stars circulated online.
2021, January 18
• Zhang posts his story on his Weibo account, stating he is stranded in the United States to take care of his two young children, implying Zheng has abandoned the babies. He also posts a photo of him with the two children.
• A voice recording in which Zheng talks about what to do with her unborn children surfaces in Chinese media, along with the birth certificates. The topic explodes on Chinese social media.
2021, January 19
• Zheng Shuang posts a reply to the matter on her own Weibo account, in which she is vague and evasive about the issue concerning the children. She implies that Zhang has "ulterior motives." She later adds that Zhang cheated on her in the fall of 2019.
• In light of all controversy, Italian fashion brand PRADA cuts ties with Zheng Shuang, with whom they had a cooperation agreement. Zheng was announced as one of the brand's new Chinese ambassadors earlier in 2021.
• London jewelry brand Lola Rose deletes all content including Zheng from their social media.
• Harper Bazaar deletes a feature on Zheng Shuang from their social media.
• Chinese cosmetic brand Chioture also posts a statement on Weibo saying it has terminated its contract with Zheng Shuang, who formerly was a spokesperson for the company.
• The second hearing of the Zheng versus Zhang lawsuit takes place in a Shanghai court over the disputed loan. Zhang and Zheng are both represented by their lawyers. (No news on outcome yet).
• State broadcaster CCTV condemns surrogacy in a post on Weibo.
• Zheng Shuang appears in public in Beijing, where she is followed by paparazzi. She does not respond to any questions, but her appearance still goes viral on social media with over 640 million views (#郑爽风波后首现身#).
2021, January 20
• Huading Awards announces it will revoke the honorary titles of Zheng Shuang, renouncing Zheng's former awards as best actress and favorite TV star. Over 2.2 million people 'liked' this update on Weibo (#华鼎奖取消郑爽荣誉称号#).
• China's State Administration of Radio, Film and Television officially shuts out Zheng Shuang.
• The Weibo hashtag "Birth Certificates of Zheng Shuang and Zhang Heng's Children" (#郑爽张恒孩子出生证明#) reaches a staggering 4 billion views.
2021, March 22
• The hearing for the supposed dissolution of Zheng and Zhang's marriage is scheduled to take place in Denver, US.
Surrogacy Abandonment
Although the timeline of events leading to the current situation might suggest that Ms. Zheng and Mr. Zhang are both at fault for handling matters in an irresponsible way, it is Zheng's "surrogacy abandonment" that mostly triggers the public's anger on social media.
Many people feel that Zheng Shuang is lacking morals for abandoning her children and call her "cold-blooded." There are also those who think the actress has serious mental problems. Despite all backlash, Zheng still has a strong fan base with people who still support her.
The scandal has sparked more discussions on the issue of surrogacy in China, which already was a big topic earlier in January when a story came out on a baby born through surrogacy who had no birth certificate and no legal registration (link here).
Although surrogacy is officially not legal in China, there is a flourishing underground surrogacy market, and many couples who are struggling with fertility issues travel overseas for surrogacy arrangements. It is not clear why Zheng and Zhang used surrogates to have children.
On Weibo, many people speak out against surrogacy practices, arguing that having children is not a business and surrogacy puts vulnerable women at increased risk of exploitation.
The hashtag "Firmly Oppose All Forms of Surrogacy" (#坚决反对一切形式的代孕#) received over 290 million views and thousands of comments.
One person commented: "Children are not a commodity you can buy, sell, or return. They're a life-long responsibility, they are the future of our society."

This story will be updated following the latest developments.

By Manya Koetse, with contributions by Miranda Barnes
Follow @WhatsOnWeibo
Spotted a mistake or want to add something? Please let us know in comments below or email us. First-time commenters, please be patient – we will have to manually approve your comment before it appears.
©2021 Whatsonweibo. All rights reserved. Do not reproduce our content without permission – you can contact us at info@whatsonweibo.com.
Nobody's Baby? Chinese Girl in Canceled Surrogacy Case Has No Birth Certificate, No Hukou
From surrogacy baby to 'heihaizi' – her biological parents canceled the surrogacy agreement, but she was born anyway.
The news story of a child born through surrogacy is the talk of the day on Weibo, leading to heated discussions on China's 'underground' surrogacy practices.
The tragic story of a 3-year-old girl born through surrogacy is top trending on Chinese social media today, where the child is referred to as the 'unregistered surrogacy girl' ("黑户代孕女童").
The child was meant to grow up with her two biological parents, but when the surrogate mother tested positive for a syphilis infection halfway through the pregnancy, the intended parents canceled the surrogacy agreement. The story was told in a short video report by Chinese news outlet The Paper.
The poverty-stricken surrogate mother ended up having the baby herself, but could not afford her bills and sold the baby's birth certificate. The biological parents have refused to take responsibility for the girl.
Without her formal papers and household registration, the 3-year-old girl cannot go to school and is not registered anywhere.
From Surrogacy Baby to 'Heihaizi'
On January 12, Chinese media outlet Time Weekly (时代周报) published a lengthy interview with the surrogacy mother recounting the entire story of the canceled surrogacy agreement.
The story starts in 2016 when the then 38-year-old* Wu Chuanchuan (吴川川, alias) became a surrogate mother as a way to earn money. The older couple who wanted a baby came from Inner Mongolia and had previously lost a child. *(In the interview, Wu claims she is actually younger than the age indicated on her official papers, which say she is now 47.)
The surrogacy agreement, arranged through an underground company, was settled at 170,000 yuan ($26,200). It concerned a gestational surrogacy, in which the child is not biologically related to the surrogate mother.
During the pregnancy, Wu was living together with other surrogate mothers. When she was four months pregnant, she unexpectedly tested positive for syphilis. Wu says she suspects that the infection was spread within the small surrogacy mother community she lived in.
Syphilis in pregnant women is risky and can have a major impact on the baby's health. It can cause miscarriage, stillbirth, or death as a result of the infection as a newborn.
"The intended parents decided to withdraw from the surrogacy arrangement, asking for a refund and offering to pay for an abortion."
Due to syphilis, the intended parents of the baby decided to withdraw from the surrogacy arrangement, asking for a refund and offering to pay for an abortion. Wu would only receive 20,000 yuan ($3085).
This situation left Wu, who already felt the fetus moving, in a very difficult situation. She eventually refused to terminate the pregnancy and withdrew from the surrogacy agency's home.
Staying at cheap hotels in the city of Chengdu and unable to find a suitable adoption family, Wu eventually gave birth to a baby girl that she would raise herself.
But there was one major issue: money. Wu already could not afford the hospital admittance fee, let alone the 12,000 yuan ($1850) in hospital bills she had to pay after needing a C-section delivery.
To pay for her medical bills, Wu was forced to take desperate measures and ended up selling her baby's birth certificate. Through the internet's black market, she found someone who would pay 20,000 yuan ($3085) for it.
Once the baby was born, things looked up for Wu. She soon married a kind man who was willing to raise baby girl 'Xiao Rang' (小让, alias) together with her, and the child's congenital syphilis was cured.
But Xiao Rang still had no birth certificate, and thus no hukou.
The hukou or 'household registration' system is a registered permanent residence policy. A hukou is assigned at birth based on one's community and family. China's hukou system, amongst others, separates rural from urban citizens and is essential to access social services, including education and healthcare.
Without a hukou, the child cannot attend kindergarten, and will not be able to go to school – she will be a heihaizi (黑孩子, lit. 'black child'), an 'illegal child' not registered anywhere.
In December of 2020, as reported by The Paper, Wu traveled from Chengdu to Inner Mongolia in search of her daughter's biological parents.
The girl's intended parents turned out to have twin sons now. They bought a house and went through the process to get their twins through another surrogate mother. After spending approximately 700,000 yuan ($108,000), the family allegedly could not afford to also be legally responsible for Xiao Rang. Afraid of the consequences, the 50-year-old biological father initially also seemed unwilling to formally arrange adoption papers for his daughter, Wu told Time Weekly.
Banned Baby Business
On Weibo, a hashtag page about Xiao Rang's story received over 550 million views on Tuesday, making it one of the most-discussed topics on January 12 (#首个遭代孕客户退单女童无法上户#).
Due to the media attention, and the biological father's identity being exposed, the case was still developing while Chinese netizens looked on.
According to the latest reports, Xiao Rang's biological father will now provide assistance in arranging registration papers for the little girl while Wu Chuanchuan will still raise the child.
The fact that the father himself came forward to tell his side of the story also became a trending topic (#遭退单代孕女童生物学父亲现身#), garnering over 260 million views by Tuesday night Beijing time. The biological father confirms that they gave up on the baby once they were informed of Wu's syphilis infection, and that they did not expect Wu to have the baby after all.
Meanwhile, on social media, there seems to have been a shift in sentiments regarding this story. Netizens initially sided with the surrogate mother and her tragic story.
But as the media continue to report on this story, more and more people are starting to doubt Wu's sincerity, wondering if she used media exposure to portray herself as a victim to gain the public's sympathy.
Online commenters criticize Wu for being part of the surrogacy agreement, for choosing to have the child despite her syphilis, and for selling the child's birth certificate. Many call her 'immoral' and 'irresponsible.'
"Surrogacy exploits women, and it is a serious violation of social ethics and morals. Taking part in surrogacy should be severely punished."
Surrogacy has been a hot topic on Chinese social media recently. Just a month ago, a short film titled "10 Months With You" ('宝贝儿') by famous Chinese director Chen Kaige (陈凯歌) also stirred controversy for supposedly presenting surrogacy in China in a relatively positive light.
The 30-minute film revolves around a young girl who signs a surrogacy contract with intended parents without telling her boyfriend. When she gets emotionally attached to the baby during her pregnancy, things get complicated. But she eventually is persuaded by her boyfriend that the child is not intended to be with them, after which she is willing to part with the baby.
Chinese state media outlets, including Global Times and China Daily emphasized that surrogacy is illegal in China and that those who take part in surrogacy will face fines or even criminal prosecution.
Nevertheless, the practice of surrogacy is a somewhat legislative grey area in China. China's Ministry of Health introduced regulations in 2001 that made it illegal for medical staff to offer surrogacy services. In 2015, there were official plans to completely curb surrogate pregnancies. But that strict ban on surrogacy pregnancies was later reversed.
In 2017, People's Daily even published a controversial article that suggested a loosening of surrogacy bans to boost China's birth rates. Meanwhile, there have been ongoing reports about China's booming underground surrogacy market (here, here ).
In 2018, state media outlet Global Times quoted Qiu Renzong, a bioethics expert at the Chinese Academy of Social Science in saying: "The Chinese government should consider setting some rules to allow surrogacy in certain circumstances."
With discussions on Xiao Rang's case and surrogacy in China being a major topic on Weibo, the legal side is also receiving much attention. Law expert Zhang San (@普法达人张三) uses the hashtag "Criminalize Surrogacy" (#建议代孕入刑#) when he writes:
"Although surrogacy is illegal, it is a blank space in the criminal law. Surrogacy exploits women, and it is a serious violation of social ethics and morals. Taking part in surrogacy should be severely punished. If the freedom is not restricted, it will surely lead to exploitation of the weak by the strong."
Some people on Weibo argue that most of the people involved in Xiao Rang's story are filthy and immoral, and that they need to be punished. But virtually everyone agrees that the little girl needs to be registered in order to still have a chance to lead a normal life: "The child is innocent."
By Manya Koetse
Follow @WhatsOnWeibo
Spotted a mistake or want to add something? Please let us know in comments below or email us. First-time commenters, please be patient – we will have to manually approve your comment before it appears.
©2021 Whatsonweibo. All rights reserved. Do not reproduce our content without permission – you can contact us at info@whatsonweibo.com.