Faking Social Media 2.0: The Business of Buying "High-End Moments" for WeChat
Some are so eager to look picture perfect on their social media feed, that they go to extremes to create a fake online life.
Your fake social life, delivered to your WeChat at 5 pm every day? Sounds very Nosedive, yet there are many who buy their social media contents in an attempt to appear cool, rich, and handsome.
This week, the story of a Wechat group for 'fake rich' women in Shanghai who pool together money to rent designer bags or share a two-person high tea at the Ritz with six people went super trending on Chinese social media.
While the 'group buying-style' WeChat lady socialite group is still trending on Weibo, more related stories are surfacing, with one story taking the idea of 'faking it' on social media to the next level. It even makes the Shanghai 'fake rich' girls seem authentic – at least these women actually went to the Ritz or Bylgari Hotel (although sharing the cost of one hotel room with 40 people).
On Tuesday, WeChat blog author Jiajiada (加加大) published a now-popular article about the phenomenon of "Buying WeChat Moments," which finds its origins in the circles of young men taking PUA training (PUA stands for Pickup Artists, teaching men how to seduce women).
WeChat Moments (朋友圈) is a social feature for WeChat that allows users to share updates, photos, articles, and videos with their contacts, comparable to the Facebook timeline or Instagram feed.
In their mission to turn themselves into Mr. Perfect (高富帅), there is an online trend where male WeChat users purchase premade 'high-end Moments' photos to post on their timeline.
Via services offered through Taobao, people can become a paying member of a WeChat group where they get daily new photos to show off their (fake) fun, fancy, and interesting lives on social media. New photos are delivered to them every day at 5 pm.
In one of these WeChat groups joined by the author, there were a total of 138 members, mostly men. Although some people joined the group to use the daily photos for marketing purposes, the majority were members using the photos in their feed to appear more glamorous on social media, Jiajiada writes.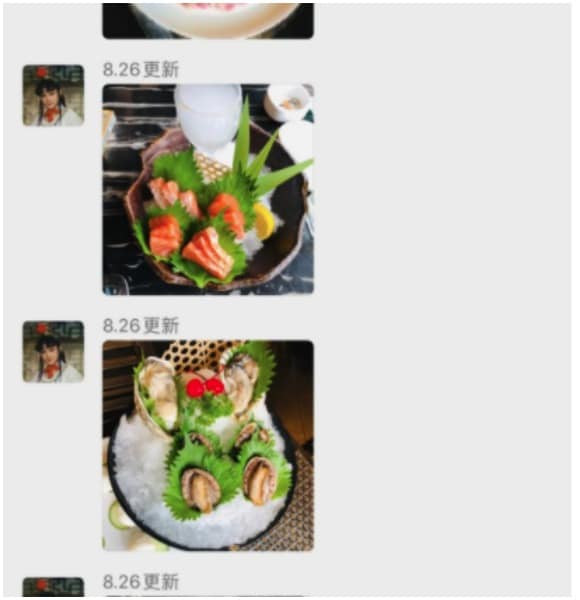 The daily photos provided to the members show the kind of life that would make anyone envious. Photos show a life that's all about expensive wines, watches, and food, having Chanel shopping sprees (including photos of receipt for extra authenticity), going out to fancy KTV bars, having weekend trips out in the beautiful nature, and then some cuddle sessions with a pretty cat.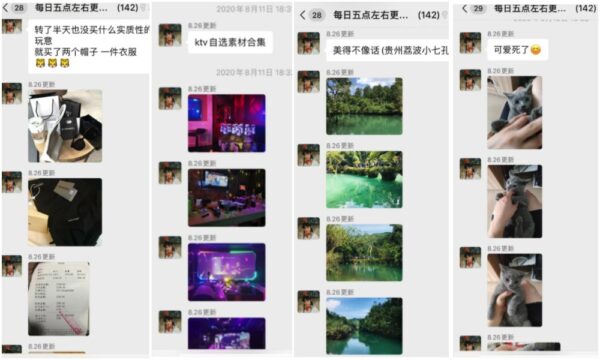 For example, one of the photos provided to members in the group joined by Jiajiada shows a setting where someone is having a cup of Phoenix Single Bush – one of the most complex and high-quality oolong teas. As verified by Jiajiada, that very same photo then indeed showed up in the several social media feeds of the group members, including the text.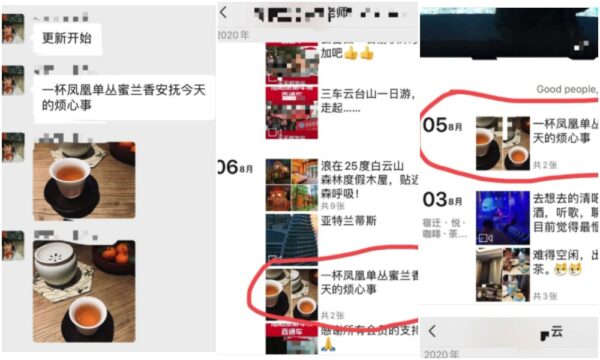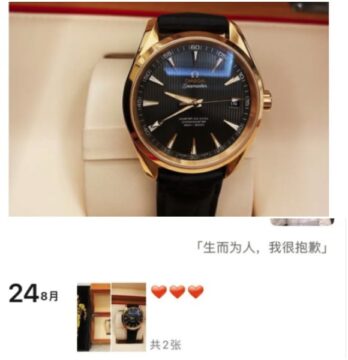 Of course, the photos that are carefully selected by the WeChat group owner never show a face. They might show the legs of someone lying by the pool, or the hands of someone sipping on a glass of wine, but the photos are general enough to be used by anyone – making their friends believe these are their own authentic experiences.
"Does your male friend use this gay app? He's not necessarily gay."
But where does the WeChat group owner actually get all their photos of these expensive shopping sprees and exclusive wine tastings? Researching its source, author Jiajiada found out that many of the pictures are actually taken from the app Blued.
Blued is China's most popular gay dating and lifestyle app. Since it was launched by Geng Le (see our article from 2015 about him here), it has grown into the biggest social platform for gays in China.
The app allows users to search for keywords, such as "luxury hotels" or "wine bar." There are super topics on the app, such as "The hotels most loved by gays," that show hundreds of photos posted by Blued users of fancy places and dinners.
Because the images posted on Blued do not have any watermarks, they are easy to steal and use for other purposes, including for people on WeChat to make money off.
"If your male friend has this guy app, he's not necessarily gay," Jiajiada writes, explaining that many straight men just steal content from gay guys to look better online.
Although the phenomenon of buying "high-end Moments" photos and copy-pasting them into your feed is one of the easiest and cheapest ways to appear richer and more interesting online, there are also other ways of buying "high-end Moments" on Chinese e-commerce site Taobao that require more effort.
There are agencies, for example, that offer set packages including photography, settings, and all props to make the 'Mr. Perfect' photos to fill up social media feeds – from posing in a race car, to pretending to lead a meeting, or reading the newspaper over breakfast in an expensive hotel room.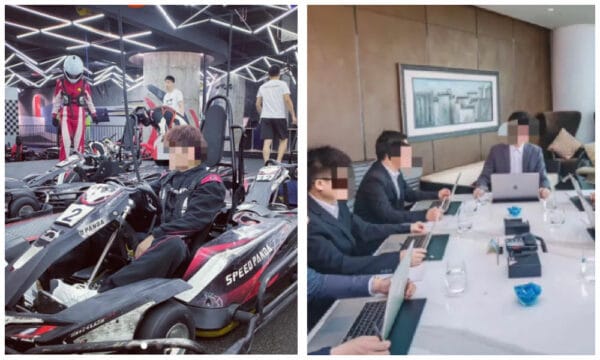 .
On Weibo, there are not many people who sympathize with the men buying their WeChat social media content online, nor with the women who might actually fall for them. Some call the men "boring," and the women who believe them "materialistic." Others just laugh at how fake they all are.
"I hope these [fake] girls and boys can all find each other, so they don't make other people unhappy," one person writes.
But there are also those who seem inspired, writing: "Oh man, I might need to start using this gay app from now on!"
By Manya Koetse
Follow @WhatsOnWeibo
Spotted a mistake or want to add something? Please let us know in comments below or email us. First-time commenters, please be patient – we will have to manually approve your comment before it appears.
©2020 Whatsonweibo. All rights reserved. Do not reproduce our content without permission – you can contact us at info@whatsonweibo.com.
Chinese Female Homeowner Slapped in Altercation with Nanchang Office Worker
This viral video has exposed the violent actions of Yang, an office worker who initially provoked the anger of local residents and has now ignited fury on Chinese social media as well.
An incident that happened on September 27th in Jiangxi's Nanchang has become a major topic of discussion on Chinese social media over the past two days, and all revolves around a viral video that shows a man suddenly striking a Chinese female homeowner across the face.
The backstory of the video revolves around a dispute between the local homeowners and the man, who holds a higher position at the office building situated within the residential area's property.
Upon discovering that an iron fence, which separated the residential area from the office area, had been cut open without notifying the local homeowners, the woman entered the office building to seek an explanation for why the fence was damaged and breached without the consent of the residential area's residents. Apparently, employees at the company wanted to create a shortcut.
During the confrontation, the man told the woman: "If you want to talk, go to the community meeting room." Just as the woman asked him why the fence was cut open with a cutting machine, the man suddenly and forcefully slapped her in the face.
What was he thinking?! This 43-year-old office worker from Nanchang suddenly turned violent, striking a female resident across the face after being asked why they cut open an iron fence separating the office & residential area (probably as shortcut). The slap has now gone viral. pic.twitter.com/vDNDczgyYQ

— Manya Koetse (@manyapan) September 28, 2023
After the incident, the woman was taken to a local hospital for a medical examination, and the police initially intervened in the case as mediators. However, the latest updates on the case reveal that the man is now detained for ten days. Apart from slapping the female homeowner, a 32-year-old woman named Wang, the 43-year-old office worker Mr. Yang reportedly also struck another woman, a 37-year-old local named Cheng.
The video has captured the attention of netizens not just because of the man's actions towards a woman but also because it seemed to occur out of nowhere. One moment, the man was engaged in conversation with the woman, and the next moment, he suddenly slapped her across the face.
Recently, there have also been other 'slapping moments' that went viral on Chinese social media. Earlier this year, the "high-speed train slapping incident", involving two women arguing on a train and slapping each other in the face, garnering widespread attention (read here). Another recent incident involves the 'Subway Judge,' a young man who intervened in a subway argument and suddenly slapped an older man in the face (read here).
As is often the case, a short video may not capture the full context of a situation, and some Chinese netizens who claim to have more information about the incident suggest that multiple office workers were actually involved in the confrontation with the women.
Another video provides additional footage of the altercation, revealing that Yang threatened one of the women with a cutting machine. It also shows how he brought Ms. Wang to the ground after the initial slapping incident.
Local residents and Yang, who is believed to oversee the office department, have been in a longstanding conflict. According to a homeowner's post on Weibo, when the residents bought their apartments, they were not informed about the nearby office building. They only discovered it when they received their keys.
Initially, Evergrande, the property developer, had promised separate management for the residential and office areas, but due to apparent financial difficulties, this plan was never finalized. The homeowners therefore erected the iron fence to separate the residential and commercial areas, leading to continuous arguments and intimidation between the office workers and the residents.
Some Weibo commenters are suggesting that the man's behavior makes him seem more like a gang member than a typical office worker. In addition to the legal consequences that Yang is facing from local authorities, his reputation is undoubtedly taking a hit.
As of now, Chinese netizens have already exposed his identity, and the internet is never forgiving when it comes to these kinds of incidents, leaving a lasting mark on one's public image.
By Manya Koetse
Get the story behind the hashtag. Subscribe to What's on Weibo here to receive our newsletter and get access to our latest articles:
Spotted a mistake or want to add something? Please let us know in comments below or email us. First-time commenters, please be patient – we will have to manually approve your comment before it appears.
©2023 Whatsonweibo. All rights reserved. Do not reproduce our content without permission – you can contact us at info@whatsonweibo.com.
"Elderlies" in Their Thirties: The Growing Interest of Chinese Youth in Nursing Homes
Some Chinese nursing homes are evolving into sought-after havens where China's younger people can "lie flat" without worrying about meals and household chores, while enjoying a high-quality lifestyle.
Chinese nursing homes are changing their image in the social media age. While Chinese vloggers experiment with living in old people's homes, and nursing homes are modernizing their facilities, some senior care centers are offering young people the chance to reside in their communities for free – as long as they spend some time with their elderly residents.
In China, nursing homes (养老院, yǎnglǎoyuàn) are usually not linked to lively living spaces. Many picture elderly residents trapped in dull daily routines, lacking companionship, without any visitors or children around, simply awaiting the inevitable alone.
However, these places, once synonymous with boredom, loneliness, and the end of life, are now piquing the interest of younger generations in China, breathing new life into them and transforming them into more vibrant living communities.
Recently, a nursing home in Hangzhou, Zhejiang Province, began to recruit young people to live there. The initiative is a part of the "Companion Aging Program" promoted by the local civil affair bureau.
Its objective is twofold. One the one hand, it provides new living environments for younger generations facing difficulties in securing housing. On the other hand, it alleviates the burden of social isolation on seniors who struggle to stay in touch with the communities around them.
The program is focused on attracting young people, especially those who have just entered the workforce. They can stay in one-bedroom apartments within nursing homes for free, with only a small monthly management fee of 300 yuan ($41). The only requirement is that they spend at least ten hours each month engaging in activities with elderly residents, like sharing meals, going for walks, or having conversations.
The government initiators stress the program's win-win situation. A staff member at the bureau explains, "The program can provide accompany to satisfy seniors' emotional needs, while also helping 'companions' to save on rental costs."
To ensure that the program is indeed mutually beneficial, the government has established specific criteria for potential senior companions. These requirements include not having current residents in the city, holding at least a junior college education level, and having desirable backgrounds in fields such as medicine, psychology, information technology, arts, or law.
The program has been well-received thus far. In a Weibo poll with the hashtag "Are you willing to live in nursing homes for free by accompanying old people?" (#你愿意陪伴老年人免费入住养老院吗#), initiated by Xinjin News (@新京报), 55% of the respondents wholeheartedly support the initiative, while approximately 30% remain undecided.
According to another recent Weibo post by Sina News, the nursing home has already received hundreds of resumes from applicants.

"The Old Man in His Thirties": Young People Who Want to Live in Nursing Homes

In the meantime, living in nursing homes seems to have become increasingly popular among young people in China, even when it's not always free of charge. Nursing homes have not only been portrayed in more favorable lights on social media by state media outlets, they have also taken proactive measures themselves to improve their image.
Thanks to these collective efforts, what were once seen as lonely and uninspiring places are now seemingly transforming into popular residences where China's younger people can "lie flat" (read more), without worrying about meals and household chores, while enjoying a high-quality lifestyle.
On social app Xiaohongshu, one user named "The Old Man in His Thirties" (三旬老汉) has recently been documenting his experience of moving to a nursing home.
In his first video, somewhat jokingly, he talks about quitting his job due to overwhelming work demands and choosing to embrace a "lie-flat" lifestyle ("躺平"). He was drawn to the nursing home because it provides meals, takes care of residents, and handles daily chores.
Titled "Day xx of living in a nursing home at the age of thirty" ("三十岁入住养老院的第xx天"), his subsequent videos showcase the nursing home staff preparing delicious meals for him, getting him snacks, and even engaging in esports activities with him. These videos also feature his humorous interactions with his roommate, a senior resident in his seventies.
Another post-95 generation Xiaohongshu user (久久姨家政) recently also shared his experiences of living in an old people's home. His videos revolve around talking to older residents, enjoying meals with them or joking around. There are also other accounts, all young Chinese vloggers, sharing their own journeys of moving into senior care facilities.
Although these videos are apparently filmed based on written scripts, many netizens still see the attractiveness of nursing homes through these kinds of videos and posts. Many viewers have left comments under these videos expressing their desire to reside in senior living communities, asking for locations and inquiring about the costs.
Since the first video by "The Old Man in His Thirties" was posted in mid-June, the series has documented approximately 70 days of life in the nursing home. By now, the account has nearly 60,000 followers, and the videos accumulated thousands of likes.
In addition to improving their image through social media, some nursing homes in China have also enhanced their appeal by upgrading facilities. Gyms, swimming pools, snooker tables, free wifi and esports rooms – a variety of amenities have been introduced to transform nursing homes into modern spaces that also cater to the preferences of younger individuals.
Some private nursing homes also market themselves as "nursing homes even young people would want to live in," emphasizing the exceptional quality and modern standards of services and facilities.
This online promotion has had the surprising by-effect that younger and middle-aged people are also changing their attitudes about moving into nursing homes when they are old and retired.
While some nursing homes across the country are offering free short stays for young Chinese, other individuals have gone as far as paying for a short stay to personally experience various nursing homes. One Xiaohongshu user, after spending a night at a local upscale nursing home and sharing her experience with a friend, commented, "After the immersive experience, I'm eager to apply for long-term residency right away."

A Path to Change Eldercare in Aging China

The growing interest of young people in nursing homes is not merely a coincidental trend arising from local government initiatives or viral social media trends.
Elderly care services have been a significant focal point of China's national strategies for several years, driven by the projected fourfold increase in the elderly population, from 36 million to 150 million, in the next three decades.
In early May of this year, the government issued guidelines aimed at establishing a comprehensive elderly care system by 2025. These guidelines emphasize the provision of material support to elderly individuals living alone, which includes the improvement of services and facilities within nursing homes.
This increased focus on nursing homes may indicate a shift in China's eldercare strategies, particularly in light of the significant decline in birth rates. From 2011 to 2020, China prioritized a home-based eldercare system, encouraging younger generations to live in close proximity to their elderly relatives through restructured healthcare facilities and the promotion of filial piety.
Between 2015 and 2020, the central government allocated 5 billion yuan (approximately USD 743 million) to support new pilot programs for home-based elderly care services (Krings et al 2022).
However, with record-low marriage and birth rates, it is likely that a significant number of young people today will later lack the younger family members needed to provide home-based care as they age. Consequently, nursing homes are bound to play a more crucial role in China's future eldercare industry.
In Chinese society, older adults residing in nursing homes are often regarded as examples of personal failures for not having loving families with caring children (Luo & Zhan 2911). Moreover, concerns about potential mistreatment of vulnerable elderly residents by staff members at nursing homes persist.
The increasing interest and recent active involvement of young people in nursing homes offer a way to challenge old stereotypes and bring new ideas to the changing eldercare landscape in China. Perhaps most importantly, it helps combat the loneliness that many seniors face while bridging the gap between the country's younger and older generations.
By Zilan Qian
Follow @whatsonweibo
References (other sources hyperlinked in text):
Krings, Marion F., Jeroen D. van Wijngaarden, Shasha Yuan, and Robbert Huijsman. 2022. "China's Elder Care Policies 1994–2020: A Narrative Document Analysis." International Journal of Environmental Research and Public Health 19, no. 10: 6141.
Luo, Baozhen, and Heying Zhan. 2011. "Filial Piety and Functional Support: Understanding Intergenerational Solidarity among Families with Migrated Children in Rural China." Ageing International 37, no. 1: 69–92.
This article has been edited for clarity by Manya Koetse
Get the story behind the hashtag. Subscribe to What's on Weibo here to receive our newsletter and get access to our latest articles:
Spotted a mistake or want to add something? Please let us know in comments below or email us. First-time commenters, please be patient – we will have to manually approve your comment before it appears.
©2023 Whatsonweibo. All rights reserved. Do not reproduce our content without permission – you can contact us at info@whatsonweibo.com.
Subscribe to our newsletter
Stay updated on what's trending in China & get the story behind the hashtag
Sign up
here
to become a premium member of What's on Weibo today and gain access to all of our latest and premium content, as well as receive our exclusive Weibo Watch newsletter. If you prefer to only receive our free newsletter with an overview of the latest articles, you can
subscribe for free
here.
Would you like to become a contributor, or do you have any tips or suggestions for us? Get in touch with us here.