Hard Measures for Durex in China after "Vulgar" Ads
One Durex sex toy ad gave off the wrong vibrations to Chinese regulators.
As if it wasn't already bad enough that fewer people are having sex during COVID19 lockdowns, leading to a decline in condom sales, condoms & sex toys brand Durex is now also (again) punished for the "vulgar" contents of its advertisements in China.
News of Durex facing penalties in China became top trending on Thursday, with one Weibo hashtag page about the matter receiving over 1,2 billion views.
Durex has over three million fans on its official Weibo account (@杜蕾斯官方微博), which is known for its creative and sometimes bold posts, including spicy word jokes. Durex opened its official Weibo account in 2010.
A post by Durex published on Wednesday about the release of Apple's super speedy new 5G iPhone, for example, just said: "5G is very fast, but you can take it slow," adding: "Some things just can't be quick." The post received over 900,000 likes.
Other ads have also received much praise from Chinese netizens. One ad's slogan just shows a condom package, saying "Becoming a father or [image of condom] – it's all a sign of taking responsibility."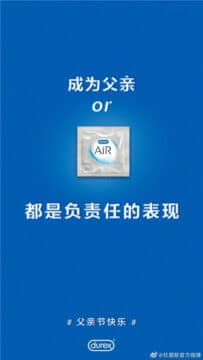 According to various Chinese news outlets, Durex has been penalized with a 810,000 yuan ($120,400) fine for failing to adhere to China's official advertisement guidelines, although it is not entirely clear to us at this point which fine was given for which advertisement, since the company received multiple fines for different ads over the past few years.
One fine was given to Durex Manufacturer RB & Manon Business (Shanghai) for content that was posted on e-commerce site Tmall, Global Times reports.
According to the state media outlet, "the ad used erotic words to describe in detail multiple ways to use a Durex vibrator." The fine was already given out in July of this year, but did not make headlines until now.
In another 2019 case, the condom brand did a joint social media campaign cooperation with Chinese milk tea brand HeyTea, using the tagline "Tonight, not a drop left," suggesting a connection between HeyTea's creamy topping and semen.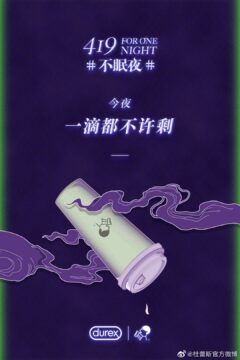 According to China's Advertisement Examination System (广告审查制度), there are quite some no-goes when it comes to advertising in China. Among many other things, ads are not allowed to be deceptive in any way, they cannot use superlatives, nor display any obscene, scary, violent or superstitious content.
Chinese regulators are serious about these rules. In 2015, P&G's Crest was fined $963,000 for "false advertising", at it promised that Crest would make your teeth whiter in "just one day."
However, advertisement censorship can be a grey area. Any ads that "disturb public order" or "violate good customs," for example, are also not allowed. For companies, it is not always clear when they are actually crossing a line.
On Weibo, there are also contrasting opinions on this matter. Many people, however, support Durex and enjoy their exciting ads and slogans. With the case dominating the top trending charts and discussions on social media the entire day, the latest penalty may very well be one of Durex's most successful marketing campaigns in China thus far.
By Manya Koetse
Follow @WhatsOnWeibo
Spotted a mistake or want to add something? Please let us know in comments below or email us. First-time commenters, please be patient – we will have to manually approve your comment before it appears.
©2020 Whatsonweibo. All rights reserved. Do not reproduce our content without permission – you can contact us at info@whatsonweibo.com.
NIKE vs ERKE: Two Sportswear Brands Trending on Weibo for Totally Different Reasons
While domestic brand Erke is all the hype, Nike is growing increasingly unpopular.
Domestic sportswear company Erke has recently become a top-selling brand in China. The American sports brand Nike, on the other hand, has seemingly lost its reputation in the Chinese market. This week's trending Weibo topics relating to the companies are telling of the ongoing battle between domestic and international sportswear brands in China.
American sportswear brand Nike and Chinese domestic sportswear brand Erke (鸿星尔克) both popped up in the Weibo trending lists this week, but for two totally different reasons.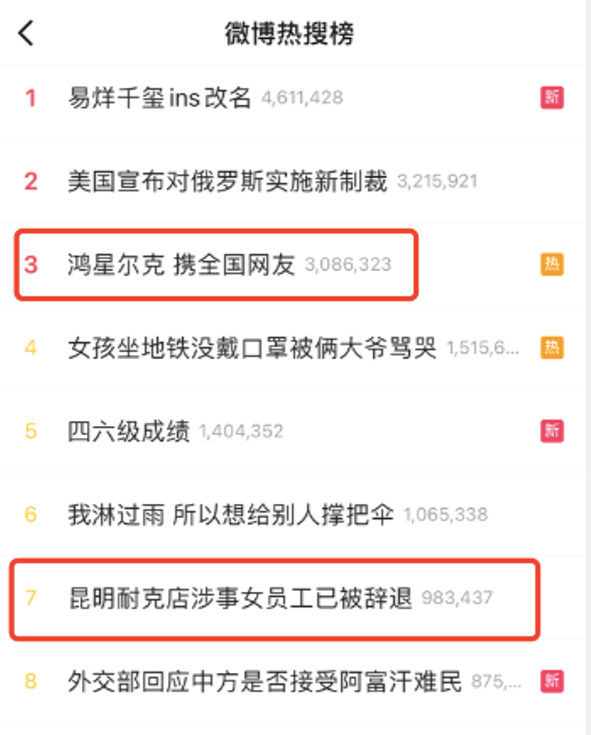 While Nike got caught up in controversy, Erke was praised. The stark contrast between how the two brands are represented on social media today is telling of their recent position in the Chinese market.

Nike Store Employee vs Chinese Migrant Worker

The trending incident involving Nike this week was about a bad shopping experience at the Nike store in Kunming, Yunnan province. On August 13, the 44-year old migrant worker Mao Zhigao (毛治高) took his three kids out shopping in the Nike store to reward them for their good school results.
What was supposed to be a fun family occasion turned into an awful afternoon when a female employee at the store reportedly snatched Nike clothes out of the hands of the youngest son and put them back on the hangers again.
When the boy tearfully told his parents about what happened, the incident soon escalated. The boy's father, Mr. Mao, believed that the Nike employees were treating the family badly based on their appearance. As a migrant worker working on a construction site, Mao had just returned from work and was in his work clothes.
When the young boy's mother confronted the employee about what had happened, the altercation apparently turned physical when the Nike employee started scratching and hair-pulling. Local police officers eventually stepped in to mediate.
Although the Mao family demanded an apology from the Nike staff and also filed a complaint to Nike, they did not receive any reply. After six days, local media got involved and the story went trending.
Nike then responded to the issue with an apology and statement that the female employee was dismissed.
By Monday, August 23rd, some hashtags related to the incident received millions of views on Weibo:
On social media, the Nike incident was mostly viewed through the angle of unfair treatment and the international brand discriminating against a Chinese migrant worker.

Erke as 'Patriotic Brand'

While Nike is being criticized, Erke, the Chinese sportswear brand by Hongxing Erke Group (鸿星尔克), is praised because it announced to donate one million yuan ($153,800) to Henan Museum to support the museum's rebuilding project after the devastating flood.
A picture posted by Henan Museum on its Weibo account (@河南博物院)  shows that Erke put the donation in the name of "national netizens."
The picture soon went viral on Weibo, with the hashtag "ERKE Donates One Million Yuan to Henan Museum" (#鸿星尔克向河南博物院捐赠一百万元#) receiving 450 million views, and "ERKE Together With National Netizens" (#鸿星尔克 携全国网友#) receiving 140 million views.
This is the second time that Erke made a donation to help Henan in light of the floods. Its first donation in late July of this year is actually what helped the brand back into the limelight.
The domestic sportswear brand then donated 50 million yuan ($7.7 million) to the Henan flood. This attracted a lot of attention on Chinese social media since Erke was known as a relatively low-profile brand that seemingly has not been doing too well over the past years.
After people found out that the company donated such a high amount of money to help the people in Henan despite its own losses, its online sales went through the roof – everyone wanted to support this generous 'patriotic brand.' While netizens rushed to the online shops selling Erke, the brand's physical shops also ran out of products with so many people coming to buy their sportswear. One female sales assistant was moved to tears when the store suddenly filled up with so many customers.
Lei Jun, the founder of the electronics company Xiaomi, also joined the Erke hype. He published a picture of him wearing Erke shoes on Weibo, the hashtag dedicated to this topic then received about 200 million views (#雷军晒鸿星尔克鞋#).

Consumer Nationalism and Sportswear Brands

It is not just Nike that has seemingly become less popular in China. Earlier this month, one hashtag about another global sports brand, Adidas, also went viral on Weibo. The trending hashtag was about the brand's revenue growth of Q2 in China dropping by 16% (#阿迪达斯在华收入下跌16%#), receiving more than 110 million views.
During its Q2 2021 conference call, in response to a question about the current consumer demands regarding global brands vs domestic brands in China, CEO of Adidas Group Kasper Rorsted said: "We continue to see a strong demand for products in China, [but] we believe right now that demand has been scooted towards Chinese local brands more than global brands."
On August 24, news about the online sales of the Chinese Anta Sportswear brand topping those of Nike and Adidas received over 200 million views on Weibo alone (#安踏线上首超耐克阿迪#).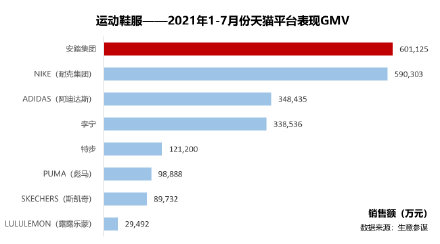 It seems that international sports brands have to look for new ways of winning over consumers in the Chinese market. This shift partly relates to two issues.
The first major issue that has impacted the popularity of brands such as Nike and Adidas has to do with the fact that they are members of the BCI (Better Cotton Initiative), which came under fire in China earlier this year after it had announced it would cease all field-level activities in the Xinjiang region with immediate effect due to concerns over the alleged use of forced labor.
The BCI 'Xinjiang Cotton Ban' led to an online 'Xinjiang Cotton Support' campaign in China. The BCI member brands boycotting Xinjiang cotton were soon labeled as being 'anti-China.' Chinese staff members at Nike and Adidas stores were scolded during live streams, and photos of people burning their Nike shoes soon started circulating on social media.
Another trend that has impacted the influence of foreign sportswear brands in China relates to the rise in popularity of local, Chinese sportswear brands. Domestic brands such as Anta Sports and Lining have been active in Chinese since the 1990s and are now profiting from changing consumer sentiments in a new era that is all about "proudly made in China."
Besides incorporating more Chinese elements into their product design, Chinese celebrities also play a crucial role in the marketing of these domestic brands. Chinese actor and singer Xiao Zhan (肖战) was praised on social media for becoming the new brand ambassador of the Chinese sportswear brand Lining. When celebrity Wang Yibo became the spokesperson for the domestic brand Anta Sports, one Weibo hashtag page on the topic received over one billion views (#王一博代言安踏#) in late April of 2021. The promotional poster featuring Wang Yibo shows him wearing a t-shirt with "China" on it, including the national flag – profiling Anta as a 'nation-loving brand.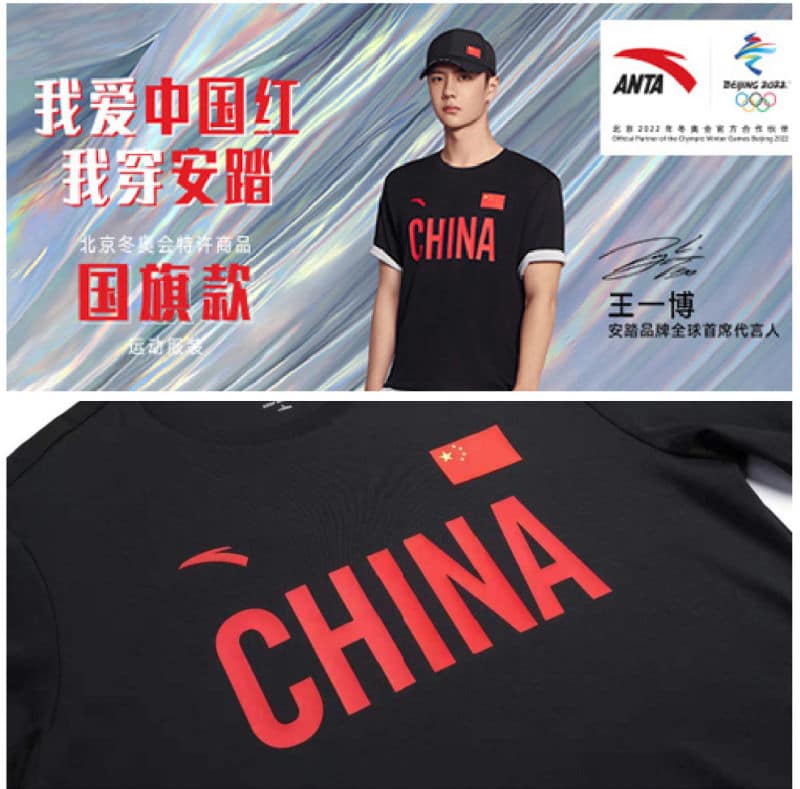 On social media, it already became clear earlier this year that a distinction was being made between foreign, 'anti-Chinese' brands, and domestic, 'patriotic' brands (read more here).
Erke indirectly profited from these existing consumer sentiments when, as a relatively smaller domestic brand, it was hyped as the no 1 patriotic sportswear brand for donating so much money to help out during the Henan floods.
Although Nike and Adidas each also contributed 20 million yuan ($3 million) toward Henan floods relief efforts, their donations barely received online attention. In fact, Nike was even condemned online for donating "zero yuan" at a time when it had already announced donating 20 million (more about that here).
The Erke hype even went so far that Chinese livestream sellers of Nike and Adidas notified their viewers that they actually supported the domestic Erke brand.
These nationalistic consumer sentiments also surfaced during the Olympics, when Chinese sport shooter Yang Qian was criticized for her collection of Nike shoes. One Beijing Television journalist wrote on social media: "Chinese athletes, why would you want to collect Nike shoes, shouldn't you take the lead in boycotting Nike? Aren't our domestic brands such as Erke, Li Ning, and Anta good enough [for you]?"
During the Tokyo Olympics, Team China's podium uniform was designed by Chinese sportswear brand Anta, which will also be the Official Sportswear Uniform Supplier for the 2022 Winter Olympics.
In light of everything that happened during the past few months, it is likely that for the time to come, domestic brands such as Erke will continue to flourish while foreign brands might see their China sales slump.
Meanwhile, on social media, netizens continue to express their support for domestic brands while denouncing Nike.
Multiple commenters wrote: "Erke is like 'I've gotten wet, so I want to give others an umbrella too.' Nike is like 'Put down those clothes, your dad looks dirty, how you can afford to buy?'"
"I'll support domestically produced products," many others write: "Brands that are not patriotic should get out of the country."
By Wendy Huang & Manya Koetse
Follow @whatsonweibo
Spotted a mistake or want to add something? Please let us know in comments below or email us. Please note that your comment below will need to be manually approved if you're a first-time poster here.
©2021 Whatsonweibo. All rights reserved. Do not reproduce our content without permission – you can contact us at info@whatsonweibo.com
Female Comedian Yang Li and the Intel Controversy
A decision that backfired: Intel's act of supposed 'inclusion' caused the exclusion of female comedian Yang Li.
"How to look at the boycott of Yang Li?" (#如何看待抵制杨笠#) became a top trending topic on social media site Weibo on Monday after female comedian Yang Li was dismissed as the spokesperson for American tech company Intel over a controversial ad campaign.
On March 18, Intel released an ad on its Weibo account in which Yang says "Intel has a taste [for laptops] that is higher than my taste for men" ("英特尔的眼光太高了,比我挑对象的眼光都高.")
The ad drew complaints for allegedly insulting men, with some social media users vowing to boycott the tech brand. On Sunday, Intel deleted the ad in question from its social media page and reportedly also removed Yang from her position as their brand ambassador.
The commotion over the ad had more to do with Chinese comedian Yang Li (杨笠) than with the specific lines that were featured in it.
Yang Li is controversial for her jokes mocking men ("men are adorable, but mysterious. After all, they can look so average and yet be so full of confidence"), with some blaming her for being "sexist" and "promoting hatred against all men."
Since she appeared on the stand-up comedy TV competition Rock and Roast (脱口秀大会) last year, she was nicknamed the the "punchline queen" and became one of the more influential comedians in present-day China. Yang now has nearly 1,5 million fans on Weibo (@-杨笠-).
Yang Li's bold jokes and sharp way of talking about gender roles and differences between men and women in Chinese society is one of the main reasons she became so famous. Intel surely knew this when asking Yang to be their brand ambassador.
In light of the controversy, the fact that Intel was so quick to remove Yang also triggered criticism. Some (male) netizens felt that Intel, a company that sells laptops, could not be represented by a woman who makes fun of men, while these men are a supposed target audience for Intel products.
But after Yang was removed, many (female) netizens also felt offended, suggesting that in the 21st century, Intel couldn't possibly believe that their products were mainly intended for men ("以男性用户为主")? Wasn't their female customer base just as important?
According to online reports, Intel responded by saying: "We noted that the content [we] spread relating to Yang Li caused controversy, and this is not what we had anticipated. We place great importance on diversity and inclusion. We fully recognize and value the diverse world we live in, and are committed to working with partners from all walks of life to create an inclusive workplace and social environment."
However, Intel's decision backfired, as many wondered why having Yang as their brand ambassador would not go hand in hand with 'promoting an inclusive social environment.'
"Who are you being 'inclusive' too? Common 'confident' men?", one person wrote, with others saying: "Why can so many beauty and cosmetic brands be represented by male idols and celebrities? I loathe these double standards."
"As a Chinese guy, I really think Yang Li is funny. I didn't realize Chinese men had such a lack of humor!" another Weibo user writes.
There are also people raising the issue of Yang's position and how people are confusing her performative work with her actual character. One popular law blogger wrote: "Really, boycotting Yang Li is meaningless. Stand-up comedy is a performance, just as the roles people play in a TV drama."
Just a month ago, another Chinese comedian also came under fire for his work as a brand ambassador for female underwear brand Ubras.
It is extremely common in China for celebrities to be brand ambassadors; virtually every big celebrity is tied to one or more brands. Signing male celebrities to promote female-targeted products is also a popular trend (Li 2020). Apparently, there is still a long way to go when the tables are turned – especially when it is about female celebrities with a sharp tongue.
By Manya Koetse
Li, Xiaomeng. 2020. "How powerful is the female gaze? The implication of using male celebrities for promoting female cosmetics in China." Global Media and China, Vol.5 (1), p.55-68.
Spotted a mistake or want to add something? Please let us know in comments below or email us. First-time commenters, please be patient – we will have to manually approve your comment before it appears.
©2021 Whatsonweibo. All rights reserved. Do not reproduce our content without permission – you can contact us at info@whatsonweibo.com.