Game On: 4 Made-in-China Console Games to Watch in 2016
Now that China's ban on console games has been lifted, the first entirely made-in-China video games are entering the gaming market – finally giving domestic developers the time to come to the forefront and get their game on.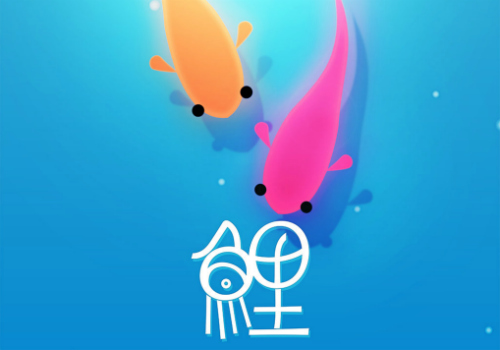 Now that China's ban on console games has been lifted, the first entirely made-in-China video games are entering the gaming market – finally giving domestic developers the time to come to the forefront and get their game on.
China has a booming gaming industry. Despite different market hurdles, such as rampant software piracy and governmental measures to control game content, China's game industry is estimated to be worth approximately $22 billion – the largest in the world.
In 2000, China banned console games due to fears that the devices would have a negative effect on the mental and physical development of Chinese children. As stated by China's Ministry of Culture in July last year, the ban on console game came to an official end, allowing systems such as PlayStation 4, Xbox One, and Wii U into the Chinese market.
#1 SHIO: a glimpse of ancient China
One of the games that will be released on the Xbox One in the fourth quarter of 2016 is Shio (汐). Shio is a game developed by the Shanghai-based Coconut Island Studio.
By the end of last year, Shio was put up on game distribution platform Steam, allowing netizens to vote on whether or not to give it the green light for development. The game was given a 'go' after only seven days. Many Chinese netizens on Steam have left comments to express their support for the game.
"I hope that the best independent games will become the foundation for the revival of domestic games in China," commented Jeffcao1996.
Shio revolves around a mysterious warrior with a hidden past. Player use their gaming skills to work their way through a maze of ancient Chinese villages. Over time, the story unfolds and players find out more about the main character's past, helping him to find a way out of the maze.
Shio is a challenging 2D platformer that features responsive, fluid and action-packed gameplay. The game has an atmospheric and unique design that gives a glimpse of the architecture found in ancient China. Shio uses a chain-jumping mechanic that reminds you of the martial arts that can only be seen in Wuxia films. As the game progresses, mechanics and elements from previous levels are combined to make each level more difficult.
#2 CANDLE MAN: relight your fire
Candle Man (蜡烛人) is another made-in-China console game for the Xbox One. In 2013, the game was first created by the independent game developer Spotlightor Interactive, which is based in Beijing. It was first released as a free-to-play web browser game, but it is now being developed for the Xbox One  and is expected to be released later in 2016.
Candle Man is a simple 3D platformer that uses the famous Unity game engine. In the game you play as a robot candle and you have to help navigate it out of dungeon-like levels. The idea of the game is that you can light yourself on fire to provide the needed light to be able to see the pitfalls and layout of the path ahead – but the light only burns for a total of 10 seconds per level. The levels have low lighting and are full of the typical obstacles like holes, fireballs and spinning saw blades.
"A lot of work went into this game, and it shows. I like the artistic approach of a low-light game. It definitely adds suspense," said one of the netizens after having played the game.
#3 HIDDEN DRAGON: Chinese palaces and bamboo forests
Megafun Games is a relatively young company with their first game still in development. The Shenzhen-based company is hard at work developing Hidden Dragon: Shadow Trace (隐龙传:影踪). The game is set to be released in 2016 for the PS4.
Hidden Dragon is a 3D side-scrolling game with beautiful sceneries from ancient Chinese palaces and bamboo forests. The game is a beat 'em up style game with a story of vengeance that takes place during China's Tang Dynasty (唐朝). Like any other action game, in Hidden Dragon players will make use of combos to fight their way to the end of each level where they need to defeat the Boss. The game is expected to contain 20 hours' worth of gameplay with eight main levels and also DLCs later on.
The development team of Hidden Dragon released a demo to the public last year. After playing the demo, many netizens had a lot of negative comments about the game. Some complained that the gameplay was too simple with too little combos available for use. Others pointed out that the movements in the game were too rigid. However, there is still time for the development team to improve the game seeing that the game is only scheduled to be released in the latter half of 2016.
#4 KOI: Purifying a koi fish pond
Another PS4 game to come out of China is Koi (鲤). The game is set to be released the Shanghai-based Oasis Games for the PlayStation Store at the end of March.
The game is an intriguing and philosophical title that has you purifying a koi fish pond by solving puzzles, opening lotus flowers and dodging predators. It also appropriately makes use of a "hypnotic" Chinese piano score to soothe your mind as you guide your koi through the pond. When released, Koi will be the first ever console game to be entirely have been made in China (engadget.com).
As of now, there is not one single console game on the market that was entirely produced by Chinese game developers. Japan has since long been the dominant console game producer in the Asian-Pacific arena. But the release of these four games might just be the beginning of a new generation of made-in-China console games, finally giving Chinese developers a chance to get their game on the global market.
–By Chi Wen
Follow @WhatsOnWeibo
Images:
Shio – http://www.jianshu.com/p/739ebaf4f5f6
Koi – http://www.engadget.com/2016/03/05/first-chinese-made-ps4-game/
http://news.gao7.com/article/619546-20151228-1
©2016 Whatsonweibo. All rights reserved. Do not reproduce our content without permission – you can contact us at info@whatsonweibo.com
Famous Chinese Nursery Song "One Penny" Inflates to "One Yuan"
One penny becomes one yuan in this children's song. What's next – changing it to QR codes?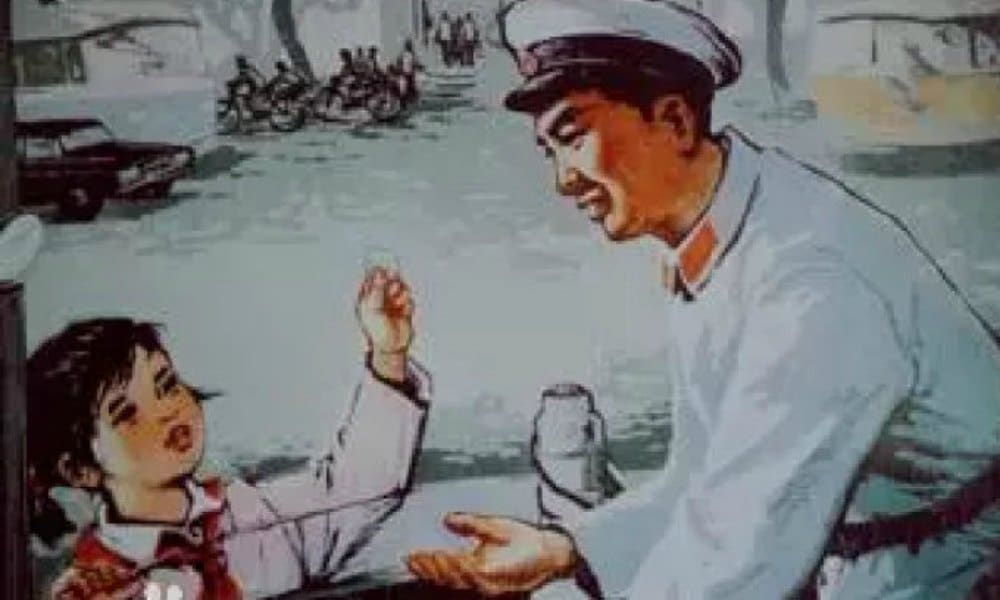 Famous Chinese children's song "One Penny" (一分钱) has changed its penny to a Chinese yuan ($0.15).
The lyrics to the song are now published online and in children's books with the different lyrics, Chinese news platform City Bulletin (@都市快报) reports on Weibo.
The classic song, in translation, says:
"I found a penny on the street,
And handed it over to Uncle Policeman.
The Uncle Policeman took the penny,
And nodded his head at me.
I happily said: "Uncle, goodbye!"
The song, by Chinese composer Pan Zhensheng (潘振声), is known throughout China. It came out in 1963.
Apparently, in present-day China, nobody would go through so much hassle for a penny anymore, and so the text was altered (although it is very doubtful people would go through the trouble for one yuan either).
The penny coin (0.01) in renminbi was first issued in 1957, and is somewhat rare to come across these days. "It's probably even worth more than one yuan now," some netizens argue.
Chinese media report that composer Pan Zhensheng said the song is just an innocent children's song, and that it should not be affected by price inflation. Sina News also quoted the composer in saying that changing the text is "not respectful."
Although some Chinese netizens think the change in the song is just normal modern development, others do not agree at all. In Hangzhou, some say, all you can find on the streets nowadays is QR codes rather than coins. Surely the song should not incorporate those new developments either?
Some commenters on Weibo say the song would never be realistic in China's current cashless society anyway: "Kids nowadays are not finding cash money at all anymore!"
By Manya Koetse
Follow @whatsonweibo
Spotted a mistake or want to add something? Please let us know in comments below or email us. Please note that your comment below will need to be manually approved if you're a first-time poster here.
©2019 Whatsonweibo. All rights reserved. Do not reproduce our content without permission – you can contact us at info@whatsonweibo.com
Controversy over Scene in Anti-Japanese War Drama Featuring Black U.S. Soldier and Chinese Nurse
Some scenes from this anti-Japanese war drama have angered Chinese netizens over 'historical nihilism.'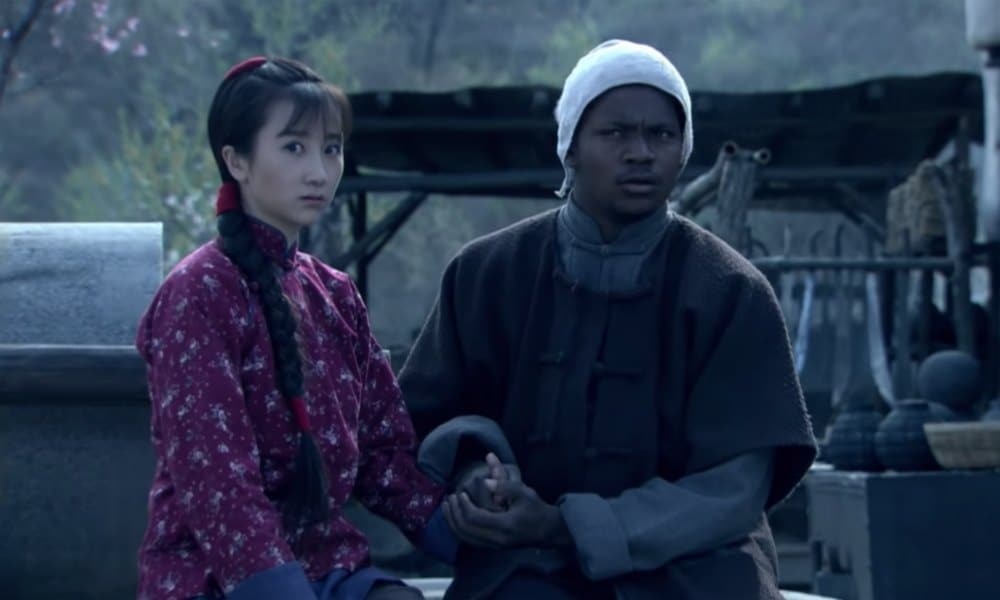 A black soldier comes to China from afar during WWII and falls in love with a Chinese villager who sacrifices her life for him. This war drama is sensationalizing the Sino-Japanese War in the wrong way, many netizens say.
"I love you, I love China," a black man tells a Chinese woman in a clip of an anti-Japanese war drama that has gone viral on Chinese social media over the past few days (watch clip in embedded tweet below).
This scene from a Chinese Anti-Japanese war drama is stirring controversy on Chinese social media this week. "I love you, I love China," the foreigner says. "Love me, love China," the Chinese woman says, before sacrificing her life for him and getting killed by Japanese shooters.

— Manya Koetse (@manyapan) September 5, 2019
The scene is set on a mountain, where the man and woman hold hands when she tells him to flee from the "Japanese devils." She repeats: "Remember: love me, love China."
The love scene takes a dramatic turn when the two get ambushed by the Japanese army. The Chinese woman immediately pushes the man off the mountain to bring him to safety. While she cries out "love me, love China" she is attacked by Japanese soldiers and dies.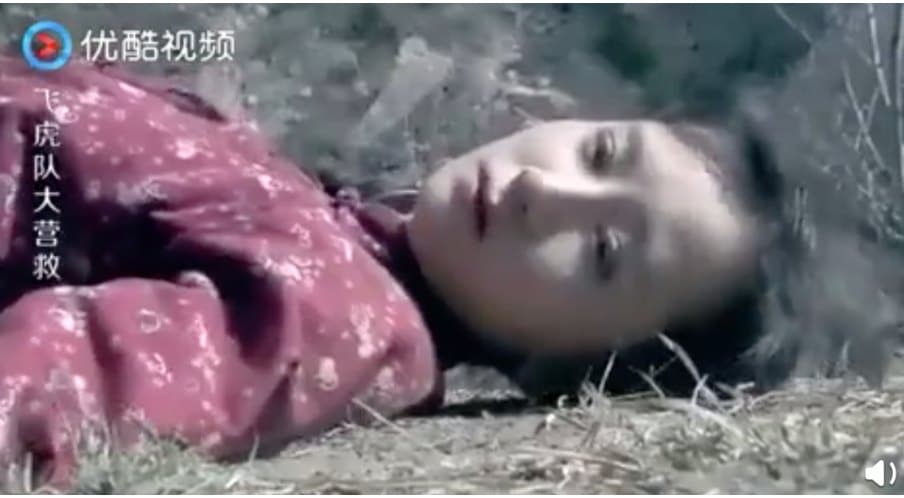 The scene comes from a 2016 TV drama titled The Great Rescue of The Flying Tigers (飞虎队大营救). The drama tells the story of Japanese soldiers chasing surviving members of a Flying Tigers aircraft after they shot it down. Various soldiers and army staff on the Chinese side try to rescue the fighters from the hands of the Japanese.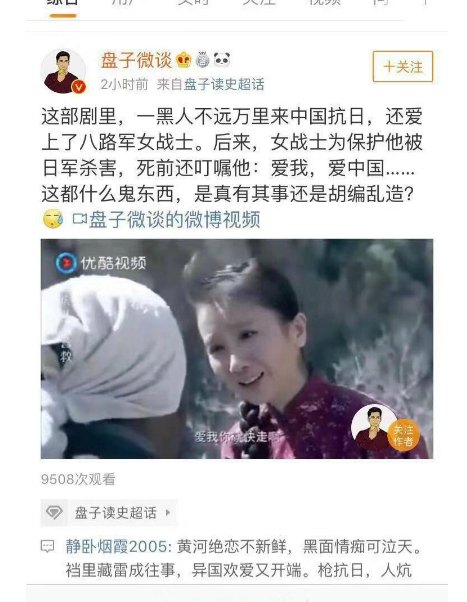 The drama's portrayal of a romance between the foreign soldier and a Chinese woman, on the side of the Communist Eighth Route Army, has stirred controversy on Weibo this week.
"The director is retarded, this is historical nihilism," one Weibo blogger writes.
Hundreds of netizens also criticize the drama's director and screenwriters: "This is not even funny, what kind of scriptwriter comes up with this trash? This should be thoroughly investigated."
The Flying Tigers (飞虎队) were a group of US fighter pilots who went to China during the final three years of the Second Sino-Japanese War to fight the Japanese invaders and defend China.
The people behind the Flying Tigers belonged to the organization of the American Volunteer Group (AVG), who came together in 1941 to strengthen the Chinese Air Force.
In the now controversial TV drama The Great Rescue of The Flying Tigers, the black soldier is 'Carl' (Cedric Beugre), a surviving member of the Flying Tigers aircraft shut down by Japanese forces. The Chinese woman is 'Xinghua,' a female nurse who sacrifices her own life to save Carl.
The dialogues between Carl and Xinghua are pretty simple and at times almost ridiculous. While Xinghua does not speak a word of English and appears clueless, Carl is depicted as a stubborn, crude and somewhat silly character, who also seems to understand very little of what is happening around him and does all he can to be with his Xinghua after a brief meeting in the Chinese base camp (also see this scene or here).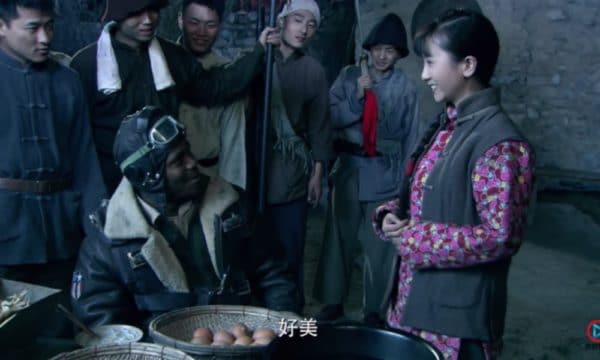 On Chinese social media, the drama is critiqued for being a so-called 'divine Anti-Japanese drama' (抗日神剧): Chinese war dramas that sensationalize the history of the war by making up unrealistic and overly dramatic or funny scenes and storylines.
In 2015, China's State Administration of Press, Publication, Radio, Film, and Television (SAPPRFT) announced a limit on these kinds of TV dramas that sensationalize the history of war, and in doing so 'misrepresent history' and 'disrespect' the Chinese soldiers who fought to defend the nation (read more).
TV series focusing on war are part of China's every day (prime time) TV schedules. These Chinese war dramas are called "Anti-Japanese War Dramas" (抗日电视剧), literally referring to the period of 'resisting Japan' during WWII (in China, the 1937-1945 war is called The War of Resistance against Japanese Aggression 中国抗日战争).
The 40-episode series The Great Rescue of the Flying Tigers was aired by Yunnan City Channel but is also available online. Since there are countless reruns of Anti-Japanese war dramas on Chinese tv, it is possible that some viewers only now viewed the 2016 drama for the first time.
Some netizens call this a "new kind of fantasy war drama", summarizing: "A black man comes from far away to China to fight Japan, falls in love with a Chinese nurse who sacrifices her own life for him and yells 'Love me love China' before she dies."
Many on social media call the script "idiotic," others question if black soldiers ever joined the Flying Tigers in the first place.
There seems to be more to the controversy than sensationalizing history alone though – relationships between foreign men and Chinese women, especially black men and Chinese women, are often met with prejudice and racism on Chinese social media. Mixing such a narrative in a drama about the Second Sino-Japanese war makes it all the more controversial.
Some see the narrative of the love between a foreign soldier and a Chinese woman as a way of 'beautifying' the war and 'adoring everything that's foreign.'
"This is not respecting history at all!", one among hundreds of commenters says.
In the TV drama, the sentence "Love me, Love China" does have some extra meaning in the end. Although Xinghua sacrifices her life for Carl in episode 19, he eventually chooses to fight side by side against the Japanese 'devils' with the Chinese army, keeping his promise to "love China" like he loved Xinghua.
By Manya Koetse , with contributions from Miranda Barnes
Follow @whatsonweibo
Spotted a mistake or want to add something? Please let us know in comments below or email us. Please note that your comment below will need to be manually approved if you're a first-time poster here.
©2019 Whatsonweibo. All rights reserved. Do not reproduce our content without permission – you can contact us at info@whatsonweibo.com