Trip Down Memory Lane – Little Mole's New Adventure with Panda
Following the recent establishment of the Czech-China strategic partnership during Xi's visit to Europe, CCTV has presented a new cartoon production of the famous Czech Little Mole with a new Chinese friend. Little Mole's comeback is a trip down memory lane for many Chinese netizens.
Little Mole, also known as Krtek, is a familiar figure to many around the world who grew up with stories of the shy and innocent little creature. Recently, at the opportunity of Chinese President's state visit to Czech Republic, Little Mole starts his latest adventure with Panda, a new Chinese friend.
On March 28, president Xi Jinping arrived in Prague for a state visit to the Czech Republic. Being China's second largest trade partner (behind EU) in Europe, Czech Republic is the first stop of Xi's European visits in 2016. According to Chinanews, this state visit is integral to China's One Belt, One Road/New Silk Road strategy, and is the beginning of a new promotion of the China-Europe relationship.
As the economic, political and strategic purposes of this visit may appear somewhat unpersonal, a cultural project that was presented during the trip gives the state visit a more friendly touch. A joint 3D cartoon production by CCTV and Little Mole a.s. was released on CCTV Youth on March 28, and is said to be on Czech TV channels soon (China Daily). In this new cartoon, the little Czech mole will go on a new adventure with his Chinese panda friend. The topic was discussed on Weibo under the hashtag #Panda and Little Mole.
Little Mole came to China in the 1980s. At a time when TV was still a luxury, this foreign cartoon became the childhood memory to many born in the 80s and early 90s. Krtek was rated 9.1 on Douban. Under the entry, people write in the short commentary section how they loved the cartoon and how it reminds them of their childhood many years later. Many fans purchase DVDs of Little Mole to preserve their memories from childhood.
("Classic Czech cartoon. It is soundless but better than sounds. Looking forward to this cute mole everyday when little.") ("I liked it since I was a kid. Later I found it for my daughter to watch. That cute mole! How many hearts it has moved.") ("Watched when little. Hoped that I was a mole, digging with a shovel, digging a home for myself, making trouble for the farmers, helping others sometimes, and becoming friends with rabbits and birds. More than a decade later, I bought the DVD so I can revisit the memory from time to time. Still think the story of little mole is irreplaceable.")
The intiator of the topic hashtag #Panda and Little Mole on Sina Weibo is apparently a mole fan herself. She described how Little Mole was the TV programme in her kindergarten when kids had to kill time while waiting for their parents to pick them up. She was happy that her parents usually came late, so she could watch Little More longer.
ChinaDaily and CCTV News also posted on Sina Weibo about the cartoon's screening. While some expressed eagerness to see their childhood favourite on TV again, others are doubtful about the 3D format, saying that the new production will lose the attractiveness of the original 2D version. Some even fear that the new cartoon will ruin their childhood memory. For them, the 2D little mole appears 'dumb but cute' ('蠢萌' chǔnméng, a positive expression in Chinese).
Panda and Little Mole officially is a cultural production that both conveys Czech-China friendship, and internationally promotes Chinese cartoons. But for the fans of Little Mole- many of whom are raising their own kids now-, Panda and Little Mole provides an opportunity to revisit a collectively-held childhood memory, and to share it with the next generation. Even the fear that the new 3D version will ruin the original charms demonstrates how the memory of Little Mole is still dear to those who grew up with it.
– By Diandian Guo
Follow @WhatsOnWeibo
Image from http://littlemole.com/company/
Image from: www.chinaculture.org
©2016 Whatsonweibo. All rights reserved. Do not reproduce our content without permission – you can contact us at info@whatsonweibo.com.
Why Is Kindle Leaving China?
Many netizens are not happy over Kindle exiting the Chinese market: "We never know when the online services we use suddenly stop working."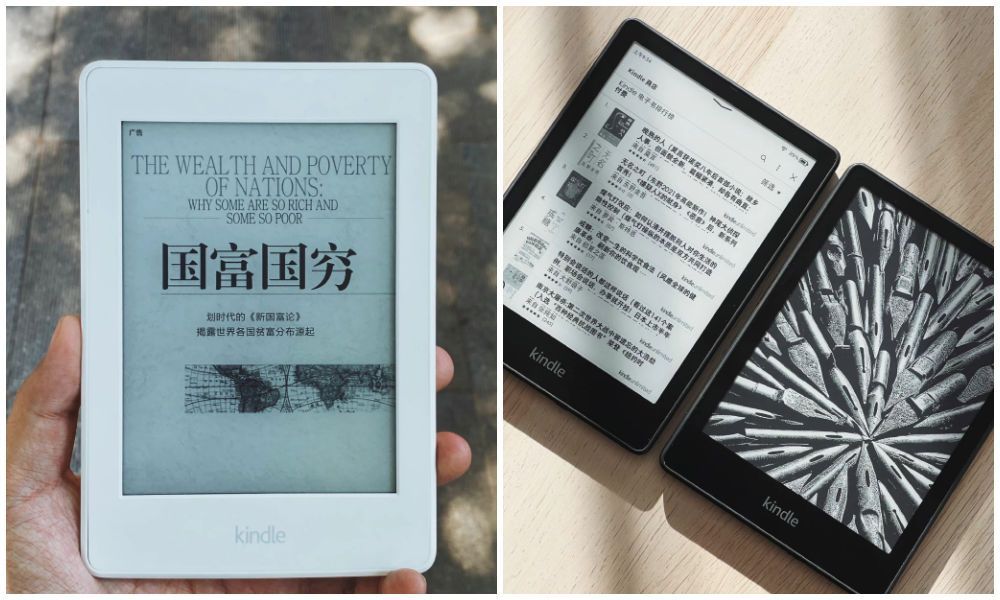 Amazon announced on Thursday that it has stopped supplying retailers in China with its Kindle e-readers and that it will discontinue its Kindle e-bookstore in the Chinese market on June 30, 2023.
Amazon announced its Kindle exit in a statement on its official WeChat account, saying it was because of a shift in the strategic focus of its company's operations.
For Chinese customers who have purchased e-books through Kindle, they will be able to continue downloading them until June 30 of 2024. Customers who would rather return the Kindle devices they bought in 2022 can get a refund.
On Weibo, the hashtags "Kindle Will Be Discontinued in China Next Year" (#Kindle中国明年停止电子书运营#) and "Why Wasn't Kindle Able to Make It in China?" (#为什么Kindle在中国活不下去#) were hot topics on Thursday and Friday.
Some commenters said they were upset about Kindle being discontinued in China: "Why why why!! I really like Kindle and their e-bookstore, I check for interesting and new books on sale on a weekly basis. Which e-reader and e-bookstore are suitable substitutes?"
"Zhangyue, Hisense, Huawei, Onyx Boox, Tencent, Readmoo,.. there are actually a lot of brands," one person responded, but some others said they still preferred Kindle.
"What do I do with my Kindle now? Just use it to cover my noodles?"
In 2021, Amazon's Kindle was among the most popular e-book brands in China. Besides Amazon's Kindle, China's most popular e-reader brands include Onyx Boox, iFlytech, Zhangyue, Xiaomi, Hanvon, Tencent, Boyue, Obook, and Sony (see list).
Some commenters wrote that they understand that companies such as Amazon have to make some tough choices after facing pandemic-related setbacks in China, while there were also many netizens who blamed Kindle's China exit on Chinese consumers illegally downloading pirated books instead of buying them at the Kindle store.
Others said that Kindle e-bookstore prices were often about the same as paper book prices, making the latter more appealing to people who like to read, especially if they also like to make notes in their books. In other words, they say the Kindle e-bookstore is simply too expensive for the Chinese market, where consumers can find many other options, both paper and digital ones.
"It's not so complicated," one Weibo user wrote: "It's all because of market competition reasons. Kindle is facing the impact of Tencent's influence on the e-reading market."
Some people are really disappointed that the books they have bought through Kindle will become unavailable to them, and some wondered if this was legal with regards to consumer rights.
One popular economic blogger wrote: "Kindle has now withdrawn [from China]. Many years ago, when different kinds of online storage spaces starting closing down, I learned one thing: never fully trust internet storage services. Your study material, the things you wrote, your video records, you need to back them up. We never know when the online services we use suddenly stop working."
By Manya Koetse
Featured images by Weibo blogger @钟文泽.
Get the story behind the hashtag. Subscribe to What's on Weibo here to receive our weekly newsletter and get access to our latest articles:
Spotted a mistake or want to add something? Please let us know in comments below or email us. First-time commenters, please be patient – we will have to manually approve your comment before it appears.
©2022 Whatsonweibo. All rights reserved. Do not reproduce our content without permission – you can contact us at info@whatsonweibo.com.
Chinese Elementary School Textbook Triggers Controversy for Being "Tragically Ugly"
This elementary schoolbook by the People's Education Press went viral for being ugly.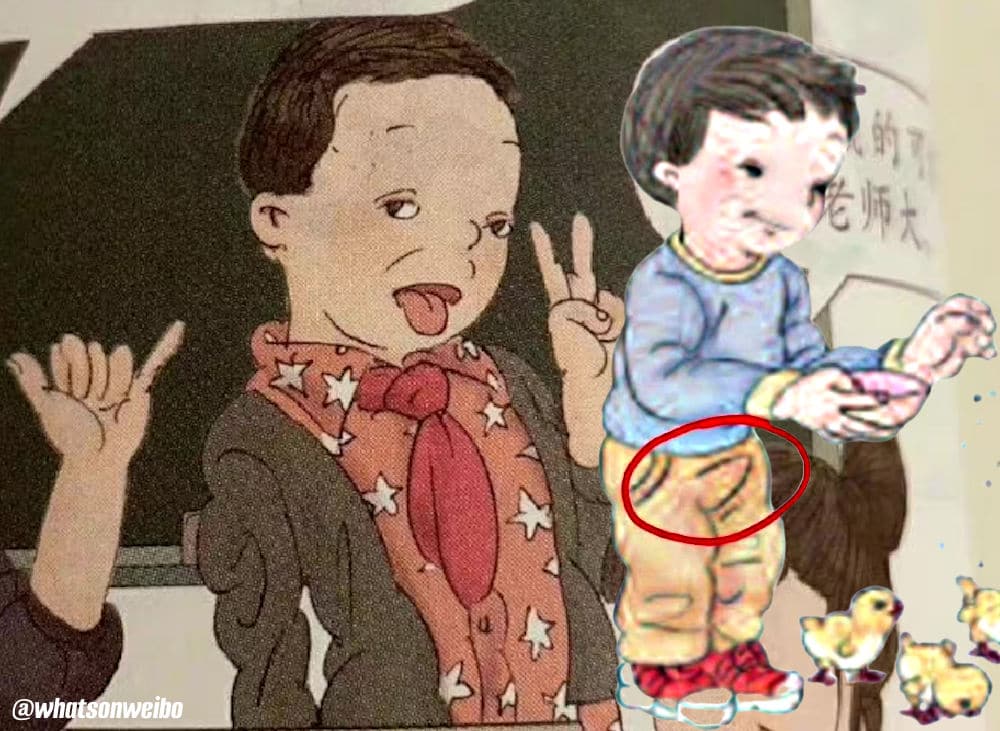 The illustrations in a Chinese schoolbook series for children have triggered controversy on social media platform Weibo, where the hashtag "People's Education Press Math Teaching Material" (#人教版数学教材#) attracted over 860 million views by Thursday afternoon, with the "People's Education Press Mathbook Illustration Controversy" (#人教版数学教材插图引争议#) garnering over 190 million views.
The illustrations went viral after some netizens spotted that the quality of the design in one math textbook series stood out from other books in how 'aesthetically displeasing' it is.
The children depicted in the teaching material have small, droopy eyes and big foreheads. Some commenters think their clothing also looks weird and that the overall design is just strange and "tragically ugly."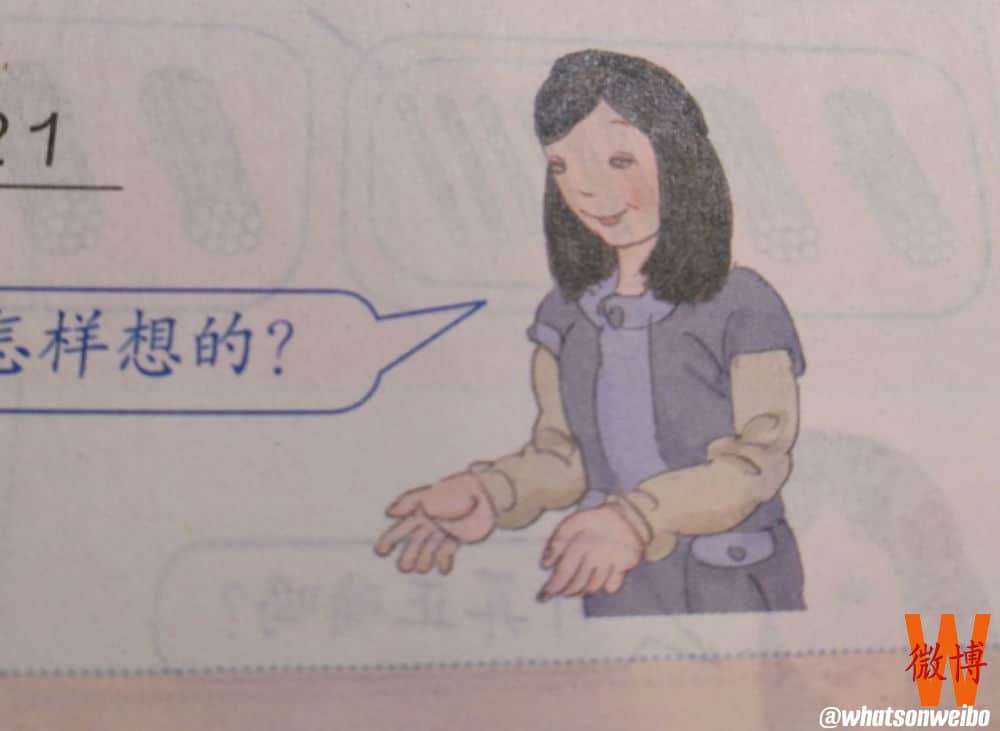 Some images depicting little boys also drew controversy for allegedly showing a bulge in the pants. Adding girls sticking out their tongues, boys grabbing girls, a reversed Chinese flag, and some depictions of children's clothing in the American flag colors, many people think the books are not just ugly but also have "evil intentions."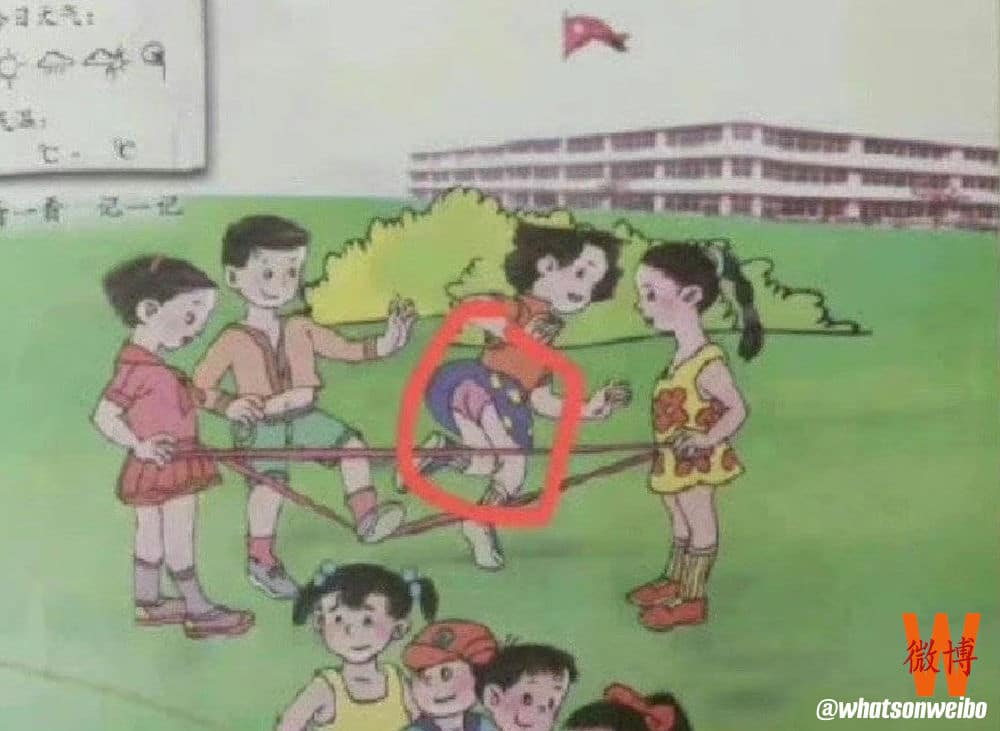 Besides the people who think the design of the textbook series is so ugly that it must have been purposely drawn like this, there are also those who are angry, suggesting China has thousands of talented art students who would welcome a project like this and do it much better.
Some parents are also concerned that such poor quality design will negatively influence the aesthetic appreciation of the children using the books.
Fueling the controversy is the fact that the textbook in question has been published and designed by a team of relatively influential and experienced designers and publishers.
The design was done by, among others, Lu Min (吕旻) and Zheng Wenjuan (郑文娟) of the Beijing Wuyong Design Studio (北京吴勇设计工作室). The book is published by the People's Education Press.
The People's Education Press (PEP) is a major publishing house directly under the leadership of the Ministry of Education. Founded in 1950, it is responsible for compiling and publishing all kinds of teaching material for elementary education.
The textbook already caught the attention of some parents in early May. One parent shared photos of the textbook illustration on Q&A site Zhihu.com, writing: "This textbook is so ugly! How did it ever pass the review?"
The ugly textbook design has made many netizens look back on their own childhood textbooks, suggesting that more traditional Chinese design is much better than what is being produced nowadays.
On May 26, the People's Education Press responded to the controversy on Weibo. In its statement, the publishing house said it would reevaluate its elementary school mathematics textbooks illustrations and improve the quality of the design. In doing so, the publishing house said it would welcome feedback from the public. The statement soon received over 600,000 likes.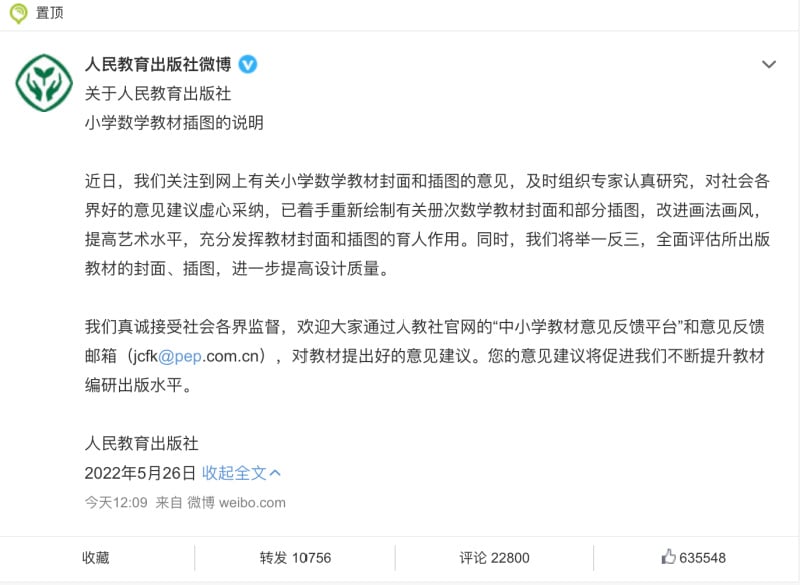 Professional graphic design artist Wuheqilin also weighed in on the discussion (read more about Wuheqilin here). In a lengthy Weibo post, Wuheqilin argues it is too easy for people to share their old textbook covers and images to show how much better they used to be, blaming poor design on the quality of illustrators in modern times.
According to Wuheqilin, it is not so much a matter of illustrators who have become worse, but of publishing houses saving more money on illustrations. Publishers do not prioritize design and are still offering the same prices to illustrators as they did a decade ago.
"The market has expanded, illustrators' prices have gone up, but the philosophy of publishing houses hasn't kept up with the times. This has led to them not really raising their budgets. When I entered the industry some 12 years ago, publishers could still a good artist for 500-800 RMB [$75-$120] to do a fine cover illustration, but now it would be difficult to find an artist to do it for 8000 RMB [$1188]. Around 2015 I was asked by a publishing house to do the cover of a sci-fi novel series they produced, and the process of our talks all went smoothly, but when I quoted my price they looked displeased and told me that even if they would do their best to give me the highest budget possible, it would still only be one-tenth of my quoted price. The price I quoted was just the normal price for a game poster illustration at the time. I never spoke to that publisher again afterward. And this was 2015, let alone how the situation is nowadays."
This is not the first time Chinese school textbooks trigger controversy online. In 2017, an elementary school sexual education textbook caused a stir for being "too explicit" (read here).
Read more about (controversial) Chinese children's books here.
By Manya Koetse
Get the story behind the hashtag. Subscribe to What's on Weibo here to receive our weekly newsletter and get access to our latest articles:
Spotted a mistake or want to add something? Please let us know in comments below or email us. First-time commenters, please be patient – we will have to manually approve your comment before it appears.
©2022 Whatsonweibo. All rights reserved. Do not reproduce our content without permission – you can contact us at info@whatsonweibo.com.
Subscribe to our newsletter
Stay updated on what's trending in China & get the story behind the hashtag
Sign up here to become a premium member of What's on Weibo today and gain access to all of our latest and premium content, as well as receive our exclusive newsletter. If you prefer to receive just our weekly newsletter with an overview of the latest, you can subscribe for free here.
Would you like to become a contributor, or do you have any tips or suggestions for us? Get in touch with us here.