Trip Down Memory Lane – Little Mole's New Adventure with Panda
Following the recent establishment of the Czech-China strategic partnership during Xi's visit to Europe, CCTV has presented a new cartoon production of the famous Czech Little Mole with a new Chinese friend. Little Mole's comeback is a trip down memory lane for many Chinese netizens.
Little Mole, also known as Krtek, is a familiar figure to many around the world who grew up with stories of the shy and innocent little creature. Recently, at the opportunity of Chinese President's state visit to Czech Republic, Little Mole starts his latest adventure with Panda, a new Chinese friend.
On March 28, president Xi Jinping arrived in Prague for a state visit to the Czech Republic. Being China's second largest trade partner (behind EU) in Europe, Czech Republic is the first stop of Xi's European visits in 2016. According to Chinanews, this state visit is integral to China's One Belt, One Road/New Silk Road strategy, and is the beginning of a new promotion of the China-Europe relationship.
As the economic, political and strategic purposes of this visit may appear somewhat unpersonal, a cultural project that was presented during the trip gives the state visit a more friendly touch. A joint 3D cartoon production by CCTV and Little Mole a.s. was released on CCTV Youth on March 28, and is said to be on Czech TV channels soon (China Daily). In this new cartoon, the little Czech mole will go on a new adventure with his Chinese panda friend. The topic was discussed on Weibo under the hashtag #Panda and Little Mole.
Little Mole came to China in the 1980s. At a time when TV was still a luxury, this foreign cartoon became the childhood memory to many born in the 80s and early 90s. Krtek was rated 9.1 on Douban. Under the entry, people write in the short commentary section how they loved the cartoon and how it reminds them of their childhood many years later. Many fans purchase DVDs of Little Mole to preserve their memories from childhood.
("Classic Czech cartoon. It is soundless but better than sounds. Looking forward to this cute mole everyday when little.") ("I liked it since I was a kid. Later I found it for my daughter to watch. That cute mole! How many hearts it has moved.") ("Watched when little. Hoped that I was a mole, digging with a shovel, digging a home for myself, making trouble for the farmers, helping others sometimes, and becoming friends with rabbits and birds. More than a decade later, I bought the DVD so I can revisit the memory from time to time. Still think the story of little mole is irreplaceable.")
The intiator of the topic hashtag #Panda and Little Mole on Sina Weibo is apparently a mole fan herself. She described how Little Mole was the TV programme in her kindergarten when kids had to kill time while waiting for their parents to pick them up. She was happy that her parents usually came late, so she could watch Little More longer.
ChinaDaily and CCTV News also posted on Sina Weibo about the cartoon's screening. While some expressed eagerness to see their childhood favourite on TV again, others are doubtful about the 3D format, saying that the new production will lose the attractiveness of the original 2D version. Some even fear that the new cartoon will ruin their childhood memory. For them, the 2D little mole appears 'dumb but cute' ('蠢萌' chǔnméng, a positive expression in Chinese).
Panda and Little Mole officially is a cultural production that both conveys Czech-China friendship, and internationally promotes Chinese cartoons. But for the fans of Little Mole- many of whom are raising their own kids now-, Panda and Little Mole provides an opportunity to revisit a collectively-held childhood memory, and to share it with the next generation. Even the fear that the new 3D version will ruin the original charms demonstrates how the memory of Little Mole is still dear to those who grew up with it.
– By Diandian Guo
Follow @WhatsOnWeibo
Image from http://littlemole.com/company/
Image from: www.chinaculture.org
©2016 Whatsonweibo. All rights reserved. Do not reproduce our content without permission – you can contact us at info@whatsonweibo.com.
"Invincible Wuhan Man": Coronavirus Patient Reading Political Book Goes Viral
No light reading in dark times for this "invincible Wuhan man."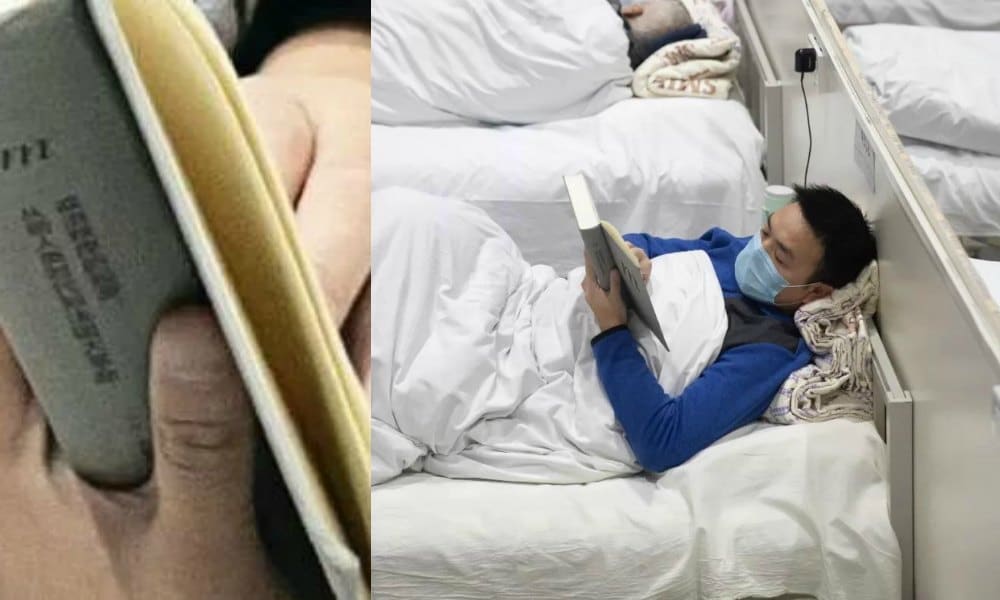 As the number of coronavirus infections continues to grow in Wuhan, three newly-built cabin hospitals have started to receive patients.
This week, there was one man among the patients at Wuhan's 'Fang Cang' shelter hospital (方舱医院) who attracted the attention of netizens as he was spotted in an online picture lying on the bed and reading a book.
It's rare enough to see someone infected with the much-feared coronavirus still engrossed in a book. But was especially noteworthy to many Weibo users is the type of book the patient was reading.
The book, that was identified as Francis Fukuyama's The Origins of Political Order, is not exactly known as 'light reading.'
One of the Weibo posts that pointed the reading man out in the photo, which was shot by Changjiang Daily (长江日报), described him as "an invincible Wuhan-er" (打不垮的武汉人).
The post has received over 172,000 likes and 46,000 reposts at time of writing.
Fukuyama's The Origins of Political Order (2011) is focused on modern state-building and the development of political institutions.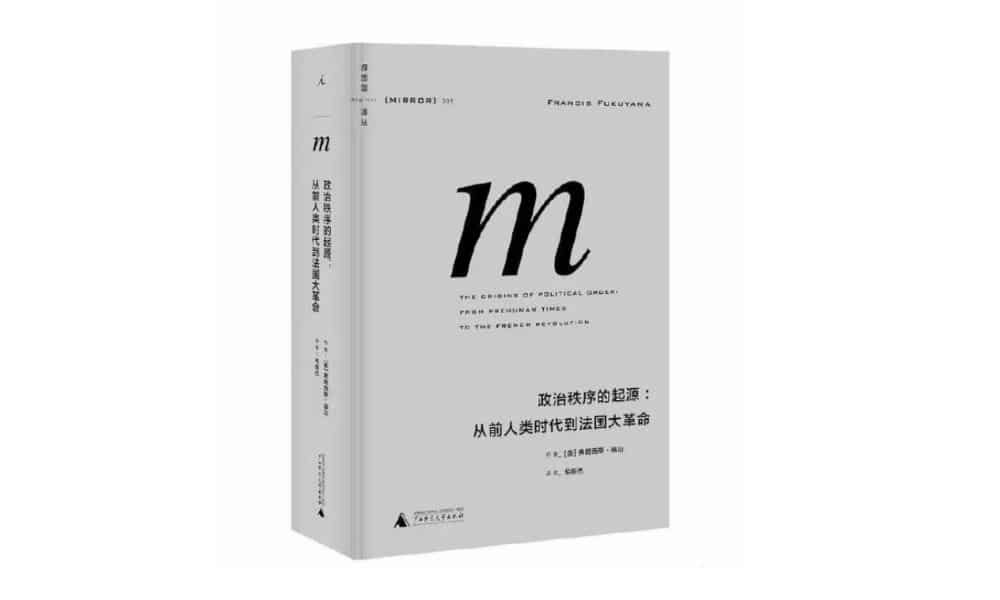 In this work, Fukuyama, a political economist, argues that in order for a government to be successful and stable, it needs the rule of law, a strong state, and accountability.
In the coronavirus outbreak, the unaccountability of China's political system has often been mentioned as a reason for why the epidemic was not contained in its infancy, which triggered calls for the resignation of Wuhan officials.
In a rare move, Beijing described the epidemic as a major test for its governance system and capacity, and acknowledged that there were shortcomings in its handling.
That a patient, suffering from the coronavirus, was reading Fukuyama's book, in particular, ignited online discussions – some Weibo users pointing out the irony of the situation.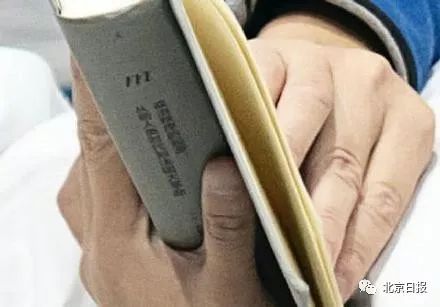 One Weibo user (@讲故事的澜斯基) wrote: "He is basically looking for the actual root of why he was infected [with the new coronavirus]."
Another commenter wrote: "Reading is a great way to ward off spiritual viruses."
There are also people who say that seeing this Wuhan patient gives them hope and strength. One netizen describes the picture as one that "gave me the most power and hope in recent days."
Another issue making this topic all the more noteworthy is the background of the Chinese publisher of Fukuyama's book, Imaginist (理想国). Its publications – mainly focused on the humanities, literature and arts – are often deemed "sensitive" by the Chinese authorities.
The influential publishing brand has a rocky recent past in mainland China, with some of its publications having been banned and removed from (online) bookstores. The former head of Guangxi Normal University Press, which Imaginist cooperates with, was sentenced to ten years in prison in 2018 (read more here).

According to Chengdu Business Newspaper (成都商报), the man in the spotlight is a 39-year-old postdoctorate studying science in the United States.
He stated that he just read the book out of interest and that he never anticipated going viral on the internet for it.
Although grateful for the attention he received, he reportedly said he hoped people could focus more on medical workers instead.
Along with this Wuhan patient going viral, Fukuyama's book has also seen a dramatic rise in popularity. As one Chinese writer noted on Weibo, The Origins of Political Order has risen to the first position in the popular charts of Douban, a popular online review platform.
By now, the Wuhan patient has become more famous than he could ever have anticipated; even author Francis Fukuyama himself has retweeted the image of the man reading his book at the coronavirus hospital ward.
A young man went viral in #China for reading @FukuyamaFrancis's Origins of Political Order at a module hospital in Wuhan designated for #coronavirus patients. His calmness contrasted with the bustling hospital and showed the power of civilization. https://t.co/aa3UTS9r3M pic.twitter.com/BUMZeEdZoA

— The Paper 澎湃新闻 (@thepapercn) February 7, 2020
Read more about the coronavirus crisis here.
Want to read Fukuyama too? Check out his book here.
By Bobby Fung (@bobbyfungmr)
Follow @whatsonweibo
Spotted a mistake or want to add something? Please let us know in comments below or email us. First-time commenters, please be patient – we will have to manually approve your comment before it appears.
©2020 Whatsonweibo. All rights reserved. Do not reproduce our content without permission – you can contact us at info@whatsonweibo.com.
"The End of an Era"? – Beijing Bookworm Closes Its Doors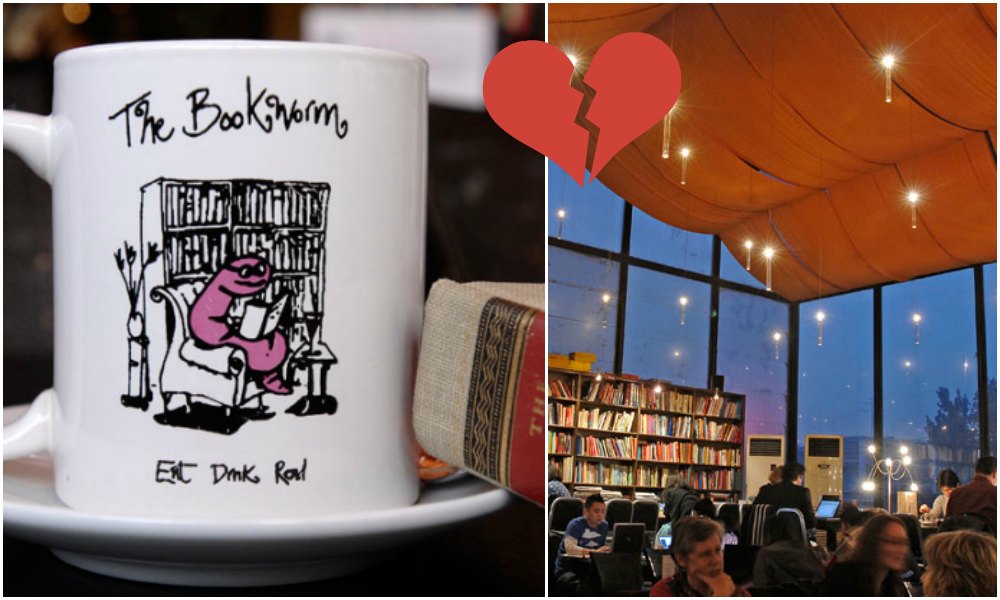 As news of The Bookworm's closing makes its rounds on social media, Beijingers have responded in shock, mourning the loss of an iconic and meaningful meeting place for book(worm) lovers around the city.
The Bookworm Beijing, at Nansanlitun Road, is a bookshop, library, bar, restaurant and events space that has become a center of cultural exchange for Beijing's foreign community since 2005.
The location is a beating heart of Beijing's literary world; a place where writers, journalists, students, diplomats, academics, and all kinds of people – both foreign and Chinese – come together to exchange knowledge, read, and sit down for a glass of wine.
Today, the Bookworm announced its sudden closure via WeChat, writing:
"It is with heavy hearts that we are forced to announce the impending closure of The Bookworm Beijing after 14 wonderful years in Courtyard No. 4 off SouthSanlitun Road. Despite our best efforts, we appear to have fallen prey to the ongoing cleanup of "illegal structures", and we have not been able to secure an extension of our lease."
The announcement further says that the location will be forced to suspend operations "most probably" as of Monday, November 11, and that the Bookworm will attempt to reorganize and find a new location.
News of the Bookworm's closing has been becoming a topic of conversation on various social media sites from WeChat to Twitter and Weibo.
Famous Chinese journalist and author Luo Changping (罗昌平) writes on Weibo: "The Bookworm is forced to close! It used to be next door to my former office, and it was once like my living room. Sigh."
Shanghai comedian Storm Xu called the closure of the Beijing Bookworm "the end of an era," saying he looks back on many good memories there.
"They had many events, good food, special books; I used to go there a few times per year," one person writes. "This really is so sad," other Weibo users respond.
There are also various Weibo commenters who also mention that news of Bookworm's closing comes just a day after the news that publisher of magazine-books and online bookseller Duku Books (读库) is forced to close its Beijing warehouse for the sixth time.
Over the past decade, many popular venues in Beijing have been forced to close their doors or relocate. Beijing hangouts such as Bed Bar, Salud, Vineyard Cafe, 2 Kolegas, Jiangjinjiuba, Mao Livehouse, Hercules, Aperativo, The Bridge Cafe, Great Leap Brewery Sanlitun, Jing-A Taproom 1949, and many others have all been closed over the past years.
Nightlife hotspot Sanlitun bar street was demolished and bricked up in 2017 as part of the mission of the city management to gentrify the area.
The demolishment of "illegal structures" in the city has been an ongoing effort of the local government for years. These efforts became especially visible in late 2017 when people in Beijing's Daxing area faced a large-scale evacuation campaign after a big fire broke out there on November 18, killing 19 people.
The large-scale evacuation campaign was also expanded to other areas of Beijing in a campaign by the municipal authorities aimed at unlicensed developments to target "illegal structures" and "buildings with potential fire hazards."
But many people on Weibo and WeChat questioned if the campaign was actually more about politics than about safety concerns – something that was strongly refuted by state media outlets at the time.
These questions will remain unanswered, also for the Bookworm. Is its closure really about closing down an "illegal structure," or are there more politically-motivated considerations playing a role here? On Weibo, some commenters say the location is closed down for being a home of free discussions and "free thinking," while others say that no matter what the place is, the building's safety and legal status is what matters here.
Perhaps the future will tell. We surely hope the Bookworm will soon pop up and open its doors in another location very soon.
Those who are interested can support the Bookworm by coming by and buying books, which will be heavily discounted, until November 11.
By Manya Koetse
Images: Bookworm images by The Bookworm, edited by What's on Weibo.
Sanlitun Image: Might have been taken by Manya in Beijing 2017, but we're not 100% sure so let us know if we're mistaken.
Spotted a mistake or want to add something? Please let us know in comments below or email us. First time commenters, please be patient – we will have to manually approve your comment before it appears.
©2019 Whatsonweibo. All rights reserved. Do not reproduce our content without permission – you can contact us at info@whatsonweibo.com.