How the Gaokao Unexpectly Brought China's Holiday Arrangement Discussion Back on the Table
Interviewed exam candidates seized the opportunity to express their stance on China's 'make up workday' holidays and advocated against weekend-weekday swaps.
Last week, China's national college entrance examinations, better known as the "Gaokao" (高考), commenced on June 7th with a new record-high of 12.91 million registered examinees. According to China's Ministry of Education, the number of participating students has increased by 980,000 compared to last year's figures.
As the Gaokao is an annual event that captures great attention of Chinese society, some topics have generated extensive online discussion that keep going even after the exams have finished. From the essay topic (#高考作文#) to the level of difficulty in math (#数学到底难不难#), there is always a wide range of related subjects and incidents that trigger discussions before, during, and even after the exams.
Consequently, Chinese news outlets have heightened their focus on the Gaokao, with one of their recurring features being interviews with students who have just completed their exams and are the first to exit the examination venues.
In recent years, comments made by some students during these interviews have frequently gone viral on Chinese social networks, primarily due to their humorous or nonchalant nature.
Calls to End Weekend 'Make-up Working Days'
With Chinese netizens recognizing the news value of these interviews, a hashtag trended on June 6th, the day before the exams began. The hashtag, titled "First Students Exiting the Exam Venue, We'd Like Your Help" (#第一个出考场的考生麻烦你了#) urged the students who would be interviewed straight after their exam to voice their opinions on various issues, representing a cause on behalf of others.
One of the most prominent requests associated with the hashtag was a plea to revise China's holiday arrangements and discontinue the practice of combining public holidays and weekends to create extended holidays (取消调休).
In China, the General Office of the State Council usually announces the holidays for the upcoming year approximately two or three weeks before the start of the year.
The holiday schedule in China typically includes two significant week-long holidays, commonly known as Golden Week: the Spring Festival (also known as Chinese New Year) and the National Day holiday. Additionally, there are several 3- to 5-day holidays throughout the year. These extended holidays are often created by rearranging weekends and weekdays around the actual holiday dates.
As a result, there are instances where Saturdays and Sundays are designated as official workdays to compensate as a 'make-up working day' for the extended breaks, something that is not well received by most employees. The Beijinger recently reported that in 2012, an online survey already revealed that more than 70 percent of respondents were not satisfied with these holiday arrangements.
As an example, let's consider the upcoming Dragon Boat Festival, which falls on June 22 (Thursday). The official holiday period for this festival is from June 22 to 24 (Thursday to Saturday). To create an extended holiday, one working day is adjusted by swapping June 25 (Sunday) with June 23 (Friday). This arrangement results in a 3-day holiday, followed by a consecutive six-day work period.
It became evident that recent exam takers also became aware of the trending call on social media to discontinue the practice of combining public holidays and weekends for extended breaks. During interviews, several students voiced this request (see video here and here).
A hashtag related to this, namely "Exam Candidates Demand Cancellation of Holiday Adjustments" (#考生喊话取消调休#) garnered more than 410 million views in a single day on June 9, receiving widespread support and applause from Chinese netizens.
To Swap or Not to Swap, That Is the Question
Since the establishment of the People's Republic of China in 1949, China's holiday arrangement has undergone various transformations. Initially, there were only four official holidays: New Year's Day, Spring Festival, Labour Day, and National Day. These holidays provided a combined total of seven days off.
In 1999, the holiday policy in China underwent a revision aimed at promoting tourism and consumption. As a result, Chinese citizens were granted three consecutive days off for the Spring Festival, Labour Day, and National Day.
Subsequently, the policy was further modified to create a seven-day holiday period by bridging the weekends before and after these holidays. This arrangement gave rise to the concept of the Golden Week (黄金周), a highly anticipated and popular vacation period.
In 2007, the holiday policy in China underwent another revision. This revision entailed reducing the Labor Day holiday from three days to one day, while adding three traditional festivals — Qingming Festival (Tomb-sweeping Day), Dragon Boat Festival, and Mid-Autumn Festival — each with a one-day holiday.
Consequently, this allowed for the formation of two seven-day holidays during the Spring Festival and National Day, as well as five shorter extended holidays (known as 小长假 or "small long holidays") for New Year's Day, Qingming Festival, Labor Day, Dragon Boat Festival, and Mid-Autumn Festival. These extended holidays were achieved by swapping weekends with weekdays next to the actual holiday.
The Golden Week and other "small long holidays" have enjoyed popularity for years, although occasional complaints have arisen. However, in the wake of the pandemic, which has reshaped people's perspectives on life, there has been an increase in discussions surrounding holiday arrangements that leave individuals feeling exhausted due to the practice of sacrificing weekends in exchange for time off.
The discourse sparked by the Gaokao is not the sole discussion that has taken place this year. At the start of the year, when the holiday arrangement for Chinese New Year was announced, there was already a fervent online debate. This was followed by further discussions prompted by the proposals put forth by NPC deputies (#代表建议取消调休制度#, #代表建议延长春节法定假期#) during the Two Sessions held in March.
This year, the Qingming Festival fell on April 5th, which coincided with a Wednesday. Since no special arrangements were made, many people applauded the decision, as it meant there was no need for additional compensation days. However, some individuals expressed disappointment as they were unable to return to their hometowns to participate in the traditional tomb-sweeping activities.
It seems that the Chinese government is still in the process of finding a balance between promoting consumption through extended holidays and taking into account the public's feedback. Will the current discussions and debates lead to new revisions in holiday policies? Time will tell. At least for now, the exam students did their best to bring awareness to an issue that so many weekend-loving young workers find important.
By Wendy Huang
Follow @whatsonweibo
Spotted a mistake or want to add something? Please let us know in comments below or email us. Please note that your comment below will need to be manually approved if you're a first-time poster here.
©2023 Whatsonweibo. All rights reserved. Do not reproduce our content without permission – you can contact us at info@whatsonweibo.com
China's 'Chanel'? Chinese Beauty Brand Florasis Is Raising Eyebrows on Weibo
Some netizens wonder if the Florasis PR team might have lost their marbles, as their strategy appears to have taken an unusual turn, featuring emotionally charged replies on Weibo.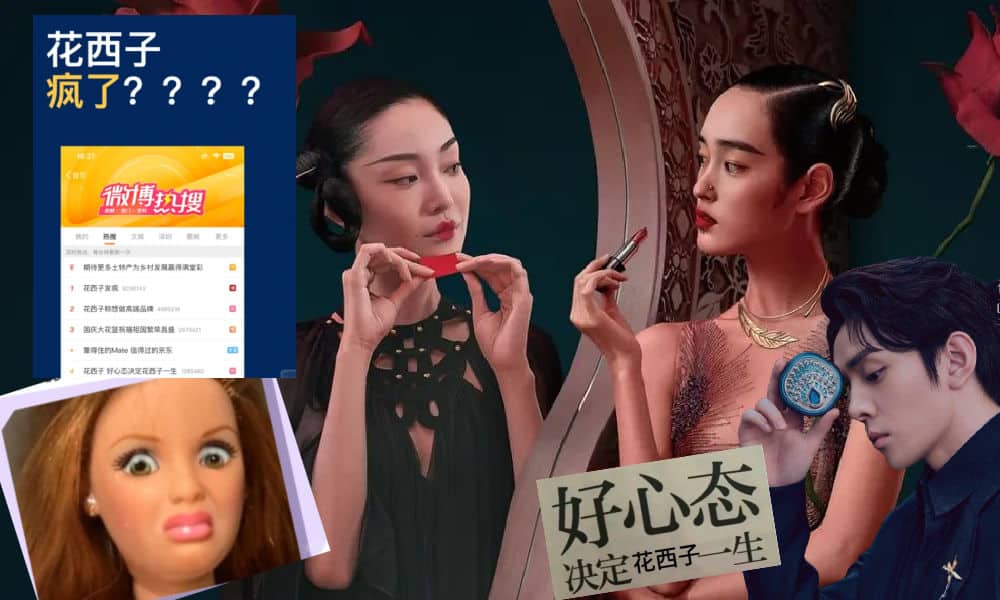 Lost Marbles or marketing logic? Following its involvement in the Li Jiaqi 'eyebrow pencil gate,' Chinese beauty brand Florasis' social media strategy has taken an unconventional turn. The domestic brand recently went trending after declaring its ambition to win over the global luxury cosmetic market, and its plans to challenge established giants like Louis Vuitton and Chanel.
In the world of Chinese cosmetic brands, all eyes are on Florasis (花西子) recently. This Chinese make-up brand gained significant attention earlier this month when the popular beauty influencer 'Lipstick King' Li Jiaqi promoted one of their eyebrow pencils during a livestream.
After some viewers questioned whether a single eyebrow pencil costing 79 yuan ($10.8) was perhaps too expensive, Li lashed out and suggested viewers should instead ask themselves if they worked hard enough to deserve a raise.
That moment triggered a social media storm (read here), and suddenly everyone knew about Florasis, which is known as Huāxīzǐ (花西子) in China.

"Huaxi Coins" and Public Mockery

The incident sparked a series of memes and discussions, and among them, the question of what one can buy with 79 yuan in China today was a big one.
While some suggested they could feed an entire family for one day with 79 yuan, others said that it would buy their office lunches for a week. This humorous situation gave rise to the term 'Huaxi Coins' or 'Floracash' (花西币), with netizens playfully using the price of one Florasis eyebrow pencil's price as a new currency unit (one 'Huaxi Coin' equals 79 yuan/$10.8).
Although Li Jiaqi apologized to his viewers soon after his controversy, it took some time for Florasis to respond the controversy the brand found itself embroiled in.
Florasis, a brand established in Hangzhou in 2017, is deeply connected to Li Jiaqi, as he has been the chief brand ambassador since 2019 and has actively participated in their product development.
The entire social media storm prompted a heightened focus on why Florasis products are perceived as relatively expensive.
As reported by Qing Na at Dao Insights, one post that gained significant traction on September 12 revealed that a five-piece Jade Makeup Brush set from Florasis, priced at 919 RMB ($126.28), was, in fact, made by using synthetic fiber bristles, considered cheap and of lower quality. This revelation garnered over 240 million views in just a few hours, adding to the public mockery of the national beauty brand.

The Florasis Dream: Becoming a Leading International Luxury Brand

On September 19, Florasis/Huaxizi finally apologized on social media for its late response to the controversy, and the brand stated that the incident provided an opportunity for them to listen to "the voice of their consumers," although they did not delve deeper into the price of their products.
Although people criticized the letter posted by Florasis and the words they used in it, their decision to release a statement initially seemed fruitful: they gained 20,000 new followers in a single night.
While the entire situation drew more attention to the Chinese make-up brand, it also seems to have prompted Florasis to reconsider its own position in the cosmetics industry, both in China and globally. Because on September 26th, the brand publicly and somewhat suddenly declared its ambition of becoming a leading international luxury cosmetics brand.
"Me, Florasis, I'm 6,5 years old," the post read: "I have a dream: to be a high-end brand, rooted in China, going global."
In their post, Florasis used a quote saying "A Positive Mindset Shapes Huaxizi's Lifetime," which is derived from the title of a well-known Chinese self-help book from 2012 called "A Positive Mindset Shapes a Woman's Lifetime" (好心态决定女人一生).
One of the main ideas presented in this book, authored by Li Jin (李津), is that success can never come from a negative or pessimistic mindset; if you see yourself as a failure, you're likely to fail, but if you envision success, you're more likely to achieve it.

Next to Chanel: Confusion about Florasis' Public Relations Tactics

The company's ambition, on its own, may not be particularly surprising. As stated in a report published by Paicaijing (派财经), Florasis' co-founder, Fei Man (飞慢), had previously questioned in an interview why Chinese brands were always associated with being cheap, expressing Florasis' wish to break the "price ceiling" (价格天花板) and escape the ongoing "low price competition" (低价竞争) in China's beauty industry by delivering high-quality products at a premium price.
However, the wording and the timing seemed odd, and the post created both banter and confusion about Florasis' public relations tactics, especially because they did much more than that post alone.
On September 20th, approximately ten days after the 'eyebrow pencil gate' controversy, the company's founder, Hua Mantian (花满天), made an announcement on his WeChat channel. He revealed that the brand would be distributing their premium eyebrow pencils, originally priced at 119 yuan ($16.3), during a livestream promotional event that night. They planned to give away free pencils to hundreds of viewers every ten minutes. By giving out over 10,000 free eyebrow pencils in total, the company allegedly hoped to gain more feedback on their product in order to further improve it. Over 400,000 people tuned in to that livestream.
Since then, Florasis seems to be doing all it can to catch the public's attention, and some netizens even wonder if the editors at the Florasis PR team might have lost their marbles, as they keep posting a lot of unusual replies, – some emotional and somewhat unhinged, – to their own threads on their Weibo account.
Throughout September 26, the account posted dozens of texts/replies, responding to many netizens' comments. Florasis not only declared its wish to be China's 'Chanel' when it comes to beauty products, it also praised its own efforts in contributing to women's mental health, preserving traditional culture, innovating cosmetics, and much more.
Their social media texts included phrases such as: "I'm super awesome," or writing:
"I'm really becoming a bit emotional. I established my own laboratory at just three years old! We now have over 200 research partners, and their leader is Li Huiliang (李慧良), known as the "Number One in Chinese Cosmetics Research and Development." He's like a superstar in the industry. We have five big innovation research and development centers, over 7000 square meters, larger than a football field. Don't I deserve a gold star sticker for that?"
And:
"As a Chinese brand, every generation has a mission. Our generation's mission is to fight in the international market with high-end presence! You can mock and ridicule me, it's ok [sad face emoji] I'm already neighbors with Louis Vuitton and Gucci at the [Hangzhou] West Lake [shopping street]! And I will be next to Chanel at Japan's top-notch department store Isetan. Next up is France, Dubai, America, see you there!"
Subsequently, the hashtag "Florasis Says It'll Be Side-to-Side with Chanel" (#花西子称要和香奈儿门对门#) received over 470 million views on Weibo. Another hashtag, "Florasis Wants to Be a High-end Brand" (#花西子称想做高端品牌#), received more than 220 million views.

Mad Marketing

By now, the hashtag "Huaxizi Lost It" (#花西子发疯#) has also gone trending on Chinese social media platform Weibo, where people have different thoughts on what might have triggered Florasis' social media behavior.
While some people really think that Florasis has gone crazy, others see the entire ordeal as a social media spectacle meant to distract attention from what happened with Li Jiaqi, or as a cheap marketing stunt.
One poll conducted by Sina News asked people about the situation. The majority of respondents believed that the social media editor must have lost their mind, while others considered it just another version of "bad marketing is still marketing" – suggesting that even if the publicity strategy is cheap or questionable, it is still used as a marketing tactic to gain attention.

Another question is: does it even matter what the reason behind this unusual online media approach is?
If Florasis is really letting its PR team run wild, it is doing so at a crucial moment, shortly after a significant controversy that cast the brand in a negative light. This moment calls for careful control rather than unconventional tactics. Furthermore, the social media strategy appears to be at odds with Florasis' typical marketing image, which emphasizes tradition, glamour, and perfection.
If Florasis is using this strategy to attract and divert attention, it also appears that this approach is not yielding the desired results, as many people express a common sentiment: "I didn't purchase Florasis before, and I certainly won't be buying it now."
By Manya Koetse
With contributions by Miranda Barnes
Get the story behind the hashtag. Subscribe to What's on Weibo here to receive our newsletter and get access to our latest articles:
Spotted a mistake or want to add something? Please let us know in comments below or email us. First-time commenters, please be patient – we will have to manually approve your comment before it appears.
©2023 Whatsonweibo. All rights reserved. Do not reproduce our content without permission – you can contact us at info@whatsonweibo.com.
Three Reasons Why Lipstick King's 'Eyebrow Pencil Gate' Has Blown Up
From beauty guru to betrayal: why one livestream moment is shaking China's internet.
PREMIUM CONTENT
Li Jiaqi, also known as Austin Li the 'Lipstick King,' has become the focus of intense media attention in China over the past days.
The controversy began when the popular beauty influencer responded with apparent annoyance to a viewer's comment about the high price of an eyebrow pencil. As a result, his fans began unfollowing him, netizens started scolding him, Chinese state criticized him, and the memes started flooding in.
Li Jiaqi's tearful apology did not fix anything.
We reported about the incident here shortly after it went trending, and you can see the translated video of the moment here:
China's famous make-up influencer #LiJiaqi is in hot water due to an e-commerce livestream he did on Sunday. When viewers complained about an eyebrow pencil being too expensive (79 RMB/$10.9), he got annoyed, insisting that the product was not expensive at all. Translated video: pic.twitter.com/JDKGMKovDX

— Manya Koetse (@manyapan) September 11, 2023
The incident may seem minor at first glance. Li was merely promoting Florasis brand (花西子) eyebrow pencils, and some viewers expressed their opinion that the pencils, priced at 79 yuan ($11), had become more expensive.
In response, Li displayed irritation, questioning, "Expensive how?" He went on to suggest that viewers should also reflect on their own efforts and whether they were working hard enough to get a salary increase.
But there is more to this incident than just an $11 pencil and an unsympathetic response.
#1 The King Who Forgot the People Who Crowned Him
The initial reaction of netizens to Li Jiaqi's remarks during the September 10th livestream was characterized by a strong sense of anger and disappointment.
Although celebrities often face scrutiny when displaying signs of arrogance after their rise to fame, the position of Li Jiaqi in the wanghong (internet celebrity) scene has been especially unique. He initially worked as a beauty consultant for L'Oreal within a shopping mall before embarking on his livestreaming career through Alibaba's Taobao platform.
In a time when consumers have access to thousands of makeup products across various price ranges, Li Jiaqi established himself as a trusted cosmetics expert. People relied on his expertise to recommend the right products at the right prices, and his practice of personally applying and showcasing various lipstick colors made him all the more popular. He soon garnered millions of online fans who started calling him the Lipstick King.
By 2018, he had already amassed a significant fortune of 10 million yuan ($1.53 million). Fast forward three years, and his wealth had ballooned to an astonishing 18.5 billion yuan ($2.5 billion).
Despite his growing wealth, Li continued to enjoy the support of his fans, who appreciated his honest assessments of products during live testing sessions. He was known for candidly informing viewers when a product wasn't worth buying, and the story of his humble beginnings as a shop assistant played a major role in why people trusted him and wanted him to succeed.
However, his recent change in tone, where he no longer seemed considerate of viewers who might find an $11 brow pencil to be expensive, suggests that he may have lost touch with his own customer base. Some individuals perceive this shift as a form of actual "betrayal" (背叛), as if a close friend has turned their back on them.
One cartoon shared on social media shows Li Jiaqi, with mouse ears, as he initially begs his online viewers for money. However, as he becomes more prosperous, the cartoon portrays him gradually growing arrogant and eventually scolding those who helped him rise to fame.
Many people accuse Li of being insincere, suggesting that he revealed his true colors during that short livestream moment. This is also one of the reasons why most commenters say they do not believe his tears during his apology video.
"He betrayed China's working class," one popular vlog suggested.
#2 Internet Celebrity Crossing the Lines
Another reason why the incident involving Li Jiaqi is causing such a storm is related to the media context in which Chinese (internet) celebrities operate and what is expected of them.
Whether you are an actor, singer, comedian, or a famous livestreamer/e-commerce influencer, Chinese celebrities and performers are seen as fulfilling an exemplary role in society, serving the people and the nation (Jeffrey & Xu 2023). This is why, as explained in the 2019 research report by Jonathan Sullivan and Séagh Kehoe, moral components play such a significant role in Chinese celebrity culture.
In today's age of social media, the role of celebrities in society has evolved to become even more significant as they have a vast reach and profound influence that extends to countless people and industries.
Their powerful influence makes celebrities important tools for authorities to convey messages that align with their goals – and definitely not contradict them. Through the media and cultural industries, the state can exert a certain level of control within the symbolic economy in which celebrities operate, as discussed by Sullivan and Kehoe in their 2019 work (p. 242).
This control over celebrities' actions became particularly evident in the case of Li Jiaqi in 2022, following the 'cake tank incident' (坦克蛋糕事件). This incident unfolded during one of his livestreams when Li Jiaqi and his co-host introduced a chocolate cake in the shape of a tank, with an assistant in the back mentioning something about the sound of shooting coming from a tank ("坦克突突"). This livestream took place on June 3rd, on the night before the 33rd anniversary of the crackdown on the Tiananmen protests.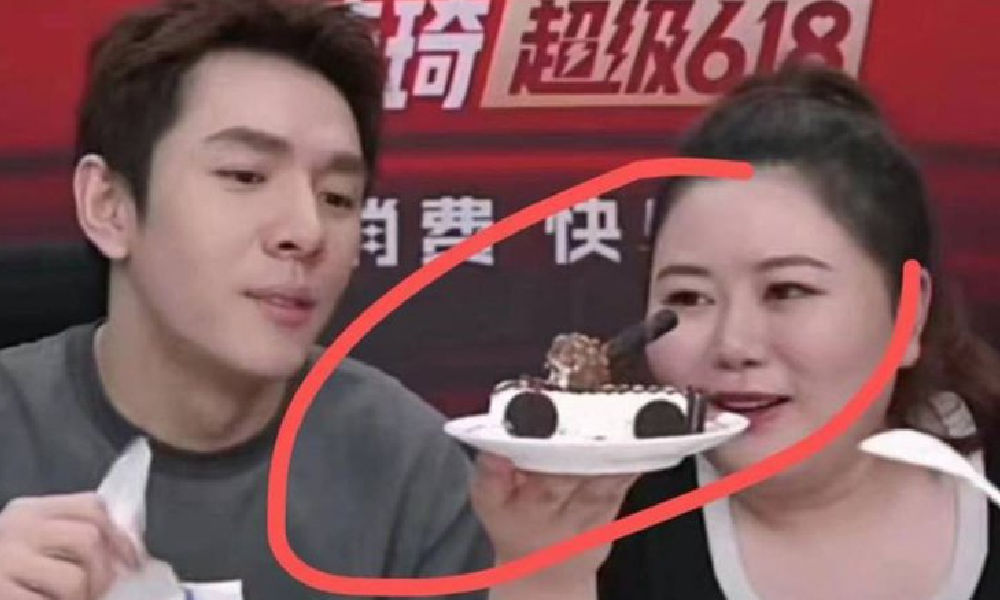 While Li Jiaqi did not directly touch upon a politically sensitive issue with his controversial livestream, his actions were perceived as a disregard for customer loyalty and displayed an arrogance inconsistent with socialist core values. This behavior garnered criticism in a recent post by the state media outlet CCTV.
Other state media outlets and official channels have joined in responding to the issue, amplifying the narrative of a conflict between the 'common people' and the 'arrogant influencer.'
#3 Striking a Wrong Chord in Challenging Times
Lastly, Li Jiaqi's controversial livestream moment also became especially big due to the specific words he said about people needing to reflect on their own work efforts if they cannot afford a $11 eyebrow pencil.
Various online discussions and some media, including CNN, are tying the backlash to young unemployment, tepid consumer spending, and the ongoing economic challenges faced by workers in China.
Since recent years, the term nèijuǎn ('involution', 内卷) has gained prominence when discussing the frustrations experienced by many young people in China. It serves as a concept to explain the social dynamics of China's growing middle class who often find themselves stuck in a "rat race"; a highly competitive education and work environment, where everyone is continually intensifying their efforts to outperform one another, leading to this catch 22 situation where everyone appears to be caught in an unending cycle of exertion without substantial progress (read more here).
Weibo commenters note that, given China's current employment situation and wage levels, hard work is not necessarily awarded with higher income. This context makes Li Jiaqi's comments seem even more unnecessary and disconnected from the realities faced by his customers. One Shanghai surgeon responded to Li's comments, saying that the fact that his salary has not increased over the last few year certainly is not because he is not working hard enough (#上海胸外科医生回应李佳琦言论#).
Some observers also recognize that Li, as an e-commerce professional, is, in a way, trapped in the same cycle of "inversion" where brands are continuously driving prices down to such low levels that consumers perceive it as the new normal. However, this pricing strategy may not be sustainable in the long run. (Ironically, some brands currently profiting from the controversy by promoting their own 79 yuan deals, suggesting their deal is much better than Li's. Among them is the domestic brand Bee & Flower 蜂花, which is offering special skin care products sets for 79 yuan in light of the controversy.)
Many discussions therefore also revolve around the question of whether 79 yuan or $11 can be considered expensive for an eyebrow pencil, and opinions are divided. Some argue that people pay much more for skincare products, while others point out that if you were to weigh the actual quantity of pencil color, its price would surpass that of gold.
The incident has sparked discussions about the significance of 79 yuan in today's times, under the hashtag "What is 79 yuan to normal people" (#79元对于普通人来说意味着什么#).
People have shared their perspectives, highlighting what this amount means in their daily lives. For some, it represents an entire day's worth of home-cooked meals for a family. It exceeds the daily wages of certain workers, like street cleaners. Others equate it to the cost of 15 office lunches.
Amid all these discussions, it also becomes clear that many people are trying to live a frugal live in a time when their wages are not increasing, and that Li's comments are just one reason to vent their frustrations about the situation they are in, In those regards, Li's remarks really come at a wrong time, especially coming from a billionaire.
Will Li be able to continue his career after this?
Some are suggesting that it is time for Li to take some rest, speculating that Li's behavior might stem from burn-out and mental issues. Others think that Li's hardcore fans will remain loyal to their e-commerce idol.
For now, Li Jiaqi must tread carefully. He has already lost 1.3 million followers on his Weibo account. What's even more challenging than regaining those one million followers is rebuilding the trust of his viewers.
Update: On September 19, the Florasis/Huaxizi brand finally apologized for its late response to the controversy, and the brand stated that the controversy provided an opportunity for them to listen to "the voice of their consumers." Their decision to release a statement seemed fruitful: they gained 20,000 new followers in a night.
By Manya Koetse
with contributions by Miranda Barnes
Jeffreys, Elaine, and Jian Xu. 2023. "Governing China's Celebrities." Australian Institute of International Affairs, 18 May https://www.internationalaffairs.org.au/australianoutlook/governing-chinas-celebrities/ [12 Sep 2023].
Sullivan, Jonathan, and Séagh Kehoe. 2019. "Truth, Good and Beauty: The Politics of Celebrity in China." The China Quarterly 237 (March): 241–256.
Spotted a mistake or want to add something? Please let us know in comments below or email us. First-time commenters, please be patient – we will have to manually approve your comment before it appears.
©2023 Whatsonweibo. All rights reserved. Do not reproduce our content without permission – you can contact us at info@whatsonweibo.com.
Subscribe to our newsletter
Stay updated on what's trending in China & get the story behind the hashtag
Sign up
here
to become a premium member of What's on Weibo today and gain access to all of our latest and premium content, as well as receive our exclusive Weibo Watch newsletter. If you prefer to only receive our free newsletter with an overview of the latest articles, you can
subscribe for free
here.
Would you like to become a contributor, or do you have any tips or suggestions for us? Get in touch with us here.