Humans of Peking – Collecting Beijing's Stories
Humans of Peking is collecting Beijing's stories; it's a website dedicated to the portraits, quotes and short stories from the people living in China's capital. Personal anecdotes and disarming portraits put Beijing's inhabitants in a new perspective; capturing unique intimate moments in a rushed city of millions.
A homeless beggar talking about his future dreams, a young fashionista remembering her traumatic youth or an on-duty policeman boosting about his newborn baby – you might have seen the portraits and short stories of very diverse people as featured on the well-known blog Humans of New York. It inspired Daisy Sun and Katharina Qi to start a similar project in the city they love most: Beijing.
THE URBAN JUNGLE
"Beijing is predictably unpredictable."
Humans of Peking is a website dedicated to collecting the portraits, quotes and short stories from the people living in China's capital. Personal anecdotes and disarming portraits put a new perspective on Beijing's inhabitants; capturing unique intimate moments in a rushed city of millions.
The city currently has over twenty million people inhabitants. The urban scenery is continuously changing. "Beijing is predictably unpredictable," says Daisy Sun: "Buildings are erected as fast as they are demolished, businesses are opening and closing, people are coming and going. However, through all the hustle and bustle, you can still find that one small coffee shop or discover that one charming alley. Beijing is a city full of urban development, yet still holds on to and is filled with years of culture." With Humans of Peking, Sun and Qi play with Beijing's contradictions and versatility; spotlighting the individual within the masses of people. "There is already so much focus on everything that makes us different," Katharina Qi explains: "whether it is in terms of sex, age, ethnicity, gender or religion. With Humans of Peking, we want to capture the moments that make us all human. It is a reminder that in this big city we are all really more alike than we are different."
Humans of Peking does not discriminate. Sun and Qi go out of their way to interview all types of people – especially the ones they see on a daily basis, but hardly interact with, such as the security guard at work or the dry cleaner in the street: "There are so many people we pass by everyday without ever really connecting."
BEIJINGERS WITH A MISSION
"People don't come here for a relaxed lifestyle"
Sun and Qi approach people by simply chatting to them. "People aren't really shy to talk about themselves, and they love to talk about their families. We only later ask them if we can feature them and make a picture. By the time we make the picture, the initial awkwardness is already over."
A city with twenty million individuals, do they have anything in common? "People in Beijing have ambition," Sun states: "So many of them are working towards something. Generally people don't come to Beijing for a comfortable and relaxed lifestyle; they come because they're driven. They're here for personal growth or for setting up their businesses." Now that housing prices have reached a new peak and the job market has become highly competitive, people struggle to make money, get a car, and buy a house, says Sun. Getting settled is important not just for individuals, but for their families too: "Family is always a priority within people's lives here." Instead of worrying about buying property, younger generations often come Beijing to follow their dreams.
CONNECTING PEOPLE
"Step in the Right Direction"
It's also what brought Sun and Qi to Beijing: dreams of living in the big city and curiosity about what Peking life was all about. Qi, who originally is from Henan Province, and Seattle-born Sun met each other in a hutong bar. They both had aspirations to start a website on the people of Beijing. Although they have busy jobs and both volunteer at TEDxBeijing and BarCamp Beijing, they keep their eyes open in order to never miss an opportunity when they're roaming the streets as they could come across someone who is willing to give them a snapshot into their life. "We just love talking to people," they say.
Humans of Peking went live earlier this January (2015). Sun and Qi are determined to turn the site into a success. "We're doing this for fun, but our mission is to connect as many people as possible," Qi says: "We hope people will stop and take a moment to realize how easy it can be to communicate and learn about one another." Since they want to involve as many people as possible with their work, Humans of Peking offers stories both in Mandarin and English. Sun adds: "Currently, a significant amount of our 'humans' are locals, but we would like to hear more stories from foreigners as well, since Beijing is such a diverse city. Hopefully, our blog can also serve as a way for foreigners and locals to better understand each other."
Sun and Qi are positive-minded: "If our work helps bring even just a few more people together, then that's a step in the right direction." It is their ambition, and they are driven. Of course; they're Beijingers now.
You can visit the site Humans of Peking, follow them on Instagram or like them and get connected on Facebook.
– by Manya Koetse
[button link="http://www.twitter.com/whatsonweibo" type="icon" icon="heart" newwindow="yes"] Follow us on Twitter[/button]
©2014 Whatsonweibo. All rights reserved. Do not reproduce our content without permission – you can contact us at info@whatsonweibo.com.
Meng Wanzhou "Back to the Motherland," Michael Kovrig and Michael Spavor Return to Canada
Meng Wanzhou (孟晚舟) is coming home to China. It has been nearly three years since the CFO of Huawei, and the daughter of Huawei founder Ren Zhengfei (任正非), was first detained in Canada during transit at Vancouver airport at the request of United States officials.
Meng Wangzhou was accused of fraud charges for violating US sanctions on Iran. Ever since late 2018, Chinese officials have been demanding Meng's release and called the arrest "a violation of a person's human rights." Meng was under house arrest in Vancouver while battling extradition to the United States.
At the same time, in December of 2018, Canadian national Michael Kovrig was detained in the Chinese capital by the Beijing Bureau of Chinese State Security. Kovrig, who is known as Kang Mingkai (康明凯) in Chinese, served as a diplomat in Beijing and Hong Kong until 2016, and then became a Hong Kong-based Senior Adviser at the International Crisis Group, where he worked on foreign affairs and global security issues in Northeast Asia.
Kovrig was accused of espionage in China, although many called the arrest a case of "hostage diplomacy" ("人质外交"). In late 2018, Kovrig's case went trending on Chinese social media. Although many online discussions were censored, popular comments said: "You take one of ours, we take one of yours" (more here).
Also detained in December of 2018 was the Canadian Michael Spavor (迈克尔‧斯帕弗), a China-based consultant and director of Paektu Cultural Exchange, an organization promoting investment and tourism in North Korea. In August of this year, a Chinese court sentenced Spavor to 11 years in prison after declaring him guilty of spying, while Kovrig had still been awaiting a verdict in his case.
Now, as announced by Canadian PM Trudeau on Friday night, the two Michaels and Meng are free and on their way home. Meng was discharged by the Supreme Court in British Columbia after an agreement was reached with American authorities to resolve the criminal charges against her. While Meng boarded a flight to Shenzhen, Kovrig and Spavor were heading back to Canada.
On the Chinese social media platform Weibo, Meng's return to China became the top trending topic of the day. "Meng Wanzhou About to Return to the Motherland" became the no 1 hashtag (#孟晚舟即将回到祖国#), receiving 1.5 billion views by Saturday afternoon (CST).
State media outlet People's Daily was one of the main accounts pushing hashtags related to Meng. They also released the hashtag "Meng Wanzhou Just Updated her Moments" (#孟晚舟刚刚更新朋友圈#), referring to a social media post by Meng on WeChat, in which she wrote that she was on her way home to China and just crossing the North Pole, adding "under the leadership of the Communist Party of China, our motherland is becoming glorious and flourishing; without a strong motherland, I would not have had my freedom today."
State media also issued online images featuring Meng, welcoming her back home after 1028 days.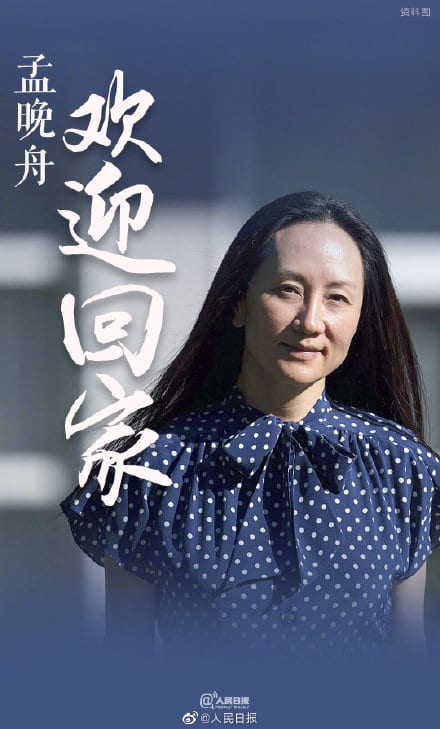 While Meng's return triggered thousands of posts and comments on Weibo, the release of Kovrig and Spavor did not get nearly as much attention on Chinese social media – it also was not reported on social media by any Chinese official media accounts at time of writing.
In some online discussions on Weibo, commenters called the release of Kovrig and Spavor an "exchange" or "a business deal," with others writing: "This is better, as long as Meng returns home, it's alright."
Meng Wanzhou's detainment became one of the biggest topics on Chinese social media back in 2018, and it sparked anti-American sentiments – many netizens expressed how the United States was allegedly using the judicial system in a battle that was actually all about politics.
A political satire image of Meng Wanzhou being rescued by the Chinese authorities as an American shark is trying to eat her alive also circulated on Chinese social media this weekend. The image ("归舟") was created and posted by digital artist Wuheqilin (乌合麒麟), who also welcomed Meng back home.
Meanwhile, some social media users in China have started a countdown to Meng's arrival, tracking the flight on live tracking maps. Her CA552 plane is scheduled to arrive in Shenzhen at 21:14 local time, September 25.
By Manya Koetse (@manyapan)
Spotted a mistake or want to add something? Please let us know in comments below or email us. First-time commenters, please be patient – we will have to manually approve your comment before it appears.
©2021 Whatsonweibo. All rights reserved. Do not reproduce our content without permission – you can contact us at info@whatsonweibo.com.
Key Players, Digital Trends & Deep Dives: China Internet Report 2021
SCMP just launched its latest China Internet Report. (And What's on Weibo readers can get a 30% discount on the Pro Edition!)
As China's tech sector has been facing an ongoing crackdown by Beijing regulations, a lot has been changing in the country's digital environment over the past year. The new China Internet Report 2021 by SCMP gives an overview of the latest trends and developments.
When it comes to China's online landscape, nothing ever stays the same. Over the past year, political, economic, and social developments and measures have once again changed the Chinese digital environment.
Giving a comprehensive overview of the key leaders and major trends dominating the Chinese online field, South China Morning Post (SCMP) issued its fourth annual China Internet Report.
China's internet population has now risen to 989 million – last year's report indicated an internet population of 904 million. By now, there are 853 million mobile payment users, which indicates that over 86% of the entire mobile internet population uses mobile as a way to pay.
As China's internet population is still growing, and new online startups are still popping up every day, there have been tightening regulations on multiple fronts.
As laid out in SCMP's report, regulations mainly focus on the four areas of antitrust, finance, cybersecurity, and data privacy. Regulatory actions targeting the monopolistic behaviours of China's biggest internet companies are still ongoing, and the new Data Security Law came into effect on September 1st of this year.
While Chinese tech companies are seeing increased scrutiny at home, they have also been facing intensifying geopolitical tensions between China and other countries. Over the past year, the various probes and shutdowns into Chinese companies by countries such as the US and India have meant a serious blow to the market share of Chinese apps.
Meanwhile, the SCMP report highlights the trend of various older and newer Chinese (e-commerce) apps "downplaying" their Chinese origins when entering foreign markets. Shein is a good example of this development, but other players including Zaful, Urbanic, and Cider are also experiencing more success outside of China while not explicitly marketing themselves as Chinese e-commerce apps.
Another noteworthy trend explained in the new report is how China's shifting demographics are creating new niche segments to compete over. The COVID-19 crisis is partially a reason why China has seen an increase in senior internet users, with an increasing number of online products and content catering to the elderly.
China's Ministry of Industry and Information Technology (MIIT) even issued special guidelines earlier this year for web pages and mobile apps to carry out so-called "elderly friendliness modifications." Since this user group is still expected to see significant growth, the "silver economy" is an area that will only become more important in the years to come.
To check out all the main trends for 2021, China's latest internet statistics, its top tech competitors, internet companies, and more, here's a link to the free report.
The free report is 55 pages long and gives an overview of China's latest internet numbers and players, covers the top cross-sector trends for 2021, including the tightening regulations and the bumpy road ahead for China's tech IPOs.
The Pro Edition of China's Internet Report 2021, also launched by SCMP, is 138 pages long and provides a deep-dive into ten relevant sectors – featuring insightful and useful analysis, data, and case studies relating to China's e-commerce market, content & media, gaming, blockchain, fintech, online education, healthtech, smart cars, 5G, and Artificial Intelligence.
The China Internet Report Pro Edition is priced at US$400, but the team at SCMP has kindly reached out and made it possible for us to offer a special 30% discount to What's on Weibo readers.
You'll get the discount by using the discount code: WHATSONWEIBO30, or by clicking this link that will automatically include your discount code.
By Manya Koetse
Spotted a mistake or want to add something? Please let us know in comments below or email us. First-time commenters, please be patient – we will have to manually approve your comment before it appears.
©2021 Whatsonweibo. All rights reserved. Do not reproduce our content without permission – you can contact us at info@whatsonweibo.com.