Humans of Peking – Collecting Beijing's Stories
Humans of Peking is collecting Beijing's stories; it's a website dedicated to the portraits, quotes and short stories from the people living in China's capital. Personal anecdotes and disarming portraits put Beijing's inhabitants in a new perspective; capturing unique intimate moments in a rushed city of millions.
A homeless beggar talking about his future dreams, a young fashionista remembering her traumatic youth or an on-duty policeman boosting about his newborn baby – you might have seen the portraits and short stories of very diverse people as featured on the well-known blog Humans of New York. It inspired Daisy Sun and Katharina Qi to start a similar project in the city they love most: Beijing.
THE URBAN JUNGLE
"Beijing is predictably unpredictable."
Humans of Peking is a website dedicated to collecting the portraits, quotes and short stories from the people living in China's capital. Personal anecdotes and disarming portraits put a new perspective on Beijing's inhabitants; capturing unique intimate moments in a rushed city of millions.
The city currently has over twenty million people inhabitants. The urban scenery is continuously changing. "Beijing is predictably unpredictable," says Daisy Sun: "Buildings are erected as fast as they are demolished, businesses are opening and closing, people are coming and going. However, through all the hustle and bustle, you can still find that one small coffee shop or discover that one charming alley. Beijing is a city full of urban development, yet still holds on to and is filled with years of culture." With Humans of Peking, Sun and Qi play with Beijing's contradictions and versatility; spotlighting the individual within the masses of people. "There is already so much focus on everything that makes us different," Katharina Qi explains: "whether it is in terms of sex, age, ethnicity, gender or religion. With Humans of Peking, we want to capture the moments that make us all human. It is a reminder that in this big city we are all really more alike than we are different."
Humans of Peking does not discriminate. Sun and Qi go out of their way to interview all types of people – especially the ones they see on a daily basis, but hardly interact with, such as the security guard at work or the dry cleaner in the street: "There are so many people we pass by everyday without ever really connecting."
BEIJINGERS WITH A MISSION
"People don't come here for a relaxed lifestyle"
Sun and Qi approach people by simply chatting to them. "People aren't really shy to talk about themselves, and they love to talk about their families. We only later ask them if we can feature them and make a picture. By the time we make the picture, the initial awkwardness is already over."
A city with twenty million individuals, do they have anything in common? "People in Beijing have ambition," Sun states: "So many of them are working towards something. Generally people don't come to Beijing for a comfortable and relaxed lifestyle; they come because they're driven. They're here for personal growth or for setting up their businesses." Now that housing prices have reached a new peak and the job market has become highly competitive, people struggle to make money, get a car, and buy a house, says Sun. Getting settled is important not just for individuals, but for their families too: "Family is always a priority within people's lives here." Instead of worrying about buying property, younger generations often come Beijing to follow their dreams.
CONNECTING PEOPLE
"Step in the Right Direction"
It's also what brought Sun and Qi to Beijing: dreams of living in the big city and curiosity about what Peking life was all about. Qi, who originally is from Henan Province, and Seattle-born Sun met each other in a hutong bar. They both had aspirations to start a website on the people of Beijing. Although they have busy jobs and both volunteer at TEDxBeijing and BarCamp Beijing, they keep their eyes open in order to never miss an opportunity when they're roaming the streets as they could come across someone who is willing to give them a snapshot into their life. "We just love talking to people," they say.
Humans of Peking went live earlier this January (2015). Sun and Qi are determined to turn the site into a success. "We're doing this for fun, but our mission is to connect as many people as possible," Qi says: "We hope people will stop and take a moment to realize how easy it can be to communicate and learn about one another." Since they want to involve as many people as possible with their work, Humans of Peking offers stories both in Mandarin and English. Sun adds: "Currently, a significant amount of our 'humans' are locals, but we would like to hear more stories from foreigners as well, since Beijing is such a diverse city. Hopefully, our blog can also serve as a way for foreigners and locals to better understand each other."
Sun and Qi are positive-minded: "If our work helps bring even just a few more people together, then that's a step in the right direction." It is their ambition, and they are driven. Of course; they're Beijingers now.
You can visit the site Humans of Peking, follow them on Instagram or like them and get connected on Facebook.
– by Manya Koetse
[button link="http://www.twitter.com/whatsonweibo" type="icon" icon="heart" newwindow="yes"] Follow us on Twitter[/button]
©2014 Whatsonweibo. All rights reserved. Do not reproduce our content without permission – you can contact us at info@whatsonweibo.com.
No Cookie-Cutter #MeToo Approach: An Overview of China's Me Too Movement
There is no China-based, Chinese #metoo movement as there is in the US and other countries.
In the months after the #Metoo movement first shook social media in the US and other countries, "#Metoo in China" has become a much-discussed topic. What's on Weibo provides an overview of what has happened in the PRC regarding the global #Metoo movement.
Ever since the #Metoo movement caught fire on social media with people sharing personal stories of sexual harassment, many journalists, China watchers, and Me Too activists have been closely watching if, and how, the #Metoo movement would surface in China.
More than five months after #Metoo particularly shook entertainment and media circles in the US, it has become evident that the #Metoo movement has not taken off in the PRC as it has in some other countries.
What is noticeable about those 'Me Too' stories that did become big in China, is that (1) they mostly relate to sexual harassment in academic circles, that (2) the majority is linked to US-based Chinese and the overseas Chinese community, and that (3) some stories on sexual harassment that went viral in China were only framed as '#Metoo' accounts by English-language media – not by the posters themselves.
Some US news outlets have determined that there is no 'me too' movement in China because it has been silenced by the government. Although there has in fact been online censorship regarding this issue, there is no sign of a truly China-based 'Me Too' movement in which regular female netizens collectively share their stories of sexual abuse in the way it has unfolded in many Western countries.
At time of writing, neither the #Metoo hashtag nor its Chinese equivalents (#我也是,#Metoo在中国, #米兔) were censored on Chinese social media platform Sina Weibo. In addition, contrary to some reports in English-language media, Chinese mainstream media have reported about the Me Too movement since October 2017, with some state-run media (e.g. CRI) serving as a platform for victims of sexual harassment to make their stories known to the public.
This is an overview of some important moments in mainland China since October regarding the global #Metoo movement.
---

15 October 2017: Me Too
Ten days after the New York Times first published an article detailing sexual harassment complaints against Hollywood mogul Harvey Weinstein, American actress Alyssa Milano posts a tweet that urges victims of sexual abuse to come forward using the words 'me too'.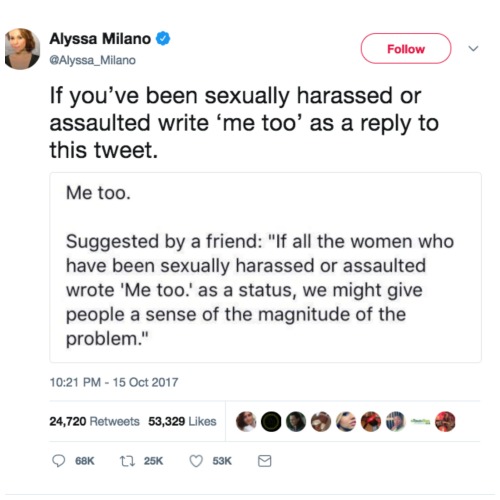 The 'me too' slogan was first used in 2006 by Tamara Burke to help sexual assault survivors in underprivileged communities.
#Metoo soon becomes a hashtag and movement that particularly rocks the American entertainment industry and focuses on the widespread prevalence of sexual assault and harassment, especially in the workplace.

16 October 2017: China Daily Controversy
The state-run newspaper China Daily publishes an opinion column by Canadian-Egyptian author Sava Hassan titled "Weinstein case demonstrates cultural differences," in which Hassan alleges that sexual harassment is less common in China because "Chinese traditional values and conservative attitudes tend to safeguard women against inappropriate behavior from members of the opposite gender."
The article is linked to on Twitter by China Daily, writing: "What prevents sexual harassment from being a common phenomenon in China, as it's in most Western societies?"
Over recent years, various surveys have pointed out that sexual harassment is, in fact, a problem in mainland China. A 2016 survey amongst over 2000 working females conducted by the Social Survey Center of China Youth Daily indicated that more than 30% experienced sexual harassment. Another survey by the China Family Planning Association also showed that more than 30% of China's college students have been sexually assaulted or harassed.
The article and tweet trigger waves of criticism and is temporarily taken offline. At time of writing, the article is available online again at the China Daily website.

October – November 2017: State Media Reports #Metoo
Various mainstream and state-run Chinese media extensively report about the "Me Too" movement in North America and elsewhere.
Some examples (in Chinese):
*People's Daily, October 30 2017: "我也是受害者!揭发性骚扰运动走上法国街头" ["I am also a victim! The movement to expose sexual harassment is heading to the streets of France."] http://world.people.com.cn/n1/2017/1031/c1002-29617842.html
*Xinhua, November 4 2017:"美国揭露性骚扰运动延烧到国会山" ["The US movement against sexual harassment extends to Capitol Hill."] http://www.xinhuanet.com/2017-11/04/c_1121905779.htm
*Xinhua, November 6 2017: "我也是"运动蔓延 美国会酝酿反性骚扰培训" ["As 'MeToo' movement grows, America explores anti-sexual harassment trainings."] http://www.xinhuanet.com/world/2017-11/06/c_129733177.htm
*Xinhua, November 11 2017: "随笔:"我也是",你有勇气说出吗?" ["'Me Too': Do You Have the Courage to Speak Out?"] http://www.xinhuanet.com/2017-11/16/c_1121965426.htm
*Sina News, December 1 2017: "大声地说出来 羞耻的不是你" ["Speak out loud: you are not the one to be ashamed."] http://news.sina.com.cn/c/2017-12-01/doc-ifyphtze2990099.shtml
*China Daily, December 6 2017 "《时代》揭晓2017年度人物:性骚扰丑闻"打破沉默者" ["Time announces Person of the Year 2017: those breaking the silence on sexual harassment."] http://language.chinadaily.com.cn/2017-12/07/content_35249891.htm


27 November 2017: Shanghai Harassment goes Viral
The 28-year-old Xu Yalu (nicknamed 'Brazil Teacher Xu' 巴西徐老师) posts on WeChat about how she has been harassed multiple times by the same man in Shanghai from 2013 to 2015, and that the police will not do anything to stop the man.
The article, titled "I was harassed three times within two years time by an old pervert" ("上海静安寺,我2年内被一个老色狼猥亵3次") receives more than 1.19 million views before it is taken down by Chinese censors. Three days later, Xu Yalu republishes her article on Zhihu.com where it is not taken offline.
Although the original article by Xu Yalu does not mention the '#metoo' hashtag once, this story is placed into a larger Chinese '#metoo' context by the New York Times and Reuters.

November 2017: Sophia Huang Xueqing Steps Forward for Chinese 'Metoo'
Huang Xueqin (黄雪琴 aka Sophia Huang Xueqing), a female reporter, launches a survey focused on the sexual harassment of Chinese female journalists and emerges as an initiator of a potential Chinese #Metoo movement by launching ATSH, an Anti-sexual harassment platform on WeChat.
Huang speaks to various English-language media about the silence with which the global #metoo movement is met in China. According to HKFP, Huang receives over 200 responses from female journalists, of which only 16% say they have never experienced sexual harassment.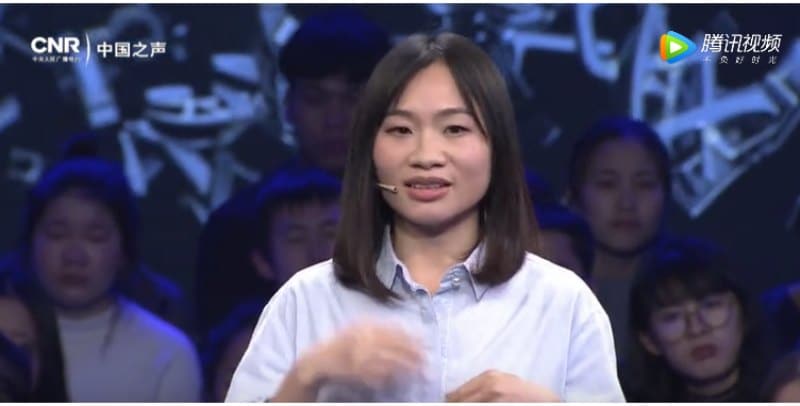 Later, in January, Huang publicly speaks out in a special show titled 'Hear me Speak' by the CRI TV programme "China's Voice" (中国之声) about the 'Metoo' movement in China and about her personal experiences being sexually harassed as a journalist.

1 January 2018: Wo Ye Shi
With the hashtag 'Wo Ye Shi' (#我也是, "#metoo") a US-based former doctoral student named Luo Qianqian (罗茜茜) comes forward on Chinese social media (@cici小居士) with sexual harassment allegations against her previous supervisor Chen Xiaowu (陈小武).
Luo accuses the award-winning professor Chen of sexually harassing her and several other students 12 years ago at Beihang University, also known as Beijing University of Aeronautics and Astronautics (BUAA). On the Chinese Q&A platform Zhihu.com, Luo shares how her supervisor attempted to force himself upon her. She also posts several testimonies online to support claims that Chen also sexually assaulted at least seven other students.
In a blog post on Weibo, Luo writes that she was inspired to come forward with her story when she first heard about the Harvey Weinstein scandal and the launch of the "#metoo" campaign on Twitter and Facebook.

4 January 2018: "Social movements play limited role"
State-run newspaper Global Times, commonly regarded a Party mouthpiece, publishes an article in which it addresses claims made by Western media outlets that "sex-related crimes are serious in China," but that the country "'rarely' takes sexual assault allegations seriously."
Although Global Times acknowledges that sexual violence is a problem in China, as it is in other countries, it also stresses that "social movements can only play a limited role in reducing sexual harassment."
Instead, it says that the most effective solution is that "more efforts should be put into establishing and perfecting laws and regulations so as to deter potential sexual violence and properly handle it if it happens."

7 January 2018: Fudan Survey
Former Fudan student 'Taoligeriler' (@桃莉格日勒在路上), inspired by Luo Xixi's account, starts a petition asking Fudan University in Shanghai to do more to tackle the problem of sexual harassment on campus.
SCMP reports that the petition collects 300 signatures in a day. On Weibo, Taogeriler writes: "About the petition against sexual harassment, I have asked a lot of people to join, but many people feel it does not have anything to do with them."

11 January 2018: "Say no to sexual harassment!"
After investigating the claims of Luo Qianqian and other former students, Beihang University fires Chen from his position. Three days later, the Education Departments also recalls his scholar title.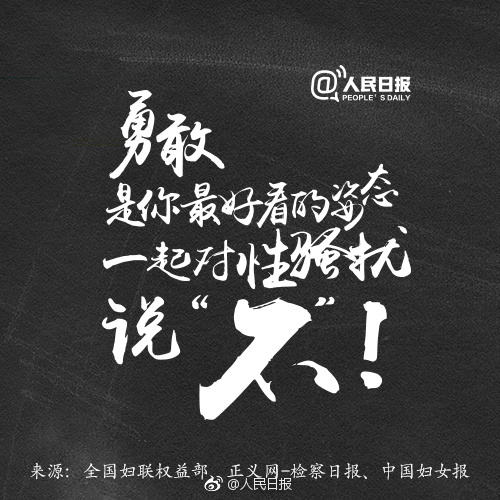 Meanwhile, Party newspaper People's Daily launches an online campaign titled "Being courageous is the best you can be. Turn things around and say no to sexual harassment!"

15-19 January 2018: Manifests and Hashtags
According to the South China Morning Post, students and alumni across China have been inspired by Luo's account to press their own universities for change. The report does not give out numbers, but estimate that "between 30 and 50 campaigns had emerged on social media over the past week."
One of them is an anti-sexual harassment manifesto drafted by Xu Kaibin 徐开彬, a journalism professor at Wuhan University. It is signed by approximately 50 instructors from over 30 Chinese colleges.
Although there are not many accounts of women sharing their own stories of sexual assault on Weibo, various hashtags emerge on Chinese social media as variations to #metoo. Besides #woyeshi (#我也是)there is also #MeTooInChina (#MeToo在中国).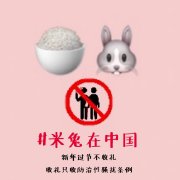 From January 17 to February 17, the hashtag #MeTooInChina gets temporarily blocked on Weibo. In response to this, Weibo users launch the alternative hashtag #mitu, written as #米兔, which literally means 'rice bunny', but sounds like the English #metoo, and the hashtag #MiTuinChina (#米兔在中国#).

31 January 2018: Chinese-American lawyer Hua Qiang's #Metoo
Chinese state-run news outlet CRI.com publishes a feature article about LA-based Chinese-American lawyer Hua Qiang (华强) who has joined the #metoo campaign by sharing her story of sexual harassment.
Hua Qiang tells CRI that during a 2008 annual conference for lawyers, an influential lawyer by the name of Malcolm S. McNeil gave her a ride home after her car broke down. On the highway, Hua states, the lawyer suddenly started harassing Hua, grabbing her bosom, while driving. Too afraid to cause an accident on the freeway, Hua was too scared to fight him off. His wide network and strong influence in the area also made Hua too afraid to speak out, until the #metoo movement arrived.

February 2018: MeToo in South Korea
The spread of the 'Me Too' movement in South Korea makes headlines in Chinese (state) media and becomes a topic of discussion on Chinese social media.

9 March 2018: Wang Ao Speaks Out
Chinese assistant professor of East Asian Studies Wang Ao (王敖) at Wesleyan University, Connecticut, writes an article on sexual harassment on Chinese social networking site Douban, in which he expresses his admiration of Luo Qianqian and her #MeToo story.
In a lengthy post*, Wang details sexual harassment cases he has encountered inside academic circles.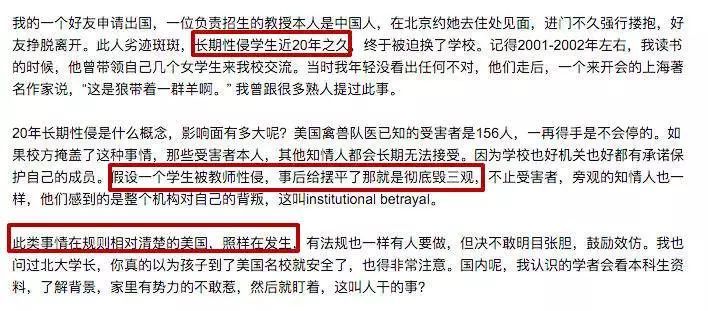 In one example, Wang tells about an acquaintance who planned to study overseas and received an invitation from the professor in charge of admissions. When she arrived at his Beijing residence, the man tried to grab her and she finally manages to escape. Wang also alleges that the same professor has been targeting students for more than 20 years, and even had to change schools because of it. Although Wang does not mention any names in his article, the Douban link is soon removed.

10-16 March 2018: The Gary Xu Scandal
Wang Ao publishes another article on March 10, first on Douban and then on Zhihu, in which he provides a name with the professor mentioned in his earlier story. According to Wang, it concerns Xu Gang (徐钢), better known as Gary Xu, a prominent art curator at the Shenzhen Biennale and associate professor of East Asian studies at the University of Illinois Urbana-Champaign (UIUC). UIUC is known for its large numbers of Chinese students.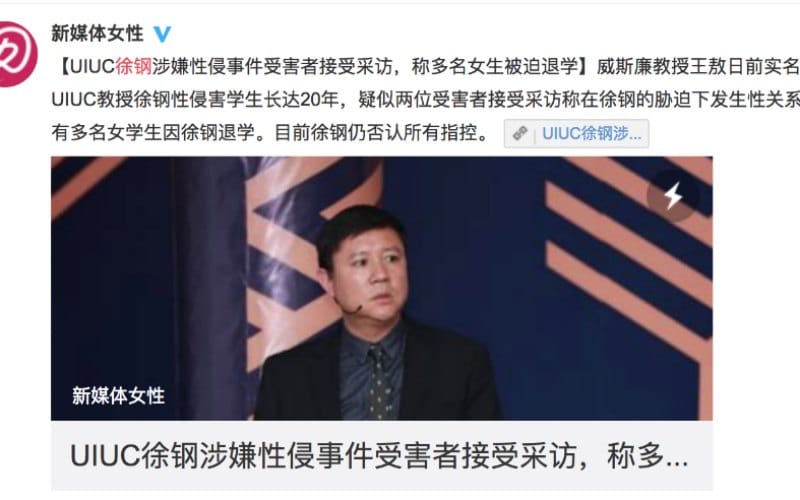 Wang adds that not only students but also some his own colleagues became a victim of Xu's improper conduct. A female commenter under the name "Survivor 2018" replies to the thread, telling her own story of alleged abuse by Xu Gang.
Chinese law graduates in North America start asking people to offer relevant information regarding Xu Gang's misconduct to be able to take legal actions against the professor.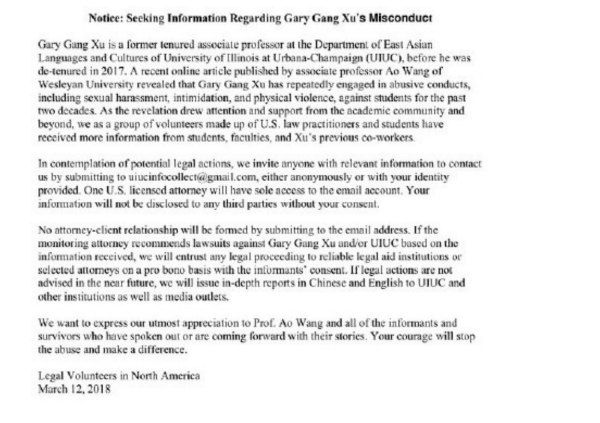 On March 16, Xu Gang posts a lengthy article through WeChat in response to the accusations made against him. Xu states that he supports the #MeToo movement, but that he denies any sexual misconduct allegations and says that Wang just aims to destroy his reputation.
Meanwhile, Chinese media outlet Sixth Tone reports that two women have come forward about sexual misconduct they say they experienced at the hands of Xu.
One woman told Sixth Tone she was forced into unwanted sexual actions with Xu, which she says "ruined her life" at the time. She furthermore claimed that other UIUC students also had sexual relations with Xu. In 2015, an undergraduate student already reported Gary Xu to the school for engaging in sexual misconduct with several female students.

March 19 2018: Gary Xu Non-Active
According to Sixth Tone, the University of Illinois responded to this case through email, saying that "the University investigates and takes appropriate action whenever conduct is reported that may jeopardize or impact the safety or security of our students or others," and that they are not allowed to discuss any potential investigations. They added that "Dr. Xu currently is not teaching any courses but will hold his tenured status until Aug. 16, 2018, when he will resign from the university."
Xu has since also been fired from his post as the curator of the upcoming 2018 Shenzhen Biennale.

March 20 2018: Various Hashtags
Many discussions using the 'metoo' hashtag on social media now relate to how the #metoo movement is gaining traction in South Korea.
*MeToo: 34.8 millions views, 20.000 comments, 241 fans of this hashtag.
*WoYeShi #我也是: 1.7 million views, 2339 comments, 6 followers of this hashtag.
*MeTooinChina #Metoo在中国#: 7.2 million views, 6941 comments, 134 followers of this hashtag.
*MiTu #米兔: 3.2 million views, 8050 comments, 0 followers.
*MiTuinChina #米兔在中国: 3.5 million views, 4456 comments that include this hashtag, 64 followers of this hashtag.

---
Besides discussions of the Gary Xu scandal and developments in South Korea, By now, there are sporadic discussions of China's 'metoo' movement on Weibo. "I still hope #metoo can influence China," one netizen (@末未木十) writes.
Another netizen says: "The #metoo movement is meaningful, but it hasn't really been able to become a reality in China."
"#MetooinChina has returned," one other Weibo user says: "But there's barely discussions about it anymore. Now, the hashtag "International Women's Day Against Harassment" (#三八反骚扰#) has been deleted. I wonder when that one will come back."
Perhaps saying that there is no Chinese MeToo movement at all is too crude; after all, there are important stories and initiatives in China that are connected to the global #metoo movement. But unlike in the US and other countries, these events have not led to a wider movement of common netizens widely sharing their own stories of abuse on social media.
Why is this the case? According to the Washington Post, it is because of China's "patriarchal culture and a male-dominated one-party state that obsessively protects those in power."
Stephany Zoo at RadiiChina says that 'metoo' has not taken off because China's business landscape is built on guanxi, relationships, and that speaking out would pose too much of a risk to individuals within such a stability-focused culture.
One Chinese blogger claims that China's metoo movement has been hindered by, amongst others, the decade-old abuse case of Tang Lanlan. This case triggered massive attention earlier this year when Chinese media exposed the identity of the victim, potentially ruining her chances to lead her life out of the public eye.
The Chinese so-called 'human flesh search engine' could cause victims of sexual abuse to become victimized once again by becoming the focus of attention in an online environment that is joined by more than 700 million people; in order to protect oneself, not speaking out in public might be the safer option in the eyes of many people.
But maybe there is also another reason for it, namely that some social movements emerge in a country because it is the right time and the place for it. Just as many Chinese movements have never emerged in the US, many American movements will have no success spouting up in the PRC. #Metoo is not a movement that can have a cookie-cutter approach – even if it does spring up in other countries, it will have different shapes, voices, and outcomes.
"Foreign media can report whatever they want [about China]," one Weibo commenter says: "In the end, it's up to us to pay attention to [the movements] we find important."
By Manya Koetse with contribution from Boyu Xiao
Follow @whatsonweibo
* title: 《关于学校里的性侵犯,我看到了什么,想了什么,能做什么》
Spotted a mistake or want to add something? Please let us know in comments below or email us.
Want to support what we do? Please see our donations page.
©2018 Whatsonweibo. All rights reserved. Do not reproduce our content without permission – you can contact us at info@whatsonweibo.com.
Made-in-China Halal: Online Discussions on 'Halalification'
As a form of protest against the growing prevalence of halal food, some groups of Chinese netizens vow not to eat or buy halal products.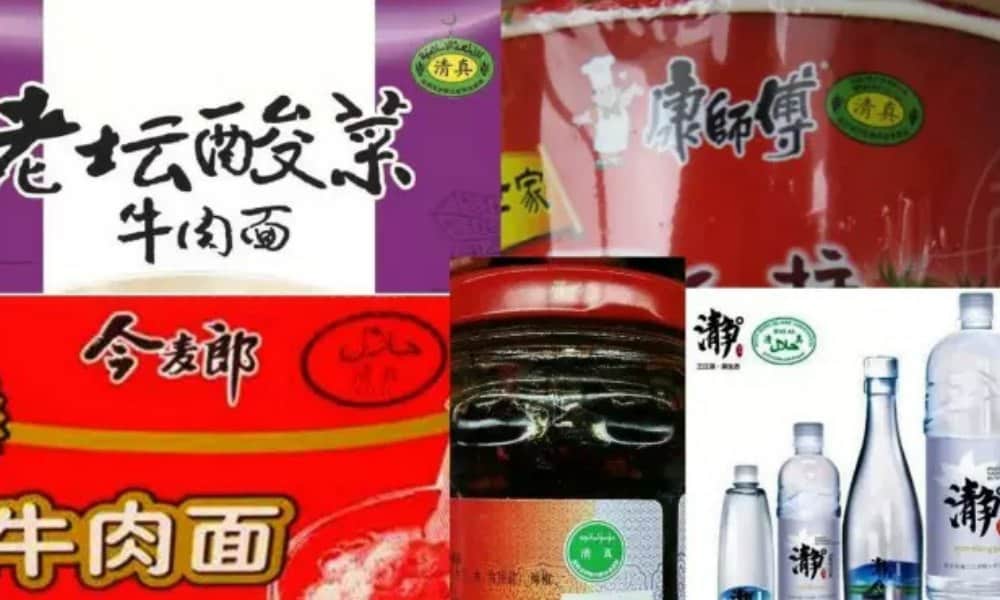 Over recent years, the rise of made-in-China halal food and services have increasingly generated heated online debates on the so-called 'halalification' of China. Many netizens condemn the country's growing prevalence of halal products and join the online protest against their normalization.
Halal sesame paste from Shaanxi, halal bubble-gum from Gansu, or halal instant noodles from Shandong – under the hashtag "halalification" (#清真泛化#), photos of regular food products that carry the 'halal' label are being posted on social media platform Sina Weibo every day to 'name and shame' Chinese companies for turning their products Muslim-friendly.
China currently has some 23 million Muslims, the majority being based in the country's north-western regions, mostly belonging to the Uyghur and Hui ethnic groups. According to Pew Research (2011), the Chinese Muslim population is expected to be the 19th largest in the world in 2030.
The global market for halal food is thriving, with latest figures suggesting it will be worth close to USD 2.10 trillion by 2025. Although China – with its One Belt One Road initiative in full swing – could potentially be a major player on the halal market, it now only has an approximate 0.1 percent of global halal food exports.
With an interesting market both domestically and internationally, it seems that more products in China are now turning halal to reach a wider consumer group. In doing so, Chinese producers of halal food can both boost their local economies and access the booming worldwide halal business (Erie 2016b).
But a large group of people in China are not comfortable with this trend and condemn the growing prevalence of regular Chinese food products carrying the halal label – both in- and outside the PRC.
Last week, some netizens' discovery of globally distributed 'halal' sunflower seeds produced in China's Shandong province caused some surprise amongst commenters on Weibo: "These are Halal sunflowers seeds that are locally sold at an American supermarket in Portland," one author on Weibo (@弗虑弗为) wrote:
"I saw the halal logo on the back and figured it was imported from Malaysia or Indonesia (..), but then I saw "Shandong Halal Certification Service" on the logo! Amazing, now China's halalification is also expanding to the rest of the world."
"The spread of halal is just everywhere," some people on Weibo complain. "Can't we investigate more into the situation and policies regarding halal and its subsidies in our country?" author Fan Niuwen (@范_纽文) asks.

Halal in the PRC: an "Islamic Revival"

Halal in Chinese is referred to as qīngzhēn (清真), which can also mean "Islam", "Islamic", or "Muslim." Since China has no national halal certification legislation, many local and provincial governments, such as Ningxia or Shanghai, have implemented their own halal regulations.
In 2002, the Chinese government actually made beginnings in drafting a law to regulate nationwide halal food production. The proposal received much opposition within various circles within China, however, and was eventually halted in April of 2016.
In China and Islam (2016), Matthew S. Erie argues that China has seen "an Islamic revival" over the recent years, particularly among Hui communities, that is, amongst others, visible in a growing number of mosques and in a proliferation of halal food restaurants and factories (10-12).
There are now thousands of companies across China's provinces producing halal food for consumers in mainland China, and some of them also export to other countries.
Besides a rise in halal food products, China has also seen an increase in other signs of Islam in public life in many cities, such as stores that sell "Muslim use products" including perfumes and soaps that are "free of any porcine products" (Erie 2016, 12) or special facial tissues, water, and toilet paper.

"Pan-Halal Tendencies"

Both the spread of halal food products in the PRC and the increase in special "Muslim use products" have caused waves of backlash on Chinese social media over recent years. The outrage over Meituan's special halal delivery boxes or the controversy over Huawei phones with built-in prayer alarms are just some of many incidents causing anger on Weibo and Wechat over the past year.
Since 2017, Chinese state-run newspaper Global Times has introduced the concept of "pan halal tendency" to describe the idea that "some Muslims are demanding things to be halal which cannot really be halal, such as water, roads and toilets."
The trend is presented as 'dangerous' for making "Islamic rituals penetrate into secular life."
In a local compaign in Gansu, around 760 shops selling these so-called "pan-halal products" were closed down in early March of this year to "safeguard ethnic unity," Global Times reports. Recent online backlash and local anti-'pan halal'-campaigns are a sign of existing tensions between Islamic laws and China's secular laws and policies.

Anti-Halalification Movement: "#IDontEatHalal"

In any social media discussion on China's halal food debate, the term qīngzhēn fànhuà (清真泛化) inevitably pops up now. It is a new term that first appeared in Chinese media in 2016. It basically means 'the spread of halal' or 'halalification,' but since qīngzhēn also means 'Islamic,' it can also imply 'Islamization' – discussions thus also go beyond the topic of food alone.
This so-called 'Islamization' of China seems to be a recurring source of concern for some netizens. Just are there are many Chinese social media accounts promoting halal food, there are also dozens of popular accounts on Chinese social media sites opposing the spread of halal in the country, arguing it is a threat to "national unity" (民族团结).
Some of the accounts promoting anti-Islamic sentiments have been deleted or heavily censored since Chinese authorities banned various anti-Islam terms in September of 2017, leading to more fragmented online debates on the issue.
Author Li Mu (李牧) writes on Weibo: "There are more and more state-funded Muslim canteens, Muslim public baths, (..) who approves of this? Since some of these activities are explained through the Koran, does this mean Islamic laws are already taking effect in China?"
As a form of protest, some groups of Chinese netizens vow never to eat halal again. On Weibo, some people tag their posts with the hashtag "I don't eat halal" (#我不吃清真食品#) – viewed more than 460,000 times at time of writing. The hashtag 'halalification' received more than 38 million views.

A Multi-layered Debate

Closely looking at debates on Chinese social media, the online resistance against China's 'halalification' is multi-layered. Although much of it goes hand in hand with an increasing tide of overall anti-Islam sentiments in which people connect Islam to terrorism and extremism, there are also more nuanced reasons why so many people oppose to the spread of the halal industry in the PRC.
A general reasoning amongst Chinese netizens is that the Chinese government is officially atheist and therefore should not regulate dietary measures as implemented by Islamic law or that of any other religion. Many people say the same holds true for Chinese companies such as Huawei or Meituan, which they argue should be neutral in the services they provide.
Just as Muslim consumers should have the right to eat halal, non-Muslim consumers should be able to consume products that do not carry the halal label, a prevalent viewpoint persists.
"I am not a Muslim, but I also do not oppose to Muslims' halal diet at all," one popular comment on Quora-like platform Zhihu.com says: "In fact, I hope they can all eat halal. But now it's been taken a step further, which is the expansion of halal food."
This commenter, along with many others on platforms such as Zhihu or Weibo, argue that in order for a product to get the halal certification, it naturally needs to adhere to the proper Islamic laws in their preparation. This includes the ritual slaughter of animals with the thorough drainage of blood, the reciting of scripture, etc. The comment continues:
"If you now go into the supermarkets, you'll see that about half of the products on some shelves have the halal label. What's unbearable is that even products such as salt, tea, or popsicles now carry this label, while (..) it is impossible for products that do not contain any ingredients such as pork or blood to be non-halal [haram]. So why does this 'halalification' pose a risk? Because Islam [organizations] oversee halal certifications, meaning that they have a monopoly on this business, and use it to expand their religion."
Others also complain about the prevalence of halal-labeled products in shops: "If school canteens can have a 'halal dining' section, why can't supermarkets have a special section for halal products?", a Weibo user named 'Simple Dog' (@一只单纯的颜狗) writes: "It takes me ages to check all the labels of the products I buy and it's very tiring. Can you also respect the [wishes of] Han people?"
"I can't believe it; I just bought a box of plain noodles online and now it turns out they are halal," another netizen says.
There is a myriad of voices on social media backing this idea that the spread of halal products is going too far. Legal service app Ilvdo (@律兜) published an article on Weibo that mentions that many Chinese consumers might buy halal products such as halal ice cream or milk without even knowing it: "You perhaps drank [halal] water and indirectly funded Islam religion – because the companies that have halal certifications have to pay Islamic organizations for them."

The Right (Not) to Eat Halal

"Why I don't eat halal?", another Weibo user writes: "Firstly, because I do not believe in Islam, and eating Islamic food clashes with my own beliefs. Second, halal food needs to be prepared by Muslims, and by consuming it as a non-Muslim that means I give fewer opportunities to my non-Muslim compatriots to produce food and earn an income. I am in support of Muslims being free to halal food produced by Muslims, and non-Muslims being free to eat food products that are not."
It is a recurring logic that is at the heart of the discussion on the spread of halal food on Chinese social media: many of those who oppose the spread of halal food in the PRC connect the normalization of Islamic dietary laws to an alleged greater societal shift towards Islam.
The spread of 'Islam' and 'halal food' are practically the same things in these discussions through the concept of qingzhen ('halal') certifications, which allegedly sustains and supports the Islamic religion through Chinese secular society. "I am not Muslim and refuse to eat Islamic food and refuse to pay its religious taxes," a popular Weibo blogger (463880 fans) writes.
But the account of the China Muslim Youth Group (@中穆青社), which has over 15800 fans on Weibo,  refutes these allegations when it writes on March 13: "Of course the right-wing people [右右们] have the right to refuse halal food, the wide sales of halal food also have not been established because of your offerings. Whatever you say about 'religious taxes' is just nonsense and is obscuring the facts."
There are also those who point out that halal food, in the end, is an integral part of Chinese cuisine and society. Islam is part of China's history; Muslims have lived in China from as early as the eight century. One netizen, the CEO of "China's Muslim Net" @XiaoMa writes: "Halal food is an important part of Chinese food culture. It is made by Chinese Muslims for all of China to enjoy. We cannot underestimate its contribution to the development of China's food industry."
With a growing consumer group of halal products and a rise in companies producing halal, China's halalification debates are likely to continue in the years to come. For some participants in these online discussions, however, the answer to the debate is simple: "I respect Muslims' right to eat halal, and they should respect my right not to."
By Manya Koetse
Follow @whatsonweibo
References
Erie, Matthew S. 2016. China and Islam: The Prophet, the Party, and Law. Cambridge: Cambridge University Press.
Erie, Matthew S. 2016b. "China's Halal Constitution: 'Islamic' Legislation Stirs Debate at the PRC Engages the Muslim World." The Diplomat. May 27. https://thediplomat.com/2016/05/chinas-halal-constitution/
Spotted a mistake or want to add something? Please let us know in comments below or email us.
©2018 Whatsonweibo. All rights reserved. Do not reproduce our content without permission – you can contact us at info@whatsonweibo.com.