Humans of Peking – Collecting Beijing's Stories
Humans of Peking is collecting Beijing's stories; it's a website dedicated to the portraits, quotes and short stories from the people living in China's capital. Personal anecdotes and disarming portraits put Beijing's inhabitants in a new perspective; capturing unique intimate moments in a rushed city of millions.
A homeless beggar talking about his future dreams, a young fashionista remembering her traumatic youth or an on-duty policeman boosting about his newborn baby – you might have seen the portraits and short stories of very diverse people as featured on the well-known blog Humans of New York. It inspired Daisy Sun and Katharina Qi to start a similar project in the city they love most: Beijing.
THE URBAN JUNGLE
"Beijing is predictably unpredictable."
Humans of Peking is a website dedicated to collecting the portraits, quotes and short stories from the people living in China's capital. Personal anecdotes and disarming portraits put a new perspective on Beijing's inhabitants; capturing unique intimate moments in a rushed city of millions.
The city currently has over twenty million people inhabitants. The urban scenery is continuously changing. "Beijing is predictably unpredictable," says Daisy Sun: "Buildings are erected as fast as they are demolished, businesses are opening and closing, people are coming and going. However, through all the hustle and bustle, you can still find that one small coffee shop or discover that one charming alley. Beijing is a city full of urban development, yet still holds on to and is filled with years of culture." With Humans of Peking, Sun and Qi play with Beijing's contradictions and versatility; spotlighting the individual within the masses of people. "There is already so much focus on everything that makes us different," Katharina Qi explains: "whether it is in terms of sex, age, ethnicity, gender or religion. With Humans of Peking, we want to capture the moments that make us all human. It is a reminder that in this big city we are all really more alike than we are different."
Humans of Peking does not discriminate. Sun and Qi go out of their way to interview all types of people – especially the ones they see on a daily basis, but hardly interact with, such as the security guard at work or the dry cleaner in the street: "There are so many people we pass by everyday without ever really connecting."
BEIJINGERS WITH A MISSION
"People don't come here for a relaxed lifestyle"
Sun and Qi approach people by simply chatting to them. "People aren't really shy to talk about themselves, and they love to talk about their families. We only later ask them if we can feature them and make a picture. By the time we make the picture, the initial awkwardness is already over."
A city with twenty million individuals, do they have anything in common? "People in Beijing have ambition," Sun states: "So many of them are working towards something. Generally people don't come to Beijing for a comfortable and relaxed lifestyle; they come because they're driven. They're here for personal growth or for setting up their businesses." Now that housing prices have reached a new peak and the job market has become highly competitive, people struggle to make money, get a car, and buy a house, says Sun. Getting settled is important not just for individuals, but for their families too: "Family is always a priority within people's lives here." Instead of worrying about buying property, younger generations often come Beijing to follow their dreams.
CONNECTING PEOPLE
"Step in the Right Direction"
It's also what brought Sun and Qi to Beijing: dreams of living in the big city and curiosity about what Peking life was all about. Qi, who originally is from Henan Province, and Seattle-born Sun met each other in a hutong bar. They both had aspirations to start a website on the people of Beijing. Although they have busy jobs and both volunteer at TEDxBeijing and BarCamp Beijing, they keep their eyes open in order to never miss an opportunity when they're roaming the streets as they could come across someone who is willing to give them a snapshot into their life. "We just love talking to people," they say.
Humans of Peking went live earlier this January (2015). Sun and Qi are determined to turn the site into a success. "We're doing this for fun, but our mission is to connect as many people as possible," Qi says: "We hope people will stop and take a moment to realize how easy it can be to communicate and learn about one another." Since they want to involve as many people as possible with their work, Humans of Peking offers stories both in Mandarin and English. Sun adds: "Currently, a significant amount of our 'humans' are locals, but we would like to hear more stories from foreigners as well, since Beijing is such a diverse city. Hopefully, our blog can also serve as a way for foreigners and locals to better understand each other."
Sun and Qi are positive-minded: "If our work helps bring even just a few more people together, then that's a step in the right direction." It is their ambition, and they are driven. Of course; they're Beijingers now.
You can visit the site Humans of Peking, follow them on Instagram or like them and get connected on Facebook.
– by Manya Koetse
[button link="http://www.twitter.com/whatsonweibo" type="icon" icon="heart" newwindow="yes"] Follow us on Twitter[/button]
©2014 Whatsonweibo. All rights reserved. Do not reproduce our content without permission – you can contact us at info@whatsonweibo.com.
Express VPN Deal This Black Friday / Cyber Monday (China 2019)
Black Friday Alert! Express VPN deal.
We've previously recommended this VPN on What's on Weibo, today we show their best deal for Black Friday and Cyber Monday.
Black Friday is almost here! Black Friday 2019 falls on November 29, with Cyber Monday following on December 2nd. Like with Singles' Day in China, deals often start well before Black Friday and last some days after Cyber Monday, so here we are now.
We're here to list the best deal for our favorite VPN that still works behind the Great Firewall.
First: experiences may differ for everyone, depending on their wifi/4G connections and the devices they use. In order for a VPN to work in China, make sure you have a stable internet connection and always make sure you have the latest version of the VPN app you use.
At What's on Weibo, we have recently had good experiences with both ExpressVPN and KeepSolid VPN Unlimited. When one of them didn't work, the other one did, making it a good pair to purchase.
We previously also had other VPNs on our recommended list, but no longer recommend them because of persisting connection problems in China.
Please take into consideration that over the past months, both of the abovementioned VPNs have also had their share of problems in the PRC every now and then – it happens to the best of them. To be sure to always stay connected, you could consider purchasing multiple VPNs.
KeepSolid currently does not have a Black Friday deal, but if you are looking for another VPN to use- not necessarily for China, but in general, – you can also check out the Black Friday offer by NordVPN; they now offer major discount on their 3-year plan ($3.49 per month + 3 months FREE, $125.64 total = 70% discount); their 2-year plan: $4.99 per month, $119.76 total = 58% discount); and their 1-year plan: $6.99 per month, $83.88 total = 41% discount). Click here for that deal.
This 2019 Black Friday, it is Express VPN that has the best deal on offer, so we will only feature that one here; three months free when you purchase the 12-month plan – which is the 15 month deal for only $6.67 per month (Express VPN usually starts at $12.95 per month).
ExpressVPN, which actually calls itself the "#1 Trusted leader in VPN", is a reliable service with mostly steady connections depending on what location you select. The app has the 'smart location' button that helps you pick the best location to connect to from where you are.
They have excellent service and frequent updates for desktop, mobile, and tablet. Make sure you always update your app, Express will then recommend the best location to connect from, which is super convenient (for now, for example, it's Hong Kong 4, Tokyo 3, and LA 5 that work best).
Express VPN usually offers single month services starting from $12.95/month, and 6-month plans from $9.99/month; with their Black Friday Deal you get three months free with a 12-month ExpressVPN plan to save 49% compared to their usual monthly price. That's 15 months for the price of 12, with a total price of  $99.95 now.
The "30 Days Risk-Free" promise of ExpressVPN makes the barrier to try it out much lower. If you are not satisfied, they'll get you your money back without questions asked.
NB: This post is not a sponsored post. We only recommend VPNs that we've tested and know. These recommendations may, however, include an affiliate link that at absolutely no additional cost whatsoever to you allows What's on Weibo to receive a small percentage in case you purchase the service. (Which also helps a bit to keep our site going, so it's win-win!). Do you think we should recommend another VPN and want to share your experiences? We're open to try it out and add to this list – feel free to contact us.
Spotted a mistake or want to add something? Please let us know in comments below or email us.
©2019 Whatsonweibo. All rights reserved. Do not reproduce our content without permission – you can contact us at info@whatsonweibo.com.
40-Year-Old Woman Completes Shanghai Marathon While 8 Months Pregnant
Pregnant marathon runner Lili clashes with Chinese traditional attitudes towards women who are expecting a baby.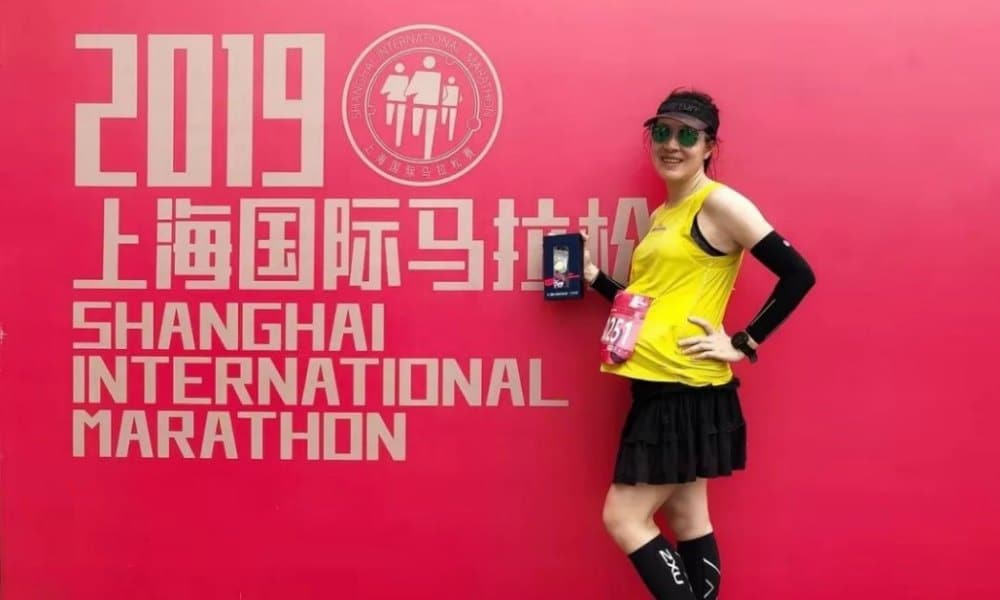 Published
A 40-year-old woman named Li Lili (黎莉莉) became news in China after she ran the Shanghai Marathon last Sunday while 32 weeks pregnant, completing the race in five hours and 17 minutes.
This was the third marathon Li has run during her pregnancy. She ran the first two during week eight (with a time of 3:54:43) and week 22 (with a time of 4:47:58) of her pregnancy.
Lily is an avid runner, having completed 62 marathons during her lifetime. Her story went viral on Weibo under the hashtag "8 Months Pregnant 40-Year-Old Woman Runs Marathon" (#40岁孕妇怀胎8月跑完全马#), which has received over 200 million reads at time of writing.
Her story has ignited debate across Weibo this week regarding the merits and dangers of vigorous exercise during pregnancy. In interviews with the press, however, Li remained defiant in the face of her critics.
"For many people, they are worried about this because they don't understand it," she told video news site Pear Video in an interview.
"Many people have told me it is dangerous. They criticize me, just like they criticized Chen Yihan," she says, referring to Taiwanese actress Ivy Chen (陈意涵) who faced fierce online criticism after posting pictures of herself running while five months pregnant in 2018.
"But most of these critics have never even been pregnant," Li continued: "The fact is, I did this because I have a very deep understanding of my own body. I've run over 60 marathons, I am an extremely good runner. I've run a marathon in 3:28, which is considered an excellent time even for talented athletes, even for men. I have my own training methods, I've been training for a very long time, and have carefully prepared for these marathons."
The reactions to Li's story online have ranged from enthusiastic praise to outright condemnation.
"Wow! I admire how strong she is! It is said that each person knows what is right for them in their own heart. It's none of your business what she does with this unborn hero!" gushes the most popular comment on Pear Video's Weibo post about the story.
But another popular comment argues that marathon running is actually inappropriate for Chinese women in general: "Foreigners running marathons is fine, but this is not for Chinese women. Pregnant Chinese women running marathons is equivalent to them not caring for their children."
The results from a poll put out by Chengdu Economic Daily so far show the majority of readers do not oppose Li's decision to run a marathon, with 54,000 choosing the option "One case cannot represent the whole, it will vary from individual to individual" and 38,000 choosing "Support, if the mother's body is strong enough." Only 17,000 chose the option "Oppose, pregnant women should not engage in vigorous exercise."
Some comments on the poll argued that Li was irresponsible to take part in a marathon, in case something did go wrong: "Problems come up when you least expect them. If it's just you running on your own, that's one thing. But this is a group race. I can't say if it's right or wrong, but it could bring a lot of trouble to other people."
But the majority of popular comments expressed outright support and admiration, or at the very least opposition to Li's critics, telling them to mind their own business.
The support for Li's decision appears to fly in the face of Chinese traditional attitudes towards pregnant women. The list of dos and don'ts for Chinese mothers-to-be is long and complex, ranging from the bizarre (no eating/drinking dark foods so as not to affect the baby's skin color) to the more common (avoiding shellfish).
The belief that pregnant mothers should avoid exertion is high on the list, extending even to the month after birth.
But despite these strong traditions, Li's strength and determination have clearly inspired new support for expectant mothers who wish to continue an active lifestyle while pregnant.
Also read: 'Sitting the Month' – a Gift or Torture?
Also read: Bad Mom To Be? Pregnant Woman Intentionally Trips 4-Year-Old Boy in Baoji
By Jessica Colwell
Follow @whatsonweibo
Spotted a mistake or want to add something? Please let us know in comments below or email us. First-time commenters, please be patient – we will have to manually approve your comment before it appears.
©2019 Whatsonweibo. All rights reserved. Do not reproduce our content without permission – you can contact us at info@whatsonweibo.com.