Humans of Peking – Collecting Beijing's Stories
Humans of Peking is collecting Beijing's stories; it's a website dedicated to the portraits, quotes and short stories from the people living in China's capital. Personal anecdotes and disarming portraits put Beijing's inhabitants in a new perspective; capturing unique intimate moments in a rushed city of millions.
A homeless beggar talking about his future dreams, a young fashionista remembering her traumatic youth or an on-duty policeman boosting about his newborn baby – you might have seen the portraits and short stories of very diverse people as featured on the well-known blog Humans of New York. It inspired Daisy Sun and Katharina Qi to start a similar project in the city they love most: Beijing.
THE URBAN JUNGLE
"Beijing is predictably unpredictable."
Humans of Peking is a website dedicated to collecting the portraits, quotes and short stories from the people living in China's capital. Personal anecdotes and disarming portraits put a new perspective on Beijing's inhabitants; capturing unique intimate moments in a rushed city of millions.
The city currently has over twenty million people inhabitants. The urban scenery is continuously changing. "Beijing is predictably unpredictable," says Daisy Sun: "Buildings are erected as fast as they are demolished, businesses are opening and closing, people are coming and going. However, through all the hustle and bustle, you can still find that one small coffee shop or discover that one charming alley. Beijing is a city full of urban development, yet still holds on to and is filled with years of culture." With Humans of Peking, Sun and Qi play with Beijing's contradictions and versatility; spotlighting the individual within the masses of people. "There is already so much focus on everything that makes us different," Katharina Qi explains: "whether it is in terms of sex, age, ethnicity, gender or religion. With Humans of Peking, we want to capture the moments that make us all human. It is a reminder that in this big city we are all really more alike than we are different."
Humans of Peking does not discriminate. Sun and Qi go out of their way to interview all types of people – especially the ones they see on a daily basis, but hardly interact with, such as the security guard at work or the dry cleaner in the street: "There are so many people we pass by everyday without ever really connecting."
BEIJINGERS WITH A MISSION
"People don't come here for a relaxed lifestyle"
Sun and Qi approach people by simply chatting to them. "People aren't really shy to talk about themselves, and they love to talk about their families. We only later ask them if we can feature them and make a picture. By the time we make the picture, the initial awkwardness is already over."
A city with twenty million individuals, do they have anything in common? "People in Beijing have ambition," Sun states: "So many of them are working towards something. Generally people don't come to Beijing for a comfortable and relaxed lifestyle; they come because they're driven. They're here for personal growth or for setting up their businesses." Now that housing prices have reached a new peak and the job market has become highly competitive, people struggle to make money, get a car, and buy a house, says Sun. Getting settled is important not just for individuals, but for their families too: "Family is always a priority within people's lives here." Instead of worrying about buying property, younger generations often come Beijing to follow their dreams.
CONNECTING PEOPLE
"Step in the Right Direction"
It's also what brought Sun and Qi to Beijing: dreams of living in the big city and curiosity about what Peking life was all about. Qi, who originally is from Henan Province, and Seattle-born Sun met each other in a hutong bar. They both had aspirations to start a website on the people of Beijing. Although they have busy jobs and both volunteer at TEDxBeijing and BarCamp Beijing, they keep their eyes open in order to never miss an opportunity when they're roaming the streets as they could come across someone who is willing to give them a snapshot into their life. "We just love talking to people," they say.
Humans of Peking went live earlier this January (2015). Sun and Qi are determined to turn the site into a success. "We're doing this for fun, but our mission is to connect as many people as possible," Qi says: "We hope people will stop and take a moment to realize how easy it can be to communicate and learn about one another." Since they want to involve as many people as possible with their work, Humans of Peking offers stories both in Mandarin and English. Sun adds: "Currently, a significant amount of our 'humans' are locals, but we would like to hear more stories from foreigners as well, since Beijing is such a diverse city. Hopefully, our blog can also serve as a way for foreigners and locals to better understand each other."
Sun and Qi are positive-minded: "If our work helps bring even just a few more people together, then that's a step in the right direction." It is their ambition, and they are driven. Of course; they're Beijingers now.
You can visit the site Humans of Peking, follow them on Instagram or like them and get connected on Facebook.
– by Manya Koetse
[button link="http://www.twitter.com/whatsonweibo" type="icon" icon="heart" newwindow="yes"] Follow us on Twitter[/button]
©2014 Whatsonweibo. All rights reserved. Do not reproduce our content without permission – you can contact us at info@whatsonweibo.com.
Blazing Memories: About the Comparison of the Notre Dame Fire to the Burning of the Old Summer Palace (Op-Ed)
Understanding why the Yuan Ming Yuan went trending in China after the Notre Dame fire.
First published
A What's on Weibo news article on Chinese online responses to the Notre Dame fire attracted very mixed reactions on English-language social media this week.
After the fire at the Notre Dame in Paris earlier this week, What's on Weibo published an article describing Chinese online responses to the devastating blaze, and the ubiquitous comments that compared the destruction of the iconic French cathedral to the burning of the Chinese Old Summer Palace (Yuan Ming Yuan) in Beijing by the Anglo-French army in 1860.
There have been many reactions to this story on various social media platforms. From one side, there were those who questioned why we would even publish an article like that, suggesting that our position in covering this trend was biased. On the other side, there were those who jumped into the discussion, blaming Chinese for playing the victim and ignoring the destruction of old historical buildings or Mosques within their own country over recent years.
The reactions to this article and overall trend show the polarized stances on social issues and media in China, and how to cover them. Some suggested that it was not fair to write down the "negative social media opinions of a few Chinese commenters," saying that it "reflected badly" on China overall, or that they were "irrelevant."
Covering the voices of a few dozen 'trolls' and presenting them as an 'overall sentiment' is not what we do at What's on Weibo.
Some people pointed out that the comparison of the Notre Dame blaze to the burning of the Old Summer Palace was not something that most Chinese agreed with. As also covered in our article, there were indeed many commenters, including historians and Key Opinion Leaders, who opposed to the Yuan Ming Yuan trend in light of the Notre Dame fire.
The fact of the matter still is that the Old Summer Palace became a massive topic of online debate following the Notre Dame fire. Ignoring such a trend in covering Weibo responses to the tragic Paris incident would be a huge blind spot problem.
Instead of condemning these Chinese online responses, ignoring they are there, or trivializing their relevance, it is perhaps more constructive to consider where they come from, and understanding that the history of the Old Summer Palace is still deeply ingrained in the collective memory of the Chinese people and nation.
Before further elaborating on this, let's first go back to the trend itself.
From Notre Dame to Yuan Ming Yuan
As news of the catastrophic fire that engulfed the Notre Dame Cathedral (巴黎圣母院) in Paris on Monday made headlines across the world, the Old Summer Palace (Yuan Ming Yuan 圆明园) suddenly became a trending topic on Chinese social media.
Besides all the people who mourned the destruction of the historic cathedral, and those who posted photos of their previous visits to the scenic spot, there were many Chinese netizens who started addressing the plundering and burning down of the Yuan Ming Yuan ("Garden of Perfect Brightness") in 1860, leading to the Notre Dame and the Old Summer Palace becoming top trending topics on Weibo at the same time.
On April 18, WeChat self-media account Fang Zhouzi (方舟子) wrote about the reaction: "On Chinese internet, a peculiar response started to emerge, as many people suddenly started remembering the burning of the Yuan Ming Yuan by the Anglo-French forces 159 years ago, and thereupon saying that the Notre Dame deserved to be burned."
It is unclear who first drew a comparison between the Notre Dame and the Yuan Ming Yuan, but on April 16, actor Zhou Libo (周立波) wrote on Weibo that "compared to the Yuan Ming Yuan, the Notre Dame is just a garden." A former editor at the Phoenix News Military Channel, Jin Hao (金昊), also published an article on WeChat titled "Mourning it, my ass! I'm pleased with the big fire at Notre Dame" ("哀悼个屁!巴黎圣母院大火,我很欣慰!") (since deleted).
On other social media sites, such as Douban, people also started posting blogs with titles such as "the Notre Dame collapse makes me think of the Old Summer Palace" ("巴黎圣母院的倒塌让我想起了圆明园").
An exploration of search queries on Chinese search engine Baidu shows that at the time when 'Notre Dame' peaks as a query on April 16, so does the term 'Yuan Ming Yuan.' Similarly, on Google Trends, the Chinese query 'Notre Dame' shows the Yuan Ming Yuan Park as the number two related topic in its overview of the past week.
At time of writing, there are dozens of pages on Weibo filled with comments relating to the Notre Dame/Old Summer Palace comparison. We won't list many of them here, but some of the comments include reactions such as: "Now you can also experience how it feels when art and culture are burned," "I might have a narrow sense of patriotism, but seeing the Notre Dame burn makes me happy inside," and "even a hundred Notre Dames still don't make the Old Summer Palace," with many netizens claiming that the loss of the Old Summer Palace was just as bad, or rather worse, than the destruction of the Notre Dame.
These collective responses to the Notre Dame fire also drew much criticism. State media outlet CCTV published an article that condemned the comparison of the Notre Dame and the Old Summer Palace, stating that people "should not vent their emotions in the name of history" (Li Xuefei 2019).
Various other news channels also published critique, including one article titled "The Notre Dame fire as retribution for the burning of Yuanmingyuan? Please stop this inhumane line of reasoning" ("巴黎圣母院大火是烧圆明园的报应?快停下反人类思维").
As covered in our previous write-up, there were also many voices on Weibo denouncing the trend. One of them was Yan Feng (严锋), a professor at Fudan University, who posted:
"The Notre Dame cathedral was constructed in 1163, the Yuan Ming Yuan was destroyed in 1860. The people who burned the Yuan Ming Yuan were not the people who built the Notre Dame of Paris. They were separated by 700 years. The French feudal separatists were in no way French according to modern-day standards. Every injustice has its perpetrator and every debt its debtor, why should you let the Notre Dame bear the responsibility of burning down the Yuan Ming Yuan?"
"First of all, we are people, then we are Chinese," another popular comment said: "The loss of such a historical cultural gem is a loss for all mankind."
Collective Memories of Yuan Ming Yuan
In October of 1860, British and French troops sacked and burned the Old Summer Palace, which was once a massive complex consisting of more than a hundred buildings, pavilions, and scenic spots, built since the 17th century for the Qing emperors.
The event took place at the end of the Second Opium War. Unsatisfied with the Treaty of Nanjing and, among others, demanding more Chinese cities and ports to open for trade, the Anglo-French army invaded Beijing in 1860. They plundered the Yuan Ming Yuan, which was filled with books and art treasures. The burning came afterward, to destroy the evidence of their looting. The fire blazed for three days and three nights, leaving the enormous palace grounds in ruins (Chey 2009, 79).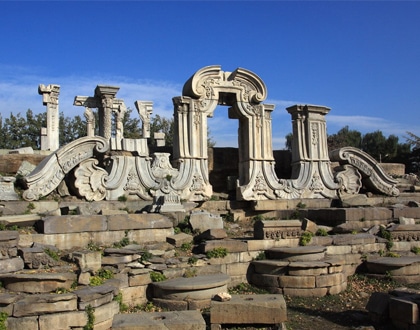 The site of the once magnificent Old Summer Palace is now the Yuanmingyuan Ruins Park, an initiative that was set up in the 1980s after decades of neglect. In "The Ruins of Yuanmingyuan," Haiyan Lee calls the site a "national wound" (2009). It is a symbolic space, where the ruins remind visitors of the injustice China once suffered at the hands of Western powers.
This injustice is an important incident in China's so-called "Century of Humiliation," the time from the mid-1800s to the mid-1900s during which China was attacked, weakened, and torn by foreign forces.
The "Century of Humiliation" still plays an important role in China today, as young people are also taught that this historical consciousness is important. The four character slogan "Wù wàng guóchǐ" (勿忘国耻), "Never forget national humiliation", is frequently repeated in Chinese media, museums, schools, documentaries, and in popular culture.
As described in the insightful work by Zheng Wang, Never Forget National Humiliation, the historical memory of China's era of humiliation has become part of Chinese national identity, promoted in official discourse, and often unconsciously yet profoundly influencing people's perceptions and actions. This is also what collective memory is: an accumulation of memory-forming processes that take place on both conscious and non-conscious levels (Koetse 2012, 10).
The Yuan Ming Yuan Park is a particularly significant cultural heritage site where the remembrance of the humiliations and injuries China suffered at the hands of foreign imperialists comes to life through the ruins (Lee 2008, 169).
Blazing Memories
Collective memory and nations are tied together in many ways, as historical memories serve as an important vehicle to unify the nation. They also play an important part in how people from different communities, societies, or nations will interpret big or important events that happen in the world today.
When certain news makes headlines, it is not uncommon for people to reflect on it speaking from their own experiences and the collective memory of their own nation or bigger community – especially when the place where it happens is far removed from them.
This is not unique to China. To grasp, process, and comment on faraway incidents, it is sometimes easier to relate it to something that is closer to you.
Former American first lady Michelle Obama visited Paris earlier this week for her book tour, and told the audience about how shocked she was about the Notre Dame blaze, briefly comparing the incident to the devastating American 9/11 attacks.* Does it make sense to compare the burning of the Notre Dame to the 9/11 attacks? Perhaps not. Yet Obama was not the only one to raise the 9/11 events; some on Twitter even called the burning of the Notre Dame "a cultural 9/11" disaster.
Seeing the overwhelming responses to the Notre Dame fire on Chinese social media, where so many people linked it to Chinese history, the reaction perhaps should not be whether these online responses and media discussions were either 'good' or 'bad' – instead, it is important to understand where they come from, and how people from various backgrounds, cultures, or religions, often use their own cultural or social frameworks, historical narratives, and dominating ideas to make sense of what is happening around them.
As the Notre Dame trend on Chinese social media shows, but what's beyond the scope of this article, is that the mechanisms of online nationalism and anti-foreign sentiments often also come into play once these memory-machines start running.
In the end, the Notre Dame fire actually has nothing to do with the history of the Old Summer Palace. But the news of the Notre Dame blaze was enough reason for many Chinese netizens to trigger and bring up this memory of Chinese suffering that still exists in the minds of the people today.
Instead of condemning that, or trivializing news reports on these trends, one could try to understand it, and then see it as a completely separate issue from the Notre Dame fire – as many people on Weibo also do.
By Manya Koetse
Recommended reading:
References
Fang Zhouzi 方舟子. 2019. "巴黎圣母院和圆明园有什么关系?" April 18, Fang Zhouzi / Self-Media WeChat link[4.18.19].
Koetse, Manya. 2012. "The 'Magic' of Memory. Chinese and Japanese Re-Remembrances of the Sino-Japanese War (1937-1945)." Research Master thesis, Leiden University.
Lee, Haiyuan. 2009. "The Ruins of Yuanmingyuan – Or, How to Enjoy a National Wound." Modern China 35 (2): 155-190.
Li Xuefei 李雪菲. 2019. "巴黎圣母院火灾怎能与火烧圆明园混为一谈 狭隘的民族主义可休矣." April 16, CCTV,Sina News https://finance.sina.com.cn/roll/2019-04-16/doc-ihvhiqax3118848.shtml [4.18.19].
Ong, Siew Chey. 2009. China Condensed: 5, 000 Years of History & Culture. Singapore: Marshall Cavendish International.
Weatherley, Robert D., and Ariane Rosen. 2013. "Fanning the Flames of Popular Nationalism: The Debate in China over the Burning of the Old Summer Palace." Asian perspective 37(1):53-76.
Zheng Wang. 2012. Never Forget National Humiliation: Historical Memory in Chinese Politics and Foreign Relations. New York: Columbia University Press.
* Segment on Michelle Obama in Paris from Dutch "Talkshow M" of April 17th, 36.00 min.
Spotted a mistake or want to add something? Please email us.
©2019 Whatsonweibo. All rights reserved. Do not reproduce our content without permission – you can contact us at info@whatsonweibo.com.
Chinese Actor Zhao Lixin Banned from Weibo over Comments on Second Sino-Japanese War
The actor was banned for "downplaying" the Japanese aggression in China during the Second Sino-Japanese War.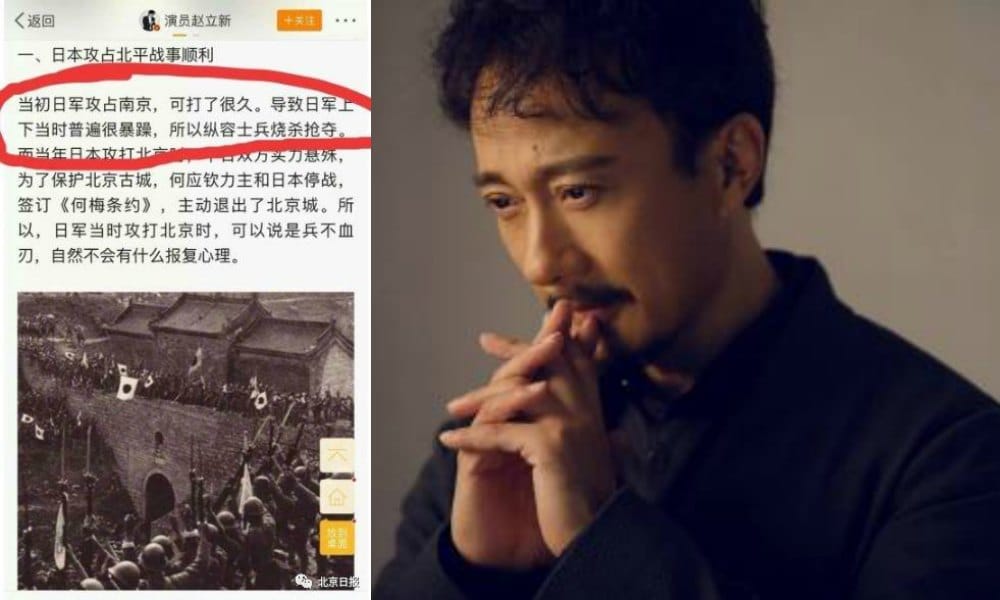 Sina Weibo issued a statement on April 16 that the Weibo account of the Chinese-Swedish actor Zhao Lixin has been terminated following remarks he made about Japan's invasion of China and the Second Sino-Japanese War.
The Weibo account of Zhao Lixin (赵立新, 1968) has been closed after the Chinese-Swedish actor made controversial comments on the Second Sino-Japanese War.
On April 2nd, Zhao Lixin, who had more than 7 million followers, posted a message on Weibo that questioned why the Japanese military did not pillage and destroy the Beijing Palace Museum during the Second Sino-Japanese War:
"The Japanese occupied Beijing for eight years. Why didn't they steal relics from the Palace Museum and burn it down [during that time]? Is this in line with the nature of an invader?"
The actor also commented on the Nanjing Massacre of 1937, suggesting that it was a consequence of Chinese resistance to the Japanese invasion.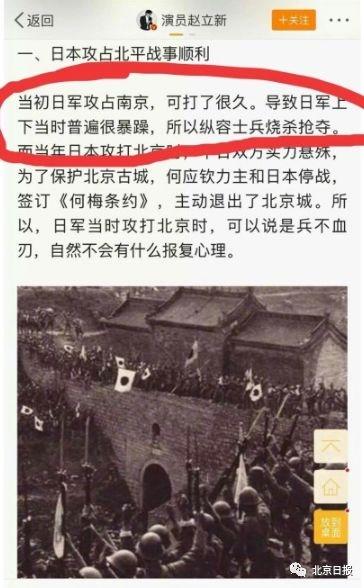 Zhao's post led to much controversy in early April, followed by a lengthy apology statement from the actor on April 3rd, in which he said he did not phrase his comments carefully enough and that he was remorseful over the storm of criticism he had ignited. His controversial Weibo post was soon taken offline.
Many people were mostly angered because they felt Zhao's comments "defended" the Japanese invaders. "Zhao's permit to work in China should be terminated forever!", some commenters posted on Weibo.
The Second Sino-Japanese War is still a highly sensitive topic in China today, with anti-Japanese sentiments often flaring up when Japan-related topics go trending on Chinese social media.
The 'Nanjing massacre' or 'Rape of Nanjing' is an especially sensitive topic within the history of the Second Sino-Japanese War, also because some Japanese politicians and scholars consistently deny it even happened, heightening the tension between the two countries. For a Chinese celebrity to seemingly 'downplay' the aggression and atrocities committed by Japanese invaders in the 1937-1945 period is therefore highly controversial.
Despite Zhao's apologies, Sina Weibo issued a notice on April 16 "Relating to Harmful Political Information" (关于时政有害信息的处理公告), stating that the account of Zhao Lixin, along with some others, had been closed for spreading this kind of information.
The hashtag relating to Zhao's social media suspension received more than 57 million views on Weibo today.
"It's good that his account was taken down," a popular comment said: "It's insulting our country." Others said that Zhao should not have posted something that is "out of line" "considering his position as an actor."
Zhao Lixin is mainly known for his roles in TV dramas such as The Legend of Mi Yue, Memoirs In China, and In the Silence.
Zhao is not the first KOL (Key Opinion Leader) to have been banned from Weibo after making controversial remarks relating to China's history. In 2016 the famous entrepreneur Ren Zhiqiang disappeared from Weibo after publishing various posts on his experience with communism in the past, and the status quo of media in China.
By Manya Koetse , with contributions from Miranda Barnes
Spotted a mistake or want to add something? Please email us.
©2019 Whatsonweibo. All rights reserved. Do not reproduce our content without permission – you can contact us at info@whatsonweibo.com.