"I Decided Not To Learn English Anymore" Video Goes Viral on Chinese Social Media
"The 'not learning English anymore' part actually means she is no longer pursuing the cultural identity behind the language."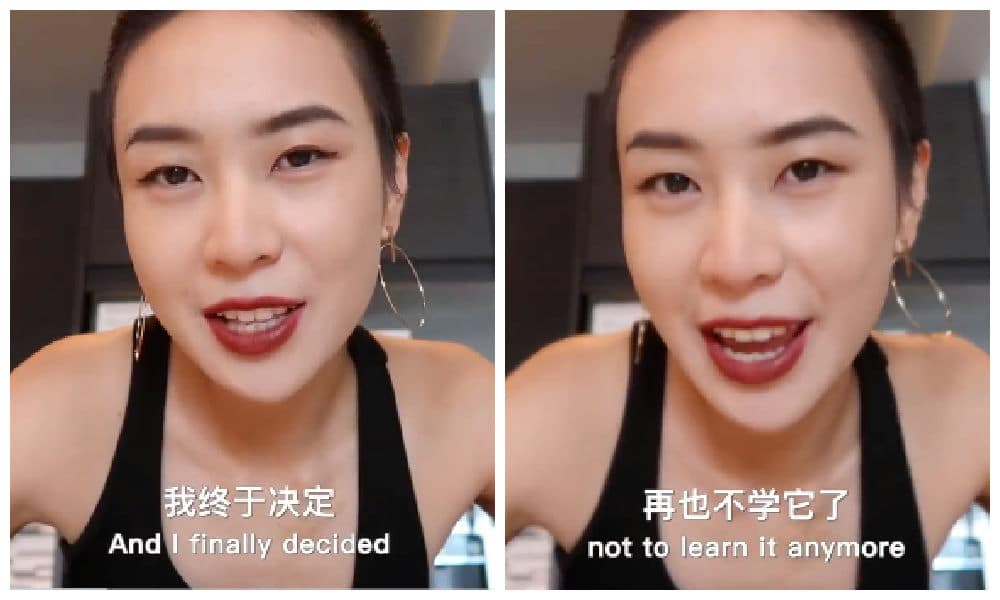 A video in which a Chinese Harvard student shares how she wants to "stop trying to learn English" has gone viral on Chinese social media. While some blame the student for flaunting her privilege, others said the video actually inspires them to study more English.
"Today is September 1st, 2022. The 20th anniversary of me learning English. And I finally decided not to learn it anymore." This is the beginning of a 7-minute video posted on social media by the Chinese vlogger 'Tatala' (@他塔拉).
The video, which Tatala says was submitted as an assignment for a Harvard course on Language & Equality, received over 122,000 likes and the hashtag "When You Decide Not to Learn English Anymore" (#当你决定以后不学英语#) garnered over 110 million views on Weibo over the past few days.
Although the 24-year-old vlogger is critical of how she is perceived as a Chinese non-native English speaker – claiming she will 'stop trying' to learn the language, – she is receiving a lot of backlash from netizens who say she is unaware of her own privilege.
In the video, Tatala says she has always been a good student of English, but that she has never been satisfied throughout her language-learning journey. In the video, she gives multiple examples of how her confidence was affected during the process of studying English.
"I have my name, in my language, that you didn't even try to enunciate."
In primary school, Tatala says, her American teacher randomly gave her the name 'Wency', which she found hard to pronounce due to the northern Chinese dialect she grew up speaking. She ended up pronouncing 'Wency' as 'Vency', after which her teacher corrected her again and again: "You are not Vency. You are Wency!" Tatala says: "But he never realized that I was not even Wency. I have my name, in my language, that you didn't even try to enunciate."
In middle school, Tatala continued to get high grades in English and she traveled to Britain where she was invited for brunch by a friend, who asked if she preferred ham or turkey. When Tatala asked her friend "what's the difference?", she was laughed at by her friend and their mum, who then proceeded to explain the difference between a pig saying 'oink oink' and a turkey saying 'clunk clunk.' Tatala explains: "I just didn't know the vocabulary. It's not that I'm too stupid to recognize animals."
Although Tatala says her confidence in speaking English peaked during high school, it vanished once she became an international student in Australia, where she had great difficulties understanding what local people were talking about. When she struggled to comprehend English-language works by authors such as Bourdieu or Butler, she worked harder and got high grades, but she was still not satisfied and started dreading her studies.
Tatala then explains: "I realized something went wrong when I took a course called 'Women in Chinese Literature' where all the readings were translated from Chinese to English. I read the Chinese version – three chapters per hour – and my Australian classmates read the English version – one chapter a day. Some of them reported the course being too hard and some dropped out, because they did not understand the context behind the words. But that's what I felt for every single class here."
"Even if I am just not perfect at English, so what? This is my second language."
Tatala's 'light bulb' moment was when she realized that it was not necessarily her level of English that determined how difficult or easy her life was, but so many other factors relating to language: "Native speakers found their lives easier not because their English is better than mine, it is because they had the 'good fortune' to be raised in environments where their native language acquisition coincides with the dominant linguistic group," Tatala says, explaining that she blamed everything on language alone while the barriers she faced also had to do with her own confidence level, communication skills, and the prejudices of others.
Tatala suggests that when someone feels attacked on how they use language, they might feel attacked as a person since their language is also a part of their identity. At the same time, people also judge others and draw conclusions about their background, personality, or intentions solely based on language knowledge, dialect, or how they use a single word.
Tatala's conclusion is that her use of English is not a result of her not speaking "perfect English" but just a "plurality of [her] identity." Although she mentions she got into Harvard, she says she is determined to "stop learning English" and to just use language as a "tool" instead.
She says: "Even if I am just not perfect at English, so what? This is my second language. This is the lingua franca I was pushed to learn. No matter how well or how bad I speak English, I will have my voice. Ethic minority, Chinese, Asian, I will have my serpent's tongue, my woman's voice, my international student's voice, my influencer's voice – I will overcome the tradition of silence."
Tatala's video triggered online discussions on Weibo on learning English, but perhaps in a different way than Tatala might have expected it to.
Since Tatala's English level is so high, and she is an Ivy League student, many people do not relate to the struggles she encountered when speaking English at her level. On the contrary, many just hope to reach such a level of English that they would be able to face these kinds of struggles at all.
"Since you decided not to study English in the future, why don't you drop out of Harvard and come back?"
"After watching this video, I decided I want to try my best to study English, improve my vocabulary and speaking skills, and I will try to get 8.5 in the IELTS, so that one day I can help foreigners by giving directions, eat turkey sandwiches in the UK, listen to the small talk of students in Australia, confidently do international work, and use my proficient English to reflect on culture and language hegemony. But I realize it is very unlikely for me to attain that goal in my lifetime."
"I watched her video and gosh, what can I say, it's like those experts suggesting it's better to buy a house than to rent one," another blogger says, suggesting Tatala is too privileged to see that many people do not have the luxury to stop studying English because of linguistic hegemony.
"Since you decided not to study English in the future, why don't you drop out of Harvard and come back?" another Weibo user wrote.
There were also people defending Tatala, suggesting that her point was not to discourage others from studying English: "What she expresses in the video is to use English as 'a tool' and not to reject a person because you reject their language," one commenter wrote, with one netizen adding: "The 'not learning English anymore' part actually means she is no longer pursuing the cultural identity behind the language."
Another person posted: "Some of the people here either have problems understanding or they just have bad intentions. 'Not learning English anymore' was just an opening line, what the vlogger is conveying here is the prejudice and discrimination in linguistics, which is a common phenomenon in the context of American culture. Ofcourse, we can't deny the 'privilege' of the vlogger, but this doesn't change the fact that she has come up with though-provoking content."
"She is saying you should have pride in your mother tongue, she is not really saying you should not learn English. She's at Harvard – ofcourse that's not what she's gonna say."
Other Weibo users said that they felt that Tatala should not have used a 'clickbait' title for a video that discusses cultural confidence. "It's just awkward that this has even become a trending topic," one person wrote.
"Not learning English or another foreign language is just unacceptable, especially for students who are still in school. But since our requirements are different, the levels we reach in speaking a foreign language will be different. Because of different cultures and upbringings, we will inescapably have communication barriers between us and native speakers. But we must try hard, because it is always good to have a greater understanding of other cultures and customs. Just don't be too demanding."
You can watch Tatala's video here.
By Manya Koetse 
Get the story behind the hashtag. Subscribe to What's on Weibo here to receive our weekly newsletter and get access to our latest articles:
Spotted a mistake or want to add something? Please let us know in comments below or email us. First-time commenters, please be patient – we will have to manually approve your comment before it appears.
©2022 Whatsonweibo. All rights reserved. Do not reproduce our content without permission – you can contact us at info@whatsonweibo.com.
U.S. Embassy Launches WeChat Stickers Featuring Cartoon Eagle
A Weibo hashtag about the eagle stickers, that feature some phrases previously used by China's Foreign Ministry, has now been taken offline.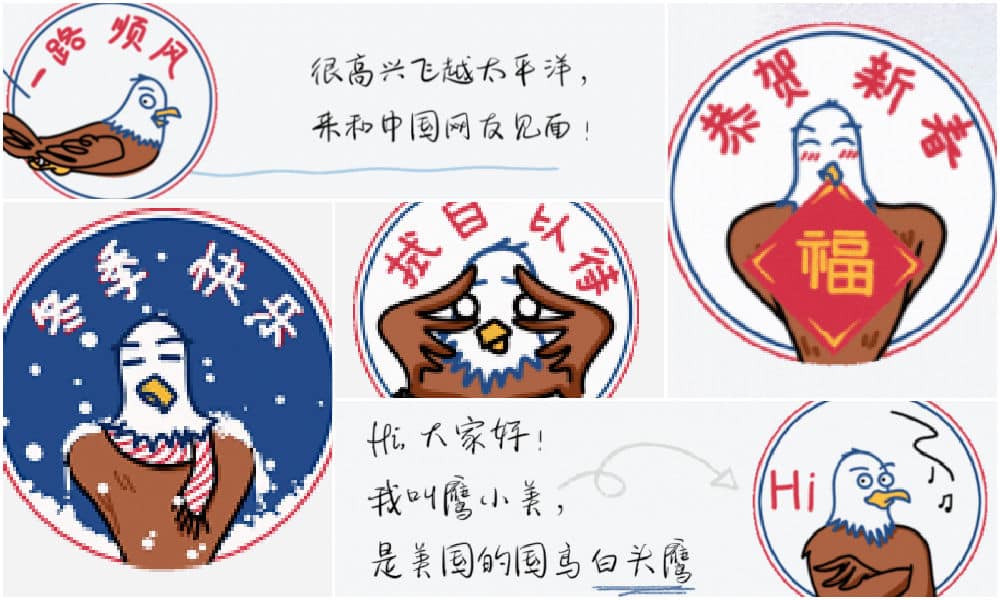 On January 30, the American Embassy in China announced the launch of its very own series of social media gifs, a special 'emoticon collection' (表情包), featuring a little, somewhat silly cartoon eagle.
The U.S. Embassy launched the eagle series on WeChat and also announced the series on their Weibo account, writing that the eagle made its first public appearance in light of the festivities surrounding the Chinese New Year.
The eagle is called "Xiaomei" or "Little Mei" (鹰小美). The 'mei' is part of 美国 Měiguó, Chinese for the 'United States,' but měi also means beautiful and pretty.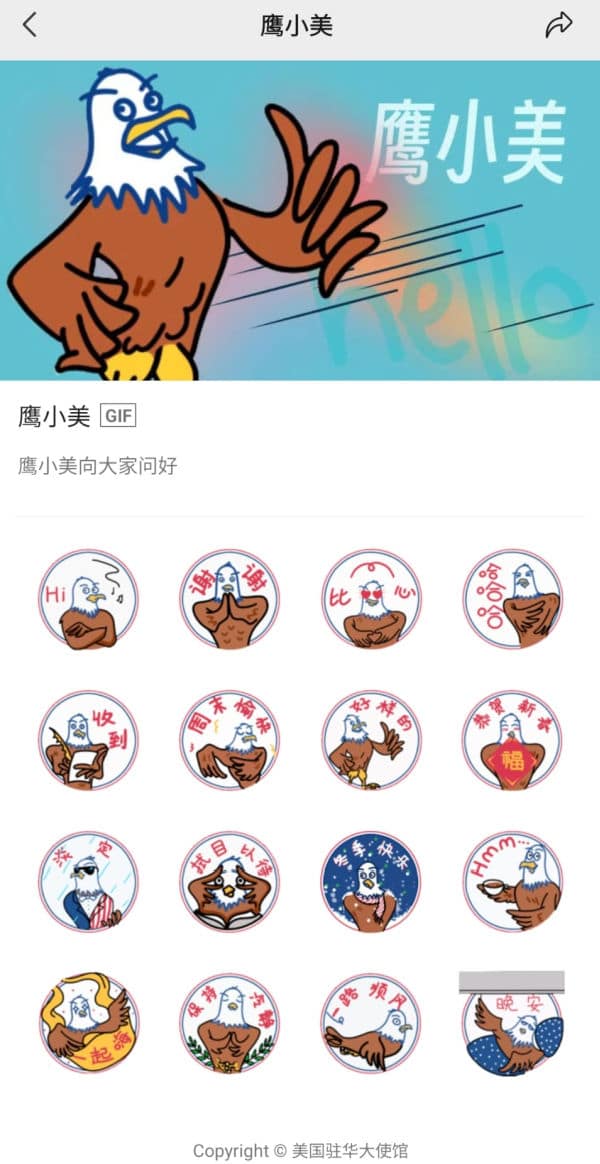 The American embassy issued a total of 16 different animated stickers, and they're intended to be used on Tencent's WeChat, where users can download all kinds of different emoticons or stickers to use in conversations.
WeChat users often use many different animated stickers in conversations to express emotions, make jokes, or increase the festive mood (by sending out celebratory New Year's or birthday etc gifs). Users can download new and preferred sticker packages through the app's sticker section.
One sticker shows Xiaomei with a festive decoration with 福 (fú) for blessing and prosperity, wishing everyone a happy start to the Chinese Lunar New Year. There are also stickers showing the texts "happy winter," "hi," and "thank you."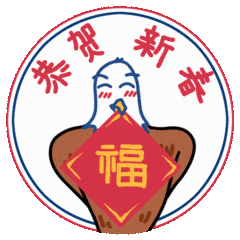 Another sticker in the series that has triggered some online responses is one that shows the eagle with a surprised look, wiping its eyes, with the words "wait and see" written above. The Chinese expression used is 拭目以待 shìmù yǐdài, to eagerly wait for something to happen, literally meaning to wipe one's eyes and wait.
This same expression was often used by the Chinese Foreign Ministry spokesperson Zhao Lijian (赵立坚) during press conferences, and he also used it in 2022 when responding to questions related to Nancy Pelosi's controversial visit to Taiwan and how the Chinese military would respond (e.g. he first used "wait and see" in the context of waiting to see if Pelosi would actually dare to go to Taiwan or not). But Zhao also used "please wait and see" (请大家拭目以待) when foreign reporters asked him how China would respond to the announced U.S. boycott of the Winter Olympics in 2021.
The Little Mei emoji triggered the most responses as some netizens felt it was meant as a sneer to the Chinese Foreign Ministry.
One of Little Mei's quotes is also "remain calm" (保持冷静 bǎochí lěngjìng), which was – perhaps coincidentally – also often used by Zhao in the context of the war in Ukraine and to refer to other international conflicts or tensions ("all parties should remain calm"). The animated sticker also has olive branches growing behind the eagle.
It recently became known that Zhao, who became known as the 'Wolf Warrior' diplomat, was removed as the Foreign Ministry spokesperson and was moved to the Department of Boundary and Ocean Affairs.
Especially in the context of Zhao leaving his post, some wondered why the U.S. Embassy would use phrases related to his press conferences for their new emoticons.
Although some people suggested the WeChat stickers were not launched in China with good intentions, others appreciated the humorous visuals and felt it was funny. Some also joked that America was infiltrating Chinese social media with its cultural export ("文化输出"), and others wondered if they could not also introduce some other stickers with more Chinese Foreign Ministry popular phrases on them.
A hashtag related to the topic made its rounds on Weibo on Tuesday (#美驻华大使馆上线鹰小美表情包#), but the topic suddenly was taken offline on Tuesday evening local time, along with some of the media reports about the remarkable WeChat series.
The WeChat stickers are still available for downloading by scanning the QR code below through WeChat.
By Manya Koetse , with contributions by Miranda Barnes
Get the story behind the hashtag. Subscribe to What's on Weibo here to receive our newsletter and get access to our latest articles:
Spotted a mistake or want to add something? Please let us know in comments below or email us. First-time commenters, please be patient – we will have to manually approve your comment before it appears.
©2023 Whatsonweibo. All rights reserved. Do not reproduce our content without permission – you can contact us at info@whatsonweibo.com.
Video Shows Real-Time "Departure" Information Board at Chinese Crematorium
From "cremation in process" to "cooling down," the digital display shows the progress of the cremation to provide information to those waiting in the lobby. The crematorium 'departure' board strikes a chord with many.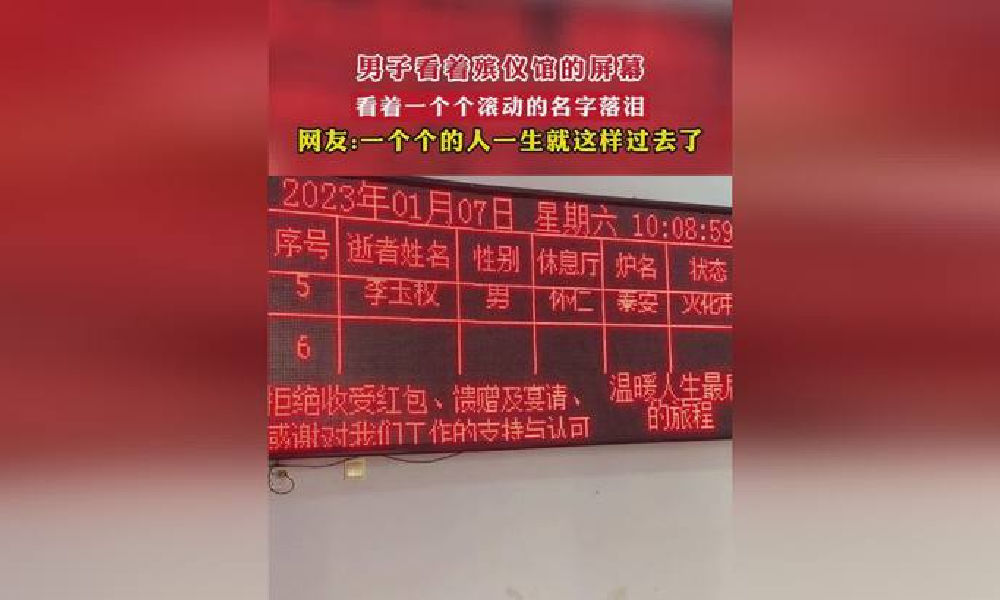 A video showing a live display screen announcing the names and status of the deceased at a Yunnan crematorium has been making its rounds on Chinese social media, from WeChat to Weibo, where one version of the video received over 1,7 million views.
Somewhat similar to a real-time platform departure display on train stations, the screen shows the waiting number of the deceased person, their name, gender, the name of the lounge/room (if any) for families, the name of the crematorium chamber, and the status of the cremation process. Below in the screen, it says "the final journey of a warm life" (温暖人生的最后旅程).
For example, the screen displays the names of a Mr. Chen and a Mr. Li; their bodies were in the process of being cremated (火化中), while other cremations were marked as "completed" (完成) or "cooling down" (降温中).
This video of a real-time "departure" information board in the lobby of a Chinese crematorium is making its rounds on Weibo/Wechat these days. The display shows the name and gender of deceased, which cremation chamber, and the cremation status to inform families of the progress. pic.twitter.com/EA94OWGwdk

— Manya Koetse (@manyapan) January 16, 2023
Through such a screen, located in the crematorium lobby, family members and loved ones can learn about the progress of the cremation of the deceased.
The video, recorded by a local on Jan. 7, received many comments. Among them, some people commented on the information board itself, while others simply expressed grief over those who died and the fragility of life. Many felt the display was confronting and it made them emotional.
"It makes me really sad that this how people's lives end," one commenter said, with another person replying that the display also shows you still need to wait in line even when you're dead.
"I didn't expect the screens [in the crematorium] to be like those in hospitals, where patients are waiting for their turn," another Weibo user wrote. "It would be better if the names were hidden, like in the hospitals, to protect the privacy of the deceased," another person replied.
Others shared their own experiences at funeral parlors also using such information screens.
"My grandfather passed away last September, and when we were at the undertaker's, the display was also jumping from one name to the other and we could only comfort ourselves knowing that he was among those who lived a relatively long life."
"Such a screen, it really makes me sad," another commenter from Guangxi wrote, with others writing: "It's distressing technology."
Although the information screen at the crematorium is a novelty for many commenters, the phenomenon itself is not necessarily related to the Covid outbreak and the number of Covid-related deaths; some people share how they have seen them in crematoriums before, and funeral parlor businesses have used them to provide information to families since at least 2018.
According to an article published by Sohu News, more people – especially younger ones – have visited a funeral home for the first time in their lives recently due to the current Covid wave, also making it the first time for them to come across such a digital display.
The online video of such an information board has made an impact at a time when crematoriums are crowded and families report waiting for days to bury or cremate their loved ones, with especially a large number of elderly people dying due to Covid.
On Jan. 4, one social media user from Liaoning wrote:
"I really suggest that the experts go to the crematoriums to take a look. There is no place to put the deceased, they're parked outside in temporary containers, there's no time left to hold a farewell ceremony and you can only directly cremate, and for those who were able to have a ceremony, they need to finish within ten minutes (..) At the funeral parlor's big screen, there were eight names on every page, and there were ten pages for all the people in line that day, I stood there for half an hour and didn't see the name of the person I was waiting for pop up anymore."
As the video of the display in the crematorium travels around the internet, many commenters suggest that it is not necessarily the real-time 'departure' board itself that bothers them, but how it shows the harsh reality of death by listing the names of the deceased and their cremation status behind it. Perhaps it is the contrast between the technology of the digital display boards and the reality of the human vulnerability that it represents that strikes a chord with people.
One blogger who reposted the video on Jan. 13 wrote: "Life is short, cherish the present, let's cherish what we have and love yourself, love your family, and love this world." Among dozens of replies, some indicate that the video makes them feel uncomfortable.
Another commenter also wrote:
"I just saw a video that showed an electronic display at a crematorium, rolling out the names of the deceased and the stage of the cremation. One name represents the ending of a life. And it just hit me, and my tears started flowing. I'm afraid of parting, I'm afraid of loss, I just want the people I love and who love me to stay by my side forever. I don't want to leave. I'm afraid I'll be alone one day, and that nobody will ever make me feel warm again."
One person captured why the information board perhaps causes such unease: "The final moments that people still spent on this earth take place on the electronic screen in the memorial hall of the funeral home. Then, they are gone without a sound."
Get the story behind the hashtag. Subscribe to What's on Weibo here to receive our newsletter and get unlimited access to all of our articles:
By Manya Koetse 
with contributions by Zilan Qian
Spotted a mistake or want to add something? Please let us know in comments below or email us. First-time commenters, please be patient – we will have to manually approve your comment before it appears.
©2023 Whatsonweibo. All rights reserved. Do not reproduce our content without permission – you can contact us at info@whatsonweibo.com.