Did This TikToker Find Unseen Nanjing Massacre Photos? Regardless, Chinese Netizens Want the World to Know about 1937
Although it is yet unclear if the photos are authentic, Chinese netizens just want the world to know more about the Nanjing Massacre.
Did an American pawn shop owner find unseen photos of the Nanjing Massacre? As his Tiktok video is going viral online, Chinese netizens are shocked to find how little Western social media users know about what happened during the Japanese invasion of Nanjing in 1937. They hope the video helps strengthen international awareness on the 'Rape of Nanjing'.
Over the past week, an American TikTok video has attracted the attention of Chinese netizens. On September 1st, Minnesota pawn shop owner Evan Kail, who runs the Pawn Master Kail (@pawn.man) Tiktok account, turned to his followers and asked for help in a video after coming across an old photo book that he believed contained extremely rare and unseen photos of the Nanjing Massacre.
Kail also posted some of the photos from the book on his Twitter account (viewer discretion advised).
Some photos from the tiktok about the Rape of Nanjing that I could not publish on that platform — pic.twitter.com/ew7mAmq6cz

— Evan Kail (PAWN MAN) (@EvanKail) September 1, 2022
The so-called Nanjing or Nanking Massacre (南京大屠杀, also known as the 'Rape of Nanjing') happened during the Second Sino-Japanese War (1937-1945) – which became part of WWII in 1941 after Pearl Harbor – and refers to the mass murder of Chinese civilians by Japanese invaders during a six-week period from December 13, 1937, to January 1938.
According to China's official data, at least 300,000 residents, including children and elderly, lost their lives during the massacre that became the most notorious Japanese atrocity of the Second Sino-Japanese War. In October 2015, UNESCO added Nanjing Massacre historical documents to its Memory of the World Register.
In his September 1st video, the pawn shop owner Evan Kails says: "This is the most disturbing thing I've ever seen in my career and I desperately need your help (..) Had a customer reach out and they told me they had this old book of photos from WWII. It's been in their family for a while and they wanted me to try and sell it."
Kail then explains the book is by a soldier who was stationed in South East Asia around 1937-1938 and who allegedly photographed life in China and other countries. The album includes a series of war-related images that Kail claims are too shocking to share with his followers ("worse than anything I have seen on the Internet") and which he believes were taken during the Japanese invasion of Nanjing in 1937.
The pawn shop owner said he believes that these photos "need to be seen, documented, and preserved" and asked his followers to share his video as widely as possible, hoping that the appropriate channels, such as museums, could contact him.
Shortly after, Kail's video was also shared on Chinese social media. The U.S.-based Weibo user RuruRin, who has more than one million followers, posted the video on Thursday afternoon with Chinese subtitles, after which it quickly became a top trending topic on Weibo.
Many Chinese social media users mentioned and tagged the official Weibo account of The Memorial Hall of the Victims in Nanjing Massacre by Japanese Invaders, which is a Nanjing-based museum to memorialize those who were killed in the Nanjing Massacre. About three hours later, the official Weibo account of the museum responded and stated that they had seen the post, and had attempted to contact Kail to verify the information.
The video shared by RuruRin so far has received nearly 300,000 likes and thousand of comments on Weibo. The hashtag "Foreign netizen May Have Discovered Color Photos of the Nanjing Massacre" (#国外网友或发现南京大屠杀彩照#) appeared on the trending list of Weibo and climbed to the second position by late night of September 1. By Sunday, it had received over 960 million clicks.
While there is still doubt regarding the authenticity of the photos, many Chinese Weibo users suggest that if the photos are authentic, the Chinese government should purchase them regardless of the cost because it will provide additional evidence to counter Japan's denial of this history.
Some are concerned that this book will be sold to a Japanese buyer, while others are worried about Kail's personal safety after his discovery, given that Iris Chang, author of renowned The Rape of Nanking: The Forgotten Holocaust of World War II, received frequent harassment and threats from some Japanese after her book was published in 1997. Chang committed suicide in 2004 at the age of 36.
One of the issues that has become a big part of Chinese online discussions regarding the Pawn Master video is how many Americans and other foreigners are not aware of the history of what happened in Nanjing. Weibo user RuruRin dedicated a post to this issue, sharing many Tiktok comments from people writing they had never even heard about the Nanjing Massacre.
"Regardless of how this story turns out," Rururin wrote: "It is gratifying to know because of this photo album video, millions of people have now become aware of the existence of the Nanjing Massacre, and many are willing to learn more about it because of this video. Most American schools do not teach this history, so while basically everyone in the U.S. knows about the Holocaust, few people know about the Nanjing Massacre."
China has done a lot to create more awareness about what happened in Nanjing. Besides the countless books, movies, documentaries, and TV series dedicated to the topic, China also introduced the "National Memorial Day for the Victims of the Nanjing Massacre" in 2014. It is an annual memorial day on December 13, which is the day the imperial Japanese army invaded Nanjing.
An important site where visitors are educated about this painful history is the Memorial Hall of the Nanjing Massacre which was opened on August 15, 1985. This official memorial museum is built near the site of the "pit of ten thousand corpses" where thousands of bodies were buried during the killings. The Memorial Hall covers a total area of 103,000 square meters is home to important historical records, victim testimonies, artifacts, and photographs.

"When it's about the Nanjing Massacre, we are never short of evidence – we are short of international attention for it."

Despite all the stories and evidence on record, there are many people across the world who have no knowledge of this Nanjing history. One Weibo user wrote: "When it's about the [Nanjing Massacre] history, we are never short of evidence – we are short of international attention for it."
Renowned Chinese director and actor Jiang Wen (姜文) previously commented on this lack of international attention for the Nanjing Massacre. In 2018, he was asked why he chose 1937 as the background setting for his movie Hidden Man. Jiang replied that he wanted to use the film to "let the world know what the Japanese did" and said:
"China in 1937 faced a broken country and millions of ruined families. The entire Chinese population stood up to resist the invaders. The theme of resisting invaders should be expressed all over the world. On this aspect, China doesn't do it as well as the West. The reason why Chinese people now know that the Nazis were bad, and the Jews were persecuted, is because Western artists and investors work hard every year to make sure that a young person growing up in China, even if they're from a small town, will know what kind of things the Nazis did. However, the majority of the world is unaware of what the Japanese did."
Regarding Evan Kail's discovery and Tiktok video, many Chinese netizens seem to care less about the photos being authentic but more about how the photos and the video increase international historical awareness about the Nanjing Massacre.
In a follow-up video, Kail told that his phone had been ringing non-stop since the video and that his story was featured in, among others, Rolling Stone and Newsweek. Kail also shared that the photo book owner agreed that only a museum would be getting the photo book.
Kail claimed that he had been in touch with Chinese officials regarding the book, but that he felt he was facing a "dilemma" because he did not want the photo album to be used for a certain "political agenda" where only some of the photos would be selected with others disregarded. "There are so many histories in this book," Kail said: "It has to be properly treasured."
Meanwhile, on Twitter, there are multiple people involved in helping in the process of authenticating this photo album. The popular 'Fake History Hunter' account claims the album is genuine as a souvenir album countless sailors bought when their tour of duty was about to begin, but that some of the photos in the album are not unique and can also be found online.
This video has gone viral on tiktok, man finds album that he thinks may have extremely rare and unusual photos of the Nanjing (Nanking) massacre.
But things are not like they seem, I'll explain in the following tweets. 🧵https://t.co/8bnhv9AuM0

— Fake History Hunter (@fakehistoryhunt) September 1, 2022
On Weibo as well, there are some convincing expert bloggers who claim they have come across similar photo albums and that the person who it belonged to had not necessarily been to Nanjing (#国内博主称有相似南京大屠杀彩照相册#).
Where will this old photo book eventually end up? That is still unclear. Regardless, Kail is pleased that the video educated more people about this war history, while Weibo netizens are glad that more people outside of China have started to look up information regarding the 'Nanjing Massacre' to learn more about what happened there.
"Actually I don't think it really matters whether the color photos are genuine or not, there's is enough evidence of the Nanjing Massacre," one Weibo user (@不知江月V) writes: "But a positive effect of this incident is how it went viral and led foreign netizens to take the initiative to learn and understand the history of the Nanjing Massacre. The classroom WWII history in foreign countries is basically limited to the German military and there is not much explanation of the atrocities committed by the Japanese in Asia. So this has achieved the goal of foreign netizens knowing and understanding more about the blood debt owed by the Japanese to the Chinese people."
By Wendy Huang, with contributions by Manya Koetse
Follow @whatsonweibo
Spotted a mistake or want to add something? Please let us know in comments below or email us. Please note that your comment below will need to be manually approved if you're a first-time poster here.
©2022 Whatsonweibo. All rights reserved. Do not reproduce our content without permission – you can contact us at info@whatsonweibo.com
Mourning Jiang Zemin, Weibo Turns Black and White
Since the rise of Chinese social media, Jiang Zemin became a recurring part of Chinese memes.
Following the announcement that Jiang Zemin (江泽民), the former president of the PRC, has passed away, various Chinese online platforms have turned into 'grey' mode as a sign of mourning. Jiang Zemin died due to leukemia and organ failure. He was 96 years old.
Besides Weibo, the home page of major Chinese websites such as Baidu, Sogou, Taobao, Alipay, Xinhua, People's Daily, The Paper, and many others all turned into black-and-white mourning mode on Wednesday.
On Weibo, one post about Jiang Zemin's passing received a staggering one million reposts and over two million 'likes.' The hashtag "Comrade Jiang Zemin Passed Away at the Age of 96 in Shanghai" (#江泽民同志在上海逝世享年96岁#) had received over 2,5 billion clicks by Wednesday night.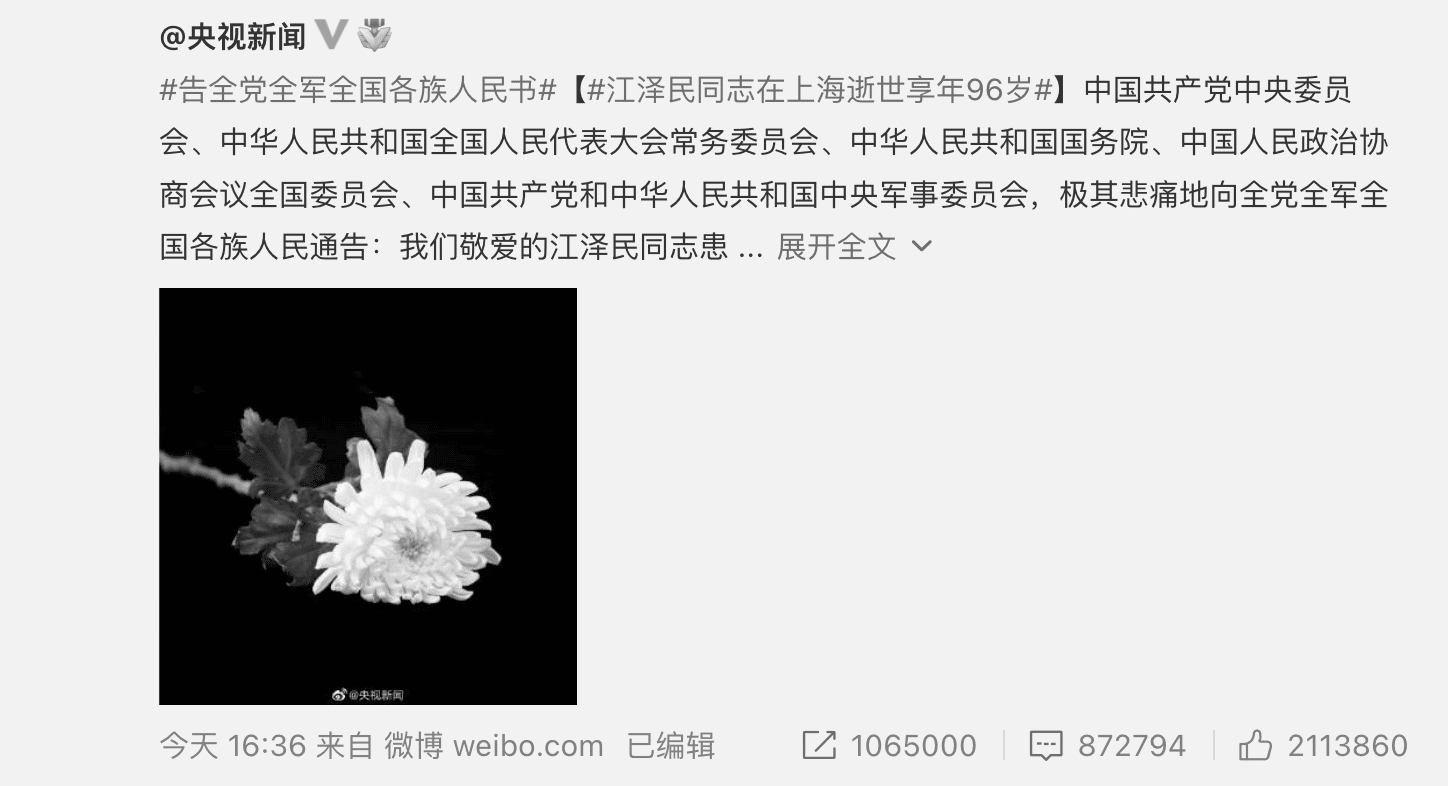 Jiang Zemin was appointed as President of the People's Republic of China in 1993. In the years before, the former Shanghai Party chief already held official positions as the chairman of the Central Military Affairs Commission and general secretary of the Party. In 2003, Jiang Zemin retired and was replaced by Hu Jintao (Sullivan 2012).
Since the rise of Chinese social media, Jiang became a recurring part of Chinese memes. Jiang had created a wide group of online fans, who are commonly referred to as 'toad worshippers' as the online phenomenon of 'worshipping' Jiang Zemin is called mo ha (膜蛤), 'toad worship' (Fang 2020, 38). The entire phenomenon has become its own subculture that is called 'mo ha culture' (móhá wénhuà, 膜蛤文化).
What started as a joke – nicknaming Jiang a 'toad' due to his big glasses, signature pants, and wide smile, – became an actual online movement of people who were appreciative of Jiang Zemin.
They loved him, not only because the former leader spoke many languages and other talents, and because of his unique appearance, but mainly because he was not scared to show his emotions, was very expressive, and good at telling stories.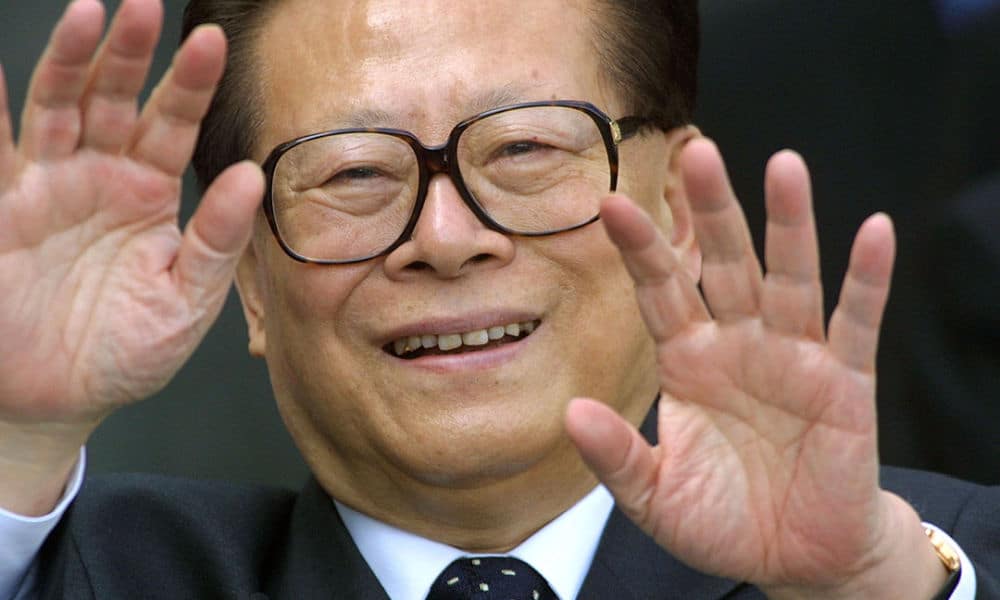 One famous example of this, is when Jiang Zemin got upset with a Hong Kong journalist in 2000 and told them off using three languages (link to video, also here). The much-repeated quote "too young, too simple, sometimes naive" comes from this noteworthy moment as Jiang told journalists that they still had a lot to learn, whereas he had gone through "hundred of battles," saying "I've seen it all." This also led to Jiang later being called 'the Elder' (长者) by netizens.
A famous moment when Jiang did not conceal his personal emotions and told off a HK journalist using three languages https://t.co/kX5Z3e0Goa

— Manya Koetse (@manyapan) November 30, 2022
Another popular Jiang Zemin video is when he met with American journalist Mike Wallace in August of 2000 in Beidaihe. During the interview, the two discussed sensitive topics including the Falun Gong and Tiananmen protests. The interview reportedly was one of the longest ever between an American journalist and a Chinese head of state (watch here).
When Jiang Zemin met Mike Wallace. The interview took place exactly 22 years ago today, August 15 2000, in Beidaihe. Here, Jiang expresses his best wishes to the American people, in English. See part of interview (better quality) here: https://t.co/8NwqYvbzkh pic.twitter.com/V3q3NbrOOJ

— Manya Koetse (@manyapan) August 15, 2022
A study by Kecheng Fang (2020) about 'China's toad worship culture' suggests that for many online fans of Jiang, the cult around him is apolitical, playful, and part of a shared digital cultural tradition.
For some, however, it does hold some political meaning to 'worship' Jiang, who only became a popular online meme around 2014, after Xi Jinping took power as a conservative strongman who is not as emotionally expressive. Fang describes how one meme creator said: "We couldn't express our criticism through normal channels, so we turned to other indrect ways, including lauding Jiang's personality and characteristics in various ways" (2020, 45).
Although Jiang became popular among younger Chinese on online platforms over the past decade, he was not necessarily that popular at the time of his leadership, and opinions vary on the legacy he leaves behind. Jiang continuously pushed for reform and opening-up after Deng Xiaoping's rule.
As summarized by Foreign Policy, Jiang oversaw two crucial transitions that shaped and improved the lives of the people of China: "First, he peacefully guided his country out of the shadow of China's founding revolutionaries, who had spent decades purging one another and at times caused great pain and sorrow for everyone else. Second, although hesitant at first, Jiang came to embrace the market economy."
As various places across China have seen unrest and protests over the past few days, the announcement of Jiang's death comes at a sensitive time.
Many on Chinese social media are burning virtual candles in memory of Jiang Zemin today. "I will fondly recall your style and manners," some say.
By Manya Koetse , with contributions by Miranda Barnes
If you appreciate what we do, please subscribe here or support us by donating.
References:
Fang, Kecheng. 2020. "Turning a communist party leader into an internet meme: the political and apolitical aspects of China's toad worship culture." Information, Communication & Society, 23 (1): 38-58.
Sullivan, Lawrence R. 2012. Historical Dictionary of the Chinese Communist Party. Lanham: The Scarecrow Press. See page: 3-43, 208.
Get the story behind the hashtag. Subscribe to What's on Weibo here to receive our newsletter and get access to our latest articles:
Spotted a mistake or want to add something? Please let us know in comments below or email us. First-time commenters, please be patient – we will have to manually approve your comment before it appears.
©2022 Whatsonweibo. All rights reserved. Do not reproduce our content without permission – you can contact us at info@whatsonweibo.com.
Noteworthy Weibo Post by Embassy of Germany in China About What Happened in 1989
A Weibo post by the Embassy of Germany in China focuses on what happened in both countries in 1989, but the China part is blacked-out.
On October 28, the Weibo account of the Embassy of Germany in China posted the hashtag "50 Years of China-German Diplomatic Relations" (#德中建交五十周年#) accompanied by an image with photos and text.
Two photos next to each other showed on the left side the Fall of the Berlin Wall in 1989 and on the right side a blacked-out image.
The text says:
"1989: In East Germany, the German Democratic Republic under socialist rule, more and more people protested for democracy and civil rights. This led to the peace draft of November 1989 and the Fall of the Berlin Wall at the border between the two German states." [rest of the text fully blacked out]
Georg Fahrion, Beijing-based China correspondent at German news website Der Spiegel, wrote about the noteworthy post on Twitter:
"The German embassy in Beijing Weibo account trolling China supreme: In 1989, this is what happened in our capital. What happened in yours in 1989, say, on June 4th?"
The German embassy in Beijing Weibo account trolling China supreme: In 1989, this is what happened in our capital. What happened in yours in 1989, say, on June 4th? pic.twitter.com/sFh9QaxaTh

— Georg Fahrion (@schorselysees) October 29, 2022
"How peculiar," some netizens responded. "What does this have to do with Sino-German diplomatic relations? I feel like you are purposely being ambiguous," one top comment said.
"Did you think this was funny?" another person wrote.
This entire month, the Weibo account of the German Embassy in China (@德国驻华大使馆), which has over 375,000 followers, has been posting historical photos, highlighting important years and events during the past fifty years of Sino-German diplomatic relations.
On October 11, they made the first Weibo post within the "50 Years of Sino-German Diplomatic Relations" series, starting with the year 1972.
"Looking back: 50 years, 50 moments. 50 years ago, on October 11, the Federal Republic of Germany and the People's Republic of China officially established diplomatic relations. To commemorate this occasion, we are launching a series of Weibo posts: 50 moments in 50 years. For the next 50 days, we will take you through one event each day that has had a profound impact on German-Chinese relations."
"1972: The Federal Republic of Germany and the People's Republic of China formally establish diplomatic relations. On October 11, Foreign Minister Scheel and Foreign Minister Ji Pengfei sign a joint communiqué in Beijing establishing diplomatic relations. Foreign Minister Ji Pengfei knew Germany very well: he had been the head of the diplomatic mission since the early 1950s and was appointed as China's first ambassador to the GDR in 1953. Shortly after the establishment of diplomatic relations, the West German Embassy in Beijing was officially opened on December 1, 1972."
In other following posts by the German Embassy in China, they commemmorate overall uncontroversial historical moments that have been important to the bilateral relations.
They include, among others, a 1974 Max Planck Society delegation to China led by then President Reimar Lüst; the 1975 Beijing visit by Chancellor Helmut Schmidt; the 1976 death of Mao Zedong and how his thinking had been influenced by the German socialist revolutionary Karl Marx; the 1978 opening of the German Embassy School in Beijing; the 1979 visit to Germany by Hua Guofeng; the 1980 arrival of the pandas BaoBao and TianTian to Berlin; the 1983 debut of Volkwagen Santana on the Chinese market; the 1984 China visit by Helmut Kohl; and the 1986 visit of East German leader Erich Honecker to Beijing.
Especially in light of this previous series of seemingly friendly, mild, and non-provocative posts, the October 28 post on the year 1989 stands out.
The post obviously means to point out the year 1989 as an important one for both China and Germany, as they both faced widespread pro-democracy demonstrations.
While the Tiananmen protests, which started in April, were forcibly suppressed on June 4th, the authorities in Germany eventually chose not to use military force against protesting citizens, eventually resulting in the fall of the Berlin Wall in November of that year.
There is a clear transnational connection between what happened in China and the GRD in 1989, which is something that the German Embassy in Beijing undoubtedly wanted to point out. (If you want to read more about this transnational connection between the Tiananmen and Leipzig demonstrations, you can read "Tiananmen Square, Leipzig, and the 'Chinese Solution': Revisiting the Wende from an Asian-German Perspective" here.)
But since the topic of the Tiananmen protests is commonly censored in China and is not something that can be freely discussed on Chinese social media, the post by the German Embassy was left partly, and explicitly, blacked out.
The move could be perceived as a statement against Chinese censorship by making the self-censorship explicit for everyone to see. It is unlikely that the post was censored by the Weibo platform: images that are censored by Weibo usually come up as blank spaces, and if a post is censored, it never comes up with blacked-out sentences but instead is removed altogether.
It is also possible that the German embassy in Beijing did not self-censor, but instead posted an image of a book or webpage that was already censored.
In either case, the move could be seen as a provocative one in a media environment where any mention regarding the June 4th protests, direct or indirect, is always censored. One popular Chinese book about everything that happened in China in the 1980s did not include a single mention of the protests.
Although this post was not censored, the comment section was limited and viewing new comments was "temporarily not possible" at time of writing.
The timing of this post is especially noteworthy because German Chancellor Olaf Scholz is scheduled to visit China next week as the first Western European leader to go to Beijing since the start of the coronavirus pandemic.
In 2021, the UK embassy in China posted a virtual candle on Weibo on June 4th to commemorate the Tiananmen protests. That gesture instantly backfired, as some people suggested the candle was lit because the Queen had passed away (read here).
The Germany post was discussed elsewhere on Weibo, although some had to be creative in their description, talking about that one post about "the year that follows after 1988." "They're being foolish," others wrote.
For more articles about embassies on Weibo, check here. To read more of our articles related to Tiananmen on social media, read here.
By Manya Koetse 
Get the story behind the hashtag. Subscribe to What's on Weibo here to receive our newsletter and get access to our latest articles:
Spotted a mistake or want to add something? Please let us know in comments below or email us. First-time commenters, please be patient – we will have to manually approve your comment before it appears.
©2022 Whatsonweibo. All rights reserved. Do not reproduce our content without permission – you can contact us at info@whatsonweibo.com.