Did This TikToker Find Unseen Nanjing Massacre Photos? Regardless, Chinese Netizens Want the World to Know about 1937
Although it is yet unclear if the photos are authentic, Chinese netizens just want the world to know more about the Nanjing Massacre.
Did an American pawn shop owner find unseen photos of the Nanjing Massacre? As his Tiktok video is going viral online, Chinese netizens are shocked to find how little Western social media users know about what happened during the Japanese invasion of Nanjing in 1937. They hope the video helps strengthen international awareness on the 'Rape of Nanjing'.
Over the past week, an American TikTok video has attracted the attention of Chinese netizens. On September 1st, Minnesota pawn shop owner Evan Kail, who runs the Pawn Master Kail (@pawn.man) Tiktok account, turned to his followers and asked for help in a video after coming across an old photo book that he believed contained extremely rare and unseen photos of the Nanjing Massacre.
Kail also posted some of the photos from the book on his Twitter account (viewer discretion advised).
Some photos from the tiktok about the Rape of Nanjing that I could not publish on that platform — pic.twitter.com/ew7mAmq6cz

— Evan Kail (PAWN MAN) (@EvanKail) September 1, 2022
The so-called Nanjing or Nanking Massacre (南京大屠杀, also known as the 'Rape of Nanjing') happened during the Second Sino-Japanese War (1937-1945) – which became part of WWII in 1941 after Pearl Harbor – and refers to the mass murder of Chinese civilians by Japanese invaders during a six-week period from December 13, 1937, to January 1938.
According to China's official data, at least 300,000 residents, including children and elderly, lost their lives during the massacre that became the most notorious Japanese atrocity of the Second Sino-Japanese War. In October 2015, UNESCO added Nanjing Massacre historical documents to its Memory of the World Register.
In his September 1st video, the pawn shop owner Evan Kails says: "This is the most disturbing thing I've ever seen in my career and I desperately need your help (..) Had a customer reach out and they told me they had this old book of photos from WWII. It's been in their family for a while and they wanted me to try and sell it."
Kail then explains the book is by a soldier who was stationed in South East Asia around 1937-1938 and who allegedly photographed life in China and other countries. The album includes a series of war-related images that Kail claims are too shocking to share with his followers ("worse than anything I have seen on the Internet") and which he believes were taken during the Japanese invasion of Nanjing in 1937.
The pawn shop owner said he believes that these photos "need to be seen, documented, and preserved" and asked his followers to share his video as widely as possible, hoping that the appropriate channels, such as museums, could contact him.
Shortly after, Kail's video was also shared on Chinese social media. The U.S.-based Weibo user RuruRin, who has more than one million followers, posted the video on Thursday afternoon with Chinese subtitles, after which it quickly became a top trending topic on Weibo.
Many Chinese social media users mentioned and tagged the official Weibo account of The Memorial Hall of the Victims in Nanjing Massacre by Japanese Invaders, which is a Nanjing-based museum to memorialize those who were killed in the Nanjing Massacre. About three hours later, the official Weibo account of the museum responded and stated that they had seen the post, and had attempted to contact Kail to verify the information.
The video shared by RuruRin so far has received nearly 300,000 likes and thousand of comments on Weibo. The hashtag "Foreign netizen May Have Discovered Color Photos of the Nanjing Massacre" (#国外网友或发现南京大屠杀彩照#) appeared on the trending list of Weibo and climbed to the second position by late night of September 1. By Sunday, it had received over 960 million clicks.
While there is still doubt regarding the authenticity of the photos, many Chinese Weibo users suggest that if the photos are authentic, the Chinese government should purchase them regardless of the cost because it will provide additional evidence to counter Japan's denial of this history.
Some are concerned that this book will be sold to a Japanese buyer, while others are worried about Kail's personal safety after his discovery, given that Iris Chang, author of renowned The Rape of Nanking: The Forgotten Holocaust of World War II, received frequent harassment and threats from some Japanese after her book was published in 1997. Chang committed suicide in 2004 at the age of 36.
One of the issues that has become a big part of Chinese online discussions regarding the Pawn Master video is how many Americans and other foreigners are not aware of the history of what happened in Nanjing. Weibo user RuruRin dedicated a post to this issue, sharing many Tiktok comments from people writing they had never even heard about the Nanjing Massacre.
"Regardless of how this story turns out," Rururin wrote: "It is gratifying to know because of this photo album video, millions of people have now become aware of the existence of the Nanjing Massacre, and many are willing to learn more about it because of this video. Most American schools do not teach this history, so while basically everyone in the U.S. knows about the Holocaust, few people know about the Nanjing Massacre."
China has done a lot to create more awareness about what happened in Nanjing. Besides the countless books, movies, documentaries, and TV series dedicated to the topic, China also introduced the "National Memorial Day for the Victims of the Nanjing Massacre" in 2014. It is an annual memorial day on December 13, which is the day the imperial Japanese army invaded Nanjing.
An important site where visitors are educated about this painful history is the Memorial Hall of the Nanjing Massacre which was opened on August 15, 1985. This official memorial museum is built near the site of the "pit of ten thousand corpses" where thousands of bodies were buried during the killings. The Memorial Hall covers a total area of 103,000 square meters is home to important historical records, victim testimonies, artifacts, and photographs.

"When it's about the Nanjing Massacre, we are never short of evidence – we are short of international attention for it."

Despite all the stories and evidence on record, there are many people across the world who have no knowledge of this Nanjing history. One Weibo user wrote: "When it's about the [Nanjing Massacre] history, we are never short of evidence – we are short of international attention for it."
Renowned Chinese director and actor Jiang Wen (姜文) previously commented on this lack of international attention for the Nanjing Massacre. In 2018, he was asked why he chose 1937 as the background setting for his movie Hidden Man. Jiang replied that he wanted to use the film to "let the world know what the Japanese did" and said:
"China in 1937 faced a broken country and millions of ruined families. The entire Chinese population stood up to resist the invaders. The theme of resisting invaders should be expressed all over the world. On this aspect, China doesn't do it as well as the West. The reason why Chinese people now know that the Nazis were bad, and the Jews were persecuted, is because Western artists and investors work hard every year to make sure that a young person growing up in China, even if they're from a small town, will know what kind of things the Nazis did. However, the majority of the world is unaware of what the Japanese did."
Regarding Evan Kail's discovery and Tiktok video, many Chinese netizens seem to care less about the photos being authentic but more about how the photos and the video increase international historical awareness about the Nanjing Massacre.
In a follow-up video, Kail told that his phone had been ringing non-stop since the video and that his story was featured in, among others, Rolling Stone and Newsweek. Kail also shared that the photo book owner agreed that only a museum would be getting the photo book.
Kail claimed that he had been in touch with Chinese officials regarding the book, but that he felt he was facing a "dilemma" because he did not want the photo album to be used for a certain "political agenda" where only some of the photos would be selected with others disregarded. "There are so many histories in this book," Kail said: "It has to be properly treasured."
Meanwhile, on Twitter, there are multiple people involved in helping in the process of authenticating this photo album. The popular 'Fake History Hunter' account claims the album is genuine as a souvenir album countless sailors bought when their tour of duty was about to begin, but that some of the photos in the album are not unique and can also be found online.
This video has gone viral on tiktok, man finds album that he thinks may have extremely rare and unusual photos of the Nanjing (Nanking) massacre.
But things are not like they seem, I'll explain in the following tweets. 🧵https://t.co/8bnhv9AuM0

— Fake History Hunter (@fakehistoryhunt) September 1, 2022
On Weibo as well, there are some convincing expert bloggers who claim they have come across similar photo albums and that the person who it belonged to had not necessarily been to Nanjing (#国内博主称有相似南京大屠杀彩照相册#).
Where will this old photo book eventually end up? That is still unclear. Regardless, Kail is pleased that the video educated more people about this war history, while Weibo netizens are glad that more people outside of China have started to look up information regarding the 'Nanjing Massacre' to learn more about what happened there.
"Actually I don't think it really matters whether the color photos are genuine or not, there's is enough evidence of the Nanjing Massacre," one Weibo user (@不知江月V) writes: "But a positive effect of this incident is how it went viral and led foreign netizens to take the initiative to learn and understand the history of the Nanjing Massacre. The classroom WWII history in foreign countries is basically limited to the German military and there is not much explanation of the atrocities committed by the Japanese in Asia. So this has achieved the goal of foreign netizens knowing and understanding more about the blood debt owed by the Japanese to the Chinese people."
By Wendy Huang, with contributions by Manya Koetse
Follow @whatsonweibo
Spotted a mistake or want to add something? Please let us know in comments below or email us. Please note that your comment below will need to be manually approved if you're a first-time poster here.
©2022 Whatsonweibo. All rights reserved. Do not reproduce our content without permission – you can contact us at info@whatsonweibo.com
Mamianqun Gate: Dior Accused of Cultural Appropriation for Copying Design of Traditional Chinese Skirt
This is not just a matter of plagiarism, according to some, it's about Dior taking a traditional Chinese design and claiming it's theirs.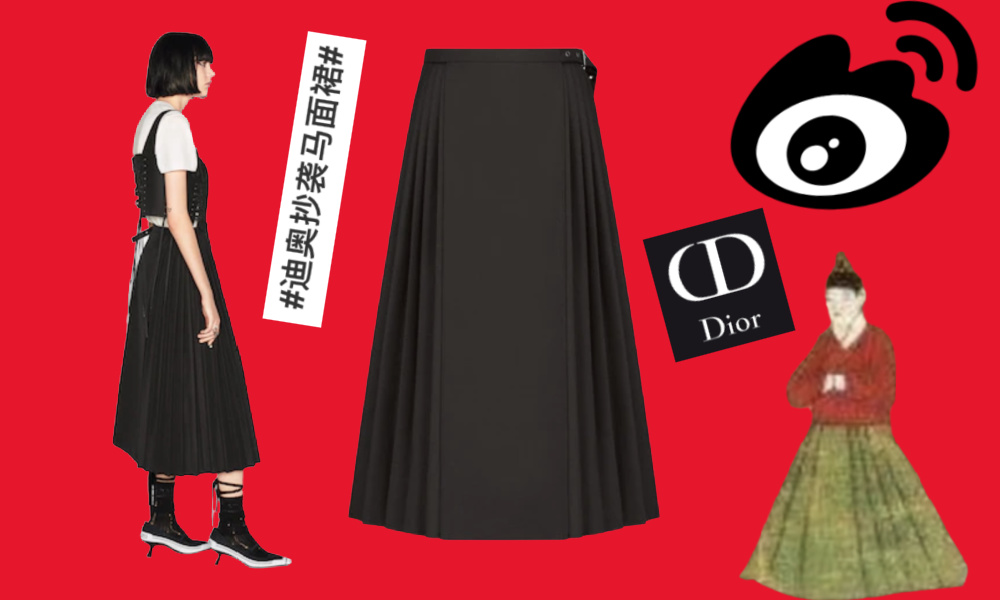 This article was first published by What's on Weibo on
French luxury fashion house Dior has come under fire on Chinese social media today for the design of one of the skirts in its 2022 Fall collection, which resembles a Chinese traditional skirt known as mǎmiànqún (马面裙).
On the Chinese version of the Dior official website, the French fashion brand describes it as a "mid-length skirt" that is an "all-new elegant and stylish piece based on the iconic Dior silhouette."
But many Chinese netizens do not agree, and say that the pleated skirt in question is actually a mǎmiànqún (马面裙): a wrapped, apron-like traditional Chinese skirt that was worn in China as early as the Song (960–1279) and Liao dynasties (916–1125) and became popular during the Ming Dynasty (1368-1644).
The literal translation of the word mǎmiànqún is 'horse face skirt.' The skirt is composed of two overlapping fabrics wrapped around the lower body: the two sides of the skirt are pleated, and there is a smooth section in the middle. The skirt is also known as mǎmiànzhěqún (马面褶裙), 'horse face pleated skirt.'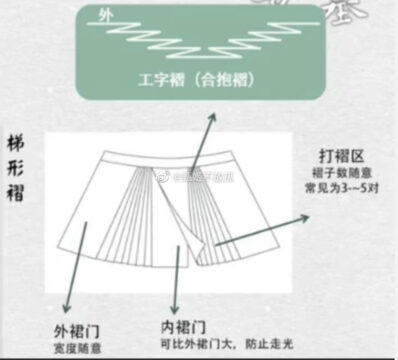 "It's just exactly the same," some commenters wrote. "They're copying China and then selling it to Chinese consumers, I don't know what to say." On the Chinese official Dior site, the skirt is priced at 29,000 yuan (US$4292).
"They're vilifying China and at the same time, they're stealing from Chinese culture. They're shameless," one Weibo user (@改改hj) wrote.
"Can't the propaganda department set up an organization to defend our legal rights?" other commenters write.
The influential history blogging account @Qinyimo (@秦祎墨, over 7 million fans) wrote: "I'm not even kidding. I hope that a lawyer specialized in copyright law and an expert in cultural preservation will jointly evaluate this matter, and pay attention to how nasty this is."
Some people are especially offended that Dior suggests the skirt's design is inspired by their own original Christian Dior skirt, without any reference to China at all. Others foresee greater problems for Chinese traditional dress if Dior is actually claiming this design is theirs.
The blogging account Qinyimo raised attention to this potential problem.
"This is not simply a matter of plagiarism," they write: "As traditional Chinese apparel, the mamianqun has historical origins in the Chinese traditional dress system which has continued to the present-day and has never been discontinued. If Dior has patented the version of their mamianqun design, this would mean that when the Chinese fashion industry uses this traditional technique, they could end up in an international legal dispute for doing so."
"What is ours is ours, I am confident about that. But if their patent is approved, it would mean our way out is blocked (..) This is not a joke, this requires serious attention."
Chinese traditional dress is increasingly popular among Chinese young people, especially due to the rise of the Hanfu Movement, which can be described as a social movement that supports the wearing of Han Chinese ethnic clothing (read more here).
"Dior, this is blatant cultural appropriation [文化挪用]," one Weibo user writes, receiving nearly 12,000 likes on their comment.
At the same time, not everyone agrees that Dior is guilty of plagiarism: "It's not plagiarism, don't be mistaken, the mamian skirt is not protected by copyright law so you can't really plagiarize it. It is, however, 100% cultural appropriation."
"They are misappropriating our traditional apparel," other commenters write.
It is not the first time for a Western luxury fashion brand to ignite controversy in China. In 2018, Italian fashion house D&G faced consumer outrage and backlash on Chinese social media for a marketing campaign featuring a Chinese-looking model clumsily using chopsticks to eat Italian dishes (read more here). Various other brands, including Versace and Givenchy, also came under fire in 2019 for for listing Hong Kong, Macau, and Taiwan as a separate countries or regions – not part of China – on their official websites or brand T-shirts.
However, it is rare for online controversies to come out in China accusing foreign brands of 'cultural appropriation.' In the past, China has been accused of cultural appropriation, especially when it comes to Korean traditions. Earlier this year, a performer at the opening ceremony of the Beijing Olympics drew condemnation in South Korea for wearing a traditional Korean dress known as hanbok.
Although 'cultural appropriation' is at the center of today's discussions, it is arguably a bit more nuanced than previous mainstream discussions regarding the issue of cultural appropriation outside of China. More than feeling offended about Dior using Chinese mamianqun design, it is about Dior claiming the design as being based on their own original classic. As one netizen writes: "Let's not be misunderstood, it's useless to talk about 'cultural appropriation' [文化挪用], we need to let people know that in the future if they'll wear a mamianqun, they could be told by foreigners that 'Chinese people just love to wear big fashion brands rip offs .' When our own international clothing brands use our own mamian skirt elements, it is likely they'll be sued by Dior for doing so."
At time of writing, the official Dior Weibo account has not responded to the controversy. They have, however, turned off the comment sections of their latest posts.
By Manya Koetse
Get the story behind the hashtag. Subscribe to What's on Weibo here to receive our weekly newsletter and get access to our latest articles:
Spotted a mistake or want to add something? Please let us know in comments below or email us. First-time commenters, please be patient – we will have to manually approve your comment before it appears.
©2022 Whatsonweibo. All rights reserved. Do not reproduce our content without permission – you can contact us at info@whatsonweibo.com.
Op-Ed ⎪ Cyber Bullying and Fake News: What You Should Know About the Zhang Zhehan Story
Opinion: Zhang Zhehan is still being punished every day for a crime he never committed.
Along with several other celebrities, Chinese actor Zhang Zhehan has been a hot topic in the media this year ever since photos of him taken at the controversial Yasukuni Shrine went viral online. Not only does Zhang not deserve his recent blacklisted status, Jessica J. argues in this op-ed contribution for What's on Weibo, he is also a victim of online fake news propagation and cyberbullying. 
Those following Chinese entertainment news may have read about the string of celebrity crackdowns and cancellations this year, including big names like pop star Kris Wu, actress Zheng Shuang, and actor Zhang Zhehan.
However, Zhang Zhehan's inclusion among Chinese 'blacklisted artists' is raising some eyebrows and has also drawn the attention of Li Xuezheng, the Vice Chairman of the China TV Artists Association and Director of the Golden Shield Television Center.
Among those 'canceled' artists, Kris Wu was arrested on suspicion of rape, Zheng Shuang was fined for tax evasion – but Zhang Zhehan did not violate any laws and, according to Li, "was not officially banned or deemed immoral by government bodies" (Drama Panda).
Instead, Zhang was swiftly canceled when old vacation photos of him near the Yasukuni Shrine surfaced in August 2021, despite apologizing quickly for not knowing the significance of the buildings in the area.
[For context, read: Chinese Actor Zhang Zhehan Under Fire for Yasukuni and Nogi Shrine Photos – Ed.]
After digging a little deeper, it becomes apparent that there is much more nuance to Zhang's incident than can be captured in a single sentence such as "Zhang visited the controversial Yasukuni Shrine" or "Zhang posed for photos at the Yasukuni Shrine."
Yasukuni Shrine is a Cherry Blossom Destination
The Yasukuni Shrine in Tokyo is notorious for enshrining "1,068 convicted war criminals, 14 of whom are A-Class (convicted of having been involved in the planning, preparation, initiation, or waging of the war)." The shrine is of great significance when it comes to Sino-Japanese history, as many of Japan's war dead enshrined at Yasukuni committed atrocities against the Chinese, including during the 'Nanjing Massacre' which started in December 1937 and came to be known as the most notorious Japanese atrocity of the Second Sino-Japanese War.
However, what many people think of as the Yasukuni Shrine only concerns the shrine's religious structures, including the prayer and worship halls. These are the places where Japanese prime ministers go to pay respects to this day, resulting in recurring controversies.
The Honden Main Shrine, where nearly 2,5 million Japanese war dead are enshrined as 'divinities,' is usually inaccessible to the general public. No photography is allowed at the courtyard of the Haiden Main Hall, which is where people pay their respects.
Outside of these structures, the Yasukuni Shrine grounds include an open park area famous for its cherry blossoms. In fact, it houses a "benchmark" cherry tree, which Japan's Meteorological Agency uses to officially announce the start of the cherry season (NBC News). It's important to note that Zhang's photos were taken in this prime cherry blossom viewing area, and not inside the shrine itself.
When searching for "Yasukuni Shrine Cherry Blossoms" on Google, one will find many travel guides and blogs showcasing the lively atmosphere and the sea of people that come to visit during the blossom season. As recently as March 2021 (Phoenix News), Chinese media have included the area around the Yasukuni Shrine as a popular cherry blossom viewing destination. See examples from China Daily, People's Daily, and China News. Chinese state broadcaster CCTV even covered the benchmark tree in March 2018, the same year that Zhang's photos were taken.
Many articles that came out around August this year claimed that Zhang "posed in front of the Yasukuni Shrine" (see examples from Radii, Business of Fashion). This is false because the building in Zhang's photo is actually labeled "斎馆" (Saikan) and is an administrative or office building on the park grounds.
The cherry blossoms are clearly the main focus in all of Zhang's photos. In 2018, there were over 31.19 million international tourists to Japan, including over 8 million Chinese visitors. Each year Japan attracts almost 3 million visitors during cherry blossom season alone.
Zhang was just one among thousands of Chinese tourists coming to view Japan's famous cherry blossoms. If this is considered an act that hurts national sentiments, then what about the millions of other Chinese citizens that came for the same reason, not to mention the Chinese media that recommended this place as a tourist destination?
Signs of Coordinated Smear Campaign
The three-year-old photos of Zhang surfaced on August 13, a sensitive date leading up to the August 15th Victory over Japan Day, the day on which Imperial Japan surrendered in World War II.* In addition to the timing, other accusations against Zhang, including those around a wedding he attended in Japan, rest on blatant misinformation and falsified Baidu entries. (*The Chinese Victory over Japan is commemorated on September 3rd when the signing of the surrender document occurred. )
To a lesser extent than the cherry blossom photos, Zhang was also condemned for attending a friend's wedding at the Nogi Shrine in 2019 and taking a photo with controversial figure Dewi Sukarno, one of the wives of the former Indonesian President Sukarno.
Netizens soon noticed that the Baidu entry for Nogi Shrine was created the night before on August 12. Similarly, Baidu entries for Mrs. Dewi and Nogi Maresuke, the general whom Nogi Shrine is named after, were both edited on early August 13.
Chinese state media outlet Global Times wrote that "there were also photos of Zhang attending a wedding ceremony at Nogi Shrine, another infamous shrine that honors imperial Japanese military officers who invaded China during World War II."
While it is true the Nogi Shrine honors Japanese general Nogi Maresuke, he died in 1912, well before the events of WWII. So where did this blatantly false information come from?
It is also worth noting that the popular Japanese idol group Nogizaka46, who held a coming-of-age ceremony at the Nogi Shrine, performed several concerts in China without issue.
Numerous other rumors, though not published by reputable media, circulated broadly on social media sites including international platforms such as Youtube and Twitter.
Almost all of them have been debunked as misinformation or complete fabrications. For example, Zhang starred in a short film titled Brother, where his character's mentally challenged older brother raises his hand when he gets a nosebleed. Zhang took a series of photos interacting with his co-star, but the photo of this gesture was taken out of context to accuse Zhang of making Nazi gestures.
Netizens have also noticed that over 800 marketing accounts posted at almost the same time asking for Zhang's works to be taken offline (Weibo search), and that so-called water armies (paid commenters) heavily manipulated the direction of social commentary and sentiments (a netizen's data analysis).
Based on all of this information, it can be reasonably concluded that Zhang was the target of a coordinated smear campaign.
Consequences of Misinformation and Cyber Violence
Within a time span of less than a week, Zhang lost all sponsorship deals and his career suffered a massive blow.
Shows featuring Zhang, including Word of Honor and Demon Girl, were taken offline from Chinese platforms Youku and Le.com. His scenes were erased from the critically acclaimed Nirvana in Fire. His songs "Gu Meng" and "Tian Ya Ke" from Word of Honor could no longer be streamed on various platforms and variety shows featuring him either removed the episodes including Zhang, or he was simply blurred out.
In addition, Zhang faced mass silencing, erasure, and defamation on all Chinese social media platforms:
Zhang's accounts on all social media platforms were closed.

His face still cannot be shown on Bilibili, Douban, and other platforms (videos featuring Zhang will be deleted).

All positive content on Zhang has been deleted or has been made unsearchable on video site Bilibili. Searching for Zhang's name on this platform will

only show videos condemning him

.

Many netizens still refer to Zhang as a "traitor" or a "spy."

Before Li Xuezheng spoke up for Zhang, anyone attempting to clarify Zhang's situation often found their posts deleted or their accounts closed.

Li

posted on December 5th

that Zhang doesn't even have the right to his own name: "There are only two people in the world who can't buy things on the internet. One is notorious fascist Hitler, the other is our Zhang Zhehan."
Since Zhang was included on the performers' blacklist issued by the Chinese Association of Performing Arts (CAPA), Li Xuezheng has been investigating potential corruption within the industry-led organization. In doing so, Li Xuezheng is also providing a platform for Zhang and his family to speak out for the first time since they've been silenced.
Li recently posted a letter from Zhang's mother, garnering over one million likes within a day. In the letter, Zhang's mother described the harrowing experience her son and her family have gone through over the past few months.
She wrote:
"Not only have the dreams and achievements he [Zhang] has worked for for more than ten years been crushed, but the entire internet is also filled with one-sided rumors and slander. His positive actions, his love for the Party and the country are erased, and his works have all been de-platformed. My son told me that he did not enter the Yasukuni Shrine, he did not visit it, let alone pay any respects. The information spread on the internet is false… We never got a chance to clarify. We feel completely powerless and hopeless."
This part, in particular, was difficult to read:
"The little nephew he loves is only four years old and dares not look at him, saying that his uncle is a bad person. When my son heard this, he went to his room and cried… He is really a strong person ordinarily, but at this moment he was broken."
Zhang Zhehan was canceled in August over misinformation that cannot stand up to scrutiny, yet numerous reputable media entities continue to spread misinformation without further investigation.
As a consequence, Zhang's works were de-platformed, his presence erased, his voice silenced, and even the right to use his own name is lost, all without any legal backing. In a country governed in accordance with law, a person should be considered innocent until proven guilty. But it's been over four months now, and despite having committed no crime at all, Zhang is still being punished every day without rescission.
By Jessica J.
Jessica J. (alias) is the initiator of the Teddyfoxfluff blog which collects and translates Weibo posts relating to the Zhang Zhehan controversy. To read more, visit her blog here.
For more about Zhang Zhehan on What's on Weibo, see our overview here. 
Spotted a mistake or want to add something? Please let us know in comments below or email us.
©2021 Whatsonweibo. All rights reserved. Do not reproduce our content without permission – you can contact us at info@whatsonweibo.com.