Japanese Gold Medalist Becomes a Meme in China after Controversial Men's Gymnastics All-Around
Weibo's Olympic meme machine has begun!
The Olympic Games are in full swing and Chinese social media users are building on their meme collections as online discussions are getting more intense on Weibo – especially when it comes to competitions between China and Japan.
Japanese athlete Daiki Hashimoto (橋本 大輝) won the gold for men's gymnastics individual all-around on the sixth day of the Tokyo Olympics. China's Xiao Ruoteng (肖若腾), who had been leading the competition in the first five rotations, claimed the silver medal after the team's inquiry over his score of 14.066 in the last rotation was rejected.
Online discussions arose as videos and pictures of Hashimoto's landing pose in the vaulting event were shared by some netizens on Weibo, questioning if Hashimoto deserves a score of 14.7 as he failed to end with a stable landing.
A video made by Shanghai Oriental Sports Daily compares the performances of the two athletes and shows how the scoring leaves people confused; the two gymnasts performed the same routine and ended in completely different poses (land firmly vs. stumble while landing and stepping out of line), yet they only had a score difference of 0.166.
Some Chinese gymnasts also posted on Weibo and hinted at the scoring controversy.
Li Xiaopeng (李小鹏), the male gymnast who currently holds 16 world titles, called the result "a pity" in a Weibo post published on July 28. He wrote: "Congratulations on the second place. The fact is not that I do not understand [the game] – it's that I understand it all too well."
Gymnast Chen Yibing (陈一冰), four-time world champion on still rings who himself experienced disputed scoring at the 2012 Summer Olympics, wrote: "No matter what the result is, Sun Wei and Xiao Ruoteng are perfect! Xiao Ruoteng IS the champion."
More than 10 related hashtags appeared in the top 30 of Weibo's top search list after the competition, even though it was already late at night in China. The hashtag relating to the judges of the Olympic gymnastics (#体操裁判#) received about 640 million views.

A screenshot of the Weibo's trending list at Beijing Time 11:15 pm on July 28, showing 12 hashtags related to the competition of Men's Gymnastics Individual All-Around.
Online discussions on the controversial gymnastics' scoring then shifted, setting off a wave of content creation. Some memes mocking the new champion's landing pose in the event of vault went viral on Weibo.

"I am the champion"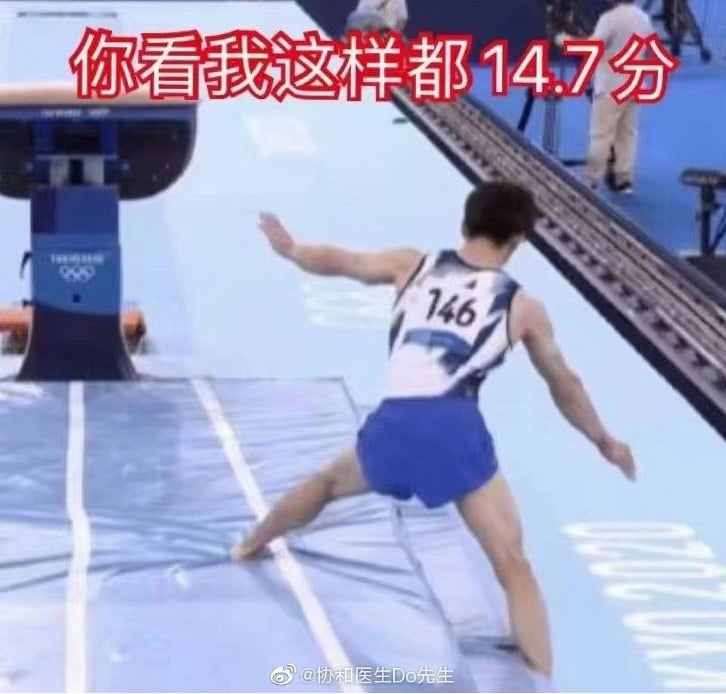 "See, I got 14.7 points with this."

"I split, I step out of line, but I got 14.7 and I am the world champion."

"Let me go down and pick up a gold medal."

"Judge: This is perfect! The feet are still on the ground! 14.7!"
This is not the first controversy that generated heated discussions and set off a meme machine on Weibo since the Summer Olympics kicked off.
Monday's mixed doubles table tennis final between China and Japan (Jun Mizutani/Mima Ito vs Xin Xu/Shiwen Liu) also became a major topic, especially because the Chinese players were defeated by their Japanese counterparts and won silver instead of gold. For the past 14 years, China had monopolized the gold medals in table tennis.
One moment that stood out is when Xu Xin (许昕), a Chinese professional table tennis player who is ranked world's No. 2 for men's singles by the International Table Tennis Federation (ITTF), entertained social media users by holding his breath immediately after he realized he was going to blow on the ping pong ball (see video here).

"Xu Xin Wants to Blow, Then Stops"
He did so because of the new anti-epidemic rules during the Tokyo Olympics. Some of these regulations include that players are not allowed to touch the game table with their hands and that they are not allowed to blow on the ball.
The hashtag "Xu Xin Wants to Blow, Then Stops" (#许昕欲吹又止#) that described Xu's cautiousness went trending and generating about 450 million views on Weibo.
Another related hashtag is "Jun Mizutani Blows on the Ball" (#水谷隼吹球#). The hashtag is about the moment when the Japanese table tennis player blows on the ball during the event but does not receive a warning from judges (see video here). The hashtag has so far generated about 820 million views on Weibo.

"Jun Mizutani Blows on the Ball"
Going against COVID19 regulations, Japanese table tennis player Mima Itō also touched the table several times, but the referee apparently did not notice or turned a blind eye. This also led to a Weibo hashtag page (#伊藤美诚也多次摸球桌#) and several memes.
Another hashtag, "Japanese Players Swimming on the Chinese Players" (#日本选手压在中国选手身上游# ), describes another moment during the Olympics that happened during the Chinese and Japanese women's water polo team competition on July 28, when a Chinese player was pushed underwater by a Japanese player while swimming. Some Weibo users suggested the move was dangerous and 'could have killed' her (see video here).
As the Games continue, the meme collections grow as online discussions are getting more intense on Weibo – especially when it comes to competitions between China and Japan.
In response to the ongoing controversies, the Central Communist Youth League of China (@共青团中央) published the video of the judges taking the Olympic oath during the opening ceremony and asked: "Have you followed your oath?"
A picture of a training venue for Chinese weightlifters was widely shared on Weibo because the slogan on the wall says: "To win a clean gold medal" (#中国选手的训练场馆 拿干净金牌#).
Chinese netizens applauded this principle of a 'clean' victory and have started to use the picture to call for fewer tricks during the rest of the Olympic competitions.
By Wendy Huang
Follow @whatsonweibo
Spotted a mistake or want to add something? Please let us know in comments below or email us. Please note that your comment below will need to be manually approved if you're a first-time poster here.
©2021 Whatsonweibo. All rights reserved. Do not reproduce our content without permission – you can contact us at info@whatsonweibo.com
U.S. Embassy Launches WeChat Stickers Featuring Cartoon Eagle
A Weibo hashtag about the eagle stickers, that feature some phrases previously used by China's Foreign Ministry, has now been taken offline.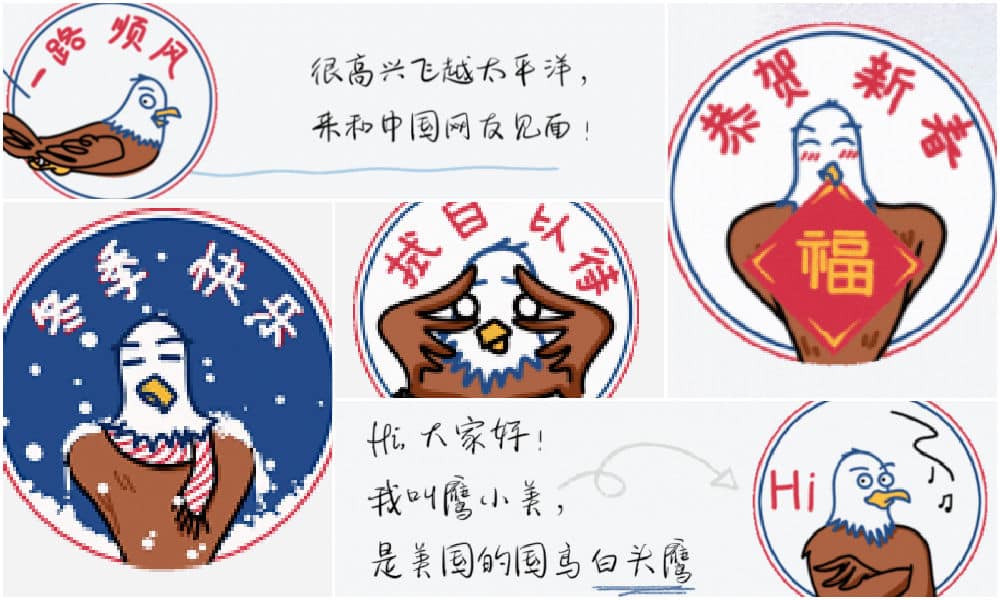 On January 30, the American Embassy in China announced the launch of its very own series of social media gifs, a special 'emoticon collection' (表情包), featuring a little, somewhat silly cartoon eagle.
The U.S. Embassy launched the eagle series on WeChat and also announced the series on their Weibo account, writing that the eagle made its first public appearance in light of the festivities surrounding the Chinese New Year.
The eagle is called "Xiaomei" or "Little Mei" (鹰小美). The 'mei' is part of 美国 Měiguó, Chinese for the 'United States,' but měi also means beautiful and pretty.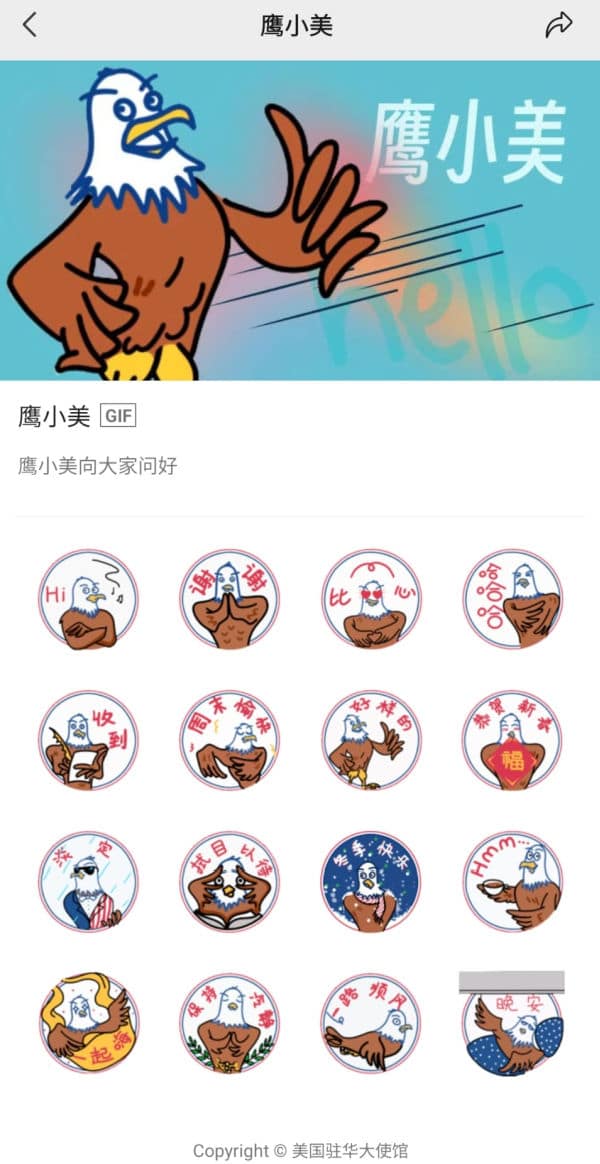 The American embassy issued a total of 16 different animated stickers, and they're intended to be used on Tencent's WeChat, where users can download all kinds of different emoticons or stickers to use in conversations.
WeChat users often use many different animated stickers in conversations to express emotions, make jokes, or increase the festive mood (by sending out celebratory New Year's or birthday etc gifs). Users can download new and preferred sticker packages through the app's sticker section.
One sticker shows Xiaomei with a festive decoration with 福 (fú) for blessing and prosperity, wishing everyone a happy start to the Chinese Lunar New Year. There are also stickers showing the texts "happy winter," "hi," and "thank you."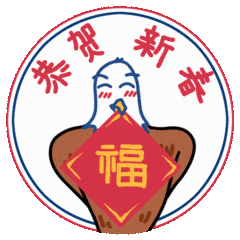 Another sticker in the series that has triggered some online responses is one that shows the eagle with a surprised look, wiping its eyes, with the words "wait and see" written above. The Chinese expression used is 拭目以待 shìmù yǐdài, to eagerly wait for something to happen, literally meaning to wipe one's eyes and wait.
This same expression was often used by the Chinese Foreign Ministry spokesperson Zhao Lijian (赵立坚) during press conferences, and he also used it in 2022 when responding to questions related to Nancy Pelosi's controversial visit to Taiwan and how the Chinese military would respond (e.g. he first used "wait and see" in the context of waiting to see if Pelosi would actually dare to go to Taiwan or not). But Zhao also used "please wait and see" (请大家拭目以待) when foreign reporters asked him how China would respond to the announced U.S. boycott of the Winter Olympics in 2021.
The Little Mei emoji triggered the most responses as some netizens felt it was meant as a sneer to the Chinese Foreign Ministry.
One of Little Mei's quotes is also "remain calm" (保持冷静 bǎochí lěngjìng), which was – perhaps coincidentally – also often used by Zhao in the context of the war in Ukraine and to refer to other international conflicts or tensions ("all parties should remain calm"). The animated sticker also has olive branches growing behind the eagle.
It recently became known that Zhao, who became known as the 'Wolf Warrior' diplomat, was removed as the Foreign Ministry spokesperson and was moved to the Department of Boundary and Ocean Affairs.
Especially in the context of Zhao leaving his post, some wondered why the U.S. Embassy would use phrases related to his press conferences for their new emoticons.
Although some people suggested the WeChat stickers were not launched in China with good intentions, others appreciated the humorous visuals and felt it was funny. Some also joked that America was infiltrating Chinese social media with its cultural export ("文化输出"), and others wondered if they could not also introduce some other stickers with more Chinese Foreign Ministry popular phrases on them.
A hashtag related to the topic made its rounds on Weibo on Tuesday (#美驻华大使馆上线鹰小美表情包#), but the topic suddenly was taken offline on Tuesday evening local time, along with some of the media reports about the remarkable WeChat series.
The WeChat stickers are still available for downloading by scanning the QR code below through WeChat.
By Manya Koetse , with contributions by Miranda Barnes
Get the story behind the hashtag. Subscribe to What's on Weibo here to receive our newsletter and get access to our latest articles:
Spotted a mistake or want to add something? Please let us know in comments below or email us. First-time commenters, please be patient – we will have to manually approve your comment before it appears.
©2023 Whatsonweibo. All rights reserved. Do not reproduce our content without permission – you can contact us at info@whatsonweibo.com.
Gu's Year: How Eileen Gu Became a Beloved Icon and Controversial Role Model in China
Patriotic, privileged, perfect? A year after Eileen Gu became an online sensation in China, she is still generating discussions.
Eileen Gu, the American-born freestyle skier and gold medallist who represented China in the 2022 Beijing Olympics, has made headlines again for her excellent halfpipe World Cup performance during the Chinese New Year. One year after Gu first became an internet sensation, she is, once again, receiving praise and triggering discussions on Chinese social media.
This Chinese Lunar New Year, the three Chinese Winter Olympic athletes Wu Dajing, Xu Mengtao, and Gao Tingyu, were widely discussed on Chinese social media after their debut at the CGM Spring Festival Gala.
Over 8000 kilometers away, another Winter Olympic athlete, Eileen Gu – better known as Gu Ailing 谷爱凌 in China, – also garnered huge attention for her excellent performance at the Calgary halfpipe World Cup. Just as people were celebrating the Chinese New Year, Eileen Gu claimed her second gold medal at the FIS Freeski World Cup.
It has almost been a year since the then-18-year-old Chinese-American freestyle skier grabbed gold at the Olympics and became front-page news in China.
Although Gu already garnered attention online when she announced in June of 2019 that she would switch national affiliation and compete for China, it wasn't until the Olympics that she appeared all over social media, was featured in dozens of ad campaigns, and practically became a household name in China.
Now, in light of the FIS Snowboard World Cup and the X Games in Aspen, Gu is back in the limelight.
On January 21st, the first day of the Year of the Rabbit, Chinese state broadcaster CCTV celebrated Gu's victory on social media using the hashtag "Eileen Gu Claims Two Golds within Three Days during the New Year Celebrations" (#谷爱凌过年3天2金#), with a two- minute video clip recording the highlights of her recent race. The hashtag has since received over 180 million views.
Gu herself also shared her victory on Weibo and wished people a prosperous New Year. That post attracted over 110,000 likes.
Many Chinese people celebrated Gu's new achievements with words of admiration, praising her capabilities and determination. One Weibo user commented: "I have to say, Gu Ailing is truly excellent. Three days, two medals. She has an indisputable talent."
Another user posted a video of Gu practicing while waiting for her flight and commented: "A healthy, energetic, diligent, excellent Gu Ailing who even continues training while waiting for boarding. Success doesn't come overnight."
Others also view Gu as a national icon for her gold medal wins for China. The phrase "wèi guó zhēngguāng" ("为国争光"), "winning glory for the country," appeared in many posts under the hashtag related to Gu's win.
But over the past year, since Gu's Olympic success, she has not always merely been viewed as a patriotic hero. Despite her popularity, Gu also triggered controversy and sometimes came under fire, with some wondering if she truly was patriotic and others blaming her for being privileged.
PATRIOTIC
"Everybody knows Eileen Gu is Chinese"
During the 2022 Winter Olympics in Beijing, the fact that Gu had switched her international allegiance and represented China instead of the US instilled pride among many Chinese. Chinese media flooded with stories on Gu that focused on the narrative of the multi-talented "mixed kid" who gave up her United States citizenship to represent the People's Republic of China.
However, when being asked about her citizenship in interviews, Gu's replies left many people wondering about the facts of the matter; they wanted to know whether or not Gu actually gave up her American passport, as China does not recognize dual nationality. Gu's response "I'm American when in the US and Chinese when in China" triggered dissatisfaction among Chinese audiences.
"I have stopped liking her since she said that," one Weibo user reflected in December 2022, and the post received 35,000 likes. To this day, there are many social media comments bringing up Gu's comment: "You're in America, so now you're American, right?"
Others also attacked Gu after Forbes listed her as the third highest-paid female athlete in the world in 2022 (#谷爱凌年收入1.4亿#). Some commenters argued that she had earned her money in China and was spending it in the US, and that she was unpatriotic for doing so.
However, some netizens defended Gu by stressing what she had done for China. In Weibo posts and comment threads, users supporting Gu wrote: "She won two gold medals and more for China, what did your patriotism contribute to China?" Others also said Gu had shown her love for China through her performances, and that it would be impossible to expect her to distance herself from the country she grew up in.
Meanwhile, Western media outlets described how the bi-lingual Gu had been "dodging" explicit questions about her US citizenship status. This also led to Gu getting attacked by Americans. When Gu returned to the US and enrolled in Stanford University, there was even an online petition about getting Gu's admittance to Stanford revoked due to Gu's supposed "lack of integrity about her nationality" and indifference to "the human rights violations" in China.
Among Chinese netizens, questions also rose about whether Gu had only represented China during the Olympics and if her return to the US might mean that she would give up her Chinese nationality and play for the US team instead.
But with Gu's debut at the FIS Freeski World Cup in the Year of the Rabbit, Chinese bloggers pointed out that Gu's nationality was still listed as Chinese.
"No matter where she is, Gu Ailing still has the Chinese nationality," one Weibo blogger wrote, with others also saying: "She is still representing China, we should all support her! The rumors about her changing nationalities are false!"
"Everybody knows Eileen Gu is Chinese," another social media user wrote.
But not everybody is convinced: "Don't fool yourself. I'm happy she helped China win gold, but dual citizenship is dual citizenship, there's no point in covering it up."
PRIVILEGED
"Gu's success is unrelated to normal people"
Another discussion that has flared up during Eileen Gu's past year of success is focused on her alleged privileged status, especially within the context of her being praised as a role model for Chinese (female) younger generations.
In February of 2022, an Instagram comment made by Gu regarding the use of VPNs in China caused some controversy. At the time, one person asked Gu about "internet freedom" in China and how it was possible for her to use Instagram while she was in China, where the platform is blocked. Gu then replied: "Anyone can download a vpn its literally free on the App Store [thumbs up]"
A screenshot of the exchange then circulated on Weibo, where many netizens were surprised about Gu's statement. VPNs are generally not available on app stores in mainland China, as there are numerous restrictions on virtual private networks (VPNs) which are commonly used to browse websites or apps that are otherwise blocked in China.
Gu was then criticized over the fact that she seemed unaware of the restrictions on VPNs along with her suggestion that 'internet freedom' only referred to the accessibility of foreign platforms, allegedly showing her privileged position.
After Gu enrolled in Stanford University and posted her all-A transcript of the first semester at the end of 2022, many praised her hard work but there was also criticism about her "showing off" and strategically choosing a supposedly easier curriculum.
"She posted it to impress Chinese people who do not understand the system," one person commented, with others replying that an "S" grade does not equal full points and that she had no A+ grades. Others claimed that Gu probably received help with her schoolwork.
As online discussions intensified (#谷爱凌斯坦福所有课程全部满分#), Gu herself responded to online criticism, stressing that she – without anybody's help – had worked hard for her grades and that only 5% of students can get an A at Stanford.
The idea that Gu comes from a very privileged background and that it is not just her diligence that brought her success is a recurring one on social media.
Gu was raised by her Chinese mother, a molecular biology graduate who studied at Peking University and Stanford University and who used to be a speed skating athlete as well as a part-time coach at Peking University. She allegedly worked at Wall Street and later became a CEO of a risk investment company. Her grandmother, a former official at China's Ministry of Transport, was a university basketball player, while her grandfather was a soccer player at school who was also good at swimming, skiing, and skating. Her family members' background is exceptional. University students were rare among Gu's grandparents' generation, and studying abroad was also uncommon for her mother's generation.
As people believe that this family background has largely contributed to Gu's success, Gu's position as a "role model" is questioned.
"Gu's success is unrelated to normal people," one Weibo user wrote. "What is the meaning of having this kind of role model? I have no parents from the Ivy League, no pretty face of mixed race, no elite education from the mix of Chinese and American cultures, no exceptional family background, and even no talent," one Zhihu user wrote.
"Gu started skiing at three years old, and practiced running, basketball, piano, and ballet soon after; I started playing in the mud at three years old and I can still only play in the mud," another user wrote. "Gu's mother meticulously planned Gu's life, but my mother could hardly spare any time for me while she was working."
PERFECT
"Congratulations, Little Gu, you're the greatest!"
Amid all the online discussions surrounding Eileen Gu, there is the view that people have not necessarily grown tired of Gu herself but of the (online) media narratives surrounding her which present her as the perfect daughter, the perfect athlete, or the perfect role model.
Some people admit that they feel jealous or say that they feel it is unfair because they feel they could never reach that standard.
One article published by The Paper in 2022 reiterated the popular view that Gu's success "has nothing to do with ordinary people" ("谷爱凌的成功与普通人没啥关系"), but argued that people should draw inspiration from her story rather than focusing on all the aspects of her life that are unattainable to them.
A commentary by PLA Daily also argued that Olympic athletes should not be turned into "gods" for their overnight success; neither should they be vilified because of their shortcomings. It's not about the pursuit of perfection, the author wrote, but about facing up to one's own shortcomings.
There are also those who remind others that Gu is still a teenager. Not only have some of the controversies over the past year shown that Gu is not "perfect," they also showed that fame is a double-edged sword.
As one netizen put it: "Success can be magnified to an extreme, and mistakes can be enlarged without boundaries (..) She'll be carefully walking on the sharp edge of the sword because if she does something that does not conform to what people expect of her, the same people who praise you today will step on you tomorrow."
Meanwhile, many Chinese fans of Eileen Gu have had it with those leaving "sour comments." "She is representing China, she snatched gold, your empty 'patriotism' is contributing nothing!"
"Congratulations, Little Gu, you're the greatest!" some say: "You did a good job, and we're proud of you."
By Zilan Qian and Manya Koetse
Follow @WhatsOnWeibo
Get the story behind the hashtag. Subscribe to What's on Weibo here to receive our newsletter and get unlimited access to all of our articles:
Spotted a mistake or want to add something? Please let us know in comments below or email us. First-time commenters, please be patient – we will have to manually approve your comment before it appears.
©2023 Whatsonweibo. All rights reserved. Do not reproduce our content without permission – you can contact us at info@whatsonweibo.com.