From Mountains of Taishan to Faces of Amsterdam – Interview with Photographer Jimmy on the Run
Fashion & Street Photographer Huang Jianmin a.k.a. Jimmy is the focus of the recently released short doc Jimmy on the Run by filmmaker Wytse Koetse. The short film [7 min] shows Jimmy's passion for the lens, his dynamic lifestyle, and his struggle with family expectations. What's on Weibo spoke to Jimmy about his past in China, his present in Amsterdam and his future in photography.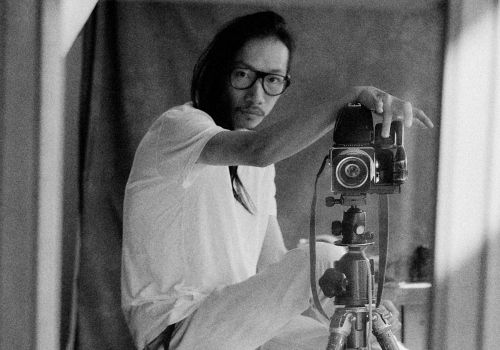 Fashion & Street Photographer Huang Jianmin a.k.a. Jimmy is the focus of the recently released short doc Jimmy on the Run by filmmaker Wytse Koetse. The short film [7 min] shows Jimmy's passion for the lens, his dynamic lifestyle, and his struggle with family expectations. What's on Weibo spoke to Jimmy about his past in China, his present in Amsterdam and his future in photography.
ANOTHER LIFE
"I had never even seen a city until I was 12 years old."
I meet Jimmy in his home in the city center of Amsterdam. It is the first time we meet, but I feel like I know him quite well – it is because I have seen the short doc Jimmy on the Run that gets up close and personal with this photographer and his work. On Jimmy's comfortable couch, we talk about his life in China, his love for the streets of Amsterdam and the journey he's made to get where he is today.
"I was born and raised in a village in China's Guangdong province," Jimmy, whose Chinese name is Huang Jianmin (黄健敏), begins: "Taishan is my hometown, Taishanese [台山话] is my native language. We lived in a rural area on the outskirts, which was like a small village. There was nothing there when I was young. I had never even seen a city until I was 12 years old. It has now changed enormously; there's even a train going there. It was a good place for me to grow up. I could play outside with my friends all day. We would catch fish, go up the mountain and pluck fruit from the trees."
"My dad started working in Amsterdam when I was seven years old, so I mostly grew up alone with my mum. Many people from Taishan leave for America or Europe. Already since the 1900s people from [tooltip text="Taishan is known as the No 1 Home of Overseas Chinese."]Taishan[/tooltip] left in great numbers to the 'Old Gold Mountain' [旧金山, San Fransisco]."
"I was sixteen when my mum and I also moved to Amsterdam. I was afraid to leave China, and actually did not want to go. But gradually, I started to see that life in the Netherlands might bring me new opportunities. Some of my friends in Taishan are jobless now. If I would've stayed, I probably would've been married and have my own family now. I'd be in the village, and would go to the big city once a year. But my life turned out differently."
COMING TO AMSTERDAM
"I was lucky to discover my love for photography – it saved me."
"I soon discovered I really liked Amsterdam. It's easier to get what I want here. It's colorful and people are very approachable. I have been to big cities like Hong Kong, New York and Paris, but never got that same feeling there. People are down to earth here. Amsterdam might not be a fashion city like Paris, but Amsterdam sure is a people's city."
"I started out doing different jobs after I arrived in Amsterdam. I never graduated from any school, because of the language barrier and the different educational systems in China and the Netherlands. I would work in Chinatown supermarkets, help out in restaurant kitchens here and there, sort out the luggage at Schiphol Airport. I was also a mailman for some time, and worked as a cleaner in houses. I once found a dead guy while cleaning. After that, I was no longer afraid to get my hands dirty."
"I am prone to addiction, and this started becoming somewhat of a problem after I came to Amsterdam. I developed an addiction for gaming. I don't drink, I don't smoke and I don't gamble – but I couldn't stop gaming."
"Some years after I'd moved to Amsterdam, I had a girlfriend and it was through her that I first got interested in photography; she had a brother who was into it. He would take pictures at parties. I thought it was pretty cool. I would play around with my father's camera, but then bought my own first camera in 2008 – I was just smitten with it. I started going out into the streets with it. I would search for something to shoot, and would always find it. I was lucky to discover my love for photography – it saved me from gaming. It became my new addiction."
JIMMY ON THE RUN
"I am used to running after things – I've done so all my life."
"Taking self-portraits became a way to express myself. I did not take these pictures to represent myself to others, but to record a moment in time and try to capture the feelings I had. It was something personal."
"One time when I was out taking photos, I saw a girl on the streets. She probably was around 16 years old, and was very slender with long legs. Blue jeans jacket, boots and a cigarette dangling from her mouth. When I saw her, I knew I had to take her picture. I am used to running after things – I've done so all my life. But this was the first time I ran after someone to take a picture, and it turned out perfect. She was the start of me taking pictures of people. I started blogging and getting active on social media. I then became Jimmy on the Run."
"I can't really explain how I work in doing street photography. It's a feeling. I met a 17-year-old ginger boy today, and I thought: I need to talk to you, I need to photograph you. There will always be people saying no when I ask if I can take their picture, but you still need to ask. It has made me more confident."
"Faces, fashion, people moving – my photographs are about the moment someone gives me. I like unique faces, they don't have to be pretty. I like anything that's timeless. Portraits, classic looks. I don't feel like I need to capture the era we live in, I want to capture the moment we live in. My photos should still look good on your wall fifty years from now."
"Filmmaker Wytse Koetse liked my pictures, and started following me on social media. I also liked his work, especially the short documentary Cola Chicken. It was real, simple and pure. I loved the scene where Chen Chen [the main subject] talks about how he loves dogs, but also eats dog meat, and then says sorry to the dog. That guy is real, that's the real shit."
"I did not just agree to him filming me because I liked his work, but also because I felt a little lost at the time and it helped me. I had just started as a freelance photographer. It was the right timing. Wytse started coming over and followed me as I worked. We spent so much time together that we became much closer throughout the process of filming. The documentary initially was supposed to be just about my work, but in the end, it also became more about myself. We talked a lot, and I'm quite a sensitive person. My father is the man I respect most, but he's not proud of me. When I start talking about him, I often have to cry. It's good to face yourself. Things are much better now. If I'm gonna show my dad the documentary? I'm not sure yet. Maybe later."
BETWEEN CHINA AND AMSTERDAM
"I grew up with Deng Xiaoping, but we learned that Mao was the sun. He was like a God to us."
"Amsterdam has helped me open my eyes to new things. In China, I always felt restricted. In school, I had to wear a uniform and the teachers were very strict. I grew up with Deng Xiaoping, but we learned that Mao was the sun. He was like a God to us. We had one cinema and the only movies we saw were those about Mao fighting against the Japanese. Of course, my parents had it much worse than me and my life was good, but I did not feel free. Amsterdam has changed me. I look differently at life now. I never really saw things over there. I now see fashion, and see different scenes. Like the gay scene – I had never seen something like that before."
"In China there is a great divide between the rich and the poor. In Amsterdam, there is this overall vibe of people being people – it doesn't matter if you're homeless or a celebrity. It's one of the reasons I love Amsterdam so much; there's a sense of equality."
"For me, Holland means freedom. I can dress how I want and say what I want here. In China, I cannot. I was once hit when I tried to take a picture in Hong Kong. I am not sure I want to try to do photography in China anymore. I am more scared to do it there.  I feel safer here. People here are very straightforward, and I like that: yes is yes, no is no. Shit gets done this way."
"I don't miss my life in China, but I do miss the food. I used to go back a lot, but now not so much. I sometimes feel a bit caught between China and Amsterdam. I'm a mix of both now. Many of the second generation Chinese who were born in the Netherlands don't understand me. I was not born here, and our backgrounds are very different. I don't consider them Chinese like me. But at the same time I can no longer move back to China, because I might be too Dutch now. Although I must admit, I am not as open-minded as Dutch people are. My parents will never be my 'friends', like it is for many Dutch here. Anyway, there is no way I could indefinitely move back to China, maybe only for a year or so. I can't handle the smog. My friends in Shenzhen have started to look old. Besides, there is no life there for me now."
CHOOSING A NEW PATH
"There's no sweet without sweat – you have to work hard to achieve your dreams. "
"Am I a street photographer or a fashion photographer? I am both. Street photography is in my heart. I want to mix street and fashion. My style is raw, I like to keep things as authentic as possible. I'm rather nostalgic and have a soft spot for the 1950s and 1960s. Sherlock Holmes, Dorian Gray, Helmut Newton, Richard Avedon. I love doing everything analog, not digital. I hate social media. I need it because it helps me, but I hate it. I used Chinese microblogs before, now I use WeChat and have Tumblr, Facebook, my blog and my website. I sometimes post very personal stuff and people don't even see it. Every time you post something on social media you give away a little bit of yourself."
"The relationship with my parents is now good, but they are more traditional than I am. My mum is somewhat more western than my dad is. My dad is the one I respect most in this world. I love him. But I cannot let go of the fact that I don't make my father proud. He envisioned another life for me than the one I chose. They'd hoped that I would've been married by now, with kids."
"My dream for the future? I am a one-child-policy kid, and I've always been jealous of people with brothers or sisters. I hope to have at least two children one day. And I would really love to have a daughter. I would take her to Disneyland. She can dress up as Batman, I'll be Robin."
"I also want to publish a book with my photos. It will be called the Faces of Amsterdam. I hope I can work for high-end magazines. For now, I'll just keep on working hard. I live by 'xian ku hou tian' [先苦后甜, Chinese expression]: 'there's no sweet without sweat'. You have to work hard to achieve your dreams. That's what happiness is, right?"
This interview was conducted and condensed by Manya Koetse in Amsterdam.
Follow @WhatsOnWeibo
To watch the short film about 'Jimmy on the Run', see the featured video on top of this article, or go view it at Filming Freedom. For more of Jimmy's work, see www.jimmyontherun.com.
©2016 Whatsonweibo. All rights reserved. Do not reproduce our content without permission – you can contact us at info@whatsonweibo.com.
Remembering San Mao – the Bohemian Writer That Captured the Hearts of Millions of Chinese
27 years after her suicide, bohemian writer San Mao still strikes a chord with Chinese netizens.
Renowned author and world traveler San Mao (三毛) was one of the first Chinese mass media celebrities. Exactly 27 years after her passing, Weibo netizens collectively commemorate her free spirit, inspirational life, and tragic death.
In a time when Beijing's first fast-food restaurants opened their doors, people were hooked on Teresa Tang's sweet voice, and television sets entered Chinese living rooms, pirate editions of books by the wildly popular Chinese author San Mao first started spreading all over mainland China.
Before this time in the late 1980s, the female author was already a celebrity in Taiwan and Hong Kong since the 1970s; not just because of her many books, newspaper columns, song lyrics, and public lectures, but also because of her free, cosmopolitan, and "legendary" life that captured the imagination of many Chinese eager to look beyond their own borders.
Researcher Miriam Lang (2015) describes San Mao as "one of the first mass media celebrities in the Chinese-speaking world" (440).
On January 4th 2018, the 20th-century writer became a trending topic on social media when various media commemorated her. Chinese state media outlet People's Daily dedicated a post to the iconic author on Weibo, titled "Today, we cherish the memory of San Mao."
People's Daily writes:
"She was born in Chongqing, moved to Taiwan, studied in Spain, and settled in the Sahara. All of her life she pursued freedom and touched the hearts of many with all of her words. Her love-story with Jose stirred people's emotions. Her mother said that maybe her life was not perfect enough for her, but we now know that her life-long pursuit of her dreams has already become romantic legend. Today, in 1991, writer San Mao committed suicide."
Besides that the post itself attracted thousands of comments and was shared nearly 3800 times, many other media outlets and netizens also posted their own commemorations to the author on Weibo. One post by the Communist Youth League received more than 100,000 comments on January 4th.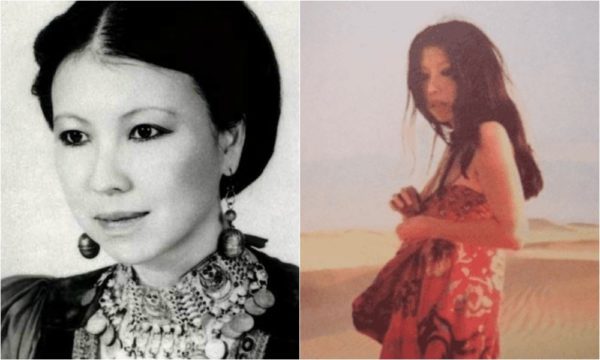 "She was the first author I really loved," one person comments: "Whether she was in the Sahara or Madrid, the way she describes her love has become like a little gemstone in my own life."

A Woman Writer Named Chen, Echo, and San Mao

San Mao is known as the wandering writer. Throughout her life, she moved from place to place; a life pattern that already started forming in the early years of her childhood.
San Mao was born in Chongqing, China, in 1943. Her parents, mother Miao Jinlan and father Chen Siqing, named their little girl Chen Mao Ping (陈懋平). Chen, however, later preferred to be called Chen Ping, and gave herself the English name of 'Echo' to honor her painting teacher. Once she started writing, she used the pen name San Mao (三毛), which is how she came to be remembered.
San Mao's early years took her from wartime Chongqing via Nanjing to Taiwan, where the 6-year-old girl had trouble fitting in at school. She preferred reading books over doing schoolwork, and while she read literary classics such as Don Quixote at an early age, she failed in mathematics and received low grades.
After a teacher at her Taipei school embarrassed her in front of her classmates by drawing a '0' grade on her face and making her parade around, she refused to continue her classes there and was home-schooled by private tutors and her own father, who was a lawyer (Chen 2007).
After studying Philosophy at the Chinese Culture University in Taiwan, the 20-year-old San Mao set out to broaden her horizons and moved to Spain, where she enrolled at the University of Madrid. It was the start of her bohemian lifestyle, that brought her from Spain to Germany, from the Sahara Desert to the Canary Islands, and from Central and South America back to Taiwan.
San Mao experienced many adventures but also had to face many difficult times. Her first great love whom she was to be married to, a German teacher 19 years her senior, died of a heart attack when San Mao was 26 old.
Ten years later, her Spanish husband Jose Maria Quero Y Ruiz, whom San Mao lovingly called 'He Xi' (荷西) and with whom she had spent six years in the desert, tragically died during a diving accident.
Miriam Lang, in her study of San Mao (2015), describes her as "unusual for a woman of her time and place"; she traveled far from home, married a non-Chinese man, and remained childless. Nonetheless, Lang notes, San Mao was also traditional in that she represented herself as a "happy housewife" while married, and expressed conservative feminine values in her books (443).
Although San Mao published her first book at the of 19, she did not really gain fame until the release of her first book The Stories of the Sahara (撒哈拉的故事) in 1976. This work revolves around San Mao's personal experiences in the Sahara desert together with her husband Jose (Ying 2010, 162).

An Unhappy Ending

In the decade following her husband's death, San Mao first set out on a 6-month journey to America but then traveled less and finally settled in Taiwan in 1982, where she started teaching literature and creative writing at the Chinese Culture University.
Being a celebrity, her classes were always packed – students lined up to attend her lectures.
In 1989, she first visited mainland China again since her childhood, where she started working on the screenplay of Red Dust, a love story set during the Sino-Japanese war. Although the film eventually received much acclaim – even winning the prize for Best Film at the Golden Horse Awards of 1990 – San Mao received criticism for creating a "too positive picture" of the leading male character, who was perceived to be a traitor to the Chinese nation (Lang 2015, 442).
Despite all of her activities in her later career, San Mao never parallelled the success she had with her stories about the Sahara. In 1990, San claimed she had won a literary prize in Spain for novella written in Spanish, but the work appeared to be non-existent (Lang 2015,442).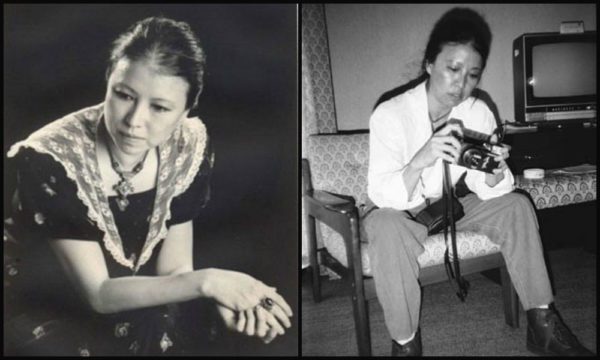 In early 1991, San Mao admitted herself to a hospital in Taiwan where she was tested for cancer. The results turned out negative, but San reportedly asked the nurse for a sleeping pill for the night and asked her not to wake her (Chen 2007).
San Mao ended her own life by hanging on January 4, 1991, at Rongmin General Hospital. She was 47 years old.
Father Jerry Martinson, a Jesuit priest who knew San Mao for years as the brother of her close friend Barry Martinson, told UCA News two weeks after her suicide that San Mao "desired to escape from her fame's pressure and emotional entanglements, and to reunite with Jose (..). His death was a trauma in her life."
He also said that Antoine Saint-Exupery's The Little Prince was San Mao's favorite reading: "At the end of the story, the Little Prince wanted to go back to his planet, reachable only through short suffering."
Throughout her life, San Mao visited over 54 countries and wrote a total of 26 complete works (Chen 2007; Lang 2015, 442; Huang 2017). An English translation of her work Stories of the Sahara (1976) is expected to be released by publishing house Bloomsbury in 2018.

Online "San Mao Fever"

The suicide of San Mao generated a new wave of "San Mao fever" in the 1990s. And now, more than two decades after her death, the Chinese celebrity still has major appeal to social media users, who post her quotes, photos, and audio segments.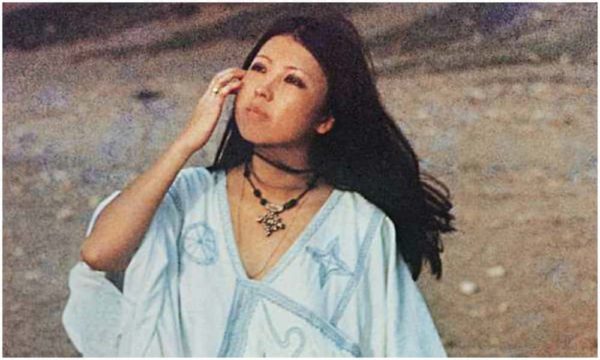 "How I love San Mao," one person writes: "Her every word is just immersed with her wisdom."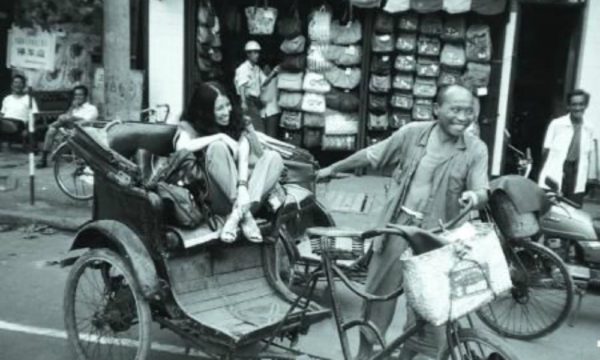 But not all commenters are equally positive. Some say that San Mao is representative of a time when Chinese women "blindly followed" western values, adoring foreign men.
For the majority of commenters, however, San Mao is a name that brings out new inspiration or old memories. "Whenever I think about her stories from the Sahara, it just moves me."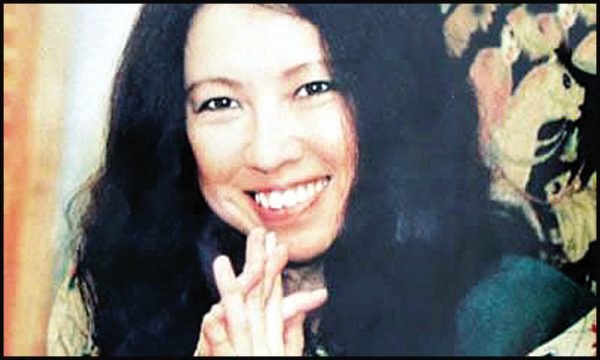 One Weibo user honors San Mao by posting one of her quotes*:
"Often, I asked myself, what is distance? Then I heard my own answer, saying that distance is what I desired most in life – that it is freedom.
A freedom far, far away, like the air.
At that moment, I realized that I had slowly released myself from all the things I didn't need that were binding me to my life. I then thought: I can go to the most remote corners of the earth if that is where my heart wants to go.
It was in that moment, that my freedom had finally arrived."
If you are interested in this story you might also be interested in reading the story of Li Xianglan, the superstar who was caught between China and Japan during the Second Sino-Japanese War.
The Stories of the Sahara (in Chinese) can be purchased from Amazon:
The story of the Sahara (Chinese Edition)
The complete works of San Mao can also be purchased in Chinese online:
The Complete Works of Sanmao (Chinese Edition)
iTunes also offers The Stories of the Sahara in Chinese:

By Manya Koetse
Follow @whatsonweibo
Sources & References
Chen, Shaoshua. 2007. "San Mao – Taiwan's Wandering Writer." Women of China, November 30. http://www.womenofchina.cn/womenofchina/html1/people/writers/8/8989-1.htm [4.1.18].
Huang, Echo. 2017. "The brave, tragic adventurer who inspired generations of Chinese girls to adopt her nickname." Quartz Magazine, April 24. https://qz.com/963273/the-world-traveling-writer-san-mao-inspired-generations-of-girls-to-adopt-her-nickname-echo/ [4.1.18].
Lang, Miriam. 2015 (2003). In Lily Xiao Hong Lee and A.D. Stefanowska (eds), Biographical Dictionary of Chinese women – The Twentieth-Century 1912-2000. London/New York: Routledge.
Treichel, Tamara. 2013. "The Echo Effect." Global Times, March 10. http://www.globaltimes.cn/content/767044.shtml [4.1.18].
UCA News. 1991. "PRIEST SAYS WRITER WHO COMMITTED SUICIDE WANTED TO BECOME CATHOLIC NUN." UCA News, February 21. https://www.ucanews.com/story-archive/?post_name=/1991/02/19/priest-says-writer-who-committed-suicide-wanted-to-become-catholic-nun&post_id=32086 [7.1.18].
Ying, Li-hua. 2010. Historical Dictionary of Modern Chinese Literature. Lanham: The Scarecrow Press.
Images
http://www.baike.com/wiki/%E4%B8%89%E6%AF%9B%5B%E4%BD%9C%E5%AE%B6%5D
http://designblog.rietveldacademie.nl/?tag=mask
http://cq.people.com.cn/GB/365409/c24845560.html
http://www.360doc.com/content/14/0623/15/700274_389097947.shtml
https://www.lemiaunoir.com/san-mao-mujer-escritora/
http://www.sohu.com/a/142240780_767795
http://www.sohu.com/a/130964781_488738
https://elpais.com/elpais/2016/10/25/inenglish/1477405923_390849.html
* "常常,我跟自己说,到底远方是什么东西。
然后我听见我自己回答,说远方是你这一生现在最渴望的东西,就是自由。
很远很远的,一种像空气一样的自由。
在那个时候开始,我发觉,我一点一点脱去了束缚我生命的一切不需要的东西。
在那个时候,海角天涯,只要我心里想到,我就可以去。
我的自由终于在这个时候来到了."
Spotted a mistake or want to add something? Please let us know in comments below or email us.
©2018 Whatsonweibo. All rights reserved. Do not reproduce our content without permission – you can contact us at info@whatsonweibo.com.
Successful Reality Show 'The Birth of Actors' Surrounded by Controversy
Some viewers suspect there is foul play in this acting competition.
The Chinese reality show 'The Birth of Actors' (演员的诞生) has become a huge TV hit and a favorite topic of discussion on social media in China. But, despite receiving much praise, the show is repeatedly surrounded by controversy.
Reality show 'The Birth of Actors' (演员的诞生) has been trending on Chinese social media for weeks now. Since its first airing in late October 2017, the Zhejiang Satellite TV hit has repeatedly become a focus of discussion on Weibo.
Its first two episodes alone already had a viewership of 330 million. The show's hashtag (#演员的诞生#) received 4,6 billion views on Weibo so far.
The show is hosted by the popular actor and director Zhang Guoli (张国立).
The live show invites Chinese actors and actresses to re-enact famous scenes from TV-series or movies. A team of judges, consisting of renowned celebrities Zhang Ziyi (章子怡), Song Dandan (宋丹丹), and Liu Ye (刘烨), give commentary and marks.
The celebrity team, along with the studio audience, then votes over who will stay on the show and who has to leave. The show's winner gets a chance to perform with one of the acclaimed 'judges.'
Foul Play?
Chinese netizens, however, have been questioning the show's credibility since many deemed the show's 'losers' better performers than its winners. In the first episode, for example, judge Zhang Ziyi harshly criticized Chinese actress Zheng Shuang (郑爽) over "lacking respect for her job," but Zheng Shuang won the competition anyway.
In December 2017, Chinese actress and show contestant Yuan Li (袁立) started a big discussion over the validity of the show when she posted screenshots on Weibo of a conversation with a woman working for the show. In this conversation, the show's staff member promised Yuan Li that she would win the first competition and go on to the next stage, to eventually perform with Zhang Ziyi.
According to Yuan, not only was this promise broken, the show allegedly also edited Yuan's performance in such a way that it made her look like a "crazy person."
'The Birth of Actors' responded to the allegations, stating that the staff member's conversation with Yuan Li was not representative of her function at the show. The woman has since resigned from the show.
Corrupt Voting System
Despite the fact that the show's production has denied allegations, rumors of a corrupt voting system are persistent. Later in December, actress Yuan Li also exposed on Weibo that the machines given to the studio audience of the show are actually fake.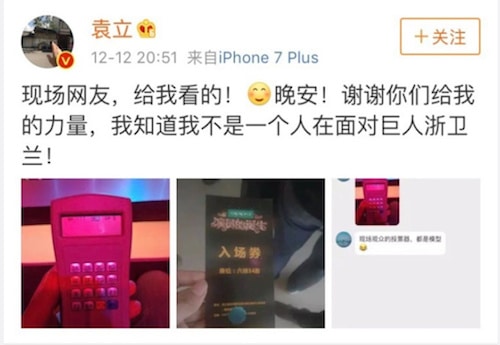 Photos of the non-functional machines were originally taken by a Weibo netizen named 'Sea Breeze Diary 1983' (@海风日记1983), who claimed they joined the live recording of 'The Birth of Actors' as the studio audience.
Later, however, other sources claimed the vote machines did not belong to Zhejiang TV's 'Birth of the Actors,' but to another show by Beijing Satellite TV, and that Yuan Li was spreading false rumors.
Copyright Infringement
On January 2nd, the show made headlines again after it had featured a re-enacted scene from the Hong Kong stage classic I Have A Date with Spring (我和春天有个约会) by dramatist Raymond To (杜國威).
The Hong Kong production company's chairman responded to the episode through Weibo, claiming that 'The Birth of Actors' never approached the company for copyright to the scenes.
Not only did the chairman accuse the show of copyright infringement, he also stated that the performance of the actors in the Zhejiang Satellite TV show "entirely distorted the nature of the play's characters and its experience," and that it "completely destroyed the image of the original script," "wrecking the spirit of this classic drama."
The scene became a topic of discussion earlier when Zhang Ziyi called its performance "the most awkward" she had ever seen.
Ongoing Success
Despite all of its controversies, or perhaps because of them, 'The Birth of Actors' has continued to draw large numbers of viewers.
It is not the first time a popular Chinese TV show faces allegations of copyright infringement and fake voting systems. Previously, Dutch production company Talpa sued Zhejiang Satellite TV for its hit TV show 'New Singing of China' (中国新歌声), of which the Dutch company owned the TV format ('The Voice of..') rights.
Many other Chinese TV shows including voting systems have been accused of influencing or faking audience votes. These controversies often draw more attention to a TV show, which usually grows its viewership.
Besides its controversies, the show has another recipe for success: its all-star cast members that mixes established names with new talent (小鲜肉). As China's idol industry is thriving, this show gives millions of viewers exactly what they want: superstars, competition, entertainment, and some juicy gossip.
By Boyu Xiao and Manya Koetse
Follow @whatsonweibo
Spotted a mistake or want to add something? Please let us know in comments below or email us.
©2018 Whatsonweibo. All rights reserved. Do not reproduce our content without permission – you can contact us at info@whatsonweibo.com.