From Mountains of Taishan to Faces of Amsterdam – Interview with Photographer Jimmy on the Run
Fashion & Street Photographer Huang Jianmin a.k.a. Jimmy is the focus of the recently released short doc Jimmy on the Run by filmmaker Wytse Koetse. The short film [7 min] shows Jimmy's passion for the lens, his dynamic lifestyle, and his struggle with family expectations. What's on Weibo spoke to Jimmy about his past in China, his present in Amsterdam and his future in photography.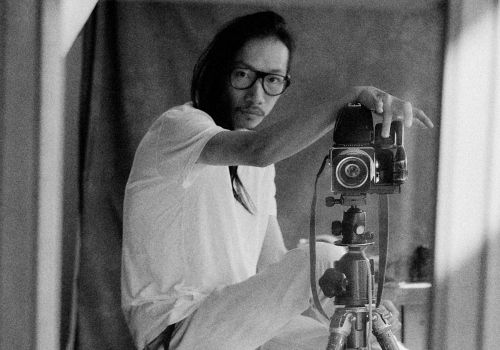 Fashion & Street Photographer Huang Jianmin a.k.a. Jimmy is the focus of the recently released short doc Jimmy on the Run by filmmaker Wytse Koetse. The short film [7 min] shows Jimmy's passion for the lens, his dynamic lifestyle, and his struggle with family expectations. What's on Weibo spoke to Jimmy about his past in China, his present in Amsterdam and his future in photography.
ANOTHER LIFE
"I had never even seen a city until I was 12 years old."
I meet Jimmy in his home in the city center of Amsterdam. It is the first time we meet, but I feel like I know him quite well – it is because I have seen the short doc Jimmy on the Run that gets up close and personal with this photographer and his work. On Jimmy's comfortable couch, we talk about his life in China, his love for the streets of Amsterdam and the journey he's made to get where he is today.
"I was born and raised in a village in China's Guangdong province," Jimmy, whose Chinese name is Huang Jianmin (黄健敏), begins: "Taishan is my hometown, Taishanese [台山话] is my native language. We lived in a rural area on the outskirts, which was like a small village. There was nothing there when I was young. I had never even seen a city until I was 12 years old. It has now changed enormously; there's even a train going there. It was a good place for me to grow up. I could play outside with my friends all day. We would catch fish, go up the mountain and pluck fruit from the trees."
"My dad started working in Amsterdam when I was seven years old, so I mostly grew up alone with my mum. Many people from Taishan leave for America or Europe. Already since the 1900s people from [tooltip text="Taishan is known as the No 1 Home of Overseas Chinese."]Taishan[/tooltip] left in great numbers to the 'Old Gold Mountain' [旧金山, San Fransisco]."
"I was sixteen when my mum and I also moved to Amsterdam. I was afraid to leave China, and actually did not want to go. But gradually, I started to see that life in the Netherlands might bring me new opportunities. Some of my friends in Taishan are jobless now. If I would've stayed, I probably would've been married and have my own family now. I'd be in the village, and would go to the big city once a year. But my life turned out differently."
COMING TO AMSTERDAM
"I was lucky to discover my love for photography – it saved me."
"I soon discovered I really liked Amsterdam. It's easier to get what I want here. It's colorful and people are very approachable. I have been to big cities like Hong Kong, New York and Paris, but never got that same feeling there. People are down to earth here. Amsterdam might not be a fashion city like Paris, but Amsterdam sure is a people's city."
"I started out doing different jobs after I arrived in Amsterdam. I never graduated from any school, because of the language barrier and the different educational systems in China and the Netherlands. I would work in Chinatown supermarkets, help out in restaurant kitchens here and there, sort out the luggage at Schiphol Airport. I was also a mailman for some time, and worked as a cleaner in houses. I once found a dead guy while cleaning. After that, I was no longer afraid to get my hands dirty."
"I am prone to addiction, and this started becoming somewhat of a problem after I came to Amsterdam. I developed an addiction for gaming. I don't drink, I don't smoke and I don't gamble – but I couldn't stop gaming."
"Some years after I'd moved to Amsterdam, I had a girlfriend and it was through her that I first got interested in photography; she had a brother who was into it. He would take pictures at parties. I thought it was pretty cool. I would play around with my father's camera, but then bought my own first camera in 2008 – I was just smitten with it. I started going out into the streets with it. I would search for something to shoot, and would always find it. I was lucky to discover my love for photography – it saved me from gaming. It became my new addiction."
JIMMY ON THE RUN
"I am used to running after things – I've done so all my life."
"Taking self-portraits became a way to express myself. I did not take these pictures to represent myself to others, but to record a moment in time and try to capture the feelings I had. It was something personal."
"One time when I was out taking photos, I saw a girl on the streets. She probably was around 16 years old, and was very slender with long legs. Blue jeans jacket, boots and a cigarette dangling from her mouth. When I saw her, I knew I had to take her picture. I am used to running after things – I've done so all my life. But this was the first time I ran after someone to take a picture, and it turned out perfect. She was the start of me taking pictures of people. I started blogging and getting active on social media. I then became Jimmy on the Run."
"I can't really explain how I work in doing street photography. It's a feeling. I met a 17-year-old ginger boy today, and I thought: I need to talk to you, I need to photograph you. There will always be people saying no when I ask if I can take their picture, but you still need to ask. It has made me more confident."
"Faces, fashion, people moving – my photographs are about the moment someone gives me. I like unique faces, they don't have to be pretty. I like anything that's timeless. Portraits, classic looks. I don't feel like I need to capture the era we live in, I want to capture the moment we live in. My photos should still look good on your wall fifty years from now."
"Filmmaker Wytse Koetse liked my pictures, and started following me on social media. I also liked his work, especially the short documentary Cola Chicken. It was real, simple and pure. I loved the scene where Chen Chen [the main subject] talks about how he loves dogs, but also eats dog meat, and then says sorry to the dog. That guy is real, that's the real shit."
"I did not just agree to him filming me because I liked his work, but also because I felt a little lost at the time and it helped me. I had just started as a freelance photographer. It was the right timing. Wytse started coming over and followed me as I worked. We spent so much time together that we became much closer throughout the process of filming. The documentary initially was supposed to be just about my work, but in the end, it also became more about myself. We talked a lot, and I'm quite a sensitive person. My father is the man I respect most, but he's not proud of me. When I start talking about him, I often have to cry. It's good to face yourself. Things are much better now. If I'm gonna show my dad the documentary? I'm not sure yet. Maybe later."
BETWEEN CHINA AND AMSTERDAM
"I grew up with Deng Xiaoping, but we learned that Mao was the sun. He was like a God to us."
"Amsterdam has helped me open my eyes to new things. In China, I always felt restricted. In school, I had to wear a uniform and the teachers were very strict. I grew up with Deng Xiaoping, but we learned that Mao was the sun. He was like a God to us. We had one cinema and the only movies we saw were those about Mao fighting against the Japanese. Of course, my parents had it much worse than me and my life was good, but I did not feel free. Amsterdam has changed me. I look differently at life now. I never really saw things over there. I now see fashion, and see different scenes. Like the gay scene – I had never seen something like that before."
"In China there is a great divide between the rich and the poor. In Amsterdam, there is this overall vibe of people being people – it doesn't matter if you're homeless or a celebrity. It's one of the reasons I love Amsterdam so much; there's a sense of equality."
"For me, Holland means freedom. I can dress how I want and say what I want here. In China, I cannot. I was once hit when I tried to take a picture in Hong Kong. I am not sure I want to try to do photography in China anymore. I am more scared to do it there.  I feel safer here. People here are very straightforward, and I like that: yes is yes, no is no. Shit gets done this way."
"I don't miss my life in China, but I do miss the food. I used to go back a lot, but now not so much. I sometimes feel a bit caught between China and Amsterdam. I'm a mix of both now. Many of the second generation Chinese who were born in the Netherlands don't understand me. I was not born here, and our backgrounds are very different. I don't consider them Chinese like me. But at the same time I can no longer move back to China, because I might be too Dutch now. Although I must admit, I am not as open-minded as Dutch people are. My parents will never be my 'friends', like it is for many Dutch here. Anyway, there is no way I could indefinitely move back to China, maybe only for a year or so. I can't handle the smog. My friends in Shenzhen have started to look old. Besides, there is no life there for me now."
CHOOSING A NEW PATH
"There's no sweet without sweat – you have to work hard to achieve your dreams. "
"Am I a street photographer or a fashion photographer? I am both. Street photography is in my heart. I want to mix street and fashion. My style is raw, I like to keep things as authentic as possible. I'm rather nostalgic and have a soft spot for the 1950s and 1960s. Sherlock Holmes, Dorian Gray, Helmut Newton, Richard Avedon. I love doing everything analog, not digital. I hate social media. I need it because it helps me, but I hate it. I used Chinese microblogs before, now I use WeChat and have Tumblr, Facebook, my blog and my website. I sometimes post very personal stuff and people don't even see it. Every time you post something on social media you give away a little bit of yourself."
"The relationship with my parents is now good, but they are more traditional than I am. My mum is somewhat more western than my dad is. My dad is the one I respect most in this world. I love him. But I cannot let go of the fact that I don't make my father proud. He envisioned another life for me than the one I chose. They'd hoped that I would've been married by now, with kids."
"My dream for the future? I am a one-child-policy kid, and I've always been jealous of people with brothers or sisters. I hope to have at least two children one day. And I would really love to have a daughter. I would take her to Disneyland. She can dress up as Batman, I'll be Robin."
"I also want to publish a book with my photos. It will be called the Faces of Amsterdam. I hope I can work for high-end magazines. For now, I'll just keep on working hard. I live by 'xian ku hou tian' [先苦后甜, Chinese expression]: 'there's no sweet without sweat'. You have to work hard to achieve your dreams. That's what happiness is, right?"
This interview was conducted and condensed by Manya Koetse in Amsterdam.
Follow @WhatsOnWeibo
To watch the short film about 'Jimmy on the Run', see the featured video on top of this article, or go view it at Filming Freedom. For more of Jimmy's work, see www.jimmyontherun.com.
©2016 Whatsonweibo. All rights reserved. Do not reproduce our content without permission – you can contact us at info@whatsonweibo.com.
China's Woman Warrior Goes America Again: The Disneyfication of Mulan
The story of Mulan is ingrained in Chinese culture, but Disney has made her an international classic.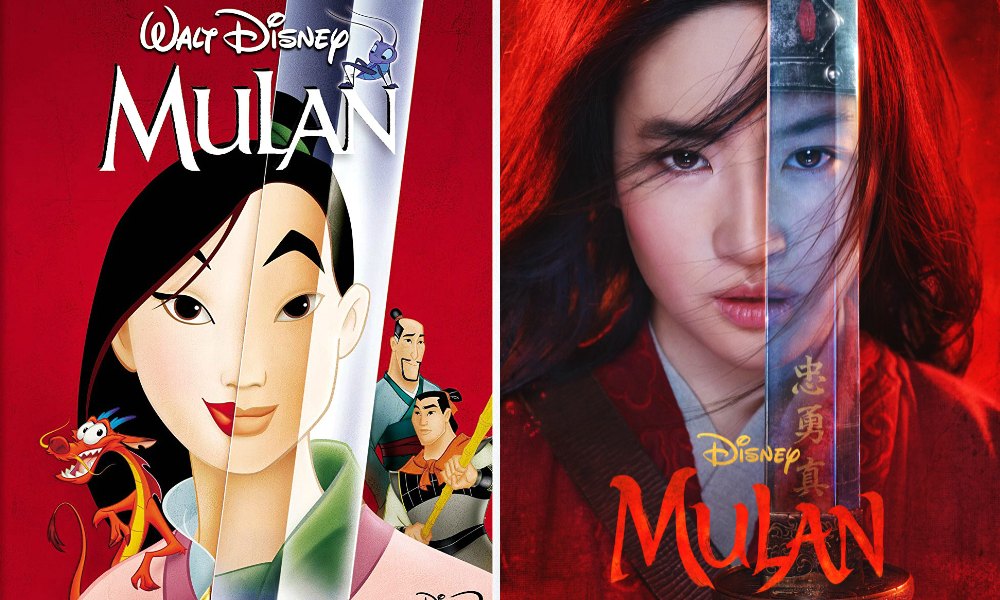 Disney's upcoming live-action remake of Mulan has become a recurring topic of debate on social media recently. The movie is much-anticipated in China, but there are also critical voices suggesting the American Disney company "doesn't understand China at all." How 'Chinese' is Disney's Mulan really? 
Ever since news came out that Disney would turn Mulan into a live-action movie the topic has been frequently popping up in the top trending lists on Chinese social media.
The movie has been especially top trending on Weibo this week since the official trailer was released.
Mulan is the much-anticipated live-action remake of Disney's 1998 animated Mulan movie, which tells the story of the legendary female warrior Hua Mulan (花木兰) who disguises as a man to take her father's place in the army.
Over recent years, Disney has released and announced the live-action adaptations of many of its animated classics. Remakes such as Cinderella (2015), The Jungle Book (2016), Beauty and the Beast (2017), Dumbo (2019), and Aladdin (2019), have all been successful and, besides Mulan, they are now being followed up by the remakes of The Lion King, The Little Mermaid, Lady and the Tramp, and The Hunchback of Notre Dame.
Disney's new Mulan movie is directed by the New Zealand film director Niki Caro.
The role of Mulan will be played by the (mainland-born) Chinese American actress Crystal Liu Fei (刘亦菲). The film also features Yoson An as Mulan's love interest, Tzi Ma as Mulan's father, Donnie Yen as Mulan's Commander mentor, Gong Li as the evil witch, Jason Scott Lee as the enemy warrior leader, and Jet Li as the Emperor of China.
MULAN: WEIBO MANIA AND CRITICISM
"Americans really have no idea about China."
Since the story of Mulan is a Chinese legend that has a history of over 1500 years in China, Chinese audiences are particularly invested in the topic of the upcoming Disney movie. Every new detail concerning Mulan seems to become another trending topic on social media.
On Weibo, "Disney's Mulan" (#迪士尼花木兰#) has seen over 420 million views by now, while the hashtag "Mulan Trailer" (#花木兰预告#) alone received a staggering 1.2 billion views.
Following the release of the movie poster made by Chinese visual artist Chen Man, the relating hashtag (#花木兰海报是陈漫拍的#) was viewed more than 260 million times.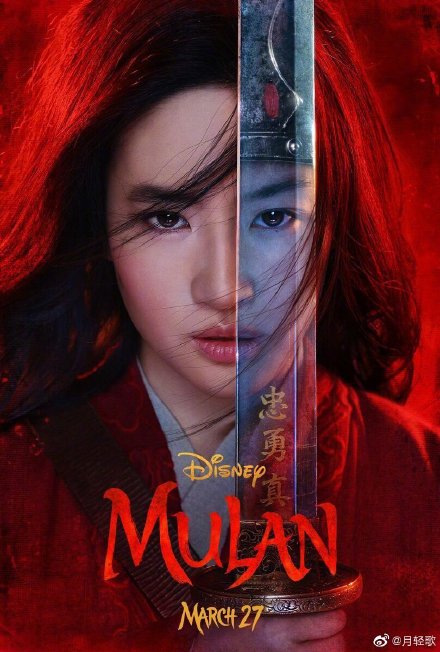 A topic dedicated to the missing Mushu, a talking dragon that is the closest companion to Mulan in the animated film, also received 310 million views (#花木兰里没有木须龙#).
Online discussions on Mulan show that there already is quite a lot of criticism on the movie and its historical accuracy, even though its release is still months away.
Some commenters criticized Mulan's makeup in one of the movie scenes as being too exaggerated and unflattering.
The fact that the actors in the movie all speak English also did not sit well with some people, writing: "Why is it all in English?!" and "I understand the logic, but why would a group of Chinese people speak English while it's filmed in China? Even if it's a Disney movie, it seems awkward."
Another controversy that has been especially making its rounds for the past few days is the one relating to the traditional tulou round communal residences that are featured in the movie trailer (#花木兰 福建土楼#, 170 million clicks).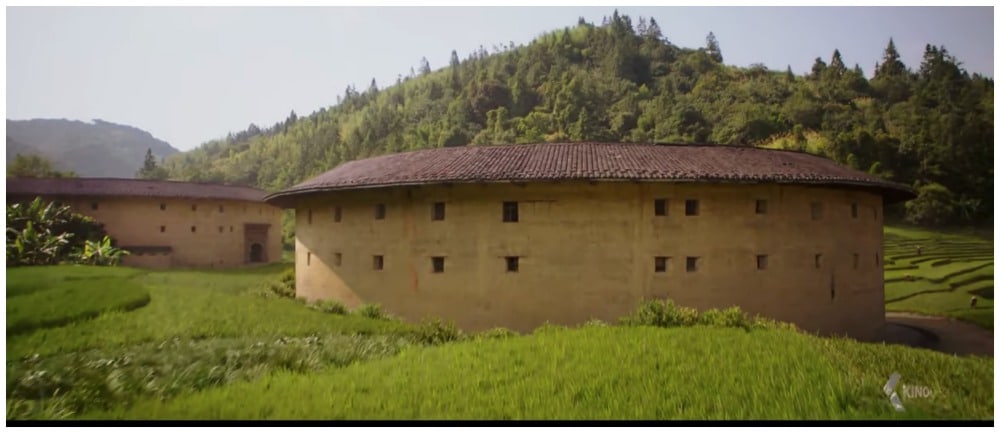 The tulou are Chinese rural, earthen dwellings. Although the buildings are part of Chinese traditional architecture, they are also unique to mountainous areas in Fujian province. Not only is Mulan not from Fujian, her story also takes place long before these tulou were built – something that many Chinese netizens find "nonsensical" and "distracting."
"Americans really have no idea about China," some people on Weibo commented, with others writing: "We can't expect Disney to research everything, but they can't not do research. They shouldn't let Mulan live in a tulou just because it looks pretty, she is not from Fujian!"
"Why on earth would she live in a tulou," others write: "Isn't she a northerner?"
"Foreigners just don't understand China," one among thousands of commenters said.
Another Weibo user writes: "Americans should first thoroughly understand the Northern and Southern Dynasties, and Chinese geography, and Mulan's ethnic background, and then they can give it another try."
FROM SELF-SACRIFICE TO SELF-DISCOVERY
"The meaning of the story of Mulan varies depending on how it is told, when it is told, and by whom it is told."
Although many people outside of China only know about Mulan through the 1998 Disney animation that made the story of this Chinese warrior go global, Hua Mulan's story has seen continued popularity in China for more than a thousand years.
The first known written version of the Mulan legend is the anonymous sixth-century Poem of Mulan (木兰辞), followed by other plays and novels in the sixteenth and seventeenth centuries (Edwards 2016, 19-20; Li 2018, 368).
Especially since the twentieth century, the story of Mulan has become a recurring theme in China's popular culture, appearing in various plays, movies, TV series, operas, and even in games. Some of China's earliest films were about Mulan; from 1927 to 1939, three different films came out on the female heroine, all titled Mulan Joins the Army (木兰从军).
The meaning of the Mulan legend varies depending on how it is told, when it is told, and by whom it is told. The story has seen a centuries-long period of change and development, with different perspectives being presented depending on the region and genre (Kwa & Idema 2010, xii).
The basic outline of the story is always the same: Mulan is the daughter who disguises as a man to protect her father and take his place in the army, where she fights for twelve years before being promoted to a high-ranking position by the emperor. Mulan declines and asks for an honorable discharge instead, so she can return home to her family. Once she is home, Mulan changes into women's clothing again.
Chastity, filial piety, feminism, perseverance, sacrifice, militarism, patriotism – the Mulan story has it all, but which motives are given prominence is always different. Within China, the Mulan narrative is related to issues of China's national identity and political goals.
In Chinese literary versions before the twentieth century, Mulan is presented as a northerner of uncertain ethnicity, a figure of resistance, who sacrifices her own safety to protect her father and show filial piety. Confucian values and the importance of family are at the core of the Mulan story (Edwards 2016, 19-20).
In Chinese versions after the twentieth century, Mulan is implicitly presented as being Han Chinese and as a "loyal patriot defending China." The focus is no longer solely on Mulan giving up her own freedom for the sake of her father; it is her militarised sacrifice to the state and the importance of patriotism that is highlighted instead (ibid., 19-20).
With Disney's 1998 adaptation of Mulan as an animated film, the main focus of the story was again shifted. Disney presented Mulan not so much as a patriot or as a Confucian daughter, but as a somewhat goofy and free-spirited young woman on her "Americanized self-realization journey" (Li 2018, 362-363).
Mulan's individual coming of age and feminist story is echoed in the film's Reflection song, in which Mulan sings:
"I am now
In a world where I have to hide my heart
And what I believe in
But somehow
I will show the world
What's inside my heart
And be loved for who I am"
Although the narrative of the young woman who finds her own true voice resonated with many around the world – Mulan became an international box office smash hit -, it did not resonate with Chinese audiences.
In China, the Disney film grossed only about one-sixth of its expected box office income and was even among the lowest scoring big imported US films since 1994 (Li 2018, 362-363).
According to scholar Lan Dong, the Mulan flop in China indicated Disney's failure to anticipate how the film would be received in China and how the Chinese audience's familiarity with Mulan's story had already shaped their expectations of the film (ibid.): Disney's Mulan clearly was not the same as China's Mulan.
THE DISNEYFICATION OF A CHINESE FOLK HEROINE
"The animated Mulan film clearly Disneyfied the story by playing into various American stereotypes of feudal China."
But who is "China's Mulan"? And who is "Disney's Mulan"?
As described, Chinese versions of Mulan have significantly changed through times. And Disney's Mulan of 2020 is also very different from the Disney princess that stole the hearts of viewers around the world in 1998.
Judging from the trailer, the upcoming Mulan will be a much more serious movie that focuses on the action and martial arts, and seems to represent Mulan as a self-sacrificing woman warrior (nothing goofy).
There's an apparent risk in this route taken by Disney. On Chinese social media, the complaints about the movie relate mostly to the movie not being 'Chinese' enough when it comes to historical accuracy and language.
In English-language media, the movie is criticized for omitting the talking dragon and the songs and for "bowing to China's nationalistic agenda" with its patriotic theme (Jingan Young in The Guardian, also see Vice).
The Disney company aims to entertain children and adults all around the world. In doing so, they convert "cultural capital" to "economic capital"1 and create content with universal appeal for global audiences, virtually always requiring commercial concessions to adapt to tastes and expectations of their mass audience.
Since tastes and audience expectations change over time, it seems logical for Disney to make different choices for its Mulan feature film in 2020 than it did in 1998, and not only because the company might have learned from its past mistakes in mainland China. China's role in the world, and how people view China, has also greatly changed over the past twenty years.
National cultures, stories, and legends go through a process of 'Disneyfication' once they became part of the Disney canon. The term 'Disneyfication' has been coined since the 1990s to describe this phenomenon and has been used in various ways since.
Speaking of globalization and literature, author David Damrosch (What is World Literature?, 2003) uses 'Disneyfication' to describe how many foreign literary works will only be translated and sold in the West when its content 'fits' the image audiences have of that certain culture. What remains is actually a 'fake' cultural product that holds up certain stereotypes and clichés in order to please the audience (Koetse 2010).
In the 1998 animated film, Mulan was clearly 'Disneyfied' by playing into various American values and stereotypes of feudal China that were most dominant at the time.
Although the upcoming Mulan movie will be very different from its animated predecessor, we already know that it will play with some of those stereotypes again in a way that you could call 'market realistic': viewers will see an English-speaking Mulan that lives in a traditional Fujian tulou building. Some of the sceneries and settings will have absolutely nothing to do with the authentic story, but much more to do with how viewers around the world now imagine China.
The movie will undoubtedly present folk heroine Mulan and ancient China in a way that is aesthetically pleasing and accessible, making Mulan and her story easy to understand, digest, and love.
WHOSE MULAN IS IT ANYWAY?
"For many Chinese viewers, Mulan has become 'too American', while foreign media criticize the film for being 'too Chinese.'"
The irony in the criticism that has emerged over Disney's Mulan recently, is that in the eyes of many Chinese viewers, Mulan has become 'too American', while foreign media criticize the production for being 'too Chinese.'
This is by no means the first time the Disney company is under attack for the way in which it adapts local legends or stories into international feature films.
With Pocahontas, Disney was accused of "whitewashing horrific past," the Moana movie was said to show "insensitivity to Polynesian cultures," some critics found Aladdin to be "rooted by racism and Orientalism," and recently, Disney's choice to cast a black actress for the remake of The Little Mermaid triggered controversy for removing "the essence of Ariel."
There are two sides to the controversial 'Disneyfication' coin. On the one hand, one could argue that some of the cultural value of the original local myths, legends, and stories are lost once they are transformed and simplified to satisfy mass market demand.
On the other hand, the Disney corporation also truly makes these local stories go global and in doing so, further adds to their cultural significance and worldwide recognition.
Mulan is now a Chinese legend that has gone beyond its borders and is no longer 'truly Chinese' – whatever that might mean. She has become a part of people's childhood memories and popular culture in many countries around the world.
Just as The Little Mermaid no longer solely belongs to the realm of feudal Nordic folklore, Quasimodo no longer just exists in French literary canon, and just as Aladdin has become so much more than part of the The Thousand and One Nights, Mulan has also come to represent more than a Chinese folk heroine. She has become a world-famous woman warrior whose story will keep evolving for the years to come.
About the upcoming Mulan movie and its criticism, one Weibo commenter writes: "I find it hard to understand why people are so fussy. They have a problem with Mulan's make-up, or with the fact that there's no singing and no Mushu, or with the scenery. This is a movie. It can only stay close to the original work, but it will never be the original work."
Luckily for Disney, many Chinese viewers are still very keen to watch the Mulan premiere despite – or perhaps thanks to – the ongoing controversies. The casting of Liu Fei as Mulan has also been met with praise and excitement.
Popular Weibo law blogger Kevin (@Kevin在纽约) writes: "On the first day that the trailer for Disney's live-action Mulan was released, it had 175.1 million global views, making it the number two Disney adaption. The number one is The Lion King which had 224.6 global views [on its first day]. Although the Americans made Mulan live in a tulou, and made her speak English with a Chinese accent, it all won't prevent Hua Mulan from having great success in 2020."
Other netizens also agree, and they do not seem to mind sharing 'their' Mulan with the rest of the world.
"Some people are being too obstinate," one female Weibo user writes in response to all the criticism: "This is the American Disney company, and all princesses speak English first. Jasmine in Aladdin also did not speak Arabic. I gather that in the film there will definitely be some subjective ideas or errors based on Western conceptions of China. As Chinese, we might find them misrepresentative or laughable. But from the trailer, I can already see that [this film] matches our esthetics and imagination. Most importantly, this film expresses the strength and beauty of Chinese women, and of women in general – that's what matters."
Discussions on Disney's Mulan will certainly continue in the time to come. The movie is scheduled to be released in theatres on March 27 of 2020.
Too Chinese? Too American? Too Disneyfied? Too patriotic? Disney's Mulan might not please all viewers. Fortunately, there are and will be dozens of other Mulan versions providing viewers and readers with new and different perspectives on the centuries-old legend. But who is the 'real' Mulan in the end? We'll probably never know.
By Manya Koetse
1 (Harris 2005, 50).
Dong, Lan. 2010. Mulan's Legend and Legacy in China and the United States. Bibliovault OAI Repository, the University of Chicago Press.
Edwards, Louise. 2016. "The Archetypal Woman Warrior, Hua Mulan: Militarising Filial Piety." In: Women Warriors and Wartime Spies of China, pp. 17-39.
Cambridge: Cambridge University Press.
Harris, David. 2005. Key Concepts in Leisure Studies. SAGE Key Concepts. London: SAGE Publications Ltd.
Koetse, Manya. 2010. "The Imagined Space of Chinatown: An Amsterdam Case Study." Leiden University, https://www.manyakoetse.com/the-imagined-space-of-chinatown/ [July 12, 2019].
Kwa, Shiamin and Wilt I. Idema (eds). 2010. Mulan: Five Versions of a Classic Chinese Legend with Related Texts." Indianapolis/Cambridge: Hackett Publishing Company.
Li, Jing. 2018. "Retelling the Story of a Woman Warrior in Hua Mulan (花木兰, 2009): Constructed Chineseness and the Female Voice." Marvels & Tales 32 (2): 362-387.
Young, Jingan. 2019. "The Mulan trailer is a dismal sign Disney is bowing to China's nationalistic agenda." The Guardian, July 8 https://www.theguardian.com/film/2019/jul/08/mulan-trailer-is-a-dismal-sign-disney-is-bowing-to-china-anti-democratic-agenda [July 12, 2019].
Spotted a mistake or want to add something? Please let us know in comments below or email us. Please note that your comment below will need to be manually approved if you're a first-time poster here.
©2019 Whatsonweibo. All rights reserved. Do not reproduce our content without permission – you can contact us at info@whatsonweibo.com
Weibo Blows Up after Fan Bingbing Announces Breakup
It's been a tough year for Chinese celebrity Fan Bingbing.
First published
Two years after their engagement, Chinese actress Fan Bingbing and actor Chen Li have announced their breakup.
On the night of June 27 (China Standard Time), news came out that Chinese actress Fan Bing Bing is breaking up with her partner, Chinese actor Chen Li.
It was Fan herself who announced the separation through a post on social media, writing:
"We go through all kinds of farewells during our lifetime. The love and warmth we gain throughout our encounters become everlasting forces. I want to thank you for all the love and support you've given me. Thank you for your care and love in the future. We are no longer 'we', but we are still ourselves."
The post soon received over 180,000 comments and more than 650,000 likes.
Chen Li also posted a message on his Weibo account, saying:
"From friends to lovers, and now back to friends. Emotions can change, but the purest feeling between you and me will not change. The trust and support we have for each other will always be there. We are no longer 'we', but we are still ourselves."
This breakup comes after a difficult year in Fan's career. In summer of 2018, the 37-year-old actress was at the center of a social media storm due to a tax evasion scandal.
She disappeared from the public eye for months, and then returned with an emotional apology on Weibo.
The announcement of the split has triggered thousands of reactions on Weibo, where the hashtag "Fan Bingbing and Li Chen Split Up" (#范冰冰李晨分手#) had received 380 million views by Thursday night.
At time of writing, the breakup is dominating Weibo's top trending topics, with many netizens commenting that Weibo is 'exploding' and that Weibo servers must be overheating due to the celebrity news.
It is often celebrity news that causes Weibo to blow up. A recent incident of Chinese teen idol smoking inside a Beijing restaurant also triggered millions of views and comments.
When Chinese singer and actor Lu Han announced his relationship with actress Guan Xiaotong in 2017, it even led to a rare temporary breakdown of Weibo's servers.
By Manya Koetse
Spotted a mistake or want to add something? Please let us know in comments below or email us. Please note that your comment below will need to be manually approved if you're a first-time poster here.
©2019 Whatsonweibo. All rights reserved. Do not reproduce our content without permission – you can contact us at info@whatsonweibo.com