Li Yuchun the Handsome: China's Supergirl
One of the most discussed female artists on the Internet, Li Yuchun is more than the winner of China's 'Supergirl' TV show; she is a national idol and a cultural phenomenon.
The June issue of China's Elle Magazine, appearing on the fifth of May 2013, will be released with four different covers: all of them featuring China's famous singer Li Yuchun, also known as Chris Lee. Li Yuchun had her major breakthrough in the 2005 version of 'Supergirl', a talent show similar to American Idol. Li, who currently has 2.621.730 followers on Weibo, has continued to be a hot topic on China's (social) media. Part of her success is her boyish appearance – she is also referred to as 'Brother Chun' and is generally called 'handsome' instead of 'pretty'. Li Yuchun has become more than the winner of a talent show; she has become a cultural phenomenon.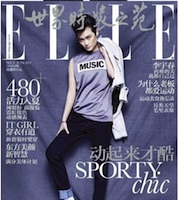 Since winning the nationwide talent show 'Supergirl' (Chaoji Nüsheng) and appearing on the cover of Time Magazine Asia in 2005, Li Yuchun has become a household name in China. Not only was she named one of 'Asia's Heroes' by Time, she allegedly was also mentioned as one of China's 50 most influential people by London think-tank Royal Institute of International Affairs along with Hu Jintao and Wen Jiabao (Ling 2009, 527; Pi 2010, 356). As one of the biggest names in China's music industry, Li is a national idol, pioneer and cultural phenomenon in multiple ways.
[rp4wp]
As the winner of the 2005 season of 'Supergirl', one of China's all-time most popular shows, Li Yucheng has become one of the most-discussed Chinese female artists on the Internet. By 2011, over 361 million netizens had visited the webforum dedicated to discussing Li at Baidu Post Bar- over 56 million posts were left in 2.8 million threads (Leibold 2011, 1027). Li's role in 'Supergirl' was an "unprecedented hit in the television history of China" (Duong 2009). Another unique characteristic of Li Yuchun as a cultural phenomenon is how she became famous- it was not the traditional music industry, but her own group of fans that turned her into a superstar by actively participating in promoting her (Li won the 2008 MTV Asia Awards with an astonishing 97 per cent of the votes!). Scholar Ling Yang writes about Li's fans as "prosumers" since they have contributed to the production, promotion and consumption of Li Yuchun as an economic success in China's music industry. Li holds one of the "most high-profile fan groups in contemporary mainland China" (Ling 2009)- attributing to her unparalleled success. Lastly, Li's tomboy style has turned her into one of China's most unique pop stars of all times. Pi Jun (2010) states: "(..) I am sure she is the most masculine female artist in China" (356). Li has been vilified and applauded for her boyish looks. As Pi writes, "most men in China are disgusted with masculine women" (356). It is perhaps not surprising that Li's core fan group consists of mainly female fans. Her looks are contradictory to China's traditional aesthetics, and it could be said that she has helped construct a new form of sexuality that goes against mainstream constructions of gender identities. Duong (2009) says: "Li Yuchun (..) was totally the opposite of what almost all female Chinese pop singers were like. She was 1.74 meters tall; kept short hair; wore pants and T-shirts, and no makeup; sang songs written for male singers such as "In my heart there's only you, never her" and sang in a bass voice, danced in a Ricky Martin style (…). Li Yuchun's stardom led to a huge dispute on the tomboy trend and sexuality, because it challenged the conventional Chinese criteria for feminine aesthetics and traditional gender norms among Chinese youths" (33).
The June issue of China's Elle Magazine is already a best-seller before its official launch. In the upcoming issue 'Brother Chun' shines with rebellious and sexy androgyny. One thing is for sure- Li Yuchun ain't no 'green tea bitch'.
– by Manya Koetse, 2013
References
Duong, Thanh Nga. 2009. China's Super Girl Show: Democracy and Female Empowerment Among Chinese Youth. Thesis at Centre for East & South East Asian Studies: Lund University.
Leibold, James. 2011. "Blogging Alone: China, the Internet, and the Democratic Illusion?" The Journal of Asian Studies 70(4): 1023-1041.
Ling Yang. 2009. "All for Love: the Corn Fandom, Prosumers, and the Chinese Way of Creating a Superstar." International Journal of Cultural Studies 12: 527-543.
Pi Jun. 2010. "Transgender in China." Journal of LGBT Youth 7: 346-358.
China's TV & Film Companies Join Hands to Boycott Huge Salaries in Entertainment Industry
Is this the end of the exorbitant pays for Chinese actors and actresses?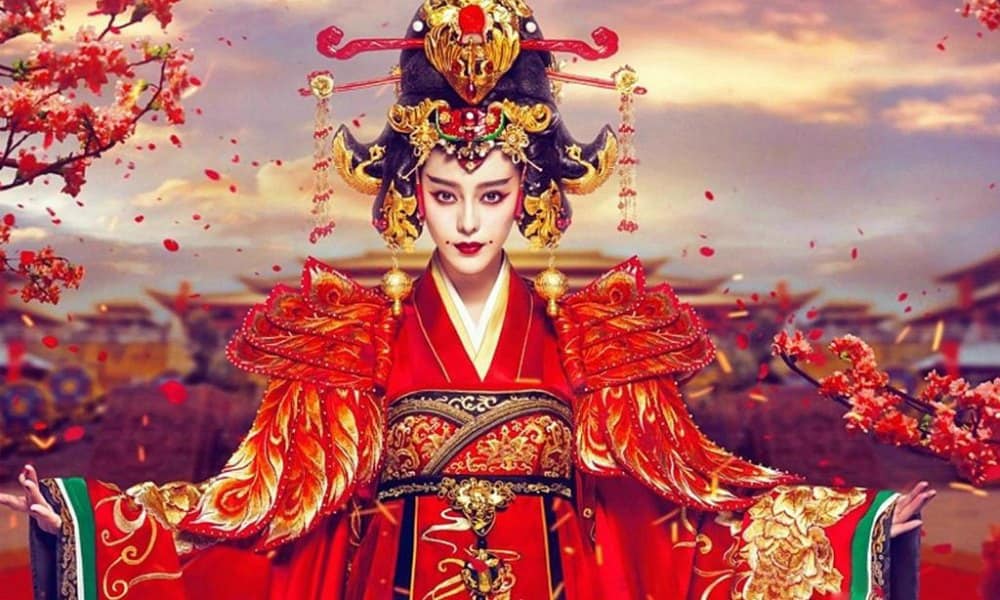 After authorities put restrictions on high pays for Chinese actors and actresses, nine of China's most prominent entertainment companies have now come forward with a proposed boycott on excessive wages for stars in film and tv dramas.
On August 11, nine of China's biggest entertainment and streaming sites, including iQiyi, Youku, and Tencent video, issued a joint statement on boycotting excessive high wages for actors and actresses.
The statement, titled "Resisting Unreasonable Pays & Rejecting Unhealthy Industry Trends" ('抑制不合理片酬,抵制行业不正之风') says that actors and actresses should not get paid more than one million yuan (±US$146,000) per episode and not more than 50 million (±7,3 million US) for an entire drama show or movie.
The relatively high pay of actors and actresses in China, especially in the TV drama industry, has been making headlines for years. Previously, Chinese authorities already sought to rein in high salaries for actors, which can take up a significant percentage of a production's budget.
In 2016, Beijing Review reported that Chinese stars' salaries were under fire for being excessively high. At the time, a member of the Standing Committee of the National People's Congress, Sun Baoshu, stated that since casting takes up such a large part of production funds, producers have to cut budgets for things such as scriptwriting, stage setting, and sound recording. This leads to poorer productions, Sun said, harming the development of China's entertainment market.
In September of 2017, the China Alliance of Radio, Film, and Television (CARFT), a non-profit organization that works under the government, ordered China's production agencies to limit the expenses for cast salaries to no more than 40% of the total production costs for online/TV drama series. Within this percentage, the salary of the show's leading actors reportedly could not exceed 70% of the total salary paid to all actors, arguing that top-earning stars' high fees are harmful to a 'healthy development' of China's entertainment industry. The same rule was reiterated by the Chinese tax authorities this week.
Today's statement, for the first time, puts a cap on the fixed amount actors and actresses in the Chinese entertainment can receive per project – not based on percentages of the total budget.
Perhaps not coincidentally, the statement comes at a time when a tax evasion scandal involving China's highest-paid actress Fan Bingbing is making headlines in China. The actress reportedly received a total payment of 60 million yuan ($9.3 million) for just four days work on the film Cell Phone 2, of which she allegedly only declared 10 million to authorities.
The scandal has attracted a lot of attention on Chinese social media recently, with many bewildered reactions over the exorbitant pays in the entertainment industry.
Posts publishing the boycott statement have gone viral on Weibo this weekend; some received over 58,000 likes per thread, and the hashtag "boycott high pays" (#抵制天价片酬#) was viewed more than 16 million times at time of writing.
The companies signing the statement are:
iQiyi (爱奇艺), also dubbed 'the Netflix of China', a leading online entertainment and streaming service.
Youku (优酷), one of the biggest online video companies in China, sometimes referred to as the Chinese YouTube.
Tencent Video (腾讯视频), the hugely popular Chinese video streaming website owned by Tencent.
Daylight Entertainment (正午阳光), one of China's most respected production companies.
Huace Film & TV Co (华策影视), well-known TV program production and distribution company.
Linmon Pictures (柠萌影业), a Shanghai-based Chinese film & TV producer and distributor.
Ciwen Media Co (慈文传媒), a Beijing-based film and television company.
Youhug Media (耀客传媒),a media and entertainment management company headquartered in Shanghai.
New Classics Media (新丽传媒), a renowned TV content and film producer.
Among the thousands of people responding to the new boycott on Weibo, there are many who find that the maximum pay is still way too high: "A million yuan per episode?! My god!", many write, with some wondering why actors are making so much more money than doctors and scientists.
Others comment that they think it is funny none of the big actors and actresses on Weibo allegedly have reposted the popular statement.
"I'm supportive of the boycott," a typical comment read: "These high fees really were an unhealthy tendency."
Others write: "It's good! They should have done it years ago."
By Manya Koetse,
with contributions by Miranda Barnes.
Follow @whatsonweibo
Spotted a mistake or want to add something? Please let us know in comments below or email us.
©2018 Whatsonweibo. All rights reserved. Do not reproduce our content without permission – you can contact us at info@whatsonweibo.com.
Why Disney's Christopher Robin Is Not Released in China (And It's Not Just Because of Winnie)
Recently, many foreign media reported that Disney's 'Christopher Robin' (2018) will not be released in China due to an alleged "nationwide ban" on Winnie. But there is more to this than meets the eye.
Disney's latest film Christopher Robin will not be released in Chinese cinemas. Many English-language media claim it is for the fact that the movie's main star, Winnie the Pooh, is regarded too politically sensitive in the country. But these reports are clouded by misconceptions: Winnie is not banned in China, and it is common for Western films not to be released in the PRC. What's on Weibo explains.

With contributions from Luka de Boni

"Christopher Robin, denied Chinese release, is the latest victim in China's war on Winnie the Pooh," writes Vox. "China gives Winnie the Pooh the enemy-of-the-state treatment," says a recent New York Post headline.
Over the past days, the fact that Disney's new 2018 film Christopher Robin will not premiere in mainland China has made headlines in many English-language media, first reported by The Hollywood Reporter.
Most sources allege that the movie, inspired by A. A. Milne and E. H. Shepard's book Winnie-the-Pooh, will not be released in the country's theatres because "Chinese leader Xi Jinping is prickly about comparisons between him and the lovable cartoon character, who has become a symbol of the resistance there" (Vox).
BBC linked the film's absence from Chinese movie theatres to Winnie and the supposed "nationwide clampdown on references to the beloved children's character."
But to what extent are these allegations true? There seem to be some misconceptions in many media about the scope of censorship on Winnie, and the release of non-Chinese films in mainland China.
What's up with Winnie?
Over the past four years, Winnie the Pooh has, at times, been used as a political and satirical meme on Chinese social media, first becoming a target for China's online censors when netizens compared Barack Obama and Xi Jinping, who met at the California Summit, with Pooh and Tigger in 2013.
In September of 2015, an image of Pooh became trending again on the day of the military parade. During the Beijing Parade that commemorated the 70th anniversary of WWII, President Xi Jinping drove around in a car (image), inspecting the troops.
When someone watching the parade then posted an image of Pooh bear in a toy car on Weibo, it was shared 62.000 times in little over an hour. Online responses included: "As I watched [the parade], I told my mother and father the similarities [between Pooh and the President] were uncanny." The post was then soon deleted from Weibo.
The same happened in February of 2018, when images of Winnie the Pooh as a king emerged on Weibo after the end of China's two-term limit on presidency was announced.
Could've expected this, but still pretty creative. First images of "king Winnie" surfacing on Weibo in response to Xi's potential indefinite rule: https://t.co/u9kL5OYGwq #XiJinping #kingwinnie pic.twitter.com/Bb6Dmy46xH

— Manya Koetse (@manyapan) 25 februari 2018
Although the censorship of Pooh at these specific moments are reason enough to call the bear some sort of "symbol of defiance against censorship," it is not reason enough to assume the bear is at the epicenter of "a nationwide clampdown," as BBC suggested.
"Winnie the Pooh is not banned from China, neither online nor offline."
Winnie the Pooh is not banned from China, neither online nor offline. The bear is quite popular, just as in many other countries, and people walk around wearing Pooh t-shirts and accessories in Chinese cities every day.
A current search on Chinese search engine Baidu for 'Winnie the Pooh' ("小熊维尼") generates 8.5 million results. Taobao sells countless Winnie items on its e-commerce platform, and on social media site Weibo, thousands of Chinese netizens post photos of their Winnie-themed merchandise or favorite characters.
Disney's Christopher Robin is also discussed online; not just by netizens but also by state media.
The moments that Pooh was censored on Chinese social media in the past, were times that China's censorship machine was going at full-speed already. Any time that President Xi is taking part in an important meeting or event, whether it is a BRIC summit, military parade, or bilateral meeting, social media is more controlled than usual.
Because netizens were using the image of Pooh in a way that was meant to make fun of these high-profile political occasions and figures at particularly these times, they were censored. In other words: the Winnie images were censored along with many other things at particularly sensitive times for mocking a political event or figure.
Although it makes sense to say that Winnie the Pooh is perhaps more 'sensitive' than other cartoons (although Peppa Pig and Rage Comics had their share of censorship, too), it is questionable if this sensitivity is enough of a reason to ban Disney's new blockbuster Christopher Robin.
Chinese Summer: Not a Time for Western Films
But if not for the bear itself, what would be a reason not to release a promising Disney movie? China's strict foreign film import quota may play an important role.
Since the 1990s, China has a 'foreign film quota.' In the early years, this meant that just a small quote of foreign films were allowed to be imported into China, and in 2012, this was increased to 34 foreign movies per year. The amount of revenue that foreign producers can take from these movies is restricted to 25% (Latham 2007, 185; Ma 2017, 193).
Although Hollywood lobbyists have been negotiating with Chinese film authorities to allow more foreign films to be imported under revenue-sharing terms, there's been little progress for now – the ongoing looming trade-war has not benefited the situation.
Besides the longstanding cap on foreign films, China also has unofficial 'Hollywood black-out periods' in which Hollywood blockbusters are prevented to enter the market so as to boost sales of local productions, a phenomenon dubbed "Domestic Film Protection Month" (国产电影保护月).
The term was allegedly coined in 2004, when Chinese media reported about an order restricting screening foreign films between June 10 and July 10 each year. Although the measure was never officially admitted by government officials, this unspoken policy has been executed for the past 14 years (read more here). As a consequence, it is common for big American productions to not be released in China during the summer months, the period where cinemas make the most revenues. 
In 2011, for example, the Harry Potter blockbuster of the year was premiered in China five weeks later than it was in the rest of the world. Last summer, both Dunkirk and Spider-Man: Homecoming had their release dates delayed by several months, most probably to give the patriotic, local production Wolf-Warrior 2 a boost in sales. 
These black-out periods can also serve another purpose. According to CNBC, they can also be used to give Chinese film authorities additional bargaining power in their negotiations with US lobbyists. With these negotiations increasing in importance lately, as a result of deteriorating US-China trade relations, it might make sense that Chinese authorities would want to put themselves in the most favorable bargaining position.  
Each year, it is unclear when the 'black-out period' starts and ends. Generally, it can start as early as mid-June and finish as late as late-August.
Goodbye, Christopher Robin?
With many netizens and various state media (including China Global Television Network) posting about the release of Christopher Robin on Weibo and beyond, it is unlikely that political sensitivity over Winnie is the (only) reason why the film will not be shown in Chinese cinemas this summer.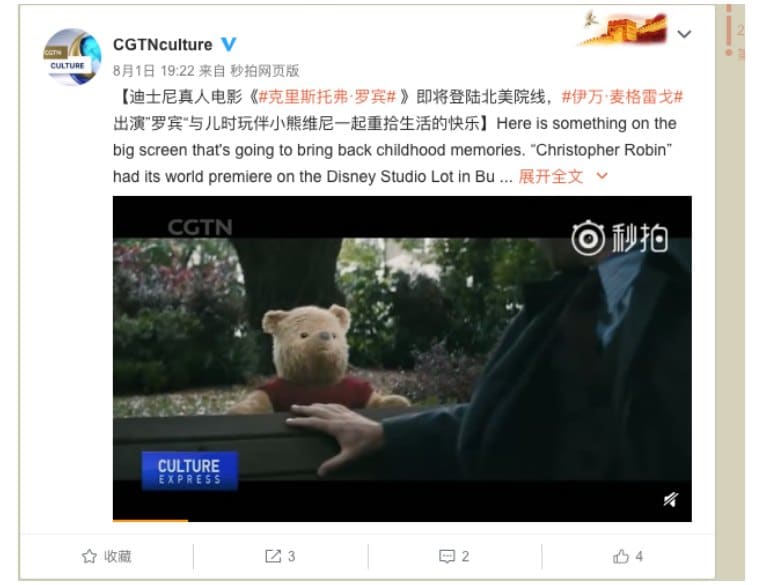 Whether or not the film will definitely not come out in China is also not clear. The process of translation and censorship checking for films can take a long time and will sometimes mean films come out much later in the PRC.
Even when not reaching the big screens, most Hollywood blockbusters will eventually be available for viewing on online channels such as Youku or iQiyi.
Goodbye Christopher Robin (2017), another movie focusing on the story of Winnie the Pooh, is available for viewing on iQiyi and other (paid) streaming sites in China.
Many netizens would welcome a delayed release of Christopher Robin in China. The movie's hashtag (#克里斯托弗·罗宾#) has already been viewed nearly three million times on Weibo.
While for many, the bear has no political connotations, there are also those who are still trying to post pictures of President Xi Jinping as Pooh – those will soon be deleted.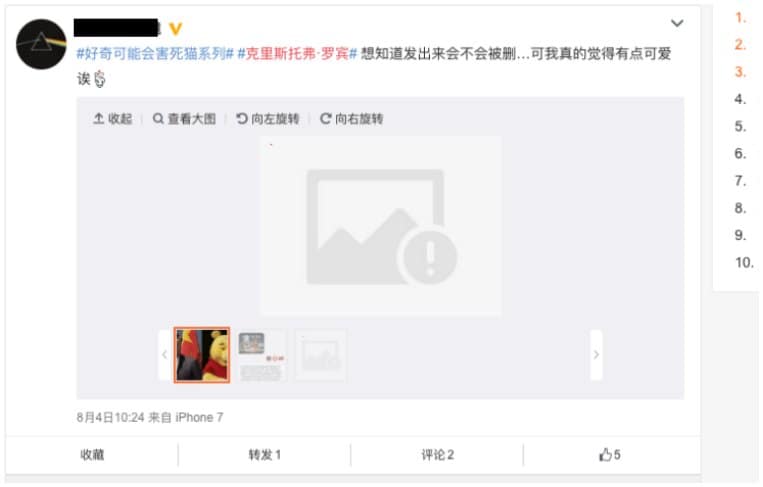 "I just wanted to see if it would be deleted," the Weibo user says: "But actually, I really do think he's cute."
For more on this, check out today's feature on BBC World Update (video by What's on Weibo).
By Manya Koetse, and Luka de Boni
Follow @whatsonweibo
References
Latham, Kevin. 2007. Pop Culture China! Media, Arts, and Lifestyle. Oxford: ABC Clio.
Ma, Winston. 2017. China's Mobile Economy: Opportunities in the Largest and Fastest Information Consumption Boom. Cornwall: Wiley.
Spotted a mistake or want to add something? Please let us know in comments below or email us.
©2018 Whatsonweibo. All rights reserved. Do not reproduce our content without permission – you can contact us at info@whatsonweibo.com.