The June issue of China's Elle Magazine, appearing on the fifth of May 2013, will be released with four different covers: all of them featuring China's famous singer Li Yuchun, also known as Chris Lee. Li Yuchun had her major breakthrough in the 2005 version of 'Supergirl', a talent show similar to American Idol. Li, who currently has 2.621.730 followers on Weibo, has continued to be a hot topic on China's (social) media. Part of her success is her boyish appearance – she is also referred to as 'Brother Chun' and is generally called 'handsome' instead of 'pretty'. Li Yuchun has become more than the winner of a talent show; she has become a cultural phenomenon.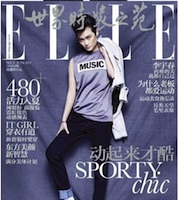 Since winning the nationwide talent show 'Supergirl' (Chaoji Nüsheng) and appearing on the cover of Time Magazine Asia in 2005, Li Yuchun has become a household name in China. Not only was she named one of 'Asia's Heroes' by Time, she allegedly was also mentioned as one of China's 50 most influential people by London think-tank Royal Institute of International Affairs along with Hu Jintao and Wen Jiabao (Ling 2009, 527; Pi 2010, 356). As one of the biggest names in China's music industry, Li is a national idol, pioneer and cultural phenomenon in multiple ways.
As the winner of the 2005 season of 'Supergirl', one of China's all-time most popular shows, Li Yucheng has become one of the most-discussed Chinese female artists on the Internet. By 2011, over 361 million netizens had visited the webforum dedicated to discussing Li at Baidu Post Bar- over 56 million posts were left in 2.8 million threads (Leibold 2011, 1027). Li's role in 'Supergirl' was an "unprecedented hit in the television history of China" (Duong 2009). Another unique characteristic of Li Yuchun as a cultural phenomenon is how she became famous- it was not the traditional music industry, but her own group of fans that turned her into a superstar by actively participating in promoting her (Li won the 2008 MTV Asia Awards with an astonishing 97 per cent of the votes!). Scholar Ling Yang writes about Li's fans as "prosumers" since they have contributed to the production, promotion and consumption of Li Yuchun as an economic success in China's music industry. Li holds one of the "most high-profile fan groups in contemporary mainland China" (Ling 2009)- attributing to her unparalleled success. Lastly, Li's tomboy style has turned her into one of China's most unique pop stars of all times. Pi Jun (2010) states: "(..) I am sure she is the most masculine female artist in China" (356). Li has been vilified and applauded for her boyish looks. As Pi writes, "most men in China are disgusted with masculine women" (356). It is perhaps not surprising that Li's core fan group consists of mainly female fans. Her looks are contradictory to China's traditional aesthetics, and it could be said that she has helped construct a new form of sexuality that goes against mainstream constructions of gender identities. Duong (2009) says: "Li Yuchun (..) was totally the opposite of what almost all female Chinese pop singers were like. She was 1.74 meters tall; kept short hair; wore pants and T-shirts, and no makeup; sang songs written for male singers such as "In my heart there's only you, never her" and sang in a bass voice, danced in a Ricky Martin style (…). Li Yuchun's stardom led to a huge dispute on the tomboy trend and sexuality, because it challenged the conventional Chinese criteria for feminine aesthetics and traditional gender norms among Chinese youths" (33).
The June issue of China's Elle Magazine is already a best-seller before its official launch. In the upcoming issue 'Brother Chun' shines with rebellious and sexy androgyny. One thing is for sure- Li Yuchun ain't no 'green tea bitch'.
– by Manya Koetse, 2013
References
Duong, Thanh Nga. 2009. China's Super Girl Show: Democracy and Female Empowerment Among Chinese Youth. Thesis at Centre for East & South East Asian Studies: Lund University.
Leibold, James. 2011. "Blogging Alone: China, the Internet, and the Democratic Illusion?" The Journal of Asian Studies 70(4): 1023-1041.
Ling Yang. 2009. "All for Love: the Corn Fandom, Prosumers, and the Chinese Way of Creating a Superstar." International Journal of Cultural Studies 12: 527-543.
Pi Jun. 2010. "Transgender in China." Journal of LGBT Youth 7: 346-358.