Li Yuchun the Handsome: China's Supergirl
One of the most discussed female artists on the Internet, Li Yuchun is more than the winner of China's 'Supergirl' TV show; she is a national idol and a cultural phenomenon.
The June issue of China's Elle Magazine, appearing on the fifth of May 2013, will be released with four different covers: all of them featuring China's famous singer Li Yuchun, also known as Chris Lee. Li Yuchun had her major breakthrough in the 2005 version of 'Supergirl', a talent show similar to American Idol. Li, who currently has 2.621.730 followers on Weibo, has continued to be a hot topic on China's (social) media. Part of her success is her boyish appearance – she is also referred to as 'Brother Chun' and is generally called 'handsome' instead of 'pretty'. Li Yuchun has become more than the winner of a talent show; she has become a cultural phenomenon.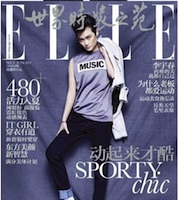 Since winning the nationwide talent show 'Supergirl' (Chaoji Nüsheng) and appearing on the cover of Time Magazine Asia in 2005, Li Yuchun has become a household name in China. Not only was she named one of 'Asia's Heroes' by Time, she allegedly was also mentioned as one of China's 50 most influential people by London think-tank Royal Institute of International Affairs along with Hu Jintao and Wen Jiabao (Ling 2009, 527; Pi 2010, 356). As one of the biggest names in China's music industry, Li is a national idol, pioneer and cultural phenomenon in multiple ways.
[rp4wp]
As the winner of the 2005 season of 'Supergirl', one of China's all-time most popular shows, Li Yucheng has become one of the most-discussed Chinese female artists on the Internet. By 2011, over 361 million netizens had visited the webforum dedicated to discussing Li at Baidu Post Bar- over 56 million posts were left in 2.8 million threads (Leibold 2011, 1027). Li's role in 'Supergirl' was an "unprecedented hit in the television history of China" (Duong 2009). Another unique characteristic of Li Yuchun as a cultural phenomenon is how she became famous- it was not the traditional music industry, but her own group of fans that turned her into a superstar by actively participating in promoting her (Li won the 2008 MTV Asia Awards with an astonishing 97 per cent of the votes!). Scholar Ling Yang writes about Li's fans as "prosumers" since they have contributed to the production, promotion and consumption of Li Yuchun as an economic success in China's music industry. Li holds one of the "most high-profile fan groups in contemporary mainland China" (Ling 2009)- attributing to her unparalleled success. Lastly, Li's tomboy style has turned her into one of China's most unique pop stars of all times. Pi Jun (2010) states: "(..) I am sure she is the most masculine female artist in China" (356). Li has been vilified and applauded for her boyish looks. As Pi writes, "most men in China are disgusted with masculine women" (356). It is perhaps not surprising that Li's core fan group consists of mainly female fans. Her looks are contradictory to China's traditional aesthetics, and it could be said that she has helped construct a new form of sexuality that goes against mainstream constructions of gender identities. Duong (2009) says: "Li Yuchun (..) was totally the opposite of what almost all female Chinese pop singers were like. She was 1.74 meters tall; kept short hair; wore pants and T-shirts, and no makeup; sang songs written for male singers such as "In my heart there's only you, never her" and sang in a bass voice, danced in a Ricky Martin style (…). Li Yuchun's stardom led to a huge dispute on the tomboy trend and sexuality, because it challenged the conventional Chinese criteria for feminine aesthetics and traditional gender norms among Chinese youths" (33).
The June issue of China's Elle Magazine is already a best-seller before its official launch. In the upcoming issue 'Brother Chun' shines with rebellious and sexy androgyny. One thing is for sure- Li Yuchun ain't no 'green tea bitch'.
– by Manya Koetse, 2013
References
Duong, Thanh Nga. 2009. China's Super Girl Show: Democracy and Female Empowerment Among Chinese Youth. Thesis at Centre for East & South East Asian Studies: Lund University.
Leibold, James. 2011. "Blogging Alone: China, the Internet, and the Democratic Illusion?" The Journal of Asian Studies 70(4): 1023-1041.
Ling Yang. 2009. "All for Love: the Corn Fandom, Prosumers, and the Chinese Way of Creating a Superstar." International Journal of Cultural Studies 12: 527-543.
Pi Jun. 2010. "Transgender in China." Journal of LGBT Youth 7: 346-358.
CCTV Spring Festival Gala 2018 (Live Blog)
It's time for the CCTV 2018 New Year's Gala – follow the highlights and the low points here.
It is time for the CCTV Spring Festival Gala, one of the most-watched, most-discussed, and most mocked lived television events in the world, taking place on the Lunar New Year's Eve. What's on Weibo discusses the ins & outs of the 2018 edition and the social media frenzy surrounding it in this live blog.
The biggest live televised event in the world, the CCTV New Year's Gala, also known as the Spring Festival Gala or Chunwan (春晚), is a true social media spectacle. On February 15th 2018, the 36th edition of the 4-hour-long live production is taking place.
The show, that is organized and produced by the state-run CCTV since 1983, is not just a way for millions of viewers to celebrate the Lunar New Year (除夕); it is also an important opportunity for the Communist Party to communicate official ideology to the people and to showcase the nation's top performers.
Watch the live stream here on What's on Weibo (if you have no access to YouTube, please check the CCTV live stream here).
What's on Weibo provides you with the ins & outs of the 2018 Gala and its social media frenzy, with updates before, during and after the show. Follow our liveblog below (we recommend you keep your browser open – you'll hear a 'beep' when updated). (Note: this live blog is now closed, thank you!).
By Manya Koetse, with contributions via WeChat from Boyu Xiao, Diandian Guo, and Tim Peng
Follow @whatsonweibo
Spotted a mistake or want to add something? Please let us know in comments below or email us.
If you enjoy What's on Weibo and support the way we report the latest trends in China, we would appreciate your donation. It does not need to be much; we can use every penny to help pay for the upkeep, maintenance, and betterment of this site. See this page for more information.
©2018 Whatsonweibo. All rights reserved. Do not reproduce our content without permission – you can contact us at info@whatsonweibo.com.
Chinese Media Ascribe 'Traveling Frog' Game Hype to China's Low Birth Rates
Is the Traveling Frog more like a husband or like a baby? It's a topic of debate on Weibo.
The Japanese mobile game 'Traveling Frog' is a hit among young working – mainly female – adults in China. According to various Chinese media, the 'virtual frog' fills a void in a society that faces year-on-year declining birth rates.
"Has your frog returned home yet?" – it is a somewhat odd question that has become normal since the 'Traveling Frog' (旅行青蛙/旅かえる) mobile game has become all the rage in China.
In the Traveling Frog game, that is now dominating China's online mobile gaming charts, players have to help a little frog prepare for his travels across Japan.
The app is characterized by its unique design and revolves around a frog who lives in a stone cave and goes on frequent trips. Once he goes traveling, the frog comes back with local delicacies and snapshots of his adventures – but players are never sure how long their virtual friend stays away from home.
With its cute design and stress-free strategy, the hype surrounding Traveling Frog is somewhat comparable to that of the Tamagotchi in the 1990s and early 2000s. The frog, which players can give its own name, is like a mobile cyber pet that players have to keep an eye on and take care of.
Although the game was initially meant for young girls, it is now a hit amongst young working adults, mainly women.

A Virtual Baby

Over the past week, various Chinese media outlets have connected the success of the game to China's low birth rates. Caijing.com writes: "Facing higher house prices, intensive jobs, the collapse of the [hierarchical] pyramid family structure, and huge medical and educational costs, we can no longer deny the reality that more and more young people are choosing not to get married and not to have children. And 'nursing a frog' is one kind of psychological substitute for 'nursing a baby.'"
The news site reports that the obsession of some people over their frog is comparable to a parent's worries over a child; players are so upset when their frog does not return home during the night, that they cannot sleep.
Despite the shift from China's One Child Policy to the Two Child Policy, China's birth rates have been declining year-on-year; 17.23 million newborns were added to China's population last year – 630,000 less than the year before.
China News also reports about the deep attachment some players show for their virtual pet, and suggest that the Traveling Frog is a "low-cost way" in which people can "fill an emotional gap" in their lives.

Baby or Husband?

The suggestion that the virtual frog is like a baby has stirred discussions on Weibo about the matter, with some wondering if the frog really is like a baby, or if he is more like a friend, partner, or husband; the matter in itself has become an online squabble between netizens and media.
According to gamer's platform 17173 (@17173游戏网), the designer of the game, Mayuko Mura (村真裕子), recently refuted the idea that the traveling frog is like a child. In an interview, she said: "For Japanese players, the frog is actually more like their husband, who goes on business trips and then comes home with some local specialties and photos."
Many Chinese netizens were not too happy with the explanation. "If my husband would stay away a night and a day, I'd be infuriated!", some said. "So now you're telling me I'm raising a guy?!", others commented.
The interview even led some people to wonder about the butterfly that is often depicted on the snapshots the frog sends players from his travels, suspecting she represents his mistress.
But according to news outlet Pear Video, Mura's words have been misinterpreted. In a recorded phone conversation, she does say that for many Japanese players, the frog is more like a 'husband,' but that the original intention of the game was never to turn the frog into anything but itself.
"We just want players to freely enjoy the game and turn the frog's role into whatever they want," one of the game's developers told Pear Video.
One author on Weibo (@魔力的真髓) reflects on the idea that the Traveling Frog apparently plays a different role in Japan than in China, and writes: "How comfortable it must be to be a husband in Japan, where you don't have to do anything around the house, your wife serves you, and then you just take off with the things your wife prepared for you, and go out and seek an extramarital affair."
"Whatever, the island nation turns it into a husband, we turn it into a child," one pragmatic netizen concludes. Another Weibo user adds: "What's the difference – husbands nowadays are like babies anyway."
Others commenting on the issue, however, are too occupied with the real important matters: "It's been three days, and he still isn't back," one unhappy commenter writes. Another one has the same worries: "All I want to know is why my baby has gone traveling for a week, and still hasn't come home.."
By Manya Koetse
Follow @whatsonweibo
Spotted a mistake or want to add something? Please let us know in comments below or email us.
©2018 Whatsonweibo. All rights reserved. Do not reproduce our content without permission – you can contact us at info@whatsonweibo.com.