Mother of Eight Found Chained Up in Shed Next to Family Home in Xuzhou
"Do you even treat this woman as a human being?"
A TikTok video showing a mother of eight living in a small hut with an iron chain around her neck has sent shockwaves across Chinese social media. According to local authorities, the woman is suffering from mental illness and is currently receiving care. But many netizens are still waiting for answers.
Video footage showing a woman from a village in Xuzhou, Jiangsu, being chained up and living in appalling conditions has shocked Chinese netizens this week.
The story went viral after a vlogger filmed the woman's living conditions while visiting Huankou village in Feng County on Wednesday, the 26th of January. The man who visited the woman has an account on TikTok (Douyin) focused on showing the stories and circumstances of disadvantaged people.
The TikTok video first shows the vlogger talking to children inside the home; the woman is claimed to be the mother of eight children in total. They tell the man that their mother is brought food every day. The vlogger then walks up to an old doorless shed next to the house, where he finds the woman with an iron chain around her neck, wearing no coat in the middle of winter.
The man offers to bring the woman some warm clothes. He also finds that the food on the table is cold, as it is zero degrees outside. The woman does not really seem to understand what the man is saying and she has a glazed look in her eyes.
After getting a jacket for her, the man then returns to the shed and helps the woman put on the jacket. This time, it appears that another person is filming and the man turns to the camera and says: "What this woman is put through in this cold.. where did the compassion go?"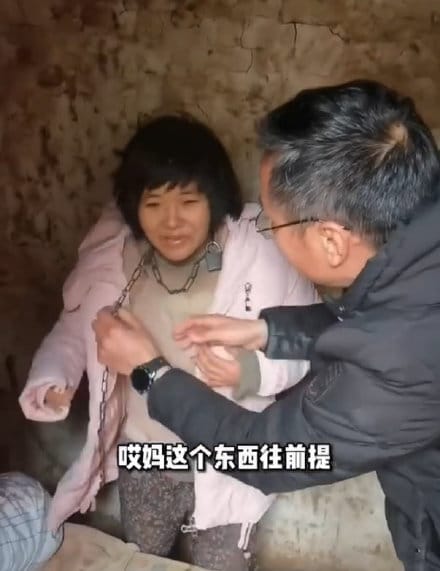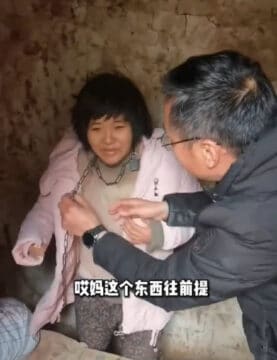 The video caused a storm on social media, where many were quick to draw comparisons to the 2007 movie Blind Mountain (盲山). That movie, directed by Li Yang, tells the story of a woman named Bai who is kidnapped and sold to a villager in the mountains, leaving Bai completely trapped.
Many netizens worried about the woman's circumstances. Why was she chained up? Was she a victim of human trafficking? Was she being abused? Was she forced to have so many children? What happened to her teeth? While netizens were speculating about the case and venting their anger, Weibo shut down some of the hashtags dedicated to this topic.
On Friday, January 28, Feng County authorities responded to the controversy, claiming the woman and her husband named Dong were married in 1998 and that the woman developed a mental illness involving violent behavior. The woman, named Yang, previously would display sudden violent outbursts, beating children and older people. The family allegedly thought it was best to separate her from the family home, letting her stay in a small hut next to the house. The vlogger allegedly caught the woman as she had just woken up, suggesting this would explain her clothes and messy hair.
Authorities further stated that they could confirm that Yang is not a victim of human trafficking. They also said that Feng County and the Women's Federation are now involved in helping the family. Yang is reportedly receiving care and the family is also provided additional assistance "to ensure they will have a warm Spring Festival."
The hashtag "Official Announcement Regarding the Circumstances of the Xuzhou Woman with Eight Kids" (#官方通报徐州丰县生育八孩女子情况#) received over 150 million views by Saturday.
Popular WeChat blogging account NewsBro wrote about the story on Friday, saying that the officials who came up with the aforementioned statement must have just released what they had on file about the family without actually seeing for themselves how the woman was kept in the small hut. Even though it is probably true that Yang suffers from a mental illness, NewsBro says, it does not excuse her being mistreated like this and letting her live chained up in the cold.
Many netizens are also not satisfied with how authorities have responded to this issue, condemning the fact that their statements blatantly ignore how Yang was chained up and also questioning why a mentally ill woman was able to have eight children at all. "Do you even treat this woman as a human being?", one top commenter wondered, with many others wondering how this situation apparently was not seen as a crime.
"Where are her parents?" others asked. "A 'warm Spring Festival'?! Did you even see the iron chain around her neck?! This woman needs to be treated at a hospital instead of being imprisoned in her own home while having children," another person wrote.
Manga artist Yaduo (@呀哆) shared a drawing focused on Yang's story on Weibo, showing a chained up woman and a total of eight children. Outside the door you see the children's father, wearing a mask while talking to a reporter.
This refers to another video in which Dong, Yang's husband, is being interviewed and tells how he struggles to take care of their eight children, saying that he is basically taking care and cooking for "nine children," including his wife.
Dong allegedly also opened up his own TikTok account, although at the time of writing, that account no longer seemed available.
On Saturday night, some Weibo bloggers claimed that Yang has now been admitted to a psychiatric hospital and that the children have currently been relocated by local authorities, but these claims were not confirmed by official sources at the time of writing.
Various tragic stories about Chinese people from disadvantaged backgrounds have recently led to online turmoil, such as the story about the migrant worker with Covid19 who spent all his money on the search for his missing son and the student who committed suicide after discovering his parents sold him as a child.
Just before Yang's circumstances gained traction online, Chinese state media outlet China Daily focused on the recent public attention for stories featuring social problems.1 According to Dr. Liu Leming, associate professor at East China University's Political Science faculty, government agencies need to follow up and respond more quickly to social incidents like these in the internet era: "When public issues emerge, people who are involved in social problems or incidents want to know, more than anything, whether their requests have been seen and who will handle their concerns."
For now, thousands of netizens are waiting for another update on Yang, wishing a better life for her in the near future.
Update Jan 30 2022: we will update this story if more official statements come out, meanwhile, you can also follow the latest updates on Twitter here:
Meanwhile, the husband is proudly talking about their 8 kids (7 boys, 1 girl), youngest still a baby. This is what the online anger is also about: how could she even have babies while suffering from mental illness? When did she become this way? Was she used as a breeding machine? pic.twitter.com/pE1x4RCjqo

— Manya Koetse (@manyapan) January 30, 2022
February 2022: for updates, check here.
By Manya Koetse
1 Cao Yin and Li Yang. 2022. "Policymakers, Lawmakers Respond to Opinion Voiced Online." China Daily Hong Kong, January 28, Page 1-2.
Spotted a mistake or want to add something? Please let us know in comments below or email us. First-time commenters, please be patient – we will have to manually approve your comment before it appears.
©2022 Whatsonweibo. All rights reserved. Do not reproduce our content without permission – you can contact us at info@whatsonweibo.com.
Press Conference on Chinese Student's Death: Hu Xinyu Left Message on Voice Recorder
These are the most important details shared during the 2.2.23 press conference on the disappearance and death of Hu Xinyu.
The disappearance and death of the Chinese 15-year-old Hu Xinyu has become one of the biggest topics on Chinese social media recently, with dozens of hashtags related to the story receiving millions – sometimes even billions – of views.
Hu Xinyu went missing from school on Oct. 14, 2022. The boy's whereabouts were a mystery for 106 days, during which family, friends, police, and dedicated search teams searched for the student all across the Yanshan County region in Jiangxi Province and beyond.
On Jan 28., 2023, Hu's remains were found by a local guard on the premises of a grain warehouse not far from the school. For a full timeline of Hu's disappearance and the details surrounding his death, see our previous article here.
A voice recorder was also found near Hu's remains, but the data on the small 4GB recorder initially seemed to be unretrievable, and it was sent back to the manufacturer for analysis.
On the morning of Feb. 2, 2023, local authorities and the dedicated task force organized a live-broadcasted press conference on the case and the latest findings.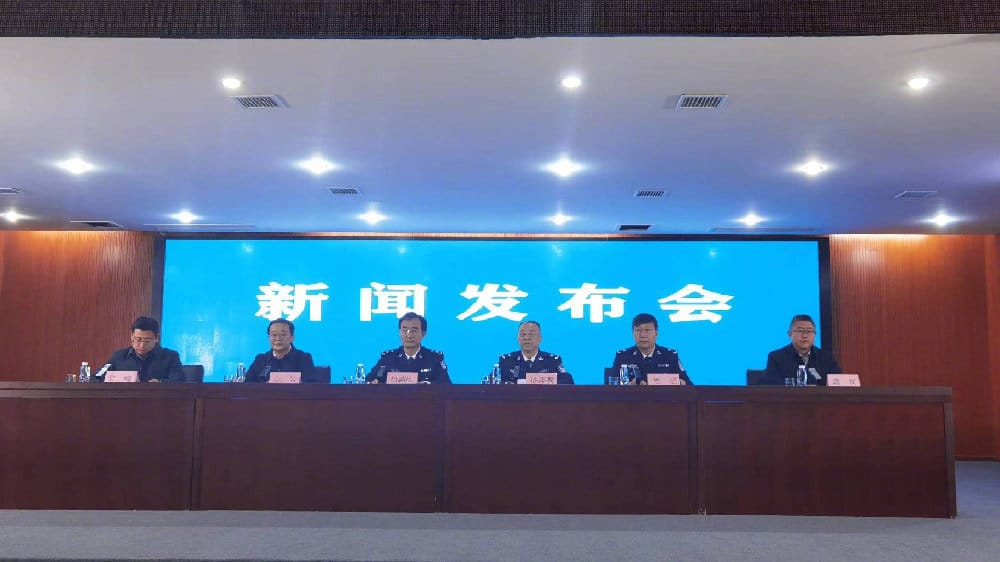 The most important pieces of information provided in the press conference on February 2nd are as follows:
◼︎ Hu Xinyu's death has been ruled a suicide by hanging. Hu used shoelaces, which were removed from the shoes found near Hu's remains.
◼︎ As previously reported, Hu was found at a nearby grain warehouse. It has now been clarified that the area where Hu's remains were found is a grain reserve depot area. The grain reserve depot area is prohibited to enter and is guarded 24/7. It is a very large plot of land that includes a zone (over 8000 square meters) with twenty buildings on it – including warehouses and living quarters, – and a forest area of approximately 9300 square meters. Although the area is encircled by a wall, some parts of the wall are lower due to uneven ground. Hu's body was found in the wooded area, hanging from a tree near the wall, close to one of the spots where the wall height was significantly lower.
◼︎ The location where Hu's remains were found is just 226 meters away from the Zhiyuan Middle School and it had been searched before, not only through the use of thermal drones, but also by search teams on four different occasions in October and November of 2022. Although all the buildings in the area were searched along with other parts of the zone, the specific wooded area where Hu was later found was not searched. There were also no clues that led search teams to believe Hu Xinyu had walked a specific route through dense vegetation surrounding the grain depot area.
◼︎ The voice recorder plays a major role in this case. It was previously known that Hu Xinyu had purchased a voice recorder and that it could not be located after Hu Xinyu went missing. Although earlier reports stated that the data on the recorder could not be retrieved as the device had been exposed to sun, rain, moist, etc., it has now been announced that the audio files have been retrieved and that Hu Xinyu recorded two messages on Oct. 14, 2022, at 17:40 and 23:08, in which he expressed the will to commit suicide.
◼︎ The involved experts in this case have also concluded that through analysis and based on Hu's own notes and other evidence, the 15-year-old boy was struggling with his mental health and emotional disorders related to loneliness, insecurity, and lack of communication. Hu also experienced additional stress when he was getting lower grades, and he suffered from insomnia, difficulty concentrating, abnormal eating patterns, and an overall sense of hopelessness.
This reconstruction, published by People's Daily, clarifies how Hu remains were found, how he was able to access the grain warehouse premises (uneven ground>lower wall), and why it was so hard to find him during all this time. pic.twitter.com/vrXqnsjtQU

— Manya Koetse (@manyapan) February 2, 2023
During the press conference, reporters were allowed to ask questions related to the case. In response to a question related to the many rumors the Hu Xinyu case has attracted over the past months, one official declared that at least two persons have been arrested for fabricating videos and purposely spreading false rumors about the case.
After Thursday's press conference, it has once again become clear just how big the social media attention is for this case. The hashtag "Content of Hu Xinyu Voice Recorder" (#胡鑫宇录音笔内容#) received over 390 million views on Weibo; the hashtag "Hu Xinyu Expressed Will to Commit Suicide on Voice Recorder" (#胡鑫宇录音笔中音频表达自杀意愿#) received over 640 million views; the hashtag "Hu Xinyu Died due to Self-Hanging" (#胡鑫宇系自缢死亡#) received over 950 million views.
Among the many responses, there are those who argue that schools should offer more channels to provide support to students dealing with mental health issues. Others hope that Hu Xinyu can now finally rest in peace.

For information and support on mental health and suicide, international helplines can be found at www.befrienders.org.

By Manya Koetse 
Get the story behind the hashtag. Subscribe to What's on Weibo here to receive our newsletter and get access to our latest articles:
Spotted a mistake or want to add something? Please let us know in comments below or email us. First-time commenters, please be patient – we will have to manually approve your comment before it appears.
©2023 Whatsonweibo. All rights reserved. Do not reproduce our content without permission – you can contact us at info@whatsonweibo.com.
What Happened to Hu Xinyu? Disappearance and Death of 15-Year-Old Student Attracts Widespread Attention in China
Although Hu Xinyu's school had 119 cameras, his disappearance remained a mystery for 106 days. Near Hu's remains, a voice recorder was found.
After 106 days of searching, Hu Xinyu's parents now know their son has passed away. The student's remains were found at a grain warehouse near his school, but questions still linger on what happened to the 15-year-old and why it took so long to find him.
The case of a Chinese 15-year-old student named Hu Xinyu (胡鑫宇) has been trending on Chinese social media over the past few days. Ever since October of 2022, Hu Xinyu's case has been a much-discussed topic.
The young man from Jiangxi was missing for 106 days before his body was discovered, leaving many unanswered questions surrounding his death and why search teams were unable to find Hu in the months before.
One of the reasons why Hu Xinyu's disappearance has been attracting widespread attention is because many people believe there are some details or occurrences surrounding Hu's case that are purposely being hidden or not revealed to the public.

Hu Goes Missing: A Timeline
The story begins on Oct. 14, 2022, when Hu Xinyu, a student at the Zhiyuan Middle School (致远中学), first went missing in Yanshan County, Shangrao City. The Zhiyuan Middle School is a private school where students live in the dorms, only going home to their families on days off. Hu allegedly had good grades as a student at Zhiyuan.
The incident attracted attention due to the peculiar circumstances surrounding it. It was first reported that security cameras allegedly had not recorded the student leaving the school's premises and that Hu's family suspected that the security camera system had been tampered with. The school reportedly has a total of 119 cameras installed on its premises.
Later reports claimed that security cameras did in fact capture how Hu left the dorms at 17:51 that day, but there was no footage of him actually leaving the school premises.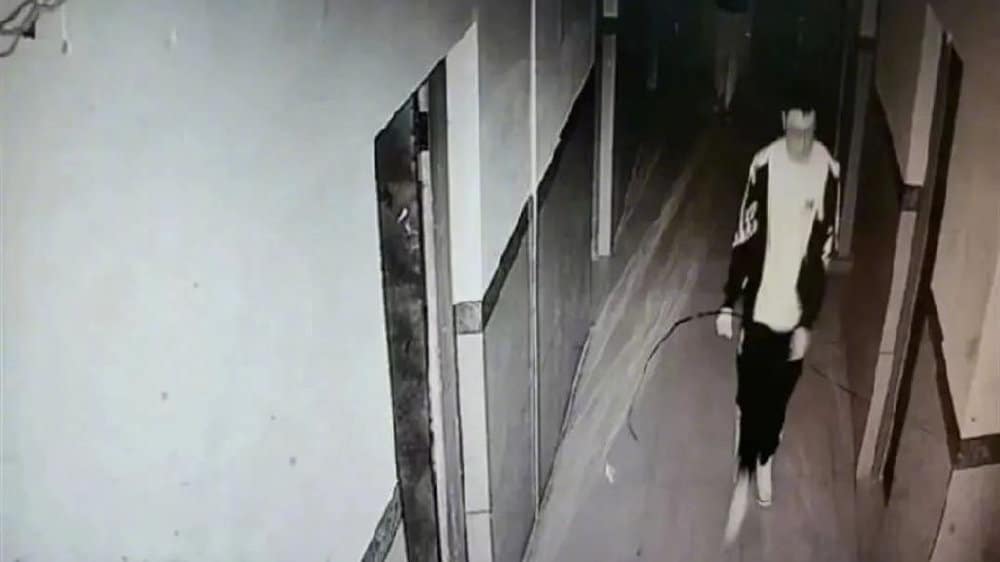 On Oct. 15, after unsuccessful attempts by friends and family to locate Hu Xinyu, he was reported as a missing person at the local police office.
On Nov. 20, when Hu had already been missing for over a month, local authorities set up a joint task force to try and speed up efforts to find Hu and further investigate his disappearance. Hu's social media and bank accounts reportedly had zero activity since he went missing.
On Nov. 22, 2022, Chinese media reported that rescue and search teams still had not found a single clue about where Hu might be. Meanwhile, his parents were gradually losing hope of finding their son back alive.
On Nov. 29, 2022, 46 days since Hu went missing, a chemistry teacher by the name of Wang was called in for questioning but he was later released. Weeks later, on Jan. 1, the police informed Hu's relatives that – despite rumors – they ruled out the possibility of school staff being involved in Hu's disappearance.
On Dec. 25, 2022, Hu Xinyu's mother shared some more information via social media about some contents in her son's old notebooks, in which Hu allegedly had noted how he felt that it was not easy for him to adapt to his living environment at the school and that he felt hindered by his introvert personality. These contents were later deleted again.
After Jan. 7, 2023, the search for Hu continued, including teams with search dogs, and thousands of people volunteered to join.
On Jan. 28, 2023, a body was found hanging near the woods in the Jinji mountain area in the town of Hekou. A voice recorder was also found at the scene.
The body was reportedly found by a local guard who was near the premises with his dog to look for a chicken that had wandered off. The dog started barking at something, and the guard then discovered the remains, which were not immediately clearly visible.
One day later, on Jan. 29, Chinese media reported that DNA research confirmed that the remains belonged to Hu Xinyu. He was wearing his school uniform when his remains were found. Hu's parents decided to have a post-mortem examination of the body to determine the cause of death. The voice recorder found near Hu's body was sent for analysis.
The hashtag "Hu Xinyu's Remains Found" (#胡鑫宇遗体被发现#) was viewed over two billion times on Weibo.

The Latest Details Surrounding Hu Xinyu's Death
Chinese news outlet The Paper reported that the location where Hu's remains were discovered is a large grain warehouse area just about 300 meters or a 5-minute walk southeast of the Zhiyuan Middle School.
According to a spokesperson of the search & rescue team, the area where Hu was found had been previously included in search efforts (#搜救队曾去胡鑫宇被发现地周围搜寻#).
The biggest questions that remain and that are asked by so many on Chinese social media are: how is it possible that search teams previously did not find Hu if this is where he was all along? Is the place where Hu was found a crime scene or not? How is it possible that security cameras did not capture Hu beyond the dorms?
Some details that surfaced over the past few days provide further information on the case.
On Jan. 31, Chinese media reported that one of Hu's teachers had discovered something written down by Hu Xinyu on the last page of his notebook: "What would it be like if I'm not longer here?" (#胡鑫宇曾写如果我不活了将会变得怎么样#).
It has also become known that Hu Xinyu purchased the voice recorder that was found with his remains. He purchased the 4GB-capacity recorder on October 4, 2022.
At the time of writing, the data on the recorder was not able to be retrieved (#胡鑫宇购买录音笔数据删除后无法恢复#). A recording device such as the one found near Hu's body might become damaged due very low or high temperatures or by moist and liquid (#胡鑫宇录音笔已送深圳检测#).
If the original manufacturer would be able to get the data on the recorder, Hu's relatives finally might get some of the answers they have been waiting for for so long.
According to Hu Xinyu's father, search and rescue staff previously had in fact been inside the grain warehouse premises, but apparently did not come to the exact location within the warehouse area where Hu was later found (#胡鑫宇父亲称未到达遗体发现点#).
On February 2nd, 2023, a press conference on the latest developments is planned to take place in Yanshan county in Shangrao at 10:00 AM. (Update: read about the press conference here).

Societal Distrust, Armchair Detectives, and Social Media
There are multiple reasons why the Hu Xinyu case is attracting such wide attention, and in some ways, the case is similar to the 2021 'Chengdu 49 Middle School Incident.'
At the time, the death of 16-year-old Lin Weiqi (林唯麒) also attracted nationwide attention and led to a wave of online rumors and theories on what might have happened to him.
Although Lin never went missing – he fell to his death from the school building, – there was also online speculation about corporal punishment and abuse taking place in the school, with one theory suggesting Lin had been hurt by a chemistry teacher. Just as in the Hu Xinyu case, netizens speculated that the school was trying to cover up the incident.
According to a joint statement later issued by the local propaganda department, police, and the Education Bureau said that they had come to the conclusion that the student had taken his own life due to personal problems.
The Lin Weiqi story sparked concerns at a time when security cameras had become a part of everyday lives. The fact that there were blind spots in the surveillance footage and that cameras never captured how and if Lin actually took his own life triggered doubts among Lin's relatives and netizens alike.
Many reasoned that since there are security cameras all over the school, there must be a cover-up going on if the incident was not captured on camera. A similar thing happened in the case of the Tangshan BBQ Restaurant Incident in which female customers were assaulted and beaten by a group of men. Although the beating incident was captured by security cameras, the last part of the incident occurred at a nearby alley and was not captured by the outdoor security cameras. This led to a lot of speculation on what happened there and if local government officials were covering something up.
Another factor that plays a role is that there have actually been stories about schools or other institutes covering up scandals in recent years, such as in the RYB Education incident of 2017 that shocked the nation and did not help in improving trust in educational institutes.
Social media also plays an important role in how and why the Hu Xinyu case received so much attention. For some online communities of armchair detectives, identifying suspects and uncovering clues becomes like solving a puzzle, while following the latest details in these high-profile cases also becomes like a form of infotainment for others – comparable to the online sleuthing and major attention for the case of Gabby Petito in the U.S.
Furthermore, those who are closely related to the case also use social media to attract more attention. In Hu Xinyu's case, his family members personally turned to social media and media reporters to ask for help or update with information. This also makes social media users more involved since they get the feeling they know the family, and sympathize with them. Very different from just reading a headline in the local newspaper, social media users feel involved and get involved.
For now, many social media users would like to see some clarity in this case and a conclusion so that Hu's family can finally get some of their questions answered.
While many think it is highly likely that local authorities will soon come out with a statement that Hu committed suicide, others think there might still be other outcomes.
"It's lasted long enough now," some Weibo commenters write: "What is most important now is to finally know the truth."
READ UPDATE TO THIS STORY HERE.
By Manya Koetse 
with contributions by Miranda Barnes
Get the story behind the hashtag. Subscribe to What's on Weibo here to receive our newsletter and get access to our latest articles:

For information and support on mental health and suicide, international helplines can be found at www.befrienders.org.

Spotted a mistake or want to add something? Please let us know in comments below or email us. First-time commenters, please be patient – we will have to manually approve your comment before it appears.
©2023 Whatsonweibo. All rights reserved. Do not reproduce our content without permission – you can contact us at info@whatsonweibo.com.