Photo of Crying Single Mum Shows Harsh Reality of Healthcare in China
The heartbreaking photos of a desperate mother are going viral for the second time.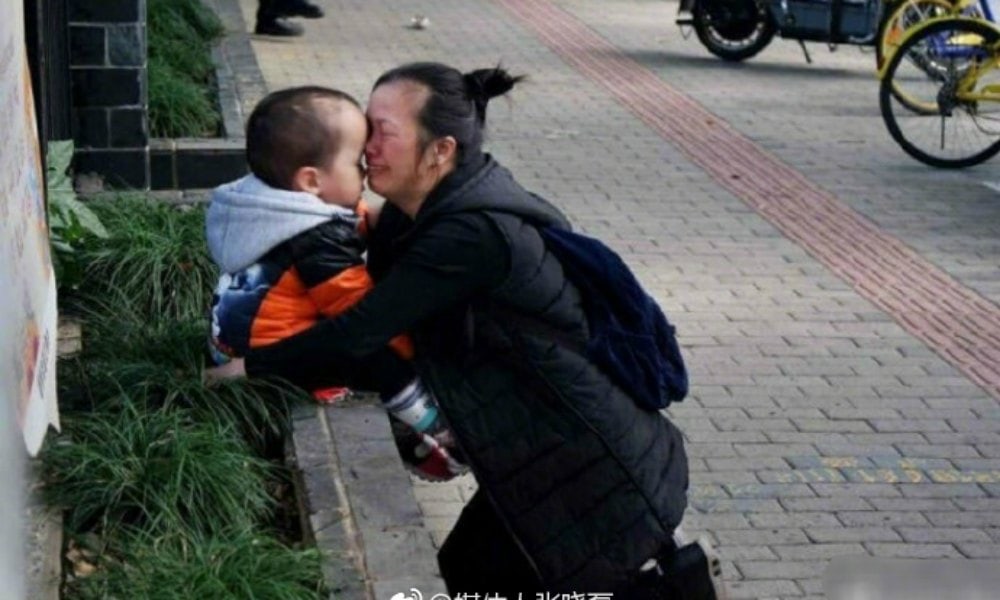 A photo that is currently going viral on Chinese social media shows a crying mother in Shanghai kneeling down by her toddler son on the sidewalk.
The text accompanying the photo says:
"On Shanghai Beiyuan Street, a single mother kneels on the street in the cold wind. She buries her head in her child's arms and quietly sobs. The 3-year-old son suffers from hydrocephalus ["water on the brain"], and they previously came to Shanghai to seek medical treatment because he had an infection. After using up all their money, they were forced to leave the hospital. The helpless mother just sat on the street, feeling sorry for her child."
The photo received thousands of comments on Weibo today, with many people offering to help the mother out. "It hurts to see this," some said: "She wants to be able to help her son, but she does not have the resources."
Many Chinese face major obstacles in getting access to the healthcare they need. Under China's current medical system, it is not easy for people from rural areas to gain access to medical facilities in the major cities, as they are not covered there and will have to pay for medical care themselves.
The issue is related to China's hukou (household registration) system: government-subsidized rural medical insurance is often not valid in a different province, which means that villagers who fall seriously ill are not covered when they travel to first-tier cities for medical care.
So-called ticket scalpers (票贩子) take advantage of the system and people's eagerness to see a doctor by using local identification cards to book appointments and then selling them to people without the proper documentation.
As for the crying single mother; this is not the first time these photos make their rounds around Chinese social media. The scene was captured on camera approximately four months ago, in early December of 2017.
It is not uncommon for the same story or photos to go viral again or to keep circulating on Weibo, similar to viral news stories on Twitter or Facebook.
According to Phoenix News, the mother is the 45-year-old Guo Yinzhen (郭银珍), who is a single parent since she divorced from her estranged husband some years ago. Her son's name is Guo Zhenghan (郭政焓), and they come from a village in Datian county, Sanming, in Fujian – some 830 kilometers from Shanghai.
The photos were reportedly taken on December 1, 2017, when a reporter joined some volunteers to pay a visit to the Shanghai's Children's Hospital and came across the crying mother and then asked her about her story.
Guo Zhenghan was born in November of 2014 and has congenital hydrocephalus, meaning he already had it at birth. From 2014 to 2016, the child underwent three surgeries, but his condition deteriorated in May of 2017. Since November 2017 alone, the child was admitted to the hospital four times because of a potentially fatal bacterial complication.
Having used up all her money and still needing some 100,000s yuan (more than $15,000) for further treatments, Guo Yinzhen had no choice but to leave the hospital again, which is when she helplessly sat down on the street with her son.
In March 2018, Sina News also reported about this story, saying that Guo Yinzhen is a laid-off factory worker who has not been able to work since the birth of her child. Her parents are farmers who make a living by plucking tea leaves.
Sina also writes that the family has already spent 400,000 yuan (±US $63,000) on medical expenses, and still owe around US $47,000 in debts.
"I just feel so bad for the mother," many people on Weibo respond.
"Since this is [the state of] medical treatments in Chinese society, parents have to make sure they can afford the medical costs if their child falls ill," another person comments: "It is the best to purchase a commercial insurance. They're not cheap, but even if costly, they need to buy it."
In search of how Guo and her son are now doing, we found a buried Weibo post dated December 12, which only received four comments, in which a netizen writes:
"On December 1, the crying single mother kneeling in the cold by her son has received ample attention. On December 5, with the help of the Xiaoxingxin Foundation, single parent Guo Yinzhen was able to bring her child Guo Zhenghan to Shanghai again for medical treatment, where the notable pediatric neurosurgeon Bao Nan operated the child. Thank you for all your care."
The update was also confirmed by the Xiaoxingxin Foundation with a post on Weibo (@小星欣公益), which also said that according to the doctor, the infection had gone and that the brain development of the boy was "looking good."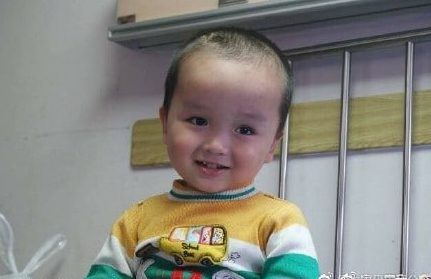 "Why can't we set up a system in which children will always be able to receive complete basic healthcare?" one netizen wondered.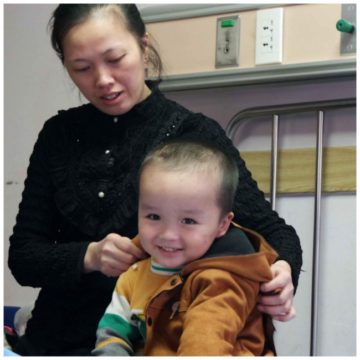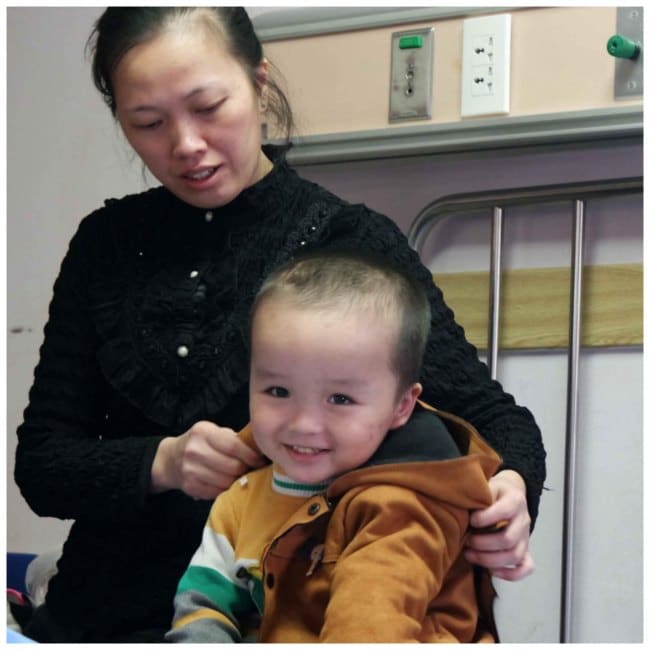 On March 15, China Central Television reported that future reforms in China's healthcare system will make healthcare more accessible and affordable, especially for rural communities – it does not say on what term these changes will be realized.
By Manya Koetse
Follow @whatsonweibo
Spotted a mistake or want to add something? Please let us know in comments below or email us.
©2018 Whatsonweibo. All rights reserved. Do not reproduce our content without permission – you can contact us at info@whatsonweibo.com.
Chinese 'Scientific' Study Claims Acupuncture Performed on Parents Can Cure Their Children
"How could such a study be published in a renowned scientific publication?," some wonder.
A Chinese study published in a renowned academic periodical has received much online attention this week. The research, that suggests sick children could be cured by performing acupuncture on their parents, has generated waves of criticism – many of those commenting are doctors themselves.
A Chinese academic publication has stirred controversy recently, nearly a year after it was published.
In November of 2017, the Chinese journal Chinese Acupuncture & Moxibustion (中国针灸) published an article titled "Discussion on Quantum Entanglement Theory and Acupuncture" (试论"量子纠缠"与针灸), written by Wang Jun (王军), Wu Bin (吴彬), and Chen Sheng (陈晟), who are affiliated with Beijing's Dongzhimen Hospital and its Beijing University of Chinese Medicine.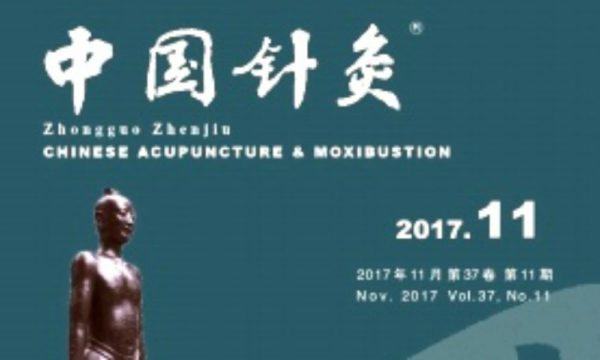 The authors of the study suggest that there is a so-called 'quantum entanglement' between parents and children.
As explained by Science Daily, 'quantum entanglement' refers to the idea that "two particles, no matter how distant from each other in space and time, can be inextricably linked, in a way that defies the rules of classical physics." (Read more on quantum entanglement here).
In the controversial paper, Wang and the two co-authors argue that the characteristics of quantum entanglement are reflected in Traditional Chinese medicine (TCM), acupuncture theory, and clinical practice, and that acupuncture on a parent would theoretically also be able to treat their children; in other words, suggesting that a sick child (or a child in pain) could benefit from a mother undergoing acupuncture. The same principle would apply to sibling relationships.
Author Wang Jun and co-authors describe they have conducted experiments with 15 patients with pain symptoms and their direct relatives to prove their theory; 14 of these patients and their relatives were put in the same room when receiving the acupuncture treatment, while one patient was separated from their relatives when they received the treatment. Upon completion, the results indicated that all patients' pain symptoms were at least somewhat alleviated. In four patients, the pain even disappeared.
The study received online attention when it was discussed on popular Q&A platform Zhihu.com and on a science blog earlier last week (September 14).
"As a doctor, I'm speechless after reading this."
On Zhihu.com, segments of the article were republished online, with the main poster asking: "How should we evaluate the 'Discussion on Quantum Entanglement Theory and Acupuncture' (试论"量子纠缠"与针灸)?"
The question, that was viewed more than 80,000 times, received many replies. One comment from a Beijing medical doctor (verified account) named Dr. Zeng said:
" (..) "As a doctor, I'm speechless after reading this. This was published in the scientific journal Chinese Acupuncture & Moxibustion (中国针灸). Based on what I found online, this magazine was founded in 1981 and falls under the responsibility of the Chinese Science and Technology Association (中国科学技术协会); it's a monthly joint effort by the Chinese Acupuncture Association and the Institute of Acupuncture and Moxibustion of the Chinese Academy of Traditional Chinese Medicine. It is a publication that is at the core of Chinese science and technology, it is a periodical that is at the core of Chinese-language science, and China's scientific databases (..) In other words, it is a very authoritative publication within the domain of acupuncture. Your research has to be quite great in order for it to be published in it."
The full version of the publication can be found in the online China Academic Journals Full-text Database, better known as CNKI (中国知网), a national online database under the lead of Tsinghua University.
Dr. Zeng continues:
"To suggest that when children fall ill, their parents just need to undergo some acupuncture and they'll be fine, because there is 'quantum entanglement' (量子纠缠) among blood kins – saying that acupuncture on the parents is equal to acupuncture on the children -, this is really serious. According to this theory, we might as well cancel pediatrics."
The doctor further reprimands the magazine and the authors for letting such a controversial study enter the publication, and thus international academic databases.
"The only thing that the researchers of this paper prove, is that they themselves need to be treated."
The study, further also criticized on a Science Net blog (where parts of the study were also republished), then started to gain attention on Weibo and other social media platforms, where many popular accounts started spreading the study's findings.
As a result, netizens started ridiculing the "miraculous" theory and let their imaginations run wild about all the future treatment possibilities. One Weibo users jokingly wrote: "This is a nice new way to discover who your real father is. If the treatment on your father doesn't bring about any positive results on you, you might have to talk to your neighbor and let him undergo the treatment instead."
One of the most popular Weibo comments said: "The only thing that the researchers of this paper prove, is that they themselves need to be treated."
Hashtags such as "Treat the mum with acupuncture if the child gets sick" (#孩子生病扎他妈治疗#)received more than four million views at time of writing.
The research also received attention in Chinese newspapers and online media, where reporters asked other scientists to comment on the controversy.
In an interview in the Science and Technology Daily (科技日报), Zhang Wenzhuo (张文卓), an associate researcher at the Institute of Quantum Information and Technology Innovation of the Chinese Academy of Sciences (中国科学院量子信息与量子科技创新), said that the theory presented by Wang Jun and his co-authors is a "very irresponsible abuse of the quantum theory."
"It is swindlers such as these who have destroyed TCM."
Since the research has gone viral on Chinese social media, Beijing Dongzhimen Hospital has responded to the controversy from its Weibo account (@北京东直门医院) with an official statement.
The statement confirms that the authors of the publication are affiliated to the Dongzhimen Hospital of the Beijing University of Chinese Medicine, and says that the hospital has let other experts look into this research.
"After getting an understanding of the situation and closely examining the paper," they write: "we believe that the theory belongs to the authors' individual thinkings which they based on connected theories and phenomenon (..)", and that this particular theory "is not instructive for clinical medicine."
One of the most popular comments replying to the statement comes from a Suzhou doctor in internal medicine (verified account), who says: "In all seriousness, this is some serious nonsense ("一本正经的胡说八道")."
Many people also take this research as an opportunity to criticize Traditional Chinese Medicine. "Traditional Chinese Medicine are a national treasure, but too many people use it to cheat on others," one another commenter writes. "It is swindlers such as these who have destroyed TCM," another person replies.
Amidst all condemnation of the research, there are some voices on Weibo who are pleading for people to look deeper into the research before attacking it. Others also respond to those saying that Traditional Chinese Medicine are not scientific, saying: "First, make sure you clearly understand what science is."
According to Chinese online media outlet The Paper, the study's authors have not responded to any requests to comment on the controversy over their theory.
By Manya Koetse and Gabi Verberg,
with contributions from Miranda Barnes
Follow @whatsonweibo
Featured cartoon published by Beijing News in response to the study, by illustrator Liu Jun 刘俊.
Spotted a mistake or want to add something? Please let us know in comments below or email us.
©2018 Whatsonweibo. All rights reserved. Do not reproduce our content without permission – you can contact us at info@whatsonweibo.com
The Essential Balm: How to Use Tiger Balm & Qing Liang You
The best ways to use Tiger Balm according to Chinese social media users.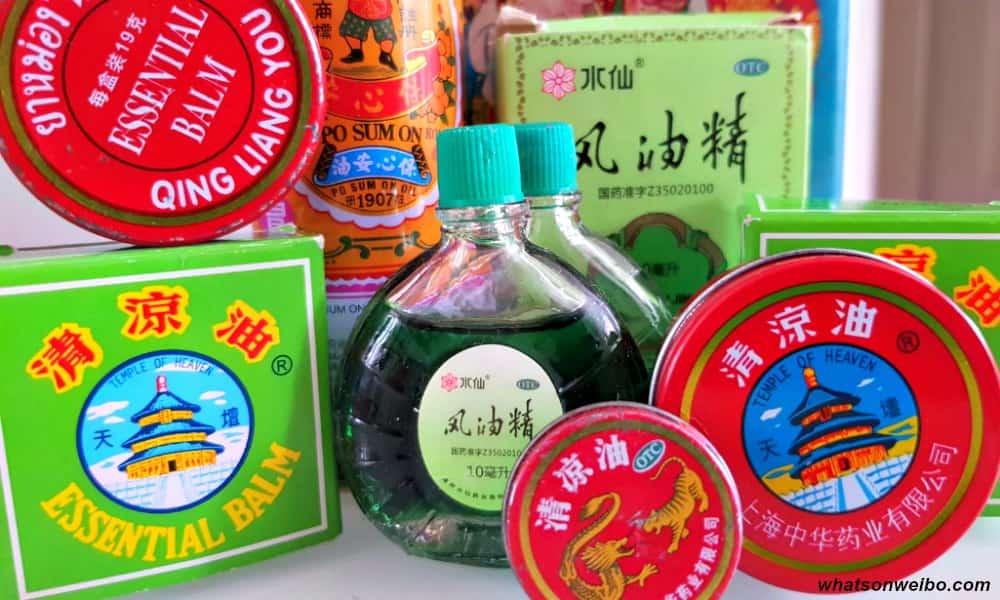 Some Chinese social media users claim Tiger Balm (or 'Essential Balm') is a "cure-all" product (包治百病) – why this century-old product is still popular today: the how-to-use tips from Weibo users.
What is simply known as 'Tiger Balm' in most Western countries, is also known as Fēng yóu jīng (风油精, lit. 'wind oil') or Qīng liáng yóu (清凉油, lit. 'cool oil') in China, usually translated as 'Essential Balm.'
The translation 'essential' is quite literal in the sense that the balm is in fact essential to many Chinese households; virtually all pharmacies, supermarkets, airports shops and convenience stores in the PRC will sell it.
The over-the-counter balm (or oil) is a product that often pops up on Chinese social media. A recent video on streaming platform Billibilli calls it a "cure-all" product (包治百病), while netizens on Weibo share tips on how they use the balm on a daily basis.
The Tiger Balm brand name in Chinese is Hǔbiao Wànjīnyóu (虎標萬金油), which literally means 'tiger-marked jack of all trades.'
All of these balms or oils are practically the same kind of 'heat rubs,' topical preparations for application to the skin, mainly made from menthol, camphor, clove oil, mint oil, and cajuput/eucalyptus oil.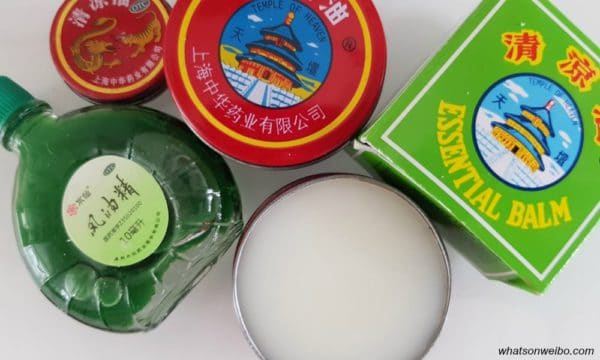 The Chinese fengyoujing is an oily liquid that comes in a small bottle (10ml), while both the Tiger Balm brand and so-called 'Essential Balm' (various brands) come as balsam in a small tin. Because the first-mentioned is more easily applied as liquid, its effects are somewhat stronger than the balm.
A Tiger Balm History
The original Tiger Balm was developed in Birma in the 1870s, by the Fujian-born herbalist Aw Chu Kin (Hu Ziqin 胡子钦). Different to what the name suggests, Tiger Balm does not contain any ingredients related to the tiger, but was named after Aw's son, whose name literally meant 'Gentle Tiger' (Aw Boonhaw or Hu Wenhu 胡文虎).
He was the son who later inherited the recipe of the balm, and turned Tiger Balm into a household name together with his brother (Hu Wenbao 胡文豹).
Aw Chu Kin was born in a small village. His father was also a herbalist, but the family was very poor. In search for a better live, the young Aw later moved to Birma (Myanmar), where he set up his own apothecary in Yangon in 1870 under the name of 'Eng Aun Tong' (永安堂药行).
Aw had three sons and a daughter. When he passed away in 1908, he left his company to the two sons who had helped him with his business. They later moved to Singapore, where they continued their father's business and officially launched Tiger Balm as a brand in 1925, based on their father's recipes.
The brothers used a remarkable promotion method for their balm; from 1926 on, they drove a vehicle that had a big tiger head on its front (see image). The horn of the car sounded like a tiger roar – a good way to attract the attention of people and to give them some free samples of their balm.
How to Use Tiger Balm: General Uses
The century-old product is still wildly popular today, with various companies now producing (nearly) identical products.
Note: not recommended to use for pregnant women, children under the age of 3, avoid contact with eyes, keep out of reach of children, and do not apply to injured skin or burns. If you're in doubt about tiger balm usages and/or allergies, consult a doctor before using.
Among the main purposes of Tiger Balm and Qing Liang You is that it can be used as an anti-itching remedy for mosquito bites and insect stings.
For those with rheumatic pains, tiger balm can be also used as a painkiller by applying it in the lower back area, legs, and directly on sore muscles and bones.
Tiger Balm is also said to be helpful against a cold and have a stuffed nose, by putting some balm right underneath and around the nostrils to let the nose clear up.
To prevent dizziness and carsickness, the balm can be used to slightly moisten the lips or temples to prevent nausea.
Social Media Tips
On Weibo, dozens of people share their use of Tiger Balm and the likes on their accounts every day – especially during the hot summer.
* Some Chinese students simply recommend keeping a small tin of balm nearby for those late study hours; they claim sniffing the balm awakens the mind.
* "I apply some balm before I take a shower," one commenter says: "Now my whole body feels cool as a breeze." By applying some balm to parts of the body, the skin gets cooled – a comfortable feeling in times of hot weather or fever.
* Social media user Xixi (@西西咕噜咕噜) uses Tiger Balm in hot summer days. Opening up the lid of the balm a few times a day in front of the van spreads its cooling breeze throughout the room: "I'm crazy about this fragrance." (Tip! Mosquitos and other insects dislike this smell; this method is also effective as a repellent.)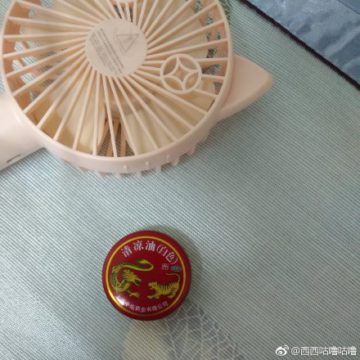 * "I've been suffering from a head-ache for days," a Weibo user named 'I've been studying for hours today' (@今儿学了几个小时) says: "Rubbing some qingliangyou on my temples really helps." Tiger balm is often promoted as a remedy against headache, by rubbing some tiger balm on the forehead or temples (mind your eyes).
* "After cutting red peppers, you can smear some Tiger Balm on your fingers," another Weibo user (@萍了早煤) writes: "also use some plain vinegar to wash it off. It helps."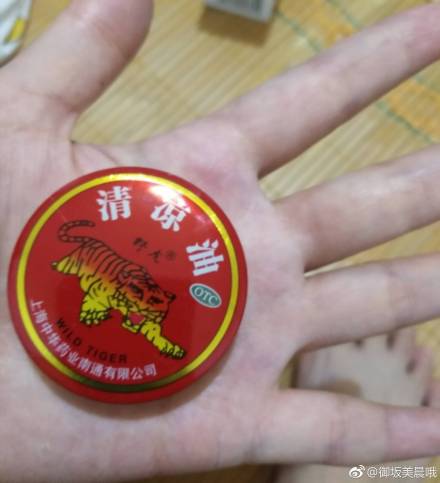 * "You can use Tiger Balm / Qing Liang You to improve blood circulation and decrease swellings," one Guangdong micro-blogger writes. It is indeed said that one of the active ingredients, camphor, dilates the blood vessels and brings blood closer to the skin's surface; increasing circulation and warmth.
* Another popular Weibo account (@好运逗比) recommends rubbing some drops of the fengyoujing (the liquid rub) to the soles of the feet before wearing shoes to prevent smelly feet at the end of the day.
* There are also Weibo accounts recommending Tiger Balm / Qing Liang You as the must-bring item on travels to prevent mosquito bites, car or sea sickness, and for treatment of headaches.
* There are also some people who say they use Tiger Balm on their face as a way to treat acne/pimples, but we'd highly recommend consulting with a doctor before doing so, as the balm is not recommended to be used on irritable skin.
Still not had enough tips? You can check out one of What's on Weibo's earliest articles, titled '20 Ways to Use Tiger Balm,' for more tips on how to use this 'jack for all trades' balm.
By Manya Koetse
Follow @whatsonweibo
Where to Buy
Tiger Balm is practically available everywhere. Check your local pharmacy or convenience store. The brand also has an online shop where their products can be purchased. For small cases of essential balm to carry with you at all times check here.
The Temple of Heaven balm can be purchased at Beijing airport and many other places, but online it is purchasable here.
The classic oil, which is somewhat stronger, is available here.
Spotted a mistake or want to add something? Please let us know in comments below or email us.
©2018 Whatsonweibo. All rights reserved. Do not reproduce our content without permission – you can contact us at info@whatsonweibo.com.