Photo of Crying Single Mum Shows Harsh Reality of Healthcare in China
The heartbreaking photos of a desperate mother are going viral for the second time.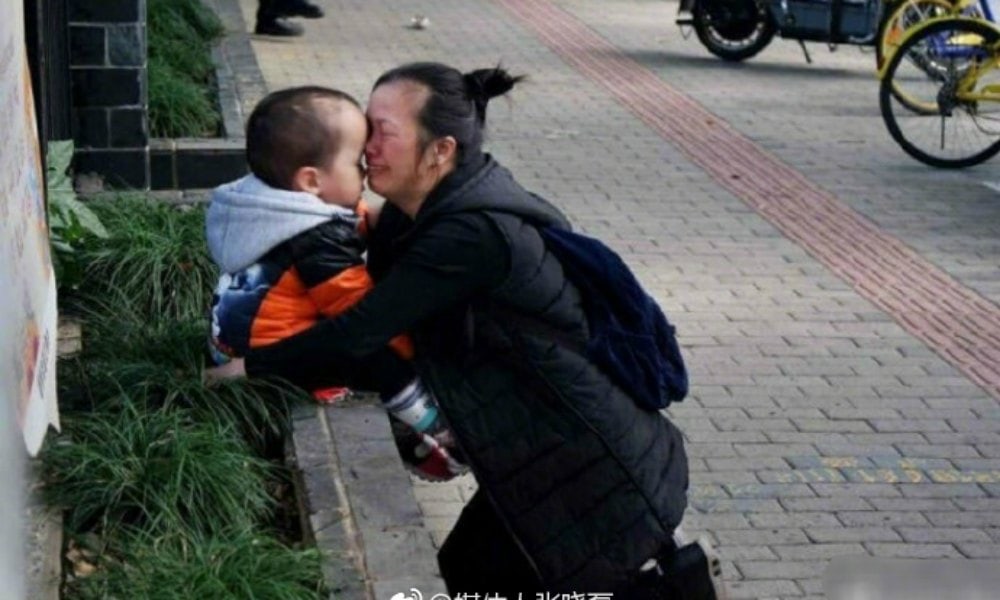 A photo that is currently going viral on Chinese social media shows a crying mother in Shanghai kneeling down by her toddler son on the sidewalk.
The text accompanying the photo says:
"On Shanghai Beiyuan Street, a single mother kneels on the street in the cold wind. She buries her head in her child's arms and quietly sobs. The 3-year-old son suffers from hydrocephalus ["water on the brain"], and they previously came to Shanghai to seek medical treatment because he had an infection. After using up all their money, they were forced to leave the hospital. The helpless mother just sat on the street, feeling sorry for her child."
The photo received thousands of comments on Weibo today, with many people offering to help the mother out. "It hurts to see this," some said: "She wants to be able to help her son, but she does not have the resources."
Many Chinese face major obstacles in getting access to the healthcare they need. Under China's current medical system, it is not easy for people from rural areas to gain access to medical facilities in the major cities, as they are not covered there and will have to pay for medical care themselves.
The issue is related to China's hukou (household registration) system: government-subsidized rural medical insurance is often not valid in a different province, which means that villagers who fall seriously ill are not covered when they travel to first-tier cities for medical care.
So-called ticket scalpers (票贩子) take advantage of the system and people's eagerness to see a doctor by using local identification cards to book appointments and then selling them to people without the proper documentation.
As for the crying single mother; this is not the first time these photos make their rounds around Chinese social media. The scene was captured on camera approximately four months ago, in early December of 2017.
It is not uncommon for the same story or photos to go viral again or to keep circulating on Weibo, similar to viral news stories on Twitter or Facebook.
According to Phoenix News, the mother is the 45-year-old Guo Yinzhen (郭银珍), who is a single parent since she divorced from her estranged husband some years ago. Her son's name is Guo Zhenghan (郭政焓), and they come from a village in Datian county, Sanming, in Fujian – some 830 kilometers from Shanghai.
The photos were reportedly taken on December 1, 2017, when a reporter joined some volunteers to pay a visit to the Shanghai's Children's Hospital and came across the crying mother and then asked her about her story.
Guo Zhenghan was born in November of 2014 and has congenital hydrocephalus, meaning he already had it at birth. From 2014 to 2016, the child underwent three surgeries, but his condition deteriorated in May of 2017. Since November 2017 alone, the child was admitted to the hospital four times because of a potentially fatal bacterial complication.
Having used up all her money and still needing some 100,000s yuan (more than $15,000) for further treatments, Guo Yinzhen had no choice but to leave the hospital again, which is when she helplessly sat down on the street with her son.
In March 2018, Sina News also reported about this story, saying that Guo Yinzhen is a laid-off factory worker who has not been able to work since the birth of her child. Her parents are farmers who make a living by plucking tea leaves.
Sina also writes that the family has already spent 400,000 yuan (±US $63,000) on medical expenses, and still owe around US $47,000 in debts.
"I just feel so bad for the mother," many people on Weibo respond.
"Since this is [the state of] medical treatments in Chinese society, parents have to make sure they can afford the medical costs if their child falls ill," another person comments: "It is the best to purchase a commercial insurance. They're not cheap, but even if costly, they need to buy it."
In search of how Guo and her son are now doing, we found a buried Weibo post dated December 12, which only received four comments, in which a netizen writes:
"On December 1, the crying single mother kneeling in the cold by her son has received ample attention. On December 5, with the help of the Xiaoxingxin Foundation, single parent Guo Yinzhen was able to bring her child Guo Zhenghan to Shanghai again for medical treatment, where the notable pediatric neurosurgeon Bao Nan operated the child. Thank you for all your care."
The update was also confirmed by the Xiaoxingxin Foundation with a post on Weibo (@小星欣公益), which also said that according to the doctor, the infection had gone and that the brain development of the boy was "looking good."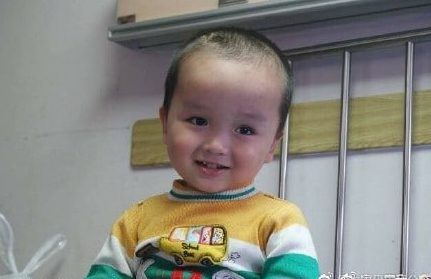 "Why can't we set up a system in which children will always be able to receive complete basic healthcare?" one netizen wondered.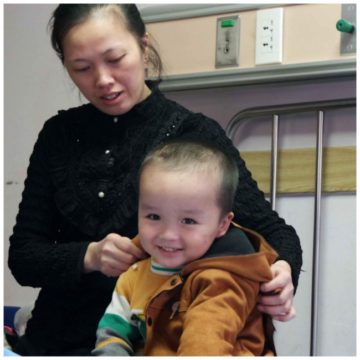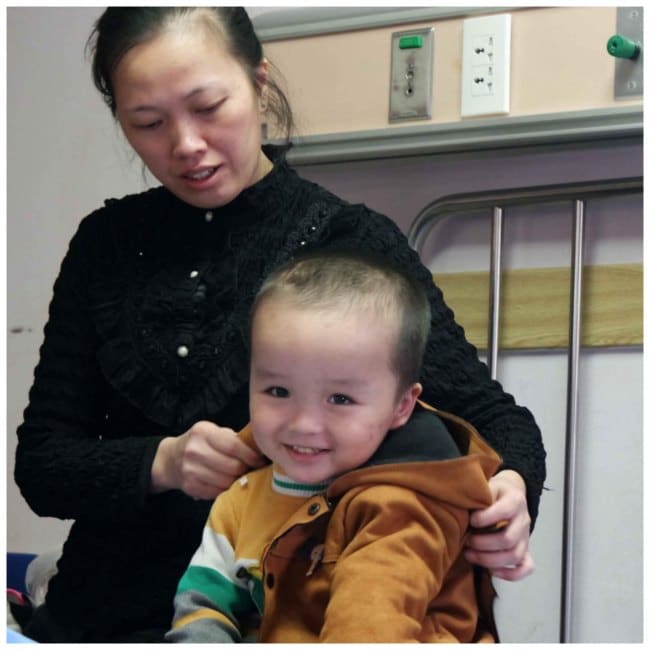 On March 15, China Central Television reported that future reforms in China's healthcare system will make healthcare more accessible and affordable, especially for rural communities – it does not say on what term these changes will be realized.
By Manya Koetse
Follow @whatsonweibo
Spotted a mistake or want to add something? Please let us know in comments below or email us.
©2018 Whatsonweibo. All rights reserved. Do not reproduce our content without permission – you can contact us at info@whatsonweibo.com.
Making China's Healthcare More Mobile: Wuxi Launches 'Smart Medical App'
The Wuxi Medical App makes Chinese health care more digital.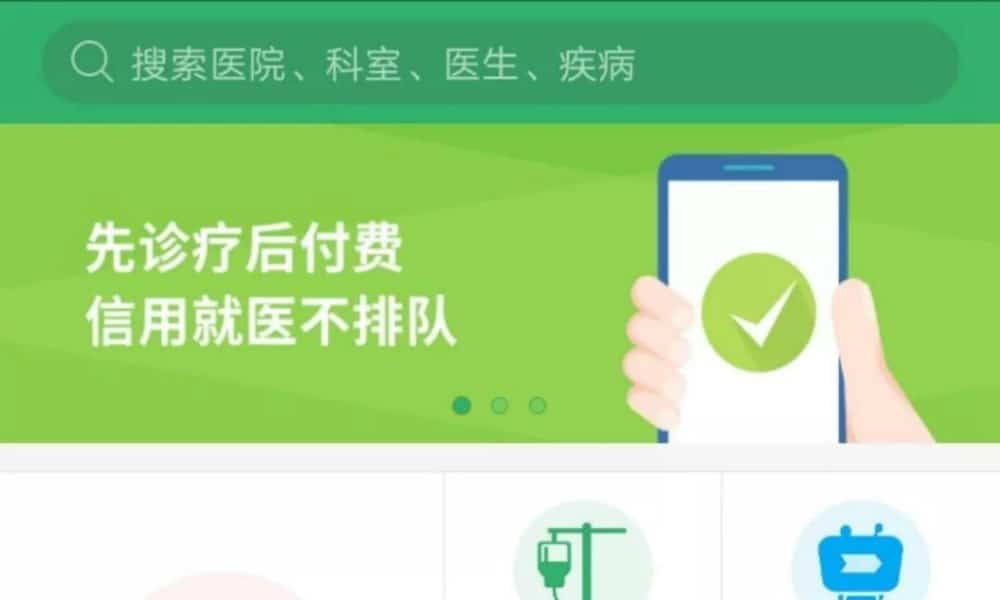 With the trial launch of the Wuxi Smart Medical app [无锡智医APP], patients of eight different Wuxi hospitals can now experiment with navigating their healthcare through mobile.
In late October, the Wuxi Municipal Health Planning Commission launched a trial version of the so-called "Wuxi Smart Medical App" [无锡智医APP] in cooperation with eight hospitals in the city of Wuxi, Jiangsu province – a city with a population of more than six million people.
The app is meant to make the navigation of health services more convenient for both patients and people who work in the medical sector.
According to Wuxi Daily, one of the reasons why the app was designed is to alleviate the widespread problem of long queues at local hospitals.
Especially in China's bigger cities, many patients have to wait in line for hours or sometimes even days before they can register for an appointment (a process known as guàhào 挂号), and receive medical treatment.
With the free app, users can now efficiently register for a doctor's appointment at one of the eight cooperating hospitals through their mobile phone, without having to stand in line at the hospital. The app also allows patients to see and pay for their medical bills, check medical information, and see their examination results.
"When I needed medical consultation or treatment, I never knew what department or doctor I had to queue for," Liu Xingyu (刘星宇), director of the Information Department of the Municipal Health Planning Commission, tells Wuxi Daily: "I was not the only one facing this problem. But with the app, patients can now insert a type of medical issue, their symptoms, etc., and the app will recommend the [relevant] department."
To get insights into examination results, patients using the app no longer have to spend entire afternoons waiting in the hospital. The app stores all examination results going back one year.
As for the payment of medical fees, the app provides users with a self-service payment option. By following a few steps, people can pay their medical bills on their phone through Alipay.
The Wuxi app is a new app, but the idea of bringing China's digitalization into the health care system is not new. As reported by Technode, Tencent already launched WeChat Intelligent Healthcare (微信智慧医疗) in 2014, a platform that allows users to do things such as book appointments, make payments, and more, at hospitals and other medical facilities through WeChat public accounts.
China's healthcare system has also become more digitalized through options offered by some hospitals in China for people with a relatively high score on their Sesame Credit to receive certain 'perks', such as being able to skip lines, or use wheelchairs without paying deposits. (For more about Sesame Credit, an opt-in commercial credit programme by Ant Financial (Alipay), also see this article).
Perhaps Wuxi's trial app will lead the way for other hospitals in China to become more mobile-focused. For now, the Android version of the Wuxi app is available on Huawei and Xiaomi app stores. The iOS version is expected to be available in the Apple Store soon, as is the added option to pay for medical bills through WeChat.
By Gabi Verberg, with contributions by Manya Koetse
Follow @whatsonweibo
Spotted a mistake or want to add something? Please let us know in comments below or email us.
©2018 Whatsonweibo. All rights reserved. Do not reproduce our content without permission – you can contact us at info@whatsonweibo.com
BBC: Extreme Eating Trends and the Rise of Eating Disorders in China
The Food Chain by the BBC investigates the rise of eating disorders in China.
The Food Chain by the BBC investigates the rise of eating disorders in China. What's on Weibo editor Manya Koetse talks about some of China's disturbing internet food trends in this recent episode.
The rise of eating disorders in China is the topic of a recent BBC online radio documentary episode (27 min) within the Food Chain series.
The Food Chain investigates the rise of eating disorders in China: is this an inevitable consequence of economic development? And if so, why are eating disorders still all too often seen as a rich white woman's problem?
In the first of two episodes to explore the rising prevalence of eating disorders outside of the western world, Emily Thomas speaks to women with the illness in China and Hong Kong, who explain how hard it is to access support for binge-eating disorder, bulimia and anorexia, because of attitudes to food and weight, taboos around mental health, and a lack of treatment options. They describe the pressure on women to be 'small' and 'diminutive', but still take part in the country's deeply entrenched eating culture.
A psychiatrist working in China's only closed ward for eating disorders blames an abundance of food in the country, parental attitudes and the competitiveness of Chinese society. She also warns of the dangers of the uncontrolled diet pill industry. From there BBC delves into the sinister world of 'vomit bars' with Manya Koetse.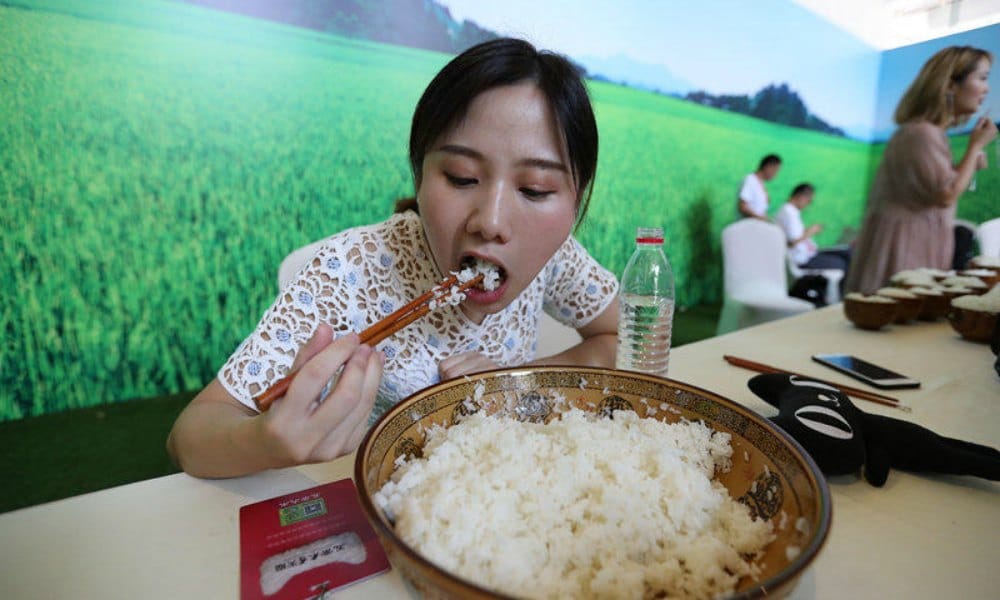 She tells Emily Thomas about the recent craze for live binge-eating among young Chinese women and how some of this is disturbingly followed by 'purging'. Why do they call themselves 'rabbits'? And why does no one use the term 'eating disorder' when talking about these trends?
BBC also explores the link between the rise of eating disorders and economic development. Does there need to be an abundance of food in a society before these problems develop?
To listen to a short fragment on China's binge-eating rabbits by Manya Koetse, click here: https://www.bbc.co.uk/radio/play/p06mw03b .
To listen to the full documentary, please click here: https://www.bbc.co.uk/radio/play/p06mw03b.
Also read: Anorexia in China, and our article on Extreme Eating Trends.
Spotted a mistake or want to add something? Please let us know in comments below or email us.
©2018 Whatsonweibo. All rights reserved. Do not reproduce our content without permission – you can contact us at info@whatsonweibo.com