Photo of Crying Single Mum Shows Harsh Reality of Healthcare in China
The heartbreaking photos of a desperate mother are going viral for the second time.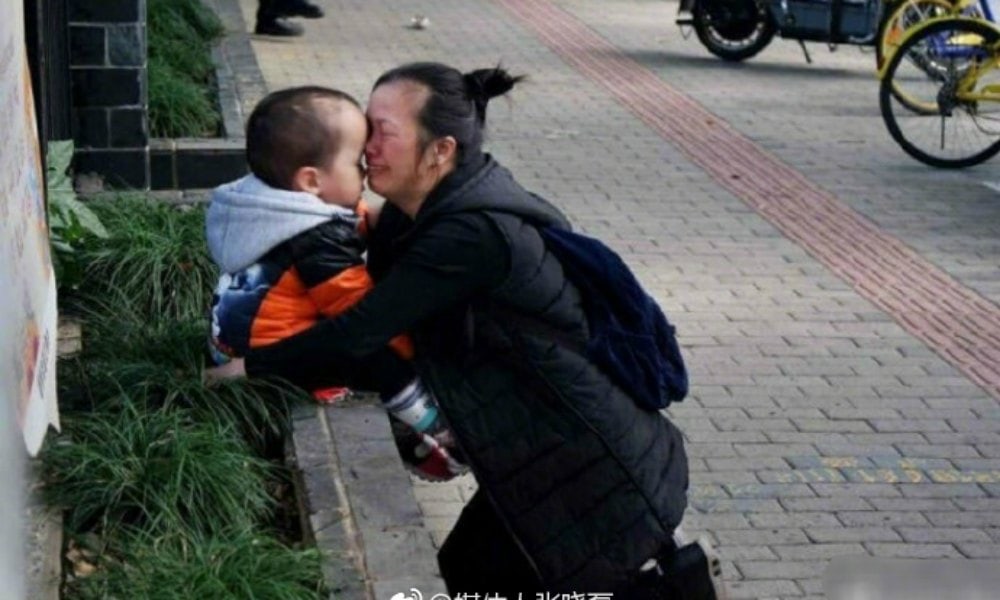 A photo that is currently going viral on Chinese social media shows a crying mother in Shanghai kneeling down by her toddler son on the sidewalk.
The text accompanying the photo says:
"On Shanghai Beiyuan Street, a single mother kneels on the street in the cold wind. She buries her head in her child's arms and quietly sobs. The 3-year-old son suffers from hydrocephalus ["water on the brain"], and they previously came to Shanghai to seek medical treatment because he had an infection. After using up all their money, they were forced to leave the hospital. The helpless mother just sat on the street, feeling sorry for her child."
The photo received thousands of comments on Weibo today, with many people offering to help the mother out. "It hurts to see this," some said: "She wants to be able to help her son, but she does not have the resources."
Many Chinese face major obstacles in getting access to the healthcare they need. Under China's current medical system, it is not easy for people from rural areas to gain access to medical facilities in the major cities, as they are not covered there and will have to pay for medical care themselves.
The issue is related to China's hukou (household registration) system: government-subsidized rural medical insurance is often not valid in a different province, which means that villagers who fall seriously ill are not covered when they travel to first-tier cities for medical care.
So-called ticket scalpers (票贩子) take advantage of the system and people's eagerness to see a doctor by using local identification cards to book appointments and then selling them to people without the proper documentation.
As for the crying single mother; this is not the first time these photos make their rounds around Chinese social media. The scene was captured on camera approximately four months ago, in early December of 2017.
It is not uncommon for the same story or photos to go viral again or to keep circulating on Weibo, similar to viral news stories on Twitter or Facebook.
According to Phoenix News, the mother is the 45-year-old Guo Yinzhen (郭银珍), who is a single parent since she divorced from her estranged husband some years ago. Her son's name is Guo Zhenghan (郭政焓), and they come from a village in Datian county, Sanming, in Fujian – some 830 kilometers from Shanghai.
The photos were reportedly taken on December 1, 2017, when a reporter joined some volunteers to pay a visit to the Shanghai's Children's Hospital and came across the crying mother and then asked her about her story.
Guo Zhenghan was born in November of 2014 and has congenital hydrocephalus, meaning he already had it at birth. From 2014 to 2016, the child underwent three surgeries, but his condition deteriorated in May of 2017. Since November 2017 alone, the child was admitted to the hospital four times because of a potentially fatal bacterial complication.
Having used up all her money and still needing some 100,000s yuan (more than $15,000) for further treatments, Guo Yinzhen had no choice but to leave the hospital again, which is when she helplessly sat down on the street with her son.
In March 2018, Sina News also reported about this story, saying that Guo Yinzhen is a laid-off factory worker who has not been able to work since the birth of her child. Her parents are farmers who make a living by plucking tea leaves.
Sina also writes that the family has already spent 400,000 yuan (±US $63,000) on medical expenses, and still owe around US $47,000 in debts.
"I just feel so bad for the mother," many people on Weibo respond.
"Since this is [the state of] medical treatments in Chinese society, parents have to make sure they can afford the medical costs if their child falls ill," another person comments: "It is the best to purchase a commercial insurance. They're not cheap, but even if costly, they need to buy it."
In search of how Guo and her son are now doing, we found a buried Weibo post dated December 12, which only received four comments, in which a netizen writes:
"On December 1, the crying single mother kneeling in the cold by her son has received ample attention. On December 5, with the help of the Xiaoxingxin Foundation, single parent Guo Yinzhen was able to bring her child Guo Zhenghan to Shanghai again for medical treatment, where the notable pediatric neurosurgeon Bao Nan operated the child. Thank you for all your care."
The update was also confirmed by the Xiaoxingxin Foundation with a post on Weibo (@小星欣公益), which also said that according to the doctor, the infection had gone and that the brain development of the boy was "looking good."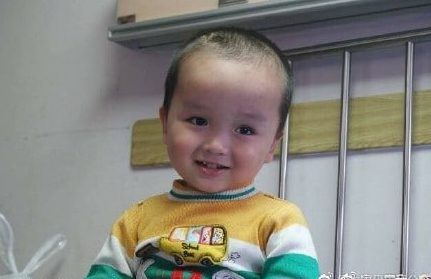 "Why can't we set up a system in which children will always be able to receive complete basic healthcare?" one netizen wondered.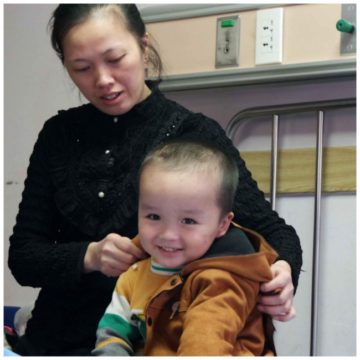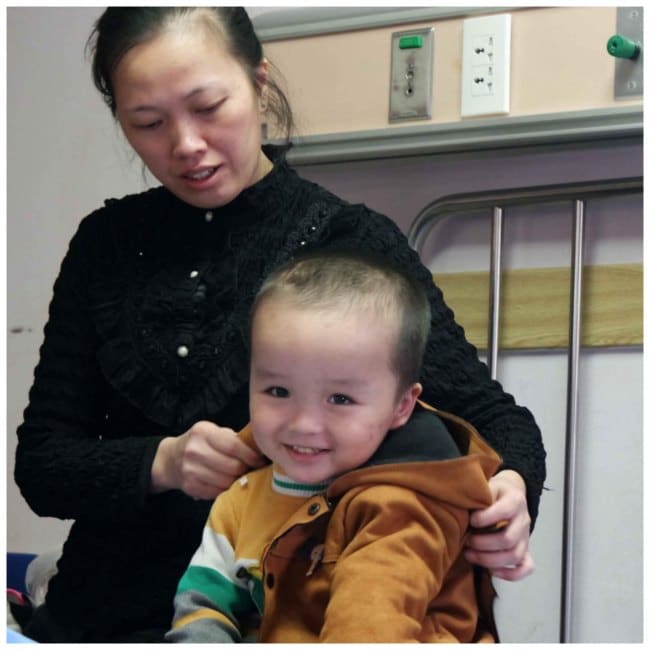 On March 15, China Central Television reported that future reforms in China's healthcare system will make healthcare more accessible and affordable, especially for rural communities – it does not say on what term these changes will be realized.
By Manya Koetse
Follow @whatsonweibo
Spotted a mistake or want to add something? Please let us know in comments below or email us.
©2018 Whatsonweibo. All rights reserved. Do not reproduce our content without permission – you can contact us at info@whatsonweibo.com.
Cancer Diagnoses in Young Doctors at Same Lab: About the Zhongshan Hospital Controversy
Within a short time frame, three Chinese young doctors received cancer diagnoses after working in the same laboratory at the Zhongshan Second Affiliated Hospital.
Several medical workers who all worked at the same renowned oncology lab in Guangzhou recently were diagnosed with cancer. Although there are many concerns about whether or not their cancer is related to their working environment, the primary source of public outrage revolves around the handling of the controversy by the affiliated hospital.
Over the past week, a case of three young doctors working in the same laboratory at a renowned Guangzhou hospital being diagnosed with a rare form of cancer has repeatedly become a trending topic on Weibo and beyond.
The hospital involved is the Sun Yat-Sen University's Sun Yat-Sen Memorial Hospital (中山大学孙逸仙纪念医院) – also known as the Zhongshan Second Affiliated Hospital (中山二院). Founded in 1835, the hospital is known for pioneering in western medical practice. It is also well-known for its cancer treatments and education.
The three medical workers, two breast surgeons and one trainee doctor, all developed cancer just before or in 2023 after working at the Breast Cancer Center (乳腺肿瘤中心实验室). The issue first became a big topic of discussion around the night of November 6 and on November 7, when netizens' posts started circulating on social media about how several people connected to the oncology lab got diagnosed with cancer.
One of the claims made is that one of the young doctors was expelled from the research team's WeChat group by the team leader Dr. Su Shicheng (苏士成) upon revealing her cancer diagnosis. This assertion was later confirmed to reporters by the woman's sister, Lele (乐乐). The staff member involved, Huang Mei (黄敏), is battling pancreatic cancer and she is currently not doing well.
The other researchers, all approximately 30 years old, are suffering from synovial sarcoma and breast cancer.
The topic soon gained traction as people assumed the lab safety at the Zhongshan Hospital must be blamed for the cancer cases. When the research center in question suddenly got dismantled on November 8, the discussions intensified as social media users speculated that the hospital was trying to get rid of evidence.
The hospital denied that the medical workers had contracted cancer due to exposure in the lab environment. Staff members later claimed that the alleged dismantling of the lab on November 8 was already scheduled as part of the fire department's orders, emphasizing that it was unrelated to the ongoing controversy.
On November 9, the China Association for Science and Technology (中国科学技术协会) posted on their official social media account, calling for a thorough and professional investigation into the case to uncover the truth.

Online Anger and Suspicions

Chinese political commentator Hu Xijin (@胡锡进) also posted a lengthy column about the issue on his social media. In his post, Hu critiqued the manner in which Zhongshan Second Affiliated Hospital handled the controversy. Although he also stressed that he did not necessarily believe that the renowned hospital purposely crossed scientific ethics that might have increased cancer risks for students working in the laboratory-if their cancer is indeed related to their working environment,- he argued that the hospital should handle this case with greater transparency.
According to the Shanghai Morning Post (@新闻晨报), the laboratory was first opened in 2009 and has since trained more than 200 students. The three cancer patients have only started working at the laboratory in recent years.
Various international studies (e.g. here, here, here) have previously indicated that research in biomedical laboratories might involve an increased risk of certain types of cancer among employees.
While some Weibo commenters voice concerns about safety protocols at the hospital lab, the prevailing online anger is more about how the hospital is handling the situation. There is a sense that those involved are being silenced, that evidence is being tampered with, and that there is a special relationship between the lab team leader, Dr. Su Shicheng, and the hospital director, Song Erwei (宋尔卫).
Adding to the suspicions, Dr. Su not only works directly under Song as a deputy director of the Breast Cancer Center but has also co-authored an academic essay with Song's son, Song Shijian (宋世键). Some people believe they are all covering for each other.
"If they [the hospital] finally holds a press conference, they'd better invite Ms. Huang who was kicked out of the WeChat group!" some commenters on Weibo wrote.
Meanwhile, there is an increased media focus in China on the lab safety protocols at other hospitals as well. With Chinese media outlets interviewing medical students from other institutions, it has come to light that many say they have never actually received formal training regarding lab safety rules (#5位医学生眼中的实验室#, #多数受访学生称未接受实验室安全培训#).
As attention on the Zhongshan Second Affiliated Hospital case intensifies from various fronts, including the public, media, and medical associations, the pressure on the hospital is mounting to provide a clear and transparent response to the situation.
While many might wish for this case to fade away, this storm is not going to blow over anytime soon. Beyond the public's need for answers, it is the medical workers who are struggling with their illness and navigating through this whirlwind who especially deserve the clarity they need.
"Let's build up the pressure," some netizens suggest, trying to keep the case trending.
"I'm so disappointed," another Weibo user wrote: "I was determined to study medicine since senior high school, but the older I get the more I realize the ugly face behind the healthcare system."
By Manya Koetse
Get the story behind the hashtag. Subscribe to What's on Weibo here to receive our newsletter and get access to our latest articles:
Spotted a mistake or want to add something? Please let us know in comments below or email us. First-time commenters, please be patient – we will have to manually approve your comment before it appears.
©2023 Whatsonweibo. All rights reserved. Do not reproduce our content without permission – you can contact us at info@whatsonweibo.com.
Tsingtao Brewery 'Pee-Gate': Factory Worker Caught Urinating in Raw Material Warehouse
The pee incident, that occurred at a subsidiary Tsingtao Beer factory, has caused concerns among consumers.
A video that has circulated on Chinese social media since October 19 shows how an alleged worker at a Tsingtao Beer factory climbs over a wall at the raw material production site and starts to urinate.
The incident reportedly occurred at the Tsingtao Beer Factory No. 3, a subsidiary of the Tsingtao Brewing Company, located in Qingdao, Shandong.
This is the viral video showing how an alleged worker at the Tsingtao Beer Factory 3 climbs over a wall at the raw material production site and starts to urinate. Many people think it's an undercover operation by a rivaling company: one person peed, another leaked the video? 🍻🤢 pic.twitter.com/eJcYljo2aQ

— Manya Koetse (@manyapan) October 21, 2023
After the video went viral, the Tsingtao Brewery Company issued a statement that they took the incident very seriously and immediately report it to the authorities, who have started an investigation into the case. Meanwhile, the specific batch in production has been halted and shut off.
The incident has caused concern among consumers, and some commenters on social media wonder if this was the first time something like this has happened. "How do we know this hasn't happened many times before?"
Others speculate about what might have motivated the man to urinate at the production site. There are those who believe that the man is part of an undercover operation orchestrated by a rivaling company, aimed at discrediting Tsingtao. It's even suggested that there were two 'moles' leaking in this incident: one doing the urinating, and the other doing the video 'leak.'
Meanwhile, there are voices who are critical of Tsingtao, suggesting that the renowned beer brand has not effectively addressed the 'pee gate' scandal. It remains uncertain how this incident will impact the brand, but some netizens are already expressing reservations about ordering a Tsingtao beer as a result.
But there are also those who joke about the "pissing incident," wondering if Tsingtao Beer might soon launch a special "urine flavored beer."
By Manya Koetse
Get the story behind the hashtag. Subscribe to What's on Weibo here to receive our newsletter and get access to our latest articles:
Featured photo by Jay Ang (link).
Spotted a mistake or want to add something? Please let us know in comments below or email us. First-time commenters, please be patient – we will have to manually approve your comment before it appears.
©2023 Whatsonweibo. All rights reserved. Do not reproduce our content without permission – you can contact us at info@whatsonweibo.com.
Subscribe to our newsletter
Stay updated on what's trending in China & get the story behind the hashtag
Sign up here to become a premium member of What's on Weibo today and gain access to all of our latest and premium content, as well as receive our exclusive Weibo Watch newsletter. If you prefer to only receive our free newsletter with an overview of the latest articles, you can subscribe for free here.
Would you like to become a contributor, or do you have any tips or suggestions for us? Get in touch with us here.