Yangzhou Man Found Dead after Drinking, Friends Pay 1 Million RMB Settlement
Is Chinese drinking culture to blame for deaths related to alcohol?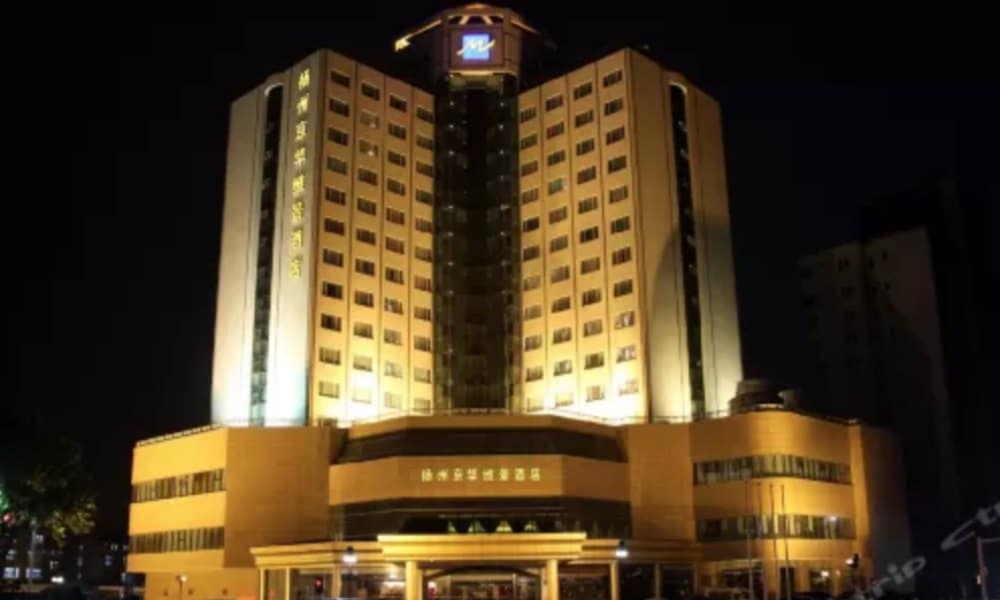 The recent death of a 30-year-old Chinese man at the Jing Hua Metropark Hotel (京华维景酒店) in Yangzhou, Jiangsu province, has triggered discussions on Weibo.
On Friday, May 19, the man was discovered in his hotel room bathtub by his friends. The following day, Yangzhou Police officially confirmed the man's death, China News reports.
The man, who was from the nearby Gaoyou County, allegedly died of a heart attack after drinking during a formal dinner with friends at the hotel.
Local media later reported that the friends present during the night reached a 1 million yuan (±US$157,000) settlement with the man's family. The cost of the settlement will be shared among the friends who were drinking that night.
In February of this year, two similar stories made headlines in China. In one case, a young migrant worker died after excessive drinking at a company lunch and dinner in southern China.
The man, according to SCMP, drank the equivalent of 600ml of baijiu (白酒), a popular spirit that contains around 50% alcohol.
The other case involved a man who died when he was left by his friends at a hotel in Jinhua, Zhejiang province, after heavily drinking at a banquet.
Those friends also paid a compensation together of 610,000 yuan (US$96,000) to the man's family.
Earlier this month, organisers of an alcohol drinking contest in Henan province were also ordered to pay a compensation of over US$70,000 after one participant died due to excessive alcohol intake in July of last year.
"We'd better bring our medical records before drinking with friends."
The most recent 1 million yuan settlement became a heated topic on Weibo, where one commenter stated that perhaps it is time to sign a legal waiver with all friends who drink together before they become legally responsible for potential settlement costs.
Another commenter suggested that alcohol manufacturers should be responsible for such deaths. The majority of the commenters, however, blamed Chinese drinking culture (中国酒桌文化) for these incidents.
In the Chinese traditional drinking culture, people are usually encouraged to drink as much as they can, or to exceed their limits; the goal sometimes is to literally "take someone to the ground by drinking."
When someone proposes a toast, everyone at the table is required to finish their glasses, sometimes at a very high pace.
Since Chinese drinking culture usually involves drinks with a high alcohol percentage, such as the aforementioned baijiu, heavy drinkers have a higher risk of alcohol poisoning.
Despite some claiming that the 'long, traditional' drinking culture is meant to strengthen people's relations, critics argue that China's coercive drinking culture is a toxic practice that is harmful to people's health.
The pressure to drink sometimes goes beyond friendly relations, as those who decline a drink can be verbally attacked or looked down on by others participating in the event.
Especially during formal business dinners, the amount of alcohol one can drink is taken as a sign of their strength of character or abilities; those who can consume the most are regarded as the best candidates and may receive financial benefits or better business relations with others because of it.
"It would be better for us to bring medical records with us before we started drinking with friends," one Weibo netizen jokingly comments.
"It's good they have to pay compensation [to the family]," another person writes: "This might put an end to the Chinese drinking culture where people are basically forced to drink alcohol."
By Chauncey Jung
Follow @whatsonweibo
Spotted a mistake or want to add something? Please let us know in comments below or email us.
©2018 Whatsonweibo. All rights reserved. Do not reproduce our content without permission – you can contact us at info@whatsonweibo.com.
Another Hotpot Controversy: Famous Food Critic Wants Hotpot Gone
Hotpot discussions are getting heated.
One of China's most famous food critics would rather see hotpot disappear, but hundreds of Chinese netizens do not agree at all.
After a hotpot restaurant became top trending on Weibo yesterday for recruiting 'Ivy League' graduates as waiters, another hotpot controversy has hit Chinese social media.
This time, the renowned Hong Kong food critic and cookbook writer Chua Lam (蔡瀾, Cai Lan) has stirred discussions among Chinese netizens over comments he made during an appearance on the Hunan TV talk show Day Day Up (天天向上/Tiantian Shangtian), SupChina and The Guardian reported on January 3rd.
When asked by one of the hosts of the show what dishes he would love to see disappear from the world, Chua answered: hotpot.
"Hotpot is the cooking style that lacks culture the most," the food critic added: "You just throw the ingredients in there, there's nothing tasty about it." Because the hotpot allegedly has no cultural significance and because the cooking style is so easy, the critic suggested it might as well disappear altogether.
Chua Lam is a popular personality on social media. On his Weibo account, he has more than ten million fans.
Read the full story at Hotpot Ambassador here.
By Manya Koetse
Follow @whatsonweibo
Spotted a mistake or want to add something? Please let us know in comments below or email us.
©2019 Whatsonweibo. All rights reserved. Do not reproduce our content without permission – you can contact us at info@whatsonweibo.com
Hotpot Restaurant with High Standards Goes Viral: Waiters Required to Have 'Ivy League' Diploma
Top-notch hotpot restaurant asks for top-notch waiters – stirring controversy online.
Marketing stunt or serious job requirement? This new Zhengzhou hotpot restaurant, that seeks to recruit ten 'Ivy League' graduates as waiters, has become the talk of the day on Chinese social media.
The job announcement of a new Chinese hotpot restaurant has gone viral on Weibo, as the new establishment requires that persons who apply to work as a server to have a degree at a "985" ('Ivy League') university.
The job requirements of the restaurant, which is located in Zhengzhou, Henan province, started attracting online attention on December 30. By January 2nd, the hashtag 'Hotpot Restaurant Requires 985 Diploma in Recruiting Waiters' (#火锅店招服务员要求985#) had received over 290 million views (!) on Sina Weibo.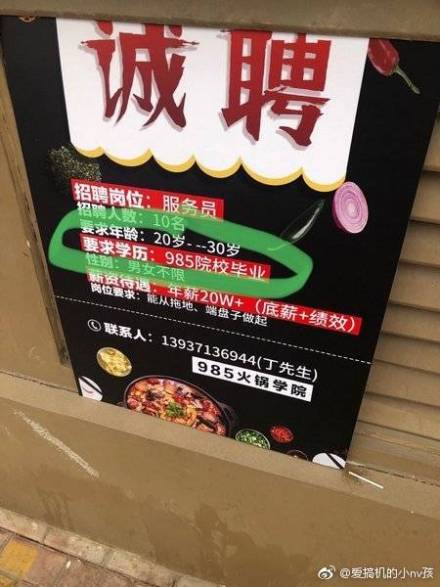 Some Weibo netizens said the recruitment announcement was an "insult" to those who have graduated from one of China's top universities, while others denounced the hotpot restaurant for purposely building hype to drive more customers to the new establishment.
"What does being a '985' graduate have to do with being a waiter?", one popular comment said: "To be kind-hearted and responsible is what matters." Others sarcastically comment that home delivery staff might be required to hold a PhD degree in the future.
The so-called "985 Project" was launched in 1998 by former President Jiang Zemin at the 100th anniversary of Peking University on May 4th of that year (985 refers to 1998, May). It was meant to raise the number of (internationally recognized) first-rate universities within China. China's '985' universities include, among others, Fudan University, Peking University, and Tsinghua.
The job announcement of the new Zhengzhou hotpot restaurant does not completely come out of the blue. The restaurant itself is also called "985 Hotpot College" (985火锅学院), and its outside appearance seems to be themed around the '985' idea.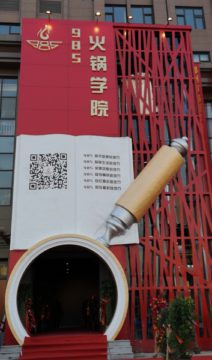 The restaurant's job advertisement states that the establishment is looking to recruit ten graduates between the ages of 20 and 30. The annual salary is approximately 200,000 RMB (±US$29,000), which is almost 2,5 times more than the local average pay and up to 8 times more than what waiters in Zhengzhou usually make, according to this Beijing Evening News article.
On January 2nd, the restaurant responded to all the commotion its job advertisement has caused, saying that "every person and organization has the right to pursue their dreams" and that they were hoping to find the right talents to "grow [the business] together."
Despite the fact that hundreds of netizens condemn the restaurant's call for 'Ivy League' waiters, there are also those who do not see a problem: "The business has the freedom to choose their own standards, and graduates also have the freedom to apply there or not," some write.
Hotpot restaurants are incredibly popular and common in China. The ubiquity leads to hotpot establishments becoming more and more competitive. In recent years, 'themed' hotpot restaurants have popped up like mushrooms in China's bigger cities, trying to attract customers with their unique concepts, such as revolution-themed hot pot restaurants, robot-themed hotpot places, or even classroom-themed hotpot.
The "985 Hotpot College" will have its highly educated waiters as a unique selling point. Whether or not their hot pot is tasty or not, however, is still unsure – despite the recent hype around the restaurant, its Dianping rating page is still awfully empty.
Want to know more about hotpot? Visit our sister site Hotpotambassador.com here.
By Manya Koetse
Follow @whatsonweibo
Spotted a mistake or want to add something? Please let us know in comments below or email us.
©2019 Whatsonweibo. All rights reserved. Do not reproduce our content without permission – you can contact us at info@whatsonweibo.com