Yangzhou Man Found Dead after Drinking, Friends Pay 1 Million RMB Settlement
Is Chinese drinking culture to blame for deaths related to alcohol?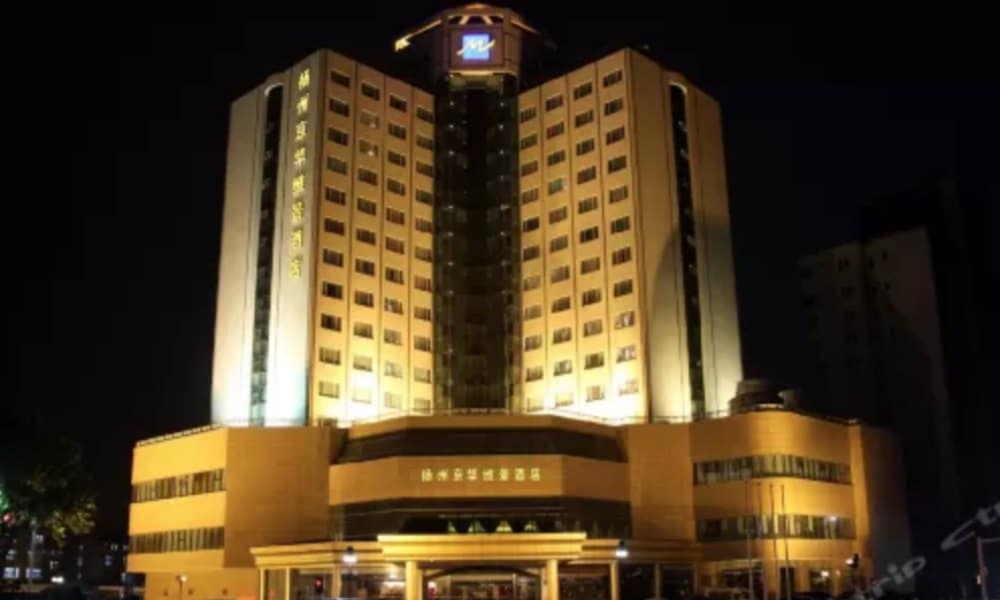 The recent death of a 30-year-old Chinese man at the Jing Hua Metropark Hotel (京华维景酒店) in Yangzhou, Jiangsu province, has triggered discussions on Weibo.
On Friday, May 19, the man was discovered in his hotel room bathtub by his friends. The following day, Yangzhou Police officially confirmed the man's death, China News reports.
The man, who was from the nearby Gaoyou County, allegedly died of a heart attack after drinking during a formal dinner with friends at the hotel.
Local media later reported that the friends present during the night reached a 1 million yuan (±US$157,000) settlement with the man's family. The cost of the settlement will be shared among the friends who were drinking that night.
In February of this year, two similar stories made headlines in China. In one case, a young migrant worker died after excessive drinking at a company lunch and dinner in southern China.
The man, according to SCMP, drank the equivalent of 600ml of baijiu (白酒), a popular spirit that contains around 50% alcohol.
The other case involved a man who died when he was left by his friends at a hotel in Jinhua, Zhejiang province, after heavily drinking at a banquet.
Those friends also paid a compensation together of 610,000 yuan (US$96,000) to the man's family.
Earlier this month, organisers of an alcohol drinking contest in Henan province were also ordered to pay a compensation of over US$70,000 after one participant died due to excessive alcohol intake in July of last year.
"We'd better bring our medical records before drinking with friends."
The most recent 1 million yuan settlement became a heated topic on Weibo, where one commenter stated that perhaps it is time to sign a legal waiver with all friends who drink together before they become legally responsible for potential settlement costs.
Another commenter suggested that alcohol manufacturers should be responsible for such deaths. The majority of the commenters, however, blamed Chinese drinking culture (中国酒桌文化) for these incidents.
In the Chinese traditional drinking culture, people are usually encouraged to drink as much as they can, or to exceed their limits; the goal sometimes is to literally "take someone to the ground by drinking."
When someone proposes a toast, everyone at the table is required to finish their glasses, sometimes at a very high pace.
Since Chinese drinking culture usually involves drinks with a high alcohol percentage, such as the aforementioned baijiu, heavy drinkers have a higher risk of alcohol poisoning.
Despite some claiming that the 'long, traditional' drinking culture is meant to strengthen people's relations, critics argue that China's coercive drinking culture is a toxic practice that is harmful to people's health.
The pressure to drink sometimes goes beyond friendly relations, as those who decline a drink can be verbally attacked or looked down on by others participating in the event.
Especially during formal business dinners, the amount of alcohol one can drink is taken as a sign of their strength of character or abilities; those who can consume the most are regarded as the best candidates and may receive financial benefits or better business relations with others because of it.
"It would be better for us to bring medical records with us before we started drinking with friends," one Weibo netizen jokingly comments.
"It's good they have to pay compensation [to the family]," another person writes: "This might put an end to the Chinese drinking culture where people are basically forced to drink alcohol."
By Chauncey Jung
Follow @whatsonweibo
Spotted a mistake or want to add something? Please let us know in comments below or email us.
©2018 Whatsonweibo. All rights reserved. Do not reproduce our content without permission – you can contact us at info@whatsonweibo.com.
Exclusive QR Code-Based Service Under Fire: The 3 Major Downsides to Contactless Ordering
Self-service ordering is the norm in many restaurants across China, but its benefits do not always outweigh the downsides.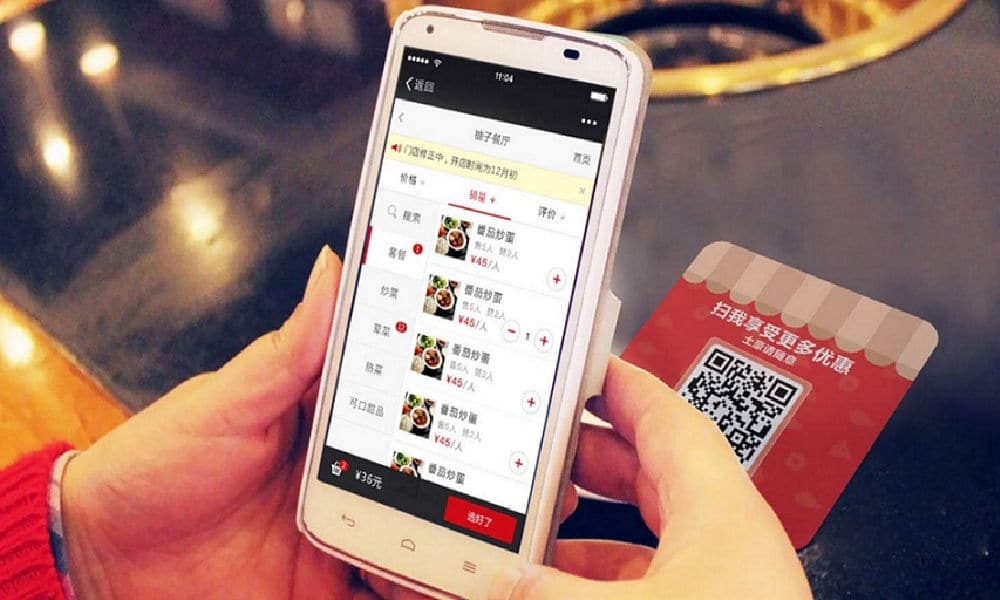 QR code-based ordering is the new normal in Chinese restaurants, but contactless ordering also comes with major downsides. In a recent People's Daily article, consumers' rights expert Chen Yinjiang argues that contactless ordering can't be the sole service option offered by businesses.
Along with China's rapid digitalization, QR code-based ordering has become the norm for many restaurants across the country. Although many see QR code-based self-service – from waiting in line to ordering and paying – as a convenience that also saves the restaurant costs on staff, there are also downsides to these digital developments.
Contactless ordering is not just the new normal in many restaurants, it often also is the only way in which customers can order.
In a recent article published by Chinese state media outlet People's Daily, the deputy secretary-general of China Consumer Protection Law Society, Chen Yinjiang (陈音江), argues that business owners in China should offer customers the choice, saying: "Consumers have the right to choose whether they want to order by scanning a code or order through a waiter. Businesses can't just consider the costs without considering the customer experience – especially when they neglect the requirements of elderly consumers."
On Chinese social media, the criticism of exclusive QR code-based service in restaurants has become a hot topic of discussion. The hashtag "People's Daily Discusses QR Code-Based Ordering" (#人民日报谈扫码点餐#) received 280 million views on Weibo on Monday.
Both the People's Daily article and the online discussions mention the following three major downsides to QR code-based ordering.

1. Missing the Communication with the Waiter
One downside to contactless ordering is that customers miss out on the experience of communicating their order directly with the restaurant staff.
One reason why people would prefer to place their order directly with the waiter is that it gives them an opportunity to inquire about the menu, get advice on the best choice to make, and to communicate any special dietary wishes and preferences.
But another reason is simply that talking to restaurant staff is part of the dining out experience, with self-service ordering being a rather bleak substitute for those people who would actually like to have some more human interaction when they go out for food.
"If a restaurant only lets people order through smartphone and don't offer a menu, the entire sense of ritual [of eating out] is gone," one person comments, with others agreeing: "Ordering food is part of the dining culture."

2. Leaving the Non-Tech-Savvy Customers Behind
Contactless ordering is also a nuisance to the elderly and non-tech-savvy customers who struggle to scan a QR code and place an order. For them, the process of online ordering is not convenient or fast but actually makes their restaurant experience all the more difficult and complicated.
"We live in an aging society. We really need to have other ways of handling this for the future," one popular comment on Weibo said.
Other commenters also indicate that even for people who are used to ordering online, the process can be a nuisance. When changing their mind about their order, or accidentally ordering a wrong item, the entire order is gone and the customer needs to start from scratch again. This makes the process far less convenient than ordering with a staff member.

3. Privacy and Spam Concerns
There are also those who find that QR-based ordering is an invasion of their privacy. Many restaurants require customers to register or to 'follow' them on WeChat or elsewhere before allowing contactless ordering.
This means that customers do not only give away some personal information stored in their app profile, it also means that it is easy for companies to keep on sending promotions and other information to their customers long after they have left their restaurants.
While this might be an efficient marketing strategy for businesses, many people see this as a major disadvantage to QR-based ordering, and this complaint is one of the most-discussed ones on Weibo.
"Contactless ordering is actually a good thing, it is the fact that you need to register or follow the company before you can place an order that's the problem," multiple commenters say.
"I just want to order food – why would you need my phone number for that? Why would I need to follow your account for that?"
Many commenters on Weibo indicate that if restaurants only offer QR code-based ordering, they would rather not eat there at all.
Despite the criticism on self-service ordering, it is also praised by many. The general consensus on Weibo seems to be that virtual ordering is great, but should not be the only way to order and that smartphones and tablets should never replace 'old-fashioned' menus and waiters.
By Manya Koetse
Follow @whatsonweibo
Featured image via http://dc.wio2o.com/new/diancan.php
Spotted a mistake or want to add something? Please let us know in comments below or email us. First-time commenters, please be patient – we will have to manually approve your comment before it appears.
©2021 Whatsonweibo. All rights reserved. Do not reproduce our content without permission – you can contact us at info@whatsonweibo.com.
Viral Video Exposes Wuhan Canteen Kitchen Food Malpractices
Boots in the food bowl, meat from the floor: this Wuhan college canteen is making a food safety mess.
A video that exposes the poor food hygiene inside the kitchen of a Wuhan college canteen has been making its rounds on Chinese social media these days.
The video shows how a kitchen staff member picks up meat from the floor to put back in the tray, and how another kitchen worker uses rain boots to 'wash' vegetables in a big bowl on the ground, while another person is smoking.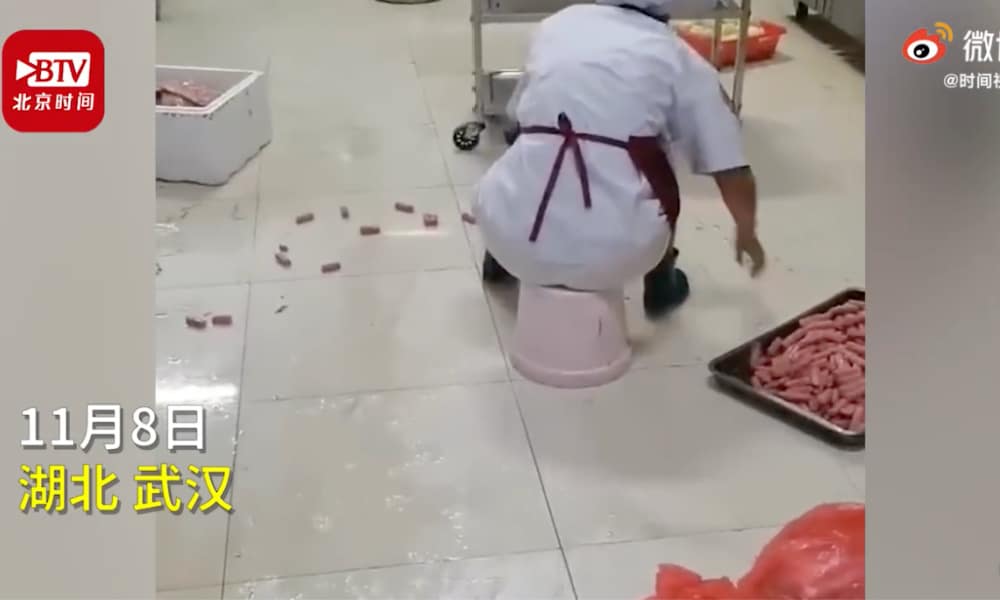 The video was reportedly shot by someone visiting the canteen of the Wuhan Donghu University (武汉东湖学院) and was posted on social media on November 7.
According to various news sources, including Toutiao News, the school has confirmed that the video was filmed in their canteen, stating that those responsible for the improper food handling practices have now been fired.
Can imagine the students at Wuhan Donghu University were not happy to see this behind the scenes footage from their canteen – kitchen staff smoking, picking up food from the floor and putting it back in the tray, and using their boots to mix vegetables in the bowl 😵 pic.twitter.com/vV9NnsQX6v

— Manya Koetse (@manyapan) November 8, 2020
The Wuhan Donghu University also posted a statement on their Weibo account on November 8, saying it will strengthen the supervision of its canteen food handling practices.
"The students at this school will probably vomit once they see this footage," some commenters on Weibo wrote.
Wuhan Donghu University is an undergraduate private higher education institution established in 2000. The school has approximately 16,000 full-time undergraduate students.
"I'm afraid that this is just the tip of the iceberg," one popular comment said, receiving over 25,000 likes.
Students from other universities also expressed concerns over the food handling practices in their own canteens, while some said they felt nauseous for having had lunch at the Wuhan canteen in question.
By Manya Koetse
Follow @WhatsOnWeibo
Spotted a mistake or want to add something? Please let us know in comments below or email us. First-time commenters, please be patient – we will have to manually approve your comment before it appears.
©2020 Whatsonweibo. All rights reserved. Do not reproduce our content without permission – you can contact us at info@whatsonweibo.com.