Photo of Grey-Haired Post-80s Party Official Goes Viral on Weibo
It started as a joke, now the man is praised for his hard work.
A Party official from Chuxiong country, Yunnan, has become the talk of the day on Chinese social media, after his photo was posted online by the local organizational department on November 15. His photo and short biography were posted as part of an introduction of local officials and their responsibilities.
The photo of the man, a local Party committee secretary named Li Zhongkai (李忠凯), would normally have never been noteworthy. The fact that the information with it said that Li was born in August of 1980 is what caught the attention of netizens, with many people thinking the grey-haired man looks much older than 38, and some even doubting his age.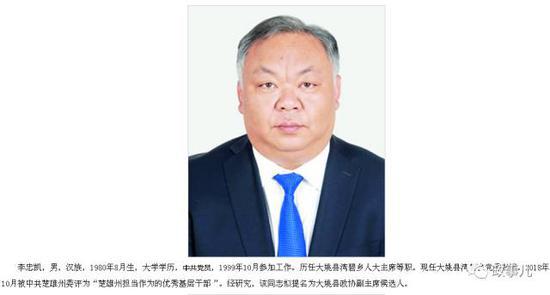 According to his bio description, Li is a Chinese Communist Party member who started working at the end of 1999. He is now a Party secretary in Chuxiong's Wanbi town, various Chinese media sources write, responsible for poverty alleviation, relocation of households, and fulfilling an important role at the time of the landslides in Yunnan. In 2018, he was praised for his service excellence by the local county.
Chinese media outlet The Paper writes that it has been verified that the photo is indeed the 38-year-old Li, and that a co-worker told media that Li's workload is heavy.
A WeChat video in which Li was interviewed earlier this year, in September, shows the man still had black hair at the time.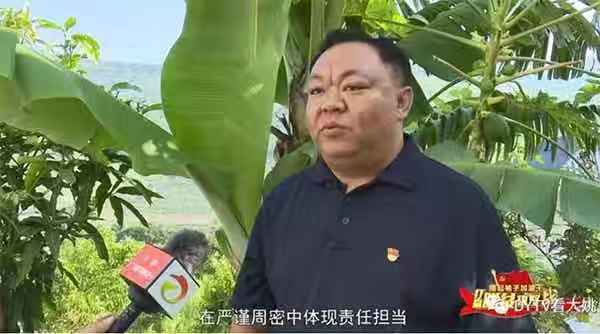 Although many joked about the man, there are now also more serious comments. "Working at the grassroots level is really tough," many commenters write. "If you'd tell me he was 60, I'd believe it."
There are also those giving the man some advice on his appearance: "Just lose some weight and exercise, that will make you look younger."
Li spoke to reporters, saying he was "surprised" about his photo going viral, and also explaining that his work was not easy, as many places in the county are remote and require him to travel long hours.
The Party official has now become popular on Weibo, where some encourage him to open a Weibo account to share more about the work he does in the county.
"Brother, please take care of yourself," some commenters say: "You look like you're over 50."
By Manya Koetse, with contributions from Miranda Barnes
Follow @whatsonweibo
Spotted a mistake or want to add something? Please let us know in comments below or email us.
©2018 Whatsonweibo. All rights reserved. Do not reproduce our content without permission – you can contact us at info@whatsonweibo.com
Chinese Construction Worker Left Jobless after Exposing the Dangers of Flimsy Safety Helmets
No one seems willing to hire the day laborer after he exposed the substandard quality of workers' helmets.
First published
A video of a Chinese construction worker showing the shocking difference in quality between the safety helmets of laborers versus those of their supervisors went viral on social media earlier this month. Chinese netizens praised the whistleblowers' push for equal safety standards, but he is now left jobless and ignored.
On April 11, a Chinese day laborer by the name of Dou (窦) published a video on Kuaishou exposing the low-quality safety helmets for frontline construction workers.
In the video (embedded below), Dou shows two helmets. The yellow one, he claims, is the one worn by construction workers. The red one belongs to their supervisors. As he smashes the helmets together, Dou shows how the yellow one is immediately crushed, while the red one remains in perfect condition.
Dou's message was simple and strong: the helmets worn by supervisors are of much higher quality than those of construction workers, exposing them to considerable dangers while working.
The video was viewed at least 100 million times and sparked major online discussions on the safety of Chinese construction workers before it was taken down from video platform Kuaishou on April 18.
At time of writing, the hashtag "The Contrast between the Safety Helmets of Workers and Supervisors" (#工人和领导安全帽对比#) has been viewed 250 million times on social media platform Weibo, where netizens have collectively expressed their sympathies for vulnerable laborers whose "safety first", apparently, is not a priority at many construction sites.
The topic also made headlines in Chinese state media. State-owned broadcaster CCTV investigated the quality of Chinese safety helmets, and discovered that some available construction hats, priced as low as 4 RMB (0.59 U.S.$), did not meet safety standards.
A lawyer quoted by Global Times advocated that China's relevant government departments should launch a campaign to crack down on "inferior helmets" and "clean up illegal products from the source." The state-run newspaper also reported that workers wearing unsuitable helmets was "a norm in the construction industry," according to an industry insider.
China's Ministry of Emergency Management (中华人民共和国应急管理部) released a public statement on Weibo in response to the issue, reminding construction supervisors to abide by legal safety regulations.
But despite the overwhelming support for Dou, the day laborer is now left jobless and worried. In an interview with Chinese media outlet The Paper, Dou says that he can no longer find work since his video has gone viral: "I used to be able to find work every day," he said: "Why can't I find it now?"
In the interview, Dou suggests that his online fame over unequal safety helmet standards has made contractors afraid to hire him: "Even contractors that I used to work for are all declining my services." The situation has left Dou, father to three children, in financial troubles that have forced him to return to his hometown.
When reporters asked Dou why his viral video and earlier videos exposing the flimsy quality of construction hats were taken offline, he reportedly answered: "I need to live." Perhaps hoping to prevent further exclusion from the construction job market, Dou also claimed he had purchased the helmets in the video himself, and that his employer was not to blame.
"In the first few years of our lives we learn how to speak, and then we spend the rest of our lives learning to stay quiet."
News of Dou's predicament has attracted the attention of netizens. Earlier this week, the hashtag "Flimsy Safety Helmet Man Responds" (#脆皮安全帽当事人回应#) received more than 180 million views on Weibo, with many commenters expressing their worries over Dou's situation after addressing serious workplace safety issues.
One Weibo commenter wrote: "If this [unemployment] is the price you pay for speaking the truth, then who is willing to do so in the future?!" Another Weibo user wrote: "If you have nothing to hide, you'd have no problem hiring him."
"In the first few years of our lives we learn how to speak, and then we spend the rest of our lives learning to stay quiet," another commenter wrote.
Despite the public outcry against the injustice suffered by Dou, there are also those who point out that social media discussions can have an actual impact.
Some netizens referred to another incident that occurred last weekend when a video of a woman sitting on the hood of a brand-new Mercedes-Benz went viral.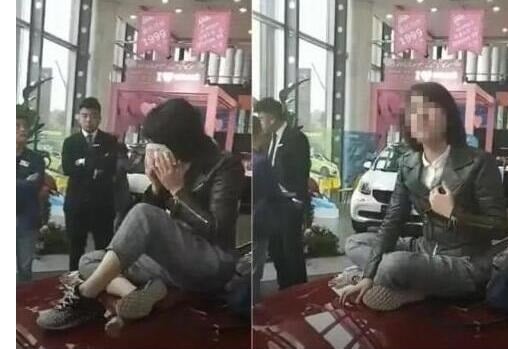 The woman had just purchased the Mercedes, and as the car was still standing in the showroom, it was leaking oil. After the dealer told her that she had to pay for the repairs, she climbed on the hood of the vehicle and, in tears, refused to get down.
A video of her protest immediately went viral, and millions from all over the country expressed their support for the woman. In light of the public controversy, Mercedes launched an investigation and suspended the showroom for violating regulations.
On Weibo, many people take the Mercedes incident as an example of how justice can prevail as long as netizens unite. But whether the power of social media will also have a positive outcome for Dou is yet uncertain. "He probably won't be able to find any work for the time to come," some Weibo users predict.
UPDATE 25 APRIL: Shortly after publishing this article, the hashtag "Flimsy Safety Helmet Man Finds Work" (#脆皮安全帽当事人已找到工作#) has taken off on social media platform Weibo. Dou has received the help of a friend in finding work at a local construction site in Qingdao, the same city where he previously worked.
Spotted a mistake or want to add something? Please let us know in comments below or email us.
©2019 Whatsonweibo. All rights reserved. Do not reproduce our content without permission – you can contact us at info@whatsonweibo.com
Massive Fire Breaks Out Near Qipan Mountain in Shenyang
In the afternoon of April 17, local time, a massive fire broke out near Qipan Mountain in the city of Shenyang in China's northeast Liaoning Province.
Videos circulating on Chinese social media show how thick clouds of black smoke could be seen from a distance.
Thick clouds of smoke due to a blaze at Qipan Mountain in Shenyang today – pic.twitter.com/Jci65ruHwp

— Manya Koetse (@manyapan) 17 april 2019
News sources on Weibo say the fire broke out earlier in the afternoon and was soon spreading due to strong winds in the area.
People's Daily reports that over 1300 people are currently involved in a major operation to clear the area and fight the fire, including some 300 people from the fire department and 500 military staff.
The hashtag "Shenyang Qipan Mountain on Fire" (#沈阳棋盘山着火#) was one of the top trending topics on Chinese social media by Wednesday night.
Qipan Mountain is the biggest natural scenic zone in Shenyang, covering 190 square kilometers. According to China Daily, the zone includes plant and animal reserves, a water sports area, a ski area, a hunting area, and a villa area.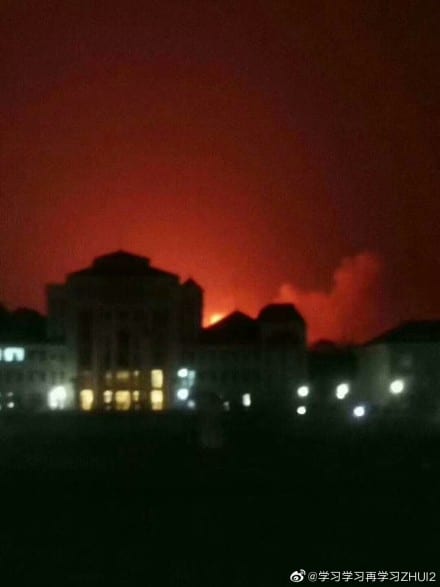 At time of writing, there are no sources confirming what caused the fire and if it is under control yet.
The nearby Shenyang Zoo, however, did confirm on Weibo that the fire had not spread to its area and that the necessary emergency measures were taken to protect the wellbeing of their animals.
Many netizens expressed their concerns over the safety of the animals earlier in the day. Photos of animals being burnt in the fire were refuted and labeled as 'fake news.'
Over 1300 people are involved in a major operation to get the fire under control. #沈阳棋盘山着火 (Also see: https://t.co/MvSb1swewJ) pic.twitter.com/mx4C4rHRc9

— Manya Koetse (@manyapan) 17 april 2019
By Manya Koetse
Spotted a mistake or want to add something? Please email us.
©2019 Whatsonweibo. All rights reserved. Do not reproduce our content without permission – you can contact us at info@whatsonweibo.com.