Sex and the City – Women's Sex in China (Liveblog)
Gender and sexuality specialist Dr. Pei about her book 'Sex and the City', a book for which she interviewed dozens of Chinese women about their sexuality. Pei explains her research, including masturbation and cyber sex.
Event: Lecture by Dr. Yuxin Pei on Masturbation/Sex in China
Date: May 21, 2015
Place: Leiden University, the Netherlands
Gender and sexuality specialist Yuxin Pei (裴谕新) talks about her book 'Sex and the City: A Study of Shanghai Young Women born in the 1970s', a book for which she interviewed dozens of women about their sexuality. Pei explains her research, including masturbation and cyber sex.
"In China, we don't have sexual rights"
Today Yuxin Pei will talk about how to articulate women's sex in China. "We don't talk about sexual rights in China," Dr. Pei says: "We don't have them." Pei explains how sex in China is considered part of a healthy lifestyle, together with sleeping and eating. When talking about sex, people therefore often refer to it as "sexual health" or "sexual needs". Sex, especially for men, is seen as a natural part of life. Many women, however, say they do not need sex. Their excuse is that they are still a virgin, or that they are single, and that sex is therefore not a part of their lives. In Chinese traditional thought, still hugely influencing modern-day society, there are many misconceptions about women and sex. Women are not supposed to have sex when they are pregnant, for example, or when they are raising young kids and are tired. For couples who have been married for a long time, sex becomes taboo.
"One drop of semen equals ten drops of blood"
Masturbation is one of Pei's research subject – a topic many Chinese people do not know much about. Pei therefore set up a "Masturbation Research Group" on Sina Weibo to get a discussion going on how people think about masturbation. "People asked me if it was an April Fools joke," Pei says: "But it was very serious." Pei wanted to research how people in China talk about masturbation. The video that was made for this, where people were asked if they had ever masturbated, received over 10 million views on Youku. Pei's Weibo group now has over 30.000 followers, and due to the great interest in the subject, Pei organizes a monthly workshop on masturbation, where people from the age of 18 to 68 talk about sex.
Dr. Pei discovered many deeply ingrained misconceptions on masturbation. "Only men can do it", "too much masturbation will give you small penis", "one drop of semen equals ten drops of blood", "I might not have normal sex again after masturbating", or "women who masturbate are no good" – just a few examples of existing ideas on masturbation.
"Talking about masturbation opens the door to so many other topics," Pei says: "Research on masturbation led us to conceptions about femininity, masculinity, gender, body image and even self-development."
"What's normal for men, is 'dirty' for women"
Masturbation was not Pei's original focus of study. Pei Yuxin did her PhD at the University of Hong Kong over ten years ago, using Shanghai as her research field. "I talked to dozens of women from the 1970s about their sex lives," she says: "and masturbation already came up during the second interview I did." Pei was fascinated with the topic, as it brought up so many other issues concerning women and sex: while many sexual acts, including masturbation, are considered 'healthy' or 'normal' for men, they are considered 'dirty' for women. Oral sex is another example, Pei says, as women will give it to men, but will not accept it.
"Women really liked to talk about their experiences to me", Pei says. She discovered that many women had experienced 'cyber sex' [having sex through camera online], as they felt 'clean' doing it – since they did not consider it "real sex".
"Sexuality is empowering"
Pei Yuxin sees sex as female empowerment. Power and sex are intertwined in multiple ways, according to Pei.
In one chapter of her book she pays attention to the topic of women having affairs with foreign men, especially Western ones. "It's not about the green card," Pei says: "It's cultural capital." Many women told Dr. Pei that having a Western boyfriend is like having a private English teacher. It is a status symbol and improves their ability to compete on the Shanghai job market.
"Some women speak of their boyfriends as if they are picking restaurants," Pei says: "Right now, it is said that a good boyfriend should have a car, a house and a dog."
In the late 1990s and early 2000s, a group of female writers called "the Beauty Writers" (美女作家) became popular in China, one of them being Wei Hui, who wrote "Shanghai Baby". These writers, who were young and beautiful, openly wrote about sex and relationships. Writing about their sexuality made them influential – the first powerful generation that put sexuality in Chinese literature. "What they did with their books then, is done online now," Pei says: "Like famous blogger Muzi Mei (木子美), who published her sexual diary online." The internet has made it possible for people to discuss sexual experiences and sexuality from behind their computer screens.
There is a long way to go for sexual rights in China: "There's no act on marital rape or sexual harassment yet," Pei says. The empowerment of women is one of the motors driving Pei's research. Creating awareness on sexual issues and understanding the relation between sexuality and self-development will further the sexual liberation of Chinese women.
(This liveblog is now closed.)
Blogged by: Manya Koetse 
Follow @WhatsOnWeibo
Chinese Female Homeowner Slapped in Altercation with Nanchang Office Worker
This viral video has exposed the violent actions of Yang, an office worker who initially provoked the anger of local residents and has now ignited fury on Chinese social media as well.
An incident that happened on September 27th in Jiangxi's Nanchang has become a major topic of discussion on Chinese social media over the past two days, and all revolves around a viral video that shows a man suddenly striking a Chinese female homeowner across the face.
The backstory of the video revolves around a dispute between the local homeowners and the man, who holds a higher position at the office building situated within the residential area's property.
Upon discovering that an iron fence, which separated the residential area from the office area, had been cut open without notifying the local homeowners, the woman entered the office building to seek an explanation for why the fence was damaged and breached without the consent of the residential area's residents. Apparently, employees at the company wanted to create a shortcut.
During the confrontation, the man told the woman: "If you want to talk, go to the community meeting room." Just as the woman asked him why the fence was cut open with a cutting machine, the man suddenly and forcefully slapped her in the face.
What was he thinking?! This 43-year-old office worker from Nanchang suddenly turned violent, striking a female resident across the face after being asked why they cut open an iron fence separating the office & residential area (probably as shortcut). The slap has now gone viral. pic.twitter.com/vDNDczgyYQ

— Manya Koetse (@manyapan) September 28, 2023
After the incident, the woman was taken to a local hospital for a medical examination, and the police initially intervened in the case as mediators. However, the latest updates on the case reveal that the man is now detained for ten days. Apart from slapping the female homeowner, a 32-year-old woman named Wang, the 43-year-old office worker Mr. Yang reportedly also struck another woman, a 37-year-old local named Cheng.
The video has captured the attention of netizens not just because of the man's actions towards a woman but also because it seemed to occur out of nowhere. One moment, the man was engaged in conversation with the woman, and the next moment, he suddenly slapped her across the face.
Recently, there have also been other 'slapping moments' that went viral on Chinese social media. Earlier this year, the "high-speed train slapping incident", involving two women arguing on a train and slapping each other in the face, garnering widespread attention (read here). Another recent incident involves the 'Subway Judge,' a young man who intervened in a subway argument and suddenly slapped an older man in the face (read here).
As is often the case, a short video may not capture the full context of a situation, and some Chinese netizens who claim to have more information about the incident suggest that multiple office workers were actually involved in the confrontation with the women.
Another video provides additional footage of the altercation, revealing that Yang threatened one of the women with a cutting machine. It also shows how he brought Ms. Wang to the ground after the initial slapping incident.
Local residents and Yang, who is believed to oversee the office department, have been in a longstanding conflict. According to a homeowner's post on Weibo, when the residents bought their apartments, they were not informed about the nearby office building. They only discovered it when they received their keys.
Initially, Evergrande, the property developer, had promised separate management for the residential and office areas, but due to apparent financial difficulties, this plan was never finalized. The homeowners therefore erected the iron fence to separate the residential and commercial areas, leading to continuous arguments and intimidation between the office workers and the residents.
Some Weibo commenters are suggesting that the man's behavior makes him seem more like a gang member than a typical office worker. In addition to the legal consequences that Yang is facing from local authorities, his reputation is undoubtedly taking a hit.
As of now, Chinese netizens have already exposed his identity, and the internet is never forgiving when it comes to these kinds of incidents, leaving a lasting mark on one's public image.
By Manya Koetse
Get the story behind the hashtag. Subscribe to What's on Weibo here to receive our newsletter and get access to our latest articles:
Spotted a mistake or want to add something? Please let us know in comments below or email us. First-time commenters, please be patient – we will have to manually approve your comment before it appears.
©2023 Whatsonweibo. All rights reserved. Do not reproduce our content without permission – you can contact us at info@whatsonweibo.com.
China's 'Chanel'? Chinese Beauty Brand Florasis Is Raising Eyebrows on Weibo
Some netizens wonder if the Florasis PR team might have lost their marbles, as their strategy appears to have taken an unusual turn, featuring emotionally charged replies on Weibo.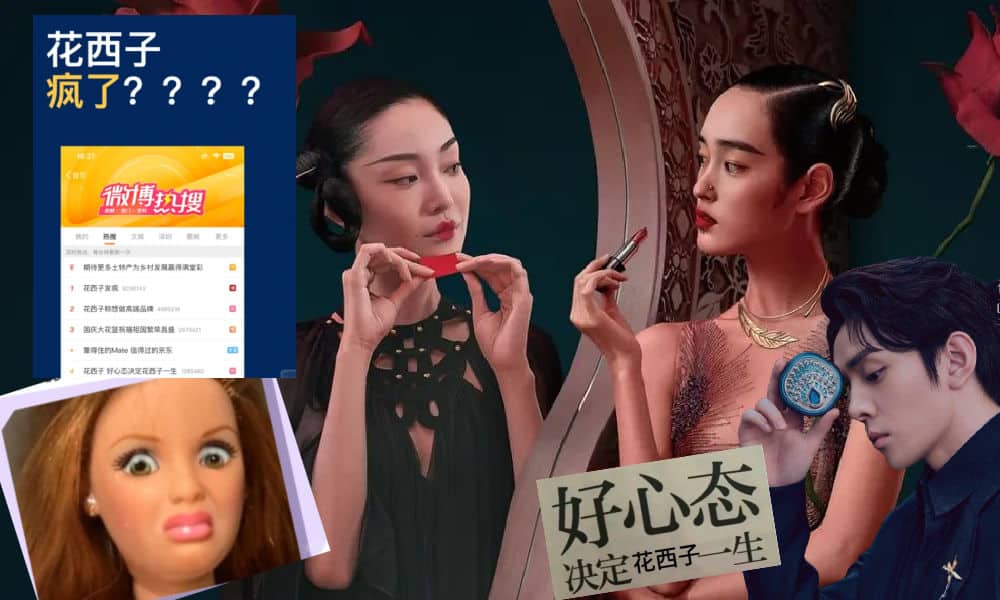 Lost Marbles or marketing logic? Following its involvement in the Li Jiaqi 'eyebrow pencil gate,' Chinese beauty brand Florasis' social media strategy has taken an unconventional turn. The domestic brand recently went trending after declaring its ambition to win over the global luxury cosmetic market, and its plans to challenge established giants like Louis Vuitton and Chanel.
In the world of Chinese cosmetic brands, all eyes are on Florasis (花西子) recently. This Chinese make-up brand gained significant attention earlier this month when the popular beauty influencer 'Lipstick King' Li Jiaqi promoted one of their eyebrow pencils during a livestream.
After some viewers questioned whether a single eyebrow pencil costing 79 yuan ($10.8) was perhaps too expensive, Li lashed out and suggested viewers should instead ask themselves if they worked hard enough to deserve a raise.
That moment triggered a social media storm (read here), and suddenly everyone knew about Florasis, which is known as Huāxīzǐ (花西子) in China.

"Huaxi Coins" and Public Mockery

The incident sparked a series of memes and discussions, and among them, the question of what one can buy with 79 yuan in China today was a big one.
While some suggested they could feed an entire family for one day with 79 yuan, others said that it would buy their office lunches for a week. This humorous situation gave rise to the term 'Huaxi Coins' or 'Floracash' (花西币), with netizens playfully using the price of one Florasis eyebrow pencil's price as a new currency unit (one 'Huaxi Coin' equals 79 yuan/$10.8).
Although Li Jiaqi apologized to his viewers soon after his controversy, it took some time for Florasis to respond the controversy the brand found itself embroiled in.
Florasis, a brand established in Hangzhou in 2017, is deeply connected to Li Jiaqi, as he has been the chief brand ambassador since 2019 and has actively participated in their product development.
The entire social media storm prompted a heightened focus on why Florasis products are perceived as relatively expensive.
As reported by Qing Na at Dao Insights, one post that gained significant traction on September 12 revealed that a five-piece Jade Makeup Brush set from Florasis, priced at 919 RMB ($126.28), was, in fact, made by using synthetic fiber bristles, considered cheap and of lower quality. This revelation garnered over 240 million views in just a few hours, adding to the public mockery of the national beauty brand.

The Florasis Dream: Becoming a Leading International Luxury Brand

On September 19, Florasis/Huaxizi finally apologized on social media for its late response to the controversy, and the brand stated that the incident provided an opportunity for them to listen to "the voice of their consumers," although they did not delve deeper into the price of their products.
Although people criticized the letter posted by Florasis and the words they used in it, their decision to release a statement initially seemed fruitful: they gained 20,000 new followers in a single night.
While the entire situation drew more attention to the Chinese make-up brand, it also seems to have prompted Florasis to reconsider its own position in the cosmetics industry, both in China and globally. Because on September 26th, the brand publicly and somewhat suddenly declared its ambition of becoming a leading international luxury cosmetics brand.
"Me, Florasis, I'm 6,5 years old," the post read: "I have a dream: to be a high-end brand, rooted in China, going global."
In their post, Florasis used a quote saying "A Positive Mindset Shapes Huaxizi's Lifetime," which is derived from the title of a well-known Chinese self-help book from 2012 called "A Positive Mindset Shapes a Woman's Lifetime" (好心态决定女人一生).
One of the main ideas presented in this book, authored by Li Jin (李津), is that success can never come from a negative or pessimistic mindset; if you see yourself as a failure, you're likely to fail, but if you envision success, you're more likely to achieve it.

Next to Chanel: Confusion about Florasis' Public Relations Tactics

The company's ambition, on its own, may not be particularly surprising. As stated in a report published by Paicaijing (派财经), Florasis' co-founder, Fei Man (飞慢), had previously questioned in an interview why Chinese brands were always associated with being cheap, expressing Florasis' wish to break the "price ceiling" (价格天花板) and escape the ongoing "low price competition" (低价竞争) in China's beauty industry by delivering high-quality products at a premium price.
However, the wording and the timing seemed odd, and the post created both banter and confusion about Florasis' public relations tactics, especially because they did much more than that post alone.
On September 20th, approximately ten days after the 'eyebrow pencil gate' controversy, the company's founder, Hua Mantian (花满天), made an announcement on his WeChat channel. He revealed that the brand would be distributing their premium eyebrow pencils, originally priced at 119 yuan ($16.3), during a livestream promotional event that night. They planned to give away free pencils to hundreds of viewers every ten minutes. By giving out over 10,000 free eyebrow pencils in total, the company allegedly hoped to gain more feedback on their product in order to further improve it. Over 400,000 people tuned in to that livestream.
Since then, Florasis seems to be doing all it can to catch the public's attention, and some netizens even wonder if the editors at the Florasis PR team might have lost their marbles, as they keep posting a lot of unusual replies, – some emotional and somewhat unhinged, – to their own threads on their Weibo account.
Throughout September 26, the account posted dozens of texts/replies, responding to many netizens' comments. Florasis not only declared its wish to be China's 'Chanel' when it comes to beauty products, it also praised its own efforts in contributing to women's mental health, preserving traditional culture, innovating cosmetics, and much more.
Their social media texts included phrases such as: "I'm super awesome," or writing:
"I'm really becoming a bit emotional. I established my own laboratory at just three years old! We now have over 200 research partners, and their leader is Li Huiliang (李慧良), known as the "Number One in Chinese Cosmetics Research and Development." He's like a superstar in the industry. We have five big innovation research and development centers, over 7000 square meters, larger than a football field. Don't I deserve a gold star sticker for that?"
And:
"As a Chinese brand, every generation has a mission. Our generation's mission is to fight in the international market with high-end presence! You can mock and ridicule me, it's ok [sad face emoji] I'm already neighbors with Louis Vuitton and Gucci at the [Hangzhou] West Lake [shopping street]! And I will be next to Chanel at Japan's top-notch department store Isetan. Next up is France, Dubai, America, see you there!"
Subsequently, the hashtag "Florasis Says It'll Be Side-to-Side with Chanel" (#花西子称要和香奈儿门对门#) received over 470 million views on Weibo. Another hashtag, "Florasis Wants to Be a High-end Brand" (#花西子称想做高端品牌#), received more than 220 million views.

Mad Marketing

By now, the hashtag "Huaxizi Lost It" (#花西子发疯#) has also gone trending on Chinese social media platform Weibo, where people have different thoughts on what might have triggered Florasis' social media behavior.
While some people really think that Florasis has gone crazy, others see the entire ordeal as a social media spectacle meant to distract attention from what happened with Li Jiaqi, or as a cheap marketing stunt.
One poll conducted by Sina News asked people about the situation. The majority of respondents believed that the social media editor must have lost their mind, while others considered it just another version of "bad marketing is still marketing" – suggesting that even if the publicity strategy is cheap or questionable, it is still used as a marketing tactic to gain attention.

Another question is: does it even matter what the reason behind this unusual online media approach is?
If Florasis is really letting its PR team run wild, it is doing so at a crucial moment, shortly after a significant controversy that cast the brand in a negative light. This moment calls for careful control rather than unconventional tactics. Furthermore, the social media strategy appears to be at odds with Florasis' typical marketing image, which emphasizes tradition, glamour, and perfection.
If Florasis is using this strategy to attract and divert attention, it also appears that this approach is not yielding the desired results, as many people express a common sentiment: "I didn't purchase Florasis before, and I certainly won't be buying it now."
By Manya Koetse
With contributions by Miranda Barnes
Get the story behind the hashtag. Subscribe to What's on Weibo here to receive our newsletter and get access to our latest articles:
Spotted a mistake or want to add something? Please let us know in comments below or email us. First-time commenters, please be patient – we will have to manually approve your comment before it appears.
©2023 Whatsonweibo. All rights reserved. Do not reproduce our content without permission – you can contact us at info@whatsonweibo.com.