Thai Nurse Trying to Rescue Man by Performing Heart Massage Criticised for "Looking Vulgar"
"She is saving someone's life, yet all you can think of is sex."
An incident involving a nurse dressed in short pants providing first aid to a male patient has triggered controversy in Thailand. Discussions have now blown over to Chinese social media: "Did you expect her to change clothes first?", some netizens wonder.
Footage of a woman wearing a t-shirt and very short pants while providing immediate cardiac massage to a man on a stretcher is going viral on Chinese social media. The woman, who is a nurse by the name of 'Puliya', recently triggered controversy for "looking vulgar."
The patient reportedly lost consciousness and suffered acute cardiac problems in a Bangkok neighborhood on February 21st. He was urgently brought to the ambulance by first aid workers when the woman got up on the stretcher to provide heart massage to rescue him.
But instead of praise, the woman received criticism for her "obscene" clothing and posture while giving first aid. Various bloggers in Thailand and China first started posting about the incident on February 23.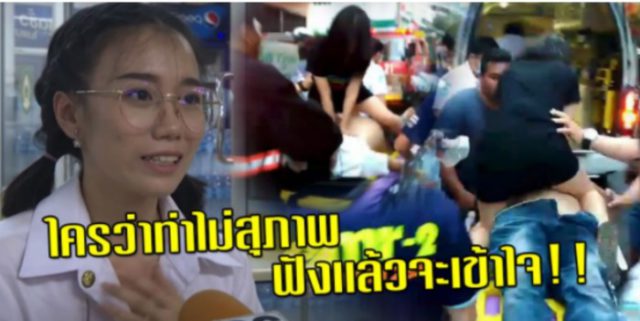 According to popular Chinese blog site mop.com, Puliya publicly apologized soon after the incident, and said that she did not consider her clothing or posture at that moment as she was only thinking about rescuing the man.
The man whose life the nurse tried to rescue unfortunately passed away.
On Weibo, one person received nearly 10,000 likes for commenting: "She is trying to save someone's life, yet all you can think of is sex!"
Thai nurse trying to rescue patient by performing heart massage ignites controversy for "looking vulgar": https://t.co/jKCe3mcLIK #bangkok #trending #weibo pic.twitter.com/YhdfnntTM2

— What's on Weibo (@WhatsOnWeibo) March 6, 2018
"Did you expect her to go home and change her clothing first?", another netizen commented.
In a NetEase column on the incident, one reporter wrote on March 5: "If someone did something wrong, they should apologize, but there are some 'apologies' that should only make the receivers feel ashamed."
"For the people who are criticizing this nurse now, I hope that when you end up on a stretcher needing help, the woman providing first aid will go home first to change clothes and have a cup of tea before she comes back to 'elegantly' come rescue you," another Weibo blogger said.
See full video of the incident below [viewer discretion is advised]:
By Manya Koetse
Follow @whatsonweibo
Spotted a mistake or want to add something? Please let us know in comments below or email us.
©2018 Whatsonweibo. All rights reserved. Do not reproduce our content without permission – you can contact us at info@whatsonweibo.com.
Zhou Zhou in West Africa: Chinese Woman Trending on Weibo after Going 'Missing' in Nigeria
The story of Zhou Zhou – who joined her husband in Nigeria – caused concerns among netizens who believed the woman is not safe.
One Chinese woman's decision to move to West Africa with her older husband triggered worries and speculation on social media, with prevailing negative stereotypes fuelling fears that something bad might had happened to her.
A 7-months pregnant Chinese woman married to a Nigerian man suddenly became top trending on Chinese social media platform Weibo this week when she went 'missing in action' after posting about her upcoming trip to West Africa on her social media channels.
The woman posted about her travels as 'Zhou Zhou in West Africa' on Douyin, the Chinese TikTok, where she has over 290,000 followers.
The 20-year-old Chinese woman named Zhou Zhou gained netizens' attention after she wrote on social media on July 28 that she would travel out of China and join her African husband to go back to his hometown.
She shared some details of her trip from the Shanghai International Airport on social media, including those on how Nigerian border security staff inquired about her family and her purpose for visiting the country.
Zhou Zhou soon received many messages from concerned netizens advising her to reconsider her trip because she is pregnant, suggesting that the medical care in West Africa is not up to par and that she would not be safe in Nigeria.
When Zhou Zhou then stopped updating her social media and did not respond to personal messages anymore, people started raising the alarm that Zhou might have gone missing after arriving in Nigeria. When her social media account bio info suddenly changed from 'female' to 'male', people worried that something might have happened to her.
By August 1st, there had been over 1.3 billion (!) views of a hashtag titled "Zhou Zhou in West Africa Went Missing" (#周周在西非已失联#).
The online concerns about Zhou Zhou grew so loud that even the Chinese Consultate in Nigeria responded to the issue (#大使馆回应周周在西非已失联#) and said they would look into the matter.
Zhou Zhou's story unleashed a flood of stories on the supposed situation in West Africa or in Africa in general, with many people claiming to know what life is like or how Africans are like. Some people suggested that Zhou Zhou might discover her husband would actually have "multiple wives" and pointed out cultural differences between China and Nigeria.
One Nigeria-based blogger shared their experience about the various problems in the country, such as female inequality, and also claimed that Black [Africans] had a "talent for acting" and that "they should not be easily trusted", adding: "we as Chinese don't even say 'I love you' as many times in our entire lifetime as some Black [Africans] do within a time frame of two hours."
Others were concerned about the age difference of fifteen years between Zhou Zhou and her husband, writing: "The age gap between them is so big, Zhou Zhou is only 20 years old? How did they meet? (..) Zhou Zhou and this African uncle come from such different cultural backgrounds."
Throughout the years, there have been multiple trending stories on Weibo triggering worries that Chinese people, especially women, are not safe when they go abroad and that they are targeted for their nationality. After the murder of two Chinese sisters in Japan in 2017, a popular comment said: "When Chinese citizens travel to other countries, they must be vigilant. After all, we are not familiar enough with the political environment and social atmosphere of other countries. We must learn to protect ourselves."
The existing prejudice and racial stereotyping on Chinese social media regarding African men only added fuel to the fire.
On the late night of August 1st, Zhou Zhou finally sent out a message on social media, telling everyone that she was doing well and thanking everyone for their concern.
She also uploaded a video to her Douyin channel, saying:
"We're doing well, thank you. I'm in the final stage of my pregnancy. Perhaps my feelings are not completely stable at the moment, because I've received so many messages and didn't give a timely reply. Maybe I created misunderstandings because of it."
In the video, Zhou Zhou explained that her husband does not have multiple wives and that they had already arranged a medical check-up at a local hospital.
Her response went trending (#周周在西非发视频回应#), garnering over 140 million views this week.
While many people accused Zhou Zhou of being an 'attention seeker' and purposely creating "a hype," there were also those who argued that she should now be left in peace.
"I don't like to tell young women how to choose their partner," one commenter (@Amy小北京) responded: "To each their own. Some people love money, others love appearance. Some people love sincerity, others love excitement. For this girl, it's not that it's wrong to find someone from West Africa. This is her life, she has the right to choose. But why would I still say she's stupid? [Because] the risk of this marriage is still too great."
"Netizens did what they had to, they advised her not to, but she's an adult and she'll well aware of her own decision, let's just wish her the best," one educational blogger (@叫我小张同志就好) wrote.
By Manya Koetse
With contributions by Miranda Barnes
Get the story behind the hashtag. Subscribe to What's on Weibo here to receive our weekly newsletter and get access to our latest articles:
Spotted a mistake or want to add something? Please let us know in comments below or email us. First-time commenters, please be patient – we will have to manually approve your comment before it appears.
©2022 Whatsonweibo. All rights reserved. Do not reproduce our content without permission – you can contact us at info@whatsonweibo.com.
Reversal Seen as Step Back: Chinese Social Media Responses to U.S. Abortion Ruling
"Now we can all have eight children and a bright future," one Chinese commenter sarcastically wrote about the U.S. reversal of abortion law.
As the end of constitutional protections for abortions in the United States is making headlines worldwide, the Supreme Court's overturning of women's right to abortion is also trending on Chinese social media.
On June 25, the hashtag "U.S. Supreme Court Cancels Constitutional Right to Abortion" (#美国最高法院取消宪法规定的堕胎权#) attracted over 640 million views on Chinese social media platform Weibo. The hashtag "U.S. Supreme Court Overthrows Roe v. Wade" (#美国最高法院推翻罗诉韦德案#) garnered over 120 million views.

Roe v. Wade refers to the United States Supreme Court decision on abortion, which recognised a woman's constitutional right to an abortion prior to the viability of the fetus (generally estimated to be about 24 weeks).
The plaintiff in the 1973 case was the then 21-year-old Dallas waitress Norma McCorvey (1947) – publicly known under the pseudonym 'Jane Roe' – who filed the case after she was denied the right to terminate her unwanted pregnancy. McCorvey eventually won the case (although she had already given birth by then), and the Roe decision thereafter granted the right to abortion for nearly five decades.
That decision was overturned on Friday, removing the federal constitutional right to an abortion in the United States and making the procedure illegal or heavily restricted in at least 11 states, with more states expected to follow. The reversal came in a dispute over a Mississippi law that banned abortions after 15 weeks of pregnancy and directly challenged Roe v. Wade.
As states began to enact abortion bans and clinics stopped offering abortion procedures, the Roe v. Wade reversal led to protests in cities across the United States.
On Weibo, media posts about the issue received thousands of shares and comments and triggered many discussions.
"Reasonable abortion is a recognized basic human right," one popular comment said, receiving over 57,000 likes. "In the world's most developed nation, women can't fully make decisions about their own wombs," another comment with hundreds of likes said, with other commenters calling the decision "historical" and "insane." Various commenters also wrote: "I just don't understand this" or "I don't dare to believe it."
Chinese media reports about the Roe v. Wade reversal have also generated online discussions about whether or not China could implement tighter restrictions on abortions in the future, and if that would be a good development or not – a decisive issue.
"Such a law in China could have prevented the abortion of many girls," one Weibo user wrote, reflecting on the non-medical, sex-selective abortions that occurred in China during the One Child Policy (1980-2015).
Although abortion is legal and widely available in the People's Republic of China, policy guidelines were introduced in September of 2021 to restrict the number of abortions performed for "non-medical reasons" at a time when the country is seeing the lowest population growth in six decades.
But while some commenters used the American case to reflect on China's potential future legal changes, there were also many who took this opportunity to reflect on and praise the basic personal freedom Chinese women currently have to end an unwanted pregnancy.
Many saw the U.S. move as a step back for women's rights ("is this really 2022?"), lamenting the state of women's rights internationally and also mentioning the recent Tangshan incident in China as a sign of a supposed international decreased level of (legal) protection of women.
"Perhaps you can't empathize, but there's also nothing to cheer about while you're watching the fire burn from afar and are grateful to be Chinese – American women lose their right to abortion, and Chinese women have seen their wombs become nationalized. Now we can all have eight children and have a bright future," one commenter from Shandong wrote in a sarcastic voice.
There were also some commenters who wrote that it was non-sensical for Chinese web users to argue over American abortion laws, saying the controversial U.S. decision has everything to do with an ongoing war between American Republicans who oppose legal abortion versus Democrats who favor it, and nothing to do with China and its family planning policies.
But regardless of whether or not American policies have anything to do with Chinese modern-day society, the U.S. Supreme Court decision is just a sign for many that policies could always turn around and that there is no guarantee that current rights and freedoms will last forever. "The wheel of history is moving backwards," one Weibo user wrote on Saturday, with another person adding: "Will the next step be a ban on contraception?"
Overall – perhaps surprisingly in light of a rise in online anti-American sentiments over the past few years – most comments on Weibo at time of writing show solidarity and sympathy for American women over the Roe reversal.
"Those in charge of society are unavoidably making plans for women's wombs," one female commenter said, perhaps reflecting both on Chinese family planning policies as well as the recent American developments.
For more related to abortion in China, check our previous articles on this topic here.
By Manya Koetse
Get the story behind the hashtag. Subscribe to What's on Weibo here to receive our weekly newsletter and get access to our latest articles:
Featured image: Photo by Gayatri Malhotra on Unsplash
Spotted a mistake or want to add something? Please let us know in comments below or email us. First-time commenters, please be patient – we will have to manually approve your comment before it appears.
©2022 Whatsonweibo. All rights reserved. Do not reproduce our content without permission – you can contact us at info@whatsonweibo.com.