Thai Nurse Trying to Rescue Man by Performing Heart Massage Criticised for "Looking Vulgar"
"She is saving someone's life, yet all you can think of is sex."
An incident involving a nurse dressed in short pants providing first aid to a male patient has triggered controversy in Thailand. Discussions have now blown over to Chinese social media: "Did you expect her to change clothes first?", some netizens wonder.
Footage of a woman wearing a t-shirt and very short pants while providing immediate cardiac massage to a man on a stretcher is going viral on Chinese social media. The woman, who is a nurse by the name of 'Puliya', recently triggered controversy for "looking vulgar."
The patient reportedly lost consciousness and suffered acute cardiac problems in a Bangkok neighborhood on February 21st. He was urgently brought to the ambulance by first aid workers when the woman got up on the stretcher to provide heart massage to rescue him.
But instead of praise, the woman received criticism for her "obscene" clothing and posture while giving first aid. Various bloggers in Thailand and China first started posting about the incident on February 23.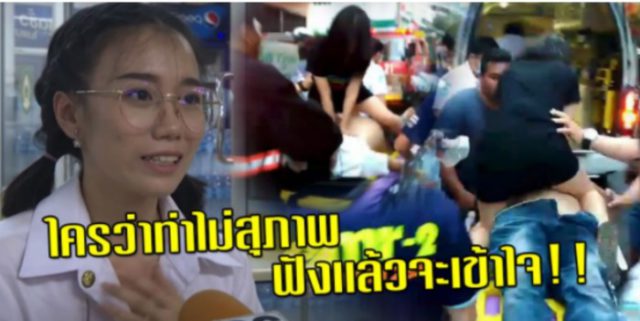 According to popular Chinese blog site mop.com, Puliya publicly apologized soon after the incident, and said that she did not consider her clothing or posture at that moment as she was only thinking about rescuing the man.
The man whose life the nurse tried to rescue unfortunately passed away.
On Weibo, one person received nearly 10,000 likes for commenting: "She is trying to save someone's life, yet all you can think of is sex!"
Thai nurse trying to rescue patient by performing heart massage ignites controversy for "looking vulgar": https://t.co/jKCe3mcLIK #bangkok #trending #weibo pic.twitter.com/YhdfnntTM2

— What's on Weibo (@WhatsOnWeibo) March 6, 2018
"Did you expect her to go home and change her clothing first?", another netizen commented.
In a NetEase column on the incident, one reporter wrote on March 5: "If someone did something wrong, they should apologize, but there are some 'apologies' that should only make the receivers feel ashamed."
"For the people who are criticizing this nurse now, I hope that when you end up on a stretcher needing help, the woman providing first aid will go home first to change clothes and have a cup of tea before she comes back to 'elegantly' come rescue you," another Weibo blogger said.
See full video of the incident below [viewer discretion is advised]:
By Manya Koetse
Follow @whatsonweibo
Spotted a mistake or want to add something? Please let us know in comments below or email us.
©2018 Whatsonweibo. All rights reserved. Do not reproduce our content without permission – you can contact us at info@whatsonweibo.com.
When Hotpot Gets Really Hot: Haidilao Customers Shocked by Steamy TV
Haidilao is taking its customer service to a whole new level.
First published .
Customers dining at a Haidilao hotpot restaurant in Wuhan on January 5th were shocked when the big television screen in the restaurant, usually used for showing Haidilao ads, suddenly showed an X-rated film.
Haidilao is China's most famous hotpot chain, and is usually known for its excellent service. On busy nights, people stand in line for hours at the Haidilao restaurants, that are always packed full of people enjoying the good food and outstanding hospitality.
The incident, that happened on Saturday afternoon at the restaurant's Great Ocean mall location, has now made its rounds on Chinese social media after one Haidilao customer shared photos of the embarrassing moment on Weibo. At time of writing, the hashtag "Haidilao TV shows vulgar scene" (#海底捞电视播不雅画面#) has received more than 240 million views.
Waiters at the restaurant were fast to turn off the television. According to some online reports, a reporter visited the restaurant a few hours after the incident happened, and confirmed the television was still turned off at night.
On Sunday, January 6, Haidilao issued a statement in which the restaurant apologized to the customers for the "vulgar content" that was displayed on the television, and that police are investigating the case. Online pornography is banned in China, and spreading X-rated films is illegal.
It is yet unsure how the film ended up on the restaurant's screen, and whether it was a Haidilao employee who was watching the video and then made a mistake, or that a customer was using IR or Bluetooth on their smartphone and (purposely) connected it to their screen.
The incident has provoked hilarity on social media, where some netizens suggest that the X-rated film perhaps was a "customer demand" and that "Haidilao's service is beyond expectations," or that people were "eating and getting hard."
The incident, as of now, does not seem to negatively affect people's love for the Haidilao brand. "Please don't close it down, I still want to eat hotpot," some netizens comment, while others simply state: "Haidilao, I'm coming!"
(PS Want to know more about steamy hotpots? Check out What's on Weibo's sister site Hotpot Ambassador!)
By Manya Koetse and Miranda Barnes
Spotted a mistake or want to add something? Please let us know in comments below or email us.
©2019 Whatsonweibo. All rights reserved. Do not reproduce our content without permission – you can contact us at info@whatsonweibo.com
Footage from Inside the "Virtue Class for Women" Stirs Controversy on Weibo
"Obedience is the core value for women," is a message that is being propagated in "female virtue classes."
In 2017, news of a "female virtue class" (女德班) taking place in Fushun, Liaoning province, triggered controversy in China when it was exposed that young women were taught to conform to sexist stereotypes. That "female virtue class" was ordered to shut down after it made headlines.
But now, the same class taking place in Wenzhou has become the talk of the day on Chinese social media, as footage from inside the class made its way around Weibo and Wechat. Chinese media outlet Pear Video reported the news.
The class, with 56 students from 5 up to 18 years old (44 female), reportedly took place in August of this year during a Summer Camp on "traditional culture."
This is the video with footage from an insider attending the 'Summer Camp', by Pear Video (no subtitles):
Just as in Fushun, girls in Wenzhou were also taught that men are superior to women, that married women should obey their husbands and not talk or hit back, and that wearing revealing clothing will lead to rape.
The video also shows that 'obedience' was presented as being a core value for women, along with filial piety.
These views often pop up on social media. Also in 2017, a university lecture by Ding Xuan, an alleged expert on China's women's issues, stirred controversy on Weibo after her statements on female chastity went viral. According to Ding Xuan, "being a virgin is the best gift for a husband."
Classes such as these are often presented as being "traditional culture" training.
On Weibo, the hashtag "Female virtue class for minors" (#未成年人女德班#) has received over 110 million views at time of writing, with thousands of netizens condemning the message that these students are being taught. "It's 2018 now, how can you still have these kinds of fools?!", a popular Weibo comment said.
"It's scary that parents would let their children participate in these classes," others wrote. "The worst part is that people actually believe this." "What era are we living in?!", many commented.
As this topic is currently going trending, it is yet unclear if these classes are still being taught to students, or if they, again, have been ordered to shut down.
By Manya Koetse
Follow @whatsonweibo
Spotted a mistake or want to add something? Please let us know in comments below or email us.
©2018 Whatsonweibo. All rights reserved. Do not reproduce our content without permission – you can contact us at info@whatsonweibo.com