The Dissertation Acknowledgement That Went Viral on Chinese Social Media
"I knew I would always remember the sacrifice my brother made for me. But looking back, it was just the first of many sacrifices my brother would make."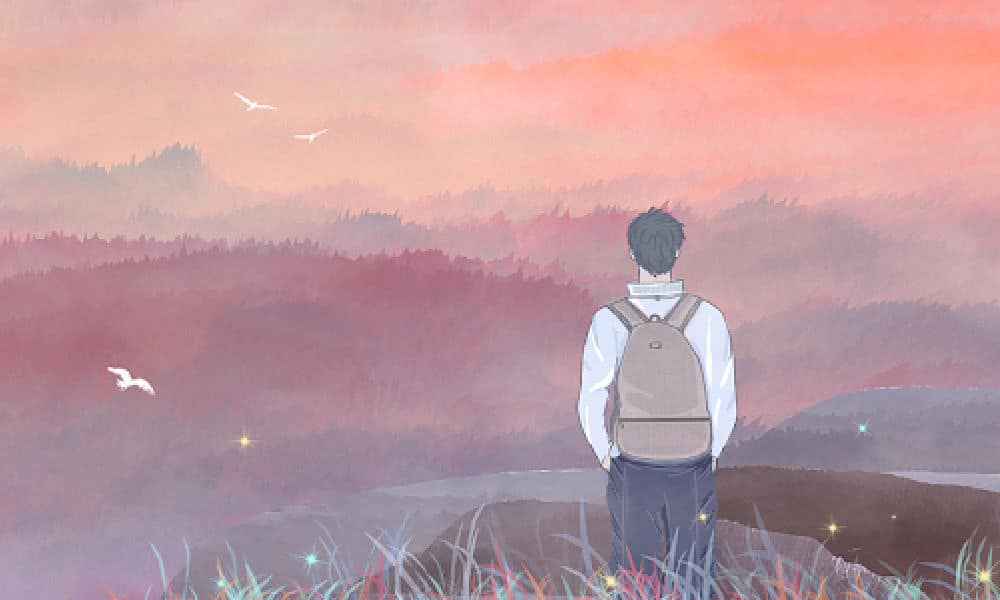 A 'thank you' section in a PhD thesis has gone viral on Chinese social media these days, moving many netizens to tears.
The dissertation acknowledgments by Southeast University PhD student Zhong Jitao (仲济涛) started circulating on Weibo and beyond. The thank-you section was written by the Civil Engineering PhD candidate Zhong Jitao (仲济涛), who is now an associate professor at the Shandong University of Science and Technology. It was published in People's Daily 'Nightly Reading' column before it went viral.
By now, the hashtag dedicated to the dissertation acknowledgment has been viewed over 170 million times on Weibo (#这篇博士论文致谢刷屏了#).
This is a translation of the acknowledgment (translation by What's on Weibo*):
————————————————
1. Studying By Heart
"My hometown is a small rural village in the east of the Shandong Peninsula. When I was young, the village saw its first PhD graduate. In the depths of my carefree childhood memories, that was one of the few intense spiritual shocks.
When I attended my second year of high school, my dad fell ill and I experienced a sudden increase in stress. By the time I was a third-year student, I started to withdraw and I didn't feel like going to university anymore. Later I couldn't stand to see the disappointed expressions on my family's face and I reluctantly entered an undergraduate program. I thought I would start working as soon as I graduated from college.
Later, my dad's condition gradually improved, and I continued my studies as a graduate student. I thought I would stop studying as soon as I'd finish graduate school, and that I would hurry to find a job to share some of the burdens with my older brother. Eventually, I still continued my studies as a PhD student. If I look back on this curious turn of events, I feel guilty about my own selfishness and callousness. Step by step up to today, if the external factor was the relentless support of my parents and brother, behind their silence, then the internal factor perhaps was that one moment of spiritual shock.
2. My Brother as Father
The grass can't repay the kindness of the warm sun. There are not enough words to thank my parents. Besides them, I'd like to express my thanks to my brother, who is seven years older than me. Perhaps it's because he is so many years older than me that I've always felt that my older brother is somewhat like a father to me.
In the third year of elementary school, my brother faced the choice of getting into senior high school or getting into a vocational secondary school. If he'd go to senior high school, he would be able to get into university, but it would take several years of studying and several years of paying tuition fees. If he'd go to vocational school, there would be less tuition fees and he could start working earlier. It would also mean he'd miss out on the chance of getting into university. Based on my brother's grades at the time, he could've picked either. But to alleviate the financial burden on our family, and mostly for the future studies of me as his little brother, my big brother, without hesitation, went to vocational school at the cost of his own future.
I felt that I would always remember the sacrifice my brother made for me at this time. But looking back on how life unfolded afterward, it was just the beginning of the many sacrifices my brother would make.
Because in the second year of high school, dad fell ill, and my brother, who had just started working, took on all the burden. I didn't see my brother tossing and turning in bed during all of the sleepless nights, I didn't see my brother take our dad to all the big and small hospitals in the province and in the city, I just saw my brother's eyes sinking deeper every day, I saw how he was skin and bones, how his face was as pale as paper, how his hair was disheveled and ash-colored.
And while all of this was happening, I was studying in a warm and quiet classroom, because my brother had assumed all responsibilities.
3. The Lake and Sea Come Together
If I say that besides my dad, my brother is the number one guardian angel in my life, I must also acknowledge my wife and my former classmates.
As I prepared to do my PhD in Nanjing, my then-girlfriend, now wife, just completed her master's degree. She had to make a choice. Going back to her hometown would mean going to a different place, coming to Nanjing would mean leaving her home. While the situation had me ruminating, my wife's ticket to Nanjing dispelled all of my worries. We got married during the first year of my PhD. My wife worked every day, I studied every day. The faculty, the dining hall, and the home were our three frontline places. Every weekend, if we weren't busy, we would go out strolling. If I was busy with studying, my wife would keep me company at the faculty, while also pretending to be a PhD student.
Living in a place far away from home, you'll always run into people and situations that will upset you, and sometimes you have to deal with a sense of dispiritedness and disappointment. But all the grievances, frustrations, and depressions were dissolved by my wife's comfort.
Ever since I met my wife, I found my ultimate trust and my home in her. She gave me inner strength, but also helped me grow a sense of responsibility.
4. Don't Forget the Original Intention
Someone said, even if you can't change the world, you also cannot let the world change the innocent you. This is perhaps my most lucky point – although time brings great changes and is unpredictable, and I have long ceased to be innocent, I am still me, still with a grateful heart.
Recently, on my train back to school, I was chatting with my brother on WeChat about our concerns regarding dad's health. My brother replied to me saying: we are the ones to continue our parents' lives and spirits. The best thing we can do to repay them is to live well and to keep on going. While reading that sentence on a train filled with snoring sounds at 2AM in the morning, tears started streaming down my face. I know my brother wanted to comfort me, and he also wanted to guide me in life. What I can do is definitely not let down those who love me and have placed their hopes in me, yes, I won't disappoint them.
Time is like electricity, it slips through our fingers like sand. From starting my PhD to defending my dissertation, like a goose's footprint in the snow – it's already a part of my past. It's useless to dwell on past mistakes, but we can still change the future.
In the end, I rarely drink but I will raise my glass; one to honor my parents and the bitter hardships they faced; one to my brother's iron shoulder; and one to my wife and her steadfast loyalty and unfailing companionship."
————————————————
Many people on social media comment how moved they are by Zhong's words, and some share their own experiences.
"I'm also a PhD from Shandong Peninsula," one commenter (@xiaolei雨田) writes: "While I was studying for my PhD, my mum passed away. I always felt guilty towards my parents, and like the author, I felt that studying for my doctorate was selfish, like I was only pursuing my own goals while the people who had silently supported me were passing away. After graduation, I was determined to go back to my hometown to help and take care of the family, making up for those years of regret."
"This acknowledgment is heartfelt and resonates with so many people," others write.
There are also those who, while praising Zhong Jitao's dedication, also worry about the future prospects of other PhD candidates in China who come from impoverished families who have to sacrifice so much for one degree that might not even guarantee a well-paid job in China's current-day competitive job market.
"This really moved me," another commenter says: "It's not easy to complete your PhD, and there's always people who have your back and support you. When you feel like giving up, it's their support that keeps you going."
If you liked this story, you might also like "I Am Fan Yusu" (我是范雨素) (Full Translation) here.
By Manya Koetse
* Please note that this is a translation by What's on Weibo, not all parts of the text are literal translations and that some sentences have been loosely translated.
Spotted a mistake or want to add something? Please let us know in comments below or email us. First-time commenters, please be patient – we will have to manually approve your comment before it appears.
©2021 Whatsonweibo. All rights reserved. Do not reproduce our content without permission – you can contact us at info@whatsonweibo.com.
Disgruntled Woman Cuts Up 32 Wedding Dresses in Chongqing Bridal Salon
The woman ruined 32 wedding dresses – worth at least $11,000 – because she wanted her $550 deposit back.
On January 9, an argument between a female customer and a bridal store staff member escalated when the angry customer took out scissors and ruined more a total of 32 wedding dresses by cutting them up.
A video of the incident went viral on Chinese social media, showing the woman taking out wedding gown after wedding gown and cutting them with scissors. The person filming can be heard saying "Think clearly, these dresses cost thousands [yuan]," with the woman responding: "Thousands? Even it's ten-thousands, it doesn't matter."
This angry customer at a Chongqing bridal salon took out scissors and cut up wedding dress after wedding dress. The video has since gone viral on social media. pic.twitter.com/LSRXoI0OAa

— What's on Weibo (@WhatsOnWeibo) January 13, 2022
The incident happened in the city's Jiangjin District at a store that sells bridal gowns and also offers wedding services. According to Chinese media site Sohu.com, the wedding store manager told reporters that the woman named Jiang first made arrangements with the bridal salon in April 2021 for her October 5th wedding – she booked a wedding package for 8000 yuan ($1260).
Four months later, in August, the woman asked the bridal shop if her wedding arrangements could be postponed. When the woman came to the shop again in November, saying she wanted to cancel all arrangements and get her down payment of 3500 yuan ($550) back, the shop refused due to their policy of not refunding advanced payments. They did offer to instead provide some arrangements for a child's 100th-day celebration, as the woman was allegedly expecting a baby.
Although the woman initially agreed with this, she suddenly returned to the shop on January 9th and started acting out. In her anger, she proceeded to ruin 32 wedding dresses. The woman was taken away by the police after the shop assistant alerted them and was detained. She has since said she is sorry for her behavior.
According to the shop owner, the woman's husband offered to compensate the store for over 60,000 yuan ($9420), but he has not paid a penny yet. The woman allegedly ruined 32 dresses with a total worth of at least 70,000 yuan ($11,000).
On Weibo, thousands of commenters have responded to the incident.
"What on earth was she thinking?" some write, with others saying that the woman should be held criminally liable for her acts and deserves a prison sentence. Others argued that pregnancy hormones could be blamed for the woman's unreasonable behavior, and said the woman should no go to prison but stay home and rest instead. There was one thing virtually all commenters agreed on, which is that the shop should soon be fully compensated for all damages.
By Manya Koetse
Spotted a mistake or want to add something? Please let us know in comments below or email us. First-time commenters, please be patient – we will have to manually approve your comment before it appears.
©2021 Whatsonweibo. All rights reserved. Do not reproduce our content without permission – you can contact us at info@whatsonweibo.com.
Footage Shows Mysterious Flashes Before Qinghai Earthquake
The flashes of light seen in the sky right before the Qinghai earthquake have become a trending topic on Weibo.
Videos of the January 8th quake, which occurred in Qinghai's Menyuan county, appear to show several intense flashes of light filling the night sky immediately preceding the quake. The videos have sparked debate among Chinese internet users as to the explanation for the brilliant lights, with some referencing the little-understood phenomenon of "Earthquake Lights."
On January 8 at approximately 1:45 AM, Menyuan County in the Haibei Tibetan Autonomous Prefecture in China's Qinghai Province was struck by a magnitude 6.9 earthquake, damaging several homes and causing minor injuries to four people.
Photos of buildings in the area show shattered wall tiling and window glass, a partial ceiling collapse, and other minor structural damage. The area around the quake's epicenter is sparsely populated, but tremors could be felt in numerous nearby cities including Zhangye, Wuwei, Jinchang, Lanzhou, and Linxia Autonomous Prefecture in Gansu, as well as causing railway closures along the Qinghai-Tibet and Lanzhou-Qinghai high-speed rail lines, Jiangxi Daily reports.
The earthquake was followed by several subsequent quakes, including 5 quakes of lesser magnitude all within the hour.
According to the China Earthquake Administration, the quakes continued into the 9th, with a magnitude 3.2 earthquake recorded in Menyuan county at 0:44 on January 9th.
CCTV footage shot moments before the quake and shared widely on Weibo captured a bright, explosive flash of light, which quickly disappears before a second, shorter flash lights up the night sky, followed immediately by tremors.
This video went viral on Chinese social media this weekend, showing an intense flash of light right before the Qinghai earthquake happened. pic.twitter.com/MtibhGiTSl

— What's on Weibo (@WhatsOnWeibo) January 9, 2022
The footage intrigued Chinese netizens, with the hashtag "Intense Flash of Light on the Horizon Before the Qinghai Earthquake" (#青海地震前地平线出现耀眼强光#) accumulating over 100 million views by Sunday and giving rise to debate over the cause of the strange lights. Other videos capturing the flash from different angles show only one flash, or several smaller flashes along the horizon.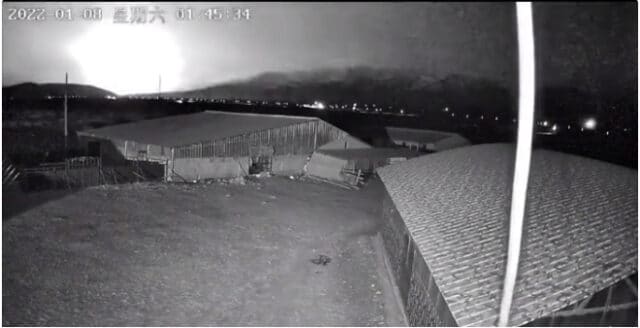 Much of the debate centered around whether this was a case of "Earthquake Lights" (地光/地震光, also EQLs), a controversial phenomenon among scientists which is sometimes reported before high-magnitude earthquakes, such as Italy's 2009 L'Aquila quake.
Just before and after quakes begin, witnesses have reported seeing unexplainable light phenomena in a range of colors, ranging from brilliant white flashes as bright as daylight to a blue, flame-like glow hovering above the earth.
Explanations range from the ionization of oxygen in rocks under intense stress, piezoelectric or triboluminescent phenomena, and leaks of radioactive ionizing gas into the atmosphere to more mundane sources, such as the flailing of damaged power lines. Sometimes the lights were also said to come from UFOs or explained them in religious terms, but a 2014 study refuted this and linked the phenomenon to rift environments.
Interestingly, this is not the first time the phenomenon has been reported to precede a major earthquake in China. Some Weibo users remarked that "Earthquake Lights" had been seen before the disastrous 1976 Tangshan earthquake, which damaged or destroyed vast swathes of that city and killed over 240,000 people. Two movies depicting the quake, After the Blue Light Flashes.. (蓝光闪过之后..) and The Great Tangshan Earthquake (唐山大地震) both feature scenes of mysterious bright lights illuminating the night sky moments before tremors began.
Strange lights were also reported in the sky in Tianshui, Gansu province, preceding the 2008 Sichuan earthquake.

Other Weibo users remained unconvinced about the strange lights being mysterious Earthquake Lights. "Don't freak out over it," one user wrote: "It's just a downed power line."
Another online video features commentary from seismologist Chen Huizhong (陈会忠) of the China Earthquake Administration, who explains the flashes as an electrical transformer exploding, noting that footage from another angle shows the tremors damaging electrical lines in the distance, which begin sparking and showing obvious signs of damage. This damage, however, occurs after the tremors have already started, and does not seem to explain the bright flashes which lit up the sky immediately preceding the tremors.
Still others suggested that radon gas leaking from underground as the earth shifted could have caused the flash.
While the debate rages on between proponents and skeptics of "Earthquake Lights," a third group of online commenters has already made up their minds: the Weibo fans of prominent Chinese science fiction writer and The Three-Body Problem author Liu Cixin (刘慈欣), wasted no time in heralding the coming of extraterrestrial invaders.
"Looking forward to a scientific explanation," wrote one user: "As for me, I think it's the first step in an alien attack." The user's post ended with the hashtag, "The Sophon from Three-Body Problem has arrived!"

By Luke Jacobus
Follow @whatsonweibo
Spotted a mistake or want to add something? Please let us know in comments below or email us. First-time commenters, please be patient – we will have to manually approve your comment before it appears.
©2022 Whatsonweibo. All rights reserved. Do not reproduce our content without permission – you can contact us at info@whatsonweibo.com.