The Early Days of Rock in China – Interview with Sinologist & Hardrocker Jeroen den Hengst
From copied tapes to a unique rock scene – Jeroen den Hengst was part of the Beijing rock scene when it first awakened.
Dutch Sinologist and musician Jeroen den Hengst was part of the Beijing rock scene when it awakened in the late 1980s. Nearly three decades later, Den Hengst looks back on the early days of rock in China – before, during and after the Tiananmen protests – and talks about the music scene in Beijing and his personal path from young Sinologist to serious hardrocker.
When I notice some glitters sparkling on Den Hengst's face as I meet him in downtown Amsterdam in early Spring, he nonchalantly brushes them off. He was performing the night before, he tells me.
Den Hengst is the host and guitar player of Amsterdam's Hardrock Karaoke, which has become quite a phenomenon in Amsterdam and beyond. We sit down, order a beer and talk about Den Hengst's musical journey that started in the early days of China rock.
FIRST STEPS ON THE MAINLAND
"There was simply no access to pop music. I had brought forty cassette tapes with music to China; they were copied hundreds of times."
"I arrived in China in September 1987 when the famous Beijing musician Cui Jian (崔健) was just getting big. I came to China to study at Peking University as part of my Sinology studies at Leiden University, but soon ended up more in the Beijing music scene than I was in class," Den Hengst tells:
"I never used to be a really good student – music was always my true passion. I had also played in bands throughout high school. But I was very interested in China. I had to learn its history for my final high school exams. The language intrigued me. So I started studying it at university and had already finished my third year when I arrived in Beijing. I soon discovered I couldn't even properly order food, despite studying the language. It was my first time in China."
"Singer Cui Jian got together at the time with Eddy [Randriamampionona] from Madagascar and drummer Zhang [Yongguang]. They would perform in Ritan Park with their band Ado. I would go there, and found out that there were quite some young people making music."
"Zang Tianshuo (臧天朔) would also play there, and I became acquainted with Chinese rock musician He Yong (何勇), who later became well-known with his album Garbage Dump (垃圾场). I knew all of them, it was just a small bunch of people in that scene. Especially the foreigners in Beijing knew each other at the time – there were not that many, and if there was something happening we just knew it through word of mouth."
Singer He Yong in early 1990s (Xinhua).
"I started frequenting these sort of performances and would join on stage every now and then, as I did with the band Mayday (五月天), in which He Yong also played. They had all just started playing and had zero background knowledge in pop music as there was simply no access to that kind of music. I had brought forty cassette tapes with me to China; they were copied hundreds of times. Before I knew it I was hanging out with these guys days on end, recording songs in the studio. They would also make cassette tapes with Toto music, for which I would do the singing. I would get 500 kuai [±80$] for it, which got me through another month. I lived on the campus anyway, and did not need much to get by."
"I've always felt very welcome, and our interest was mutual. I wanted to play music with them, and they needed a guitar player. The fact that I was foreign didn't matter – we were all equals. I stopped going to Chinese classes at university, but in the meantime, my Chinese was improving every day because I was talking to my new friends. I once went back to class in the second semester and discovered I was ahead of the others. By then I couldn't just properly order food – I was talking Chinese the whole time."
THE EARLY DAYS OF ROCK IN CHINA
"The years from 1986-1989 were the blossoming days for rock music – those were the days of liberation."
Heibao band members (Zhihu).
"The years from 1986-1989 were the blossoming days for a new type of music in China, but it was more than that: those were the days of liberation. Everybody thought: we're opening up, we're becoming modern. It was the build-up to the student movement of '89. Rock music was a big part of it."
"The late '80s were not necessarily the beginning of pop music in China, as you also had music by Chinese pop queen Teresa Teng and others which was popular before that time. But the rock scene provided a different sound – it was not as sweet as Teresa Teng, and it was influenced by the cassettes that were passed around, which included sounds by Toto, The Police, Bob Marley, and other artists. The difference between pop and rock is lifestyle; it was no music for the millions, it was a hip and alternative scene."
"The 'rock scene' maybe consisted of 30 to 40 people. Cui Jian played an important role in those early days of rock. For many young adults, he was that critical voice against the authorities. He was very good with language, and also used Chinese instruments in his music. He really knew how to do it. Nobody ever surpassed him in that way."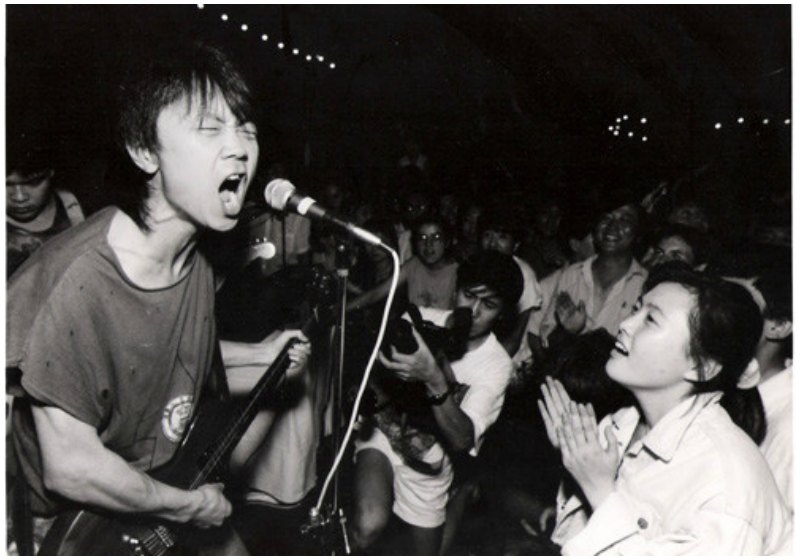 Cui Jian in 1990.
"Many musicians of those days were part of danwei's [work units] focused on dance and music. Most of them were able to play a traditional Chinese instrument. They all came from a musical environment, but their power was to give those Chinese musical influences a new twist and combine them with the music that came in via Europe or America. In the music from those days, you can clearly hear what they listened to. Part of it is coincidence; Cui Jian sometimes only sounds like The Police because that was the cassette tape that happened to be available to him, while others weren't."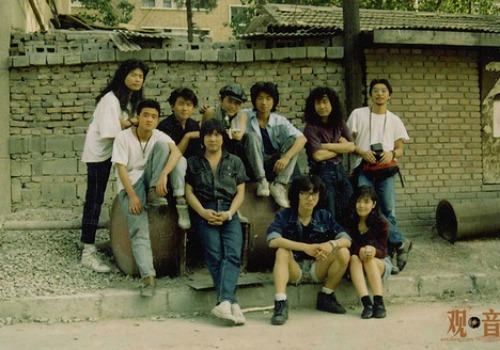 The Heibao band 黑豹乐队 (image from my.isself).
"Heibao (黑豹乐队, Black Panther) was a band that was also formed at the time. They later became the best-selling mainland Chinese rock band ever. More people started engaging with the rock scene. The simple core value in the beginning was that everyone just wanted to make music. Those were the free days. We would hang out together in the studio and if we went out we would hop on our bikes and cycle through the city. The streets were pretty empty. Looking back, I mainly remember that feeling of freedom and spontaneity. "
THE TIANANMEN MOVEMENT
"The army had taken over the city. There was no more music, no more nothing."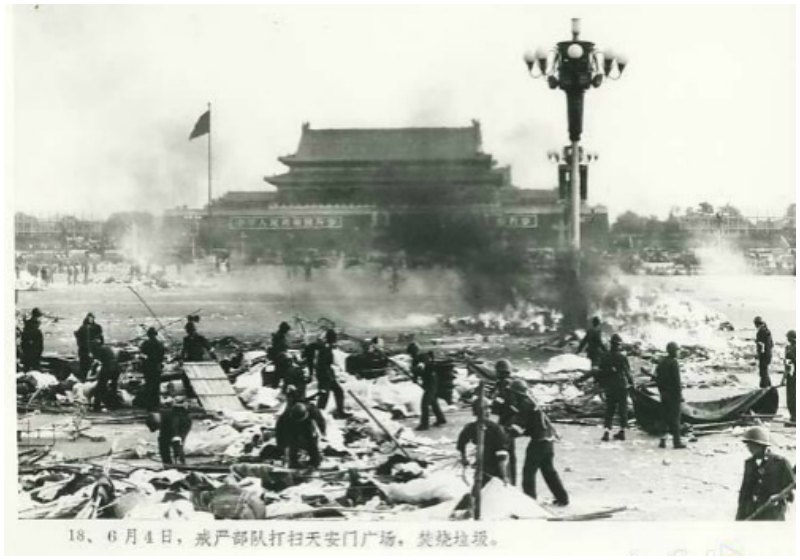 The aftermath: cleaning up Tiananmen Square, June 1989.
"I lived in Beijing throughout 1987-1988 and then went back in 1989. The liberal politician Hu Yaobang died in April 1989 and everyone mourned his death because he was a reformer who inspired people – he was, amongst others, against corruption. He was very popular amongst Chinese students. University students in Beijing went through the city in a procession to honour him and then the slogans started coming against corruption. It became political very quickly."
"I arrived again in Beijing with a crew on the day Hu Yaobang died to make a documentary about youth culture in China for Dutch television and we recorded everything. For us, it was a coincidence that we arrived exactly at that moment, and we saw more and more international press arriving while we were filming all along. We only later realised how big this event actually was. It was one big roller coaster."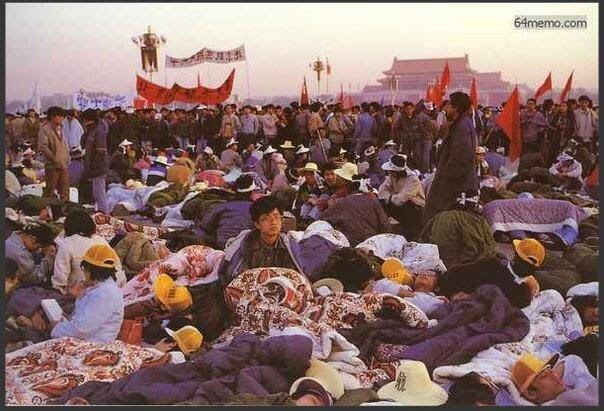 Picture of Tiananmen square protests, 15 May 1989 (source).
"We were staying at the Peking University campus, and saw more and more trucks coming and going with students hopping on to go to Tiananmen Square. If I had to compare it with anything, I'd say it was like Woodstock – a bizarre hopeful and loving vibe was capturing Beijing. I absolutely loved it, and I was one of the hundred-thousands of people standing on Tiananmen. We would go there all the time, also in the middle of night, and all my friends from the music scene would also be there to provide entertainment to the students who stayed there."
"Cui Jian's Tiananmen performance was legendary. His songs also made sense, singing about 'I've got nothing to my name' [see song translation]; he voiced the feelings many had the time. But there were a lot more people there who made music, there were many from the art and music scene. Students were even setting up a Statue of Liberty on Tiananmen. It was one big party."
"At a certain point I realized that things were going the wrong way; things started to get dirty, literally, and I was too caught up – although I wasn't politically involved at all. It was just that there were many cute girls and it was all so rock 'n roll, and I enjoyed it, but I got it all wrong. People started getting tired and not much was really happening. The height of the moment was gone. The same familiar faces were appearing in the media and the atmosphere changed. We decided to go to Shanghai by the end of May to further work on our documentary there."
(Image by New York Times.)
"It was night in Shanghai, on June 4th, when there was a quiet procession throughout Nanjing Avenue with people carrying big posters. On the trees we saw stapled faxes with images that had gotten through via Hong Kong about what had happened in Beijing. We saw dead people and burnt soldiers. I almost couldn't believe it – that such a peaceful and care-free time had turned into such a dark thing. We did not return to Beijing afterwards, as we had nothing to do there anymore. People from the Dutch embassy in Beijing went to the campus to collect our photos and films to make sure they were safe. The army had taken over the city. There was no more music, no more nothing."
"In those last months of 1989 and in the early nineties I went back to Beijing, but things had changed a lot – especially in the music scene. There were a lot of wild parties, but everything had become more underground. Many musicians endured hard times during those days."
AFTER THE EIGHTIES
"Many of the guys from those days have gone mad."
Beijing musicians at funeral of bassist Zhang Ju of band Tang Dynasty (founded by Kaiser Kuo with Ding Wu and Zhang Ju in 1988). Zhang died in a motorcycle accident in 1995. From left: Zhang Ling (Mayday), Zhu Jia, Zhou Ren (Xiutie/Pork), Jin Hai, Li Ji (Budaoweng) and Li Jie. Photo by Gao Yuan).
"People living in a dictatorship develop techniques to know the margins within which they can operate. In the early nineties, I noticed that the guys in the music scene somehow always knew when their friends were getting out of prison. Or when they could organise a party. It was also the time when Ecstacy came up – it was called  yáotóuwán (摇头丸) in Chinese, literally: 'shake-head-pill', 'cause it made their heads shake."
"It seems like not many people were able to pick up the music vibe where it had left off before those dark days in 1989. Some just couldn't get on with the changing times, others were on drugs. Not many were arrested, but there were a lot of them who had to lay low for a long time after 1989. Zhang [Ado drummer] committed suicide last year. He Yong is now either imprisoned or in a mental hospital. Many of the guys from those days have gone mad or suffered a severe setback after their moment in those early flourishing days of rock had passed."
"Now the music scene seems to be somewhat blooming again. Beijing really has got some good bands. Shanghai has got a nice jazz scene. But there is no solid base for these bands to build on. Japan and Korea are far ahead of China when it comes to the music scene. In China's music scene, people are more individualistic – they are staring at the ground when you want to find the groove together. If everyone is only looking to do their own thing and don't work together, you don't get that music to the next level."
"After living in China, I continued my own musical career in the Netherlands as a musician and producer. China never really influenced my career back home. But I did once produce a song in Chinese for Dutch singer Brigit Schuurman. I still go back to Beijing and get on stage every now and then. Last year I performed in Yugong Yishan together with Li Ji (Jige) from the band Budaoweng (不倒翁). I'm also working on recording a duet between Shanghai musician and friend Coco Zhao and my wife [Dutch singer Monique Klemann]."
Den Hengst in Beijing in 2015 with good friend and fellow musician Li Ji (aka Jige) on his right and two Taiwan friends from the rock scene.
"I will go back again this Summer and I will perform again. Somehow I always get that same nostalgic feeling I had in the Spring of 1989 when I walk on the streets of Beijing – that feeling of freedom, that anything's possible."
Den Hengst dressed in full attire for Hardrock Karaoke (left) and on the right during live performance. In the featured image, Den Hengst is performing at Yugong Yishan in 2015.
This interview was conducted and condensed by Manya Koetse in Amsterdam.
Follow @WhatsOnWeibo
©2016 Whatsonweibo. All rights reserved. Do not reproduce our content without permission – you can contact us at info@whatsonweibo.com.
'American Factory' Sparks Debate on Weibo: Pro-China Views and Critical Perspectives
'American Factory' stirs online discussions in China.
Award-winning documentary American Factory is not just sparking conversations in the English-language social media sphere. The film is also igniting discussions in the PRC, where pro-China views are trumpeted, while some critical perspectives are being censored.
By Anna Wang and Eduardo Baptista
Even as China posts its lowest industrial output growth since 2002, Weibo's ongoing reaction to Netflix documentary American Factory is rife with declarations of the Chinese manufacturing sector's impending victory over its US rival. This, however, is not the full story.
The first documentary distributed by Higher Ground Productions, owned by former US President and First Lady, Barack and Michelle Obama, American Factory painted a damning picture of Trump's protectionist policies.
US manufacturing cannot keep up with the brute efficiency of its Chinese competitors. The story of a shuttering American factory revived by Chinese investment and an influx of Chinese workers, opening up a Pandora's Box of cultural clashes, paints a telling, but pessimistic, picture of the current strategic conflict between the two superpowers, from the ground-up.
Despite the Great Firewall, Chinese netizens found ways to watch the documentary, that was made by Ohio filmmakers Steve Bognar and Julia Reichert. Temporary links to streaming and subtitle services litter the Chinese Internet, making any accurate count of total mainland viewership nigh-impossible. However, one indication of the film's popularity among mainlanders was the 259,000 views for a trailer posted on Bilibili.
One likely reason for netizens' interest is that it neatly plays into Chinese state media rhetoric on the US-China trade war.
The inevitability of China's rise up the global supply chain (and a corresponding decline on the US side) is a recurring theme in opinion pieces penned by the likes of Xinhua and Global Times, but also an increasingly louder cacophony of bloggers.
"American Factory shows that the US will probably lose out to China in manufacturing."
One Chinese company (Wind资讯) posted on Weibo that "what Obama means in this film, in a very oblique way, is that anti-globalization will produce a lose-lose scenario."
The official Weibo account of Zhisland, a Chinese networking platform for entrepreneurs around the world (@正和岛标准) posted a review of the Netflix film titled: "Behind the Popularity of American Factory: Time Might Not Be on America's Side" ("《美国工厂》走红背后:时间,或许真的不在美国那边了").
It warns the audience right off the bat to "not assume that this film will promote cooperation between China and the United States. In contrast, it will surely stir up mixed feelings among both audiences."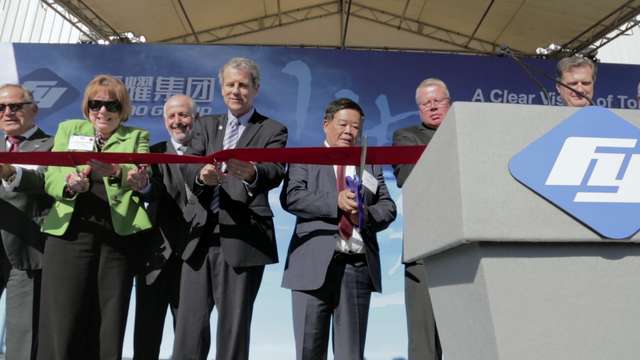 "American Factory shows that the US will probably lose out to China in manufacturing," Zhisland writes. The article argues that China will win out due to its lower labor costs, lack of trade unions, and more disciplined managerial styles. "It's an uneven playing field," the author continues: "Time may not be on America's side."
Toward the end, the author claims: "We are about to enter a new era in which China will gradually become the most dominant player in the global marketplace."
The fact that many on Weibo shared these kinds of pieces as a reaction to the documentary suggests there is confirmation bias at work here. As is common on Weibo and other social media, comments on the pieces like the above simply rattle unsubstantiated claims, frequently descending into ad hominems.
Another Weibo user (@用户Mr.立早) adds comments when sharing the above article: "The American workers repeat Trump's mantra, but won't act on it. They've been idling for almost a century. They're hopeless."
"American Factory tells you: separate the US economy from China, and the US will go bankrupt."
Chinese state media also chimed in on how American Factory proved their most important talking points on the ongoing US-China trade conflict.
Xinmin Evening News, an official newspaper run by the Communist Party's Shanghai Committee, published an article by Wu Jian called "American Factory Tells You: Separate the US Economy from China, and the US Will Go Bankrupt" ("《美国工厂》告诉你:将美国经济从中国分离,美国会破产").
In this piece, Jian claims that "in the age of globalization, ties between China and the US cannot be cut. Using high tariffs to force U. S. manufacturing return to the States… is simply not realistic. Separate the US economy from China, and the U.S. will go bankrupt."
The article was also shared widely on Weibo. Thepaper.cn, an online news site affiliated with Shanghai United Media Group, published a review titled "American Factory: The Things that Are Spelled Out and the Things that are Implied" ("《美国工厂》:那些说出来的,和没有说的").
The author, Xu Le, writes: "What struck me most about the film was the look on the faces of the American workers. All of them … had the same burnt-out expression… Their faces reminded me of photos of people in the late Qing Dynasty. That dull expression reflects a civilization in decline."
In the film, When American foremen visit a factory run by glass manufacturer Fuyao in China, they are alarmed to see Chinese workers picking up glass shards without safety glasses or cut-resistant gloves.
Xu comments: "Why is it that Chinese workers are able to put up with even more drudgery while being paid far less than their American counterparts? This is something we Chinese are very familiar with."
"Are you the glory, or are you the cost of the glory?"
Qin Hui, professor of history at Tsinghua University, once argued that China's economic growth isn't because of economic liberalism or government oversight, but because of China's refusal to guarantee certain basic human rights.
In Maoist China, the state stripped the underprivileged of all political power in the name of the greater good dictated by socialist dogma. Post-Mao China continues to exploit the underprivileged, but now for monetary gain. He called it China's "advantage" of "low human rights."
Despite the nationalism sentiment fanned by American Factory, it has also provoked reflection on China's advantage of low human rights summarized by Qin Hui.
Weibo user 'Zhi21' (@ZHI2i), a recent college graduate, writes on Weibo: "I just finished an internship at a factory. I worked 12 hours a day. More than 11 hours of every shift was spent on my feet without stopping, just to keep up with the assembly line. It didn't make sense to me. After watching American Factory, I feel like American workers are lucky to only work 8 hours a day. That's why the production costs are higher in the States. They pay too much attention to whether or not workers are comfortable."
Another Weibo blogger (@GhostSaDNesS) notes that "in American Factory, Fuyao employees believe that to work is to live. They defend the interests of capitalists while they are actively exploited. Unions in the West chose human rights, Chinese capitalists chose profit, and Chinese workers have no choice at all."
Some of these posts were apparently censored; threads that displayed as having over 200 comments only showed 12, and users complained that their posts were being deleted or made invisible to other users by Weibo censors. "They didn't give any explanation," one blogger wrote: " I only expressed that I felt sorry for the people at the bottom. I didn't question the system. I didn't ask to change society."
Views like that of @Crimmy_Excelsior ("I was confused. Which country is the capitalist one and which country is the socialist one?") are apparently sensitive enough to be taken offline – they touch upon the tension between the CCP's espousal of Marxist-Leninism and the plight faced by hundreds of millions of Chinese that have their working conditions driven down by capitalist markets.
Many users don't buy into nationalist interpretations of the film, and argue that economic gain achieved at the expense of human rights is shameful. @陈生大王 raises a poignant question: "This is a glorious time for China, but I hope this film inspires you to think about who you really are as an individual. Are you the glory, or are you the cost of the glory?"
"The cost of the glory" is derived from a quip popular on China's internet. The Chinese government often urges its citizens to rally together, using the rhetoric, "We must win this trade war at all cost." Some netizens then twisted the phrase, saying, "We must win this trade war at all cost, and we later find out that we are the cost."
"China's prosperity did not just happen overnight – Chinese people worked hard to make it happen."
Even among those in favor of China's controversial work ethics, there have been concerns over the status quo. Earlier this year, engineers in the tech industry publicly aired their grievances about their "996" lifestyle. The term refers to a high-pressure work schedule of 9am to 9pm, six days a week. This is the kind of life workers in Fuyao are living, with no hope of improvement – they are that the company would find a replacement in no time, making any form of complaining moot.
Recent events in mainland China only increase the credibility of this representation. Factory workers at Jasic, a maker of welding machinery in Shenzhen, attempted to start a union last year. All those involved were fired. A number of college students and activists who actively supported the workers were detained and persecuted.
According to the "China Labor Movement Report (2015-2017)" by China Labor Bulletin (a NGO based in Hong Kong that promotes and defends workers' rights in the People's Republic of China) "intensification of social conflicts, including labor-capital conflicts, has crossed a tipping point, and directly threatens the legitimacy of the regime."
More conspicuously, there are netizens that don't buy the narrative that Chinese workers are innately "tougher" than their American counterparts. As user @胡尕峰 observes: "(In the film), a new Chinese CEO explains to his fellow Chinese that Americans have been encouraged too much growing up, and can't take criticism. Chinese born after 2000 have been raised the same way! In my circle of friends, some mothers nearly faint when their babies are finally able to poop. Is China going to end up the same as America?"
American Factory's objective portrayal of cultural shocks between American and Chinese workforces clearly generated thoughtful reflections and incisive criticism from a sizeable number of netizens, while also being another reason for Chinese state media to highlight the rise of China in the global market.
The chairman of Fuyao Group, Cao Dewang, made headlines this week with the quote: "China's prosperity did not just happen overnight – Chinese people worked hard to make it happen." "We indeed worked hard for it," some commenters agreed: "That's definitely true."
By Anna Wang and Eduardo Baptista
Follow @whatsonweibo
Edited by Eduardo Baptista
Spotted a mistake or want to add something? Please let us know in comments below or email us. Please note that your comment below will need to be manually approved if you're a first-time poster here.
©2019 Whatsonweibo. All rights reserved. Do not reproduce our content without permission – you can contact us at info@whatsonweibo.com
Famous Chinese Nursery Song "One Penny" Inflates to "One Yuan"
One penny becomes one yuan in this children's song. What's next – changing it to QR codes?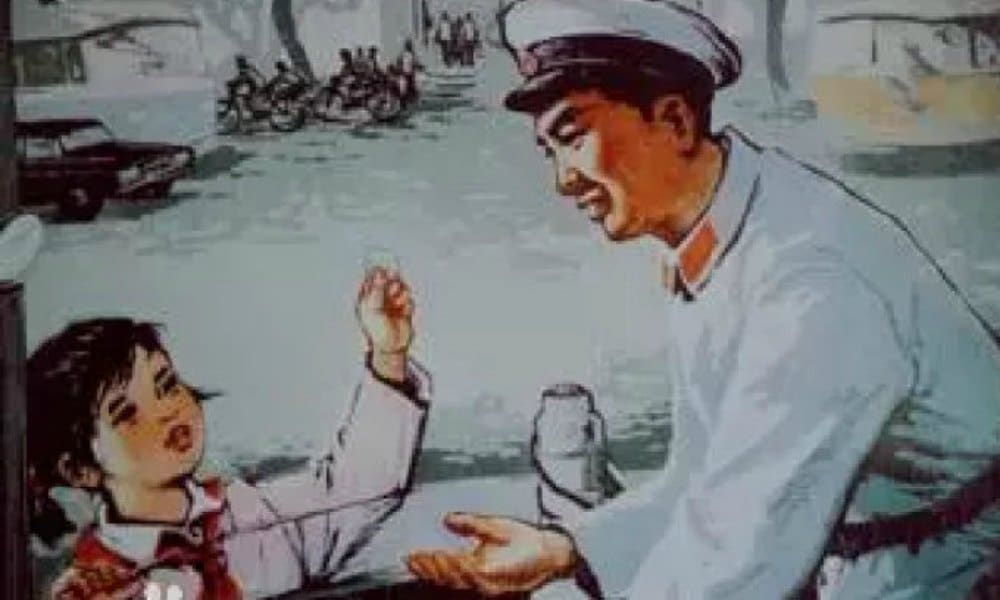 Famous Chinese children's song "One Penny" (一分钱) has changed its penny to a Chinese yuan ($0.15).
The lyrics to the song are now published online and in children's books with the different lyrics, Chinese news platform City Bulletin (@都市快报) reports on Weibo.
The classic song, in translation, says:
"I found a penny on the street,
And handed it over to Uncle Policeman.
The Uncle Policeman took the penny,
And nodded his head at me.
I happily said: "Uncle, goodbye!"
The song, by Chinese composer Pan Zhensheng (潘振声), is known throughout China. It came out in 1963.
Apparently, in present-day China, nobody would go through so much hassle for a penny anymore, and so the text was altered (although it is very doubtful people would go through the trouble for one yuan either).
The penny coin (0.01) in renminbi was first issued in 1957, and is somewhat rare to come across these days. "It's probably even worth more than one yuan now," some netizens argue.
Chinese media report that composer Pan Zhensheng said the song is just an innocent children's song, and that it should not be affected by price inflation. Sina News also quoted the composer in saying that changing the text is "not respectful."
Although some Chinese netizens think the change in the song is just normal modern development, others do not agree at all. In Hangzhou, some say, all you can find on the streets nowadays is QR codes rather than coins. Surely the song should not incorporate those new developments either?
Some commenters on Weibo say the song would never be realistic in China's current cashless society anyway: "Kids nowadays are not finding cash money at all anymore!"
By Manya Koetse
Follow @whatsonweibo
Spotted a mistake or want to add something? Please let us know in comments below or email us. Please note that your comment below will need to be manually approved if you're a first-time poster here.
©2019 Whatsonweibo. All rights reserved. Do not reproduce our content without permission – you can contact us at info@whatsonweibo.com