The Early Days of Rock in China – Interview with Sinologist & Hardrocker Jeroen den Hengst
From copied tapes to a unique rock scene – Jeroen den Hengst was part of the Beijing rock scene when it first awakened.
Dutch Sinologist and musician Jeroen den Hengst was part of the Beijing rock scene when it awakened in the late 1980s. Nearly three decades later, Den Hengst looks back on the early days of rock in China – before, during and after the Tiananmen protests – and talks about the music scene in Beijing and his personal path from young Sinologist to serious hardrocker.
When I notice some glitters sparkling on Den Hengst's face as I meet him in downtown Amsterdam in early Spring, he nonchalantly brushes them off. He was performing the night before, he tells me.
Den Hengst is the host and guitar player of Amsterdam's Hardrock Karaoke, which has become quite a phenomenon in Amsterdam and beyond. We sit down, order a beer and talk about Den Hengst's musical journey that started in the early days of China rock.
FIRST STEPS ON THE MAINLAND
"There was simply no access to pop music. I had brought forty cassette tapes with music to China; they were copied hundreds of times."
"I arrived in China in September 1987 when the famous Beijing musician Cui Jian (崔健) was just getting big. I came to China to study at Peking University as part of my Sinology studies at Leiden University, but soon ended up more in the Beijing music scene than I was in class," Den Hengst tells:
"I never used to be a really good student – music was always my true passion. I had also played in bands throughout high school. But I was very interested in China. I had to learn its history for my final high school exams. The language intrigued me. So I started studying it at university and had already finished my third year when I arrived in Beijing. I soon discovered I couldn't even properly order food, despite studying the language. It was my first time in China."
"Singer Cui Jian got together at the time with Eddy [Randriamampionona] from Madagascar and drummer Zhang [Yongguang]. They would perform in Ritan Park with their band Ado. I would go there, and found out that there were quite some young people making music."
"Zang Tianshuo (臧天朔) would also play there, and I became acquainted with Chinese rock musician He Yong (何勇), who later became well-known with his album Garbage Dump (垃圾场). I knew all of them, it was just a small bunch of people in that scene. Especially the foreigners in Beijing knew each other at the time – there were not that many, and if there was something happening we just knew it through word of mouth."
Singer He Yong in early 1990s (Xinhua).
"I started frequenting these sort of performances and would join on stage every now and then, as I did with the band Mayday (五月天), in which He Yong also played. They had all just started playing and had zero background knowledge in pop music as there was simply no access to that kind of music. I had brought forty cassette tapes with me to China; they were copied hundreds of times. Before I knew it I was hanging out with these guys days on end, recording songs in the studio. They would also make cassette tapes with Toto music, for which I would do the singing. I would get 500 kuai [±80$] for it, which got me through another month. I lived on the campus anyway, and did not need much to get by."
"I've always felt very welcome, and our interest was mutual. I wanted to play music with them, and they needed a guitar player. The fact that I was foreign didn't matter – we were all equals. I stopped going to Chinese classes at university, but in the meantime, my Chinese was improving every day because I was talking to my new friends. I once went back to class in the second semester and discovered I was ahead of the others. By then I couldn't just properly order food – I was talking Chinese the whole time."
THE EARLY DAYS OF ROCK IN CHINA
"The years from 1986-1989 were the blossoming days for rock music – those were the days of liberation."
Heibao band members (Zhihu).
"The years from 1986-1989 were the blossoming days for a new type of music in China, but it was more than that: those were the days of liberation. Everybody thought: we're opening up, we're becoming modern. It was the build-up to the student movement of '89. Rock music was a big part of it."
"The late '80s were not necessarily the beginning of pop music in China, as you also had music by Chinese pop queen Teresa Teng and others which was popular before that time. But the rock scene provided a different sound – it was not as sweet as Teresa Teng, and it was influenced by the cassettes that were passed around, which included sounds by Toto, The Police, Bob Marley, and other artists. The difference between pop and rock is lifestyle; it was no music for the millions, it was a hip and alternative scene."
"The 'rock scene' maybe consisted of 30 to 40 people. Cui Jian played an important role in those early days of rock. For many young adults, he was that critical voice against the authorities. He was very good with language, and also used Chinese instruments in his music. He really knew how to do it. Nobody ever surpassed him in that way."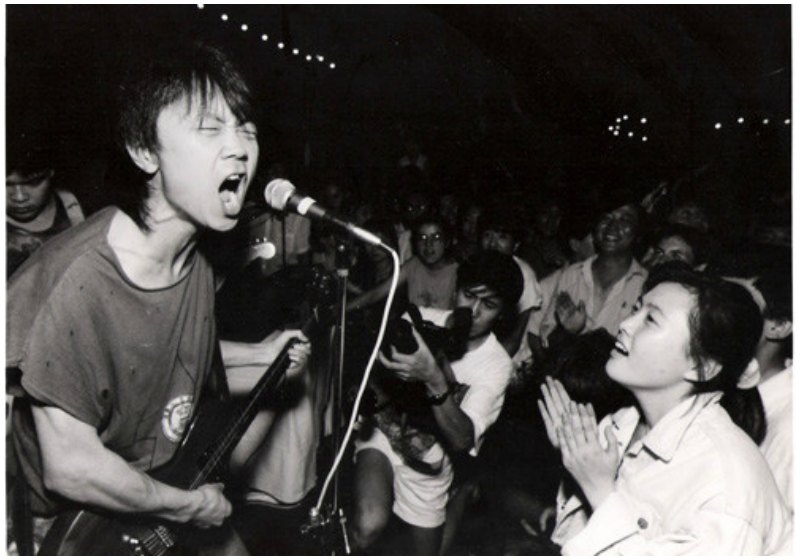 Cui Jian in 1990.
"Many musicians of those days were part of danwei's [work units] focused on dance and music. Most of them were able to play a traditional Chinese instrument. They all came from a musical environment, but their power was to give those Chinese musical influences a new twist and combine them with the music that came in via Europe or America. In the music from those days, you can clearly hear what they listened to. Part of it is coincidence; Cui Jian sometimes only sounds like The Police because that was the cassette tape that happened to be available to him, while others weren't."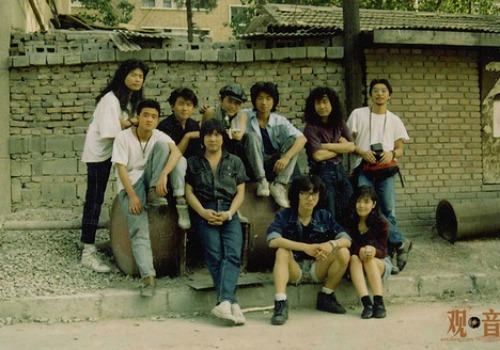 The Heibao band 黑豹乐队 (image from my.isself).
"Heibao (黑豹乐队, Black Panther) was a band that was also formed at the time. They later became the best-selling mainland Chinese rock band ever. More people started engaging with the rock scene. The simple core value in the beginning was that everyone just wanted to make music. Those were the free days. We would hang out together in the studio and if we went out we would hop on our bikes and cycle through the city. The streets were pretty empty. Looking back, I mainly remember that feeling of freedom and spontaneity. "
THE TIANANMEN MOVEMENT
"The army had taken over the city. There was no more music, no more nothing."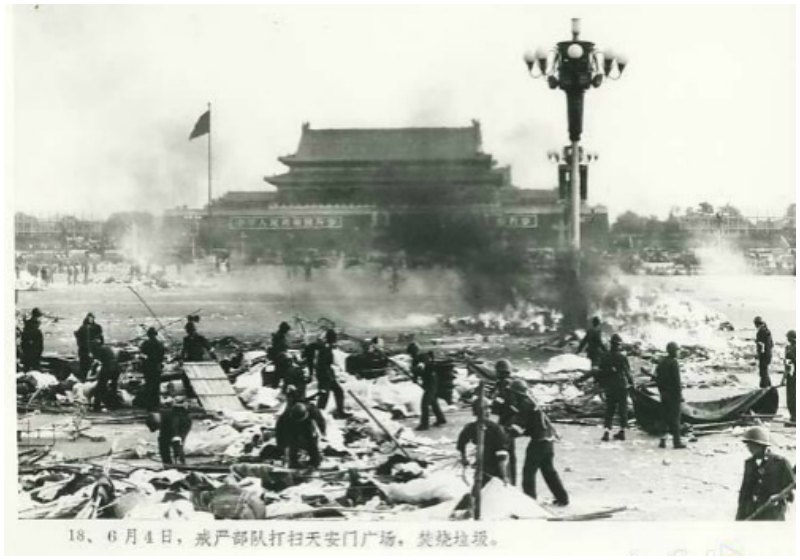 The aftermath: cleaning up Tiananmen Square, June 1989.
"I lived in Beijing throughout 1987-1988 and then went back in 1989. The liberal politician Hu Yaobang died in April 1989 and everyone mourned his death because he was a reformer who inspired people – he was, amongst others, against corruption. He was very popular amongst Chinese students. University students in Beijing went through the city in a procession to honour him and then the slogans started coming against corruption. It became political very quickly."
"I arrived again in Beijing with a crew on the day Hu Yaobang died to make a documentary about youth culture in China for Dutch television and we recorded everything. For us, it was a coincidence that we arrived exactly at that moment, and we saw more and more international press arriving while we were filming all along. We only later realised how big this event actually was. It was one big roller coaster."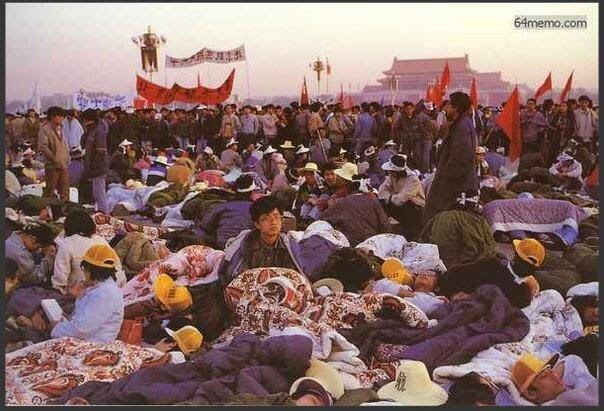 Picture of Tiananmen square protests, 15 May 1989 (source).
"We were staying at the Peking University campus, and saw more and more trucks coming and going with students hopping on to go to Tiananmen Square. If I had to compare it with anything, I'd say it was like Woodstock – a bizarre hopeful and loving vibe was capturing Beijing. I absolutely loved it, and I was one of the hundred-thousands of people standing on Tiananmen. We would go there all the time, also in the middle of night, and all my friends from the music scene would also be there to provide entertainment to the students who stayed there."
"Cui Jian's Tiananmen performance was legendary. His songs also made sense, singing about 'I've got nothing to my name' [see song translation]; he voiced the feelings many had the time. But there were a lot more people there who made music, there were many from the art and music scene. Students were even setting up a Statue of Liberty on Tiananmen. It was one big party."
"At a certain point I realized that things were going the wrong way; things started to get dirty, literally, and I was too caught up – although I wasn't politically involved at all. It was just that there were many cute girls and it was all so rock 'n roll, and I enjoyed it, but I got it all wrong. People started getting tired and not much was really happening. The height of the moment was gone. The same familiar faces were appearing in the media and the atmosphere changed. We decided to go to Shanghai by the end of May to further work on our documentary there."
(Image by New York Times.)
"It was night in Shanghai, on June 4th, when there was a quiet procession throughout Nanjing Avenue with people carrying big posters. On the trees we saw stapled faxes with images that had gotten through via Hong Kong about what had happened in Beijing. We saw dead people and burnt soldiers. I almost couldn't believe it – that such a peaceful and care-free time had turned into such a dark thing. We did not return to Beijing afterwards, as we had nothing to do there anymore. People from the Dutch embassy in Beijing went to the campus to collect our photos and films to make sure they were safe. The army had taken over the city. There was no more music, no more nothing."
"In those last months of 1989 and in the early nineties I went back to Beijing, but things had changed a lot – especially in the music scene. There were a lot of wild parties, but everything had become more underground. Many musicians endured hard times during those days."
AFTER THE EIGHTIES
"Many of the guys from those days have gone mad."
Beijing musicians at funeral of bassist Zhang Ju of band Tang Dynasty (founded by Kaiser Kuo with Ding Wu and Zhang Ju in 1988). Zhang died in a motorcycle accident in 1995. From left: Zhang Ling (Mayday), Zhu Jia, Zhou Ren (Xiutie/Pork), Jin Hai, Li Ji (Budaoweng) and Li Jie. Photo by Gao Yuan).
"People living in a dictatorship develop techniques to know the margins within which they can operate. In the early nineties, I noticed that the guys in the music scene somehow always knew when their friends were getting out of prison. Or when they could organise a party. It was also the time when Ecstacy came up – it was called  yáotóuwán (摇头丸) in Chinese, literally: 'shake-head-pill', 'cause it made their heads shake."
"It seems like not many people were able to pick up the music vibe where it had left off before those dark days in 1989. Some just couldn't get on with the changing times, others were on drugs. Not many were arrested, but there were a lot of them who had to lay low for a long time after 1989. Zhang [Ado drummer] committed suicide last year. He Yong is now either imprisoned or in a mental hospital. Many of the guys from those days have gone mad or suffered a severe setback after their moment in those early flourishing days of rock had passed."
"Now the music scene seems to be somewhat blooming again. Beijing really has got some good bands. Shanghai has got a nice jazz scene. But there is no solid base for these bands to build on. Japan and Korea are far ahead of China when it comes to the music scene. In China's music scene, people are more individualistic – they are staring at the ground when you want to find the groove together. If everyone is only looking to do their own thing and don't work together, you don't get that music to the next level."
"After living in China, I continued my own musical career in the Netherlands as a musician and producer. China never really influenced my career back home. But I did once produce a song in Chinese for Dutch singer Brigit Schuurman. I still go back to Beijing and get on stage every now and then. Last year I performed in Yugong Yishan together with Li Ji (Jige) from the band Budaoweng (不倒翁). I'm also working on recording a duet between Shanghai musician and friend Coco Zhao and my wife [Dutch singer Monique Klemann]."
Den Hengst in Beijing in 2015 with good friend and fellow musician Li Ji (aka Jige) on his right and two Taiwan friends from the rock scene.
"I will go back again this Summer and I will perform again. Somehow I always get that same nostalgic feeling I had in the Spring of 1989 when I walk on the streets of Beijing – that feeling of freedom, that anything's possible."
Den Hengst dressed in full attire for Hardrock Karaoke (left) and on the right during live performance. In the featured image, Den Hengst is performing at Yugong Yishan in 2015.
This interview was conducted and condensed by Manya Koetse in Amsterdam.
Follow @WhatsOnWeibo
©2016 Whatsonweibo. All rights reserved. Do not reproduce our content without permission – you can contact us at info@whatsonweibo.com.
When a Scene from a 2010 Chinese TV Drama Goes Viral: The 'Cao Cao Flips Rice Bowl' Meme
Cao Cao flipping the rice bowl is another Cao Cao meme that's widely used to convey internal struggles about facing reality.
These days, a viral meme originating from the Chinese TV series Three Kingdoms (三国) has gained significant traction on Chinese social media.
In a memorable scene from the 2010 series, Cao Cao, a prominent warlord in Chinese history played by actor Chen Jianbin (陈建斌), angrily flips his rice bowl upon receiving news of a surprise attack, only to gather the spilled rice back into the bowl later.
This scene featuring an enraged Cao Cao has resurfaced and struck a chord with individuals reluctantly facing reality.
This short scene from the 2010 Chinese historical drama "Three Kingdoms" – in which Cao Cao angrily flips over his rice bowl on the table and then shortly after puts it all back in the bowl – has gained significant traction on Chinese social media recently. pic.twitter.com/DrM3Xgi35F

— What's on Weibo (@WhatsOnWeibo) June 3, 2023
Turning into a popular meme, Cao Cao flipping the rice bowl has become widely employed to convey sentiments of self-inflicted humiliation or the hesitation to undertake certain actions.
The Context of the Scene
The specific scene comes from episode 12 of the Three Kingdoms. Warlord Cao Cao, who is governor of Yan Province, is enjoying his meal when his advisor comes in to inform him about a surprise attack by Chinese military general Lü Bu (吕布), capturing almost the entire province.
Upon receiving this alarming report, Cao Cao's anger flared, and he promptly flipped his rice bowl upside down on the table, an act now commonly referred to as "Cao Cao flips the rice bowl" (曹操盖饭).
Cao Cao's anger was intertwined with disbelief at Lü Bu's audacity to execute such a daring attack. Cao Cao's advisor swiftly clarified that the mastermind behind the attack was Lü Bu's strategist, Chen Gong (陈宫), who was also renowned as a brilliant strategist during the Three Kingdoms era.
As he grasped the true situation, Cao Cao gradually regained his composure and meticulously gathered the spilled rice back into his bowl – an act now known as "Cao Cao retrieving his bowl of rice" (曹操撤回了一碗饭),- before resuming his meal.
The catchphrase that is used to describe Cao Cao retrieving his rice utilizes the word "chèhuí" (撤回), which means "to recall" or "to retract." It can be understood as "Cao Cao recalled his bowl of rice," drawing a parallel to the recall function in WeChat that allows users to retract or cancel a message after it has been sent.
How To Use the Meme
The contrast between the forceful act of flipping the rice bowl and the subsequent unwillingness and silence displayed while putting the scattered rice back into the bowl is a key factor contributing to the meme's viral nature on the internet.
Netizens have creatively applied Cao Cao's meme in various situations to express their own internal struggles or a sense of self-inflicted humiliation they experience (自己打自己脸).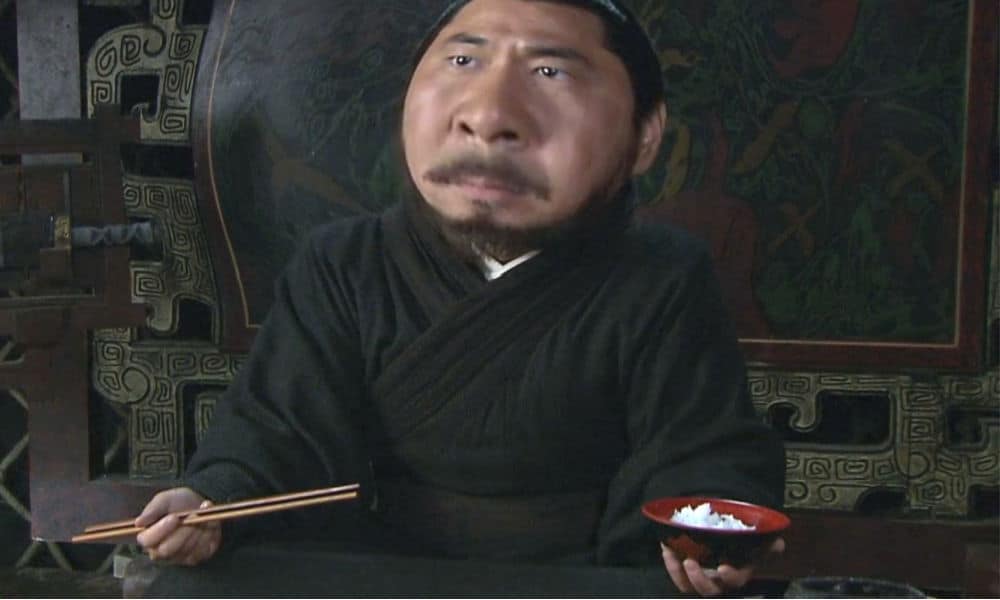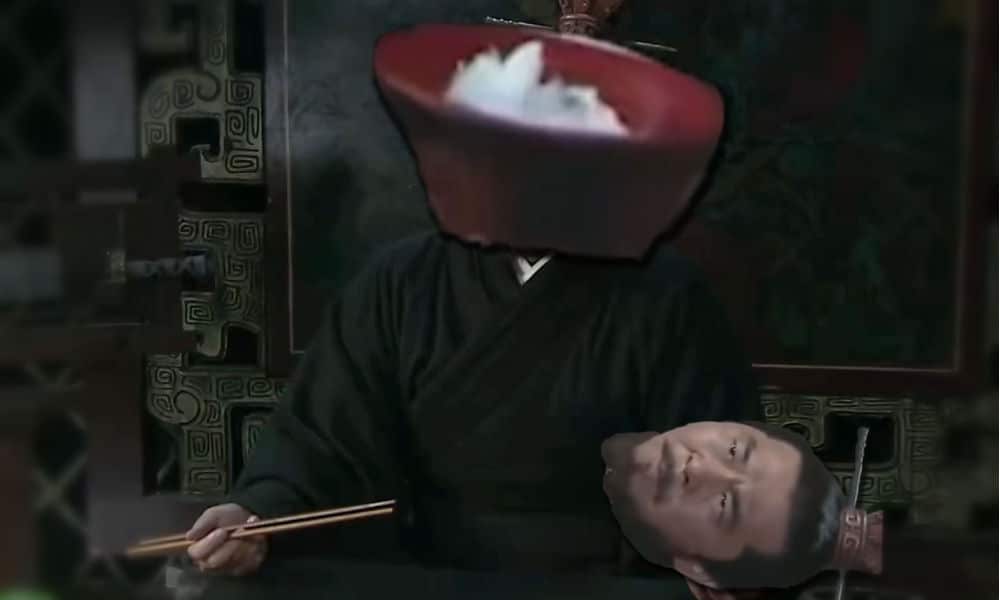 For instance, the meme effectively captures the feelings of both white-collar workers and students who utilize the "Cao Cao flips the rice bowl" meme on Fridays. On this day, they express their frustration with the demanding work week and their eagerness to leave their tasks behind.
On Friday it's f*ck this job… pic.twitter.com/S8cHTQOzgX

— What's on Weibo (@WhatsOnWeibo) June 3, 2023
However, the arrival of Monday brings a sense of reality as they realize the necessity of returning to the office or school. The "Cao Cao retrieves his bowl of rice" meme is then employed to represent the unavoidable resumption of their daily routines.
…on Monday, it's back to work… pic.twitter.com/ST1v8eqjyq

— What's on Weibo (@WhatsOnWeibo) June 3, 2023
In this regard, the meme is somewhat comparable to the English "F*ck This Job, *Goes to Work*" meme (link).
"Not Possible, Absolutely Not Possible"
It is not the first time for Three Kingdom's Cao Cao to achieve viral status through memes.
Prior to the emergence of the 'Cao Cao flips/retrieves the rice' meme, Cao Cao was already well-known for another meme phrase: "Not possible, absolutely not possible" ("不可能,绝对不可能").
This meme originated from a scene where Cao Cao received news of Liu Bei's rebellion, immediately after confidently asserting that Liu Bei, another major warlord, would never betray him.
The meme captures the essence of self-deception and the unwillingness to accept the truth. Similar to the current popular meme, this meme is often used to depict situations where someone unintentionally exposes their own flaws or contradicts their previous statements, symbolizing a self-inflicted "slap in the face."
Read more of our articles about memes in China here.
By Zilan Qian
Get the story behind the hashtag. Subscribe to What's on Weibo here to receive our newsletter and get access to our latest articles:
Spotted a mistake or want to add something? Please let us know in comments below or email us. First-time commenters, please be patient – we will have to manually approve your comment before it appears.
©2023 Whatsonweibo. All rights reserved. Do not reproduce our content without permission – you can contact us at info@whatsonweibo.com.
Fandom Meets Matrimony: Sea of Brides at Roy Wang's Concert as Female Fans Show Up in Wedding Gowns
After showing up as brides at Roy Wang's concert, some female fans attempted to return their gowns within the store's 7-day 'No Questions Asked Return Policy'.
A recent concert by Chinese celebrity Roy Wang (Wang Yuan 王源) has become a hot topic on Chinese social media as female fans attending the show collectively decided to wear wedding dresses to express their love for the singer.
Born in 2000, Roy Wang is best known as a member of the hugely popular TFboys idol group that debuted in 2013, but his solo career has also been thriving for years. Wang is an award-winning musician, who is now among China's most influential young celebrities. On Weibo, he has nearly 85 million followers.
The sight of so many fans coming to Wang's Chongqing concert wearing wedding dresses was already remarkable, but it garnered even greater attention when it turned out that some of the women's boyfriends were so upset over their girlfriends wearing a wedding dress for another man that they ended the relationship because of it.
On Douyin (China's TikTok), the related discussion made it to the top 5 trending daily topics list.
The story gained further traction when reports emerged that some female fans who had recently purchased wedding dresses for the concert attempted to return them to the store the next day, taking advantage of the store's policy that allows returns within seven days without requiring a specific reason (7天无理由退货).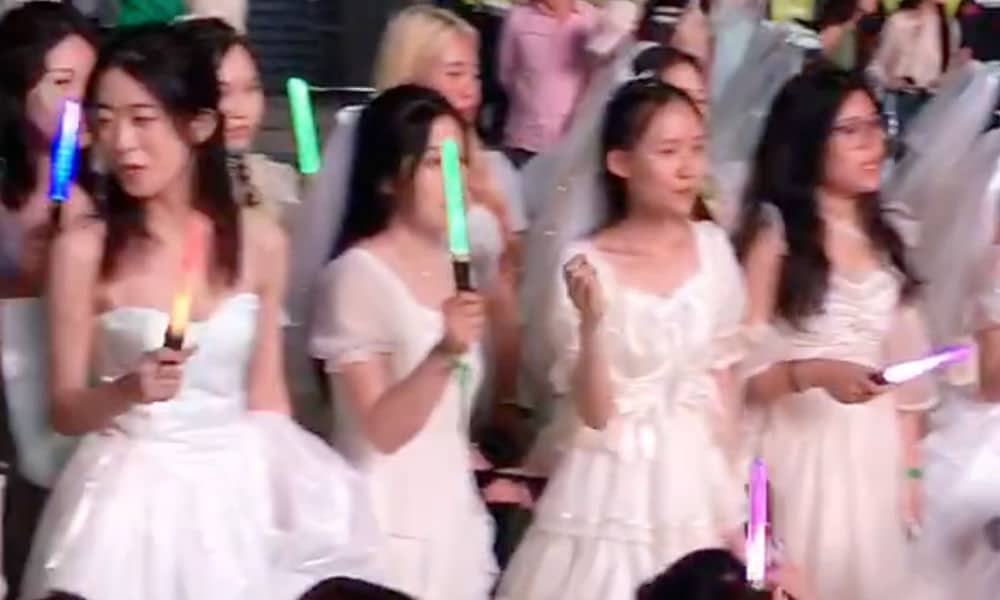 "I already wondered why business was suddenly booming," one Chongqing wedding gown seller wrote on social media, complaining how the return policy was being abused by some of Roy Wang's fans.
Others saw the fact that they wore the wedding dress to the concert as a unique selling point, and tried to resell their gowns online for more than the original price, claiming that the dress still had "a hint of the concert's aroma."
Commenters bombarded these women with negative comments, as the topic also drew wider discussions on how far some fans are willing to go to show their love for their idols.
Some social media users expressed that a wedding dress has a symbolical or even sacred function, and that tying the concept of fandom to matrimony is inappropriate. They condemned the women for showing up to the concert as brides.
Given that many of the commenters criticizing the women were male, there were also feminist voices that condemned these men for their pettiness and chauvinistic attitudes. One comment stood out: "There will always be men whose ego is bruised when women they don't even know won't wear a wedding dress and save their chastity for them. Thanks to Roy Wang's concert, I once again realize the diversity of species."
In an online poll asking people "Can women only wear a wedding dress once in their lives" (#女生一生只能穿一次婚纱吗#) the majority of people replied that they should just wear whatever they like.
"My first thought is that this is romantic," one popular entertainment blogging account (@娱大蜀黍) wrote: "My second thought is that it's actually quite moving. In the midst of their youth, they are writing a passionate chapter for themselves. They will treasure it as a beautiful memory later on in life. They do what they love and they're not bothering anyone. It's perfectly fine."
By Manya Koetse & Miranda Barnes
Get the story behind the hashtag. Subscribe to What's on Weibo here to receive our newsletter and get access to our latest articles:
Spotted a mistake or want to add something? Please let us know in comments below or email us. First-time commenters, please be patient – we will have to manually approve your comment before it appears.
©2023 Whatsonweibo. All rights reserved. Do not reproduce our content without permission – you can contact us at info@whatsonweibo.com.
Subscribe to our newsletter
Stay updated on what's trending in China & get the story behind the hashtag
Sign up here to become a premium member of What's on Weibo today and gain access to all of our latest and premium content, as well as receive our exclusive newsletter. If you prefer to receive just our weekly newsletter with an overview of the latest, you can subscribe for free here.
Would you like to become a contributor, or do you have any tips or suggestions for us? Get in touch with us here.