China's High-Speed Railway: Netizens Praise Excellent Service
The personal account of one high-speed railway passenger went viral this week. His view: China's high-speed railway staff should be praised more, as their service has become better than that of developed countries.
The personal account of one high-speed railway passenger went viral this week. His view: China's high-speed railway staff should be praised more, as their service has become better than that of "developed countries".
One passenger posted his experiences with China's high-speed railway on Sina Weibo this week, praising the good service of its station and train staff. The story became one of the top trending Weibo posts of the day, with many netizens agreeing with the man that China's train services are high standing.
See the translation below for the full account of the man's story.
[box] "A few days ago I went on a business trip to Tianjin. Halfway there, at the Jinan stop, I stepped out to stretch my legs. I may have been too distracted, because I did not even hear the whistle blow. As a result, I saw the train slowly picking up speed right beside me. It took me five seconds to realise that it was actually my train that was leaving. Inside was my luggage, my computer, my mobile, and my wallet.
I stood there for a bit before I became clear-headed: I was left at the train platform! I arrived at the service desk somewhat depressed, and explained my predicament to the staff. While I was telling my story, I felt the young woman behind the service desk scrutinising me with her eyes.  She probably thought: this traveler looks quite normal, how could he be so stupid?
After she had heard my explanation, she asked me to wait and started to get in touch with the conductor of the train by calling internal inquiries. After she had traced down the number of the train manager, she explained the situation and handed me the phone. After they asked for my details, seat number and luggage, they told me they would take care of my things and hand them over to the staff at Beijing Station. Although I was going to Tianjin, the final stop of the train was Beijing.
I wanted to thank the staff after hanging up the phone. She told me to wait a bit, and again, helped me to get in touch with a conductor of the regular train service. Right then, a middle-aged woman came up to the service desk. She was crying so badly that she could barely speak. The staff asked her what the problem was, but not much came out. After a little while, when the woman had calmed down, we found out that her situation was quite simple: she had missed her train. According to what she told, she had already changed her train reservation twice, and missed it both times. The main reason was that it was her first time taking a high speed train, and she could not find the boarding gate.
The service staff seemed to relax after hearing the story. I understood why – when she first saw the woman crying like that, she probably thought there was something worse than just missing a train. This was easy to handle. The staff made another phone call and then looked at me, saying: "Hey mister, can I ask you for a favour?" I said: "I know, I can bring this lady to her train." She said: "It won't be such a hassle. You are on the same train, you just help her to your train." That sounded even more easier.
As I was walking with the lady to the train, she kept repeating to herself: "I feel so useless, that is why I cried." "Don't be so hard on yourself," I said: "You only couldn't find the train's boarding gate, that's all. Look at me, I frequently travel, and I suddenly found myself alone on a platform, having let the train go without me. Compared to you, I am the one who's muddle-headed." The woman smiled.
As we arrived at the train, the woman and I found the train manager. She already knew about the phonecall from the service desk, and understood our situation. I specifically explained that although my original destination was Tianjin, I needed to go to Beijing to pick up my luggage, and that if needed to, I would pay extra for my ticket. The conductor was a young woman, under the age of 28. She listened and wondered: "So why is your luggage not taken to Tianjin?" "This is what the conductor told me." "Wait a bit," she told me: "I will check for you."
Then, after another set of procedures (inquiring the number, contacting the conductor) she told me: "Your luggage will be send directly to Tianjin, and the station staff will hand it over to you there." She also comforted the woman, and told her not to worry at China's high-speed rail station, where she could always just look for some staff to help out. She then advised us to sit in the dining car.
When we were nearing Tianjin, the conductor came up to me and said: "I'll help you when getting off the train, to avoid you not being able to find any staff." As we arrived and got off, a young man was waiting for us with my computer bag in one hand, and my funny thermos flask in the other.
The whole event was so warm. Every staff member had their own duty, and went beyond their responsibility. The conductor of the later train I took had no reason to reach out to me like that. She only had to ensure that I could go on and could get off the train. But she also considered that it would be inconvenient for me to go to Beijing, and she helped me to arrange it. It was very considerate service.
When I told my friend of my experiences afterwards, he told me to write it down. It's good to praise our high speed railway staff; their service exceeds normal service and is at a high level. It is even better than that of developed countries. It's very good. I have also experienced this kind of service on foreign airlines. I had missed my flight and got good service. The core value: trying to solve the passenger's problems is no trouble.
This time, there was unexpected consideration and warmth, getting this kind of service in China for the first time.
[/box]
The story has been shared over 8700 times on Weibo.
For one netizen, the story is familiar: "I am one of those people who is sleeping when getting on the train, and peeing when getting off the train. One time I went from Guangdong to Shilong, and I only woke up in Pingchang. As a result… a beautiful train manager reassuringly smiled at me, and made some phonecalls to arrange a train back. It gave me warm feeling reading this story. Thank you, China!"
"This reminds me of my neighbours," one other commenter says: "The whole family went to the station to bring their daughter, who was going to study in Changsha, to the train. As the train departed, the whole family was on the train, and their daughter was still on the platform."
China has opened its first high-speed railways (HSR) in October 2003, and has now built 10,000 miles (16093 km) of high-speed tracks within its borders (NBC). With HSR, it is now possible to travel the 819 miles (1318 km) from Beijing to Shanghai in 5 hours; a train journey that would have cost at least eight to ten hours only a couple of years ago.
– By Manya Koetse
©2015 Whatsonweibo. All rights reserved. Do not reproduce our content without permission – you can contact us at info@whatsonweibo.com.
About Lipstick King's Comeback and His 'Mysterious' Disappearance
After Li Jiaqi's return to livestreaming, the 'tank cake incident' has become the elephant in the room on social media.
Earlier this week, the return of China's famous livestreamer Li Jiaqi, also known as the 'Lipstick King', became a hot topic on Chinese social media where his three-month 'disappearance' from the social commerce scene triggered online discussions.
He is known as Austin Li, Lipstick King, or Lipstick Brother, but most of all he is known as one of China's most successful e-commerce livestreaming hosts.
After being offline for over 100 days, Li Jiaqi (李佳琦) finally came back and did a livestreaming session on September 20th, attracting over 60 million viewers and selling over $17 million in products.
The 30-year-old beauty influencer, a former L'Oreal beauty consultant, rose to fame in 2017 after he became a successful livestreamer focusing on lipstick and other beauty products.
Li broke several records during his live streaming career. In 2018, he broke the Guinness World Record for "the most lipstick applications in 30 seconds." He once sold 15000 lipsticks in 5 minutes, and also managed to apply 380 different lipsticks in another seven-hour live stream session. Li made international headlines in 2021 when he sold $1.9 billion in goods during a 12-hour-long promotion livestream for Alibaba's shopping festival.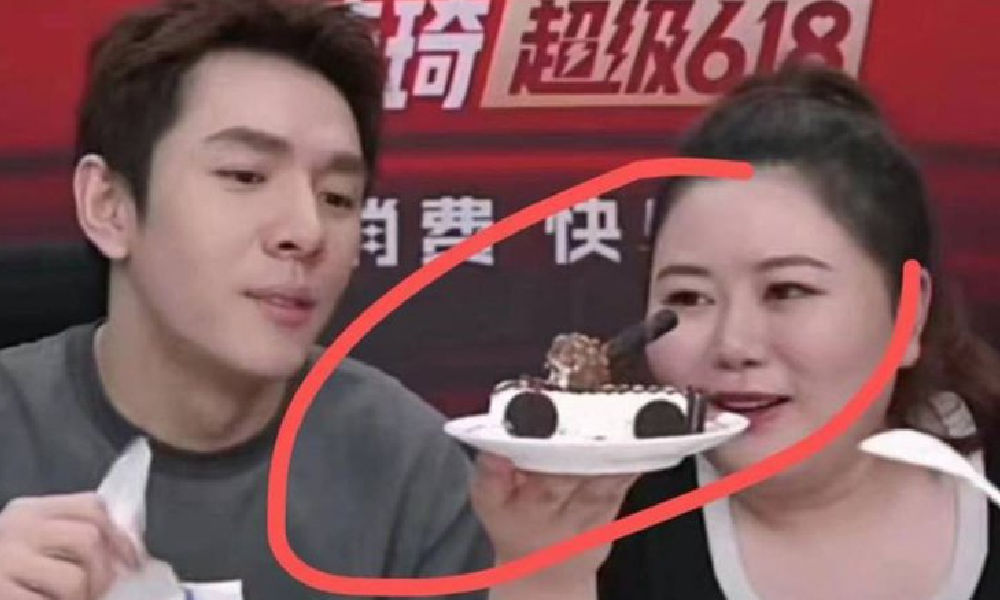 But during a Taobao livestream on June 3rd of this year, something peculiar happened. After Li Jiaqi and his co-host introduced an interestingly shaped chocolate cake – which seemed to resemble a tank, – a male assistant in the back mentioned something about the sound of shooting coming from a tank ("坦克突突").
Although Li Jiaqi and the others laughed about the comment, Li also seemed a bit unsure and the woman next to him then said: "Stay tuned for 23:00 to see if Li Jiaqi and I will still be in this position."
The session then suddenly stopped, and at 23:38 that night Li wrote on Weibo that the channel was experiencing some "technical problems."
But those "technical problems" lasted, and Li did not come back. His June 3rd post about the technical problems would be the last one on his Weibo account for the months to come.
The 'cake tank incident' (坦克蛋糕事件) occurred on the night before June 4, the 33rd anniversary of the violent crackdown of the Tiananmen student demonstrations. The iconic image of the so-called 'tank man' blocking the tanks at Tiananmen has become world famous and is censored on China's internet. The control of information flows is especially strict before and on June 4, making Li's 'tank cake incident' all the more controversial.
But no official media nor the official Li Jiaqi accounts acknowledged the tank cake incident, and his absence remained unexplained. Meanwhile, there was a silent acknowledgment among netizens that the reason Li was not coming online anymore was related to the 'tank cake incident.'
During Li's long hiatus, fans flocked to his Weibo page where they left thousands of messages.
"I'm afraid people have been plotting against you," many commenters wrote, suggesting that the cake was deliberately introduced by someone else during the livestream as a way to commemorate June 4.
Many fans also expressed their appreciation of Li, saying how watching his streams helped them cope with depression or cheered them up during hard times. "What would we do without you?" some wrote. Even after 80 days without Li Jiaqi's livestreams, people still commented: "I am waiting for you every day."
On September 21st, Li Jiaqi finally – and somewhat quietly – returned and some people said they were moved to see their lipstick hero return to the livestream scene.
Although many were overjoyed with Li's return, it also triggered more conversations on why he had disappeared and what happened to him during the 3+ months of absence. "He talked about a sensitive topic," one commenter said when a Weibo user asked about Li's disappearance.
One self-media accountpublished a video titled "Li Jiaqi has returned." The voiceover repeatedly asks why Li would have disappeared and even speculates about what might have caused it, without once mentioning the tank cake.
"This cracks me up," one commenter wrote: "On the outside we all know what's going on, on the inside there's no information whatsoever."
"It's tacit mutual understanding," some wrote. "It's the elephant in the room," others said.
Some people, however, did not care about discussing Li's disappearance at all anymore and just expressed joy about seeing him again: "It's like seeing a good friend after being apart for a long time."
By Manya Koetse 
Elements in the featured image by @karishea and @kaffeebart.
Get the story behind the hashtag. Subscribe to What's on Weibo here to receive our weekly newsletter and get access to our latest articles:
Spotted a mistake or want to add something? Please let us know in comments below or email us. First-time commenters, please be patient – we will have to manually approve your comment before it appears.
©2022 Whatsonweibo. All rights reserved. Do not reproduce our content without permission – you can contact us at info@whatsonweibo.com.
Happiest Lockdown in China: Guests Undergo Mandatory Quarantine at Shanghai Disneyland Hotel
"I wish I could be quarantined at Disney too!" The Shanghai Disney hotel apparently is the happiest place to get locked in.
While many cities across China are experiencing new (partial) lockdowns and millions of people are confined to their homes, there was also a group of people that had to undergo mandatory quarantine at a very special place: the Shanghai Disneyland Hotel.
On September 7, social media posts started surfacing online from people who said they were required to quarantine while they were at the Shanghai Disneyland hotel. Disneyland reportedly had received a notification from the local health authorities that a visitor who previously stayed at the Disneyland hotel was found to be a close contact of a newly confirmed Covid case.
In line with the Center for Disease Control requirements, Disney created a 'closed loop system' by locking in all hotel residents and staff members and doing daily Covid tests. While the Disneyland theme park was open as usual, the hotel became a temporary isolation site where people's health would be monitored for the next few days while all staff members would also be screened.
During their mandatory quarantine, guests stayed at the hotel for free and did not need to pay for their rooms. Room prices at the Shanghai Disneyland hotel start at around 3000 yuan/night ($433).
Some guests shared photos of their Disneyland quarantine stay on social media, showing how Disney staff provided them with free breakfast, lunch, a surprise afternoon tea, delicious dinner, fun snacks, and Disney toys and stickers.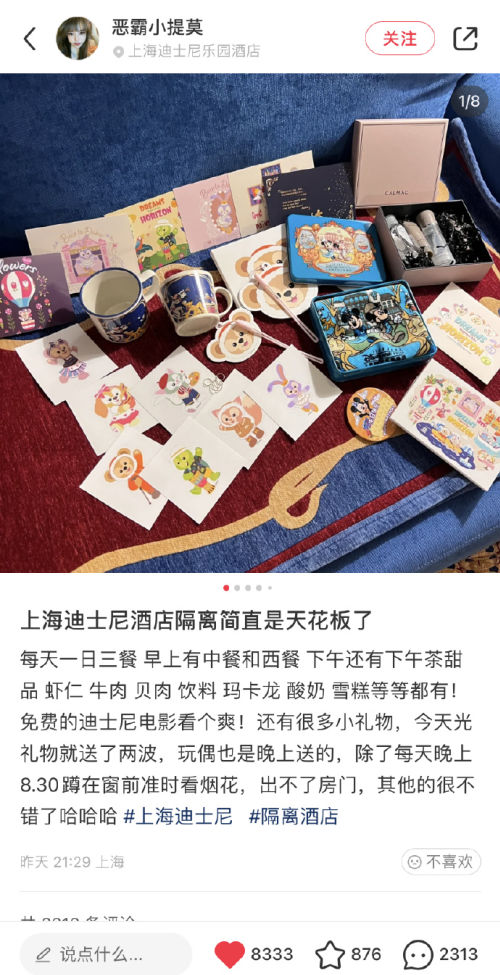 On the Little Red Book (Xiaohongshu) app, one Shanghai Disney visitor (nickname @恶霸小提莫) wrote: "We have three meals a day, there is both Chinese and Western-style breakfast, we also get afternoon tea and desserts, they have shrimp, beef, scallops, drinks, French macarons, yogurt, ice cream, and much more. We watched so many Disney movies for free. We are given so many little gifts, they brought us gifts twice today as they also brought us toy figures at night. We watch the fireworks from our windows every night at 8.30 pm. Although we weren't allowed to go out, we really had a pleasant stay."
Another Disney guest named Zoea (Xiaohongshu ID: yiya0313) also shared many photos of the mandatory quarantine and wrote: "When the staff knocked on the door to tell me they were bringing dinner, I even wondered how it was possible that they brought food again. Afternoon tea during quarantine, can you believe it? And fruit before dinner? And midnight snacks brought to us after dinner? And it was so nice to watch all the Disney movies on tv. Disney really is the most magical place."
"I'm just so happy," another locked-in Disney guest posted on social media, sharing pictures of Mickey Mouse cakes.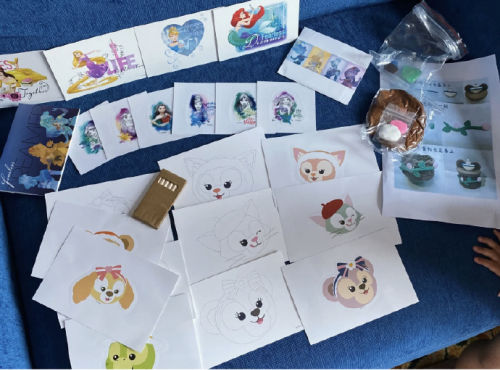 Other guests also posted about their experiences on social media. "They probably feared we would get bored so they brought us glue, stickers, and painting brushes, the kids loved it and so did we!"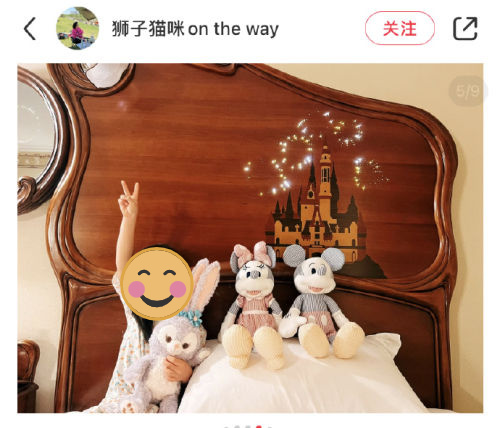 Reading about the happy quarantine at Disney, many Weibo users responded that they envied the guests, writing: "I wish I could be quarantined at Disney too."
"I need to find a way to get in, too," others wrote.
Earlier this year, one Chinese woman shared her story of being quarantined inside a hotpot restaurant for three days. Although many people also envied the woman, who could eat all she wanted during her stay, she later said she felt like she had enough hotpot for the rest of her life.
By Manya Koetse 
Get the story behind the hashtag. Subscribe to What's on Weibo here to receive our weekly newsletter and get access to our latest articles:
Spotted a mistake or want to add something? Please let us know in comments below or email us. First-time commenters, please be patient – we will have to manually approve your comment before it appears.
©2022 Whatsonweibo. All rights reserved. Do not reproduce our content without permission – you can contact us at info@whatsonweibo.com.