Chinese Ghost Cities Coming to Life
Brand new skyscrapers and shopping malls, but silent streets and empty apartments. China's so-called 'ghost cities' are a hot topic in the media nowadays, with Ordos in Inner Mongolia being of the most famous. Are China's Ghost Cities really dead?
Brand new skyscrapers and shopping malls, but silent streets and empty apartments. China's so-called 'ghost cities' are a hot topic in the media nowadays. The city of Ordos, Inner Mongolia, is one of the most famous. This year, author Wade Shepard published a book about China's ghost cities (Ghost Cities of China, 2015). Filmmakers Adam J. Smith and Song Ting made a documentary on the issue (The Land of Many Palaces, 2015). Are China's ghost cities really dead? 
Tens of millions of empty apartments in brand new cities all over China, deserted cinemas and quiet parks. It is an image that has captured the public imagination: 'ghost cities' have become a popular China topic in international media.
American author Wade Shepard spent the past few years touring these new territories for his book Ghost Cities of China (2015). Earlier this year, he came to Beijing's Bookworm Literary Festival to speak about his project with New York Times reporter Dan Levin. Tickets to attend the event were sold out soon; everybody seems curious to know more about the modern phenomenon of 'ghost cities'.
"The term 'ghost cities' is actually not appropriate," Shepard tells Levin: "Ghost cities are places that once lived and then died. What I write about is new places that are underpopulated, and where houses are dark at night." Shepard explains that most of China's 'ghost cities' actually do have people living in them. The ones that don't, are still under construction: "These new underpopulated cities are built by world luxury developers who are working on constructing new urban utopias all over China. The people living in these cities come from various places. Some are trendy people who are looking to live in a new city. Others have been relocated from their original villages. There are many from the countryside."
"Never in my life had I seen anything like that: a brand new neighbourhood without any people in it."

By 2020, China hopes to move 100 million people from the country's farming regions into cities. China's government-driven push for urbanization is part of changing the economy, going from export to domestic demand. New towns, with hospitals, roads and sport centers, are mushrooming all over China.
Wade Shepard's fascination with China's new towns started about ten years ago: "I saw a 'ghost city' for the first time in 2006, when I was a student near Hangzhou," he says: "It happened in the small town of Tiantai. I took a wrong turn after getting off the bus, and I ended up in this new part of town with nobody there. Never in my life had I seen anything like it: a brand new neighbourhood with nobody there. I was so excited about it. My professors later told me those places were everywhere, they were not impressed. But it stuck with me. Just take any bus, and there is going to be a new city or neighbourhood under construction. I enjoyed walking around these areas. I went to Mongolia and forgot about them for a while, until I returned in 2012. I travelled around and tried to figure out what these places really were. They are the new landscape of China."
Ghost city in Beihai (Daily Mail).
Shepard went out into China's new areas by bicycle: "My objective was to go there and try to make friends. A foreigner showing up there is not a common thing, so many people want to know what you are doing there. It isn't too difficult to talk to people."
"People go from a traditional village structure to an elevator culture."

There is an upside and a downside to the emergence of China's new cities, Shepard explains: "There are people who are very happy to move there. Because they get a urban hukou, they feel like they're moving up."
A hukou is an urban residency permit. In China's new towns, residents will get a different permit than their countryside one. It enables them to legally work within the cities and enjoy certain benefits. Health care, for example, is better than in the countryside. For some elderly people from rural areas, moving to the city could literally save their life.
Quiet streets in Ordos (source).
But there is also a big downside to China's urban migration, Shepard says: "Many people are moving from a traditional village structure, where people make daily social connections, and ask each other what they are doing today and what's for dinner tonight. With these high apartment buildings, this structure changes; they don't do that anymore. It's an elevator culture. People also come from so many different places that they don't really connect."
Some people who move to the city feel like they have lost their livelihood: "There are those who have been out in the hills for thousands of years. Once they're in the towns, they suddenly have to pay for water and electricity. They have to go to the store to buy things."
"Good behaviour is the answer to Ordeos becoming a civilized city."

The issues that come with China's new towns are also visible in The Land of Many Palaces, a documentary by Adam James Smith and Song Ting. Filmmaker Smith came to Amsterdam's 'Pakhuis de Zwijger' on November 12th 2015 to screen the film and talk about it, an initiative by the Centre for Urban Studies (University of Amsterdam).
The Land of Many Palaces focuses on Ordos (鄂尔多斯), a 21st century city in the deserts of Inner Mongolia. The city holds an estimated one-sixth of the country's coal reserves. After the coal was discovered, the region went from becoming one of the poorest to one of richest in China. Coal exploitation has created many millionaires investing in infrastructure and real estate. New city district Kangbashi sprung from the desert sands, and is the result of such an investment. Ordos Kangbashi was built between 2005 and 2010. It has sky scrapers, stadiums, a grand theater, museum and thousands of apartments. It is ready to house one million future residents.
The documentary starts with a scene that shows how Mrs. Yuan, the community manager, guides people through their new homes. Some don't know how to use modern toilets, stoves or heaters. Mrs. Yuan teaches them, and also shows them how the television works ("There are over 100 channels!") These new surroundings are in stark contrast with those of a nearby village, where one farmer is working on the land. The houses are abandoned. "They all moved to the new city," he says: "In the countryside, you can live for months without spending money".
The Land of Many Palaces shows that moving to one of China's 'ghost cities' is not just about moving houses, it is about changing lifestyles. Farmers have to get used to living in the city and cope with all the things that come with it. Community staff members go to public places to teach them "how to become a civilized person"; telling people that good behaviour is the answer to Ordeos becoming a civilized city.
"If the developers of the new city need your land, they will take it anyway."

Employment is a major problem in China's new cities. Many farmers have ample experience in raising pigs and working on the land, but their experience is of no use in the urban environment where there is more need for hair stylists and shop attendants. The lack of jobs is one important reason why farmers don't want to migrate from the countryside to the city.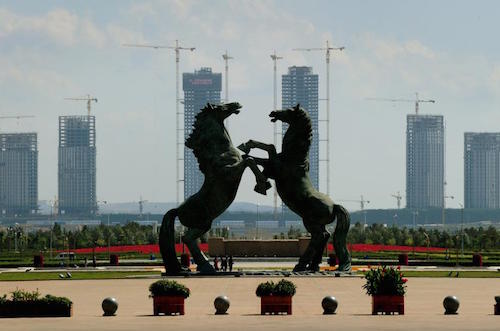 Center of Ordos. 
One film scene shows a village where only two farmers are left. The rest of the villagers have already moved to the city. Ordos's community manager visits the farmers to convince them to trade their clay houses for an apartment flat. When they decline, she says: ""If the developers of the new city need your land, they will take it anyway."
"When we first visited Ordos in 2011, we expected to find a ghost city. Instead, we found a place that is becoming a city."

After the end of the film's screening, Adam Smith takes questions from the audience. About the start of the project, he says: "When we first visited Ordos in 2011, we expected to find a ghost city. Instead, we found a place that is becoming a city."
Many of China's so-called ghost cities look like ambitious dreams that turned into nightmares. "When we first started the project, we were somewhat indoctrinated by the general media reports in Europe and North America on how this top-down style of urbanization and city-building is wrong. But the more time we spent there, the more we started to think like the people there," Smith says: "Nobody felt like what was going on was wrong. They were uplifted by the plan."
Smith explains how many people, ironically, were pushed out of the cities to the countryside during the Cultural Revolution. In many of these areas it was hard to farm, and people struggled to survive. In some way, being taken to the city is like being saved for many: "We met very few people, if any, who were opposed."
"Ghost cities are a hot topic, but ex-ghost cities are not."

Although ghost cities are a hot topic, ex-ghost cities are not. "When a 'ghost city' comes to life we barely hear about it anymore", Shepard writes. Although many of China's new cities are still virtually empty, there are also those that have now become busier. Shepard names a few example in his article such as Dantu (Zhejiang), Wujin (Changzhou), and perhaps the most famous one, Shanghai's Pudong.
"For the past few years I've been chasing reports of ghost cities around China, but I rarely ever find one that qualifies for this title. Though the international media claims that China is building cities for nobody, I often find something very different upon arrival", Shepard writes.
Earlier this year, Global Times and China Daily issued a statement from the mayor of Ordos on Sina Weibo, saying: "We are not a ghost city". Over the past year 10,000 houses were sold, it says. That still leaves 34,000 houses empty.
"They buy it to sell it, but none of those rich people actually live there," one netizen responds: "The mayor just doesn't wanna lose face."
Other netizens say they like the city of Ordos: "The town is quite pretty, and the air is good," user '392' writes. "I've just been to Ordos, and it's really not as bad as the media says," another netizen says: "The city is well-built, the air is good and it is safe."
One other Weibo user also seems to like Ordos: "Finally a place in China that is not crowded yet."
Maybe China's 'ghost cities' are not that bad after all. They just might need another decade to really come to life.
– By Manya Koetse
Follow @WhatsOnWeibo
Thanks to The Bookworm & Pakhuis de Zwijger, Wade Shepard and Adam James Smith.
Interested in Wade Shepard's work? For more information about his book click here, and you can find his blog here.
To know more about The Land of Many Palaces, check out the documentary website here.
featured image by Manya Koetse
©2015 Whatsonweibo. All rights reserved. Do not reproduce our content without permission – you can contact us at info@whatsonweibo.com.
"Opposing Dog Meat Consumption Is Hypocritical" – Weibo Discussions on Anti-Dog Meat Protests
Eating dog meat is a personal choice, many commenters argue.
Last week's anti-dog meat protests in South Korea have triggered discussions on Chinese social media on the status quo of the dog meat industry in China. An overview of the sentiments on social media and the background of dog eating in the PRC.
South Korea's dog meat industry made headlines on Friday after protesters in Seoul, joined by actress Kim Basinger, called for an end to the decade-old dog meat trade in the country.
Not far from the protesters were farmers who raise dogs that are sold to restaurants. They brought steamed dog meat and ate it with kimchi (featured image).
In China, where the eating of dog meat has a long history, the Seoul protests triggered some discussions on social media.
The hashtags "Hundred People Gather in South Korea to Stop the Eating of Dog Meat" (#韩国百人集会呼吁停食狗肉#) and "Big Protest in South Korea against Eating of Dog Meat" (#韩国大规模抗议吃狗肉#) received over 83 million views.
In South Korea, the overall demand for dog meat has plummeted over the years. Earlier this month, one of the largest dog meat markets in the country, the Gupo dog meat market, was shut down. In November of 2018, Seongnam city already demolished South Korea's largest dog slaughterhouse.
Friday's protesters hope to shut down dog meat trade in the country completely. The latest protests have put the thorny issue of the dog meat industry back in the limelight.
HYPOCRITICAL PROTESTS?
"I don't eat dog meat, but I don't oppose it."
On Chinese social media site Weibo, hundreds of netizens expressed their opinion on the matter, that has been a hot topic in China for years.
According to polls from the past and present, the topic of dog meat in China is clearly a divisive one.
But over the past few days a seeming majority of commenters on Weibo spoke out about the issue in a remarkably similar way, with thousands of netizens highlighting one issue in the matter: hypocrisy.
"I won't oppose to the eating of dog meat," one person writes: "Because if I support the anti-dog meat movement today, then tomorrow it will turn against the eating of cows, then the eating of pigs, and then the eating of fish.."
Many people on social media agree with this point of view, arguing that no matter one's personal ideas about dog meat, condemning the dog meat practice in specific would be hypocritical: "Pigs are so cute, why do we eat pigs then?" many say, with others arguing: "Aren't cows also spiritual animals?"
"I also raise dogs, I also love dogs," another commenter says: "But I think that if they legally breed dogs for the dog meat [industry], then we have no right to prevent them from doing so."
"I don't eat dog meat, but I don't oppose it, as long as it's legal it's ok," with others writing: "I am opposed to the eating of any living creature."
"Eating dog is not illegal, why all this sentimental nonsense? Why don't you also defend chickens, ducks, geese, pigs, sheep, and cows?!"
"As long as they're not abused, I don't see a problem with it."
"Dog meat is tasty," one commenter from Zhejiang writes: "I like it, although I rarely eat it. I don't see a problem with it, it's a personal choice."
SHORT OVERVIEW OF DOG EATING IN CHINA
"To them, dog meat was just like any other meat."
The tradition of dog eating in China can be traced back as far as the Shang Dynasty (ca. 1558 to 1046 BC), when dog meat was considered a delicacy for the upper class.
Later on in Chinese history, during the Han Dynasty (202 BC-220 AD), it became more and more common until the practice saw a general decline, especially in northern China, during and after the tenth century (Li et al 2017, 513-514).
Despite the rising and declining popularity of dog meat throughout China's history, the practice of eating dog has never completely disappeared, particularly in southern China.
In a book on China from 1878 by John Henry Gray, the author notes the popularity of restaurants serving dog and cat meat in 'Canton' (Guangzhou):
"I do not think (..) that I exaggerate in saying that there are no fewer than twenty such places in Canton. Each restaurant contains only one public apartment. The approach to this dining-room is generally through the kitchen, where cooks may be seen standing in front of slow fires over which the flesh of cats and dogs is being cooked. The flesh is cut into small pieces and fried with water chestnuts and garlic in oil. In the windows of the restaurant dogs' carcasses are suspended, for the purpose, I suppose, of attracting the attention of passengers" (75).
He further writes:
"The flesh of black dogs and cats is generally preferred because it is supposed to possess more nutriment than that of cats and dogs of any other color. At Ying-tong, a suburban district of Canton, a fair is held at which dogs are sold for food; and in one of the streets dogs and cats are daily exposed for sale. The dogs are put to death by strangling, stabbing, or felling with clubs" (76).
Something that has not changed since the days described in Gray's book is the belief in the medicinal benefits of dog meat.
Especially in summer, dog's flesh is believed to serve as an antidote against summer heat, and to be nutritious and beneficial as a source to enhance male virility or to boost the liver. Even at present, Chinese media promote the eating of dog meat to boost the immune system and help stimulate better blood circulation.
It should be noted that although China has a long history of dog meat consumption, it also has a long history of dog domestication and dog-human comradery. Dogs were pets, guarded the house, used in hunting, and also used in rituals of sacrifice.
Most of the 20th century (1900-1978) was a tough time for people in mainland China, and it was a tough time for dogs too. In many times, there was barely enough food to eat, and under Mao's rule, dogs were considered "parasites" and were outlawed as pets (Coren 2018; Li et al 2017, 514).
Those who kept pets were seen as part of the 'bourgeoisie,' and during the Cultural Revolution, pet dogs were reportedly seized and beaten to death in front of their owners (Coren 2008, ch. 21).
Much has changed since those days. Although (stray) dogs, as carriers of diseases and potentially aggressive, are often still considered a drain on society, having a dog as a pet has become much more commonplace in China since the late 1980s and early 1990s.
Eating dog meat has become less popular, especially among young people in China, who have grown up very differently from their parents and have different perceptions of dogs.
Chinese writer Bang Xiao looks back on the first time his mother served him dog meat during Chinese New Year, writing:
"For them, dog meat was just like any of the other meats, and coming from a generation who lived through famine and the Cultural Revolution, I was told I should be grateful. For me though, it meant I was eating my own pet Duo Duo. I cried."
Later on, he writes about his parents:
"They weren't "dog eaters". They were just people that happened to have a different history that led to different animals being on the menu."
THE YULIN DOG MEAT FESTIVAL
"Don't go, don't eat it, don't pay attention to it."
Despite the general unpopularity of dog meat in China, there is one time of the year when the discussions on the practice of dog eating flare up again, and that is during the Yulin Lychee & Dog Meat Festival, an annual event that's been held over the past decade in the Chinese city of Yulin intended to generate income from tourism (Brown 2018).
Some 10,000 to 15,000 dogs and cats are slaughtered during the 10-day event that starts on June 21st every year. The event attracts hundreds of people every day. There is a restaurant strip and a market where dozens of vendors cook various dog meat dishes in large woks and where live dogs are sold and slaughtered.
Although the voices of those people protesting the festival seem to grow louder year on year, the dog meat festival continues. It is not illegal, and its economic benefits have become of crucial importance for many in the city of Yulin.
A 2016 media survey held among 2000 people from various ages and places in China found that 64% of the people opposed to the festival, 52% thinks that dog meat should be banned in China, and 70% said they had never had dog meat themselves.
"Don't go, don't eat it, don't pay attention to it. When there's no business, the killing will stop," one Weibo commenter suggests.
A MURKY MARKET
"There does not seem to be a Chinese dog meat market that is both cruel-free and completely legal."
Apart from Yulin, the eating of dog meat is barely a celebrated tradition in China anymore.
For a What's on Weibo article from 2015, we could still find 122 restaurants listed as 'dog meat' specialty restaurants in the city of Beijing on restaurant site Dianping. But at present, Dianping no longer publicly lists any restaurants when searching for 'dog meat' specialty places (note that there still are restaurants serving dog meat, but they might not be listed due to controversy or for fear for activists).
China's biggest e-commerce websites sell different herb mixes for dog stews or dog meat hotpots (see tweet below), but the market could hardly be called thriving.
What to put on a package for spicy dog meat stew? A happy dog, of course🙄 #taobao #dubiousmarketing pic.twitter.com/XYsXBebYbB

— Manya Koetse (@manyapan) July 12, 2019
Yet, despite all those people on Chinese social media saying that eating dog meat should not be a problem for those who still want to eat it, China's dog meat market does actually have a problem.
China has no law that bans the eating of dogs; eating dog meat is a personal freedom. But what makes the issue murky and troublesome is that China actually has no large-scale legal dog farms, nor legal dog slaughterhouses.
The very few dog farms in existence in China would never be adequate to provide the meat for the industry in southern China, let alone for the estimated 10,000+ dogs slaughtered in Yulin every year.
It is therefore not clear where the dogs that are used for their meat in China come from. Are they stray dogs? Are they stolen from the streets? And if so, would this not be considered illegal (Brown 2018; Cao 2014; Yan 2015, 46)?
Every now and then scandals appear in the media of restaurants slaughtering and killing dogs that were actually people's pets (for example, this scandal in Jilin in 2018 or in Chengdu this year).
Another issue making the dog meat market a problematic one is the cruel treatment of the dogs.
China has seen countless of food scandals over the years, and some of them involve the selling of poisoned dog meat. As a result, many people have a general distrust in (frozen) meat products and want to make sure they are consuming good quality meat.
Dog meat markets such as Yulin, therefore, often sell living dogs. They are virtually like 'wet markets' for dogs, where those who want to eat dog meat can do so with the assurance that the meat they are eating is fresh and safe. The dogs are slaughtered at the spot or are sold alive for home consumption (Brown 2018).
The process of being transported, being displayed in tiny cases in the summer heat, and being killed in often cruel ways all add to the enormous stress and pain the animals at the live dog market are suffering.
China currently has no laws from the perspective of animal welfare to minimize the pain and suffering during transport, the selling, or at the point of slaughter (Brown 2018).
For the aforementioned reasons and more, festivals such as the Yulin Dog Meat one are getting more controversial year on year, with more and more Chinese calling for a boycott and a ban.
DISTORTED DISCUSSIONS
"If you eat dog meat of unknown origin, you might be participating in the killing of someone else's pet."
As the discussions on dog meat in China are ongoing following the South Korea protests, one blogger posted a survey asking netizens if they support the eating of dog meat.
Despite the many commenters who also defend the practice of dog eating, a majority of 67% percent among the 32.000 participants said they do not support it as "dogs are our friends."
A recurring sentiment expressed on Chinese social media on the issue is that there essentially is nothing wrong with eating dog meat – and that it would be hypocritical to only oppose to eating dog without also opposing eating sheep, cows, chickens, and so on – as long as it is legal, and as long as the dogs are not stolen, poisoned, or abused.
But that's the whole issue at hand: all those things are in fact happening in the dog meat industry today. It is difficult to discuss the eating of dogs based on the hypothetical assumption that these things are not occurring.
Consumers are not buying (frozen) meat from legal dog farms and certified dog slaughterhouses, they are mostly buying living dogs or dog meat from unknown origins, and the process of selling and slaughtering often goes hand in hand with cruel treatment.
"I don't oppose to eating dog, but I hate the dog trafficking market," one person says. Another commenter agrees, writing: "I don't oppose to the eating [of dogs] that are bred for it, but I do oppose to those who steal other people's dogs. Most of the dog meat I've seen comes from unknown origins. (..) If you eat dog meat that you don't know the origin of, you might be participating in the killing of someone else's pet."
For now, China and South Korea are very different when it comes to their dog meat industries and their (legal) changes. The countries do seem to have one thing in common, which is that the practice of eating dog meat is no longer popular among the younger generations.
This might suggest that as sales are dropping, the dog meat market will shrink and might eventually disappear altogether if there is no interest in it.
"Don't hype the dog meat festival," one Weibo commenter writes: "It's the hype that made it big and that led to more dogs being killed.
This basically reiterates the advice of one of the aforementioned commenters: don't go, don't eat it, don't pay attention to it, and the business will, eventually, die out.
Want to read more? Also see:
20 Facts About Dogs & Dog-Eating in China
The Yulin Dog Meat Festival: 10 Views From Chinese Netizens
Tradition or Abuse? Chinese Views on the Yulin Dog Meat Festival
By Manya Koetse
Want to see more articles such as these? Please donate to keep What's on Weibo going.
References
Brown. Hannah. 2018. "Yulin Lychee and Dog Meat Festival: A Shift in Focus." In: Tourism Experiences and Animal Consumption: Contested Values, Morality and Ethics, Carol Kline (eds), Chapter 15. London: Routledge.
Cao Yin. 2014. "Experts: Dog Meat Festival 'Illegal'." China Daily (June 16). Online at http://www.chinadaily.com.cn/china/2014-06/16/content_17589087.htm [6.23.16].
Coren, Stanley. 2008. The Modern Dog: A Joyful Exploration of How We Live with Dogs Today. New York: Free Press.
–. 2018. "What Is China's Current Attitude Concerning Dogs?" Psychology Today, Feb 21 https://www.psychologytoday.com/us/blog/canine-corner/201802/what-is-chinas-current-attitude-concerning-dogs [7.15.19].
Gray, John Henry. 1878. China: A History of the Laws, Manners, and Customs of the People (Volume II). London: MacMillan & Co.
Li, P. J., Sun, J., & Yu, D. 2017. "Dog "Meat" Consumption in China: A Survey of the Controversial Eating Habit in Two Cities." Society and Animals, 25(6), 513–532. http://doi.org/10.1163/15685306-12341471
Xiao, Bang. 2018. "Chinese New Year: Remembering how I first ate dog meat, and how differences bring us together." ABC, February 17 https://www.abc.net.au/news/2018-02-17/chinese-dog-meat-eating-linked-to-history-of-famine/9454394 [7.15.19].
Yan Wei. 2015. "Dog Meat Festival: Traditional Custom or Abuse?" Beijing Review (29): 46-47.
Spotted a mistake or want to add something? Please let us know in comments below or email us. Please note that your comment below will need to be manually approved if you're a first-time poster here.
©2019 Whatsonweibo. All rights reserved. Do not reproduce our content without permission – you can contact us at info@whatsonweibo.com
Faking Street Photography: Why Staged "Street Snaps" Are All the Rage in China
Staged street photography is the latest "15 minutes of fame" trend on Chinese social media.
It looks as if they are spontaneously photographed or filmed by one of China's many street photographers, but it is actually staged. Chinese online influencers – or the companies behind them – are using street photography as part of their social media strategy. And then there are those who are mocking them.
Recently a new trend has popped up on Chinese social media: people posting short videos on their accounts that create the impression that they are being spotted by street fashion photographers. Some look at the camera in a shy way, others turn away, then there are those who smile and cheekily stick out their tongue at the camera.
Although it may appear to be all spontaneous, these people – mostly women – are actually not randomly being caught on camera by one of China's many street fashion photographers in trendy neighborhoods. They have organized this 'fashion shoot' themselves, often showing off their funny poses and special moves, from backward flips to splits, to attract more attention (see example in video embedded below).
These are some examples of the "pretending to be spontaneously spotted by street fashion photographer so gotta do something funny" phenomenon: pic.twitter.com/OUMhGaFG6W

— Manya Koetse (@manyapan) 25 juni 2019
In doing so, these self-made models are gaining more fans on their Weibo, Douyin, Xiaohongshu, or WeChat accounts, and are turning their social media apps into their very own stage.
Street Photography in Sanlitun
The real street photography trend has been ongoing in China for years, near trendy areas such as Hangzhou's Yintai shopping mall, or Chengdu's Taikoo Li.
One place that is especially known for its many street photographers is Beijing's see-and-be-seen Sanlitun area, where photographers have since long been gathering around the Apple or Uniqlo stores with their big lens cameras to capture people walking by and their trendy fashion.
A few years ago, Thatsmag featured an article discussing this phenomenon, asking: "Who are these guys and what are they doing with their photos?"
Author Dominique Wong found that many of these people are older men, amateur photographers, who are simply snapping photos of attractive, fashionable, and unique-looking people as their hobby.
But there are also those who are working for street fashion blogs or style magazines such as P1, and are actually making money with their street snaps capturing China's latest fashion trends.
People featured in these street snaps can sometimes go viral and become internet celebrities (网红). One of China's most famous examples of a street photographed internet celebrity is "Brother Sharp."
It's been ten years since "Brother Sharp" (犀利哥), a homeless man from Ningbo, became an online hit in China for his fashionable and handsome appearance, after his street snap went trending on the Chinese internet.
Staged Street Scenes
But what if nobody's snapping your pics and you want to go viral with your "Oh, I am being spotted by street fashion photographers" video? By setting up their own "street snap" shoots, online influencers take matters into their own hands.
It is not just individuals who are setting up these shoots; there are also companies and brands that do so in order to make their (fashion) products more famous. According to People's Daily, in Hangzhou alone, there are over 200 photographers for such "street snaps" and hundreds of thousands of models for such "performances."
The photographers can, supposedly, earn about 20,000 to 30,000 yuan ($2,890-$4,335) per day and the models are well paid.
In this way, the "street snap performance" phenomenon is somewhat similar to another trend that especially became apparent in China around 2015-2016, namely that of 'bystander videos' capturing a public scene. Although these videos seem to be real, there are actually staged.
One such example happened in 2017 when a video went viral of a young woman being scolded on a Beijing subway for wearing a revealing cosplay outfit.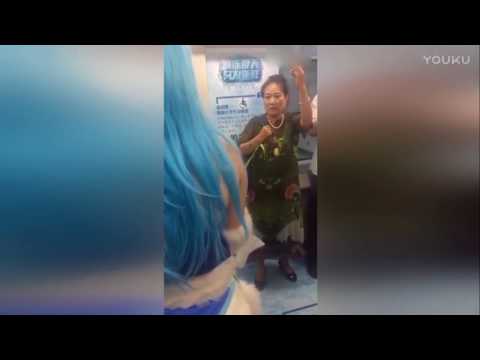 The story attracted much attention on social media at the time, with many netizens siding with the young woman and praising her for responding coolly although the woman was attacking her. Later, the whole scene turned out to be staged with the purpose of generating more attention for the ad of a "cool" food delivery platform behind the older lady.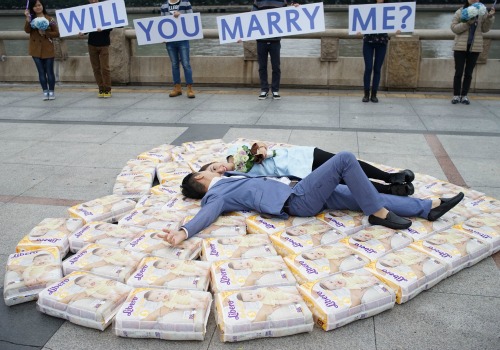 In 2015, photos of a 'romantic proposal' made its rounds on social media when a young man asked his pregnant girlfriend to marry him using over 50 packs of diapers in the shape of a giant heart. One bag of diapers carried a diamond ring inside. It was later said the scene was sponsored by Libero Diapers.
Wanghong Economy
Both the latest street snap trend and the staged video trend are all part of China's so-called "Wanghong economy." Wǎnghóng (网红) is the Chinese term for internet celebrities, KOL (Key Opinion Leader) or 'influencer.' Influencer marketing is hot and booming in China: in 2018, the industry was estimated to be worth some $17.16 billion.
Being a wanghong is lucrative business: the more views, clicks, and fans one has, the more profit they can make through e-commerce and online advertising.
Using Chinese KOLs to boost brands can be an attractive option for advertisers, since their social media accounts have a huge fanbase. Prices vary on the amount of fans the 'influencer' has. In 2015, for example, the Chinese stylist Xiao P already charged RMB 76,000 ($11,060) for a one-time product mention on his Weibo account (36 million fans).
According to the "KOL budget Calculator" by marketing platform PARKLU, a single sponsored post on the Weibo account of a famous influencer will cost around RMB 60,000 ($8730).
The current staged street snap hype is interesting for various online media businesses in multiple ways. On short video app Douyin, for example, the hugely popular street snap videos come with a link that allows app users to purchase the exact same outfits as the girls in the videos.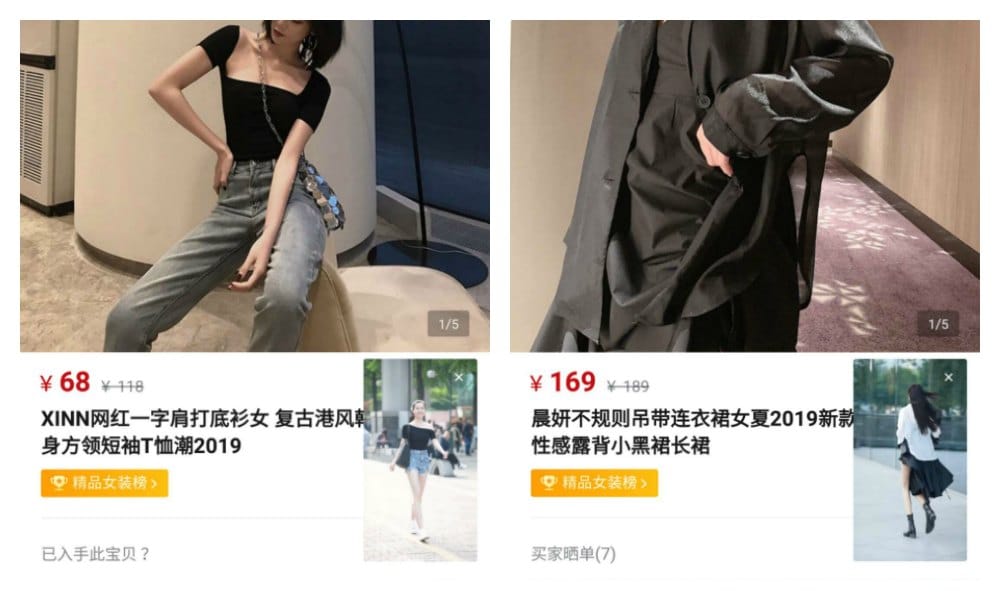 Perhaps unsurprisingly, an online survey by Tencent found that 54% of college-age respondents had the ambition to become an "online celebrity."
Making Non-Fashion Fashion: The Farm Field as a Catwalk
Although becoming an actual online celebrity used to be a far-fetched dream for many Chinese netizens, the latest staged-street-snap trend creates the possibility for people to experience their "15 minutes of fame" online.
Just as in previous online trends such as the Flaunt Your Wealth Challenge or A4 Waist Challenge, you see that many people soon participate in them, and that they are then followed by an "anti-movement" of people making fun of the trend or using it to promote a different social point-of-view.
The 2018 "Flaunt Your Wealth" challenge, for example, in which Chinese influencers shared pictures of themselves falling out of their cars with their expensive possessions all around them, was followed by an Anti-Flaunt Your Wealth movement, in which ordinary people mocked the challenge by showing themselves on the floor with their diplomas, military credentials, painting tools, or study books around them.
In case of the (staged) "Fashion Street Photography" movement, that now has over 103 million views on Weibo (#全国时尚街拍大赏# and #街拍艺术行为大赏#), you can also see that many people have started to mock it.
"I find [this trend] so embarrassing that I want to toss my phone away, yet I can't help but watch it," one Weibo user (@十一点半关手机) writes, with others agreeing, saying: "This is all so awkward, it just makes my skin crawl."
The anti-trend answer to the staged street shoot hype now is that people are also pretending to be doing such a street snap, but ridiculing it by making over-the-top movements, doing it in 'uncool' places, wearing basic clothing, or setting up a funny situation (see embedded tweet below).
And then this is other example (there are many) of people mocking this pretending-to-be-spotted-by-street-photographers trend pic.twitter.com/2WBP3F326l

— Manya Koetse (@manyapan) 25 juni 2019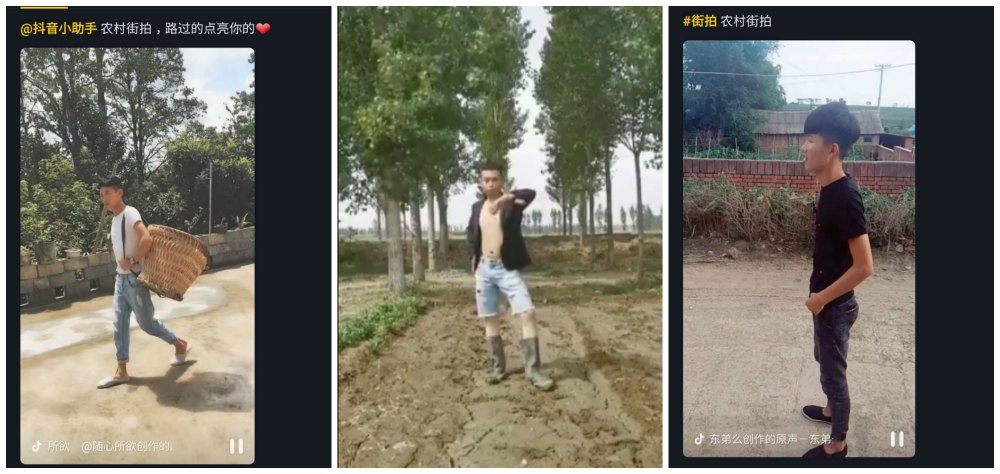 Some of these short videos show 'models' walking in a rural area, pretending to be photographed by a 'street fashion photographer' – it's an anti-trend that's become a trend in itself (see videos in embedded tweets below).
There's a recent Chinese social media trend of people mocking the wannabe cool Sanlitun rich kids who are walking the streets like it's their catwalk while pretending to be spotted by street photographers. It's always the anti-cool people who are actually the coolest..👇👏 pic.twitter.com/LnEOEdyzRE

— Manya Koetse (@manyapan) 24 juni 2019
Although this 'anti-trend' is meant in a mocking way, it is sometimes also a form of self-expression for young people for whom the Sanlitun-wannabe-models life is an extravagant and sometimes unattainable one.
More: pic.twitter.com/WpcDepTcYe

— Manya Koetse (@manyapan) 24 juni 2019
They don't need trendy streets and Chanel bags to pretend to be models: even the farm field can be their catwalk.
In the end, the anti-trend "models" on Chinese social media are arguably much cooler than the influencers pretending to be photographed. Not only do they convey a sense of authenticity, they also have something else that matters the most in order to be truly cool and attractive: a sense of humor.
Also read: From Mountains of Taishan to Faces of Amsterdam – Interview with Street Photographer Jimmy on the Run
Also read: Beijing Close-Up: Photographer Tom Selmon Crosses the Borders of Gender in China
By Manya Koetse
Follow @whatsonweibo
Spotted a mistake or want to add something? Please let us know in comments below or email us. Please note that your comment below will need to be manually approved if you're a first-time poster here.
©2019 Whatsonweibo. All rights reserved. Do not reproduce our content without permission – you can contact us at info@whatsonweibo.com