The Women Changing the Chinese Rap Scene: Top 3 Most Popular Female Rappers of China
These are the three Chinese female rappers to watch this year.
Over the past few years, rap has become a hot music genre in China. Although China's rap scene is a male-dominated space, Chinese female rappers are now stepping up to the stage. These are the top women to follow in the PRC's current hiphop craze.
Rap music has become a hot music genre in China over the past years. One of the reasons why Chinese hip-hop has recently seen a rise in popularity is the TV show The Rap of China (中国有嘻哈/中国新说唱). The rap competition, produced by iQiyi, is among the best-viewed entertainment shows of China over the past two years; some of its recent episodes have already received up to 240 million views on online video platform iQiyi alone.
The show is produced by some of China's most famous producers, i.e. Chen Wei 陈伟, and its jury line-up includes famous singers such as Kris (吴亦凡), G.E.M. (邓紫棋), Wilber Pan (潘玮柏), or underground rapper Hotdog (热狗). In various rounds, contestants have to show they can freestyle to a beat, create their own songs, and perform in front of a live audience.
In the first season (2017), Sichuanese female rapper 'VaVa' was the only woman to make it to the last rounds of the show. In the second season (2018), it is female rapper Lexie Liu who is still going strong. These female rappers show that it is possible for women to break through in this male-dominated genre.
These are the top three Chinese female rappers to keep an eye on in 2018.
#1. VaVa (Mao Yanqi 毛衍七), @VaVaMiss (4+ million fans on Weibo)
Mao Yanqi aka 'VaVa' was born on the 29th of October in 1995 in Ya'an, Sichuan. Growing up with a mother working far away from home, and a violent father who brought home another woman, the young VaVa does not have an easy childhood. From the age of four, she is raised by her grandmother.
VaVa's passion for dancing and singing already stands out during her elementary school years, as recruiters from a local art and drama college notice the third-grader's talent and admit her to their art school. But because her family is unable to pay for tuition, the young VaVa cannot accept the offer and trains herself instead; at the age of 15, she drops out of school to work as an entertainer at a club and further develops her talent as a singer and dancer.
In 2017, the 22-year-old VaVa has her breakthrough when she participates in The Rap of China. In the second round of the show, she especially gains popularity when she performs Life's a Struggle, one of China's most famous rap songs. However, she changes the lyrics to reflect her personal childhood experiences (see link for lyrics in English), leaving all four members of the jury deeply touched, praising VaVa's authenticity.
VaVa finally ends up as one of the final four contestants. A few months later, she brings out her first album, titled 21 (Spotify). Since then, she has gained fame within China and internationally; her new song My New Swag (我的新衣) is featured in Hollywood blockbuster Crazy Rich Asians, she is seated front-row at European fashion shows, and is the new face of sportswear brand Kappa.
Noteworthy:
Many of VaVa's songs focus on her own image and ambition and self-image. In the song U Should Know My Name, she raps: "I am here from the underground. I never curse. I have a top-secret plan for my own future – rise to the throne, be prepared to kneel" ("I am here来自地下. 我从来都没有唱过一句骂. 对自己的未来有着绝密计划. 转身登上宝座吧女王陛下. 准备好了献上你的膝盖"). In People on The Move, she raps: "I climb and will never lose. You need to know that I'll never give up. I pursue reality and the dream world, I'm the coolest when I do my thing" ("加持我登峰I'll never lose。 要知道 我根本没想过退路。 现实和梦境追逐 做我自己才最酷").
#2. Vinida (万妮达), @Vinida万妮达 (1.2+ million fans on Weibo)
Vinida was born on 29th of June 1994 in Fujian, Fuzhou. Because of Vinida's sexy appearance and curvy body, she is sometimes compared to Kim Kardashian.
At the early age of 13, Vinida first comes into contact with hip-hop culture, and she later starts to experiment with producing her own music and joins the local underground rap group Freedom Plant Music.
Vinida gains more mainstream attention after her participation in the show Sing! China (中国新歌声) in 2016, after which state media outlet China Daily calls her "a rare sight on China's music scene." The young rapper later also participates in The Rap of China (中国新说唱), but is eliminated in the 'battle round.'
In 2017, Vinida's first album was released, simply titled Vinida (Spotify). Along with VaVa, Vinida was selected by Forbes China's as one of the most influential artists in the music industry list '30 Under 30' this year.
Noteworthy:
It's often said that Vinida's lyrics are characterized by a glorification of female power, as her two hits 'Queendom' and 'Run This', for example, also show. In Run This, she raps: "I focus more on my career, I have no time for your bickering. I collect diamond necklaces, I am only moving forward" ("更专注于事业 没空和你计较. 收集钻石项链 还在不断向前").
#3. Lexie Liu (刘柏幸), @刘柏辛Lexie (450,000+ fans on Weibo)
Lexie, sometimes referred to as the 'Chinese Rihanna' by the media, currently is one of the youngest well-known Chinese female rappers. She was born on 21 December 1998 in Changsha, Hunan. Lately, she has become very popular through the television show The Rap of China (中国新说唱).
At only four years old, Lexie already starts practicing playing the piano and dancing. She has her breakthrough at the age of 16, when she particpates in a South-Korean Kpop show; two years later, she is also invited to perform at one of the South by Southwest (SXSW) festivals in Austin, Texas.
In that same period, she records a song with the popular Chinese rapper Jony J. and records a music documentary in collaboration with PUMA with a click-through rate of 30 million.
Lexie Liu has now signed with Asian hip-hop collective 88rising and has since released her first song Like a Mercedes (YouTube).
Noteworthy:
Lexie Liu has already announced her second single, titled 'Mulan'. It is scheduled to be released after Liu has finished her adventure at The Rap of China, but she has already released just one sentence from the upcoming song: "Just as the beautiful victory accomplished by the legendary Mulan, I also hope that I, accompanied by you, will be able to leave a memorable story behind" ("就像传说中木兰打了一场漂亮的胜仗,这次,我希望也能在你们的陪伴下,留下一段被铭记的故事").
By Gabi Verberg
Follow @whatsonweibo
Edited for clarity by Manya Koetse
Spotted a mistake or want to add something? Please let us know in comments below or email us.
©2018 Whatsonweibo. All rights reserved. Do not reproduce our content without permission – you can contact us at info@whatsonweibo.com.
"Not Just a Style, But a Mission" – China's Online Hanfu Movement
What started with a 2003 internet sensation grew into a massive movement – Hanfu is booming on Weibo and beyond.
It's been nearly two decades since the Chinese traditional clothing trend named Hanfu 汉服 first became noticeable as a popular social phenomenon in mainland China. Throughout the years, Hanfu has gone from a fashion style to a full-fledged movement that is flourishing on Chinese social media. Koen van der Lijn reports.

When objects meet social media, two websites meet as well. This is a collaboration between What's on Weibo and Things That Talk (follow on Insta @thingsthattalk).

This last Christmas, Hanfu was once again a trending topic on Weibo. Enthusiasts of the traditional Chinese clothing trend posed online in their Christmas inspired Chinese clothing.
It was yet another development in the Hanfu Movement, which has been a hot topic with hundreds of hashtags and thousands of pictures, videos, and stories on Weibo, with the official Weibo Hanfu @微博汉服 account boasting a whopping 1.8 million followers and a Weibo 'supertopic' on Hanfu being joined by nearly half a million fans.
One example of the manifold of Hanfu content on Weibo is a video recently posted by Chinese actress Xu Jiao (徐娇). In the short video, which is an advertisement by the e-commerce platform RED (小红书), the actress wears Hanfu in various settings while talking about the meaning behind the fashion. Xu Jiao, being 23 years of age, is part of Generation Z (mid-1990s – early 2010s), who are adept users of social media and make up the mass of Hanfu enthusiasts.
Though Hanfu enthusiasts seldomly go out on the streets whilst wearing the clothing style,1 Hanfu sales have been increasing a lot over the past few years.2 Possibly linked to the popularity of Chinese costume dramas, many Chinese youth have started to wear Hanfu in the past two decades. However, it is not just a form of cosplay or a new clothing style. As Xu Jiao says herself in the video: "It's not just a style, it's a mission."
Background of the Hanfu Movement
It was November 2003 when Wang Letian walked the streets of Zhengzhou in Hanfu. News of his action rapidly spread over the internet through websites such as hanminzu.net.3
Besides online discussions, an article was also written about Wang Letian's bold move in the Singaporean newspaper Lianhe Zaobao 联合早报, helping spread word about the young man's actions. This moment was seen as the start of the Hanfu Movement.
Now, roughly twenty years later, the wearing of Hanfu has developed into a true movement, with many young Chinese participating in the wearing of the traditional Chinese dress. Especially on college campuses, the trend is very much alive.
In its most basic idea, the Hanfu Movement can be described as a social movement that supports the wearing of Han Chinese ethnic clothing. The emphasis on the Han ethnicity is of importance here. Han Chinese make up the vast majority of the population in China, accounting for more than 90% of China's total population. However, aspects famous outside China for being typically Chinese, such as the queue, are actually of Manchu origin.
The Manchus are an ethnic group from Northeastern China, showing cultural similarities to the Mongols, who ruled China's last dynasty, the Qing dynasty (1644-1912). Their clothing style has influenced foreign perceptions of China, due to the fact that the Manchus were the ruling class in the last Chinese imperial dynasty.
Hence the emphasis on the Han ethnicity. Central to the Hanfu Movement is the idea that ethnic Han clothing, as worn during Han Chinese ruled dynasties, such as the Han dynasty (202BC-220AD), the Tang dynasty (618-907), and the Ming dynasty (1368-1644), has much value in its own and should be worn and appreciated by contemporary Han Chinese, just as the ethnic clothing of China's minorities is appreciated in contemporary China.4
The Mission
On 4 December 2020, blogger Mi Qiujun posted a video with the hashtag #How to make the world understand Hanfu?#, (#如何让世界了解汉服#), gaining many likes and comments. Showing clips of herself wearing Hanfu in Egypt, the United States, France, and Japan, she tells how she became determined to make people around the globe understand China's traditional culture after her clothing being wrongly identified as a Japanese kimono at her first stop in Nepal.
Mi Qiujun discusses an important aspect of the Hanfu movement. Hanfu enthusiasts feel that their ethnic clothing is not understood well enough by others, and showing the rest of the world their clothing is a true mission.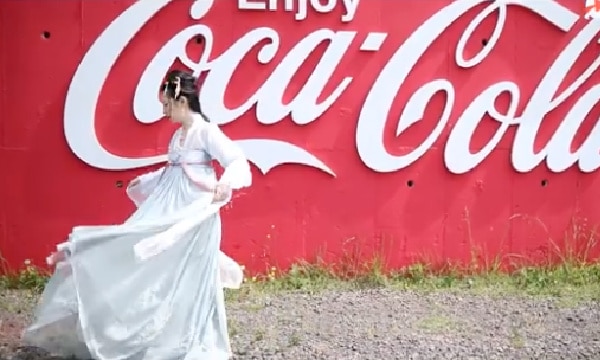 Hanfu enthusiasts have found themselves in online quarrellings about what can be defined as Hanfu, and what cannot be defined as Hanfu. It is worth noting that some scholars have disputed the existence of a uniform Hanfu throughout Chinese history.5 Instead, Hanfu is seen to have been popularised by students through the internet, without strong knowledge of Han Chinese clothing traditions.6 This makes it difficult to assess what does and what does not count as Hanfu.
Online quarrelings have therefore become part of the Hanfu Movement. In November 2020, for instance, Chinese netizens found themselves in an online discussion with their Korean neighbours. That month, Chinese actor Xu Kai (许凯) posted a photo of himself in traditional costume from the set of the Chinese drama titled Royal Feast (尚食), which is set in the Ming Dynasty.
After South Korean web users pointed out that the traditional costume worn by Xu resembled Korean traditional clothing named Hanbok, the drama's producer Yu Zheng (于正) posted a response on social media in which he firmly stated that this clothing was not Hanbok but Hanfu, adding that Korea was a vassal state of China at the time and that only "uncivilized people" would call it 'Hanbok.'
A Nationalist Movement?
These kinds of discussions also show another side of the Hanfu Movement. For some Hanfu enthusiasts, Hanfu is more than a mission to let others understand Han ethnic culture; instead, it is a way to construct a purified Han Chinese identity, free from foreign influence.7
This foreign influence is often linked back to the Manchus once again. 'Uncivilised practices' in contemporary Chinese society are attributed to the Manchus. This rhetoric reinforces the belief of Han supremacy, which has existed long before the invention of the internet, where the 'civilized' Han Chinese believe themselves to be superior to the 'uncivilized' barbarians, such as the Manchus.
This rise in Han Chinese nationalism started in the past few decades.8 The Hanfu Movement thus has followers who are a part of this new turn, where Han Chinese want to restore the glory of their past and turn away from Western and Manchu influences.9
These hardcore Han nationalists are but a small part of the movement. The Hanfu Movement encompasses a large and diverse group of people, who all share a certain belief that Hanfu should gain more appreciation in China and abroad. These are, for instance, some of the comments under Xu Jiao's video:
– "(…) Xu Jiao speaks for Hanfu!!" (@怪物与约翰)
– "Do not be afraid to doubt, never forget the original intention, Hanfu is a style, it's a mission, it's culture, and it's an attitude." (@打翻废纸篓)
– "I am so thankful we have you! I really like your work and your attitude towards Hanfu!" (@小瓦肯Shail)
What connects most Hanfu enthusiasts then? Hanfu enthusiasts take pride in wearing Hanfu, and they wear Hanfu simply because they like wearing it. Moreover, they believe it to be important to make others, both in and outside China, gain a deeper understanding of Han Chinese ethnic culture. Hanfu is more than a fad. It is a subculture, it is a style, and for Xu Jiao and many others, it is their mission.

By Koen van der Lijn
Follow @WhatsOnWeibo
Koen van der Lijn (China Studies, BA) is a ResMa student Asian Studies at Leiden University focused on Chinese history and its international relations. He is a student ambassador at Things That Talk.
This story was made in collaboration with ThingsThatTalk.net – exploring humanities through the life of objects. Things That Talk is an educational digital project where staff and students produce narratives and metadata about objects in Leiden collections and beyond. A story focused on the background of the Hanfu Movement and objects associated with this movement has previously been published on Things that Talk, go check it out!

Notes (other sources hyperlinked within the article)
1 Buckley, Chris, and Katrina Northrop. 2018. "A Retro Fashion Statement in 1,000-Year-Old Gowns, With Nationalist Fringe." New York Times, Nov 22 https://www.nytimes.com/2018/11/22/world/asia/china-hanfu-gowns-clothing.html [Jan 16 2021].
2 Zhou Xing 周兴. 2020. "Report: Hanfu turnover on Taobao platform exceeded 2 billion yuan in 2019 [报告:2019年淘宝平台上汉服成交金额突破20亿元]." Dianshangbao, August 2 2020 https://www.dsb.cn/124836.html [Jan 16 2021].
3 Cui Chentao 崔晨涛. 2016. "Han Costume Movement and National Culture Rejuvenation [汉服运动"与民族文化复兴的诉求]." Journal of Yunyang Teachers College 36(5): 19-24.
4 Cui Chentao 崔晨涛. 2016. "Han Costume Movement and National Culture Rejuvenation [汉服运动"与民族文化复兴的诉求]." Journal of Yunyang Teachers College 36(5): 19-24.
5 Carrico, Kevin. 2017. The Great Han: Race, Nationalism, and Tradition in China Today. Oakland, California: University of California Press.
6 Zhang Xian 张跣. 2009. "'Hanfu Movement': Ethnic Nationalism in the Internet Age ["汉服运动":互联网时代的种族性民族主义]." Journal of China Youth University for Political Sciences (4): 65-71.
7 Carrico, Kevin. 2017. "Imaginary Communities: Fantasy and Failure in Nationalist Identification," in The Great Han: Race, Nationalism, and Tradition in China Today, chapter 1. Oakland, California: University of California Press.
8 Dikötter, Frank. 2001. "Nationalist Myth-making: The Construction of the Chinese Race." Human Rights in China, 27 April https://www.hrichina.org/en/content/4573 [16 Jan 2021].
9 Carrico, Kevin. 2017. "Imaginary Communities: Fantasy and Failure in Nationalist Identification," in The Great Han: Race, Nationalism, and Tradition in China Today, chapter 1. Oakland, California: University of California Press.
Featured image: Photo by zhang kaiyv on Unsplash
Spotted a mistake or want to add something? Please let us know in comments below or email us. First-time commenters, please be patient – we will have to manually approve your comment before it appears.
©2021 Whatsonweibo. All rights reserved. Do not reproduce our content without permission – you can contact us at info@whatsonweibo.com.
Angelababy, Huang Xiaoming, Li Fei'er: Love Triangle Rumors From Decade Ago Revisited
Weibo explodes after Angelababy addresses rumors that have been going on for over ten years.
On Wednesday afternoon, Beijing time, Weibo exploded when Chinese celebrity couple Huang Xiaoming and Angelababy addressed some strong rumors about the start of their relationship.
Their posts resulted in various hashtags and search terms going viral, including the phrases "When Angelababy Met Huang Xiaoming, He Said He Was Single" and "Angelababy Was Not My Mistress." At least three out of today's top trending Weibo topics are related to Angelababy and Huang Xiaoming.
Angelababy (nickname for Yang Ying 杨颖) is practically a household name in China. The famous actress and model married actor Huang Xiaoming (黄晓明) in 2015, and ever since, their marriage and relationship status is a popular gossip topic on social media. The two have a son together.
With Angelababy having over 100 million fans on her Weibo page (@angelababy) and Huang Xiaoming having over 61 million followers on his (@黄晓明), the two are practically Weibo's most followed couple. Their $31 million wedding is probably the most-discussed Chinese weddings of the past decade.
Chinese actress Li Fei'er (李菲儿) previously dated Huang Xiaoming after working with him in the 2008 television series Royal Tramp (鹿鼎记). The two are said to have started a relationship in 2007, and to have broken up in 2010 – the same year when Huang got together with Angelababy. The ending of the relationship with Li and the start of the new love affair with Angelababy has been a source of gossip for over a decade.
In a 2011 interview with a Hong Kong magazine, Li had hinted that Angelababy was previously 'the other woman' during her relationship with Huang.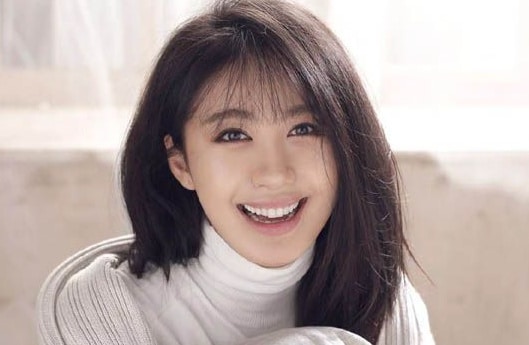 The rumors surrounding that alleged love triangle between Angelababy, Li, and Huang reached a new peak this week when Huang Xiaoming and Li Fei'er shared a stage on the super popular reality series Sisters Who Make Waves 2, which features 30 female celebrities over the age of 30. Huang hosts the show.
Apparently, Angelababy felt that the waves of rumors became too strong for her not to speak out. In the late afternoon of January 6, she posted a Weibo post in which she stated that Huang Xiaoming told her he was single when they first met. When Li made 'groundless' comments about Angelababy in a magazine interview, she asked Huang about it, and "he told me they had broken up."
"A decade has passed by. Today, I've chosen to stand up for myself and to explain the entire thing clearly. I don't want to take the blame anymore," Angelababy writes.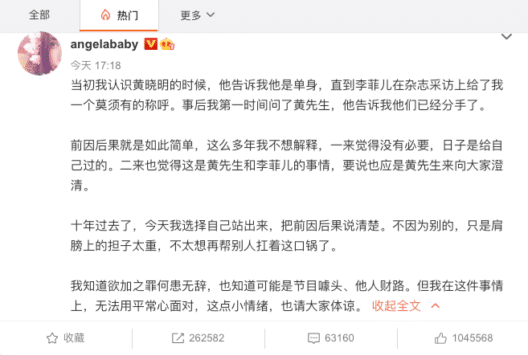 She also added that she felt this is "a matter between Mister Huang and Li Fei'er," suggesting that Huang is the person who needs to clarify the matter to the public.
Angelababy's post was followed up by a post by Huang just an hour later, in which he stated the success of the Sister Who Make Waves tv show lies in the values it conveys to respect women, suggesting that the recent flood of rumors is harmful to the show's central theme, the women participating in it, as well as to his own family.
He further clarifies that Angelababy "was not a mistress," refuting ongoing rumors about the start of their relationship.
The huge attention for this matter seemed to temporarily put a strain on Weibo's servers, with the site momentarily showing a notification that its servers were too busy. In 2017, Weibo servers could no longer handle the peak in traffic after Chinese singer ad actor Lu Han announced his new relationship.
For now, the statements by Angelababy and Huang have only brought about more speculation. The fact that Angelababy refers to her husband as "Mr. Huang" in her post intensifies ongoing rumors that Huang and Angelababy might already be separated.
Meanwhile, Li Fei'er, who has over 11 million followers on her Weibo page (@李菲儿love) has not posted anything about the recent developments. In her last post on January 1st, she wished her followers a happy new year.
By Wednesday night, Beijing time, Angelababy's post had received over 1,3 million likes and 100,000 comments; Huang's post got over 850,000 likes, already making this celebrity news one of the most talked-about topics this week.
By Manya Koetse, with contributions from Miranda Barnes
Follow @WhatsOnWeibo
Spotted a mistake or want to add something? Please let us know in comments below or email us. First-time commenters, please be patient – we will have to manually approve your comment before it appears.
©2021 Whatsonweibo. All rights reserved. Do not reproduce our content without permission – you can contact us at info@whatsonweibo.com.