The Women Changing the Chinese Rap Scene: Top 3 Most Popular Female Rappers of China
These are the three Chinese female rappers to watch this year.
Over the past few years, rap has become a hot music genre in China. Although China's rap scene is a male-dominated space, Chinese female rappers are now stepping up to the stage. These are the top women to follow in the PRC's current hiphop craze.
Rap music has become a hot music genre in China over the past years. One of the reasons why Chinese hip-hop has recently seen a rise in popularity is the TV show The Rap of China (中国有嘻哈/中国新说唱). The rap competition, produced by iQiyi, is among the best-viewed entertainment shows of China over the past two years; some of its recent episodes have already received up to 240 million views on online video platform iQiyi alone.
The show is produced by some of China's most famous producers, i.e. Chen Wei 陈伟, and its jury line-up includes famous singers such as Kris (吴亦凡), G.E.M. (邓紫棋), Wilber Pan (潘玮柏), or underground rapper Hotdog (热狗). In various rounds, contestants have to show they can freestyle to a beat, create their own songs, and perform in front of a live audience.
In the first season (2017), Sichuanese female rapper 'VaVa' was the only woman to make it to the last rounds of the show. In the second season (2018), it is female rapper Lexie Liu who is still going strong. These female rappers show that it is possible for women to break through in this male-dominated genre.
These are the top three Chinese female rappers to keep an eye on in 2018.
#1. VaVa (Mao Yanqi 毛衍七), @VaVaMiss (4+ million fans on Weibo)
Mao Yanqi aka 'VaVa' was born on the 29th of October in 1995 in Ya'an, Sichuan. Growing up with a mother working far away from home, and a violent father who brought home another woman, the young VaVa does not have an easy childhood. From the age of four, she is raised by her grandmother.
VaVa's passion for dancing and singing already stands out during her elementary school years, as recruiters from a local art and drama college notice the third-grader's talent and admit her to their art school. But because her family is unable to pay for tuition, the young VaVa cannot accept the offer and trains herself instead; at the age of 15, she drops out of school to work as an entertainer at a club and further develops her talent as a singer and dancer.
In 2017, the 22-year-old VaVa has her breakthrough when she participates in The Rap of China. In the second round of the show, she especially gains popularity when she performs Life's a Struggle, one of China's most famous rap songs. However, she changes the lyrics to reflect her personal childhood experiences (see link for lyrics in English), leaving all four members of the jury deeply touched, praising VaVa's authenticity.
VaVa finally ends up as one of the final four contestants. A few months later, she brings out her first album, titled 21 (Spotify). Since then, she has gained fame within China and internationally; her new song My New Swag (我的新衣) is featured in Hollywood blockbuster Crazy Rich Asians, she is seated front-row at European fashion shows, and is the new face of sportswear brand Kappa.
Noteworthy:
Many of VaVa's songs focus on her own image and ambition and self-image. In the song U Should Know My Name, she raps: "I am here from the underground. I never curse. I have a top-secret plan for my own future – rise to the throne, be prepared to kneel" ("I am here来自地下. 我从来都没有唱过一句骂. 对自己的未来有着绝密计划. 转身登上宝座吧女王陛下. 准备好了献上你的膝盖"). In People on The Move, she raps: "I climb and will never lose. You need to know that I'll never give up. I pursue reality and the dream world, I'm the coolest when I do my thing" ("加持我登峰I'll never lose。 要知道 我根本没想过退路。 现实和梦境追逐 做我自己才最酷").
#2. Vinida (万妮达), @Vinida万妮达 (1.2+ million fans on Weibo)
Vinida was born on 29th of June 1994 in Fujian, Fuzhou. Because of Vinida's sexy appearance and curvy body, she is sometimes compared to Kim Kardashian.
At the early age of 13, Vinida first comes into contact with hip-hop culture, and she later starts to experiment with producing her own music and joins the local underground rap group Freedom Plant Music.
Vinida gains more mainstream attention after her participation in the show Sing! China (中国新歌声) in 2016, after which state media outlet China Daily calls her "a rare sight on China's music scene." The young rapper later also participates in The Rap of China (中国新说唱), but is eliminated in the 'battle round.'
In 2017, Vinida's first album was released, simply titled Vinida (Spotify). Along with VaVa, Vinida was selected by Forbes China's as one of the most influential artists in the music industry list '30 Under 30' this year.
Noteworthy:
It's often said that Vinida's lyrics are characterized by a glorification of female power, as her two hits 'Queendom' and 'Run This', for example, also show. In Run This, she raps: "I focus more on my career, I have no time for your bickering. I collect diamond necklaces, I am only moving forward" ("更专注于事业 没空和你计较. 收集钻石项链 还在不断向前").
#3. Lexie Liu (刘柏幸), @刘柏辛Lexie (450,000+ fans on Weibo)
Lexie, sometimes referred to as the 'Chinese Rihanna' by the media, currently is one of the youngest well-known Chinese female rappers. She was born on 21 December 1998 in Changsha, Hunan. Lately, she has become very popular through the television show The Rap of China (中国新说唱).
At only four years old, Lexie already starts practicing playing the piano and dancing. She has her breakthrough at the age of 16, when she particpates in a South-Korean Kpop show; two years later, she is also invited to perform at one of the South by Southwest (SXSW) festivals in Austin, Texas.
In that same period, she records a song with the popular Chinese rapper Jony J. and records a music documentary in collaboration with PUMA with a click-through rate of 30 million.
Lexie Liu has now signed with Asian hip-hop collective 88rising and has since released her first song Like a Mercedes (YouTube).
Noteworthy:
Lexie Liu has already announced her second single, titled 'Mulan'. It is scheduled to be released after Liu has finished her adventure at The Rap of China, but she has already released just one sentence from the upcoming song: "Just as the beautiful victory accomplished by the legendary Mulan, I also hope that I, accompanied by you, will be able to leave a memorable story behind" ("就像传说中木兰打了一场漂亮的胜仗,这次,我希望也能在你们的陪伴下,留下一段被铭记的故事").
By Gabi Verberg
Follow @whatsonweibo
Edited for clarity by Manya Koetse
Spotted a mistake or want to add something? Please let us know in comments below or email us.
©2018 Whatsonweibo. All rights reserved. Do not reproduce our content without permission – you can contact us at info@whatsonweibo.com.
Famous Chinese Nursery Song "One Penny" Inflates to "One Yuan"
One penny becomes one yuan in this children's song. What's next – changing it to QR codes?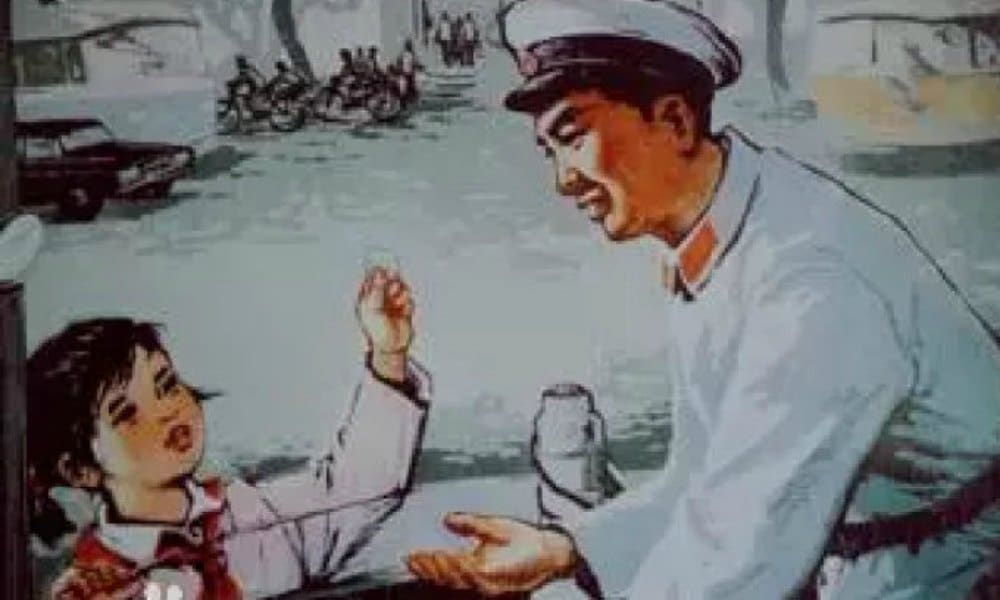 Famous Chinese children's song "One Penny" (一分钱) has changed its penny to a Chinese yuan ($0.15).
The lyrics to the song are now published online and in children's books with the different lyrics, Chinese news platform City Bulletin (@都市快报) reports on Weibo.
The classic song, in translation, says:
"I found a penny on the street,
And handed it over to Uncle Policeman.
The Uncle Policeman took the penny,
And nodded his head at me.
I happily said: "Uncle, goodbye!"
The song, by Chinese composer Pan Zhensheng (潘振声), is known throughout China. It came out in 1963.
Apparently, in present-day China, nobody would go through so much hassle for a penny anymore, and so the text was altered (although it is very doubtful people would go through the trouble for one yuan either).
The penny coin (0.01) in renminbi was first issued in 1957, and is somewhat rare to come across these days. "It's probably even worth more than one yuan now," some netizens argue.
Chinese media report that composer Pan Zhensheng said the song is just an innocent children's song, and that it should not be affected by price inflation. Sina News also quoted the composer in saying that changing the text is "not respectful."
Although some Chinese netizens think the change in the song is just normal modern development, others do not agree at all. In Hangzhou, some say, all you can find on the streets nowadays is QR codes rather than coins. Surely the song should not incorporate those new developments either?
Some commenters on Weibo say the song would never be realistic in China's current cashless society anyway: "Kids nowadays are not finding cash money at all anymore!"
By Manya Koetse
Follow @whatsonweibo
Spotted a mistake or want to add something? Please let us know in comments below or email us. Please note that your comment below will need to be manually approved if you're a first-time poster here.
©2019 Whatsonweibo. All rights reserved. Do not reproduce our content without permission – you can contact us at info@whatsonweibo.com
Controversy over Scene in Anti-Japanese War Drama Featuring Black U.S. Soldier and Chinese Nurse
Some scenes from this anti-Japanese war drama have angered Chinese netizens over 'historical nihilism.'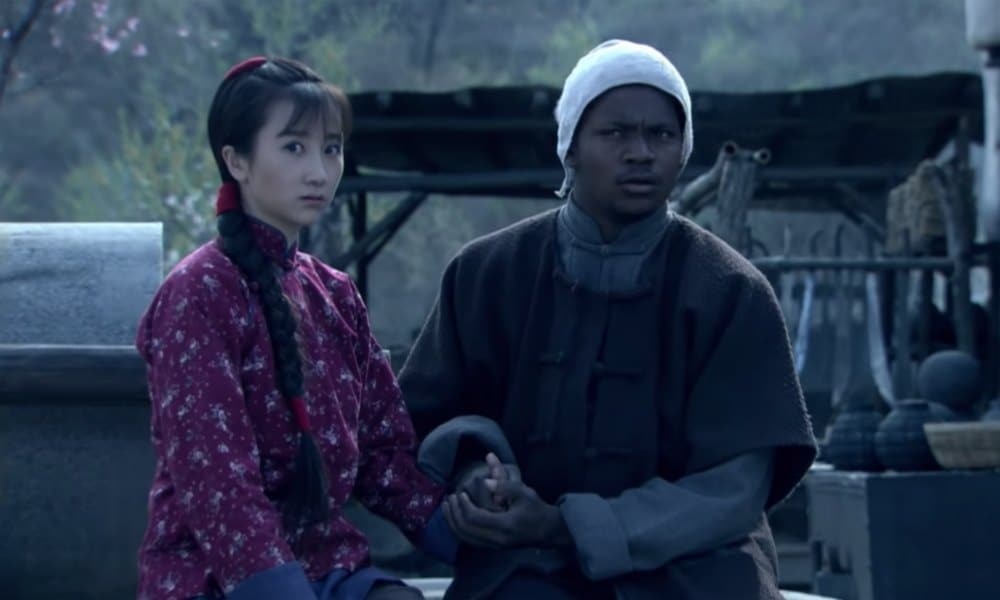 A black soldier comes to China from afar during WWII and falls in love with a Chinese villager who sacrifices her life for him. This war drama is sensationalizing the Sino-Japanese War in the wrong way, many netizens say.
"I love you, I love China," a black man tells a Chinese woman in a clip of an anti-Japanese war drama that has gone viral on Chinese social media over the past few days (watch clip in embedded tweet below).
This scene from a Chinese Anti-Japanese war drama is stirring controversy on Chinese social media this week. "I love you, I love China," the foreigner says. "Love me, love China," the Chinese woman says, before sacrificing her life for him and getting killed by Japanese shooters.

— Manya Koetse (@manyapan) September 5, 2019
The scene is set on a mountain, where the man and woman hold hands when she tells him to flee from the "Japanese devils." She repeats: "Remember: love me, love China."
The love scene takes a dramatic turn when the two get ambushed by the Japanese army. The Chinese woman immediately pushes the man off the mountain to bring him to safety. While she cries out "love me, love China" she is attacked by Japanese soldiers and dies.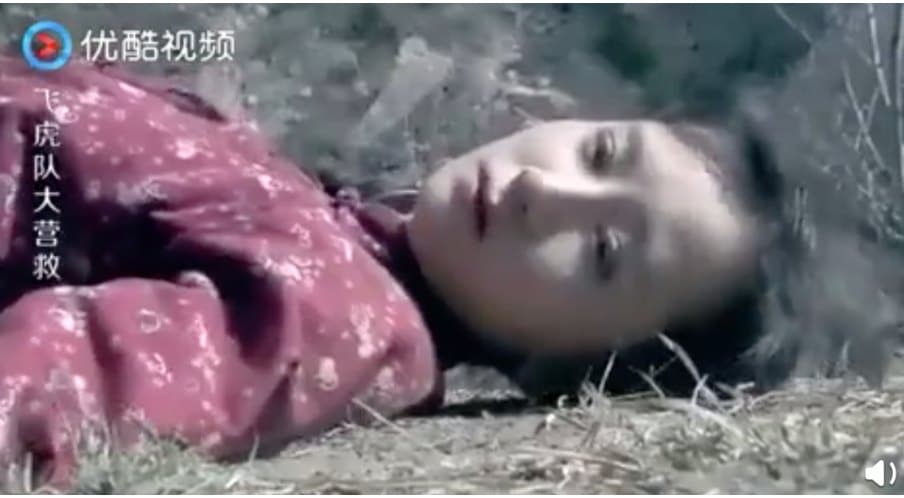 The scene comes from a 2016 TV drama titled The Great Rescue of The Flying Tigers (飞虎队大营救). The drama tells the story of Japanese soldiers chasing surviving members of a Flying Tigers aircraft after they shot it down. Various soldiers and army staff on the Chinese side try to rescue the fighters from the hands of the Japanese.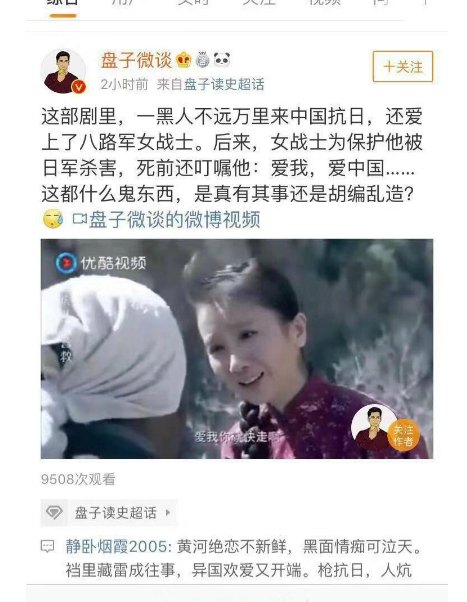 The drama's portrayal of a romance between the foreign soldier and a Chinese woman, on the side of the Communist Eighth Route Army, has stirred controversy on Weibo this week.
"The director is retarded, this is historical nihilism," one Weibo blogger writes.
Hundreds of netizens also criticize the drama's director and screenwriters: "This is not even funny, what kind of scriptwriter comes up with this trash? This should be thoroughly investigated."
The Flying Tigers (飞虎队) were a group of US fighter pilots who went to China during the final three years of the Second Sino-Japanese War to fight the Japanese invaders and defend China.
The people behind the Flying Tigers belonged to the organization of the American Volunteer Group (AVG), who came together in 1941 to strengthen the Chinese Air Force.
In the now controversial TV drama The Great Rescue of The Flying Tigers, the black soldier is 'Carl' (Cedric Beugre), a surviving member of the Flying Tigers aircraft shut down by Japanese forces. The Chinese woman is 'Xinghua,' a female nurse who sacrifices her own life to save Carl.
The dialogues between Carl and Xinghua are pretty simple and at times almost ridiculous. While Xinghua does not speak a word of English and appears clueless, Carl is depicted as a stubborn, crude and somewhat silly character, who also seems to understand very little of what is happening around him and does all he can to be with his Xinghua after a brief meeting in the Chinese base camp (also see this scene or here).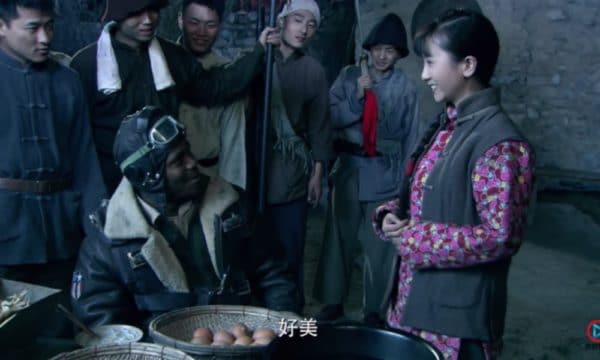 On Chinese social media, the drama is critiqued for being a so-called 'divine Anti-Japanese drama' (抗日神剧): Chinese war dramas that sensationalize the history of the war by making up unrealistic and overly dramatic or funny scenes and storylines.
In 2015, China's State Administration of Press, Publication, Radio, Film, and Television (SAPPRFT) announced a limit on these kinds of TV dramas that sensationalize the history of war, and in doing so 'misrepresent history' and 'disrespect' the Chinese soldiers who fought to defend the nation (read more).
TV series focusing on war are part of China's every day (prime time) TV schedules. These Chinese war dramas are called "Anti-Japanese War Dramas" (抗日电视剧), literally referring to the period of 'resisting Japan' during WWII (in China, the 1937-1945 war is called The War of Resistance against Japanese Aggression 中国抗日战争).
The 40-episode series The Great Rescue of the Flying Tigers was aired by Yunnan City Channel but is also available online. Since there are countless reruns of Anti-Japanese war dramas on Chinese tv, it is possible that some viewers only now viewed the 2016 drama for the first time.
Some netizens call this a "new kind of fantasy war drama", summarizing: "A black man comes from far away to China to fight Japan, falls in love with a Chinese nurse who sacrifices her own life for him and yells 'Love me love China' before she dies."
Many on social media call the script "idiotic," others question if black soldiers ever joined the Flying Tigers in the first place.
There seems to be more to the controversy than sensationalizing history alone though – relationships between foreign men and Chinese women, especially black men and Chinese women, are often met with prejudice and racism on Chinese social media. Mixing such a narrative in a drama about the Second Sino-Japanese war makes it all the more controversial.
Some see the narrative of the love between a foreign soldier and a Chinese woman as a way of 'beautifying' the war and 'adoring everything that's foreign.'
"This is not respecting history at all!", one among hundreds of commenters says.
In the TV drama, the sentence "Love me, Love China" does have some extra meaning in the end. Although Xinghua sacrifices her life for Carl in episode 19, he eventually chooses to fight side by side against the Japanese 'devils' with the Chinese army, keeping his promise to "love China" like he loved Xinghua.
By Manya Koetse , with contributions from Miranda Barnes
Follow @whatsonweibo
Spotted a mistake or want to add something? Please let us know in comments below or email us. Please note that your comment below will need to be manually approved if you're a first-time poster here.
©2019 Whatsonweibo. All rights reserved. Do not reproduce our content without permission – you can contact us at info@whatsonweibo.com