The Women Changing the Chinese Rap Scene: Top 3 Most Popular Female Rappers of China
These are the three Chinese female rappers to watch this year.
Over the past few years, rap has become a hot music genre in China. Although China's rap scene is a male-dominated space, Chinese female rappers are now stepping up to the stage. These are the top women to follow in the PRC's current hiphop craze.
Rap music has become a hot music genre in China over the past years. One of the reasons why Chinese hip-hop has recently seen a rise in popularity is the TV show The Rap of China (中国有嘻哈/中国新说唱). The rap competition, produced by iQiyi, is among the best-viewed entertainment shows of China over the past two years; some of its recent episodes have already received up to 240 million views on online video platform iQiyi alone.
The show is produced by some of China's most famous producers, i.e. Chen Wei 陈伟, and its jury line-up includes famous singers such as Kris (吴亦凡), G.E.M. (邓紫棋), Wilber Pan (潘玮柏), or underground rapper Hotdog (热狗). In various rounds, contestants have to show they can freestyle to a beat, create their own songs, and perform in front of a live audience.
In the first season (2017), Sichuanese female rapper 'VaVa' was the only woman to make it to the last rounds of the show. In the second season (2018), it is female rapper Lexie Liu who is still going strong. These female rappers show that it is possible for women to break through in this male-dominated genre.
These are the top three Chinese female rappers to keep an eye on in 2018.
#1. VaVa (Mao Yanqi 毛衍七), @VaVaMiss (4+ million fans on Weibo)
Mao Yanqi aka 'VaVa' was born on the 29th of October in 1995 in Ya'an, Sichuan. Growing up with a mother working far away from home, and a violent father who brought home another woman, the young VaVa does not have an easy childhood. From the age of four, she is raised by her grandmother.
VaVa's passion for dancing and singing already stands out during her elementary school years, as recruiters from a local art and drama college notice the third-grader's talent and admit her to their art school. But because her family is unable to pay for tuition, the young VaVa cannot accept the offer and trains herself instead; at the age of 15, she drops out of school to work as an entertainer at a club and further develops her talent as a singer and dancer.
In 2017, the 22-year-old VaVa has her breakthrough when she participates in The Rap of China. In the second round of the show, she especially gains popularity when she performs Life's a Struggle, one of China's most famous rap songs. However, she changes the lyrics to reflect her personal childhood experiences (see link for lyrics in English), leaving all four members of the jury deeply touched, praising VaVa's authenticity.
VaVa finally ends up as one of the final four contestants. A few months later, she brings out her first album, titled 21 (Spotify). Since then, she has gained fame within China and internationally; her new song My New Swag (我的新衣) is featured in Hollywood blockbuster Crazy Rich Asians, she is seated front-row at European fashion shows, and is the new face of sportswear brand Kappa.
Noteworthy:
Many of VaVa's songs focus on her own image and ambition and self-image. In the song U Should Know My Name, she raps: "I am here from the underground. I never curse. I have a top-secret plan for my own future – rise to the throne, be prepared to kneel" ("I am here来自地下. 我从来都没有唱过一句骂. 对自己的未来有着绝密计划. 转身登上宝座吧女王陛下. 准备好了献上你的膝盖"). In People on The Move, she raps: "I climb and will never lose. You need to know that I'll never give up. I pursue reality and the dream world, I'm the coolest when I do my thing" ("加持我登峰I'll never lose。 要知道 我根本没想过退路。 现实和梦境追逐 做我自己才最酷").
#2. Vinida (万妮达), @Vinida万妮达 (1.2+ million fans on Weibo)
Vinida was born on 29th of June 1994 in Fujian, Fuzhou. Because of Vinida's sexy appearance and curvy body, she is sometimes compared to Kim Kardashian.
At the early age of 13, Vinida first comes into contact with hip-hop culture, and she later starts to experiment with producing her own music and joins the local underground rap group Freedom Plant Music.
Vinida gains more mainstream attention after her participation in the show Sing! China (中国新歌声) in 2016, after which state media outlet China Daily calls her "a rare sight on China's music scene." The young rapper later also participates in The Rap of China (中国新说唱), but is eliminated in the 'battle round.'
In 2017, Vinida's first album was released, simply titled Vinida (Spotify). Along with VaVa, Vinida was selected by Forbes China's as one of the most influential artists in the music industry list '30 Under 30' this year.
Noteworthy:
It's often said that Vinida's lyrics are characterized by a glorification of female power, as her two hits 'Queendom' and 'Run This', for example, also show. In Run This, she raps: "I focus more on my career, I have no time for your bickering. I collect diamond necklaces, I am only moving forward" ("更专注于事业 没空和你计较. 收集钻石项链 还在不断向前").
#3. Lexie Liu (刘柏幸), @刘柏辛Lexie (450,000+ fans on Weibo)
Lexie, sometimes referred to as the 'Chinese Rihanna' by the media, currently is one of the youngest well-known Chinese female rappers. She was born on 21 December 1998 in Changsha, Hunan. Lately, she has become very popular through the television show The Rap of China (中国新说唱).
At only four years old, Lexie already starts practicing playing the piano and dancing. She has her breakthrough at the age of 16, when she particpates in a South-Korean Kpop show; two years later, she is also invited to perform at one of the South by Southwest (SXSW) festivals in Austin, Texas.
In that same period, she records a song with the popular Chinese rapper Jony J. and records a music documentary in collaboration with PUMA with a click-through rate of 30 million.
Lexie Liu has now signed with Asian hip-hop collective 88rising and has since released her first song Like a Mercedes (YouTube).
Noteworthy:
Lexie Liu has already announced her second single, titled 'Mulan'. It is scheduled to be released after Liu has finished her adventure at The Rap of China, but she has already released just one sentence from the upcoming song: "Just as the beautiful victory accomplished by the legendary Mulan, I also hope that I, accompanied by you, will be able to leave a memorable story behind" ("就像传说中木兰打了一场漂亮的胜仗,这次,我希望也能在你们的陪伴下,留下一段被铭记的故事").
By Gabi Verberg
Follow @whatsonweibo
Edited for clarity by Manya Koetse
Spotted a mistake or want to add something? Please let us know in comments below or email us.
©2018 Whatsonweibo. All rights reserved. Do not reproduce our content without permission – you can contact us at info@whatsonweibo.com.
"What Is Peppa?" – Viral Ad Campaign for 'Peppa Pig' Movie Makes the British Pig More Chinese Than Ever
It's the Chinese new year of Peppa Pig.
A new ad campaign for the upcoming Peppa Pig movie features a grandfather living in rural China who goes on a quest to find out what Peppa is. The commercial is a huge success on Chinese social media, and strikes a chord with netizens for touching upon various societal and cultural issues. Peppa is more Chinese than ever now.
"What is Peppa?" That is the question that is currently going viral on Chinese social media, with the hashtag #WhatisPeppa (#啥是佩奇#) receiving a staggering 400 million times on social media platform Weibo at time of writing.
The reason for the trend is an ad campaign, titled 'What's Peppa', promoting the Peppa Pig Celebrates Chinese New Year film, a production by Entertainment One and China's Alibaba Pictures.
The promotional video (5:39 length, watch featured video), that came out via various online channels on January 17, focuses on a grandfather living in a remote rural village who is anticipating the Spring Festival reunion with his son and his family, who now live in a big city.
The grandfather, named Yu Bao, wants to know what gift to get for his little grandson. When calling his family on a bad connection through his old 2G mobile phone, the word "Peppa" is all he gets from his little grandson before his phone breaks down. But what's Peppa?
Yu Bao then goes on a comical mission to find out what Peppa is: looking it up in the dictionary, asking his friends -who are just as oblivious as he is-, and asking the entire village.
At the local shop, it is suggested that 'Peppa' is some kind of shampoo.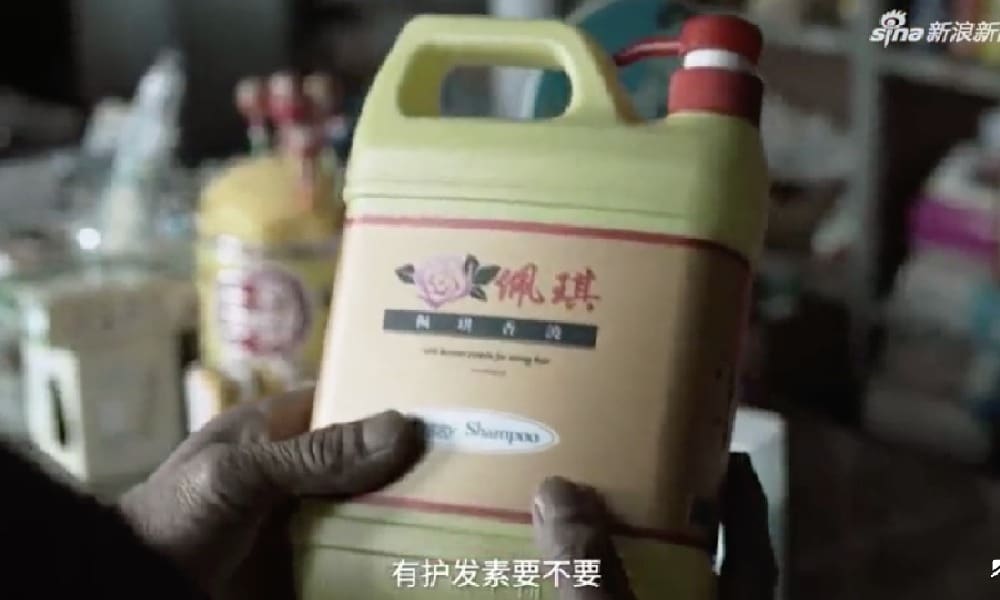 Eventually, one of the female villagers, who used to be a nanny, knows what Peppa is. She tries to explain it to Yu Bao, who now even seems willing to paint his own pig pink for his grandson. She explains that it is a pink cartoon pig whose face looks somewhat like a traditional fire blower.
With some guidance, the grandfather then goes to work and creates a unique 'Peppa Pig' gift from a metal air-blower to surprise his grandson during Chinese New Year.
But much to his disappointment, he then receives a phone call from his son, who tells him they are not coming home for Chinese New Year – before the connection drops again.
As grandpa, sad and lonely, is walking by the side of the road, his son suddenly appears in his car, telling him that the connection dropped too soon; he was not just telling him the family was not coming for Chinese New Year, he was trying to tell him that they invited him to come to their home instead.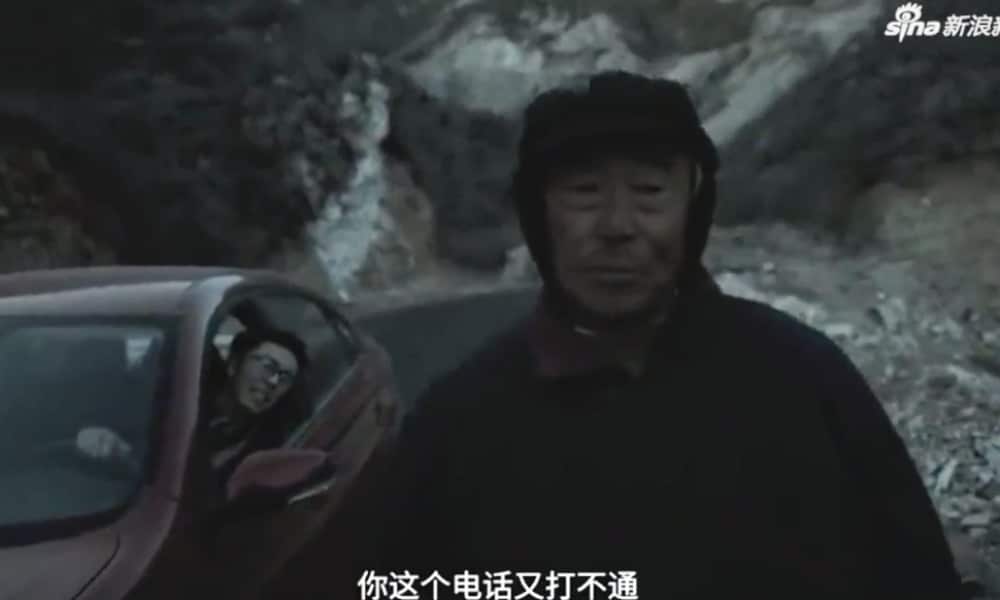 When the family is finally reunited, it is time for the proud grandfather to show the result of his difficult quest for Peppa to his grandson.
The grandpa's mission is complete: he gives his grandson a one-of-a-kind Peppa Pig.
The commercial ends with the entire family enjoying the upcoming Peppa film in the cinema together. When a friend from the village calls the grandfather to let him know he finally found Peppa thanks to his new smartphone, Yu Bao says: "It's okay, I found Peppa already!"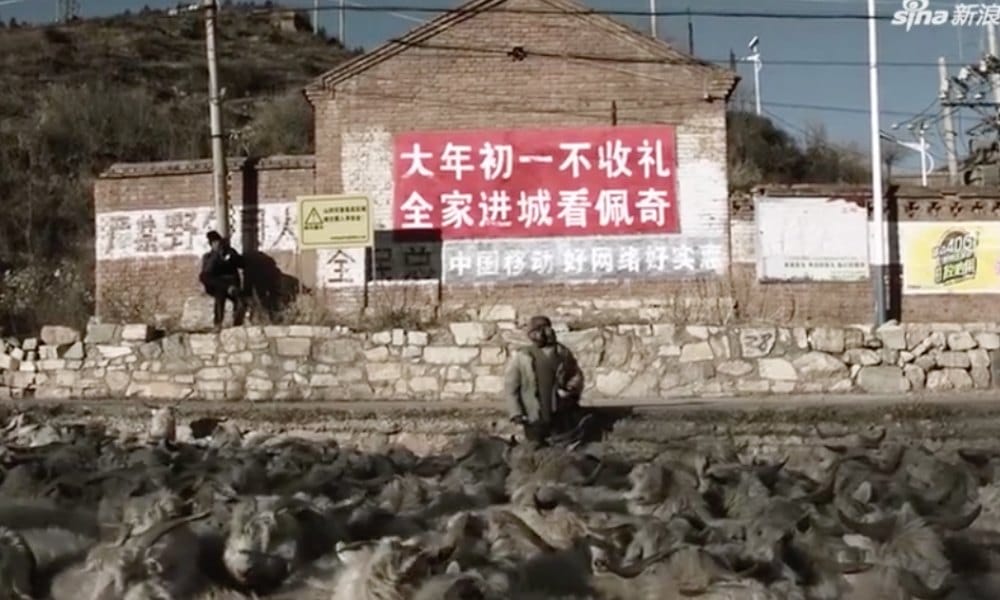 The last shot of the video shows Yu Bao's friend, a sheepherder, standing with his new phone, while someone in the back plays the tune of the Peppa cartoon. The big slogan on the wall is partly based on a popular catchphrase from another Chinese ad, and says: "At the start of the New Year, don't accept gifts; the whole family goes to the city to watch Peppa instead."
What's Peppa Pig?
Peppa Pig is a popular children's cartoon that first aired as a British animated television series (produced by Astley Baker Davies) in May of 2004. It took more than eleven years before the show was officially launched in the PRC (CCTV/June 2015).
Since then, Peppa Pig has become one of the most popular programs for preschoolers in China. But not just preschoolers love the pig; it has also become highly popular among young adults, who wear Peppa t-shirts, Peppa watches, and are major consumers of China's thriving Peppa industry.
In 2018, Chinese popular short video app Douyin (also known in English as Tik Tok) removed approximately 30,000 short videos relating to British cartoon Peppa Pig from its platform, as Peppa had turned into somewhat of a subversive symbol to a Chinese online youth subculture dubbed 'shehuiren' (社会人) (read more here).
This news item led to some confusion in Western media, where it was often suggested that Peppa was completely banned in China. She is, in fact, not banned; she is now more popular than ever.
Peppa the Movie
Amid the huge success of Peppa in China, it was announced in the summer of 2018 that Chinese tech giant Alibaba was working together with Entertainment One on the release of a Peppa Pig movie especially for the Chinese market, as this year's Chinese New Year is the start of the Year of the Pig.
The movie, titled 'Peppa Pig Celebrates New Year' (小猪佩奇过大年), is set for a nationwide release on February 5, the first day of the Chinese Lunar New Year. This is the most popular time for big blockbusters to come out, as many people are free during Chinese New Year and have the time to go out to the cinema together with their families.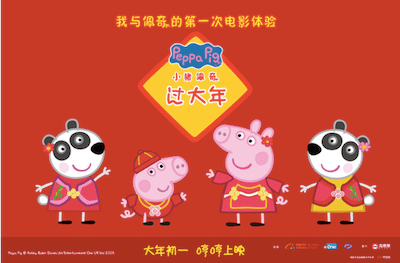 The movie itself revolves around Peppa and little brother George and their parents, who are having a reunion for the Spring Festival. It features various Chinese traditions, and of course, something unexpected will happen.
Why This Peppa Ad Campaign is So Brilliant 
The Peppa ad has really struck a chord on Chinese social media for various reasons. The video was directed by Beijing director Zhang Dapeng (张大鹏, 1984), who also directed the actual Peppa movie, and the campaign is also sponsored by China Mobile.
What this ad campaign does:
– It mixes the love for Peppa with the warm feeling of Chinese family reunions during Chinese New Year.
– It presents a nostalgic idea of the Chinese village community, where neighbors come together and look out for each other.
– It touches upon the issue of China's rapid urbanization, that has caused many villages to become deserted and isolated as younger generations have settled in the cities.
– It highlights how China's digitalization is leaving behind its elderly population (read more here).
– It shows the strong grandparent–grandchild relationship; usually, Chinese grandparents play an active role in raising grandchildren, something that has been changing due to younger generations moving to the city.
In other words; the advertisement completely draws the figure of Peppa Pig into a Chinese socio-cultural context, where it symbolizes the strong connection between Chinese families amid China's rapid urbanization and digitalization.
By now, the Peppa campaign is making its rounds from Weibo to WeChat and elsewhere on the Chinese internet, with some online sellers already offering a remake of the Peppa present for sale as a collector's item. Bloomberg reports that Chinese stocks connected to Peppa Pig have surged after the clip went viral yesterday and today.
"I give this video 100 points!" some commenters on social media write, with others saying it has made them tear up. "This already is the best ad campaign of the year."
Peppa was already a famous figure in China, but with this viral hit and the upcoming movie, the British pig really has become a part of China's popular culture and media environment: it's the Chinese new year of Peppa Pig.
By Manya Koetse and Miranda Barnes
Follow @whatsonweibo
Spotted a mistake or want to add something? Please let us know in comments below or email us.
©2019 Whatsonweibo. All rights reserved. Do not reproduce our content without permission – you can contact us at info@whatsonweibo.com
Living the Dream: Chinese Architect Designs Stunning Six-Story Communal Living Space
This architect from Guangzhou turned her dream of living together with friends in a creative workspace into reality. The building is a hit on Chinese social media.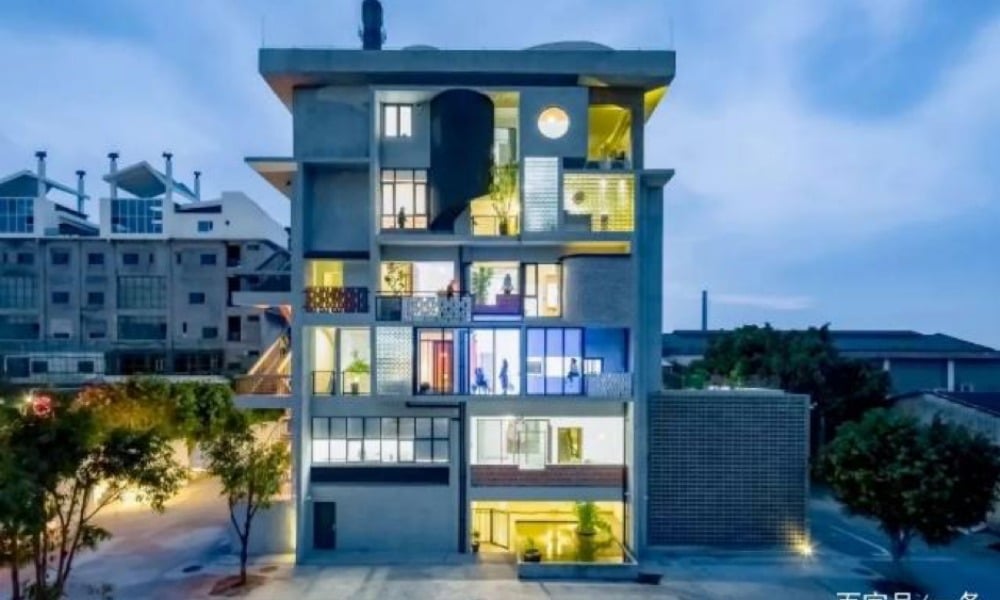 While living together with your best friends in one big house might be a dream of many people, this Chinese architect turned the idea into reality by transforming an old factory into a modern museum-like work- and living space. Through her work, the architect aims to change views on China's urban living spaces.
Guangzhou architect "Michelle" (米歇尔 or Mi Xiao 米笑) and most of her friends work in creative industries. A few years ago, they found that their work and lifestyle required a more flexible and multi-purpose living space; a place where they could live and work together as a small community while also showcasing what they do.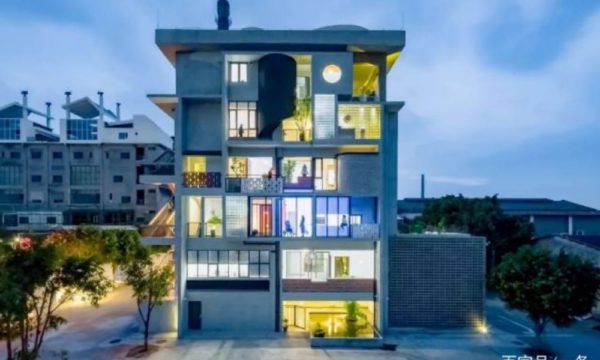 In 2012, the six friends found a workshop in an old abandoned sugar factory, built in the 1950s, located in Guangzhou's Panyu district. More than five years later, they had succeeded in transforming it into a modern six-story work- and living space.
A news story and a video of the building are now attracting major attention on Chinese social media. On Weibo, the hashtag "Six Friends Transform a Building" (#6个好友改造一栋楼#) has been viewed more than 250 million times.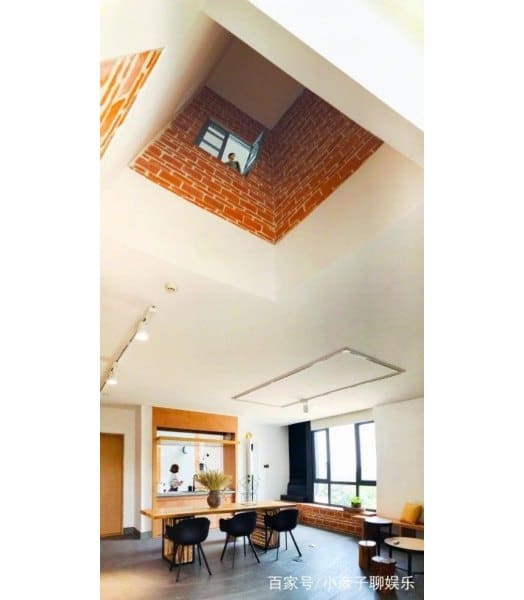 The communal living space, that has been named Boundless Community (无界社区), covers about 1500 square meter and has six completely separate rooms. Originally, the building was made up of only three stories, each with a ceiling height of six to nine meters high.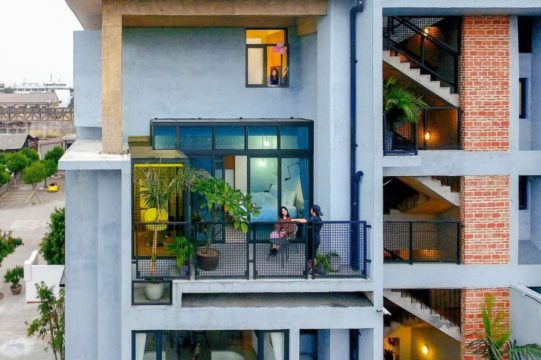 With the reconstruction of the building, the architect reportedly "wanted to break with the traditional urban types of dwellings," where many people live behind locked doors in small spaces. Michelle intended to design the space as a small "village," where people share their living space.
At the same time, the space also allows people to be creative and share their work with the outside world. All of these ideas resulted in a transparent "museum building."
The building itself is almost like a museum by allowing people from outside to look into the various studios.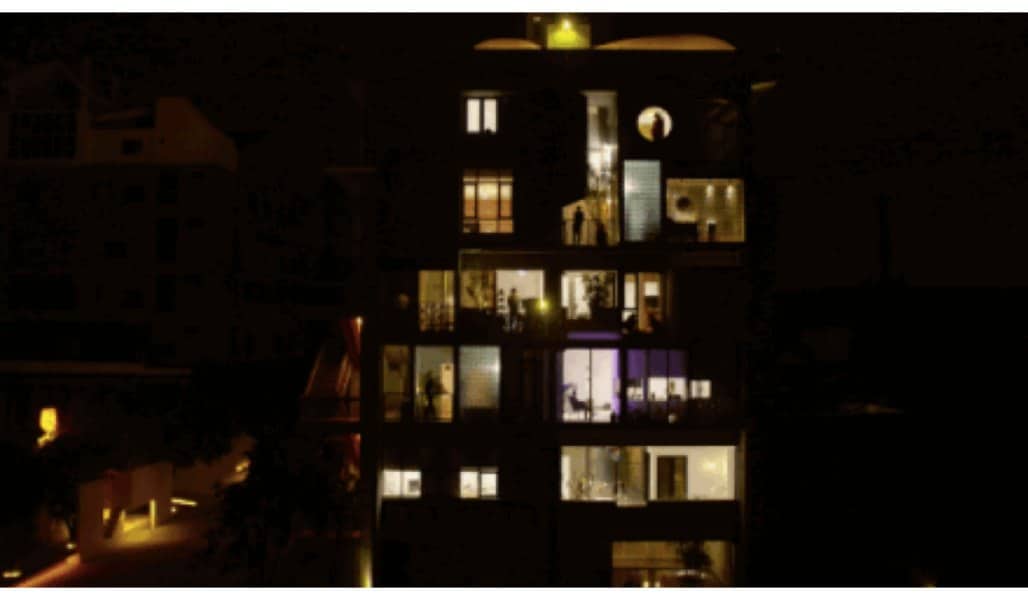 The popular architect is not the only one who is in favor of sharing a living space with her friends. A recent poll on Weibo shows that more than 90% of respondents would also like to live together with their friends; only 10% of the people prefer privacy over a communal living space with good friends.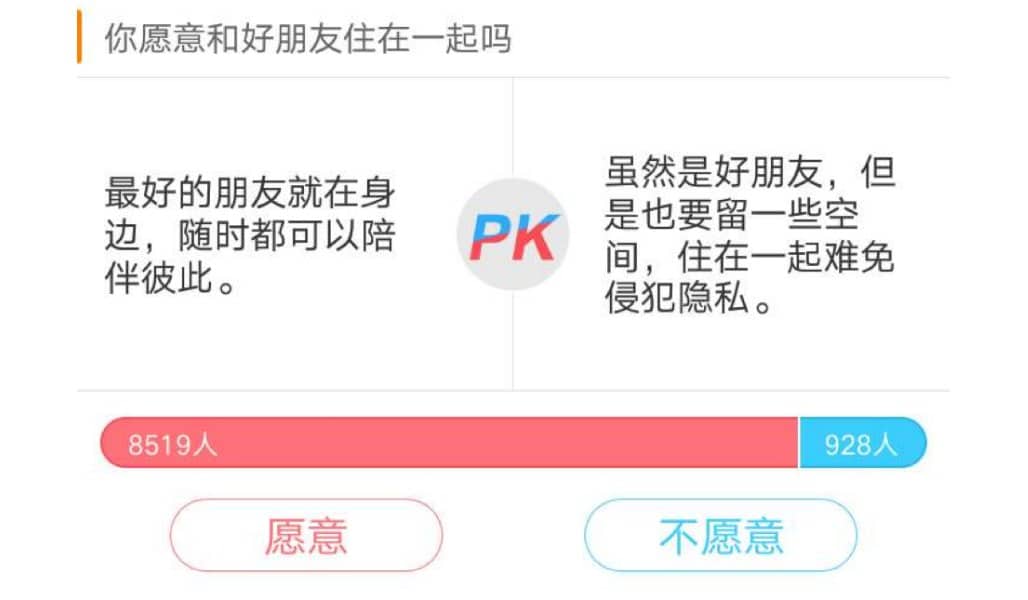 "This is my dream!", many commenters say, with others calling it "simply magical."
To read more about changing attitudes on home and living in China, also check out this article by What's on Weibo. 
By Gabi Verberg
Images via https://sjz.news.fang.com/open/31234746.html.
Spotted a mistake or want to add something? Please let us know in comments below or email us.
©2019 Whatsonweibo. All rights reserved. Do not reproduce our content without permission – you can contact us at info@whatsonweibo.com