Top 10 Apps for Studying Chinese (iOS/Android)
Learning Chinese through smartphone or tablet? Here are 10 recommended apps to study Mandarin.
One of the easiest ways to start learning Chinese or improve language skills is to use apps. What's on Weibo has listed 10 recommended apps that are helpful to any learner of Mandarin.
One of the most-asked questions by people who want to learn Mandarin is: where do I start? Do you begin by learning characters, do you start out with tones, or just focus on the pinyin? For more advanced learners, there is another challenge. How do you make sure you do not lose the knowledge you already have and to how to keep on improving your language skills?
Although learners should always work with whatever methods are most effective for them, the most productive way of studying Mandarin is to study its different components at the same time. Studying new words on paper without learning their tones is not recommended, neither is focusing on pinyin without learning the characters. Instead, it's better to get a grasp on all the different aspects of this rich language.
Some of the 10 apps in this list are Chinese apps meant for a Chinese audience, and not necessarily meant for Chinese language learners – but they are nevertheless excellent learning tools.
Here are some What's on Weibo favorites for Android, iPhone or iPad, from beginners to advanced levels of Mandarin.
1. Pleco Software Dictionary
A confession from the editor: Pleco has been my best friend ever since I started studying Chinese. At the time, I once invested an amount that seemed like a huge sum of money as I was working side jobs as a beginning student to purchase the app's professional package. I used a hand-me-down Palm handheld (!) at the time, but since then, the Pleco support team has never failed me as I transferred the dictionaries to my first iPhone, my first Samsung, and even my first iPad. The fact that many years had passed since my first investment was never an issue.
Although Pleco's service is praiseworthy, it is all about the app itself in the end. Pleco calls itself "The #1 Chinese dictionary app for iOS and Android" and it is hard to argue with that. It is suitable for anyone studying Chinese on an elementary, intermediate, or advanced level. What is good about Pleco is that it has a great range of dictionaries and has an easy handwriting recognizer; even if your handwriting in Chinese is not that great, it will still get the character you need.
The major plus for Pleco is that it is much more than a dictionary alone. It has an add-on optical character recognizer that will help you read offline texts, and the "clip reader" function is super handy to copy Chinese texts on smartphone/table – just copy the text and navigate to Pleco to find the text and tap words and characters for their meanings.
Outlier Linguistics has also partnered up with Pleco, adding its excellent Chinese character dictionary to the add-ons. The Essential edition contains all the essential info about each Chinese character, while the Expert Edition is for those who want to dive deep into the history and etymology of Chinese characters.
Another tip: with Pleco, you can train your Chinese vocabulary through flashcards: add any words you do not know to a category (for example: 'My Chinese Business Vocabulary', or 'Dirty Words in Chinese'), and then quiz yourself through Pleco's 'test' function. It will repeat all the words you got wrong until you have a 100% score.
The free version is ok, but for learners who are serious about learning Chinese (especially when you're dealing with Chinese for your studies) the professional package is recommended and you'll be able to take it along with you, even when you switch from the ancient Palm to the latest iPhone.
Price: free (elementary),  US $29.99 for basic package (bundles through Android), US $99.99 (professional package) + rich selection of optional add-ons.
Compatibility: iPhone/iPad & Android
Where to get:
iPhone: Pleco Chinese Dictionary – Pleco Inc.
iPad: Pleco Chinese Dictionary – Pleco Inc.
Android: Pleco Chinese Dictionary
2. Chinese Class 101 (by Innovative Language)
Whether you are on the road or at home, online or offline, Chinese Class 101 offers Mandarin comprehensive learning courses that you can easily integrate into your everyday life. The lesson-per-lesson audio system makes it easy to listen and practice to bite-sized conversations and fragments (which can all be downloaded) while you're driving to work or cooking dinner.
The app offers lessons from the absolute beginner's level to the very advanced level. Every lesson consists of an audio class of ±10 minutes that usually features a conversation, an audio review of vocabulary, a line-by-line display of the conversation (in English, pinyin, simplified & traditional Chinese), and lesson notes. Note: the overviews and transcripts only come with the premium subscription – if you only want to do audio, you'll be fine with basic, but to get a complete overview of the texts and words you'd have to go for the premium one ($10/month).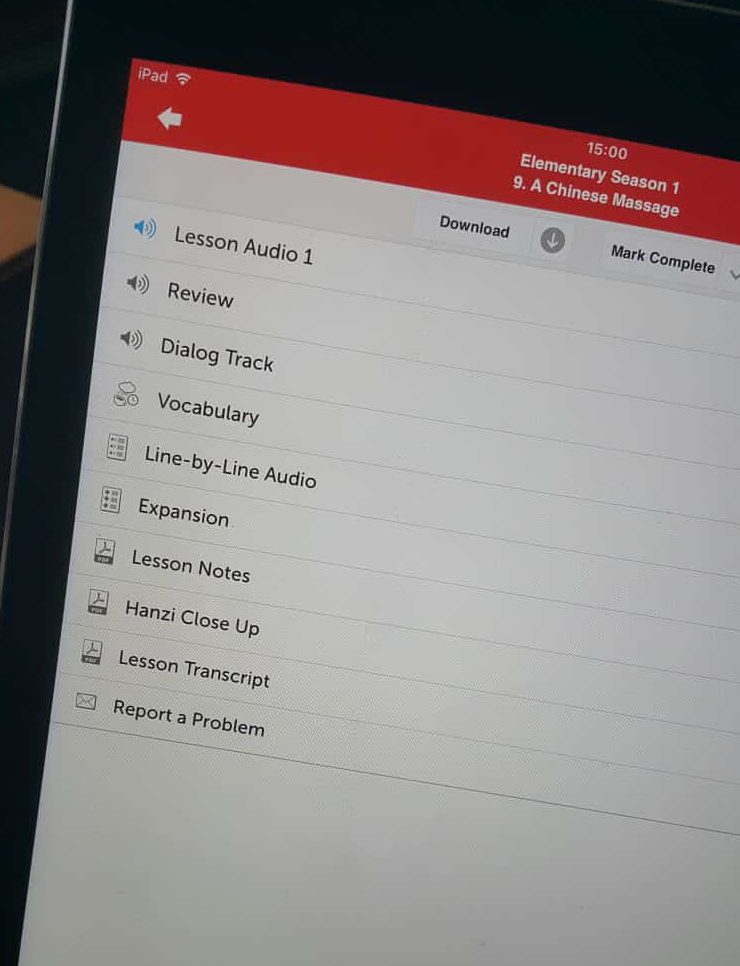 Chinese Class 101 also provides the option to have 1-on-1 interaction with a personal teacher through the app, which only comes with the more expensive premium plus subscription.
If you are not learning Chinese through a school or university, this program is a very effective way of learning Mandarin. One of the key things of this course is the way it repeats the things you've learned to really make it stick in your head. (Also, their Korean programme is very good if you're considering to take on an extra language…).
Price: This app works with a subscription system. It is free to try for a week,  US $5/month for the basic package (access to all audio archives), US $10/month for the premium package (includes wordlists and transcripts) and $23/month for the premium plus (includes option for 1-on-1 teaching).
Compatibility: iPhone/iPad & Android and desktop
Where to get:
www.chineseclass101.com
3. Pera Pera Pop Up Dictionary
Ok, ok, this is not technically an app – it is a plugin. But it needs to be high up in this list for anyone learning Chinese. Pera Pera is a pop-up dictionary add-on for Chrome or Firefox. It gives the English definition for Chinese texts, making it infinitely easier for those struggling with characters to read Chinese online. Pro's: easy to install, easy to use, and translations for many modern names or slang words. Downside: if you use Pera Pera too often, you will get lazy and won't actually learn the characters. Try to only activate this add-on when you really do not know the character.
A major plus of Perapera is that it often gives the translation for relatively new 'internet slang' words or typically online words, making it an effective tool for the modern-day learner of Chinese who scrolls through Chinese texts.
If you are looking for a similar feature for your Android smartphone, Pleco (number 1 in this list) has a 'screen reader' feature for that.
We've been told that in the lastest Firefox version, Pera Pera does not work – in that case we recommend the Zhongwen Popup Dictionary add-on for Firefox.
Price: free
Compatibility: Firefox and Chrome
Where to get:
Chrome Web Store
Firefox Addons
4. Yuntu TV (云图直播)
Immersing yourself in the language is the best way to learn Chinese. If you're not in an environment where you are naturally surrounded by the language on a daily basis, you'll have to create that environment for yourself. Luckily, there are many live TV & radio apps that stream countless channels for you to enjoy.
Yuntu TV is a Chinese live streaming app where you can see all the CCTV channels and many other Chinese channels such as Zhejiang TV, Hunan TV, or Shenzhen TV.
If you would like to listen to Chinese language through TV dramas, Viki Rakuten has a great selection (free, availability depends on region).
Price: free
Compatibility: Android, iPhone, iPad
Where to get:
iPhone: 云图手机电视NEW-在线高清电视综艺体育直播
iPad: 云图手机电视NEW-高清电视直播视频播放器
Official Site: http://www.yuntutv.net/
5. Baobei Ting Ting (宝贝听听)Bedtime Stories
If you think Chinese news programmes are still too difficult, and you prefer to something that is a bit easier to digest, why not practice your Mandarin listening skills by checking out the stories Chinese kids like to listen to? 'Baby Ting' or 'Baobei Ting Ting' (宝贝听听)is a popular storytelling app by Tencent QQ that has thousands of stories to choose from in different categories; starting from the 0-3 age group, 4-6 age group, 7+ age group, to the national classics, modern fairy tales, etc.
The variety of stories that this app provides makes it a perfect tool for non-native speakers who study Chinese. Those at the intermediate level can start with the stories for the young kids and try to train their way up.
Mind you; like the Yuntu TV app, this is an app that is Chinese and has no English. It is, therefore, better if you already can read some Chinese characters when using this app. This app can be linked to your WeChat account, and offers in-app purchases.
Price: free
Compatibility: Android, iPhone, iPad
Where to get:
iPhone:宝贝听听-睡前儿童故事儿歌大全 – 北京企鹅童话科技有限公司
iPad: 宝贝听听-睡前儿童故事儿歌大全 – 北京企鹅童话科技有限公司 or 宝贝童话 – 北京企鹅童话科技有限公司
Android: 宝贝听听-睡前儿童故事儿歌大全 – 北京企鹅童话科技有限公司 (not on Google play store).
6. ChinesePod
Chinesepod is a well-known educational platform providing audiovisual lessons for people learning Chinese – from newbie to advanced level. It promotes an "alternative way of learning Chinese" and focuses on teaching spoken Chinese through video lessons.
All the material on the Chinesepod platforms can be somewhat overwhelming, but don't worry, you do not actually need to do all the lessons one by one; just pick whatever lessons you find interesting within your level of proficiency and start from there.
Price: Chinesepod has various subscription options. The basic option ($14/month) offers access to the complete lesson library and offers the printable lesson notes, whereas the premium ($29/month) option also offers grammatical explanations, custom vocabulary lists, and the full Android + iOS apps.
Where to get:
chinesepod.com
7. Talking Chinese–English–Chinese Phrasebook
Many apps promoting 'Mandarin phrases' are often disappointing because of their limited range of topics and phrases. This app by Paiboon and Word in the Hand, however, is worth your time – although it is somewhat pricey. It is suitable for travelers to China who want to be able to communicate their basic needs, as well as for those studying Chinese to grasp basic sentences and practice tones.
The phrasebook offers more than 15,000 words and ready-to-use phrases in over 250 practical categories, from all the basics to situations relating to, for example, legal cases, superstitions, or romance (the 'swearing' category is quite amusing, providing different ways to insult someone.) All sentences and words are displayed together with audio, characters, and pinyin.
Price: $14.99
Compatibility: iPhone/iPad
Where to get:
iPad/iPhone: Talking Chinese–English–Chinese Phrasebook
8. Feed Me (Mandarin)! by Pencilbot
What?! Are we seriously recommending a purple dragon that eats trains and mice as a Chinese learning language tool? Yes, we are. Because if it works for kids, it works for you. This purple dragon needs to be fed. A very clear voiceover will give you instructions in Chinese on what to feed him. You'll find out soon enough if you've fed him the wrong stuff: he'll be displeased and will show it.
This is an app designed by Pencilbot, which also provides the "Feed Me!" app in Korean, Japanese, Arabic, and many other languages. Although the app is targeted at kids around the age of 5-6, it is also useful for adults to feed the dragon the red apples, blue birds, or yellow squares. Not just because the the Mandarin is beautifully pronounced, but also because the little dragon cheers you on in the cutest way when you get it right. If you tickle his belly he will start giggling. After playing this, you will know how to pronounce colors, shapes, numbers, animals, fruits, and more in Mandarin. If you don't like it, your kid will.
Price: $1.99
Compatibility: iPhone/iPod/iPad and Android
Where to get:
iPhone: Feed Me! Chinese – Edutainment Resources, Inc.
iPad: Feed Me! Chinese – Edutainment Resources, Inc.
Android: Feed Me! Chinese – Edutainment Resources, Inc.
9. Hanzi Writer
Because learning Chinese means learning to listen, speak, read and write, this list wouldn't be complete without an app that focuses on teaching how to properly write characters. This is what Hanzi Writer does very well.
Users can type in the pinyin of a character (for example, 'ai' for love), and select the character they want to see. Hanzi Writer shows the stroke order and how to write, and then gives you the opportunity to try for yourself. Learning to properly write characters is all about repeating repeating repeating, and this app is perfect for that.
Price: free version for Android with ads and $5.99 for iOs

Where to get:
iPhone – Hanzi Writer – Ali Lim
iPad – Hanzi Writer – Ali Lim
Android – Hanzi Writer – Ali Lim
10. Laokang Tone Test
Recognizing and pronouncing tones the right way is essential for your everyday use of Mandarin. Understanding or saying the wrong tones can lead to awkward situations. That is why this Laokang Tone Test is a must-have app if you are in the early stages of learning Chinese. The app is very simple and basic: it will train both your hearing of tones and your pronunciation. The layout of the app is not very pretty, but it works like a charm.
Price: free
Compatibility: iPhone/iPad
Where to get:
iTunes store
This list can still change and does not include all of the apps mentioned by our readers on Twitter or Facebook. Some of you enjoy Memrise to study Chinese, while others dislike its latest changes (what do you think?). If you want to add your favorite app, please let us know in the comments below.
– By Manya Koetse
Follow @WhatsOnWeibo
Spotted a mistake or want to add something? Please let us know in comments below or email us.
©2017 Whatsonweibo. All rights reserved. Do not reproduce our content without permission – you can contact us at info@whatsonweibo.com.
TikTok CEO Shou Zi Chew Hailed as Asian "Solitary Hero" on Chinese Social Media
After the congressional hearing of the TikTok CEO, some called Shou Zi Chew "Mr. Perfect in the eye of the storm."
While there were enough people on Chinese social media swooning over celebrities this weekend during the Weibo Award Night, there were also many netizens admiring another person, namely Shou Zi Chew (周受资, Zhou Shouzi), the CEO of TikTok.
Earlier this week, Shou Zi Chew appeared before the House Energy and Commerce Committee in the United States, facing a four-and-a-half-hour hearing over data security and harmful content on the TikTok app.
The hearing took place in light of Washington's increasing concerns over TikTok "as a threat to national and personal security," with officials calling for a nationwide ban on the app's U.S. operations – unless Chinese owners sell their stake in the social media platform (more here).
TikTok is a super popular short video app by Chinese company Bytedance, which also runs Douyin, the Chinese counterpart of the international Tiktok app. TikTok has over 150 million users in the U.S. alone.
Being grilled about concerns over China's influence over the Beijing-based Bytedance and China's access to American data, Chew emphasized that ByteDance is a private business and "not an agent of China or any other country."
During the hearing, Chew faced various questions from officials. One clip that was shared a lot on Twitter showed Arizona Republican Congresswoman Debbie Lesko asking Shou Zi Chew:
– "Do you agree that the Chinese government has persecuted the Uyghur population?"
"It's deeply concerning to hear about all accounts of human rights abuse," Shou answered: "My role here is to explain – "
– "I think you're being pretty evasive. It's a pretty easy question. Do you agree that the Chinese government has persecuted the Uyghur population?"
"Congresswoman, I'm here to describe TikTok, and what we do as a platform, and as a platform, we allow our users to freely express their views on this issue and any other issue that matters to them," Shou replied.
– "Well, you didn't answer the question, " Lesko said while interrupting Shou.
Another moment that was widely shared was when Congressman Richard Hudson asked Shou Chew: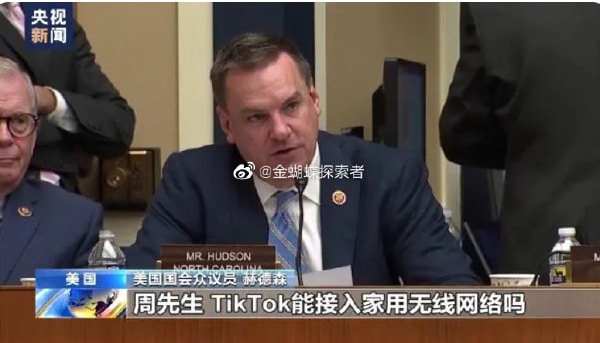 – "Does TikTok access the home WiFi network?"
"Only if the user turns on the wifi," Shou replied: "I'm sorry I may not understand the.."
– "So if I have TikTok on my phone, and my phone is on my home wifi, does TikTok access that network?", Hudson asked.
"It will have to access the network to get connected to the internet, if that is your question."
– "Is it possible then that it can access other devices on that home wifi network?" Hudson asked.
"Congressman, we do not do anything that is beyond any industry norms. I believe the answer to your question is no," Chew replied.
On Chinese social media, the hearing received extensive discussion and analysis.

A "Collective Cursing Activity"

Chinese blogger Chairman Rabbit (兔主席), a conservative political commentator who often comments on US-related issues (read more), analyzed the hearing in a recent blog.
According to Chairman Rabbit, the hearing was a one-way conversation from the Congress side, and was more like a "collective 'cursing' activity" ("一场集体"骂娘"活动") than dialogue, with the American officials not giving Shou the time to reply and basically – and rudely – answering their own questions.
The blogger also suggested that Chew was questioned as if he himself represented the Communist Party of China, even though he is Singaporean and the CEO of a private company. Regardless, the Americans seemed to take this time of questioning Shou as an opportunity to vent their anger at the Party and the Chinese government at large.
The main gist of Chairman Rabbit's blog was shared by many others on social media, with some calling the hearing not much more intelligent than a "kindergarten fight" ("比幼儿园吵架高明不了多少").
One meme making its rounds on Weibo and Wechat showed a photo of Apple CEO Tim Cook in China versus TikTok CEO Shou Zi Chew in the U.S., suggesting that while the Chinese side treated an American tech giant CEO with warmth and kindness, the American side had treated a Chinese tech giant CEO with coldness and paranoia.
Another image circulating on Weibo is a political cartoon by the Singaporean artist Heng that was also published on Twitter by Lianhe Zaobao, the largest Singaporean Chinese-language newspaper.
The image shows the TikTok CEO tied to a tree, and a pile of wood stacked around him. Three 'executioners,' including Uncle Sam, are about to burn Chew at the stake with the help of some "Anti-Chinese Sentiment" fuel.

Shou Zi Chew: Mr. Perfect in the Eye of the Storm

Meanwhile, Chew himself has become super popular on Chinese social media, including on Weibo, Douyin, and Xiaohongshu, where he has become idolized by some ("I won't even compare you with the stars, you're much better than the stars.")
Some bloggers and commenters noted how Chew fits the supposed idea of a 'perfect Asian' by staying calm despite unreasonable allegations and emphasizing business interests over culture. One Weibo user (@老叔开画) called Shou Zi Chew "Mr. Perfect in the eye of the storm."
Mostly, people admire how he stood up against Congress despite being "bullied" by American officials and "defended" China's interests although he is Singaporean himself. Some called him a "solitary hero" ("孤胆英雄").
Then there are those who praise the Singaporean businessman and entrepreneur for his career journey and his work ethic. The now 40-year-old studied in London and graduated from Harvard, he previously worked at Goldman Sachs and Xiaomi, and became the CEO of TikTok at 38 years old.
On the Xiaohongshu app, Chew is mentioned as a source of inspiration on how to remain calm and professional when facing a difficult situation.
Lastly, many fans just think Chew is "charming" and "handsome" – and they focus on details of Chew and his life that have nothing to do with the contents of the hearing. Some Weibo users pointed out how he came to his hearing well-prepared with four bottles of water, others discuss his personal life, including his wife Vivian Kao.

From Weibo to TikTok: Criticism from Two Sides

Besides receiving support from Chinese social media users, Chew's handling of the hearing was also praised on the TikTok app by international users, including many Americans.
One popular Chew quote during the U.S. congressional hearing that came up on TikTok is how Chew said:
"I don't think the [Chinese] ownership is the issue here, with a lot of respect, American social companies do not have a good track record when it comes to data security and privacy, just look at Facebook and Cambridge Analytica – and that's just one example."
Another popular quote was Chew defending TikTok, saying:
"There are more than 150 million Americans who love our platform, and we know we have a responsibility to protect them, which I'm making the following commitments to you and all our users. Number one: we will keep safety, particularly for teenagers, as a top priority for us. Number two: we will firewall protect the U.S. data from unwanted foreign access. Number three: TikTok will remain a place for free expression and will not be manipulated by any government. And fourth, we will be transparent and we will give access to third-party independent monitors to remain accountable for our commitments."
Many TikTok users are not just fond of the app – and do not want it to get banned, – they also criticize the U.S. officials for how they handled the hearing, with their lack of technological knowledge and unfamiliarity with the TikTok app shining through in their questions.
Some TikTok creators suggested that the officials missed an opportunity to gain actual knowledge of TikTok's data handling, and should have asked things like (suggested by TikTok user @sharonsaysso):
– "Are you collecting any passive data from the back end of the phones, even if the person isn't logged in?"
– "How long are you storing this data for?"
– "What data is being passed to advertisers?"
– "If a user would like to have their data expunged from your systems, is there a process in place with them to easily and fairly quickly have that done?"
– "Have you ever willingly or unwillingly relinquished any of your user data to the government of China or any other country?"
– "Please explain in detail what elements your algorithm considers in its optimization process?"
After American media outlet NBC reported about how TikTok users declared their support for the platform and its CEO after the hearing, screenshots of the article were also shared on Chinese social media.
Chinese political commentator Hu Xijin (@胡锡进) wrote a lengthy post about the TikTok hearing on Weibo, and he also criticized how Chew was facing questions that were already framed and filled with "imaginary accusations" against China.
Hu Xijin and others do not necessarily hail Chew as a "hero," but instead point out the arrogance and biased approach taken by U.S. official during the hearing.
"They give a dog a bad name and hang him," some say, with others agreeing that this matter is no longer about the actual facts regarding TikTok's operations, but about how American authorities have already set their agenda on how TikTok content is problematic and how the app is controlled by Beijing and cannot guarantee the security of U.S. users' data and privacy.
Some commenters are already predicting the outcome of this matter: "You should prepare for the possibility of being banned or forced to sell."
Watch a video of the hearing on YouTube here.

By Manya Koetse 
With contributions by Miranda Barnes and Zilan Qian
Get the story behind the hashtag. Subscribe to What's on Weibo here to receive our newsletter and get access to our latest articles:
Spotted a mistake or want to add something? Please let us know in the comments below or email us. First-time commenters, please be patient – we will have to manually approve your comment before it appears.
©2023 Whatsonweibo. All rights reserved. Do not reproduce our content without permission – you can contact us at info@whatsonweibo.com.
ChatGPT in China: Online Discussions, Concerns, and China's ChatGPT-Style Bots
Why was a ChatGPT-like platform not first launched in China? As ChatGPT is all the talk, so is the discussion about China catching up.
PREMIUM CONTENT
As OpenAI's AI chatbot ChatGPT has become one of the fastest-growing platforms ever, it is making headlines every day these days. It is also a hot topic on Chinese social media, where many wonder why ChatGPT was not developed in China and what the future holds for similar platforms in the mainland.
As ChatGPT has been making headlines internationally, the AI software has also become a popular topic on Chinese social media.
ChatGPT is software that uses artificial intelligence (AI) to write pieces of text. It was launched by OpenAI, an American AI lab founded in 2015, and within two months after its Nov. 30 2022 release, ChatGPT reached 100 million active users.
As explained by ChatGPT itself, it has been designed to generate human-like responses to a wide range of questions and topics, based on the text data it was trained on.
ChatGPT is built using the GPT-3 architecture, which stands for 'Generative Pretrained Transformer 3.' This architecture allows ChatGPT to generate coherent and contextually relevant responses to a wide range of questions and prompts in many different languages, making it a powerful tool for various applications, including customer service or content creation.
Even if you have not yet visited the ChatGPT chatbot site, you might have come across the technology underlying ChatGPT, which is already used in chatbots for customer service purposes by companies such as Meta, Canva, and Shopify.

ChatGPT on Chinese Social Media

Ever since China's Spring Festival, ChatGPT has been a hot topic on Chinese social media, with many people interacting with the chatbot and sharing AI-generated texts online, varying from cute poems about Chinese cities to helpful breakfast suggestions.
On Weibo, various hashtags related to ChatGPT made it to the top trending lists recently. Some online discussions relate to what extent applications such as ChatGPT might make certain professions obsolete, or to how to address the problem of students using AI chatbots to make their homework or write essays.
There are also discussions about the privacy- and copyright problems related to the technology. The American linguist and renowned intellectual Noam Chomsky recently said that "ChatGPT basically is high-tech plagiarism," a topic that also received a lot of attention on Weibo, where a related hashtag received 56 million views (#语言学家称ChatGPT本质是剽窃#).
The hashtag "Will ChatGPT Replace Teachers?" (#教师会被ChatGPT取代吗#) went trending on Weibo on Feb. 11, 2023. Previously, other related hashtags also questioned if programmers might lose their job because of the application.
CCTV also published about ChatGPT on Feb. 11, writing about "Ten Professions That Could be Replaced by ChatGPT" (#可能被ChatGPT取代的10大职业#), suggesting that jobs from various industries, including customer service, programming, media, education, market research, finance, etc., involve daily tasks that could also be executed by AI chatbots.
The hashtag, which received over 120 million views on Weibo, sparked conversations. Although many commenters said that some jobs, including teaching, would never be able to be replaced by artificial intelligence, some also predicted that these kinds of technologies could definitely make some jobs obsolete.
"We all thought that AI would first replace those working in physical labor instead of taking over mental capacity tasks," one commenter wrote, with another replying: "Construction workers will still have a steady job."
"Relax, such a chatbot can only do simple tasks, but humans have a different way of thinking from machines," another person wrote: "Professions such as teachers or programmers need innovative ways of thinking that AI doesn't have."
Besides these topics, there are also Chinese social media discussions about why China – as a global AI leader – was not the first to launch such a product. Then there are those discussions about the specific difficulties surrounding the development of such a chatbot in the Chinese online environment.

Why is China not the First to Launch a ChatGPT-like Product?

The question "Why was ChatGPT not made in China?" is one that is frequently asked on Chinese social media these days, and various experts and bloggers come up with different answers.
◼︎ Chinese tech companies focus on fast applications instead of lengthy research and development
In a recent video, the Peking University Sociology Professor Jiang Ruxiang (姜汝祥) tried to answer this question: "Why is this kind of breakthrough, advanced technology not made in China?"
According to Jiang, the reason that ChatGPT is not 'made in China' has to do with the whole structure of science and technology in the mainland and the primary area of focus of China's major tech startups.
Jiang shows a pyramid which, at the basic level, has 'the foundation of science and technology'; the middle level is 'applied science and technology,' and the top layer is the 'most advanced science and technology.'
Jiang argues that Chinese tech companies are most active at the middle level. They are primarily interested in fast application of science and technology as this gives them the opportunity to become profitable within a relatively short time.
Jiang suggests that it takes most advanced technology companies years of investing before ever becoming profitable. As an example, he mentions the big chipmaker ASML, as it also took the Dutch company many years of heavily investing in research and development before finally making money.
At the same time, some Chinese tech companies, such as Xiaomi, managed to skyrocket their income within a relatively short time after starting their business. The research (first layer) and advanced tech (top layer) that is needed in order for these Chinese companies to launch their platforms and products do not necessarily come from China; they can be imported, adjusted, and optimized.
According to Jiang, Chinese companies should do more to focus on the basic and top level of the science and technology pyramid. By investing in advanced, specific technology areas and deep research, China's science and tech development would have more long-term vision, knowledge intensity, and strength. Jiang says that the Dutch company Philips, for example, invested in the chipmaker business for years without making money. He also adds that ChatGPT development was made possible through the investments of, among others, Elon Musk and Microsoft.
◼︎ Language Model Training is more difficult in the Chinese language
Other experts claim that making a Chinese ChatGPT is more difficult due to the nature of the Chinese language. The less complex a language is, the easier it is for AI models to learn the rules.
Ding Wensuan (丁文璿), Professor of Artificial Intelligence and Business Analytics at Emlyon Business School, recently told Phoenix News reporters that Chinese AI tech programs are already very strong, but that language model training is somewhat harder due to the rich and complex nature of Chinese language.
ChatGPT does understand and generate text in many different languages, including Chinese, although some Chinese users suggest it indeed fails to capture nuances, such as when telling jokes in Chinese.
◼︎ Censorship and (politically) sensitive words
Many bloggers and commenters think that the development of ChatGPT-like platforms is more difficult in China due to existing (political) sensitivities and the Chinese online environment, which is closely monitored and subjected to censorship.
When it comes to history, (geo)politics, current events, etc., ChatGPT not only generates certain answers that would otherwise be censored on the Chinese internet, but it also is accused of holding certain biases or double standards in how it handles requests.
"Considering the original principle of ChatGPT, I think it's useless to compete with products such as ChatGPT in a place that has sensitive words everywhere," one commenter writes, and others also echoed this view: "It is impossible for a Chinese version of ChatGPT to come out, too many words are sensitive."
The well-known Chinese political commentator Hu Xijin (胡锡进) was happy to learn about some supposed positive bias on the platform: when one Chinese ChatGPT user asked the chatbox to write a text about him, it turned out to praise Hu, who is also known as outspoken and controversial.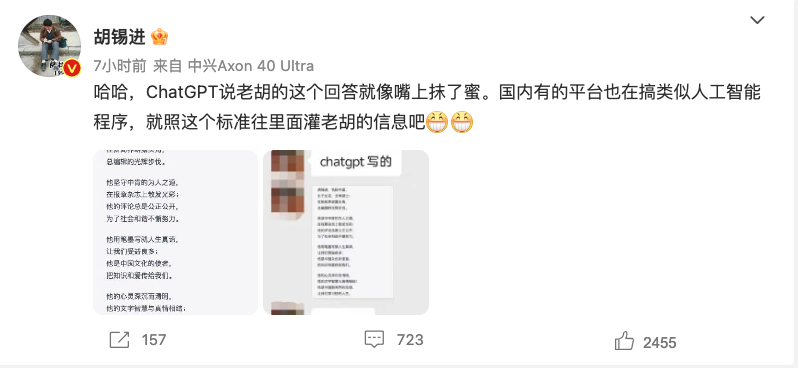 An English poem about the former Global Times editor-in-chief generated by ChatGPT also contained the following:
"He's a voice for China's vision,
In a world that's often torn,
With a mission to inform and guide,
And to keep his readers warm.
Through his words and his leadership,
Hu Xijin has made a name,
And his impact on the world,
Is one that will surely remain."
Hu Xijin jokingly wrote: "Some domestic platforms are also working on similar artificial intelligence programs, so let's hope they'll all stick to this standard when it's about me."

China's ChatGPT-Style Bots

As reported by Reuters, OpenAI or ChatGPT itself is not blocked by Chinese authorities, but OpenAI does not allow users in mainland China, Hong Kong, Iran, Russia, and parts of Africa to sign up.
Nevertheless, people find ways to register. Until recently, there were many shops on the e-commerce platform Taobao selling Chat GPT accounts. On Feb. 9, 2023, various accounts reported that the ChatGPT register services were censored on Taobao, and that affiliated services were also no longer available on WeChat (#淘宝已屏蔽ChatGPT关键词#).
Some commenters predict that there are no chances of survival for ChatGPT in China.
At the same time, while ChatGPT is receiving so much attention, Chinese tech giants announced their plans on developing similar AI platforms this week.
Baidu announced it plans to launch an AI chatbot called ErnieBot following testing in March (#百度类chatgpt产品名为erniebot#).
Tencent also announced their chatbot-related research is also "advancing" (#腾讯正有序推进ChatGPT方向的研究#).
Sources at Alibaba also said the company is already developing ChatGPT-like chatbots which are already being tested (#阿里类chatgpt产品正在内测#).
Chinese e-commerce company JD.com also said it would launch a similar product titled ChatJD (#京东正式推出产业版chatgpt#).
Chinese media outlet Caijing published an article about ChatGPT on Feb. 12, 2023, titled "Is the Chinese Version of ChatGPT Coming Soon?" (中国版ChatGPT快来了吗), in which it suggested that although China currently does not have an application that is comparable to ChatGPT yet, it will not take long for Chinese tech companies to catch up with OpenAI since China already has all the ingredients, including vast amounts of data, to create such a platform.
The article also argues that China should learn from ChatGPT's success and to use its weaknesses as an advantage for its own chatbots.
"We can still catch up," some commenters write. Although others agree, they also think that China's online environment needs to be further liberalized in order for such AI platforms to flourish.
One blogger indicates that these kind of AI language models are already difficult enough to develop, let alone if they also have to avoid sensitive words or take certain censorship policies into account: "Of course we should not let AI talk nonsense, but it should be able to talk relatively neutral and objectively. In the end, the most important thing is whether or not they have the courage and insight to let go of the control of written language."
By Manya Koetse 
Get the story behind the hashtag. Subscribe to What's on Weibo here to receive our newsletter and get access to our latest articles:
Part of featured image [screen] by Jonathan Kemper on Unsplash
Spotted a mistake or want to add something? Please let us know in comments below or email us. First-time commenters, please be patient – we will have to manually approve your comment before it appears.
©2023 Whatsonweibo. All rights reserved. Do not reproduce our content without permission – you can contact us at info@whatsonweibo.com.
Subscribe to our newsletter
Stay updated on what's trending in China & get the story behind the hashtag
Sign up
here
to become a premium member of What's on Weibo today and gain access to all of our latest and premium content, as well as receive our exclusive Weibo Watch newsletter. If you prefer to only receive our free newsletter with an overview of the latest articles, you can
subscribe for free
here.
Would you like to become a contributor, or do you have any tips or suggestions for us? Get in touch with us here.