Top 10 Apps for Studying Chinese (iOS/Android)
Learning Chinese through smartphone or tablet? Here are 10 recommended apps to study Mandarin.
One of the easiest ways to start learning Chinese or improve language skills is to use apps. What's on Weibo has listed 10 recommended apps that are helpful to any learner of Mandarin.
One of the most-asked questions by people who want to learn Mandarin is: where do I start? Do you begin by learning characters, do you start out with tones, or just focus on the pinyin? For more advanced learners, there is another challenge. How do you make sure you do not lose the knowledge you already have and to how to keep on improving your language skills?
Although learners should always work with whatever methods are most effective for them, the most productive way of studying Mandarin is to study its different components at the same time. Studying new words on paper without learning their tones is not recommended, neither is focusing on pinyin without learning the characters. Instead, it's better to get a grasp on all the different aspects of this rich language.
Some of the 10 apps in this list are Chinese apps meant for a Chinese audience, and not necessarily meant for Chinese language learners – but they are nevertheless excellent learning tools.
Here are some What's on Weibo favorites for Android, iPhone or iPad, from beginners to advanced levels of Mandarin.
1. Pleco Software Dictionary
A confession from the editor: Pleco has been my best friend ever since I started studying Chinese. At the time, I once invested an amount that seemed like a huge sum of money as I was working side jobs as a beginning student to purchase the app's professional package. I used a hand-me-down Palm handheld (!) at the time, but since then, the Pleco support team has never failed me as I transferred the dictionaries to my first iPhone, my first Samsung, and even my first iPad. The fact that many years had passed since my first investment was never an issue.
Although Pleco's service is praiseworthy, it is all about the app itself in the end. Pleco calls itself "The #1 Chinese dictionary app for iOS and Android" and it is hard to argue with that. It is suitable for anyone studying Chinese on an elementary, intermediate, or advanced level. What is good about Pleco is that it has a great range of dictionaries and has an easy handwriting recognizer; even if your handwriting in Chinese is not that great, it will still get the character you need.
The major plus for Pleco is that it is much more than a dictionary alone. It has an add-on optical character recognizer that will help you read offline texts, and the "clip reader" function is super handy to copy Chinese texts on smartphone/table – just copy the text and navigate to Pleco to find the text and tap words and characters for their meanings.
Outlier Linguistics has also partnered up with Pleco, adding its excellent Chinese character dictionary to the add-ons. The Essential edition contains all the essential info about each Chinese character, while the Expert Edition is for those who want to dive deep into the history and etymology of Chinese characters.
Another tip: with Pleco, you can train your Chinese vocabulary through flashcards: add any words you do not know to a category (for example: 'My Chinese Business Vocabulary', or 'Dirty Words in Chinese'), and then quiz yourself through Pleco's 'test' function. It will repeat all the words you got wrong until you have a 100% score.
The free version is ok, but for learners who are serious about learning Chinese (especially when you're dealing with Chinese for your studies) the professional package is recommended and you'll be able to take it along with you, even when you switch from the ancient Palm to the latest iPhone.
Price: free (elementary),  US $29.99 for basic package (bundles through Android), US $99.99 (professional package) + rich selection of optional add-ons.
Compatibility: iPhone/iPad & Android
Where to get:
iPhone: Pleco Chinese Dictionary – Pleco Inc.
iPad: Pleco Chinese Dictionary – Pleco Inc.
Android: Pleco Chinese Dictionary
2. Chinese Class 101 (by Innovative Language)
Whether you are on the road or at home, online or offline, Chinese Class 101 offers Mandarin comprehensive learning courses that you can easily integrate into your everyday life. The lesson-per-lesson audio system makes it easy to listen and practice to bite-sized conversations and fragments (which can all be downloaded) while you're driving to work or cooking dinner.
The app offers lessons from the absolute beginner's level to the very advanced level. Every lesson consists of an audio class of ±10 minutes that usually features a conversation, an audio review of vocabulary, a line-by-line display of the conversation (in English, pinyin, simplified & traditional Chinese), and lesson notes. Note: the overviews and transcripts only come with the premium subscription – if you only want to do audio, you'll be fine with basic, but to get a complete overview of the texts and words you'd have to go for the premium one ($10/month).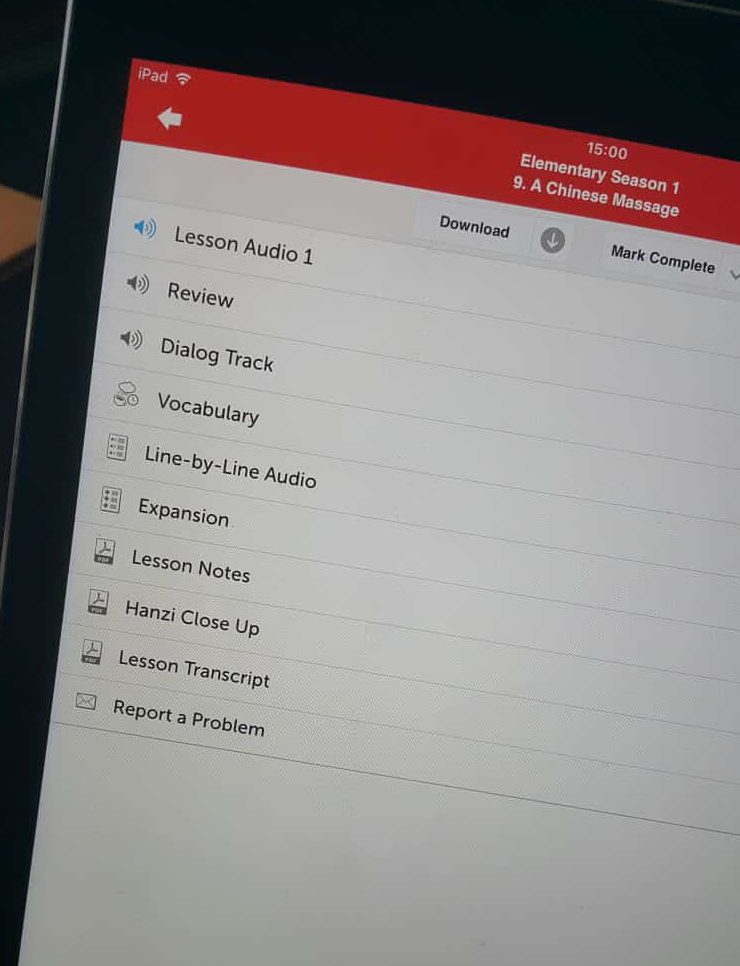 Chinese Class 101 also provides the option to have 1-on-1 interaction with a personal teacher through the app, which only comes with the more expensive premium plus subscription.
If you are not learning Chinese through a school or university, this program is a very effective way of learning Mandarin. One of the key things of this course is the way it repeats the things you've learned to really make it stick in your head. (Also, their Korean programme is very good if you're considering to take on an extra language…).
Price: This app works with a subscription system. It is free to try for a week,  US $5/month for the basic package (access to all audio archives), US $10/month for the premium package (includes wordlists and transcripts) and $23/month for the premium plus (includes option for 1-on-1 teaching).
Compatibility: iPhone/iPad & Android and desktop
Where to get:
www.chineseclass101.com
3. Pera Pera Pop Up Dictionary
Ok, ok, this is not technically an app – it is a plugin. But it needs to be high up in this list for anyone learning Chinese. Pera Pera is a pop-up dictionary add-on for Chrome or Firefox. It gives the English definition for Chinese texts, making it infinitely easier for those struggling with characters to read Chinese online. Pro's: easy to install, easy to use, and translations for many modern names or slang words. Downside: if you use Pera Pera too often, you will get lazy and won't actually learn the characters. Try to only activate this add-on when you really do not know the character.
A major plus of Perapera is that it often gives the translation for relatively new 'internet slang' words or typically online words, making it an effective tool for the modern-day learner of Chinese who scrolls through Chinese texts.
If you are looking for a similar feature for your Android smartphone, Pleco (number 1 in this list) has a 'screen reader' feature for that.
We've been told that in the lastest Firefox version, Pera Pera does not work – in that case we recommend the Zhongwen Popup Dictionary add-on for Firefox.
Price: free
Compatibility: Firefox and Chrome
Where to get:
Chrome Web Store
Firefox Addons
4. Yuntu TV (云图直播)
Immersing yourself in the language is the best way to learn Chinese. If you're not in an environment where you are naturally surrounded by the language on a daily basis, you'll have to create that environment for yourself. Luckily, there are many live TV & radio apps that stream countless channels for you to enjoy.
Yuntu TV is a Chinese live streaming app where you can see all the CCTV channels and many other Chinese channels such as Zhejiang TV, Hunan TV, or Shenzhen TV.
If you would like to listen to Chinese language through TV dramas, Viki Rakuten has a great selection (free, availability depends on region).
Price: free
Compatibility: Android, iPhone, iPad
Where to get:
iPhone: 云图手机电视NEW-在线高清电视综艺体育直播
iPad: 云图手机电视NEW-高清电视直播视频播放器
Official Site: http://www.yuntutv.net/
5. Baobei Ting Ting (宝贝听听)Bedtime Stories
If you think Chinese news programmes are still too difficult, and you prefer to something that is a bit easier to digest, why not practice your Mandarin listening skills by checking out the stories Chinese kids like to listen to? 'Baby Ting' or 'Baobei Ting Ting' (宝贝听听)is a popular storytelling app by Tencent QQ that has thousands of stories to choose from in different categories; starting from the 0-3 age group, 4-6 age group, 7+ age group, to the national classics, modern fairy tales, etc.
The variety of stories that this app provides makes it a perfect tool for non-native speakers who study Chinese. Those at the intermediate level can start with the stories for the young kids and try to train their way up.
Mind you; like the Yuntu TV app, this is an app that is Chinese and has no English. It is, therefore, better if you already can read some Chinese characters when using this app. This app can be linked to your WeChat account, and offers in-app purchases.
Price: free
Compatibility: Android, iPhone, iPad
Where to get:
iPhone:宝贝听听-睡前儿童故事儿歌大全 – 北京企鹅童话科技有限公司
iPad: 宝贝听听-睡前儿童故事儿歌大全 – 北京企鹅童话科技有限公司 or 宝贝童话 – 北京企鹅童话科技有限公司
Android: 宝贝听听-睡前儿童故事儿歌大全 – 北京企鹅童话科技有限公司 (not on Google play store).
6. ChinesePod
Chinesepod is a well-known educational platform providing audiovisual lessons for people learning Chinese – from newbie to advanced level. It promotes an "alternative way of learning Chinese" and focuses on teaching spoken Chinese through video lessons.
All the material on the Chinesepod platforms can be somewhat overwhelming, but don't worry, you do not actually need to do all the lessons one by one; just pick whatever lessons you find interesting within your level of proficiency and start from there.
Price: Chinesepod has various subscription options. The basic option ($14/month) offers access to the complete lesson library and offers the printable lesson notes, whereas the premium ($29/month) option also offers grammatical explanations, custom vocabulary lists, and the full Android + iOS apps.
Where to get:
chinesepod.com
7. Talking Chinese–English–Chinese Phrasebook
Many apps promoting 'Mandarin phrases' are often disappointing because of their limited range of topics and phrases. This app by Paiboon and Word in the Hand, however, is worth your time – although it is somewhat pricey. It is suitable for travelers to China who want to be able to communicate their basic needs, as well as for those studying Chinese to grasp basic sentences and practice tones.
The phrasebook offers more than 15,000 words and ready-to-use phrases in over 250 practical categories, from all the basics to situations relating to, for example, legal cases, superstitions, or romance (the 'swearing' category is quite amusing, providing different ways to insult someone.) All sentences and words are displayed together with audio, characters, and pinyin.
Price: $14.99
Compatibility: iPhone/iPad
Where to get:
iPad/iPhone: Talking Chinese–English–Chinese Phrasebook
8. Feed Me (Mandarin)! by Pencilbot
What?! Are we seriously recommending a purple dragon that eats trains and mice as a Chinese learning language tool? Yes, we are. Because if it works for kids, it works for you. This purple dragon needs to be fed. A very clear voiceover will give you instructions in Chinese on what to feed him. You'll find out soon enough if you've fed him the wrong stuff: he'll be displeased and will show it.
This is an app designed by Pencilbot, which also provides the "Feed Me!" app in Korean, Japanese, Arabic, and many other languages. Although the app is targeted at kids around the age of 5-6, it is also useful for adults to feed the dragon the red apples, blue birds, or yellow squares. Not just because the the Mandarin is beautifully pronounced, but also because the little dragon cheers you on in the cutest way when you get it right. If you tickle his belly he will start giggling. After playing this, you will know how to pronounce colors, shapes, numbers, animals, fruits, and more in Mandarin. If you don't like it, your kid will.
Price: $1.99
Compatibility: iPhone/iPod/iPad and Android
Where to get:
iPhone: Feed Me! Chinese – Edutainment Resources, Inc.
iPad: Feed Me! Chinese – Edutainment Resources, Inc.
Android: Feed Me! Chinese – Edutainment Resources, Inc.
9. Hanzi Writer
Because learning Chinese means learning to listen, speak, read and write, this list wouldn't be complete without an app that focuses on teaching how to properly write characters. This is what Hanzi Writer does very well.
Users can type in the pinyin of a character (for example, 'ai' for love), and select the character they want to see. Hanzi Writer shows the stroke order and how to write, and then gives you the opportunity to try for yourself. Learning to properly write characters is all about repeating repeating repeating, and this app is perfect for that.
Price: free version for Android with ads and $5.99 for iOs

Where to get:
iPhone – Hanzi Writer – Ali Lim
iPad – Hanzi Writer – Ali Lim
Android – Hanzi Writer – Ali Lim
10. Laokang Tone Test
Recognizing and pronouncing tones the right way is essential for your everyday use of Mandarin. Understanding or saying the wrong tones can lead to awkward situations. That is why this Laokang Tone Test is a must-have app if you are in the early stages of learning Chinese. The app is very simple and basic: it will train both your hearing of tones and your pronunciation. The layout of the app is not very pretty, but it works like a charm.
Price: free
Compatibility: iPhone/iPad
Where to get:
iTunes store
This list can still change and does not include all of the apps mentioned by our readers on Twitter or Facebook. Some of you enjoy Memrise to study Chinese, while others dislike its latest changes (what do you think?). If you want to add your favorite app, please let us know in the comments below.
– By Manya Koetse
Follow @WhatsOnWeibo
Spotted a mistake or want to add something? Please let us know in comments below or email us.
©2017 Whatsonweibo. All rights reserved. Do not reproduce our content without permission – you can contact us at info@whatsonweibo.com.
Growing Distrust in Car-Hailing Services: The Huolala Incident Explained
The Huolala incident has brought back existing safety concerns regarding ride-hailing apps in China.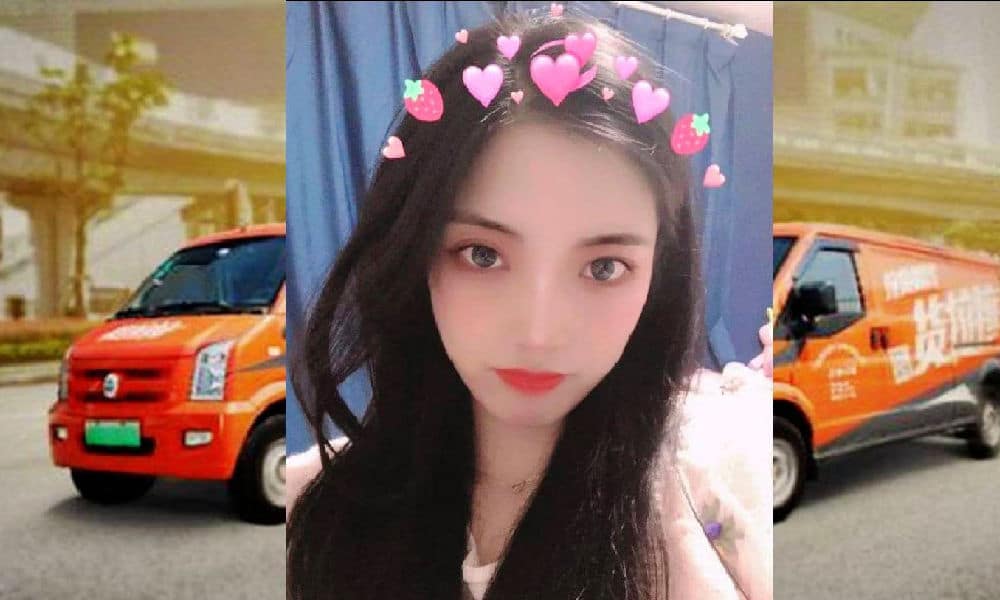 "Are there still any reliable vehicle service platforms in China?", many wonder after discussions continue on social media in light of the Huolala case, in which a 23-year-old woman died after jumping out of a moving vehicle. 
Over the past few weeks, a horrific incident involving China's leading private freight company Huolala (货拉拉) became a much-discussed topic on Chinese social media.
On February 6, a 23-year-old woman named Che Shasha jumped out of the window of a moving van she rented via Huolala when she was moving into a new house in Changsha.
According to an official police report posted on social media in early March, the main reason that made Che jump from the moving vehicle was that the driver, a man by the name of Zhou, had deviated from the intended route – supposedly in order to save time for the next order. Che, who was uncomfortable and scared, asked Zhou about the different routes multiple times, but he remained silent.
When Che exited the vehicle via the passenger window, the driver reportedly did not do anything to stop her. According to official announcements, the young woman died four days after the incident due to severe brain injury.
On 23 February, Zhou was detained by public security organ because of suspected negligence that caused Che's death. On March 3rd, Zhou was formally arrested and charged with manslaughter.
Huolala is an online vehicle-hailing platform founded in 2013. It's an on-demand logistics and delivery firm that makes it much easier and convenient for customers to arrange a van.
The Huolala incident immediately grabbed public attention. Although the official statements did not indicate that the driver physically assaulted Che, Weibo netizens pointed out the suspicious points in this case. Although some suggested that Che's actions were irrational, many commenters accused the driver of causing this tragedy.
On February 24, Huolala publicly apologized for the incident and said it would bring in better safety functions for passengers including emergency calls, vehicle recording, number protection, route sharing, and enhanced background checks on drivers.
Behind the Huolala Case
Although there have been no new developments in the Huolala case, online discussions regarding its underlying problems and issues are ongoing.
Most importantly, this incident triggered public anger about the existing security and safety issues of ride-hailing platforms in China.
This display of public anger is fuelled by two prominent cases that happened over the past years. The murder of a Chinese stewardess by a driver of the Didi Chuxing car-hailing app in 2018 became one of the most discussed topics of that year. Shortly before going missing, the 21-year-old woman from Zhengzhou had texted her friend that the driver of the ride she had arranged was "acting strange." Her body was found the next day. The driver's body was retrieved from a river nearby.
The horrific case was followed by a second Didi murder of a 20-year-old woman in Wenzhou. The victim was on her way to a birthday party when she contacted a friend via text asking for help. She was later found to have been raped and killed in a mountainous area nearby. The 27-year-old driver was arrested.
These two cases, which also brought other cases to light in which female passengers were abused by their drivers, sparked major public concerns about the safety of these online platforms. Car-hailing app Didi later introduced several new measures to protect their passengers. One safety guideline that included an 8 pm curfew for female riders drew outrage on social media.
The fact that a female passenger in 2021 apparently felt so threatened in a situation with her driver that she would jump from a moving vehicle led social media discussions back to the Didi murders and sparked new concerns over female passenger safety.
On Weibo, there were those comments indicating that even if the driver did not do anything to physically harm the female passenger, he was still guilty for not explaining why he would stray from the indicated route:
"Even you are innocent, you are still guilty. Not answering customer's questions just because you're in a bad mood? The driver should have explained the cause of the deviation in time and he should have tried his best to prevent the girl from jumping. After all, inaction is a crime in this case!"
Others also argued that the young woman had every reason to fear for her life"
"What kind of person would not be afraid to take head out into remote, unlit places?" And: "She is a tiny and slender girl, only 1.5m. It is absolutely understandable that she was so frightened."
However, there are also commenters who speak out in defense of the driver:
"The driver did nothing wrong. He did not physically harm her. Also, he waited for the girl while moving her stuff from the house to the van for such a long time, and just gained 50 yuan [$7.6]? Actually, the girl was overreacting, she was only considering her own interests, and even jumped from the window. Who would do such a crazy thing?"
Many commenters pointed out that the woman, who had a cell phone with her, could have just called the police.
There were also online rumors that the female passenger was engaged in illegal business involving prostitution, which may have made her more reluctant to contact police and more paranoid. These rumors were later refuted by a WeChat blogger.
The polarized discussions regarding this incident and who was responsible for it are still ongoing. Based on tragedies that happened in recent years involving vehicle-hailing platforms, many argue that thoroughly completing relevant regulations and reinforcing driver security checks is the only way to increase passenger safety in China today.
By Vivian Wang 
Follow @whatsonweibo
Spotted a mistake or want to add something? Please let us know in comments below or email us. First-time commenters, please be patient – we will have to manually approve your comment before it appears.
©2021 Whatsonweibo. All rights reserved. Do not reproduce our content without permission – you can contact us at info@whatsonweibo.com.
From Red Packet to Virtual Hongbao: Lucky Envelopes in China's Digital Era
Raising virtual cows, shaking with phones – this is the Chinese New Year tradition of giving red envelopes in the digital era.
The custom of giving out red paper envelopes has evolved into a world of virtual lucky money and online games. This is the transformation of a Chinese New Year's tradition, reported by Koen van der Lijn and Xiaojun Zhang.

When objects meet social media, two websites meet as well. This is a collaboration between What's on Weibo and Things That Talk (follow on Insta @thingsthattalk).

Ever wanted to raise a digital cow? This year, you can raise your own lucky cow (福牛) for Chinese New Year on Weibo. Through maintaining and raising their virtual cow (or ox), users can participate in this online game to win red envelopes, a well-known and beloved tradition linked to Chinese New Year.
The hashtag "Lucky Cow's New Year's Travelogue" (#福牛新春旅行记#) is linked to Weibo's celebration of Chinese Spring Festival and the Year of the Ox. Users are expected to be active on Weibo daily to raise their cow/ox, similar to the once so popular Tamagotchi. Whilst leveling up their cow, users get the possibility to earn digital red envelopes.
The online game is another development in the story of the red envelopes, known in China as hongbao (红包). Often given during Chinese New Year, the envelopes can also be given at other joyous occasions like weddings. These red envelopes are given to each other by friends and family members to wish each other a happy new year and are always filled with an amount of money.
The practice of giving money during Chinese New Year goes far back in Chinese history. The earliest form of the red envelope is said to be yasuiqian (压祟钱). In order to keep evil spirits away, called sui (祟), people put money underneath children's pillow since the evil spirits were said to be warded off by coins.1 These coins were woven together using a string.
As time went by and paper money and envelopes became more widespread, string and coins were replaced and the red envelope was created.
Red envelopes are used by Chinese all over the world nowadays. The amount of money inside depends on many factors. Recently, the tradition has left behind its tangible form and entered the digital era.
"Adding the thrill of gambling to the practice of giving away red envelopes"
In 2014, the popular Chinese messaging app WeChat (微信) launched a new function that allowed users to send virtual red envelopes. Users could send an amount of money directly to another user, or an amount of red envelopes could be sent into a groupchat. When the function launched, users worldwide could shake their phones in order to receive free red envelopes. The amount of money that was given to users surpassed 500 million yuan ($77.5 million).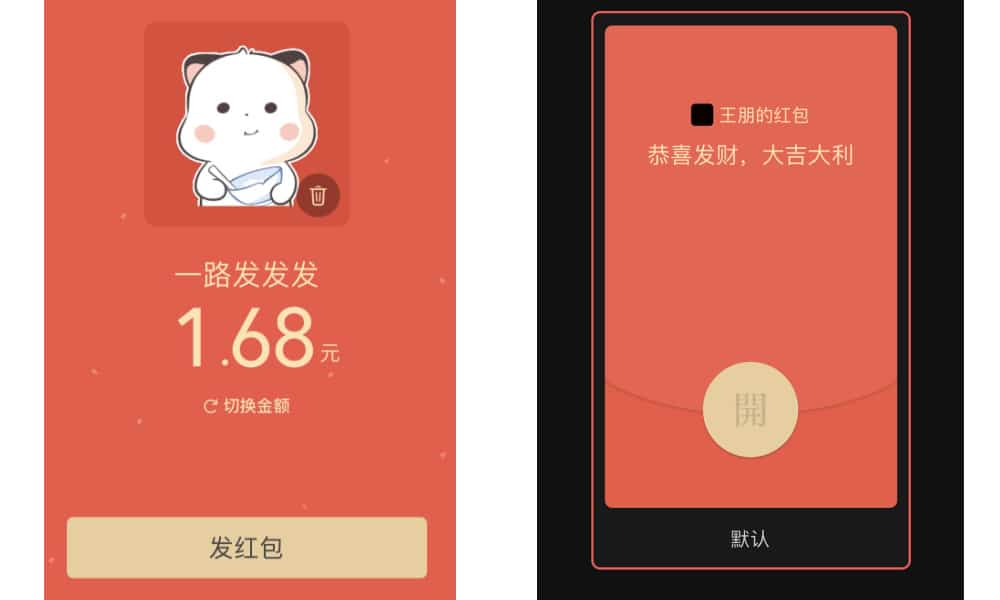 WeChat's inventive idea put digital red envelopes on the map in China. During the peak of the event, 800 million shakes were recorded per minute. There were two types of envelopes introduced in 2014 by Tencent, the company that owns WeChat:
1. A regular red envelope that could be sent directly from one user to another.
2. A 'group' red envelope, with a limited number to be grabbed and a limited sum of money which can be grabbed by all users in a group if they are fast enough. The sum inside this envelope is randomized, adding the thrill of gambling to the practice of giving away red envelopes.
Other companies also wanted a piece of the digital red envelope cake: Weibo and AliPay combined their strengths a year after WeChat introduced its digital hongbao in order to promote their version of the digital red envelope.
A 'war' then broke out between the two companies. AliPay handed out 600 million renminbi ($93 million) worth of red envelopes as a response to WeChat's 120 million envelopes sent out during the televised celebration of Chinese New Year.2
"Digital red envelopes can cross time and place, but cannot replace the method of face-to-face contact"
In the years after, the digital red envelope became more and more popular. Weibo and Alipay also came with their version of sending red envelopes online. The companies organized large-scale actions to make users make use of their form of digital red envelopes.
WeChat, for instance, gives users the option to make the red envelopes very personal through adding stickers and personal messages, making the digital red envelope an even more enjoyable experience.
Does this new development of the traditional red envelope make the tangible envelope obsolete?
When asked by the digital newspaper The Paper (澎湃新闻) about whether the digital red envelope might replace its tangible brother, scholar Tian Zhaoyuan (田兆元) of East China Normal University said that the digital red envelope can cross time and place, but cannot replace the method of face-to-face contact. Though friends and family may send one another digital red envelopes, it does not mean that it replaces the tangible red envelopes.3
The tradition of sending red envelopes is and will be inherently linked to Chinese New Year. Though both the paper and digital forms of the tradition remain incredibly popular, the virtual hongbao will definitely win territory once more this year as travel is restricted due to COVID-19. Especially in these times, the digital red envelope is the best digital way of wishing family and friends a happy new year.
Why are 'lucky envelopes' not just red, but sometimes also green or purple? Read more via Things That Talk here.

By Koen van der Lijn and Xiaojun Zhang
Follow @WhatsOnWeibo
Koen van der Lijn (China Studies, BA) is a ResMa student Asian Studies at Leiden University focused on Chinese history and its international relations. He is a student ambassador at Things That Talk.
Xiaojun Zhang (China Studies, BA) is an MA student Asian Studies at Leiden University focused on contemporary Chinese culture, symbolism and food. For Things That Talk, she currently works on a project about Chinese-Indonesian restaurants in the Netherlands.
This story was made in collaboration with ThingsThatTalk.net – exploring humanities through the life of objects. Things That Talk is an educational digital project where staff and students produce narratives and metadata about objects in Leiden collections and beyond. Check out the story "Hongbao: from paper envelope to digital gift" on Things That Talk here!

Footnotes (other sources hyperlinked within the article)
1 Kin Wai Michael Siu. 2001. "Red Packet: a Traditional Object in the Modern World." Journal of Popular Culture 35 (3), 103.
2 Chen, Liyan. 2015. "Red Envelope War: How Alibaba and Tencent Fight Over Chinese New Year." Forbes, Feb 19 https://www.forbes.com/sites/liyanchen/2015/02/19/red-envelope-war-how-alibaba-and-tencent-fight-over-chinese-new-year/?sh=1b88bccccddd.
3 The Paper, Zuowei yi zhong "xinnian su", weixin hongbao hui qudai zhizhi hongbao ma? 作为一种"新年俗",微信红包会取代纸质红包吗?, https://cul.qq.com/a/20160208/012888.htm.
Spotted a mistake or want to add something? Please let us know in comments below or email us. First-time commenters, please be patient – we will have to manually approve your comment before it appears.
©2021 Whatsonweibo. All rights reserved. Do not reproduce our content without permission – you can contact us at info@whatsonweibo.com.