Top 10 Apps for Studying Chinese (iOS/Android)
Learning Chinese through smartphone or tablet? Here are 10 recommended apps to study Mandarin.
One of the easiest ways to start learning Chinese or improve language skills is to use apps. What's on Weibo has listed 10 recommended apps that are helpful to any learner of Mandarin.
One of the most-asked questions by people who want to learn Mandarin is: where do I start? Do you begin by learning characters, do you start out with tones, or just focus on the pinyin? For more advanced learners, there is another challenge. How do you make sure you do not lose the knowledge you already have and to how to keep on improving your language skills?
Although learners should always work with whatever methods are most effective for them, the most productive way of studying Mandarin is to study its different components at the same time. Studying new words on paper without learning their tones is not recommended, neither is focusing on pinyin without learning the characters. Instead, it's better to get a grasp on all the different aspects of this rich language.
Some of the 10 apps in this list are Chinese apps meant for a Chinese audience, and not necessarily meant for Chinese language learners – but they are nevertheless excellent learning tools.
Here are some What's on Weibo favorites for Android, iPhone or iPad, from beginners to advanced levels of Mandarin.
1. Pleco Software Dictionary
A confession from the editor: Pleco has been my best friend ever since I started studying Chinese. At the time, I once invested an amount that seemed like a huge sum of money as I was working side jobs as a beginning student to purchase the app's professional package. I used a hand-me-down Palm handheld (!) at the time, but since then, the Pleco support team has never failed me as I transferred the dictionaries to my first iPhone, my first Samsung, and even my first iPad. The fact that many years had passed since my first investment was never an issue.
Although Pleco's service is praiseworthy, it is all about the app itself in the end. Pleco calls itself "The #1 Chinese dictionary app for iOS and Android" and it is hard to argue with that. It is suitable for anyone studying Chinese on an elementary, intermediate, or advanced level. What is good about Pleco is that it has a great range of dictionaries and has an easy handwriting recognizer; even if your handwriting in Chinese is not that great, it will still get the character you need.
The major plus for Pleco is that it is much more than a dictionary alone. It has an add-on optical character recognizer that will help you read offline texts, and the "clip reader" function is super handy to copy Chinese texts on smartphone/table – just copy the text and navigate to Pleco to find the text and tap words and characters for their meanings.
Outlier Linguistics has also partnered up with Pleco, adding its excellent Chinese character dictionary to the add-ons. The Essential edition contains all the essential info about each Chinese character, while the Expert Edition is for those who want to dive deep into the history and etymology of Chinese characters.
Another tip: with Pleco, you can train your Chinese vocabulary through flashcards: add any words you do not know to a category (for example: 'My Chinese Business Vocabulary', or 'Dirty Words in Chinese'), and then quiz yourself through Pleco's 'test' function. It will repeat all the words you got wrong until you have a 100% score.
The free version is ok, but for learners who are serious about learning Chinese (especially when you're dealing with Chinese for your studies) the professional package is recommended and you'll be able to take it along with you, even when you switch from the ancient Palm to the latest iPhone.
Price: free (elementary),  US $29.99 for basic package (bundles through Android), US $99.99 (professional package) + rich selection of optional add-ons.
Compatibility: iPhone/iPad & Android
Where to get:
iPhone: Pleco Chinese Dictionary – Pleco Inc.
iPad: Pleco Chinese Dictionary – Pleco Inc.
Android: Pleco Chinese Dictionary
2. Chinese Class 101 (by Innovative Language)
Whether you are on the road or at home, online or offline, Chinese Class 101 offers Mandarin comprehensive learning courses that you can easily integrate into your everyday life. The lesson-per-lesson audio system makes it easy to listen and practice to bite-sized conversations and fragments (which can all be downloaded) while you're driving to work or cooking dinner.
The app offers lessons from the absolute beginner's level to the very advanced level. Every lesson consists of an audio class of ±10 minutes that usually features a conversation, an audio review of vocabulary, a line-by-line display of the conversation (in English, pinyin, simplified & traditional Chinese), and lesson notes. Note: the overviews and transcripts only come with the premium subscription – if you only want to do audio, you'll be fine with basic, but to get a complete overview of the texts and words you'd have to go for the premium one ($10/month).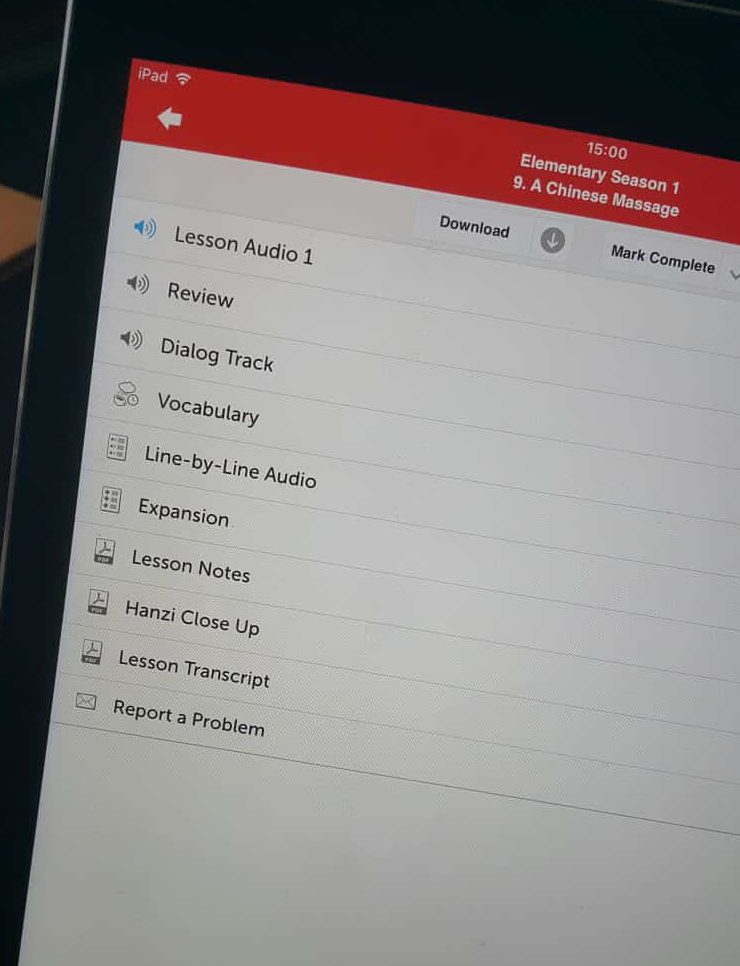 Chinese Class 101 also provides the option to have 1-on-1 interaction with a personal teacher through the app, which only comes with the more expensive premium plus subscription.
If you are not learning Chinese through a school or university, this program is a very effective way of learning Mandarin. One of the key things of this course is the way it repeats the things you've learned to really make it stick in your head. (Also, their Korean programme is very good if you're considering to take on an extra language…).
Price: This app works with a subscription system. It is free to try for a week,  US $5/month for the basic package (access to all audio archives), US $10/month for the premium package (includes wordlists and transcripts) and $23/month for the premium plus (includes option for 1-on-1 teaching).
Compatibility: iPhone/iPad & Android and desktop
Where to get:
www.chineseclass101.com
3. Pera Pera Pop Up Dictionary
Ok, ok, this is not technically an app – it is a plugin. But it needs to be high up in this list for anyone learning Chinese. Pera Pera is a pop-up dictionary add-on for Chrome or Firefox. It gives the English definition for Chinese texts, making it infinitely easier for those struggling with characters to read Chinese online. Pro's: easy to install, easy to use, and translations for many modern names or slang words. Downside: if you use Pera Pera too often, you will get lazy and won't actually learn the characters. Try to only activate this add-on when you really do not know the character.
A major plus of Perapera is that it often gives the translation for relatively new 'internet slang' words or typically online words, making it an effective tool for the modern-day learner of Chinese who scrolls through Chinese texts.
If you are looking for a similar feature for your Android smartphone, Pleco (number 1 in this list) has a 'screen reader' feature for that.
We've been told that in the lastest Firefox version, Pera Pera does not work – in that case we recommend the Zhongwen Popup Dictionary add-on for Firefox.
Price: free
Compatibility: Firefox and Chrome
Where to get:
Chrome Web Store
Firefox Addons
4. Yuntu TV (云图直播)
Immersing yourself in the language is the best way to learn Chinese. If you're not in an environment where you are naturally surrounded by the language on a daily basis, you'll have to create that environment for yourself. Luckily, there are many live TV & radio apps that stream countless channels for you to enjoy.
Yuntu TV is a Chinese live streaming app where you can see all the CCTV channels and many other Chinese channels such as Zhejiang TV, Hunan TV, or Shenzhen TV.
If you would like to listen to Chinese language through TV dramas, Viki Rakuten has a great selection (free, availability depends on region).
Price: free
Compatibility: Android, iPhone, iPad
Where to get:
iPhone: 云图手机电视NEW-在线高清电视综艺体育直播
iPad: 云图手机电视NEW-高清电视直播视频播放器
Official Site: http://www.yuntutv.net/
5. Baobei Ting Ting (宝贝听听)Bedtime Stories
If you think Chinese news programmes are still too difficult, and you prefer to something that is a bit easier to digest, why not practice your Mandarin listening skills by checking out the stories Chinese kids like to listen to? 'Baby Ting' or 'Baobei Ting Ting' (宝贝听听)is a popular storytelling app by Tencent QQ that has thousands of stories to choose from in different categories; starting from the 0-3 age group, 4-6 age group, 7+ age group, to the national classics, modern fairy tales, etc.
The variety of stories that this app provides makes it a perfect tool for non-native speakers who study Chinese. Those at the intermediate level can start with the stories for the young kids and try to train their way up.
Mind you; like the Yuntu TV app, this is an app that is Chinese and has no English. It is, therefore, better if you already can read some Chinese characters when using this app. This app can be linked to your WeChat account, and offers in-app purchases.
Price: free
Compatibility: Android, iPhone, iPad
Where to get:
iPhone:宝贝听听-睡前儿童故事儿歌大全 – 北京企鹅童话科技有限公司
iPad: 宝贝听听-睡前儿童故事儿歌大全 – 北京企鹅童话科技有限公司 or 宝贝童话 – 北京企鹅童话科技有限公司
Android: 宝贝听听-睡前儿童故事儿歌大全 – 北京企鹅童话科技有限公司 (not on Google play store).
6. ChinesePod
Chinesepod is a well-known educational platform providing audiovisual lessons for people learning Chinese – from newbie to advanced level. It promotes an "alternative way of learning Chinese" and focuses on teaching spoken Chinese through video lessons.
All the material on the Chinesepod platforms can be somewhat overwhelming, but don't worry, you do not actually need to do all the lessons one by one; just pick whatever lessons you find interesting within your level of proficiency and start from there.
Price: Chinesepod has various subscription options. The basic option ($14/month) offers access to the complete lesson library and offers the printable lesson notes, whereas the premium ($29/month) option also offers grammatical explanations, custom vocabulary lists, and the full Android + iOS apps.
Where to get:
chinesepod.com
7. Talking Chinese–English–Chinese Phrasebook
Many apps promoting 'Mandarin phrases' are often disappointing because of their limited range of topics and phrases. This app by Paiboon and Word in the Hand, however, is worth your time – although it is somewhat pricey. It is suitable for travelers to China who want to be able to communicate their basic needs, as well as for those studying Chinese to grasp basic sentences and practice tones.
The phrasebook offers more than 15,000 words and ready-to-use phrases in over 250 practical categories, from all the basics to situations relating to, for example, legal cases, superstitions, or romance (the 'swearing' category is quite amusing, providing different ways to insult someone.) All sentences and words are displayed together with audio, characters, and pinyin.
Price: $14.99
Compatibility: iPhone/iPad
Where to get:
iPad/iPhone: Talking Chinese–English–Chinese Phrasebook
8. Feed Me (Mandarin)! by Pencilbot
What?! Are we seriously recommending a purple dragon that eats trains and mice as a Chinese learning language tool? Yes, we are. Because if it works for kids, it works for you. This purple dragon needs to be fed. A very clear voiceover will give you instructions in Chinese on what to feed him. You'll find out soon enough if you've fed him the wrong stuff: he'll be displeased and will show it.
This is an app designed by Pencilbot, which also provides the "Feed Me!" app in Korean, Japanese, Arabic, and many other languages. Although the app is targeted at kids around the age of 5-6, it is also useful for adults to feed the dragon the red apples, blue birds, or yellow squares. Not just because the the Mandarin is beautifully pronounced, but also because the little dragon cheers you on in the cutest way when you get it right. If you tickle his belly he will start giggling. After playing this, you will know how to pronounce colors, shapes, numbers, animals, fruits, and more in Mandarin. If you don't like it, your kid will.
Price: $1.99
Compatibility: iPhone/iPod/iPad and Android
Where to get:
iPhone: Feed Me! Chinese – Edutainment Resources, Inc.
iPad: Feed Me! Chinese – Edutainment Resources, Inc.
Android: Feed Me! Chinese – Edutainment Resources, Inc.
9. Hanzi Writer
Because learning Chinese means learning to listen, speak, read and write, this list wouldn't be complete without an app that focuses on teaching how to properly write characters. This is what Hanzi Writer does very well.
Users can type in the pinyin of a character (for example, 'ai' for love), and select the character they want to see. Hanzi Writer shows the stroke order and how to write, and then gives you the opportunity to try for yourself. Learning to properly write characters is all about repeating repeating repeating, and this app is perfect for that.
Price: free version for Android with ads and $5.99 for iOs

Where to get:
iPhone – Hanzi Writer – Ali Lim
iPad – Hanzi Writer – Ali Lim
Android – Hanzi Writer – Ali Lim
10. Laokang Tone Test
Recognizing and pronouncing tones the right way is essential for your everyday use of Mandarin. Understanding or saying the wrong tones can lead to awkward situations. That is why this Laokang Tone Test is a must-have app if you are in the early stages of learning Chinese. The app is very simple and basic: it will train both your hearing of tones and your pronunciation. The layout of the app is not very pretty, but it works like a charm.
Price: free
Compatibility: iPhone/iPad
Where to get:
iTunes store
This list can still change and does not include all of the apps mentioned by our readers on Twitter or Facebook. Some of you enjoy Memrise to study Chinese, while others dislike its latest changes (what do you think?). If you want to add your favorite app, please let us know in the comments below.
– By Manya Koetse
Follow @WhatsOnWeibo
Spotted a mistake or want to add something? Please let us know in comments below or email us.
©2017 Whatsonweibo. All rights reserved. Do not reproduce our content without permission – you can contact us at info@whatsonweibo.com.
The 'Fake Rich' of Shanghai: Peeking Inside a Wannabe Socialite WeChat Group
A Shanghai fake 'rich girl WeChat group' has become the talk of the day after a Chinese blogger went undercover in their bizarre social media circle.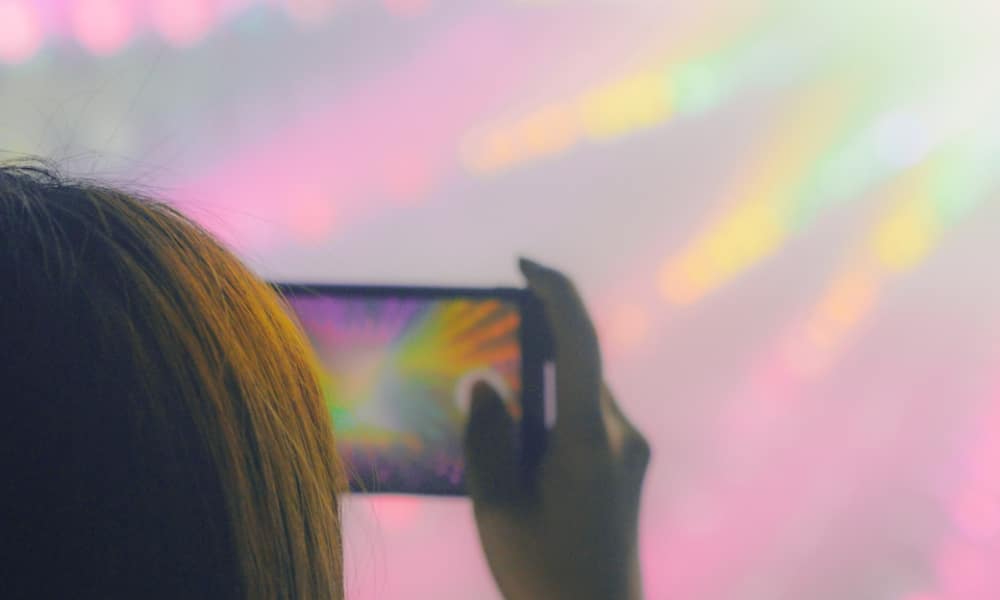 A Shanghai Lady Socialite WeChat Group has become top trending on Chinese social media after a blogger exposed its workings. From splitting the costs for an afternoon high tea at The Ritz to sharing a Gucci pantyhose, these girls are taking the phrase 'fake it 'til you make it' a bit too literally.

By Manya Koetse, with contributions from Miranda Barnes

How to become part of Shanghai's super-rich social circles? Some people think joining a WeChat group is the way to go.
A Shanghai 'Female Socialite WeChat Group' has gone mega trending on Chinese social media today after a blogger went undercover in the group for two weeks, giving netizens a peek inside a world that's all about faking it. The topic reached over 1.2 billion views on Weibo on Monday.
The Chinese blogger Lizhonger (李中二) invested 500 yuan ($75) and pretended to be a girl in order to become a member of the WeChat group after one of his readers tipped him off about its existence.
The group profiles itself as the 'Shanghai Female Socialite' group that is all about "Young / Fashion / Money". The profile poster states that the WeChat group is a place to share information about (Hermes, Dior, etc) luxury products, to have afternoon tea together, to get to know social media influencers and to share updates on wealthy and eligible bachelors.
Besides a 500 yuan membership fee, new members are required to provide proof of having at least 100,000 yuan ($15,000) in their savings account.
Faking such proof is probably not too difficult; most of the active members of the 'Shanghai Ladies' WeChat group appear to be anything but nouveau riche – nor old rich, for that matter.
Lizhonger discovered that instead of being an actual WeChat group for rich girls to talk about their latest Louis Vuitton bags, the group is in fact all about finding ways to appear rich. Part of it is sharing resources and splitting the costs of experiences where these luxury-loving girls can post photos of themselves.
"It turned out to be a high-end version of Pinduoduo," Lizhonger writes. Pinduoduo, sometimes referred to as 'the Groupon of China,' is an interactive group-buying shopping platform that offers quality goods at extremely low prices.
As exposed by Lizhonger, the members of the WeChat group would do things such as sharing the cost for an afternoon high tea at the Ritz-Carlton. The high tea, which is meant for two people, was split among six people, with each person paying 85 yuan ($12.5). The girls then took turns to attend the high tea, with the first girls promising not to touch any of the food so the other girls could still take pictures of it once it was their turn to show up at the Ritz.
Likewise, the booking costs for a 3000 yuan hotel room at the Ritz was shared among 15 members of the WeChat group, with each person paying 200 yuan ($30).
The price for a room at the glamorous and expensive Bvlgari Hotel Shanghai was shared with no less than 40 people, each person paying 125 yuan ($18) just to go up, take a pic, and share their location on social media.
The madness does not stop there. Lizhonger also exposed how the group members would rent one designer bag with four persons, passing them on to each other to wear on a date with a prospective boyfriend.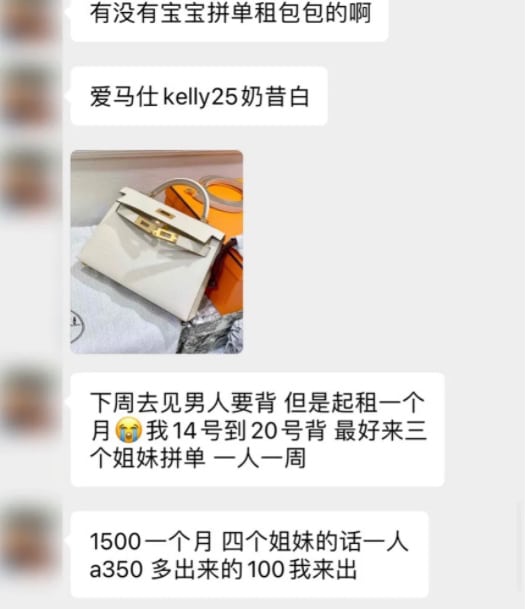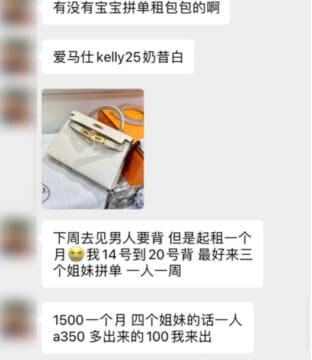 Or how about renting a white Ferrari for one day with 60 people? For 100 yuan ($15) per person, each lady got to take a picture to post on social media.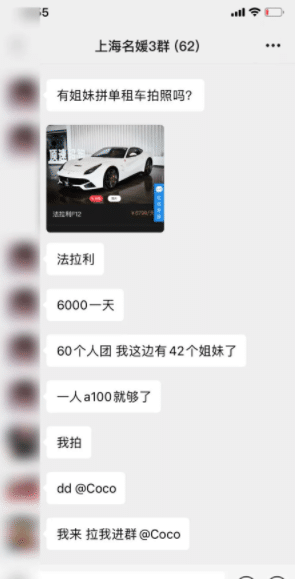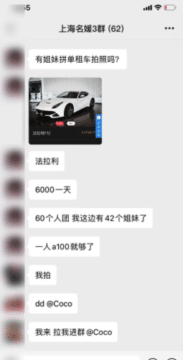 The girls even went as far as sharing the costs for a second-hand Gucci pantyhose, while also discussing how guys driving a BMW or Benz are just not good enough.
One WeChat group can hold a maximum of 500 people. Groups that are popular, such as the one described here, are sometimes split up in multiple groups (A, B, and C) so that more than 500 people can participate.
Since Lizhonger posted his article on WeChat on Sunday, it's become all the talk on Chinese social media. One post about the topic on Weibo reached over 1,4 million likes.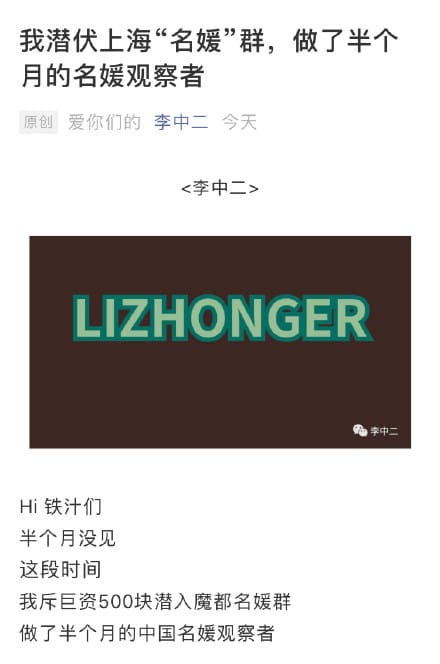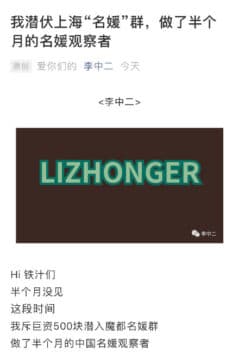 Although many people laugh about the matter, there are also many who criticize these Shanghai women for pretending to be rich and chasing after money in order to increase their social status in order to find a wealthy husband.
"They are faking their appearances, but actually they are just faking themselves," some commented.
Others are not surprised that these kinds of groups are popular. "Did you think this was rare? There are so many of these groups!"
Although this group goes to extremes, the fake socialite life is not just a Shanghai thing. Since some years ago, it was reported that influencers in Russia were booking grounded jets for photoshoots. More recently, some influencers in the US were exposed for renting a photo studio made to look like a private plane for their Instagram photos.
By Manya Koetse, with contributions from Miranda Barnes
Follow @WhatsOnWeibo
Featured image by Yuan Zhe Ma
Spotted a mistake or want to add something? Please let us know in comments below or email us. First-time commenters, please be patient – we will have to manually approve your comment before it appears.
©2020 Whatsonweibo. All rights reserved. Do not reproduce our content without permission – you can contact us at info@whatsonweibo.com.
Tuber App That Promised Access to Blocked Sites in China Gone Within a Day
It seems that the Tuber App, which promised access to blocked sites in China, is now blocked itself.
The Tuber app promised registered users access to websites otherwise blocked in China. But a day after the app became a much-discussed topic on social media, it already disappeared.
"This can't be real, can it?" For a moment there was some consternation on Weibo this week, when news made it rounds that a new browser app would allow Chinese web users to visit websites that are otherwise blocked in mainland China, from Google to Instagram.
The Android browser app, called 'Tuber', soon became a much-discussed topic, with Weibo users saying it was available from the Huawei app store. Users needed to do complete a real-name registration in order to use the app.
"You can use YouTube via this app," one popular Weibo blogger wrote: "And the app has a built-in translation function which can automatically translate English interfaces and provides videos with Chinese subtitles (automated). Videos can also be downloaded."
The Weibo blogger known as 'Sudashui' (over 1 million fans) also commented that Pinterest could be normally used from within the browser. "This is a major event for the Chinese Internet," ("这都是中国互联网的一件大事"), Sudashui wrote, suggesting the app had been approved by the Chinese authorities.
TechCrunch reported that the app came with a veil of censorship, with YouTube queries for politically sensitive keywords such as "Tiananmen" or "Xi Jinping" returned no results on the app.
South China Morning Post also wrote that Tuber granted users some access to innocuous overseas content like entertainment news, while still blocking any politically sensitive content.
But on Saturday (10/10), a day after news about the app made its rounds, all content relating to the app was removed from social media site Weibo, including the post by blogger Sudashui. Searches for the app also showed no results in various Chinese app stores, including the Huawei app store.
"It's already gone from the Huawei app store," a disappointed Weibo user wrote, with another person commenting that it had also disappeared from the Xiaomi app store.
"Quite a few of these kinds of apps have come out. They are seemingly tacitly approved by the government," another person wrote.
Some social media users also joke about the app going down so fast: "It really had a short life."
For others, the app's existence is already forgotten. One Weibo commenter writes: "What is this browser app that everyone keeps talking about?!"
By Manya Koetse , with contributions by Bobby Fung
Follow @WhatsOnWeibo
Spotted a mistake or want to add something? Please let us know in comments below or email us. First-time commenters, please be patient – we will have to manually approve your comment before it appears.
©2020 Whatsonweibo. All rights reserved. Do not reproduce our content without permission – you can contact us at info@whatsonweibo.com.