Top 10 Apps for Studying Chinese (iOS/Android)
Learning Chinese through smartphone or tablet? Here are 10 recommended apps to study Mandarin.
One of the easiest ways to start learning Chinese or improve language skills is to use apps. What's on Weibo has listed 10 recommended apps that are helpful to any learner of Mandarin.
One of the most-asked questions by people who want to learn Mandarin is: where do I start? Do you begin by learning characters, do you start out with tones, or just focus on the pinyin? For more advanced learners, there is another challenge. How do you make sure you do not lose the knowledge you already have and to how to keep on improving your language skills?
Although learners should always work with whatever methods are most effective for them, the most productive way of studying Mandarin is to study its different components at the same time. Studying new words on paper without learning their tones is not recommended, neither is focusing on pinyin without learning the characters. Instead, it's better to get a grasp on all the different aspects of this rich language.
Some of the 10 apps in this list are Chinese apps meant for a Chinese audience, and not necessarily meant for Chinese language learners – but they are nevertheless excellent learning tools.
Here are some What's on Weibo favorites for Android, iPhone or iPad, from beginners to advanced levels of Mandarin.
1. Pleco Software Dictionary
A confession from the editor: Pleco has been my best friend ever since I started studying Chinese. At the time, I once invested an amount that seemed like a huge sum of money as I was working side jobs as a beginning student to purchase the app's professional package. I used a hand-me-down Palm handheld (!) at the time, but since then, the Pleco support team has never failed me as I transferred the dictionaries to my first iPhone, my first Samsung, and even my first iPad. The fact that many years had passed since my first investment was never an issue.
Although Pleco's service is praiseworthy, it is all about the app itself in the end. Pleco calls itself "The #1 Chinese dictionary app for iOS and Android" and it is hard to argue with that. It is suitable for anyone studying Chinese on an elementary, intermediate, or advanced level. What is good about Pleco is that it has a great range of dictionaries and has an easy handwriting recognizer; even if your handwriting in Chinese is not that great, it will still get the character you need.
The major plus for Pleco is that it is much more than a dictionary alone. It has an add-on optical character recognizer that will help you read offline texts, and the "clip reader" function is super handy to copy Chinese texts on smartphone/table – just copy the text and navigate to Pleco to find the text and tap words and characters for their meanings.
Outlier Linguistics has also partnered up with Pleco, adding its excellent Chinese character dictionary to the add-ons. The Essential edition contains all the essential info about each Chinese character, while the Expert Edition is for those who want to dive deep into the history and etymology of Chinese characters.
Another tip: with Pleco, you can train your Chinese vocabulary through flashcards: add any words you do not know to a category (for example: 'My Chinese Business Vocabulary', or 'Dirty Words in Chinese'), and then quiz yourself through Pleco's 'test' function. It will repeat all the words you got wrong until you have a 100% score.
The free version is ok, but for learners who are serious about learning Chinese (especially when you're dealing with Chinese for your studies) the professional package is recommended and you'll be able to take it along with you, even when you switch from the ancient Palm to the latest iPhone.
Price: free (elementary),  US $29.99 for basic package (bundles through Android), US $99.99 (professional package) + rich selection of optional add-ons.
Compatibility: iPhone/iPad & Android
Where to get:
iPhone: Pleco Chinese Dictionary – Pleco Inc.
iPad: Pleco Chinese Dictionary – Pleco Inc.
Android: Pleco Chinese Dictionary
2. Chinese Class 101 (by Innovative Language)
Whether you are on the road or at home, online or offline, Chinese Class 101 offers Mandarin comprehensive learning courses that you can easily integrate into your everyday life. The lesson-per-lesson audio system makes it easy to listen and practice to bite-sized conversations and fragments (which can all be downloaded) while you're driving to work or cooking dinner.
The app offers lessons from the absolute beginner's level to the very advanced level. Every lesson consists of an audio class of ±10 minutes that usually features a conversation, an audio review of vocabulary, a line-by-line display of the conversation (in English, pinyin, simplified & traditional Chinese), and lesson notes. Note: the overviews and transcripts only come with the premium subscription – if you only want to do audio, you'll be fine with basic, but to get a complete overview of the texts and words you'd have to go for the premium one ($10/month).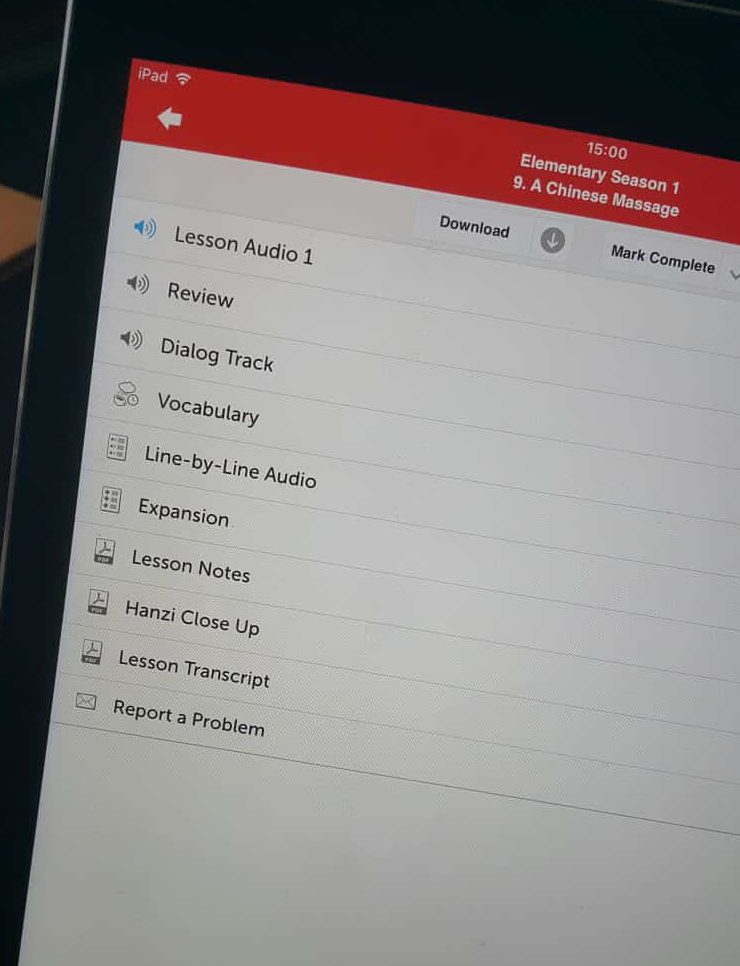 Chinese Class 101 also provides the option to have 1-on-1 interaction with a personal teacher through the app, which only comes with the more expensive premium plus subscription.
If you are not learning Chinese through a school or university, this program is a very effective way of learning Mandarin. One of the key things of this course is the way it repeats the things you've learned to really make it stick in your head. (Also, their Korean programme is very good if you're considering to take on an extra language…).
Price: This app works with a subscription system. It is free to try for a week,  US $5/month for the basic package (access to all audio archives), US $10/month for the premium package (includes wordlists and transcripts) and $23/month for the premium plus (includes option for 1-on-1 teaching).
Compatibility: iPhone/iPad & Android and desktop
Where to get:
www.chineseclass101.com
3. Pera Pera Pop Up Dictionary
Ok, ok, this is not technically an app – it is a plugin. But it needs to be high up in this list for anyone learning Chinese. Pera Pera is a pop-up dictionary add-on for Chrome or Firefox. It gives the English definition for Chinese texts, making it infinitely easier for those struggling with characters to read Chinese online. Pro's: easy to install, easy to use, and translations for many modern names or slang words. Downside: if you use Pera Pera too often, you will get lazy and won't actually learn the characters. Try to only activate this add-on when you really do not know the character.
A major plus of Perapera is that it often gives the translation for relatively new 'internet slang' words or typically online words, making it an effective tool for the modern-day learner of Chinese who scrolls through Chinese texts.
If you are looking for a similar feature for your Android smartphone, Pleco (number 1 in this list) has a 'screen reader' feature for that.
We've been told that in the lastest Firefox version, Pera Pera does not work – in that case we recommend the Zhongwen Popup Dictionary add-on for Firefox.
Price: free
Compatibility: Firefox and Chrome
Where to get:
Chrome Web Store
Firefox Addons
4. Yuntu TV (云图直播)
Immersing yourself in the language is the best way to learn Chinese. If you're not in an environment where you are naturally surrounded by the language on a daily basis, you'll have to create that environment for yourself. Luckily, there are many live TV & radio apps that stream countless channels for you to enjoy.
Yuntu TV is a Chinese live streaming app where you can see all the CCTV channels and many other Chinese channels such as Zhejiang TV, Hunan TV, or Shenzhen TV.
If you would like to listen to Chinese language through TV dramas, Viki Rakuten has a great selection (free, availability depends on region).
Price: free
Compatibility: Android, iPhone, iPad
Where to get:
iPhone: 云图手机电视NEW-在线高清电视综艺体育直播
iPad: 云图手机电视NEW-高清电视直播视频播放器
Official Site: http://www.yuntutv.net/
5. Baobei Ting Ting (宝贝听听)Bedtime Stories
If you think Chinese news programmes are still too difficult, and you prefer to something that is a bit easier to digest, why not practice your Mandarin listening skills by checking out the stories Chinese kids like to listen to? 'Baby Ting' or 'Baobei Ting Ting' (宝贝听听)is a popular storytelling app by Tencent QQ that has thousands of stories to choose from in different categories; starting from the 0-3 age group, 4-6 age group, 7+ age group, to the national classics, modern fairy tales, etc.
The variety of stories that this app provides makes it a perfect tool for non-native speakers who study Chinese. Those at the intermediate level can start with the stories for the young kids and try to train their way up.
Mind you; like the Yuntu TV app, this is an app that is Chinese and has no English. It is, therefore, better if you already can read some Chinese characters when using this app. This app can be linked to your WeChat account, and offers in-app purchases.
Price: free
Compatibility: Android, iPhone, iPad
Where to get:
iPhone:宝贝听听-睡前儿童故事儿歌大全 – 北京企鹅童话科技有限公司
iPad: 宝贝听听-睡前儿童故事儿歌大全 – 北京企鹅童话科技有限公司 or 宝贝童话 – 北京企鹅童话科技有限公司
Android: 宝贝听听-睡前儿童故事儿歌大全 – 北京企鹅童话科技有限公司 (not on Google play store).
6. ChinesePod
Chinesepod is a well-known educational platform providing audiovisual lessons for people learning Chinese – from newbie to advanced level. It promotes an "alternative way of learning Chinese" and focuses on teaching spoken Chinese through video lessons.
All the material on the Chinesepod platforms can be somewhat overwhelming, but don't worry, you do not actually need to do all the lessons one by one; just pick whatever lessons you find interesting within your level of proficiency and start from there.
Price: Chinesepod has various subscription options. The basic option ($14/month) offers access to the complete lesson library and offers the printable lesson notes, whereas the premium ($29/month) option also offers grammatical explanations, custom vocabulary lists, and the full Android + iOS apps.
Where to get:
chinesepod.com
7. Talking Chinese–English–Chinese Phrasebook
Many apps promoting 'Mandarin phrases' are often disappointing because of their limited range of topics and phrases. This app by Paiboon and Word in the Hand, however, is worth your time – although it is somewhat pricey. It is suitable for travelers to China who want to be able to communicate their basic needs, as well as for those studying Chinese to grasp basic sentences and practice tones.
The phrasebook offers more than 15,000 words and ready-to-use phrases in over 250 practical categories, from all the basics to situations relating to, for example, legal cases, superstitions, or romance (the 'swearing' category is quite amusing, providing different ways to insult someone.) All sentences and words are displayed together with audio, characters, and pinyin.
Price: $14.99
Compatibility: iPhone/iPad
Where to get:
iPad/iPhone: Talking Chinese–English–Chinese Phrasebook
8. Feed Me (Mandarin)! by Pencilbot
What?! Are we seriously recommending a purple dragon that eats trains and mice as a Chinese learning language tool? Yes, we are. Because if it works for kids, it works for you. This purple dragon needs to be fed. A very clear voiceover will give you instructions in Chinese on what to feed him. You'll find out soon enough if you've fed him the wrong stuff: he'll be displeased and will show it.
This is an app designed by Pencilbot, which also provides the "Feed Me!" app in Korean, Japanese, Arabic, and many other languages. Although the app is targeted at kids around the age of 5-6, it is also useful for adults to feed the dragon the red apples, blue birds, or yellow squares. Not just because the the Mandarin is beautifully pronounced, but also because the little dragon cheers you on in the cutest way when you get it right. If you tickle his belly he will start giggling. After playing this, you will know how to pronounce colors, shapes, numbers, animals, fruits, and more in Mandarin. If you don't like it, your kid will.
Price: $1.99
Compatibility: iPhone/iPod/iPad and Android
Where to get:
iPhone: Feed Me! Chinese – Edutainment Resources, Inc.
iPad: Feed Me! Chinese – Edutainment Resources, Inc.
Android: Feed Me! Chinese – Edutainment Resources, Inc.
9. Hanzi Writer
Because learning Chinese means learning to listen, speak, read and write, this list wouldn't be complete without an app that focuses on teaching how to properly write characters. This is what Hanzi Writer does very well.
Users can type in the pinyin of a character (for example, 'ai' for love), and select the character they want to see. Hanzi Writer shows the stroke order and how to write, and then gives you the opportunity to try for yourself. Learning to properly write characters is all about repeating repeating repeating, and this app is perfect for that.
Price: free version for Android with ads and $5.99 for iOs

Where to get:
iPhone – Hanzi Writer – Ali Lim
iPad – Hanzi Writer – Ali Lim
Android – Hanzi Writer – Ali Lim
10. Laokang Tone Test
Recognizing and pronouncing tones the right way is essential for your everyday use of Mandarin. Understanding or saying the wrong tones can lead to awkward situations. That is why this Laokang Tone Test is a must-have app if you are in the early stages of learning Chinese. The app is very simple and basic: it will train both your hearing of tones and your pronunciation. The layout of the app is not very pretty, but it works like a charm.
Price: free
Compatibility: iPhone/iPad
Where to get:
iTunes store
This list can still change and does not include all of the apps mentioned by our readers on Twitter or Facebook. Some of you enjoy Memrise to study Chinese, while others dislike its latest changes (what do you think?). If you want to add your favorite app, please let us know in the comments below.
– By Manya Koetse
Follow @WhatsOnWeibo
Spotted a mistake or want to add something? Please let us know in comments below or email us.
©2017 Whatsonweibo. All rights reserved. Do not reproduce our content without permission – you can contact us at info@whatsonweibo.com.
From Tea Farmer to Online Influencer: Uncle Huang and China's Rural Live Streamers
'Cunbo' aka 'rural livestreaming' is all the rage. A win-win situation for farmers, viewers, and Alibaba.
This is the "WE…WEI…WHAT?" column by Manya Koetse, originally published in German by Goethe Institut China on Goethe.de: "VOM TEEBAUERN ZUM INFLUENCER: ONKEL HUANG UND CHINAS LÄNDLICHE LIVESTREAMER." 
The past year has been super tumultuous when it comes to the topics that have been dominating Chinese social media. The Coronavirus crisis was preceded by other big issues that were all the talk online, from the US-China trade war to the protests in Hong-Kong, the swine flu, and heightened censorship and surveillance.
Despite the darker side to China's online environment, however, there were also positive developments. One of the online trends that became popular this year comes with a term of its own, namely cūnbō (村播): rural livestreaming.  Chinese farmers using livestreaming as a way to sell their products and promote their business have become a more common occurrence on China's e-commerce and social media platforms. 

The social media + e-commerce mix, also called 'social shopping,' is booming in the PRC. Online platforms where the lines between social media and e-commerce have disappeared are now more popular than ever. There's the thriving Xiaohongshu (小红书Little Red Book) platform, for example, but apps such as TikTok (known as Douyin in China) also integrate shopping in the social media experience.
Over recent years, China's e-commerce giant Alibaba has contributed to the rising popularity of 'social shopping.' Its Taobao Live unit (also a separate app), which falls under the umbrella of China's biggest online marketplace Taobao, is solely dedicated to shopping + social media, mainly mobile-centered. It's a recipe for success: Chinese mobile users spend over six hours online per day, approximately 72% of them shop online, and nearly 65% of mobile internet users watch livestreaming.
Every minute of every day, thousands of online shoppers tune in to dozens of different channels where sellers promote anything from food products to makeup or pet accessories. The sellers, also called 'hosts' or 'presenters,' make their channels attractive by incorporating makeup tutorials, cooking classes, giving tips and tricks, chatting away and joking, and promising their buyers the best deal or extra presents when purchasing their products.                
Sometimes thousands of viewers tune in to one channel at the same. They can 'follow' their favorite hosts and can interact with them directly by leaving comments on the livestreams. They can compliment the hosts ("You're so funny!"), ask questions about products ("Does this also come in red?"), or leave practical advice ("You should zoom in when demonstrating this product!"). The product promoted in the livestreams can be directly purchased through the Taobao system.
Over the past year, Alibaba has increased its focus on rural sellers within the livestreaming e-commerce business. Countryside sellers even have their own category highlighted on the Taobao Live app. Chinese tech giant Alibaba launched its 'cūnbō project' in the spring of 2019 to promote the use of its Taobao Live app amongst farmers. The most influential livestreaming farmers get signed by Alibaba to elevate Taobao Live's rural business to a higher level.
One of these influential Chinese farmers who has made a name for himself through livestreaming is Huang Wensheng, a tea farmer from the mountainous Lichuan area in Hunan Province.
Huang, who is nicknamed 'Uncle Farmer,' sells tea through his channel, where he shows viewers his work and shares stories and songs from his village. He is also known to talk about what he learned throughout his life and will say things such as: "It is important to work hard; not necessarily so much to change the world , but to make sure the world does not change you."
With just three to five livestreaming sessions per week, 'Uncle' Huang reaches up to twenty million viewers per month, and, according to Chinese media reports, has seen a significant increase in his income, earning some 10,000 yuan (€1300) per week.
Huang is not the only farmer from his hometown using Taobao Live to increase their income; there are some hundred rural livestreamers in Lichuan doing the same.
The rural livestreaming category is significantly different from the urban fashionistas selling brand makeup and the latest must-haves: these hosts do not have the polished look, glamorous clothes, or stylish backgrounds. They usually film outside while doing their work or offer a glimpse into their often humble rooms or kitchens.
Viewers get to see the source of the products sold by these rural sellers; they often literally go to the fields to show where their agricultural products grow, or film themselves getting the eggs from their chickens or the oranges from the trees. From fruits to potatoes and flowers, and from fresh tea to home-made chili sauce – a wide range of products is promoted and sold through Taobao Live these days.
Some rural livestreamers are trying to stay ahead of their competition by coming up with novel concepts. A young farmer from Sichuan, for example, recently offered viewers the opportunity to "adopt" a rooster from his farm, allowing them to interact with 'their' rooster through social media and even throwing the occasional birthday party for some lucky roosters.
Examples such as these show that although the countryside livestreamers usually lack glitter and glam, they can be just as entertaining – or perhaps even more so – than their urban counterparts.
Who benefits from the recent 'cūnbō' boom? One could argue that the rising popularity of livestreaming farmers is a win-win situation from which all participants can profit in some way. The commercial interests are big for Alibaba. The company has been targeting China's countryside for years, as it's where China's biggest consumption growth will happen while mobile internet penetration is still on the rise. Alibaba earns profits from an increasing number of rural e-commerce buyers, as well as e-commerce sellers.
Alibaba's early focus on the countryside as a new home for e-commerce has previously also led to the phenomenon of so-called 'Taobao Villages,' where a certain percentage of rural residents are selling local specialties, farm products or other things via the Taobao platform with relatively little transaction costs.
Many Chinese villages and farmers are profiting from the further spread of Taobao in the countryside. Not only does Alibaba invest in logistics and e-commerce trainings in rural areas, these e-commerce channels are also a way to directly boost sales and income for struggling farmers.
Chinese media predict that the rural livestreaming trend will only become more popular in the years to come, bringing forth many more influential farmers like Huang.
But besides the commercial and financial gains that come from the rising popularity of rural livestreamers, there is also a significant and noteworthy social impact.  At  a time in which China's rapidly changing society sees a widening gap between urban and rural areas, these rural channels serve as a digital bridge between countryside sellers and urban consumers, offering netizens a real and unpolished look into the lives of farmers in others parts of the country, and gives online buyers more insight and understanding of where their online products came from.
Taobao Live is actually like a traditional "farmers' market," but now it is digital, open 24/7, and accessible to anyone with a mobile phone. It's the Chinese farmers' market of the 21st century.
By Manya Koetse
Follow @whatsonweibo
Spotted a mistake or want to add something? Please let us know in comments below or email us. First-time commenters, please be patient – we will have to manually approve your comment before it appears.
This text was first published by Goethe-Institut China under a CC-BY-NC-ND-4.0-DE license (Creative Commons) as part of a monthly column in collaboration with What's On Weibo.
WeChat's New Emoji Are Here (Including a Watermelon-Eating and Doge One)
WeChat's new emoji are based on popular memes.
On January 14, Tencent's Wechat introduced new emoji to its existing emoji set. The new emoji include, among others, a watermelon-eating emoji and a smiling Shiba Inu.
On Weibo, the new emoji have become a topic of discussion under the hashtags "WeChat's New Emoji" (#微信上线新表情#), "WeChat's Watermelon Eating Emoji" (#微信上线吃瓜表情#), and "WeChat's Dog Emoji" (#微信上线狗头表情#).
Different from the Unicode emoji (see Emojipedia), WeChat and Weibo have their own sets of emoji, although there is overlap.
The reason why especially the watermelon-eating and dog emoji are being discussed on social media, is because these emoji are based on popular internet memes.
"Eating watermelon" (吃瓜 chī guā) is an online expression that comes from "watermelon-eating masses" (吃瓜群众 chī guā qúnzhòng), which describes a common mentality of Internet users who have no idea what is actually going on but are still commenting or following online stories for their enjoyment – perhaps comparable to the "popcorn memes" that are ubiquitous on Western social media platforms.
The smiling dog has been around since 2013 and is known as the doge meme, based on a photo of a Shiba inu. The meme was originally spread on social media platforms such as Reddit, but then also became hugely popular in China, where it became a symbol of sarcasm (also read this Abacus article on this topic).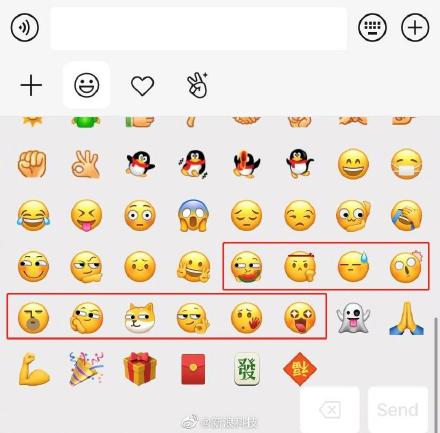 Other new emoji are the "wow" emoji, and others to express "ok," "add oil," "emm," "oh!"
There's also a "shehui shehui" (社会社会, lit. "society society") emoji, which also comes from online culture and is a way among friends to (self-mockingly) talk about being 'gangsters,' 'brothers.' or 'scoundrels.'
As the new emoji are still in their testing phase, not all WeChat users can use the new emoji yet, so you might have to wait a bit before being able to try them out.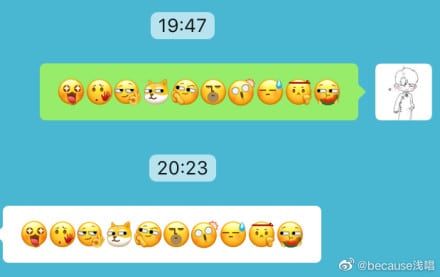 By Manya Koetse, with thanks to @caaatchina
Follow @whatsonweibo
Spotted a mistake or want to add something? Please let us know in comments below or email us. First-time commenters, please be patient – we will have to manually approve your comment before it appears.
©2020 Whatsonweibo. All rights reserved. Do not reproduce our content without permission – you can contact us at info@whatsonweibo.com.