Tuber App That Promised Access to Blocked Sites in China Gone Within a Day
It seems that the Tuber App, which promised access to blocked sites in China, is now blocked itself.
The Tuber app promised registered users access to websites otherwise blocked in China. But a day after the app became a much-discussed topic on social media, it already disappeared.
"This can't be real, can it?" For a moment there was some consternation on Weibo this week, when news made it rounds that a new browser app would allow Chinese web users to visit websites that are otherwise blocked in mainland China, from Google to Instagram.
The Android browser app, called 'Tuber', soon became a much-discussed topic, with Weibo users saying it was available from the Huawei app store. Users needed to do complete a real-name registration in order to use the app.
"You can use YouTube via this app," one popular Weibo blogger wrote: "And the app has a built-in translation function which can automatically translate English interfaces and provides videos with Chinese subtitles (automated). Videos can also be downloaded."
The Weibo blogger known as 'Sudashui' (over 1 million fans) also commented that Pinterest could be normally used from within the browser. "This is a major event for the Chinese Internet," ("这都是中国互联网的一件大事"), Sudashui wrote, suggesting the app had been approved by the Chinese authorities.
TechCrunch reported that the app came with a veil of censorship, with YouTube queries for politically sensitive keywords such as "Tiananmen" or "Xi Jinping" returned no results on the app.
South China Morning Post also wrote that Tuber granted users some access to innocuous overseas content like entertainment news, while still blocking any politically sensitive content.
But on Saturday (10/10), a day after news about the app made its rounds, all content relating to the app was removed from social media site Weibo, including the post by blogger Sudashui. Searches for the app also showed no results in various Chinese app stores, including the Huawei app store.
"It's already gone from the Huawei app store," a disappointed Weibo user wrote, with another person commenting that it had also disappeared from the Xiaomi app store.
"Quite a few of these kinds of apps have come out. They are seemingly tacitly approved by the government," another person wrote.
Some social media users also joke about the app going down so fast: "It really had a short life."
For others, the app's existence is already forgotten. One Weibo commenter writes: "What is this browser app that everyone keeps talking about?!"
By Manya Koetse , with contributions by Bobby Fung
Follow @WhatsOnWeibo
Spotted a mistake or want to add something? Please let us know in comments below or email us. First-time commenters, please be patient – we will have to manually approve your comment before it appears.
©2020 Whatsonweibo. All rights reserved. Do not reproduce our content without permission – you can contact us at info@whatsonweibo.com.
The 'Fake Rich' of Shanghai: Peeking Inside a Wannabe Socialite WeChat Group
A Shanghai fake 'rich girl WeChat group' has become the talk of the day after a Chinese blogger went undercover in their bizarre social media circle.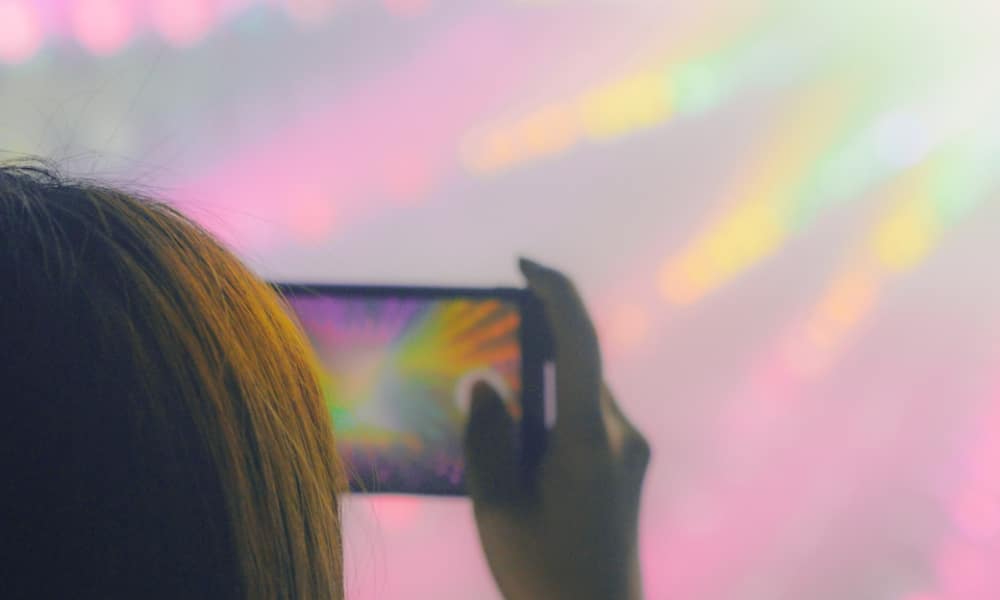 A Shanghai Lady Socialite WeChat Group has become top trending on Chinese social media after a blogger exposed its workings. From splitting the costs for an afternoon high tea at The Ritz to sharing a Gucci pantyhose, these girls are taking the phrase 'fake it 'til you make it' a bit too literally.

By Manya Koetse, with contributions from Miranda Barnes

How to become part of Shanghai's super-rich social circles? Some people think joining a WeChat group is the way to go.
A Shanghai 'Female Socialite WeChat Group' has gone mega trending on Chinese social media today after a blogger went undercover in the group for two weeks, giving netizens a peek inside a world that's all about faking it. The topic reached over 1.2 billion views on Weibo on Monday.
The Chinese blogger Lizhonger (李中二) invested 500 yuan ($75) and pretended to be a girl in order to become a member of the WeChat group after one of his readers tipped him off about its existence.
The group profiles itself as the 'Shanghai Female Socialite' group that is all about "Young / Fashion / Money". The profile poster states that the WeChat group is a place to share information about (Hermes, Dior, etc) luxury products, to have afternoon tea together, to get to know social media influencers and to share updates on wealthy and eligible bachelors.
Besides a 500 yuan membership fee, new members are required to provide proof of having at least 100,000 yuan ($15,000) in their savings account.
Faking such proof is probably not too difficult; most of the active members of the 'Shanghai Ladies' WeChat group appear to be anything but nouveau riche – nor old rich, for that matter.
Lizhonger discovered that instead of being an actual WeChat group for rich girls to talk about their latest Louis Vuitton bags, the group is in fact all about finding ways to appear rich. Part of it is sharing resources and splitting the costs of experiences where these luxury-loving girls can post photos of themselves.
"It turned out to be a high-end version of Pinduoduo," Lizhonger writes. Pinduoduo, sometimes referred to as 'the Groupon of China,' is an interactive group-buying shopping platform that offers quality goods at extremely low prices.
As exposed by Lizhonger, the members of the WeChat group would do things such as sharing the cost for an afternoon high tea at the Ritz-Carlton. The high tea, which is meant for two people, was split among six people, with each person paying 85 yuan ($12.5). The girls then took turns to attend the high tea, with the first girls promising not to touch any of the food so the other girls could still take pictures of it once it was their turn to show up at the Ritz.
Likewise, the booking costs for a 3000 yuan hotel room at the Ritz was shared among 15 members of the WeChat group, with each person paying 200 yuan ($30).
The price for a room at the glamorous and expensive Bvlgari Hotel Shanghai was shared with no less than 40 people, each person paying 125 yuan ($18) just to go up, take a pic, and share their location on social media.
The madness does not stop there. Lizhonger also exposed how the group members would rent one designer bag with four persons, passing them on to each other to wear on a date with a prospective boyfriend.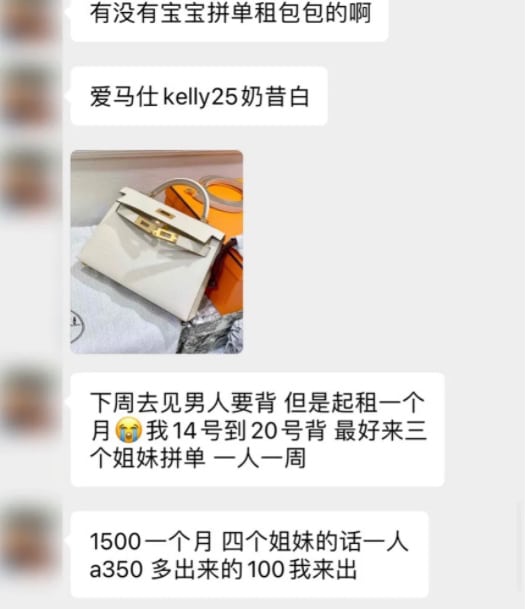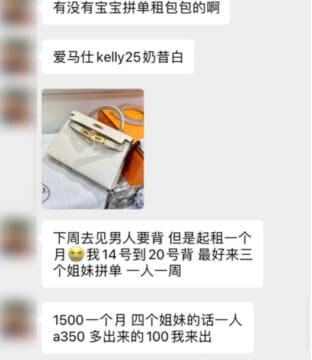 Or how about renting a white Ferrari for one day with 60 people? For 100 yuan ($15) per person, each lady got to take a picture to post on social media.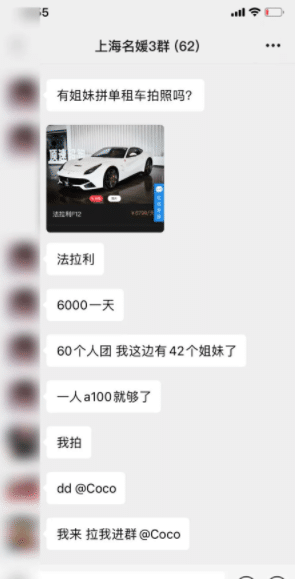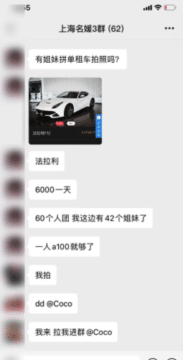 The girls even went as far as sharing the costs for a second-hand Gucci pantyhose, while also discussing how guys driving a BMW or Benz are just not good enough.
One WeChat group can hold a maximum of 500 people. Groups that are popular, such as the one described here, are sometimes split up in multiple groups (A, B, and C) so that more than 500 people can participate.
Since Lizhonger posted his article on WeChat on Sunday, it's become all the talk on Chinese social media. One post about the topic on Weibo reached over 1,4 million likes.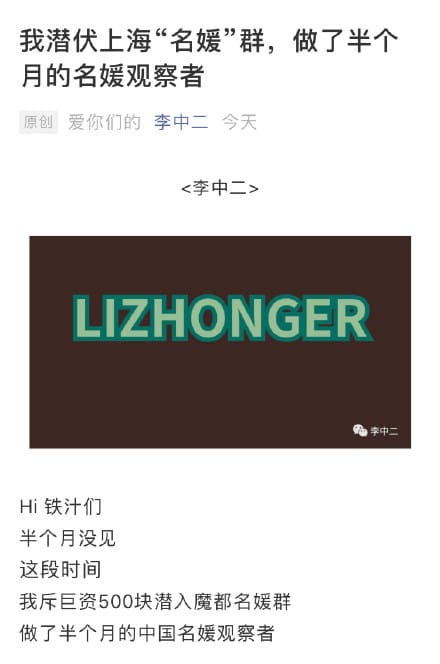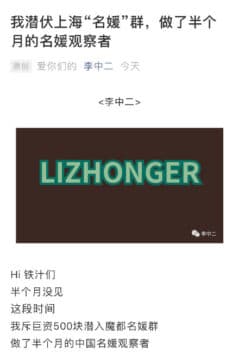 Although many people laugh about the matter, there are also many who criticize these Shanghai women for pretending to be rich and chasing after money in order to increase their social status in order to find a wealthy husband.
"They are faking their appearances, but actually they are just faking themselves," some commented.
Others are not surprised that these kinds of groups are popular. "Did you think this was rare? There are so many of these groups!"
Although this group goes to extremes, the fake socialite life is not just a Shanghai thing. Since some years ago, it was reported that influencers in Russia were booking grounded jets for photoshoots. More recently, some influencers in the US were exposed for renting a photo studio made to look like a private plane for their Instagram photos.
By Manya Koetse, with contributions from Miranda Barnes
Follow @WhatsOnWeibo
Featured image by Yuan Zhe Ma
Spotted a mistake or want to add something? Please let us know in comments below or email us. First-time commenters, please be patient – we will have to manually approve your comment before it appears.
©2020 Whatsonweibo. All rights reserved. Do not reproduce our content without permission – you can contact us at info@whatsonweibo.com.
Chinese Online Responses to the 'TikTok Problem'
Trump's TikTok and WeChat bans have been all the talk over the past weeks. These are the main viewpoints on the issue as recently discussed on Chinese social media.
News of US President Trump signing executive orders on August 6th to prohibit transactions with TikTok and WeChat parent companies Bytedance and Tencent remains a hot topic of discussion on social media.
Both apps have been described as posing a threat to America's national security, with President Trump claiming that the app's use in the United States heightens the risk of potential espionage and blackmailing practices. The apps are also accused of censoring content that is deemed politically sensitive to the Chinese government, and of being channels for disinformation campaigns.
Over the past three years, Bytedance's Tik Tok app has become super popular in the United States, where it has approximately 100 million active users. Tencent's WeChat has 19 million daily active users in the United States.
Until Trump's executive orders go into effect (the September 20th deadline has been moved to November 12th), much is still unclear about the possible consequences of such a ban – and what the (vague) orders actually mean.
Will Tik Tok be sold to an American company? Will TikTok and WeChat be banned from Apple and Google app stores? How will the ban affect those for whom Wechat is an important communication tool in their everyday personal and business life? Will iPhone users in China still be able to use China's number one app?
While news developments are still unfolding, the "TikTok problem" remains to be a hot topic on Chinese social media, with hashtags such as "How Do You See the TikTok Storm?" (#如何看待tiktok风波#) and "What's the Main Goal of Trump Banning TikTok?" (#特朗普封禁TikTok的核心目标是什么#) receiving thousands of views and comments.
These are the main takes on the issue in the Chinese online media spheres recently.
"It's all about US (technological) hegemony"
During a press conference on August 12, China's Ministry of Foreign Affairs spokesperson Zhao Lijian (赵立坚) expressed that America was showing "bad table manners" for pressing down on "non-American companies," and that the Tik Tok app had "nothing to do with national security."
The fragment went viral on Chinese social media and was reposted many times by media accounts and Chinese web users.
Under the hashtag "Zhao Lijian Responds to the Tik Tok Problem" (#赵立坚回应涉TikTok问题#, 87 million views on Weibo), many Weibo users noted how Zhao did not say that the US was pressing down on 'Chinese' companies, but that it is suppressing 'non-American' companies ("非美国企业"), suggesting that it is all about American power and hegemony.
A few days earlier, Chinese state media outlet Global Times also published an article stating that, according to legal experts, the US government will be able to order Apple and Google to remove all products owned by ByteDance from app stores around the world based on the recent executive orders.
Similar to the statement issued by China's MOFA, Global Times also writes that the Trump administration "has displayed its ugly face that prevents any non-US company to break the US technological hegemony." The issue of Chinese apps threatening US "national security" is called "a shameless excuse" that is used to "destroy China's most successful globalized internet company."
The phrase 'non-American companies' was probably also used by Zhao to emphasize that Bytedance has stepped up efforts over the past year to separate its international Tik Tok business from its China-based operations.
The company took on Disney's head of streaming efforts Kevin Mayer to become its CEO of TikTok, an app that is different from its Chinese version, Douyin (抖音).  TikTok claims that all US user data is stored in the United States, with backup redundancy in Singapore, and that their data is not subject to Chinese law.
Other media outlets, such as Sina Tech, also stress the fact that any claims of TikTok or WeChat posing a risk to US national security are completely unsubstantiated and are merely another excuse to target Chinese products.
"The success of TikTok undermines the absolute American influence on the internet," one Weibo commenter (@财务琳姐) writes: "They've nothing left to do but to discredit China." Others say: "They're beating down on China's entire internet business to contain China's developments."
The same sentiments were reiterated by Zhao Lijian in a press conference on August 18, where he said that the US is engaging in a deliberate attempt to "discredit and suppress" Chinese companies.
"Shooting themselves in the foot"
A recurring way of responding to executive orders on WeChat and Tik Tok in Chinese online media, is that a possible ban on these Chinese apps would only have negative consequences for the United States.
Directly after news came out on Trump's executive orders, the question "Apple or WeChat" started trending on Chinese social media, with many assuming that a possible ban would mean that Apple phones will no longer allow WeChat on its phones.
For the majority of people, the question is not a difficult one. As a messaging, social media, payment app and more, WeChat has become virtually indispensable for Chinese web users – they would simply stop buying iPhones.
The hashtag "US Shutting Down WeChat Will Affect iPhone Sales" (#美国封杀微信将影响iphone出货量#) discusses the stance of analyst expert Guo Mingji (郭明錤), who recently said that the ban on WeChat will have major impact on iPhone sales and could possibly lead to a drop of 25-30% in its sales volume.
One Weibo user (@赵皓阳) commented: "For the Chinese market, not using an iPhone could have some impact, but not using WeChat would mean cutting yourself off from society."
"Ban it, just ban it, Chinese people will just switch to the high-end Huawei phones, and it will beat down Apple – great," another netizen (@黄多多成长记) wrote.
"Shifting public attention away from COVID19 crisis"
The COVID19 crisis in the US has been receiving a lot of attention in Chinese media recently, and the American struggle to contain the virus is often linked to Trump's mission to crack down on Tik Tok, WeChat, and Huawei.
"Focus on your own COVID19 epidemic, instead of trying to divert the attention all the time," one Weibo user (@凯MrsL) writes. Similar comments surface all over Chinese social media, suggesting that the 'anti-China' strategy is just a way to distract the attention from the continuing spread of the coronavirus in the US.
Others write that Trump has made "a terrible mess," and that "beating China" is the only card he has left to play. "This all about the upcoming elections," some suggest.
The People's Daily wrote on August 18 that, since the US is confronted with the severest situation of COVID-19, it should make "greater efforts than any country in the world to cope with the pandemic," adding: "Surprisingly, it seems that such normal logic doesn't exist in the minds of certain U.S. politicians."
"An eye for an eye"
Amid all different perspectives in which the recent Tik Tok/WeChat ban developments are discussed, there is also one other recurring sentiment that stands out.
Reflecting on the Chinese online environment, there are also multiple Weibo users who argue that China virtually blocked so many American companies from thriving in the Chinese digital market (unless they would be willing to transform their products to comply with China's strict cyber regulations), that it is not surprising that the US would also strike back to make sure Chinese companies cannot thrive in the American digital environment.
China has already banned so many American products, from Google to Facebook, from Instagram to Pinterest and Twitter, that "there is nothing left to ban" for China: "We have few countermeasures left to take."
By Manya Koetse
Follow @WhatsOnWeibo
Spotted a mistake or want to add something? Please let us know in comments below or email us. First-time commenters, please be patient – we will have to manually approve your comment before it appears.
©2020 Whatsonweibo. All rights reserved. Do not reproduce our content without permission – you can contact us at info@whatsonweibo.com.