Tuber App That Promised Access to Blocked Sites in China Gone Within a Day
It seems that the Tuber App, which promised access to blocked sites in China, is now blocked itself.
The Tuber app promised registered users access to websites otherwise blocked in China. But a day after the app became a much-discussed topic on social media, it already disappeared.
"This can't be real, can it?" For a moment there was some consternation on Weibo this week, when news made it rounds that a new browser app would allow Chinese web users to visit websites that are otherwise blocked in mainland China, from Google to Instagram.
The Android browser app, called 'Tuber', soon became a much-discussed topic, with Weibo users saying it was available from the Huawei app store. Users needed to do complete a real-name registration in order to use the app.
"You can use YouTube via this app," one popular Weibo blogger wrote: "And the app has a built-in translation function which can automatically translate English interfaces and provides videos with Chinese subtitles (automated). Videos can also be downloaded."
The Weibo blogger known as 'Sudashui' (over 1 million fans) also commented that Pinterest could be normally used from within the browser. "This is a major event for the Chinese Internet," ("这都是中国互联网的一件大事"), Sudashui wrote, suggesting the app had been approved by the Chinese authorities.
TechCrunch reported that the app came with a veil of censorship, with YouTube queries for politically sensitive keywords such as "Tiananmen" or "Xi Jinping" returned no results on the app.
South China Morning Post also wrote that Tuber granted users some access to innocuous overseas content like entertainment news, while still blocking any politically sensitive content.
But on Saturday (10/10), a day after news about the app made its rounds, all content relating to the app was removed from social media site Weibo, including the post by blogger Sudashui. Searches for the app also showed no results in various Chinese app stores, including the Huawei app store.
"It's already gone from the Huawei app store," a disappointed Weibo user wrote, with another person commenting that it had also disappeared from the Xiaomi app store.
"Quite a few of these kinds of apps have come out. They are seemingly tacitly approved by the government," another person wrote.
Some social media users also joke about the app going down so fast: "It really had a short life."
For others, the app's existence is already forgotten. One Weibo commenter writes: "What is this browser app that everyone keeps talking about?!"
By Manya Koetse , with contributions by Bobby Fung
Follow @WhatsOnWeibo
Spotted a mistake or want to add something? Please let us know in comments below or email us. First-time commenters, please be patient – we will have to manually approve your comment before it appears.
©2020 Whatsonweibo. All rights reserved. Do not reproduce our content without permission – you can contact us at info@whatsonweibo.com.
Meet Ding Zhen: Khampa Tibetan "Horse Prince" Becomes Social Media Sensation
Ding Zhen's quiet life out in the grasslands is seemingly over.
A Khampa Tibetan farmer has become an online sensation in China due to his handsome features. His overnight fame, which comes with legions of adoring fans and TV show invitations, has sparked discussions about the often-overwhelming loss of privacy that can accompany online stardom.
The recent rise to internet fame of a young man named Ding Zhen (丁真) has sparked controversy over the benefits and downsides of e-celebdom.
The 20-year-old farmer, who lives in Litang in the Kham region of Tibet, found accidental online fame after being captured in a blogger's photography session in Nyima County, according to a Haixia News article.
His handsome features attracted online attention, snowballing out of control after his appearance on a livestream. The young man shyly admitted to having little proficiency in reading or speaking Mandarin, but managed to express his love for raising horses.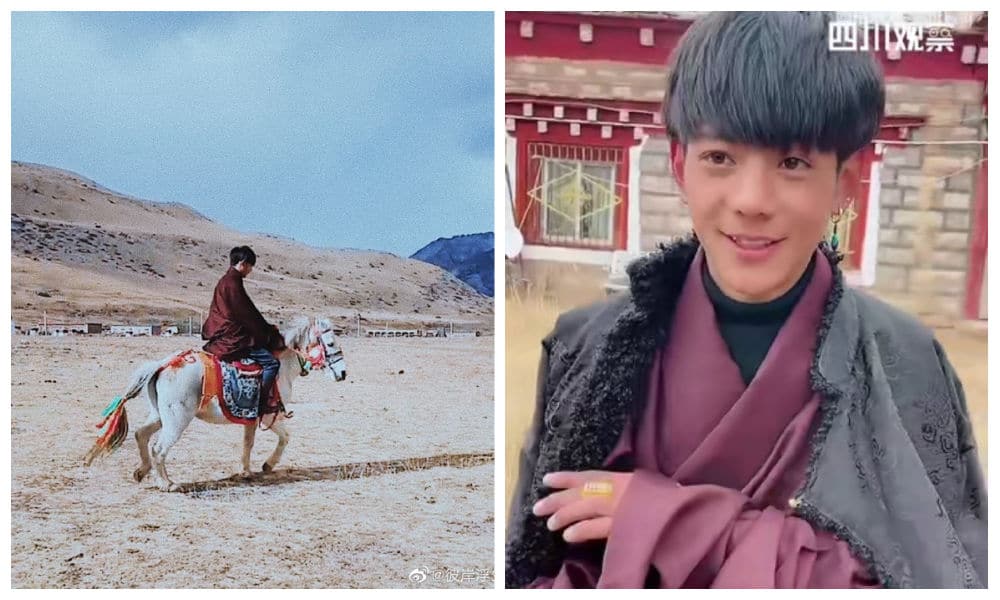 The cameraman and other villagers apparently later publicized Ding Zhen's name, address, and other personal info, soliciting gifts and leading some netizens to mock Ding Zhen's village neighbors as "blood-sucking vampires."
Ding, still unaware of his own fame, mentioned with some difficulty on the livestream that his dream was simply to become a "horse prince" (马王子) by winning his local horse races. His dream after that? To raise more horses, of course much to the delight of many Weibo users, some of whom have begun creating fan art in the young man's honor.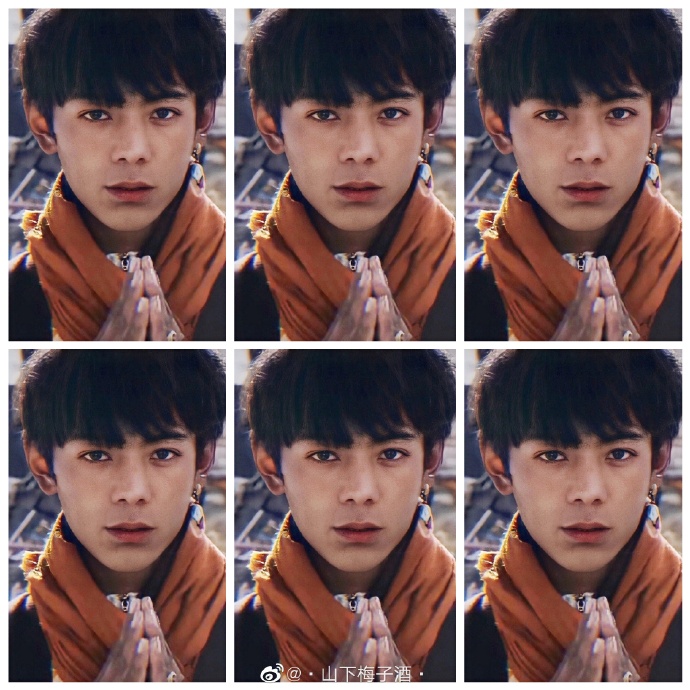 Calls for Ding Zhen to open a Douyin account of his own, or even to appear on reality television shows such as The Coming One (明日之子) and Produce Camp (创造营), have inspired heated debate.
"This kind of person," wrote one Weibo commenter, "should be riding horses and shooting arrows out on the grasslands; he shouldn't be imprisoned in Vanity Fair by your fan club's cultural values."
Others worried that this young man, "uncorrupted by the world," might be taken advantage of by others for financial gain.
This concern over the invasiveness of online fans likely stems from previous incidents where ordinary Chinese citizens became extraordinarily famous overnight, such as in the cases of 'Brother Sharp,' a homeless man similarly inundated with adoring praise online for his good looks and stylish appearance, and Shanghai's 'Vagrant Professor,' both of whom found their privacy constantly invaded by fans seeking photos or just a chance to meet the new stars. Soon both men could hardly walk outside without being swarmed as their private life had been effectively ended- all because they happened to become popular online.
Two phenomena unique to the Chinese internet seem to place these e-celebrities at a higher risk of being tracked down offline by their fans. One of them is the "human flesh search engine" (人肉搜索,) a massive online effort tapping into the knowledge and offline connections of netizens to track down and identify a person, often for shaming or as justice for perceived wrongdoing. The other is the highly-organized "super fan club" phenomenon prevalent in Chinese e-celeb culture, some of which boast structures rivaling the biggest corporations, with PR and financial departments. It's no wonder then that some netizens fear for Ding Zhen's personal life.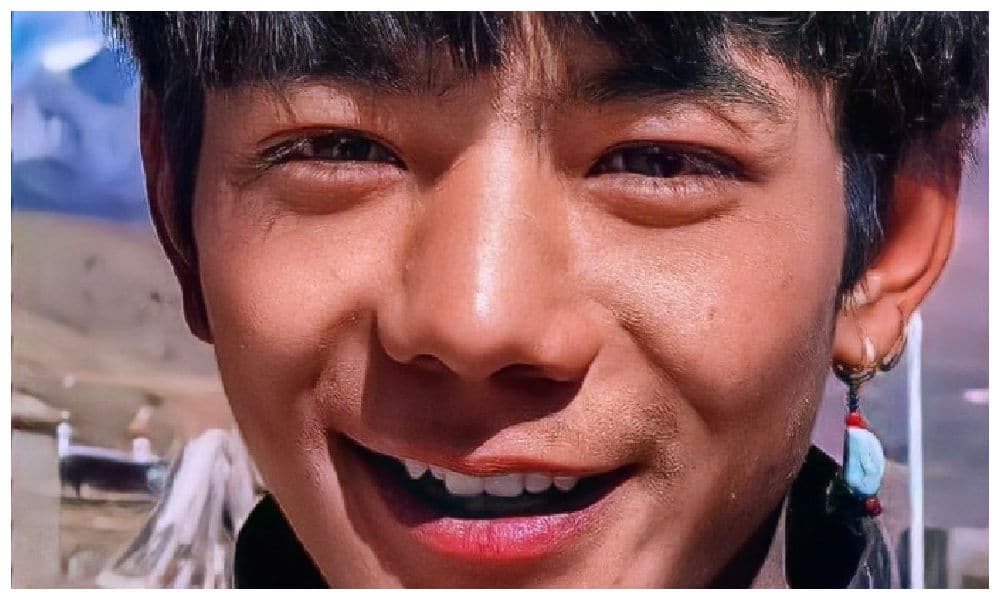 Many of these concerned netizens seem to particularly admire the simple, pastoral lifestyle of the "grasslands" (草原) which Ding leads, one which has been popularized in novels like Jin Yong's Legends of the Condor Heroes (射鵰英雄傳), which details the adventures of the young Guo Jing, a Chinese boy who joins the court of Genghis Khan. The novel has been read by millions across China and has become a prominent source of political metaphors on the Chinese web. One commenter exhorted others to "Let him become his own hero, a horse prince! Don't let the worst impulses of the internet corrupt him."
With the question "Should Ding Zhen leave the grasslands?" (#丁真该不该离开草原发展#) becoming a trending topic all of its own, it seems opinions about his popularity are fiercely divided. "I hope this handsome guy can make his own choices," writes one Weibo user: "..and no matter whether he becomes a star or not, I hope he can keep such an innocent heart!"
According to the latest reports, Ding has received a job offer from a Chinese state-owned company since his unexpected rise to online fame. CGTN writes that the 'horse prince' has now signed the contract, but they do not mention if this new job will allow him to do what he loves most – raising horses and being out in the grasslands.

By Luke Jacobus
Follow @whatsonweibo
Spotted a mistake or want to add something? Please let us know in comments below or email us. First-time commenters, please be patient – we will have to manually approve your comment before it appears.
©2020 Whatsonweibo. All rights reserved. Do not reproduce our content without permission – you can contact us at info@whatsonweibo.com.
Trump Versus Biden –The Sentiments on Chinese Social Media
Is Biden the preferred candidate for most Chinese, as is often claimed? An overview of discussions on Trump vs Biden on Weibo.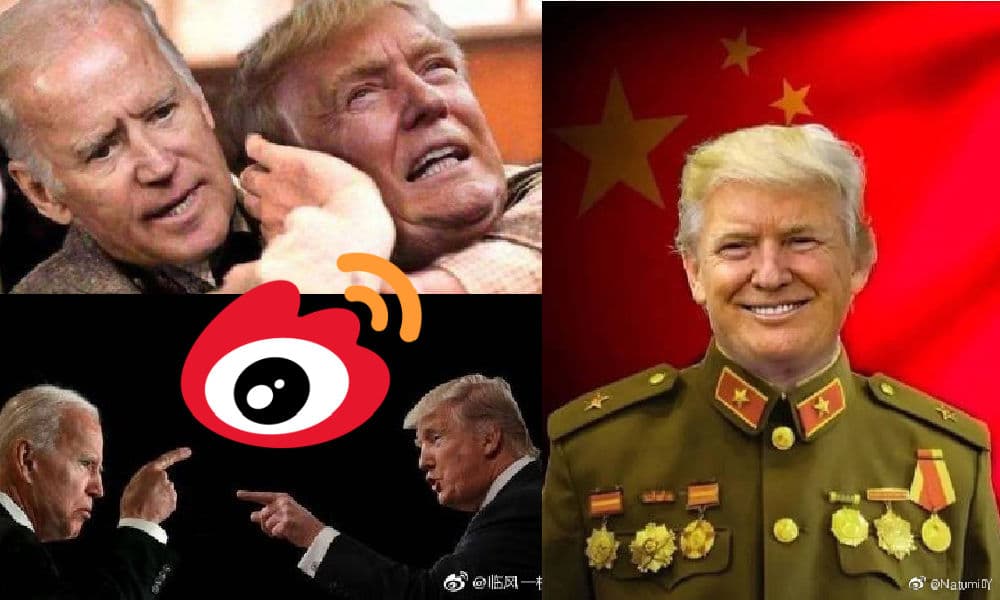 With nearly three billion views on the hashtag page, the 'American elections' are top trending on Weibo (#美国大选#). What are the current Chinese online sentiments towards Trump versus Biden?

This is the "WE…WEI…WHAT?" column by Manya Koetse, original publication in German by Goethe Institut China, see Goethe.de: WE…WEI…WHAT? Manya Koetse erklärt das chinesische Internet.

"Congratulations, it's a boy!", many social media users in China joked when Donald Trump was elected in November of 2016.
At the time, What's on Weibo was closely following how Chinese web users were responding to the news of Trump's election, and found that many were quite positive.
It was Trump's "war on political correctness" and his new, pragmatic way of approaching politics that many said they appreciated. "A new broom sweeps clean," was a recurring comment at the time. There was a sense of excitement about this new American president, this "funny businessman," stirring up turmoil on the world's political stage.
There were also those saying that Trump was not the ideal candidate, but just that Hillary Clinton was much worse. With her focus on human rights, the feminist movement, and internet freedom, many thought of her as the most 'anti-China' candidate, and for that reason alone, were happy that Trump was elected instead of her.
But in 2020, Chinese sentiments towards Trump – and the US in general – have shifted. As people all over the world are watching the developments surrounding the American elections with great interest, let's go over some of the main views that surface in China's social media sphere regarding 'Trump versus Biden.'
Shifting Views on Trump
Although it seemed that people on Chinese social media, and even official media, showed a somewhat favorable stance towards Trump in the early days after the 2016 election, this generally positive view shifted to a more negative one after the president's controversial phone call with Taiwanese president Tsai Ing-wen and the 2016 Fox interview in which Trump challenged the One China Policy. Many Weibo users called Trump an "idiot" and said he had "zero understanding of how diplomacy works."
In 2017, Trump's then 5-year-old granddaughter Arabella, who had been learning to speak Mandarin, seemed to be part of America's diplomatic 'charm offensive' in China. The little girl, daughter of Ivanka Trump and her husband Jared Kushner, featured in a short video that was shown to President Xi Jinping and 'Chinese First Lady' Peng Liyuan during an informal tea with Trump at the Forbidden City. Arabella, dressed in a Chinese-style dress, sung songs in Mandarin and recited some poetry.
The video received millions of views on Chinese social media and was widely shared by netizens and Chinese official media outlets such as Xinhua, People's Daily and CCTV. Many viewed the video and Arabella's efforts to learn Chinese as a sign of better China-US friendship in the future, calling it "the best present" Trump could bring during his Beijing visit.
But over the past two years, views on Trump have soured along with the deteriorating US-China (trade) relations.
When the U.S. Justice Department officially filed charges against Chinese smartphone maker Huawei in 2019 for allegedly stealing trade secrets, seeking the extradition of chief financial officer Meng Wanzhou (the daughter of the company's founder), the online narrative – reiterated by Chinese state media – was that the United States was using the judicial system for a battle that was actually politically motivated; it was not about Huawei, but all about China's rise as a competing technological power.
That same idea was spread by officials, media, and netizens, when Trump issued an American ban on Chinese apps TikTok and WeChat earlier this year. Many deemed that it was not about national security at all, but rather a fight over technological leadership.
What also made Donald Trump more unpopular among Chinese was the fact that he pointed the finger at China after the outbreak of the new coronavirus pandemic, repeatedly calling it the "Chinese virus."
When news came out in October this year that President Trump and his wife Melania tested positive for COVID-19, it immediately became top trending all over Chinese social media.
The news came right after China's National Day, during the Golden Week holiday, and some jokingly said that the positive COVID-19 test was "Trump's way of congratulating China during the national holiday." Because the American president previously downplayed the severity of the COVID-19 crisis and continuously shifted the blame on China, the popular view on Trump getting infected was a simple 'what goes around, comes around.'
Donald Trump is often nicknamed Chuān Jiànguó (川建国) on Chinese social media, which basically means "Build the Country Trump." The name is just one among many existing memes and jokes about the U.S. president on the Chinese internet. A reason to call him Chuān Jiànguó is to make fun of Trump's words and actions, suggesting that his leadership only brings America down and in doing so, also further accelerates the rise of China. In doing so, Trump is sarcastically called "America's gift to China."
'Pupu' versus 'Dengdeng'
As the second and final presidential debate of the election campaign has finished and Election Day is nearing, the 'Trump versus Biden' topic is much discussed on Weibo, WeChat, and also on other Chinese social media platforms, such as the Chinese question-and-answer website Zhihu. In these online discussions, the two men are sometimes also jokingly referred to as 'Pupu' (普普) and 'Dengdeng' (登登), cute abbreviations for their Chinese names 'Chuanpu' (川普) and 'Baideng' (拜登).
Although it has been reported by various international media that Beijing allegedly would prefer Democratic candidate Joe Biden over President Donald Trump, this supposed official stance is not necessarily reflected in social media discussions in mainland China.
Western critics are also divided over whether or not Biden is the preferred candidate for the Chinese leadership. Some argue that Trump, who has weakened America's traditional international alliances and has seemingly not been too concerned with human rights issues, is actually favored over Biden for basically strengthening China's position in international society.
Despite the fact that views on Trump have shifted throughout the years, the discussions on Weibo and other platforms are still multifaceted when it comes to the American president. Many are not impressed by Biden's performances either. The Democratic presidential nominee is praised by some for being "mild," "scholarly" and "refined", but others criticize him for using a lot of "empty words" and "talking in cliches."
Some netizens support Biden merely for being "the enemy of an enemy."
"Trump's pragmatic and business-like style is very convincing," one blogger from Beijing wrote about the second presidential debate: "I think he did better than Joe Biden, who is all about talk and no action (..) I hope Trump wins."
In a recent lengthy WeChat blog about the US elections posted by state tabloid account Global Times, the author claims that when it comes to China, it actually does not really matter who wins the elections: "Regardless if it's the Democrats or the Republicans, both hold a negative stance when it comes to the China issue. (..) No matter who comes to power in the future, there is a high probability that they will continue to suppress China."
The author further suggests that there might be "a difference in style" between Trump and Biden regarding China policies: "If Trump wins, we'll see more of what we have already been seeing now, without much international support. If Biden wins, he will be more likely to seek international consensus to target China and make use of international organizations to put pressure on Beijing. Also, Biden is probably more concerned about human rights and democratic values than Trump is."
There are many Chinese web users who, for this reason alone, would rather see Trump win than Biden – it's the 'Build the Country Trump' kind of reasoning. As one Weibo blogger from Dalian writes: "I hope Trump gets re-elected. It would just be better for China."
An online poll that was held by a popular Weibo blogger earlier this year asked people if they would like to see Trump be reelected. Of the 8736 people participating, 74% said they hoped Donald Trump gets elected again. Only 5% said they hoped he would not be reelected. Another 21% said they felt indifferent about the American elections, as it would not make much difference for China anyway.
Although many people do care about the American elections, mostly because of how the outcome would affect China, others just enjoy watching the spectacle of U.S. politics. "I love how confident and unruly Trump is," one commenter writes: "He is legendary. If Biden comes to power, the coming four years are going to be much more boring."
"Without Trump, the world's just gonna be a lot less fun," another person agrees.
But there are also those who do not care for any more Trump memes, jokes, and spectacle. "Everyday I check my phone, it's all about Trump," popular U.S.-based Weibo blogger Zheng Jun writes: "I really hope that once the elections are over, I don't need to look at any more Trump news."
By Manya Koetse
Follow @whatsonweibo

This text was written for Goethe-Institut China under a CC-BY-NC-ND-4.0-DE license (Creative Commons) as part of a monthly column in collaboration with What's On Weibo.

Spotted a mistake or want to add something? Please let us know in comments below or email us. First-time commenters, please be patient – we will have to manually approve your comment before it appears.