Weibo Discusses: How Has the Covid Epidemic Changed Your Life?
China's zero-covid approach does not come at zero cost.
It has been nearly two years since China was hit with the outbreak of the novel coronavirus. Like most countries in the world, the epidemic has also had a profound impact on people's lives in China.
Life in China was already 'normalized' in numerous ways in April of 2020, which is when Wuhan allowed people to leave the city again for the first time since the lockdown began on January 23 of that year. Most schools reopened, theatres started to open their doors again, temporary emergency hospitals closed their doors, and a big light show was organized in Wuhan to celebrate the end of the lockdown, which was yet to begin for many Western countries.
In comparison to other countries, China has seen very few Covid deaths – the official number is below 5000, while the US number of Covid19 deaths is now over 750,000. China's low Covid19 death toll can be ascribed to the country's commitment to a 'Covid Zero' strategy.
But this zero-tolerance covid approach does not come at zero cost; China's fight against Covid19 is still ongoing and requires constant vigilance, lengthy local lockdowns, mass testing, strong contact tracing, strict quarantine measures, and an everyday public life that includes face masks, temperature checks, and QR health codes.
The impact of this strategy and the epidemic at large was the topic of one trending topic this week titled "How Big is the Difference in Your Life Before and After the Epidemic?" (#疫情前后的生活差别有多大#), a hashtag that drew in over 320 million views on social media platform Weibo.
The topic triggered thousands of comments from people sharing their thoughts and experiences, but the post that started the discussion (@人间投影仪) simply said:
"I'd like to go back to a world where we don't need to wear masks."
The post came with various images comparing life before and after the Covid19 outbreak.
Another commenter (@电联吗) replied to the Weibo post:
"Looking at countries such as Thailand or South Korea, they've already re-opened, and I can't help but feel a bit jealous. After all, it's been over two years since Covid19, and there's no trend of it weakening – it only seems to get stronger instead. I've become numb to the daily controls and prevention of this virus. I'm getting the feeling it'll never go away. Will there ever come a day when other countries besides our own will lift all restrictions? To fully open? To just co-exist with the virus? And then, should we just continue to go on this way? Although our country is so safe now and our epidemic control is very timely, it still feels like people are living in fear. The slightest thing can cause a panic about the virus spreading. It can totally disrupt your plans. All activities can be delayed or canceled. All youthfulness, enthusiasm, perseverance, and dreams, can be stuck. But life is also very important. This perhaps is what is such a contradiction."
While many netizens agreed with the previous commenter, saying they are also struggling with anxiety and pressure that comes from the current Covid19 situation, there are also commenters who do not agree:
"The freedom you see [in other countries] is not real. The opening up in many countries is simply because their economy otherwise can't carry the weight, it's not because they want to live with the virus. You think the epidemic is affecting your youth and passion, but I'd say youth and passion don't only exist at a certain time, and it won't be affected by an epidemic – otherwise, there wouldn't be an awakening era. In times of an epidemic, people just do all they can to keep on living."
Another Weibo user from Ganzhou writes:
"During the epidemic, it seems that when I don't go out, there's so much to do, yet when I go out, there doesn't seem anything to do. At the time of the epidemic I wanted to go out so bad, I almost felt like exploding, and then when [measures] relaxed, I didn't really feel like going out anymore. Before the epidemic, I liked to go out to eat a lot and whatever I wanted to eat I could have without doing anything. During the epidemic, I discovered I could fry chicken, make my own nuggets, and discovered skills I didn't even know I had. Before, I wanted a two-month winter holiday, and then I got 4-6 month holiday I never could've imagined. I used to feel like not working, and then I felt so panicked without work and really wanted to work. Before, I never thought I could study at home and then discovered I could study till night. In the end, I still want to return to a world where we don't need to wear masks."
Other commenters also look back on the pre-Covid19 with nostalgia:
"I once thought 2019 was the most difficult year. But it was actually the happiest one of the last three years. Because there was no epidemic and we were free to go out as we pleased. We didn't have to rigidly stick to our face masks, and there were no complicated processes to request a leave of absence."
Then there are those who are longing for simple pleasures of the pre-covid era, such as this Weibo user (@柴柴鱼与柴):
"I want to travel out of Shanghai and to other countries without any fear, I want to take off my mask in the theaters so that the performers can see when I am crying or laughing, or when I'm admiring them and cheering for them. I want to shout out during live performances and music festivals, I want  concerts to be able to be organized without issues, and I don't want my twenty-something years to slip away in an era of masks and epidemic."
Some also comment on how differently they experience the passing of time during the pandemic, like the original poster of the hashtag (@人间投影仪):
"I have the feeling that since the outbreak of the novel coronavirus, these past two years just went by in a flash. I don't really have any memories that stick. But then when I look at photos from before covid19, it feels like a different life."
But then there are also those who defend China's zero-covid approach, saying (@风的节奏吹):
"Everyone wants more freedom. If the world would've copied China's homework, the epidemic would have ended long ago."
And (@种花家的兔子要嚣张):
"Seeing so many people talking about (..) how others are opening up, are their countries populated as densely as our country is? With [us being] one-fifth of the world population, are you kidding me? If we'd open up, and you get sick and need to pay for your treatment, would you want that? Only if your country's social benefits are so good, you're able to be unreasonable on social media. Already now, there's too much pressure on people at the basic level, do you even realize? If you say you feel envious, just move to another country and experience it for yourself, just don't come back here spreading the virus!"
One of the most popular comments in the top threads on this comment currently says:
"If other countries had started to control it [the virus] like our country, we might not have to wear a mask now."
Meanwhile, the hashtag "An Illustrated Handbook of the Maskless Era" is also getting many views on social media (#无口罩时代图鉴#), with people sharing photos and videos of the pre-covid19 times. Even ordinary everyday scenes from the subway in the pre-covid19 era are making people feel nostalgic: "I'm just cherishing the memory of those days."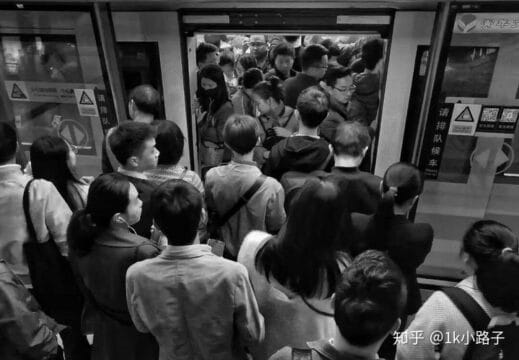 Read more about social trends relating to Covid19 in China here.
By Manya Koetse
Spotted a mistake or want to add something? Please let us know in comments below or email us. First-time commenters, please be patient – we will have to manually approve your comment before it appears.
©2021 Whatsonweibo. All rights reserved. Do not reproduce our content without permission – you can contact us at info@whatsonweibo.com.
Residents in Locked Down Lhasa Say Local Epidemic Situation is a "Giant Mess"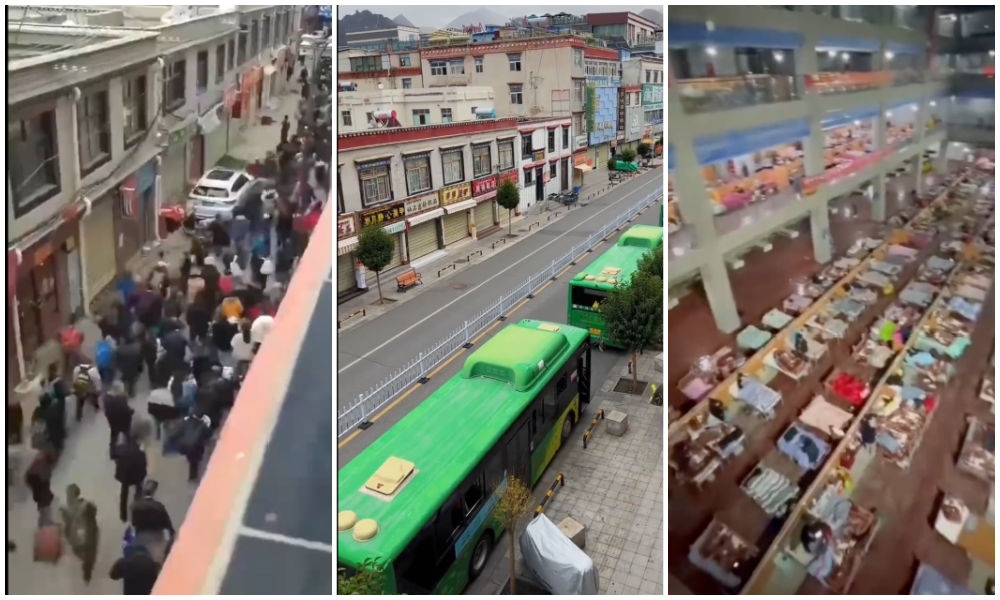 They've been in lockdown for 42 days already, but according to some Lhasa-based bloggers, there have been no improvements in the local epidemic situation. They say there is a stark difference between what officials are reporting and the daily reality they are dealing with in Tibet.
"The epidemic situation is bad in Lhasa, please pay attention," one netizen wrote on Weibo on September 15, pointing to many new posts surfacing on Chinese social media about the difficulties people are facing in Lhasa city in Tibet.
Over the past week, many Tibet-based bloggers have posted on social media about the local circumstances, and hundreds of Chinese social media posts talk about similar problems in the region. Despite the ongoing lockdown, they say, there are still a growing number of positive cases within Lhasa communities; buses are allegedly going back and forth to bring people to quarantine sites where those testing positive and negative are mixed; they claim that there is an absolute lack of management and control; and many locals suggest that the official reports do not reflect the actual number of Covid cases at all.
According to the official numbers, Tibet saw its peak in Covid cases on August 17 and has since reported fewer new cases, reporting a total of 118 new cases on Thursday.
"I am a bit shocked!" one local social media user wrote: "What I saw was a total of 28 buses lined up outside Lhasa Nagqu No. 2 Senior High School, and then still more [buses] were coming. One bus can fit around 50 people, so there must have been around 1400 positive cases. There was a blind man, there were elderly people in wheelchairs, there were swaddled-up babies, from getting on the bus at 9.30 pm up to now, we've been waiting for 5 hours and we're still waiting now. It's just pure chaos at the school entrance, there is no order. I won't sleep tonight."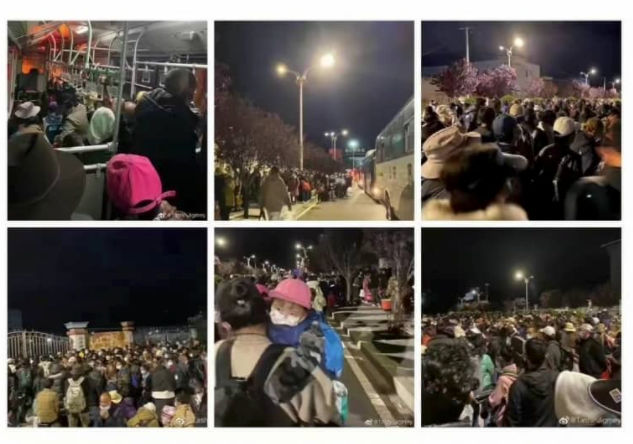 On the 14th of September, another netizen wrote:
"In order to welcome central government leaders to Lhasa and to demonstrate the "excellent" epidemic prevention capabilities of the local government & the "outstanding" results of the fight against the epidemic to them, they moved citizens to the rural areas and let them all stay crowded together in unfinished concrete buildings, with all kinds of viruses having free reign."
On a Lhasa community message board, one Weibo user wrote: "Lhasa has already been in lockdown for over a month, yet our little community has so many infected people that I'm wondering how effective a lockdown actually is? Has Tibet been forgotten? When other places in China have a few positive cases it becomes a hot topic. But what about Tibet? And what about Lhasa?"
Another anonymous poster writes: "Regarding the Lhasa epidemic situation, the numbers were already a bit fake before, but I can understand it was also to take the public sentiment into consideration. I personally don't care how you report the data, as long as the epidemic prevention and control work is properly managed, then the lockdown can be lifted soon and nobody will say anything about it. But a month has passed already, and in a town with some hundred thousands of people, the epidemic work is increasingly getting worse. Many people around me have never even left the house and inexplicably turned out to test positive. Meanwhile those who tested positive are quarantined together with people who still tested negative, it's a giant mess."
"Lhasa hasn't had a Covid outbreak for the past three years, the city doesn't have enough experience in controlling the epidemic."
"It's the 42nd day of lockdown," another person wrote on Friday: "People are lining up to go to centralized isolation, Lhasa has been in lockdown longer than Chengdu, but it doesn't make it to the hot topic lists. People who tested negative again and again suddenly turn out to be positive. Lhasa hasn't had a Covid outbreak for the past three years, the city doesn't have enough experience in controlling the epidemic. It's going to be hard to restore tourism here before the end of the year. Before, big crowds would come to visit.
Over the past few days, following a heightened focus on the situation in Xinjiang, there has also been more attention for the epidemic situation in Tibet.
"Please pay more attention to the topic of the Lhasa epidemic," one person wrote, repeating a similar message sent out by many others: "Lhasa doesn't need your prayers, we need exposure."
On Friday, one popular gamer with more than a million followers wrote on Weibo:
"Many have been reaching out to me via private messages, saying that the epidemic situation in Tibet's Lhasa is very serious. If it's really like this, I hope matters can be settled as soon as possible. I don't know if this post can stay up or not, but I want to try my best to speak up and generate more attention to this epidemic trend. I experienced two months of lockdown in Shanghai myself and understand what it feels like. I have faith in our nation, and I believe the country will definitely take action. Everyone in Tibet, jiayou [come on]."
Many of the comments and posts coming from Lhasa are similar to those we saw last week, coming from Yining in Xinjiang. Social media users based in these places complain that many of their posts have been deleted and that it is very difficult for local residents to make their voices heard.
This is different from the previous lockdown situations in, for example, Xi'an, Shanghai, or Chengdu, where people posted videos, photos, and shared their lockdown experiences, either from home, from the Covid testing lines, or from the makeshift hospitals.
A Weibo hashtag on Tibet's covid outbreak (#西藏疫情防控#) has repeatedly surged up Weibo's trending searches only to be batted down again. It purports to show now-familiar but still grim scenes: haphazardly arranged quarantine centers, barely edible food, no potable water

— Alexander Boyd (@alexludoboyd) September 15, 2022
On the one hand, the reason why people in places such as Lhasa or Yining have more difficulties in making their stories heard in China's hectic social media environment relates to the fact that these places have a relatively small population size – while Yining and Lhasa have approximately 542,00 and 465,000 inhabitants respectively, there are 21 million people in Chengdu and some 26 million in Shanghai.
But a bigger barrier to posting about their circumstances is formed by the social media censorship that is extra strict when it comes to Xinjiang and Tibet as these places are considered sensitive political subjects, which is why topics related to these regions see far more aggressive online censorship – even for seemingly innocuous posts.
One Weibo user with over 600,000 followers wrote: "In such a sensitive place as Tibet, I really needn't worry about whether they're gonna see my post or not. I posted to vent my anger and scolded the leadership for a bit and within 24 hours the police came to my hotel and asked me to delete my posts. Now that everyone is asking for help like this, they will definitely see it, but they are determined to do this and do so on purpose, it's clear they don't care about people's lives."
Meanwhile, Chinese official media reporting on the epidemic situation in Tibet stress the collective effort to fight the virus in Lhasa. On September 15, People's Daily reported how 18 sister provinces and cities across China sent their best teams to Tibet to help with local anti-epidemic work and to bring supplies.
The Tibet-based military blogger ZhufengZhengrong (@珠峰峥嵘) writes: "It's been over a month and my comrade-in-arms are still fighting on the front line (..). I just hope the epidemic will end soon, and that I will be able to meet my family and hold my children and weep."
By Manya Koetse 
Get the story behind the hashtag. Subscribe to What's on Weibo here to receive our weekly newsletter and get access to our latest articles:
Spotted a mistake or want to add something? Please let us know in comments below or email us. First-time commenters, please be patient – we will have to manually approve your comment before it appears.
©2022 Whatsonweibo. All rights reserved. Do not reproduce our content without permission – you can contact us at info@whatsonweibo.com.
Happiest Lockdown in China: Guests Undergo Mandatory Quarantine at Shanghai Disneyland Hotel
"I wish I could be quarantined at Disney too!" The Shanghai Disney hotel apparently is the happiest place to get locked in.
While many cities across China are experiencing new (partial) lockdowns and millions of people are confined to their homes, there was also a group of people that had to undergo mandatory quarantine at a very special place: the Shanghai Disneyland Hotel.
On September 7, social media posts started surfacing online from people who said they were required to quarantine while they were at the Shanghai Disneyland hotel. Disneyland reportedly had received a notification from the local health authorities that a visitor who previously stayed at the Disneyland hotel was found to be a close contact of a newly confirmed Covid case.
In line with the Center for Disease Control requirements, Disney created a 'closed loop system' by locking in all hotel residents and staff members and doing daily Covid tests. While the Disneyland theme park was open as usual, the hotel became a temporary isolation site where people's health would be monitored for the next few days while all staff members would also be screened.
During their mandatory quarantine, guests stayed at the hotel for free and did not need to pay for their rooms. Room prices at the Shanghai Disneyland hotel start at around 3000 yuan/night ($433).
Some guests shared photos of their Disneyland quarantine stay on social media, showing how Disney staff provided them with free breakfast, lunch, a surprise afternoon tea, delicious dinner, fun snacks, and Disney toys and stickers.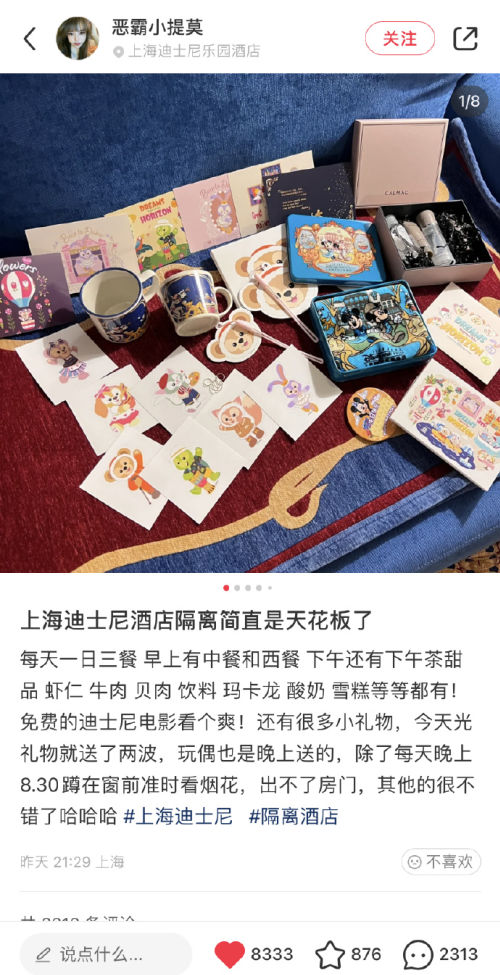 On the Little Red Book (Xiaohongshu) app, one Shanghai Disney visitor (nickname @恶霸小提莫) wrote: "We have three meals a day, there is both Chinese and Western-style breakfast, we also get afternoon tea and desserts, they have shrimp, beef, scallops, drinks, French macarons, yogurt, ice cream, and much more. We watched so many Disney movies for free. We are given so many little gifts, they brought us gifts twice today as they also brought us toy figures at night. We watch the fireworks from our windows every night at 8.30 pm. Although we weren't allowed to go out, we really had a pleasant stay."
Another Disney guest named Zoea (Xiaohongshu ID: yiya0313) also shared many photos of the mandatory quarantine and wrote: "When the staff knocked on the door to tell me they were bringing dinner, I even wondered how it was possible that they brought food again. Afternoon tea during quarantine, can you believe it? And fruit before dinner? And midnight snacks brought to us after dinner? And it was so nice to watch all the Disney movies on tv. Disney really is the most magical place."
"I'm just so happy," another locked-in Disney guest posted on social media, sharing pictures of Mickey Mouse cakes.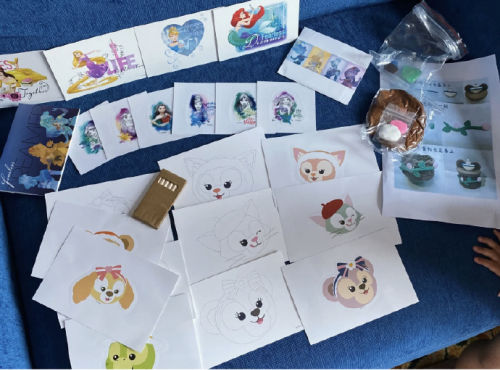 Other guests also posted about their experiences on social media. "They probably feared we would get bored so they brought us glue, stickers, and painting brushes, the kids loved it and so did we!"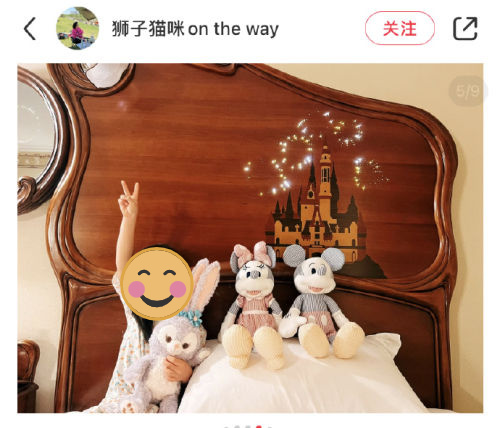 Reading about the happy quarantine at Disney, many Weibo users responded that they envied the guests, writing: "I wish I could be quarantined at Disney too."
"I need to find a way to get in, too," others wrote.
Earlier this year, one Chinese woman shared her story of being quarantined inside a hotpot restaurant for three days. Although many people also envied the woman, who could eat all she wanted during her stay, she later said she felt like she had enough hotpot for the rest of her life.
By Manya Koetse 
Get the story behind the hashtag. Subscribe to What's on Weibo here to receive our weekly newsletter and get access to our latest articles:
Spotted a mistake or want to add something? Please let us know in comments below or email us. First-time commenters, please be patient – we will have to manually approve your comment before it appears.
©2022 Whatsonweibo. All rights reserved. Do not reproduce our content without permission – you can contact us at info@whatsonweibo.com.