Weibo's Digital Graveyard: Remembering the Dead on Chinese Social Media
'The Dead' honors the deceased and tries to break existing taboos on death in China.
First published
With China's rapid digitalization and flourishing online media environment, there's one crucial societal topic that, although taboo, also now finds its place on Chinese social media: this Weibo account collects the stories of the dead and writes their online eulogies. In doing so, they are trying to break longstanding taboos around death in China.
"My grandmother passed away due to illness in 2016. She was 78 years old. My grandmother was a kind soul. She married my grandfather after his divorce. They had never even seen each other before [her] mother and father prepared the marriage, and yet she lovingly cared for him her entire life." This eulogy was posted on Weibo on February 12th of this year.
Within hours after it was posted, over 100 people had replied with the most popular emoji for these type of posts: the candle.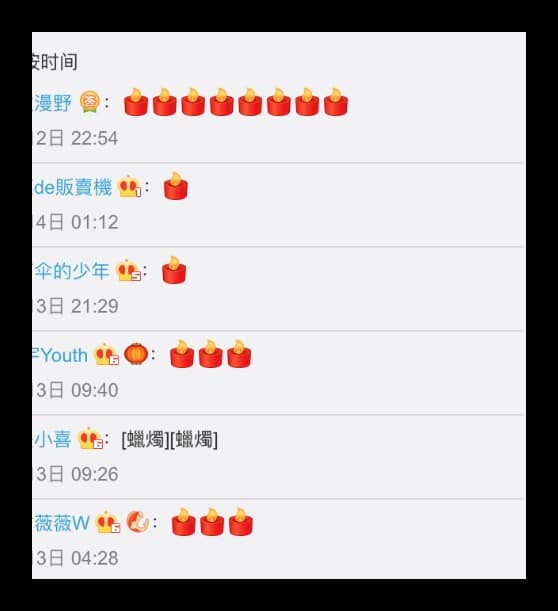 Since 2011, thousands of these kinds of posts have appeared on Weibo, one of China's biggest microblogs, thanks to "The Dead" (@逝者如斯夫dead), an account run by a small team dedicated to memorializing the deceased. Through their online memorials, they have encouraged conversation of a taboo topic.
HUNTING FOR THE DEAD ON WEIBO
"We wanted to provide a place for people to remember those who had passed away"
Starting small, 'The Dead,' which borrows its Chinese name from the Confucian phrase "All passes like a river" (逝者如斯夫 Shì zhě rú sī fū), has amassed over half a million followers. "We wanted to provide a place for people to remember those who had passed away," a team member recently explained to What's on Weibo.
Weibo users typically contact the account requesting eulogies about their deceased loved one, but such direct requests were rare just a few years ago. Instead, the account started by hunting for the dead among Weibo's pages. They searched for signs of a user's passing, like comments about mourning, and then monitoring the account for inactivity.
'The Dead' told What's on Weibo that "while at present most of our information comes from Weibo users," its team will still "go through the deceased's page…looking through comments in the discussion section and asking about the user's current condition" to confirm a death and glean facts for a memorial posting.
Few of its half a million followers personally know the people in the obituaries. But their reaction to its eulogies reveals a deep and often emotional connection to the topic of death.
"Every now and then I go to their page and scroll through the memorials," one follower writes: "Those people, who were so full of life, passed away just like that. It's so moving that sometimes I scroll until my eyes fill with tears."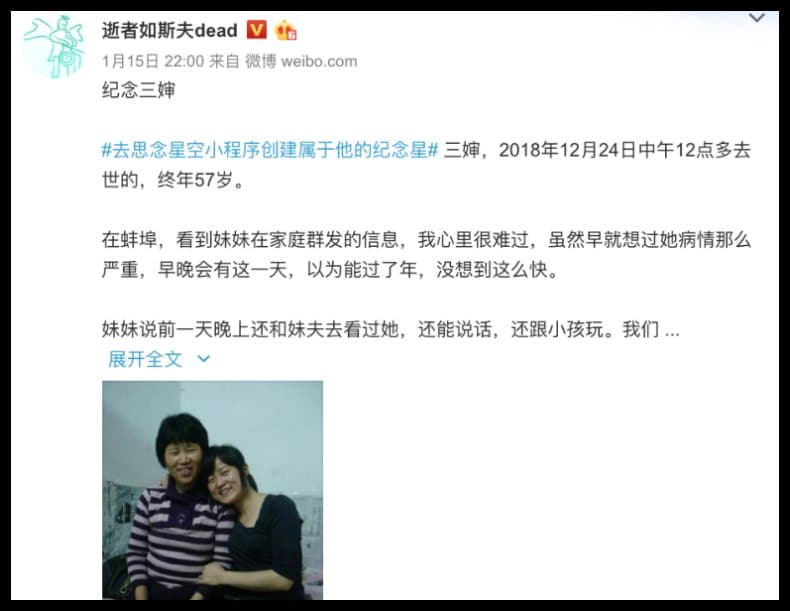 Another follower comments: "Whenever I'm feeling low I go and scroll through [the page], it always calms me down. I've been very inspired by it, thank you." For many Chinese, such an open discussion of death would have been unthinkable in the past.
DEATH AS TABOO
"This taboo has an independent power in shaping human action"
Every culture confronts death differently and few do it well. Traditional Chinese culture shunned discussions of death, notes Cheris Shun-Ching Chan, professor of sociology at Hong Kong University.
Chan believes that Confucian silence on questions of death and folk Buddhist references to "a dark world (yinjian) and a cruel hell (diyue)" account for the topic's avoidance. She also points to fears that a premature death could mark the end of one's lineage (Chan 2012,37).
Chan's survey research found that avoidance of any discussion about death was so widespread that it had become taboo. "The taboo manifests as an observable avoidance of the topic," Chan writes, "particularly unexpected, accidental, or premature death, among not only the elderly but also the generation in their late 20s and 30s" (Chan 2012,36).
While religious belief waned during the tumult of the 20th century, the taboo persisted. "Today, this taboo has an independent power in shaping human action," Chan argues: "In other words, one does not need to hold beliefs about hell, the dark world, ghosts, evils, and precipitating death in order to observe the taboo" (2012,38-40).
Stifling discussion about death has consequences, big and small. Individuals unwilling to acknowledge death are reluctant to write wills or register as organ donors. Respecting the death taboo, doctors avoid delivering a terminal diagnosis to patients, informing family members instead.
One news story from 1993 exemplifies this taboo on death; when residents near China's first hospice care center protested the presence of death in their neighborhood, matters turned violent. They started shattering the center's windows, driving doctors and their patients from the center in the middle of the night. As the health needs of China's population evolves with its economic growth, the death taboo threatens much more.
In a rapidly aging China, people live longer and deaths cost more than ever before. The World Health Organization reports that eight of the top ten causes of death in China are now due to non-communicable diseases.
As deaths caused by accidents and communicable diseases have dropped, death by stroke, heart disease, Alzheimer's, and cancer have jumped double digits and with that jump, a commensurate increase in the costly treatments of these diseases.
A 2013 study of the cost of non-communicable disease on the Chinese economy predicted that between 2012-2030, China will spend 27.6 trillion dollars remedying non-communicable disease. The death taboo threatens to leave China unprepared to care for a population living longer thanks to better medical care but dying at higher rates of chronic illness.
Health care in China is free, to a point. According to the Economist, China's national health-insurance system caps reimbursements for treatment of serious chronic illness like heart disease and end of life care. The death taboo poses a risk to families in a country where it is still considered unfilial by many to pursue a course of treatment other than one meant to cure the patient.
Hospice care, which should be cheaper, is rarely considered and seldom available. While hospice care is now part of the standard course of treatment for end of life care in EU and North America, the death taboo undermines demand for the service. This, in turn, removes pressure on medical insurers to provide hospice coverage. Insurance coverage for hospice care is so limited that families are forced to pay out of pocket for most hospice care.
ADDRESSING DEATH
"Everyone ought to admit death's existence and face up to its realities"
Addressing these challenges starts with acknowledging death as a part of life. "People have slowly become more willing to discuss death," the Weibo 'The Dead' team observes: "You can see this in Weibo users openly posting about the passing of loved ones."
Beyond Weibo, the account's rejection of the death taboo has also found powerful allies elsewhere. In Beijing, Chen Yi and Luo Ruiqing, children of prominent CCP members, launched the Beijing Living Will Promotion Association, advocating for individuals and families to openly discuss and plan for end of life care.
Yi and Ruiqing explain to Caixin that watching the slow and painful death of their parents with few options for palliative care moved them to take action.
Their website provides information to help individuals decide about the kind of end of life care they want and how to ensure their wishes are followed through the use of a living will, a standard feature of Western health care but new to China.
In Shanghai, Wang Ying, a psychologist who now specializes in end-of-life, is taking a different approach to addressing the same problem. Ying founded Hand in Hand, an organization that encourages individuals to openly discuss their deaths as a form of preparation.
Like Yi and Ruiqing, Ying's determination to challenge the death taboo stemmed from her conviction that repressing a discussion about end of life care and death causes his elder relatives needless suffering at the end of their lives.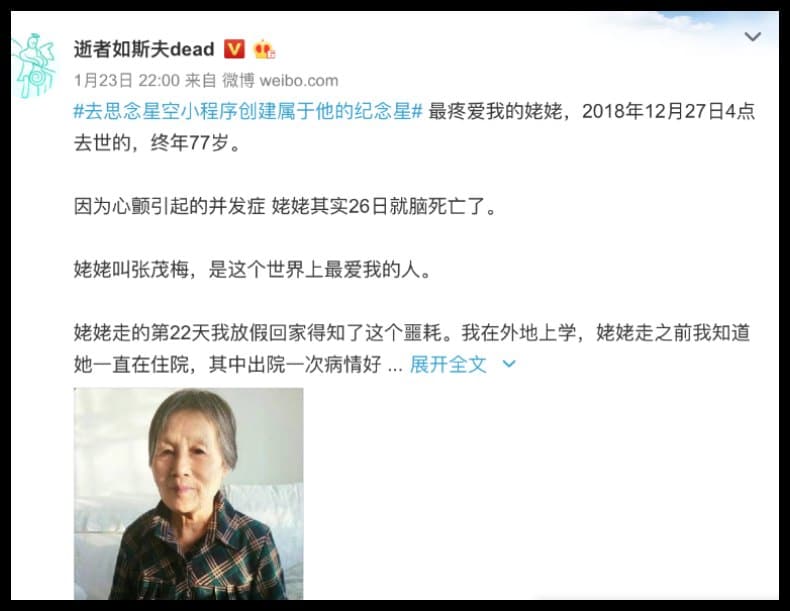 Noting the rising interest in their Weibo account, 'The Dead' has recently started a Wechat mini app where users can send manage their own memorials and share them with others. The team believes that Weibo and Wechat allow them to reach out to a large audience all over the country.
They admit, however, that problems of economic disparity have limited their reach, and guess that most of their subjects and contributors are urban dwellers. Still, they are hopeful that their work can help change many people's perspectives.
"Everyone ought to admit death's existence and face up to its realities," they say: "Working hard to live with an understanding of death is a lesson every Chinese person must learn."
By Brydon Brancart
Follow @whatsonweibo
References (other sources in-text through hyperlinks)
Chan, Cheris Shun-Ching. 2012. Marketing Death: Culture and the Making of a Life Insurance Market in China. Oxford: Oxford University Press.
Spotted a mistake or want to add something? Please let us know in comments below or email us.
©2019 Whatsonweibo. All rights reserved. Do not reproduce our content without permission – you can contact us at info@whatsonweibo.com.
What Are Weibo's "Super Topics"?
Explaining Weibo's "Super Topics"
What are Weibo's "Super Topics" (超级话题) and what makes them different from normal hashtags?
Over the past year, Weibo's so-called "Super Topics" (超级话题) have become more popular on the social media platform as online spaces for people to connect and share information.
Weibo's "super topic" function has been around since 2016. The function allows Weibo users to create and join interest-based content community pages that are online groups separated from the main Weibo space. One could perhaps compare these Weibo Super Groups to 'mega-threads' or 'subreddits' on Reddit.
These are the most important things to know about Weibo's Super Topics:
#1 A Super Topic is Not the Same as a Hashtag
Similar to Twitter, hashtags make it possible for Weibo users to tag a topic they are addressing in their post so that their content pops up whenever other people search for that hashtag.
Different from Twitter, Weibo hashtags also have their own page where the hashtag is displayed on top, displaying how many people have viewed the hashtag, how many comments the hashtag is tagged in, and allowing users to share the hashtag page with others.
A Super Topic goes beyond the hashtag. It basically is a community account where all sort of information is shared and organized. People can 'follow' (关注) a Super Topic and can also 'sign in' (签到).
On the main page of every Super Topic page, the main subject or purpose of the super topic is briefly explained, and the number of views, followers, and posts are displayed.
A super topic-page can be created by any Weibo user and can have up to three major hosts, and ten sub-hosts. The main host(s) can decide which content will be featured as essential, they can place sticky notes, and post links to suggested topics.
#2 A Super Topic Is a Way to Organize Content
Super Topic pages allow hosts to organize relevant content in the way they want. Besides the comment area, the page consists of multiple tabs.
A tab right underneath the main featured information on the page, for example, shows the "sticky posts" (置顶帖) that the host(s) of the page have placed there, linking to relevant information or trending hashtag pages. Below the sticky notes, all the posts posted in the Super Topic community are displayed.
One of the most important tabs within the Super Topic page is called "essential content" (精花), which only shows the content that is manually selected by the host(s). This is often where opinion pieces, articles, official news, or photos, etc. are collected and separated from all the other posts.
Another tab is the "Hall of Fame" (名人堂), which mainly functions as a reference page. It features links to the personal Weibo pages of the super topic page host(s), links to the Weibo pages of top contributors, and shows a list of the biggest fans of the Super Topic. Who the biggest fan of the page is, is decided by the number of consecutive days a person has "checked-in" on the page.
#3 Super Topics Are a Place for Fans to Gather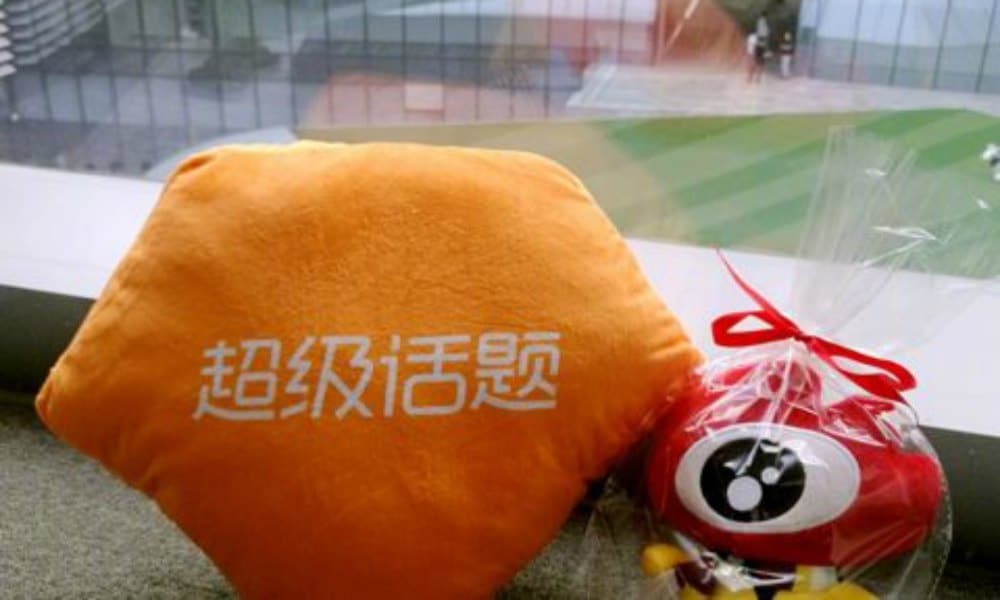 Although a Super Topic could basically be about anything, from cities to products or hobbies, Super Topics are often created for Chinese celebrities, video games, football clubs, or TV dramas.
Through Super Topic pages, a sense of community can be created. People can be ranked for being the most contributive or for checking in daily, and comment on each other's posts, making it a home base for many fan clubs across China.
The host(s) can also help somebody's page (e.g. a celebrity account) grow by proposing them to others within the group.
Super Groups are ranked on Weibo based on their popularity. This also gives fans more reason to stay active in the group, making their Super Topic top ranking within their specific category (TV drama, food, photography, sports, games, etc).
What makes the Super Topic group more 'private' than the common Weibo area, is that people posting within the Super Topic can decide whether or not they also want their comment shared on their own Weibo page or not. If they choose not to, their comments or posts will only be visible within the Super Topic community.
By Manya Koetse & Gabi Verberg, with contributions from Boyu Xiao
Spotted a mistake or want to add something? Please let us know in comments below or email us.
©2019 Whatsonweibo. All rights reserved. Do not reproduce our content without permission – you can contact us at info@whatsonweibo.com
Online Controversy over Mandatory GPS Tracking Smartwatches for Chinese Street Cleaners
Being a street cleaner in 2019 China now involves wearing a mandatory smartwatch with GPS tracking.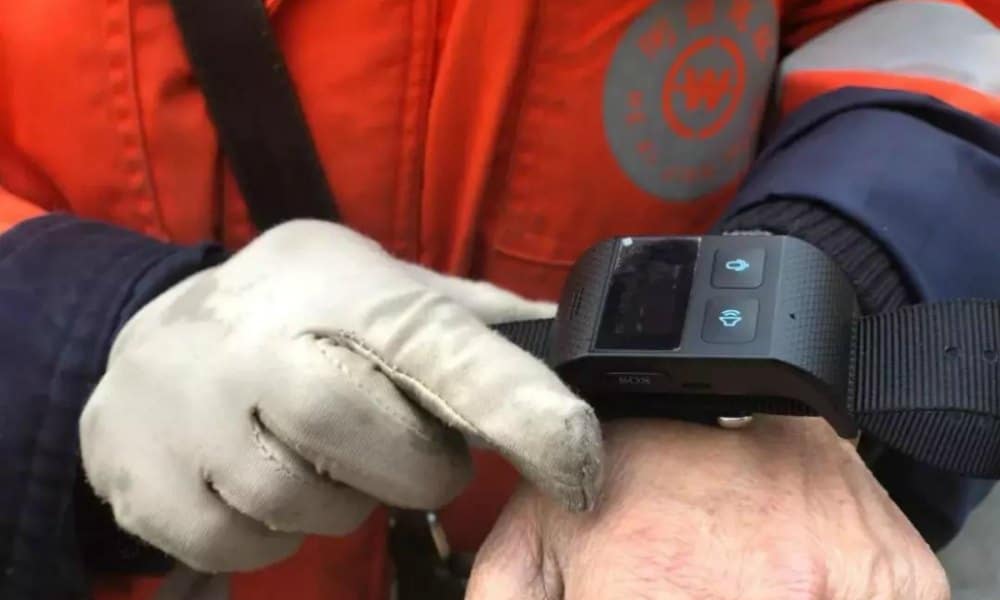 The times of chatting with the neighbors, taking a break, or doing some shopping during work hours are seemingly over for Nanjing's street cleaners now that their every move is monitored through a special smartwatch. News of the mandatory GPS tracking bracelets for sanitary workers triggered public outcry earlier this month. But it's not just Nanjing street cleaners that are subjected to this policy.
Earlier this month, the introduction of smartwatches tracking the movements of street cleaners in Nanjing attracted the attention of Chinese netizens and international media after the new policy was made public on April 3rd.
In March of this year, the sanitation department in the Hexi area of Nanjing, Jiangsu, started a pilot with a smartwatch that sanitation workers are obliged to wear. The watch has a built-in real-time GPS tracking system, allowing the Nanjing Hexi Smart Sanitation Center to monitor workers' movements.
In a short video published by Toutiao News, a spokesperson of the Smart Sanitation Command Center* explained that the smartwatch currently allows the company to assess the workers in three ways: they can register workers' attendance, collect statistics of workers leaving their designated work area, and report on workers that remain in the same position exceeding the allowed amount of time.
Sanitation workers also commented on their new working system. One person interviewed said: "Why wouldn't I be allowed to have a half-an-hour break? Look, the street is all clean, there is nothing to be cleaned up. They are crazy for making us move up and down the street for no reason."
Street cleaners also said that the system would automatically report them if they had been in the same spot for more than twenty minutes. The smartwatch would then subsequently encourage them to move, calling out "Jiayou! Jiayou!" ("Come on! Come on!").
That particular function was reportedly removed shortly after public outcry on the policy.
On Weibo, the hashtag "Smartwatch Automatically Yells 'Jiayou'" (#智能手表自动喊加油#) received over 2,5 million views, with the majority of commenters strongly rejecting the new approach.
Most commenters on this issue argued that the implementation of the smartwatch is "immoral" and that the Nanjing workers are "treated as criminals." Many others also pointed out that the workers, often senior citizens, should be able to rest for more than 20 minutes.
In light of the new policy, many people on social media also referred to the infamous fictional character Zhou "Bapi" (周扒皮). In the novel The Killing Wind, this landlord Zhou would stick his head into the henhouse stirring up the roosters to wake his laborers up earlier, so they would start working.
Some netizens came with an alternative solution, suggesting that the leaders of the company should wear the smartwatches themselves instead.
While the controversial function was eliminated, the GPS tracking function still stands.
Nanjing is not the first city to introduce GPS tracking smartwatches for its sanitary workers. Other cities where the same policy has been introduced are, for example, Chengdu, Hangzhou, Guangzhou, and Qingdao, according to Chinese media outlet Global Times.
In the summer of 2018, various Chinese media outlets already reported about the introduction of smartwatches for street cleaners in Guangzhou. At the time, the smartwatch policy was described as an innovative way to solve staff deployment and management problems, giving team leaders more insights into the real-time position of the street cleaners.
Whether or not the smartwatches do indeed improve work efficiency of street cleaners is still unclear, but there are no indications that the smartwatch policy will be changed at this point.
The tough work conditions of Chinese street cleaners, who work long hours and receive minimal pay, regularly become an issue of debate on Chinese social media. Besides praising the hard work of China's public cleaners, Chinese netizens often express their sympathy for the bad circumstances under which street sweepers have to work.
By Gabi Verberg
* (南京河西建环"智能环卫"综合调度监控指挥中心 Nanjing Hexi Jianhuan "Intelligent Sanitation" Integrated Dispatching Monitoring Command Center)
Spotted a mistake or want to add something? Please let us know in comments below or email us.
©2019 Whatsonweibo. All rights reserved. Do not reproduce our content without permission – you can contact us at info@whatsonweibo.com