Gamifying Propaganda: Everything You Need to Know about China's 'Study Xi' App
Scoring points by doing Xi-focused quizzes and watching 'Xi Time' news: this app takes propaganda to a whole other level.
First published
A new app that encourages China's online population to study Xi Jinping Thought has made headlines, both in and outside of China. Here's everything you need to know about this new interactive propaganda tool. An overview by What's on Weibo.
On January 1st, the Xué Xí Qiáng Guó app was launched on various Chinese app stores. The app is an initiative by the Propaganda Department of the Central Committee of the Communist Party, and is linked to the xuexi.cn platform, which was first set up in 2018.
The app has been making headlines in Chinese and English-language media this week. The BBC referred to the app as a "little red book," and reported that members of the ruling Communist Party, as well as state-owned company employees who are not Party members, have allegedly been required to download and use it on a daily basis (Feb 15).
The Guardian reported that government officials in Fujian province and Qingdao city held workshops last month stressing the political importance of the app, and directing local leaders to promote the app across government departments (Feb 15).
Although some reports claim that the app is making its way to top lists of most downloaded apps in China, it only scored a position 72 in the top 100 list of popular Chinese app store 360app at time of writing. The app store does state that the app has been downloaded 340000 times, with app users rating it with 2,5 stars out of 5. In the Tencent store, the app was downloaded 2,1 million times.
However, these numbers do not necessarily indicate much about the total number of downloads, since the app can be directly downloaded as an APK file from various locations. In the Chinese Apple store, the app is now the number one scoring app in the educational category. The app is only available in Chinese, and is not available from the Google Play store or Apple stores outside of China.
The app's name (学习强国) is translated as the 'Study Xi Strong Country' app in various English-language media reports, but a more suitable translation would perhaps be 'Study Xi, Strengthen China.'1 There's a wordplay in the name, since the Mandarin word for 'studying' is 'xuéxí' which also incorporates the name of Xi, and in this context means both 'Studying' as well as 'Study Xi.'
The main slogan of the 'Study Xi' app is one of Xi's own sayings: "Dreams start with studying, careers start from doing" ("梦想从学习开始,事业从实践起步", loose translation). Both the idea of 'Dreams' and of 'Studying' are concepts that are consistently promoted in the Xi era, with the idea that the common dream of the people is the 'Chinese Dream' of bringing about the "great rejuvenation of the Chinese nation." Within this Chinese dream, studying is generally promoted as a "secret weapon" that will strengthen the Party and the nation (Xiao 2016).
A Multi-Functional Propaganda Tool
So what is the 'Study Xi, Strengthen China' app? It basically is a multi-functional educational platform that offers users various ways to study Xi Jinping Thought, Party history, Chinese culture, history, and much more. Once people are registered on the app, they can also access the platform via PC.
An important part of the app is its news feed: its home page features "recommended" reads that all focus on Xi Jinping and the Party. Another major feature is its 'quiz' page: every week, there are different quizzes that users can do, relating to all sorts of things, from Party ideology to famous Chinese poems.
We've listed some of the app's functions below. It is much more than a media app alone; it also has a social function, that allows users to connect with friends, message them, call them, and even send them 'red envelopes' (money presents).

The 'red envelope' function is made possible through Alipay, the online payment platform that is owned by Ant Financial Services Group, an affiliate company of the Chinese Alibaba Group.
One way for users to verify their identity on the app is also by linking it to their Alipay account. Various media reports also claim that the app is linked to Alibaba's Ding Ding platform, an enterprise chat app that has a multitude of functions, many of which are also incorparated in the 'Study Xi' app (for more about Ding Ding, see our article here).
Given the cooperation with Alibaba, it is perhaps not surprising that upon registering for the app with just my phone number, it already knew my nickname without me putting it in. The app also listed an old smartphone I used some two years ago as a "frequently used" device, although I had just downloaded the app the day before and had never registered for it before.
So I just registered for the first time for the new "Study Xi Strong Country" app, which requires a phone number. It then told me "hi manyapan," and that this phonenumber was already registered for the app. I've never registered before and never put in my manyapan nickname. 🤔 pic.twitter.com/8WQWq3D46T

— Manya Koetse (@manyapan) 16 februari 2019
"Study Xi" app day two. Not only did the app know my nickname upon registering for 1st time, it also lists a HTC phone I used some two years ago under "frequently used devices." Most likely imports data from Alipay app. pic.twitter.com/qQ9Sdgk3Fp

— Manya Koetse (@manyapan) 17 februari 2019
Twitter user @yanshitou12 also noted that, upon using a friend's number to register for the app, her Ding Ding conversations were automatically loaded into the chat history, suggesting that Alibaba's Ding Ding is indeed fully integrated with the app.
My phone cn number expired, so I used friend's number. The app automatically loaded her conversation history from the app 针针, on my phone, without even asking

— 盐石头 (@yanshitou12) 16 februari 2019
Like Ding Ding, the 'Study Xi' app also allows users to set up conference calls, send 'self-deleting' chats (like Snapchat), and use the app's calendar function. Its many practical functions make this an app that is especially convenient for China's 89,5 million Party members to stay close to the Party and its activities.
How to Score with Xi
The app's most noteworthy and perhaps also most appealing feature is its scoring system, since it turns studying Party ideology and Xi Jinping Thought into a game.
Those who accumulate enough points can get an item from the app's 'prize shop.' There are also contests which users can join to compete over a Huawei tablet or other items.
One Weibo user shared that she had just received her Modern Chinese Dictionary by mail through the app's 'gift shop,' another person expressed her surprise that a delivery man came to deliver her prize at her door. "Thank you, Propaganda Department!", she wrote.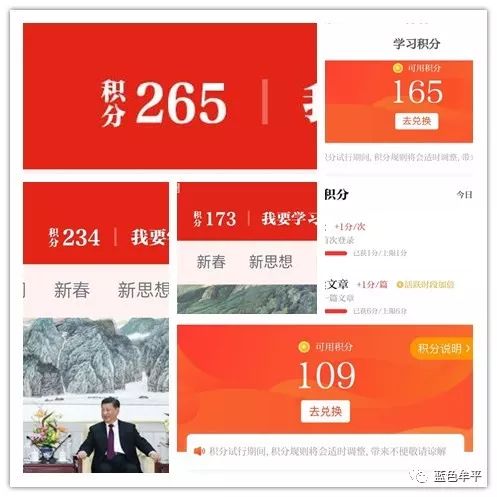 The score system works as follows:
Upon registering for the app, you receive 1 point.
For every article or essay one reads, you get 1 point (one per article, does not work with articles that have already been viewed before).
For every video you watch you get 1 point (the same video won't be credited with an extra point if you see it twice).
The time you spend on the app is also rewarded with points: for every 4 minutes of reading, you get 1 point (max 8 points per day).
For every 5 minutes of watching a video, you get 1 point (max 8 points per day).
You get 1 point for "subscribing" to a media account, which will then show up in your news feed.
If you share two articles with friends, you get 1 point.
You get 1 point for every two articles or essays you 'save' within the app.
If you score 100% on a quiz, you get 10 points.
What is quite remarkable about the app, is that it encourages users to 'Study Xi' at particular times of the day. The morning 6:00-8:30 timeframe, along with the 12:00-14:00 slot and evening 20:00-22:30 times, are designated as so-called "active time slots" during which users can score double points for their activities. Within these time slots, reading an article would, for example, grant a user 2 points instead of 1.
This signals that, in line with good working morale, people are supposed to look into the app during their morning commute, their lunch break, and before bedtime, and are indirectly discouraged from using it during (office) working hours.
The points that are scored on the app will be valid for two years.
On Weibo, some netizens are quite serious about the 'gaming' aspect of this app, and have already found ways to cheat the system. They share tips and tricks on how to score within the app: points are credited within 10 seconds of clicking an article, for example, and watching videos can be easily rewarded with a point if one immediately scrolls to the end.
Through the PC version of the app, it is easy to let certain videos play while scrolling the internet, basically earning points without actually watching the videos.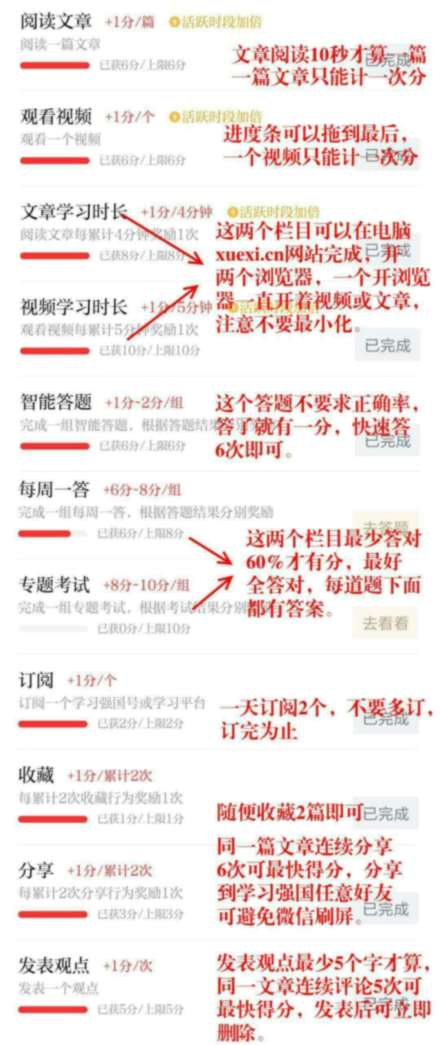 "Thanks," many commenters reply to these cheating tricks: "Just what I was looking for." "I already received 50 points in one day!"
A Library in Your Pocket: Media, Books, Movies
The 'Study Xi' app focuses on some dozen media outlets that users can subscribe to and which also show up in the 'recommended' homepage feed.
Incorporated in the app are state media outlets China Daily (中国日报网), People's Daily (人民网), Xinhua (新华), Qiushi Journal (求是网), China Military Web (中国军网), Economic Daily (经济日报), and others.
The app also incorporates local 'Study Xi' platforms, from Hubei to Jiangxi, from Shandong to Fujian.
Besides these media, the app also has TV channels people can watch videos on, from CCTV News to a special 'Xi Time' news programme, to various TV dramas, including Turbulence of the Mu Clan (木府风云) and Romance of Our Parents (父母爱情).
There is also a movie section within the app, where users can watch classics such as The Long March (长征), The Founding Ceremony of the Nation (开国大典), films on Deng Xiaoping or Zhou Enlai, and various movies that focus on the Second Sino-Japanese War.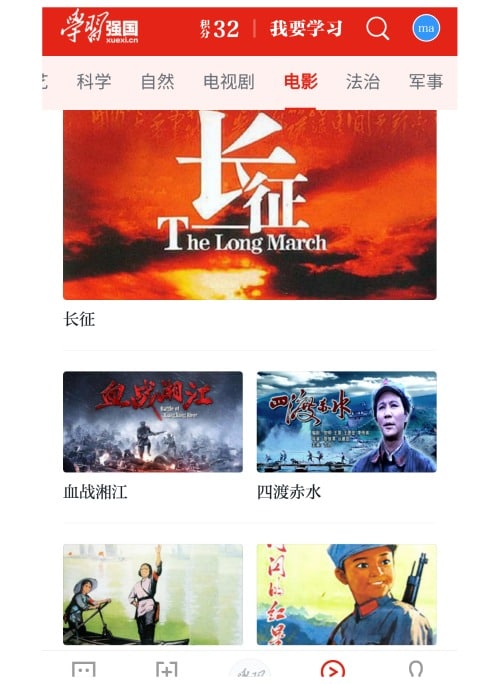 The 'Study Xi' library section grants users access to dozens of books. On the desktop version, the library is shown as an actual office, where you can click on the books that are displayed on the shelves and read them.
Some books are those by Xi Jinping, including The Governance of China (习近平谈治国理政), but there are also books by the famous Chinese author Lu Xun, or the 20th-century classic Rickshaw Boy by Lao She, and various works on calligraphy and poetry.
There is also an entire section of books available from a whole range of topics varying from astronomy to maths, biology, and geography. The books are available for online reading in pdf.
In general, you could say that the selection of media, videos, and books all fall into the categories of Chinese traditional culture and canonical literature, historical themes, science and technology, and the political themes of Party ideology and the Xi Jinping Thought that focuses on 'socialism with Chinese characteristics' (中国特色社会主义).
Those who read enough state media and Party articles will easily be able to do the quizzes and weekly questions in the app. Besides the standard ideological questions, it also draws from popular culture; I came across a question that used a trailer of China's latest sci-fi movie The Wandering Earth that needed to be watched in order to complete the question.
Propaganda in the Xi Era
So how popular is the app, really? If the headlines in Chinese and non-Chinese media are to be believed, the majority of Chinese internet users are getting hooked on the app. That picture is perhaps the rose-colored one the Party would like to envision, but judging from social media comments and app ratings, reactions have been somewhat lukewarm.
On Weibo, there are some commenters who are sharing their 1000-point status on the app, or who say they enjoy looking into the app right before sleeping.
Dozens of commenters indicate that they have to assist their parents in using the app, or that it is not them, but their parents who are 'hooked' on the app – the majority of Weibo users are in the 20-35 years age group.
There are local trainings on making (older) Party members more familiar with the app, how to download it and how to use it. A local Chongqing community Weibo account recently posted the pictures below of their 'Study Xi' gathering.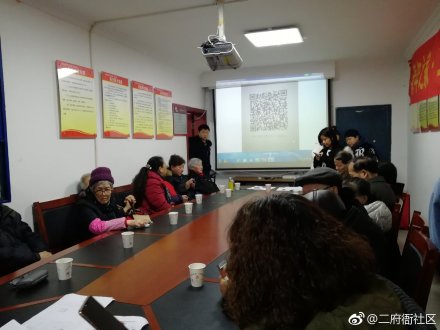 On social media, some commenters complain about the fact that the Chinese Apple store has turned off the review comment sections on the app, despite the fact that it allegedly scored a number one spot in its "educational app" section.
Then there are also dozens of commenters who say they often use the app: the score matters to them. In a time when everything is mobile, and online gaming is booming, it seems that 'Study Xi, Strengthen China' has made its app all the more relevant by adding the scoring element.
In doing so, the Propaganda Department of the Communist Party is continuing on the same route it has taken for the past couple of years, which shows a clear break with the propaganda machine before the Xi era.
Not only does the propaganda in the Xi era strengthen the idea of Xi as a political idol, it also fully embraces the Internet, the online media environment, and its related pop culture in doing so (also see Chang & Ren 2018).
Since 2017, various noteworthy propaganda moments, such as the 2017 Xi Clapping Game, the cartoonification of Xi, or the One Belt, One Road media publicity hype, all point in the same direction, namely that the Party propaganda will use the modes of communication and technology that are most popular among China's (younger) online population to reach their audiences.
For now, I am still stuck below 50 points on the 'Study Xi' app. The scoring element is powerful: I feel triggered to get my score up. Maybe watch a few more videos, do better on the quiz, and read some more state media articles. I might just be tempted to go back for some more Xi-studies.
By Manya Koetse
Follow @whatsonweibo
1Translation suggested by Helen Wang @helanwanglondon.
References
Chang, J., & Ren, H. 2018. "The powerful image and the imagination of power: the 'new visual turn' of the CPC's propaganda strategy since its 18th National Congress in 2012. Asian Journal of Communication, 28(1), 1–19.
Xiao Junhua 肖君华. 2016. "Dreams Start with Learning – Studying General Secretary Xi Jinping's Important Discourse on Learning [梦想从学习开始——学习习近平总书记关于学习的重要论述]" Guangming Daily, via CPC News, 7 July http://theory.people.com.cn/n1/2016/0707/c376186-28531506.html [18.1.19].
Directly support Manya Koetse. By supporting this author you make future articles possible and help the maintenance and independence of this site. Donate directly through Paypal here. Also check out the What's on Weibo donations page for donations through creditcard & WeChat and for more information.
Spotted a mistake or want to add something? Please let us know in comments below or email us.
©2019 Whatsonweibo. All rights reserved. Do not reproduce our content without permission – you can contact us at info@whatsonweibo.com.
Key Players, Digital Trends & Deep Dives: China Internet Report 2021
SCMP just launched its latest China Internet Report. (And What's on Weibo readers can get a 30% discount on the Pro Edition!)
As China's tech sector has been facing an ongoing crackdown by Beijing regulations, a lot has been changing in the country's digital environment over the past year. The new China Internet Report 2021 by SCMP gives an overview of the latest trends and developments.
When it comes to China's online landscape, nothing ever stays the same. Over the past year, political, economic, and social developments and measures have once again changed the Chinese digital environment.
Giving a comprehensive overview of the key leaders and major trends dominating the Chinese online field, South China Morning Post (SCMP) issued its fourth annual China Internet Report.
China's internet population has now risen to 989 million – last year's report indicated an internet population of 904 million. By now, there are 853 million mobile payment users, which indicates that over 86% of the entire mobile internet population uses mobile as a way to pay.
As China's internet population is still growing, and new online startups are still popping up every day, there have been tightening regulations on multiple fronts.
As laid out in SCMP's report, regulations mainly focus on the four areas of antitrust, finance, cybersecurity, and data privacy. Regulatory actions targeting the monopolistic behaviours of China's biggest internet companies are still ongoing, and the new Data Security Law came into effect on September 1st of this year.
While Chinese tech companies are seeing increased scrutiny at home, they have also been facing intensifying geopolitical tensions between China and other countries. Over the past year, the various probes and shutdowns into Chinese companies by countries such as the US and India have meant a serious blow to the market share of Chinese apps.
Meanwhile, the SCMP report highlights the trend of various older and newer Chinese (e-commerce) apps "downplaying" their Chinese origins when entering foreign markets. Shein is a good example of this development, but other players including Zaful, Urbanic, and Cider are also experiencing more success outside of China while not explicitly marketing themselves as Chinese e-commerce apps.
Another noteworthy trend explained in the new report is how China's shifting demographics are creating new niche segments to compete over. The COVID-19 crisis is partially a reason why China has seen an increase in senior internet users, with an increasing number of online products and content catering to the elderly.
China's Ministry of Industry and Information Technology (MIIT) even issued special guidelines earlier this year for web pages and mobile apps to carry out so-called "elderly friendliness modifications." Since this user group is still expected to see significant growth, the "silver economy" is an area that will only become more important in the years to come.
To check out all the main trends for 2021, China's latest internet statistics, its top tech competitors, internet companies, and more, here's a link to the free report.
The free report is 55 pages long and gives an overview of China's latest internet numbers and players, covers the top cross-sector trends for 2021, including the tightening regulations and the bumpy road ahead for China's tech IPOs.
The Pro Edition of China's Internet Report 2021, also launched by SCMP, is 138 pages long and provides a deep-dive into ten relevant sectors – featuring insightful and useful analysis, data, and case studies relating to China's e-commerce market, content & media, gaming, blockchain, fintech, online education, healthtech, smart cars, 5G, and Artificial Intelligence.
The China Internet Report Pro Edition is priced at US$400, but the team at SCMP has kindly reached out and made it possible for us to offer a special 30% discount to What's on Weibo readers.
You'll get the discount by using the discount code: WHATSONWEIBO30, or by clicking this link that will automatically include your discount code.
By Manya Koetse
Spotted a mistake or want to add something? Please let us know in comments below or email us. First-time commenters, please be patient – we will have to manually approve your comment before it appears.
©2021 Whatsonweibo. All rights reserved. Do not reproduce our content without permission – you can contact us at info@whatsonweibo.com.
Goodbye 996? Weibo Discussions on Changes in Overtime Work Culture
Beijing made it clear that working overtime is illegal, but netizens are concerned about the realities of changing working schedules.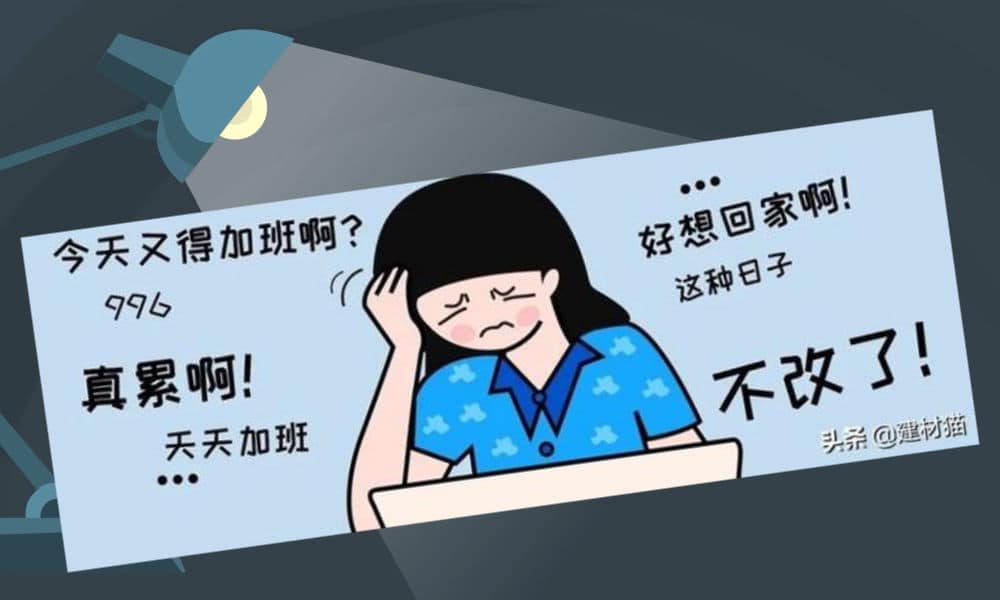 Many people are tired of being forced to log long hours, but are also worried about how a national crackdown on '996' working culture could impact their workload and income.
In late August of 2021, China's Ministry of Human Resources & Social Security (人社部) and the Supreme People's Court issued a joint clarification on the country's legal standards of working hours and overtime pay.
Their message was clear: the practices of '996' (working 9am-9pm, six days per week) and '007' (working 24 hours seven days per week, referring to a flexible working system worse than 996) are illegal, and employers are obliged to obey the national working-time regime.
On Weibo, China's state broadcaster CCTV published a 10-minute long video illustrating the 10 typical cases of overtime work laid out by the ministry and the top court. The moment was marked as the first time for the state-owned broadcaster to publicly comment on overtime work practices.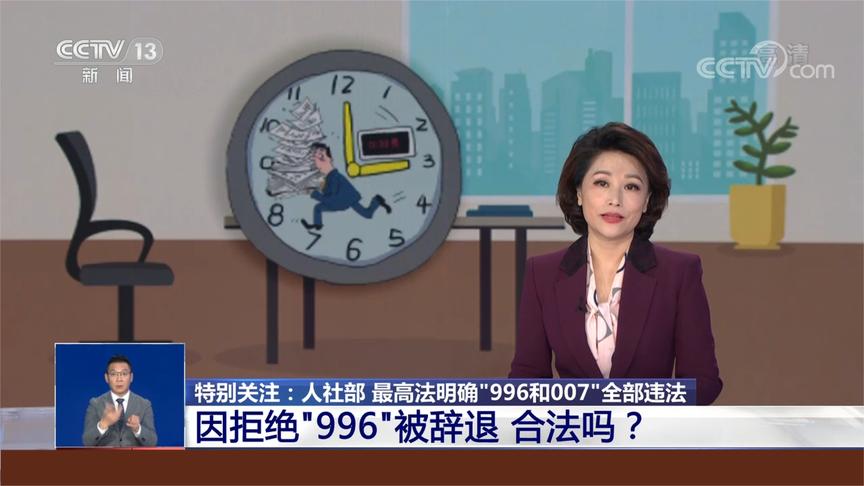 The Weibo post pointed out that "striving for success is not a shield companies can use to evade legal responsibilities," and made it clear that employees have the right to "say no to forced overtime."
The topics of overtime work and China's 996 work culture generated many discussions on Weibo, with the hashtag "Ministry of Human Resources & Social Security and the Supreme Court Clarify 996 and 007 Are Illegal" (#人社部最高法明确996和007都违法#) generating over 420 million views on the social media platform.

"Without implementation and enforcement, the law is useless"

The current labor law in China bars employees from working more than 44 hours a week, and any overtime work must be paid.
Although the 996 practice is technically prohibited by law, many companies still enforce the hours informally.
Many employees revealed online that, although the 996 practice is legally prohibited, they were nevertheless being assigned job tasks that exceeded the prescribed working hours.
"I wonder if the workload will decrease after all. If it doesn't change, it means people will now have to work voluntarily," one Weibo user commented.
People also indicated that, since the start of the pandemic, remote work has become a new norm. Many companies have moved from office to working at home, making it harder to draw the line between regular working hours and overtime hours.
"What really matters is whether working from home includes overtime hours," one Weibo user wrote. Many netizens complained that their companies wouldn't explicitly stipulate a 996 schedule; instead, most of them disguise the overtime hours as 'voluntary' work.
"These regulations are good, but they are basically impossible to implement. Even if they ban '996' and '007' there is no way to regulate the so-called 'voluntary work,'" one Weibo user wrote.
Some people said that their companies have various performance assessments and that they feared that refusing to work more hours would make them lose their competitive advantage: "The burn-out (内卷 nèijuǎn, 'involution') is severe. It is too difficult for us. I have only one day off during the week and I'm so tired," one person commented.

"We don't need those who comfortably work 8 hours"

China's 996 work culture has been championed by tech leaders and denounced by workers for years, and it has become an unwritten standard – not just in the tech sector but also in other industries.
While working long hours has been ingrained in Chinese workplace culture since the early days of the country's internet boom, it later also started to represent 'a road to success' for Chinese tech entrepreneurs.
Many Chinese netizens blame Alibaba's Jack Ma for praising the '996' work system. In 2019, Ma called the 12-hour working day a "huge blessing," causing much controversy online. During his talk at Kyiv International Economic Forum, Ma said: "(..) '996 is the spirit that I encourage Alibaba people to follow. If you want to have a bright future, (..) if you want to be successful, you have to work hard."
On another occasion, the tech mogul reportedly said: "If you join Alibaba, you should get ready to work 12 hours a day, otherwise why do you come to Alibaba? We don't need those who comfortably work 8 hours."
However, after the shocking death of one Chinese delivery man working for food delivery platform Ele.me and the widespread discussions about the '996 ICU' project – which called on tech workers to add names and evidence of excessive hours to a 'blacklist,' – the 996 work culture has come under increased scrutiny.
Some people argue that the overtime culture is draining employees and creating an unhealthy work-life balance; others argue that they work for themselves and believe that putting in extra hours will eventually translate to individual success.
While economic growth has slowed down during the pandemic, most companies are persisting with long working hours because they are under pressure to achieve results.
According to an online survey conducted by an influential tech blogging account (@IT观察猿), more than one-third of participants claimed to have one day off per week, and more than one quarter claimed they didn't have any weekend days off.

"The workload is the same, but the income has reduced"

Starting from August 1st, ByteDance, the Chinese company behind the popular short-form video app TikTok, dropped its 'big and small week' (大小周) – a schedule that previously required employees to work six days in a row every other week.
ByteDance is not the only Chinese tech company that has begun to cut back on its long working hours. More and more companies have decided to drop grueling work schedules.
Kuaishou, another Chinese short-form video app company, stopped scheduling weekend work in July. Since early June, Tencent – China's largest game publisher – has encouraged people to clock out at 6 pm every Wednesday.
Although these changes seem to signal a positive development, there are also many people who do not support the new measures. When Bytedance announced the changes to its working schedule, news came out that one-third of the employees did not support the decision (#字节跳动1/3员工不支持取消周末加班#).
Those relying on overtime pay said abolishing overtime work will cut their take-home pay by around 20%. Indeed, the first pay-out after the new implementation at Bytedance showed an overall drop of 17% in employees' wages.
"The workload is the same, but the income has reduced," one Weibo commenter complained.
One trending discussion on Weibo focused on the question "Do companies need to make up for employees' financial loss after the abolition of weekend work?" Many comments revealed the situation faced by thousands of struggling workers who value free time but value their income more.
Many on Weibo still wonder whether a company that abolishes '996' will come up with an alternative to compensate those employees who will otherwise inevitably lose vital income.
By Yunyi Wang
Follow @whatsonweibo
Spotted a mistake or want to add something? Please let us know in comments below or email us. First-time commenters, please be patient – we will have to manually approve your comment before it appears.
©2021 Whatsonweibo. All rights reserved. Do not reproduce our content without permission – you can contact us at info@whatsonweibo.com.