Wu Xiubo Scandal Blows up on Chinese Social Media
One of the biggest celebrity scandals in years, involving Chinese actor Wu Xiubo, has become all the talk on Weibo this week.
An enormous celebrity scandal is taking over Chinese social media this week, as famous actor Wu Xiubo has accused a former mistress of blackmailing him. The woman, a Chinese actress named Chen Yulin, could potentially face up to ten years in prison.
"Are there any good guys left in the Chinese entertainment industry?" This is a question that is currently trending on Chinese social media (#娱乐圈好男人#). By Sunday night, the hashtag had already received over 350 million views and thousands of comments on Weibo, within a time frame of just one day.
Other hashtags that are flooding Weibo are "Female in Wu Xiubo Love Affair Gate is Detained" (#吴秀波出轨门女主被拘捕#), which has already gathered some 850 million views (!) on Weibo at time of writing. "Chen Yulin's Parents Send an Open Letter" (#陈昱霖父母发公开信#) received over 410 million clicks.
The current trend is all about the scandal involving Beijing-born actor and musician Wu Xiubo (吴秀波, 1968), who recently had his former mistress Chen Yulin arrested for blackmailing him. She could potentially face up to ten years in prison. Wu is famous for, among others, his performance in the popular TV series Angel Heart (心术, 2012) and his role in the hit movie Finding Mr. Right (北京遇上西雅图, 2013).
The Background Story
To understand the story, and why it is blowing up, we need to go back to September of 2018, when Wu Xiubo (吴秀波), who has been married since 2002 and is the father of two children, was rumored to have been involved in a total of five different extra-marital affairs.
Although there were earlier rumors circulating online about Wu allegedly being involved in extra-marital sex with young women, the story triggered mass attention when an anonymous poster, who was later identified as Chinese actress and singer Chen Yulin, wrote down the history of her alleged love affair with Wu Xiubo in her WeChat Moments.
Chinese actress and singer Chen Yulin (陈昱霖), also known as Ruby Chen, entered the entertainment business in 2006, after participating in the CCTV programme Avenue of Stars (星光大道). Ever since, she has been making a career as a singer and an actress, but her real fame only started after exposing her affair with Wu Xiubo.
In her lengthy Wechat posts, Chen claimed to have been involved with the Chinese actor for approximately seven years. She described the relationship as being one where Wu exercised control over her by forbidding her from accepting certain jobs and persuading her to be a good house-wife. She also accused Wu of "brainwashing" her into practicing Buddhism, and to have behaved violently with her at certain occasions.
Her later posts alleged that in 2013 and 2017, she received messages from other women who were supposedly also sexually involved with Wu, one of them being the actress Zhang Zhixi (张芷溪) who co-starred with the actor during the production of the 2016 Chinese TV series The Advisors Alliance (军师联盟). She claimed the entire ordeal was to blame for her depression.
Wu, nor his management, responded to the allegations at the time, although his career and reputation as one of China's best "middle-aged actors" (演技派大叔) were severely affected by the scandal.
The Scandal Blows Up
Although Chen Yulin never officially responded to the issue, a social media post by Chen's parents of January 18 this year triggered discussions all over Weibo.
The post was published on Chen's official Weibo account "on behalf of Chen's mother and father." In this statement, not only do Chen's parents confirm that their daughter was the one who posted on WeChat in 2018, they also claim that Wu and his legal team had requested Chen to deny the allegations she had made against Wu, and had promised her to financially compensate her for doing so.
After the arrangement was agreed upon, the post writes, Chen decided to stay abroad for a while to stay out of the limelight. In November of 2018, Wu then called Chen to ask her to return to mainland China to settle their agreement.
The moment Chen landed at Beijing airport on November 5th of 2018, however, she was arrested by local Beijing police. Wu had reported her to the police for "blackmailing" and a "violation of privacy." If Chen is found guilty, she could face up to ten years in jail.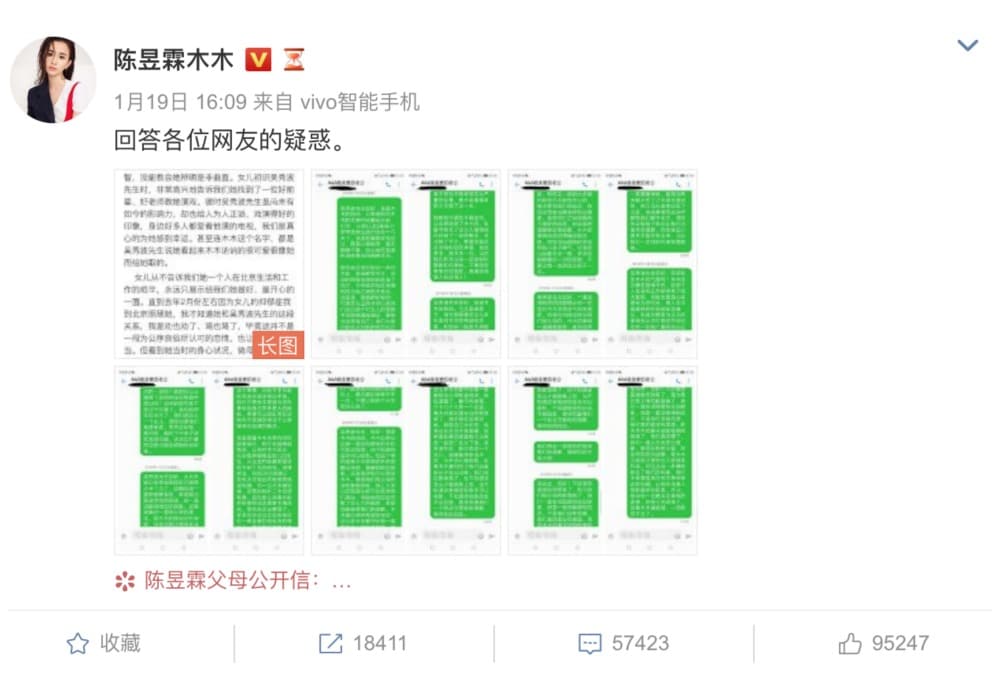 Later, Chen's parents also posted screenshots on Weibo to verify the authenticity of the love affair. The screenshots show messages between Wu and Chen, where Wu's nickname is "AAA my dear husband" (AAA 我亲爱的老公).
Chen's parents claim they have pleaded Wu multiple times to drop the charges, but never received a response.
An Online Storm
As the scandal is taking on biblical proportions, Wu's wife, He Zhenya (何震亚), also came forward with a statement on January 19 through Wu Xiubo's Weibo account (演员吴秀波工作室). The statement claims that Wu's family has faced threats and blackmailing for the past year and a half, during which the demanded sum of money went from millions to billions of yuan.
Wu Xiubo's management also posted a signed statement from Wu's lawyer to Weibo, declaring that Chen did, in fact, blackmail the actor, and that her allegations are false.
Meanwhile, the scandal has flooded Weibo with comments from every corner, with public opinion about the case growing stronger and stronger. Businessman Wang Sicong, the son of one of the richest men in China, posted several times on his account, calling Wu Xiubo out for being "evil" and "trash."
Although many people side with Chen in this case, claiming that she is the most vulnerable in this affair, there are also those who side with Wu and think that Chen is a gold digger who took advantage of the actor.
Digging up online evidence that supposedly shows that Chen has been leading a life of luxury of the past years, many netizens conclude that the actress has since long been profiting from Wu's money. Chen's mother denied these claims.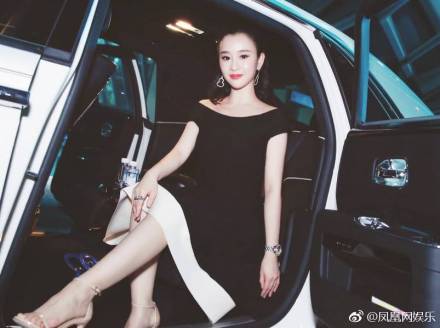 But there are also many who are simply disappointed with the fact that Wu allegedly had (multiple) relationships outside of his marriage. "Are there still any good guys left in the entertainment industry?" is a question that is recurringly popping up in light of a string of celebrity scandals that have hit China's entertainment scene over previous years.
Wu Xiubo memes are also trending on Chinese social media, with one of the most popular ones saying: "Want a love affair? You may end up in jail (谈恋爱吗 要坐牢那种)".
For now, Chen is still being detained and awaiting her trial. Her parents express their hopes for a "fair" trial that will bring "justice" for their daughter.
By Boyu Xiao, with contributions by Manya Koetse
Spotted a mistake or want to add something? Please email us.
©2019 Whatsonweibo. All rights reserved. Do not reproduce our content without permission – you can contact us at info@whatsonweibo.com.
Chinese Actor Zhao Lixin Banned from Weibo over Comments on Second Sino-Japanese War
The actor was banned for "downplaying" the Japanese aggression in China during the Second Sino-Japanese War.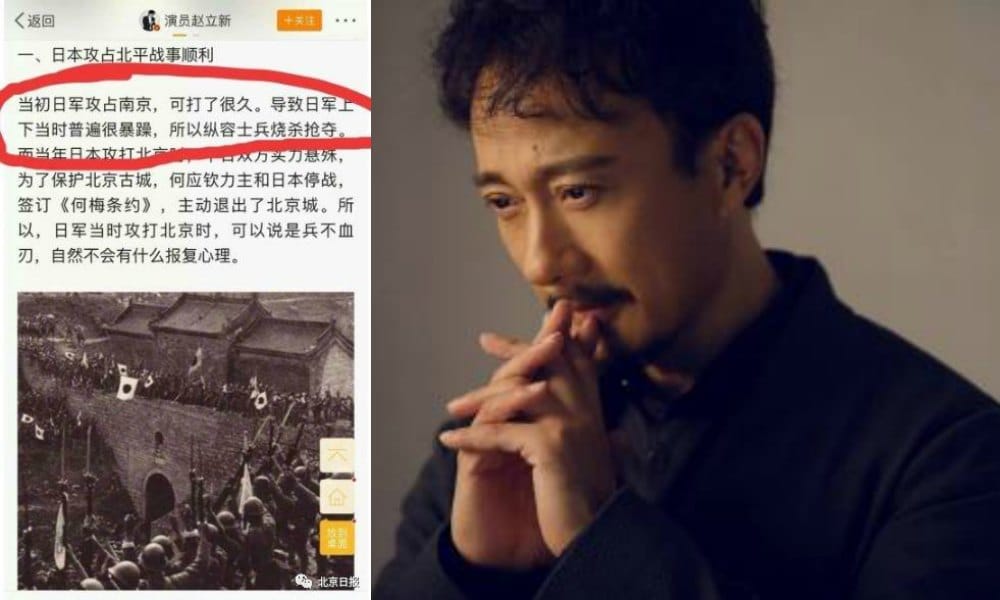 Sina Weibo issued a statement on April 16 that the Weibo account of the Chinese-Swedish actor Zhao Lixin has been terminated following remarks he made about Japan's invasion of China and the Second Sino-Japanese War.
The Weibo account of Zhao Lixin (赵立新, 1968) has been closed after the Chinese-Swedish actor made controversial comments on the Second Sino-Japanese War.
On April 2nd, Zhao Lixin, who had more than 7 million followers, posted a message on Weibo that questioned why the Japanese military did not pillage and destroy the Beijing Palace Museum during the Second Sino-Japanese War:
"The Japanese occupied Beijing for eight years. Why didn't they steal relics from the Palace Museum and burn it down [during that time]? Is this in line with the nature of an invader?"
The actor also commented on the Nanjing Massacre of 1937, suggesting that it was a consequence of Chinese resistance to the Japanese invasion.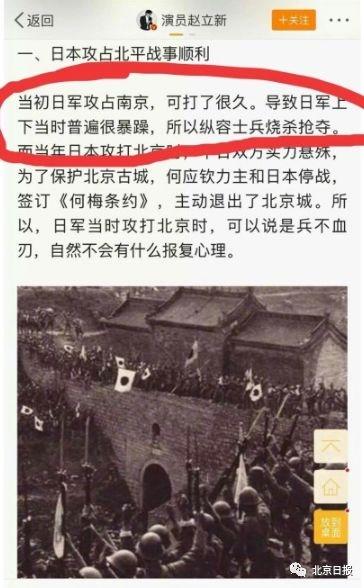 Zhao's post led to much controversy in early April, followed by a lengthy apology statement from the actor on April 3rd, in which he said he did not phrase his comments carefully enough and that he was remorseful over the storm of criticism he had ignited. His controversial Weibo post was soon taken offline.
Many people were mostly angered because they felt Zhao's comments "defended" the Japanese invaders. "Zhao's permit to work in China should be terminated forever!", some commenters posted on Weibo.
The Second Sino-Japanese War is still a highly sensitive topic in China today, with anti-Japanese sentiments often flaring up when Japan-related topics go trending on Chinese social media.
The 'Nanjing massacre' or 'Rape of Nanjing' is an especially sensitive topic within the history of the Second Sino-Japanese War, also because some Japanese politicians and scholars consistently deny it even happened, heightening the tension between the two countries. For a Chinese celebrity to seemingly 'downplay' the aggression and atrocities committed by Japanese invaders in the 1937-1945 period is therefore highly controversial.
Despite Zhao's apologies, Sina Weibo issued a notice on April 16 "Relating to Harmful Political Information" (关于时政有害信息的处理公告), stating that the account of Zhao Lixin, along with some others, had been closed for spreading this kind of information.
The hashtag relating to Zhao's social media suspension received more than 57 million views on Weibo today.
"It's good that his account was taken down," a popular comment said: "It's insulting our country." Others said that Zhao should not have posted something that is "out of line" "considering his position as an actor."
Zhao Lixin is mainly known for his roles in TV dramas such as The Legend of Mi Yue, Memoirs In China, and In the Silence.
Zhao is not the first KOL (Key Opinion Leader) to have been banned from Weibo after making controversial remarks relating to China's history. In 2016 the famous entrepreneur Ren Zhiqiang disappeared from Weibo after publishing various posts on his experience with communism in the past, and the status quo of media in China.
By Manya Koetse , with contributions from Miranda Barnes
Spotted a mistake or want to add something? Please email us.
©2019 Whatsonweibo. All rights reserved. Do not reproduce our content without permission – you can contact us at info@whatsonweibo.com.
Catharsis on Taobao? Chinese 'All is Well' TV Drama Fans Are Paying Up to Scold the 'Su Family Villains'
Some netizens are getting too worked up over this hit TV drama.
Chinese TV drama 'All is Well' is such an online hit, that the collective despise for the fictional villains in the story is getting all too real. The show itself, along with an online service to scold its characters, has become a trending topic on Chinese social media this week.
The Chinese TV series All is Well (都挺好) is such a success that some people would even pay to scold the drama's main 'villains.' One Taobao seller had nearly one thousand customers paying a fee this week for a special service to curse the characters they despise so much.
All is Well is a 46-episode urban TV drama that premiered on March 1st of this year on Zhejiang and Jiangsu Television. The series is based on the novel by A'nai (阿耐), who is also known for writing the super popular Ode to Joy TV drama.
All is Well tells the story of white-collar worker Su Mingyu and the conflicts within her family. The role of this daughter is played by Chinese actress Yao Chen (姚晨), one of the most popular celebrities on Weibo.
As the only daughter, Su Mingyu is the black sheep of the family and grows up feeling lonely and unloved. When her mother suddenly passes away, the Su family falls apart. The father becomes selfish and overbearing, while her brothers are also unsuccessful in keeping the family together.
The three men within the Su family have become much-hated characters on Chinese social media for their selfishness and manipulative traits. Su Mingcheng (Li Junting) is Mingyu's older brother, Su Mingzhe (Gao Xin) is her younger brother, and Su Daqiang (Ni Dahong) is her father.
While the TV drama is a major hit, many fans seem to take pleasure in scolding the main characters. On Weibo, some netizens are changing their names into some of the Su villains, allowing others to scold them.
But there are also people who have turned the collective contempt for the Su men into a small business. On e-commerce site Taobao, one seller set up a service to "curse the Su family father and sons" (怒骂苏家三父子), charging a 0.5 yuan fee, Caijing reports.
Various Chinese media report that the seller has had at least 300 customers over the past week who could "vent their anger" about the drama's characters. The seller would open a chat window, displaying the photo and name of one of the three despised characters, and pretending to be them. He also displays a counter that shows how many times the characters have been scolded by customers.
Other news sites report that there are at least 40 online shops selling this 'scolding service' to customers, with one seller allegedly serving nearly 1000 customers in one day.
The topic, under the hashtag "Online Shop Sells Service to Scold the Su Father and Sons" (#网店出售怒骂苏家三父子服务#), received nearly 100 million views on Weibo this week.
Many netizens are surprised and amused that their favorite TV drama has turned into a business opportunity for Taobao sellers. "I'm a shop seller," one commenter says: "I give all the money to charity. I work during the day, but in the evenings I'm here for all of you!"
"Is this the rival of the Kua Kua group?", one commenter wonders. Kua Kua groups, as we recently explained in this article, are online chat groups where people can be complimented or praised, sometimes for money. The current scolding groups, in a way, serve a similar purpose: offering netizens a way to vent their feelings and feel a bit better.
Although the cursing may provide emotional catharsis for some, others just find it really funny. "How about you give me one yuan, and I scold you?", one commenter suggests: "It's crazy that these type of services exist."
All is Well can be viewed through iQiyi (without English subtitles, regional restrictions apply – VPN).
Also see:
By Manya Koetse 
Spotted a mistake or want to add something? Please email us.
©2019 Whatsonweibo. All rights reserved. Do not reproduce our content without permission – you can contact us at info@whatsonweibo.com.