Wu Xiubo Scandal Blows up on Chinese Social Media
One of the biggest celebrity scandals in years, involving Chinese actor Wu Xiubo, has become all the talk on Weibo this week.
An enormous celebrity scandal is taking over Chinese social media this week, as famous actor Wu Xiubo has accused a former mistress of blackmailing him. The woman, a Chinese actress named Chen Yulin, could potentially face up to ten years in prison.
"Are there any good guys left in the Chinese entertainment industry?" This is a question that is currently trending on Chinese social media (#娱乐圈好男人#). By Sunday night, the hashtag had already received over 350 million views and thousands of comments on Weibo, within a time frame of just one day.
Other hashtags that are flooding Weibo are "Female in Wu Xiubo Love Affair Gate is Detained" (#吴秀波出轨门女主被拘捕#), which has already gathered some 850 million views (!) on Weibo at time of writing. "Chen Yulin's Parents Send an Open Letter" (#陈昱霖父母发公开信#) received over 410 million clicks.
The current trend is all about the scandal involving Beijing-born actor and musician Wu Xiubo (吴秀波, 1968), who recently had his former mistress Chen Yulin arrested for blackmailing him. She could potentially face up to ten years in prison. Wu is famous for, among others, his performance in the popular TV series Angel Heart (心术, 2012) and his role in the hit movie Finding Mr. Right (北京遇上西雅图, 2013).
The Background Story
To understand the story, and why it is blowing up, we need to go back to September of 2018, when Wu Xiubo (吴秀波), who has been married since 2002 and is the father of two children, was rumored to have been involved in a total of five different extra-marital affairs.
Although there were earlier rumors circulating online about Wu allegedly being involved in extra-marital sex with young women, the story triggered mass attention when an anonymous poster, who was later identified as Chinese actress and singer Chen Yulin, wrote down the history of her alleged love affair with Wu Xiubo in her WeChat Moments.
Chinese actress and singer Chen Yulin (陈昱霖), also known as Ruby Chen, entered the entertainment business in 2006, after participating in the CCTV programme Avenue of Stars (星光大道). Ever since, she has been making a career as a singer and an actress, but her real fame only started after exposing her affair with Wu Xiubo.
In her lengthy Wechat posts, Chen claimed to have been involved with the Chinese actor for approximately seven years. She described the relationship as being one where Wu exercised control over her by forbidding her from accepting certain jobs and persuading her to be a good house-wife. She also accused Wu of "brainwashing" her into practicing Buddhism, and to have behaved violently with her at certain occasions.
Her later posts alleged that in 2013 and 2017, she received messages from other women who were supposedly also sexually involved with Wu, one of them being the actress Zhang Zhixi (张芷溪) who co-starred with the actor during the production of the 2016 Chinese TV series The Advisors Alliance (军师联盟). She claimed the entire ordeal was to blame for her depression.
Wu, nor his management, responded to the allegations at the time, although his career and reputation as one of China's best "middle-aged actors" (演技派大叔) were severely affected by the scandal.
The Scandal Blows Up
Although Chen Yulin never officially responded to the issue, a social media post by Chen's parents of January 18 this year triggered discussions all over Weibo.
The post was published on Chen's official Weibo account "on behalf of Chen's mother and father." In this statement, not only do Chen's parents confirm that their daughter was the one who posted on WeChat in 2018, they also claim that Wu and his legal team had requested Chen to deny the allegations she had made against Wu, and had promised her to financially compensate her for doing so.
After the arrangement was agreed upon, the post writes, Chen decided to stay abroad for a while to stay out of the limelight. In November of 2018, Wu then called Chen to ask her to return to mainland China to settle their agreement.
The moment Chen landed at Beijing airport on November 5th of 2018, however, she was arrested by local Beijing police. Wu had reported her to the police for "blackmailing" and a "violation of privacy." If Chen is found guilty, she could face up to ten years in jail.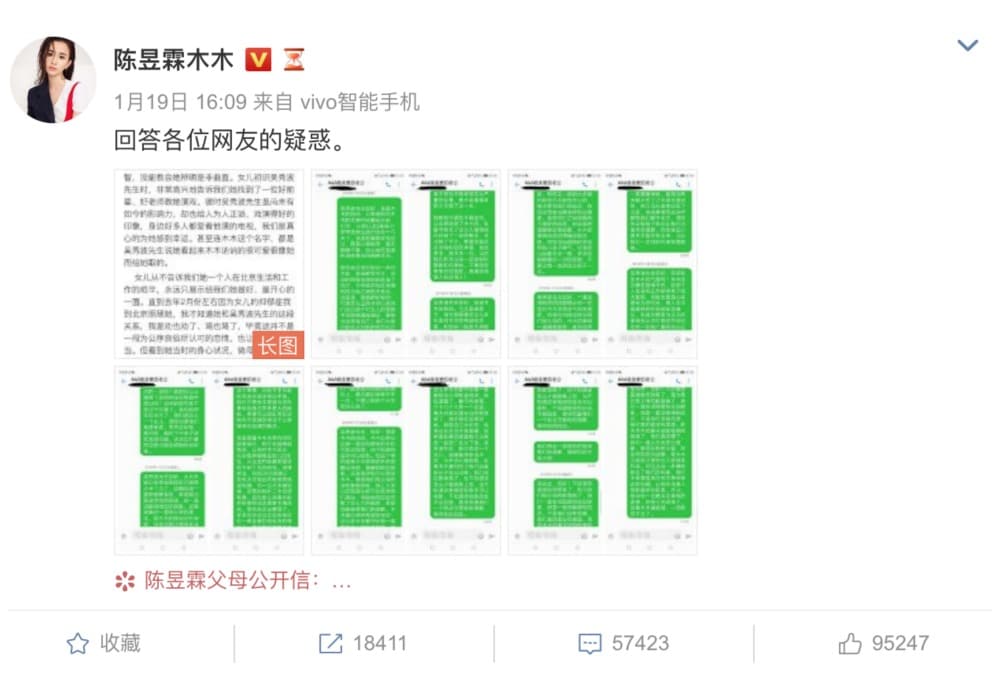 Later, Chen's parents also posted screenshots on Weibo to verify the authenticity of the love affair. The screenshots show messages between Wu and Chen, where Wu's nickname is "AAA my dear husband" (AAA 我亲爱的老公).
Chen's parents claim they have pleaded Wu multiple times to drop the charges, but never received a response.
An Online Storm
As the scandal is taking on biblical proportions, Wu's wife, He Zhenya (何震亚), also came forward with a statement on January 19 through Wu Xiubo's Weibo account (演员吴秀波工作室). The statement claims that Wu's family has faced threats and blackmailing for the past year and a half, during which the demanded sum of money went from millions to billions of yuan.
Wu Xiubo's management also posted a signed statement from Wu's lawyer to Weibo, declaring that Chen did, in fact, blackmail the actor, and that her allegations are false.
Meanwhile, the scandal has flooded Weibo with comments from every corner, with public opinion about the case growing stronger and stronger. Businessman Wang Sicong, the son of one of the richest men in China, posted several times on his account, calling Wu Xiubo out for being "evil" and "trash."
Although many people side with Chen in this case, claiming that she is the most vulnerable in this affair, there are also those who side with Wu and think that Chen is a gold digger who took advantage of the actor.
Digging up online evidence that supposedly shows that Chen has been leading a life of luxury of the past years, many netizens conclude that the actress has since long been profiting from Wu's money. Chen's mother denied these claims.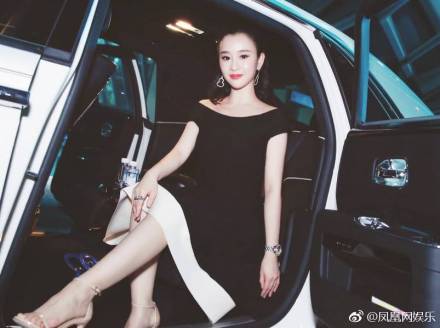 But there are also many who are simply disappointed with the fact that Wu allegedly had (multiple) relationships outside of his marriage. "Are there still any good guys left in the entertainment industry?" is a question that is recurringly popping up in light of a string of celebrity scandals that have hit China's entertainment scene over previous years.
Wu Xiubo memes are also trending on Chinese social media, with one of the most popular ones saying: "Want a love affair? You may end up in jail (谈恋爱吗 要坐牢那种)".
For now, Chen is still being detained and awaiting her trial. Her parents express their hopes for a "fair" trial that will bring "justice" for their daughter.
By Boyu Xiao, with contributions by Manya Koetse
Spotted a mistake or want to add something? Please email us.
©2019 Whatsonweibo. All rights reserved. Do not reproduce our content without permission – you can contact us at info@whatsonweibo.com.
Two Hour Time Limit for KTV: China's Latest Covid-19 Measures Draw Online Criticism
China's latest COVID-19 infection prevention and control measures are drawing criticism from social media users.
First published
No more never-ending nights filled with singing and drinking at the karaoke bar for now, as new pandemic containment measures put a time limit as to how long people can stay inside entertainment locations and wangba (internet cafes).
On June 22nd, China's Ministry of Culture and Tourism (文旅部) issued an adjusted version to earlier published guidelines on Covid-19-related prevention and control measures for theaters, internet cafes, and other indoor entertainment venues.
Some of the added regulations have become big news on Chinese social media today.
According to the latest guidelines, it will not be allowed for Chinese consumers to stay at various entertainment locations and wangba for more than two hours.
Singing and dancing entertainment venues, such as KTV bars, can only operate at no greater than 50% maximum occupancy. This also means that private karaoke rooms will be much emptier, as they will also only be able to operate at 50% capacity.
On Weibo, the news drew wide attention today, with the hashtag "KTV, Internet Cafe Time Limit of Two Hours" (#KTV网吧消费时间不得超2小时#) receiving over 220 million views at the time of writing. One news post reporting on the latest measures published on the People's Daily Weibo account received over 7000 comments and 108,000 likes.
One popular comment, receiving over 9000 likes, criticized the current anti-coronavirus measures for entertainment locations, suggesting that dining venues – that have reopened across the country – actually pose a much greater risk than karaoke rooms due to the groups of people gathering in one space without a mask and the "saliva [drops] flying around."
The comment, that was posted by popular comic blogger Xuexi, further argues that cinemas – that have suffered greatly from nationwide closures – are much safer, as people could wear masks inside and the maximum amount of seats could be minimized by 50%. Karaoke rooms are even safer, Xuexi writes, as the private rooms are only shared by friends or colleagues – people who don't wear face masks around each other anyway.
Many people agree with the criticism, arguing that the latest guidelines do not make sense at all and that two hours is not nearly enough for singing songs at the karaoke bar or for playing online games at the internet cafe. Some wonder why (regular) bars are not closed instead, or why there is no two-hour time limit for their work at the office.
Most comments are about China's cinemas, with Weibo users wondering why a karaoke bar, where people open their mouths to sing and talk, would be allowed to open, while the cinemas, where people sit quietly and watch the screen, remain closed.
Others also suggest that a two-hour limit would actually increase the number of individuals visiting one place in one night, saying that this would only increase the risks of spreading the virus.
"Where's the scientific evidence?", some wonder: "What's the difference between staying there for two hours or one day?"
"As a wangba owner, this really fills me with sorrow," one commenter writes: "Nobody cares about the financial losses we suffered over the past six months. Our landlord can't reduce our rent. During the epidemic we fully conformed to the disease prevention measures, we haven't opened our doors at all, and now there's this policy. We don't know what to do anymore."
Among the more serious worries and fears, there are also some who are concerned about more trivial things: "There's just no way we can eat all our food at the KTV place within a two-hour time frame!"
By Manya Koetse
Follow @WhatsOnWeibo
*" 餐饮其实才更严重,一群人聚在一起,而且不戴口罩,唾沫横飞的。开了空调一样也是密闭空间。电影院完全可以要求必须戴口罩,而且座位可以只出售一半。KTV其实更安全,都是同事朋友的,本身在一起都不戴口罩了,在包间也无所谓。最危险的餐饮反而都不在意了"
Spotted a mistake or want to add something? Please let us know in comments below or email us. First-time commenters, please be patient – we will have to manually approve your comment before it appears.
©2020 Whatsonweibo. All rights reserved. Do not reproduce our content without permission – you can contact us at info@whatsonweibo.com.
Chinese Idol Survival Shows – The Start of a New 'Idol Era'
Idol reality survival shows are riding a new wave of popularity in China.
China has a vibrant online popular culture media environment, where new trends and genres come and go every single day. Chinese idol survival shows, however, have seen continued success and now seem to go through another major peak in popularity. What's on Weibo's Yin Lin explains.
On May 30, the finale of Chinese online video platform iQIYI's Youth With You 2 (青春有你2) broke the Internet. Official videos on iQIYI's Youtube channel garnered over 300 million views. At the time of writing, the hashtag "Youth With You 2 Finale" (#青春有你2总决赛#) has 3.15 billion views; the hashtag "Youth With You 2" (#青春有你2#) has 14.5 billion views. 
In recent years, China has produced a slew of so-called 'idol survival shows.' They have enjoyed much popularity among local audiences, as well as overseas—more than 393 hashtags related to Youth With You 2 trended in Asia, Europe, South America, and North America. In this overview, we explore the background, status quo, and future of China's idol survival shows.
The Start of The 'Idol Wave' in China 
In China's idol survival reality shows, so-called 'trainees', or aspiring idols, participate in a series of different challenges to compete for a chance to debut.
The 'idol culture' (偶像文化) has been dominating popular culture in Japan and South Korea for many years. An idol is, in short, a heavily commercialized multi-talented entertainer that is marketed – sometimes as a product – for image, attractiveness, and personality, either alone or with a group.
Especially K-pop and the Korean entertainment industry have since long been extremely popular among Chinese youth, heavily influencing pop culture in China today (more about Korean and Japanese idols here and here, and also read our article "Why Korean Idol Groups Got So Big in China and are Conquering the World").
These kinds of shows are ubiquitous in South Korea's popular culture, with Produce 101 (2016) becoming one of the most popular and successful South Korean reality series ever. 
The concept is simple. Every week, viewers vote for their favorite contestant. Trainees with insufficient votes during elimination rounds are eliminated from the competition. 
The group formed from the final trainees then goes on to 'promote' for a period of time, usually one to two years.
This method of creating an idol group, in which the members are basically selected by their own fans, is a major way to bridge existing distances between fans and their idols. Fan participation is a key factor in the success of idol reality shows.
While China has had several idol survival shows, iQIYI's Idol Producer (青春有你, 2018) was the first to reach levels of popularity similar to that of South Korea's Produce 101. 
Idol Producer premiered in January 2018 with Zhang Yixing as the host and Li Ronghao, MC Jin, Cheng Xiao, Zhou Jieqiong, and Jackson Wang serving as mentors.
This first season of Idol Producer brought together a total of hundred trainees. Though most trainees were from China, there were a few from overseas, such as You Zhangjing from Malaysia and Huang Shuhao from Thailand. The younger brother of Chinese actress Fan Bingbing, Fan Chengcheng, also participated in the show.
The first episode of Idol Producer attracted more than 100 million views within the first hour of broadcasting. In the final episode, more than 180 million votes were cast, with first-place winner Cai Xukun raking in more than 47 million votes.  
Two months after Idol Producer, Tencent launched Produce 101 China (创造101) in March 2018. Both shows marked the start of the 'idol wave' in China. 
In the next two years, more idol survival shows would dominate the Chinese entertainment scene. iQIYI released Youth With You 1 (青春有你) and Youth With You 2 (青春有你2) in 2019 and 2020 respectively. Tencent, too, released Produce Camp 2019 (创造营2019) and Produce Camp 2020 (创造营2020), the latter of which is currently airing. 
China's New Idol Survival Show Era 
In 2018, both Produce 101 China and Idol Producer enjoyed overwhelming popularity, accumulating more than 4.73 billion views and 3 billion views respectively. Their sequels, however, have failed to achieve the same level of success.
At the time of writing, 150,000 viewers have completed Youth With You 1 on Chinese community site Douban, versus 470,000 viewers for its predecessor, Idol Producer. Additionally, the number of votes cast for the first episode of Youth With You 1 was much lower compared to its Idol Producer equivalent. 
As for Produce 101 China, 510,000 viewers have completed the show on Douban, but only 340,000 viewers have finished watching its sequel. 
Groups formed from these shows have met with varying amounts of success and have run into problems regarding scheduling conflicts. 
Nine Percent, the boy group formed from Idol Producer in 2018, was known as a group that rarely met. Their second album was a compilation of tracks from solo members. Members had existing contracts with their own companies while simultaneously promoting with Nine Percent; hence, due to scheduling conflicts, members would often forgo Nine Percent activities for those of their own company. 
Rocket Girls, formed from Produce 101 China, also faced problems after debuting. Due to conflicts between Tencent and their management company, Yuehua Entertainment, Meng Meiqi and Wu Xuanyi, who placed first and second respectively, left the group two months after debut.
Despite the problems faced by groups formed from such shows, some idols were able to ride on the momentum they gained from participating.
For instance, Cai Xukun, first-place winner of Idol Producer, swiftly rose to become one of the most popular trainees on the show, consistently ranking first place in every round of elimination. He was also the host of the recently concluded Youth With You 2.
Other trainees have also seen individual success. Liu Yuxin, the first-place winner of Youth With You 2, gained attention for her androgynous look: short hair, a cool personality, and wearing shorts instead of a skirt. Her hashtag "Liu Yuxin" (#刘雨昕#) has been viewed more than 550 million times on Weibo. In the final episode, she received more than 17 million votes.
Despite the lowering audience ratings for other recent idol shows, the success of Youth With You 2 might mark the start of a new 'idol era'. Even Chinese netizens wondered why the show is so popular compared to Youth With You 1.
Just one day after the finale premiered, the hashtag "Youth With You 2 Finale" had already been viewed more than 2.2 billion times on Weibo. On Douban, 580,000 viewers have finished the show—more than any of the previous idol survival shows by iQIYI and Tencent.
The Future of Idol Survival Shows 
Chinese idol survival shows were received with much fanfare when they first entered mainstream popular culture in 2018. But the ensuing conflicts that the resulting groups ran into resulted in netizens doubting the success and effectiveness of these shows. 
This year, however, the popularity of both Youth With You 2 and Produce Camp 2020 might signal a comeback for the idol era in China.
And this time around, Chinese idol survival shows are also gaining more traction outside of the PRC, becoming more and more popular among global audiences. Both Youth With You 2 and Produce Camp 2020 have been well-received by viewers from many different countries.
On social media, online commenters praise the two shows – and Chinese idol survival shows in general – for having a more "laid-back atmosphere" between the trainees and mentors. Web users also comment that they enjoy how the shows highlight the friendship between the trainees, rather than the feuds.
It seems that what sets Chinese idol survival shows apart from the South Korean ones is precisely why some viewers prefer them. The longer running times, for example, makes it possible to give more screen time to the different trainees and to give a deeper understanding of the relations between them.
With the popularity of idols like Liu Yuxin and Wang Ju who challenge conventional beauty standards, shows can also look into moving away from the cookie-cutter aesthetic that idols usually adhere to. 
Furthermore, management companies and broadcasting companies have to come to an agreement regarding what scheduling arrangement would benefit all parties and be conducive towards the idols' physical and mental health. 
It remains to be seen whether THE9, the newly formed group from Youth With You 2, will be able to flourish in the time to come and avoid the troubles that other groups ran into. 
As for Produce Camp 2020, it seems set to enjoy just as much success as Youth With You 2 did – if not more. Only five episodes have been released, but the show's hashtag already has 16.1 billion views.
A reviewer on Douban writes: "The trainees are all confident, taking opportunities to express themselves and actively showcase their talents. So much youthful and positive energy!" 
The latest newcomers to the idol reality show genre further consolidate the success of the format. Recently, Mango TV released Sisters Who Make Waves (乘风波浪的姐姐们, 2020), where female celebrities above 30 years old compete to make it into the final five-member girl group. The first episode was viewed more than 370 million times within the first three days of release and immediately became top trending on Weibo.
The number of survival shows in China right now and their growing popularity shows that audiences seemingly can't get enough of the genre. It is an indication that, despite setbacks in the past, China's idol survival reality show genre is still going strong and might be here to stay.
You can watch the currently airing Produce Camp 2020 and Sisters Who Make Waves here and here.
By Yin Lin Tan
Follow @WhatsOnWeibo
 Spotted a mistake or want to add something? Please let us know in comments below or email us. First-time commenters, please be patient – we will have to manually approve your comment before it appears.
©2020 Whatsonweibo. All rights reserved. Do not reproduce our content without permission – you can contact us at info@whatsonweibo.com.