Critical Fans: Weibo Superstar Xie Na Under Attack By Her Own Supporters
Even Weibo's number one celebrity can clash with their fans.
Chinese idol fans are often known for their unwavering loyalty army-like bearing, especially when defending their messiah from haters. However, as recent cases involving boyband Nine Percent and host Xie Na show, this vitriol might be turned against the celebrities themselves should their engagement with these online legions be lukewarm.
Are the fans there to serve their idol, or the other way round? Fanatical fandom that takes idol-worshipping to extreme heights is nothing new on the Chinese Internet. What is unusual is when the idols themselves get checked by their own fans for inappropriate behavior.
For a couple of days now, host of Happy Camp, actress and no. 1 star Weibo superstar Xie Na (谢娜) has come under attack from her fans for her performance in Chinese hit reality show Viva La Romance (妻子浪漫旅行), where four famous couples go on holiday together. According to Xie Na's fans, she mentioned her husband, famous singer Jason (张杰), too often during the show despite several warnings from fans in the past to keep her affection under wraps.
To cool down the bubbling dissatisfaction among her fanbase, Xie Na engaged her fans in a Weibo discussion. She soon regretted this decision as the diplomatic initiative blew up in her face when she refused to acknowledge any wrong or listen to her fans' suggestions. After being continually criticized by her fans, she made it clear how vexing this all was, posting comments such as: "Oh, so this is what prattling on Weibo is like," "[This is] prattling, I'm out", and "There is so much resentment, why can't everybody be happy?".
This is where it all went really downhill. Xie Na's intransigence led to a fan walk-out. In a statement on Weibo, a spokesperson for the official Xie Na Weibo fan group announced that it had been handed over to Xie Na's management. In that same statement, the spokesperson explains: "(Xie Na), you entered the discussion on Weibo where people are giving you no more than 15 suggestions, of which only some were regarding your husband […]. We only try to help you, it is up to you whether you listen or not, but instead, you just write us off by saying we are resentful."
In reaction to the commotion, Jason posted a lengthy statement on Weibo explaining that the director of Viva La Romance required Xie Na to talk about her husband; after all, the program is all about married couples. He also added that a few days of filming gets edited into a one-hour episode and what does and does not get aired is not Xie Na's decision, suggesting that the critical fans' view was somehow skewed.
Fellow celebrities and co-stars from Viva La Romance, Ying Caier (应采儿), Ying'er (颖儿) and Cheng Lisha (程莉莎) spoke out in defense of Xie Na. In a post on Weibo, Ying Caier wrote: "If we are not to talk about our own husbands, then whose husband are we supposed to talk about? Isn't the show called Viva La Romance?". (Note that the English title of the program is not a literal interpretation of the Chinese title which is: "The Wife's Romantical Holiday").
The dispute got much attention on Weibo. Both the hashtags "Jason backs Xie Na," and "Xie Na gets hatred by fans in a discussion about herself" racked up 590 million and 530 million views on Weibo within the first 24 hours.
Xie Na is not the first star to be confronted with disapproving fans. November last year, some fans decided to engage in fantasy "couple pairing" of the popular boyband NINE PERCENT (百分九少年), igniting the anger of both the boyband and other fans by shouting slogans that two members of the boyband, Kun (蔡徐坤) and Wang Ziyi (王子异) were "married."
In a short clip that went viral on social media, a dozen fans hold up posters and shout: "Yi (Wang Ziyi) and Kun are real, they are married!" (异坤是真的,异坤结婚了). At the time, the hashtag "Kun and Wang Ziyi couple pairing fans shout slogan" got over 120 million views with many people discussing how far fans meddling in the life of their idols should go.
In some Weibo reactions, many fans showed their support for the two superstars, writing: "Leave them (Kun and Wang Ziyi) alone!", many others condemned the fans that started the incident by saying: "Is this what you call being a fan?" and "You must be ashamed of yourselves!"
Quickly after the video incident, Kun uploaded a picture on his Instagram account of an empty circle drawn against a white background, with the comment: "My attitude towards the matter is like the picture, I have no words and there is nothing I can do".
This disinterested approach seemed to have worked, as the clash between the Nine Percent fans soon blew over; perhaps that same approach would have worked for Xie Na as well, who has not yet reacted to her official fan group's walk-out.
By Gabi Verberg, edited by Eduardo Baptista
Spotted a mistake or want to add something? Please let us know in comments below or email us.
©2019 Whatsonweibo. All rights reserved. Do not reproduce our content without permission – you can contact us at info@whatsonweibo.com
Billionaire Bachelor Wang Sicong's Desperate Unrequited Love Drama Exposed Online
Wang Sicong is one of China's wealthiest and most eligible bachelors, but this love interest wasn't interested at all. She has now shared their erratic chat conversations with the public.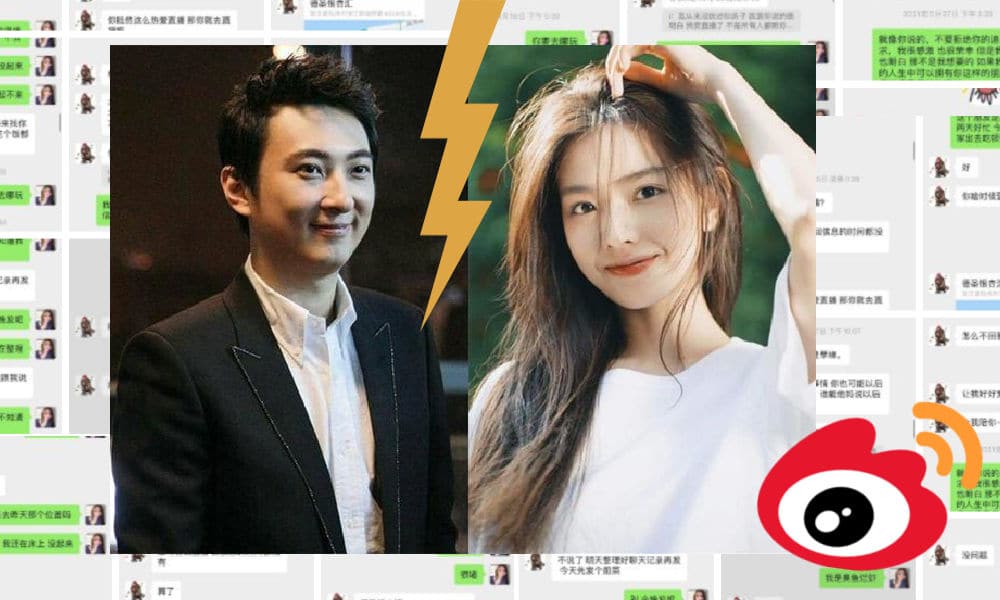 Chinese netizens are grabbing their popcorn (or sunflower seeds) and are diving into this explosive story as these leaked WeChat records show that the extremely rich & famous bachelor Wang Sicong is no Prince Charming after all.
Wang Sicong (王思聪), the son of one of the richest men in China, has become the most popular gossip topic on Weibo this week after his love interest leaked their WeChat conversation records online.
Wang Sicong, who has over 41 million followers on his Weibo account (@王思聪), is one of China's most famous fu'erdai (富二代, the 'second generation rich'). Wang is the son of Chinese tycoon Wang Jianlin (王健林), one of the richest persons in Asia.
Wang Sicong is a 33-year-old businessman, and he is known as a playboy who has had many girlfriends but never settled down, turning him into one of China's most wealthy eligible bachelors. But despite so many women being interested in Wang, the girl he has been chasing for the past few years, internet celebrity and livestreamer Sun Yining (孙一宁), is just not into him at all.
Sun and Wang first met four years ago, and apparently, Wang never stopped pursuing her ever since. In the screenshots of the WeChat conversations between the two that leaked online, Wang is very blunt in expressing his interest in Sun and doesn't shy away from using cheesy pick-up lines and repeating how much he misses her.
At times, he is rude and pushy, telling Sun he needs to see her: "Can't you just make me feel better? My mood has been bad for days." He sometimes also keeps sending Sun belligerent messages, even if she does not respond at all.
Sun, however, again and again, keeps shutting him down by changing the topic, ignoring his cringy phrases, or making fun of him.
At one point during the four-year-long 'charm offensive,' Sun tells Wang that she is attracted to women and not to men – but even that doesn't stop his 'alpha male strategy' to win her over: "Will you still say you're a lesbian when you're lying in my arms?"
The conversations between the two become even more bizarre in April of 2021 when Wang unexpectedly tells Sun he has come to her hometown of Hangzhou to spend time with her, and then gets angry when she is not happy to meet him. He insists that they meet, even when Sun clearly indicates she has no interest in him.
Even after that, the billionaire keeps sending Sun desperate messages on how much he misses her and how he cannot believe that she is not a heterosexual woman. In the end, the conversation between the two gets so explosive that Wang threatens to expose Sun. But the tables were turned, and Sun was the one to first post the history of their WeChat messages online on June 15.
On her Weibo account, where the live-streaming star has over 720,000 fans, Sun shares how she has always been straightforward with Wang Sicong that she was not interested in becoming his girlfriend. She also makes it clear that Wang's money and influence will not stop her from taking control over her own life.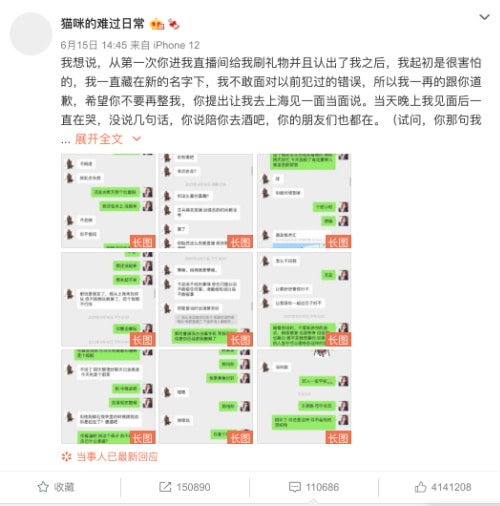 Before posting the chat history, Sun appeared to be drunk and upset while live-streaming at night and scolding Wang Sicong.
On Weibo, the hashtag "Sun Yining / Wang Sicong" (#孙一宁 王思聪#) has received over 550 million views by now.
The drama further snowballed on Tuesday when Wang himself apparently also shared their WeChat chat records online, claiming Sun Yining had been misleading about their relationship and is not to be trusted. That hashtag page (#王思聪曝光和孙一宁聊天记录#) also attracted over 500 million views.
Many of the thousands of people commenting on this story find it entertaining and funny; who would have thought that the richest son in the country would be so poor when it comes to love? Others expressed disbelief that such a powerful man would be begging for this girl's love for so many years.
There are those praising Sun Yining: "This offers new perspectives for online influencers. Rejecting Wang Sicong turns out to make you hotter than becoming Wang Sicong's girlfriend!" But many people also do not sympathize with Sun at all, calling her a drama queen and an actress.
Even in the middle of the night, the Weibo discussions on 'Wang versus Sun' continue on Weibo. "I'm here enjoying this spectacle," one commenter says: "I can't wait to see what happens next."
By Manya Koetse with contributions by Miranda Barnes
Spotted a mistake or want to add something? Please let us know in comments below or email us. First-time commenters, please be patient – we will have to manually approve your comment before it appears.
©2021 Whatsonweibo. All rights reserved. Do not reproduce our content without permission – you can contact us at info@whatsonweibo.com.
Female Comedian Yang Li and the Intel Controversy
A decision that backfired: Intel's act of supposed 'inclusion' caused the exclusion of female comedian Yang Li.
"How to look at the boycott of Yang Li?" (#如何看待抵制杨笠#) became a top trending topic on social media site Weibo on Monday after female comedian Yang Li was dismissed as the spokesperson for American tech company Intel over a controversial ad campaign.
On March 18, Intel released an ad on its Weibo account in which Yang says "Intel has a taste [for laptops] that is higher than my taste for men" ("英特尔的眼光太高了,比我挑对象的眼光都高.")
The ad drew complaints for allegedly insulting men, with some social media users vowing to boycott the tech brand. On Sunday, Intel deleted the ad in question from its social media page and reportedly also removed Yang from her position as their brand ambassador.
The commotion over the ad had more to do with Chinese comedian Yang Li (杨笠) than with the specific lines that were featured in it.
Yang Li is controversial for her jokes mocking men ("men are adorable, but mysterious. After all, they can look so average and yet be so full of confidence"), with some blaming her for being "sexist" and "promoting hatred against all men."
Since she appeared on the stand-up comedy TV competition Rock and Roast (脱口秀大会) last year, she was nicknamed the the "punchline queen" and became one of the more influential comedians in present-day China. Yang now has nearly 1,5 million fans on Weibo (@-杨笠-).
Yang Li's bold jokes and sharp way of talking about gender roles and differences between men and women in Chinese society is one of the main reasons she became so famous. Intel surely knew this when asking Yang to be their brand ambassador.
In light of the controversy, the fact that Intel was so quick to remove Yang also triggered criticism. Some (male) netizens felt that Intel, a company that sells laptops, could not be represented by a woman who makes fun of men, while these men are a supposed target audience for Intel products.
But after Yang was removed, many (female) netizens also felt offended, suggesting that in the 21st century, Intel couldn't possibly believe that their products were mainly intended for men ("以男性用户为主")? Wasn't their female customer base just as important?
According to online reports, Intel responded by saying: "We noted that the content [we] spread relating to Yang Li caused controversy, and this is not what we had anticipated. We place great importance on diversity and inclusion. We fully recognize and value the diverse world we live in, and are committed to working with partners from all walks of life to create an inclusive workplace and social environment."
However, Intel's decision backfired, as many wondered why having Yang as their brand ambassador would not go hand in hand with 'promoting an inclusive social environment.'
"Who are you being 'inclusive' too? Common 'confident' men?", one person wrote, with others saying: "Why can so many beauty and cosmetic brands be represented by male idols and celebrities? I loathe these double standards."
"As a Chinese guy, I really think Yang Li is funny. I didn't realize Chinese men had such a lack of humor!" another Weibo user writes.
There are also people raising the issue of Yang's position and how people are confusing her performative work with her actual character. One popular law blogger wrote: "Really, boycotting Yang Li is meaningless. Stand-up comedy is a performance, just as the roles people play in a TV drama."
Just a month ago, another Chinese comedian also came under fire for his work as a brand ambassador for female underwear brand Ubras.
It is extremely common in China for celebrities to be brand ambassadors; virtually every big celebrity is tied to one or more brands. Signing male celebrities to promote female-targeted products is also a popular trend (Li 2020). Apparently, there is still a long way to go when the tables are turned – especially when it is about female celebrities with a sharp tongue.
By Manya Koetse
Li, Xiaomeng. 2020. "How powerful is the female gaze? The implication of using male celebrities for promoting female cosmetics in China." Global Media and China, Vol.5 (1), p.55-68.
Spotted a mistake or want to add something? Please let us know in comments below or email us. First-time commenters, please be patient – we will have to manually approve your comment before it appears.
©2021 Whatsonweibo. All rights reserved. Do not reproduce our content without permission – you can contact us at info@whatsonweibo.com.