Critical Fans: Weibo Superstar Xie Na Under Attack By Her Own Supporters
Even Weibo's number one celebrity can clash with their fans.
Chinese idol fans are often known for their unwavering loyalty army-like bearing, especially when defending their messiah from haters. However, as recent cases involving boyband Nine Percent and host Xie Na show, this vitriol might be turned against the celebrities themselves should their engagement with these online legions be lukewarm.
Are the fans there to serve their idol, or the other way round? Fanatical fandom that takes idol-worshipping to extreme heights is nothing new on the Chinese Internet. What is unusual is when the idols themselves get checked by their own fans for inappropriate behavior.
For a couple of days now, host of Happy Camp, actress and no. 1 star Weibo superstar Xie Na (谢娜) has come under attack from her fans for her performance in Chinese hit reality show Viva La Romance (妻子浪漫旅行), where four famous couples go on holiday together. According to Xie Na's fans, she mentioned her husband, famous singer Jason (张杰), too often during the show despite several warnings from fans in the past to keep her affection under wraps.
To cool down the bubbling dissatisfaction among her fanbase, Xie Na engaged her fans in a Weibo discussion. She soon regretted this decision as the diplomatic initiative blew up in her face when she refused to acknowledge any wrong or listen to her fans' suggestions. After being continually criticized by her fans, she made it clear how vexing this all was, posting comments such as: "Oh, so this is what prattling on Weibo is like," "[This is] prattling, I'm out", and "There is so much resentment, why can't everybody be happy?".
This is where it all went really downhill. Xie Na's intransigence led to a fan walk-out. In a statement on Weibo, a spokesperson for the official Xie Na Weibo fan group announced that it had been handed over to Xie Na's management. In that same statement, the spokesperson explains: "(Xie Na), you entered the discussion on Weibo where people are giving you no more than 15 suggestions, of which only some were regarding your husband […]. We only try to help you, it is up to you whether you listen or not, but instead, you just write us off by saying we are resentful."
In reaction to the commotion, Jason posted a lengthy statement on Weibo explaining that the director of Viva La Romance required Xie Na to talk about her husband; after all, the program is all about married couples. He also added that a few days of filming gets edited into a one-hour episode and what does and does not get aired is not Xie Na's decision, suggesting that the critical fans' view was somehow skewed.
Fellow celebrities and co-stars from Viva La Romance, Ying Caier (应采儿), Ying'er (颖儿) and Cheng Lisha (程莉莎) spoke out in defense of Xie Na. In a post on Weibo, Ying Caier wrote: "If we are not to talk about our own husbands, then whose husband are we supposed to talk about? Isn't the show called Viva La Romance?". (Note that the English title of the program is not a literal interpretation of the Chinese title which is: "The Wife's Romantical Holiday").
The dispute got much attention on Weibo. Both the hashtags "Jason backs Xie Na," and "Xie Na gets hatred by fans in a discussion about herself" racked up 590 million and 530 million views on Weibo within the first 24 hours.
Xie Na is not the first star to be confronted with disapproving fans. November last year, some fans decided to engage in fantasy "couple pairing" of the popular boyband NINE PERCENT (百分九少年), igniting the anger of both the boyband and other fans by shouting slogans that two members of the boyband, Kun (蔡徐坤) and Wang Ziyi (王子异) were "married."
In a short clip that went viral on social media, a dozen fans hold up posters and shout: "Yi (Wang Ziyi) and Kun are real, they are married!" (异坤是真的,异坤结婚了). At the time, the hashtag "Kun and Wang Ziyi couple pairing fans shout slogan" got over 120 million views with many people discussing how far fans meddling in the life of their idols should go.
In some Weibo reactions, many fans showed their support for the two superstars, writing: "Leave them (Kun and Wang Ziyi) alone!", many others condemned the fans that started the incident by saying: "Is this what you call being a fan?" and "You must be ashamed of yourselves!"
Quickly after the video incident, Kun uploaded a picture on his Instagram account of an empty circle drawn against a white background, with the comment: "My attitude towards the matter is like the picture, I have no words and there is nothing I can do".
This disinterested approach seemed to have worked, as the clash between the Nine Percent fans soon blew over; perhaps that same approach would have worked for Xie Na as well, who has not yet reacted to her official fan group's walk-out.
By Gabi Verberg, edited by Eduardo Baptista
Spotted a mistake or want to add something? Please let us know in comments below or email us.
©2019 Whatsonweibo. All rights reserved. Do not reproduce our content without permission – you can contact us at info@whatsonweibo.com
Gu's Year: How Eileen Gu Became a Beloved Icon and Controversial Role Model in China
Patriotic, privileged, perfect? A year after Eileen Gu became an online sensation in China, she is still generating discussions.
Eileen Gu, the American-born freestyle skier and gold medallist who represented China in the 2022 Beijing Olympics, has made headlines again for her excellent halfpipe World Cup performance during the Chinese New Year. One year after Gu first became an internet sensation, she is, once again, receiving praise and triggering discussions on Chinese social media.
This Chinese Lunar New Year, the three Chinese Winter Olympic athletes Wu Dajing, Xu Mengtao, and Gao Tingyu, were widely discussed on Chinese social media after their debut at the CGM Spring Festival Gala.
Over 8000 kilometers away, another Winter Olympic athlete, Eileen Gu – better known as Gu Ailing 谷爱凌 in China, – also garnered huge attention for her excellent performance at the Calgary halfpipe World Cup. Just as people were celebrating the Chinese New Year, Eileen Gu claimed her second gold medal at the FIS Freeski World Cup.
It has almost been a year since the then-18-year-old Chinese-American freestyle skier grabbed gold at the Olympics and became front-page news in China.
Although Gu already garnered attention online when she announced in June of 2019 that she would switch national affiliation and compete for China, it wasn't until the Olympics that she appeared all over social media, was featured in dozens of ad campaigns, and practically became a household name in China.
Now, in light of the FIS Snowboard World Cup and the X Games in Aspen, Gu is back in the limelight.
On January 21st, the first day of the Year of the Rabbit, Chinese state broadcaster CCTV celebrated Gu's victory on social media using the hashtag "Eileen Gu Claims Two Golds within Three Days during the New Year Celebrations" (#谷爱凌过年3天2金#), with a two- minute video clip recording the highlights of her recent race. The hashtag has since received over 180 million views.
Gu herself also shared her victory on Weibo and wished people a prosperous New Year. That post attracted over 110,000 likes.
Many Chinese people celebrated Gu's new achievements with words of admiration, praising her capabilities and determination. One Weibo user commented: "I have to say, Gu Ailing is truly excellent. Three days, two medals. She has an indisputable talent."
Another user posted a video of Gu practicing while waiting for her flight and commented: "A healthy, energetic, diligent, excellent Gu Ailing who even continues training while waiting for boarding. Success doesn't come overnight."
Others also view Gu as a national icon for her gold medal wins for China. The phrase "wèi guó zhēngguāng" ("为国争光"), "winning glory for the country," appeared in many posts under the hashtag related to Gu's win.
But over the past year, since Gu's Olympic success, she has not always merely been viewed as a patriotic hero. Despite her popularity, Gu also triggered controversy and sometimes came under fire, with some wondering if she truly was patriotic and others blaming her for being privileged.
PATRIOTIC
"Everybody knows Eileen Gu is Chinese"
During the 2022 Winter Olympics in Beijing, the fact that Gu had switched her international allegiance and represented China instead of the US instilled pride among many Chinese. Chinese media flooded with stories on Gu that focused on the narrative of the multi-talented "mixed kid" who gave up her United States citizenship to represent the People's Republic of China.
However, when being asked about her citizenship in interviews, Gu's replies left many people wondering about the facts of the matter; they wanted to know whether or not Gu actually gave up her American passport, as China does not recognize dual nationality. Gu's response "I'm American when in the US and Chinese when in China" triggered dissatisfaction among Chinese audiences.
"I have stopped liking her since she said that," one Weibo user reflected in December 2022, and the post received 35,000 likes. To this day, there are many social media comments bringing up Gu's comment: "You're in America, so now you're American, right?"
Others also attacked Gu after Forbes listed her as the third highest-paid female athlete in the world in 2022 (#谷爱凌年收入1.4亿#). Some commenters argued that she had earned her money in China and was spending it in the US, and that she was unpatriotic for doing so.
However, some netizens defended Gu by stressing what she had done for China. In Weibo posts and comment threads, users supporting Gu wrote: "She won two gold medals and more for China, what did your patriotism contribute to China?" Others also said Gu had shown her love for China through her performances, and that it would be impossible to expect her to distance herself from the country she grew up in.
Meanwhile, Western media outlets described how the bi-lingual Gu had been "dodging" explicit questions about her US citizenship status. This also led to Gu getting attacked by Americans. When Gu returned to the US and enrolled in Stanford University, there was even an online petition about getting Gu's admittance to Stanford revoked due to Gu's supposed "lack of integrity about her nationality" and indifference to "the human rights violations" in China.
Among Chinese netizens, questions also rose about whether Gu had only represented China during the Olympics and if her return to the US might mean that she would give up her Chinese nationality and play for the US team instead.
But with Gu's debut at the FIS Freeski World Cup in the Year of the Rabbit, Chinese bloggers pointed out that Gu's nationality was still listed as Chinese.
"No matter where she is, Gu Ailing still has the Chinese nationality," one Weibo blogger wrote, with others also saying: "She is still representing China, we should all support her! The rumors about her changing nationalities are false!"
"Everybody knows Eileen Gu is Chinese," another social media user wrote.
But not everybody is convinced: "Don't fool yourself. I'm happy she helped China win gold, but dual citizenship is dual citizenship, there's no point in covering it up."
PRIVILEGED
"Gu's success is unrelated to normal people"
Another discussion that has flared up during Eileen Gu's past year of success is focused on her alleged privileged status, especially within the context of her being praised as a role model for Chinese (female) younger generations.
In February of 2022, an Instagram comment made by Gu regarding the use of VPNs in China caused some controversy. At the time, one person asked Gu about "internet freedom" in China and how it was possible for her to use Instagram while she was in China, where the platform is blocked. Gu then replied: "Anyone can download a vpn its literally free on the App Store [thumbs up]"
A screenshot of the exchange then circulated on Weibo, where many netizens were surprised about Gu's statement. VPNs are generally not available on app stores in mainland China, as there are numerous restrictions on virtual private networks (VPNs) which are commonly used to browse websites or apps that are otherwise blocked in China.
Gu was then criticized over the fact that she seemed unaware of the restrictions on VPNs along with her suggestion that 'internet freedom' only referred to the accessibility of foreign platforms, allegedly showing her privileged position.
After Gu enrolled in Stanford University and posted her all-A transcript of the first semester at the end of 2022, many praised her hard work but there was also criticism about her "showing off" and strategically choosing a supposedly easier curriculum.
"She posted it to impress Chinese people who do not understand the system," one person commented, with others replying that an "S" grade does not equal full points and that she had no A+ grades. Others claimed that Gu probably received help with her schoolwork.
As online discussions intensified (#谷爱凌斯坦福所有课程全部满分#), Gu herself responded to online criticism, stressing that she – without anybody's help – had worked hard for her grades and that only 5% of students can get an A at Stanford.
The idea that Gu comes from a very privileged background and that it is not just her diligence that brought her success is a recurring one on social media.
Gu was raised by her Chinese mother, a molecular biology graduate who studied at Peking University and Stanford University and who used to be a speed skating athlete as well as a part-time coach at Peking University. She allegedly worked at Wall Street and later became a CEO of a risk investment company. Her grandmother, a former official at China's Ministry of Transport, was a university basketball player, while her grandfather was a soccer player at school who was also good at swimming, skiing, and skating. Her family members' background is exceptional. University students were rare among Gu's grandparents' generation, and studying abroad was also uncommon for her mother's generation.
As people believe that this family background has largely contributed to Gu's success, Gu's position as a "role model" is questioned.
"Gu's success is unrelated to normal people," one Weibo user wrote. "What is the meaning of having this kind of role model? I have no parents from the Ivy League, no pretty face of mixed race, no elite education from the mix of Chinese and American cultures, no exceptional family background, and even no talent," one Zhihu user wrote.
"Gu started skiing at three years old, and practiced running, basketball, piano, and ballet soon after; I started playing in the mud at three years old and I can still only play in the mud," another user wrote. "Gu's mother meticulously planned Gu's life, but my mother could hardly spare any time for me while she was working."
PERFECT
"Congratulations, Little Gu, you're the greatest!"
Amid all the online discussions surrounding Eileen Gu, there is the view that people have not necessarily grown tired of Gu herself but of the (online) media narratives surrounding her which present her as the perfect daughter, the perfect athlete, or the perfect role model.
Some people admit that they feel jealous or say that they feel it is unfair because they feel they could never reach that standard.
One article published by The Paper in 2022 reiterated the popular view that Gu's success "has nothing to do with ordinary people" ("谷爱凌的成功与普通人没啥关系"), but argued that people should draw inspiration from her story rather than focusing on all the aspects of her life that are unattainable to them.
A commentary by PLA Daily also argued that Olympic athletes should not be turned into "gods" for their overnight success; neither should they be vilified because of their shortcomings. It's not about the pursuit of perfection, the author wrote, but about facing up to one's own shortcomings.
There are also those who remind others that Gu is still a teenager. Not only have some of the controversies over the past year shown that Gu is not "perfect," they also showed that fame is a double-edged sword.
As one netizen put it: "Success can be magnified to an extreme, and mistakes can be enlarged without boundaries (..) She'll be carefully walking on the sharp edge of the sword because if she does something that does not conform to what people expect of her, the same people who praise you today will step on you tomorrow."
Meanwhile, many Chinese fans of Eileen Gu have had it with those leaving "sour comments." "She is representing China, she snatched gold, your empty 'patriotism' is contributing nothing!"
"Congratulations, Little Gu, you're the greatest!" some say: "You did a good job, and we're proud of you."
By Zilan Qian and Manya Koetse
Follow @WhatsOnWeibo
Get the story behind the hashtag. Subscribe to What's on Weibo here to receive our newsletter and get unlimited access to all of our articles:
Spotted a mistake or want to add something? Please let us know in comments below or email us. First-time commenters, please be patient – we will have to manually approve your comment before it appears.
©2023 Whatsonweibo. All rights reserved. Do not reproduce our content without permission – you can contact us at info@whatsonweibo.com.
Top 5: The Highlights of China's 2023 CGM Spring Festival Gala
From satire to tear-jerking songs, these are five favorite performances of the 2023 Chinese 'Chunwan' Spring Festival Gala.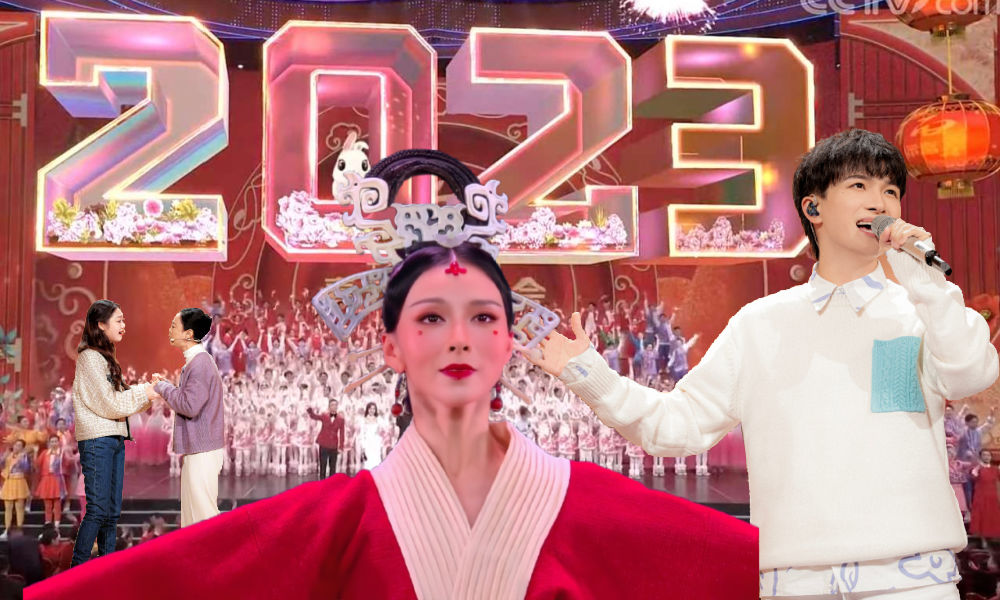 On January 21, China's annual Spring Festival Gala was aired, welcoming the Year of the Rabbit. Better known as the 'Chunwan' (春晚, short for 春节联欢晚会), the annual Chinese New Year's show hosted by the China Media Group has a massive viewership and plays an important role in China's media landscape and the Chinese New Year tradition.
The show lasted for more than four hours and included forty different acts, from songs to comical plays and acrobatic performances.
As every year, the show became a top trending topic on Chinese social media and afterward, with people discussing their most favorite and least favorite acts of the night in various threads on Weibo (#你最喜欢哪个春晚节目#).
What is noteworthy is that the parts of the show many expressed they loved the most were not necessarily the most spectacular acts, like the acrobatic or martial arts ones, but the most relatable and traditional ones.
Overall, this year's Gala was also less focused on enormous spectacles such as those we've seen in the past (like the 540 dancing robots one), but instead focused on themes such as family, flowers, classical culture and common people, while using various innovative technologies to bring a super-modern and festive vibe to the more traditional performances. Instead of showing performances from various venues across the country, as in previous pre-Covid years, the entire show took place at the main CCTV Studio in Beijing.
For an overview of the entire show, check out our liveblog here. The following five performances/programs are among those that are mentioned the most by social media users as their favorite parts of the show.
#1 Comical Skit "Pit" (坑)
The comical skit that received the most attention on Chinese social media was one titled "Hole" or "Pit" (坑). The act featured Chinese comedian Shen Teng (沈腾), actress Ma Li (马丽), the multi-talented Chang Yuan (常远), and actors Ai Lun (艾伦), Song Yuan (宋阳), and Yu Jian (于健).
The short comical play is about a local authority office and their delay in fixing a hole in the road that has been there for months without anybody doing anything about it, despite it forming a danger to children, the elderly, and everybody else.
The skit is about the local official Mr. Hao (郝主任) of the transport office who has been evading his responsibilities and is shifting the blame to others. When Ms. Ma comes to the office to complain about the hole in the street, Hao does not realize she is actually the new office director until it is too late.
The skit was praised for being in sync with the times, and many commenters felt it was a "real" and "bold" way to criticize local officials who care more about their own positions than looking after people. One hashtag about the comical skit received over 97 million views on Weibo (#沈腾马丽小品坑完整版#).
See this performance here.
#2 Garden Full of Flowers (满庭芳·国色)
This stunning performance is called "Courtyard of Beauty, Colors of A Nation" (满庭芳·国色). Chinese actress Zhao Liying (赵丽颖) is the main singer, and she was joined on stage by the talented performers Tang Shiyi (唐诗逸), Wang Nianci (王念慈), Jiang Aidong (姜爱东), Li Yiran (李祎然), and Su Hailu (苏海陆).
The power of this performance mostly lies in how it combines Chinese traditional culture with modern technologies (such as VR, XR), which were a major part of the Gala's stage this year. Chinese traditional instruments, melodies, customs, ink painting, and colors are combined with modern lights, shadow technology, and an innovative virtual presentation.
The performance is very popular on Chinese social media, where most agreed that the color explosions on screen (pink, cream, yellow/orange, blue, brown) were just really beautiful.
See this performance here.
#3 It's Mother and Daughter (是妈妈是女儿)
Some people in the audience teared up during this song titled "It's Mother and Daughter" (是妈妈是女儿), and many netizens also wrote that the song struck a chord with them. The song was composed by Qian Lei (钱雷) and the lyrics are by Tang Tian (唐恬).
The song tells the story of a mother and a daughter, and it starts with Chongqing-born singer Huang Qishan (aka Susan Huang 黄绮珊) as the mother, seated in the family home kitchen area, singing about how the process of being a mother also means learning to let go, and how she cried the first time her daughter went to school. Huang Qishan is a 54-year-old Chinese musician who has won several 'best female singer' awards.
The next "dear mum" part is then sung by the Beijing-born Curley Gao (希林娜依·高), who is performing as the daughter who is out on a train traveling, and admits she silently cried the first time she left home. The 24-year-old singer has a Uighur first name because her mum is from Xinjiang (her dad is Han Chinese from Beijing). Although she is known as 'Curley' in English, her actual first name is transcribed as Shirinay (Xilinnayi). She rose to fame due to her participation in the "Sing! China" talent show.
The song is about the bond between mother and daughter, about how the daughter is learning to find her way in life while the mother is learning how to accept that she cannot always be there to help her, but both really miss each other and want nothing but the best for each other in a life that is constantly changing.
While the song just sticks with you, many commenters also said the lyrics really touched them and the performance by Huang and Gao was convincing and moving.
See this performance here.
#4 As Beautiful as Brocade (锦绣)
This beautiful dance featuring main dancer Li Qian (李倩) and the Beijing Art Troupe is actually part of the dance drama Five Stars Rise in the East, which is set in the Han Dynasty (206 BC-AD 220) and is inspired by the precious 'Five Stars Rise in the East' brocade unearthed in Xinjiang.
On social media, one word keeps coming up when people say this was among their favorite acts of the night: "Breathtaking."
See this performance here.
#5 No Worries when Flowers Blossom (花开忘忧)
Zhou Shen (周深) is singing this song ("花开忘忧"), with performances by Li Guangfu (李光复) and Sun Guitian (孙桂田).
Zhou Shen, also known as Charlie Zhou, is a very popular award-winning Chinese singer who first rose to fame after participating in "The Voice of China," like many other younger singers who also appeared on the 2023 Spring Festival Gala, and for singing the theme song "Big Fish" for the 2016 Chinese animation film Big Fish and Begonia (大鱼海棠).
During this Gala performance, Zhou was singing the song while in the background we see an elderly loving couple sitting together in their living room, enjoying the flowers and looking through old photo albums. Zhou's song is about love always finding its way through time and space.
Many people liked this performance because of Zhou's warm singing voice and the positive message of the song.
See this performance here.
Another very popular part of the show was the mini-movie titled "Me and my Spring Festival Night" ("我和我的春晚"), which we will feature in an upcoming article, so stay tuned!
For more about the show and to see our liveblog, check this link.
For more about the Chinese Spring Festival Gala, see our other articles here.
By Manya Koetse 
Get the story behind the hashtag. Subscribe to What's on Weibo here to receive our newsletter and get access to our latest articles:
Spotted a mistake or want to add something? Please let us know in comments below or email us. First-time commenters, please be patient – we will have to manually approve your comment before it appears.
©2023 Whatsonweibo. All rights reserved. Do not reproduce our content without permission – you can contact us at info@whatsonweibo.com.