"Zang Zang Bao" – The Hype Surrounding Beijing's "Dirty Dirty" Chocolate Bread
Being dirty has never been this sweet.
The so-called 'Zang Zang Bao' (Dirty Dirty Bread) has become a hype in Beijing and beyond. Showing off one's chocolate-covered face after eating the pastry is the latest online fad. Even with minus ten degrees, crowds of people are queuing up for their piece of dirty bread.
Those who have wandered around downtown Shanghai or Beijing's Sanlitun recently might have noticed the long queues of people in front of various bakeries and tea shops, wondering what's so special about their tea or sandwiches. But it is not the tea and sandwiches people are waiting for in the freezing cold – it is their dirty dirty chocolate bread.
"Zang zang bao" (脏脏包), literally meaning "dirty dirty bread", has become an online craze in China over the past few months. The Chinese chocolate croissant was already named "one of the most popular baked goods in China in 2017" by CGTN (CCTV International) in December, but the social media hype over the bread has carried on well into 2018 and is now making it to the top trending topics on Weibo.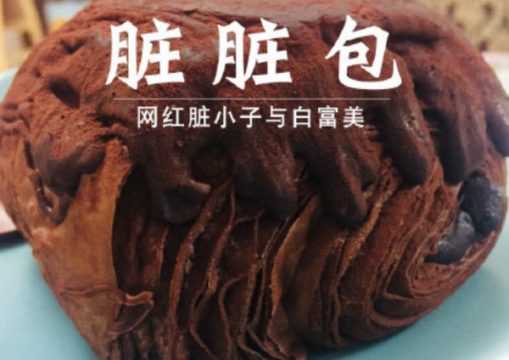 The bread's name comes from the fact that it actually looks dirty and that is virtually impossible to eat the snack without getting messy. Containing large amounts of chocolate, cream, and cocoa powder, people eating this bread are bound to end up with chocolate stains all over; which is one of the main reasons that sparked the online craze for it in the first place.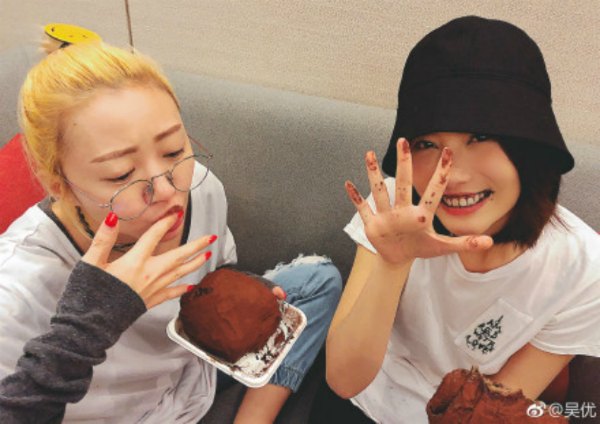 Hundreds of people – specifically young women – are recently posting photos of themselves on Wechat and Weibo eating the bread and then having their hands and mouths covered in chocolate, triggered by celebrities and online influencers (KOL) who have previously done the same. Showing off their chocolate-covered faces is another way of being 'cute' and playful.
The bread's recipe originally comes from the Japanese version of the chocolate croissant, and first started gaining attention in China when a Beijing bakery named Bad Farmers & Our Bakery started selling the pastry at limited hours during the afternoons in 2017.
According to the online media platform AI Finance (AI财经社), the trend then blew over to Shanghai, where LeLe Tea (乐乐茶) started selling the buns in June of 2017 with much success – within six months, the tearoom franchise was able to open four additional shops in Shanghai.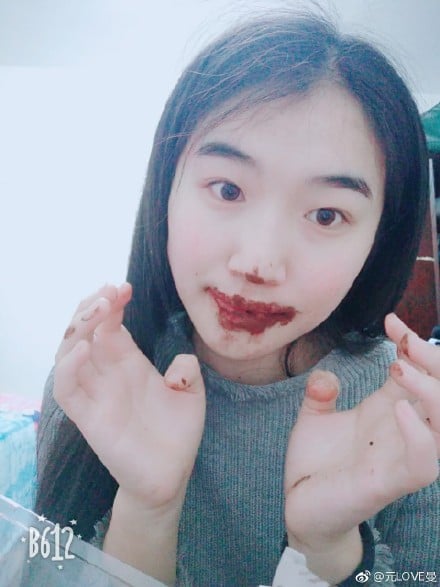 The Zang Zang Bao success has now triggered teashops across China to sell their own version of the popular bread. A shop of a franchise called HeyTea (喜茶) in Sanlitun, Beijing, is gathering large crowds of people who are curious to try out its "dirty bread".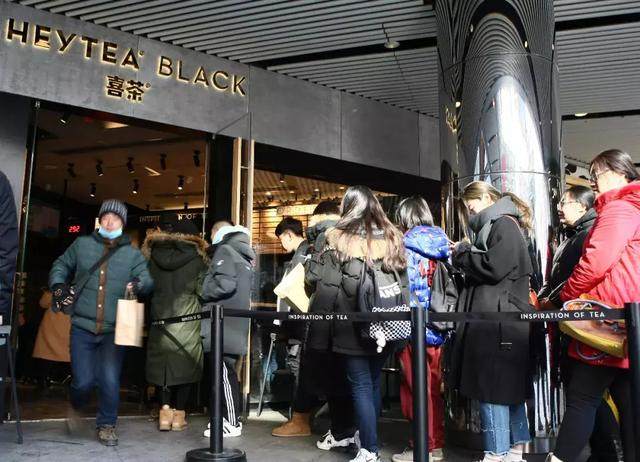 The spokesperson of HeyTea, however, denied to AI Finance that its company has become an 'internet hype.' In the end, many companies dislike becoming a 'hype', which suggests that there is a peek of interest which will soon blow over. Companies such as HeyTea hope that the Zang Zang Bao will not be a "short-lived glory" but a classic item on their menus.
On January 29, Zhejiang University warned on Weibo (@浙江大学) that fans of the bread should not eat their favorite new snack too often: one roll of Zang Zang Bao holds no less than 450 kilocalories.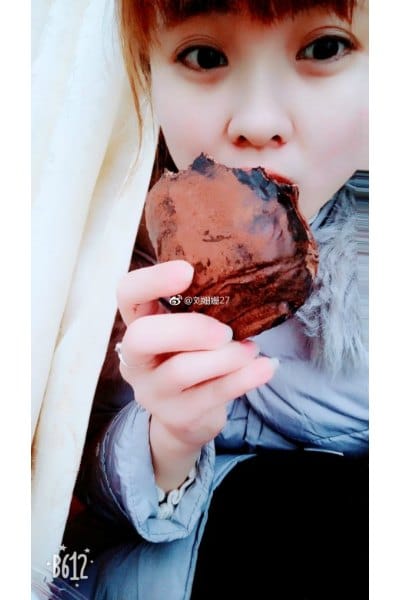 But many netizens do not seem to care too much about the calories: "It's only two bowls of rice," some said: "I've already bought another dirty bread today!"
There are also others, however, who do not understand what all the fuss is about: "What's so delicious about this stuff?", one netizen wonders: "It indeed tastes as if it is stuffed with dirt."
By Manya Koetse
Follow @whatsonweibo
Spotted a mistake or want to add something? Please let us know in comments below or email us.
©2018 Whatsonweibo. All rights reserved. Do not reproduce our content without permission – you can contact us at info@whatsonweibo.com.
China's Best Fast-Food Restaurants: These Are the 11 Most Popular Chains in the PRC
These are China's most popular fast-food chains and the most important trends in the industry.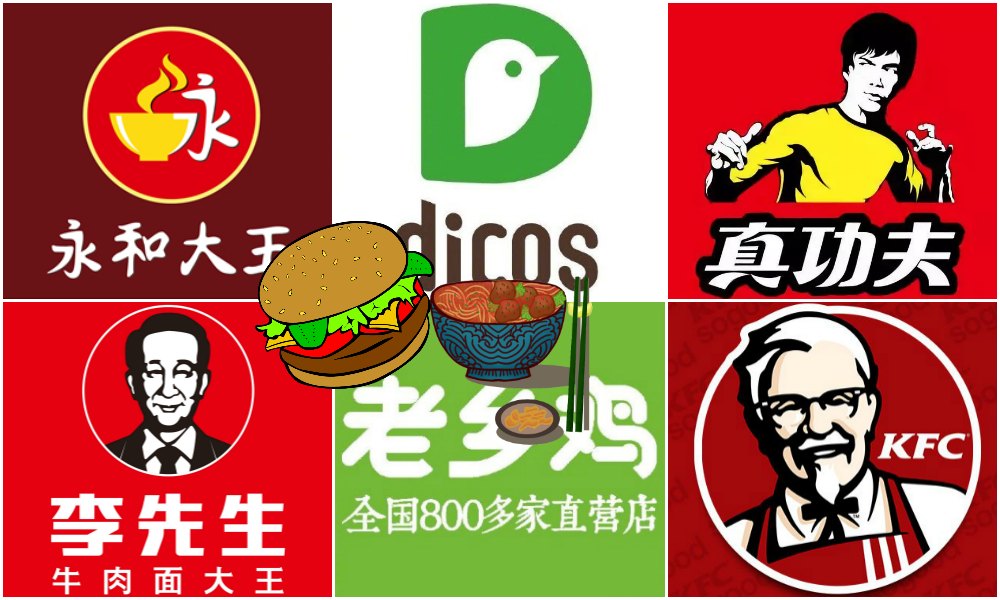 The China Cuisine Association (CCA) released a list ranking the strongest fast-food companies in China this month. The list is a top 70 (!), but here, What's on Weibo provides an overview of the top 11 in this ranking list of fast-food restaurants in China.
Fast food has been trending on Chinese social media this week after the China Cuisine Association (综合自中国烹饪协会, CCA) issued a new 'best brands' report during its 23rd China Fast Fast-Food Convention.
The report by the CCA found two major trends within China's fast-food industry.
Firstly, fast-food brands, in general, are becoming more and more popular within mainland China. The industry has seen rapid growth over the past decade, with the first half of this year already seeing a 9.4% increase compared to last year.
In the period from January to August of 2019 alone, China's restaurant industry had a total sales revenue of 2.8 trillion yuan (355 billion US dollars) – making it one of the country's fastest-growing industries according to Sina Finance.
Second, Chinese-style fast food brands are rising in popularity. Although KFC, McDonald's, and Burger King still dominate the top three chart, Chinese players such as Laoxiangji (老乡鸡), Dicos (德克士), and Real Kungfu (真功夫) are becoming favorite fast-food restaurants among Chinese consumers.
On Weibo, some commenters suggest that it is inevitable for foreign players to still rule the top lists since they were the first fast-food chains to arrive in China. China's own homegrown brands followed later and needed more time to grow, but, they predict, will only become more popular in the years to come.
Fast-food first arrived in China in the 1980s, with Kentucky Fried Chicken launching in the PRC in 1987 and McDonald's following in 1990. The very first fast-food restaurant in China was actually not KFC, but 'Yili's Fast Food Shop' (义利快餐厅), a brand established in 1906 by Scottish businessman James Neil and taken over by Chinese managers in the 1940s.
So what currently are China's most popular fast-food chains? The list as issued by the CCA actually contains the 70 strongest fast-food companies of China.
For the scope of this article, we highlight the top-ranking 11 fast-food companies of China for you, starting with number one.
#1: Kentucky Fried Chicken (肯德基)
Kentucky Fried Chicken (KFC) is the major brand by Yum China (百胜中国), China's leading restaurant company that spun off from the American Yum! Brands in 2016. Yum China has the exclusive right to operate KFC, Pizza Hut, and Taco Bell in China, and also owns the Little Sleep hotpot concept. The KFC official Weibo account almost has 2.5 million fans.
People outside of China are sometimes surprised to find that KFC is so hugely popular in the mainland. Its success story goes back to 1987, when the restaurant opened its first doors near Tiananmen Square in Beijing. Within a decade, KFC already had 100 different restaurants in China.
The question of how an American fast-food chain succeeded in becoming the number one in China, outnumbering McDonald's, is at the center of the book KFC in China: Secret Recipe for Success. Some reasons that contribute to KFC's success in China is the popularity of chicken in China, the chain's management system, and the restaurant's adaptation to local taste.
#2: McDonald's (麦当劳)
Twenty-nine years ago, McDonald's opened China's first restaurant in Shenzhen under the name 'Màidāngláo' (麦当劳), a Chinese rendering of the name.
Since 2017, the restaurant's official name change to 'Jīn Gǒngmén' (金拱门), literally meaning 'Golden Arches', made headlines both in- and outside China. The name as displayed on the restaurants, however, has always remained the same; 'Golden Arches' is just the formal Chinese name of the mother company.
Despite its rocky journey in China – McDonald's has always faced strong competition within the Chinese fast food market and had to deal with a 2014 food scandal – the American fast-food chain is still popular among Chinese, with many sharing fond memories of their first McDonald's experience.
The Weibo account now has 1,1 million fans.
The chain still has more room for growth in the PRC, and is looking at new ways to franchise on the mainland. McDonald's is also always adapting to local tastes. The Chinese menu offers products such as Cola Chicken wings or big chicken cutlet rice bowls.
#3: Burger King (汉堡王)
Compared to KFC or McDonald's, Burger King is somewhat of a newcomer to the Chinese market, but its growth is also rapid: the first restaurant in China opened in 2005, and its 1000th already opened in 2018.
China's fast-growing middle class has helped the American brand to flourish on the mainland, as did McDonald's former president of greater China, Peter Tan, who became Burger King's senior vice president.
Burger King has a wide and strong social media presence in China, with various official Weibo accounts actively promoting Burger King in various cities. The accounts have a personal approach and often post jokes and funny videos.
#4: Home Original Chicken / Laoxiangji (老乡鸡)
Home Original Chicken currently is the most popular Chinese-style fast-food chain in the PRC. To celebrate this fact, various restaurants around the country held some promotional events this week, even giving out lunch for free in some of its 800+ locations across the country. The promotion went trending on Weibo, with the hashtag 'Laoxiangji invited the whole country for dinner' (#老乡鸡宴请全国#) getting 280 million views.
The short history of the restaurant goes back to 2003 when chicken breeder Shu Congxuan opened the first location in Hefei, Anhui province. The chain's menu items look completely different from the top 3 in this list; 'Laoxiangji' serves some classic pork meatballs, meatballs wrapped in fried gluten, hot and sour fish, or steamed eggplant with chili and sour sauce.
The 'Laoxiangji' Weibo account now has over 360,300 followers.
#5: Dicos (德克士)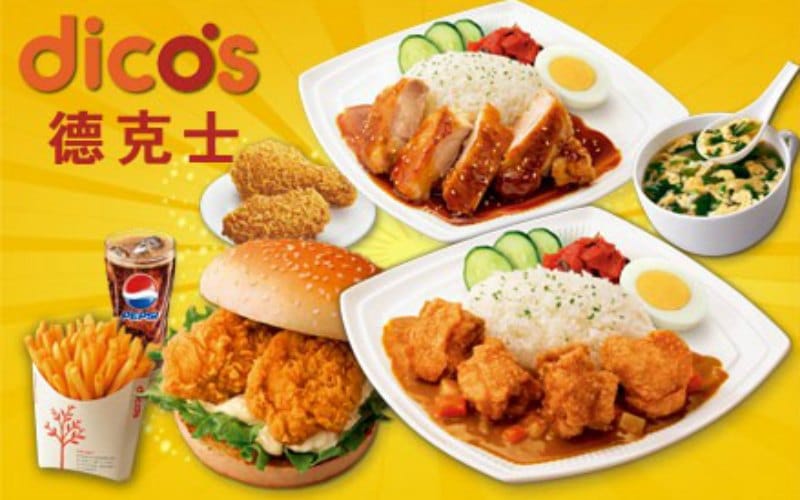 Dicos, founded in 1994, is one of the biggest Chinese-style fast-food chains in the PRC. It was founded in Chengdu and serves fried chicken and different fried chicken rice bowls, among other things. It already opened its 2000th store in 2013.
Tianjin Ding Qiao Food Service owns Dicos. In a way, you could say Dicos is one of KFC's biggest competitors in the PRC as it is also famous for its fried chicken buckets.
The restaurant's Weibo account has over 727,000 fans. Besides promoting fried chicken dishes, the account also regularly promotes the Dicos brands' various sweet desserts.
#6: Real Kungfu (真功夫)
Real Kungfu is probably the fast-food restaurant with the coolest logo – which looks like an image of Bruce Lee- and brand name here.
The restaurant is headquartered in Guangzhou and opened its first restaurant in 1990. The restaurant serves various meal sets at very reasonable prices, usually including a rice bowl, soup, boiled lettuce, and a meat main dish.
Weibo account @Zhengongfu has more than 188,000 followers. The account often posts about movies or series, with the chain associating itself with Chinese popular culture.
#7: Country Style Cooking (乡村基)
Country Style Cooking (Xiāngcūnjī, 乡村基) is originally a Chongqing restaurant that opened its first restaurant in 1996 under the name 'Country Style Chicken' (乡村鸡). It now has over 600 restaurants throughout China.
The restaurant's name is literally also its theme: providing real 'home-style' cooking from the country to its customers. It serves some classic stir-fry dishes such as the Kung Pao Chicken (宫保鸡丁).
The brand is still relatively small on Chinese social media, having some 39000 fans on its Weibo account.
#8: Ajisen Ramen (味干拉面)
Ajisen Ramen is the first Japanese chain in this list, which focuses on Japanese ramen noodle soup dishes. It operates more than 700 noodle restaurants in Hong Kong and mainland China, but also has restaurants in other countries across the world.
Its history goes all the way back to 1968, but its franchise endeavors started later.
The chain has no presence on Weibo.
#9: Yonghe King (永和大王)
Yonghe King is another Chinese-style fast-food chain that, like Ajisen, also focuses on noodles. Its first restaurant was opened in 1995 in Shanghai.
The brand is not fully Chinese anymore, as it merged with Jollibee Foods Corporation (JFC), the biggest fast-food company in the Philippines, in 2004. Since 2016, Jollibee is 100% owner of Yonghe King.
Yonghe King's menu is diverse, as it offers various breakfast items, meal sets with noodles or rice, and desserts. It promotes its breakfast as the perfect start of the day for busy people who have to get to work early and have no time to prepare a meal.
With almost 409,000 fans on Weibo, Yonghe King is pretty popular on Chinese social media.
#10: Yoshinoya (吉野家)
Yoshinoya is the second Japanese chain in this list and it is the oldest brand, going back all the way to 1899.
Although Yoshinoya is a 'fast food' chain because, some of the items on its menu are not as fast to eat. The restaurant is known for its beef bowls, but how about a one-person hotpot set?
Hop Hing Group, based in Hong Kong, is the licensed operator of Yoshinoya in Hong Kong and Mainland China. The restaurant has recently become a target of violence during the Hong Kong Protests, as it was labeled as being a Beijing supporter.
#11: Mr. Lee California Beef Noodle King (李先生加州牛肉面大王)
The Beijing brand Mr. Lee is a popular fast-food chain in mainland China that specializes in beef noodle soup. Its first store was opened in 1988.
The 'California' part in its time comes from the Californian Chinese-American businessman Li Beiqi (李北祺) who started the company – hence the restaurant's name (Mr. 'Li' in pinyin).
Besides the beef noodle soup, the restaurant also offers rice meals, dumplings, sweets, evening snacks and more. The Mr. Lee's Weibo account has over 55000 fans.
By Manya Koetse
Spotted a mistake or want to add something? Please let us know in comments below or email us. First time commenters, please be patient – we will have to manually approve your comment before it appears.
©2019 Whatsonweibo. All rights reserved. Do not reproduce our content without permission – you can contact us at info@whatsonweibo.com.
Turning Drinks into Fashion – Chinese Designer Yang Yang Personifies Popular Beverages
Personified beverage fashion – trending because it's cool.
Every now and then there are posts on Weibo that just seem to keep on making their rounds. The 'beverage fashion' drawings collection by Yang Yang (杨杨) is one of these posts, first popping up on Chinese social media in June of this year.
Yang Yang is a 28-year-old designer from Anhui, who started drawing when she was 13 years old. She has been active in the fashion business for eight years now and has become popular on Kuaishou, China's popular short video and live-streaming app.
If Coca Cola were a fashionista, what would she look like? In the eyes of Yang Yang, this would be her:
Wahaha (哇哈哈) purified water, produced by the largest beverage company in China, is personified here:
Energy drink brand Red Bull China, a Sino-foreign joint venture company, uses different colors than cans in the US or Europe.
One particularly striking illustration by Yang Yang is that of Nongfu icea tea drink Cha π (茶兀).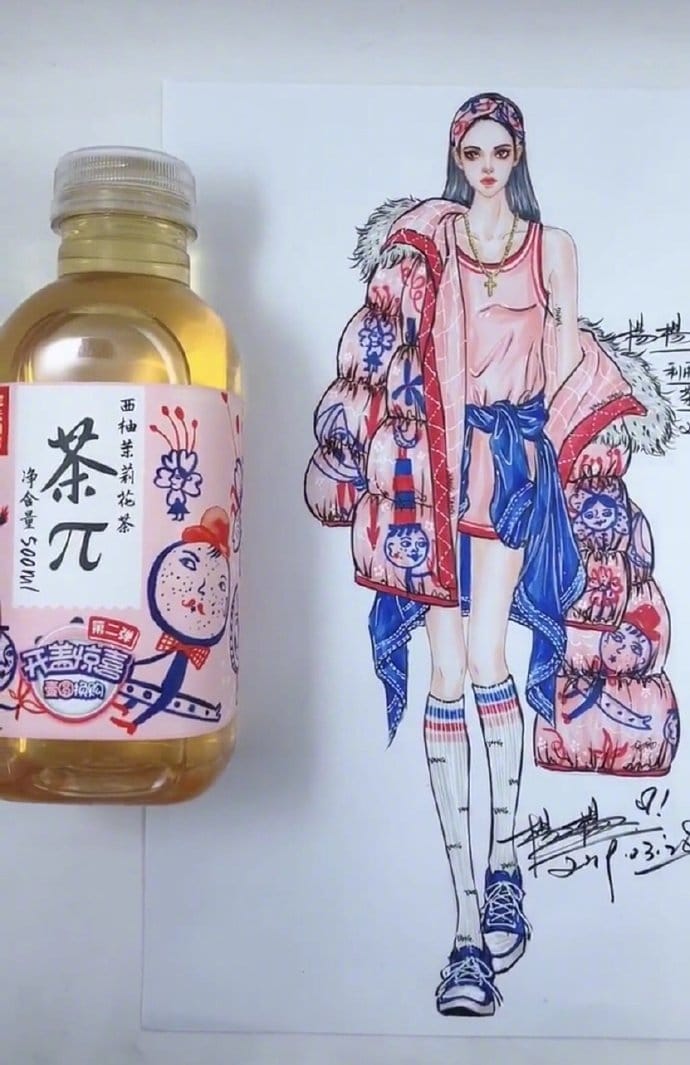 Nongfu Spring, one of the most common brands of bottled water in China, suddenly seems very trendy now.
This is the fashion version of Sea Crystal Lemon, known for its bright blue and yellow.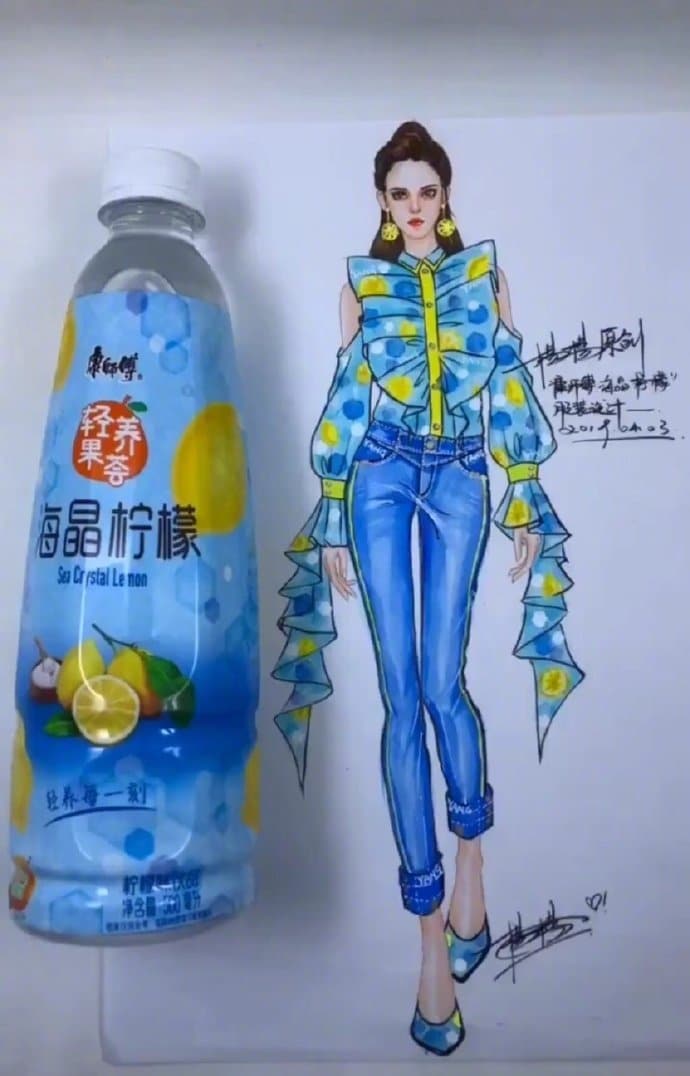 Following the various Weibo posts that are making their rounds with the illustrations by Yang Yang, more drawings seem to have been added later via other channels, including that of Pepsi, Wong Lo Kat, and Snow Beer.
Although Yang Yang's designs have gone viral this year, it is not known if they will have a chance to be turned into wearable fashion. As for Yang, she says she was just "playing around" to keep a creative mind.
Also read: From Stay-at-Home Dad to Fashion Designer – 'Super Dad' Rises to Fame
By Manya Koetse
Sources:
https://k.sina.com.cn/article_1872762823_p6fa017c702700xosj.html
https://new.qq.com/rain/a/20190619A0POST
Spotted a mistake or want to add something? Please let us know in comments below or email us. First time commenters, please be patient – we will have to manually approve your comment before it appears.
©2019 Whatsonweibo. All rights reserved. Do not reproduce our content without permission – you can contact us at info@whatsonweibo.com