"Zang Zang Bao" – The Hype Surrounding Beijing's "Dirty Dirty" Chocolate Bread
Being dirty has never been this sweet.
The so-called 'Zang Zang Bao' (Dirty Dirty Bread) has become a hype in Beijing and beyond. Showing off one's chocolate-covered face after eating the pastry is the latest online fad. Even with minus ten degrees, crowds of people are queuing up for their piece of dirty bread.
Those who have wandered around downtown Shanghai or Beijing's Sanlitun recently might have noticed the long queues of people in front of various bakeries and tea shops, wondering what's so special about their tea or sandwiches. But it is not the tea and sandwiches people are waiting for in the freezing cold – it is their dirty dirty chocolate bread.
"Zang zang bao" (脏脏包), literally meaning "dirty dirty bread", has become an online craze in China over the past few months. The Chinese chocolate croissant was already named "one of the most popular baked goods in China in 2017" by CGTN (CCTV International) in December, but the social media hype over the bread has carried on well into 2018 and is now making it to the top trending topics on Weibo.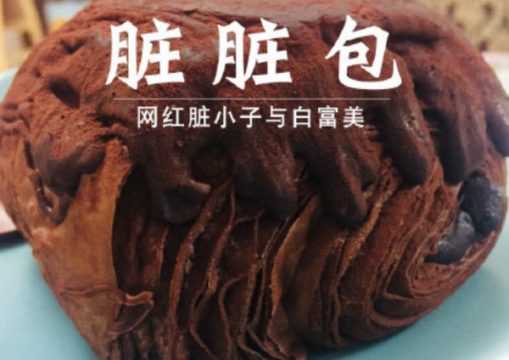 The bread's name comes from the fact that it actually looks dirty and that is virtually impossible to eat the snack without getting messy. Containing large amounts of chocolate, cream, and cocoa powder, people eating this bread are bound to end up with chocolate stains all over; which is one of the main reasons that sparked the online craze for it in the first place.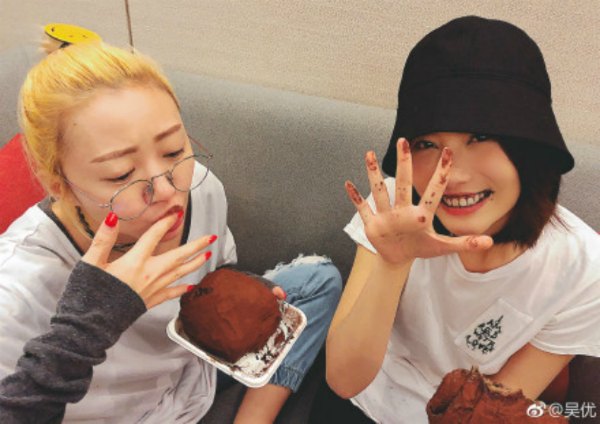 Hundreds of people – specifically young women – are recently posting photos of themselves on Wechat and Weibo eating the bread and then having their hands and mouths covered in chocolate, triggered by celebrities and online influencers (KOL) who have previously done the same. Showing off their chocolate-covered faces is another way of being 'cute' and playful.
The bread's recipe originally comes from the Japanese version of the chocolate croissant, and first started gaining attention in China when a Beijing bakery named Bad Farmers & Our Bakery started selling the pastry at limited hours during the afternoons in 2017.
According to the online media platform AI Finance (AI财经社), the trend then blew over to Shanghai, where LeLe Tea (乐乐茶) started selling the buns in June of 2017 with much success – within six months, the tearoom franchise was able to open four additional shops in Shanghai.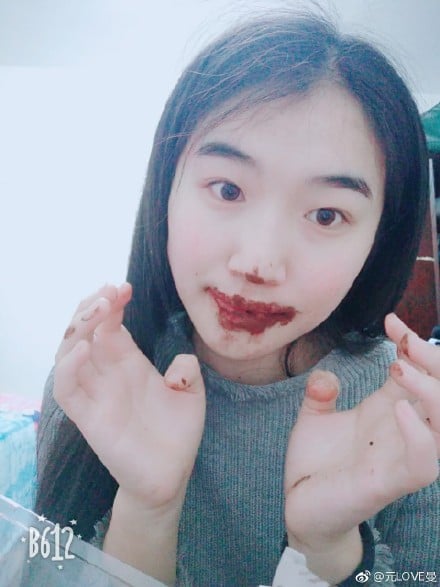 The Zang Zang Bao success has now triggered teashops across China to sell their own version of the popular bread. A shop of a franchise called HeyTea (喜茶) in Sanlitun, Beijing, is gathering large crowds of people who are curious to try out its "dirty bread".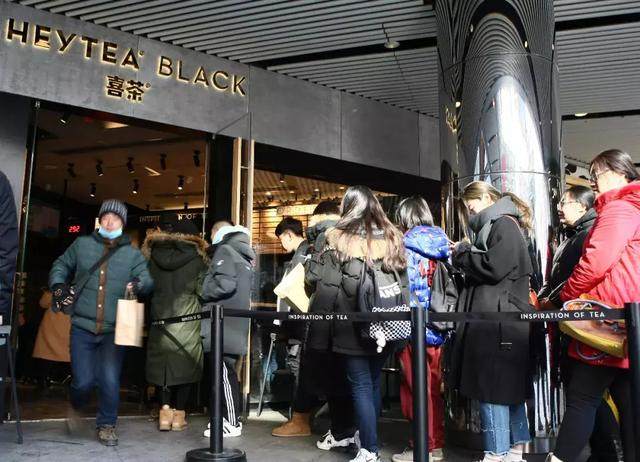 The spokesperson of HeyTea, however, denied to AI Finance that its company has become an 'internet hype.' In the end, many companies dislike becoming a 'hype', which suggests that there is a peek of interest which will soon blow over. Companies such as HeyTea hope that the Zang Zang Bao will not be a "short-lived glory" but a classic item on their menus.
On January 29, Zhejiang University warned on Weibo (@浙江大学) that fans of the bread should not eat their favorite new snack too often: one roll of Zang Zang Bao holds no less than 450 kilocalories.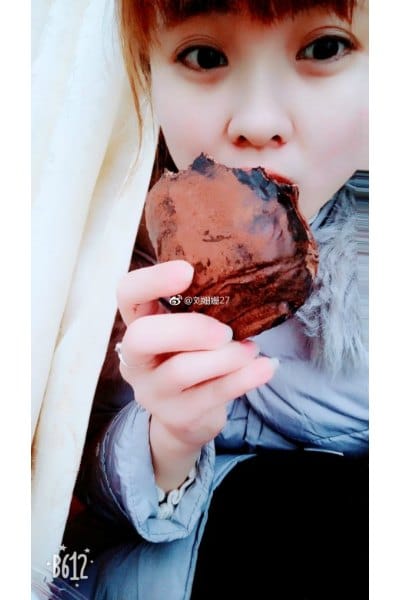 But many netizens do not seem to care too much about the calories: "It's only two bowls of rice," some said: "I've already bought another dirty bread today!"
There are also others, however, who do not understand what all the fuss is about: "What's so delicious about this stuff?", one netizen wonders: "It indeed tastes as if it is stuffed with dirt."
By Manya Koetse
Follow @whatsonweibo
Spotted a mistake or want to add something? Please let us know in comments below or email us.
©2018 Whatsonweibo. All rights reserved. Do not reproduce our content without permission – you can contact us at info@whatsonweibo.com.
Coca Cola Chicken Wings Are Here! McDonald's China Introduces Cola Chicken on Its Menu
Add cola, add chicken, and it's a recipe for success.
Coca-Cola Chicken wings are so popular in China that McDonald's China, in collaboration with Coca Cola, has now added them to their menu.
It is one of those dishes everyone in China will know of, yet its origins are somewhat murky: Cola Chicken.
Cola Chicken (可乐鸡) is a sweet and sour cooking dish using cola, chicken, ginger, soy sauce, cooking wine, and Sichuan pepper as its main ingredients (the Chinese way).
Braised Coca-Cola Chicken wings are especially popular in China, combining Chinese style braising and Coca-Cola to create juicy and savory BBQ style wings (see recipe).
According to some, Cola Chicken comes from Jinan, Shandong, where a cook in a restaurant accidentally tipped over a can of Coca Cola into a chicken dish, after which he discovered the taste of the soda matched the simmering chicken.
Others allege two Chinese Coca Cola salespersons thought of the recipe first.
Another explanation states that 'Cola Chicken' was already made in Western countries, using tomato sauce as one of its main ingredients. The dish then became popular in Taiwan, where the tomato sauce was replaced by soy sauce.
Whatever its origins are: Cola Chicken is hugely popular in China. So popular, in fact, that McDonald's China announced on Weibo this week that it would add 'traditional cola chicken wings' to its menu.
The latest addition to the McDonald's China menu is a special collaboration between the Coca Cola brand and McDonald's.
"I love Mcdonald's, I love Coca Cola, I wanna try!",  commenters on Weibo say: "I absolutely love Cola Chicken wings."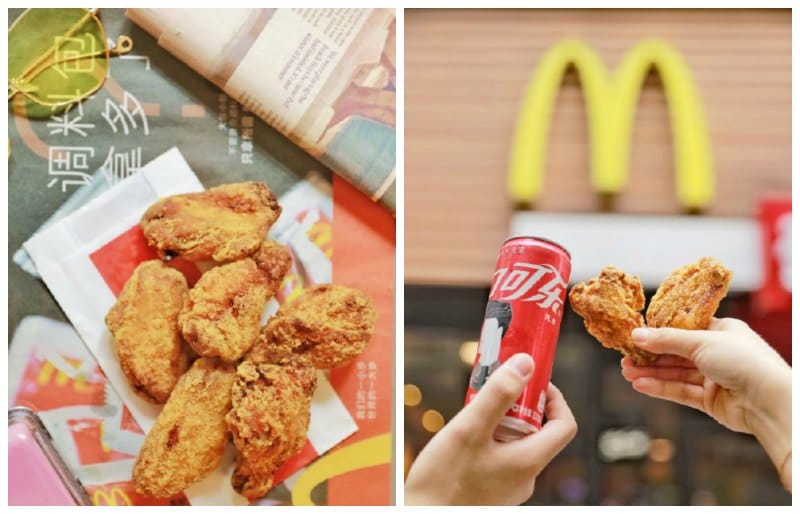 Although social media responses to McDonald's Cola Chicken have been very positive, some who have actually tried it out are less enthusiastic.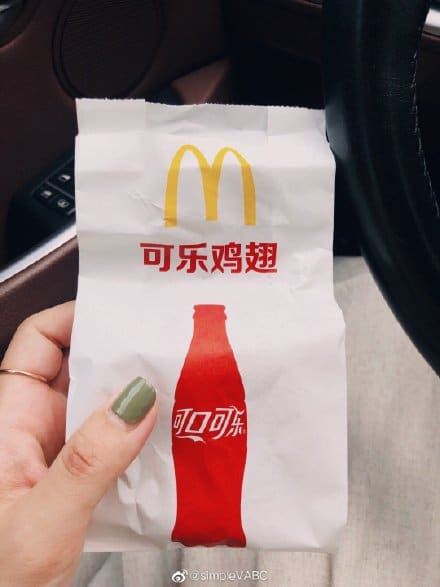 "I had them, but.. I actually didn't taste any cola flavor. Are we supposed to soak them in our coke first?" one disappointed netizen wonders.
Others also expressed similar sentiments, writing: "I am confused by how it tastes" and: "I think it tastes really weird, but I can taste the Cola in it!"
But others who tried it are very happy: "I loved them! While chewing, the skin of the chicken bursts open, giving you that feeling of a carbonated drink. And the chicken is slightly sour and sweet, with that hint of Coca Cola."
The Cola Chicken wings are not the only special additions to the McDonald's China menu, which also offers "Sichuan Spicy Double Chicken Burger," "Jumbo Milk Tea," "Taro Pie," and "Corn cups."
Earlier this year, Mcdonald's China also introduced a Japanese beef rice bowl to its main menu selections.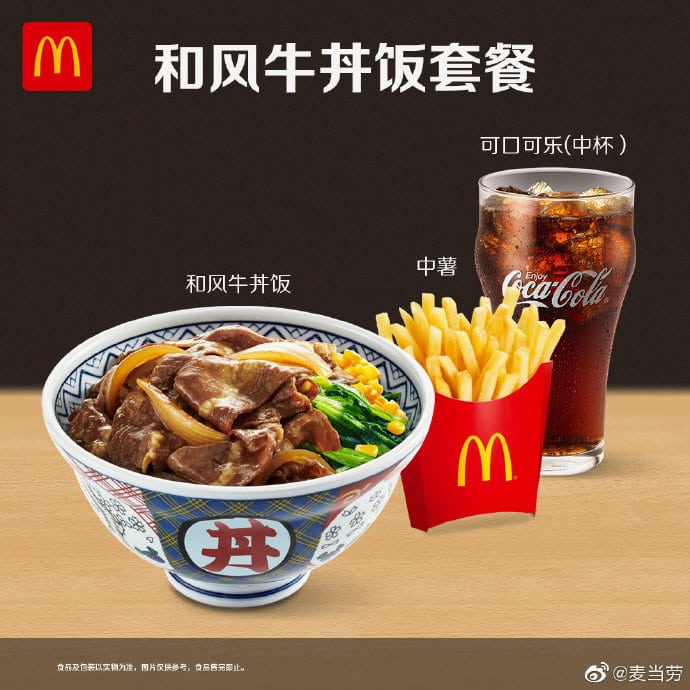 Many introductions to China's McDonald's menu have come and gone over the past few years. Whether Cola Chicken will be one of the items on the McDonald's menu that's here to stay is yet to be seen.
Also read: McDonald's Celebrates 26th Birthday in China
Also read: China's First Fast Food Restaurant
Also read: Coca Cola in China: "Not a Single Bottle of Coke Should Be Sold to Chinese"
Talking about Cola Chicken, a recommendation: the touching and funny short documentary (25 min) 'Cola Chicken' tells the story of the Chinese Chen Chen, who works as a tour guide in Spain, and dreams of opening up his own Cola Chicken restaurant one day:
By Manya Koetse
Spotted a mistake or want to add something? Please let us know in comments below or email us. Please note that your comment below will need to be manually approved if you're a first-time poster here.
©2019 Whatsonweibo. All rights reserved. Do not reproduce our content without permission – you can contact us at info@whatsonweibo.com
98-Year-Old Hotpot and Coca Cola Lover Becomes Online Hit
Are hotpot and cola the key to longevity?
This week, a 98-year-old Chengdu resident has become an online hit on Chinese social media, after videos of her and her granddaughter went viral. The popular grandmother loves to drink Coca Cola, eat hamburgers, and is crazy about hotpot – but only if it's really spicy.
The 98-year-old became an overnight hit because of the videos posted by granddaughter Cai on China's popular video app Douyin (TikTok), that show the grandmother's great appetite for spicy food, alcohol, and sweet sodas.
When the granddaughter tries to persuade her grandma to drink less alcohol ("You've already had five!") she'll pour herself another cup; while dozing off, she'll still talk about her favorite hotpot with beef tripe; when eating her hamburgers, she'll eat so fast that her dentures fall out – all moments that were caught on video by Cai.
The woman, who has been nicknamed "grandma foodie" (吃货奶奶), has been starring in her granddaughter's Douyin videos since August of last year. Since then, she has accumulated a social media following of some 410K fans and has now risen to nationwide fame, with dozens of Chinese news outlets writing about her. On March 4, she became the number one trending topic on Weibo.
On social media, most netizens praise the grandma for her positive attitude. "I hope I can do all the things I love, too, when I reach her age," some say: "Eat whatever you want, whenever you want, and drink whatever you like, whenever you like." "Eating good food is the key to happiness," others write.
Some also see a lucrative opportunity in the grandma's sudden rise to fame: "She should become a brand ambassador for Coca Cola."
Granddaughter Cai told Chinese reporters: "I think it's the contrast that makes her so popular. She drinks Coke, eats hamburgers, loves spicy food, and all that greasy food. She's leading the life of a young person, and it appears to be very unhealthy. But she still has longevity."
Because Cai's grandma does not know much about social media, Cai tried to explain to her that "many, many people" like her a lot. "Why on earth would they like me for?" she replied: "I'm old!"
Want to know more about hotpot, all the reasons to love it, and how to make it at home? Visit our sister site Hotpotambassador.com here.
By Manya Koetse
Spotted a mistake or want to add something? Please email us.
©2019 Whatsonweibo. All rights reserved. Do not reproduce our content without permission – you can contact us at info@whatsonweibo.com.