"Zang Zang Bao" – The Hype Surrounding Beijing's "Dirty Dirty" Chocolate Bread
Being dirty has never been this sweet.
The so-called 'Zang Zang Bao' (Dirty Dirty Bread) has become a hype in Beijing and beyond. Showing off one's chocolate-covered face after eating the pastry is the latest online fad. Even with minus ten degrees, crowds of people are queuing up for their piece of dirty bread.
Those who have wandered around downtown Shanghai or Beijing's Sanlitun recently might have noticed the long queues of people in front of various bakeries and tea shops, wondering what's so special about their tea or sandwiches. But it is not the tea and sandwiches people are waiting for in the freezing cold – it is their dirty dirty chocolate bread.
"Zang zang bao" (脏脏包), literally meaning "dirty dirty bread", has become an online craze in China over the past few months. The Chinese chocolate croissant was already named "one of the most popular baked goods in China in 2017" by CGTN (CCTV International) in December, but the social media hype over the bread has carried on well into 2018 and is now making it to the top trending topics on Weibo.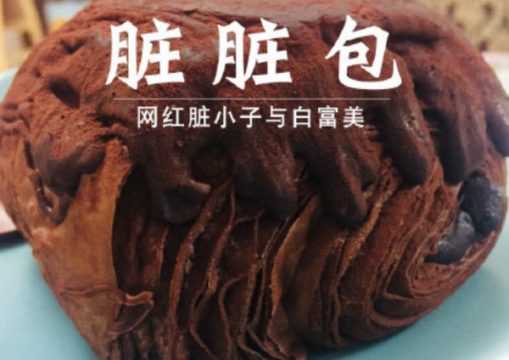 The bread's name comes from the fact that it actually looks dirty and that is virtually impossible to eat the snack without getting messy. Containing large amounts of chocolate, cream, and cocoa powder, people eating this bread are bound to end up with chocolate stains all over; which is one of the main reasons that sparked the online craze for it in the first place.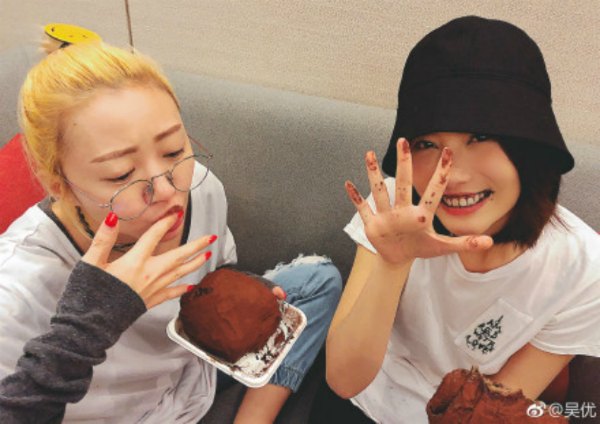 Hundreds of people – specifically young women – are recently posting photos of themselves on Wechat and Weibo eating the bread and then having their hands and mouths covered in chocolate, triggered by celebrities and online influencers (KOL) who have previously done the same. Showing off their chocolate-covered faces is another way of being 'cute' and playful.
The bread's recipe originally comes from the Japanese version of the chocolate croissant, and first started gaining attention in China when a Beijing bakery named Bad Farmers & Our Bakery started selling the pastry at limited hours during the afternoons in 2017.
According to the online media platform AI Finance (AI财经社), the trend then blew over to Shanghai, where LeLe Tea (乐乐茶) started selling the buns in June of 2017 with much success – within six months, the tearoom franchise was able to open four additional shops in Shanghai.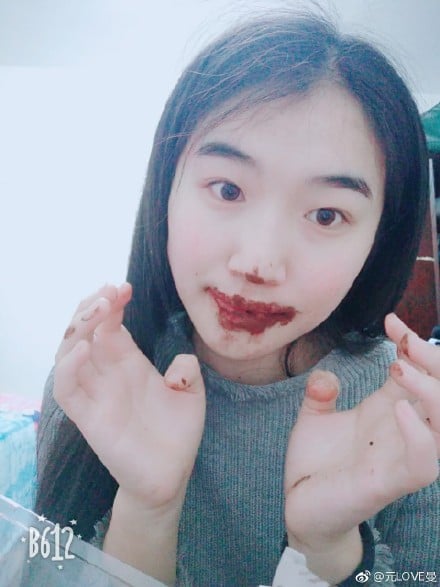 The Zang Zang Bao success has now triggered teashops across China to sell their own version of the popular bread. A shop of a franchise called HeyTea (喜茶) in Sanlitun, Beijing, is gathering large crowds of people who are curious to try out its "dirty bread".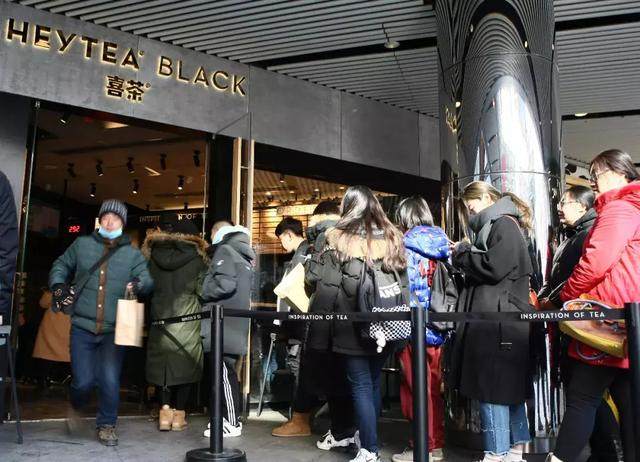 The spokesperson of HeyTea, however, denied to AI Finance that its company has become an 'internet hype.' In the end, many companies dislike becoming a 'hype', which suggests that there is a peek of interest which will soon blow over. Companies such as HeyTea hope that the Zang Zang Bao will not be a "short-lived glory" but a classic item on their menus.
On January 29, Zhejiang University warned on Weibo (@浙江大学) that fans of the bread should not eat their favorite new snack too often: one roll of Zang Zang Bao holds no less than 450 kilocalories.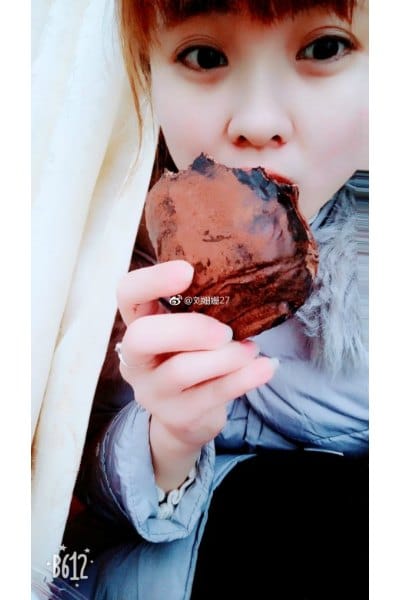 But many netizens do not seem to care too much about the calories: "It's only two bowls of rice," some said: "I've already bought another dirty bread today!"
There are also others, however, who do not understand what all the fuss is about: "What's so delicious about this stuff?", one netizen wonders: "It indeed tastes as if it is stuffed with dirt."
By Manya Koetse
Follow @whatsonweibo
Spotted a mistake or want to add something? Please let us know in comments below or email us.
©2018 Whatsonweibo. All rights reserved. Do not reproduce our content without permission – you can contact us at info@whatsonweibo.com.
Another Hotpot Controversy: Famous Food Critic Wants Hotpot Gone
Hotpot discussions are getting heated.
One of China's most famous food critics would rather see hotpot disappear, but hundreds of Chinese netizens do not agree at all.
After a hotpot restaurant became top trending on Weibo yesterday for recruiting 'Ivy League' graduates as waiters, another hotpot controversy has hit Chinese social media.
This time, the renowned Hong Kong food critic and cookbook writer Chua Lam (蔡瀾, Cai Lan) has stirred discussions among Chinese netizens over comments he made during an appearance on the Hunan TV talk show Day Day Up (天天向上/Tiantian Shangtian), SupChina and The Guardian reported on January 3rd.
When asked by one of the hosts of the show what dishes he would love to see disappear from the world, Chua answered: hotpot.
"Hotpot is the cooking style that lacks culture the most," the food critic added: "You just throw the ingredients in there, there's nothing tasty about it." Because the hotpot allegedly has no cultural significance and because the cooking style is so easy, the critic suggested it might as well disappear altogether.
Chua Lam is a popular personality on social media. On his Weibo account, he has more than ten million fans.
Read the full story at Hotpot Ambassador here.
By Manya Koetse
Follow @whatsonweibo
Spotted a mistake or want to add something? Please let us know in comments below or email us.
©2019 Whatsonweibo. All rights reserved. Do not reproduce our content without permission – you can contact us at info@whatsonweibo.com
Hotpot Restaurant with High Standards Goes Viral: Waiters Required to Have 'Ivy League' Diploma
Top-notch hotpot restaurant asks for top-notch waiters – stirring controversy online.
Marketing stunt or serious job requirement? This new Zhengzhou hotpot restaurant, that seeks to recruit ten 'Ivy League' graduates as waiters, has become the talk of the day on Chinese social media.
The job announcement of a new Chinese hotpot restaurant has gone viral on Weibo, as the new establishment requires that persons who apply to work as a server to have a degree at a "985" ('Ivy League') university.
The job requirements of the restaurant, which is located in Zhengzhou, Henan province, started attracting online attention on December 30. By January 2nd, the hashtag 'Hotpot Restaurant Requires 985 Diploma in Recruiting Waiters' (#火锅店招服务员要求985#) had received over 290 million views (!) on Sina Weibo.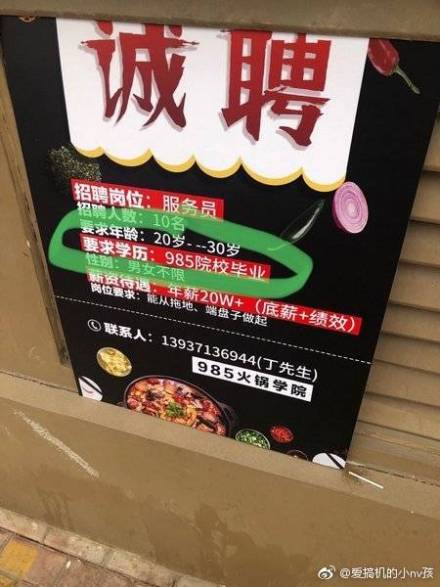 Some Weibo netizens said the recruitment announcement was an "insult" to those who have graduated from one of China's top universities, while others denounced the hotpot restaurant for purposely building hype to drive more customers to the new establishment.
"What does being a '985' graduate have to do with being a waiter?", one popular comment said: "To be kind-hearted and responsible is what matters." Others sarcastically comment that home delivery staff might be required to hold a PhD degree in the future.
The so-called "985 Project" was launched in 1998 by former President Jiang Zemin at the 100th anniversary of Peking University on May 4th of that year (985 refers to 1998, May). It was meant to raise the number of (internationally recognized) first-rate universities within China. China's '985' universities include, among others, Fudan University, Peking University, and Tsinghua.
The job announcement of the new Zhengzhou hotpot restaurant does not completely come out of the blue. The restaurant itself is also called "985 Hotpot College" (985火锅学院), and its outside appearance seems to be themed around the '985' idea.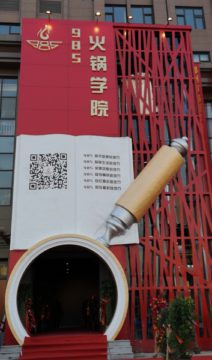 The restaurant's job advertisement states that the establishment is looking to recruit ten graduates between the ages of 20 and 30. The annual salary is approximately 200,000 RMB (±US$29,000), which is almost 2,5 times more than the local average pay and up to 8 times more than what waiters in Zhengzhou usually make, according to this Beijing Evening News article.
On January 2nd, the restaurant responded to all the commotion its job advertisement has caused, saying that "every person and organization has the right to pursue their dreams" and that they were hoping to find the right talents to "grow [the business] together."
Despite the fact that hundreds of netizens condemn the restaurant's call for 'Ivy League' waiters, there are also those who do not see a problem: "The business has the freedom to choose their own standards, and graduates also have the freedom to apply there or not," some write.
Hotpot restaurants are incredibly popular and common in China. The ubiquity leads to hotpot establishments becoming more and more competitive. In recent years, 'themed' hotpot restaurants have popped up like mushrooms in China's bigger cities, trying to attract customers with their unique concepts, such as revolution-themed hot pot restaurants, robot-themed hotpot places, or even classroom-themed hotpot.
The "985 Hotpot College" will have its highly educated waiters as a unique selling point. Whether or not their hot pot is tasty or not, however, is still unsure – despite the recent hype around the restaurant, its Dianping rating page is still awfully empty.
Want to know more about hotpot? Visit our sister site Hotpotambassador.com here.
By Manya Koetse
Follow @whatsonweibo
Spotted a mistake or want to add something? Please let us know in comments below or email us.
©2019 Whatsonweibo. All rights reserved. Do not reproduce our content without permission – you can contact us at info@whatsonweibo.com