8-Year-Old Boy Loses Eye After Playing with Desiccant 'Dry Pack'
One Chinese mother is on a mission to warn other parents that this small packet can pose a big risk.
Most are familiar with those little "do not eat" packets that can be found in various food and household items packaging, but their potential danger might be less well-known. A Chinese mum is now warning others to keep the dry packs away from children after her son lost his eye because of them.
An 8-year-old boy named Keke was recently blinded in one eye after playing around with a desiccant pack. Keke's mother is now seeking media attention for his case to warn others not to make the same mistake.
According to Chinese media, the incident occurred just after the mid-term exam period, when Keke was enjoying some snacks on the couch while watching cartoons. His mother was busy cooking in the kitchen when she heard Keke screaming. As she rushed towards him, she saw that something was terribly wrong with his eye. She saw a deformed bottle filled with fluid on the floor and hurried her son to the hospital.
Keke's mother recounts: "After the examination, the doctor told us that Keke's right eye tissue was completely dissolved by an alkaline fluid (..), and that there was nothing to do about it."
"When the doctor asked how the accident happened, my son told him that he found a small packet in his bag of snacks and that he had played around with it. He first smelled it, and then later put it inside a bottle that contained his beverage. He had never expected the bottle to explode shortly afterward."
The moment some fluid entered his right eye, the little boy lost his eyesight and felt immense pain. Shocking photos shown by a local Chinese tv station show that the boy's eye has been severely damaged by the acid fluid.
Keke's parents later found out the 'small packet' mentioned by Keke was, in fact, a food desiccant (食品干燥剂), which is used to keep products dry and in good condition.
Desiccant packs are usually made with silica gel grains, which can adsorb up to 40% of their weight in moisture. It is useful for keeping things dry and 'sucking up' excess moisture. It is generally not considered to be harmful; the big "do not eat" warnings are more about choking hazard than the packets being toxic. Apart from coming with new shoes or electronics, the little packets can also often be found in various snacks (such as the Japanese nori seaweed).
On Weibo, news about the boy has generated much discussion, especially after it was shared by People's Daily. "If this stuff is so dangerous, then why is it not replaced by something that is safe?" a typical comment said.
A very similar news item made headlines in China in August 2015, when a 5-year-old boy was also blinded in one eye because of a desiccant pack when he put a package inside a pet bottle, causing it to explode.
Public health professor Liu Ping (刘萍) from Shandong University explained to Iqilu.com at the time that apart from the silica gel desiccants, there is also another type of desiccants which is made from calcium oxide (氧化钙), also known as quicklime. Cheaper than silica gel, it is also commonly used but is also relatively more dangerous than silica gel desiccant and other desiccants.
Quicklime has a chemical reaction when it is mixed with water, making it possible for a closed bottle with fluid and quicklime to explode. The fluid then becomes dangerously corrosive (as many science experiment tutorials will show).
A Chinese local television station also broadcasted footage today of experiments done with desiccants in bottles, showing that a violent explosion can occur within 80 seconds.
"Why do we use these desiccants at all," some people wonder on Weibo: "Isn't a tight seal enough to keep it fresh?"
"These desiccants need to be harmless, odorless, and non-corrosive. Strong alkalic desiccants such as the quicklime one should be eliminated," one commenter writes: "In Europe and America, the harmless silica gel desiccants are generally used, why do we still need to go through these tragedies? Why are these standards different?"
As for Keke's mother – she just hopes other parents will now understand the potential dangers of the small packets. "I greatly regret my negligence as a mother," she told Chinese media: "I knew that you're not supposed to eat these desiccants, but I never knew they posed such a great risk that could lead to such a severe outcome."
– By Manya Koetse
Follow @WhatsOnWeibo
Spotted a mistake or want to add something? Please let us know in comments below or email us.
©2017 Whatsonweibo. All rights reserved. Do not reproduce our content without permission – you can contact us at info@whatsonweibo.com.
'Welcome Home, Molly' – Chinese Zoo Elephant Returns to Kunming after Online Protest
One small step for animal protection in China, one giant leap for Molly the elephant.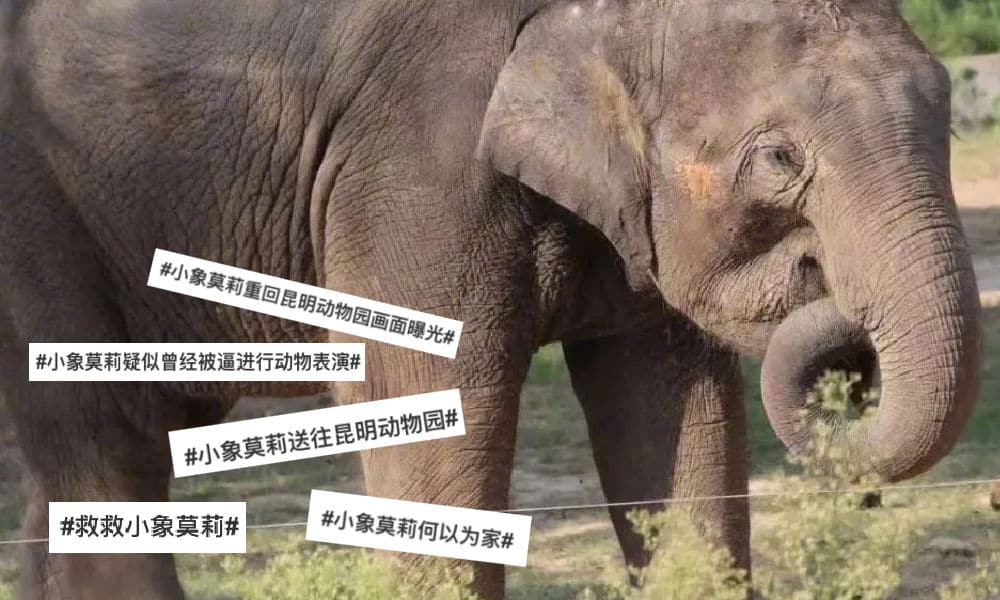 Following online protest and the efforts of animal activists, Molly has returned to the Kunming Zoo where she was born and where mother elephant Mopo is.
The little elephant named Molly is a big topic of discussion on Chinese social media recently.
The popular Asian elephant, born in the Kunming Zoo in 2016, was separated from her mother at the age of two in April of 2018. Molly was then transferred from Kunming Zoo to Qinyang, Jiaozuo (Henan), in exchange for another elephant. Over the past few years, fans of Molly started voicing their concerns online as the elephant was trained to do tricks and performances and to carry around tourists on her back at the Qinyang Swan Lake Ecological Garden (沁阳天鹅湖生态园), the Qinyang Hesheng Forest Zoo (沁阳和生森林动物园), the Jiaozuo Forestry Zoo (焦作森林动物园), and the Zhoukou Safari Park (周口野生动物世界).
Since the summer of 2021, more people started speaking out for Molly's welfare when they spotted the elephant chained up and seemingly unhappy, forced to do handstands or play harmonica, with Molly's handlers using iron hooks to coerce her into performing.
Earlier this month, Molly became a big topic on Chinese social media again due to various big accounts on Xiaohongshu and Weibo posting about the 'Save Molly' campaign and calling for an elephant performance ban in China (read more).
Due 2 pandemic prevention measures in China, Molly's zoo had been closed for long. It was just re-open & a Molly Group friend went to see her 2 days ago, shared a video and photos. The zoo was under much pressure from netizens, so no 🐘 shows, rides, at the moment. #FreeMolly pic.twitter.com/4BjoVk2DBC

— Diving paddler (@KU09814701) April 25, 2022
Although zookeepers denied any animal abuse and previously stated that the elephant is kept in good living conditions and that animal performances are no longer taking place, Molly's story saw an unexpected turn this week. Thanks to the efforts of online netizens, Molly fans, and animal welfare activists, Molly was removed from Qinyang.
On May 15, the Henan Forestry Bureau – which regulates the holding of all exotic species, including those in city zoos – announced that Molly would return to Kunming in order to provide "better living circumstances" for the elephant. A day later, on Monday, Molly left Qinyang and returned to the Kunming Zoo where she was born. In Kunming, Molly will first receive a thorough health check during the observation period.
Good news. After many people's working together for months, Molly's going back to Kunming Zoo to stay with her mom. Though Kunming Zoo has a very dark history, we will keep monitoring it to ensure Molly living in good condition. We will save other performing 🐘. #FreeMolly https://t.co/kC1uByyVpG pic.twitter.com/KhFlLpQgaa

— Diving paddler (@KU09814701) May 16, 2022
Many online commenters were happy to see Molly returning home. "Finally! This is great news," many wrote, with others saying: "Please be good to her" and "Finally, after four years of hardship, Molly will be reunited with her mother."
Besides regular Weibo accounts celebrating Molly's return to Kunming, various Chinese state media accounts and official accounts (e.g. the Liaocheng Communist Youth League) also posted about Molly's case and wished her a warm welcome and good wishes. One Weibo post on the matter by China News received over 76,000 likes on Monday.
Although many view the effective online 'Save Molly' campaign as an important milestone for animal welfare in China, some animal activists remind others that there are still other elephants in Chinese zoos who need help and better wildlife protection laws. Among them are the elephant Kamuli (卡目里) and two others who are still left in Qinyang.
For years, animal welfare activists in China and in other countries have been calling for Chinese animal protection laws. China does have wildlife protection laws, but they are often conflicting and do not apply to pets and there is no clear anti-animal abuse law.
"I'll continue to follow this. What are the next arrangements? What is the plan for Molly and the other elephants? How will you guarantee a safe and proper living environment?"
Another Weibo user writes: "This is just a first step, there is much more to be done."
To follow more updates regarding Molly, check out Twitter user 'Diving Paddler' here. We thank them for their contributions to this article.
To read more about zoos and wildlife parks causing online commotion in China, check our articles here.
By Manya Koetse
References (other sources linked to within text)
Arcus Foundation (Ed.). 2021. State of the Apes: Killing, Capture, Trade and Ape Conservation. Cambridge: Cambridge University Press.
China Daily. 2012. "Animal Rights Groups Seek Performance Ban." China Daily, April 16 http://www.china.org.cn/environment/2012-04/16/content_25152066.htm [Accessed May 1 2022].
Li, Peter J. 2021. Animal Welfare in China: Culture, Politics and Crisis. Sydney: Sydney University Press.
Get the story behind the hashtag. Subscribe to What's on Weibo here to receive our weekly newsletter and get access to our latest articles:
Spotted a mistake or want to add something? Please let us know in comments below or email us. First-time commenters, please be patient – we will have to manually approve your comment before it appears.
©2022 Whatsonweibo. All rights reserved. Do not reproduce our content without permission – you can contact us at info@whatsonweibo.com.
Huizhou Pet Dog Beaten to Death by Health Workers while Owners Are in Quarantine
First in Shangrao, now in Huizhou.
Last November, Chinese social media users were outraged after anti-epidemic workers in Shangrao killed a pet dog while its owner was undergoing quarantine at a nearby hotel. This week, a similar incident has again sparked outrage on Weibo.
On March 2nd, a Samoyed dog was beaten to death by anti-epidemic workers in Huizhou, Guangdong Province. Home security footage of the incident was shared by the dog's owner (有只雪球), who wrote about it on Weibo on March 4th. Her post was shared over 100,000 times on Saturday afternoon.
The 3-year-old dog named Snowball was left at home while its owners were quarantined elsewhere in Huizhou. The female owner's boyfriend was confirmed to have Covid-19 and was sent to a designated hospital on March 2nd, while the woman also needed to quarantine due to being a close contact.
That very same day, two epidemic prevention staff members entered the house to disinfect it. The dog owner shared screenshots of a WeChat conversation with the health workers, in which she told them in which room the dog was staying and also told them he was harmless and did not bite. The conversation suggests that the owner was under the assumption that the dog would just be tested for Covid19.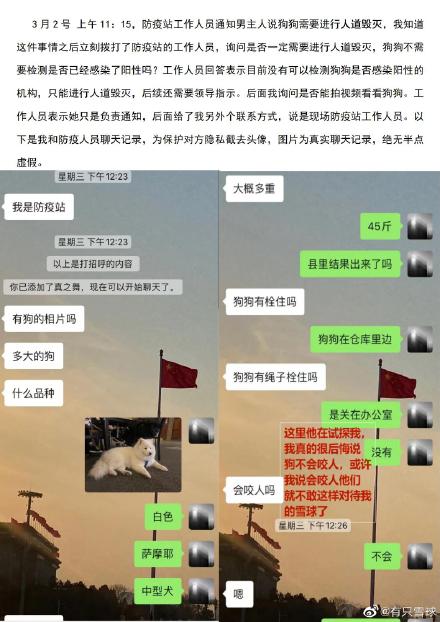 But much to the horror of the owners, their home security camera system allowed them to see how workers used a long stick to hit the dog, and how they continued to beat the dog to death. A video of the incident was also posted on Twitter by @realsexycyborg (warning, viewer discretion is advised, distressing footage and sound).
On March 5th, the official Weibo account of the Huizhou Propaganda Department released a statement on the incident, confirming that the incident had indeed occurred and apologizing for it.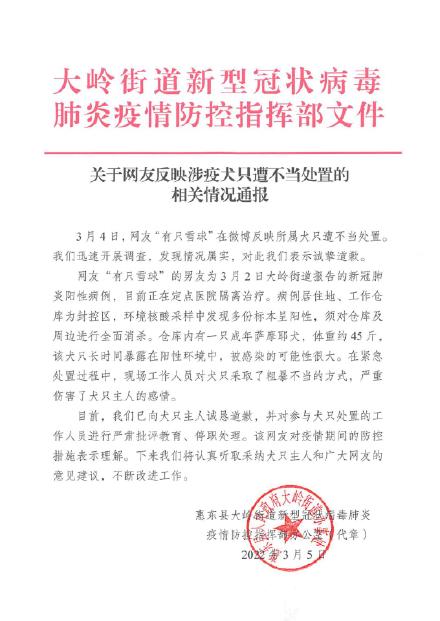 Although the statement said the anti-epidemic workers used a "cruel manner" to kill the dog, it also said that this large dog had been exposed to Covid19 for a prolonged period through its owner and that there allegedly was a high chance that the dog also had caught the Covid19 virus.
The statement further said that the health workers in question have been suspended from their duties and that authorities have contacted the dog's owners and apologized to them.
Many people on Weibo expressed anger and disbelief that such an incident had occurred again: "This epidemic has been going on for several years, why does this keep happening? First Shangrao, now Huizuo. It's heartbreaking."
"Snowball was so scared. I couldn't breathe when clicking on the video, and Paipai [pet dog] immediately scurried to me with his tail down when he heard the video, dogs can empathize with other dogs, Paipai could hear that Snowball was in danger."
Other commenters also claimed that more dogs were recently killed by health workers. Guangdong province recently saw a spike in Covid-19 cases, with virtually all cases originating from neighboring Hong Kong.
Some Weibo users pleaded for Chinese laws to prohibit the mistreatment of animals. For many years, animal welfare activists have been calling for better legal protection of animals in China. China currently has no laws preventing animal abuse but over the past few years, the voices calling for the legal protection of animals in China have become louder – in 2020, state media outlet CCTV also called for animal protection laws.
Online anger was further fuelled when hashtag pages relating to this incident were taken offline on Weibo, with the topic being left out of the top trending topics and hot search lists. The Huizhou authorities closed the comment sections underneath their statement.
"What? You're clamping down on this topic now? Do you think we're idiots?", one Weibo user wrote. Another person said "It's fine if this gets deleted. For communism, your dog is my dog, you beat my death to death, just apologize and it's ok."
Another person wrote: "As a Huizhou resident and a pet lover, I really feel horrible about this. Epidemic prevention is important, but it should protect life, not harm life. The loss of moral preventive measures and the indifferent attitude in which this incident was handled afterward is really a disgrace to Huizhou!"
This is ALL over Weibo-

Any Pro-China influencers avoiding it?
They're getting paid.

Any obfuscating, whatabouting or defending it?
They're getting paid.

You want to know who's getting fat envelopes of cash from🇨🇳? Ask them about this and you'll see.

JUSTICE FOR SNOWBALL! https://t.co/a5FIrcN6sC pic.twitter.com/UZu23pDlWh

— Naomi Wu 机械妖姬 (@RealSexyCyborg) March 5, 2022
By Manya Koetse
Spotted a mistake or want to add something? Please let us know in comments below or email us. First-time commenters, please be patient – we will have to manually approve your comment before it appears.
©2022 Whatsonweibo. All rights reserved. Do not reproduce our content without permission – you can contact us at info@whatsonweibo.com.