9 Chinese Films of 2017 You Need to Know About
As the new year is around the corner, it is time to look back at 9 Chinese movies from 2017 that are unforgettable.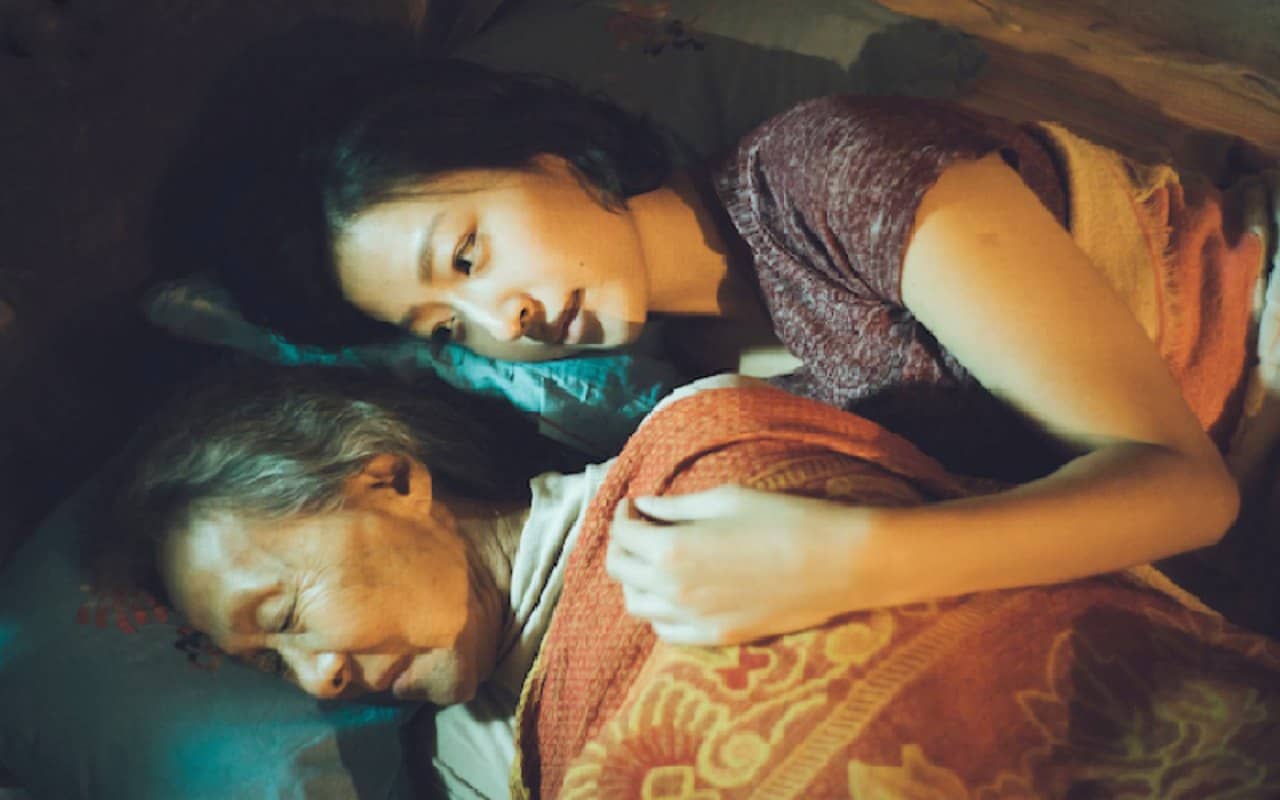 From patriotic to banned – these are the Chinese releases that moviegoers have been talking about this year.
With the year's end in sight, it is time to look back at what 2017 has brought, and cinema is undoubtedly one of the good things worth remembering about 2017.
Whether you fancy action, comedy, or drama, there are certain Chinese films that were released in 2017 that are must-sees for both movie-lovers and China watchers. Some of them are important to know about because they broke box office records, some are masterpieces with profound cultural meaning, others are simply entertaining – and then there are those that just fall in between.
Before 2017 ends, we list 9 Chinese releases of the year that you should go and watch if you haven't done so yet, just because they are worth it.

#1 Wolf Warriors II 战狼2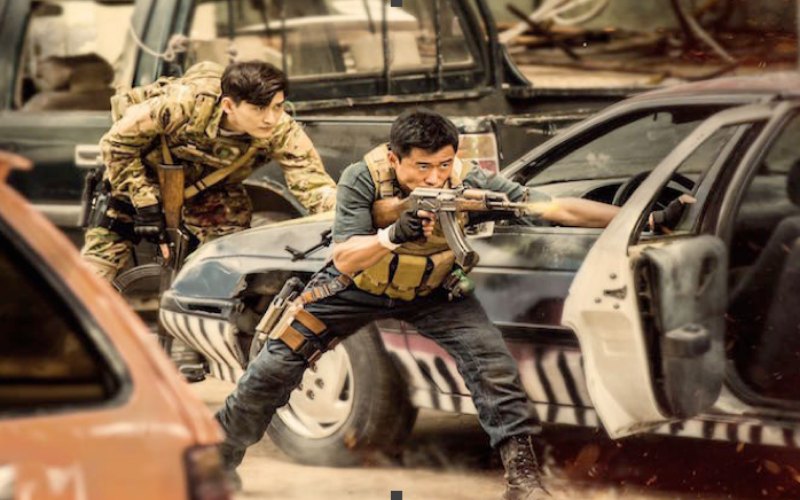 Even if you're not a fan of Chinese films, chances are high that you've heard of Wolf Warrior II for its staggering box office numbers. Released in July 2017, the action thriller became the top-grossing film of all time in China in only ten days time. It has grossed nearly 825 million USD so far.
Chinese action star Wu Jing directed the film and also plays the main character: a military hero of the People's Liberation Army who sets on avenging the capture of his lover in a disease-riddled and war-torn unnamed African nation where China has built hospitals and provided factory jobs for the locals. As if that weren't enough, the bad guys that are fought by this unstoppable hero – to save and protect innocent civilians – are revolutionaries and Western mercenaries.
Whether you like the politics of Wolf Warrior II or not, this film is relevant for multiple reasons. Besides its record-breaking box office numbers, it was also chosen to represent China in the Oscar's best foreign film 2018 competition, which is uncommon for action movies. The film was also widely discussed as a work of nationalist propaganda.

#2 Duckweed 乘风破浪


Duckweed tells the sweet story of a champion racer who time-travels back to the late 90s, meeting his estranged father and never-seen mother and sets out on a comical adventure with them.
Besides displaying a touching father-son 'bromance' and featuring witty plot twists, Duckweed vividly portrays some yesteryear scenes in a small town near Shanghai in 1990s China; a pre-mobile phone era where petty gang members carried beepers as talismans of power. Some features of this film might remind you of Back to the Future.
Directed by the talented blogger/author/entrepreneur/car-racer Han Han and starring some of the most well-known actors and actresses in China such as Deng Chao, Zhao Liying, and Eddie Peng, this easy-going and nostalgic comedy became a holiday hit in China during Chinese Spring Festival in early 2017. With the refined acting and well-written storyline, this time-traveling film presents a coming-of-age tale that is worth your laughter (and tears).

#3 Have A Nice Day 大世界


As the very first Chinese animation film that was nominated for a Golden Bear at the Berlin International Film Festival, Have A Nice Day is one of the very few Chinese films that stood out at the major international film award events this year.
The film is set in suburban China, where a chauffeur steals a large amount of money from a local gangster to help his girlfriend fix a failed plastic surgery operation. Later on, this turns into a bloody conflict involving several people from diverse backgrounds with different personal motives.
Despite the fact that Have A Nice Day premiered at the Berlin Film Festival earlier this year and has since been released in multiple countries, this animated dark comedy still has not been officially released in mainland China yet.
The film was also withdrawn from a film festival in France in June of this year because of "official pressures." The 77-minutes animation was allegedly blocked after not passing China's film censorship.
Although the director Liu Jian claimed his work has nothing to do with politics but is just focused on people's desires and fates, the brilliantly ironic and cynical way Have A Nice Day portrays its characters, their lifestyles, and the landscape of contemporary China, with dark humor script and sharp dialogs which were bound to touch a nerve.

#4 The Founding of an Army 建军大业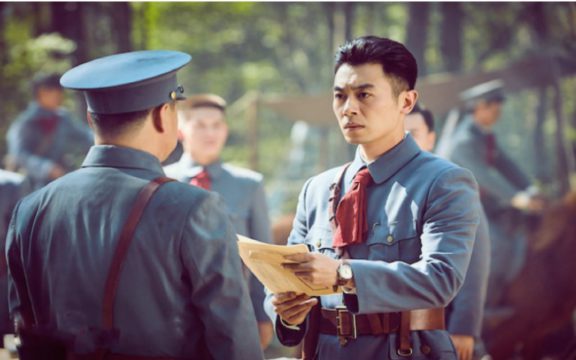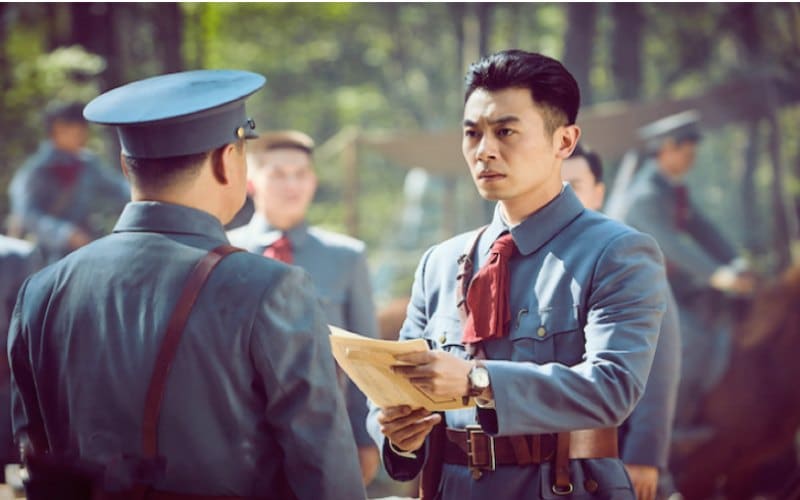 With its all-star cast and glorious depiction of the early history of the Communist Party of China, The Founding of an Army is the third Chinese nationalist film produced by the state-owned China Film Group Corporation, following The Founding of a Republic (2009) and The Founding of a Party (2011).
To commemorate the ninetieth anniversary of the Chinese People's Liberation Army's establishment, The Founding of an Army recaps moments of Mao Zedong, Zhou Enlai, Zhu De, and other founding fathers of China who fought against the KMT-led government during the Chinese Civil War.
Despite all of these factors, this government-backed propaganda film struggled hard for both box office numbers and media attention. Unfortunately for this film, it coincided with the other patriotic work Wolf Warrior II during the same screening period in the summer. This history-based war film was also criticised for casting a lot Chinese teenage idols and popular young actors who arguably did not have the adequate acting skills to play those military leaders in the movie.

#5 Paths of the Soul 冈仁波齐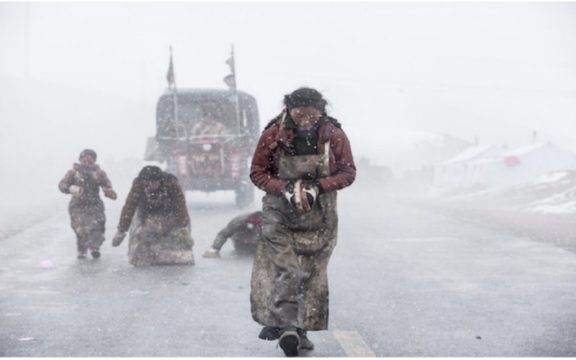 Paths of the Soul is directed by Yang Zhang, whose film Shower received high critic ratings in 1999. This film, Paths of the Soul, first premiered back in 2015 at the Toronto International Film Festival, and it took this film two years to make it onto cinemas in mainland China.
This documentary-drama film blurs the lines between cinematography and photography as it captures the devout and daunting undertaking journey of a group of Tibetan villagers who make a 1,200-kilometer pilgrimage to Lhasa, the holy city of Tibetan Buddhism.
During this over-10-months travel to Lhasa, the changes of seasons and landscapes not only show the distance and time span, but also every obstacle these pilgrims face; natural disasters, financial problems, and internal quarrels.
Paths of the Soul touches the potentially sensitive issue of minority ethnicities in China and their religion. This focus is also rather unpopular on the mainstream Chinese film market, and all actors starring in the film are generally unknown to the majority of Chinese audiences — they are all Tibetans while some of them weren't even actors before starring in this movie.
Despite all odds, to the surprise of many, Paths of the Soul has successfully grossed over 14.9 million USD and became one of the very few independent productions that was able to make over 100 million RMB box office in China. Perhaps it is this movie's ability to trigger viewers to think about the smaller and bigger questions of life that has turned it into an unexpected success.

#6 Never Say Die 羞羞的铁拳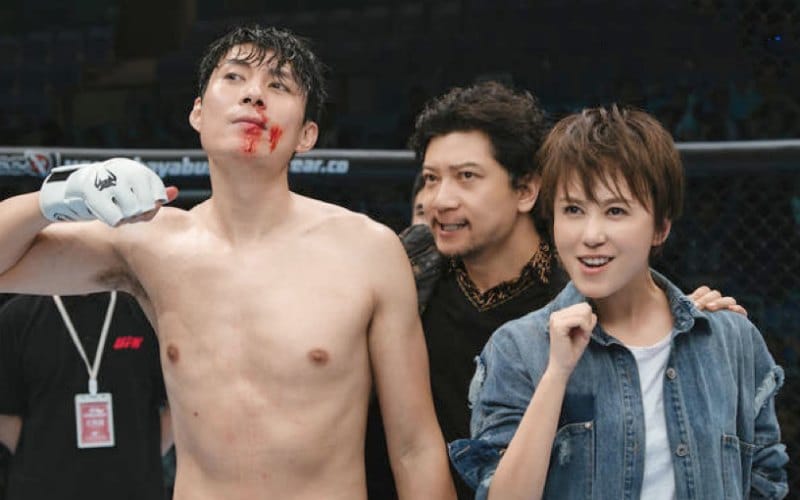 Never Say Die revolves around the story of a male boxer swapping bodies with a female reporter who exposed his bribes, after which they have to help each other to win the UFC championship.
The plot of soul-exchanging may already be a cliche, but this fantasy comedy still managed to dominate the Golden Week holiday box offices and has grossed over 325 million USD so far, coming along as the second big Chinese film box office success of 2017 following Wolf Warrior II, while becoming the highest-grossing comedy in China ever.
Without any big-name cast or large production, Never Say Die uses an easy-going plot and commonly-understood jokes to catch the Chinese audience. And this may signal that the lower-cost Chinese folk comedies are heading in a new direction.

#7 Twenty Two 二十二


Twenty Two is the title of this documentary and refers to the number of Chinese WWII 'comfort women' who are still alive and willing to share their story with the public.
After nearly a century, this documentary focuses on the voices of these 22 women during the last stage of their lives, revisiting the traumas they experienced during the Second Sino-Japanese War (1937-1945).
The documentary shows how these brave and strong elder women talk about their history, perspectives on life, sufferings, and how they found personal happiness despite all hardships. Unlike most film and television works in China relating to Sino-Japanese War, the heart of Twenty Two doesn't seem to lie in narrow nationalistic purposes; instead, it succeeds in letting the general public know and understand this specific group of war victims, permanently preserving a crucial part of war history.

#8 Brotherhood of Blades II: The Infernal Battlefield 绣春刀II修罗战场


It can't be compared to the classic Crouching Tiger, Hidden Dragon, but Brotherhood of Blades II: The Infernal Battlefield is definitely the only Chinese wuxia film in 2017 that was able to do well in the box-offices while also earning great critic reviews.
The film is set in the late Ming Dynasty, when minors and weaklings occupied the throne; neglecting their duties, relying on power-hungry palace eunuchs, and isolating themselves from government ministers.
Shen Lian is an elite guard of the palace who gets framed for treason. In order to prove his innocence, he seeks the truth behind this conspiracy together with a mysterious artist.
Brotherhood of Blades II features a mix of amazing martial arts, beautiful scenery, exquisite costume design, and tasteful drama, all the while carrying a sociopolitical undertone. Through the furious and thrilling martial arts extravaganza, this wuxia sequel presents the audience with the styles and lives, the fate and determination, and the toughness and loyalty of the fighters within Chinese tradition.

#9 Love Education 相爱相亲


This sensitive generational drama starts with the 60-year-old Hui Ying deciding to move her father's grave from his hometown to a place beside her mother's grave in the city.
However, the first wife of Hui Ying's father, who has looked after the grave for years, doesn't approve of her decision. When Hui's journalist daughter Wei Wei gets involved, the disagreement ends up becoming a problem for the whole town community.
Love Education is a work that touches upon issues of generational gaps, love, and womanhood in modern-day China. Throughout the grave-moving issue, the film highlights contemporary Chinese family values and shows how women at 30, 60, 90 years old see and learn to deal with the relationships and bonds between mother-daughter, husband-wife, and grandmother-daughter while facing different hardships in their professional and personal lives at their various life stages.
Filled with sophisticated irony and wisdom regarding the topic of love, Love Education is a pleasant and innocuous highbrow lifetime drama. When it opened in the first week of November in China, the film scored a rare 8.6 points on Douban, the biggest Chinese website for film, music, and book reviews, becoming the highest-rated Chinese film in 2017.
Barbie Hsu, Wang Xiaofei, and the Mattress Incident: Weibo's Divorce Drama of the Year
The post-divorce fight between Wang Xiaofei and 'Big S' Barbie Hsu is taking place online, like a serialized drama going on for too long.
It's the messy divorce drama that just keeps going: Taiwanese actress Barbie Hsu ('Big S') and mainland Chinese businessman Wang Xiaofei got divorced last year and recently aired their dirty laundry on social media. Even the expensive mattress the couple once shared suddenly became the focus of public attention.
One of the biggest celebrity topics on Weibo recently is the divorce drama between Taiwanese actress and tv host Barbie Hsu (Xu Xiyuan 徐熙媛, also known as Big S/大S) (45) and her former partner, Chinese mainland businessman Wang Xiaofei (汪小菲) (41).
In June of 2021, 'Big S' and Wang announced that they were in the process of divorce. The two were married for over a decade, since March 2011, and have two children together, an eight-year-old daughter and six-year-old son.
Less than a year later, in March of 2022, Barbie Hsu tied the knot with her former flame, South Korean musician DJ Koo Jun-Yup.
In November of this year, 'Big S' accused her ex-husband of failing to pay alimony since March of 2022. The accumulated amount reportedly had reached more than NT$5 million (US$160,000). The court ruled that some of Wang Xiaofei's assets in Taiwan will be seized.
Wang Xiaofei then publicly responded to the accusations and aired the dirty laundry about the aftermath of the separation from Hsu.
Everyone and everything got involved afterward, from Wang's mother to Barbie Hsu's sister, and brother-in-law – the entire family got dragged into the drama.
The former couple's old mattress even got dragged out for everyone to see. Meanwhile, Chinese netizens were eating popcorn and staying online to watch the divorce drama unfold.
Here is a timeline of what has happened.

▶︎▶︎ In the morning of November 21, Taiwanese media first reported that 'Big S' had accused Wang Xiaofei of not complying with their divorce agreement and had not paid alimony since March of 2022 and that Barbie Hsu had already taken legal steps to enforce the court order.
Via her lawyer, Barbie Hsu issued a statement about the matter, which went absolutely viral on Weibo. One post including the statement received over one million likes (#大S发声明稿#).
In the statement, dated November 21, 'Big S' expressed hopes that the dispute between her and her ex-husband could be solved as soon as possible for the sake of the children.

▶︎▶︎ Wang Xiaofei publicly responded to the issue in over twenty angry and emotional posts on his Weibo account (@汪小菲), where he has over seven million followers.
Wang, who is based in Beijing, complained about being smeared and not being able to see his children. According to Wang, he paid more than enough – millions – for child support and maintenance. He wrote he was unwilling to pay for an electricity bill that is not his after paying for the house where Barbie Hsu is living in and the custom-made mattress she is sleeping on, which allegedly cost him over US$320,160.
"Someone else is living there, fine," he wrote: "Can you at least change the mattress, you wimp? Still letting me pay for the f*cking electricity bill."
When Wang vowed to personally go back to Taiwan, some commenters reminded him not to forget to bring back his mattress.
(It later turned out that Wang did not fly to Taiwan after all.)

▶︎▶︎ Wang Xiaofei claimed that Mike Hsu (Xu Yajun 许雅钧), husband of Barbie Hsu's sister and Taiwanese tv host Dee Hsu (徐熙娣 aka 'Little S' 小S) has a mistress (#汪小菲发博曝许雅钧养小三#).

▶︎▶︎ Wang Xiaofei's mother Zhang Lan (张兰) got involved in the drama and posted a lengthy statement on her own Weibo account on Tuesday, November 22.
Zhang Lan (@张兰俏江南创始人) is a billionaire business woman and the founder of the upscale restaurant chain South Beauty Group. She has her own livestream e-commerce channel.
Zhang accused her former daughter-in-law 'Big S' Barbie Hsu of hurting her son, not letting her see her grandchildren, while also caller her a liar and even suggesting she is a bad mother.
Zhang also accused her and her younger sister, Dee Hsu (徐熙娣), of having a history of drug abuse.

▶︎▶︎ On November 23, Barbie Hsu defended herself against drug abuse allegations in a social media post, stating both her and her sister suffer from bad hearts and are not even able to use drugs.

▶︎▶︎ The mother of Barbie Hsu and Dee Hsu also got involved, talking to the media and complaining that she has been scolded by Wang Xiaofei's mother Zhang Lan, and saying that Wang and his mother are more than welcome to see the children; they would just need to come over in order to meet with them.

▶︎▶︎ November 23 became 'Mattress D-day' after it became known that Barbie Hsu had delivered the much talked-about mattress to the S Hotel in Taipei, which Wang owns (the hotel was named after 'Big S' in 2017). As reported by Taiwan News, the hotel's general manager surnamed Lee (李) claimed the mattress arrived on Tuesday, and he stated that discarded mattresses are professionally destroyed.
On that Wednesday, the S Hotel held a press conference and allowed Taiwanese media to film and photograph the mattress being destroyed by workers.
The hashtag "Taiwan Media Live-Broadcasts the Handling of Wang Xiaofei & Big S Mattress" #台媒直播汪小菲大S床垫处理过程# went viral on 23 November, receiving over 270 million views on Weibo in one single day. A 23-minute video showed Big S's mattress carried out of the hotel and being completely cut open by several men as a crowd of media stands by.
Some on Weibo said: "The drama is too much."

▶︎▶︎ On Mattress Day, Wang posted again on social media, claiming that he had lost his temper after Hsu sued him for not paying alimony. As reported by Taiwan News, he wrote: "I don't want to say anything anymore, burn the damn mattress, it's all in the past, let's not attack each other anymore." The post was deleted soon after.

▶︎▶︎ With the mattress incident going viral, many netizens soon guessed that if it was about such an expensive mattress, it must have been one by the Swedish Hästens company.
Hästens (海丝腾) itself then responded to the drama via Weibo with an older video that showed its mattresses are of such good quality that they will never go up in flames.
Hastens' post received nearly 20,000 likes on Weibo.

▶︎▶︎ On Thursday, November 24, Wang Xiaofei's mother Zhang Lan seized the opportunity to start selling mattresses on her livestream shopping channel (#张兰卖床垫#).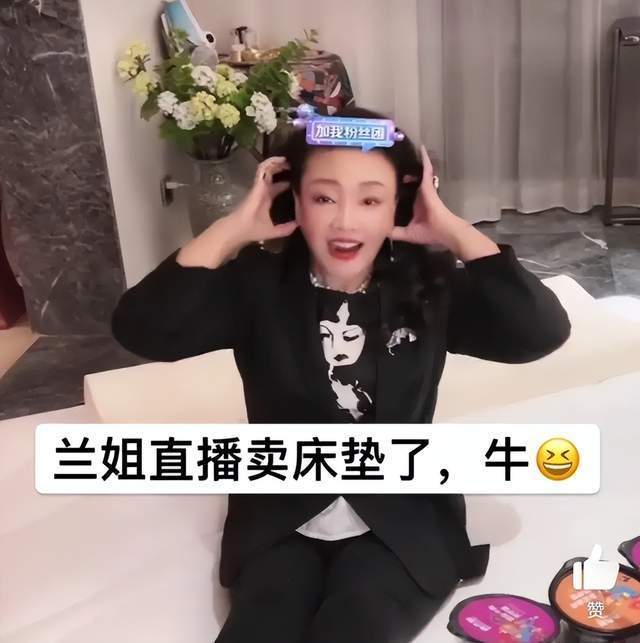 Besides all the personal drama, Zhang commercially profited from the current developments. According to recent reports, she did a total of nine live broadcasts from November 21 to 23, and saw 820,000 new followers flocking to her channel, with an average of 5.3 million viewers per livestream, and up to 25 million RMB ($3,5 million) in sales.

▶︎▶︎ On the same day, as reported by Singaporean Yahoo News, Wang Xiaofei declared that he wants to end the conflict with his wife, only to later delete the post from his Weibo account. Somewhere in all this, Wang also accused Big S of cheating on him since 2018.
He reportedly wrote: "I don't want to say anything anymore. The mattress is burned. It's over. We won't hurt each other anymore."
By that time, the drama was so big on social media that some netizens wrote: "I can't wait for Wang Xiaofei to be gone from my timeline!"

▶︎▶︎ On November 25, Wang Xiaofei started a livestream while laying in his bed, offering viewers a look into his private bedroom. He seemed to be pleased about getting so many views and some suggested he seemed to be drunk. During this livestream, an unknown woman suddenly seemed to lay down beside him, making the livestream comments explode. The livestream stopped shortly after.

▶︎▶︎ Another character stepped on this stage. Chinese actress Gina Zhang (Zhang Yingying 张颖颖) went online to defend Wang (who may be her good friend or something more), saying he is on the verge of a mental breakdown. She also wrote that she hoped to convince him to stop sharing all of his struggles on public platforms for the entire world to see.
She also turned out to be the woman in the livestream. Over 250,000 people liked her post.

▶︎▶︎ Meanwhile, Barbie Hsu publicly posted bank account statements from 2016 to prove her financial independence and that she had paid for the downpayment of their house at the time herself.

▶︎▶︎ On December 3, again another hashtag related to this divorce drama came out, getting up to 200 million views in a day (#大S再婚头纱是刷汪小菲信用卡买的#).
The trend relates to the story of 'Big S' reportedly asking Wang to leave his credit card after the separation, and that the veil that she wore during the wedding with her second husband, among other things, was bought with Wang's credit card.
On the same day, Wang's mother Zhang Lan again commented on the issue in one of her livestreams, saying that Wang and Barbie Hsu officially are not even divorced yet since their marriage was registered in Beijing and had not been dissolved yet (#张兰说大S和汪小菲还没有离婚#).

▶︎▶︎ On December 4, the hashtag "Wang Xiaofei or Big S – Who Is Telling Lies?" (#汪小菲大s谁在说谎#) went viral, getting an astonishing 560 million clicks on Sunday.
It is clear that two former have actually ruined their reputation by airing their dirty online like this. This especially matters for Big S, who used to do commercials for many brands.
"It's like we're watching a theater play," some said.
Others are also tired of their drama dominating social media topics: "I don't care which one is lying, I care about their kids."
"This serialized drama is going on for too long now," others wrote.
This is not the first big celebrity divorce drama to go viral on Weibo. In 2021, there was the big fall-out between Wang Leehom and Lee Jinglei. The separation between actor Wang Baoqiang and Ma Rong became one of the biggest trending topics on Weibo of all time.
Meanwhile, some netizens can't seem to get enough of the drama: "From the mattress to the veil, I'm just enjoying the spectacle."
By Manya Koetse 
Get the story behind the hashtag. Subscribe to What's on Weibo here to receive our newsletter and get access to our latest articles:
Spotted a mistake or want to add something? Please let us know in comments below or email us. First-time commenters, please be patient – we will have to manually approve your comment before it appears.
©2022 Whatsonweibo. All rights reserved. Do not reproduce our content without permission – you can contact us at info@whatsonweibo.com.
"A Good Day" – Kris Wu Sentenced to 13 Years in Prison
The first woman who came forward to accuse Kris Wu in 2021 celebrated his sentencing in a livestream.
The Chinese-Canadian fallen celebrity Kris Wu, better known as Wu Yifan (吴亦凡) in China, has been dominating Chinese social media discussions after a preliminary court ruling came out in the criminal case in which Wu was accused of rape and other sex crimes.
On November 25, the Beijing Chaoyang district court found Wu guilty of raping three women in his home in 2020 and of "gathering people to commit adultery." He was sentenced to 13 years in prison followed by deportation.
Kris Wu is a 32-year old rapper, singer, and actor who was born in Guangzhou and moved to Vancouver with his mother at the age of ten. Wu also spent a part of his high school years in Guangzhou, but he holds a Canadian passport. He became famous as a member of the K-pop band Exo and later started a solo career.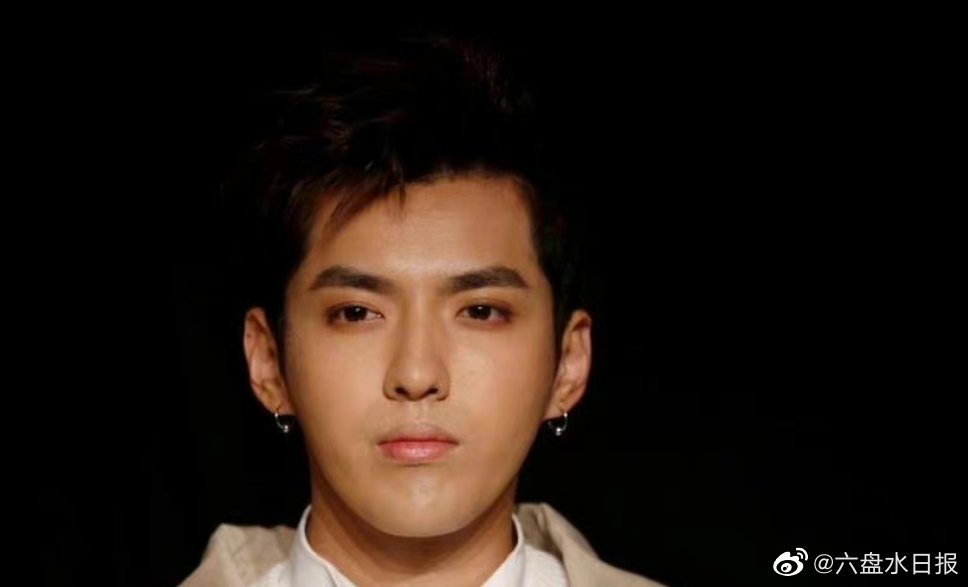 As an actor, he starred in several award-winning movies. He also starred in Sweet Sixteen, a movie in which Wu ironically plays the role of someone getting jailed for shooting a rapist.
The 19-year-old student Du Meizhu (都美竹) was the first to accuse Wu of predatory behavior online in 2021, with at least 24 more women also coming forward claiming the celebrity showed inappropriate behavior and had pressured young women into sexual relationships. As the scandal unfolded, various hashtags related to the story received billions of views on Weibo. Wu was formally arrested on suspicion of rape in mid-August 2021.
On Friday, Meizhu posted "Finally [I've waited for this]" on her social media account. She also briefly joined a livestream in which she celebrated the sentencing and played the song "A Good Day" ("好日子").
On Weibo, the hashtag "Wu Yifan Gets 13 Years" [13 years prison sentence in preliminary ruling] (#吴亦凡一审被判13年#) received nearly 1,8 billion views on Friday.
Noteworthy enough, the Kris Wu hashtag was also being used by netizens to discuss the tragic Urumqi fire which was also a major trending topic on the same day.
Some speculated that the media attention for the Kris Wu case was being used to overshadow the Urumqi news. Others condemned social media users for turning to celebrity news instead of focusing on the tragic fire in Xinjiang's capital.
At the same time, there was also a running joke on social media in light of China's ongoing 'zero Covid' policy, with people saying: "Who will come out first, Kris Wu or us?"
By Manya Koetse 
Featured image: Kris Wu starring in Sweet Sixteen movie.
Get the story behind the hashtag. Subscribe to What's on Weibo here to receive our newsletter and get access to our latest articles:
Spotted a mistake or want to add something? Please let us know in comments below or email us. First-time commenters, please be patient – we will have to manually approve your comment before it appears.
©2022 Whatsonweibo. All rights reserved. Do not reproduce our content without permission – you can contact us at info@whatsonweibo.com.