No Santa, No Reindeer, No Mistletoe – Party Members Banned from Celebrating Christmas
Local authorities in Hengyang are not dreaming of a white Christmas.
An official notice by the Public Security Bureau of Hengyang has stirred debate for prohibiting party members from celebrating Christmas.
A notice issued by the local government of Hengyang, the second largest city of Hunan Province, has stirred controversy for telling government officials and their families not to celebrate Christmas.
A Wechat article about the notice made its rounds on Chinese social media over the past few days but was pulled offline on December 22.
Chinese state media outlet Global Times reported about the issue, and explained it in the following way:
"The Communist Party of China (CPC) does not separate political ideology from religious faith and experts say this means Party members, officials and their family members are required to only believe in communism. The CPC's constitution includes a criterion for membership that requires new members to declare they are not worshipers of a religious faith."
They also reported that the Hengyang authorities warned Party members and government officials it would impose heavy fines on anyone making or selling artificial snow.
Radio Free Asia (RFA) covered the topic on December 20, writing that the local authorities called Christmas ""spiritual opium", and that they warned that those who violated the rules would have to "bear responsibility."
The RFA article suggests that this is not just a local issue, but part of a broader official ban on Christmas.
A wider ban on Christmas
This idea was also further supported in the Global Times article of December 21st, which said that Hengyang is not the only jurisdiction to issue a notice on Christmas celebration and that people in other cities, including students and workers, had received a similar notice.
Several media report that some universities across China, including one in Shenyang, have banned their students from celebrating Christmas.
Multiple people on Weibo posted photos of notices regarding the prohibition of Christmas activities.
One netizen on Weibo, author Wang Zhan (@作家王湛), posted a photo of such a notice in Shenyang, writing:
"This school has banned the celebration of Christmas, but shouldn't they also prohibit the celebration of New Year's Day? Because the nature of New Year's Day and Christmas are the same; they are both Western religious festivals that are celebrated according to the Gregorian calendar, and they are not traditional Chinese festivals. Also, this notice should not actually write the date using "2017", instead it should be written as the year of this or that dynasty or go by the sexagenary cycle, according to Chinese tradition. This Gregorian calendar was issued by a Christian ruler. Shouldn't you put your money where your mouth is?"
Some people commented on the issue that they agreed that Party members, at least, should not celebrate Christmas. "It is a wise decision to prohibit Party members from celebrating Christmas," a Shaanxi local judge posted.
"I also think a Christian festival is meaningless for atheists; it's nothing more than a commercial event," one other person wrote.
Growing resistance? 
Although China is a predominantly atheist country with a small proportion of Christians, Chinese businesses have increasingly started to incorporate a commercial Christmas theme into their winter seasons throughout the years.
As pointed out by Cat Hanson in the article 'Christmas in China: Santa Claus is Coming', Chinese law allows these sort of "normal religious activities" that do not "engage in activities that disrupt social order, impair the health of citizens or interfere with the educational system of the state." The Chinese Communist Party is atheist and Christmas is not a public holiday.
There are more signs that, apart from in Hengyang, there is a growing government resistance against the presence of Christmas in China – both its religious and commercial aspects.
A Kunming local area administrative committee posted on Weibo on December 21: "In accordance with the administrative committee and the Commerce & Industry Bureau, a unit from the bureau inspected the Gaoxin District urban area today for the sale of forbidden Christmas  products."
Despite all controversy, for the seeming majority of netizens on Weibo, the issue of Christmas is not a big one at all. For many, it is just another workday, for others, it is another opportunity to do some shopping and enjoy a nice meal.
One Weibo commenter does not care about the festivities either way: "Whether it's Winter's solstice, Christmas Eve, Christmas, or New Year's, I'm spending it all by myself. I'm just planning to have dinner, wash up, and go to bed."
By Manya Koetse
Follow @whatsonweibo
Miranda Barnes has contributed to this article.
Spotted a mistake or want to add something? Please let us know in comments below or email us.
©2017 Whatsonweibo. All rights reserved. Do not reproduce our content without permission – you can contact us at info@whatsonweibo.com.
"Goodbye, Health Code": Chinese Netizens Say Farewell to the Green Horse
"For three years, I was able to guard my green horse," some said after many places in China have now stopped checking Health Code apps.
China's Health Code apps and the green QR code have been a crucial part of China's Covid strategy for nearly three years. Today, many Chinese bid farewell to the Health Code app and their lucky 'Green Horse.'
Since 2020, China's Health Code apps have become utterly ingrained in everyday life as a pivotal tool in the country's ongoing fight against Covid-19. The Health Code system (there are at least 31 different regional health code applications across China) uses different sources of information, from self-reported health status to travel history and Covid test results, to determine whether or not a person gets a Green QR Code, a Yellow one, or a Red one.
Health Code scans are required when entering communities, malls, supermarkets, commercial buildings, and are basically key to moving around the city.
The Green color means you're safe (low-risk) and have free movement, the Yellow code (mid-risk) requires self-isolation and the Red color code is the most feared one: it means you either tested positive or are at high risk of infection. Clinging on to one's green code was also referred to as 'Guarding the Green Horse' (read all about this in our article on Health Codes).
'Health Code' in Chinese is jiànkāngmǎ 健康吗. 'Green Horse' in Chinese is lǜmǎ 绿马 , which sounds exactly the same as the word for 'green code' (绿码). In a social media environment where homophones and online puns are popular and ubiquitous, it did not take long for the 'green code' to turn into the 'green horse.'
But a lot is changing when it comes to China's fight against Covid. Following an unstoppable Omicron outbreak across China, earlier optimization of Covid measures in November, major Covid outbreaks and unrest at Foxconn in Zhengzhou, and protests in various Chinese cities, and a prior easing of Covid measures in various cities, Chinese central authorities announced far-reaching changes to the country's dynamic Zero Covid policy on Wednesday.
These changes also include a stop to Health Code checks when traveling, and an end to the requirement of negative nucleic acid tests for many places (unless it is about special places such as nursing homes, orphanages, medical institutions, etc.)
On Thursday, December 6, Chinese social media users started saying goodbye to the Health Code system (#告别健康码#), posting photos and videos of QR posters and travel code information being taken down at stations.
The hashtag "Saying Goodbye to Health Code" became a top trending hashtag on Weibo, and by 22:00 local time, had already received over 660 million clicks on the platform.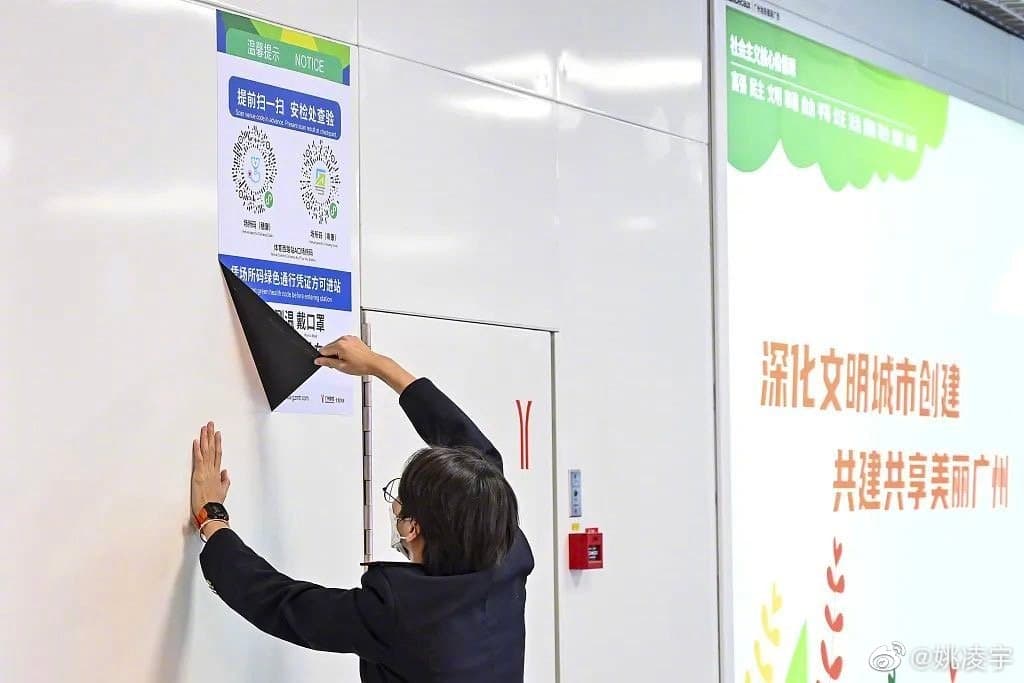 The Zhengzhou subway station is among the places that have already removed their Health Code posters (#郑州地铁撤下健康码海报#).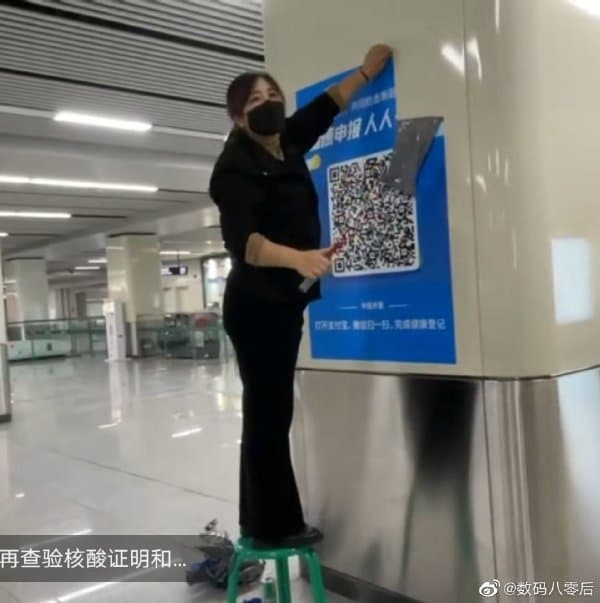 In the Guangzhou subway, posters were already removed on Wednesday.
Chinese media outlet The Observer (观察者网) also published various photos of station staff taking down QR code posters, using the hashtag "Many Stations Removing Health Code Posters" (#多地车站撤下健康码海报#).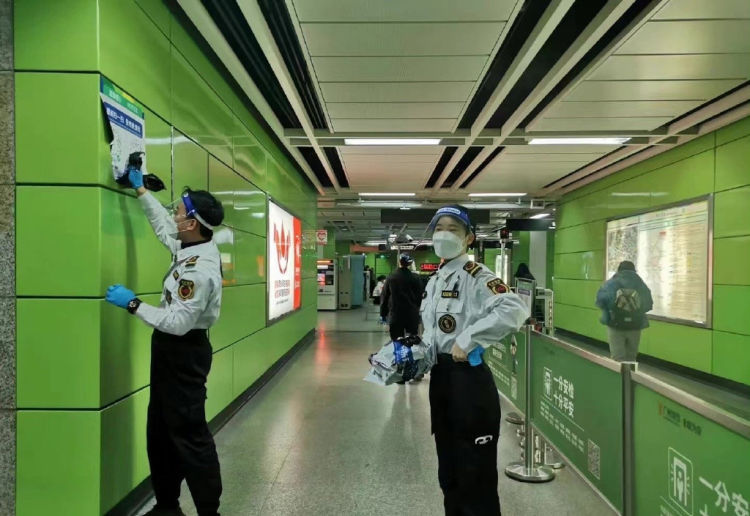 "I didn't need to scan the Health Code when entering university today. Bye bye, Health Code!" one netizen said, with another Sichuan-based blogger also writing: "The sport stadium, the mall, I didn't need to scan anything today."
"I've been waiting for this for so long, and it still came unexpectedly. From now on, we will need to protect ourselves," one comment said. "This just feels amazing," one Guangdong blogger wrote.
This idea of the government protecting people for three years, and that it is now up to the Chinese people to protect themselves, is a recurring one that you can see all over social media. Many people feel that zero Covid measures such as mass testing, local lockdowns, centralized quarantines, Health Code systems, 48-hour negative nucleic acid tests requirements, etc. were all government measures that were protecting the people.
Without this layer of protection, many say that individuals should now take responsibility for their own health.
But there are also those who criticize this line of thinking:
"I particularly dislike that talk of 'the nation has protected you for three years, you can't count on them any more and will have to rely on yourself now,' the people who say this are either stupid or spoiled. What is the nation? The nation is the people, the people are the nation, the three-year-long fight against the epidemic is one in which the masses sacrificed their time, space, money, and even their freedom. Every person paid their share of obligations. What is your talk of 'they won't look after us, it's up to you now'? The best fight against the epidemic is one with an objective and scientific approach. Not a single country in this world really 'laid flat' [to be completely passive in light of epidemic]; every country has actively explored and sought for better ways to live with the virus. This is a people's war. And in war, you'll always have casualties. What we need to do is to balance between survival and development, to minimize the damage as much as possible."
"There's no use in saying goodbye to it," one netizen said: "The most crucial time will be when the virus is gone."
There are also those who expect the coming time is going to be strange: "I think most people will have a moment after this that they'll take out their QR code for scanning whenever they enter a public place. After all, this wasn't just a few days, it's a habit we learned for three years."
Some people are complaining that they are not seeing any differences yet in their area or city, from Changsha to Shenzhen, and that they are eagerly waiting for changes to be implemented.
Meanwhile, green horse images are circulating on Weibo, where many bid farewell to the mystical creature. "For three years, I was able to guard my green horse," one person wrote: "Goodbye, green horse."
"Goodbye and I hope never to see you again," another Weibo user replied.
Read more about China's Health Codes here. To read more about 'Zero Covid' ending, read here.
By Manya Koetse 
Get the story behind the hashtag. Subscribe to What's on Weibo here to receive our newsletter and get access to our latest articles:
Spotted a mistake or want to add something? Please let us know in comments below or email us. First-time commenters, please be patient – we will have to manually approve your comment before it appears.
©2022 Whatsonweibo. All rights reserved. Do not reproduce our content without permission – you can contact us at info@whatsonweibo.com.
Announced Changes in Nucleic Acid Testing and Further Easing of Covid Measures Across China
Bus and subway operators in Beijing will no longer refuse entry to passengers without a 48-hour negative nucleic acid certificate.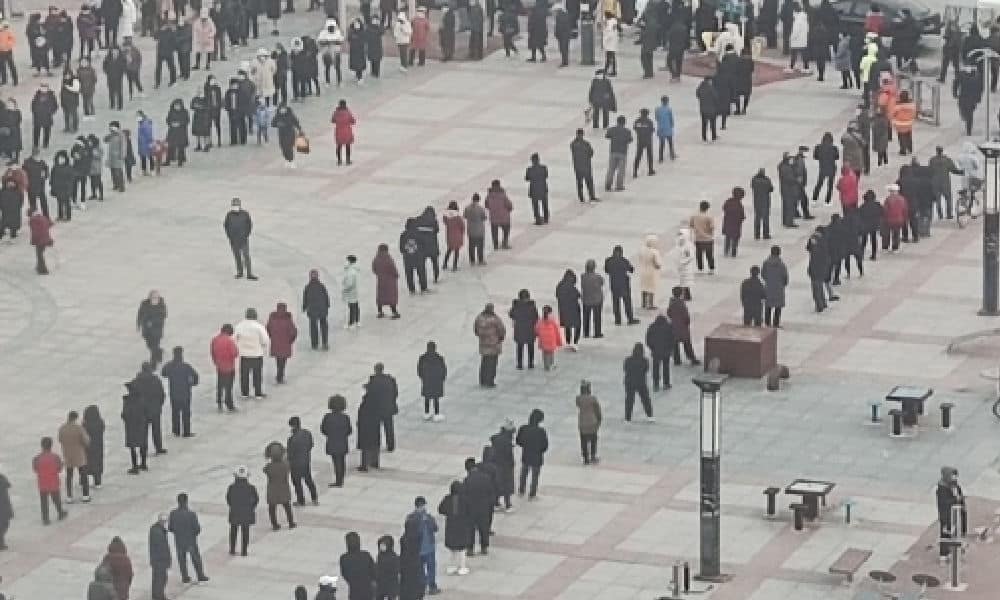 On Monday, directly after that noteworthy unrest-filled weekend, the hashtag "Multiple Locations Announce Nucleic Acid Testing Changes" (#多地核酸检测通知发生变化#) went trending on Chinese social media, receiving over 660 million clicks by Monday evening.
Immediately following demonstrations in Beijing and a second night of protests in Shanghai and elsewhere, various Chinese media reported how different areas across the country are introducing changes to their current Covid19 testing measures.
On Wednesday, November 30, China's vice-premier Sun Chunlan made remarks at a meeting on epidemic prevention, underlining the importance of "constantly optimizing" China's Covid-19 response and talking about a "new stage and mission" – without ever mentioning "zero Covid."
This is what we know about easing Covid measures thus far:
▶ Strict lockdowns have been lifted in Guangzhou, Zhengzhou, and Chongqing.
▶ On November 28, Guangzhou announced that people who do not actively participate in social life will no longer need to participate in continuous nucleic acid screening. This includes elderly people who stay indoors for long periods of time, students who take online classes, and those who work from home. The change will apply to residents in seven districts, including Haizhu, Panyu, Tianhe, and Baiyun (#广州7区无社会面活动者可不参加全员核酸#).
▶ Guangzhou, according to Reuters, also scrapped a rule that only people with a negative COVID test can buy fever medication over the counter.
▶ Harbin will follow the example of Guangzhou, and will also allow people who are mostly based at home to skip nucleic acid test screenings.
▶ Same goes for Shenyang, and Taiyuan.
▶ In Chongqing, various districts have done widespread Covid testing campaigns, but the local authorities announced that those communities that have not had a positive Covid case over the past five days do not need to participate in nucleic acid screening anymore. This means an end to district-wide testing.
▶ On November 30, Beijing also announced that it will start exempting some people from frequent Covid testing, including those elderly residents who are bound to home and other people who do not go out and have social interactions. This also includes younger students who are following classes online.
▶ Starting from December 5, bus and subway operators in Beijing will no longer refuse entry to passengers without a 48-hour negative nucleic acid certificate (announced on December 2nd).
▶ Although not officially announced, there have been various social media posts and reports about Covid-positive people in Beijing being allowed to quarantine at home if they meet conditions.
▶ Chengdu Metro announced on December 2nd that it will no longer check passengers' nucleic acid test reports. Passengers still need to scan their travel code and those with a green code can enter. Other public places will reportedly also start to accept the 'green code' only without a time limit on nucleic acid testing.
▶ Tianjin metro announced that the 72-hour nucleic acid certificate check will be also be canceled for passengers on the Tianjin metro lines. As in other places, people will still need to wear proper face masks and undergo temperature checks.
▶ In Hangzhou, except for at special places such as nursing homes, orphanages, primary and secondary schools, people's nucleic acid tests will no longer be checked in public transportation and other public places. They will also stop checking people's Venue Codes (场所码).
By Manya Koetse , with contributions by Miranda Barnes
Get the story behind the hashtag. Subscribe to What's on Weibo here to receive our newsletter and get access to our latest articles:
Spotted a mistake or want to add something? Please let us know in comments below or email us. First-time commenters, please be patient – we will have to manually approve your comment before it appears.
©2022 Whatsonweibo. All rights reserved. Do not reproduce our content without permission – you can contact us at info@whatsonweibo.com.