No Santa, No Reindeer, No Mistletoe – Party Members Banned from Celebrating Christmas
Local authorities in Hengyang are not dreaming of a white Christmas.
An official notice by the Public Security Bureau of Hengyang has stirred debate for prohibiting party members from celebrating Christmas.
A notice issued by the local government of Hengyang, the second largest city of Hunan Province, has stirred controversy for telling government officials and their families not to celebrate Christmas.
A Wechat article about the notice made its rounds on Chinese social media over the past few days but was pulled offline on December 22.
Chinese state media outlet Global Times reported about the issue, and explained it in the following way:
"The Communist Party of China (CPC) does not separate political ideology from religious faith and experts say this means Party members, officials and their family members are required to only believe in communism. The CPC's constitution includes a criterion for membership that requires new members to declare they are not worshipers of a religious faith."
They also reported that the Hengyang authorities warned Party members and government officials it would impose heavy fines on anyone making or selling artificial snow.
Radio Free Asia (RFA) covered the topic on December 20, writing that the local authorities called Christmas ""spiritual opium", and that they warned that those who violated the rules would have to "bear responsibility."
The RFA article suggests that this is not just a local issue, but part of a broader official ban on Christmas.
A wider ban on Christmas
This idea was also further supported in the Global Times article of December 21st, which said that Hengyang is not the only jurisdiction to issue a notice on Christmas celebration and that people in other cities, including students and workers, had received a similar notice.
Several media report that some universities across China, including one in Shenyang, have banned their students from celebrating Christmas.
Multiple people on Weibo posted photos of notices regarding the prohibition of Christmas activities.
One netizen on Weibo, author Wang Zhan (@作家王湛), posted a photo of such a notice in Shenyang, writing:
"This school has banned the celebration of Christmas, but shouldn't they also prohibit the celebration of New Year's Day? Because the nature of New Year's Day and Christmas are the same; they are both Western religious festivals that are celebrated according to the Gregorian calendar, and they are not traditional Chinese festivals. Also, this notice should not actually write the date using "2017", instead it should be written as the year of this or that dynasty or go by the sexagenary cycle, according to Chinese tradition. This Gregorian calendar was issued by a Christian ruler. Shouldn't you put your money where your mouth is?"
Some people commented on the issue that they agreed that Party members, at least, should not celebrate Christmas. "It is a wise decision to prohibit Party members from celebrating Christmas," a Shaanxi local judge posted.
"I also think a Christian festival is meaningless for atheists; it's nothing more than a commercial event," one other person wrote.
Growing resistance? 
Although China is a predominantly atheist country with a small proportion of Christians, Chinese businesses have increasingly started to incorporate a commercial Christmas theme into their winter seasons throughout the years.
As pointed out by Cat Hanson in the article 'Christmas in China: Santa Claus is Coming', Chinese law allows these sort of "normal religious activities" that do not "engage in activities that disrupt social order, impair the health of citizens or interfere with the educational system of the state." The Chinese Communist Party is atheist and Christmas is not a public holiday.
There are more signs that, apart from in Hengyang, there is a growing government resistance against the presence of Christmas in China – both its religious and commercial aspects.
A Kunming local area administrative committee posted on Weibo on December 21: "In accordance with the administrative committee and the Commerce & Industry Bureau, a unit from the bureau inspected the Gaoxin District urban area today for the sale of forbidden Christmas  products."
Despite all controversy, for the seeming majority of netizens on Weibo, the issue of Christmas is not a big one at all. For many, it is just another workday, for others, it is another opportunity to do some shopping and enjoy a nice meal.
One Weibo commenter does not care about the festivities either way: "Whether it's Winter's solstice, Christmas Eve, Christmas, or New Year's, I'm spending it all by myself. I'm just planning to have dinner, wash up, and go to bed."
By Manya Koetse
Follow @whatsonweibo
Miranda Barnes has contributed to this article.
Spotted a mistake or want to add something? Please let us know in comments below or email us.
©2017 Whatsonweibo. All rights reserved. Do not reproduce our content without permission – you can contact us at info@whatsonweibo.com.
Bakery Boycott over Taiwan Issue: The 85°C Café Controversy
In light of the recent boycott of 85°C Bakery Cafés, some complain: "There's still money left in my customer card!"
A brief visit to Taiwanese bakery 85°C by ROC President Tsai Ing-wen has caused a huge storm on Chinese social media this week, where netizens called for a boycott of the chain.
One brief visit to a Taiwanese bakery turned out to have huge consequences this week amidst discussions over Cross-Strait relations.
On August 12, Taiwan president Tsai Ing-wen paid a visit to a Los Angeles chain of Taiwanese 85°C Bakery Café (85度C) while on her United States trip.
During the brief bakery visit, Tsai reportedly chatted with employees and was offered a small gift. The occasion, captured on photos, triggered controversy among mainland netizens, who tied the event to the 85°C Bakery supposedly supporting Taiwan independence.
The issue drew so much controversy on Chinese social media that netizens called for a boycott of the 85°C chain, with typical comments saying: "[85°C Bakery Cafés] is a company in favor of Taiwanese independence. Your consumption will fund Taiwanese Independence. Let's boycott together!"
Tsai has not endorsed the 1992 consensus or 'One China Consensus', something which has made the polician a controversial figure in mainland China.
Small Visit, Big Consequences
85°C, also called the 'Starbucks of Taiwan' has 1000 locations worldwide, of which 628 outlets are active in mainland China.
On the 15th, the 85°C mainland branch issued an official statement on their WeChat and Weibo account in response to the controversy, saying that the gift Tsai received was a "private matter" and that the company "firmly supports the One China Policy."
But the same statement, that emphasizes the peaceful development of Cross-Strait relations, was not published on the website of Gourmet Master, the 85°C parent company. In a reaction, the 85°C head office stated that the post was an individual action of the 85°C mainland branch and that they would not express any opinions on the matter.
The controversy is deeply affecting the business of 85°C in China. Not only are netizens calling for a large-scale boycott, China's most popular online delivery apps have also removed the chain from their platforms.
Among the major food apps boycotting 85°C are delivery giants Meituan, Ele.me, and Dianping.
The recent developments have led to a sharp drop in stocks of parent company Gourmet Master, hitting its lowest point in 15 months.
Netizens Worried over their 85°C Customer Card
On Weibo, many seemingly see the 85°C boycott as their personal mission, writing things such as: "There are many more tea and bread shops you can choose to go. We, as common workers, can't really fight the big companies, and it's impossible for us to force others not to go [to 85°C), we can only do what we think is right."
Many sarcastically say: "Wanting to make money in Mainland China while also wanting Taiwan to be independent – how nice."
Recently, similar sentiments flooded Weibo when a video clip emerged of Taiwanese actress Vivian Sung, in which she called Taiwan her "favorite country." Sung currently stars in the mainland China's hit movie Hello Mr. Billionaire (西虹市首富).
Although many people on Weibo are in favor of a boycott of the 85°C Bakery, some are somewhat more critical about the issue.
"We actually do not know if this chain is in favor of Taiwan independence," one commenter said: "But if Cai goes to the US in her role as President, her every move will be coordinated. Which is to say that Cai, of course, knew about 85°C before, and they were prepared to welcome her."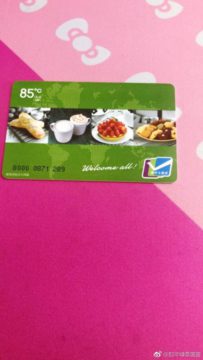 There are also those who seemingly do not care much about the political side to the discussion – they are more worried about what to do with the money they have deposited in their 85°C-customer cards.
"Let's use it up quickly," some say, ignoring the supposed boycott: "We won't be able to use it anymore if they'd close their doors."
"I just hope they won't leave the mainland any time soon," someone else writes: "I still have credit on my customer card.."
By Gabi Verberg and Manya Koetse
Follow @whatsonweibo
Spotted a mistake or want to add something? Please let us know in comments below or email us.
©2018 Whatsonweibo. All rights reserved. Do not reproduce our content without permission – you can contact us at info@whatsonweibo.com.
Princess Syndrome Candidates? Shanghai Kid's Spa "Twinkle" Turns Children into Little Stars
Innocent child's play or raising little princesses?
A recently opened kid's spa in Shanghai is one among many businesses catering to Chinese millennials and their little kids. Although many love these new luxury services for China's youngest, there are also those who say these daughters will end up suffering from 'Princess Syndrome' (公主病)."
Recently, a Shanghai kid's spa has been at the center of an online discussion on 'Little Red Book' (Xiaohongshu/小红书), a popular interactive e-commerce platform focused on fashion and beauty.
The establishment named "Twinkle" is a luxurious "parent-child restaurant" (亲子餐厅) that also includes a playground and the much-discussed children's spa, that seems to be mainly focused on catering to little girls.
A post dedicated to the spa received nearly 4000 likes and 1500 comments on Xiaohongshu within a few days time this week.
Marketing and e-commerce specialist Miro Li discussed the topic on LinkedIn, writing:
"This well decorated "kids spa," with everything in pink, is located in a shopping mall in Pudong. It's very popular among millennial parents and [it's] hard to book a seat. Service fee is RMB 218 (approximately USD 32) for each kid, including a pink bathrobe, a "facial" with cucumber mask, a "foot spa", and a glass of grape juice within [a maximum time of] three hours. The spa also has a restaurant and a small indoor playground."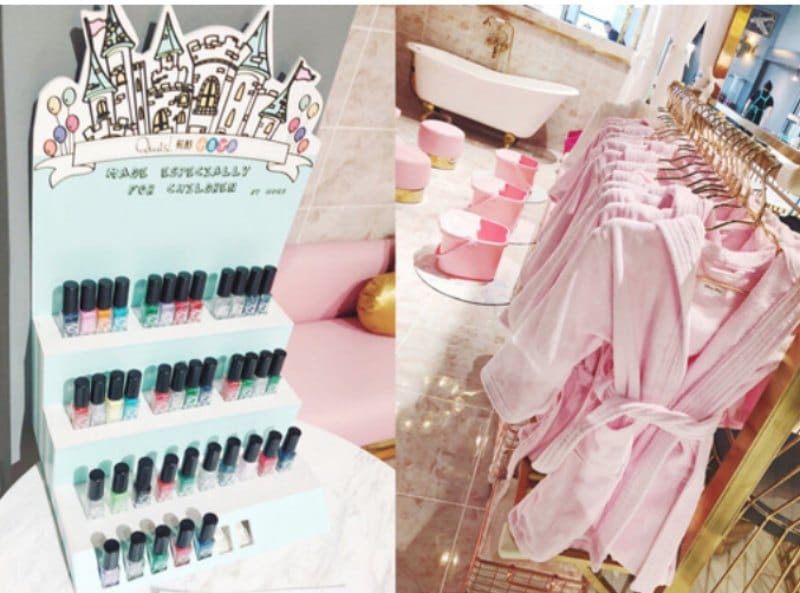 Miro Li further explains:
"This post has got people in the comments [section] split into two groups. One side strongly disagrees with parents who take kids to the spa, saying kids are too spoiled. The other side thinks this is totally normal as long as parents can afford it."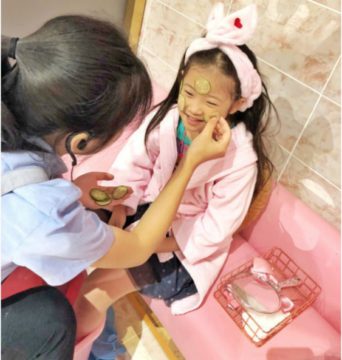 She adds:
"RMB 218 for an afternoon with kids is not too expensive in a first-tier city, but it's also not cheap. Apart from the debate, we can see that many Chinese millennial parents are pursuing the best quality of life for themselves and their kids. They don't care too much about the price like their parents do and they are more willing to spend on lifestyle."
The newly opened Twinkle "premium kid's cafe" and spa, located in Shanghai Pudong's Century Link Tower, is the second shop that has been opened after the success of the first Xintian-based branch.
Chinese parents increasingly spend more money on luxury goods for their children, such as branded wardrobes. Already in 2015, about 60 percent of surveyed Chinese millennial parents spent more than 3,000 yuan ($471) per month on luxury goods for their children, Jing Daily reports.
However, some people think that Chinese parents spoil their (only) children too much, leading to "Princess sickness" (公主病) (also 'Little Emperor Syndrome' 小皇帝病 for boys), a term used in China to describe young women who with a self-centered and high maintenance personality.
The Xiaohongshu comment section has generated some heated debates about the Twinkle kid's spa.
"It's not right!", one person says: "These girls are too young to experience this. (..) It's better to let them study when they're young, and let them read some books." Many other commenters agree, writing: "Children shouldn't do the same stuff as grown-ups do."
"You don't get Princess Syndrome because of a spa treatment."
"It's not because of the price, but I would never let my daughter do this," another female commenter writes: "I hope my daughter can grow up naturally (..) I want her to learn to do good for society and others."
Some even call the spa a "violation of socialist core values."
But there are also many people arguing that commenters criticizing the spa are taking things too seriously.
"What a bunch of sour comments here," one person says: "All that talk of Princess Syndrome – you don't get Princess Syndrome because of a 218 yuan spa treatment, it is something that comes from how parents treat their children. By getting a spa treatment, these children learn the good habit of taking good care of their skin from an early age (..). At the same time, it also teaches them about the kind of life they'd want and that they have to do their best to reach it."
"Everyone is entitled to their own opinions," another Xiaohongshu user says: "But I'd say it's much better to bring your kid out to play like this than to let them play on your phone."
However, it seems that the more critical stance is dominating this debate. The top comment of the section, receiving more than 1000 likes, says: "I just think that it's not right to inject these kind of ideas about what enjoyment is into the minds of kids this small."
"Mums just want to give their kids the very best," one reply reads: "If they can afford it, it's absolutely normal for them to do so."
By Manya Koetse
Follow @whatsonweibo
Spotted a mistake or want to add something? Please let us know in comments below or email us.
©2018 Whatsonweibo. All rights reserved. Do not reproduce our content without permission – you can contact us at info@whatsonweibo.com.