Another Death in Isolation: Hohhot Woman Falls to Death from 12th Floor of Locked-Down Building
What happened in Hohhot? And why did the incident receive nationwide attention? An explainer including timeline.
A 55-year-old woman in the city of Hohhot fell to her death from the 12th floor of her building on November 4th. The incident has become a major topic of discussion on Chinese social media, mainly because the woman's building had fences around it with gates locked on both sides, preventing residents from leaving – even in an emergency situation.
The most-read Weibo post of this week concerns a police notice regarding an incident in Hohhot, Inner Mongolia, in which a 55-year-old female resident fell to her death from the 12th floor of her building.
The police notice, republished by China Newsweek Magazine (@中国新闻周刊), received over 1,6 million 'likes' and nearly 80,000 comments and over 68,000 shares. It was the number one Weibo post of the week in the Sina Weibo official top trending posts overview.
The incident happened on November 4 at Beiyuan road's Xingguang A9 community (兴光A9小区) in the Xincheng District of Hohhot (呼和浩特市新城区). The police reportedly received a call at 18:10 that a woman had fallen from the window. They arrived at the scene at 18:15, and the emergency medical workers pronounced the woman dead shortly after.
The police urged netizens to stop sharing any videos related to the incident that circulated online.
The woman, Mrs Wang, lived together with her 29-year-old daughter at the Unit 2 building of the community. She allegedly suffered from an anxiety disorder and took prescription drugs for her condition since 2019.
Since 26 October, the community had become a 'high-risk area' due to two positive Covid cases, and an 'isolation barrier' was placed around the Unit 2 building to prevent residents from leaving the compound.
One reason why this particular incident has caused so much commotion on Chinese social media is that the residential building where Wang and her daughter resided was completely shut down; the gates were locked from the outside, and residents were also unable to open them from the inside. This led to a terrible situation in which Wang's daughter was unable to rush out to get help at a critical moment, despite her banging at the doors of the gates.
News of this incident also comes at a time when several stories like this have gone trending on Chinese social media, including the incident in Ruzhou where a girl died due to a lack of medical care at a local quarantine center; and the recent case of a 3-year-old boy who suffered from carbon monoxide poisoning inside a 'high-risk area' with insufficient medical emergency response channels.
TIMELINE OF EVENTS
On Sunday, Hohhot's Xincheng District authorities released a timeline detailing how the events exactly occurred on Friday, based on Wechat records and the emergency line records.
On November 4, at 10:13 in the morning, Wang's daughter contacted the property manager Zhang X. via WeChat to report that her mother was having a mental breakdown.
She contacted Zhang at 17:13 again to report that her mother's condition had worsened and that she was showing suicidal behavior. When asking if Zhang could call the emergency hotline, she was reportedly told "call them yourself, I'm busy."
At 17:23, the eldest daughter of Wang, a 35-year-old resident of Hainan, contacted the emergency hotline on behalf of her sister, because the sisters allegedly were afraid that their mother's condition would further deteriorate if the hotline was contacted in their mother's presence. The dispatcher team, however, decided that the case was a non-emergency one and the case was temporarily put on hold.
At 17:31, as the situation was not improving at all, Wang's second daughter called for an ambulance and notified the property management to arrange for community workers to get ready to meet the ambulance staff at the community gate.
Zhang X. arranged for property management staff member Wu X. to meet the ambulance and the main community gate, and then allegedly also reported the case to the residential complex staff member in charge, who seemingly failed to forward the message to the relevant workers at the scene. Not a single member of staff came to check on Wang and her daughter at their apartment.
At 18:04, Mrs Wang fell from the bedroom window of her apartment on the 12th floor of the building. Just moments before, her daughter had gone into the living room to charge her phone.
Several calls came in at the emergency hotlines in the following minutes about the woman falling from the window.
At 18:10, a local staff member could hear someone – Wang's daughter – shouting and banging from the other side of the isolation barrier. When the gate of the barrier was opened, they found the person had gone back inside.
At 18:14, Wang's daughter contacted the property manager and asked them to open up the barrier gates.
By 18:15, first responders had arrived at the scene and were let into the community gates, finding the daughter sitting by her deceased mother's body.
Mrs Wang was officially pronounced dead at 18:39. Her remains were transported to the morgue at 20:22.
The Hohhot Xincheng District extended their condolences to the Wang family and admitted that their local emergency response system was lagging behind and that the situation was poorly handled by the property management and residential area staff.
The district authorities stated they would strengthen their emergency response system and would hold those who mismanaged the situation accountable in accordance with the law.
INSIDE THE LOCKED-DOWN UNITS
Over the weekend, flowers piled up outside the gate of the Xingguang A9 community.
Chinese media outlet Lifeweek (三联生活周刊) published a story and several interviews on 6 November, using the hashtag "Life Behind the Doors of the Locked-down Units" (#封闭在单元门背后的生活#).
Lifeweek reporters spoke to neighbors living in Unit 2 of Xingguang A9 as well as other people in the neighbourhood.
They confirmed that virtually all buildings that were deemed 'high risk' – and sometimes some labeled as lower risk – had been shut off from the outside world, leaving residents unable to leave. The gates were locked from both the outside and the inside, as was the case with Xingguang A9.
"This just makes my blood run cold," some commenters said on Weibo, where many people expressed anger about the incident and also about how it was presented by several state media outlets: they focused on the woman falling from the window rather than the fact that the building was locked down.
In light of the incident, Hohhot's local epidemic prevention authorities released an official statement regarding Covid-19 lockdown measures. Locking residents inside their building is not allowed, authorities said, emphasizing that emergency and escape routes should always be kept clear of all obstructions and that community gates should never be locked.
Although it is still allowed to close the doors of a building and to set up isolation fences, they can only be closed with a seal that can be broken in case of an emergency. Closing the door with locks, pins, bars, etc is not allowed.
Despite the promises of improvement, some commenters online are pessimistic about what this winter will bring: "Looking at Xinjiang, Hohhot, this virus is being mismanaged and all that we're facing this winter is the fight against the epidemic. Otherwise they'll have to change the policies. The consequences are unthinkable."
On Douyin (TikTok), various unverified videos show unethical lockdown measures, with doors being locked with chains and bars, in light of what happened in Hohhot.
The censorship that comes with topics such as these is also not reassuring to many: "They've put on comment filtering again. The comments on display are monotone and actually reveal what they want to hide."
"I beg you, give us a way out," one Weibo user wrote.
Many commenters expressed that they do not necessarily oppose China's fight against Covid, but that they just oppose "excessive anti-epidemic measures."
One popular Douyin comment said: "How many more sacrifices do we need to bring before you wake up?"

By Manya Koetse, with contributions by Miranda Barnes
Follow @WhatsOnWeibo

For information and support on mental health and suicide, international helplines can be found at www.befrienders.org.
Get the story behind the hashtag. Subscribe to What's on Weibo here to receive our newsletter and get access to our latest articles:
Spotted a mistake or want to add something? Please let us know in comments below or email us. First-time commenters, please be patient – we will have to manually approve your comment before it appears.
©2022 Whatsonweibo. All rights reserved. Do not reproduce our content without permission – you can contact us at info@whatsonweibo.com.
Repurposing China's Abandoned Nucleic Acid Booths: 10 Innovative Transformations
Abandoned nucleic acid booths are getting a second life through these new initiatives.
During the pandemic, nucleic acid testing booths in Chinese cities were primarily focused on maintaining physical distance. Now, empty booths are being repurposed to bring people together, serving as new spaces to serve the community and promote social engagement.
Just months ago, nucleic acid testing booths were the most lively spots of some Chinese cities. During the 2022 Shanghai summer, for example, there were massive queues in front of the city's nucleic acid booths, as people needed a negative PCR test no older than 72 hours for accessing public transport, going to work, or visiting markets and malls.
The word 'hésuān tíng' (核酸亭), nucleic acid booth (also:核酸采样小屋), became a part of China's pandemic lexicon, just like hésuān dìtú (核酸地图), the nucleic acid test map lauched in May 2022 that would show where you can get a nucleic test.
During Halloween parties in Shanghai in 2022, some people even came dressed up as nucleic test booths – although local authorities could not appreciate the creative costume.
In December 2022, along with the announced changed rules in China's 'zero Covid' approach, nucleic acid booths were suddenly left dismantled and empty.
With many cities spending millions to set up these booths in central locations, the question soon arose: what should they do with the abandoned booths?
This question also relates to who actually owns them, since the ownership is mixed. Some booths were purchased by authorities, others were bought by companies, and there are also local communities owning their own testing booths. Depending on the contracts and legal implications, not all booths are able to get a new function or be removed yet (Worker's Daily).
In Tianjin, a total of 266 nucleic acid booths located in Jinghai District were listed for public acquisition earlier this month, and they were acquired for 4.78 million yuan (US$683.300) by a local food and beverage company which will transform the booths into convenience service points, selling snacks or providing other services.
Tianjin is not the only city where old nucleic acid testing booths are being repurposed. While some booths have been discarded, some companies and/or local governments – in cooperation with local communities – have demonstrated creativity by transforming the booths into new landmarks. Since the start of 2023, different cities and districts across China have already begun to repurpose testing booths. Here, we will explore ten different way in which China's abandoned nucleic test booths get a second chance at a meaningful existence.
1: Pharmacy/Medical Booths
Blogger 'copyquan' recently explored various ways in which abandoned PCR testing points are being repurposed.
One way in which they are used is as small pharmacies or as medical service points for local residents (居民医疗点). Alleviating the strain on hospitals and pharmacies, this was one of the earliest ways in which the booths were repurposed back in December of 2022 and January of 2023.
Chongqing, Tianjin, and Suzhou were among earlier cities where some testing booths were transformed into convenient medical facilities.
2: Market Stalls
In Suzhou, Jiangsu province, the local government transformed vacant nucleic acid booths into market stalls for the Spring Festival in January 2022, offering them free of charge to businesses to sell local products, snacks, and traditional New Year goods.
The idea was not just meant as a way for small businesses to conveniently sell to local residents, it was also meant as a way to attract more shoppers and promote other businesses in the neighborhood.
3: Community Service Center
Some residential areas have transformed their local nucleic acid testing booths into community service centers, offering all kinds of convenient services to neighborhood residents.
These little station are called wǎnggé yìzhàn (网格驿站) or "grid service stations," and they can serve as small community centers where residents can get various kinds of care and support.
4: "Refuel" Stations
In February of this year, 100 idle nucleic acid sampling booths were transformed into so-called "Rider Refuel Stations" (骑士加油站) in Zhejiang's Pinghu. Although it initially sounds like a place where delivery riders can fill up their fuel tanks, it is actually meant as a place where they themselves can recharge.
Delivery riders and other outdoor workers can come to the 'refuel' station to drink some water or tea, warm their hands, warm up some food and take a quick nap.
5: Free Libraries
In various Chinese cities, abandoned nucleic acid booths have been transformed into little free libraries where people can grab some books to read, donate or return other books, and sit down for some reading.
Changzhou is one of the places where you'll find such "drifting bookstores" (漂流书屋) (see video), but similar initiatives have also been launched in other places, including Suzhou.
6: Study Space
Another innovative way in which old testing points are being repurposed is by turning them into places where students can sit together to study. The so-called "Let's Study Space" (一间习吧), fully airconditioned, are opened from 8 in the morning until 22:00 at night.
Students – or any citizens who would like a nice place to study – can make online reservations with their ID cards and scan a QR code to enter the study rooms.
There are currently ten study booths in Anji, and the popular project is an initiative by the Anji County Library in Zhejiang (see video).
7: Beer Kiosk
Changing an old nucleic acid testing booth into a beer bar is a marketing initiative by the Shanghai McCann ad agency for the Belgium beer brand Hoegaarden.
The idea behind the bar is to celebrate a new spring after the pandemic. The ad agency has revamped a total of six formr nucleic acid booths into small Hoegaarden 'beer gardens.'
8: Police Box
In Taizhou City, Jiangsu Province, authorities have repurposed old testing booths and transformed them into 'police boxes' (警务岗亭) to enhance security and improve the visibility of city police among the public.
Currently, a total of eight vacant nucleic acid booths have been renovated into modern police stations, serving as key points for police presence and interaction with the community.
9: Lottery Ticket Booths
Some nucleic acid booths have now been turned into small shops selling lottery tickets for the China Welfare Lottery. One such place turning the kiosks into lottery shops is Songjiang in Shanghai.
Using the booths like this is a win-win situation: they are placed in central locations so it is more convenient for locals to get their lottery tickets, and on the other hand, the sales also help the community, as the profits are used for welfare projects, including care for the elderly.
10: Mini Fire Stations
Some communities decided that it would be useful to repurpose the testing points and turn them into mini fire kiosks, just allowing enough space for the necessary equipment to quickly respond to fire emergencies.
Want to read more about the end of 'zero Covid' in China? Check our other articles here.
By Manya Koetse,
Get the story behind the hashtag. Subscribe to What's on Weibo here to receive our newsletter and get access to our latest articles:
Spotted a mistake or want to add something? Please let us know in comments below or email us. First-time commenters, please be patient – we will have to manually approve your comment before it appears.
©2023 Whatsonweibo. All rights reserved. Do not reproduce our content without permission – you can contact us at info@whatsonweibo.com.
The Hottest Place in China: How Zibo Became a Popular Tourist Destination and an Online Hit
There are even special Zibo BBQ trains now. This is how Zibo barbecue suddenly became the hottest meal of the country.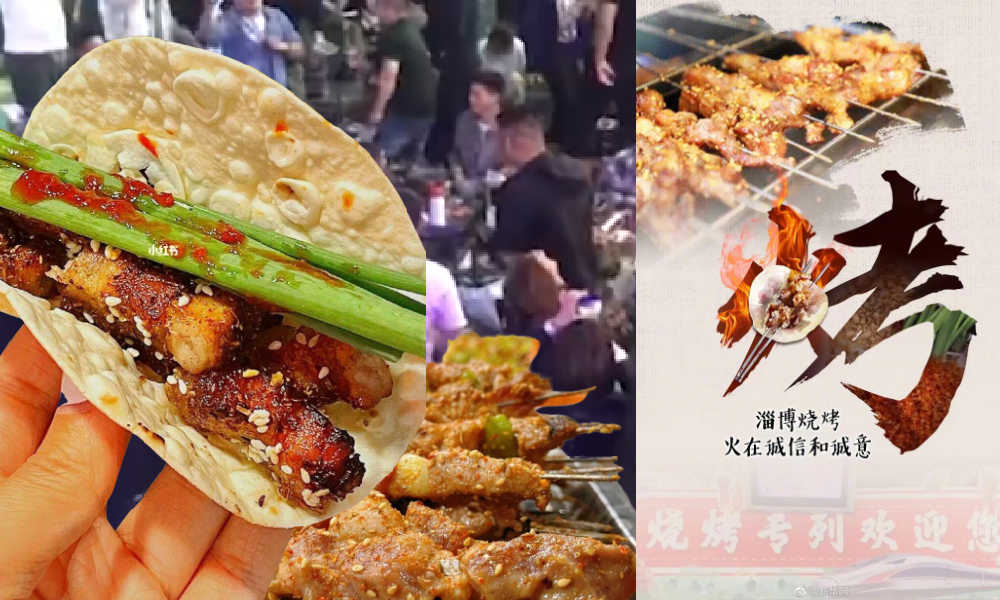 The old industrial city of Zibo treated students well during their zero Covid quarantine. This spring, they came back to celebrate the city. Their enthusiasm and social media posts were so contagious that the entire country now wants a taste of Zibo barbecue.
In central Shandong province, bordering the provincial capital Jinan to the west, you will find the city of Zibo (淄博). With its 4.7 million inhabitants, the old industrial and mining city was not exactly known as a trendy tourist destination. But that has all changed now. Everybody is talking about Zibo.
For the upcoming May 1st holiday, hotel bookings in Zibo went up 800% compared to 2019, making it one of the most popular destinations in Shandong. The city has especially attracted online attention since March of 2023, with hashtags and hot searches peaking over the previous week.
How did Zibo become such an online sensation, especially among China's young travelers? The city's hit status is widely discussed on Chinese social media apps these days. The emergence of such an overnight sensation is usually the result of various factors coming together at the right time, and this is also the case with the hype surrounding Zibo.
Zibo Barbecue
Its appealing barbecue culture is the first and main reason why Zibo is so hot nowadays. The city has been known for its barbecue restaurants for years, and creating a thriving open-air BBQ entertainment environment is also something the local authorities have invested in. They are publicizing Zibo as an ambassador city for "Friendly Shandong" ("好客山东"), the slogan the province uses to promote its image and boost tourism.
The Zibo BBQ experience includes every table having its own small stove and it has that 'do it yourself' factor that hotpot-style dinners also have: when the skewers are served, the diners have to grill them themselves and then wrap them in thin pancakes, usually with spring onions.
As one of its tourism promotion initiatives, Zibo has set up special tourist trains and dedicated BBQ bus routes to attract groups of tourists and boost local tourism after the pandemic years. Train ticket sales for May 1st already doubled that of Spring Festival, and tickets for the Beijing South-Zibo route sold out online within a minute the moment they became available.
A Kind City in Difficult Times
Another reason for Zibo's sudden fame was suggested by some Chinese netizens (including the popular @地瓜熊老六), who said that Zibo played a special role during China's zero-Covid policy.
Zibo first went trending after a group of students from Jinan went there in March of this year. They came to Zibo because this was where they apparently were quarantined for a while during Covid, and they were well taken care of during their stay.
According to one Zibo local, the students also celebrated their last night in Zibo at the time with a major BBQ feast.
It is said that the students from Jinan wanted to go back to Zibo at this time and spend time there as a way to thank the city – not knowing they would start a viral sensation.
Power of TikTok
Douyin, the Chinese TikTok app, is also at the heart of Zibo's recent success.
As reported by 36kr, Zibo first became a hot topic on Douyin in early March, when the videos of the initial groups of students taking the high-speed train to Zibo to eat barbecue went viral.
In April, Zibo again hit the hot trending lists on Douyin after one vlogger tried out ten different food stalls in the city and found that they all gave him the right portions or even gave him some extra food for free, reinforcing the idea that Zibo is a hospitable city.
What followed was a snowball effect, from Douyin to Xiaohongshu to Weibo, with videos showing Zibo diners singing together while eating and having a good time spreading all over social media, only increasing the appeal of the city. "Zibo is just all over my timeline," some commenters wrote on April 15.
Crazy Travel after Covid
According to the Chinese media platform DT Finance (DT财经), Zibo is a destination that especially resonates with Chinese students who have new wishes when it comes to traveling.
Especially during the pandemic and China's stringent Covid measures, many people have spent a lot of time indoors, quarantined, locked down, and/or unable to travel. Now that spring is here, people want to seize the moment and go out and enjoy their leisure time. This also means that instead of planning longer holidays well in advance, people book shorter, last-minute trips.
This is also one of the reasons why Zibo is especially popular among students from Shandong, who can hop on a train, reach their destination, and find themselves enjoying a beer and barbecue within a matter of hours.
Stories from Zibo
In light of the craze surrounding Zibo, there are various stories emerging from the thriving city that only add to its charm. For example, there are many videos showing the lively scenes around BBQ restaurants which went viral.
One visitor needed to catch his train but still wanted a taste of Zibo BBQ, so one female shop owner hurried things along and made sure he got his Zibo dinner (#淄博老板娘为赶高铁小伙1v1烤串#).
Then there was a 95-year-old veteran who visited the Zibo BBQ scene and his visit also made its rounds on social media (#95岁老兵体验淄博烧烤被围观#).
Another trending hashtag is about Zibo's music events (#淄博音乐节#), about some of the planned events and (rock) concerts taking place in Zibo in late April and early May. "Zibo's cultural tourism office really understand how to do it," various commenters wrote, praising how Zibo is not just known for its barbecue restaurants but also for its lively music scene.
Then there are the videos showing an entire crowd singing 'happy birthday' because one person is celebrating their birthday.
All in all, it's clear that Zibo did something right. Especially in these times when so many cities across China are doing all they can to promote their town as a tourist destination (read all about it here), Zibo has proven that consistency is key to success: stay kind, be reliable, but most of all, keep the barbecue hot.
By Manya Koetse , with contributions by Miranda Barnes
Get the story behind the hashtag. Subscribe to What's on Weibo here to receive our newsletter and get access to our latest articles:
Spotted a mistake or want to add something? Please let us know in comments below or email us. First-time commenters, please be patient – we will have to manually approve your comment before it appears.
©2023 Whatsonweibo. All rights reserved. Do not reproduce our content without permission – you can contact us at info@whatsonweibo.com.
Subscribe to our newsletter
Stay updated on what's trending in China & get the story behind the hashtag
Sign up
here
to become a premium member of What's on Weibo today and gain access to all of our latest and premium content, as well as receive our exclusive Weibo Watch newsletter. If you prefer to only receive our free newsletter with an overview of the latest articles, you can
subscribe for free
here.
Would you like to become a contributor, or do you have any tips or suggestions for us? Get in touch with us here.