Death of Lanzhou Toddler after Late Emergency Response Sparks Online Anger over China's Covid Policies
"Unless you shut down the entire internet in Lanzhou, there is no way for you to cover this up."
The emergency number was dialed at 12:15. The ambulance arrived at 14:03. Chinese social media users are lashing out at Lanzhou authorities and expressing anger over a failing emergency response system in light of the death of a 3-year-old child in one of the city's Covid 'high-risk areas.'
The death of a 3-year-old boy after carbon monoxide poisoning in Lanzhou, Gansu, has sparked anger on Chinese social media this week since there was a significant delay in medical care for the child due to epidemic prevention measures.
The incident happened early in the afternoon of November 1st in Lanzhou's Qilihe District, where the 3-year-old boy and his mother suffered from carbon monoxide poisoning inside their home, both losing consciousness. The child was allegedly still alive and breathing after he was carried outside.
According to a WeChat report about the case, the father initially tried to rush the child to the hospital by himself but was stopped at an epidemic checkpoint where the staff did not allow them to go on.
Lanzhou is currently dealing with a local Covid outbreak, and the city of over three million inhabitants now has eight 'high-risk areas' – five of them are in the city's Qilihe District.
After contacting emergency services, nothing reportedly happened for approximately half an hour, and the ambulance did not arrive. The father, whom we will refer to as 'Mr Tuo', tried to get through to the emergency hotline a second time, but was unsuccessful.
Thanks to the help of bystanders and neighbors, Mr Tuo eventually was able to get medical help for his wife and son. But by then, a lot of time had already gone to waste. Both the child and his mother arrived at the hospital after 14:00 in the afternoon. At around 15:00, the 3-year-old boy was pronounced dead.
The incident triggered outrage on Chinese social media, where people focused on the efficiency of emergency channels during local lockdowns amidst China's zero Covid policy. Many people also discussed the apparent lack of humanity in some local lockdown measures.
"This child was only three years old. The epidemic has been going on for three years. He did not even get to see this world, and now he's gone," one commenter wrote on Weibo. "The epidemic prevention measures are harming so many people, what is Covid prevention really for? Where is your conscience?"
The Lanzhou Qilihe District Emergency Management Bureau sent out a statement on the night of November 1st, confirming that two family members suffered from carbon monoxide poisoning inside the family home. After being sent to hospital, the statement said, one person passed away after unsuccessful CPR, while the other was in stable condition. The statement warned people to make sure to correctly use gas-utilizing appliances inside their homes.
Although the statement, published by China Newsweek (中国新闻周刊), received over 140,000 likes and nearly 20,000 comments on Wednesday, not a single reply was available to view on Weibo at the time of writing, with the platform giving the standard notification that "comments are currently not available" ("抱歉,该内容暂时无法查看").
The hashtag "Notification by Lanzhou Qilihe" (#兰州七里河通报#) received over 450 million views on Weibo on Wednesday.
This is the second major incident this month where a child's death is linked to a delay or unavailability of emergency services. In October, the death of a 14-year-old girl at a Ruzhou Covid quarantine site in Pingdingshan, Henan Province, also sparked anger on Chinese social media. There were no doctors at the quarantine site and the staff initially did not arrange medical care for the girl, despite the family pleading for help multiple times.
The current outburst of anger has been building up for months. Chinese social media users have repeatedly expressed despair and frustrations over similar issues throughout 2022, with many stories circulating online of patients dealing with medical emergencies and not getting the help they need due to local lockdowns and epidemic prevention measures, from Xi'an in January to Shanghai in April.
"Who is lying, who is covering things up? Where is your conscious? Tonight, a father is grieving his loss," one popular Weibo author wrote, posting an image with the words: "Will this world ever be ok?"
The online censorship surrounding the Lanzhou case only fuelled public anger. Another Weibo blogger wrote: "It is ridiculous that when the child needed an ambulance, it did not show up after waiting so long. Yet when it's about suppressing the victim's family and the crowds protesting over this, you're faster than light. Unless you shut down the entire internet in Lanzhou, there is no way for you to cover this up. Everyone in China knows it's a lie, it's useless to make people shut up."
"This is crazy. These past few years there's been too many things that are just beyond belief. Don't the lives of ordinary people matter? How many people have lost their income and their jobs because of the pandemic, and still they need to join the rat race. I can't blame the people with money for wanting to migrate."
"He did not catch Covid, yet he died because of Covid," another person wrote.
Timeline of Events
In light of all the online discussions over the incident, Lanzhou City posted a statement on November 3rd in which they expressed their sadness over the 3-year-old's death and further detailed what allegedly happened on November 1st.
According to the report, the emergency hotline (120) first spoke to the father, Mr Tuo, at 12:18. He called three times before from 12:15 to 12:18, but did not connect with 120 because he allegedly did not call "long enough."
At 12:18, the 120 emergency response staff supposedly only received information about a woman falling and being unconscious. Since the incident took place in a 'high-risk area,' the dispatcher first contacted Lanzhou City Medical Management via WeChat, followed by an incredibly time-wasting and fuzzy process including online communications involving Lanzhou City Medical Management's medical staff, the Health Commission of the Qilihe District, doctors at the Qilihe District Hospital, and Mr Tuo.
A doctor at the Qilihe District Hospital allegedly received information about the case at 12:32 and then attempted to reach Mr Tuo by phone multiple times from 12:32 until 13:06. It was not until 13:19, after the doctor finally spoke to Tuo and had given him first aid instructions, that an ambulance was dispatched.
The report claims that it was only at 13:23, over an hour after Tuo's first call, that they learned about a young child being in need of emergency treatment as well. Two more emergency calls were made at 13:32 and 13:34. Apparently, the seriousness of the situation was finally realized at around 13:44, an hour and a half after Tuo's initial plea for help, as ambulance staff got the order to stop disinfecting their ambulance and immediately rush to the scene.
At one point, the Lanzhou City report also mentions that Tuo was not wearing a mask when desperately pleading for help at the epidemic checkpoint at around 13:15, presenting this as if it were an important fact in this life-and-death situation.
At 13:55, Tuo finally received help from a local officer in stopping a taxi, which took him and his little son to the children's hospital. Meanwhile, it took the ambulance until 14:03 to arrive at the scene, which is when they provided medical assistance to Tuo's wife and took her to the hospital.
Mr Tuo's 3-year-old son reportedly already had no pulse when arriving at the hospital at 14:05. After unsuccessful CPR efforts, the little boy was declared dead at 15:00.
The boy's mother was able to get help at the hospital, made a recovery, and was later discharged.
The report concludes that Lanzhou authorities have learned from this tragic experience, writing that its emergency rescue system is clearly "not smooth", the emergency response capacity "not strong", and that they will do all they can to prevent such incidents from happening again in the future.
On Weibo, where one hashtag related to the report received over 330 million views (#兰州通报儿童中毒死亡事件#), many netizens were in disbelief after reading the timeline of events.
"So today I learned that when someone does not answer the phone, it is because the other party did 'not call long enough,'" one person wrote.
"Lives don't matter, whether or not you wear a face mask matters," others replied.
One Weibo user wrote: "They dispatched an ambulance at 13:19 and it did not arrive until 14:03?"
Some also wondered why the first emergency response was to deal with the situation through online consultation, although Tuo had already indicated his wife was unconscious. "That one officer showed some humanity, but the rest of them acted like robots," a popular comment said.
Amid the online outpouring of anger, the former Global Times editor-in-chief and well-known commentator Hu Xijin (@胡锡进) also responded to this issue. In his post, Hu focused on the last paragraph of the Lanzhou City statement, reiterating that this incident made them aware of their sluggish and inept emergency response system. Hu expressed that he hoped this tragedy could serve as a lesson, not just for Lanzhou but for every region across China, that every minute counts when it's about rescuing people's lives.
Despite the report and Hu's comments, the anger remains. One popular comment on Douyin said: "You can all draw your lessons from this, but what about the child? Three years old. Gone. A family has been torn. How many more cases do you need in order to learn your lesson?"
Another commenter wrote: "I am not afraid of the epidemic, it's the people I'm afraid of. My heart goes out to this child."
By Manya Koetse , with contributions by Miranda Barnes
Get the story behind the hashtag. Subscribe to What's on Weibo here to receive our newsletter and get access to our latest articles:
Spotted a mistake or want to add something? Please let us know in comments below or email us. First-time commenters, please be patient – we will have to manually approve your comment before it appears.
©2022 Whatsonweibo. All rights reserved. Do not reproduce our content without permission – you can contact us at info@whatsonweibo.com.
Chinese Commentator Hu Xijin Expects to "Get Covid Within a Month" (and Why It Matters)
This Hu Xijin commentary can be seen as part of a wider trend of normalizing Covid in the Chinese online media sphere.
Hu Xijin (胡锡进), the Beijing-based retired editor-in-chief of the state-run Global Times, recently published a post on the Chinese social media platform Weibo about him getting mentally ready to be infected with Covid-19 soon.
The former journalist Hu, whose posts and statements often go trending and influence public opinion, also made a few other noteworthy comments.
On Sunday (Dec 4), Hu posted: "Over the past week, China has essentially ended widespread lockdowns, with places like Beijing and others beginning to allow home quarantine for many positive individuals, while reducing the scope of nucleic acid testing. These are amazing changes."
Four weeks ago, right before China introduced its twenty new Covid measures, Hu already argued that strict lockdowns are no longer sustainable and that China should aim for a more relaxed and local approach (which is exactly what happened).
Now, Hu Xijin says that he is "mentally preparing to be infected with Covid within the coming month" ("做好了在一个月之内被感染上的思想准备"), further writing:
"In order for young people to have a colorful young era, in order to save the livelihood of so many service industry workers, in order for people from all walks of life to avoid seeing their wages cut, in order for so many companies to get out of their predicaments, this 62-year-old 'Old Hu' is willing to participate in the risk of getting [a virus that] degenerated to only 2.5 per 10,000 rate of getting seriously ill."
Hu's post was published on December 2nd in the context of Hu Says, a regular video column by Hu Xijin.
A few months ago, such a comment coming from such a big account would have been unthinkable.
In May of this year, those who tested positive still complained about suffering from stigmatization in society.
But Hu's comments come at a time when there are more discussions about getting Covid and sharing the experiences of having Covid.
In the second week of November, shortly after Chinese authorities launched their updated Covid rules, the hashtag "What Is It Like to Catch Covid-19?" (#感染新冠是什么体验#) already went trending on Weibo, along with other hashtags informing Chinese netizens about what it's like to get Covid – a virus that so many in China never experienced first hand.
Since Hu Xijin (1960) ended his career as the editor-in-chief of Global Times in 2021, his role as a political commentator has arguably become even more important and more visible on Weibo than before, especially in China's challenging Covid times of 2021.
Some find him overly nationalistic, for others he is not nationalistic enough; there are those who find him reasonable, and then some say he is repetitive and just dancing to the tune of Party propaganda. But then there have also been some discussions – in light of Pelosi's controversial Taiwan visit – about Hu misleading public opinion by not matching the official stance.
Whichever it is, some things are certain: Hu has some 25 million followers on Weibo, and he is often the first major media account that is allowed to discuss in detail some major sensitive social topics, even if these online discussions are otherwise being tightly controlled (think of the Tangshan BBQ Restaurant incident, the future of zero Covid, the Urumqi fire, and the 11.24 protests across China.)
Hu's comments about 'catching Covid soon' can be seen as part of a wider trend of normalizing Covid in the Chinese online media sphere, preparing people to face a virus they are still unfamiliar with since 'zero Covid' has always been the main goal.
On December 3, Hu further clarified his comments about preparing to getting Covid. He explained he expects to catch the virus because he is active in the media environment, through which he unavoidably is in touch with many different people. He also promised that if he might get infected, he would share his Covid experience with all of his readers.
As the idea of catching Covid is becoming more normalized (there are more and more trending hashtags informing what to expect after getting Covid, e.g. #新冠发病7天内身体会发生什么变化#), people are also exchanging non-scientifical advice on how to prevent catching Covid, such as drinking licorice ginger soup, holding Sichuan peppercorns inside your mouth when going out, or getting silicon covers for the drains in the bathroom to prevent the virus coming through via neighboring apartments.
Some express their worries about catching the virus. "I'm really scared. I've already replaced all of my masks with K95 ones," one Weibo user wrote: "My immune system has been weak since I was little, and I have allergies. I have the feeling that if I get infected I might lose half my life, if I don't die (..) I'm in a state of panic."
Even though China is still far from 'opening up', some people are already preparing to 'live together with the virus,' reminding others that getting vaccinated, keeping social distance, and washing hands are all measures that will help in preventing getting Covid.
"I am worried about getting Covid but I also want to open up," some on Weibo said.
"As much as I wanted it all to end, this feels abrupt," one social media user from Inner Mongolia wrote: "It won't be the same as before. The thorough 'zero Covid' [policy] has gone. The country's protection of our health has gone up to this point. I hope everyone can now take care in prevention themselves, and protect themselves and their families. I hope the epidemic situation will end soon, that the world will be ok, and that we can have our freedom."
Meanwhile, Hu Xijin informed netizens on Saturday that he had some milk, boiled eggs, pastry and pickled mustard greens for breakfast. While working on his condition and nutrition, he says that if his Covid positive time comes, he will not get any VIP treatment. If allowed, he'll either recover from home or go to a centralized Covid location.
He will just have to wait and see what happens, just as millions of other Chinese citizens are waiting to see what this winter is going to bring.
By Manya Koetse , with contributions by Miranda Barnes
The featured images are all images that went viral recently in light of China opening up (including nucleic acid testing booths being taken away).
Get the story behind the hashtag. Subscribe to What's on Weibo here to receive our newsletter and get access to our latest articles:
Spotted a mistake or want to add something? Please let us know in comments below or email us. First-time commenters, please be patient – we will have to manually approve your comment before it appears.
©2022 Whatsonweibo. All rights reserved. Do not reproduce our content without permission – you can contact us at info@whatsonweibo.com.
Announced Changes in Nucleic Acid Testing and Further Easing of Covid Measures Across China
Bus and subway operators in Beijing will no longer refuse entry to passengers without a 48-hour negative nucleic acid certificate.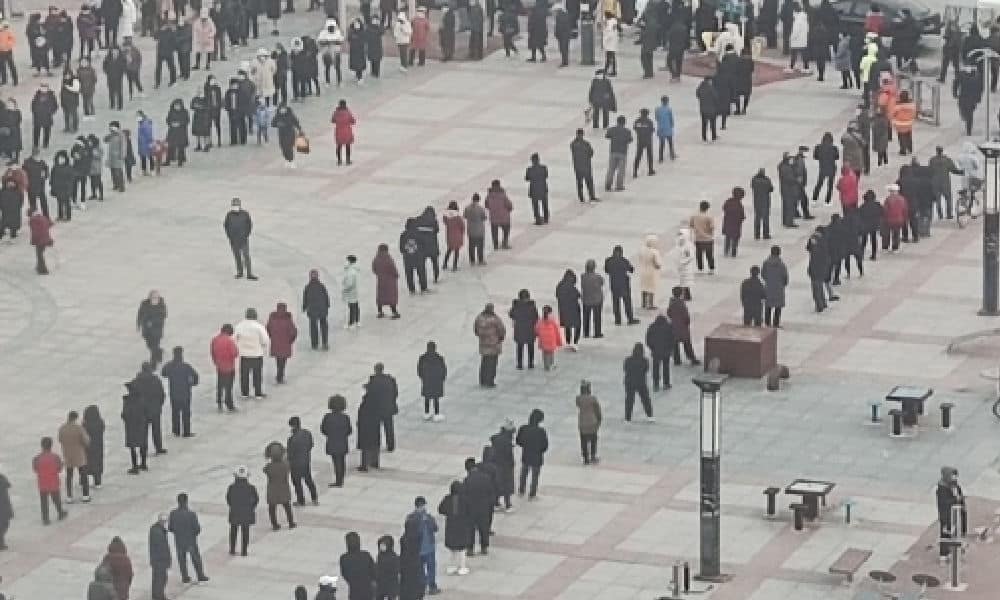 On Monday, directly after that noteworthy unrest-filled weekend, the hashtag "Multiple Locations Announce Nucleic Acid Testing Changes" (#多地核酸检测通知发生变化#) went trending on Chinese social media, receiving over 660 million clicks by Monday evening.
Immediately following demonstrations in Beijing and a second night of protests in Shanghai and elsewhere, various Chinese media reported how different areas across the country are introducing changes to their current Covid19 testing measures.
On Wednesday, November 30, China's vice-premier Sun Chunlan made remarks at a meeting on epidemic prevention, underlining the importance of "constantly optimizing" China's Covid-19 response and talking about a "new stage and mission" – without ever mentioning "zero Covid."
This is what we know about easing Covid measures thus far:
▶ Strict lockdowns have been lifted in Guangzhou, Zhengzhou, and Chongqing.
▶ On November 28, Guangzhou announced that people who do not actively participate in social life will no longer need to participate in continuous nucleic acid screening. This includes elderly people who stay indoors for long periods of time, students who take online classes, and those who work from home. The change will apply to residents in seven districts, including Haizhu, Panyu, Tianhe, and Baiyun (#广州7区无社会面活动者可不参加全员核酸#).
▶ Guangzhou, according to Reuters, also scrapped a rule that only people with a negative COVID test can buy fever medication over the counter.
▶ Harbin will follow the example of Guangzhou, and will also allow people who are mostly based at home to skip nucleic acid test screenings.
▶ Same goes for Shenyang, and Taiyuan.
▶ In Chongqing, various districts have done widespread Covid testing campaigns, but the local authorities announced that those communities that have not had a positive Covid case over the past five days do not need to participate in nucleic acid screening anymore. This means an end to district-wide testing.
▶ On November 30, Beijing also announced that it will start exempting some people from frequent Covid testing, including those elderly residents who are bound to home and other people who do not go out and have social interactions. This also includes younger students who are following classes online.
▶ Starting from December 5, bus and subway operators in Beijing will no longer refuse entry to passengers without a 48-hour negative nucleic acid certificate (announced on December 2nd).
▶ Although not officially announced, there have been various social media posts and reports about Covid-positive people in Beijing being allowed to quarantine at home if they meet conditions.
▶ Chengdu Metro announced on December 2nd that it will no longer check passengers' nucleic acid test reports. Passengers still need to scan their travel code and those with a green code can enter. Other public places will reportedly also start to accept the 'green code' only without a time limit on nucleic acid testing.
▶ Tianjin metro announced that the 72-hour nucleic acid certificate check will be also be canceled for passengers on the Tianjin metro lines. As in other places, people will still need to wear proper face masks and undergo temperature checks.
▶ In Hangzhou, except for at special places such as nursing homes, orphanages, primary and secondary schools, people's nucleic acid tests will no longer be checked in public transportation and other public places. They will also stop checking people's Venue Codes (场所码).
By Manya Koetse , with contributions by Miranda Barnes
Get the story behind the hashtag. Subscribe to What's on Weibo here to receive our newsletter and get access to our latest articles:
Spotted a mistake or want to add something? Please let us know in comments below or email us. First-time commenters, please be patient – we will have to manually approve your comment before it appears.
©2022 Whatsonweibo. All rights reserved. Do not reproduce our content without permission – you can contact us at info@whatsonweibo.com.