Behind the 540 Dancing Robots: Meet Alpha 1S
The dancing robots were the stars of the night at the CCTV Spring Festival Gala this year. Singer Sun Nan performed with a total of 540 robots at the Guangzhou Gala venue. This is the story behind the act; meet China's first humanoid robot Alpha 1S.
Dancing robots were the stars of the night at the CCTV Spring Festival Gala this year. Singer Sun Nan performed with a total of 540 robots at the Guangzhou Gala venue. Read about the background of the act and meet China's first humanoid robot Alpha 1S.
The Alpha 1S became famous overnight after its impressive performance at the   CCTV Gala. It was a case of "ten years of practice for one minute on stage" ("台上一分钟,台下十年功"), says the Tech reporter at China's news platform Tencent. They spoke with the technical staff behind the robots after the Gala. Chinese Mandopop singer Sun Nan (孙楠) sang the song "Going to the Top" (冲向巅峰) as 540 robots were dancing around him, all doing exact same movements at the exact same time.
Meet Alpha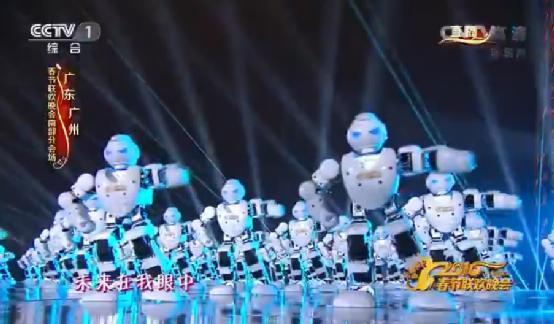 The robot is China's first humanoid smart robot. It belongs to the Alpha robot family (阿尔法家族) and carries the name Alpha 1S. It is a truly made-in-China product, developed by Chinese tech experts and locally produced. The creators of Alpha 1S, Chinese company UBTech (圳市优必选科技有限公司) spent five years and over 50 million RMB (7.6 million US$) to produce their star robot, designed for families. In many respects, Alpha 1S is a pioneering work, especially when it comes to the patented computer system at its core. According to Tencent, its technique "surpasses that of American, European, Japanese and Korean robots."
One of the reasons why Alpha has such good dancing skills is because it has 16 different joints, giving the robot the freedom to move like a human.
His eyes are flickering blue-ray LEDs with sensors. On the evening of the Gala performance, all robots were numbered so that technical staff could control the twinkling of the eyes in every single robot.
The robot's software is compatible with both Android and IOS mobile systems, and can also be linked to a computer. Users can edit the robot's programme themselves, which is also possible for people with little knowledge of robots or programming. Even more awesome: you can preview the robot's movements in a 3D visualisation on the computer, making it easy to edit and change its movements after seeing them on screen. With the Alpha app, it is also possible for owners to programme movements by playing around with their robot; it will then remember the movement sequence. This means you can let the robot dance in whatever way you want (- we cannot get over how cool this is).
The Gala performance
On the night of the Spring Gala, a total of 540 Alpha robots were lined up in a military square-shaped formation, standing in four groups of 9 x 15 robots. The technical staff had programmed the robots with 12 sets of dance steps, all of its movements in line with the rhythm of Sun Nan's "Going to the Top" and completely in-sync – a Guinness Record.
According to Tencent, Alpha 1S was only invited to take part in the Spring Gala one month before Chinese New Year, letting the technical staff, a team of 36 experts, work day and night for an impeccable Gala performance.
In order for the performance to go smoothly, the staff also had to deal with two problems. The first was that the robot originally could only have a maximum distance of 50 meter to the control desk. This distance needed to be bigger for the great Gala venue, for which experts changed the transmitter, making it possible to control the 540 robots within a range of 5000 meter.
Another risk was that colliding robots would result in a possibly disastrous domino effect. But for the camera to properly capture the perfect formation of robots, they still had to be lined up near to each other. The LED lights in the robot's eyes with sensor were thus programmed to be ultrasensitive to distance and to stay within a 0.6 m x 0.6 m distance.
Every millisecond of the performance was tested in great detail and practised over and over again to make sure nothing could go wrong on Sunday night, February 6th, during the live show of the Gala.
China's future
Alpha 1S is China's first programmable, interactive and affordable robot meant for family entertainment. The features of Alpha 1S are promising and show that much more will be possible in the near future. Alpha's brother Alpha 2 will be less affordable (around 8000 US$), but can already do much more than dancing; this robot can act as a tutor, translation, personal assistant and help doing household tasks.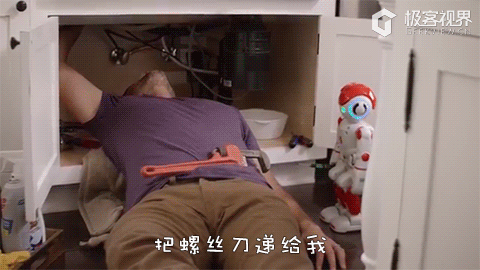 Weibo netizens praised the robots' Gala performance. One Weibo netizen says that her boss bought the CCTV Gala robot, and that all people in the office put their work down to see the robot dance along to 'Gangnam Style'.
The Alpha 1S can be bought online. On Taobao, the robot is sold for around 3000 RMB (±450 US$)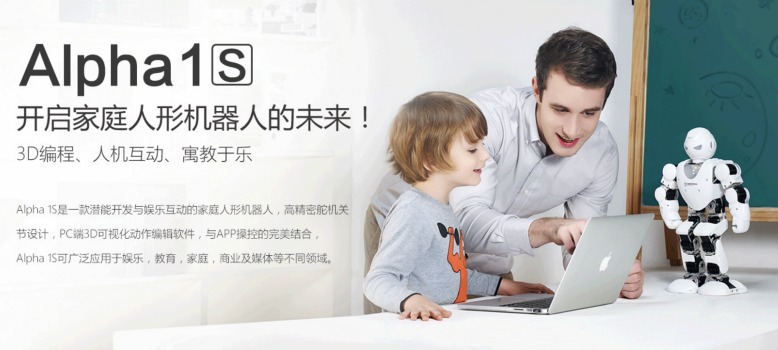 On a side note: remarkably, the multiple promotion campaigns for the made-in-China robot does not feature Chinese-looking models – making it seem like an American or European product.  
A woman named Sima comments on Weibo: "What interested most about the CCTV Gala were the robots dancing together with the drones on Sun Nan's song. It was such a novelty – this is China's future!"
– By Manya Koetse
Follow @WhatsOnWeibo
Images via CCTV screenshots by Whatsonweibo.com and Tencent
Gifs via http://www.wanhuajing.com/d84556
©2016 Whatsonweibo. All rights reserved. Do not reproduce our content without permission – you can contact us at info@whatsonweibo.com.
Key Players, Digital Trends & Deep Dives: China Internet Report 2021
SCMP just launched its latest China Internet Report. (And What's on Weibo readers can get a 30% discount on the Pro Edition!)
As China's tech sector has been facing an ongoing crackdown by Beijing regulations, a lot has been changing in the country's digital environment over the past year. The new China Internet Report 2021 by SCMP gives an overview of the latest trends and developments.
When it comes to China's online landscape, nothing ever stays the same. Over the past year, political, economic, and social developments and measures have once again changed the Chinese digital environment.
Giving a comprehensive overview of the key leaders and major trends dominating the Chinese online field, South China Morning Post (SCMP) issued its fourth annual China Internet Report.
China's internet population has now risen to 989 million – last year's report indicated an internet population of 904 million. By now, there are 853 million mobile payment users, which indicates that over 86% of the entire mobile internet population uses mobile as a way to pay.
As China's internet population is still growing, and new online startups are still popping up every day, there have been tightening regulations on multiple fronts.
As laid out in SCMP's report, regulations mainly focus on the four areas of antitrust, finance, cybersecurity, and data privacy. Regulatory actions targeting the monopolistic behaviours of China's biggest internet companies are still ongoing, and the new Data Security Law came into effect on September 1st of this year.
While Chinese tech companies are seeing increased scrutiny at home, they have also been facing intensifying geopolitical tensions between China and other countries. Over the past year, the various probes and shutdowns into Chinese companies by countries such as the US and India have meant a serious blow to the market share of Chinese apps.
Meanwhile, the SCMP report highlights the trend of various older and newer Chinese (e-commerce) apps "downplaying" their Chinese origins when entering foreign markets. Shein is a good example of this development, but other players including Zaful, Urbanic, and Cider are also experiencing more success outside of China while not explicitly marketing themselves as Chinese e-commerce apps.
Another noteworthy trend explained in the new report is how China's shifting demographics are creating new niche segments to compete over. The COVID-19 crisis is partially a reason why China has seen an increase in senior internet users, with an increasing number of online products and content catering to the elderly.
China's Ministry of Industry and Information Technology (MIIT) even issued special guidelines earlier this year for web pages and mobile apps to carry out so-called "elderly friendliness modifications." Since this user group is still expected to see significant growth, the "silver economy" is an area that will only become more important in the years to come.
To check out all the main trends for 2021, China's latest internet statistics, its top tech competitors, internet companies, and more, here's a link to the free report.
The free report is 55 pages long and gives an overview of China's latest internet numbers and players, covers the top cross-sector trends for 2021, including the tightening regulations and the bumpy road ahead for China's tech IPOs.
The Pro Edition of China's Internet Report 2021, also launched by SCMP, is 138 pages long and provides a deep-dive into ten relevant sectors – featuring insightful and useful analysis, data, and case studies relating to China's e-commerce market, content & media, gaming, blockchain, fintech, online education, healthtech, smart cars, 5G, and Artificial Intelligence.
The China Internet Report Pro Edition is priced at US$400, but the team at SCMP has kindly reached out and made it possible for us to offer a special 30% discount to What's on Weibo readers.
You'll get the discount by using the discount code: WHATSONWEIBO30, or by clicking this link that will automatically include your discount code.
By Manya Koetse
Spotted a mistake or want to add something? Please let us know in comments below or email us. First-time commenters, please be patient – we will have to manually approve your comment before it appears.
©2021 Whatsonweibo. All rights reserved. Do not reproduce our content without permission – you can contact us at info@whatsonweibo.com.
How Social Media Is Speeding Up Zhengzhou Flooding Rescue Efforts
Chinese social media are speeding up local rescue efforts after Zhengzhou saw the heaviest rain in 1,000 years.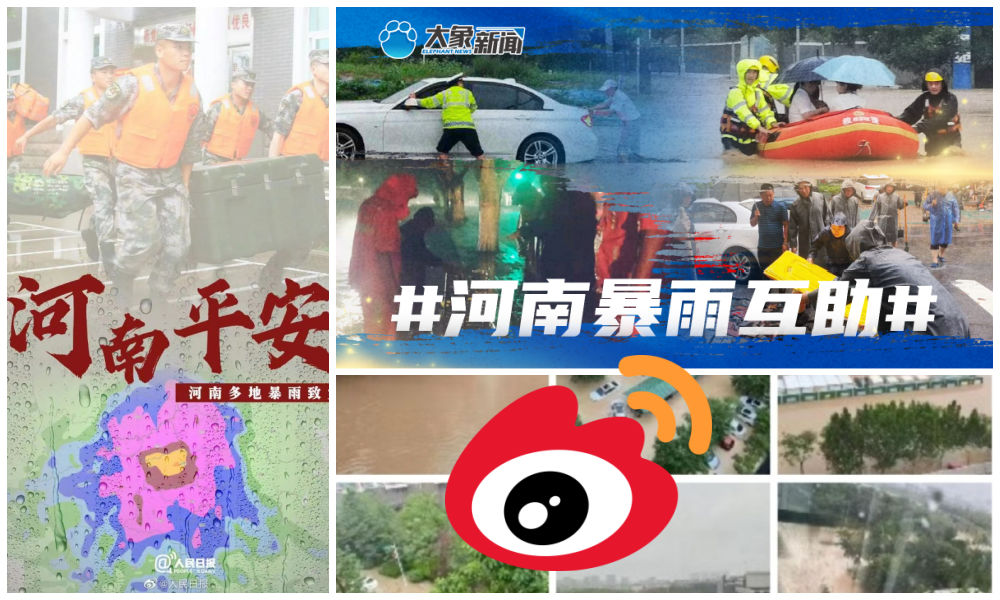 Social media is utilized as a tool in the response to the floodings in Henan province. Once again, Weibo facilitates active public participation to provide immediate assistance to the people facing this natural disaster. 
On Tuesday, July 20, heavy rainfall caused major disruptions in the central province of Henan. The amount of rain over the last three days in Zhengzhou is reported to be the same as what it would usually receive in an entire year.
It is reported that Henan Province has initiated the highest-level emergency response to floods, and China's State Flood Control and Drought Relief Bureau has dispatched a workgroup to Henan, initiating level III emergency response rescue work.
Since the evening of July 20, news and information streams on the heavy rains and floods have been dominating Chinese social media. In the midst of the disastrous events, Weibo has become an online space for people seeking help, those disseminating information on available resources, and for other related activities that help netizens engage in emergency management and accessing information.
The volume of such messages is huge, with thousands of netizens seeking ways to help speed up rescue work and actively contribute to the emergency relief efforts.
The organically improvised response protocol on social media includes the following guidelines:
Verify, summarize, highlight, and spread online help requests posted by people from different locations
Remind people to delete help-seeking posts once they have been rescued or have found assistance.
Disseminate relevant knowledge relating to emergency care and response, and public health information, such as how to deal with different disaster scenarios, warning people about the safety of drinking water during floods, etc.
Share information regarding mental health and psychosocial support during the different phases of the disaster.
When posts of people trapped by the heavy rain started to be published on Weibo, many online influencers, no matter what subject they usually focus on, participated in spreading help-request posts that were not getting a lot of online attention.
Erdi 耳帝, a music influencer with nearly 15 million fans on Weibo, has been retweeting the online posts of people asking for help since the night of July 20.
An example of such an online emergency help request (求助贴) is the following post of July 21st, 17:15 local time:
"Our entire neighborhood is cut off from water and electricity, the water level is rising to chest level, and we currently have no drinking water at the moment. Need help urgently.
Status: Verified, pending rescue.
Seeking help: Wu M**, phone 13*****27
Number of people to be rescued: five or six thousand
Location: Zhengzhou City, Henan Province, Zhengdong New District, Shangdu / Xuzhuang Street intersection, east courtyard of Shangdu Jiayuan Muzhuang district (we can't exit the building, there is no water, no electricity, no supplies, and it's been 24 hours)"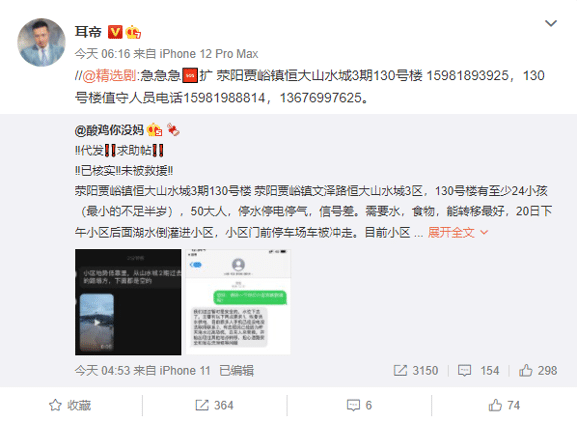 Some Weibo users engage in organizing scattered online information in one single post, e.g. posts regarding local electricity leakage, making this information more accessible and easier to understand.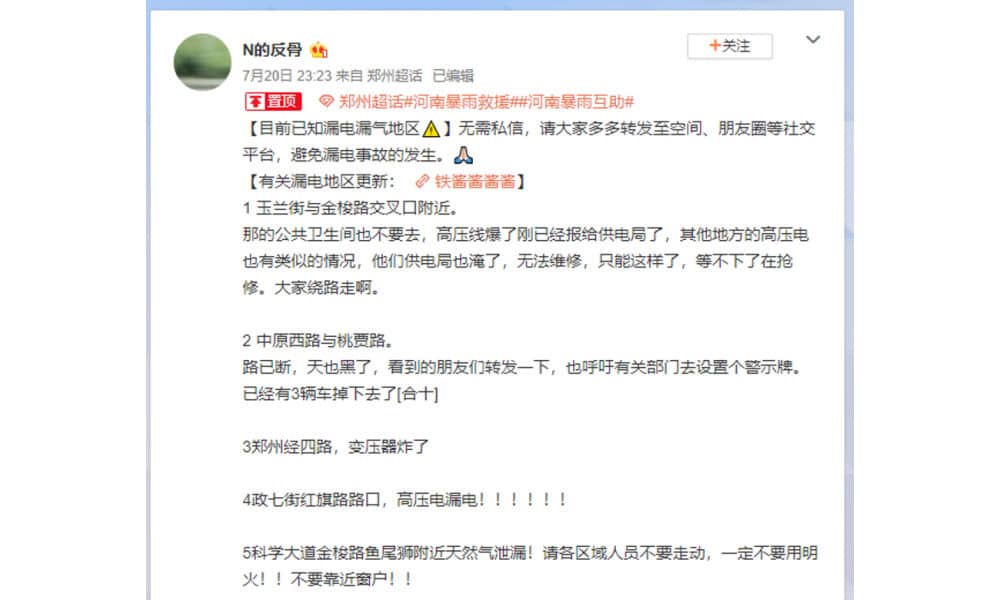 One post that was among the top-shared ones this week, is a picture that includes contact information of rescue teams of both officials and civilians. When realizing that some people were unable to upload the picture due to poor internet connections caused by the heavy rain, an up-to-date and full-text version was quickly shared by netizens.
Some Weibo users listed various methods to get assistance for hearing-impaired and deaf-mute people affected by the floods, advising people to download various apps to help to communicate and translate.
Besides the more general practical advice and emergency action plans shared by Chinese social media users, there are also those who pay attention to the importance of personal hygiene during these times. Some are sending out information about menstrual hygiene needs during floods, reminding women to frequently change sanitary pads and try to keep the genital area clean and dry due to the risk of infection. A hashtag related to menstruation during the flooding momentarily ranked fifth in the top search lists (#河南暴雨 如果你出在经期<).

Information on mental health support is disseminated all across social media.
People also try to provide mental support in other ways. A student orchestra spontaneously performed at the Zhengzhou station, where dozens of passengers were left stranded in the night. The video clips of the performance went viral, with the young musicians playing two widely-known songs, "My People, My Country" (我和我的祖国) and "Ode to the Motherland" (歌唱祖国). Many social media users shared the clips and expressed how the performance moved them to tears.
A kind gesture in these terrible times. This youth orchestra pulled out their instruments and performed for all those other passengers who are stranded at the Zhengzhou East Station tonight ❤️ All trains were suspended after 2am on the 21st. pic.twitter.com/50THGOhy6O

— Manya Koetse (@manyapan) July 20, 2021
Some video clips that show how ordinary people save ordinary people amid such a natural disaster have also been widely shared. One video shows citizens of Zhengzhou standing in a line and use a rope to pull people from an underground floor where they were trapped by the water flooded.
Earlier in this thread there was a video of people helping those trapped in lower levels. There is more footage showing other places in Zhengzhou where citizens also joined forces to help those trapped by the water to get out safely. pic.twitter.com/1R9q1JcUtY

— Manya Koetse (@manyapan) July 20, 2021
In all the aforementioned ways and many more, Weibo has become a public platform for Chinese people to respond to the Henan disaster, efficiently communicate and keep track of help requests, organize and disseminate related information, and provide access to timely knowledge and relevant advice.
With so many online influencers and ordinary netizens voluntarily joining in, the online information flows are quickly circulating, allowing for necessary public communication channels while other resources and communication methods are still overwhelmed or in the making. The last time Weibo was used as an efficient emergency communication tool was during the early days of the COVID19 outbreak in Wuhan.
"Please stand strong, Zhengzhou" and "Hang on, Henan," many commenters write: "Help is underway!"
Also see our previous article on the situation in Zhengzhou here.
By Wendy Huang
Follow @whatsonweibo
Spotted a mistake or want to add something? Please let us know in comments below or email us. Please note that your comment below will need to be manually approved if you're a first-time poster here.
©2021 Whatsonweibo. All rights reserved. Do not reproduce our content without permission – you can contact us at info@whatsonweibo.com