Behind the 540 Dancing Robots: Meet Alpha 1S
The dancing robots were the stars of the night at the CCTV Spring Festival Gala this year. Singer Sun Nan performed with a total of 540 robots at the Guangzhou Gala venue. This is the story behind the act; meet China's first humanoid robot Alpha 1S.
Dancing robots were the stars of the night at the CCTV Spring Festival Gala this year. Singer Sun Nan performed with a total of 540 robots at the Guangzhou Gala venue. Read about the background of the act and meet China's first humanoid robot Alpha 1S.
The Alpha 1S became famous overnight after its impressive performance at the   CCTV Gala. It was a case of "ten years of practice for one minute on stage" ("台上一分钟,台下十年功"), says the Tech reporter at China's news platform Tencent. They spoke with the technical staff behind the robots after the Gala. Chinese Mandopop singer Sun Nan (孙楠) sang the song "Going to the Top" (冲向巅峰) as 540 robots were dancing around him, all doing exact same movements at the exact same time.
Meet Alpha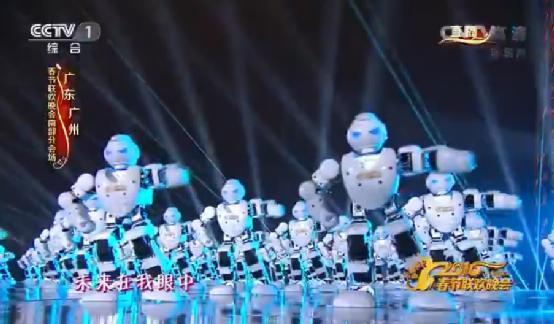 The robot is China's first humanoid smart robot. It belongs to the Alpha robot family (阿尔法家族) and carries the name Alpha 1S. It is a truly made-in-China product, developed by Chinese tech experts and locally produced. The creators of Alpha 1S, Chinese company UBTech (圳市优必选科技有限公司) spent five years and over 50 million RMB (7.6 million US$) to produce their star robot, designed for families. In many respects, Alpha 1S is a pioneering work, especially when it comes to the patented computer system at its core. According to Tencent, its technique "surpasses that of American, European, Japanese and Korean robots."
One of the reasons why Alpha has such good dancing skills is because it has 16 different joints, giving the robot the freedom to move like a human.
His eyes are flickering blue-ray LEDs with sensors. On the evening of the Gala performance, all robots were numbered so that technical staff could control the twinkling of the eyes in every single robot.
The robot's software is compatible with both Android and IOS mobile systems, and can also be linked to a computer. Users can edit the robot's programme themselves, which is also possible for people with little knowledge of robots or programming. Even more awesome: you can preview the robot's movements in a 3D visualisation on the computer, making it easy to edit and change its movements after seeing them on screen. With the Alpha app, it is also possible for owners to programme movements by playing around with their robot; it will then remember the movement sequence. This means you can let the robot dance in whatever way you want (- we cannot get over how cool this is).
The Gala performance
On the night of the Spring Gala, a total of 540 Alpha robots were lined up in a military square-shaped formation, standing in four groups of 9 x 15 robots. The technical staff had programmed the robots with 12 sets of dance steps, all of its movements in line with the rhythm of Sun Nan's "Going to the Top" and completely in-sync – a Guinness Record.
According to Tencent, Alpha 1S was only invited to take part in the Spring Gala one month before Chinese New Year, letting the technical staff, a team of 36 experts, work day and night for an impeccable Gala performance.
In order for the performance to go smoothly, the staff also had to deal with two problems. The first was that the robot originally could only have a maximum distance of 50 meter to the control desk. This distance needed to be bigger for the great Gala venue, for which experts changed the transmitter, making it possible to control the 540 robots within a range of 5000 meter.
Another risk was that colliding robots would result in a possibly disastrous domino effect. But for the camera to properly capture the perfect formation of robots, they still had to be lined up near to each other. The LED lights in the robot's eyes with sensor were thus programmed to be ultrasensitive to distance and to stay within a 0.6 m x 0.6 m distance.
Every millisecond of the performance was tested in great detail and practised over and over again to make sure nothing could go wrong on Sunday night, February 6th, during the live show of the Gala.
China's future
Alpha 1S is China's first programmable, interactive and affordable robot meant for family entertainment. The features of Alpha 1S are promising and show that much more will be possible in the near future. Alpha's brother Alpha 2 will be less affordable (around 8000 US$), but can already do much more than dancing; this robot can act as a tutor, translation, personal assistant and help doing household tasks.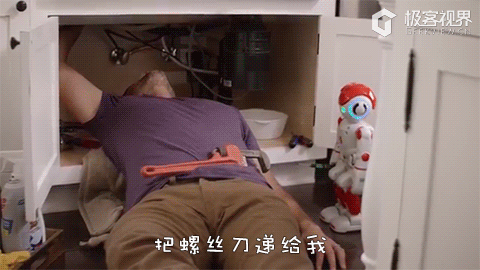 Weibo netizens praised the robots' Gala performance. One Weibo netizen says that her boss bought the CCTV Gala robot, and that all people in the office put their work down to see the robot dance along to 'Gangnam Style'.
The Alpha 1S can be bought online. On Taobao, the robot is sold for around 3000 RMB (±450 US$)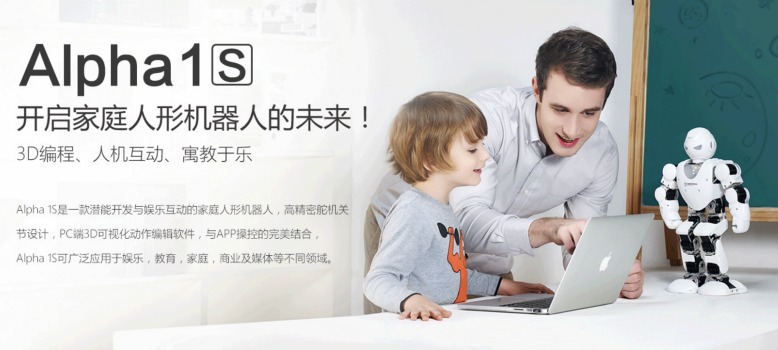 On a side note: remarkably, the multiple promotion campaigns for the made-in-China robot does not feature Chinese-looking models – making it seem like an American or European product.  
A woman named Sima comments on Weibo: "What interested most about the CCTV Gala were the robots dancing together with the drones on Sun Nan's song. It was such a novelty – this is China's future!"
– By Manya Koetse
Follow @WhatsOnWeibo
Images via CCTV screenshots by Whatsonweibo.com and Tencent
Gifs via http://www.wanhuajing.com/d84556
©2016 Whatsonweibo. All rights reserved. Do not reproduce our content without permission – you can contact us at info@whatsonweibo.com.
What Are Weibo's "Super Topics"?
Explaining Weibo's "Super Topics"
What are Weibo's "Super Topics" (超级话题) and what makes them different from normal hashtags?
Over the past year, Weibo's so-called "Super Topics" (超级话题) have become more popular on the social media platform as online spaces for people to connect and share information.
Weibo's "super topic" function has been around since 2016. The function allows Weibo users to create and join interest-based content community pages that are online groups separated from the main Weibo space. One could perhaps compare these Weibo Super Groups to 'mega-threads' or 'subreddits' on Reddit.
These are the most important things to know about Weibo's Super Topics:
#1 A Super Topic is Not the Same as a Hashtag
Similar to Twitter, hashtags make it possible for Weibo users to tag a topic they are addressing in their post so that their content pops up whenever other people search for that hashtag.
Different from Twitter, Weibo hashtags also have their own page where the hashtag is displayed on top, displaying how many people have viewed the hashtag, how many comments the hashtag is tagged in, and allowing users to share the hashtag page with others.
A Super Topic goes beyond the hashtag. It basically is a community account where all sort of information is shared and organized. People can 'follow' (关注) a Super Topic and can also 'sign in' (签到).
On the main page of every Super Topic page, the main subject or purpose of the super topic is briefly explained, and the number of views, followers, and posts are displayed.
A super topic-page can be created by any Weibo user and can have up to three major hosts, and ten sub-hosts. The main host(s) can decide which content will be featured as essential, they can place sticky notes, and post links to suggested topics.
#2 A Super Topic Is a Way to Organize Content
Super Topic pages allow hosts to organize relevant content in the way they want. Besides the comment area, the page consists of multiple tabs.
A tab right underneath the main featured information on the page, for example, shows the "sticky posts" (置顶帖) that the host(s) of the page have placed there, linking to relevant information or trending hashtag pages. Below the sticky notes, all the posts posted in the Super Topic community are displayed.
One of the most important tabs within the Super Topic page is called "essential content" (精花), which only shows the content that is manually selected by the host(s). This is often where opinion pieces, articles, official news, or photos, etc. are collected and separated from all the other posts.
Another tab is the "Hall of Fame" (名人堂), which mainly functions as a reference page. It features links to the personal Weibo pages of the super topic page host(s), links to the Weibo pages of top contributors, and shows a list of the biggest fans of the Super Topic. Who the biggest fan of the page is, is decided by the number of consecutive days a person has "checked-in" on the page.
#3 Super Topics Are a Place for Fans to Gather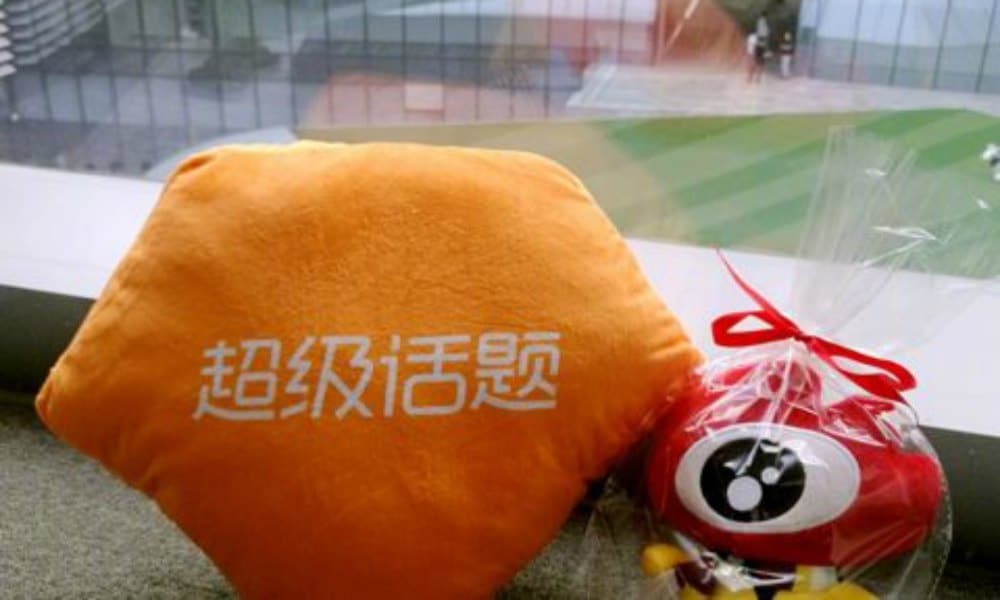 Although a Super Topic could basically be about anything, from cities to products or hobbies, Super Topics are often created for Chinese celebrities, video games, football clubs, or TV dramas.
Through Super Topic pages, a sense of community can be created. People can be ranked for being the most contributive or for checking in daily, and comment on each other's posts, making it a home base for many fan clubs across China.
The host(s) can also help somebody's page (e.g. a celebrity account) grow by proposing them to others within the group.
Super Groups are ranked on Weibo based on their popularity. This also gives fans more reason to stay active in the group, making their Super Topic top ranking within their specific category (TV drama, food, photography, sports, games, etc).
What makes the Super Topic group more 'private' than the common Weibo area, is that people posting within the Super Topic can decide whether or not they also want their comment shared on their own Weibo page or not. If they choose not to, their comments or posts will only be visible within the Super Topic community.
By Manya Koetse & Gabi Verberg, with contributions from Boyu Xiao
Spotted a mistake or want to add something? Please let us know in comments below or email us.
©2019 Whatsonweibo. All rights reserved. Do not reproduce our content without permission – you can contact us at info@whatsonweibo.com
Online Controversy over Mandatory GPS Tracking Smartwatches for Chinese Street Cleaners
Being a street cleaner in 2019 China now involves wearing a mandatory smartwatch with GPS tracking.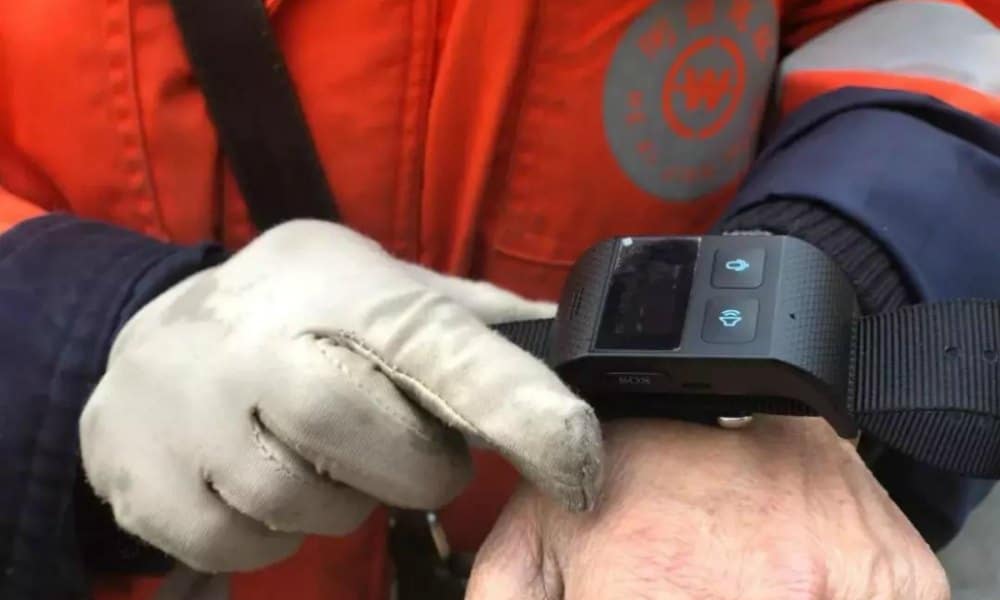 The times of chatting with the neighbors, taking a break, or doing some shopping during work hours are seemingly over for Nanjing's street cleaners now that their every move is monitored through a special smartwatch. News of the mandatory GPS tracking bracelets for sanitary workers triggered public outcry earlier this month. But it's not just Nanjing street cleaners that are subjected to this policy.
Earlier this month, the introduction of smartwatches tracking the movements of street cleaners in Nanjing attracted the attention of Chinese netizens and international media after the new policy was made public on April 3rd.
In March of this year, the sanitation department in the Hexi area of Nanjing, Jiangsu, started a pilot with a smartwatch that sanitation workers are obliged to wear. The watch has a built-in real-time GPS tracking system, allowing the Nanjing Hexi Smart Sanitation Center to monitor workers' movements.
In a short video published by Toutiao News, a spokesperson of the Smart Sanitation Command Center* explained that the smartwatch currently allows the company to assess the workers in three ways: they can register workers' attendance, collect statistics of workers leaving their designated work area, and report on workers that remain in the same position exceeding the allowed amount of time.
Sanitation workers also commented on their new working system. One person interviewed said: "Why wouldn't I be allowed to have a half-an-hour break? Look, the street is all clean, there is nothing to be cleaned up. They are crazy for making us move up and down the street for no reason."
Street cleaners also said that the system would automatically report them if they had been in the same spot for more than twenty minutes. The smartwatch would then subsequently encourage them to move, calling out "Jiayou! Jiayou!" ("Come on! Come on!").
That particular function was reportedly removed shortly after public outcry on the policy.
On Weibo, the hashtag "Smartwatch Automatically Yells 'Jiayou'" (#智能手表自动喊加油#) received over 2,5 million views, with the majority of commenters strongly rejecting the new approach.
Most commenters on this issue argued that the implementation of the smartwatch is "immoral" and that the Nanjing workers are "treated as criminals." Many others also pointed out that the workers, often senior citizens, should be able to rest for more than 20 minutes.
In light of the new policy, many people on social media also referred to the infamous fictional character Zhou "Bapi" (周扒皮). In the novel The Killing Wind, this landlord Zhou would stick his head into the henhouse stirring up the roosters to wake his laborers up earlier, so they would start working.
Some netizens came with an alternative solution, suggesting that the leaders of the company should wear the smartwatches themselves instead.
While the controversial function was eliminated, the GPS tracking function still stands.
Nanjing is not the first city to introduce GPS tracking smartwatches for its sanitary workers. Other cities where the same policy has been introduced are, for example, Chengdu, Hangzhou, Guangzhou, and Qingdao, according to Chinese media outlet Global Times.
In the summer of 2018, various Chinese media outlets already reported about the introduction of smartwatches for street cleaners in Guangzhou. At the time, the smartwatch policy was described as an innovative way to solve staff deployment and management problems, giving team leaders more insights into the real-time position of the street cleaners.
Whether or not the smartwatches do indeed improve work efficiency of street cleaners is still unclear, but there are no indications that the smartwatch policy will be changed at this point.
The tough work conditions of Chinese street cleaners, who work long hours and receive minimal pay, regularly become an issue of debate on Chinese social media. Besides praising the hard work of China's public cleaners, Chinese netizens often express their sympathy for the bad circumstances under which street sweepers have to work.
By Gabi Verberg
* (南京河西建环"智能环卫"综合调度监控指挥中心 Nanjing Hexi Jianhuan "Intelligent Sanitation" Integrated Dispatching Monitoring Command Center)
Spotted a mistake or want to add something? Please let us know in comments below or email us.
©2019 Whatsonweibo. All rights reserved. Do not reproduce our content without permission – you can contact us at info@whatsonweibo.com