Chinese New Year Brings a Baby Boom
The new Lunar Year will bring a baby boom in mainland China. Not only because the 'two child policy' has come into effect, but also because the Year of the Monkey is a particularly good time to have a baby: kids born under this zodiac are generally believed to be smart and happy.
The new Lunar Year will bring a baby boom in mainland China. Not only because the 'two child policy' has come into effect, but also because the Year of the Monkey is a particularly good time to have a baby: kids born under this zodiac are generally believed to be smart and happy.
Many people in China believe that children born in the Year of the Monkey are smart, resourceful, confident and happy ("聪明机智自信快乐"). The coming year is therefore a popular one to have a baby, and many (future) parents do all they can to give birth during this year.
At the same time, the recent implementation of the 'two child policy' means that many couples in China will now either hurry to have a second child or have their first baby. It is highly likely that these factors will lead to a baby boom in the coming year, Sina News reports.
Another third reason for China's baby boom year is that the previous year, the Year of the Goat, is considered a bad time to have a baby. There is an old Chinese saying that nine out of ten people born in the Year of the Goat are incomplete and will suffer from great misfortune throughout their life ("十羊九不全"). Women therefore rushed to the hospital in early 2015, ahead of Chinese New Year, to make sure their baby was still born in the Year of the Horse (2014). For this year, it means that couples might have planned it so they would not have a baby during the Goat year, but during the Monkey year.
The coming baby boom is already leading to a growing demand for 'postnatal attendants' (月嫂), women who take care of the newborn baby and the mother in the month after childbirth. During this time, most new mothers will 'sit the month', meaning they will stay indoors and rest for the first four weeks after giving birth.
The monkey is considered the symbol of intelligence. Those born in the year of the monkey are believed to be powerful, sociable and gifted. According to the Chinese Zodiac Guide, those born under the Monkey zodiac will have a career as a politician, diplomat, ambassador, writer, spokesman or actor.
"Poor kids," one Weibo netizen says, as the topic is much discussed on Chinese social media: "They will have so much pressure on them, especially during their university entrance exams."
"The zodiac is not that important," another Weibo user comments: "What is important is if you have money. If you don't have money, don't have a baby. I don't want to insult poor people, I'm poor myself, I'm just saying that financial conditions are just as important as spiritual ones."
Besides careers in politics or diplomacy, people with Monkey zodiacs are also believed to make excellent thieves. But that might not be what most parents are hoping for when having their babies this year.
Year of the Monkey:
1908, 1920, 1932, 1944, 1956, 1968, 1980, 1992, 2004, 2016
– By Manya Koetse
Follow @WhatsOnWeibo
Image via Sohu
©2016 Whatsonweibo. All rights reserved. Do not reproduce our content without permission – you can contact us at info@whatsonweibo.com.
Another Gala, Another Controversy: 2021 Spring Festival Gala Draws Criticism for Gendered Jokes
Many felt the Gala's comic sketches were insensitive to Chinese women and singles.
The 2021 Spring Festival Gala was held on Thursday on the night of Chinese New Year's Eve. The annual Spring Festival Gala, arranged and produced by the state broadcaster CCTV, is one of the world's most-watched TV shows.
Although watching the Gala together with family members has become an annual tradition for Chinese families for several decades already, the show's comic sketches and skits – often the highlights of the show – are becoming increasingly controversial and less popular in recent years.
In earlier decades, the xiaopin (comic sketch) was the best-received type of performance of the Gala for evoking laughter among the audiences. The various xiaopin shows are filled with puns, funny lines, and plot twists to entertain the viewers.1
Over recent years, these comic acts performed during the Spring Festival Gala have come to center more on social issues such as environmental protection, corruption, social morals, migrant workers, and family affairs – including those concerning love and marriage. Many of the performances in this year's Gala followed a 'happy beginning with sad endings' plot, conveying more sophisticated messages and values that many viewers did not appreciate.
These seemingly changing undertones are also a reason why younger generations often say they prefer spending time online instead of watching the Gala. Some young people say they feel the Spring Festival Gala is losing the real "Spring Festival atmosphere" ("年味").
By now, the Gala is increasingly known for triggering controversy online.
In 2015, the Gala was criticized for being misogynistic. One of the sketches titled "Goddesses and Tomboys" ("女神和女汉子") marked a contrast between an 'iron woman' or 'tomboy' (女汉子) and a 'goddess' (女神) by depicting the first as a single chubby woman and the second as a succesful slim model, which critics deemed to be stereotypical and sexist. The same show also drew criticism for depicting 'leftover women,' unmarried women over 30, as unwanted and second-hand goods.
In 2017, another controversial sketch titled "Permanent True Love" ("真情永驻") seemed to convey that women have an obligation to reproduce. The featuring female character voluntarily asked to divorce her husband after she had a miscarriage, out of consideration for his supposed right to offspring.
In 2018, a comedy sketch titled "Share the Same Joy and Happiness" ("同喜同乐"), which included an actress wearing blackface, struck the wrong note with many social media users, who deemed it 'inappropriate', 'offensive', and 'racist.'
This year, the Gala also was not without controversies. One sketch titled "Happiness towards Spring" ("开往春天的幸福") was meant to emphasize the love between couples but drew criticism for the sexist jokes it contained. One of the male characters in the scene compared his ex-wife to an ugly villain when she does not wear make-up saying: "Have you seen her take off her makeup?No brows! Once we ate together face to face, and she held a pair of chopsticks, with the light flashing, and I thought she was Voldemort."
Similar jokes and puns reappeared several times. Many viewers criticized the exaggerated banter over women transforming once their make-up is removed, with some commenting: "These lines are delivering a simple message that women with makeup are pretty, while women without makeup are invariably ugly and sloppy."
Another skit titled "Urged to Get Married Every Holiday" ("每逢佳节被催婚") attracted online attention as well for containing lines like "My daughter is already 28 yet still has no boyfriend" and for referring to unmarried people as "Single Dogs" (单身狗) – a term that initially appeared in 2011 as a buzzword filled with self-mockery before the term developed a strong negative connotation.
Bloggers and web users expressed that the use of these kinds of insensitive terms in the Gala made them feel uncomfortable, only adding to the anxiety and self-loathing they already feel in a time of major social pressure.
"I have been urged to get married countless times by my relatives these days already, do I still also have to be insulted in this skit, too?" some Weibo users said, with others wondering if there was "something wrong" with the director of the show for embarrassing unmarried people like this.
Over recent years, there are more online discussions regarding the pressure faced by women to get married and how women (and their appearance) are portrayed in the media. There is a growing public awareness about gender discrimination and inequality, with campaigns on women's rights also being highlighted by Chinese official media. The media's stigmatization and stereotyping of women are topics that are now more often challenged and questioned on Chinese social media.
Although many female web users spoke out against the misrepresentation and distortion of female roles in the Gala, there were also commenters who advocated a more lighthearted approach, writing things such as: "Don't overreact, these gendered jokes only serve a theatrical purpose." Others argue that people are only looking for the negative messages in sketches that are meant to be positive, with one Weibo user wondering about all the controversy: "Are we even watching the same Gala?!"
The diverse discussions regarding the Gala and how it represents gender roles do not stand by themselves – they are a signal of a bigger movement questioning the representation of gender roles in Chinese popular culture. Since these discussions won't die out any time soon, we can expect more of these controversies to surface again in the Galas to come.
Want to know more about the Gala? What's on Weibo did a liveblog, check it out here.
By Vivian Wang
Follow @whatsonweibo
Edited for clarity by Manya Koetse
References
1 Liu, Ji. 2010. "Ambivalent Laughter: Comic Sketches in CCTV's Spring Festival Eve Gala." Journal of Modern Literature in Chinese, 10(1), 103-12.
Spotted a mistake or want to add something? Please let us know in comments below or email us. First-time commenters, please be patient – we will have to manually approve your comment before it appears.
©2021 Whatsonweibo. All rights reserved. Do not reproduce our content without permission – you can contact us at info@whatsonweibo.com.
From Red Packet to Virtual Hongbao: Lucky Envelopes in China's Digital Era
Raising virtual cows, shaking with phones – this is the Chinese New Year tradition of giving red envelopes in the digital era.
The custom of giving out red paper envelopes has evolved into a world of virtual lucky money and online games. This is the transformation of a Chinese New Year's tradition, reported by Koen van der Lijn and Xiaojun Zhang.

When objects meet social media, two websites meet as well. This is a collaboration between What's on Weibo and Things That Talk (follow on Insta @thingsthattalk).

Ever wanted to raise a digital cow? This year, you can raise your own lucky cow (福牛) for Chinese New Year on Weibo. Through maintaining and raising their virtual cow (or ox), users can participate in this online game to win red envelopes, a well-known and beloved tradition linked to Chinese New Year.
The hashtag "Lucky Cow's New Year's Travelogue" (#福牛新春旅行记#) is linked to Weibo's celebration of Chinese Spring Festival and the Year of the Ox. Users are expected to be active on Weibo daily to raise their cow/ox, similar to the once so popular Tamagotchi. Whilst leveling up their cow, users get the possibility to earn digital red envelopes.
The online game is another development in the story of the red envelopes, known in China as hongbao (红包). Often given during Chinese New Year, the envelopes can also be given at other joyous occasions like weddings. These red envelopes are given to each other by friends and family members to wish each other a happy new year and are always filled with an amount of money.
The practice of giving money during Chinese New Year goes far back in Chinese history. The earliest form of the red envelope is said to be yasuiqian (压祟钱). In order to keep evil spirits away, called sui (祟), people put money underneath children's pillow since the evil spirits were said to be warded off by coins.1 These coins were woven together using a string.
As time went by and paper money and envelopes became more widespread, string and coins were replaced and the red envelope was created.
Red envelopes are used by Chinese all over the world nowadays. The amount of money inside depends on many factors. Recently, the tradition has left behind its tangible form and entered the digital era.
"Adding the thrill of gambling to the practice of giving away red envelopes"
In 2014, the popular Chinese messaging app WeChat (微信) launched a new function that allowed users to send virtual red envelopes. Users could send an amount of money directly to another user, or an amount of red envelopes could be sent into a groupchat. When the function launched, users worldwide could shake their phones in order to receive free red envelopes. The amount of money that was given to users surpassed 500 million yuan ($77.5 million).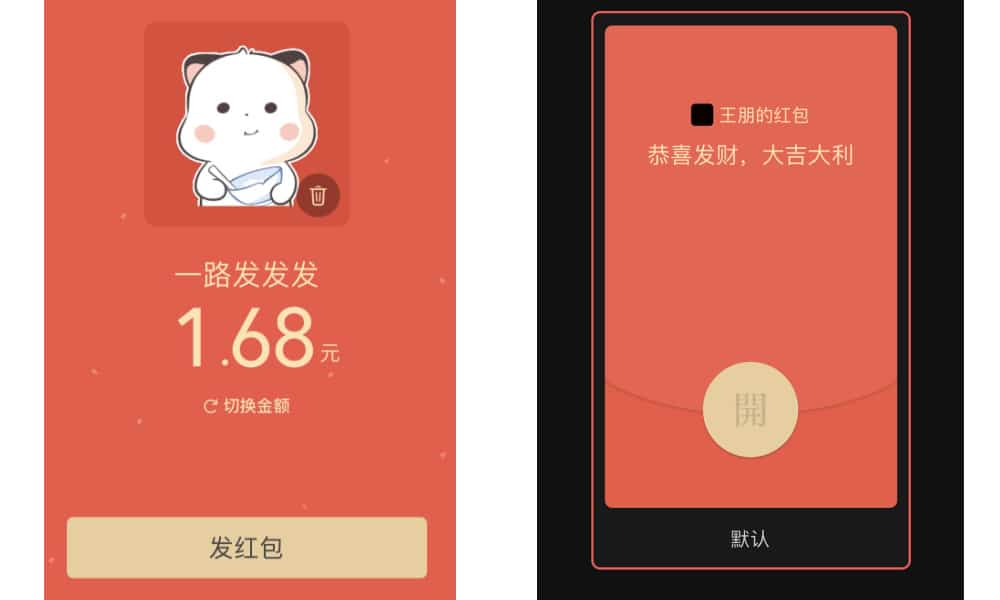 WeChat's inventive idea put digital red envelopes on the map in China. During the peak of the event, 800 million shakes were recorded per minute. There were two types of envelopes introduced in 2014 by Tencent, the company that owns WeChat:
1. A regular red envelope that could be sent directly from one user to another.
2. A 'group' red envelope, with a limited number to be grabbed and a limited sum of money which can be grabbed by all users in a group if they are fast enough. The sum inside this envelope is randomized, adding the thrill of gambling to the practice of giving away red envelopes.
Other companies also wanted a piece of the digital red envelope cake: Weibo and AliPay combined their strengths a year after WeChat introduced its digital hongbao in order to promote their version of the digital red envelope.
A 'war' then broke out between the two companies. AliPay handed out 600 million renminbi ($93 million) worth of red envelopes as a response to WeChat's 120 million envelopes sent out during the televised celebration of Chinese New Year.2
"Digital red envelopes can cross time and place, but cannot replace the method of face-to-face contact"
In the years after, the digital red envelope became more and more popular. Weibo and Alipay also came with their version of sending red envelopes online. The companies organized large-scale actions to make users make use of their form of digital red envelopes.
WeChat, for instance, gives users the option to make the red envelopes very personal through adding stickers and personal messages, making the digital red envelope an even more enjoyable experience.
Does this new development of the traditional red envelope make the tangible envelope obsolete?
When asked by the digital newspaper The Paper (澎湃新闻) about whether the digital red envelope might replace its tangible brother, scholar Tian Zhaoyuan (田兆元) of East China Normal University said that the digital red envelope can cross time and place, but cannot replace the method of face-to-face contact. Though friends and family may send one another digital red envelopes, it does not mean that it replaces the tangible red envelopes.3
The tradition of sending red envelopes is and will be inherently linked to Chinese New Year. Though both the paper and digital forms of the tradition remain incredibly popular, the virtual hongbao will definitely win territory once more this year as travel is restricted due to COVID-19. Especially in these times, the digital red envelope is the best digital way of wishing family and friends a happy new year.
Why are 'lucky envelopes' not just red, but sometimes also green or purple? Read more via Things That Talk here.

By Koen van der Lijn and Xiaojun Zhang
Follow @WhatsOnWeibo
Koen van der Lijn (China Studies, BA) is a ResMa student Asian Studies at Leiden University focused on Chinese history and its international relations. He is a student ambassador at Things That Talk.
Xiaojun Zhang (China Studies, BA) is an MA student Asian Studies at Leiden University focused on contemporary Chinese culture, symbolism and food. For Things That Talk, she currently works on a project about Chinese-Indonesian restaurants in the Netherlands.
This story was made in collaboration with ThingsThatTalk.net – exploring humanities through the life of objects. Things That Talk is an educational digital project where staff and students produce narratives and metadata about objects in Leiden collections and beyond. Check out the story "Hongbao: from paper envelope to digital gift" on Things That Talk here!

Footnotes (other sources hyperlinked within the article)
1 Kin Wai Michael Siu. 2001. "Red Packet: a Traditional Object in the Modern World." Journal of Popular Culture 35 (3), 103.
2 Chen, Liyan. 2015. "Red Envelope War: How Alibaba and Tencent Fight Over Chinese New Year." Forbes, Feb 19 https://www.forbes.com/sites/liyanchen/2015/02/19/red-envelope-war-how-alibaba-and-tencent-fight-over-chinese-new-year/?sh=1b88bccccddd.
3 The Paper, Zuowei yi zhong "xinnian su", weixin hongbao hui qudai zhizhi hongbao ma? 作为一种"新年俗",微信红包会取代纸质红包吗?, https://cul.qq.com/a/20160208/012888.htm.
Spotted a mistake or want to add something? Please let us know in comments below or email us. First-time commenters, please be patient – we will have to manually approve your comment before it appears.
©2021 Whatsonweibo. All rights reserved. Do not reproduce our content without permission – you can contact us at info@whatsonweibo.com.