"Beijing Has 20 Million People Pretending to Live Here" (Full Translation)
Translation of "Beijing Has 20 Million People Who Pretend to Live There" ("北京,有2000万人假装在生活") by Zhang Wumao.
On July 23, Chinese blogger Zhang Wumao (real name Zhang Guochen) posted a humorous yet sharp essay criticizing the status quo of life in Beijing, and the city's old locals and new immigrants. The article soon went viral and was denounced by official media. Translation provided by What's on Weibo.
"Beijing Has 20 Million People Who Pretend to Live Here" or "Beijing Has 20 Million People Pretending to Have a Life Here" by Zhang Wumao. Chinese title "北京,有2000万人假装在生活", original text in Chinese posted by author on WeChat on July 23, 2017.
1
Beijing has no human warmth
Friends from outside the city frequently criticize the people of Bejing. They'll say that Beijingers have lots of money, but that they show it off in a classless fashion and that they are not hospitable. 'I've come to visit the city, why can't we catch up!?', 'We've known each other for years, you can't even take me to the airport!?' In fact, Beijingers are not as hospitable as non-Beijingers. Coming to pick you up and giving you a ride, or showing you around the city, are all seemingly simple things that are too hard for Beijingers to do.
Beijing people are busy. They are busy 'til 11 o'clock at night, when they are still jammed on the 3rd Ring Road. The cost of social time in Beijing is really too high – so high that it would be quicker to go for dinner in Tianjin than to go from Shijinghsan (TN: inner district of West Beijing) to Tongzhou (TN: district east of Beijing). Beijing is really too big; so big that it is simply not like a city at all.
So how big is Beijing really? It is equivalent to 2.5 times Shanghai, 8.4 times Shenzhen, 15 times Hong Kong, 21 times New York, or 27 times Seoul.
"Beijing is a tumor, and no one can control how fast it is growing; Beijing is a river, and no one can draw its borders."
In 2006, when I came to Beijing, the subway only had line 1, 2, and 13. Now I don't even know how many lines the Beijing subway has without checking it on Baidu. Ten years ago I took public transportation to search for a job, and refused to go to any interviews of companies outside the 4th Ring Road. Now companies like JD.com, Tencent, and Baidu, are all outside the 5th Ring.
When friends from outside the city come to Beijing, they think that we are near. But actually, we're hardly in the same city; they might be in China's Houhai, Guomao, Tongzhou, Shijingshan,.. If you'd look at the time spent in traveling, when people from Tongzhou and Shijingshan are dating, they are basically in a long-distance relationship. When you go from the 5th Ring Road to Yizhuang you could call it an offical trip.
For 10 years, Beijing has always been controlling housing, controlling traffic, and controlling the population. But this pancake is only getting wider and bigger. It has become so big that when a school friend from Xi'an called me to tell me he's in Beijing, I asked him 'where in Beijing?', he told me 'I'm at the 13th Ring Road.'
Beijing is a tumor, and no one can control how fast it is growing; Beijing is a river, and no one can draw its borders. Beijing is a believer, and only Xiong'an can bring salvation.
Beijingers are not just cool towards people from outside, they also treat each other coolly. Every time an old school friend from outside the city visits Beijing and we have a get-together, they'll ask: 'You guys here probably often meet up, right?'. I then say that those few times they come to Beijing, are the only few times we actually meet up.
In Beijing, there's a mutual understanding when exchanging name cards; if we call each other a couple of times within a year, we'll consider it a good friendship. If people are willing to come from east of the city to the west to have a meal together, then we'll be friends for life. The only people we meet every day and have meals with are our co-workers.
2
Beijing actually belongs to outsiders
If you let Chinese people pick one city to visit in their lives, I am convinced the majority will choose Beijing. Because this is the capital, this is where you have Tian'anmen, the Forbidden City, the Great Wall, and hundreds of big and small theaters. From modern drama to Western or traditional opera, from xiangsheng to skits or Two-people Rotation – people from anywhere in the world can find their spiritual food here. But these things actually have nothing to do with the people of Beijing.
If you step into any major theater in Beijing, you'll find that six out of ten people are outsiders with an accent and that three of them have just arrived in the city, that there are no fresh artistic young persons. What's left is one person swiping their phone in the corner; the bored Beijing tour escort.
"Going into the Forbidden City, I only see one empty building after the other; it's less interesting than the lively pigsties we have in my native village."
In the 11 years since I've come to Beijing, I have been to the Great Wall 11 times, 12 times the Imperial Palace, 9 times to the Summer Palace, and 20 times to the Bird's Nest. I feel emotionless about this city's great architecture and long history. Going up the Great Wall, I can only think of Lady Meng Jiang (TN: 孟姜女, heroine of the Qin Dynasty), it is difficult to feel a sense of national pride again for this world miracle. Going into the Forbidden City, I only see one empty building after the other; it's less interesting than the lively pigsties we have in my native village.
Upon hearing any mention of Beijing, many people immediately think of the Palace Museum, Houhai, 798; they think of history, culture, and high-rise buildings. Is that a good thing or a bad thing? It's good! Does it make you proud? It does! But you can't make food out of these things. What Beijingers increasingly feel is the suffocation of the smog and the high cost of housing. They cannot move, they cannot breathe.
3
Beijing Eventually is Beijinger's Beijing
If you say that Beijing still has this somewhat smoky smell, then this is the smell that comes from the city's native Beijingers who have been here for generations. It comes from their old bird cages, it comes from their palm leaf fans that cool the air after dinner, it comes from the haughty accents of the taxi drivers…
Old Beijingers are trying to make this city smell alive; they are trying to make the city appear like a place where people live.
"If you do not have a five-room house, how can you be calm? How can you breathe? How can you relax and play chess while drinking tea, like the Beijing uncles?"
This lively odor of the old Beijing people is passed down in genes, and it rises from the bottom of their five-room apartments. When the white-collar workers from the financial district in west Beijing are immersed in the excitement over their year-end bonuses, the nouveau riche in the south will calmly say they own five-room houses. When the computer programmers in Haidian crack a code and fantasize about being the next Richard Liu, the nouveau riche in the south will still calmly say they own five-room houses. When the media elite in Chaoyang have drawn up a new list and stand before their CBD office window contemplating their life, the nouveau riche in the south, as before, will still calmly say they own five-room houses.
If you do not have a five-room house, how can you be calm? How can you breathe? How can you relax and play chess while drinking tea, like the Beijing uncles?
In Beijing, the migrants who have no real estate from previous generations are destined to be trapped in their house for life. They strive for over a decade to buy an apartment the size of a bird cage; then they spend another decade struggling to get a house that has two rooms rather than one. If that goes well – congratulations! – you can now think about an apartment in the school district.
With a house in the school district, children can attend Tsinghua or Peking University. But Tsinghua graduates will still not be able to afford a room in that district. They will then either need to stay crammed together in the old shabby family apartment, or start from scratch, struggling for an apartment.
4
In 2015, the movie Mr. Six hit the cinemas. In my friend circle, many ridiculed the movie's character 'Mr. Six' for his Beijing air. But I was deeply touched.
After being in Beijing for over a decade, I refuse to go to Wukesong to see the Shougang [basketball] team, I refuse to go to the Worker's Stadium to see the Guoan [football] team, because I don't have a real love for them and because I can't cuss with a Beijing accent. But after being in Beijing for so long, you reach a kind of conciliation with old Beijing people. You'll understand them in a more three-dimensional way, and can no longer simply label them.
"For Beijing's new immigrants, the city is a distant place where they can't stay; for Beijing's old residents, the city is an old home they can't return to."
In fact, not all of the Peking people are unfriendly towards outsiders, a lot of my friends are Beijing rich kids. And it's not like there are no young people in Beijing seeking progress – most of Beijing youth are just as diligent as we are.
You can dislike 'Mr. Six', and you can dislike the arrogant Beijing way of cussing and bragging, but you still have to respect them. Like you respect people from the northeast wearing gold necklaces or respect Shandong people for eating Chinese onions. It's their culture, these are their customs. You don't have to be like them, but the least you can do is to show respect from a distance.
I once took a taxi to Lin Cui Road. Because I was afraid the driver wouldn't know the way, I opened the navigation on my phone to help him find the way. He said he did not need the navigation, because he knew that place. There was a flour mill there 30 years ago, [he said], it was demolished 10 years ago, and they built low-income housing there. I asked him how he knew this so well. "That used to be my home," he said, the sorrow showing in his face.
I could hear nostalgia and resentment from the driver's words. For Beijing's new immigrants, the city is a distant place where they can't stay; for Beijing's old residents, the city is an old home they can't return to.
We, as outsiders, ridicule Beijing on the one hand, while on the other hand, we cherish our hometowns. But in fact, we can still go back to our hometown. It is still there. It's just that, with the defeats of each passing day, we can no longer adapt there. But for the old Beijingers, there really is no way to go back to their hometown. It has changed with unprecedented speed. We can still find our grandfather's old house. The majority of Beijingers can only find their old homes through the coordinates on a map.
Some people say that we as outsiders have built Beijing, that if it weren't for us, Beijingers wouldn't even have breakfast to eat. The large numbers of people coming from outside the city have raised the housing prices in Beijing – they've created a flourishing city. But do you believe it? The native Beijingers might not need this kind of flourishing, and they also do not want higher housing prices. They are just like us, wanting a home that does not have too many people or too much traffic.
5
"There are over 20 million people left in this city, pretending to live."
This year, they've begun to brick up the core city of Beijing. More and more small shops, small hotels and restaurants are forced to close, more and more people in the low-end market are forced to leave. This type of dressing-down and losing-weight city management frantically puts Beijing on the road to being a high-end and classy city. But it is becoming less and less of a convenient and livable city, and it is becoming further and further removed from being a city with a tolerant and open spirit.
Those who chase their dreams of success are now escaping. They're off to Australia, New Zealand, Canada, or the West Coast of the United States. Those who've lost hope of chasing their dreams are also escaping. They returned to Hebei, the Northeast, and their hometowns.
There are over 20 million people left in this city, pretending to live. In reality, there simply is no life in this city. Here, all we have is the dreams of some people, and the jobs of most people.
–End—
Translated by Manya Koetse
©2017 Whatsonweibo. All rights reserved. Do not reproduce our content without permission – you can contact us at info@whatsonweibo.com.
'Wo Ting Bu Dong': Rap Video Portrays Foreigners' Life in China
Rap video "Another day in China" was shared by Xinhua News Agency.
A new rap video posted by Chinese state media titled "Another Day in China" is supposed to depict the typical life of foreigners in China.
Chinese state media outlet Xinhua News Agency has released a new English-language rap video on December 7th about 'foreigners' life in China' through its official New China TV YouTube Channel.
On the American American social news platform Reddit, people wonder if this is 'the most embarrassing state media music video yet.'
The song is dominated by text and lacks instrumental energy. Although the people in the video dance vigorously to the chorus, it never really takes off – which makes the whole video slightly awkward, but nevertheless, fun to watch:
The video, which was produced by Ychina (@歪果仁研究协会), a Beijing-based blogging channel focused on foreigners in China, was posted on Weibo on December 5. It has since been shared 6500 times and has received nearly 20,000 likes.
The song is written and sung by a singer named Dylan Jaye (@钟逸伦Dylan, 51,000+ fans on Weibo), and describes the 'everyday life' of a foreigner in China, from ordering Chinese dumplings (jiaozi) to ordering stuff from Taobao and being 'super screwed without a phone.' In the video, Dylan is joined by his other 'laowai' friends, such as Amy (@李慧琳Amy), an Australian young woman with over 16,000 fans on Weibo.
On Weibo, Dylan Jaye describes it as his "genuine experience of living in China for so long."
The song, that is subtitled in both English and Chinese, starts with the following text:
Rolling out of bed, Middle Kingdom
Knocking feeling like a drum
Breakfast at the door, jiaozi
Last night ordered them
Waimai dude speaking fangyan
I'm feeling dumb
But these days
I'll never get bored of them
Because we're living here in China
I'm a rhymer
Telling you the story of this setting
Through the eyes of another waiguoren
The ones that came out here they call helmsman
And now I'm flipping through Taobao
and somehow with the know-how and Zhi Fu Bao
You can buy anything you want on this website
And the things you didn't know you wanted til sight
Dylan then continues, singing:
Call me crazy, call me crazy
But I came here for something new
Don't say maybe, we don't say maybe
We say this, well I can do.
And the chorus goes:
You ask why China
Yeah we reply why not China
Take on its confusing hutongs and streets
And make it on your own
You ask why China
Yeah we reply why not China
With waimai, kuaidi, Wechat
I'd be super-screwed without my phone
The singer also adds some world politics to the song when he sings:
I've been thinking after Donald Trump and Brexit and the chaos and the mayhem
I'll sit here and sip oolong and I dancing with old people dancing in the park and I
Barely understand them asking who we are, reply
Ni shuo shenme? [What are you saying?]
Wo ting bu dong [I don't understand].
As the sentence 'ting bu dong' [I don't understand] is generally one of the first sentences foreigners in China know – and often use -, it has become such a cliche that in some online circles, there are even stories and cartoons about a typical foreigner in China named Tim Budong.
Over the past few years, various rap videos released by Chinese state media have made headlines in English-language media. Last year, a rap song praising Karl Marx became a hot news item. Recently, state media also explained China's modernization through a rap song. Eearlier this year another remarkable music video was launched to celebrate the Belt and Road initiative (see below).
On Reddit, one commenter says the song by Dylan released by state media is "Pretty cringey, but there have been way cringier music videos released by the party." Another person responds that they "personally find foreign shills to be so much more embarrassing."
On Weibo, however, many netizens applaud the video, calling it funny and well-written: "It's just so good," some say, with others writing: "I just can't stop listening to it. It's contagious."
– By Manya Koetse
Follow @WhatsOnWeibo
Spotted a mistake or want to add something? Please let us know in comments below or email us.
©2017 Whatsonweibo. All rights reserved. Do not reproduce our content without permission – you can contact us at info@whatsonweibo.com.
China's Top TV Dramas to Watch This Winter
China's top television dramas to binge on this winter – by What's on Weibo.
From historical dramas to military series – a list of the latest, most-watched television dramas in China shows that Chinese television dramas are not just hot & happening – they are also diverse when it comes to themes and genres.
It has been over 27 years since China's first television drama aired and caused a national craze. Although China's media industry has greatly changed through the times, one thing has remained the same: Chinese TV viewers still love watching television dramas – a dominant form of media entertainment. In fact, the Chinese TV drama industry is booming and among the most vibrant in the world, with no signs of slowing down.
As the days are getting colder and darker, it is time to curl up on the couch to do some tv drama (binge) watching. China has seen a myriad of new television dramas this year, with some of the more popular ones airing this winter.
This is a top 10 of most popular new dramas according to Weibo's charts and the Sohu hot charts at the time of writing. We have added various links on where to watch these series, but they might change overtime – please post relevant links in the comment section below.
Some dramas are only licensed for certain regions. For those who wish to switch between regions on their desktop or mobile, you can use a VPN. Our friends at NordVPN offer excellent services (check out here).
For weekly updates on the top online ratings of Chinese television series, check out Cdramabase.com, an excellent website run by Alice Craciun providing insights into the world of Chinese drama.
#10. Peacekeeping Infantry Battalion #维和步兵营#
Genre: Military drama
Release date: October 10, 2017 (35 episodes)
Network: Jiangsu TV
Directed by: Ning Haiqiang (宁海强), Yi Xiang (翌翔)
'Peacekeeping Infantry Battalion' is a different military drama than the mainstream series within this genre; it is not focused on Sino-Japanese War, but on modern-day conflicts. This drama has received much praise from Chinese experts.
Its airing comes at a time when China's role in UN peacekeeping is becoming increasingly crucial, not just as a contributor of troops, but also as a financial provider. The drama, attracting large audiences across China, plays an important role in the current shaping of the image of China's peacekeeping troops.
The drama was co-directed by director Ning Haiqiang, who is also known for multiple military productions such as The Hundred Regiments Offensive (百团大战), and aims to show how Chinese peacekeeping forces are selected, trained, and go abroad. The drama mainly focuses on the tumultuous story of people in the Peacekeeping Infantry Battalion, who are risking their own lives to evacuate citizens from Libya during a dangerous mission. And, of course, it would not be a proper Chinese drama without some romance amidst all the military developments.
To check out the drama (in Chinese) see this YouTube channel.
Starring: Du Chen (杜淳), Jia Qing (贾青), Xu Honghao (徐洪浩), He Da (何达), Liu Runnan (刘润南), Shen Hao (沈浩).
#9. Detective Dee #通天狄仁杰#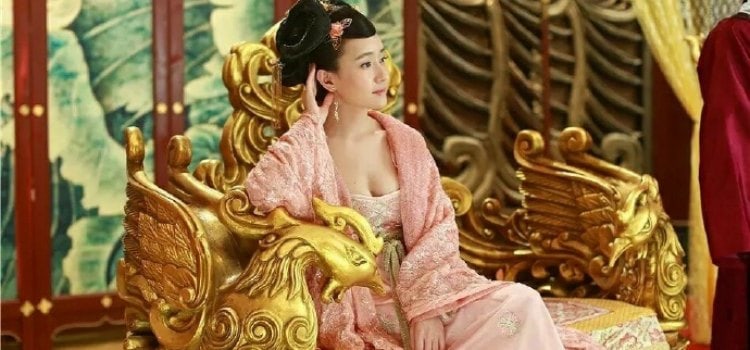 Genre: Costume drama, detective
Release date: August 21 2017 (46 episodes)
Network: Beijing TV, Anhui TV
Directed by: Xie Zhaoyi (叶昭仪)
This is a large-scale costume drama that was already produced back in 2014. It focuses on the main character Di Renjie, which is played by actor Ren Jialun, who also starred in the drama Noble Aspirations (青云志).
Drama blog DramaPanda describes Detective Dee as a "Chinese equivalent to Sherlock Holmes" who actually lived during the reign of Empress Wu Zetian (624-705). He's become a widely fictionalized character.
The drama shows the trials and tribulations of Di Renjie, as he is falsely accused of a crime he did not commit and then discovers he has special talents for solving cases.
Watch it on CCAsian here.
Starring: Ren Jialun (任嘉伦, also known as Allen Ren), Kan Qingzi (阚清子), Jiao Junyan (焦俊艳), Chen Yi (陈奕), Miao Junjie (缪俊杰).
#8. Green Love 青恋
Genre: Romance, family, rural
Release date: October 18, 2017 (26 episodes)
Network: CCTV-1, Zhejiang TV (where it started airing October 31st)
Directed by: Ma Jin (马进)
'Green Love' (Qinglian) is the only tv drama in this list that is themed around rural life in China – although it is about urban youth at the same time. It tells the story of the 28-year-old man Lin Shen (starring Guo Jingfei) who returns to his hometown of Yunshe village after establishing his own company in Shanghai.
As described by Cdramabase, he is not the only one turning to this village after building on a career in the big city. Investor Chen Ling (by Che Xiao) wants to escape the busy city and visits Lin Shen's village, where she learns to appreciate Chinese village life.
Starring: Guo Jingfei (郭京飞), Che Xiao (车晓), Una You (尤靖茹).
#7. The Legendary Tycoon #传奇大亨#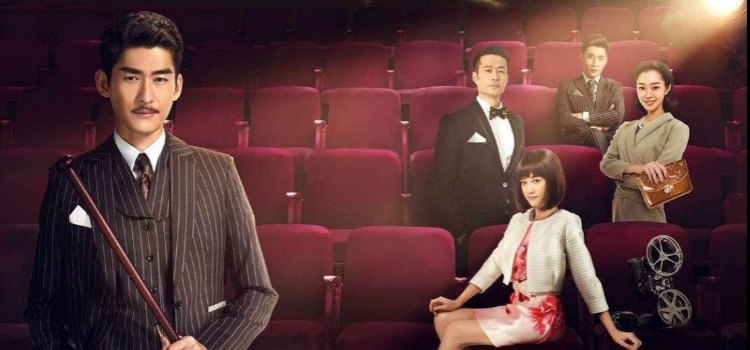 Genre: Period drama
Release date: October 9, 2017
Network: Zhejiang TV, Tencent, iQiYi, Youku
Directed by: Zhuang Xunxin (庄训鑫)
With 110 million views on Weibo #传奇大亨#, this is a popular Chinese drama and a quite original one because it is based on a real-life story.
This drama takes place in Shanghai during the 1930s, when the brothers of the 'Gu family' join the movie industry. Gu Yanmei, played by actor Zhang Han, is the youngest brother, who follows his older brother Gu Ruoxia to Singapore to start their own film business there. When war breaks out, the brothers decide to move their film production base to Hong Kong – the start of a tumultuous and flourishing career.
The Legendary Tycoon is based on the story of the Shaw Brothers, of whom the youngest, Run Shaw, passed away in 2014, at the age of 107 (Find a short history of the Shaw Brothers & Chinese cinema here).
See the first episode of this drama here (in Chinese), or through Viki with English subtitles here.
Starring: Zhang Han (张翰), Jia Qing (贾青), Chen Qiao'en (陈乔恩), Song Yi (宋轶) Tan Kai (谭凯), Liu Changde (刘长德) Guo Ziqian (郭子千) Yao Zhuojun (姚卓君) Sun Wei (孙玮).
#6. Xuan Yuan Sword: Legend of the Han Clouds #轩辕剑之汉之云#
Genre: Fantasy, sci-fi, costume
Release date: August 8 2017 (58 episodes)
Network: Dragon TV
Directed by: Pan Wenjie (潘文杰), Jin Sha (金沙)
'Xuan Yuan Sword: Legend of the Han Clouds' is set during a fantasy era and revolves around three opposing kingdoms and the heroic accomplishments of the young protagonists. That these kinds of fantasy spectacles are still very popular amongst netizens can be viewed on this drama's Weibo hashtag page, which had received 2,2 billion views by the time of writing.
The show can be viewed with English subs on Youtube here or through Viki.
Starring: Zhang Yunlong (张云龙), Yu Menglong (于朦胧), Guan Xiaotong (关晓彤), Zhang Jiazhu (张佳宁).
#5. My! Physical Education Teacher #我的!体育老师#
Genre: Romance, comedy
Release date: 11 November 2017 (38 episodes)
Network: Hunan TV
Directed by: Lin Yan (林妍)
The pretty Wang Xiaomi had always dreamed of being treated like a princess by her future husband. The much older Mark (Zhang Jiayi), who is facing a mid-life crisis, is her ideal candidate. But dealing with her new stepdaughter and restless husband is not the pampered life Wang had hoped for.
The drama comically features the generational differences between those born in the post-70s, post-80s, post-90s, and those born after 2000.
The drama can be watched online through CCAsian here.
Starring: Zhang Jiayi (张嘉译), Wang Xiaochen (王晓晨), Wang Weiwei (王维维), Zhang Zijian (张子健), Zhao Jinmai (赵今麦)
#4. Ordinary Person #凡人的品格#
Genre: Urban drama, workplace
Release date: October 28, (45 episodes)
Alternative title: Ordinary Person Character
Network: Jiangsu TV, Zhejiang TV
Directed by: Xu Zongzheng (徐宗政)
This drama's narrative follows the story of several people who work together at a media company. While war reporter-turned-producer Zhan Dapeng (played by Lin Yongjian) is facing a crisis both in his working and personal life, the pretty industry newbie Chang Ge (Jiang Xin) is an admirer of Zhan. The two encounter many challenges while working on a new program together – they're both partners and enemies at the same time.
Check it out (in Chinese) on Youtube here.
Starring: Lin Yongjian (林永健), Jiang Xin (蒋欣), Tong Lei (童蕾), Liang Zhenlun (梁振伦), Bai Zhidi (白志迪).
#3. The Endless Love #路从今夜白#
Genre: Romance
Release date: 11 November 2017 (32 episodes)
Alternative title: The Journey from Tonight is White
Network: Hunan TV, Mango TV
Directed by: Gu Yunyun (顾贇贇)
This drama, that is based on a novel by Mo Wu Bi Ge, revolves around the love story of the talented painter Gu Yebai (played by Chen Ruoxuan) and the amiable Lu Youyan (An Yuexi). When Gu is getting ready to prepare for a major art competition, psychological problems are challenging his journey. A new love blossoms when Lu Youyan helps him overcome his problems, but their relationship faces more obstacles as the drama unfolds.
This drama can be watched through Viki.com with subtitles (if it is licensed for your region).
Starring: Chen Ruoxuan (陈若轩), An Yuexi (安悦溪), Wei Miles (魏哲鸣), Luo Yutong (罗玉通), Clinton Kuang (匡牧野).
#2. ER Doctors ##急诊科医生##
Genre: Hospital drama
Release date: October 30, 2017 (43 episodes)
Network: Dragon TV, Beijing TV
Directed by: Zheng Xiaolong (郑晓龙), Liu Xuesong (刘雪松)
The television drama 'ER Doctors' (#急诊科医生#) is not just one of the highest-ranking tv dramas this winter, but also one of the most viewed and discussed topics on Weibo.
ER Doctors is a realistic drama that centers around a group of doctors at a hospital's emergency department.
It tells the story of the ER room head doctor of the emergency department He Jian Yi (Zhang Jiayi) and the new Ph.D. advisor, who just returned from America, Jiang Xiaoqi (by Wang Luodan). At first, these two are wary of each other, but they come to understand each other and rescue not only patients side by side but also themselves in the end (Cdramabase).
According to Shanghai Daily, director Zheng attached great importance to the details in every scene, which is why he visited a Shanghai hospital with the drama's cast to learn basic ER training.
Starring: Zhang Jiayi (张嘉译), Wang Luodan (王珞丹), Jiang Shan (江珊)
#1. Game of Hunting #猎场#
Genre: Romance, workplace
Release date: November 6, 2017 (52 episodes)
Alternative title: Hunting Ground
Network: Hunan TV, Youku, LeTv and more.
Directed by: Jiang Wei (姜伟) (also screenplay)
The Game of Hunting is the absolute number 1 of this list, currently topping the top lists of most popular dramas on Weibo and Sogu, and receiving a 9.0 rating from viewers.
The drama's narrative revolves around headhunter Zheng Qiudong (played by Hu Ge) as he struggles to climb up in the financial world – a "hunting ground" full of enemies and immoral characters. When his business falls apart, he has to start anew with the help of this new alliances.
The show is heavily sponsored by One Plus (一加手机), one of China's most popular domestic smartphone brands.
Game of Hunting can be watched online through multiple channels, including YouTube.
Starring: Hu Ge 胡歌, Chen Long 陈龙, Sun Honglei 孙红雷, Zhang Jiayi 张嘉译, Zu Feng 祖峰.
Want to know more? Also see
– Top 5 Chinese TV Dramas of Summer 2017
– Top 10 Chinese Television Dramas Early 2017
– Top 10 TV dramas in China 2016
By Manya Koetse
Follow @whatsonweibo
Spotted a mistake or want to add something? Please let us know in comments below or email us.
©2017 Whatsonweibo. All rights reserved. Do not reproduce our content without permission – you can contact us at info@whatsonweibo.com.