"Beijing Has 20 Million People Pretending to Live Here" (Full Translation)
Translation of "Beijing Has 20 Million People Who Pretend to Live There" ("北京,有2000万人假装在生活") by Zhang Wumao.
On July 23, Chinese blogger Zhang Wumao (real name Zhang Guochen) posted a humorous yet sharp essay criticizing the status quo of life in Beijing, and the city's old locals and new immigrants. The article soon went viral and was denounced by official media. Translation provided by What's on Weibo.
"Beijing Has 20 Million People Who Pretend to Live Here" or "Beijing Has 20 Million People Pretending to Have a Life Here" by Zhang Wumao. Chinese title "北京,有2000万人假装在生活", original text in Chinese posted by author on WeChat on July 23, 2017.
1
Beijing has no human warmth
Friends from outside the city frequently criticize the people of Bejing. They'll say that Beijingers have lots of money, but that they show it off in a classless fashion and that they are not hospitable. 'I've come to visit the city, why can't we catch up!?', 'We've known each other for years, you can't even take me to the airport!?' In fact, Beijingers are not as hospitable as non-Beijingers. Coming to pick you up and giving you a ride, or showing you around the city, are all seemingly simple things that are too hard for Beijingers to do.
Beijing people are busy. They are busy 'til 11 o'clock at night, when they are still jammed on the 3rd Ring Road. The cost of social time in Beijing is really too high – so high that it would be quicker to go for dinner in Tianjin than to go from Shijinghsan (TN: inner district of West Beijing) to Tongzhou (TN: district east of Beijing). Beijing is really too big; so big that it is simply not like a city at all.
So how big is Beijing really? It is equivalent to 2.5 times Shanghai, 8.4 times Shenzhen, 15 times Hong Kong, 21 times New York, or 27 times Seoul.
"Beijing is a tumor, and no one can control how fast it is growing; Beijing is a river, and no one can draw its borders."
In 2006, when I came to Beijing, the subway only had line 1, 2, and 13. Now I don't even know how many lines the Beijing subway has without checking it on Baidu. Ten years ago I took public transportation to search for a job, and refused to go to any interviews of companies outside the 4th Ring Road. Now companies like JD.com, Tencent, and Baidu, are all outside the 5th Ring.
When friends from outside the city come to Beijing, they think that we are near. But actually, we're hardly in the same city; they might be in China's Houhai, Guomao, Tongzhou, Shijingshan,.. If you'd look at the time spent in traveling, when people from Tongzhou and Shijingshan are dating, they are basically in a long-distance relationship. When you go from the 5th Ring Road to Yizhuang you could call it an offical trip.
For 10 years, Beijing has always been controlling housing, controlling traffic, and controlling the population. But this pancake is only getting wider and bigger. It has become so big that when a school friend from Xi'an called me to tell me he's in Beijing, I asked him 'where in Beijing?', he told me 'I'm at the 13th Ring Road.'
Beijing is a tumor, and no one can control how fast it is growing; Beijing is a river, and no one can draw its borders. Beijing is a believer, and only Xiong'an can bring salvation.
Beijingers are not just cool towards people from outside, they also treat each other coolly. Every time an old school friend from outside the city visits Beijing and we have a get-together, they'll ask: 'You guys here probably often meet up, right?'. I then say that those few times they come to Beijing, are the only few times we actually meet up.
In Beijing, there's a mutual understanding when exchanging name cards; if we call each other a couple of times within a year, we'll consider it a good friendship. If people are willing to come from east of the city to the west to have a meal together, then we'll be friends for life. The only people we meet every day and have meals with are our co-workers.
2
Beijing actually belongs to outsiders
If you let Chinese people pick one city to visit in their lives, I am convinced the majority will choose Beijing. Because this is the capital, this is where you have Tian'anmen, the Forbidden City, the Great Wall, and hundreds of big and small theaters. From modern drama to Western or traditional opera, from xiangsheng to skits or Two-people Rotation – people from anywhere in the world can find their spiritual food here. But these things actually have nothing to do with the people of Beijing.
If you step into any major theater in Beijing, you'll find that six out of ten people are outsiders with an accent and that three of them have just arrived in the city, that there are no fresh artistic young persons. What's left is one person swiping their phone in the corner; the bored Beijing tour escort.
"Going into the Forbidden City, I only see one empty building after the other; it's less interesting than the lively pigsties we have in my native village."
In the 11 years since I've come to Beijing, I have been to the Great Wall 11 times, 12 times the Imperial Palace, 9 times to the Summer Palace, and 20 times to the Bird's Nest. I feel emotionless about this city's great architecture and long history. Going up the Great Wall, I can only think of Lady Meng Jiang (TN: 孟姜女, heroine of the Qin Dynasty), it is difficult to feel a sense of national pride again for this world miracle. Going into the Forbidden City, I only see one empty building after the other; it's less interesting than the lively pigsties we have in my native village.
Upon hearing any mention of Beijing, many people immediately think of the Palace Museum, Houhai, 798; they think of history, culture, and high-rise buildings. Is that a good thing or a bad thing? It's good! Does it make you proud? It does! But you can't make food out of these things. What Beijingers increasingly feel is the suffocation of the smog and the high cost of housing. They cannot move, they cannot breathe.
3
Beijing Eventually is Beijinger's Beijing
If you say that Beijing still has this somewhat smoky smell, then this is the smell that comes from the city's native Beijingers who have been here for generations. It comes from their old bird cages, it comes from their palm leaf fans that cool the air after dinner, it comes from the haughty accents of the taxi drivers…
Old Beijingers are trying to make this city smell alive; they are trying to make the city appear like a place where people live.
"If you do not have a five-room house, how can you be calm? How can you breathe? How can you relax and play chess while drinking tea, like the Beijing uncles?"
This lively odor of the old Beijing people is passed down in genes, and it rises from the bottom of their five-room apartments. When the white-collar workers from the financial district in west Beijing are immersed in the excitement over their year-end bonuses, the nouveau riche in the south will calmly say they own five-room houses. When the computer programmers in Haidian crack a code and fantasize about being the next Richard Liu, the nouveau riche in the south will still calmly say they own five-room houses. When the media elite in Chaoyang have drawn up a new list and stand before their CBD office window contemplating their life, the nouveau riche in the south, as before, will still calmly say they own five-room houses.
If you do not have a five-room house, how can you be calm? How can you breathe? How can you relax and play chess while drinking tea, like the Beijing uncles?
In Beijing, the migrants who have no real estate from previous generations are destined to be trapped in their house for life. They strive for over a decade to buy an apartment the size of a bird cage; then they spend another decade struggling to get a house that has two rooms rather than one. If that goes well – congratulations! – you can now think about an apartment in the school district.
With a house in the school district, children can attend Tsinghua or Peking University. But Tsinghua graduates will still not be able to afford a room in that district. They will then either need to stay crammed together in the old shabby family apartment, or start from scratch, struggling for an apartment.
4
In 2015, the movie Mr. Six hit the cinemas. In my friend circle, many ridiculed the movie's character 'Mr. Six' for his Beijing air. But I was deeply touched.
After being in Beijing for over a decade, I refuse to go to Wukesong to see the Shougang [basketball] team, I refuse to go to the Worker's Stadium to see the Guoan [football] team, because I don't have a real love for them and because I can't cuss with a Beijing accent. But after being in Beijing for so long, you reach a kind of conciliation with old Beijing people. You'll understand them in a more three-dimensional way, and can no longer simply label them.
"For Beijing's new immigrants, the city is a distant place where they can't stay; for Beijing's old residents, the city is an old home they can't return to."
In fact, not all of the Peking people are unfriendly towards outsiders, a lot of my friends are Beijing rich kids. And it's not like there are no young people in Beijing seeking progress – most of Beijing youth are just as diligent as we are.
You can dislike 'Mr. Six', and you can dislike the arrogant Beijing way of cussing and bragging, but you still have to respect them. Like you respect people from the northeast wearing gold necklaces or respect Shandong people for eating Chinese onions. It's their culture, these are their customs. You don't have to be like them, but the least you can do is to show respect from a distance.
I once took a taxi to Lin Cui Road. Because I was afraid the driver wouldn't know the way, I opened the navigation on my phone to help him find the way. He said he did not need the navigation, because he knew that place. There was a flour mill there 30 years ago, [he said], it was demolished 10 years ago, and they built low-income housing there. I asked him how he knew this so well. "That used to be my home," he said, the sorrow showing in his face.
I could hear nostalgia and resentment from the driver's words. For Beijing's new immigrants, the city is a distant place where they can't stay; for Beijing's old residents, the city is an old home they can't return to.
We, as outsiders, ridicule Beijing on the one hand, while on the other hand, we cherish our hometowns. But in fact, we can still go back to our hometown. It is still there. It's just that, with the defeats of each passing day, we can no longer adapt there. But for the old Beijingers, there really is no way to go back to their hometown. It has changed with unprecedented speed. We can still find our grandfather's old house. The majority of Beijingers can only find their old homes through the coordinates on a map.
Some people say that we as outsiders have built Beijing, that if it weren't for us, Beijingers wouldn't even have breakfast to eat. The large numbers of people coming from outside the city have raised the housing prices in Beijing – they've created a flourishing city. But do you believe it? The native Beijingers might not need this kind of flourishing, and they also do not want higher housing prices. They are just like us, wanting a home that does not have too many people or too much traffic.
5
"There are over 20 million people left in this city, pretending to live."
This year, they've begun to brick up the core city of Beijing. More and more small shops, small hotels and restaurants are forced to close, more and more people in the low-end market are forced to leave. This type of dressing-down and losing-weight city management frantically puts Beijing on the road to being a high-end and classy city. But it is becoming less and less of a convenient and livable city, and it is becoming further and further removed from being a city with a tolerant and open spirit.
Those who chase their dreams of success are now escaping. They're off to Australia, New Zealand, Canada, or the West Coast of the United States. Those who've lost hope of chasing their dreams are also escaping. They returned to Hebei, the Northeast, and their hometowns.
There are over 20 million people left in this city, pretending to live. In reality, there simply is no life in this city. Here, all we have is the dreams of some people, and the jobs of most people.
–End—
Translated by Manya Koetse
©2017 Whatsonweibo. All rights reserved. Do not reproduce our content without permission – you can contact us at info@whatsonweibo.com.
Living the Dream: Chinese Architect Designs Stunning Six-Story Communal Living Space
This architect from Guangzhou turned her dream of living together with friends in a creative workspace into reality. The building is a hit on Chinese social media.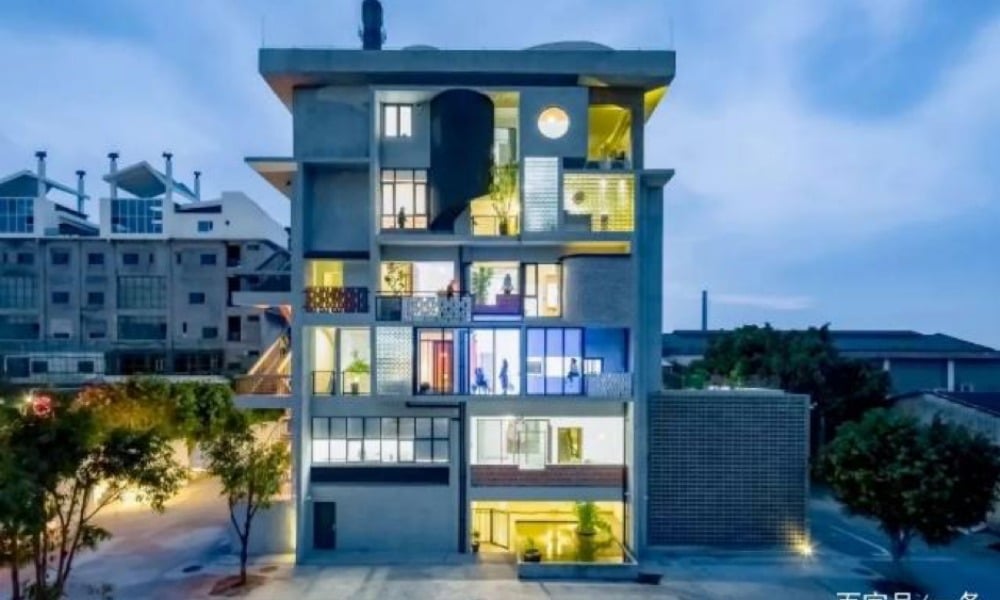 While living together with your best friends in one big house might be a dream of many people, this Chinese architect turned the idea into reality by transforming an old factory into a modern museum-like work- and living space. Through her work, the architect aims to change views on China's urban living spaces.
Guangzhou architect "Michelle" (米歇尔 or Mi Xiao 米笑) and most of her friends work in creative industries. A few years ago, they found that their work and lifestyle required a more flexible and multi-purpose living space; a place where they could live and work together as a small community while also showcasing what they do.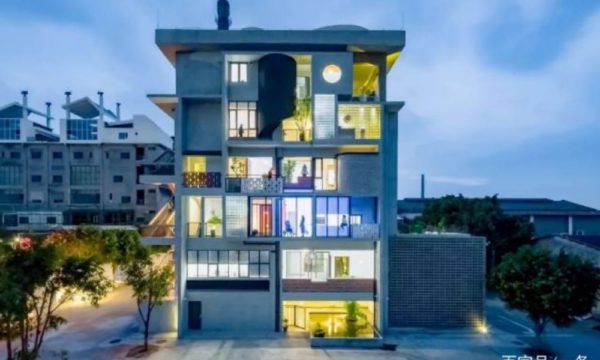 In 2012, the six friends found a workshop in an old abandoned sugar factory, built in the 1950s, located in Guangzhou's Panyu district. More than five years later, they had succeeded in transforming it into a modern six-story work- and living space.
A news story and a video of the building are now attracting major attention on Chinese social media. On Weibo, the hashtag "Six Friends Transform a Building" (#6个好友改造一栋楼#) has been viewed more than 250 million times.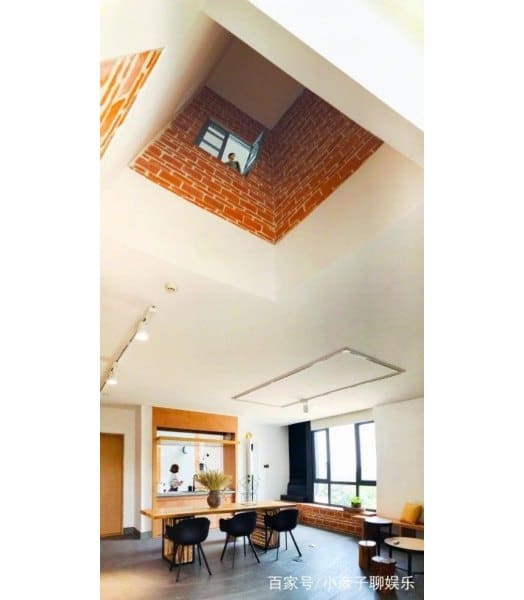 The communal living space, that has been named Boundless Community (无界社区), covers about 1500 square meter and has six completely separate rooms. Originally, the building was made up of only three stories, each with a ceiling height of six to nine meters high.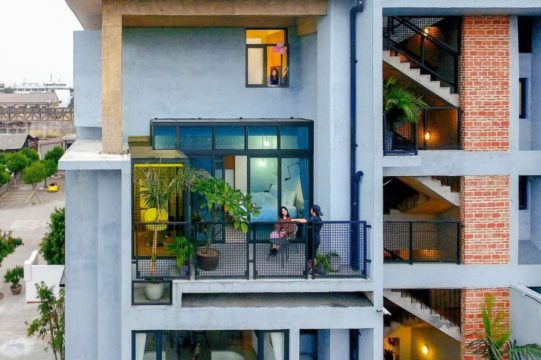 With the reconstruction of the building, the architect reportedly "wanted to break with the traditional urban types of dwellings," where many people live behind locked doors in small spaces. Michelle intended to design the space as a small "village," where people share their living space.
At the same time, the space also allows people to be creative and share their work with the outside world. All of these ideas resulted in a transparent "museum building."
The building itself is almost like a museum by allowing people from outside to look into the various studios.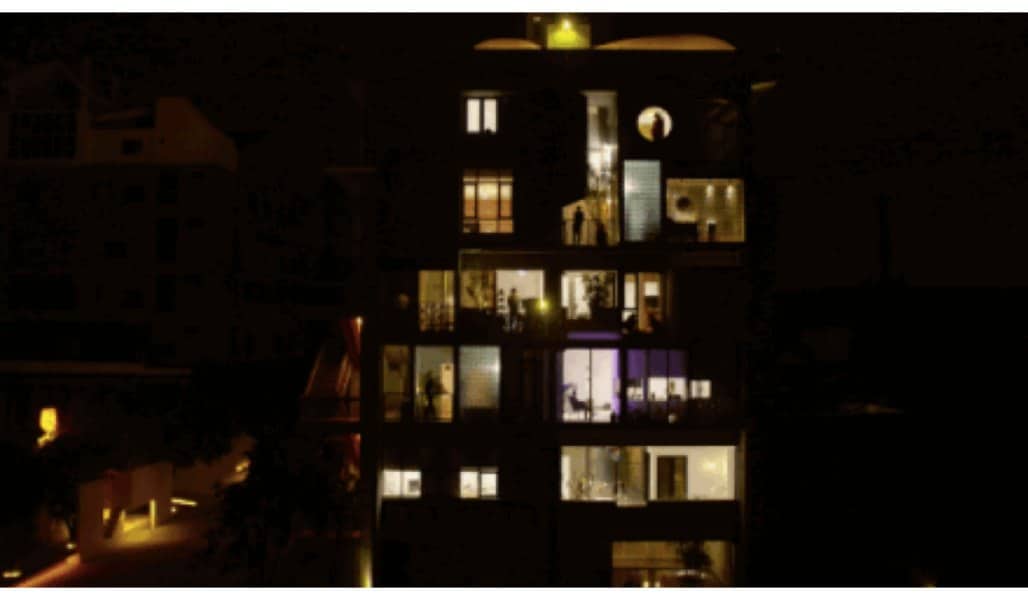 The popular architect is not the only one who is in favor of sharing a living space with her friends. A recent poll on Weibo shows that more than 90% of respondents would also like to live together with their friends; only 10% of the people prefer privacy over a communal living space with good friends.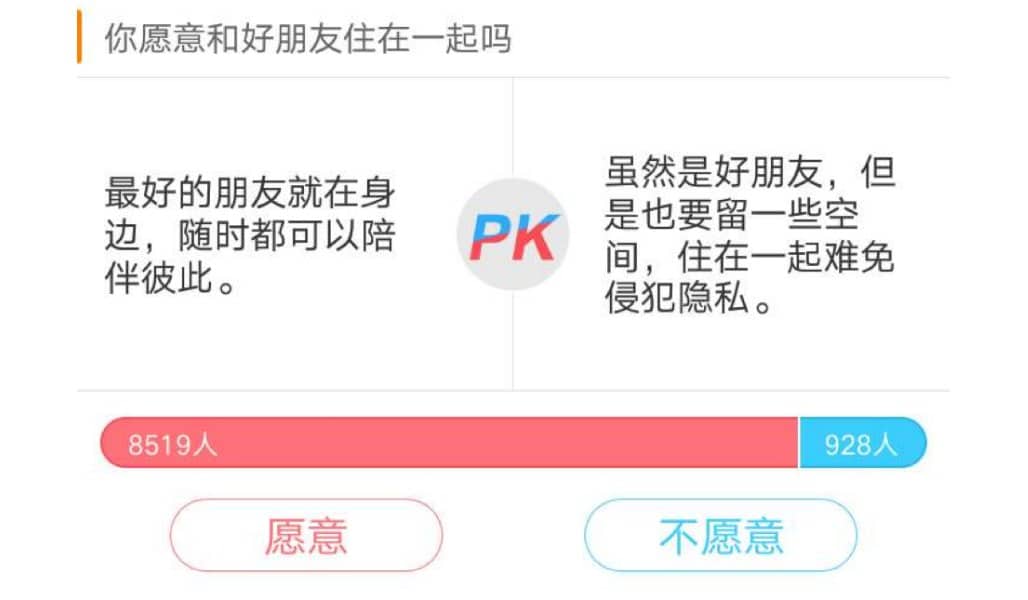 "This is my dream!", many commenters say, with others calling it "simply magical."
To read more about changing attitudes on home and living in China, also check out this article by What's on Weibo. 
By Gabi Verberg
Images via https://sjz.news.fang.com/open/31234746.html.
Spotted a mistake or want to add something? Please let us know in comments below or email us.
©2019 Whatsonweibo. All rights reserved. Do not reproduce our content without permission – you can contact us at info@whatsonweibo.com
When Ad Breaks Get Weird: Branded Content in Chinese TV Dramas Is Ruining It For the Viewers
China's ubiquitous inserted ad marketing is alienating viewers from their favorite TV drama characters.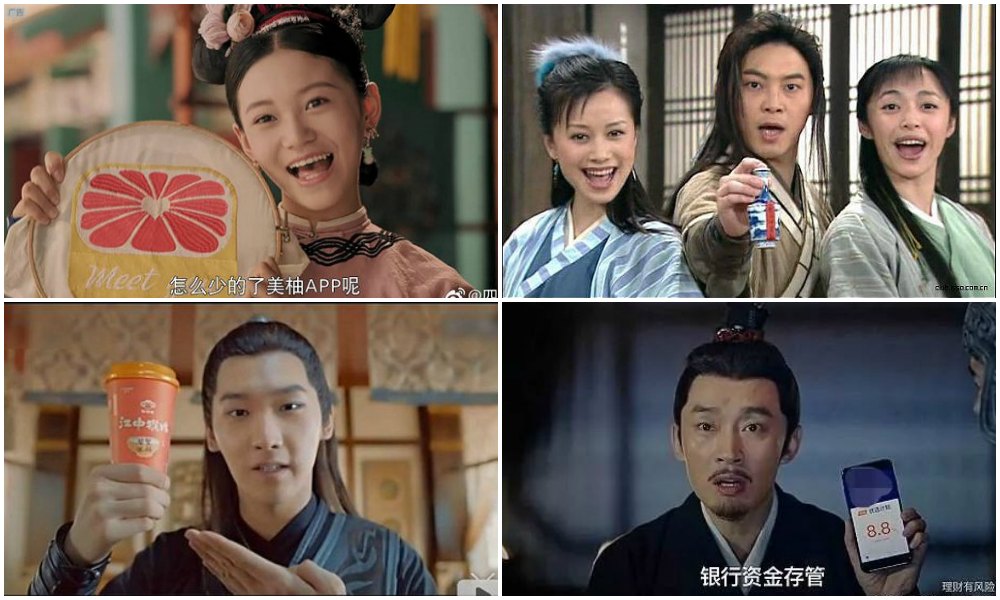 Ad breaks can be annoying, but when it's the main character of your favorite historical drama promoting the latest smartphone, it can actually ruin the viewer experience. In recent online discussions, China's ubiquitous 'Inserted Ad Marketing' (中插广告), that goes beyond product placement, is being attacked by netizens and media.
A 2017 Ad Age article on the high levels of branded content in China's online TV argues that Chinese viewers generally do not mind embedded marketing. They have allegedly become so used to to all kinds of branded distractions in TV shows, dramas, and films, that it is just "another part of the entertainment" (Doland 2017). But recent discussions on Chinese social media signal that the general sentiments regarding inserted sponsored content are changing.
On January 6, Chinese author Ma Boyong (@马伯庸, 4.5 million followers) posted an article on Weibo in which he criticized the phenomenon of inserted ad content in Chinese television series, saying the marketing style often does not suit the characters and is making the actors less credible.
Although Ma does not oppose to embedded marketing per se, he argues it hurts the credibility of TV dramas and the viewer's experience when it does not blend in with the style of the TV drama and its characters.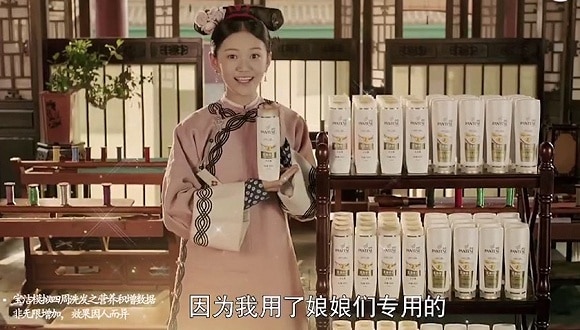 One of the TV dramas where the sponsored segments 'hurt' the show, according to Ma, is Mystery of Antiques (古董局中局, 2018) that is based on one of the author's novels. The actor Qiao Zhenyu (乔振宇), who plays the leading role, allegedly "looks like a fool" because of the inserted ad.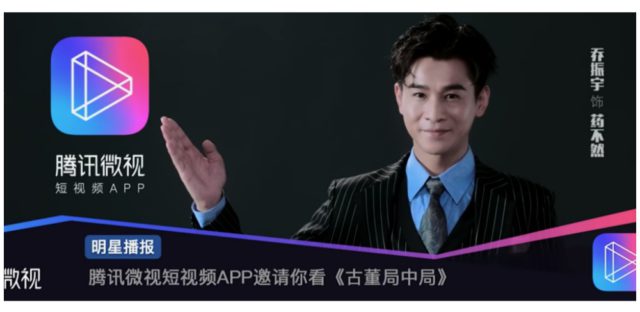 The type of advertising, that is central to this recent discussion, goes beyond product placement; it is the type of ad that appears inside (online) TV shows in which the actors, in character, straightforwardly promote a certain brand and product, sometimes in a scene dialogue ('storyline ads'), but also often while looking directly into the camera (see example here or here, Chinese term: zhōngchā guǎnggào 中插广告).
The hashtag 'Ma Boyong Roasts Inserted Ad Marketing' (#马伯庸吐槽中插广告#) had received more than 50 million views on Weibo by Sunday night, with the overall majority of people supporting the author's stance.
"Finally someone says this," one commenter said: "When it just started out, it was new, and I could endure it, but now it just really annoys me." "It is really disruptive," others agree.
A New Kind of Money-Making Machine
China's history of TV advertisement is not a long one; it wasn't until 1979 that China's first TV commercial was aired. Since then, the industry has blossomed, and branded content has become ubiquitous; the first TV drama incorporating product placement was broadcasted in 1991 (Li 2016).
Product placement is known as a powerful marketing tool since it is inescapable, has a long shelf life, is inexpensive, and unobtrusive (Huan et al 2013, 508). But as China's product placement has been turning into 'branded entertainment' within the settings of the show, it is losing its 'unobtrusiveness.'
Unsurprisingly, this is not the first time this type of advertising receives criticism. In 2017, various Chinese media, such as People's Daily, noted the rise of inserted product ads, stating that TV dramas were "shooting themselves in the foot" with these ad campaigns.
When the protagonist of a dynastic costume drama suddenly promotes a new smartphone app during an inserted ad break, he falls out of character, and the entire drama loses credibility. Do you remember those weird ad breaks in the famous American movie The Truman Show? Even Truman did not fall for that!
In China, this particular type of advertising can be traced back to the 2006 TV drama My Own Swordsman (武林外传), in which the characters suddenly turn to the camera in promoting a "White Camel Mountain" medicinal powder (watch the famous segment here).
Although that scene was for entertainment purposes only (the product was non-existent), it became reality in 2013, when the TV series Longmen Express (龙门镖局) first started using this kind of 'creative' advertising. Many online dramas then followed and started to use these inserted ads, especially since 2015 (Beijing Daily 2017). The promoted products are often new apps or money lending sites.
In the beginning, many people appreciated the novel way of advertising, and as the online video industry rose, so did the price of such advertisements. In a timeframe of roughly two years, their price became ten times higher. These type of 'ad breaks' have become an important and relatively easy money-making machine for drama productions (Beijing Daily 2017). In 2016 alone, Chinese TV drama productions made 800 million rmb (±116 million USD) through this marketing method – a figure that has been on the rise ever since.
The V-Effect: From Vips to Verfremdung
In China's flourishing online streaming environment, one of the problems with inserted ad campaigns is that even 'VIP members' of popular video sites such as iQiyi cannot escape them, nor 'skip' them, even though they pay monthly fees to opt out of commercials (similar to YouTube Premium).
"The reason I signed up for a VIP membership is to avoid ads, and now we get this," many annoyed netizens comment on Weibo.
Although that is one point that many people are dissatisfied with, the biggest complaint on social media regarding the inserted ad phenomenon is that it breaks down audience engagement in the show they are watching, and alienates them from the character, which is also known as verfremdungseffekt, distancing effect, or simply the 'V-effect,'  a performing arts concept coined by German playwright Bertolt Brecht in the 1930s.
The Brechtian "direct address" technique, one of the characteristics that made the American TV series House of Cards so successful, is employed to "break the fourth wall" – the imaginary wall between the actors and audience  – and serves a clear purpose: it makes viewers less emotionally attached to the characters and the narrative, it makes them more conscious and less likely to 'lose themselves' in the show they are watching, and is meant to provoke a social-critical audience response.
But this is exactly the faux pas China's ubiquitous 'creative inserted ads' make in letting popular TV drama characters promote a new app or soda; it is not meant to provoke a social-critical response, it is meant to advertise a product. But by alienating audiences from the show for a commercial and non-meaningful purpose, they actually reach the opposite effect of what their marketing objective is. Audiences become annoyed, less engaged, and 'exit the show' (in Chinese, the term '出戏' [disengage from the performance] is used).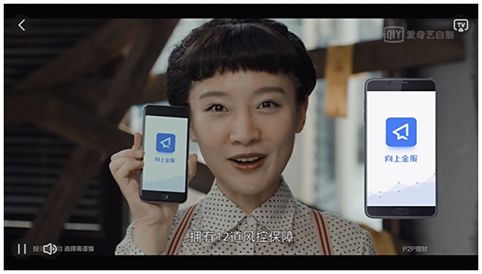 "These kind of ads make the entire drama seem so low," a typical comment on Weibo says. "What can we do? As long as people pay for it, they'll do it," others say.
Despite the recent attack on China's 'branded entertainment,' there is no sign of a change in these marketing techniques. Perhaps, if critique persist, this might change in the future. For now, disgruntled viewers turn to social media to vent their frustrations: "These ads completely make me lose interest in the story, they need to be criticized. I'm happy someone stood up to say it."
By Manya Koetse
Follow @whatsonweibo
References
Beijing Daily (北京日报). 2017. "创意中插广告泛滥,唯独缺了创意" [The Overflow of Creative Inserted Ads, Only They're Lacking Creativity] (in Chinese). Beijing Daily, Oct 18. Available online http://bjrb.bjd.com.cn/html/2017-10/18/content_183998.htm [Jan 6th 2019].
Doland, Angela. 2017. "China's online TV pushes product placement to crazy levels. Even crazier: Viewers don't mind." Ad Age, May 16. Vol.88(10), p.0030.
Huan Chen , En-Ying Lin , Fang Liu & Tingting Dai. 2013. "'See Me or Not, I Am There': Chinese White-Collar Moviegoers' Interpretation of Product Placements in Chinese Commercial Movies." Journal of Promotion Management, 19:5, 507-533.
Li, Hongmei. 2016. Advertising and Consumer Culture in China. Cambridge: Polity Press.
Spotted a mistake or want to add something? Please let us know in comments below or email us.
©2019 Whatsonweibo. All rights reserved. Do not reproduce our content without permission – you can contact us at info@whatsonweibo.com