"Beijing Has 20 Million People Pretending to Live Here" (Full Translation)
Translation of "Beijing Has 20 Million People Who Pretend to Live There" ("北京,有2000万人假装在生活") by Zhang Wumao.
On July 23, Chinese blogger Zhang Wumao (real name Zhang Guochen) posted a humorous yet sharp essay criticizing the status quo of life in Beijing, and the city's old locals and new immigrants. The article soon went viral and was denounced by official media. Translation provided by What's on Weibo.
"Beijing Has 20 Million People Who Pretend to Live Here" or "Beijing Has 20 Million People Pretending to Have a Life Here" by Zhang Wumao. Chinese title "北京,有2000万人假装在生活", original text in Chinese posted by author on WeChat on July 23, 2017.
1
Beijing has no human warmth
Friends from outside the city frequently criticize the people of Bejing. They'll say that Beijingers have lots of money, but that they show it off in a classless fashion and that they are not hospitable. 'I've come to visit the city, why can't we catch up!?', 'We've known each other for years, you can't even take me to the airport!?' In fact, Beijingers are not as hospitable as non-Beijingers. Coming to pick you up and giving you a ride, or showing you around the city, are all seemingly simple things that are too hard for Beijingers to do.
Beijing people are busy. They are busy 'til 11 o'clock at night, when they are still jammed on the 3rd Ring Road. The cost of social time in Beijing is really too high – so high that it would be quicker to go for dinner in Tianjin than to go from Shijinghsan (TN: inner district of West Beijing) to Tongzhou (TN: district east of Beijing). Beijing is really too big; so big that it is simply not like a city at all.
So how big is Beijing really? It is equivalent to 2.5 times Shanghai, 8.4 times Shenzhen, 15 times Hong Kong, 21 times New York, or 27 times Seoul.
"Beijing is a tumor, and no one can control how fast it is growing; Beijing is a river, and no one can draw its borders."
In 2006, when I came to Beijing, the subway only had line 1, 2, and 13. Now I don't even know how many lines the Beijing subway has without checking it on Baidu. Ten years ago I took public transportation to search for a job, and refused to go to any interviews of companies outside the 4th Ring Road. Now companies like JD.com, Tencent, and Baidu, are all outside the 5th Ring.
When friends from outside the city come to Beijing, they think that we are near. But actually, we're hardly in the same city; they might be in China's Houhai, Guomao, Tongzhou, Shijingshan,.. If you'd look at the time spent in traveling, when people from Tongzhou and Shijingshan are dating, they are basically in a long-distance relationship. When you go from the 5th Ring Road to Yizhuang you could call it an offical trip.
For 10 years, Beijing has always been controlling housing, controlling traffic, and controlling the population. But this pancake is only getting wider and bigger. It has become so big that when a school friend from Xi'an called me to tell me he's in Beijing, I asked him 'where in Beijing?', he told me 'I'm at the 13th Ring Road.'
Beijing is a tumor, and no one can control how fast it is growing; Beijing is a river, and no one can draw its borders. Beijing is a believer, and only Xiong'an can bring salvation.
Beijingers are not just cool towards people from outside, they also treat each other coolly. Every time an old school friend from outside the city visits Beijing and we have a get-together, they'll ask: 'You guys here probably often meet up, right?'. I then say that those few times they come to Beijing, are the only few times we actually meet up.
In Beijing, there's a mutual understanding when exchanging name cards; if we call each other a couple of times within a year, we'll consider it a good friendship. If people are willing to come from east of the city to the west to have a meal together, then we'll be friends for life. The only people we meet every day and have meals with are our co-workers.
2
Beijing actually belongs to outsiders
If you let Chinese people pick one city to visit in their lives, I am convinced the majority will choose Beijing. Because this is the capital, this is where you have Tian'anmen, the Forbidden City, the Great Wall, and hundreds of big and small theaters. From modern drama to Western or traditional opera, from xiangsheng to skits or Two-people Rotation – people from anywhere in the world can find their spiritual food here. But these things actually have nothing to do with the people of Beijing.
If you step into any major theater in Beijing, you'll find that six out of ten people are outsiders with an accent and that three of them have just arrived in the city, that there are no fresh artistic young persons. What's left is one person swiping their phone in the corner; the bored Beijing tour escort.
"Going into the Forbidden City, I only see one empty building after the other; it's less interesting than the lively pigsties we have in my native village."
In the 11 years since I've come to Beijing, I have been to the Great Wall 11 times, 12 times the Imperial Palace, 9 times to the Summer Palace, and 20 times to the Bird's Nest. I feel emotionless about this city's great architecture and long history. Going up the Great Wall, I can only think of Lady Meng Jiang (TN: 孟姜女, heroine of the Qin Dynasty), it is difficult to feel a sense of national pride again for this world miracle. Going into the Forbidden City, I only see one empty building after the other; it's less interesting than the lively pigsties we have in my native village.
Upon hearing any mention of Beijing, many people immediately think of the Palace Museum, Houhai, 798; they think of history, culture, and high-rise buildings. Is that a good thing or a bad thing? It's good! Does it make you proud? It does! But you can't make food out of these things. What Beijingers increasingly feel is the suffocation of the smog and the high cost of housing. They cannot move, they cannot breathe.
3
Beijing Eventually is Beijinger's Beijing
If you say that Beijing still has this somewhat smoky smell, then this is the smell that comes from the city's native Beijingers who have been here for generations. It comes from their old bird cages, it comes from their palm leaf fans that cool the air after dinner, it comes from the haughty accents of the taxi drivers…
Old Beijingers are trying to make this city smell alive; they are trying to make the city appear like a place where people live.
"If you do not have a five-room house, how can you be calm? How can you breathe? How can you relax and play chess while drinking tea, like the Beijing uncles?"
This lively odor of the old Beijing people is passed down in genes, and it rises from the bottom of their five-room apartments. When the white-collar workers from the financial district in west Beijing are immersed in the excitement over their year-end bonuses, the nouveau riche in the south will calmly say they own five-room houses. When the computer programmers in Haidian crack a code and fantasize about being the next Richard Liu, the nouveau riche in the south will still calmly say they own five-room houses. When the media elite in Chaoyang have drawn up a new list and stand before their CBD office window contemplating their life, the nouveau riche in the south, as before, will still calmly say they own five-room houses.
If you do not have a five-room house, how can you be calm? How can you breathe? How can you relax and play chess while drinking tea, like the Beijing uncles?
In Beijing, the migrants who have no real estate from previous generations are destined to be trapped in their house for life. They strive for over a decade to buy an apartment the size of a bird cage; then they spend another decade struggling to get a house that has two rooms rather than one. If that goes well – congratulations! – you can now think about an apartment in the school district.
With a house in the school district, children can attend Tsinghua or Peking University. But Tsinghua graduates will still not be able to afford a room in that district. They will then either need to stay crammed together in the old shabby family apartment, or start from scratch, struggling for an apartment.
4
In 2015, the movie Mr. Six hit the cinemas. In my friend circle, many ridiculed the movie's character 'Mr. Six' for his Beijing air. But I was deeply touched.
After being in Beijing for over a decade, I refuse to go to Wukesong to see the Shougang [basketball] team, I refuse to go to the Worker's Stadium to see the Guoan [football] team, because I don't have a real love for them and because I can't cuss with a Beijing accent. But after being in Beijing for so long, you reach a kind of conciliation with old Beijing people. You'll understand them in a more three-dimensional way, and can no longer simply label them.
"For Beijing's new immigrants, the city is a distant place where they can't stay; for Beijing's old residents, the city is an old home they can't return to."
In fact, not all of the Peking people are unfriendly towards outsiders, a lot of my friends are Beijing rich kids. And it's not like there are no young people in Beijing seeking progress – most of Beijing youth are just as diligent as we are.
You can dislike 'Mr. Six', and you can dislike the arrogant Beijing way of cussing and bragging, but you still have to respect them. Like you respect people from the northeast wearing gold necklaces or respect Shandong people for eating Chinese onions. It's their culture, these are their customs. You don't have to be like them, but the least you can do is to show respect from a distance.
I once took a taxi to Lin Cui Road. Because I was afraid the driver wouldn't know the way, I opened the navigation on my phone to help him find the way. He said he did not need the navigation, because he knew that place. There was a flour mill there 30 years ago, [he said], it was demolished 10 years ago, and they built low-income housing there. I asked him how he knew this so well. "That used to be my home," he said, the sorrow showing in his face.
I could hear nostalgia and resentment from the driver's words. For Beijing's new immigrants, the city is a distant place where they can't stay; for Beijing's old residents, the city is an old home they can't return to.
We, as outsiders, ridicule Beijing on the one hand, while on the other hand, we cherish our hometowns. But in fact, we can still go back to our hometown. It is still there. It's just that, with the defeats of each passing day, we can no longer adapt there. But for the old Beijingers, there really is no way to go back to their hometown. It has changed with unprecedented speed. We can still find our grandfather's old house. The majority of Beijingers can only find their old homes through the coordinates on a map.
Some people say that we as outsiders have built Beijing, that if it weren't for us, Beijingers wouldn't even have breakfast to eat. The large numbers of people coming from outside the city have raised the housing prices in Beijing – they've created a flourishing city. But do you believe it? The native Beijingers might not need this kind of flourishing, and they also do not want higher housing prices. They are just like us, wanting a home that does not have too many people or too much traffic.
5
"There are over 20 million people left in this city, pretending to live."
This year, they've begun to brick up the core city of Beijing. More and more small shops, small hotels and restaurants are forced to close, more and more people in the low-end market are forced to leave. This type of dressing-down and losing-weight city management frantically puts Beijing on the road to being a high-end and classy city. But it is becoming less and less of a convenient and livable city, and it is becoming further and further removed from being a city with a tolerant and open spirit.
Those who chase their dreams of success are now escaping. They're off to Australia, New Zealand, Canada, or the West Coast of the United States. Those who've lost hope of chasing their dreams are also escaping. They returned to Hebei, the Northeast, and their hometowns.
There are over 20 million people left in this city, pretending to live. In reality, there simply is no life in this city. Here, all we have is the dreams of some people, and the jobs of most people.
–End—
Translated by Manya Koetse
©2017 Whatsonweibo. All rights reserved. Do not reproduce our content without permission – you can contact us at info@whatsonweibo.com.
The Yico Zeng Controversy: Chinese Singer Falls from Grace after Beijing Airport Misconduct
Chinese celebrity Yico Zeng triggered major controversy on Weibo over the past week for failing to comply with security regulations at Beijing airport.
Chinese singer Yico Zeng seems to have fallen out of favor with Chinese netizens after refusing to comply with Beijing airport security rules and exposing the personal details of an officer on her Weibo account.
Just a month ago, Weibo blew up when the inluential Chinese entertainer Roy Wang, a participant of the popular reality show I'm CZR (我是唱作人), was caught smoking inside a Beijing restaurant.
Now, another participant of the I'm CZR entertainment show has triggered major controversy for breaking the rules in multiple ways. Yico Zeng (曾轶可) was occupying the hot charts of Weibo earlier this week for causing a scene at Beijing Airport and for posting personal details of airport security staff.
The Weibo Post that Backfired
Noteworthy enough, it was Yico Zeng herself who brought the issue to the public's attention. On June 17, the 29-year-old celebrity published a post on her social media account account (1.4 million followers) in which she criticized the way she had been handled at the Immigration Inspection at Beijing Airport.
The former talent show singer described her unpleasant run-in with an airport officer who had ordered her to take off her cap at the passport checkpoint. In that post and in a later one, Zeng accused the officer of wrongfully detaining her in a separate room, and posted a series of pictures of the officer's badge, exposing his personal information for all of her followers to see.
Zeng's posts – which have since been deleted – drew major criticism on Weibo, followed by an official statement issued by the Beijing Immigration Inspection (@北京边检) on June 19. According to that statement, soon receiving over 20,000 shares, Zeng had refused to take off her cap for identification when using the inspection E-channel and thus failed to pass the tunnel.
Beijing Immigration Inspection also condemned the Chinese singer for refusing a manual check, using offensive language, and exposing the officer's personal information on social media.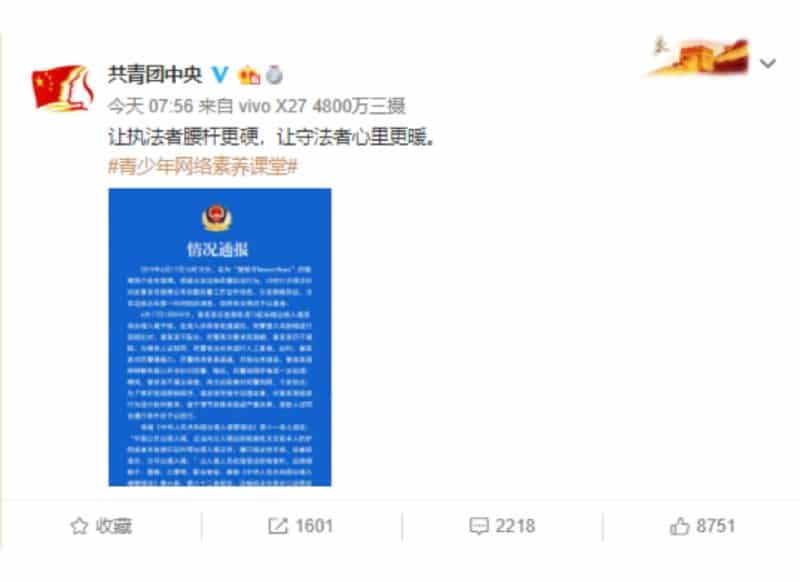 The Weibo account of China's Communist Youth League also reposted the statement, expressing their "strong support" for law-enforcement and for law-abiding citizens.
Zeng soon posted an apology on Weibo over her "inappropriate words and behavior." She wrote: "I cannot believe that I was so emotional at that moment. I apologize to all, and I'd like to personally apologize to the officer if I have the chance."
The post received more than 100,000 comments within a day after it was posted, but many commenters rejected Zeng's apologies, suggesting the celebrity only said sorry because of public pressure.
Fallen out of Favor
The airport incident has not been without consequence for Yico Zeng. Since the controversy, the popular Strawberry Festival has canceled Zeng's upcoming show, and it is reported that more of her work for the upcoming time, including her participation in the reality show I'm CZR, will be postponed or called off indefinitely.
Shanghaiist reports that Zeng could face up to ten days of detention and a fine of up to 500 yuan if she is convicted of resisting the officer.
An article published by Sina News on June 24 argued that Zeng had not just done one thing wrong, but had actually committed three wrongdoings: she ignored laws and regulations, she breached the privacy of others, and used her celebrity status to demand certain privileges.
Zeng is not the first celebrity to fall from grace after breaking the law. One of the most noteworthy years regarding Chinese celebrity scandals is probably 2014 when various singers and actors triggered controversy and received legal punishment for possession of drugs, illegal gambling, or visiting prostitutes.
Although Zeng is condemned by the majority of commenters on social media, there are still some loyal fans who are actively participating in the Yico Zeng 'supertopic' Weibo community, hoping for a quick comeback of the singer.
Other commenters, however, are hoping that the star will receive legal punishment instead.
"We're all equal before the law," various people write on Weibo.
By Wendy Huang, Manya Koetse
Follow @whatsonweibo
Spotted a mistake or want to add something? Please let us know in comments below or email us. Please note that your comment below will need to be manually approved if you're a first-time poster here.
©2019 Whatsonweibo. All rights reserved. Do not reproduce our content without permission – you can contact us at info@whatsonweibo.com
No 'Novoland': This Really Is a Tough Year for Chinese Costume Dramas
After the sudden cancellation of the much-anticipated 'Novoland' premiere, Chinese fantasy costume dramas are facing grim prospects.
First published
With 1,4 billion views on its Weibo page, the Chinese fantasy drama Novoland: Eagle Flag was one of the most-anticipated series of the year. This week, the show was suddenly canceled twenty minutes ahead of its premiere. The incident is indicative of recent tensions within China's TV drama industry, where some costume dramas have apparently failed to win the support of official regulators.
Just a week ago, What's on Weibo reported about the Chinese fantasy drama Novoland: Eagle Flag (九州缥缈录, Jiǔzhōu piāomiǎo lù) being one of the most anticipated TV dramas in China this summer. On June 3rd at 21:40 CST, however, just twenty minutes before the drama's much-awaited premiere on Tencent, Youku, and Zhejiang TV, the show was suddenly canceled.
Novoland: Eagle Flag, which has been called China's answer to Game of Thrones, is a costume drama that tells a story of war, conspiracy, love, and corruption in a fantasy universe called Novoland. It is based on a popular web fantasy novel series by Jiang Nan (江南), and produced by Linmon Pictures. Production costs reportedly were as high as RMB 500 million ($72 million).
Why was the show's premiere suddenly canceled? The only reason given for it on June 3rd was that there was a 'medium problem' ("介质原因").
China's English-language state tabloid Global Times reported on June 4th that their official sources also did not know the reason for the withdrawal, although they did admit to having received an order from "higher level," which would come from China's National Radio and Television Administration (NRTA,国家广播电视总局).
In March of 2018, China's State Administration of Press, Publication, Radio, Film, and Television (SAPPRFT), the former top regulatory body overseeing television productions, was officially abolished and replaced by three different state administrations in the ideological sector.
The NRTA is responsible for media control on radio and TV, and falls directly under the State Council. It is led by Nie Chenxi (聂辰席), who is also the deputy director of the Publicity Department of the Communist Party of China. This appears indicative that the Party now has more direct influence over this industry, as also recently suggested by Global Policy Watch, SupChina, and Variety. Under the NRTA, the regulation and censorship of Chinese TV dramas are as strict, and arguably stricter, than under the SAPPRFT.
Costume dramas: not enough "spiritual guidance"?
The strict control of the NRTA over China's TV industry is especially visible this year. As reported by CCTV News, China's regulatory body started to severely crack down on the rising popularity of Chinese costume dramas (古装剧) in March of 2019.
Regulatory rules were supposedly issued for costume dramas with 'themes' (题材) such as martial arts, fantasy, history, mythology, or palace, stating that they should not air or were to be taken down from online video homepages. The strictest crackdown would allegedly last until July.
From early on in 2019, it was already rumored that Chinese costume dramas would face a tough year.
On January 28 of 2019, Beijing Daily, the official newspaper of the CPC Beijing Municipal Committee, published a critical post on its social media account listing negative influences of court-themed TV dramas (宫廷剧).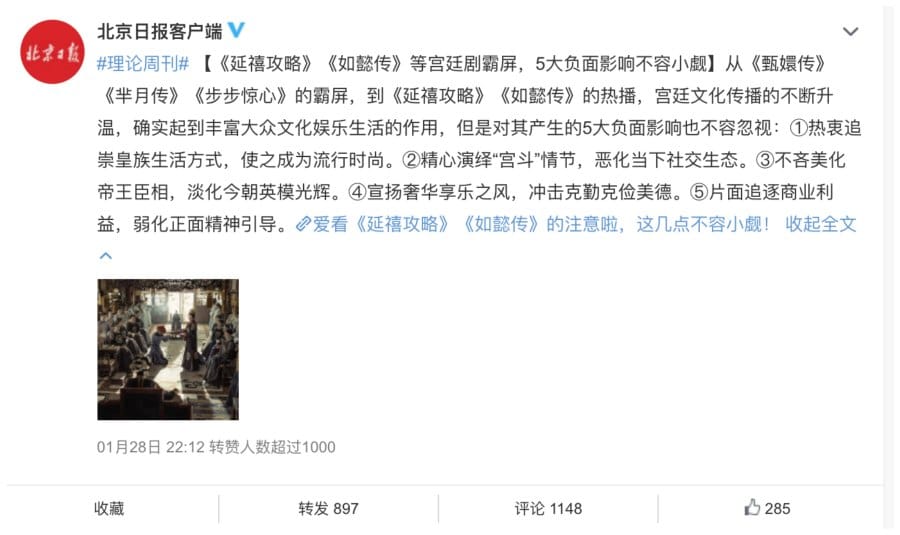 The critique included arguments such as that the imperial lifestyle was being hyped in these dramas, that the social situation of the dynastic era was being negatively dramatized, and that these productions are just aimed at commercial interests while weakening China's "positive spiritual guidance."
In February of this year, two weeks after the Beijing News post, Eduardo Baptista at CNN.com reported on the abrupt cancelation of the planned rebroadcasting of two costume dramas that were also targeted by Beijing News, namely the super TV drama hit Story of Yanxi Palace (延禧攻略) and period drama Ruyi's Royal Love in the Palace (如懿传).
Other costume dramas such as iQiyi's The Legend of White Snake (新白娘子传奇) or The Longest Day in Chang'an (长安十二时辰) were also withdrawn (or postponed) in March. Investiture of the Gods (封神) was replaced by another drama on Hunan TV this month.
"Historical dramas in many cases twisted the narrative of the country's past and the image of historical figures," TV critic Shi Wenxue was quoted by Global Times recently: "[they are] having an adverse effect on teenagers who may regard such fictional stories as real history."
A state and marketplace collusion
With China being the world's largest consumer of TV dramas in the world, the drama industry is a powerful channel for spreading Party ideology.
The political and cultural agenda is especially apparent in those TV dramas that are official propaganda productions. But since the TV drama industry has become increasingly commercialized and TV dramas became more market-oriented in the 1990s, their programming is no longer a mirror reflection of 'Party narratives.'
The number of profit-driven productions has grown over the past 25 years and has skyrocketed with the arrival of video streaming sites such as iQiyi or Tencent Video.
Although non-official productions are ultimately still regulated and overseen by the relevant state departments, they also have to compete for viewer ratings in a highly competitive (online) media environment.
There are many visible trends in China's TV drama industry. There have been peaks of popularity in those TV dramas depicting rural struggles or urban family life, for example, but historical costume dramas (especially dynasty dramas) have consistently been popular and rising since the mid-90s.
One reason for the growing popularity of these historical or fantasy costume dramas is that official censors initially had different standards for them than for more contemporary storylines, resulting in more creative freedom for scriptwriters (see Zhu et al 2008, 7).
There also have been many popular Chinese dynasty dramas that were commercial successes while also serving as propaganda tools.
As pointed out by Shenshen Cai in her work Television Drama in Contemporary China (2017), for example, TV drama serials such as Yongzheng Dynasty (雍正王朝) or The Great Han Emperor Wu (汉武大帝) promoted the ideal of strong central government, harmonious relations between the fatherly ruler and his devoted people, or the exemplary ruler cracking down on corruption – these narratives contributed to the leadership agenda in "stabilizing and re-energizing the dominant moral order" (Cai 3-4; also see Schneider 2012).
But more recent historical dramas have taken a fantasy route that, apparently, resonates with viewers but does not successfully appropriate the official propaganda apparatus.
The sudden withdrawal of new costume dramas is actually not about costume dramas at all. It just shows that although China's TV drama industry is no longer the propaganda machine it once used to be, it still needs to adhere to those narratives that are in line with Party ideology.
Even if their scripts and productions were apparently given the green light in earlier stages, the official supervision bodies still have the power to intervene until the last moment before airing – even if that, apparently, means that moment is twenty minutes ahead of the grand premiere.
"Things don't look too optimistic"
For Chinese drama fans, the recent cancellations have been a real slap in the face. The Novoland: Eagle Flag TV serial was super popular before it even aired: its hashtag page has a staggering 1.4 billion views on Weibo.
"I cried," one 'Novoland' fan comments: "Why such a sudden and abrupt withdrawal?"
"When can we finally see this show?" others wonder.
[Eng Sub] #Novoland: #EagleFlag director's edition – Dir. #ZhangXiaobo talks about his vision for the drama, his understanding of the three main characters (ft. #LiuHaoran, #SongZuer, and #ChenRuoxuan), the harsh conditions during filming, and more

Full – https://t.co/Jqa2z7LMEm pic.twitter.com/2RvsrMcsNW

— NOVOLAND: EAGLE FLAG (@eagleflag_intl) 3 juni 2019
For now, the show's premiere has officially been "postponed" and is "waiting for specific broadcasting time." Whether or not the 55-episode series will be allowed to broadcast after June is still to be seen.
On Twitter, the fan account of Liu Haoran (刘昊然), one of the show's main stars, writes: "You're going to see rumors of tentative dates flying around this week, but note that it's more of a deadline to get things sorted, not an air date. As of right now, things don't look too optimistic. We'll just have to be patient!
More: For an overview of all of our articles on Chinese TV Dramas, please check this list.
By Manya Koetse
Follow @whatsonweibo
References
Cai, Shenshen. 2017. Television Drama in Contemporary China: Political, social and cultural phenomena. London and New York: Routledge Taylor & Francis Group.
Schneider, Florian. 2012. Visual Political Communication in Popular Chinese Television Series. Leiden and Boston: Koninklijke Brill NV.
Zhu, Ying, Michael Keane, Ruoyun Bai (eds). 2008. TV Drama in China. Hong Kong University Press.
Spotted a mistake or want to add something? Please let us know in comments below or email us. Please note that your comment below will need to be manually approved if you're a first-time poster here.
©2019 Whatsonweibo. All rights reserved. Do not reproduce our content without permission – you can contact us at info@whatsonweibo.com