"Beijing Has 20 Million People Pretending to Live Here" (Full Translation)
Translation of "Beijing Has 20 Million People Who Pretend to Live There" ("北京,有2000万人假装在生活") by Zhang Wumao.
On July 23, Chinese blogger Zhang Wumao (real name Zhang Guochen) posted a humorous yet sharp essay criticizing the status quo of life in Beijing, and the city's old locals and new immigrants. The article soon went viral and was denounced by official media. Translation provided by What's on Weibo.
"Beijing Has 20 Million People Who Pretend to Live Here" or "Beijing Has 20 Million People Pretending to Have a Life Here" by Zhang Wumao. Chinese title "北京,有2000万人假装在生活", original text in Chinese posted by author on WeChat on July 23, 2017.
1
Beijing has no human warmth
Friends from outside the city frequently criticize the people of Bejing. They'll say that Beijingers have lots of money, but that they show it off in a classless fashion and that they are not hospitable. 'I've come to visit the city, why can't we catch up!?', 'We've known each other for years, you can't even take me to the airport!?' In fact, Beijingers are not as hospitable as non-Beijingers. Coming to pick you up and giving you a ride, or showing you around the city, are all seemingly simple things that are too hard for Beijingers to do.
Beijing people are busy. They are busy 'til 11 o'clock at night, when they are still jammed on the 3rd Ring Road. The cost of social time in Beijing is really too high – so high that it would be quicker to go for dinner in Tianjin than to go from Shijinghsan (TN: inner district of West Beijing) to Tongzhou (TN: district east of Beijing). Beijing is really too big; so big that it is simply not like a city at all.
So how big is Beijing really? It is equivalent to 2.5 times Shanghai, 8.4 times Shenzhen, 15 times Hong Kong, 21 times New York, or 27 times Seoul.
"Beijing is a tumor, and no one can control how fast it is growing; Beijing is a river, and no one can draw its borders."
In 2006, when I came to Beijing, the subway only had line 1, 2, and 13. Now I don't even know how many lines the Beijing subway has without checking it on Baidu. Ten years ago I took public transportation to search for a job, and refused to go to any interviews of companies outside the 4th Ring Road. Now companies like JD.com, Tencent, and Baidu, are all outside the 5th Ring.
When friends from outside the city come to Beijing, they think that we are near. But actually, we're hardly in the same city; they might be in China's Houhai, Guomao, Tongzhou, Shijingshan,.. If you'd look at the time spent in traveling, when people from Tongzhou and Shijingshan are dating, they are basically in a long-distance relationship. When you go from the 5th Ring Road to Yizhuang you could call it an offical trip.
For 10 years, Beijing has always been controlling housing, controlling traffic, and controlling the population. But this pancake is only getting wider and bigger. It has become so big that when a school friend from Xi'an called me to tell me he's in Beijing, I asked him 'where in Beijing?', he told me 'I'm at the 13th Ring Road.'
Beijing is a tumor, and no one can control how fast it is growing; Beijing is a river, and no one can draw its borders. Beijing is a believer, and only Xiong'an can bring salvation.
Beijingers are not just cool towards people from outside, they also treat each other coolly. Every time an old school friend from outside the city visits Beijing and we have a get-together, they'll ask: 'You guys here probably often meet up, right?'. I then say that those few times they come to Beijing, are the only few times we actually meet up.
In Beijing, there's a mutual understanding when exchanging name cards; if we call each other a couple of times within a year, we'll consider it a good friendship. If people are willing to come from east of the city to the west to have a meal together, then we'll be friends for life. The only people we meet every day and have meals with are our co-workers.
2
Beijing actually belongs to outsiders
If you let Chinese people pick one city to visit in their lives, I am convinced the majority will choose Beijing. Because this is the capital, this is where you have Tian'anmen, the Forbidden City, the Great Wall, and hundreds of big and small theaters. From modern drama to Western or traditional opera, from xiangsheng to skits or Two-people Rotation – people from anywhere in the world can find their spiritual food here. But these things actually have nothing to do with the people of Beijing.
If you step into any major theater in Beijing, you'll find that six out of ten people are outsiders with an accent and that three of them have just arrived in the city, that there are no fresh artistic young persons. What's left is one person swiping their phone in the corner; the bored Beijing tour escort.
"Going into the Forbidden City, I only see one empty building after the other; it's less interesting than the lively pigsties we have in my native village."
In the 11 years since I've come to Beijing, I have been to the Great Wall 11 times, 12 times the Imperial Palace, 9 times to the Summer Palace, and 20 times to the Bird's Nest. I feel emotionless about this city's great architecture and long history. Going up the Great Wall, I can only think of Lady Meng Jiang (TN: 孟姜女, heroine of the Qin Dynasty), it is difficult to feel a sense of national pride again for this world miracle. Going into the Forbidden City, I only see one empty building after the other; it's less interesting than the lively pigsties we have in my native village.
Upon hearing any mention of Beijing, many people immediately think of the Palace Museum, Houhai, 798; they think of history, culture, and high-rise buildings. Is that a good thing or a bad thing? It's good! Does it make you proud? It does! But you can't make food out of these things. What Beijingers increasingly feel is the suffocation of the smog and the high cost of housing. They cannot move, they cannot breathe.
3
Beijing Eventually is Beijinger's Beijing
If you say that Beijing still has this somewhat smoky smell, then this is the smell that comes from the city's native Beijingers who have been here for generations. It comes from their old bird cages, it comes from their palm leaf fans that cool the air after dinner, it comes from the haughty accents of the taxi drivers…
Old Beijingers are trying to make this city smell alive; they are trying to make the city appear like a place where people live.
"If you do not have a five-room house, how can you be calm? How can you breathe? How can you relax and play chess while drinking tea, like the Beijing uncles?"
This lively odor of the old Beijing people is passed down in genes, and it rises from the bottom of their five-room apartments. When the white-collar workers from the financial district in west Beijing are immersed in the excitement over their year-end bonuses, the nouveau riche in the south will calmly say they own five-room houses. When the computer programmers in Haidian crack a code and fantasize about being the next Richard Liu, the nouveau riche in the south will still calmly say they own five-room houses. When the media elite in Chaoyang have drawn up a new list and stand before their CBD office window contemplating their life, the nouveau riche in the south, as before, will still calmly say they own five-room houses.
If you do not have a five-room house, how can you be calm? How can you breathe? How can you relax and play chess while drinking tea, like the Beijing uncles?
In Beijing, the migrants who have no real estate from previous generations are destined to be trapped in their house for life. They strive for over a decade to buy an apartment the size of a bird cage; then they spend another decade struggling to get a house that has two rooms rather than one. If that goes well – congratulations! – you can now think about an apartment in the school district.
With a house in the school district, children can attend Tsinghua or Peking University. But Tsinghua graduates will still not be able to afford a room in that district. They will then either need to stay crammed together in the old shabby family apartment, or start from scratch, struggling for an apartment.
4
In 2015, the movie Mr. Six hit the cinemas. In my friend circle, many ridiculed the movie's character 'Mr. Six' for his Beijing air. But I was deeply touched.
After being in Beijing for over a decade, I refuse to go to Wukesong to see the Shougang [basketball] team, I refuse to go to the Worker's Stadium to see the Guoan [football] team, because I don't have a real love for them and because I can't cuss with a Beijing accent. But after being in Beijing for so long, you reach a kind of conciliation with old Beijing people. You'll understand them in a more three-dimensional way, and can no longer simply label them.
"For Beijing's new immigrants, the city is a distant place where they can't stay; for Beijing's old residents, the city is an old home they can't return to."
In fact, not all of the Peking people are unfriendly towards outsiders, a lot of my friends are Beijing rich kids. And it's not like there are no young people in Beijing seeking progress – most of Beijing youth are just as diligent as we are.
You can dislike 'Mr. Six', and you can dislike the arrogant Beijing way of cussing and bragging, but you still have to respect them. Like you respect people from the northeast wearing gold necklaces or respect Shandong people for eating Chinese onions. It's their culture, these are their customs. You don't have to be like them, but the least you can do is to show respect from a distance.
I once took a taxi to Lin Cui Road. Because I was afraid the driver wouldn't know the way, I opened the navigation on my phone to help him find the way. He said he did not need the navigation, because he knew that place. There was a flour mill there 30 years ago, [he said], it was demolished 10 years ago, and they built low-income housing there. I asked him how he knew this so well. "That used to be my home," he said, the sorrow showing in his face.
I could hear nostalgia and resentment from the driver's words. For Beijing's new immigrants, the city is a distant place where they can't stay; for Beijing's old residents, the city is an old home they can't return to.
We, as outsiders, ridicule Beijing on the one hand, while on the other hand, we cherish our hometowns. But in fact, we can still go back to our hometown. It is still there. It's just that, with the defeats of each passing day, we can no longer adapt there. But for the old Beijingers, there really is no way to go back to their hometown. It has changed with unprecedented speed. We can still find our grandfather's old house. The majority of Beijingers can only find their old homes through the coordinates on a map.
Some people say that we as outsiders have built Beijing, that if it weren't for us, Beijingers wouldn't even have breakfast to eat. The large numbers of people coming from outside the city have raised the housing prices in Beijing – they've created a flourishing city. But do you believe it? The native Beijingers might not need this kind of flourishing, and they also do not want higher housing prices. They are just like us, wanting a home that does not have too many people or too much traffic.
5
"There are over 20 million people left in this city, pretending to live."
This year, they've begun to brick up the core city of Beijing. More and more small shops, small hotels and restaurants are forced to close, more and more people in the low-end market are forced to leave. This type of dressing-down and losing-weight city management frantically puts Beijing on the road to being a high-end and classy city. But it is becoming less and less of a convenient and livable city, and it is becoming further and further removed from being a city with a tolerant and open spirit.
Those who chase their dreams of success are now escaping. They're off to Australia, New Zealand, Canada, or the West Coast of the United States. Those who've lost hope of chasing their dreams are also escaping. They returned to Hebei, the Northeast, and their hometowns.
There are over 20 million people left in this city, pretending to live. In reality, there simply is no life in this city. Here, all we have is the dreams of some people, and the jobs of most people.
–End—
Translated by Manya Koetse
©2017 Whatsonweibo. All rights reserved. Do not reproduce our content without permission – you can contact us at info@whatsonweibo.com.
Rocking it for a Decade, Beijing Band Namo Catches the Spirit of Their Generation
Beijing band Namo, that brings a fresh sound by mixing rock with Chinese traditional music influences, is celebrating its ten-year anniversary this year.
Mixing traditional Chinese music with Western rock influences, Beijing-based band NAMO is one of Beijing's new generation's go-to bands. This fall, the band celebrates its ten-year anniversary with a new tour all across China. A short introduction (video here!) to Namo and its style by What's on Weibo.
Although the Beijing-based ban Namo (Nanwu 南无乐队) has been already rocking it for over a decade, their star has especially been on the rise recently, with their upcoming anniversary tour, titled 'Ruyi' (如一) bringing them to concert halls all across China.
The start of 'Namo' – a term from Buddishm showing reverence and devotion – takes us back to late 2007, when lead singer Liu Xiangsong (刘相松, 1984), who was born and raised in Shandong, had come to Beijing and founded the band after graduating from the Sichuan Music Academy.
Liu's education has had a profound impact on the band, with his focus on guitar performance, classical guitar, and Chinese opera. Liu also has a strong interest in Chinese traditional culture and Buddhism, which clearly shines through in Namo.
Through the years, the band has seen some shifts in its line-up and now is a perfect coming-together of six people with their own strengths and backgrounds.
Besides Liu, the band consists of Zhang Lan (also known as Lanzi 张岚) on guitar and keys, Chen Ying (陈颖) on flute, percussion by Zhang Shuo (张硕), Daniel (丹尼奥) on bass, and drums by Shenzi Jun (申子俊) (主唱:刘相松/吉他手:张岚/笛子:陈颖/贝斯:丹尼奥/鼓手:申子俊/民打:张硕).
A little over two years after the band first came together, they were the first music group to perform at the Famen Temple (法门寺), one of China's most prestigious pagoda temples, to open for renowned Chinese pop star Faye Wong. Shortly after, they became the first Chinese band ever to play at Japan's Summer Sonic in 2011.
Namo won the "Best Newcomer Award" at Midi 2010. Since then, the band signed with the SX Music (视袭音乐) label, and have made quite a name for themselves, performing at music festivals across China, Japan, and Korea.
In 2014, Namo was invited to perform for the CCTV Spring Gala, where they played their song 'Spring is Here' (春来了).
In the first season of Chinese reality TV show 'Sing My Song' (中国好歌曲), in 2014, Liu Xiangsong also performed the same song on stage (see video below), which then gained in popularity.
Their music is inspired by Chinese music, but also uses influences from Western music styles, resulting in an original style that is both charming and humorous at times.
At Beehype, William Griffith describes the band as follows: "Combining Chinese culture obsessed, 80s nostalgic, vigorous lyric-based melodies, and crosstalk rock, a traditional Chinese comedic performance style, the band is a creation of their generation of youth."
Namo is a representation of the Chinese post-80s generation (bālínghòu 八零后) in multiple ways. Their songs reflect on the urban stories of China's modern-day society and the lives of young Chinese, and the overall style of the band also corresponds with what characterizes China's post-80s; they are formed by traditional Chinese culture, but also grew up in a China that was quickly modernizing, transforming, and impacted by Western influences. Noteworthy is that Namo's band members come from all across China.
Social Media & Online Channels
Recently, Namo and its band members have been growing more popular on Chinese social media. Their official Weibo account @南无乐队微博 has over 48,500 fans, but the individual members also have quite a following.
* Lead singer Liu Xiangsong currently has approximately 74,000 fans on his Weibo account: @南无刘相松.
* Band member Lanzi: @南无岚子 (48,400 fans).
* Namo's Chen Ying: @陈颖小卡 (30,100 fans)
* Shenzi Jun: @申子俊 (10,150)
* Zhang Shuo: @南无张叫母 (4270 fans)
* Daniel: @丹尼奥帅牛哈哈 (2000 fans)
Listen to Namo on Xiami here.
On Douban here.
QQ channel here.
Tour Dates
Although the band has already been touring over the past year, they will still perform in many Chinese cities for the weeks to come. For those interested, we've listed the tour dates with links to further information on venues, times, and tickets.
November 9: Xi'an
November 10: Chengdu
November 11: Chongqing
November 14: Nanning
November 16: Guangzhou
November 17: Shenzhen
November 18: Xiamen
November 21: Wenzhou
November 23: Shanghai
November 24: Nanning
November 25: Wuhan
Don't forget to check out What's on Weibo's latest video on Namo here.
Interested to read more? You might be interested in the following:
* Rock Hotpot: Why Chinese Celebrities are Opening Up their Own Hotpot Places
* The Early Days of Rock in China – Interview with Sinologist & Hardrocker Jeroen den Hengst: From copied tapes to a unique rock scene – Jeroen den Hengst was part of the Beijing rock scene when it first awakened.
By Manya Koetse
Follow @whatsonweibo
Directly support Manya Koetse. By supporting this author you make future articles possible and help the maintenance and independence of this site. Donate directly through Paypal here. Also check out the What's on Weibo donations page for donations through creditcard & WeChat and for more information.
Spotted a mistake or want to add something? Please let us know in comments below or email us.
©2018 Whatsonweibo. All rights reserved. Do not reproduce our content without permission – you can contact us at info@whatsonweibo.com.
K-Pop's Recipe for Success: Why Korean Idol Groups Got So Big in China and are Conquering the World
The success of K-Pop in China and beyond is evident – the causes for its success are less obvious.
K-Pop (Korean pop music) is one of South Korea's most successful export products today. With bands such as BTS that are dubbed the 'biggest boy band on the planet', it is obvious that the locally produced K-Pop has become a globally well-liked phenomenon. Although its popularity is obvious, the reasons why K-Pop became so big, from China to the US and beyond, are less evident.
On coming Saturday, October 13, the South-Korean boy band BTS will perform in an Amsterdam area in front of thousands of fans who have been looking forward to this event for months. Ticket sales for the first concert of the 7-member boy group in the Netherlands were sold out within minutes, despite their relatively high prices, with people paying up to €250 ($290) in the official sales, or even €400 ($460) and more for a single ticket in the unofficial online sales afterward.
It is not just the success of the BTS European tour that is making headlines; the record-breaking views on YouTube on their videos – the latest being the song 'Idol', that had more than 200 million views in little over a month – is also attracting the attention of the media.
And BTS is not alone. Other Korean pop (K-Pop) groups such as EXO, BIGBANG, TWICE, Shinee, or Got7, have also broken records when it comes to online video views or Spotify plays.
Although the English-language media attention for the K-pop phenomenon is more recent, the Korean entertainment industry has since long been extremely popular in China and on Chinese social media. In this overview, What's on Weibo explores the K-Pop popularity (focusing on its idol boy and girl groups), its short history, and success formula.
BTS and More: An Army of Fans
The pop group BTS (방탄소년단), also known as the Bangtan Boys (防弹少年团, lit: 'Bulletproof Boyscouts'), is an award-winning seven-member South Korean boy band formed by Big Hit Entertainment that debuted in the summer of 2013. They are currently hyped as the "biggest boy band on the planet."
Initial auditions for the band were held in 2010, followed by roughly three years during which the band was formed and prepared for their major debut, that was promoted on social media months before their actual launch in June of 2013.
The band consists of multi-talented young men. Singer-songwriter Kim Seokjin (Jin) (1992) was studying film at Konkuk University when he was invited to audition by Big Hit; rapper Min Yoongi (Suga) (1993) was an underground rapper before he was signed; dancer and rapper Jung Hoseok (J-Hope) (1994) was part of a dance team in his pre-BTS life.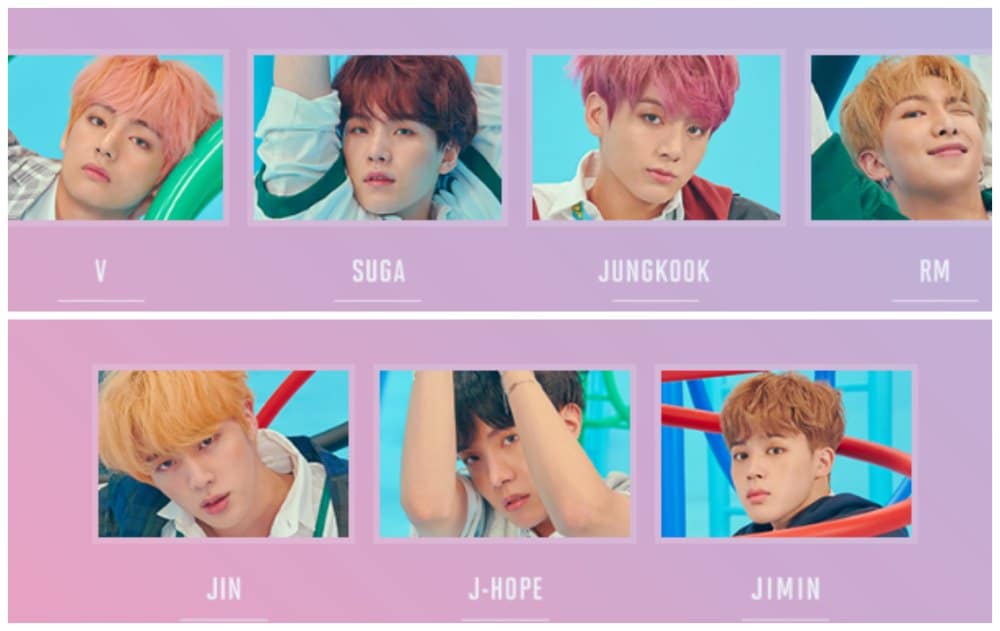 Lead rapper Kim Namjoon (RM) (aka Rap Monster, 1994) was already active in the music scene as rapper and producer; dancer and vocalist Park Jimin (Jimin) (1995) was a top student as Busan School of Arts before joining; vocalist Kim Taehyung (V) (1995) is known to have one of the most expressing voices of the group; and main vocalist Jeon Jungguk (Jungkook) (1997) was only 12 years old when he auditioned for BTS, followed by three years of intense training.
BTS, formerly 'Behind The Scenes', is known for its strong social media presence, which helps to spread its music and connect to its fans, who call themselves an 'ARMY' (also stands for Adorable Representative Master of ceremonies for Youth). The band has more than 16 million followers on Twitter, 3.3 million fans on Weibo, 12 million subscribers on Youtube, and nearly 8 million followers on Facebook.
Although BTS is the band that is currently dominating the headlines, there are many more K-Pop bands that are extremely popular on Weibo and beyond. The nine-member South Korean–Chinese boy band EXO, for example, has dozens of fanclubs on Chinese social media. Band member Oh Se-hun alone already has almost 9,5 million fans on his Weibo page. BIGBANG has more than 7 million Weibo fans, the eight-member girl band Girl's Generation (少女时代) is on the rise with 1,5 million Weibo followers, Super Junior over a million, and the list goes on.
CREATING SUCCESS
A Short History of K-Pop: Finding a Sublime Entertainment Formula
Besides media attention, there has been ample scholarly attention for the Korean pop culture phenomenon over the past decade. The year 2012 especially marked a special moment in the history of K-Pop, when the song 'Gangnam Style' by Korean rapper Psy broke all YouTube records and became a global hit.
But before K-Pop became a global force to reckon with – that seemingly rose out of nowhere -, it had already made its first international successes in neighboring countries China and Japan since the early 2000s.
In China, the success of Korean popular culture is defined as Hallyu (韩流)*, the 'Korean Wave' since 1997 (Yang 2012, 105). Hallyu encompasses far more than idol bands; it includes the boom of South-Korean dramas, films, celebrity idols, and entertainment programs. In 2002, for example, the South-Korean soap opera 'Winter Sonata' became a hit in both China and Japan.
The early 2000s mark the 'first Korean wave' in China, that mainly revolved around TV dramas produced in South Korea and were liked by females above the age of 30. It was followed by the second wave from the mid-2000s to 2010, when the K-Pop music genre popularized in China.
The third period, after 2010, marks the moment when K-Pop was further incorporated into mainstream Chinese popular culture, with a ubiquity of K-Pop idols in everyday Chinese pop culture, and the launch of Chinese versions of Korean entertainment programs (Ahn 2014, 47). It was also in this 'third wave' that you saw the debut of pop groups such as EXO. Formed in 2012, that band incorporates both Korean and Chinese members, performing in both languages.
Although K-Pop from South Korea became somewhat less visible in the PRC during the past few years, mainly because the industry suffered from various politically-motivated bans on Hallyu in China, the genre's influence on China's mainstream pop culture is evident, with some Chinese groups, for example, also being modeled after K-Pop bands.
Entertainment Powerhouses
Many studies explain the foreign success of Korean popular culture in Asia, mainly China and Japan, through "cultural proximity," saying that the success of K-Pop especially occurred in China and Japan because they have, for example, linguistic similarities and corresponding Confucian values (Ahn 2014, 47; Messerlin & Shin 2017, 412).
But the more recent global wave of K-Pop shows that cultural proximity is not the sole answer to the genre's success. Besides, there is actually nothing traditionally "Korean" about K-Pop, which only emerged in the 1990s (Shin & Kim 2013, 256).
The genre's success mainly lies in the big players that brought forth the first Korean pop idol groups and have excelled (and still do) in selecting the right entertainment "products" to invest in, with a strong focus on both on the production side and the market demand side.
SM Entertainment, JYP, and YG Entertainment are the first major and leading entertainment houses of the 1990s. Big Hit Entertainment, home to BTS, followed later; founder Bang Si-Hyuk (1972) used to collaborate with JYP Entertainment founder Park Jin-Young (1971) before going his own way in 2005.
-SM Entertainment, founded 1988 by musician and TV host Lee Soo Man (1952)
-YG Entertainment, founded in 1996 by musician Yang Hyun-Suk (1970)
-JYP Entertainment, founded in 1997 by musician and producer Park Jin-Young (1971)
-Big Hit Entertainment, founded in 2005 by producer/songwriter Bang Si-hyuk (1972)

What characterizes these entertainment houses is that they are/were small in terms of revenue and employees (very different from big labels such as Sony or Universal), and play multiple roles as intermediate between musicians and consumers, as well as producers.
Different from many international big players in the entertainment world, K-Pop entertainment companies integrate processes of artist selection, songwriting, management, signing advertisement deals, etc. in-house rather than leaving these processes to various parties outside their own studio (Shin & Kim 2013, 260). Significant about the founders of these entertainment powerhouses is that they all had ample experience in the music industry themselves before starting their studios.
The story of SM Entertainment, which was founded by musician and TV host Lee Soo Man in 1988, is crucial in understanding the beginning of the K-Pop industry. Lee was inspired by the transforming American music market after spending time there in the 1980s, and decided to replicate US entertainment in a new way. In his first studio he brought together the right equipment, the right expertise, and the right talent all in one place to kick-start his business (Shin & Kim 2013, 263).
Although the first acts that came from SM's studio were no instant success, Lee was determined in learning through trial and error until he found the right beat and image that struck a chord with young consumers. In doing so, he adopted a strategy in which teenagers were surveyed on what they wanted, and in which he focused on scouting new talent from all over the country to give them intensive training in dancing, singing, and acting at the SM Studio (Shin & Kin 2013, 264).
In 1996, eight years after Lee Soo Man started his entertainment company, and going through years of changing, refining, and improving his strategies, the first success was there. The boy band H.O.T., consisting of five hand-picked members who each had their own strength, debuted in 1996 and became the first major success in the short history of K-Pop.
Companies that followed after SM's initial successes further experimented in adopting new strategies and trying out new styles of music, but stayed true to the idea of in-house training of young, new artists, rather than selecting renowned artists with defined styles (Shin & Kim 2013, 264). With frequently held auditions and training programmes that can last for years, some trainees start as young as 5 or 6 so that they are fully equipped for the entertainment industry by the time they reach adolescence (ibid., 265).
More than being teachers, producers, songwriters, marketers, etc., these entertainment houses are also trend watchers; training their talents in various areas now in order to be able to place them in the right setting and format in the future, corresponding with (global) market demands.
Companies such as SM place an emphasis on the export of music, and focus on appealing to global audiences, making use of hundreds of composers and experts from around the world in doing so. In producing and performing the K-pop girl band Girl's Generation's song 'Genie', for example, SM Entertainment used a Japanese choreographer, a Norwegian songwriter, and Korean lyricist (Shim 2016, 38).
SHAPING SUCCESS
The Popularisation of K-Pop: A Digital Strategy
Although a main cause of K-Pop's initial success lies in the (training) strategies adopted by the aforementioned entertainment houses, there are also other major factors that have contributed to its global influence.
The Korean government contributed to the initial success of K-Pop by developing a world-leading internet infrastructure (although the goal of developing that infrastructure, obviously, was not to promote K-Pop), which helped the rapid rise of the genre through online strategies.
According to some studies (e.g. Messerlin & Shin 2017, 422-425), Korean entertainment companies have been the first in the world when it comes to realizing the potential of the internet for the distribution and marketing of their performances; they were already long awake to its possibilities and were acting upon them, while many big players in Europe and America were still focusing on traditional album formats.
What also helped the spread of K-Pop at the time were the relatively friendly and equally balanced Korean policies on issues such as copyright, that were (and are) less protective and restrictive compared to America or the EU (Messerlin & Shin 2017, 421).
The first success (1997-2007) of K-Pop and other Korean popular culture products in China, Japan, and other countries within Asia, have also been called the first major Korean Wave, whereas the current period (2008-present), represents the 'New Korean Wave,' that is defined by the role that is played by new media technology and social media as a platform for K-Pop to reach every corner of the world (Jin 2016).
Online strategies were particularly relevant in the context of the (early) K-Pop industry because 1) it was dominated by relatively small businesses that did not have the means to invest in other major publishing platforms than that of efficient online distribution and 2) they did not have costly plants where they could produce CDs, DVDs, or vinyl. Having the high-tech Korean electronical market on their side, online strategies were thus a natural and cost-efficient solution to give publicity to their performances (Messerlin & Shin 2017, 426). More so than focusing on traditional album releases, the release of digital singles that come with visually attractive online videos, for example, is one important K-Pop production characteristic.
Probably the best example showing that this strategy works is the global success of 'Gangnam Style' that was made possible through YouTube. By now, six years after its release, the world-famous song by Psy, who was signed by YG Entertainment, has over 3,2 billion plays on YouTube.
The revenue of concert tickets for K-pop performances, its merchandise industry, the digital singles, advertisement income, the many brands wanting to associate themselves with the star industry that K-pop has generated, etc., makes K-Pop production a money-making machine that shows that the model that focuses on traditional (CD) album formats and promotional single releases has become outdated.
CONTINUING SUCCESS
Marketing more than a Band: Active Fans and Interesting Characters
While South-Korea's innovative music enterprises were crucial for the international launch of K-pop, its worldwide fanbase has now also become a motor driving its continuing success.
Different from the initial spread of K-Pop in China or other Asian countries – where K-Pop has become common in everyday pop culture -, is that many consumers of the genre in the US, Europe, or elsewhere, fully depend on the internet and social media to access K-Pop, as it is not a genre that is prevalent in the mainstream popular culture of their own countries.
The fact that fans of K-Pop in these regions have to actively seek for the latest information and releases of their favorite groups, also means that they have become participatory and engaged consumers in the spread of K-Pop – almost turning them into the 'soldiers' of fandoms such as the BTS 'army'. They have become part of enormous (online) subcultures in various countries across Europe and America.
More than just listening and watching K-pop, these fans become members of the 'culture' by translating material, circulating it to friends, or integrating it on their own social media channels (Jin & Yoon 2016, 1285).
What further strengthens this fandom is that the successful K-Pop bands are anything but one-dimensional. More than just building on their synced choreography, flawless singing, fashionable looks, and visually attractive videos, the band members of groups such as BTS, EXO, or TWICE, have their own identities, voices, and goals that go beyond music; their various characters and roles within the group resonate with their different fans.
The fact that many K-Pop groups and members also have an androgynous and gender-bender appearance also makes them more interesting to many fans, with many K-pop boys being 'pretty and cute' and girls having a 'strong and handsome' look, breaking through typical male and female stereotypes.
Furthermore, more than pop bands, these K-Pop groups have virtually become 'platforms' with their own streaming channels, websites, television shows, merchandise shops, lively online communities, stories, and so on.
In their recent appearance on the US Tonight Show by Jimmy Fallon, BTS frontman RM explained the group's mission in perfect English, saying: "It is about speaking yourself, instead of letting other people speaking for you. Cause in order to truly know ourselves, it is important to firstly know who I am, where I'm from, what my name is, and what my voice is."
Many find their voice in K-Pop. And that is a sound, from a local Korean product to a global force, we can expect to grow much louder in the future.
By Manya Koetse
Follow @whatsonweibo
* For clarity: note that due to scope this article focuses on the development of the K-pop phenomenon, and does not explore the anti-Hallyu or anti-Korean wave movement in China, and the previous bans on Hallyu in the PRC.
References
Ahn, Jungah. 2014. "The New Korean Wave in China: Chinese Uders' Use of Korean Popular Culture via the Internet." International Journal of Contents, 10 (3): 47-54.
Jin, Dal Yong. 2016. New Korean Wave: Transnational Culture in the Age of Social Media. University of Illinois.
Jin, Dal Yong, and Kyong Yoon.2016. "The Social Mediascape of Transnational Korean Pop Culture: Hallyu 2.0 as Spreadable Media Practice." New Media & Society 18 (7): 1277-1292.
Messerlin, Patrick A. and Wonkyu Shin. 2017. "The Success of K-Pop: How Big and Why So Fast?" Asian Journal of Social Science 45: 409-439.
Shim, Doobo. 2016. "Hybridity, Korean Wave, and Asian media." Routledge Handbook of East Asian Popular Culture,Koichi Iwabuchi, Eva Tsai, Chris Berry (eds), Chapter 3. London: Routledge.
Shin, Solee I. and Lanu Kim. "Organizing K-Pop: Emergence and Market Making of Large Korean Entertainment Houses, 1980-2010." East Asia 30: 255-272.
Yang, Jonghoe. 2012. "The Korean Wave (Hallyu) in East Asia: A Comparison of Chinese, Japanese, and Taiwanese Audiences Who Watch Korean TV Dramas." Development and Society, 41 (1): 103-147.
Spotted a mistake or want to add something? Please let us know in comments below or email us.
©2018 Whatsonweibo. All rights reserved. Do not reproduce our content without permission – you can contact us at info@whatsonweibo.com