People's Daily: How to Protect Your Child from Sexual Assault
Chinese state-run newspaper People's Daily has launched a campaign against sexual violence towards children on its social media channels, telling parents to teach their children sexual education so they can protect themselves. Although the campaign receives praise, there are also many people saying that sexual education should be taught in schools instead of on social media.
Chinese state-run newspaper People's Daily has launched an online campaign against sexual violence towards children on its social media channels, telling parents to teach their children sexual education so they can protect themselves. Although the campaign receives praise, there are also many people saying that sexual education should be taught in schools instead of on social media.
In a Weibo post on July 28, Chinese state media outlet People's Daily (@人民日报) warns parents to protect their children against sexual assault. The post was shared over 17.000 times on Weibo within a couple of hours. People's Daily writes:
"Recently, the topic "sexual abuse of children" (儿童性侵) has again attracted people's attention. From 2013 to 2016, the media have reported at least 1401 child sexual abuse cases, and in over 70% of these cases, it was an acquaintance who committing the crime. What is considered sexual abuse of children? What should parents do to protect their children from sexual harassment? Do not turn sex into a taboo [lit. "turn green at the mention of sex" 谈性色变]. The more they don't know, the more dangerous it is for the children."
The post comes with a series of images that instruct parents how to protect their children.
The first image says: "Parents should teach their children what is inappropriate behavior! Other people should not touch your intimate areas, even if seems fun."
The infographics tell parents to be explicit to their children in what is considered inappropriate behavior, saying that other people should not show them images or films with naked people in them, and that it is not normal for people to take children into a separate room and touch their private parts.
Parents should also tell their children that it is not normal for other people to show them their private parts, or to kiss children against their will.
"Parents should let their children know: only mummy, daddy, or those who are very close to you can see your private parts; the nurses and doctors also can see – but only for helping you wash up, wipe your bottom, dress you, or check you at the doctor's examining room when you are ill. As for other people, other times, or other places: IT IS NOT OKAY!"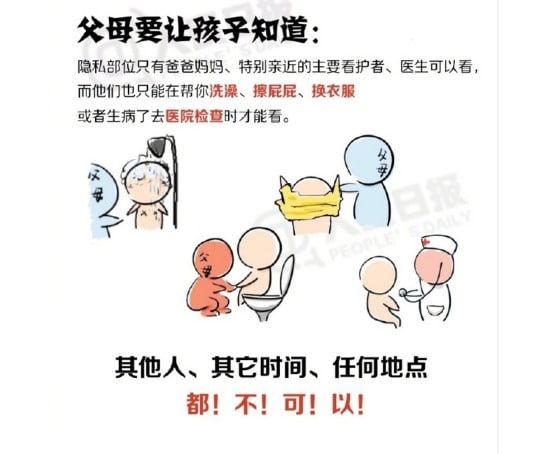 The infographic also emphasizes that children should learn to say "NO!" in a loud voice against people who want to assault them.
People's Daily tells parents to teach their children not to accept drinks from strangers, and not to let them go home by themselves if they are unable to pick them up. If someone tells their child not to tell something to their mummy and daddy, they should always tell their mummy or daddy about it.
Over 92% of reported child sexual abuse cases involved girls, the infographics say, and a little over 7% of cases involved boys. They warn parents not to disregard sexual abuse of boys, as it is often more taboo.
"This should be propagated in schools instead of on Weibo."
Although many commenters on Weibo show their support for this campaign against sexual abuse, there are also many who point their finger to state media for propagating better sexual education for children, while often being conservative when it comes to sexual education textbooks in schools. "This should be propagated in schools instead of here," some said.
Others also said the parents were to blame: "There's just nothing to do about it when parents are unwilling to teach their children sexual education."
Earlier this year, a sexual education textbook series for children drew controversy on Weibo for being too "explicit."
The book, published by Beijing Normal University, shows pictures of reproductive organs and of two people having sex. It also teaches children about sexual abuse, homosexuality (both of gays and lesbians), and gender equality.
Some parents said they found the textbook "pornographic," and called it "tasteless" and "vulgar." Due to the rising controversy, the school that first used these books then withdrew them from their curriculum.
China's first publication of a sexual education textbook for children came out in 2002, and in many parts of China it did not enter schools until 2003. According to China.org, however, most of these textbooks remained unused and/or unsold after their initial print. In 2007, schools in Shenzhen rejected the books.
From time to time, discussions on proper sexual education for children in China will flare up, usually with people on one side arguing it is inappropriate to teach young children about sex, while people on the other side saying that teaching children about sex at a young age can help them protect themselves against sexual abuse, HIV, and teen pregnancies.
"This is the whole reason why sexual education books should not be banned from primary schools," one commenter responded to People's Daily's campaign.
The Communist Youth League of Jilin also responded in the comment section saying: "We should reinforce sexual education for children to keep our children safe from harm."
By Manya Koetse
Follow @whatsonweibo
©2017 Whatsonweibo. All rights reserved. Do not reproduce our content without permission – you can contact us at info@whatsonweibo.com.
Controversy over Yu Minhong Suggesting That Chinese Women Are Responsible for "Decline of the Country"
The famous businessman later apologized for his comments, but the damage was done.
The comments from education mogul Yu Minhong on the moral degeneration of Chinese women leading to the degeneration of the country, have caused major controversy on Chinese social media.
The founder and CEO of the US-listed education institution New Oriental (新东方教育), Michael Minhong Yu (Yu Minhong 俞敏洪), has caused quite some consternation on Chinese social media for holding women responsible for the decline of the country.
The comments in question were made at the Shanghai Educational Forum (2018学习力大会) on Sunday, November 18, where Yu – also known as "the richest teacher in China" – spoke in front of a large audience and said: "Chinese women's standard for picking men is now based on his ability to make a lot of money. In the end, if a country is doing well or not, often leads back to women. And now the degeneration [or 'corruption': duòluò 堕落] of Chinese women is leading to the degeneration of the country."
Yu's remarks, that can be viewed in the video below, drew some laughter from the audience.
The comments by Yu were made in light of his discussion on education, suggesting that people's evaluation standards define the direction of education, just as women's standards for men define the quality of men.
Yu's comments soon went viral on WeChat and Weibo, where the hashtag "Yu Minhong discriminates against women" (#俞敏洪歧视女性#) received over 38 million views.
"What kind of logic is this, to suggest that Chinese women are picking men based on their ability to make money?!", some commenters said: "Don't generalize like that, and please respect women!" "Are all the women he knows like that?" some wondered.
The issue especially captured the attention of netizens when Chinese actress Zhang Yuqi criticized him on Weibo, saying that "[your] Peking University education and New Oriental have not helped you understand the value of females and the meaning of gender equality."

Zhang's post attracted over 92,000 comments at time of writing.
Despite the general anger over Yu's comments, there were also those who expressed some support. "He might be a bit extreme, but many women are actually like that," one male commenter wrote.
Yu Minhong later apologized for his remarks on his Weibo account, where he has over 14 million followers. His post, that had disabled comments, received nearly 240,000 likes. Yu wrote:
"Today at a forum, I mentioned that 'evaluation standards can determine the direction of education,' and I used women's standards for choosing spouses as an example. But I didn't express myself correctly, and it has led to much misunderstanding among netizens – I greatly apologize for that. What I really wanted to say is: the standard of women in a country represents the level of that country. Women who have high inner quality, and mothers who have high quality, will raise high-quality children. Men are also led by women's system of values. If it is an intellecual life that women pursue, then men will become wiser. If women only have money in their eyes, then men will desperately strive to make money, and neglect their spiritual life. If a woman is strong, then a man is strong, then a country is strong."
By now, many (video) reports and comment sections about Yu's remarks have been taken offline.
Yu Minhong founded the educational institute New Oriental in 1993, and it has now become the largest provider of private educational services in China. As a successful businessman and a national political advisor, the "Godfather of English Training" is known for his outspokenness.
By Manya Koetse, with contributions from Miranda Barnes
Follow @whatsonweibo
Spotted a mistake or want to add something? Please let us know in comments below or email us.
©2018 Whatsonweibo. All rights reserved. Do not reproduce our content without permission – you can contact us at info@whatsonweibo.com
China's 'Masculinity Crisis': The Internet Slang That Stereotypes Chinese Men
How a Chinese boyband triggered social media discussions on what it means to be 'masculine'.
This month, a well-known Chinese educational program for children that featured a 'feminine-looking' boyband ignited discussions on masculinity in China. What's on Weibo provides an overview of Chinese media's stance on the recent discussion, and an introduction to five popular social media slang terms stereotyping Chinese men.

At the beginning of this month, a discussion about the meaning of 'masculinity' sparked discussions on Chinese social media. Discussions started when Chinese state broadcaster CCTV aired Back to School: The First Class (开学第一课).
The programme is an annual educational television program by CCTV and the Ministry of Education, dedicated to the celebration of the new school year. The show, that had one of the highest viewers ratings since years, opened with a performance of the boy band New F4 (新F4).
The boy band New F4 consists of Guan Hong (官鸿), Dylan (王鹤棣), Wu Xize (吴希泽), and Liang Jingkang (梁靖康). In China, the four young men are known to be 'feminine-looking' or so-called 'sissies' (娘炮男), meaning they pay much attention to their clothing, hair, and make-up.
Since the airing of the 'Back to School' programme, many parents questioned the suitability of the performance of New F4, calling for some more 'masculinity' ("阳刚之气") on social media. They criticized the program for being "too entertaining" and having "not enough educational value."
SISSY BOYS? CHINESE MEDIA RESPOND
A few days after the controversial show broadcasted, state media outlet Xinhua News published a commentary calling the New F4 'sissies' (娘炮). Xinhua stated:
" (..) "these sissies promote an unhealthy and unnatural culture which has a not-to-underestimate negative impact on the youth. The sissy culture, driven by consumption, challenges the public order and worships a decadent lifestyle."
Within a few hours after Xinhua News published the article, a column published on the platform of Party newspaper People's Daily (author @百家号) responded with an article titled 'People's Daily Review: What Should Today's 'Masculine Traits' be?' (人民日报评论:什么是今天该有的"男性气质") questioning the definition and purpose of masculinity in modern society.
People's Daily Review column's author stated that:
" (..) modern society broadened the perception of aesthetics, and in a mature society, people should be tolerant towards other people and no longer [should] evaluate a person based on its gender characteristics only."
Later in the article, the author proposes a new construction of masculinity; one that has not much to do with one's appearance but more with one's inner qualities. It also criticizes the use of derogatory terms such as 'sissy' for failing to "respect individual choices."
This is not the first time that a voice featured on a People's Daily platform supports so-called feminine-looking men. On the 13th of August this year, the People's Daily Overseas Edition also published an editorial article, calling for tolerance towards this new lifestyle.
DISCUSSIONS ON WEIBO
On Chinese social media, there are also many netizens who see no threat in the rising popularity of the androgyne looking men. A typical comment said:
"What is a good man? A good man's most essential qualities are to have an idea and be responsible, be brave and kind. These are the things that are important. Only looking at somebody's appearance is too simplistic."
Other Weibo users responded: "Determining whether a man is effeminate or not has nothing to do with his appearance. It can be found his sense of responsibility."
Also, the hashtag "I've deleted the names of people who call feminine-looking men names" (#骂娘炮的人已经被我拉黑了#), initiated by the Chinese edition of News China, has since gone viral on Chinese social media.
But the supposed 'disappearance of masculinity' also led many to worry about an alleged 'masculinity crisis.'
One Weibo user wrote a typical comment saying: "Men should stand up and be more masculine!", with many more praising Xinhua for sending out a strong and clear message, warning society for the rise of 'sissy-culture'.
5 TERMS STEROTYPING CHINESE MEN
This is not the first time that there is talk of a supposed 'crisis of masculinity'. Throughout the years, various terms have popped up on Chinese social media defining certain types of men and their traits. These are five popular examples:
1. Sissy boy (娘炮男, pinyin: niángpàonán)
Derogatory term for androgyne men whose personality and appearance is quite feminine. They often like to put much care into their appearance, including wearing makeup, and a love for shopping. On social media, many claim the reason for this alleged 'soft behavior' is said to be nurtured by the overprotection of children and the lack of gender awareness in upbringing.
2. The Chauvinist(男子汉,pinyin: nánzǐhàn; or 'Straight Man Cancer' 直男癌 zhínán'ái)
Refers to men who live in their own world, with their own values and who tend to reveal their dissatisfaction towards other people. The general view is that these 'Chauvinist men' are self-righteous and indifferent to women's values. Their way of getting acquainted with a woman is often through buying her gifts and spending a lot of money.
3. Phoenix man (凤凰男,pinyin: fènghuángnán)
'Phoenix male' refers to those men who came from poor rural areas and who have been admitted to college after hard work and dwelling in the city to work after graduation. Although they have left the countryside, they still hold on to many rural and traditional concepts and ideas.
4. Wretched or Vulgar Man (猥琐男,pinyin: wěisuǒnán), also often referred to as loser (男屌丝,pinyin: nándiǎosī)
The terms 'vulgar man', 'loser' or 'pervert' are given to a person making other people feel uneasy and uncomfortable. These men are said to be shameless and show an abnormal and inferior behavior caused by long-term sexual repression.
5. Mommy's Boy (妈宝男,pinyin: mābǎonán)
The 'mommy's boy' label refers to men who listen to everything their mother says. Whatever it is that their mother says, they regard it as the truth, and they live by the decisions their mother takes – including what job to take on, who to marry, and where to live.
For now, discussions on what a 'real man' is seem to be continuing on Chinese social media. In the meanwhile, the Weibo page of the 'feminine-looking boyband' New F4 already received 110 million views- a number that just keeps on growing.
Link to the New F4 performance on the CCTV program Back to School: The first class (开学第一课): here.
By Gabi Verberg
Follow @whatsonweibo
Spotted a mistake or want to add something? Please let us know in comments below or email us.
©2018 Whatsonweibo. All rights reserved. Do not reproduce our content without permission – you can contact us at info@whatsonweibo.com.