No Man's City – A Chinese Blogger's Powerful Essay About The "Fake Lives" of Beijing Residents
An essay titled "Beijing Has 20 Million People Pretending to Live There" by Chinese blogger Zhang Wumao has gone viral on Chinese social media. The essay describes how Beijing has changed into a city that is overrun by 'outsiders' and no longer belongs to the 'old Beijingers.' The article has now been censored. Chinese state media say the essay impedes good relations between Beijing's locals and immigrants.
An essay titled "Beijing Has 20 Million People Pretending to Live Here" by Chinese blogger Zhang Wumao (张五毛) has gone viral on Chinese social media, sparking wide debate on life in China's capital. The essay describes how Beijing has changed into a city that is overrun by 'outsiders' and no longer belongs to the 'old Beijingers.' Chinese state media say the essay, which is now censored, polarizes the relations between Beijing's locals and immigrants.
An online essay titled "Beijing Has 20 Million People Pretending to Live Here" (or: "There are 20 Million People in Beijing Pretending to Have a Life" "北京,有2000万人假装在生活", full English translation here) by Chinese writer and blogger Zhang Wumao (张五毛) became a viral hit on WeChat and Weibo after it was published on the author's WeChat account on July 23.
The essay is a witty yet powerful critique of Beijing and its residents. Over the last decade, and especially over the past few years, Beijing has undergone enormous changes. The city is expanding, high-rise buildings are mushrooming, while old hutong areas are bricked up and familiar neighborhoods demolished for the sake of the city's metamorphosis in an 'international metropolis.'
According to Mr. Zhang, the city's rapid transformation has turned it into a place with no identity; a place that nobody can call home. The essay argues that Beijing has been overrun by migrant workers or waidiren (外地人, 'people from outside the city'), and that these 'outsiders' have turned China's capital into a place with staggering house prices and heavy traffic that lacks soul. The city no longer really belongs to native Beijingers, Zhang writes, as they cannot even recognize their old neighborhoods anymore.
The essay describes how Beijing has become so big, so full, and so expensive, that life has virtually become unsustainable. The result of Beijing's transformation, according to the post, is that its residents, both locals and immigrants, just "pretend to live there", leading "fake lives."
ZHANG GUOCHEN
"It was destined to go viral. It ridicules Beijing + it talks about migrant workers + real estate market + and state of life."
Zhang Wumao, whose real name is Zhang Guochen (张国臣), is an author born in the early 1980s. He is from Luonan, Shaanxi, and came to Beijing at the age of 25 in 2006. A year later he started blogging. He previously published the novels Spring is Burning (春天在燃烧) and Princess's Tomb (公主坟).
Zhang's online essay about Beijing spread like wildfire on WeChat and Weibo on Sunday. It was viewed over 5 million times within an evening and soon became a trending article on WeChat. It triggered wide debate across Chinese social media on the lives of people in Beijing.
On Monday and Tuesday, the essay was also republished by various Chinese media such as Tencent News, iFeng, and Sohu.com.
But on July 25, the full text was removed from all social media accounts and Chinese online newspapers. Its hashtag on Weibo (#北京有2000万人假装在生活#) is now no longer accessible.
The article also disappeared from Zhang's WeChat account.
On Quora-like discussion platform Zhihu.com, one person said the essay was destined to become a hype: "This is a typical Wechat viral article. It ridicules Beijing + it talks about migrant workers + real estate market + and state of life. As it contains all of these elements in 1 article, the author just intended for this to become a hit."
A SENSITIVE ESSAY
"What Beijingers increasingly feel is the suffocation of the smog and the high cost of housing. They cannot move, they cannot breathe."
Zhang's essay is divided into five paragraphs. In the first part, he explains that Beijingers often seem inhospitable; the city is so huge and congested, that people simply cannot find the time to see their friends in other parts of the city.
"Beijing is really too big; so big that it is simply not like a city at all. It is equivalent to 2.5 times Shanghai, 8.4 times Shenzhen, 15 times Hong Kong, 21 times New York, or 27 times Seoul. When friends from outside come to Beijing, they think they're close to me. But actually, we're hardly in the same city at all."
"For 10 years, Beijing has been controlling housing, controlling traffic, and controlling the population. But this pancake is only getting wider and bigger, so much that when a school friend from Xi'an calls me to say he's in Beijing and I ask him where he is, he tells me: "I am at the 13th Ring." Beijing is a tumor, and no one can control how fast it is growing; Beijing is a river, and no one can draw its borders. Beijing is a believer, and only Xiong'an can bring salvation."
The second part, which is titled 'Beijing actually belongs to outsiders' (北京其实是外地人的北京), claims that Beijing is one of the most beloved cities in China because of its rich cultural heritage and long history, but that this is something that is only of value to people from outside the city.
"In the 11 years since I've come to Beijing, I have been to the Great Wall 11 times, 12 times the Imperial Palace, 9 times to the Summer Palace, and 20 times to the Bird's Nest. I feel emotionless about this city's great architecture and long history. (..) Going into the Forbidden City, I only see one empty house after the other – it's less interesting than the lively pigsties we have in my native village."
"Upon mentioning Beijing, many people first think of the Palace Museum, Houhai, 798; they think of history, culture, and high-rise buildings. Is that a good thing or a bad thing? It's good! Does it make us proud? It does! But you can't make food out of these things. What Beijingers increasingly feel is the suffocation of the smog and the high cost of housing. They cannot move, they cannot breathe."
He then goes on to mock the old residents of Beijing, who still have the upper hand in the real estate market despite the flood of new immigrants, all owning "five-room houses." The old Beijingers lead very different lives from the migrant workers, who are caught in a negative spiral of hard work, no social life, and finding a place to settle down.
"In Beijing, the migrant workers, who have no real estate from previous generations, are destined to be trapped in their house for life. They strive for over a decade to buy an apartment the size of a bird cage; then spend another decade struggling to get a house that has two rooms rather than one. If that goes well, congratulations, you can now consider an apartment in the school district."
"With a house in the school district, children can attend Tsinghua or Peking University. But Tsinghua graduates will still not be able to afford a room in that district. They will then either need to stay crammed together in the old shabby family apartment, or start from scratch, struggling for another apartment."
"For Beijing's new immigrants, the city is a distant place where they can't stay; for Beijing's old residents, the city is an old home they can't return to."
In the final part of the essay, however, Zhang shows his sympathy for the old residents of Beijing:
"I once took a taxi to Lin Cui Road. Because I was afraid the driver wouldn't know the way, I opened the navigation on my phone to help him find the way. He said he did not need the navigation because he knew that place. There was a flour mill there 30 years ago, he said, it was demolished 10 years ago, and they built low-income housing there. I asked him how he knew this so well. "That used to be my home," he said, the sorrow showing in his face."
"I could hear nostalgia and resentment from the driver's words. For Beijing's new immigrants, the city is a distant place where they can't stay; for Beijing's old residents, the city is an old home they can't return to."
"We, as outsiders, ridicule Beijing on the one hand, while on the other hand, we cherish our hometowns. But in fact, we can still go back to our hometown. It is still there. (..) But for the old Beijingers, there really is no way to go back to their hometown. It has changed with unprecedented speed. We can still find our grandfather's old house. The majority of Beijingers can only find the location of their old homes through the coordinates on a map."
He concludes his article by highlighting the recent demolishment of old Beijing shops and restaurants, saying that the city is being renovated but is becoming less livable.
"Those who chase their dreams of success are now escaping [Beijing]. They're off to Australia, New Zealand, Canada, or the West Coast of the United States. Those who've lost hope of chasing their dreams are also escaping. They return to Hebei, the Northeast, their hometowns."
He ends by writing: "There are over 20 million people left in this city, pretending to live. In reality, there simply is no life in this city. Here, there are only some people's dreams and everybody's jobs."
CHINESE MEDIA RESPONSES
"The contrast between old Beijingers and new immigrants is exaggerated, and it polarizes the relationship between locals and outsiders."
Despite censorship of the actual text, Zhang's essay is widely discussed by Chinese official media.
State media outlet People's Daily (@人民日报) writes on Weibo:
"The essay 'Beijing Has 20 Million People Pretending to Live There' is a viral hit but is not approved of. There really is such a thing as the "Big City Disease", and we do not need to pretend as if people in first-tier cities are not struggling and facing hardships. But in Beijing, both locals and outsiders are alive and kicking; they are all the more real because of their dreams. Making a living is hard, but it is the days of watching flowers blossom and wilt that are full of life. The city and its people don't have it easy, but they have to show some tolerance for each other and then they can both succeed."
Xinhua News Agency also published a response to the article titled: "Lives in the City Cannot Be Fake" ("一个城市的生活无法"假装").
Lashing out against Mr. Zhang, they write that: "Beijing has no human warmth, Beijing is a city of outsiders, old Beijingers can't go back to their city – behind every one of these sentences is not the 'fakeness' of Beijing, but the clamor of the author's emotions about 'coming to Beijing.'"
State broadcaster CCTV (@央视新闻) also responds to the essay on Weibo, saying:
"Over the past few days, the essay 'Beijing Has 20 Million People Pretending to Live There' has exploded on the Internet, but how the text portrays the contrast between old Beijingers and new immigrants is exaggerated, and it polarizes the relationship between native Beijingers and outsiders. In reality, Beijing is not as cold as it is described in the essay. Everyone already knows that it's not easy living in a big city. The future of Beijing is in the hands of competent, daring and hardworking people who pursue their dreams."
A STORM OF DEBATE
"I am one of these 20 million people, and my life is not fake – I am living it."
On social media, many netizens commented on the state media's responses to Zhang, saying they were tired of the repeated emphasis on "people's dreams." One person said: "My belly is empty, what are you talking about dreams for?! Dreams cannot guarantee our most basic needs for survival."
Many people on Weibo and QQ also applauded Zhang's essay for being "well-written", "honest", and "real."
But there are also those who do not agree with the essay and take offense at how it describes Beijingers leading "fake" or "pretense" lives. A Beijing resident nicknamed 'Little Fish' (@小小的爱鱼) commented: "What on earth gave him the courage to speak on behalf of 20 million Beijing people? I am one of these 20 million people, and sorry, but my life is not fake – I am living it."
"I work overtime until 9 pm, then take the bus and subway and won't arrive home before 23:38, then quickly rinse my face and brush my teeth and roll into bed. But it's still life. What life and being alive is all about ultimately is a personal issue," one other netizen from Beijing says.
"Mr. Zhang," one angry commenter writes: "You can leave this cold and big city of Beijing, and go back to your 'real' live in that pigsty of yours that's supposedly more imposing than the Forbidden City."
The recent hype surrounding Zhang's essay somewhat resembles the overnight buzz over the autobiographical essay of Beijing migrant worker Fan Yusu. This essay also described various hardships in the lives of Beijing migrant workers.
Fan Yusu's essay and posts related to it were also taken offline after several days when discussions on the account spread across Chinese social media.
Zhang's hit essay shows that the combination of writing about "migrant workers + Beijing + real estate + state of life" = indeed one that is bound to attract wide attention and debate on social media. Although it is also a recurring topic in China's official media, those channels prefer to focus on the idea of hardworking people who pursue their (Chinese) dreams, rather than to spread a narrative about people living "fake lives" in a cold city.
One commenter says: "Whether you fake it or you try hard, it's all okay: this is Beijing. It's not livable, but you sure can make a living."
By Manya Koetse
Follow @whatsonweibo
Special thanks to Diandian Guo.
©2017 Whatsonweibo. All rights reserved. Do not reproduce our content without permission – you can contact us at info@whatsonweibo.com.
From "Voice of the People" to "Traitor of China": The Rise and Fall of Fang Fang's Wuhan Diary
How a Weibo journal got caught up in pandemic politics: the Wuhan Diary controversy explained.
Fang Fang's critical online account of the COVID-19 outbreak in Wuhan was widely celebrated before it was strongly condemned. This is a look into one of the biggest controversies in China's online media spheres this spring, and a breakdown of how this acclaimed Chinese novelist went from an ally in times of lockdown, to a traitor during pandemic politics.

This is the "WE…WEI…WHAT?" column by Manya Koetse, original publication in German by Goethe Institut China (forthcoming), see Goethe.de: WE…WEI…WHAT? Manya Koetse erklärt das chinesische Internet.

As China is gradually getting back to business after the COVID-19 crisis, the coronavirus crisis is still dominating social media discussions. But the way the virus comes up in online debates has changed over the past few weeks, as the global health crisis has become increasingly politicized. Rather than a show of global solidarity, the pandemic has spawned a lot of finger-pointing in online media and on social networking sites across the world.
Who is to blame for the spread of the virus? Who is doing more, which leader is doing better, where is the crisis mismanaged? What is fake news, what is truth? Who writes or says what for which reason?
Somewhere within these corona media wars and political games, there's the controversy regarding Wuhan Diary, which recently became a heated topic of debate on Weibo and beyond. 
FANG FANG AND WUHAN DIARY
"Fang was saying the things so many people wanted to say, and was asking the questions so many wanted answers to"
Wuhan Diary (武汉日记[1]) is written by the 65-year-old acclaimed Chinese author Wang Fang, better known as Fang Fang (方方).[2] It is an online account of the 2020 Hubei lockdown, originally published on WeChat and Weibo.
Throughout the lockdown period in January, February, and March, Fang Fang wrote about life in quarantine in province capital Wuhan, the heart of the epicenter, documenting everything from the weather to the latest news and the personal stories and tragedies behind the emerging crisis.
Fang's 60-post diary was published on her Weibo account (@方方), which had some 3,8 million followers at the time, from late January shortly after the lockdown began, until late March when the end of the lockdown was announced.
Shortly after starting her online account, Fang's daily journal gained wide traction. Amid the panic and uncertainty of the early days of the lockdown, social media flooded with rumors, fake news, and misinformation. Chinese web users were looking for alternative reliable sources to find out what was really happening in Wuhan.
Fang's online journal provided people with information regarding the new coronavirus, but it also captured the emotions and struggles of the people in Wuhan. She soon became a go-to first-hand account of what was going on in the city; she was the voice of a quarantined city in distress. At a time when people were craving unfiltered information and distrusting official media, her words became an anchor for many in a sea of confusing news flows.
The fact that Fang is a respected author contributed to the popularity of her online writings. With her compassionate representations of everyday life in Wuhan, she has since long been an important author for the regional literature. Her writings have drawn attention ever since the 1980s, when she won an award for the best National Novella (Landscape 风景, 1987). She has remained a relevant author throughout the years, even receiving the prestigious Lu Xun Literary Prize in 2010.
In documenting life in Wuhan during the ongoing COVID-19 outbreak, Fang touched upon many sensitive issues. Besides writing about problems such as overcrowded hospitals and mask shortages, she also directly questioned how authorities were handling the crisis and warned other writers for propaganda manipulation.
With the death of 'whistleblower' doctor Li Wenliang on the night of February 6, Chinese social media saw an outpouring of anger at Chinese authorities and state media. The public's anger showed itself at other moments too, both online and offline.
While many of Fang's publications on social media were censored and her Weibo account was temporarily blocked, the online Wuhan Diary only gained more attention, with the daily entries (or screenshots) spreading across WeChat like wildfire. "Dear internet censors, you should let Wuhan people speak,"[3] Fang wrote in February.
By demanding more transparency and accountability from Chinese (local) leadership, Fang was saying the things so many people wanted to say and was asking the questions so many wanted answers to.
CHANGING US-VERSUS-THEM DYNAMICS
"Whose side is she on, anyway?"
It did not take long for Fang's online journal to gain international attention. In mid-February, news articles covering the 'forbidden diary' from Wuhan also appeared in foreign media.
Although Fang's online writings received some backlash before – her critics mainly disliked how much of her diary entries were not fact-based but "merely hearsay" -, it wasn't until April when public opinion really shifted against Wuhan Diary after it became known that an international edition of her diary was on presale through Amazon.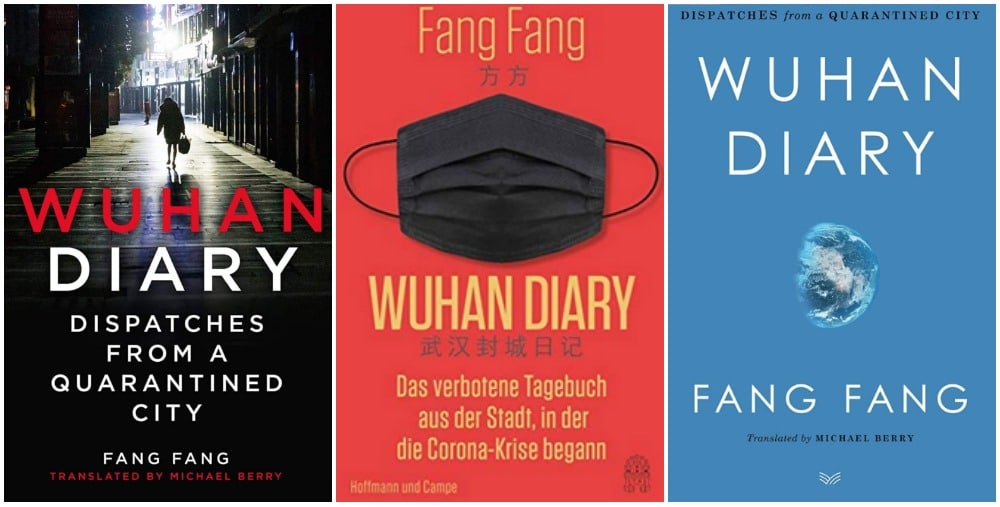 First, there was the announcement of the English version with the title "Wuhan Diary: Dispatches from the Original Epicenter" (later changed to "Wuhan Diary: Dispatches from a Quarantined City", translation by Michael Berry) published by Harper Collins; then, a German edition translated by Michael Kahn-Ackermann and issued by Hoffman Camp Press.
The criticism that Fang Fang has since been facing on Chinese social media is unprecedented. Rather than a Wuhan ally, many of her online readers now think of her as a "traitor" to China[4], saying she is airing China's dirty laundry to make a profit, and that she only writes about negativity and darkness to play to the tune of those countries slamming China. The author has seen an online stream of death threats and violent comments.
Fang Fang arguably would not have received as much backlash if China had not come to face such international scrutiny in light of the global spread of COVID-19. At the time of the early coronavirus outbreak and Fang's first diary entry, the corona crisis was still a national one, and to some extent even a regional one. Many saw Fang, a Wuhan native and acclaimed author, as a spokesperson for the people in times of fear, uncertainty, and collective suffering.
But as China increasingly came under international pressure over how it handled the epidemic in its early phases, anti-foreign and nationalistic sentiments grew by the day. With China being blamed for causing the pandemic – American President Trump even suggesting it did so deliberately – waves of angry nationalism flooded Chinese social media, and Wuhan Diary was caught in the changing us-versus-them dynamics of China's COVID-19 crisis.
In the eyes of many Chinese web users, a translated version of Fang's critical account of the Wuhan outbreak would only provide opponents of China with more ammunition. The upcoming translation's description on Amazon by itself was a source of outrage for many, allegedly putting too much emphasis on China's mishandling of the early outbreak. The fact that the original title of the book emphasized that COVID-19 started in Wuhan[5] was also something many netizens found offensive.  'Whose side is she on anyway?', they wondered.
"Western countries are attacking the motherland, and Fang Fang is knowingly giving them the bullets in advance," one Weibo commenter from Beijing wrote.
AN ONGOING ISSUE
"Your Wuhan Diary will only worsen Western misconceptions about China!"
The Wuhan Diary controversy seems to be an ongoing one. By early May, it was reported that at least two Chinese academics were reprimanded for speaking out in support of Fang Fang. Online discussions continue. By now, the Weibo hashtag "Fang Fang Diary" (#方方日记#) has received over 670 million views, with other scattered hashtags also drawing in thousands of responses.
On Fang Fang's Weibo page, now followed by more than 4,6 million web users, the author has responded to the recent controversy and allegations in multiple lengthy posts, claiming that most of her attackers, who blame her for only writing negative things, did not even read her diary. She argues that her written account is one of a trapped Wuhan resident in the middle of a catastrophe and that it should not be taken out of its this context.
Fang Fang is not the first Chinese writer to face online backlash for how 'China' is represented to the outside world. Besides the fact that Chinese literature is virtually inseparable from politics, there is an enormous number of Chinese web users ready to be outraged about China being misconstrued, ridiculed, humiliated, or otherwise suffering foreign insult.
This kind of angry nationalism often surfaces on the Chinese internet, and it has done so since the early days of social media in China. According to Ying Jiang, the author of Cyber-Nationalism in China, the roots of this "angry nationalism" expressed by today's Chinese netizens can be traced back to China's modern history, and more specifically to the "Century of Humiliation" (mid-1800s until after WWII) during which China faced many hardships brought about by foreign powers.
This history has been an important component of Chinese education campaigns for decades, and along with the economic prospering of China, the country has seen the rise of a more patriotic populace that is nationalistic in a way that is also increasingly anti-foreign.
Especially during noteworthy times such as the coronavirus outbreak – an opportunity for China to establish more international leadership -, negative media representations of the country, its government, and how it handled the COVID-19 crisis are sensitive and prone to controversy. A telling example is that three journalists of The Wall Street Journal were expelled from China in February over the paper's refusal to apologize for a published opinion article titled "China Is the Real Sick Man of Asia."
The online anger over Fang's translated work will not die out any time soon. On Weibo, discussions continue. "Fang Fang, your Wuhan Diary, that's merely hearsay and overly subjective, will only worsen Western misconceptions about China, and will only make more Western people discriminate against Chinese! You'll go down in history as a disgrace!", one Weibo user writes in early May.
Although many will not agree on how Wuhan Diary will be remembered, all the commotion and criticism has only increased the public's awareness about the book's existence; it will surely go down in the history of the COVID-19 impact in China, and the online media wars that came with it.
The English translation of Wuhan Diary is expected to be released via Amazon on May 19 (link), the English audiobook on May 28 (link) the German translation is expected June 9. On the China Digital Times website, Josh Rudolph has also translated parts of Fang's work.
By Manya Koetse
Follow @whatsonweibo
For more COVID-19 related articles, please click here.
[1] Also known in Chinese as: 武汉封城日记.
[2] Fang Fang is the pen name of Wang Fang.
[3] Zhao, Kiki. 2020. "Opinion: The Coronavirus Story is Too Big for China to Spin." The New York Times, Feb 14 https://www.nytimes.com/2020/02/14/opinion/china-coronavirus-social-media.html [5.2.2020].
[4] Mainly using Chinese terms汉奸 and 卖国贼, both meaning "traitor" or more specifically "traitor to China."
[5] Also see the original German title of the translation: "Wuhan Diary – Das Verbotenen Tagebuch aus der Stadt, in der die Corona-Krise began" [The Forbidden Diary from the City where the Coronacrisis Began].
Sources and further reading
Adlakha, Hemant. 2020."Fang Fang: The 'Conscience of Wuhan' Amid Coronavirus Quarantine." The Diplomat , March 23 https://thediplomat.com/2020/03/fang-fang-the-conscience-of-wuhan-amid-coronavirus-quarantine/[5.3.2010].
Fumian, Marco. 2020. "To Serve the People or the Party: Fang Fang's Wuhan Diary and Chinese Writers at the Time of Coronavirus." MCLC Resource Center Publication (April 2020) https://u.osu.edu/mclc/online-series/marco-fumian/?fbclid=IwAR32HvM6WO0JHIhFFIY85bd-qyOzGEfXrZpp6S0SxbiTQrGCjwe_n-jL63Y [5.1.2020].
Leung, Laifong. 2016. Contemporary Chinese Fiction Writers: Biography, Bibliography, and Critical Assessment. New York & London: Routledge.
Rudolph, Jodh. 2020. "Translation: Backlash To Wuhan Diary "Reveals A Serious Problem Society Must Correct." China Digital Times, April 21 https://chinadigitaltimes.net/2020/04/translation-backlash-to-wuhan-diary-reveals-a-serious-problem-society-must-correct/ [5.2.2020].
Wu, Yuwen. 2020. "Chinese propagandists don't want you to read this diary on the coronavirus lockdown in Wuhan." The Independent, March 2 https://www.independent.co.uk/voices/coronavirus-wuhan-lockdown-fangfang-diary-china-dr-li-a9368961.html [3.2.2020].
Ying Jiang. 2012. Cyber-Nationalism in China: Challenging Western Media Portrayals of Internet Censorship in China. Adelaide: University of Adelaide Press.
Zhao, Kiki. 2020. "Opinion: The Coronavirus Story is Too Big for China to Spin." The New York Times, Feb 14 https://www.nytimes.com/2020/02/14/opinion/china-coronavirus-social-media.html [5.2.2020].
Spotted a mistake or want to add something? Please let us know in comments below or email us. First-time commenters, please be patient – we will have to manually approve your comment before it appears.
This text was written for Goethe-Institut China under a CC-BY-NC-ND-4.0-DE license (Creative Commons) as part of a monthly column in collaboration with What's On Weibo.
"Invincible Wuhan Man": Coronavirus Patient Reading Political Book Goes Viral
No light reading in dark times for this "invincible Wuhan man."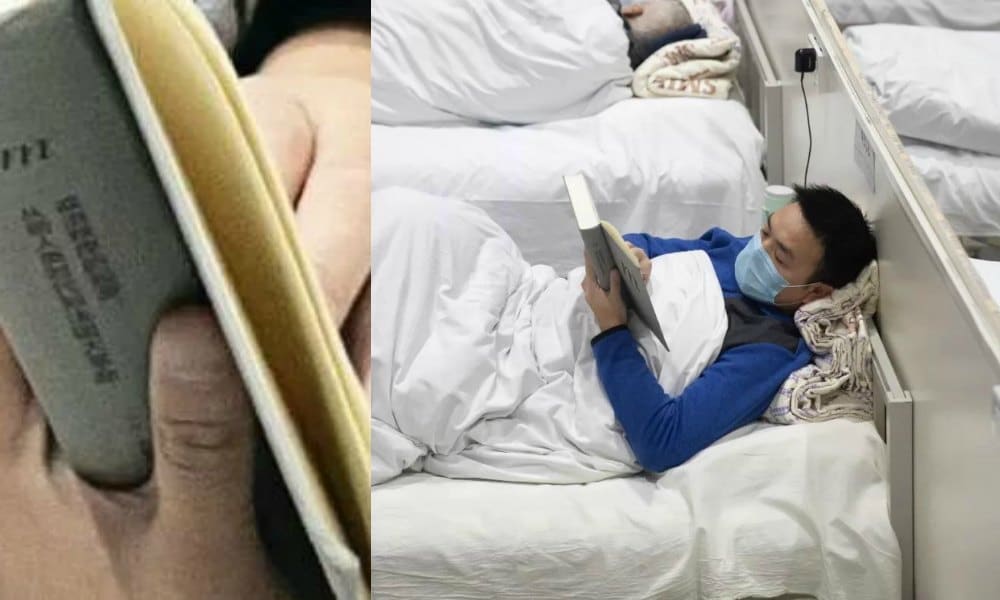 As the number of coronavirus infections continues to grow in Wuhan, three newly-built cabin hospitals have started to receive patients.
This week, there was one man among the patients at Wuhan's 'Fang Cang' shelter hospital (方舱医院) who attracted the attention of netizens as he was spotted in an online picture lying on the bed and reading a book.
It's rare enough to see someone infected with the much-feared coronavirus still engrossed in a book. But was especially noteworthy to many Weibo users is the type of book the patient was reading.
The book, that was identified as Francis Fukuyama's The Origins of Political Order, is not exactly known as 'light reading.'
One of the Weibo posts that pointed the reading man out in the photo, which was shot by Changjiang Daily (长江日报), described him as "an invincible Wuhan-er" (打不垮的武汉人).
The post has received over 172,000 likes and 46,000 reposts at time of writing.
Fukuyama's The Origins of Political Order (2011) is focused on modern state-building and the development of political institutions.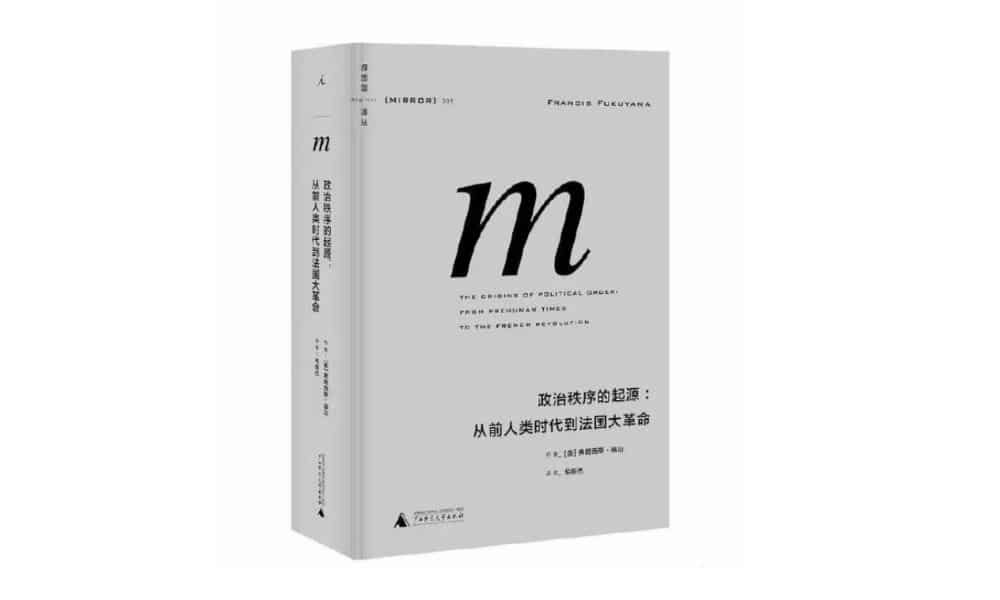 In this work, Fukuyama, a political economist, argues that in order for a government to be successful and stable, it needs the rule of law, a strong state, and accountability.
In the coronavirus outbreak, the unaccountability of China's political system has often been mentioned as a reason for why the epidemic was not contained in its infancy, which triggered calls for the resignation of Wuhan officials.
In a rare move, Beijing described the epidemic as a major test for its governance system and capacity, and acknowledged that there were shortcomings in its handling.
That a patient, suffering from the coronavirus, was reading Fukuyama's book, in particular, ignited online discussions – some Weibo users pointing out the irony of the situation.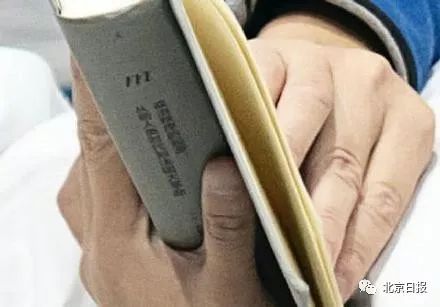 One Weibo user (@讲故事的澜斯基) wrote: "He is basically looking for the actual root of why he was infected [with the new coronavirus]."
Another commenter wrote: "Reading is a great way to ward off spiritual viruses."
There are also people who say that seeing this Wuhan patient gives them hope and strength. One netizen describes the picture as one that "gave me the most power and hope in recent days."
Another issue making this topic all the more noteworthy is the background of the Chinese publisher of Fukuyama's book, Imaginist (理想国). Its publications – mainly focused on the humanities, literature and arts – are often deemed "sensitive" by the Chinese authorities.
The influential publishing brand has a rocky recent past in mainland China, with some of its publications having been banned and removed from (online) bookstores. The former head of Guangxi Normal University Press, which Imaginist cooperates with, was sentenced to ten years in prison in 2018 (read more here).

According to Chengdu Business Newspaper (成都商报), the man in the spotlight is a 39-year-old postdoctorate studying science in the United States.
He stated that he just read the book out of interest and that he never anticipated going viral on the internet for it.
Although grateful for the attention he received, he reportedly said he hoped people could focus more on medical workers instead.
Along with this Wuhan patient going viral, Fukuyama's book has also seen a dramatic rise in popularity. As one Chinese writer noted on Weibo, The Origins of Political Order has risen to the first position in the popular charts of Douban, a popular online review platform.
By now, the Wuhan patient has become more famous than he could ever have anticipated; even author Francis Fukuyama himself has retweeted the image of the man reading his book at the coronavirus hospital ward.
A young man went viral in #China for reading @FukuyamaFrancis's Origins of Political Order at a module hospital in Wuhan designated for #coronavirus patients. His calmness contrasted with the bustling hospital and showed the power of civilization. https://t.co/aa3UTS9r3M pic.twitter.com/BUMZeEdZoA

— The Paper 澎湃新闻 (@thepapercn) February 7, 2020
Read more about the coronavirus crisis here.
Want to read Fukuyama too? Check out his book here.
By Bobby Fung (@bobbyfungmr)
Follow @whatsonweibo
Spotted a mistake or want to add something? Please let us know in comments below or email us. First-time commenters, please be patient – we will have to manually approve your comment before it appears.
©2020 Whatsonweibo. All rights reserved. Do not reproduce our content without permission – you can contact us at info@whatsonweibo.com.