China's Digital Currency Craze : Why Chinese Love Bitcoin
The value of digital currency Bitcoin has exploded. Why? A growing demand from China. This article explains China's love for Bitcoins.
The end of 2013 has been a wild time for Bitcoin. 2013 has already been an explosive year for the crypto-currency, as it has risen some 5000% in US dollar terms. By November, the currency topped 1200 American dollars. What explains the enormous rise of the Bitcoin in China?
The global interest in the 'Bitcoin phenomenon' has created a sheer mania and growing market for digital currencies. The FBI's   seizure of drug website Silk Road, involving a substantial amount of Bitcoin holdings, created a reduced supply that might correlate with plummeting rates (O'Brien 2013). But one factor plays an enormous role in the rise of the Bitcoin: the increasing demand from China.
As of November 2013, China-based 'BTC China' has become the world's biggest Bitcoin exchange. China currently accounts for 62% of the global market in the digital currency (Sina 2013; Rabinovitch 2013; Wood 2013). Netizens feverishly speculate about present Bitcoin values and its future. But it is not just the Bitcoin (Chinese: bitebi 比特币) that has become a hot topic, other digital currencies such as Litecoin (laitebi 莱特币), Primecoin (zhishubi 质数币) or Beaocoin (biaobi 比奥币) have also become important players. The value of Bitcoin's runner-up Litecoin has gone up 400% within one week (Sina 2013). Chinese online retailers have begun to accept Bitcoins as a way to pay, along with some Beijing coffeeshops and a Shanghai real estate developer (Chang 2013).
Although 'Bitcoin' has become a trending word everywhere over the Internet, the phenomenon remains a mystery to many. A short introduction: the Bitcoin was invented by the mysterious hacker Satoshi Nakamoto, who was never identified and remains untraceable up to this day. Nakamoto released a manuscript about the Bitcoin in 2008. The Bitcoin basically is a software-created encrypted code of 31 lines. During the course of twenty years, a total of 21 million Bitcoins will be released. As explained by Davis (2011): "(..) every ten minutes or so, coins would be distributed through a process that resembled a lottery. Miners -people seeking the coins- would play the lottery again and again; the fastest computer would win the most money". Since Bitcoin relies on a peer-to-peer network, where every transaction is verified and authorized, one coin cannot be spend by the same 'sender' for a second time (Davis 2011; Babaioff et al 2011). *Want more clarification? Scroll down to the bottom of this article.
China has had a number of investment manias over the last few years, including stocks, real estate, and even tea leaves (Rabinovitch 2013). Why have the Bitcoin and its virtual counterparts become such a craze in China, when, as Alex Hein (2013) points out, there is "no fundamental reason why Bitcoin should have any value at all"?. As Hein says: "The only reason people are willing to pay money for the currency is because other people are willing to as well." What's on Weibo gives an overview of possible reasons why the Bitcoin has become such a hit within China.
Chinese netizens know digital currency
Although the Bitcoin was a novelty for many, Chinese netizens were already quite familiar with its concept. Chinese internet company Tencent launched its 'Q Coin' (Qbi, Q币) during the mid 2000s. This virtual currency became a huge success; it was soon traded for real money and became accepted in shops. At a certain point it had grown to approximately 13% of Chinese cash economy. Eventually Tencent had to constraint the currency under governmental pressure (Xu 2007; Chang 2013). With a history of virtual currency, one could arguably say that Chinese investors were less hesitant to purchase Bitcoins than, for example, their European counterparts. After all, the concept behind it was not so new to them, and the arrival of Bitcoin filled the gap that was created by the Q Coin.
Bitcoin is beyond government control
The Bitcoin is a decentralized monetary system. There is no government involved, nor any bank, and it can be used anonymously like the cash from your wallet. This is one of the reasons why Bitcoin is especially appealing to Chinese investors, as China's government has strict control of capital and keeps a tight rein on the yuan. As described by Julia Woods (2013): "(..) the flock of funds into Bitcoin may be less a vote of confidence in digital currencies than a no confidence vote for the yuan." No matter how unsure the future of Bitcoin might be, many Chinese investors would rather invest in the virtual currency than put their trust in the yuan. But the idea goes beyond financial matters. Bitcoin represents a democratisation of currency; an idea of self-government. As one Weibo commenter says: "The Bitcoin players are not just a group of investors, they are a group of revolutionaries, who believe in decentralization and freedom of currency."
The Chinese love to gamble
Although gambling is technically illegal in Mainland China, Chinese people have since long been known for their love of gambling. Some even argue that gambling originates from China. After bans on gambling during the Mao era, it became enormously popular in the 1980s until the government officially prohibited it again (Kalenyuk 2013). Nowadays, many Chinese participate in unofficial lotteries or are involved in gambling through card games and mahjong on street corners. Investing in the Bitcoin or its counterparts brings gambling to the next level; netizens on Weibo even refer to Bitcoin-buyers as 'players' (wanjia 玩家). How long the 'game' will last depends on authorities; China's government has issued rules in 2009 that prohibit the use of digital currency in the real economy. Although Chinese law thus forbids the use of virtual currency, people are still free to participate in the Bitcoin market (Chang 2013). It is unknown whether the government will eventually impose sanctions on the acquirement or possession of Bitcoins. From this perspective, the investment in Bitcoins and its counterparts is yet another gamble for Chinese 'players'.
List of Virtual Currencies
比特币 (bitebi) – Bitcoin
莱特币 (laitebi) – Litecoin
质数币 (zhishubi) – Primecoin
比奥币 (biaobi) – Beaocoin
安全币 (anquanbi) – Securecoin
阿侬币 (anongbi) – ANC
点点币 (diandianbi) – PeerCoin
美卡币 (meikabi)- MegaCoin
新星币 (xinxingbi) – Novacoin
大地币 (dadibi) – Terracoin
羽毛币 (yumaobi)- Feathercoin
手工币 (shougongbi) – Craftcoin
雅币 (yabi) – Yacoin
名币 (mingbi) – Namecoin
时代币 (shidaibi) – Timescoin/TMC
References
Babaioff, Moshe, Shahar Dobzinski, Sigal Oren and Aviv Zohar. 2011. "On Bitcoins and Red Balloons." Microsoft Research Silicon Valley (Nov 14): 1-16.
Chang. Gordon. 2013. "A China Triangle: Bitcoin, Baidu And Beijing." Forbes (Nov 24). http://www.forbes.com/sites/gordonchang/2013/11/24/a-china-triangle-bitcoin-baidu-and-beijing/
Davis, Joshua. 2011. "The Crypto-Currency." New Yorker 87(31): 62-70.
Hern, Alex. 2013. "Is Bitcoin about to change the world?" The Guardian (Nov 25). http://www.theguardian.com/technology/2013/nov/25/is-bitcoin-about-to-change-the-world-peer-to-peer-cryptocurrency-virtual-wallet
Kalenyuk, Mary. 2013. "The Bets are on for Gambling in China." The World of Chinese (Nov 7). http://www.theworldofchinese.com/2013/11/the-bets-are-on-for-gambling-in-china/
O'Brien, Matthew. 2013. "Bitcoin Is the Segway of Currency." The Atlantic (Nov 21). http://www.theatlantic.com/business/archive/2013/11/bitcoin-is-the-segway-of-currency/281625/
Rabinovitch, Simon. 2013. "China rides rollercoaster love affair with Bitcoin." Financial Times (Nov 22). http://www.ft.com/intl/cms/s/0/0a5fae82-5341-11e3-9250-00144feabdc0.html#axzz2lxYhyCf8
Sina 2013. "山寨比特币扎堆 莱特币异军突起 [Parody Bitcoins Join in  –  The Litecoin Emerges as New Force]" (In Chinese). Sina (Nov 28). http://bit.ly/Im7N6G
Shuai Mengxia. 2013. "虚拟货币大揭秘 [Exposing the secrets of virtual currency]" (In Chinese).  学习是最好的投资: Sina Blog (Oct 14). http://blog.sina.com.cn/s/blog_4ae221c50102e4cd.html.
Wood, Julia. 2013. "Buyer beware: Bitcoin's fate could rest with China." CNBC (Nov 29). http://www.cnbc.com/id/101233864
Xu, Jiaping. 2007. "The Q Coin secondary market in practice." Virtual Economy Research (April 27). http://bit.ly/1hoDV8v
Featured Image:
Bitcoin. 2013. 36KR. http://www.36kr.com/p/207989.html
* Still unsure of how Bitcoin works? The following quote from the article by Babaioff et al (2011) might help you grasp the concept: "Bitcoin relies on a peer-to-peer network to verify and authorize all transactions that are performed with the currency. Suppose that Alice wants to reserve a hotelroom for 30 bitcoins. Alice cryptographically signs a transaction to transfer 30 bitcoins from her to the hotel, and sends the signed transaction to its neighbors. A node that receives the transaction verifies that Alice has signed it and that she does indeed own the bitcoins she is attempting to transfer. Th node then tries to "authorize" the transaction (…). Once a node successfully authorizes a transaction, it sends the "proof" (..) to all of its neighbors. They in turn, send the information to all of their neighbors and so on. Finally, all nodes in the network "agree" that Alice's bitcoins have been transferred to the hotel" (1,2).
Appreciate this article and want to help us pay for the upkeep costs of What's on Weibo or donate a cup of (green) tea? You can do so here!
About the Author: Manya Koetse is the editor-in-chief of What's on Weibo. She's a Sinologist who splits her time between the Netherlands and China. She earned her bachelor's degrees in Literary Studies, Japanese & China Studies and completed her MPhil in Asian Studies (China track, Leiden University). Her interest in modern Chinese society and social media have resulted in the launch of What's on Weibo. Contact: manya@whatsonweibo.com, or follow on Twitter.
These Are the Foreign Brands Apologizing to China amid Hong Kong Tensions
Who's apologizing and why? An A-Z list of the foreign companies caught up in China's online brand hunt.
First published
Foreign luxury brands hoping to appease the Chinese market are walking on eggshells as the political crisis in Hong Kong is deepening. Chinese netizens and state media recently condemned foreign brands for showing any signs of disregarding the One-China Policy. An online witch hunt has begun: this is the list of brands.
While the political crisis in Hong Kong is deepening, the propaganda machine in mainland China is running at full speed to condemn anti-Beijing 'rioters' and promote the one-China principle.
As state media has been intensifying its news coverage on the situation in Hong Kong, with virtually all outlets using similar narratives, Chinese web users started to focus on foreign (luxury) brands and whether or not they list Hong Kong, Macau, or Taiwan as being part of China.
Starting on August 8, Chinese social media platform Weibo has seen dozens of hashtags taking over Chinese social media in relation to the big brand scandal; one foreign brand after the other was exposed as 'ignoring' China's one-China principle on their website or products.
By the beginning of this week, the online brand hunt had almost become like an online contest, with thousands of netizens suggesting new brands that are allegedly not respecting China's sovereignty.
Although the trend initially began with Chinese web users condemning brands -starting with Versace-, Chinese state media soon also reported about the online controversies and intensified the movement.
Communist Party newspaper People's Daily wrote that Western brands are quick to apologize, but should also "learn from their mistakes" in the long run, and cannot disregard the One-China Policy if they want to do business in China.
State media outlet Global Times also published an illustration online, writing the slogan "China can't be one bit less" ("中国一点都不能少") that has been used by state media to emphasize China's one-China principle since the 2016 South China Sea dispute.
In response to the controversies, it has been raining apologies from foreign brands on Chinese social media the past days.
Who is mainly responsible for this online witch hunt? Although it first started with Chinese web users sharing images and screenshots of foreign brands and their 'erroneous representation' of China, state media and celebrities soon also started to play a major role in this issue and have contributed to the enormous snowball effect of the trend.
What's the 'correct' way to list Hong Kong or Taiwan according to the one-China principle? Below is an image of the (adjusted) website of Valentino where it lists countries and lists Hong Kong and Taiwan as being part of China.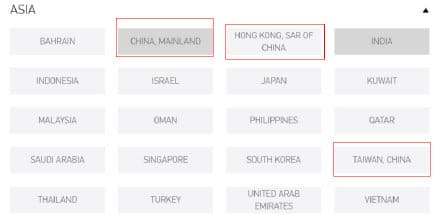 Here's a list of the global brands have become tied up in controversy on the mainland this week (this list might still be updated):
● ASICS 亚瑟士
Japanese footwear brand
Brand Weibo account:
https://www.weibo.com/asicsofficial (240,000+ fans)
Hashtag:
"ASICS lists HK & Taiwan as Separate Countries" (#亚瑟士将香港与台湾列为国家#): 110 million views.
What's the problem?
The ASICS website listed Hong Kong and Taiwan as countries.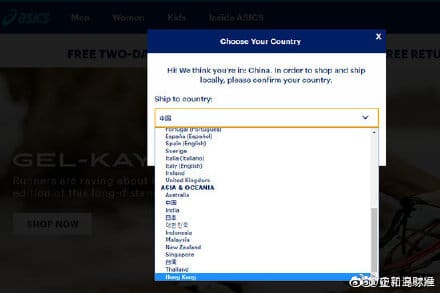 Apology?
Yes, statement on August 12, followed by "ASICS apologizes" hashtag (#亚瑟士致歉#), 6,5 million views on Weibo. The footwear brand emphasized that it abides by the one-China policy and that it will correct its "mistakes."
Consequences:
Besides some netizens who vow not to buy any of the brands in this list disregarding the PRC's one-China policy, there are no indications as of now that the brand is affected by the issue.
● CALVIN KLEIN
American fashion brand
Brand Weibo account:
https://weibo.com/calvinklein (303,000 fans)
Hashtag:
"CK Exposed for Insulting China" (##CK被曝辱华##): 1,5 million views.
What's the problem?:
Calvin Klein faced criticism for listing Taiwan and Hong Kong as separate countries or regions on its website.
Apology?
Yes, statement on August 13, followed by "CK apologizes" hashtag (#ck道歉#), 15 million views on Weibo.
Consequence:
Chinese actress Jelly Lin, Calvin Klein's brand ambassador for the Asia-Pacific region, announced an immediate termination of collaboration with the American fashion house. The hashtag for this event (#林允终止与CK合作#) received no less than 510 million views. Zhang Yixing (Lay Zhang), a Chinese member of K-pop group Exo and a Calvin Klein model, warned the US clothing company to respect Beijing's "one China" policy but did not stop working the brand (he did terminate collaborations with Samsung, also in this list).
● COACH 蔻驰
American luxury accessories company 
Brand Weibo account:
https://www.weibo.com/coachchina (4+ million fans)
Hashtag:
"Coach Lists HK, Macau, Taiwan as Countries" (#蔻驰将港澳台列为国家#): 6 million views.
What's the problem?:
Less than 24 hours after Versace's apology, Coach was among the second batch of brands, along with Givenchy, ASICS, and Fresh, to be exposed online for erroneous geographic listings. Coach got in trouble for a t-shirt displaying 'Hong Kong' as an independent region and listing 'Taipei' as belonging to 'Taiwan,' while Shanghai and Beijing are listed under China.
The brand was also found to have listed Hong Kong and Taiwan as independent countries under its website's  "search country" option.
Apology?:
Yes, statement on August 12, followed by "Coach apologizes" hashtag (#蔻驰道歉#), 300 million views on Weibo.
Consequences:
Coach's China ambassador, supermodel Liu Wen, said on Weibo on Monday that she had cut off her endorsement deal with the fashion label (#刘雯终止与蔻驰合作#, 6 million views) as the brand "seriously impacted the national sentiment of the Chinese people." State media outlet Global Times suggested the brand faced "potential boycott in China."
● FRESH 馥蕾诗
American beauty brand 
Brand Weibo account:
https://www.weibo.com/freshbeauty (339,500 milion fans)
Hashtag:
No separate hashtag for this incident.
What's the problem?:
Fresh faced backlash for listing 'Hong Kong' as a separate region on its official (English) website.
Apology?:
Yes, statement on August 12, followed by "Fresh apologizes" hashtag (#fresh道歉#,) 8 million views on Weibo.
Consequence:
No known direct consequences.
● GIVENCHY 纪梵希
French luxury fashion and perfume house
Brand Weibo account:
https://weibo.com/officialgivenchy (1.5 milion fans)
Hashtag:
The topic 'Givenchy T-Shirt' (#纪梵希t恤#) became big on Weibo. The hashtag page has over 500 million views.
What's the problem?:
Like Coach, Givenchy also got in trouble for a t-shirt displaying 'Hong Kong' as an independent region and listing 'Taipei' as belonging to 'Taiwan.'
Apology?:
Yes, statement on August 12, followed by "Givenchy apologizes" hashtag (#纪梵希道歉#,) 290 million views on Weibo.
Consequence:
Chinese singer Jackson Yee terminated his brand partnerships with Givenchy (#易烊千玺与纪梵希解约# 680 million views).
● POCARI SWEAT 宝矿力水特
Japanese sport's drink
Brand Weibo account:
https://www.weibo.com/pocarisweat (15400 fans)
Hashtag:
"Pocari Sweat Get Out of China"(#宝矿力水特滚出中国#) is one of the early hashtags associated with the Pocari controversy. With just over 300,000 views, it did not gain huge traction on Weibo.
What's the problem?
Pocari Sweat is among the earliest brands – if not the earliest- to be caught up in the brand controversy relating to the protests in Hong Kong. As described by Japan Times, pro-democracy demonstrators praised Pocari after it pulled advertising from Hong Kong television station TVB, which protesters accuse of pro-Beijing coverage. Pocari became a popular drink among Hong Kong protesters.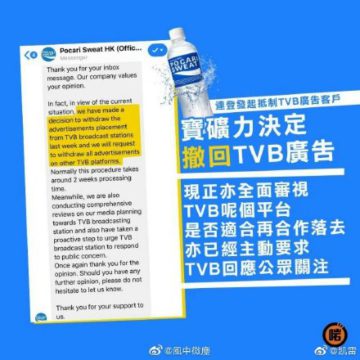 Apology?:
The mainland China office of the brand issued two apology statements on July 11 and 21 in which it emphasized that it operates separately from the Hong Kong division and that it respects China's "one country, two systems" policy.
Consequence:
Pocari Sweat was condemned by Chinese state media, but it is not clear if people in mainland China are drinking less Pocari because of the issue.
● VALENTINO 
Italian fashion house
Brand Weibo account:
www.weibo.com/valentinoofficial (413,000+ fans)
Hashtag:
No particular hashtag.
What's the problem?:
Valentino listed Hong Kong and Taiwan as separate countries in the region/language menu on its foreign website.
Apology?:
Yes, statement on August 13, in which Valentino apologizes for making "a mistake" on its website. The website has since been changed.
Consequence:
No known consequences, the website seemed to be quickly adjusted, and many netizens expressed their praise for that and for the fact that the recent trend seems to make foreign brands more aware of the importance of respecting the One-China Policy.
● VERSACE 范思哲 
Italian fashion house
Brand Weibo account:
https://www.weibo.com/versacechina (850,000+ fans)
Hashtag:
"Versace Suspected of [Supporting] Hong Kong and Macau Independence" (#范思哲涉嫌港独澳独#): 3.2 million views.
What's the problem?:
Versace is the first brand to be targeted in this week's brand-hunting trend. An image of a T-shirt that listed Hong Kong and Macau as independent countries was first posted on Weibo by a female netizen on August 8, who wrote: "I discovered this recently, and wondered if the design of this t-shirt means that Versace is supporting Hong Kong independence?" Three days later, the image had circulated so much that it became a trending topic. Commenters called out the brand for being "two-faced" and for profiting from Chinese money while disregarding Chinese sovereignty.
Apology?:
Yes, statement on August 11, followed by "Versace apologizes" hashtag (#范思哲道歉#,) 860 million views on Weibo. In its statement, Versace stated that the t-shirts had already been recalled and destroyed in late July, and that the fashion house "deeply apologized for the controversy" that was caused by an "error in its t-shirt design." Versace further stated that the brand "loves China" and "resolutely respects China's territorial sovereignty."
Donatella Versace, the designer and chief creative officer of Versace, also issued a personal apology through Instagram, writing: "Never have I wanted to disrespect China's National Sovereignty and this is why I wanted to personally apologize for such inaccuracy and for any distress that it may have caused."
Consequence:
Chinese celebrity Yang Mi ended her relationship with Versace. The announcement received a lot of attention on Chinese social media (#杨幂终止与Versace合作# 1.1 billion views).
● SWAROVSKI 施华洛世奇
Austrian jewelry company
Brand Weibo account:
https://www.weibo.com/swarovskicom (500,00+ fans)
Hashtag:
Swarovski, together with Calvin Klein, was one of the brands that popped up in the general 'luxury brand scandal' after the Versace controversy had snowballed and had moved to Coach, Givenchy, ASICS, and Fresh. The Swarovski issue was exposed just a bit later and had no separate hashtag on Weibo.
What's the problem?
Swarovski went trending on Chinese social media for classifying Hong Kong as a country on its website.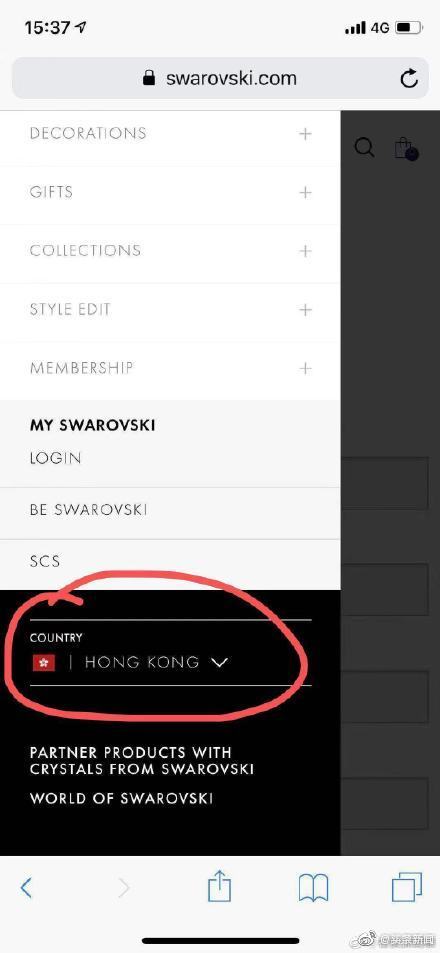 Apology?
Swarovski issued an apology statement on August 13. The hashtag "Swarovski Apologizes" received over 750 million views on Weibo (#施华洛世奇道歉#).
Consequence:
Chinese actress Jiang Shuying, also known as Maggie Jiang, announced on Tuesday (August 13) that she would be ending her cooperation with Swarovski (#江疏影与施华洛世奇解约#, 410 million views).
CURRENTLY UNDER SCRUTINY BUT NO APOLOGIES:
● AMAZON 亚马逊
American e-commerce company
Brand Weibo account:
https://www.weibo.com/amazonchina (4.4 million fans)
Hashtag:
"Amazon T-shirts" (#亚马逊t恤#), 140 million views; "Amazon Sells Hong Kong Independence Shirts" (#亚马逊售卖港独T恤#), 18 million views.
What's the problem?
Amazon is one of the latest brands to be added to the virtual PRC wall of shame of international brands going against Beijing's "One China" principle. On August 14, screenshots of the Amazon e-commerce platform selling t-shirts promoting an independent Hong Kong and displaying anti-China slogans went viral on Weibo.
Reaction
Amazon did not apologize for the merchandise sold on its platforms, but the company did respond to ChinaNews (#亚马逊回应T恤事件#), emphasizing that Amazon always has and will respect China's one-China principle, and abide by local laws of the countries Amazon is active in. There were also netizens on Weibo saying they understood that Amazon cannot be responsible for all the merchandise sold by its online shops around the world.
● SAMSUNG 三星 
South Korean Tech Company
Brand Weibo account:
https://www.weibo.com/samsung (2.8+ million fans)
Hashtag:
No separate hashtag for this issue, although the announcement that Zhang Yixing would terminate his contract with Samsung did receive over 980 million views, making it one of the bigger hashtags in this brand scandal.
What's the problem?:
Samsung faced criticism on August 14 for damaging China's "territorial integrity" by displaying choices Hong Kong, China, and Taiwan as "countries" on its website.
Consequence:
Chinese celebrity and K-Pop star Zhang Yixing (Lay Zhang) announced on August 13 that he would no longer work together with Samsung as a brand ambassador for "hurting the national feelings of Chinese compatriots" (#张艺兴与三星解约#, 980 million views!).
By Manya Koetse
Follow @whatsonweibo
Spotted a mistake or want to add something? Please let us know in comments below or email us. Please note that your comment below will need to be manually approved if you're a first-time poster here.
©2019 Whatsonweibo. All rights reserved. Do not reproduce our content without permission – you can contact us at info@whatsonweibo.com
How the Hong Kong Protests Are Discussed on Chinese Social Media
"Hong Kong, the Pearl of the Orient, is no longer blooming, but covered in cuts and bruises."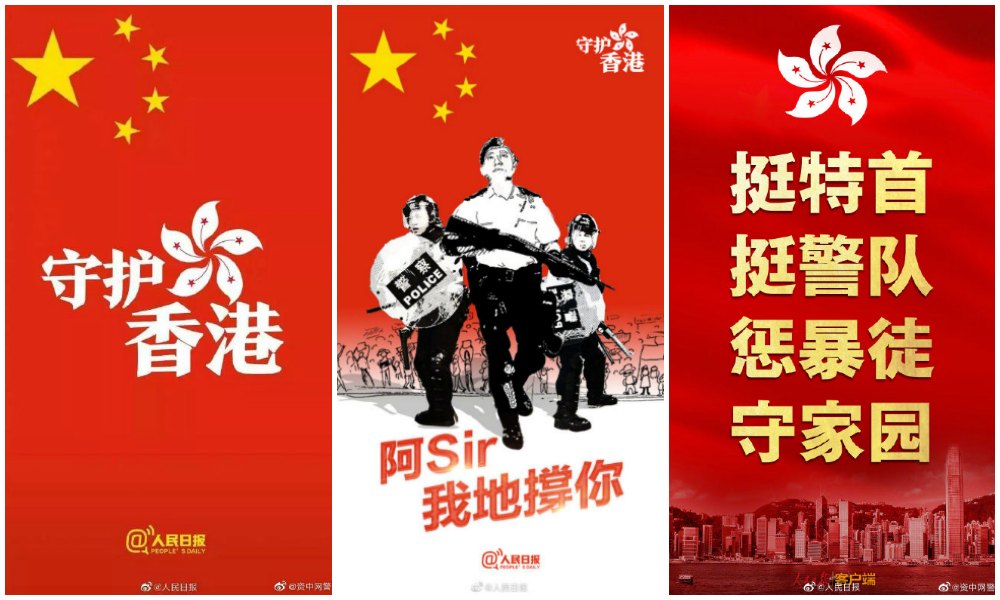 Although discussions on the Hong Kong protests were initially silenced on Chinese social media, the demonstrations are now trending all over Weibo, with state media propagating hashtags and illustrations in favor of Hong Kong government and in support of the Hong Kong Police Force.
The political crisis in Hong Kong shows no signs of de-escalating after another series of mass demonstrations and violent clashes between police and protesters.
This week marks the ninth consecutive week of protests in Hong Kong. The first demonstrations started in March and April of this year against an extradition bill that would allow local authorities to detain and extradite people wanted in mainland China.
After demonstrations escalated in June, the bill was declared "dead" and suspended by Hong Kong leader Carrie Lam, but it was not formally withdrawn.
Protests have since continued throughout June, July, and into August, and are now about much more than the extradition bill alone – they are, amongst others, about greater freedom and democracy in Hong Kong, and about less political influence from the Beijing government.
Protesters are calling for Lam's resignation and for democratic elections, and have denounced violent tactics and "abuse of power" used by the Hong Kong Police Force.
The absence of the police during an attack on residents by suspected gang members dressed in white shirts at the Yuen Long station on July 21 is one of the incidents protesters mention as police misconduct.
But there is also a division between demonstrators, and not necessarily one unified voice. There are also those, for example, who support Hong Kong police. And those who denounce the actions of angry protesters.
China's Central Government Condemns Protests
Although authorities in mainland China initially remained quiet on the topic of the Hong Kong protests, the Hong Kong and Macau Affairs Office of the State Council, China's top agency for handling Hong Kong affairs, held its first press conference on its stance regarding Hong Kong demonstrations on July 29.
Yang Guang, the office's spokesperson, condemned the actions of protesters over recent weeks, saying that they "exceeded the boundaries of acceptable protest."
On August 6, there was another press briefing where Yang Guang used stronger language to denounce the protests, saying that the "radical protests (..) severely impacted Hong Kong's prosperity and stability, pushing it into a dangerous abyss" and that those behind the demonstrations should not "misjudge" the situation and "mistake our restraint for weakness."
Main Stances on Chinese Social Media
On Chinese social media sites, news and discussions on the Hong Kong protest were initially silenced (also see this article), but that has changed now.
Although discussions are still heavily controlled, the topic of the Hong Kong demonstrations has been dominating the trending streams over the past days on China's popular social media platforms.
On Douyin, one of the most popular short video / social media apps in mainland China, there are dozens of different videos of violent incidents in Hong Kong that are being reposted and liked thousands of times.
On news app Toutiao, articles relating to the Hong Kong protests are in the recommended and 'hot' sections, while bloggers and news accounts on WeChat are also posting and reposting Hong Kong related content.
For the scope of this article, we will solely focus on Weibo – the narratives that are spread in daily discussions on the platform are comparable to those on other platforms.
Although the ensuing examples are the main types of posts on Hong Kong that are most popular on Chinese social media now, and definitely receive a lot of support, there are also posts with other views and ideas that might be blocked before ever making it to Weibo or other apps/platforms.
But the restrictions on free discussions on social media do not only relate to platform censorship.
Recently, there are also instances in which Chinese netizens speak out in support of the protesters in Hong Kong who then become a victim of the so-called "human flesh search engine."
One female Weibo user, responding to the demonstrations in Hong Kong, wrote on August 5th: "Respect to every person out there striking and protesting!" Other Weibo users then made screenshots of her comment and revealed personal details about the woman (a 26-year-old Chinese citizen), labeling her a traitor.
One blogger reposting the woman's photo and Weibo profile has 1,3 million followers, making this incident quite big and serving as a warning to other Weibo users not to spread their 'politically incorrect' views on the Hong Kong protests.
"Protect Hong Kong, Support the Police Force"
With over 5 billion views, the hashtag "Protect Hong Kong" (#守护香港#) is very popular on Weibo these days.
The hashtag is promoted by Party newspaper People's Daily, that also launched another viral hashtag, namely "Officers, We Support You" (#阿sir我们挺你#, 300 million views).  The word for 'officer' used in this hashtag is "Ah Sir" or "阿Sir", a uniquely Hong Kong form of address used for policemen and teachers.
Using the "Protect Hong Kong" and "Officers, We Support You" slogans, People's Daily has also issued an illustration that shows three police officers carrying weapons and protective screens. Behind them are protesters, and above them is China's Five-starred Red Flag.
The main idea behind these hashtags/illustrations is that the People's Republic of China (PRC) firmly supports the Hong Kong government and the Hong Kong Police Force in dealing with so-called "thugs" or "bandits"  ("暴徒").
A common stance expressed by Chinese netizens is that pro-democracy protesters are "damaging public security" in Hong Kong and are "dividing the nation."
"Talk about democracy and freedom in a fair and reasonable way," one commenter writes: "Don't talk about freedom and democracy while breaking the law and acting outrageous."
"It's horrible to see," another person says: "The Pearl of the Orient is no longer blooming, but is now covered with cuts and bruises."
Many stories of violence used against the police force are circulating on Chinese social media. Some videos show protesters using potentially dangerous laser pointers to shine directly in faces of police officers. Last Tuesday, student leader Keith Fong was arrested for possession of such lasers.
One particular trending story concerns a bald police officer named 'Liu Sir' (刘sir) who was violently attacked by a group of protesters on July 31st. The mob allegedly punched and kicked him, and assaulted him with sticks and objects before he pulled out his gun.
Officer Liu, who has sustained some minor injuries from the incident, responded to the incident writing in a text: "[I] just hate the fact that they are also Chinese – it feels wrong to hit them and also wrong not to. It really pains me!"
Officer Liu has become somewhat of a hero on Chinese social media, as his image is propagated by Chinese state media through photos and illustrations.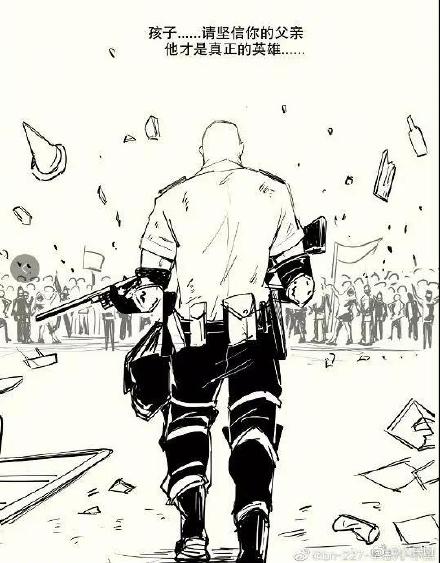 The idea of 'protecting' Hong Kong and supporting its police force goes hand in hand with the idea that Hong Kong is, and "always will be," a "part of China."
Many commenters in the comment sections express their anger about Hong Kong protesters attacking police and throwing the Chinese flag into the water. "If you do not want to be Chinese, then don't live on Chinese territory," some write.
"Hong Kong's Colonial Mentality" 
A post by an economics blogger (@同行中的我, 14674 fans) that received more than 6500 'likes' on Weibo argues that one problem behind the protests is that Hong Kong youth are stuck in a "colonial mentality."
The blogger says that Hong Kong people have a lack of patriotic education and have no "sense of belonging." It is this Hong Kong mentality, the writer argues, that prevents the region from blooming. Without mainland China, Hong Kong is nothing, the post says.
This sentiment is reiterated by many commenters on Weibo, who write things such as "Without a country, you have no home."
Hong Kong Island was ceded to Britain in 1842 as part of the Treaty of Nanjing. July 1st of 1997 marked Hong Kong's return to China, and the moment it became a Special Administrative Region (SAR) of the PRC, based on the principle of "one country, two systems."
Those who are protesting for Hong Kong independence are also called "Pro HK Independence 'Poison'" on Weibo (港毒分子, a wordplay with characters meaning 'Hong Kong-independence/poison-members': a derogatory term for those supporting Hong Kong independence).
"The Pro HK Independence Poison comes from Hong Kong education. Its education comes from its system. So to get rid of this poison, you first need to replace the system, and then change education in Hong Kong," one person suggests.
"Biased Media Representations"
"Western media only use pictures that are taken out of context -they have an ulterior motive," Weibo news blogger Jianhua (@建华Wei业) writes: "They fabricate news about Hong Kong police power abuse and violence."
The accusation of Western media representing the Hong Kong protesters as the 'good guys' and the Hong Kong police as the 'bad guys' is repeated on Chinese social media quite a lot these days.
One major example is the aforementioned case of Sir Liu, as many media allegedly only forwarded those images or footage of the police pulling his gun, leaving out the part where he was attacked by protesters first.
Since there is a clear pro-Hong Kong Police Force dominant narrative on Weibo, many netizens defend the police and describe the protesters as violent and unreasonable rioters.
"US Meddling in Hong Kong Affairs"
Besides criticism on supposed biased media representations of the situation in Hong Kong, there is also criticism on the role of the United States in the Hong Kong protests.
One photo of American diplomat Julie Eadeh meeting up with student leaders involved in Hong Kong's pro-democracy movement circulated on Chinese social media this week, with state media accusing the US of playing a role in "creating disorder" in Hong Kong.
"What Is America Up To?"(#美国居心何在#) is one of the hashtags related to the incident that is shared on Chinese social media, promoted by CCTV.
"America has no right to meddle in Hong Kong affairs," commenters on Weibo respond: "Hong Kong is China's Hong Kong."
Adding fuel to this discussion is the fact that some Hong Kong protesters have recently started waving American flags at demonstrations (read more about that here).
Trending on August 9 is an incident in which a woman angrily pulled the American flags from protesters' hands at Hong Kong airport. Many people on Weibo praise the woman for being so "courageous" to stand up to the demonstrators. "We just want Hong Kong to be stable and peaceful," the woman stated to the media.
Others on Weibo call on protesters in Hong Kong to be reasonable. "I feel that the situation in Hong Kong is getting more and more complicated," one commenter writes: "I hope the protesters can rationally overthink why they are participating in these demonstrations; they shouldn't let themselves be used by others."
"I just cannot make sense of what these angry youth are doing," another commenter writes: "They are waving the American flag. But when they leave [Hong Kong], people won't see them as Hong Kongnese – foreigners will all think they are Chinese. I just don't get where they're going."

Keep an eye on What's on Weibo for more related stories in the time to come. Follow us on Facebook, Twitter, and subscribe to notifications via the bell in this screen (Chrome/Firefox/Android).

By Manya Koetse
Follow @whatsonweibo
Spotted a mistake or want to add something? Please let us know in comments below or email us. Please note that your comment below will need to be manually approved if you're a first-time poster here.
©2019 Whatsonweibo. All rights reserved. Do not reproduce our content without permission – you can contact us at info@whatsonweibo.com