Brutal Beating and Violation of an 8-Year-Old Gansu Girl by Classmates Stirs Discussions on Criminal Responsibility of Minors
Two minors and a teacher were involved in a violent incident, injuring an 8-year-old girl, yet nobody is punished.
A shocking case in which a 6- and 7-year-old boy attacked and sexually abused a fellow classmate has attracted much attention on Chinese social media. The fact that the boys, nor their teacher, will be punished for the incident is a cause of concern for many Chinese netizens.
The violent attack and sexual assault by two young boys on a female classmate has attracted wide attention on Chinese social media this week – especially because those involved are only eight years old and younger.
On January 13, the Ning County Public Security Bureau in Gansu Province came out with a statement about the incident, that occurred in the afternoon of December 14th. Two boys, 7- and 6-year-old respectively, beat up their 8-year-old classmate, pulled down her pants, and violated her with a broomstick.
According to the statement, the brutal assault followed after the girl had taken the eraser of one boy, and had not given back the one yuan ($0,15) she had borrowed from the other. The director and the vice-director of the school have since been suspended from their position.
The incident came to light after the girl had arrived home from school the day it had occurred. When the girl's grandmother noticed something was wrong with her, she contacted the school and brought the young girl to the emergency room. She was later transferred to Xi'an Children's hospital for further examination, where it was found that her genitals were seriously injured. She was released five days later to recover at home.
In a video published by Toutiao News, the grandmother of the little girl claims that, according to the girl, the teacher stood by as her classmates attacked her. That same teacher had accused the girl of stealing her lipstick earlier that day, but later on found the item in the teacher's desk drawer.
The (former) director of the school has denied any involvement of the teacher in the incident. The Public Security Bureau has neither confirmed nor denied if there is any truth to the girl's allegations.
On Chinese social media platform Weibo, many netizens question the teacher's involvement in the matter. Soon after the official statement, the hashtag "Did You Take My Lipstick?" (#你拿我口红了吗#) reached over 50,000 views on Weibo. Meanwhile, the hashtag "Principal Dismissed after Gansu Girl Sustains Injuries" (#甘肃女孩受伤事件校长免职#) received over 260 million views.
In the comment sections, people asked questions about the possible relation between the 'lipstick incident' and the young boys attacking the girl in such a violent way.
One Weibo user wrote: "Where do such young children get the idea to get a broomstick and violate a girl? I have many children around me of that age, they do get into fights with each another, but I have never seen that kind of behavior before." Another user pointed out: "How can it remain unnoticed if two boys pull down a girl's pants and violate her with a broomstick? And how can it be that no teacher saw the girl using a big pile of tissues cleaning up her own blood!?"
Another aspect of this story that is at the center of online discussions is the fact that the two minors legally cannot be held responsible for their deeds. According to article 8 and 12 of China's Public Security Administration laws, minors can only bear criminal responsibility from the age of 14 years.
According to Chinese media outlet The Observer, the Public Security Bureau did order the guardians of both boys to strictly discipline their children. According to law, the parents are liable for their children's misconduct.
However, for many netizens, this doesn't provide justice for the girl's suffering. On Weibo, many people express their dissatisfaction with the legislation on minors, and criticize the law for not doing enough in protecting minor victims. In the eyes of many, the two boys should be punished severely.
On Weibo, one user wrote: "I can't believe it, this law is implemented to protect minors, but who is protecting this minor victim!!?"
Some netizens take it a step further and wish the girl could take justice in her own hands. "I hope the little girl gets to take revenge on the boys, after all, they are all minors, and she can't be punished according to the law," a typical comment on Weibo said.
At time of writing, there has been no official statement yet about the girl's wellbeing at this moment and whether or not she gets to be transferred to a different school.
By Gabi Verberg
Spotted a mistake or want to add something? Please let us know in comments below or email us.
©2019 Whatsonweibo. All rights reserved. Do not reproduce our content without permission – you can contact us at info@whatsonweibo.com
Exchange Student to Be Deported from China for Harassing Young Woman at University
An exchange student studying at the Hebei University of Engineering has been expelled and will soon be deported after harassing a female student.
An exchange student from Pakistan who was studying at the Hebei University of Engineering (河北工程大学) has been expelled and detained after harassing a female student at the same university.
The incident, that is attracting much attention on Chinese social media this week, adds to the wave of recent controversies over the behavior and status of overseas students in mainland China.
On July 31, a female student at the Hebei university filed a police report against a Pakistani student who allegedly harassed her and attempted to forcefully kiss her and touch her breasts.
Screenshots of a supposed WeChat conversation between the exchange student and the female student, in which the man apologizes and claims the interaction is a "requirement for friendship," are being shared on social media.
According to various reports, the police initially tried to mediate between the two students, which the female student refused.
Together with the school principal, the police then further investigated the case and found ample evidence of harassment after examining the university's surveillance system.
On August 1st, the Hebei University of Engineering announced that they had expelled the student and that he will be deported from China. The announcement received more than 14,000 reactions and 150,000 'likes' on Weibo.
The student is now detained at the local Public Security Bureau and is awaiting his deportation.
A photo of two officers together with a man in front of the detention center in Handan is circulating on social media in relation to this incident.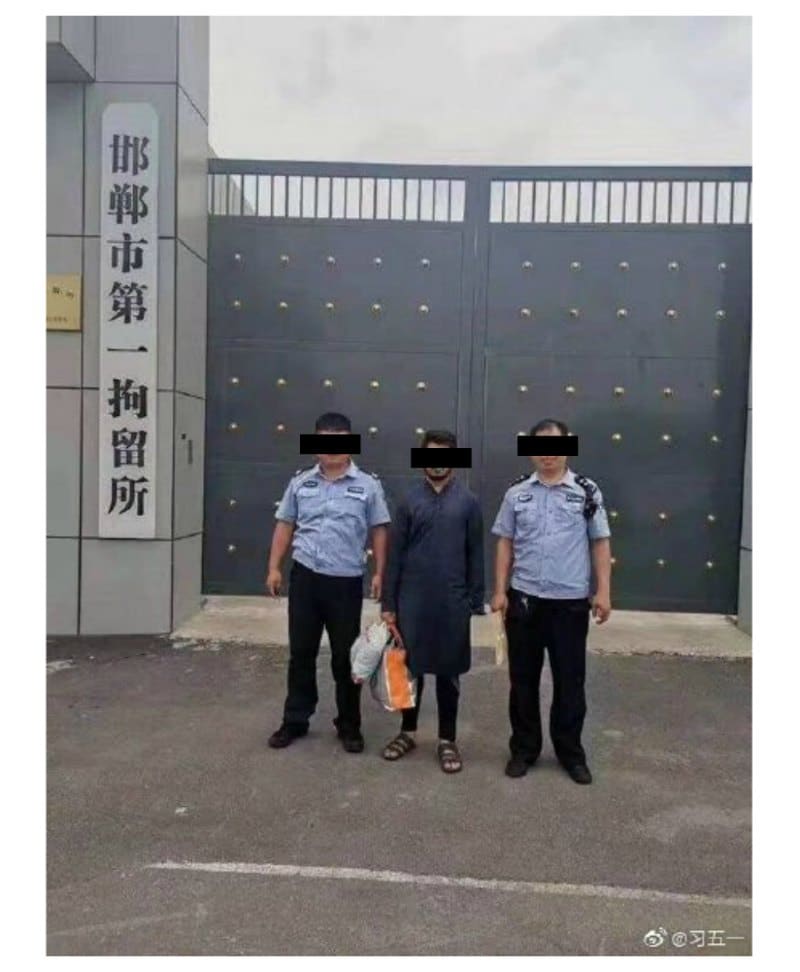 At time of writing, the hashtag page "Exchange Student to Be Deported after Molesting Female Student" (#留学生猥亵女学生将被遣送出境#) has been viewed over 310 million times on Weibo.
Among thousands of reactions, there are many who praise the Hebei university for supporting the female student after she reported the exchange student to the police.
"This may not be the best university, but at least they stand behind their students!", some say, with others calling the university "awesome."
Many say that the Hebei university should serve as an example for other Chinese universities to follow, with Shandong University being specifically mentioned by Weibo users.
Shandong University was widely criticized earlier this summer for its "buddy exchange program," which was accused of being a way to arrange Chinese "girlfriends" for male foreign students.
Another incident that is mentioned in relation to this trending story is that of an exchange student who displayed aggressive behavior towards a Chinese police officer in July of this year. The student was not punished for his actions, which sparked anger on Chinese social media.
By Manya Koetse
Follow @whatsonweibo
Spotted a mistake or want to add something? Please let us know in comments below or email us. Please note that your comment below will need to be manually approved if you're a first-time poster here.
©2019 Whatsonweibo. All rights reserved. Do not reproduce our content without permission – you can contact us at info@whatsonweibo.com
Holiday Homework: Take a Picture with Five Foreigners
Is "take a photo with a foreigner" an appropriate homework assignment? This Zhuhai school teacher thinks it is.
An elementary school in Guangdong's Zhuhai city has become a target of online banter this week for a special holiday homework assignment given to its pupils.
The school's English teacher told students to take a picture with five foreigners this holiday. The pupils' parents were not too happy with this 'homework' and questioned its purpose and validity.
In the eyes of many netizens, the assignment is inappropriate as it supposedly teaches pupils to look up to (or 'worship') foreigners.
Others think the assignment is simply not practical, saying that Zhuhai does not have that many foreigners walking around and that not all foreigners speak English.
With over 110 million views on the hashtag "Holiday Homework to Take Photo with Five Foreigners" (#暑假作业与五个外国人合影#), the topic has blown up on Weibo.
"Just take a photo with the neighbor and tell them they're from Singapore," some people suggested: "Take some photos with Chinese people and say they were from South Korea!"
In an online poll about the issue, initiated by China Daily, nearly 65% of respondents said they did not agree with the assignment.
The school principal responded to the controversy, saying that the assignment was an "optional" one.
The class head also stated that the assignment was not obligatory, but that it was merely meant as an "encouragement" so that students could practice their conversational English by having a short conversation with a foreigner.
Many commenters side with school and condemn all the criticism and banter: "Of course an English teacher would want to tell its pupils to interact with foreigners in English!"
Another person mentions that many Chinese students have high grades in their English exams without actually being able to hold a conversation in English: "Our English education is not focused enough on speaking English."
"This teaches students to take the initiative to start a conversation in English, what's not good about it? You're all too sensitive!"
By Manya Koetse , with contributions from Miranda Barnes
Follow @whatsonweibo
Spotted a mistake or want to add something? Please let us know in comments below or email us. Please note that your comment below will need to be manually approved if you're a first-time poster here.
©2019 Whatsonweibo. All rights reserved. Do not reproduce our content without permission – you can contact us at info@whatsonweibo.com