"What Is Peppa?" – Viral Ad Campaign for 'Peppa Pig' Movie Makes the British Pig More Chinese Than Ever
It's the Chinese new year of Peppa Pig.
A new ad campaign for the upcoming Peppa Pig movie features a grandfather living in rural China who goes on a quest to find out what Peppa is. The commercial is a huge success on Chinese social media, and strikes a chord with netizens for touching upon various societal and cultural issues. Peppa is more Chinese than ever now.
"What is Peppa?" That is the question that is currently going viral on Chinese social media, with the hashtag #WhatisPeppa (#啥是佩奇#) receiving a staggering 400 million times on social media platform Weibo at time of writing.
The reason for the trend is an ad campaign, titled 'What's Peppa', promoting the Peppa Pig Celebrates Chinese New Year film, a production by Entertainment One and China's Alibaba Pictures.
The promotional video (5:39 length, watch featured video), that came out via various online channels on January 17, focuses on a grandfather living in a remote rural village who is anticipating the Spring Festival reunion with his son and his family, who now live in a big city.
The grandfather, named Yu Bao, wants to know what gift to get for his little grandson. When calling his family on a bad connection through his old 2G mobile phone, the word "Peppa" is all he gets from his little grandson before his phone breaks down. But what's Peppa?
Yu Bao then goes on a comical mission to find out what Peppa is: looking it up in the dictionary, asking his friends -who are just as oblivious as he is-, and asking the entire village.
At the local shop, it is suggested that 'Peppa' is some kind of shampoo.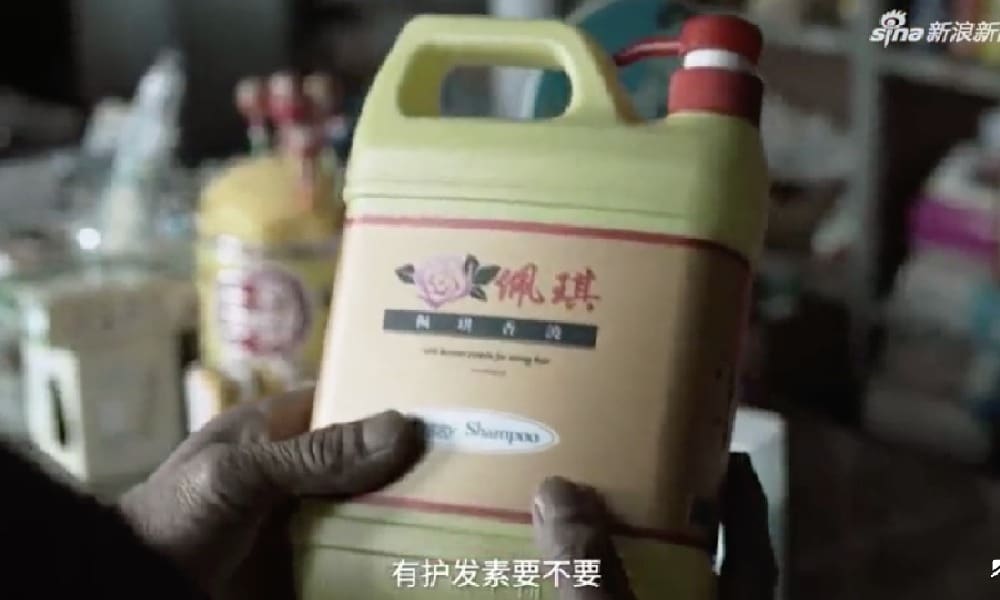 Eventually, one of the female villagers, who used to be a nanny, knows what Peppa is. She tries to explain it to Yu Bao, who now even seems willing to paint his own pig pink for his grandson. She explains that it is a pink cartoon pig whose face looks somewhat like a traditional fire blower.
With some guidance, the grandfather then goes to work and creates a unique 'Peppa Pig' gift from a metal air-blower to surprise his grandson during Chinese New Year.
But much to his disappointment, he then receives a phone call from his son, who tells him they are not coming home for Chinese New Year – before the connection drops again.
As grandpa, sad and lonely, is walking by the side of the road, his son suddenly appears in his car, telling him that the connection dropped too soon; he was not just telling him the family was not coming for Chinese New Year, he was trying to tell him that they invited him to come to their home instead.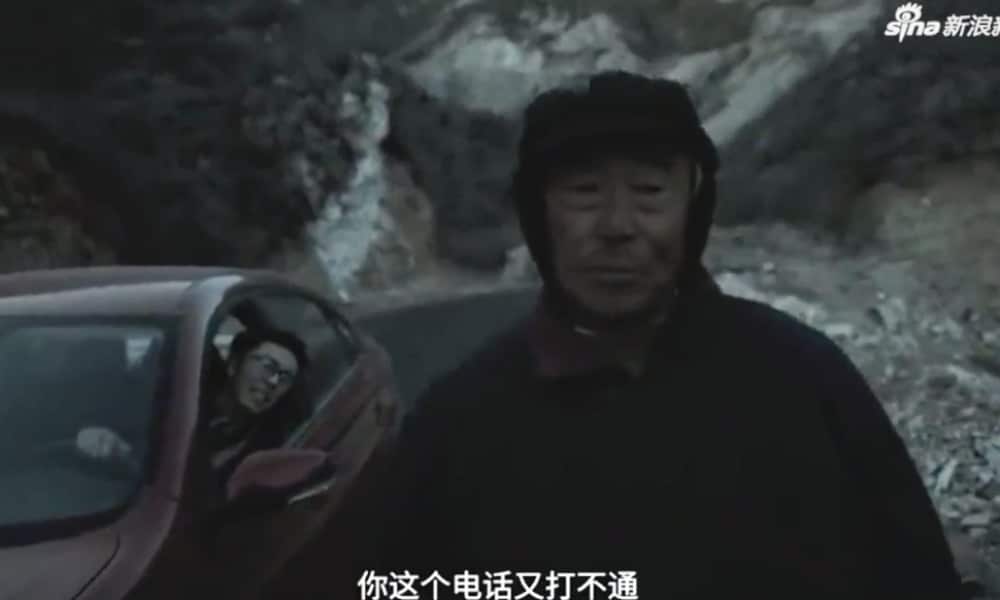 When the family is finally reunited, it is time for the proud grandfather to show the result of his difficult quest for Peppa to his grandson.
The grandpa's mission is complete: he gives his grandson a one-of-a-kind Peppa Pig.
The commercial ends with the entire family enjoying the upcoming Peppa film in the cinema together. When a friend from the village calls the grandfather to let him know he finally found Peppa thanks to his new smartphone, Yu Bao says: "It's okay, I found Peppa already!"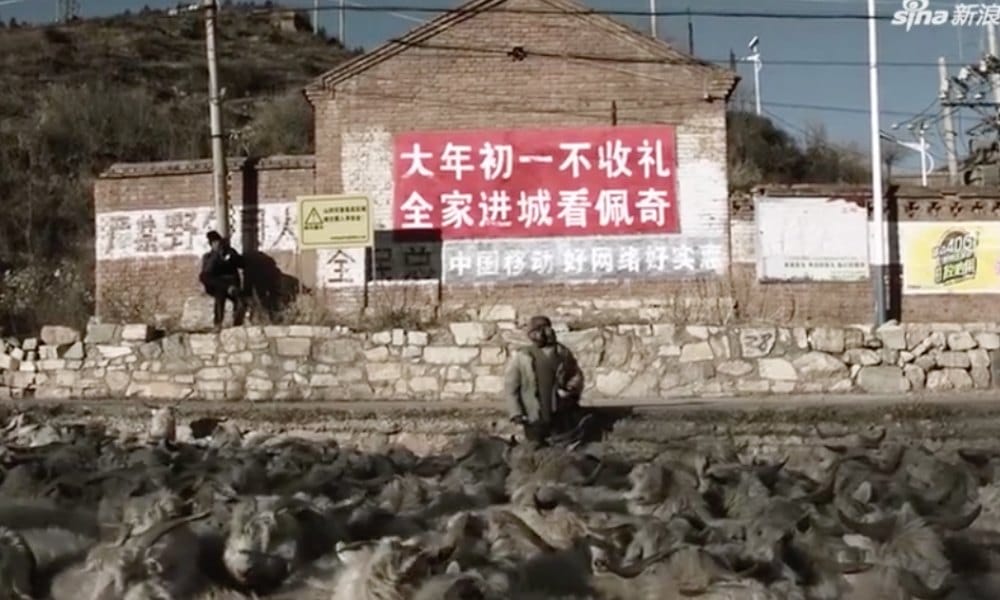 The last shot of the video shows Yu Bao's friend, a sheepherder, standing with his new phone, while someone in the back plays the tune of the Peppa cartoon. The big slogan on the wall is partly based on a popular catchphrase from another Chinese ad, and says: "At the start of the New Year, don't accept gifts; the whole family goes to the city to watch Peppa instead."
What's Peppa Pig?
Peppa Pig is a popular children's cartoon that first aired as a British animated television series (produced by Astley Baker Davies) in May of 2004. It took more than eleven years before the show was officially launched in the PRC (CCTV/June 2015).
Since then, Peppa Pig has become one of the most popular programs for preschoolers in China. But not just preschoolers love the pig; it has also become highly popular among young adults, who wear Peppa t-shirts, Peppa watches, and are major consumers of China's thriving Peppa industry.
In 2018, Chinese popular short video app Douyin (also known in English as Tik Tok) removed approximately 30,000 short videos relating to British cartoon Peppa Pig from its platform, as Peppa had turned into somewhat of a subversive symbol to a Chinese online youth subculture dubbed 'shehuiren' (社会人) (read more here).
This news item led to some confusion in Western media, where it was often suggested that Peppa was completely banned in China. She is, in fact, not banned; she is now more popular than ever.
Peppa the Movie
Amid the huge success of Peppa in China, it was announced in the summer of 2018 that Chinese tech giant Alibaba was working together with Entertainment One on the release of a Peppa Pig movie especially for the Chinese market, as this year's Chinese New Year is the start of the Year of the Pig.
The movie, titled 'Peppa Pig Celebrates New Year' (小猪佩奇过大年), is set for a nationwide release on February 5, the first day of the Chinese Lunar New Year. This is the most popular time for big blockbusters to come out, as many people are free during Chinese New Year and have the time to go out to the cinema together with their families.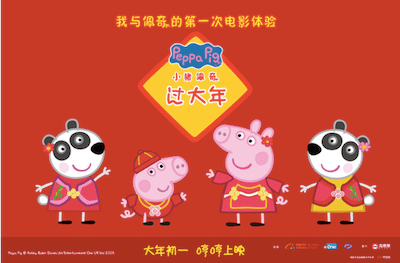 The movie itself revolves around Peppa and little brother George and their parents, who are having a reunion for the Spring Festival. It features various Chinese traditions, and of course, something unexpected will happen.
Why This Peppa Ad Campaign is So Brilliant 
The Peppa ad has really struck a chord on Chinese social media for various reasons. The video was directed by Beijing director Zhang Dapeng (张大鹏, 1984), who also directed the actual Peppa movie, and the campaign is also sponsored by China Mobile.
What this ad campaign does:
– It mixes the love for Peppa with the warm feeling of Chinese family reunions during Chinese New Year.
– It presents a nostalgic idea of the Chinese village community, where neighbors come together and look out for each other.
– It touches upon the issue of China's rapid urbanization, that has caused many villages to become deserted and isolated as younger generations have settled in the cities.
– It highlights how China's digitalization is leaving behind its elderly population (read more here).
– It shows the strong grandparent–grandchild relationship; usually, Chinese grandparents play an active role in raising grandchildren, something that has been changing due to younger generations moving to the city.
In other words; the advertisement completely draws the figure of Peppa Pig into a Chinese socio-cultural context, where it symbolizes the strong connection between Chinese families amid China's rapid urbanization and digitalization.
By now, the Peppa campaign is making its rounds from Weibo to WeChat and elsewhere on the Chinese internet, with some online sellers already offering a remake of the Peppa present for sale as a collector's item. Bloomberg reports that Chinese stocks connected to Peppa Pig have surged after the clip went viral yesterday and today.
"I give this video 100 points!" some commenters on social media write, with others saying it has made them tear up. "This already is the best ad campaign of the year."
Peppa was already a famous figure in China, but with this viral hit and the upcoming movie, the British pig really has become a part of China's popular culture and media environment: it's the Chinese new year of Peppa Pig.
UPDATE (Jan 19): [Now passed one billion views] Want to understand more about this movie and its context? Check out our video here.
By Manya Koetse and Miranda Barnes
Follow @whatsonweibo
Spotted a mistake or want to add something? Please let us know in comments below or email us.
©2019 Whatsonweibo. All rights reserved. Do not reproduce our content without permission – you can contact us at info@whatsonweibo.com
Chinese Actor Zhao Lixin Banned from Weibo over Comments on Second Sino-Japanese War
The actor was banned for "downplaying" the Japanese aggression in China during the Second Sino-Japanese War.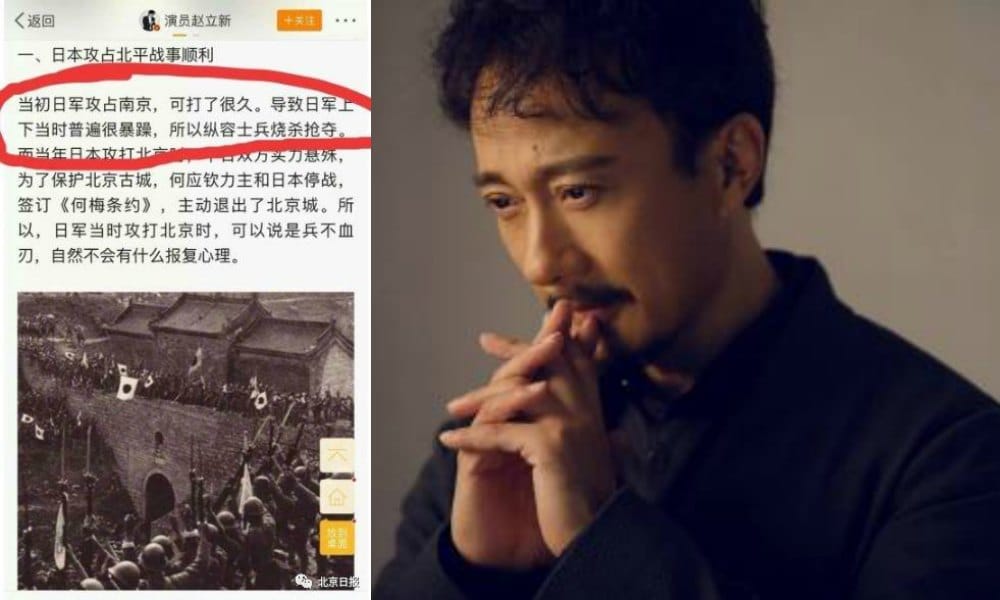 Sina Weibo issued a statement on April 16 that the Weibo account of the Chinese-Swedish actor Zhao Lixin has been terminated following remarks he made about Japan's invasion of China and the Second Sino-Japanese War.
The Weibo account of Zhao Lixin (赵立新, 1968) has been closed after the Chinese-Swedish actor made controversial comments on the Second Sino-Japanese War.
On April 2nd, Zhao Lixin, who had more than 7 million followers, posted a message on Weibo that questioned why the Japanese military did not pillage and destroy the Beijing Palace Museum during the Second Sino-Japanese War:
"The Japanese occupied Beijing for eight years. Why didn't they steal relics from the Palace Museum and burn it down [during that time]? Is this in line with the nature of an invader?"
The actor also commented on the Nanjing Massacre of 1937, suggesting that it was a consequence of Chinese resistance to the Japanese invasion.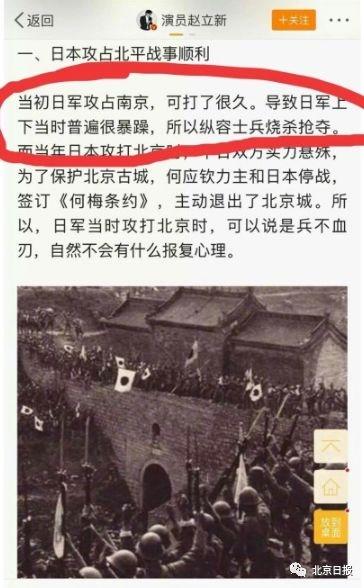 Zhao's post led to much controversy in early April, followed by a lengthy apology statement from the actor on April 3rd, in which he said he did not phrase his comments carefully enough and that he was remorseful over the storm of criticism he had ignited. His controversial Weibo post was soon taken offline.
Many people were mostly angered because they felt Zhao's comments "defended" the Japanese invaders. "Zhao's permit to work in China should be terminated forever!", some commenters posted on Weibo.
The Second Sino-Japanese War is still a highly sensitive topic in China today, with anti-Japanese sentiments often flaring up when Japan-related topics go trending on Chinese social media.
The 'Nanjing massacre' or 'Rape of Nanjing' is an especially sensitive topic within the history of the Second Sino-Japanese War, also because some Japanese politicians and scholars consistently deny it even happened, heightening the tension between the two countries. For a Chinese celebrity to seemingly 'downplay' the aggression and atrocities committed by Japanese invaders in the 1937-1945 period is therefore highly controversial.
Despite Zhao's apologies, Sina Weibo issued a notice on April 16 "Relating to Harmful Political Information" (关于时政有害信息的处理公告), stating that the account of Zhao Lixin, along with some others, had been closed for spreading this kind of information.
The hashtag relating to Zhao's social media suspension received more than 57 million views on Weibo today.
"It's good that his account was taken down," a popular comment said: "It's insulting our country." Others said that Zhao should not have posted something that is "out of line" "considering his position as an actor."
Zhao Lixin is mainly known for his roles in TV dramas such as The Legend of Mi Yue, Memoirs In China, and In the Silence.
Zhao is not the first KOL (Key Opinion Leader) to have been banned from Weibo after making controversial remarks relating to China's history. In 2016 the famous entrepreneur Ren Zhiqiang disappeared from Weibo after publishing various posts on his experience with communism in the past, and the status quo of media in China.
By Manya Koetse , with contributions from Miranda Barnes
Spotted a mistake or want to add something? Please email us.
©2019 Whatsonweibo. All rights reserved. Do not reproduce our content without permission – you can contact us at info@whatsonweibo.com.
Catharsis on Taobao? Chinese 'All is Well' TV Drama Fans Are Paying Up to Scold the 'Su Family Villains'
Some netizens are getting too worked up over this hit TV drama.
Chinese TV drama 'All is Well' is such an online hit, that the collective despise for the fictional villains in the story is getting all too real. The show itself, along with an online service to scold its characters, has become a trending topic on Chinese social media this week.
The Chinese TV series All is Well (都挺好) is such a success that some people would even pay to scold the drama's main 'villains.' One Taobao seller had nearly one thousand customers paying a fee this week for a special service to curse the characters they despise so much.
All is Well is a 46-episode urban TV drama that premiered on March 1st of this year on Zhejiang and Jiangsu Television. The series is based on the novel by A'nai (阿耐), who is also known for writing the super popular Ode to Joy TV drama.
All is Well tells the story of white-collar worker Su Mingyu and the conflicts within her family. The role of this daughter is played by Chinese actress Yao Chen (姚晨), one of the most popular celebrities on Weibo.
As the only daughter, Su Mingyu is the black sheep of the family and grows up feeling lonely and unloved. When her mother suddenly passes away, the Su family falls apart. The father becomes selfish and overbearing, while her brothers are also unsuccessful in keeping the family together.
The three men within the Su family have become much-hated characters on Chinese social media for their selfishness and manipulative traits. Su Mingcheng (Li Junting) is Mingyu's older brother, Su Mingzhe (Gao Xin) is her younger brother, and Su Daqiang (Ni Dahong) is her father.
While the TV drama is a major hit, many fans seem to take pleasure in scolding the main characters. On Weibo, some netizens are changing their names into some of the Su villains, allowing others to scold them.
But there are also people who have turned the collective contempt for the Su men into a small business. On e-commerce site Taobao, one seller set up a service to "curse the Su family father and sons" (怒骂苏家三父子), charging a 0.5 yuan fee, Caijing reports.
Various Chinese media report that the seller has had at least 300 customers over the past week who could "vent their anger" about the drama's characters. The seller would open a chat window, displaying the photo and name of one of the three despised characters, and pretending to be them. He also displays a counter that shows how many times the characters have been scolded by customers.
Other news sites report that there are at least 40 online shops selling this 'scolding service' to customers, with one seller allegedly serving nearly 1000 customers in one day.
The topic, under the hashtag "Online Shop Sells Service to Scold the Su Father and Sons" (#网店出售怒骂苏家三父子服务#), received nearly 100 million views on Weibo this week.
Many netizens are surprised and amused that their favorite TV drama has turned into a business opportunity for Taobao sellers. "I'm a shop seller," one commenter says: "I give all the money to charity. I work during the day, but in the evenings I'm here for all of you!"
"Is this the rival of the Kua Kua group?", one commenter wonders. Kua Kua groups, as we recently explained in this article, are online chat groups where people can be complimented or praised, sometimes for money. The current scolding groups, in a way, serve a similar purpose: offering netizens a way to vent their feelings and feel a bit better.
Although the cursing may provide emotional catharsis for some, others just find it really funny. "How about you give me one yuan, and I scold you?", one commenter suggests: "It's crazy that these type of services exist."
All is Well can be viewed through iQiyi (without English subtitles, regional restrictions apply – VPN).
Also see:
By Manya Koetse 
Spotted a mistake or want to add something? Please email us.
©2019 Whatsonweibo. All rights reserved. Do not reproduce our content without permission – you can contact us at info@whatsonweibo.com.